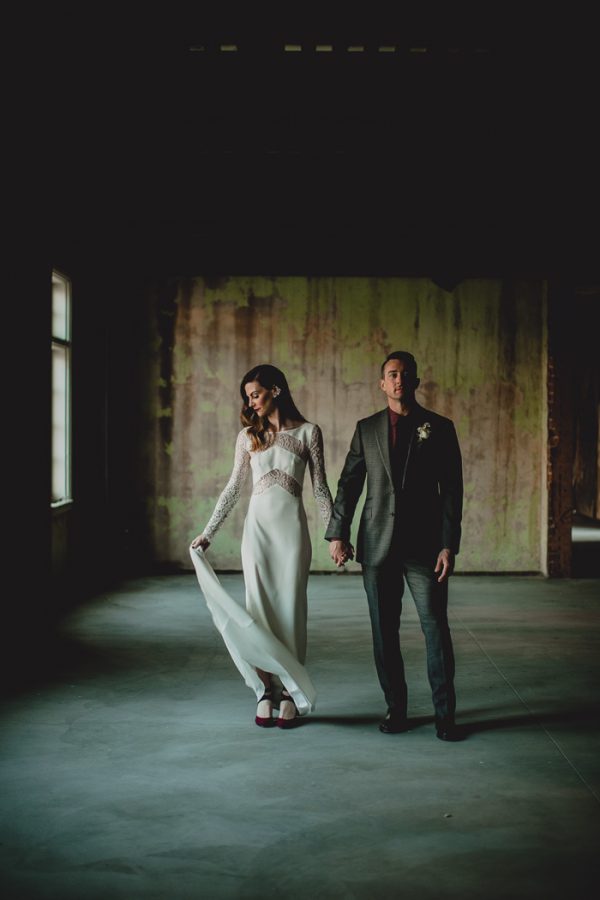 Erin and Patrick wanted their New Year's Eve wedding to feel like a cozy party among friends, and The monOrchid couldn't have been a more perfect venue for the celebration. With a mix of wintry DIY details and an eye-catching pink ombré ceremony backdrop, the industrial warehouse venue transformed into a romantic setting fit for a wedding. Erin's edgy bridal look is one for the books, including a sleek Rime Arodaky gown with geometric lace cut-outs, a dazzling Ryan Storer ear cuff, and nail art you're going to want to pin immediately. As if her bridal style weren't enough, the couple wore matching leather jackets that Erin had custom painted with Notorious B.I.G. lyrics.
The Couple:
Erin and Patrick
The Wedding:
The monOrchid, Phoenix, Arizona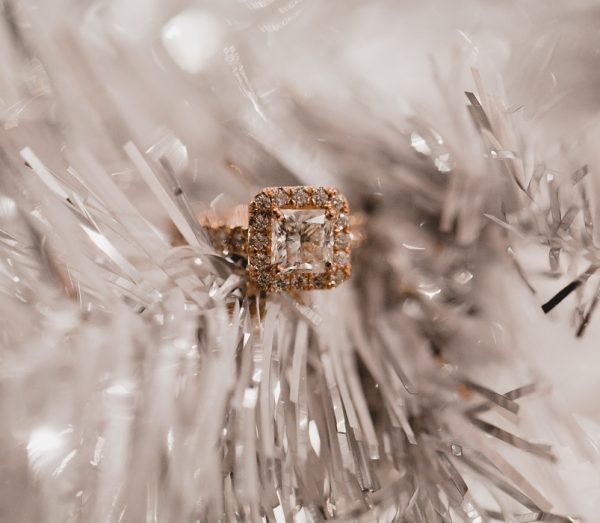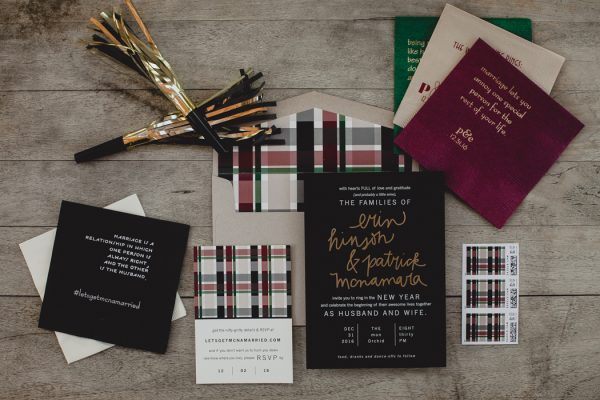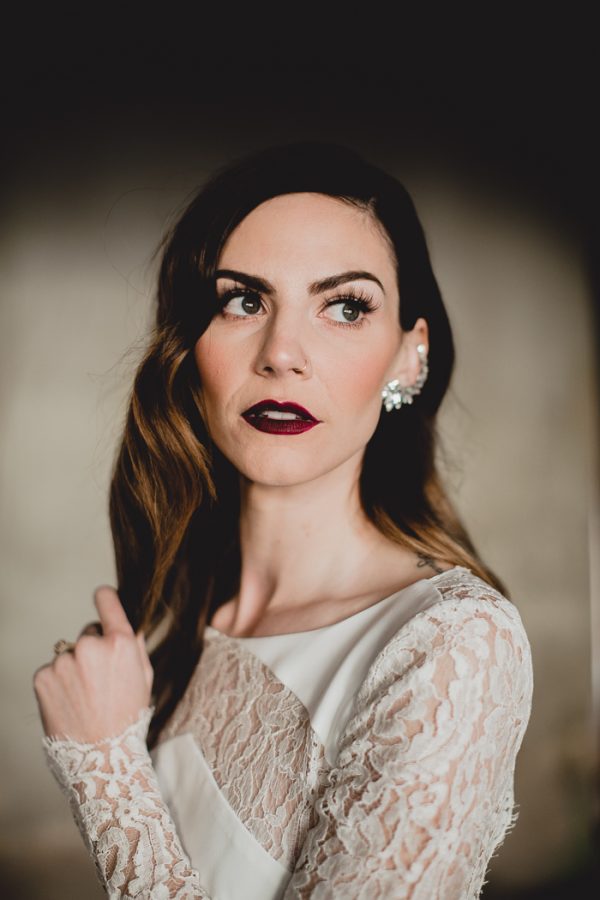 I didn't have any idea what I wanted for my bridal look, but I knew I wanted something "edgy." I toyed with the idea of a two-piece or a long sleeve dress, but couldn't find anything that checked the box in Phoenix. So, my mom and I made a trip to LOHO Bride in San Francisco. There, I tried on the Olsen dress by Rime Arodaky, and it was game over. The dress has lace long sleeves and a lace mid-section so I basically got the best of both worlds. Because I have a love for geometric prints, I was naturally drawn to the angles of the cutouts.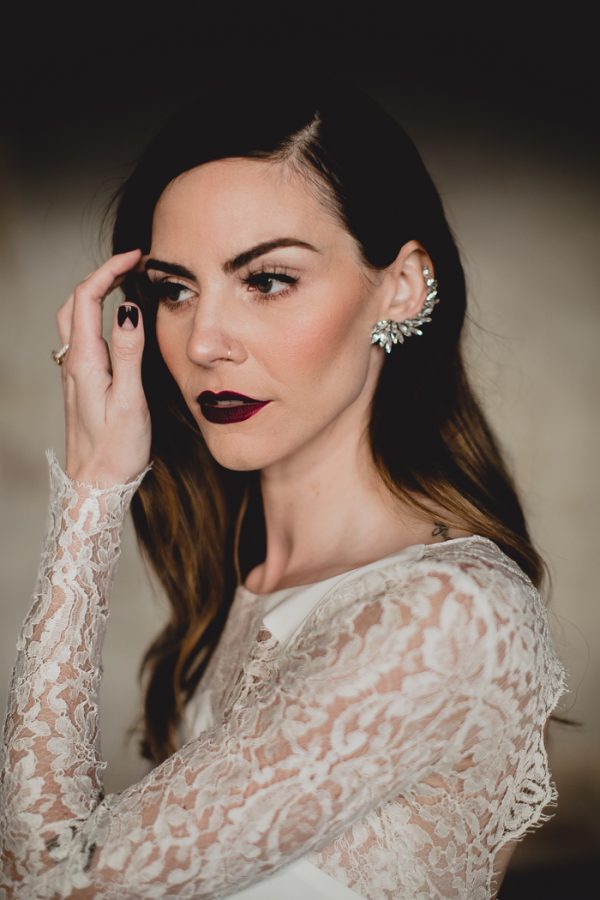 After I found the dress, I started to hone in on my look. I started with jewelry because I thought that would be the trickiest part since the dress has a high neck, and the cutouts, and has long sleeves. I figured a necklace wouldn't work so I turned to Pinterest for ideas. After spending countless hours crawling through the depths of every Pinterest board imaginable, I found a Ryan Storer ear cuff that sang my name. I realized it was sold out on his site, so I bought one off eBay for more than half the cost!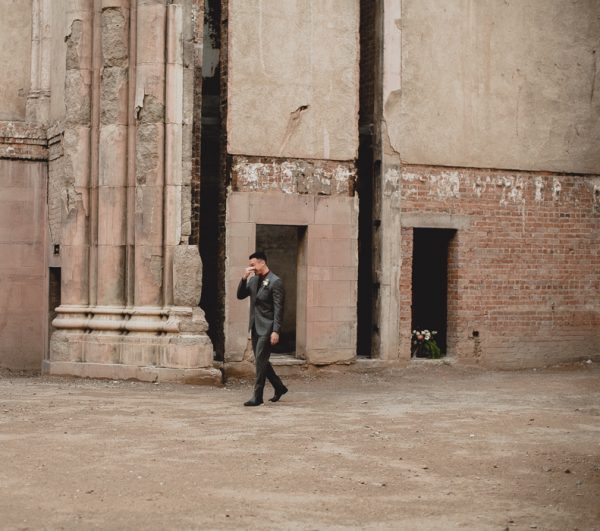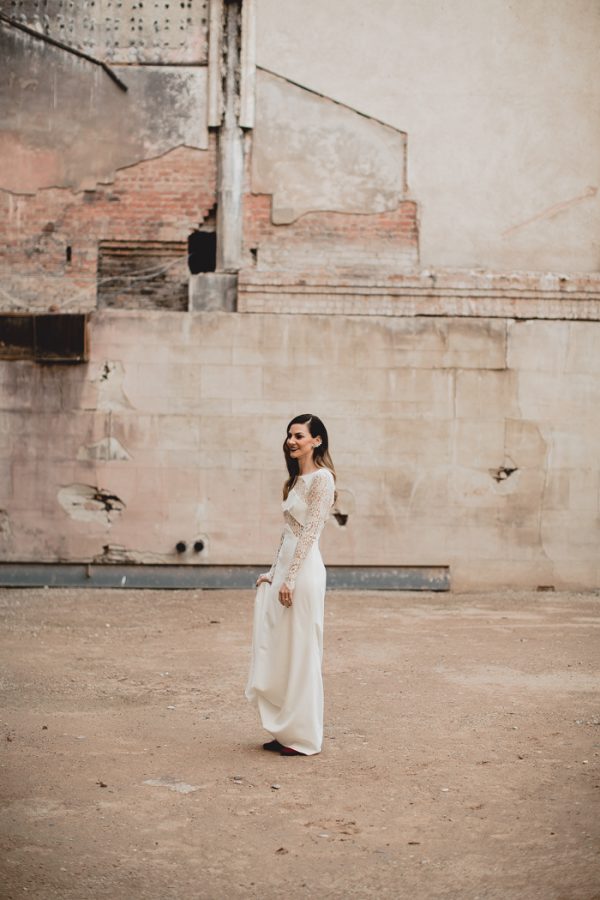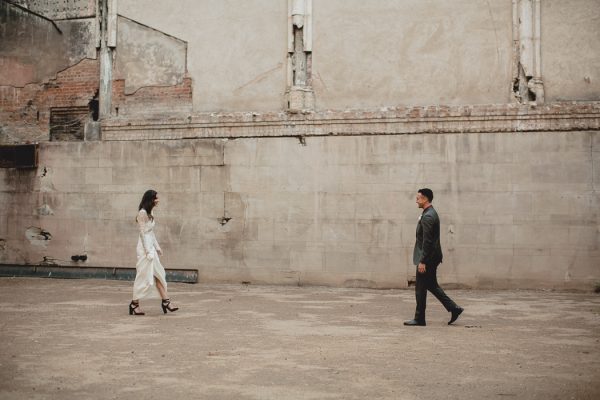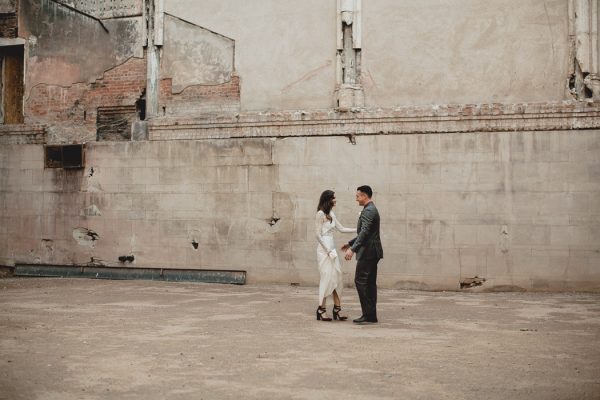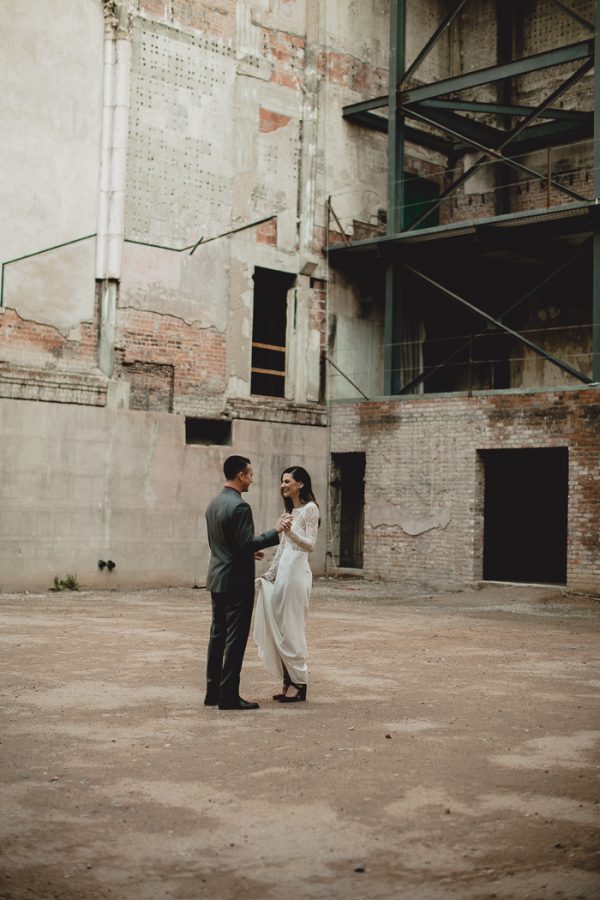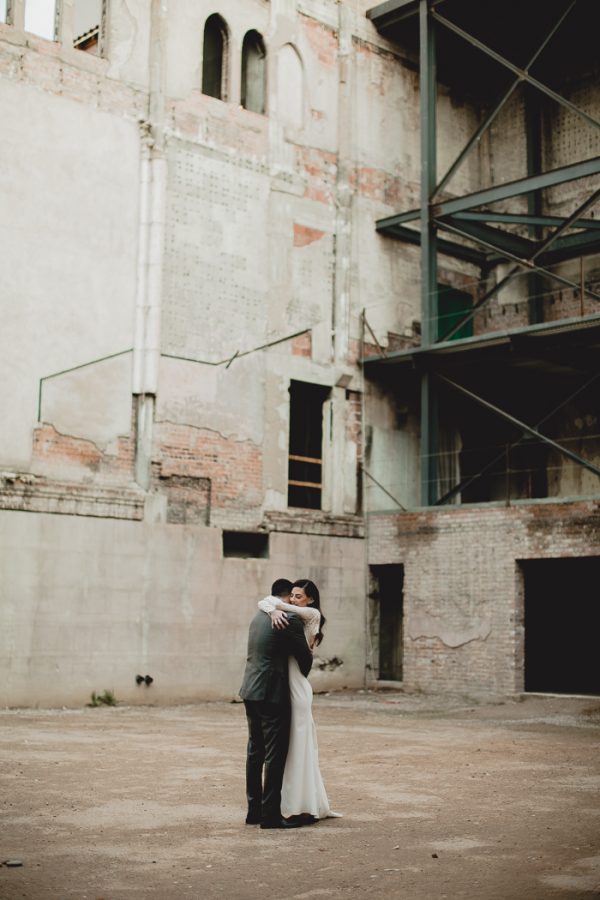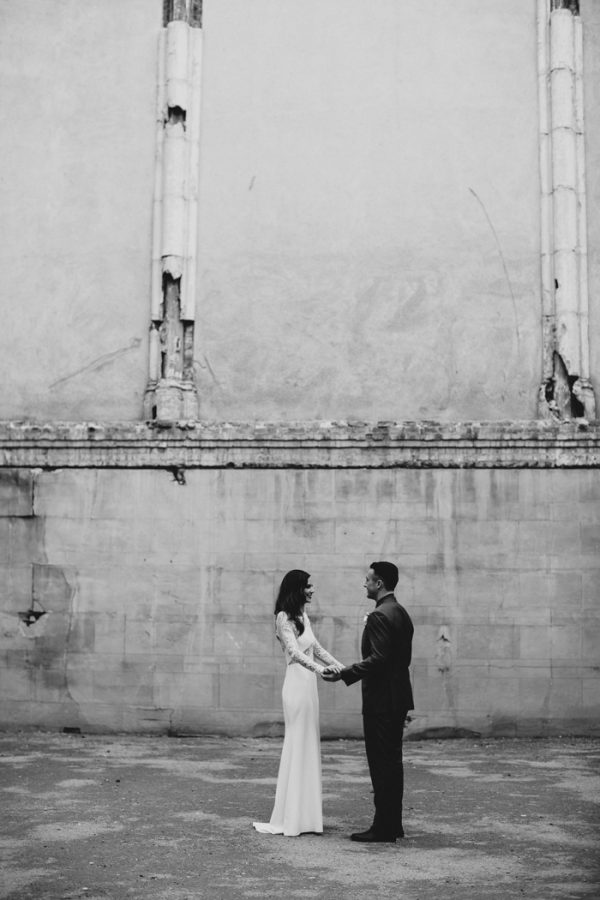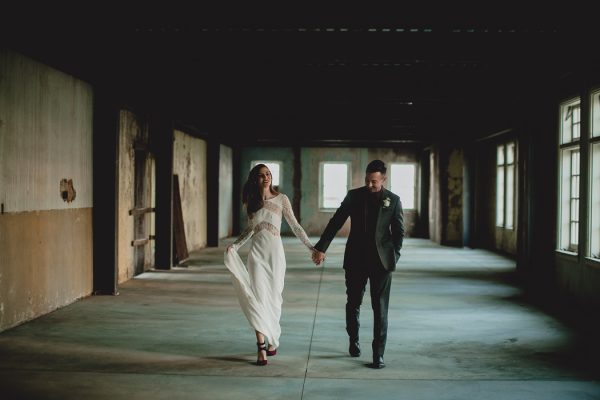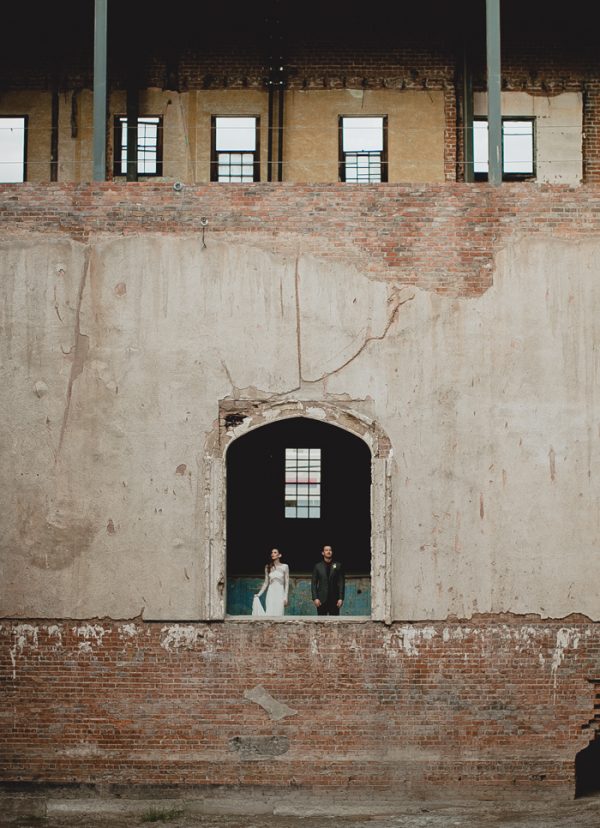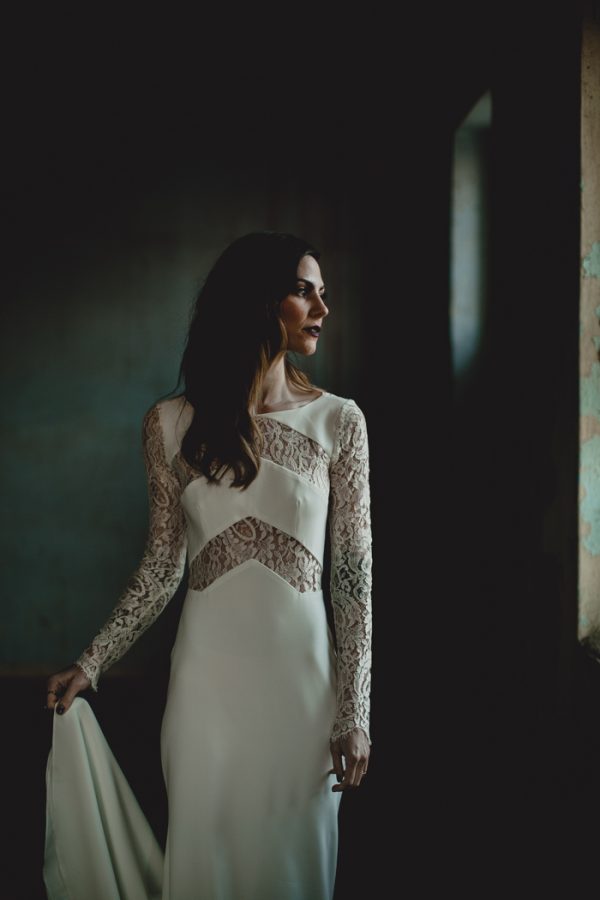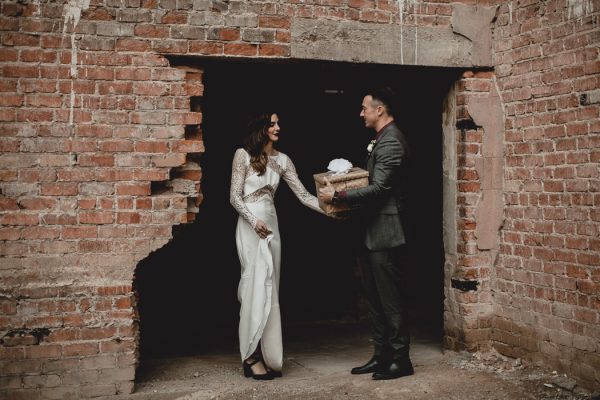 I bought us black leather jackets and had them hand-painted with Notorious B.I.G. lyrics ("It was all a dream") and our wedding date because we're hip hop fans. I'm obsessed with how they turned out.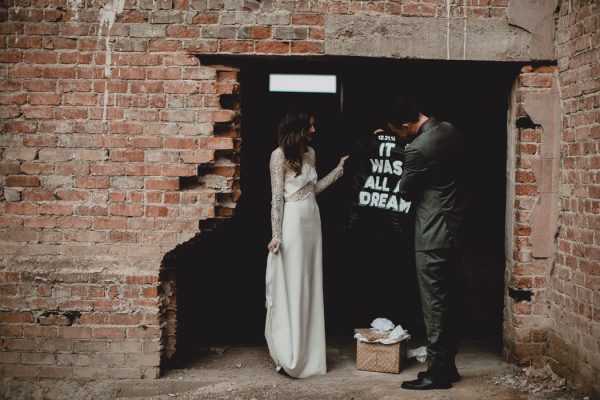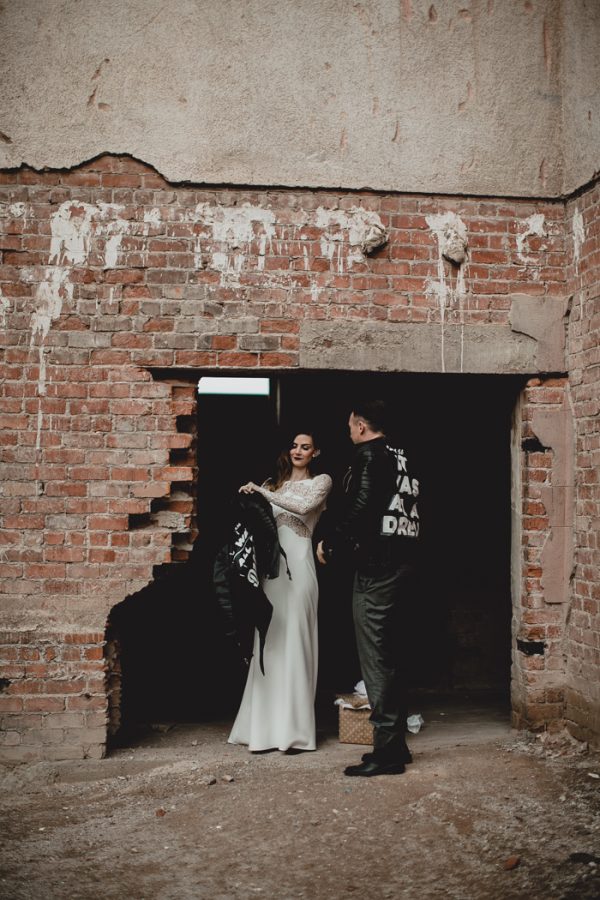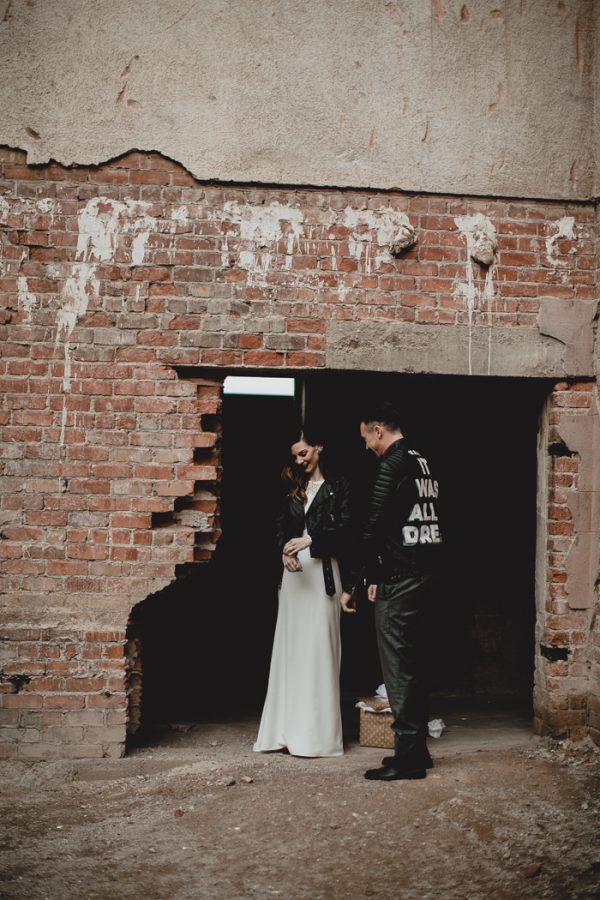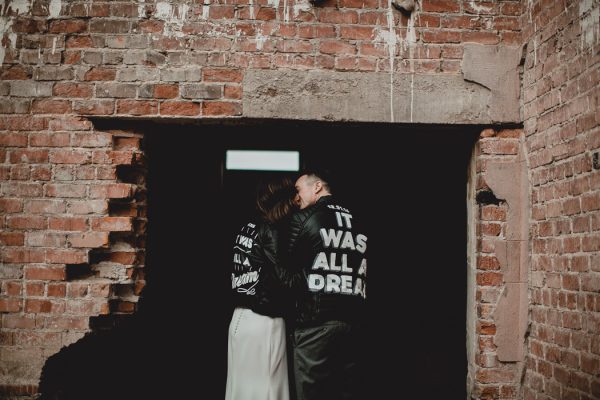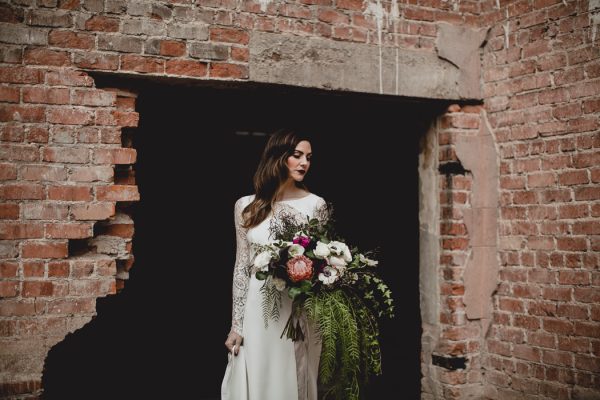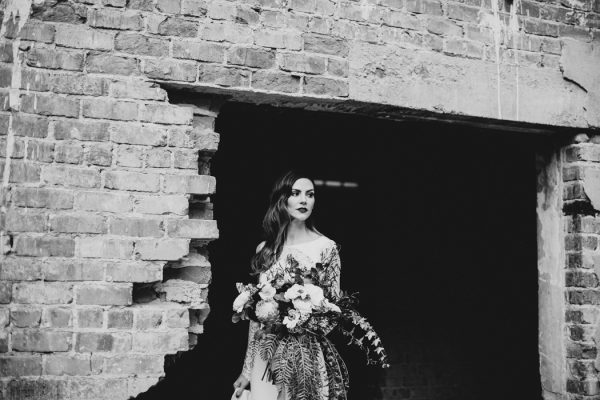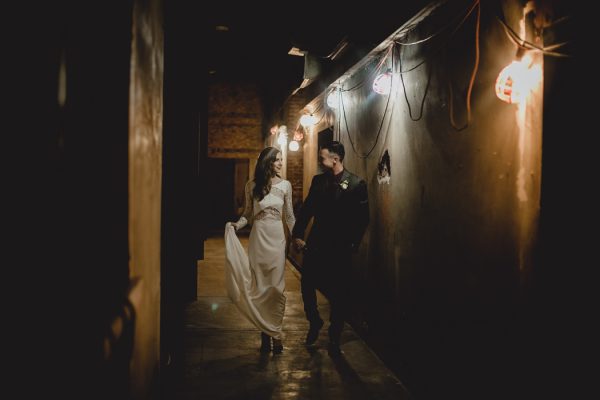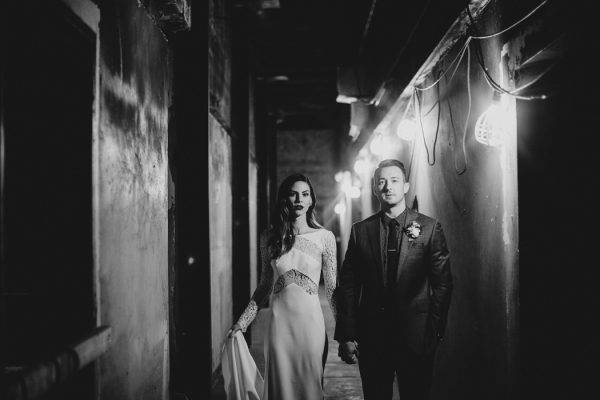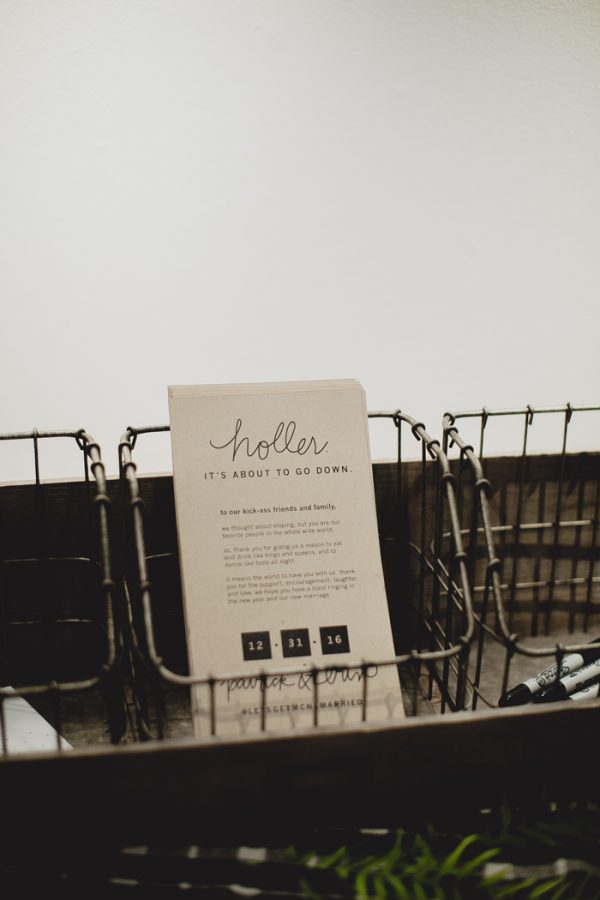 We wanted our night to feel like a party, like a true celebration of our love, and a 'thank you' to the people who have supported us throughout our journey. We don't take ourselves too seriously and we're a little non-traditional, so it was important for our night to reflect those qualities.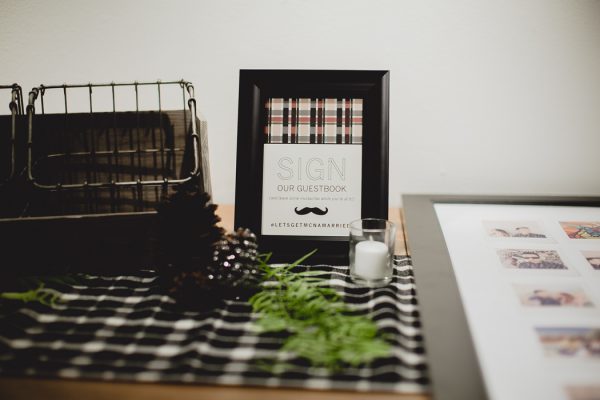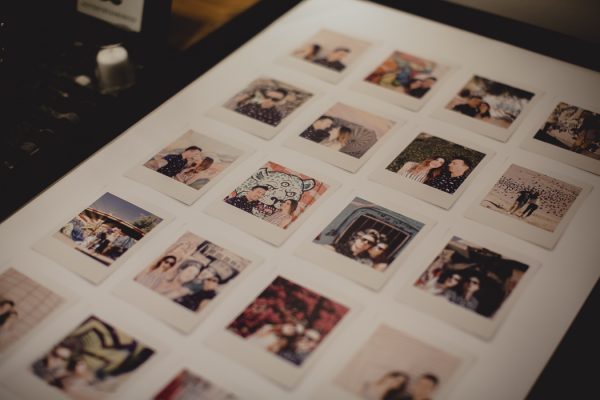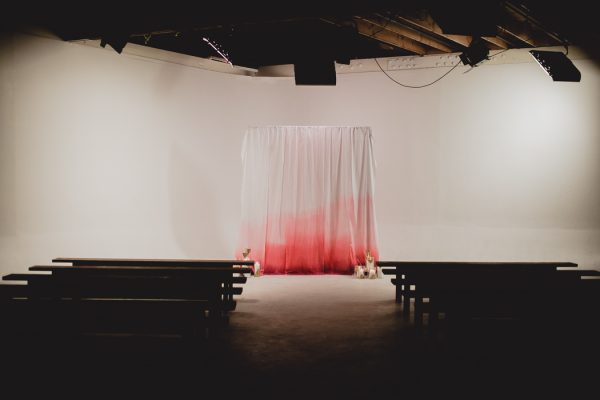 Tremaine Ranch created a custom pink ombré backdrop with gold candles that popped against the stark white walls of the space. They also provided cozy, dark wooden benches.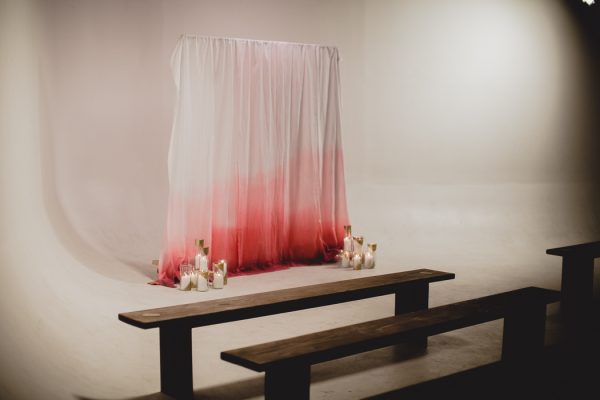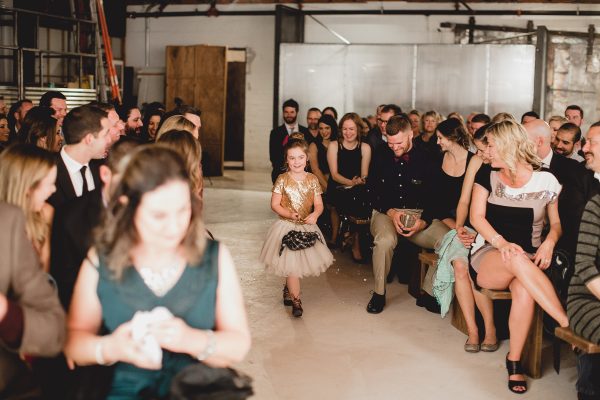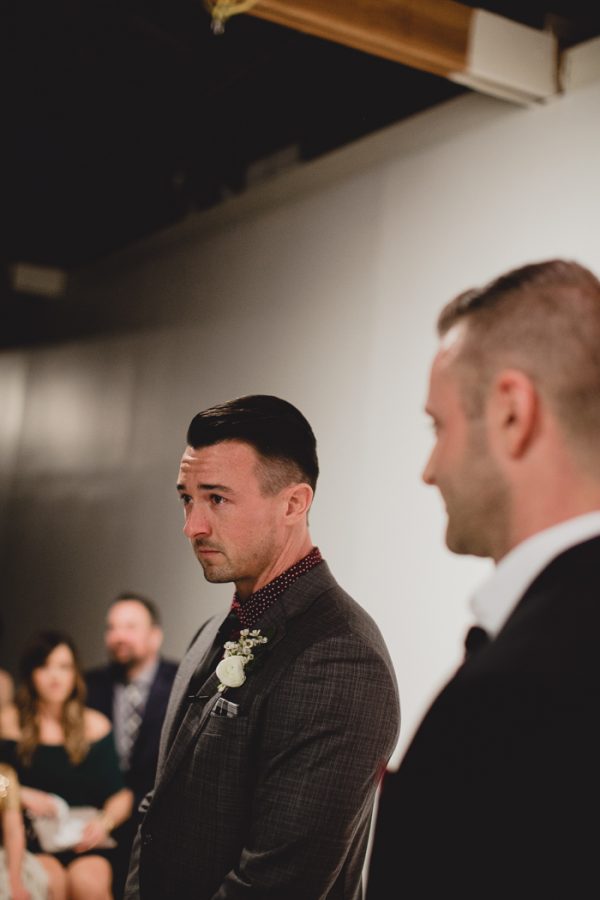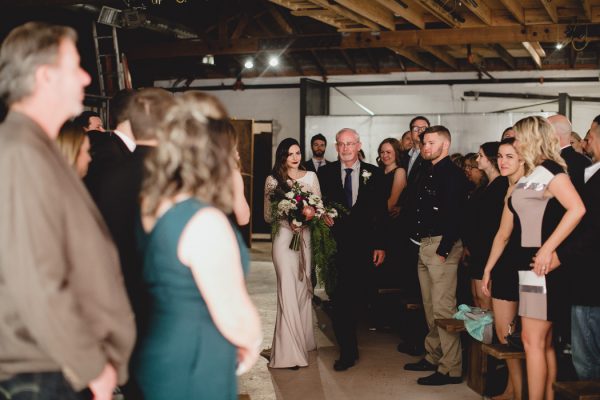 Processional: I'm Gonna Be (5000 Miles) by Sleeping At Last
Recessional: Good Together by HONNE
First Dance: If I Ain't Got You covered by James Bay
First Dance, pt 2: Ignition (Remix) by R.Kelly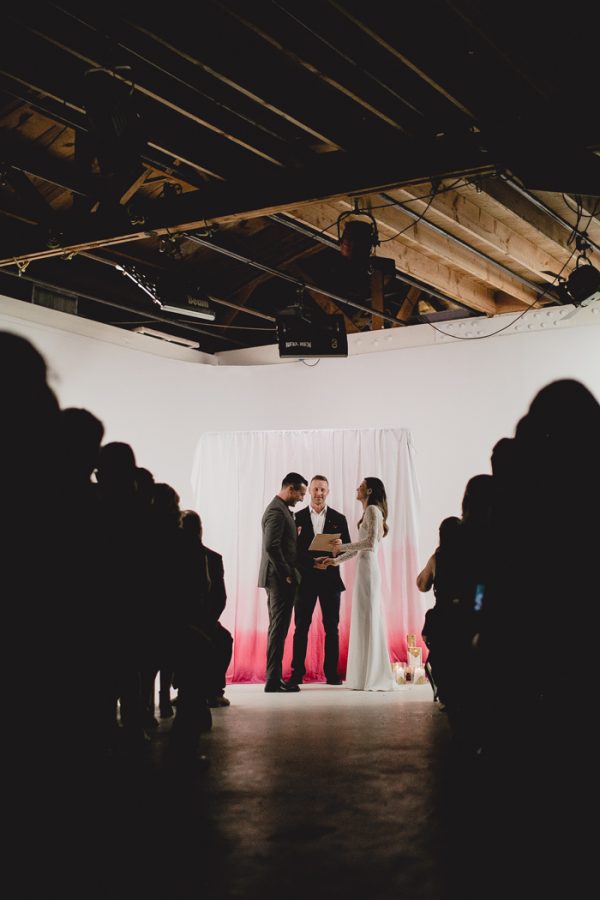 we skipped the bridal party because the idea of picking best (and bestest) friends to stand next to you seemed weird to us. Instead, we just asked Patrick's niece, Emelia, to be our flower girl. She sprinkled glitter down the aisle and threw it on some guests at one point — which is hilarious. We also wrote our own vows, which I was incredibly nervous to read because I sound like a dying chipmunk if I talk while crying. And our long-time friend, Toney, absolutely crushed the ceremony. Honestly, it was his first wedding so I know he was nervous, but he could not have done a better job. I have a feeling many people will remember his words for years to come. The whole ceremony ran everyone through the gamut of emotions, from weepy tears to hysterical laughter. It felt very genuine to who we are as a couple, and I don't think we could have asked for anything more.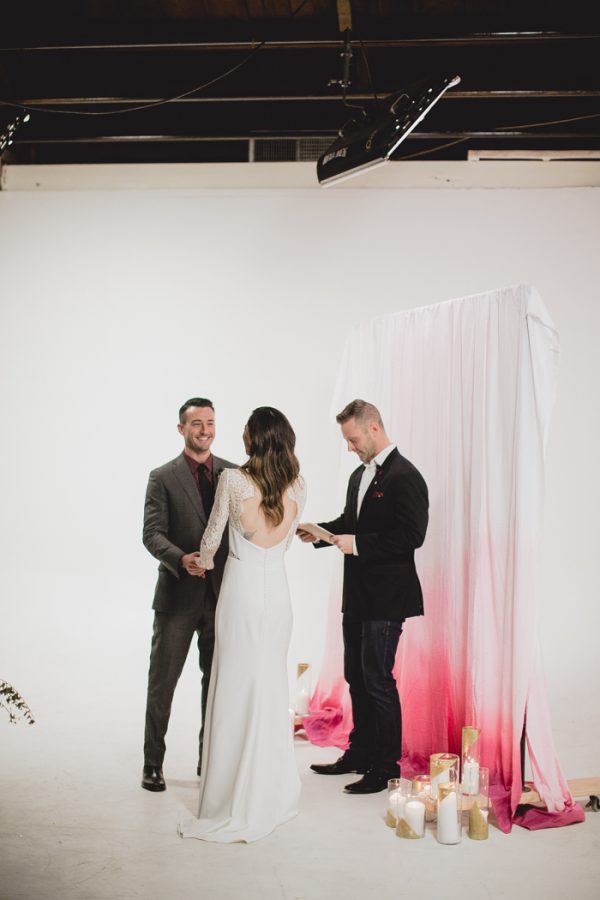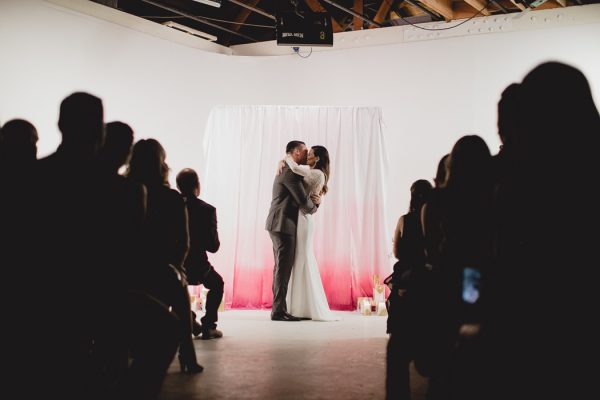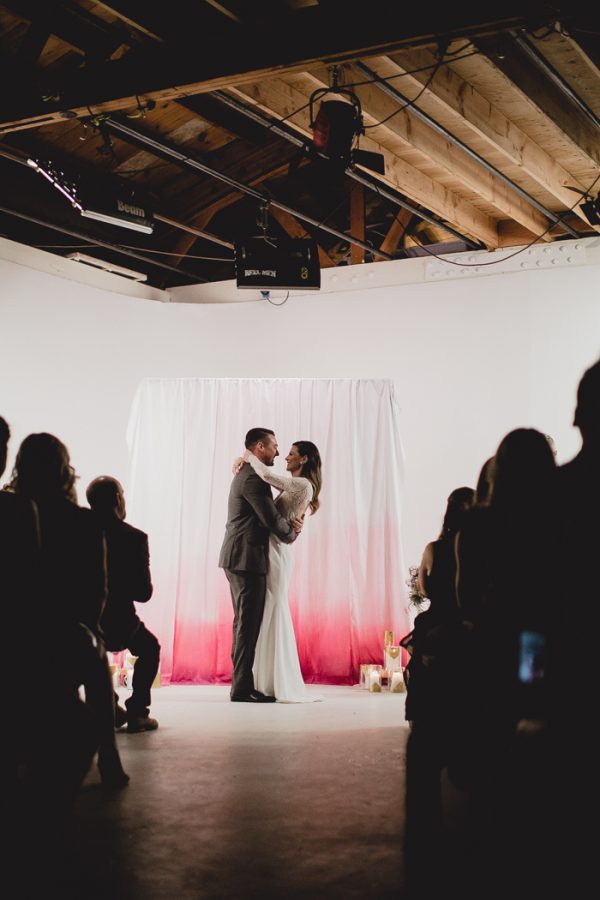 We'll never forget looking out at our friends and family between laughs during the ceremony. It's humbling to feel the love from so many people rooting for your success with every ounce of their hearts. And then when looking back at each other, we were so filled with undying love, excitement, and pure contentment. We could live in that moment forever.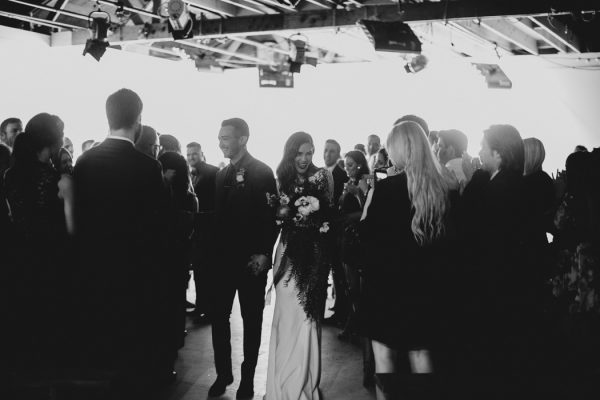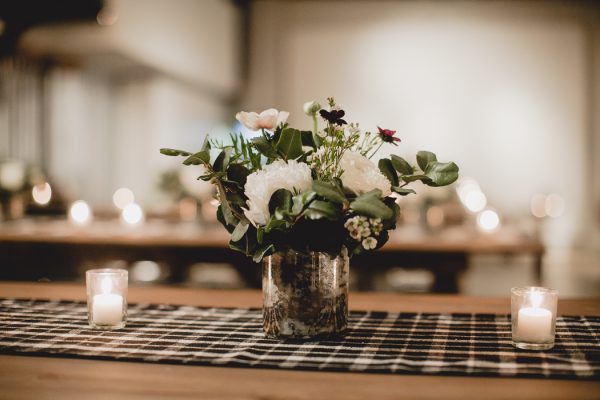 We knew right off the bat we wanted an industrial feel; a grungy, warehouse that could we dress up and make our own. The monOrchid is a beautiful, versatile art venue with a separate space for the ceremony, high ceilings, mixed textures, a super yummy coffee spot (be Coffee), and a "built-in" dance floor. This place felt like "us" from the minute we toured it.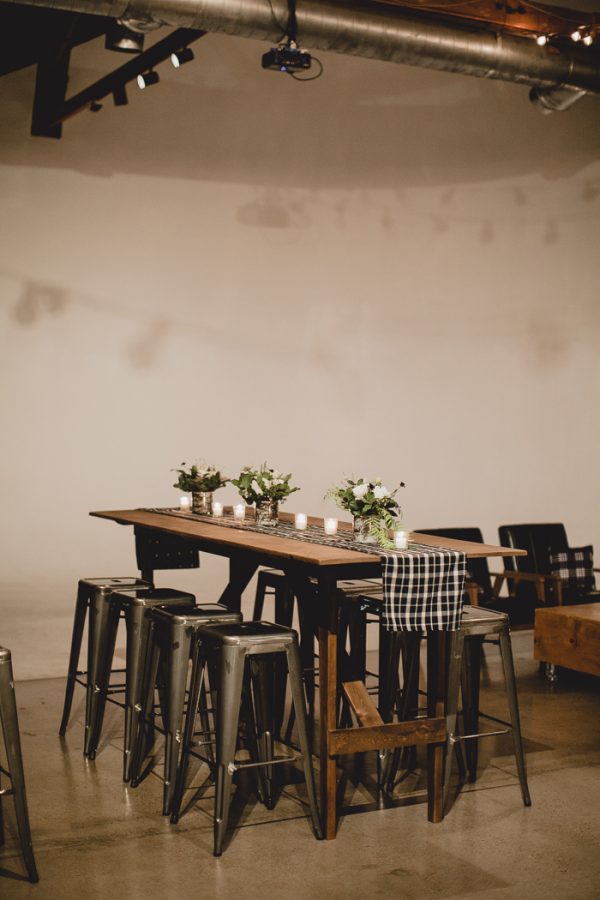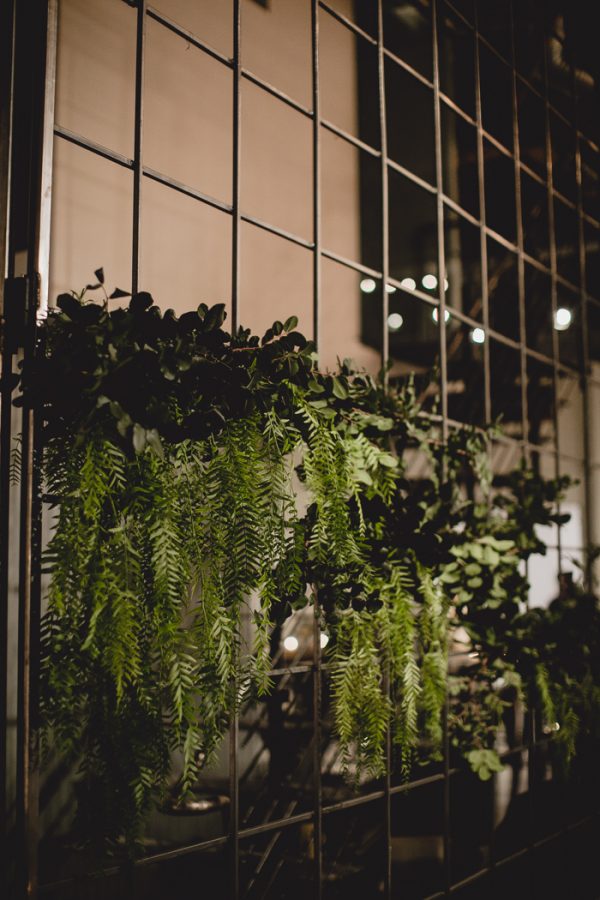 After we picked the date, everything started to fall into place. We wanted a cozy, casual winter night (think: plaid blankets) that incorporated some of the glitter and glamour of New Year's Eve. Kris and Tyler Zeman, owners of Konsider It Done, got to know our style really well which was absolutely critical to how the day was flawlessly executed. We were all on the same page from the very beginning and our vision just kept unfolding from there. Kris pulled together the color palette that included burgundy, black, gold, dark green, light beige, and light pink. She paired that palette with a vision board incorporating a winter, New Year's theme without being too overtly "holiday."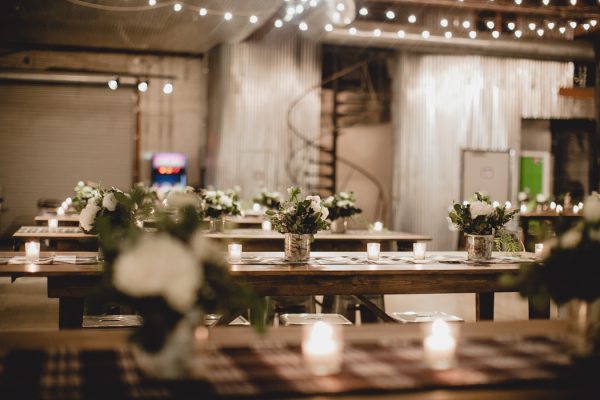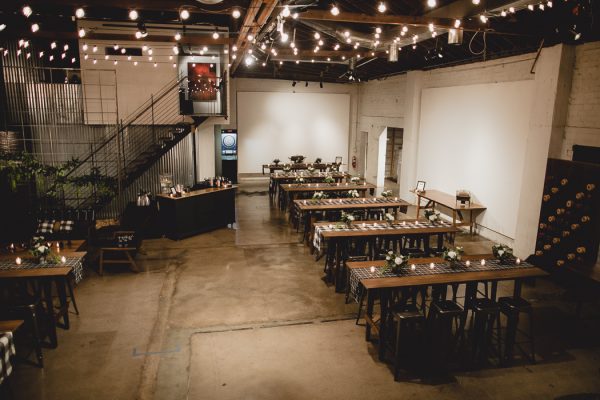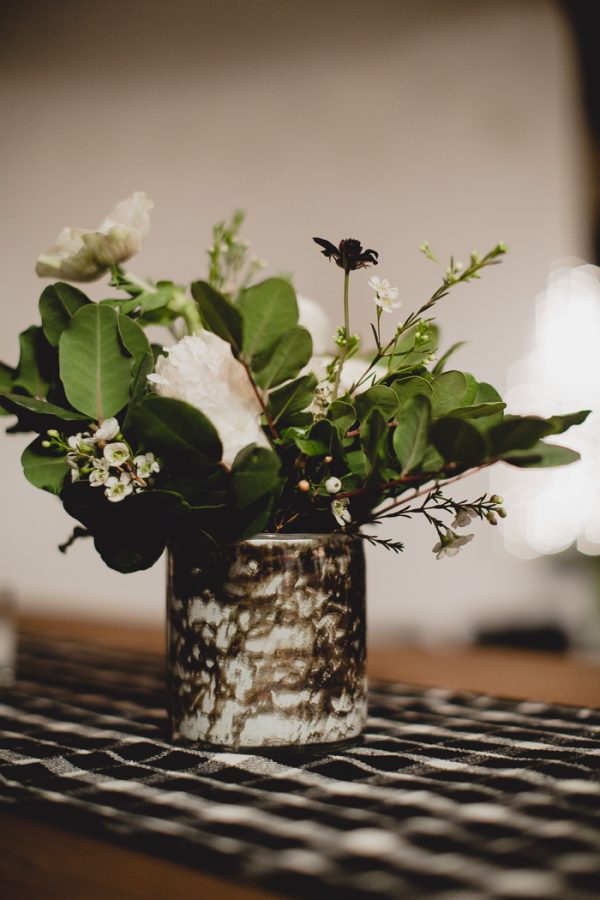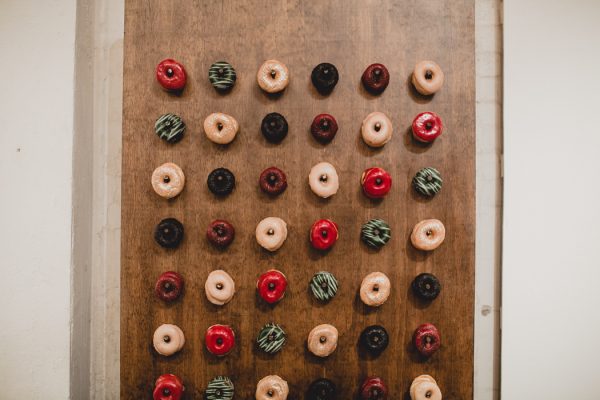 We didn't want a plated dinner because we didn't want to deal with seating charts. Laziness for the win. We opted for heavy appetizers from food stations around the venue. We chose unpretentious foods that sounded and tasted delicious any day of the week: Chicken tacos, fish tacos, baked cauliflower bites, artichoke and spinach flatbreads, corned beef sliders (Patrick is Irish), and Parmesan chicken sliders (I am Italian). Those corned beef sliders were the sleeper. So good. For desserts, we served donuts in flavors/colors that matched our wedding palette (glazed; maple; plum; cranberry hibiscus; lemon matcha), along with chai ice cream and homemade cookies. Oh, and the midnight breakfast burritos, of course.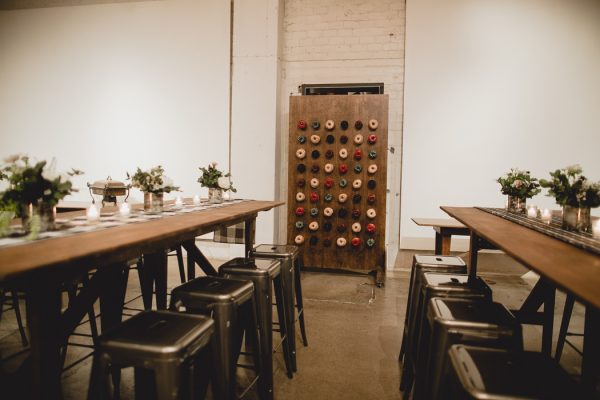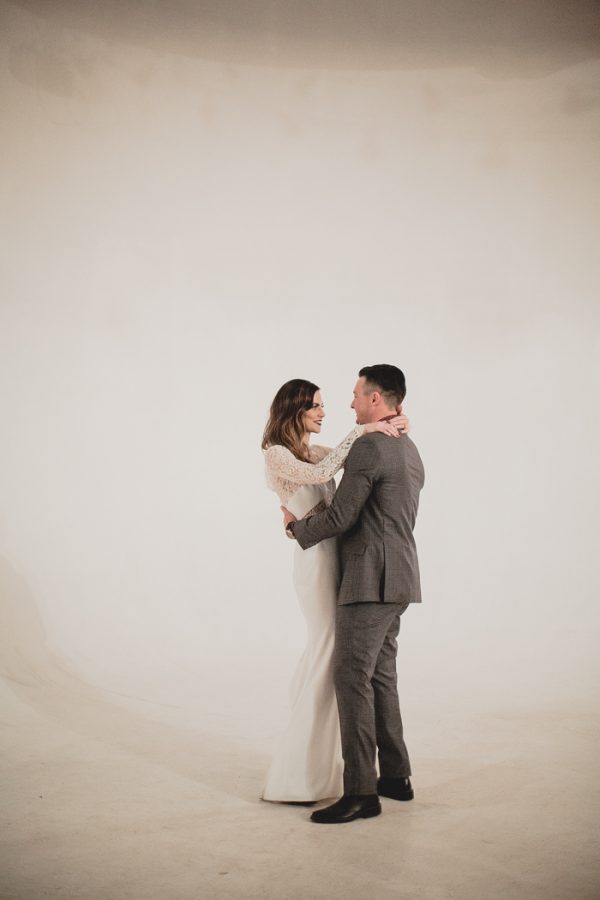 Weddings tend to bring out some weird behaviors in you, in your betrothed, and in your friends and families. Define what's important to you as a couple, what you want to include, and more importantly, what you don't want to include in your wedding. If you constantly remind yourself and stay relentlessly true to that vision, you can navigate the weirdness.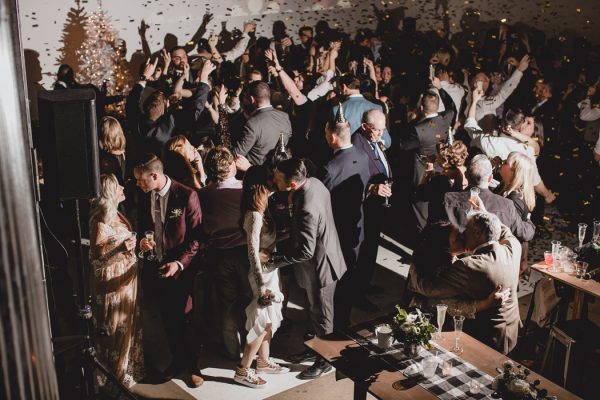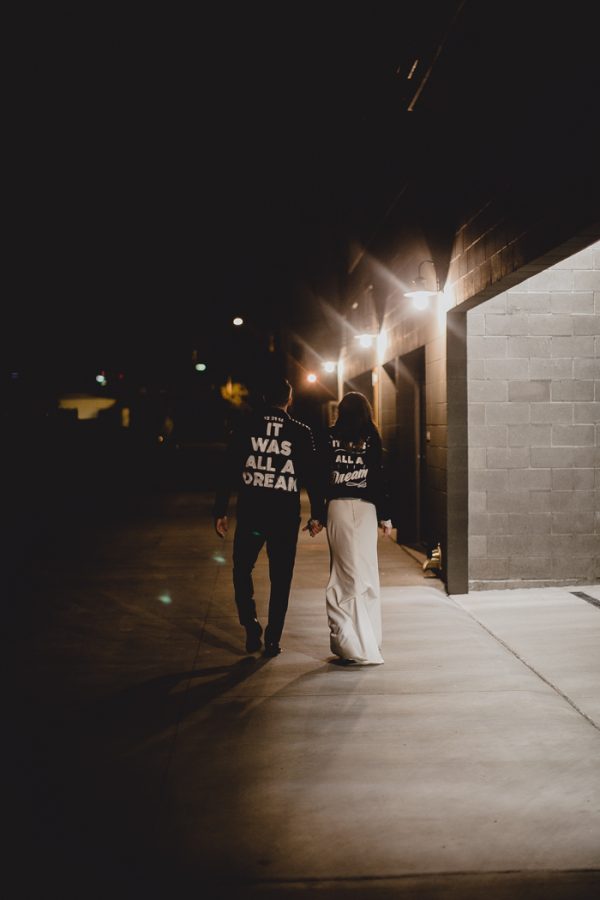 Congrats to Erin and Patrick on their unconventional Phoenix wedding! For more gorgeous wedding photography from Junebug Weddings member Kym Ventola, check out Samantha and Keiran's summer camp inspired wedding at Camp Geronimo.