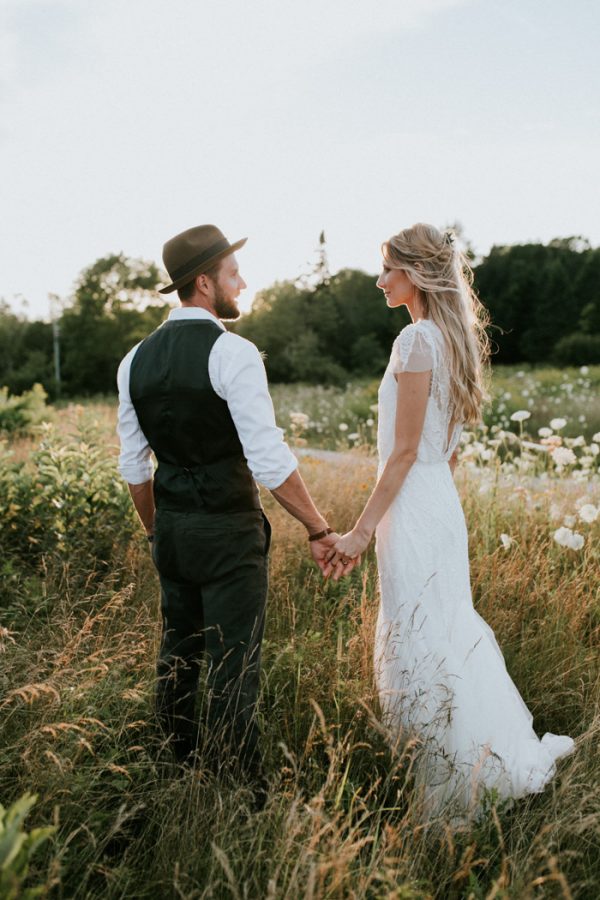 Between cool boho flair, woodland accents, and a super romantic ceremony, we think Alle and Tim's Maine wedding hits all of the right notes! Maine's coast holds a very special place in Alle and Tim's hearts, so they were eager to host the most important and heartfelt event of their lives there. The couple incorporated a dark rainbow of colors, Georgia O'Keefe-inspired florals, and woodland details like moss, antlers, and furry animals to reflect their free spirits and personal connections to nature and art. Emily Delamater Photography captured every detail of this couple's wedding perfectly, including their mind-blowing reception décor!
The Couple:
Alle and Tim
The Wedding:
The Lookout, Brooklin, Maine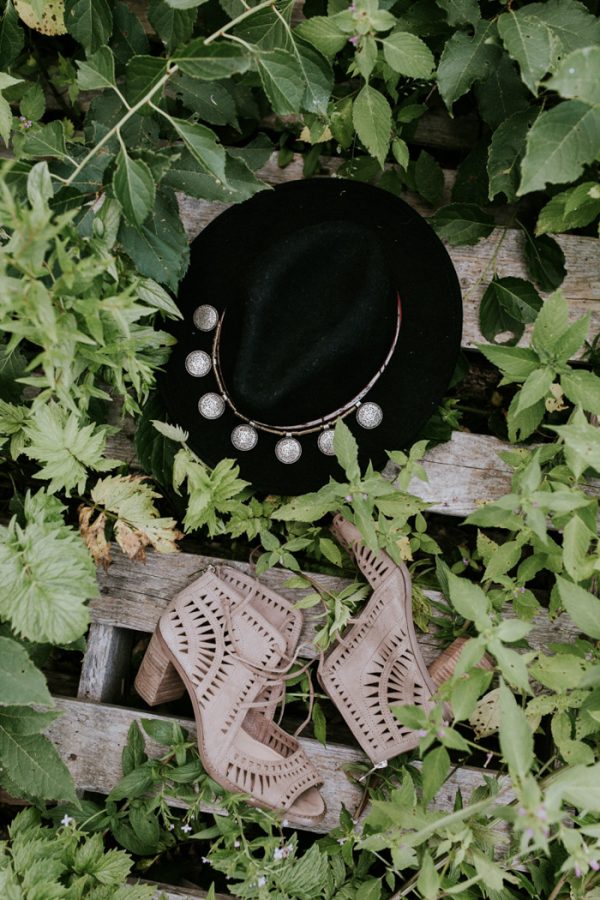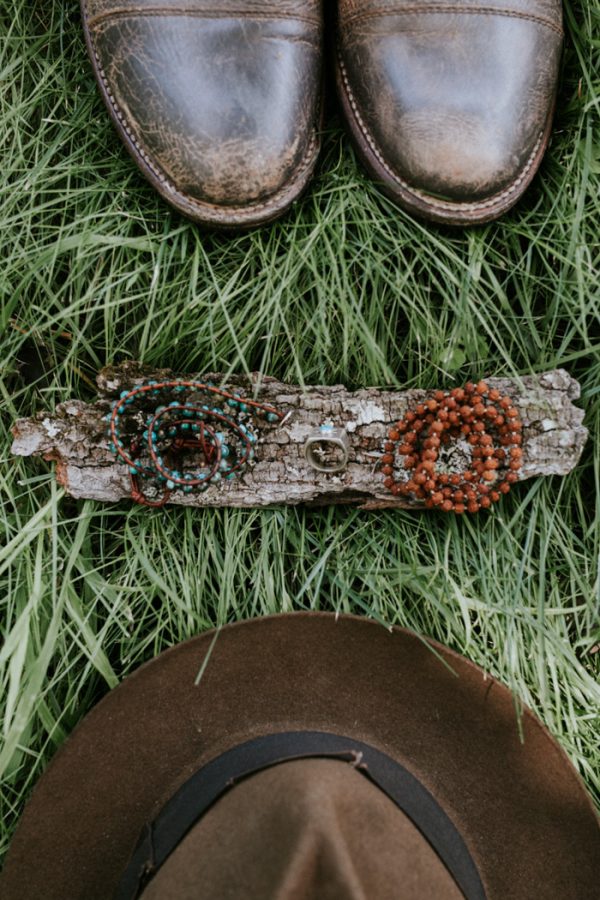 Alle spend a lot of her childhood and summers in Maine. When Tim and Alle first met, Alle brought Tim to experience her Maine, and it became a special part of their growing relationship and a place they hope to one day call home. The old inn and grounds are located directly across the water from the remote island that Alle's family lives.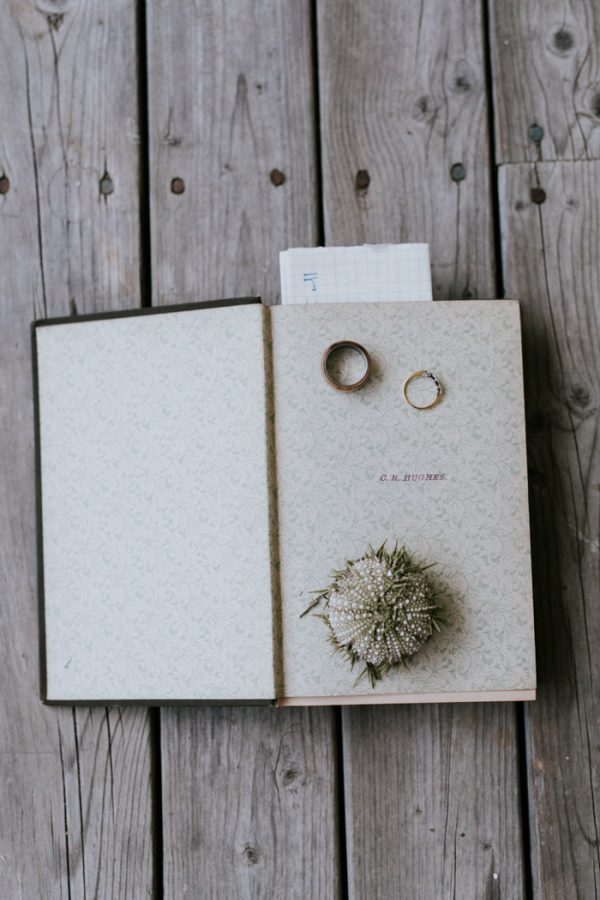 It was important to us that our wedding be a celebration of our love shared with the people who meant the most to us. We wanted a small wedding weekend where everyone could stay close to us so we could spend time beyond just the one day. More so, we wanted everyone to have a hand in making it all happen.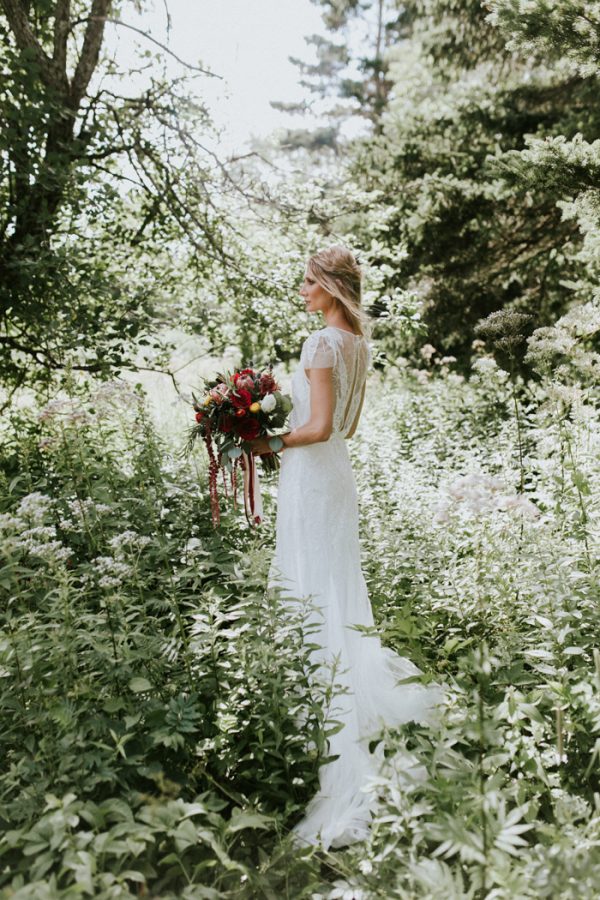 Alle's bridesmaid did her hair and created beautiful swept braids. The dress was comfortable while still being quite special covered in lace and embroidery and beading.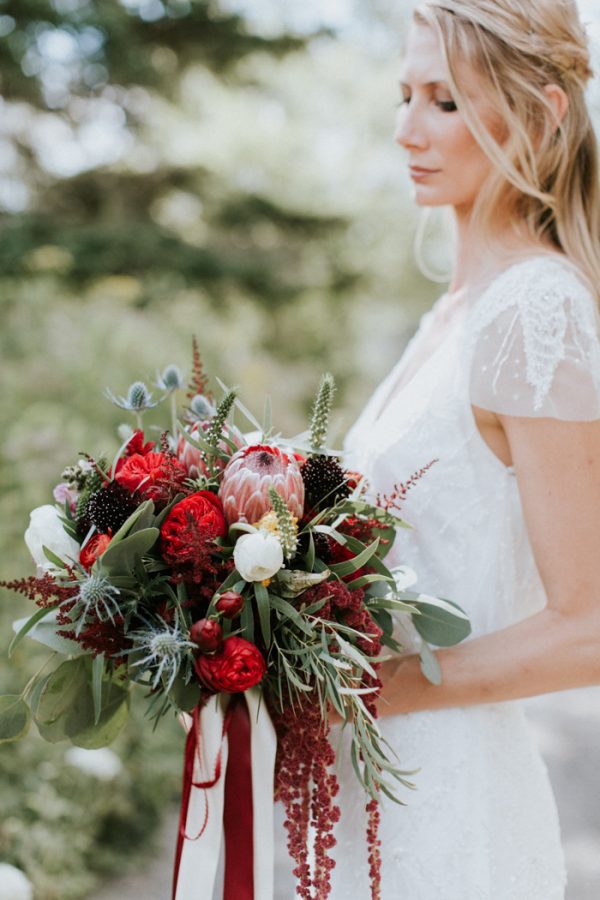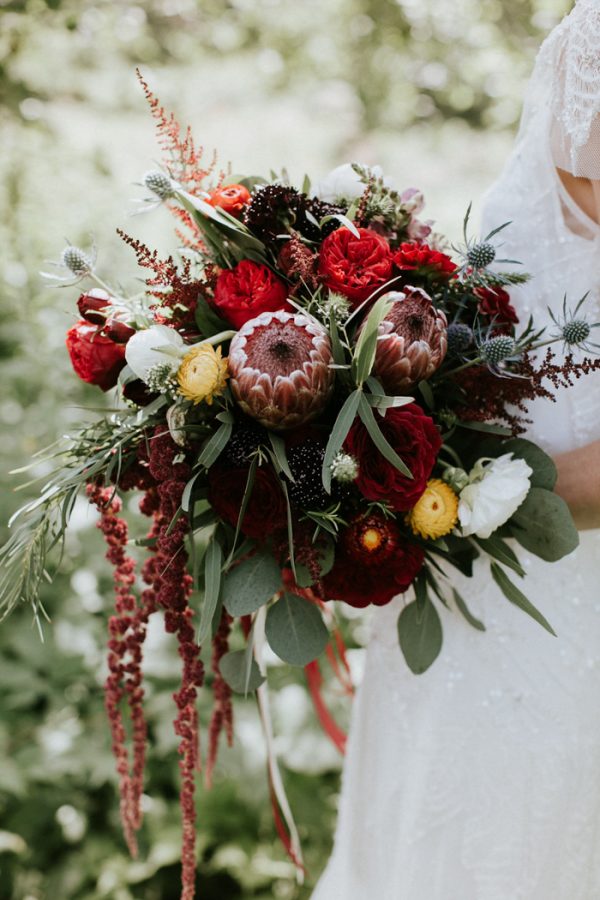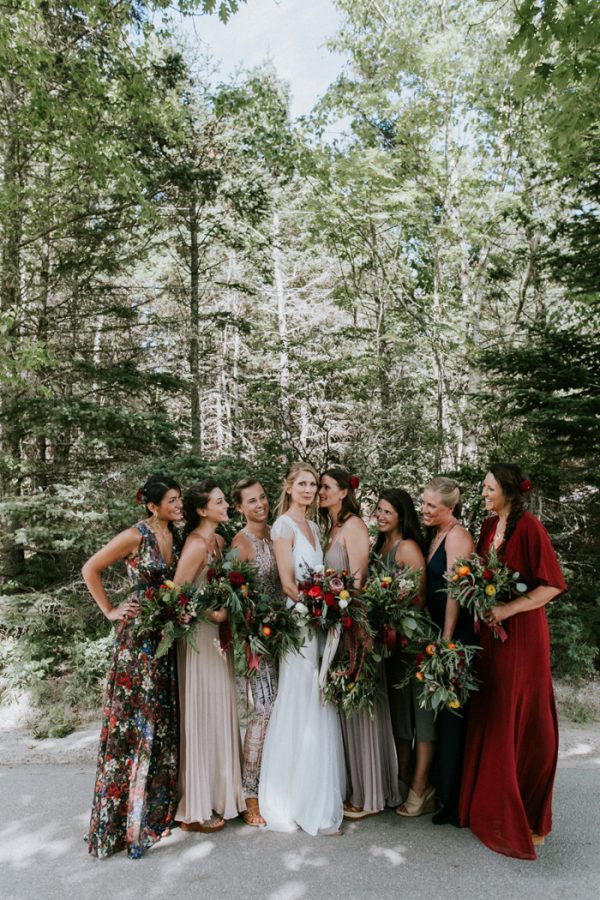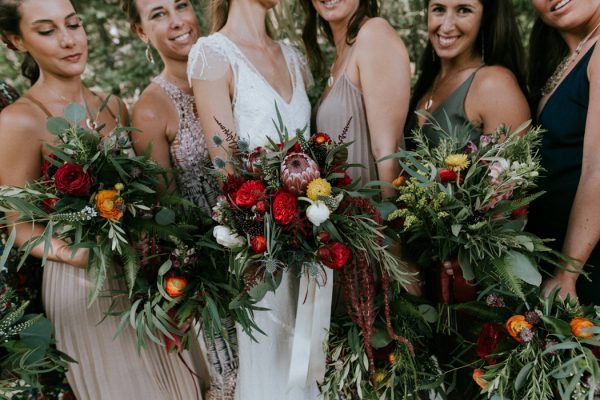 We let the natural scenery of coastal Maine do most of the talking. Highlighted with aspects of gold, antlers, and boho California, it all came together as a mesh between all the things we love and places we call home.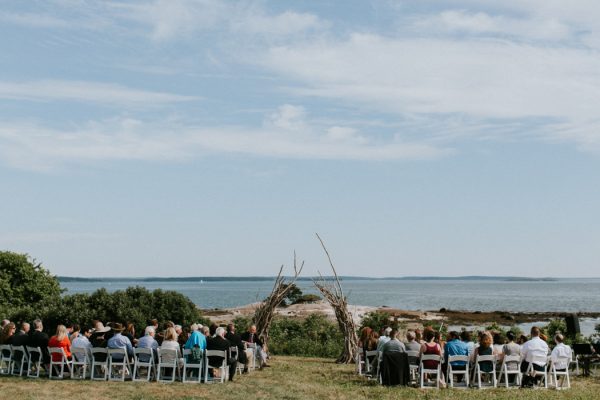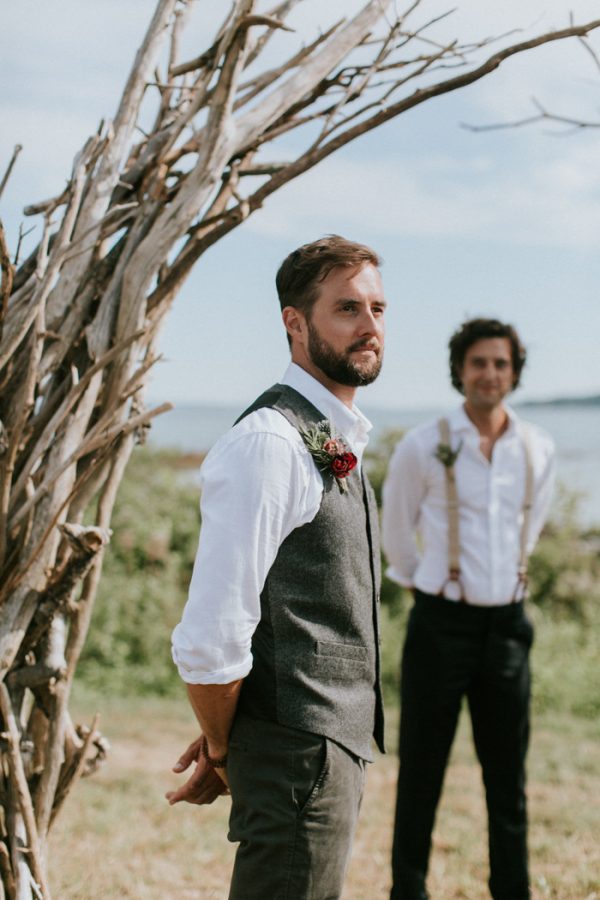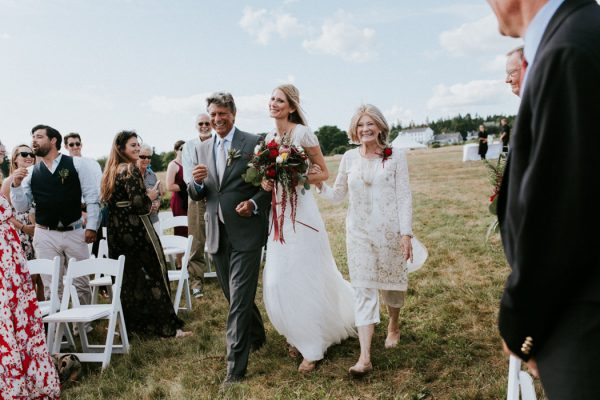 There were almost too many memorable moments to name, picking one seems unfair to the others. So many tears of joy were shed. The ceremony was especially emotional and special as our siblings each read something they chose, our close friend officiated, and another played one of Alle's favorite songs as she walked down a long field surrounded by wild flowers to the arch we would be married under. Alle walked with both her parents at her side, the moment she saw Tim, she stopped and started crying. They both did.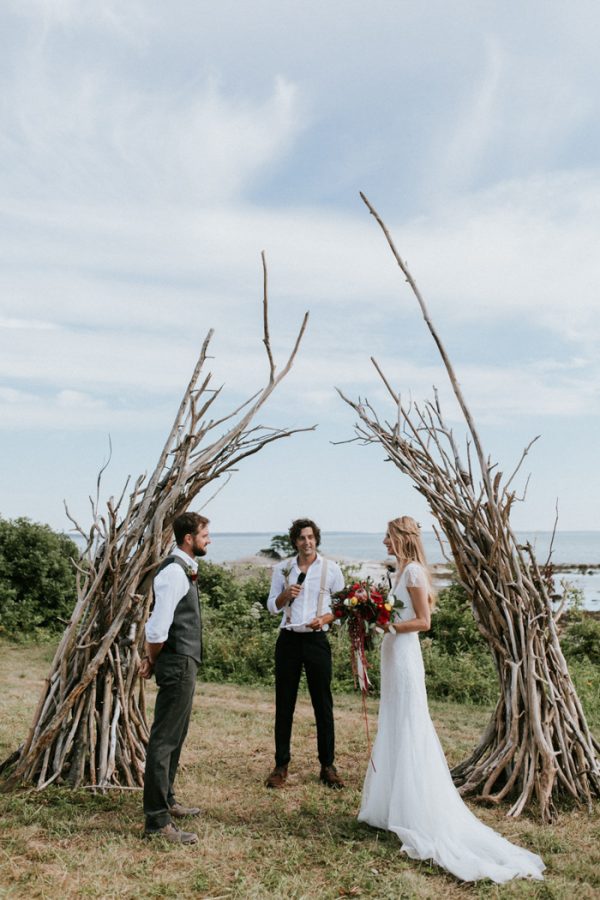 We gave our friend full reign in terms of what he wanted to say. It was absolutely perfect. Our siblings also were given creative freedom to chose to read what they wanted. Besides the arch there were no decorations at the ceremony site. The backdrop was the water and a small island where two trees seem to kiss, aptly named "The Kissing Trees."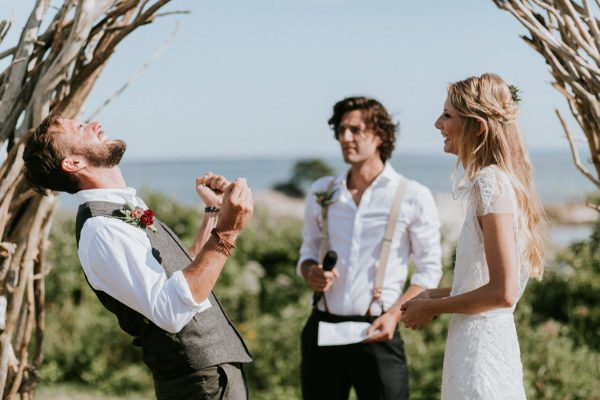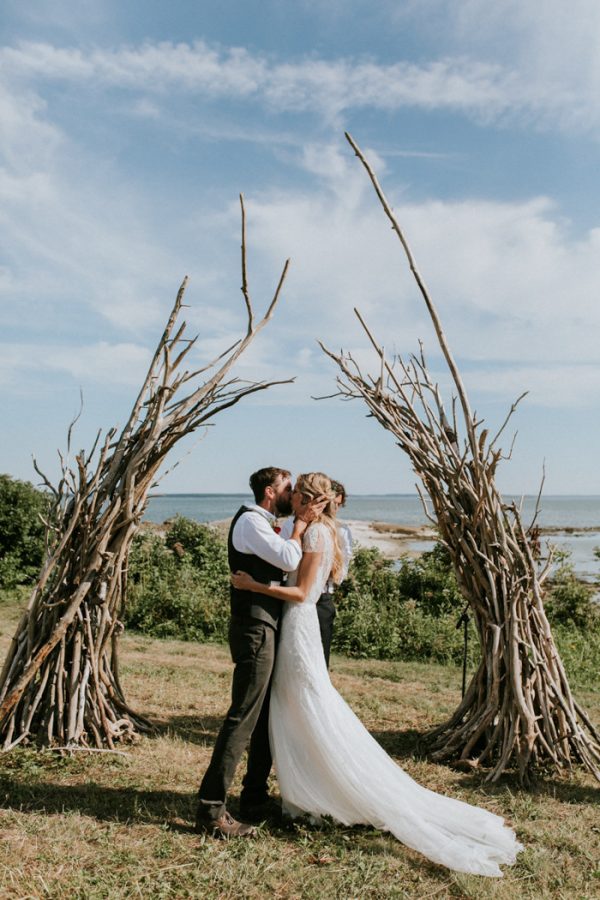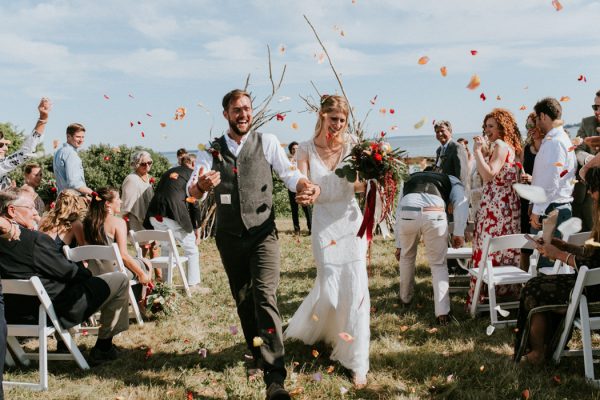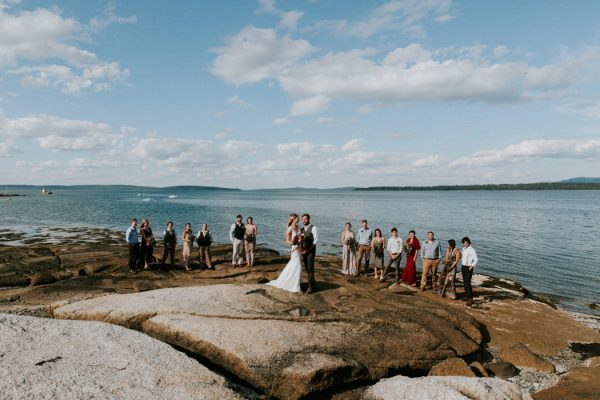 We wanted a pretty casual look. Tim wore a white shirt and vest, with casual pants and boots. The groomsmen all wore similar in earthy tones. Alle let her bridesmaids choose their dresses inspired by dark earthy colors and wild flowers.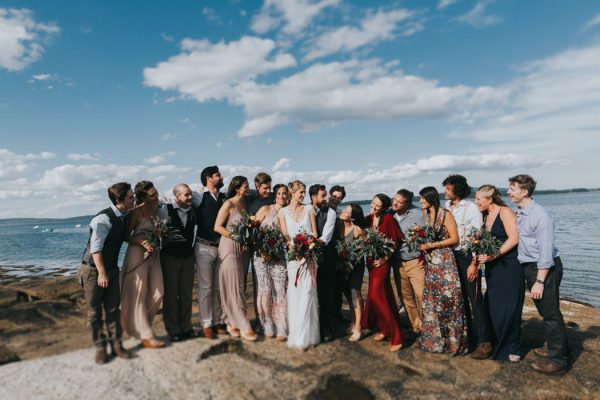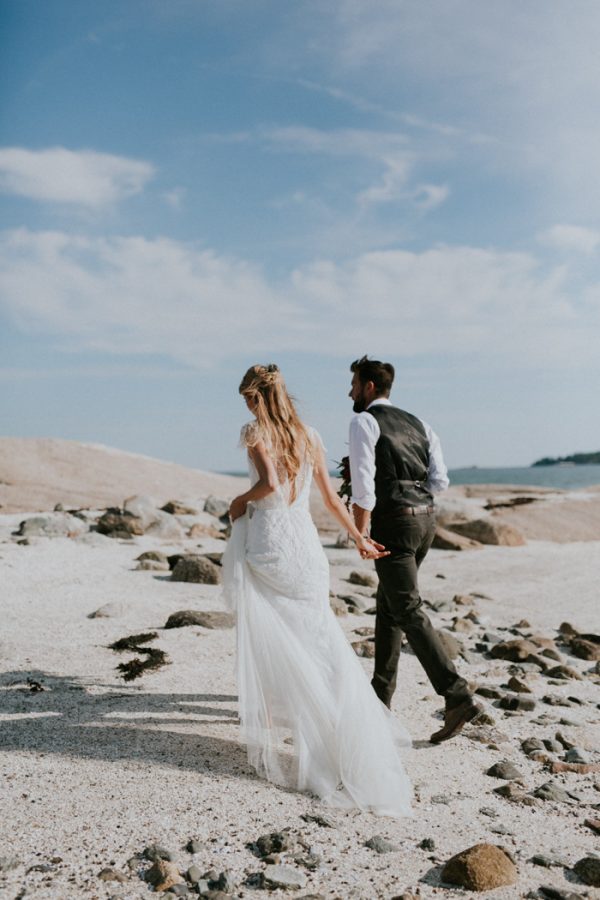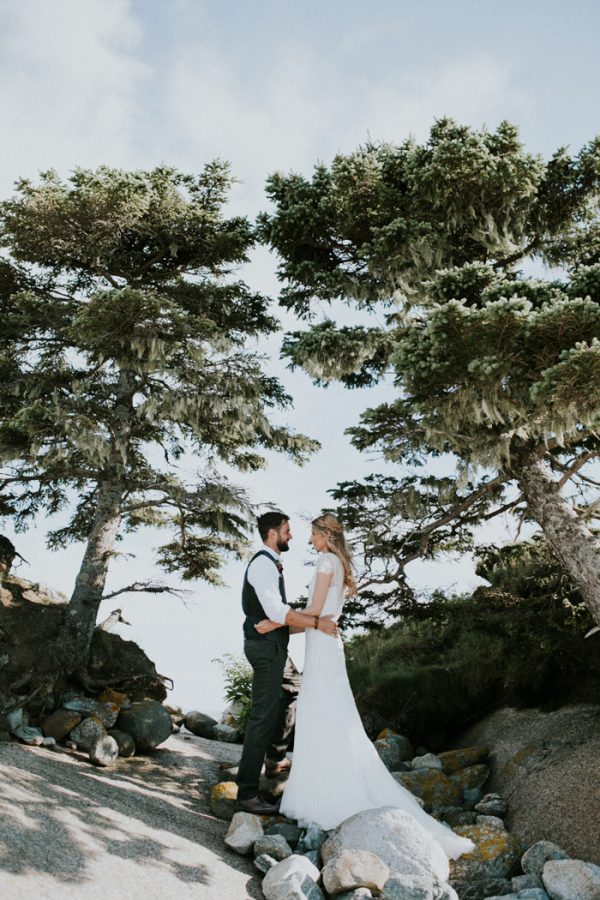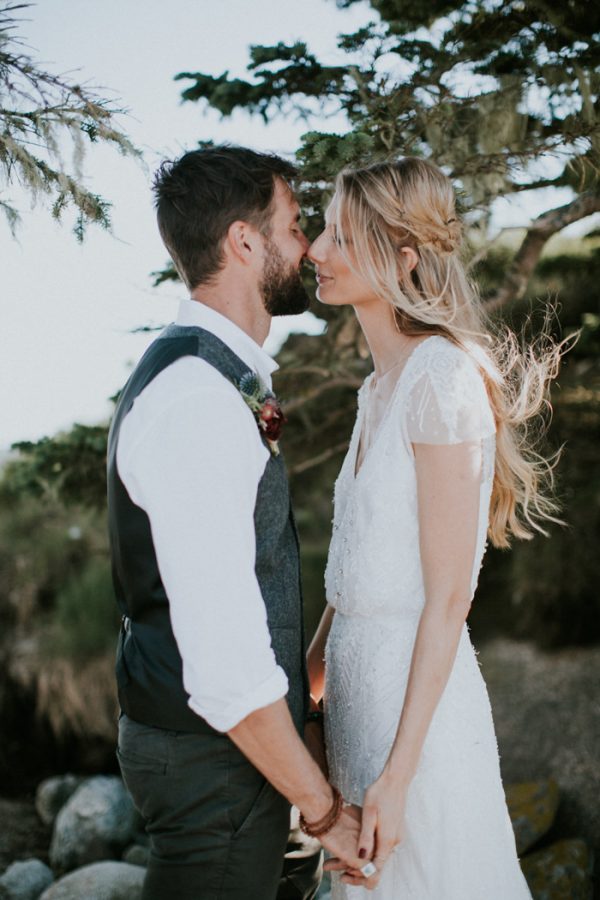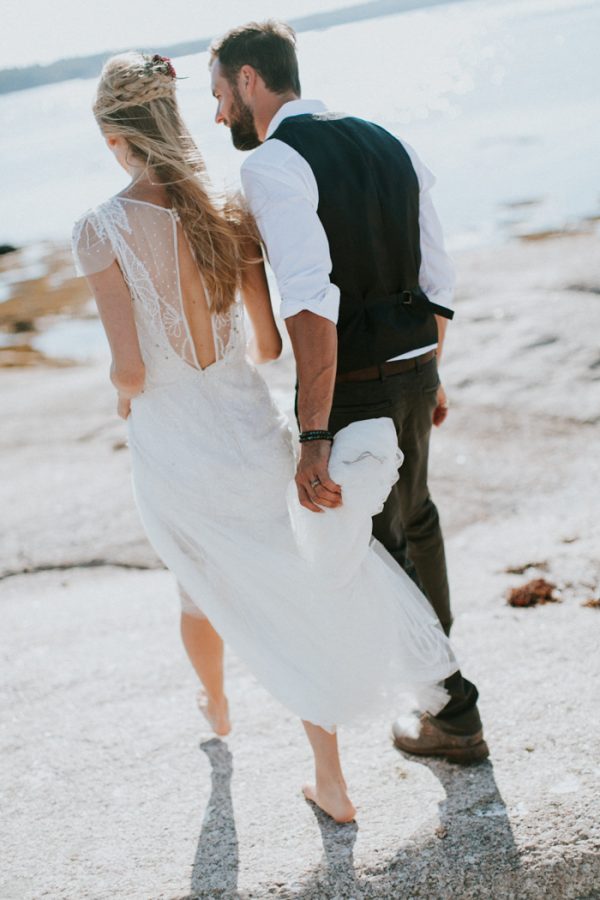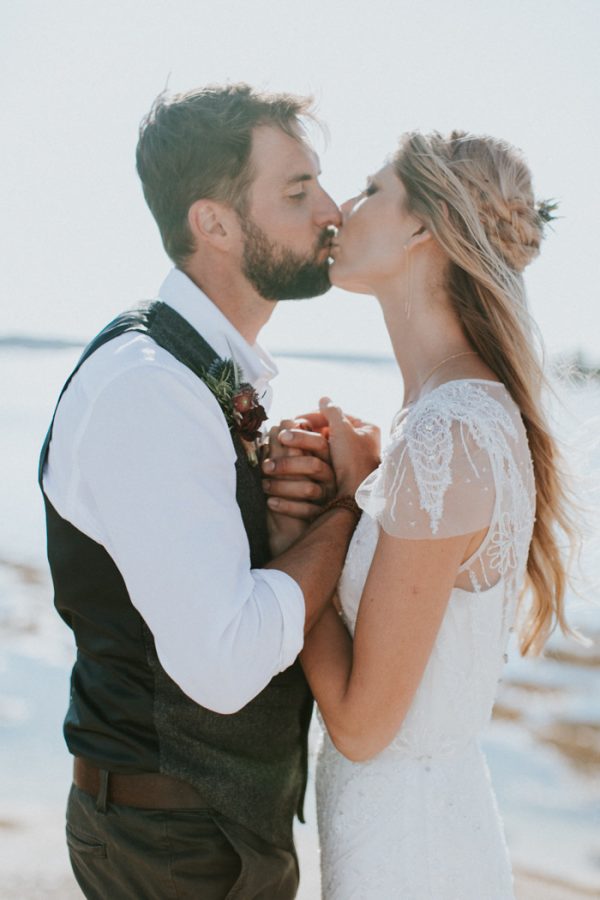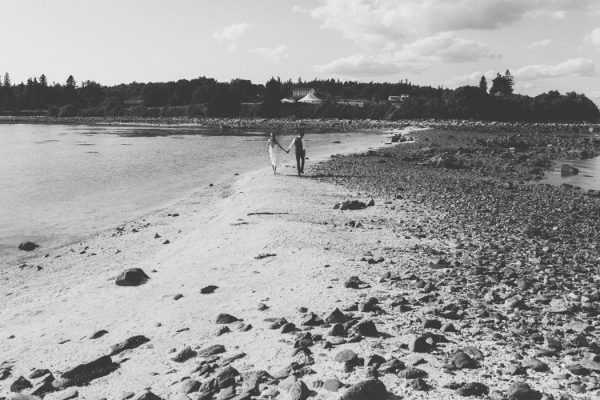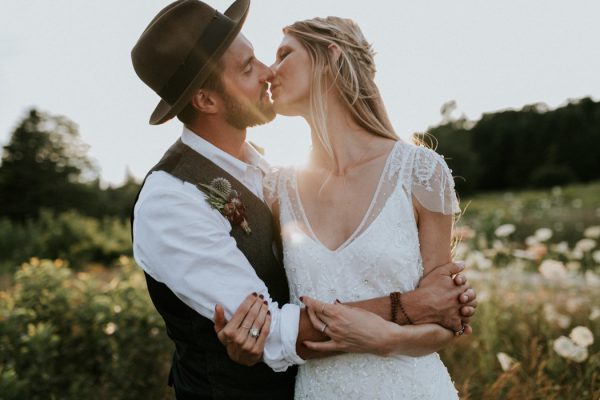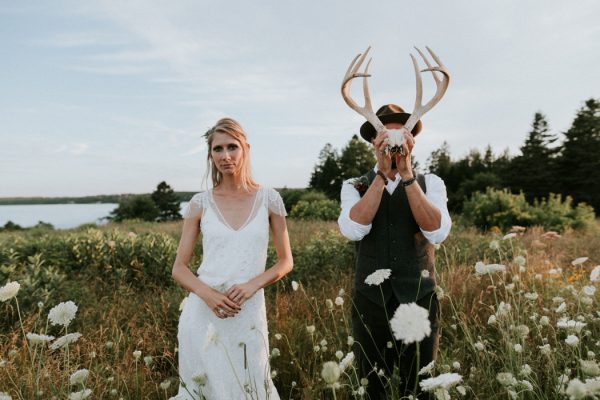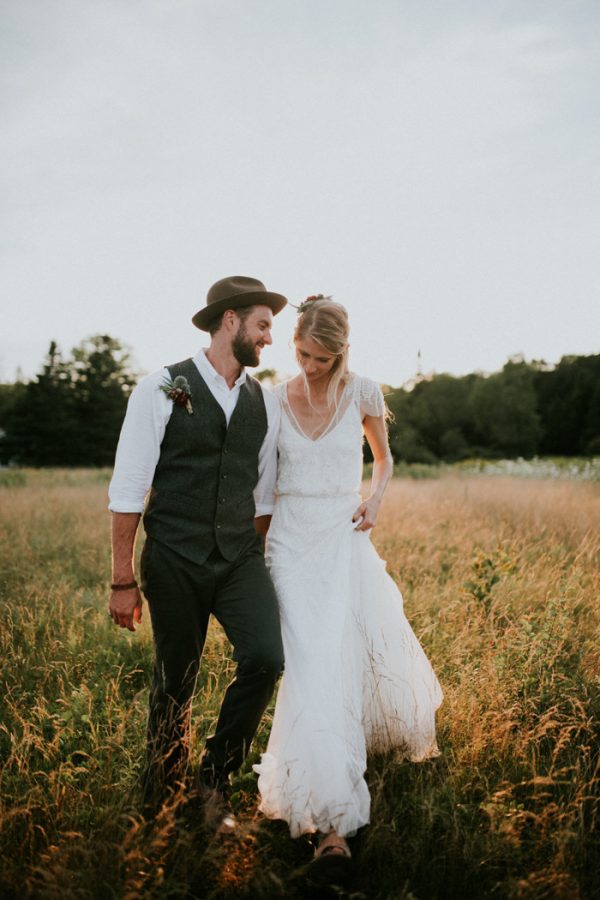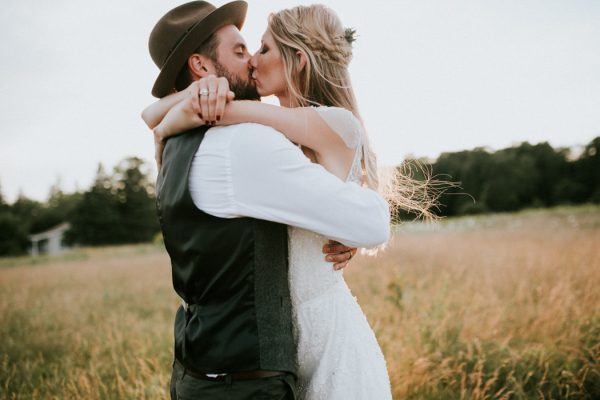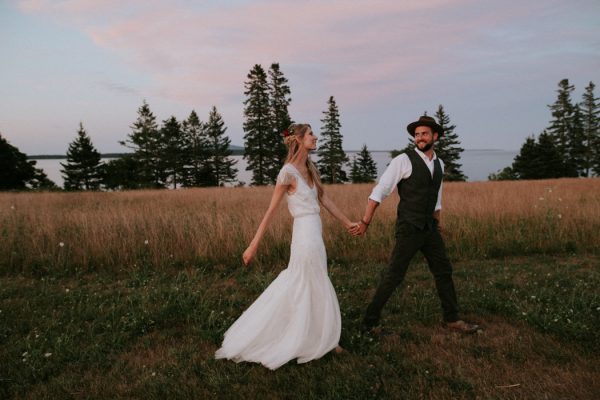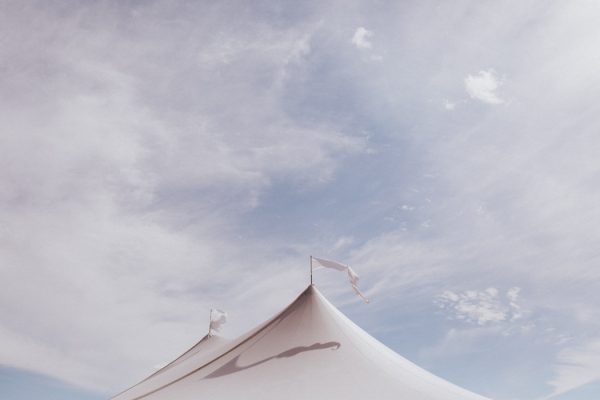 Our advice: In the end it all works out, but there are bound to be some hiccups along the way. Focus on what the wedding really means vs what fills the space. The feelings you want to bring vs the decorations.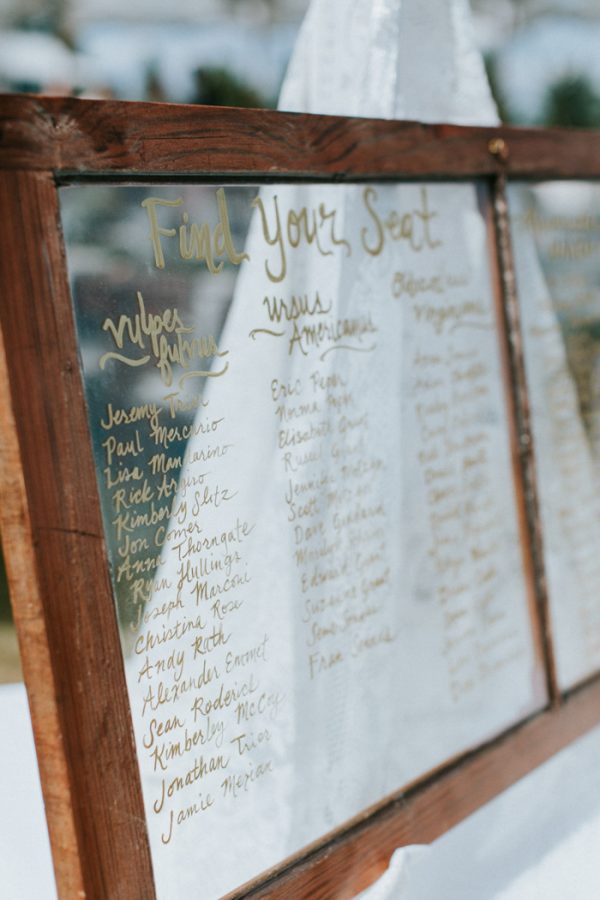 The night of the rehearsal dinner, every one helped to set the table. Our friends and family collected the driftwood for the arch that Tim and his groomsmen would later build, as well as all the sea stones we used as "name cards." Alle's close friends and bridesmaids made desserts for both the rehearsal dinner and wedding, one did Alle's hair.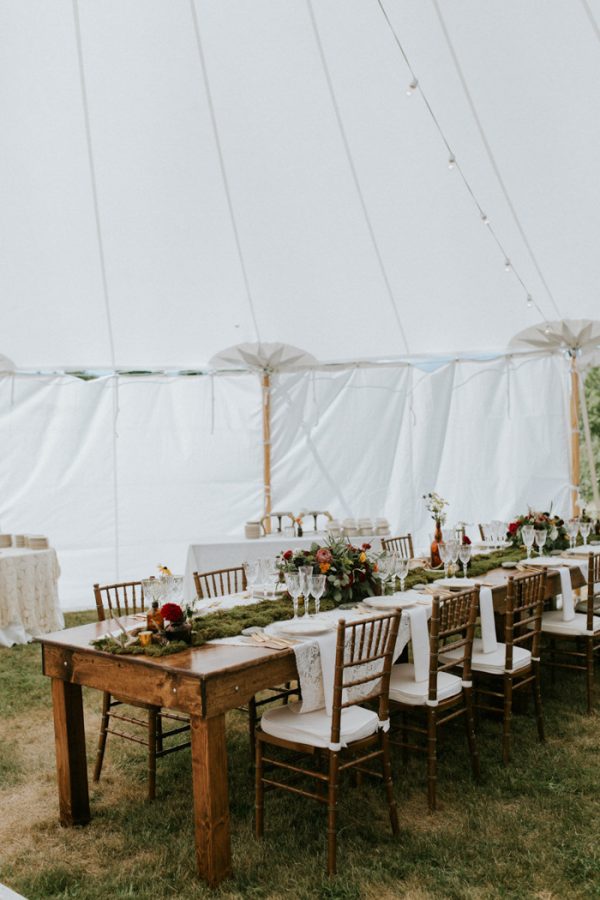 Besides the rich dark colors of the flowers and moss that highlighted natural elements of stone, driftwood and bone, the rest was a backdrop of white crochet and lace. I wanted a dark rainbow of color. Always drawn towards the work of Georgia O' Keeffe, I ended up using her as a description to explain our vision. A mix between rustic, natural, and clean and boho.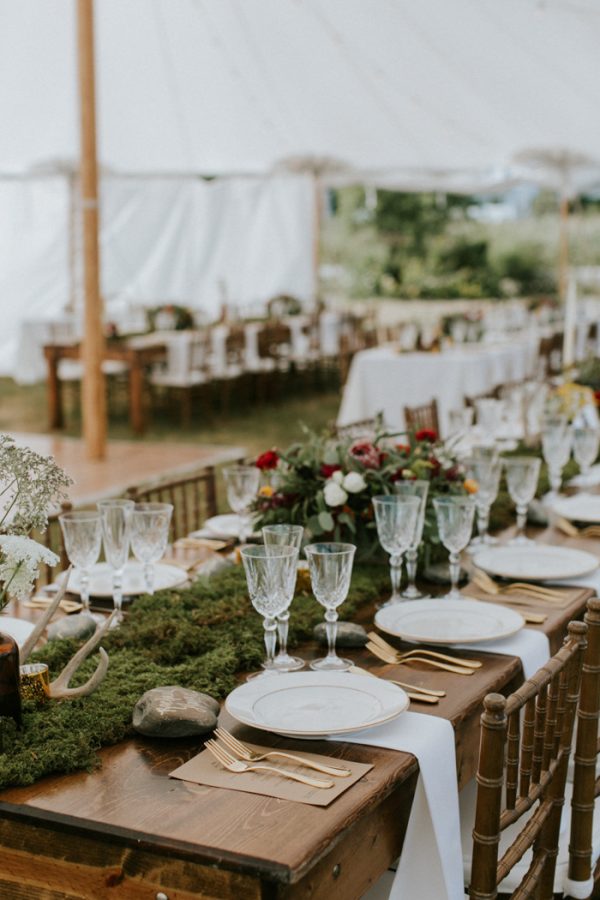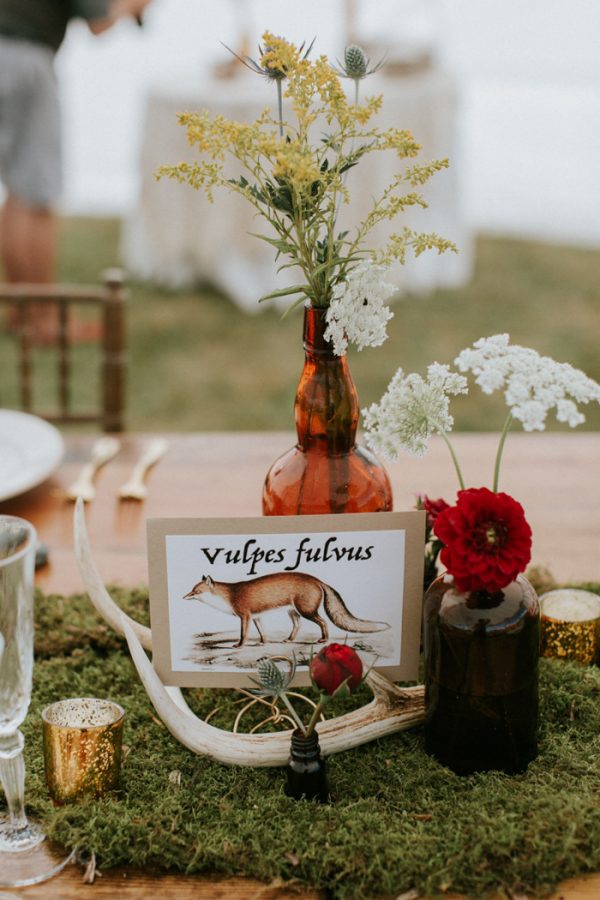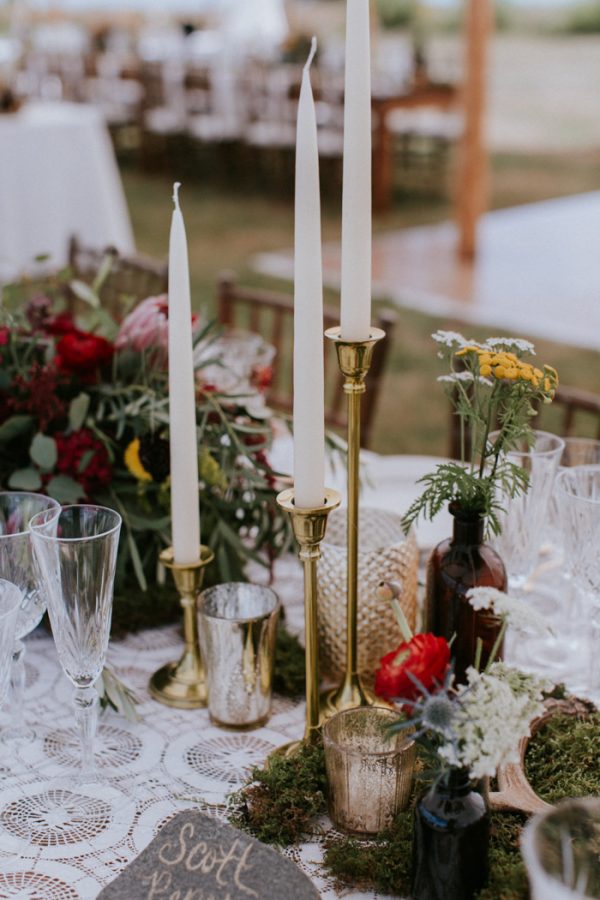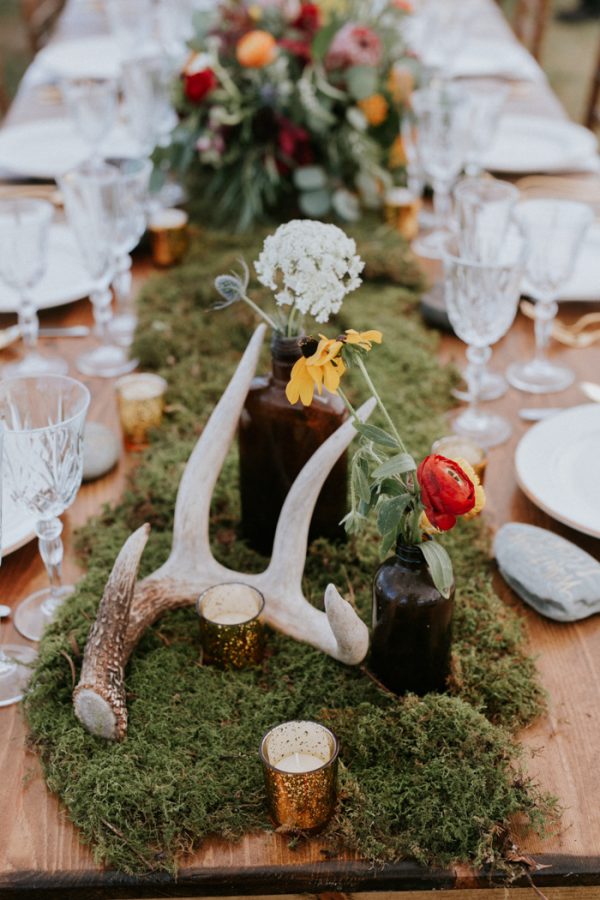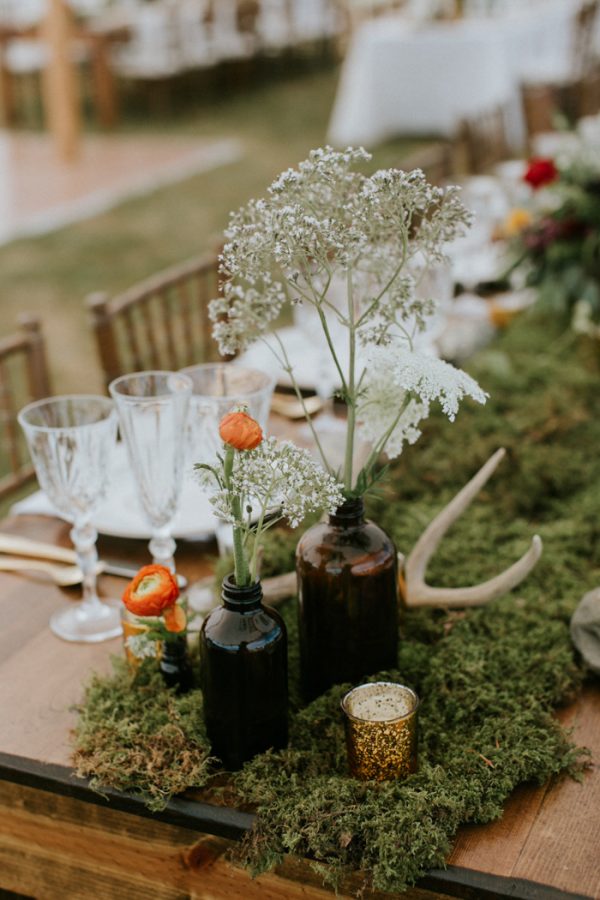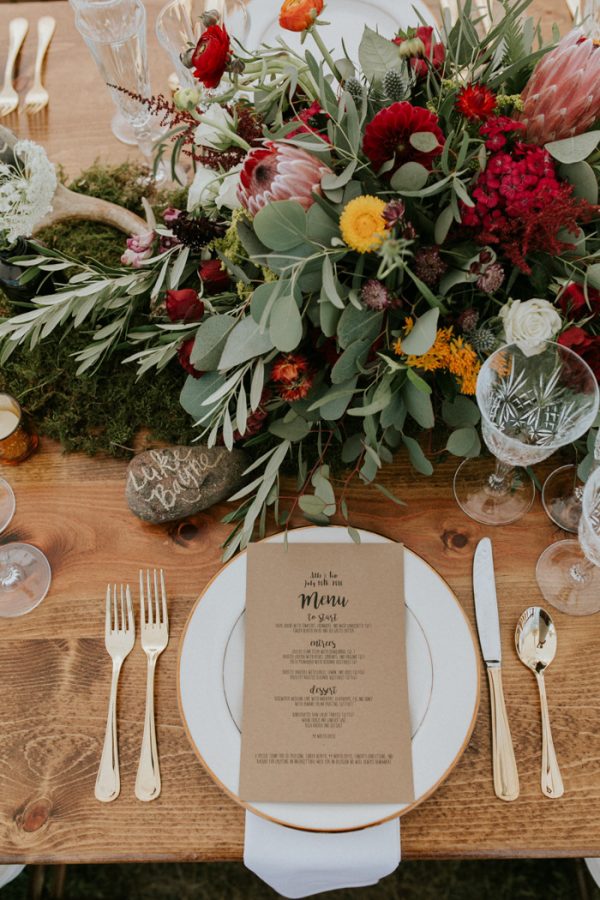 Alle handwrote all the gold painted rocks and seating chart. We did all of the setup and decoration for the rehearsal dinner, Alle's friend made all the desserts for both nights (except for the wedding cake). Tim and friends build the 9 ft arch we were married under. We had a lot of natural elements, which were all collected from the surrounding area.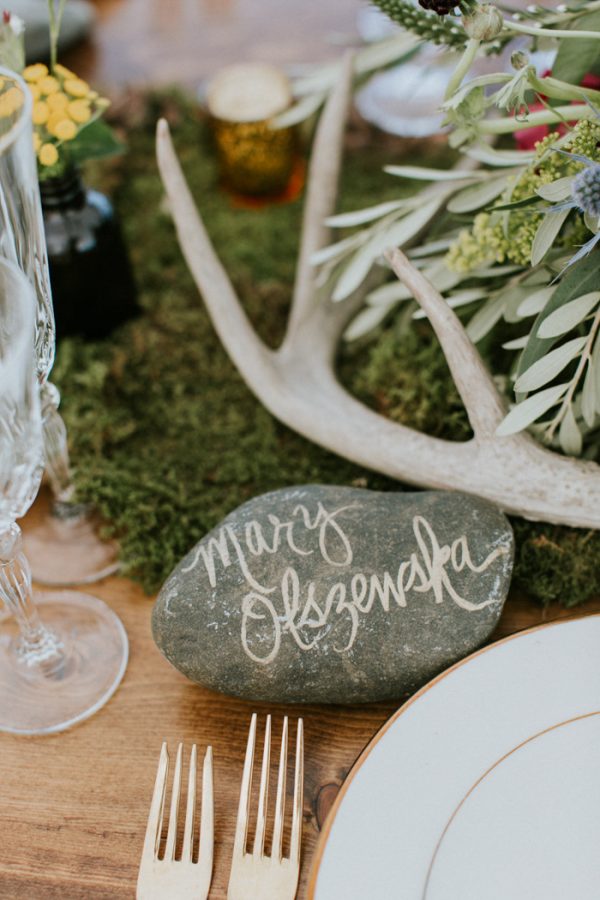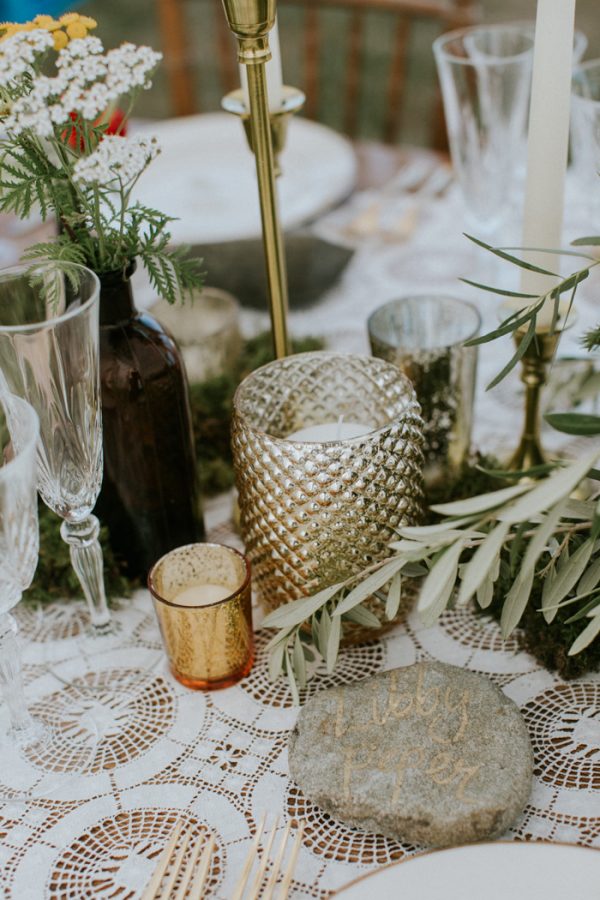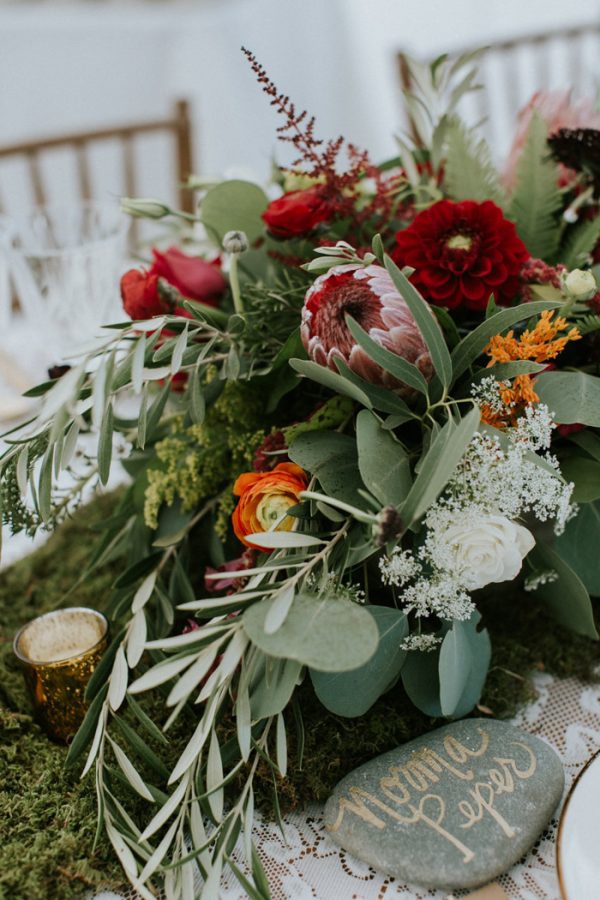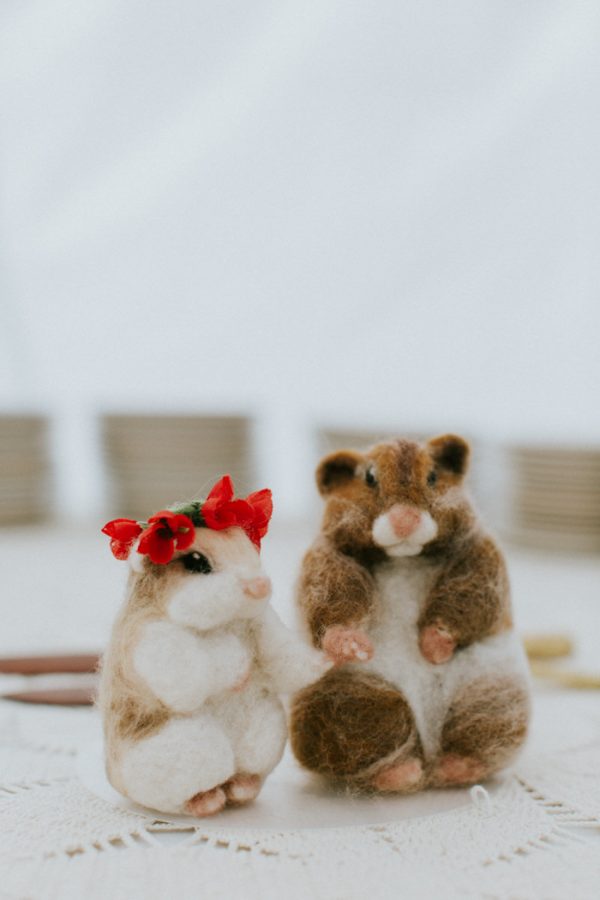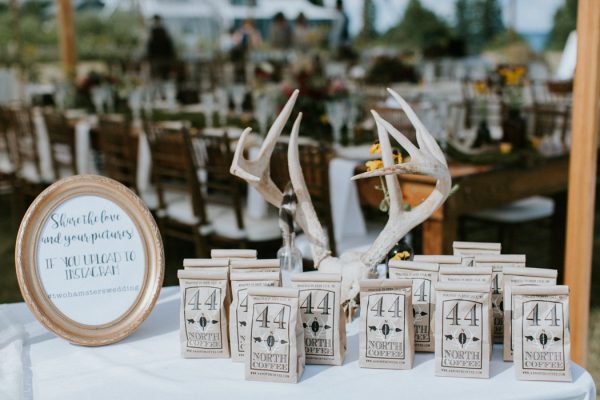 We provided bags of local coffee from 44 North, roasted on the Island that Alle's family lives. We know the owners and they actually worked with us to create our own blend. Tim's father wrote cupping notes, which were printed on the bag as if we (Alle and Tim) were the beans.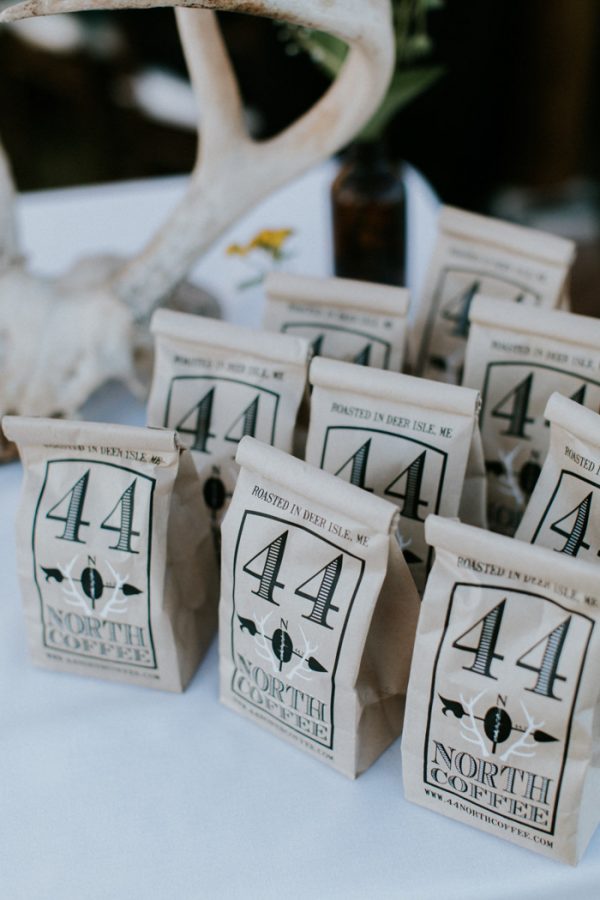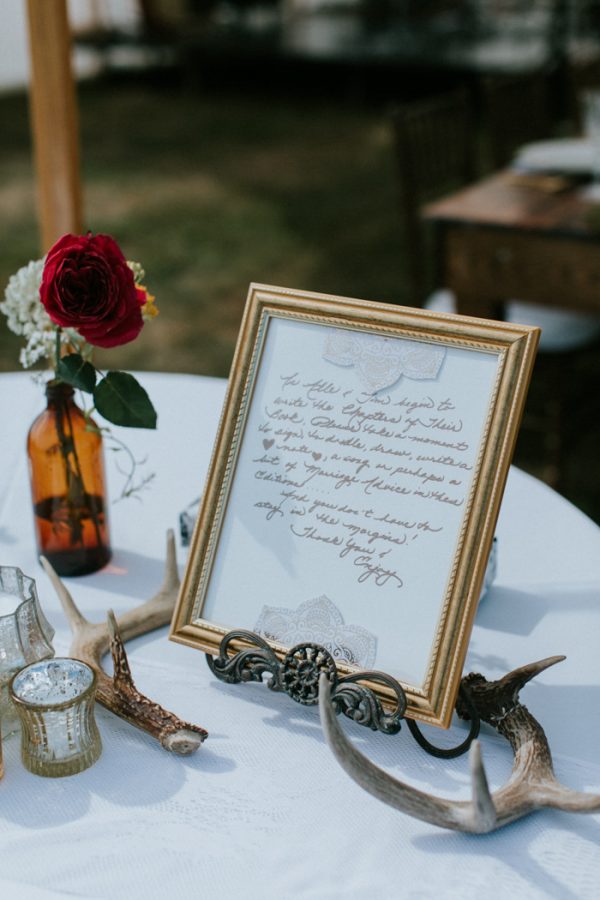 We knew we wanted a local catering couple, Trilium, when they also catered a close friend's wedding the summer before. They used a lot of locally sourced produce and we went with a family style plating of chicken, steak and a lot of veggies. The cake was a vegetarian and gluten-free – rose water cake with almond frosting, and mulberry blackberry honey filling. Alle's friend made Maine-inspired flavored chocolate truffes of rose and chaga sea salt. The food and food sourcing was a very important aspect to us. All the wine was sulfite free and organic as well.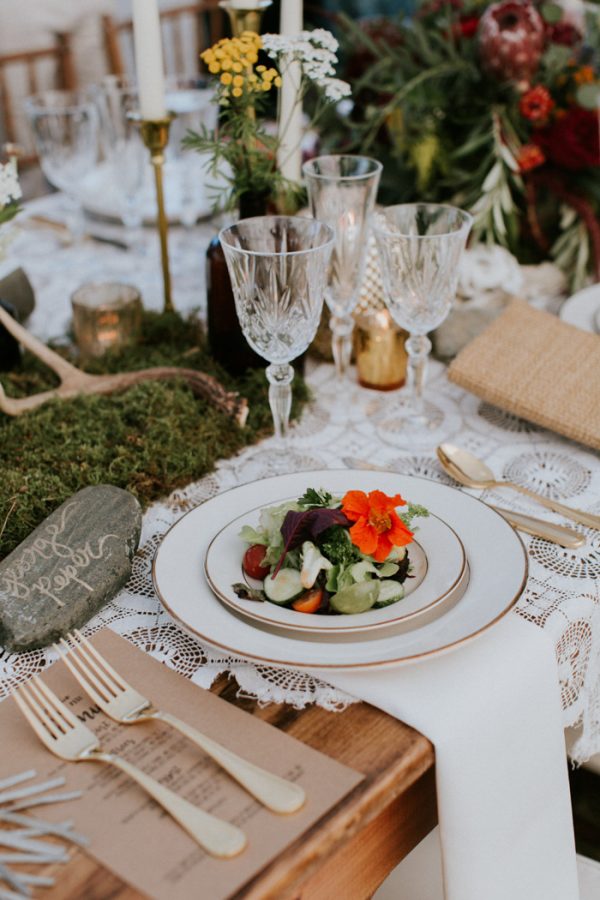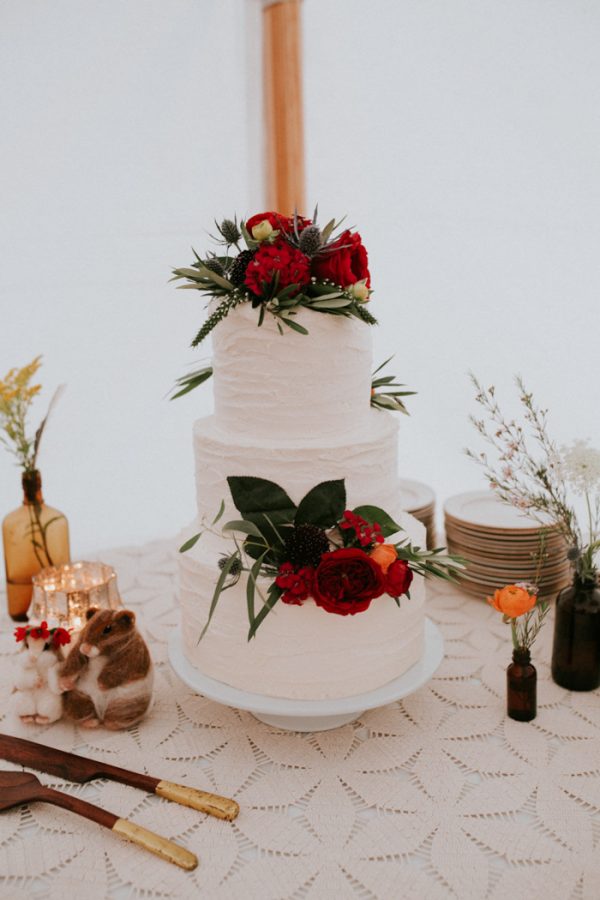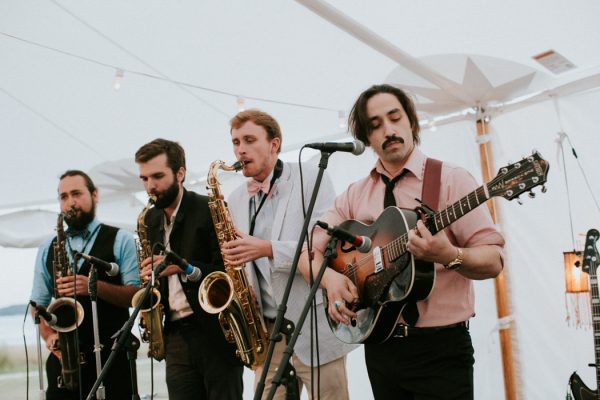 Wedding Party Processional: Mumford & Sons – Ghosts That We Knew
Bridal Processional: Ray LaMontagne – Empty
First Dance: Van Morrison – Into the Mystic
Father-Daughter Dance: James Taylor – Sweet Baby James
Mother-Son Dance: Israel Kamakawawiwole – Somewhere Over The Rainbow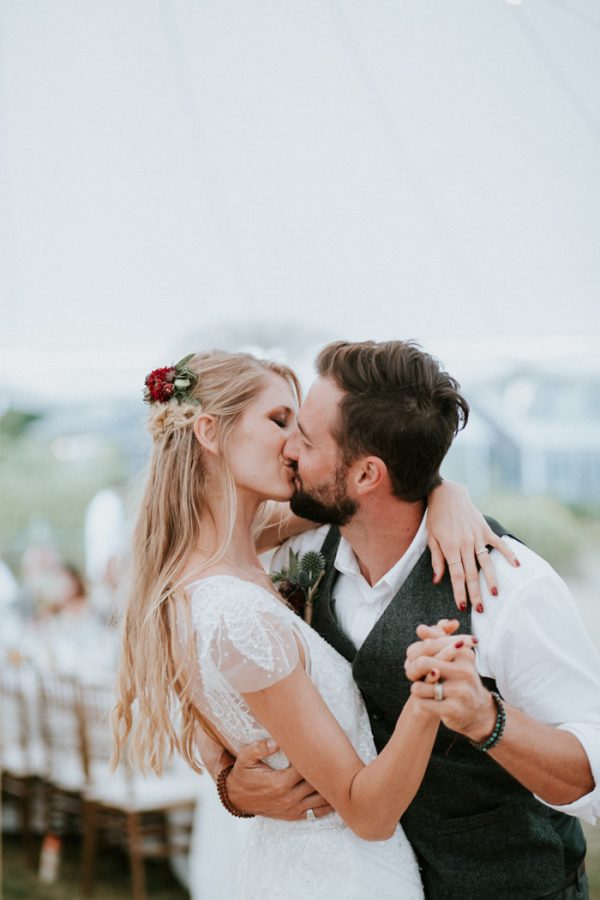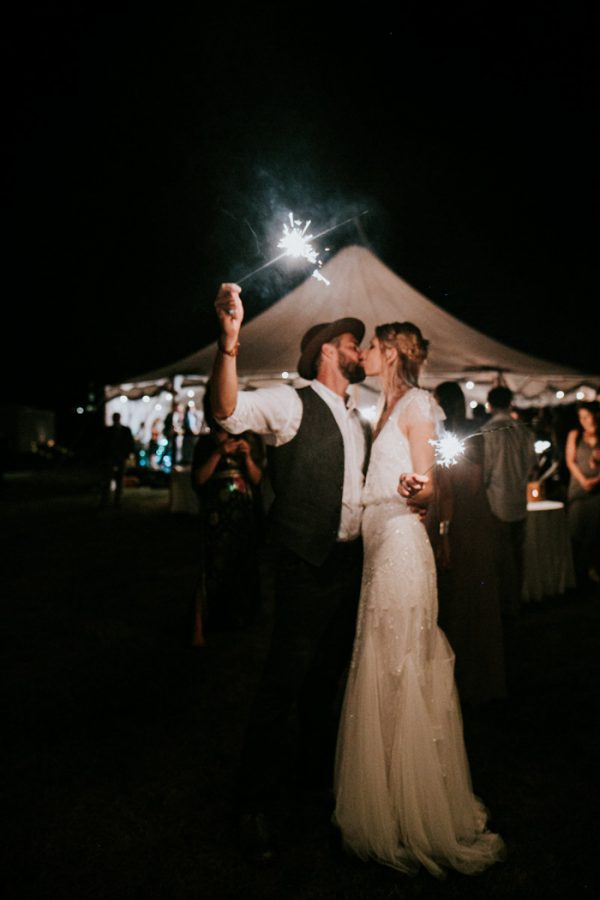 Congratulations to Alle and Tim, and a very special thanks to Emily Delamater Photography for sharing their wedding with us. Can't get enough of this wedding's boho vibes? Then you've got to see this rustic bohemian ranch wedding in Oklahoma!