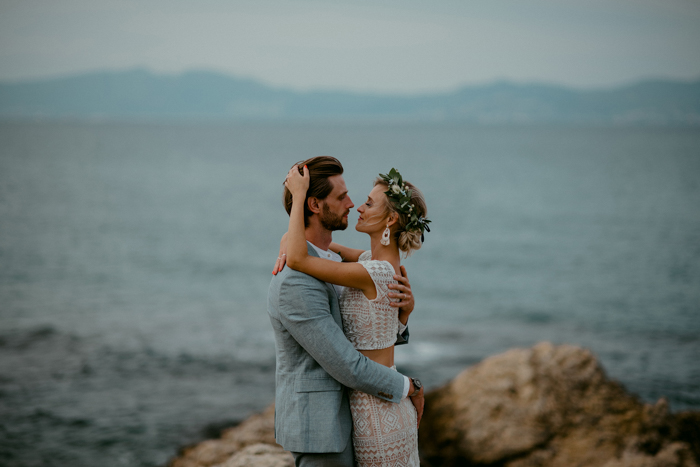 If you've been looking for idyllic destination wedding inspiration, Tiffany and Ashley's Cortal Gran wedding is everything you need to see today! The family-run venue near the coast of Spain allowed the couple to fully realize their bohemian and ethereal garden wedding dreams, complete with a ceremony under the canopy of green leafy trees, cocktail hour next to the greenhouse, and dinner amongst the palms. Their planner Silvia, of Fresh and Wood, used raw materials of bamboo, ceramics, wood, and tons of lush botanicals designed by Studio Floral to create a chill, summer party vibe that echoed the couple's at-home style and made the entire wedding day feel like the best vacation get-away! From the garden ceremony to the newlywed portraits among ruins and on the waterfront, Dallas & Sabrina Photography didn't miss a beat in capturing every moment of this dreamy Spanish wedding!
The Couple:
Tiffany and Ashley
The Wedding:
Cortal Gran, Costa Brava, Spain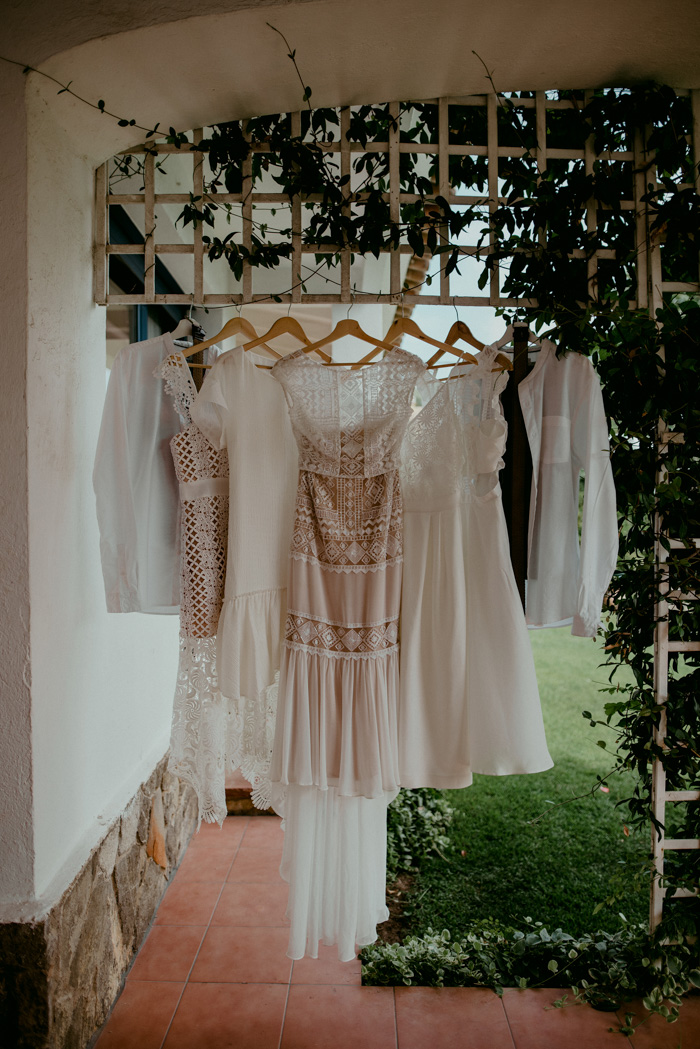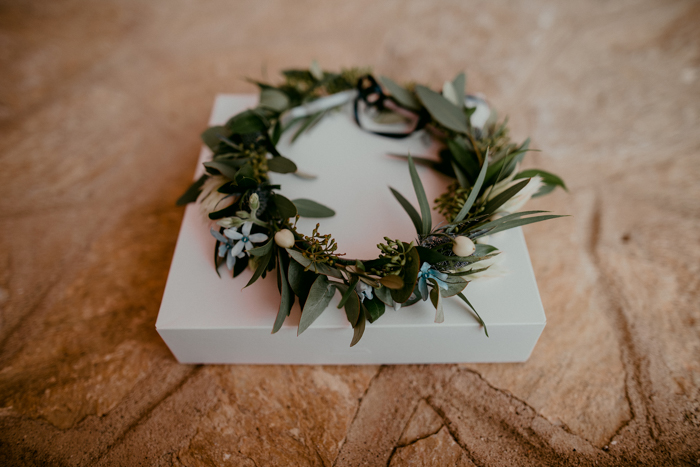 Tiffany is Australian and Ashley is English, so we initially discussed locations somewhere between the two countries which would have the best odds at providing beautiful warm and sunny weather. The location came to us quite early on – L'Escala is a gorgeous historic beach town on the Costa Brava coast where Ashley's mum has a little apartment. We'd celebrated Tiffany's 30th birthday there a few weeks before Ashley proposed, so it already held special memories.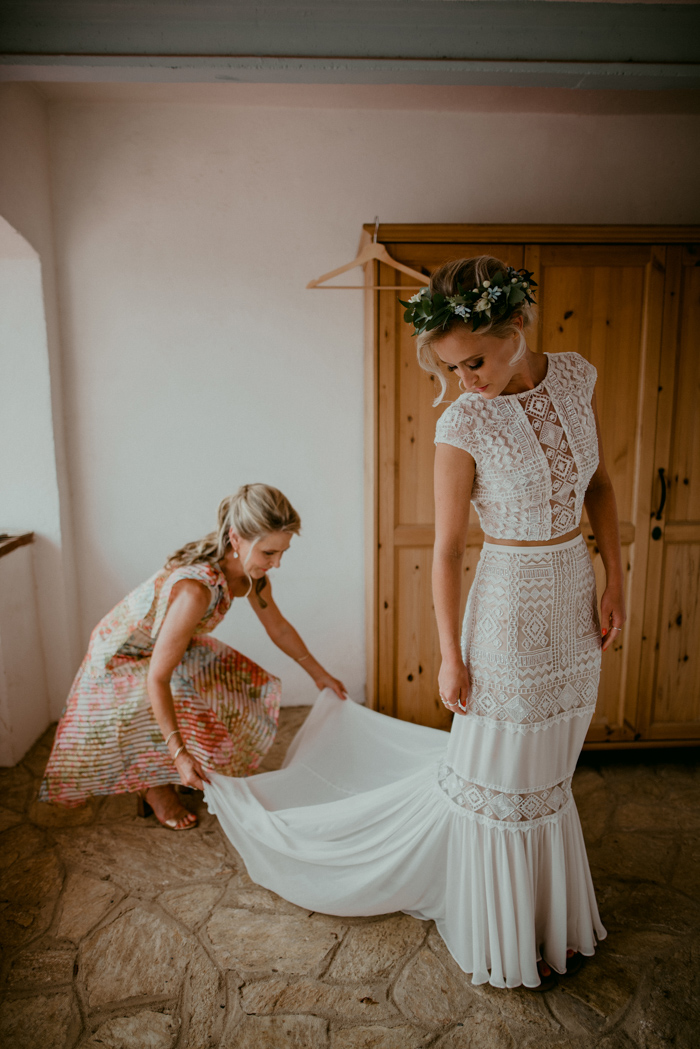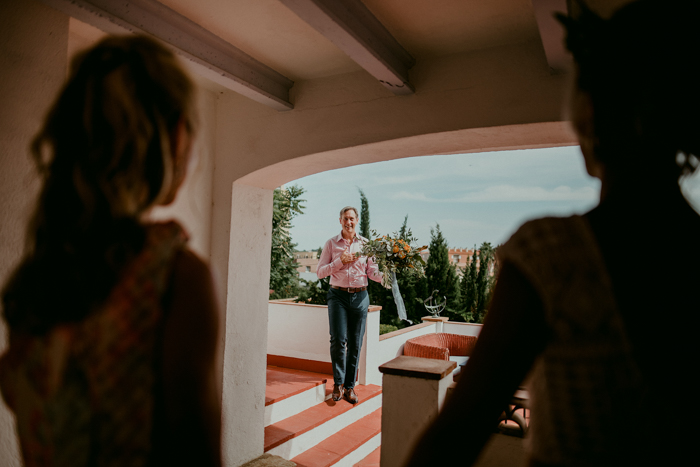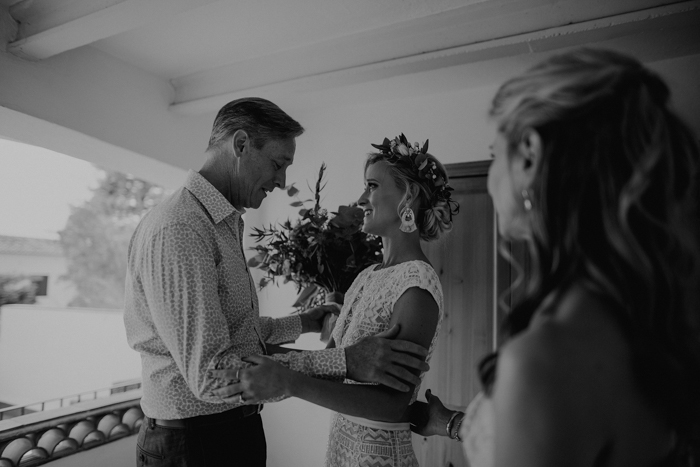 Through researching photographers in the area and looking at the venues they'd shot, Ashley came across the breathtaking Cortal Gran, which was our secret garden dream — it couldn't have been more perfect. Our vision was to host the entire day and night outside amongst nature. Cortal Gran had such a beautiful large space with different areas suited to hold the various parts of the day. We also loved that it is a family-run business. The fort has been in the family for 500 years, and Juan spent many years renovating the building and completing the landscape gardening. Now, Juan and his daughter Paula host weddings throughout the year. We even got to stay in the fort on the night of our wedding, which was brilliant!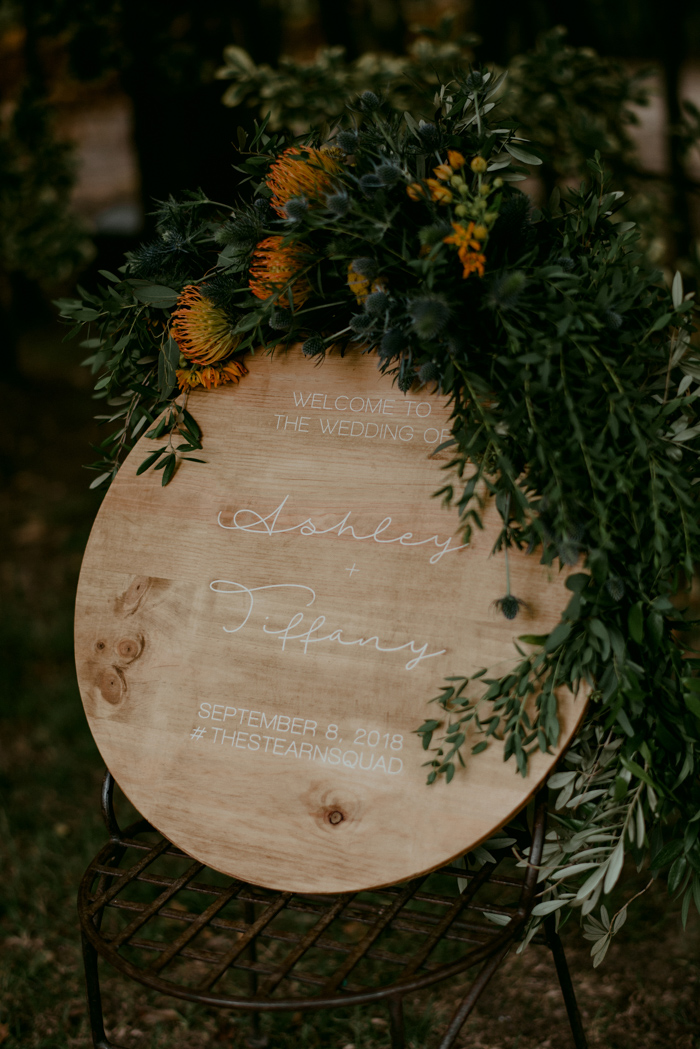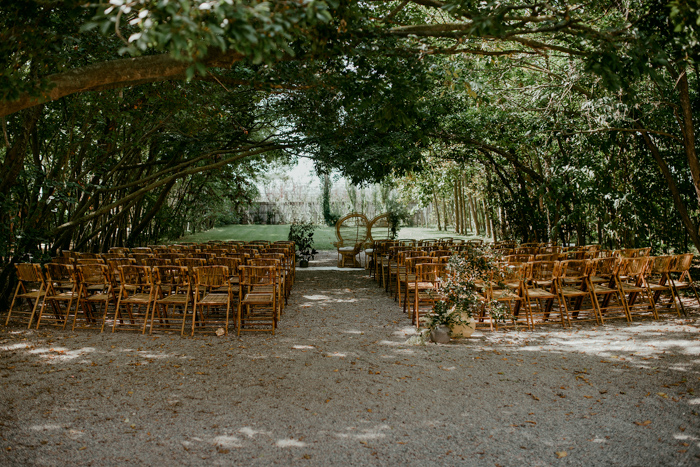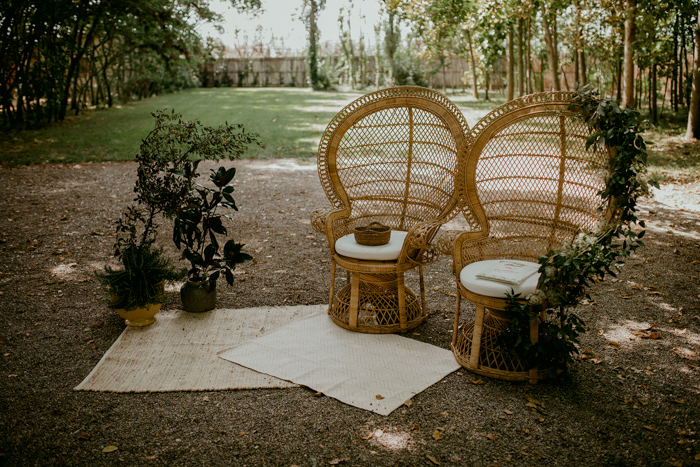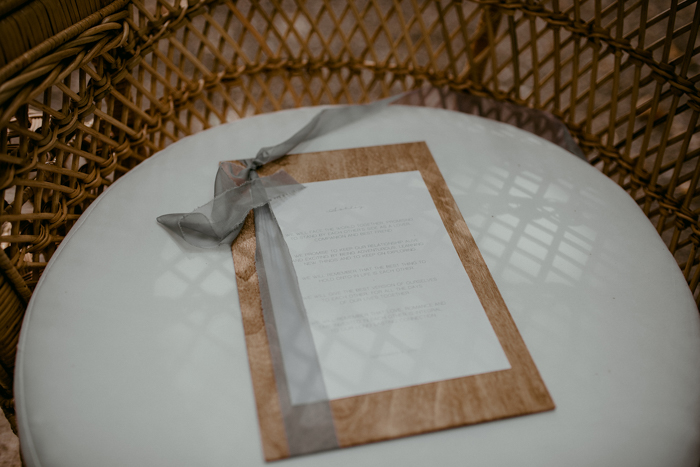 Tiffany's Auntie Sally is a celebrant in the UK, so we asked her to lead our ceremony — we thought it would be incredibly special to have a family member who knows us so well to be the person who helps us build the flow. Writing our vows together was also something we thought would bring a very personal element. We took it in turns to say the vows to each other, ending with a high five as a bit of fun and a reminder that we should always laugh together!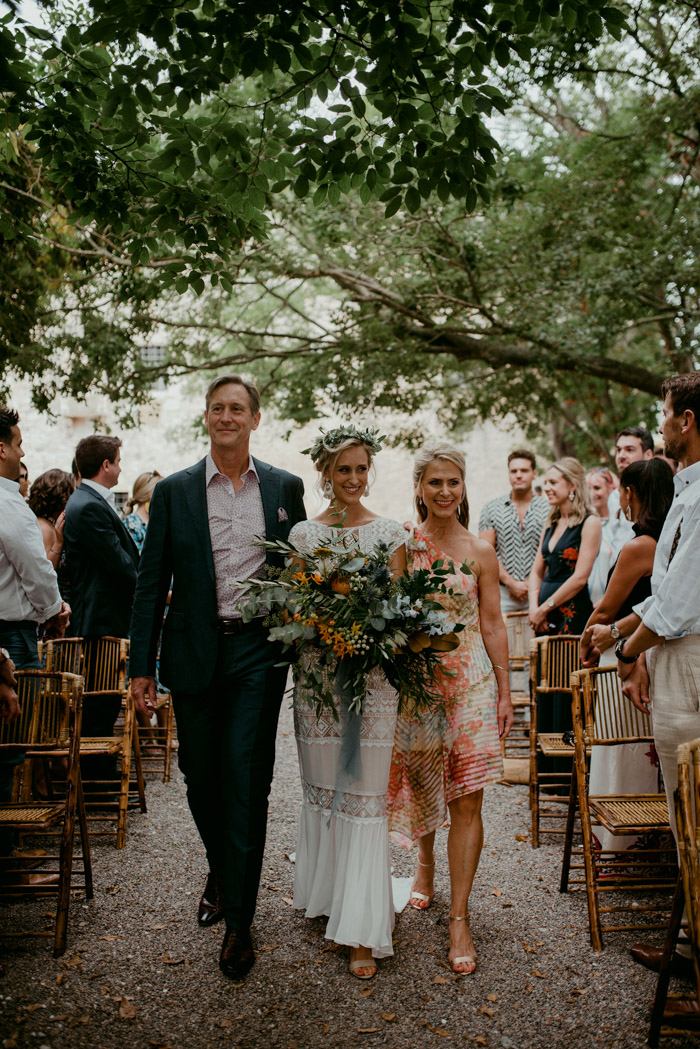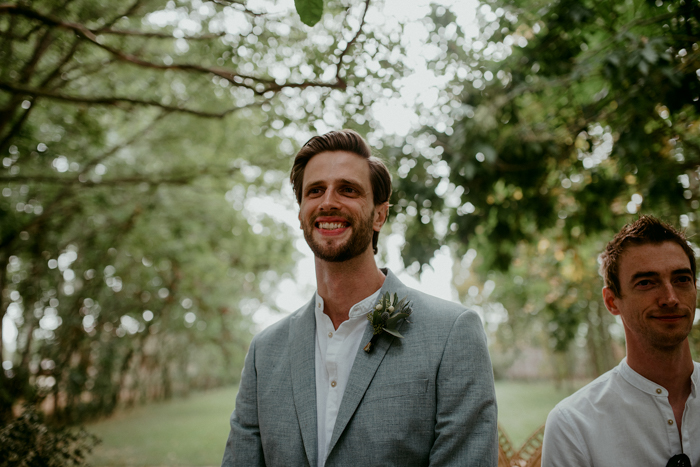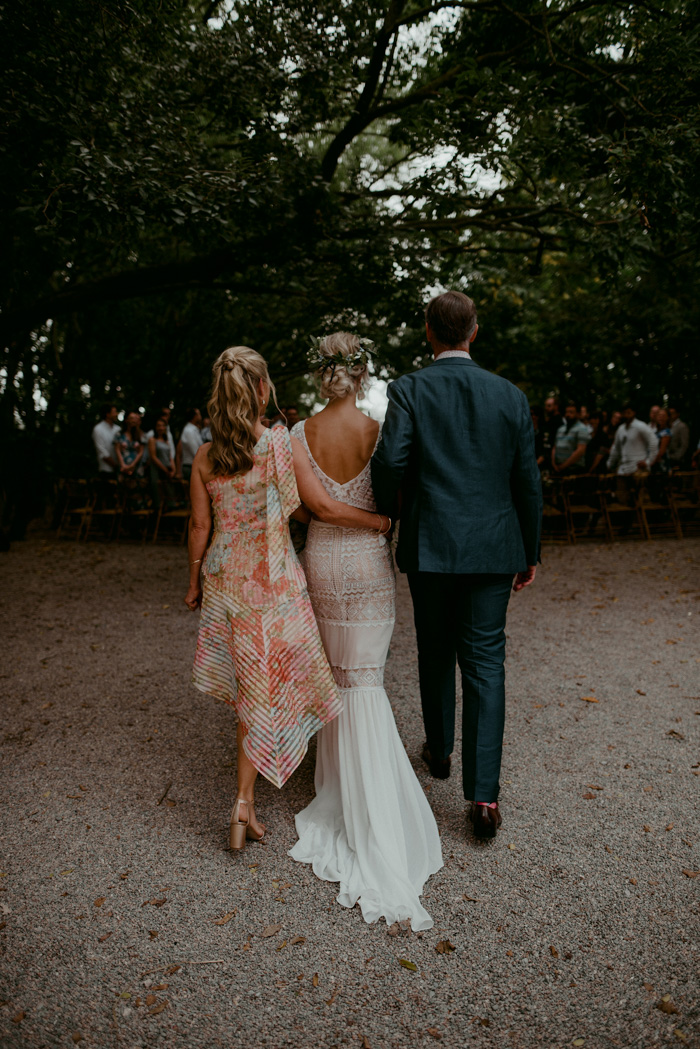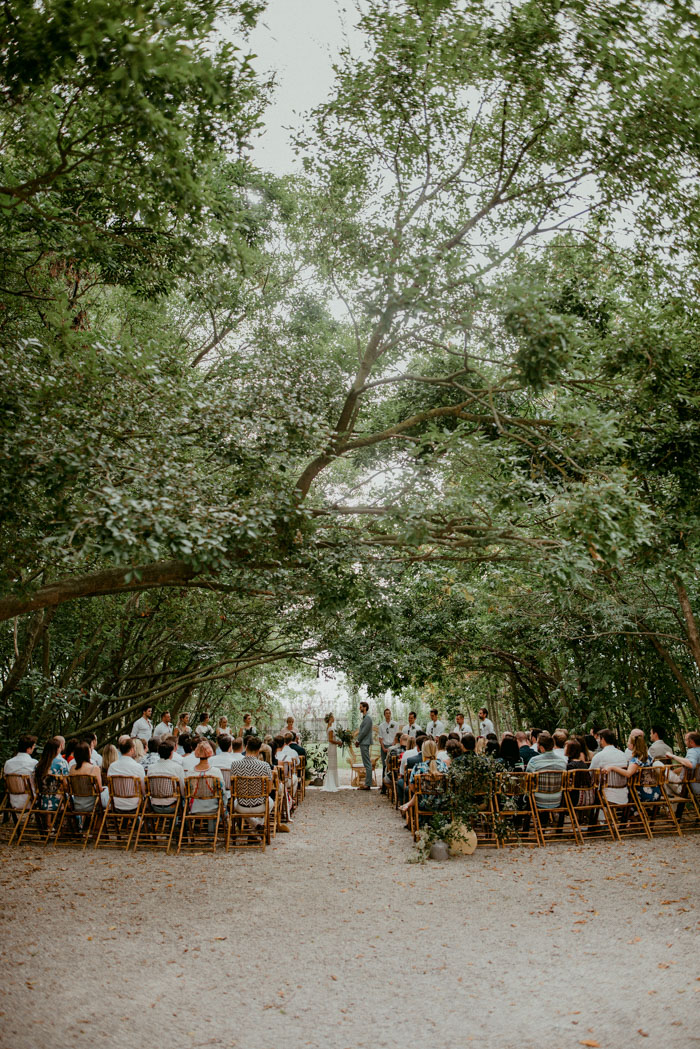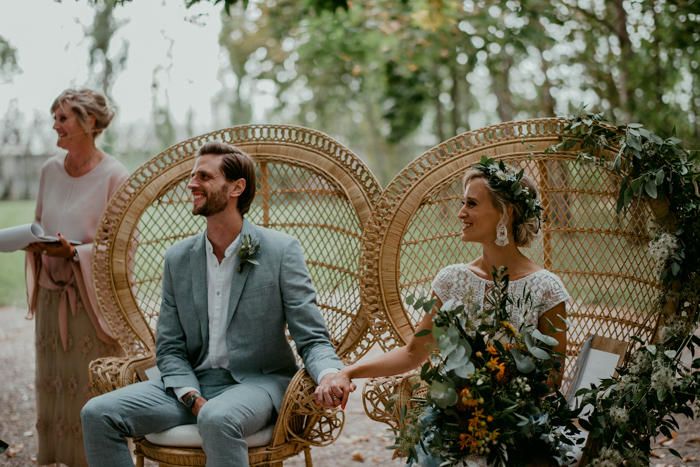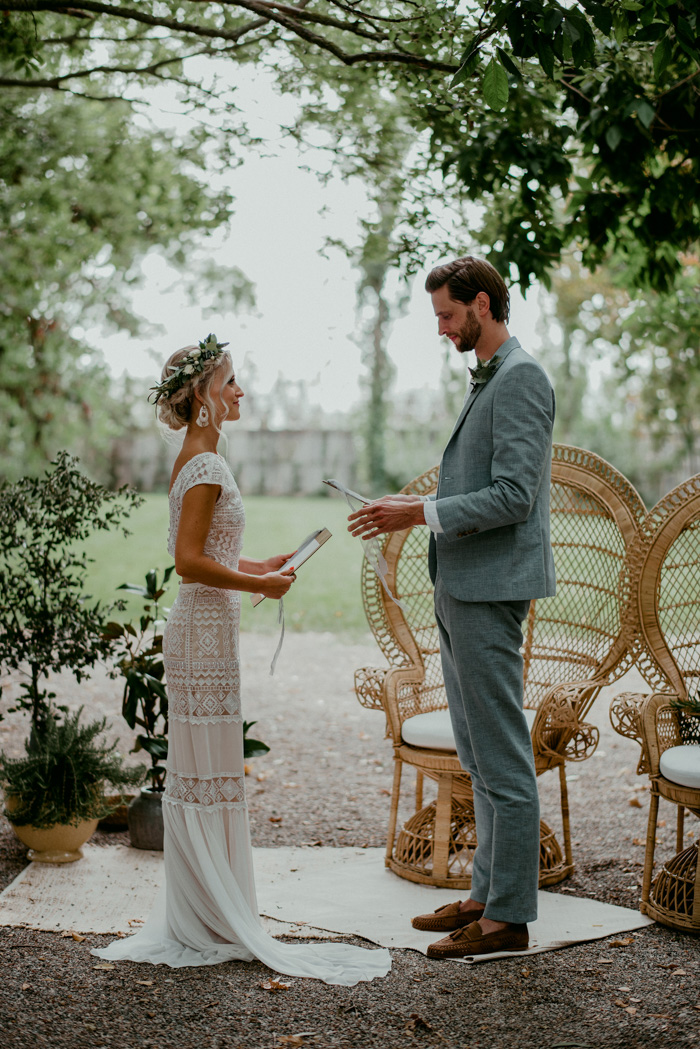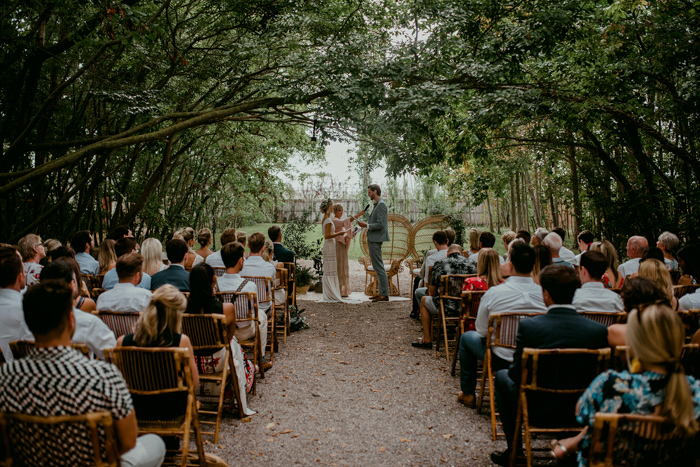 It was actually Sally's idea to include handfasting, which is a ceremony with roots in ancient Celtic tradition. We had each of our immediate family members place a ribbon over our interlocked hands as the "binding" whilst Sally performed a reading and our guests enclosed us in one large circle. The final element is the literal tying of the knot where Sally brought all the cords and ribbons together, symbolizing our official and joint union.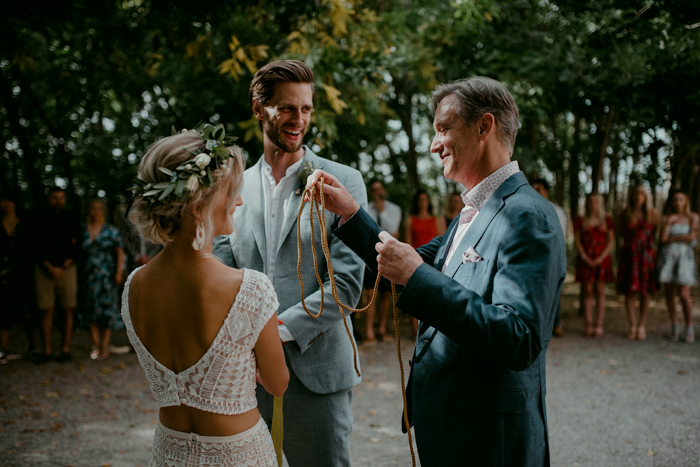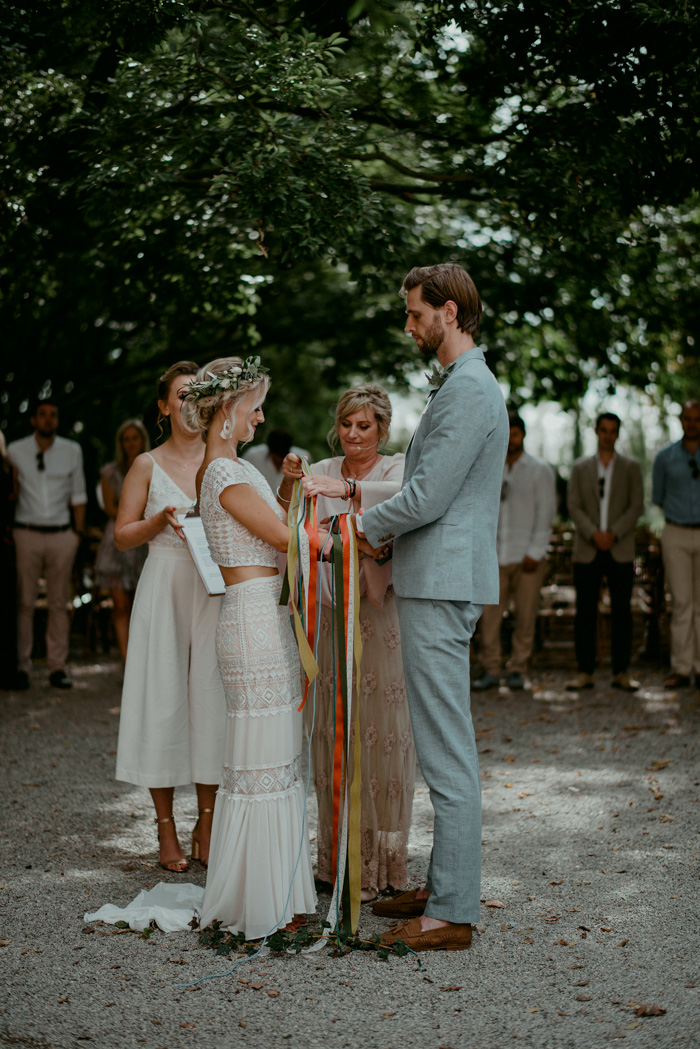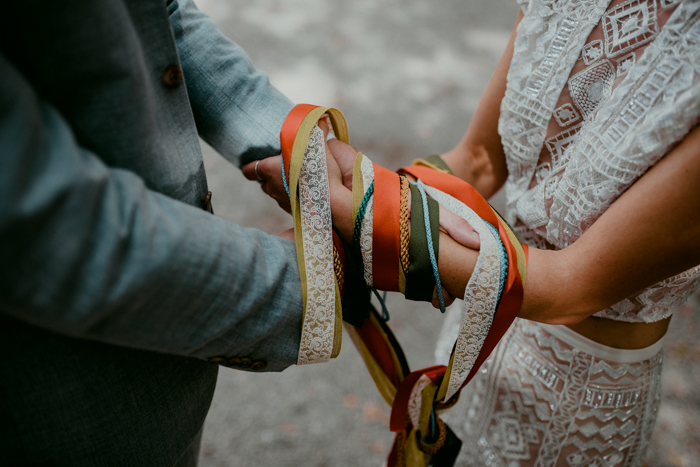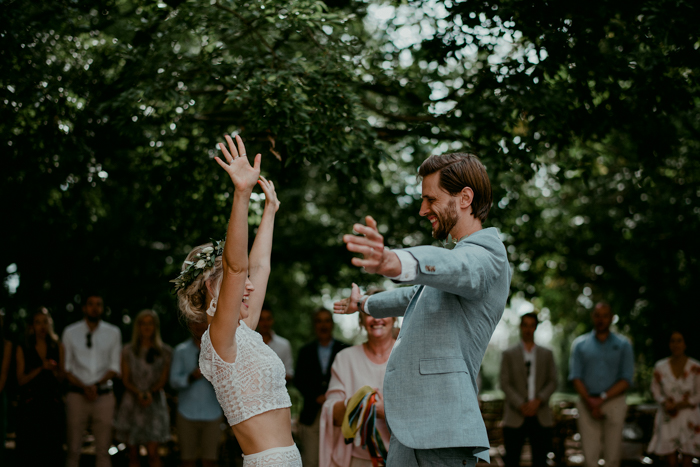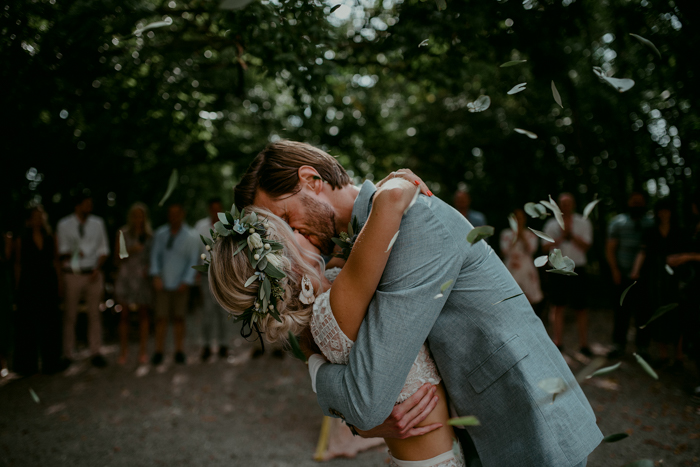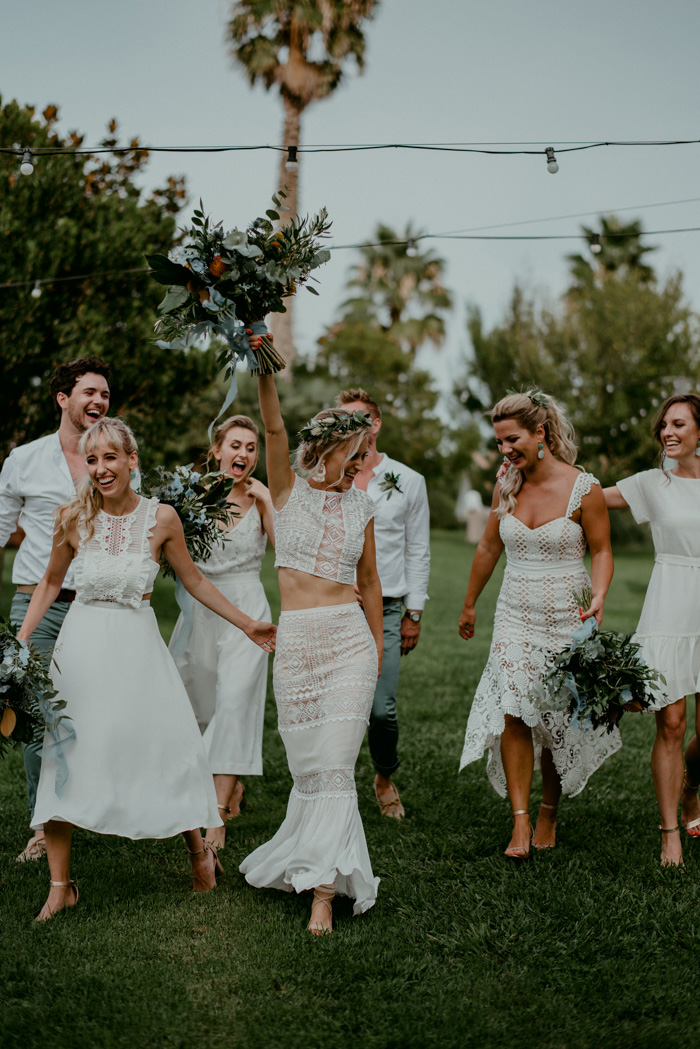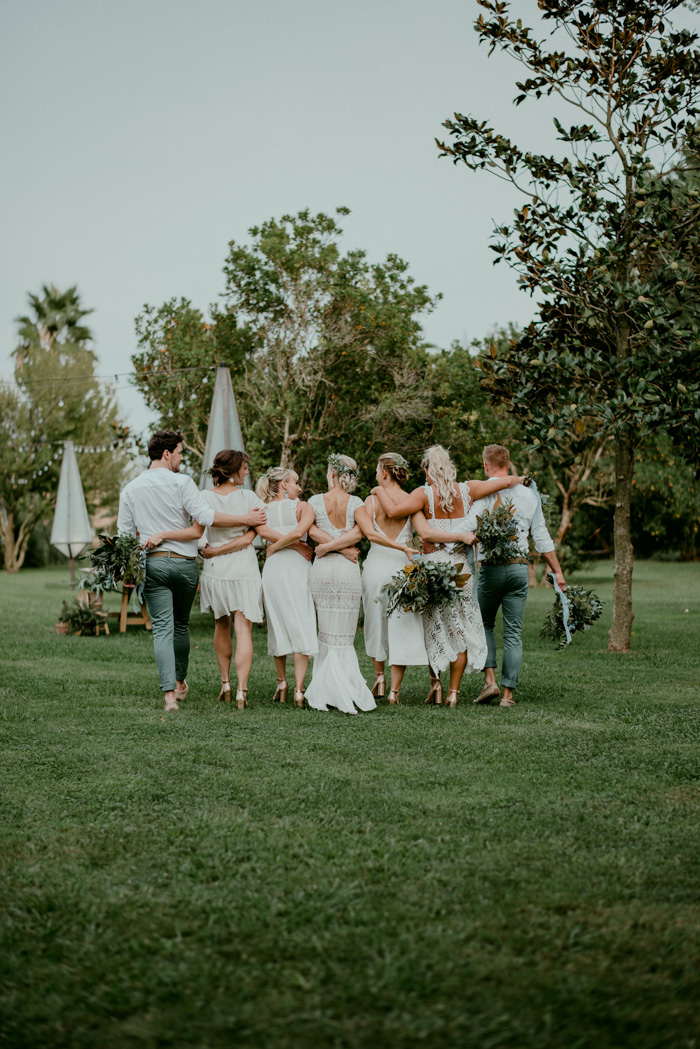 We were after a bohemian and ethereal garden party, which stepped away from tradition in multiple senses. The aim was to create a relaxed environment where guests didn't feel they had to stand on ceremony (mind the pun) and could mingle, explore, and feel like they were on a holiday.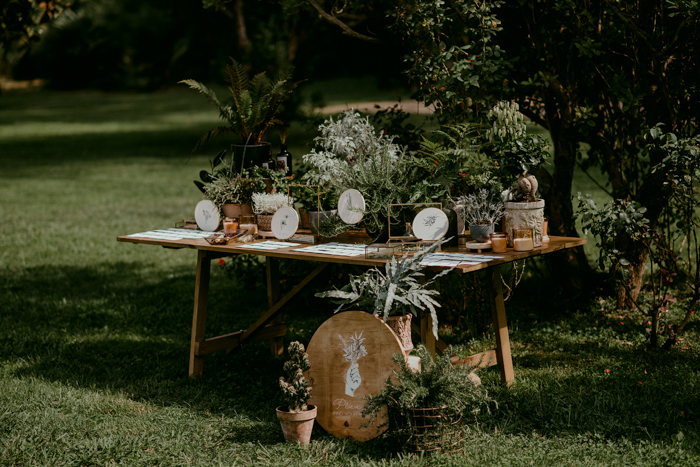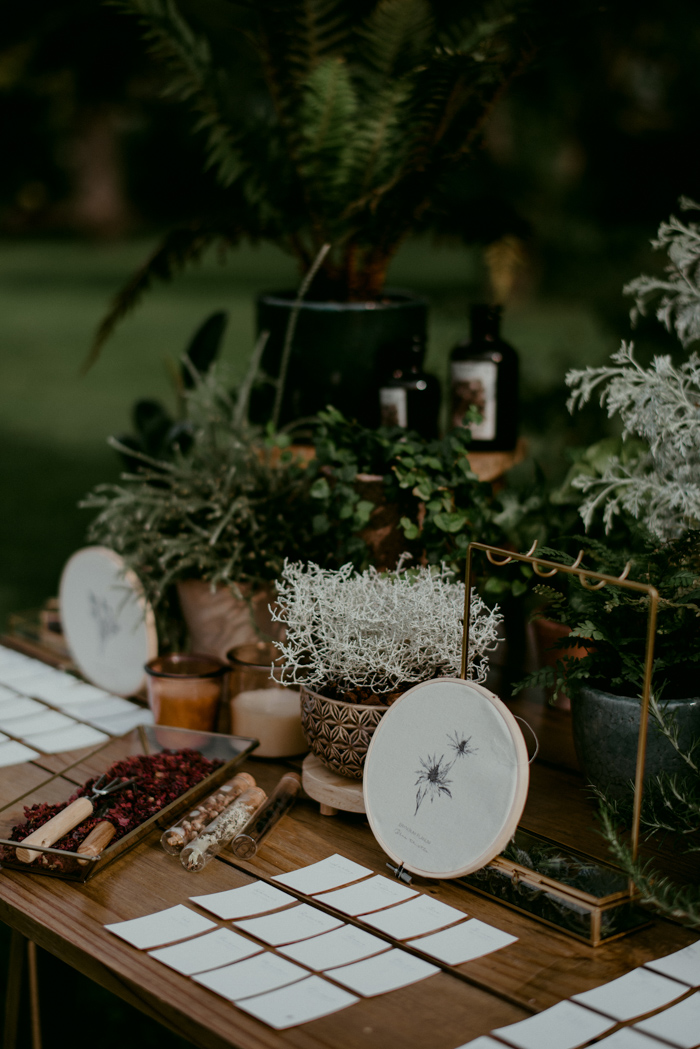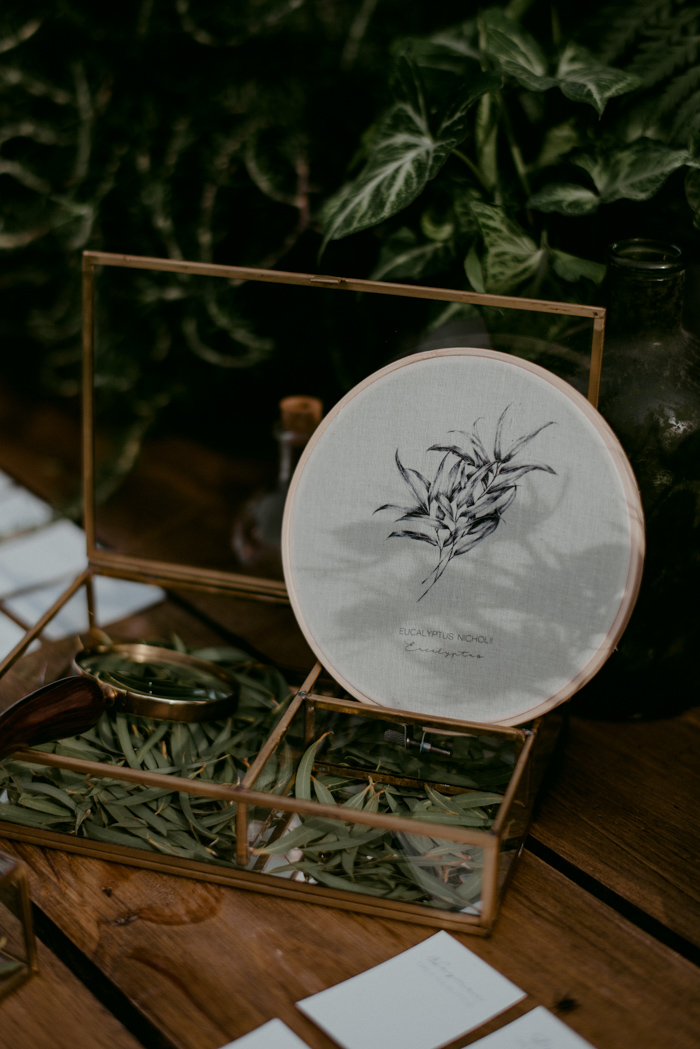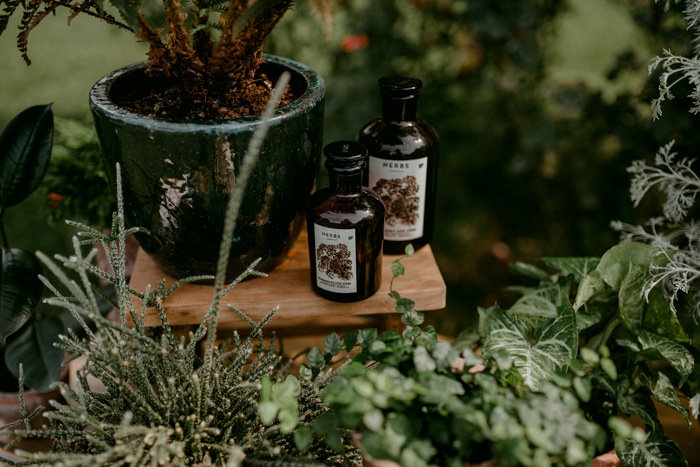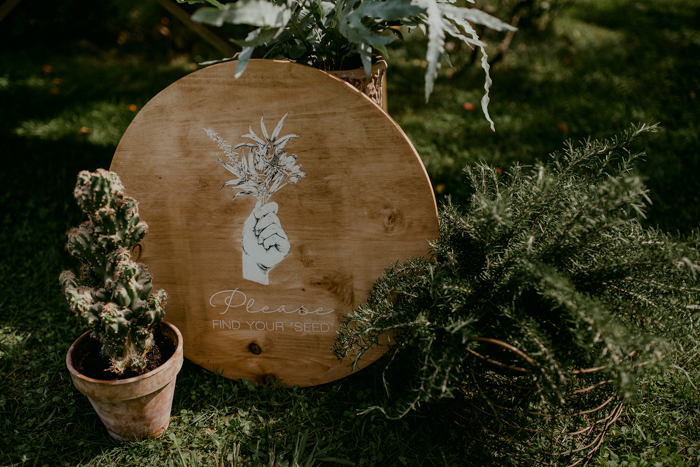 As a couple, we feel strongly about using raw and natural materials (we love renovating old furniture) as well as botanical elements (our flat in London was becoming a greenhouse of its own with upwards of 12 plants). Our flat often played host to dinner parties where we'd bring coffee tables, wooden crates, and cushions together, so we envisaged our wedding vibe to emulate a bigger version of these gatherings complete with chill-out zones and summer party vibes. Silvia our planner understood our desired look and feel early on, and she did a brilliant job in sourcing (and making) decor from bamboo, ceramics, wood, linen, and botanicals. Rustic yet chic! Additionally, Silvia worked closely with our florist to style the magical settings of each part of the day — they were a dream team!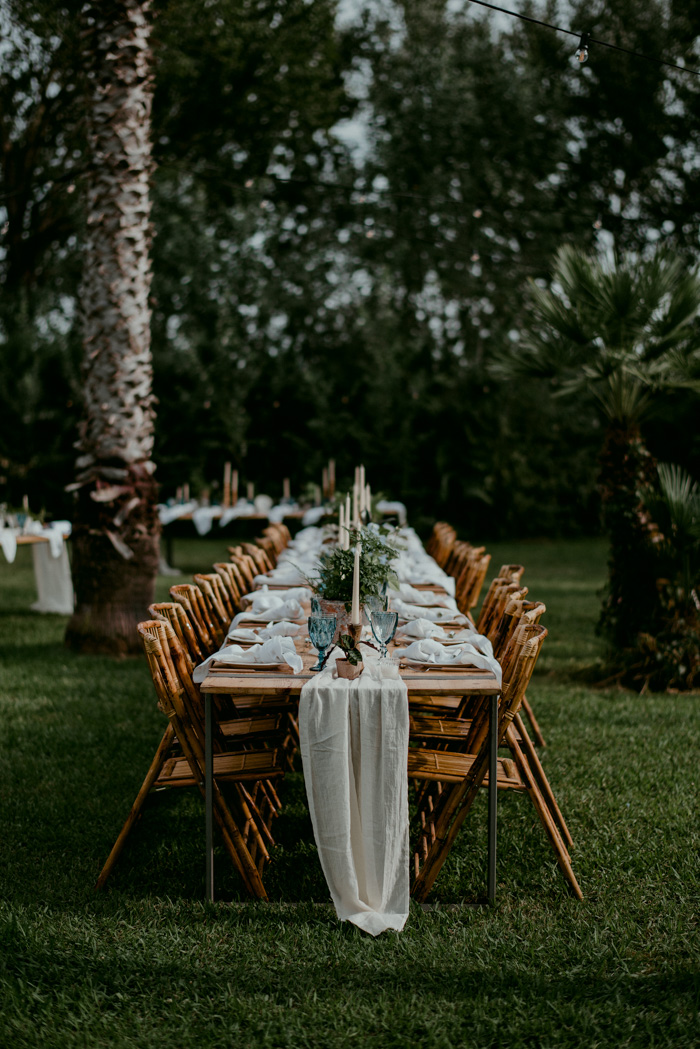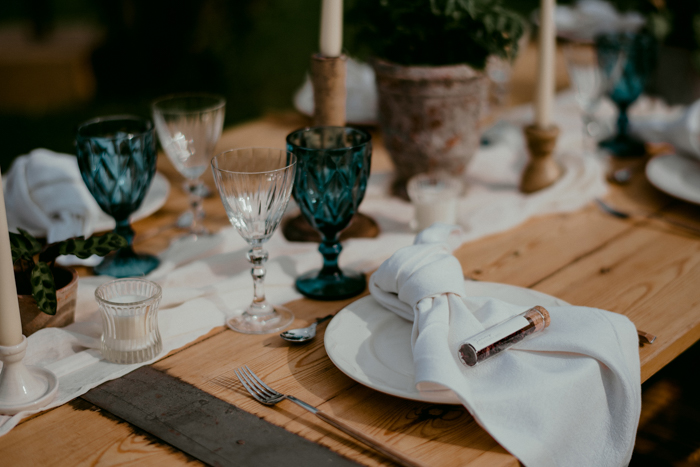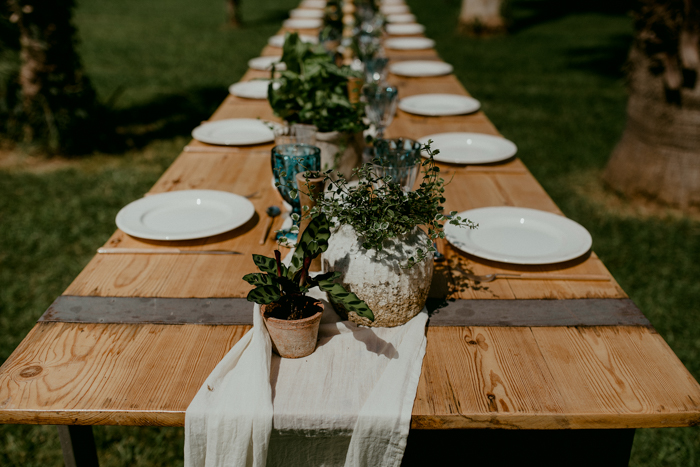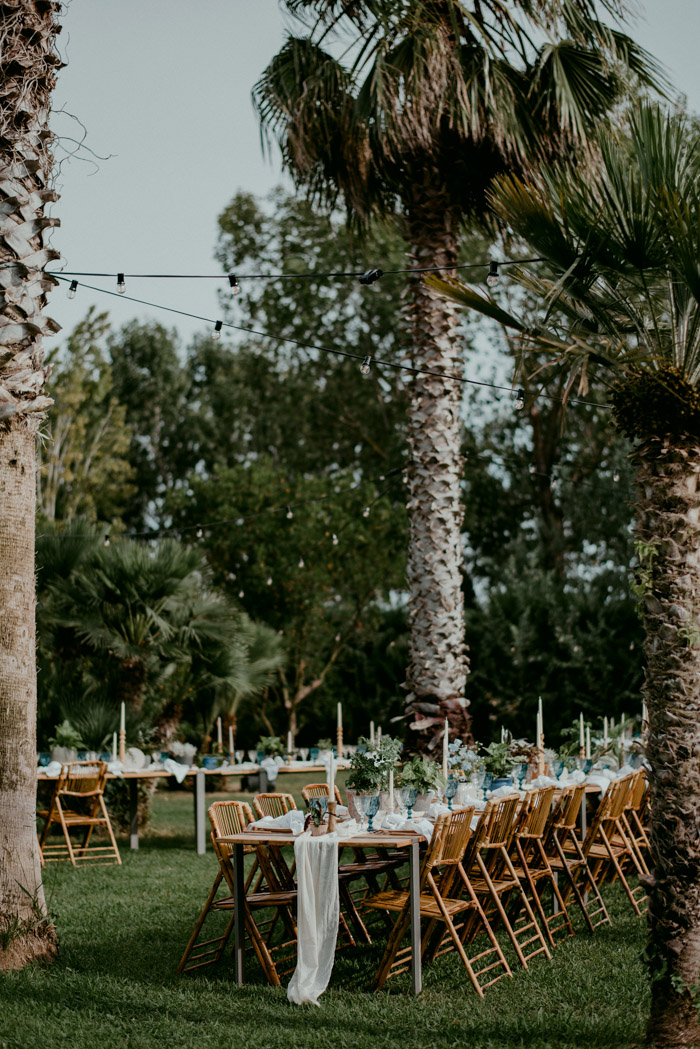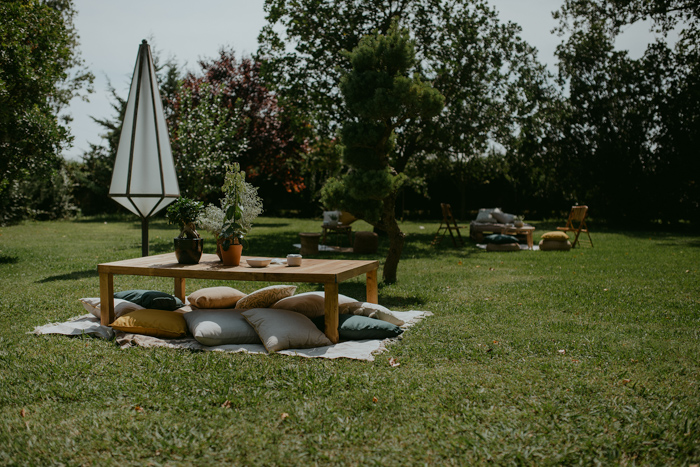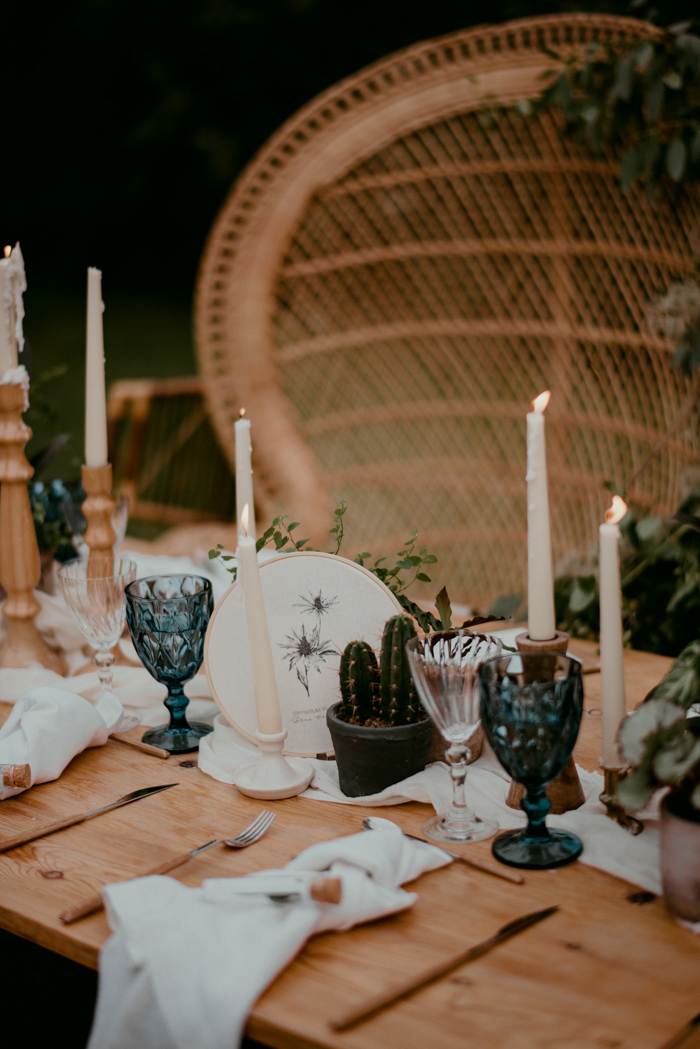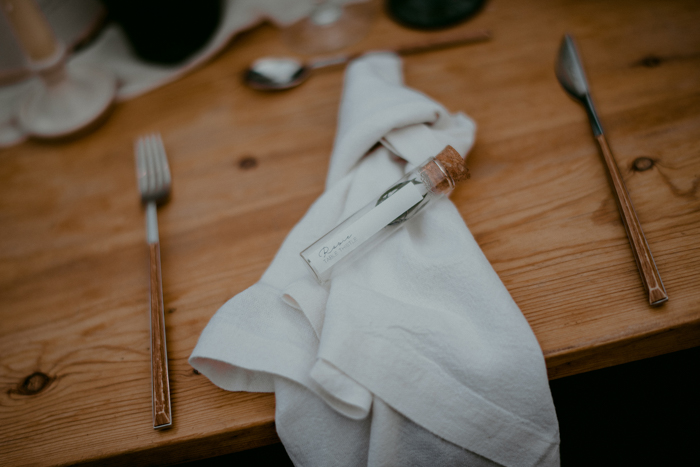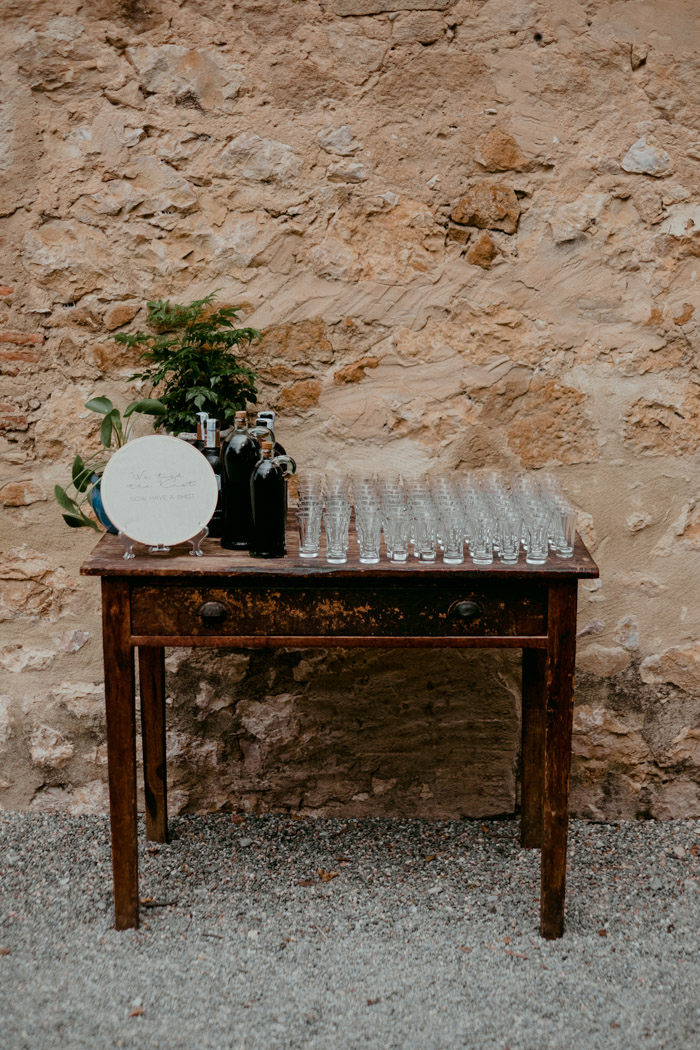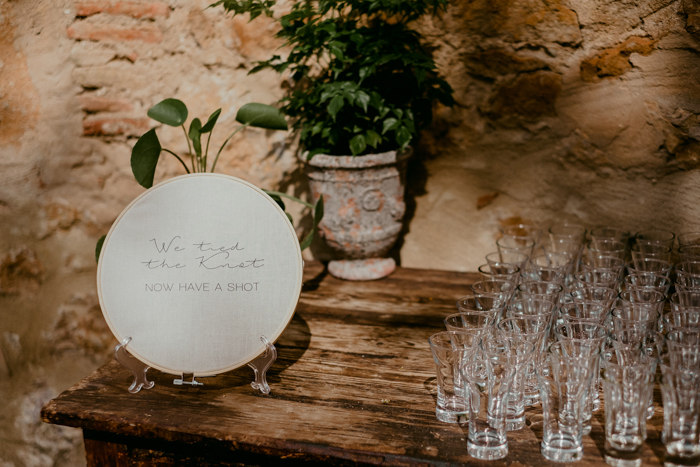 Our first piece of advice for other couples who are planning a wedding is to seriously consider a wedding planner, especially for a destination wedding. With full-time jobs and normal life admin tasks, our lives were already really busy. Add on wedding research in a country with a different time zone, different language and communication style and culture, it proved basically impossible and was often quite disheartening. We tried by ourselves for 5 months before bringing on our planner, and in that time only managed to find and book the venue and photographers. As soon as we started working with our planner, the change was immediate with the number of vendors who were now at our disposal.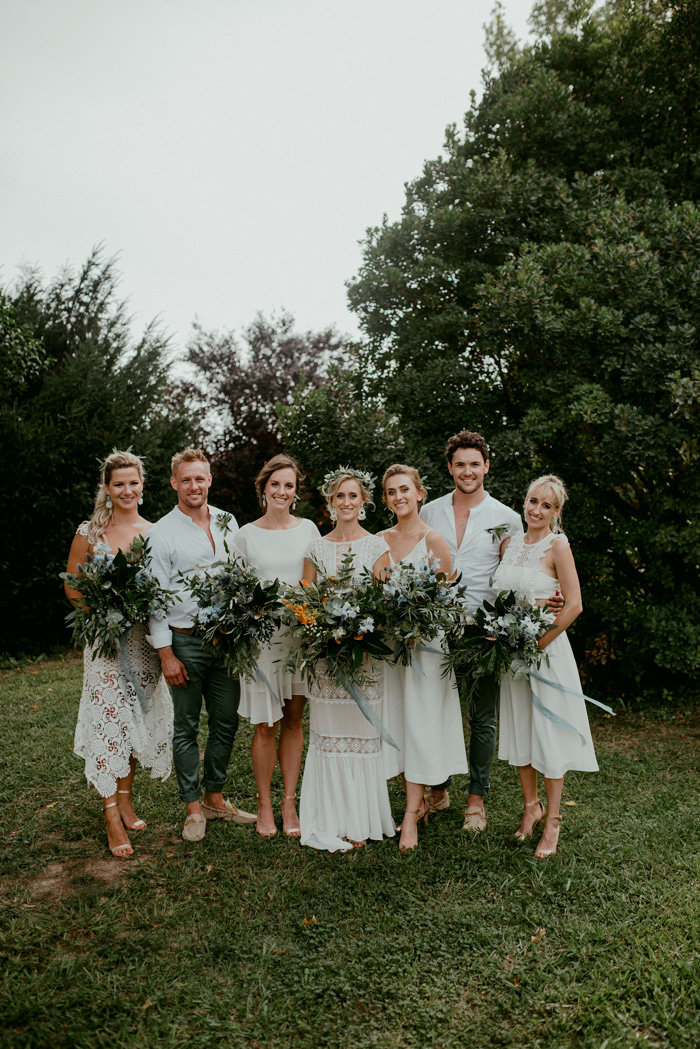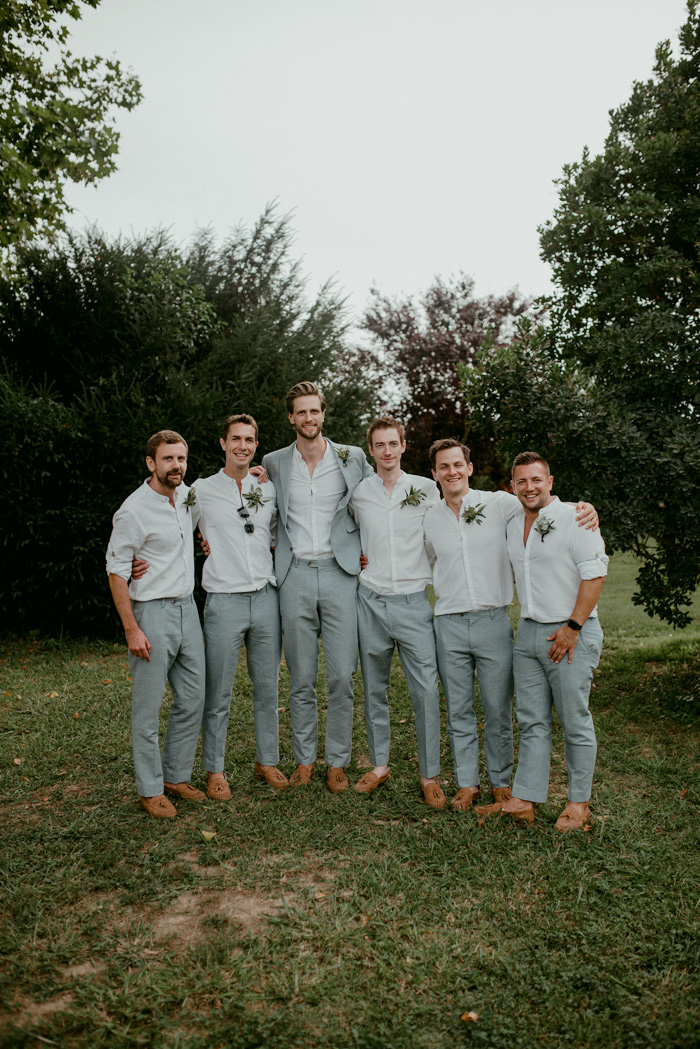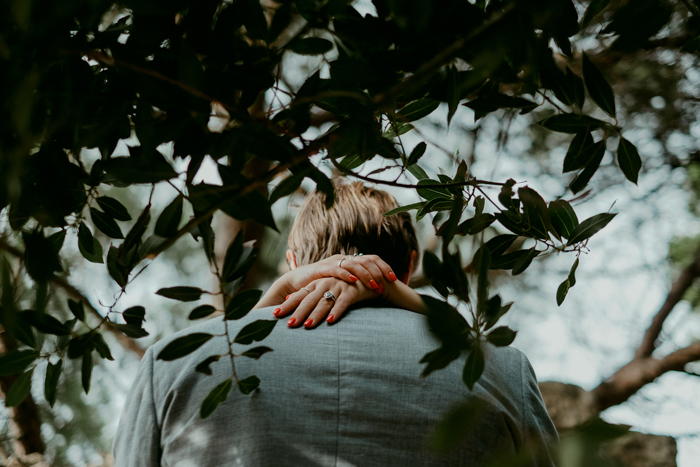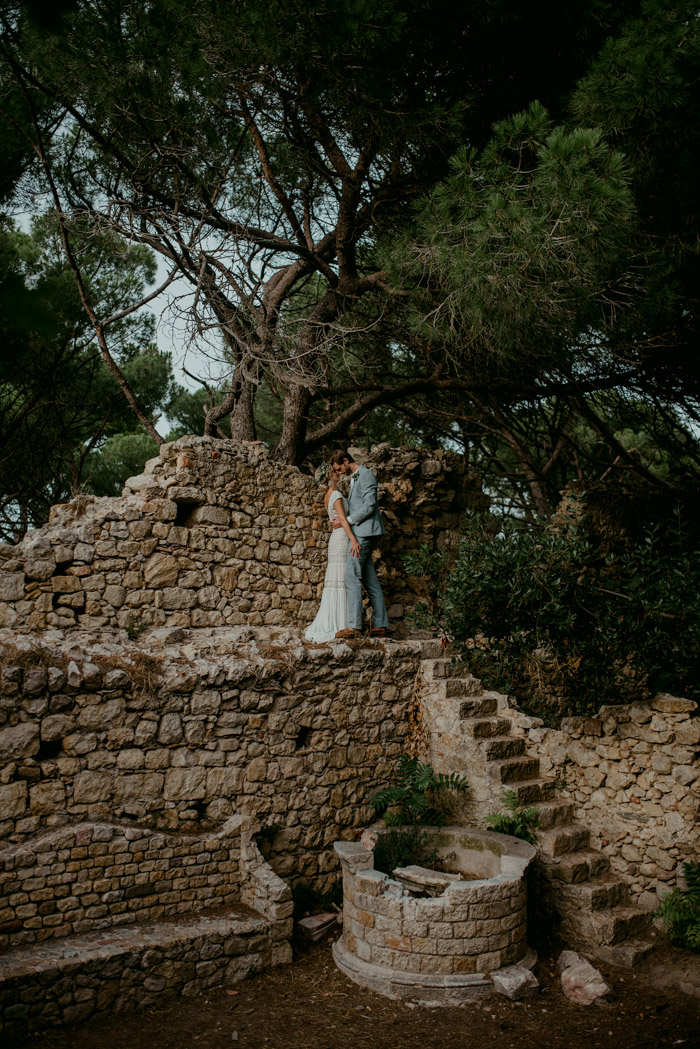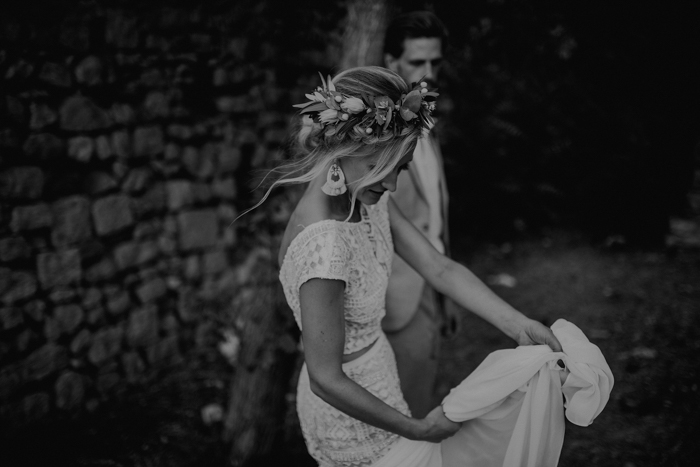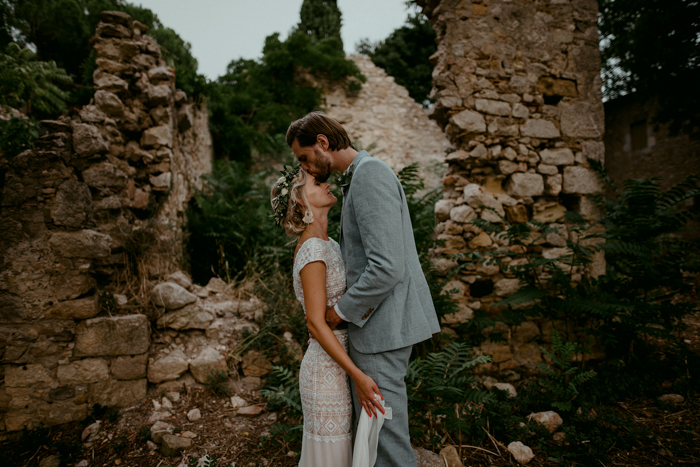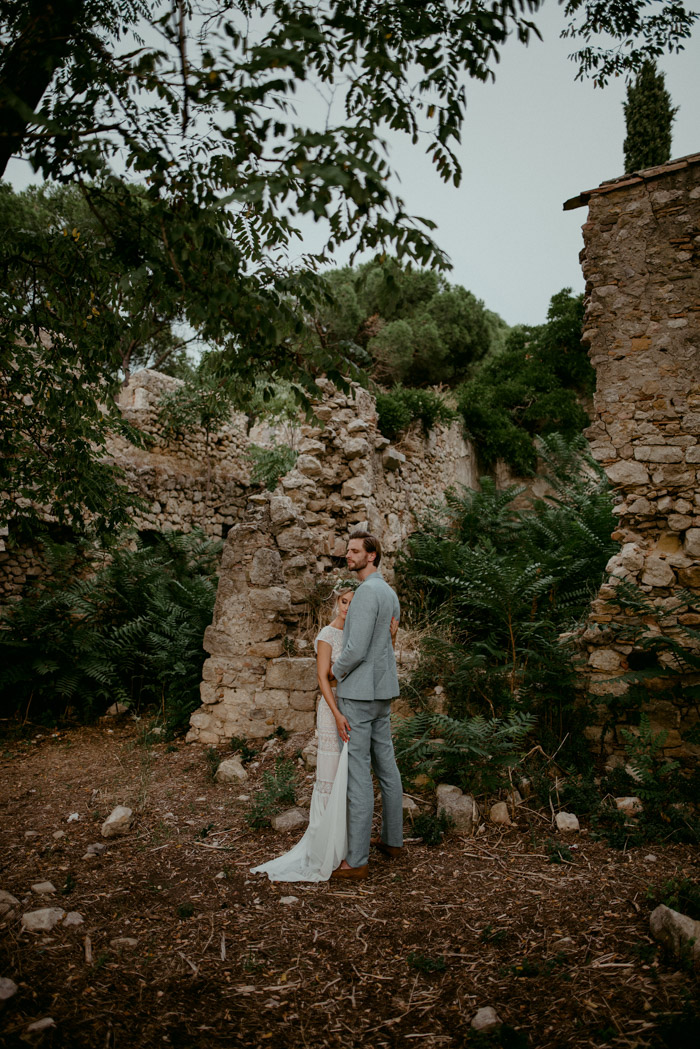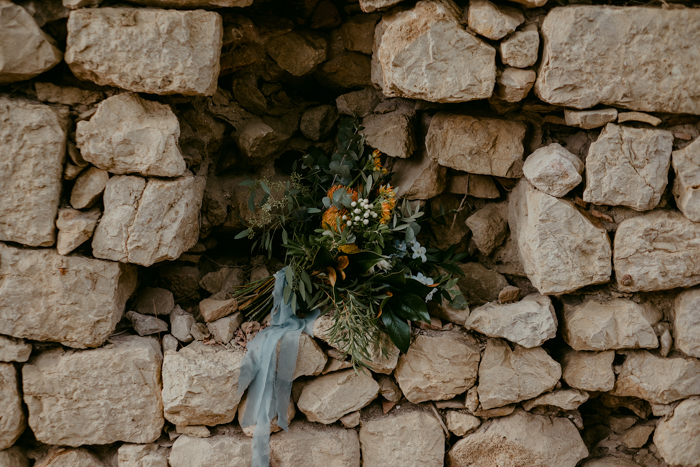 Second, have a set of negotiables and non-negotiables that you agree to as a couple before you set out to start your planning. If nothing else happens, what is really important to you to have? Conversely, what things would you ideally like, but would be willing to bend on? Don't let anyone else (friends, family, planner) sway you on these as they will always bring you back to the core of you as a couple, even when you're being swept up in all the options in front of you. For example, one of our non-negotiables was having a live band. We worked our budget around and made cuts to other areas to make the band happen.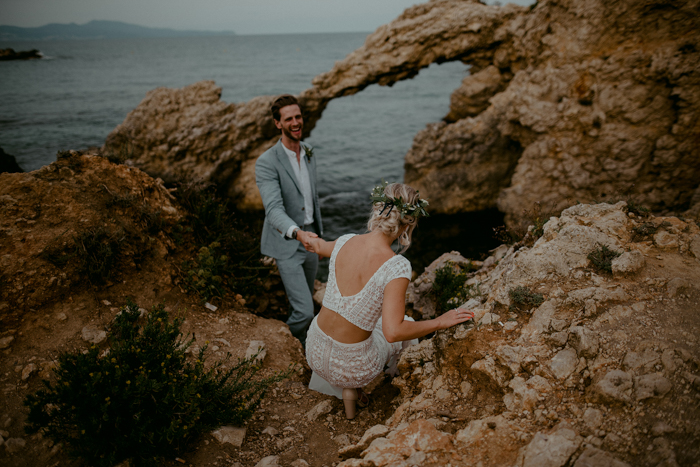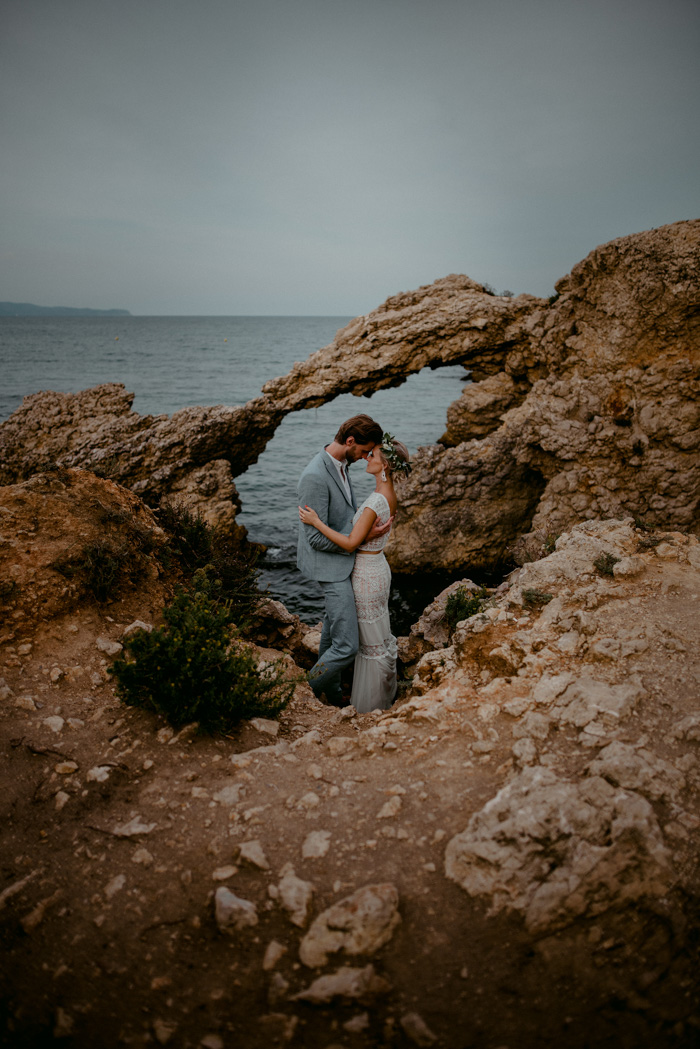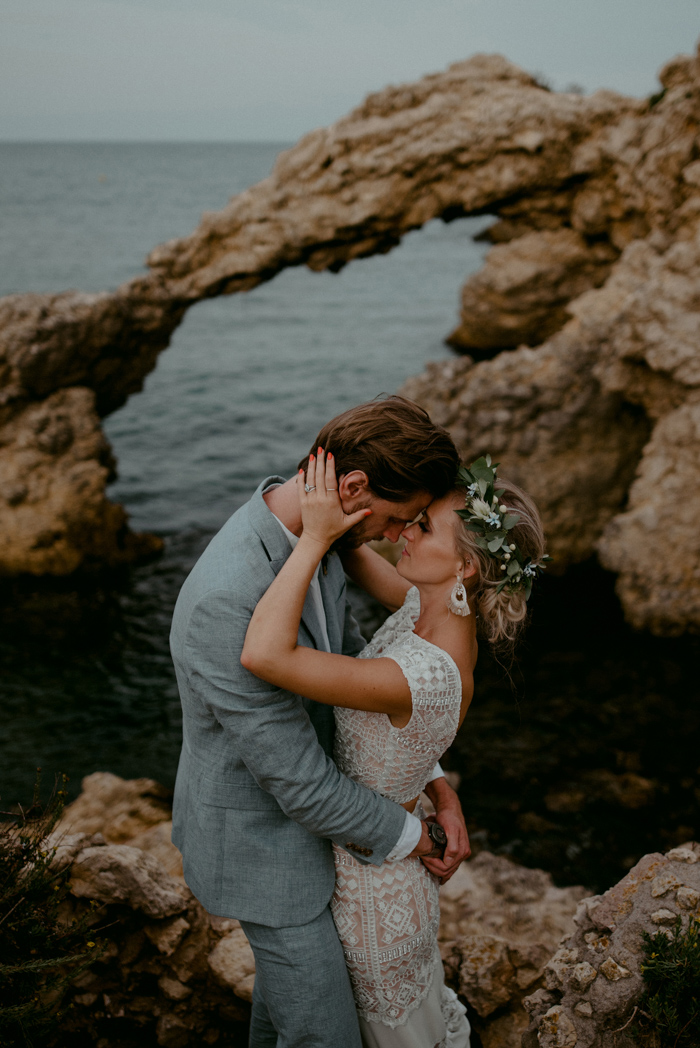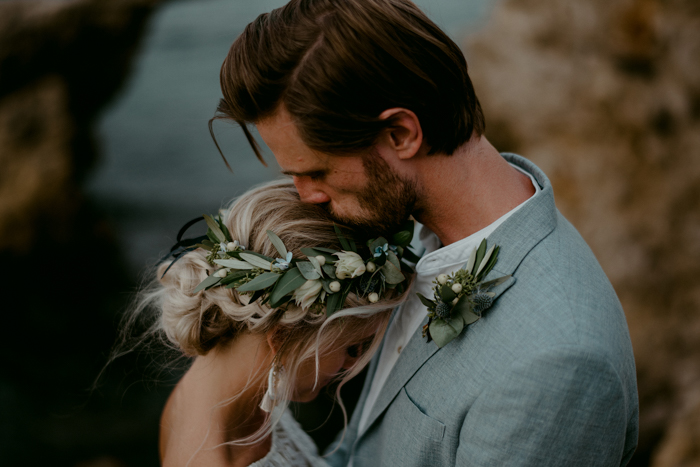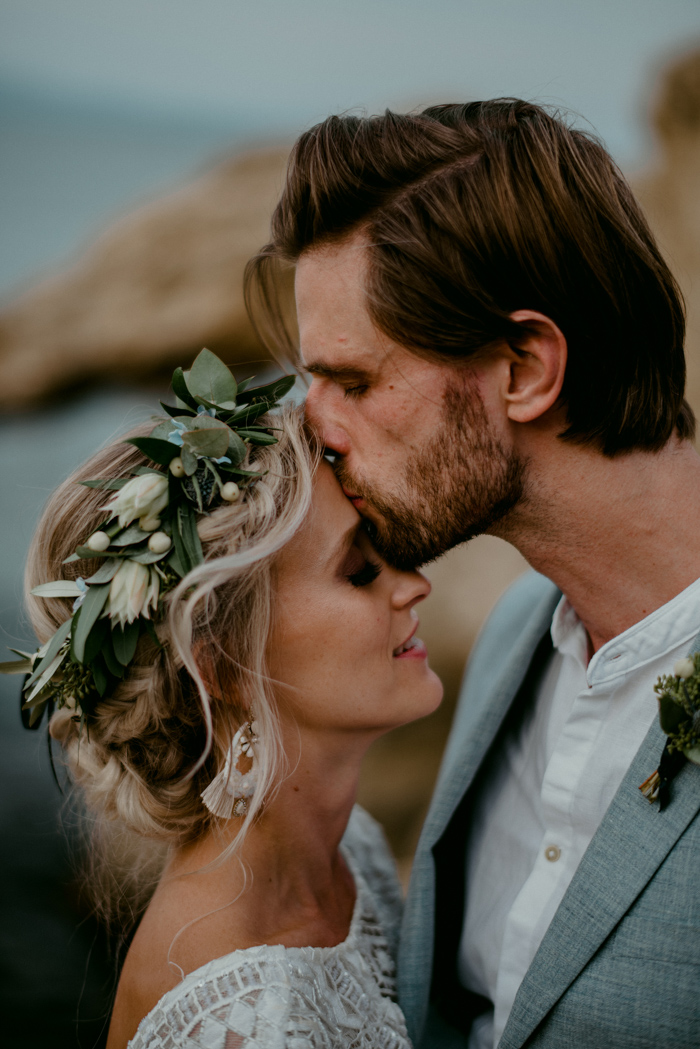 Dallas & Sabrina Photography were an actual dream. Incredibly professional, excellent communicators, and also a lot of fun. Our post-ceremony private photo shoot was such a special time – they let us be ourselves doing adventurous things like climbing up onto ruins in the old town, down onto ocean-side rocks and through pine forests, and they just went along with it and we had a good laugh. Throughout the day they were present, gave direction if needed but, for the most part, just blended into the garden and let us and the guests have organic moments. We wanted the day captured in a documentary style, which is their specialty, but if there was anything specific that we wanted to be captured they made sure to follow through.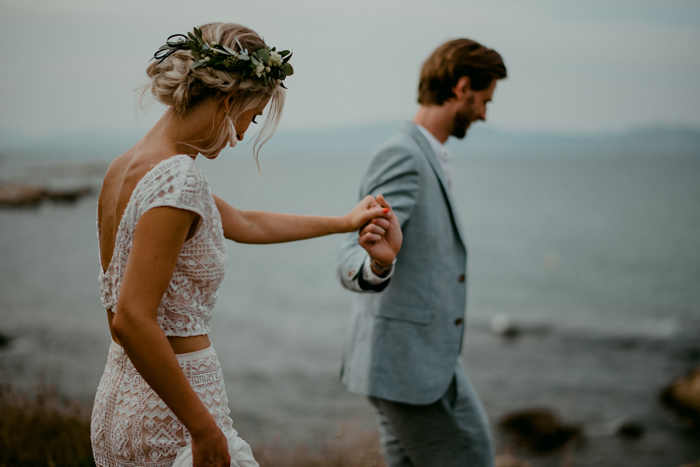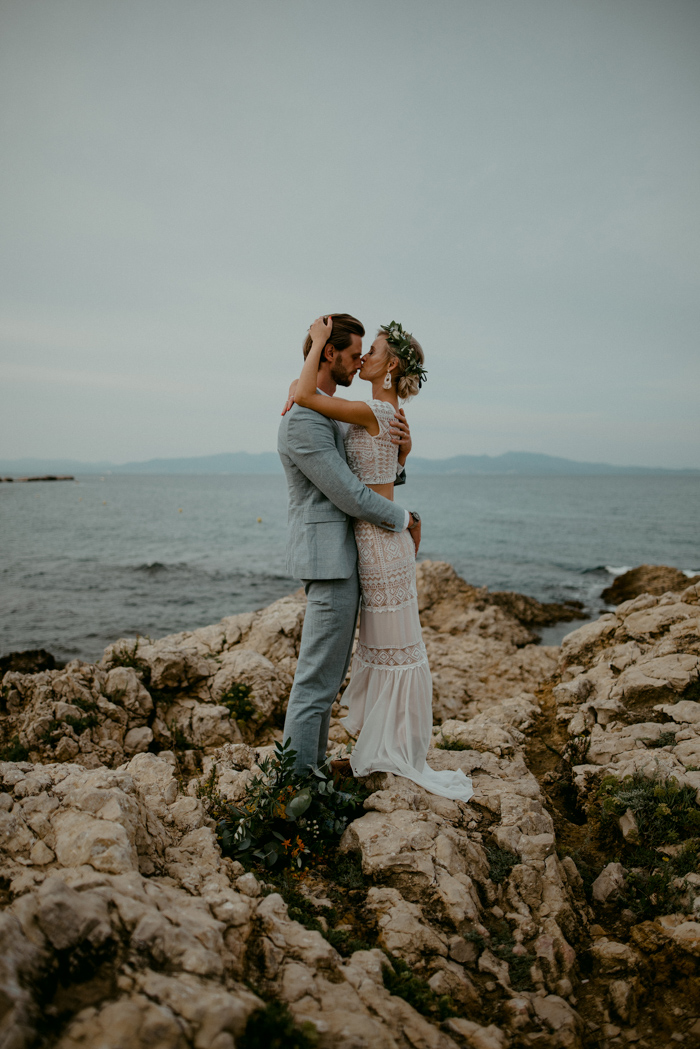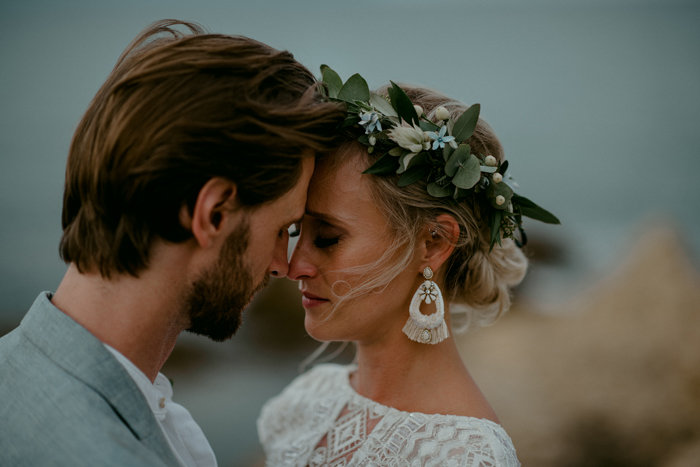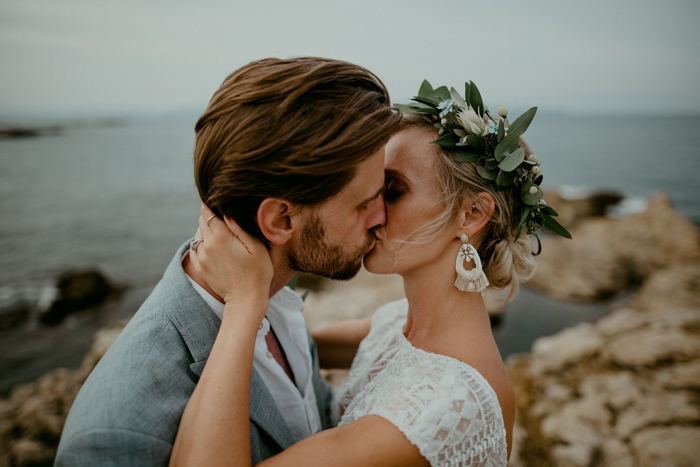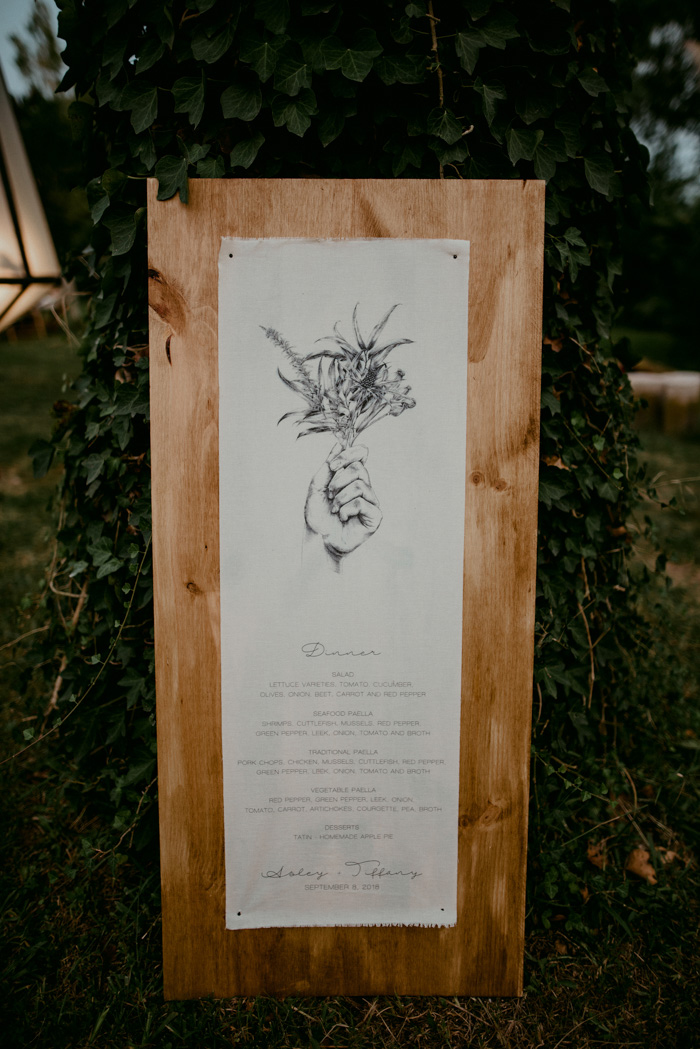 The moment memorable part of the day was after we returned from our private photoshoot. We boogied through the garden and into the open-air dining area to Ella Eyre's "Came here for love" whilst all our guests stood waving their napkins above their heads like a helicopter blade as per the traditional Spanish wedding entry for the newly married couple. We felt like absolute rock stars!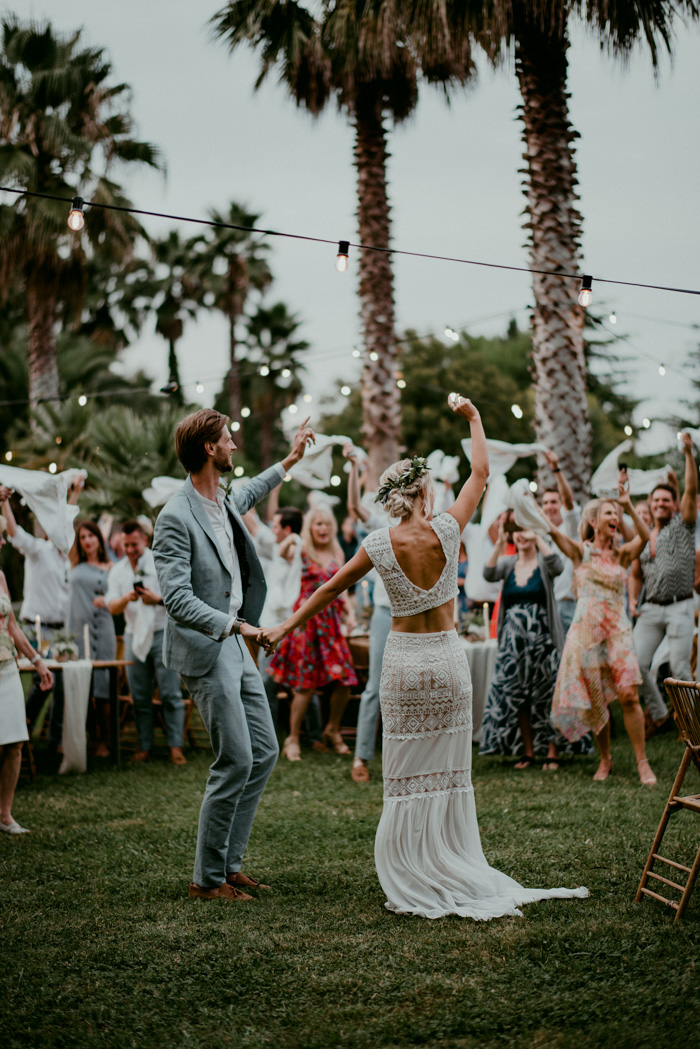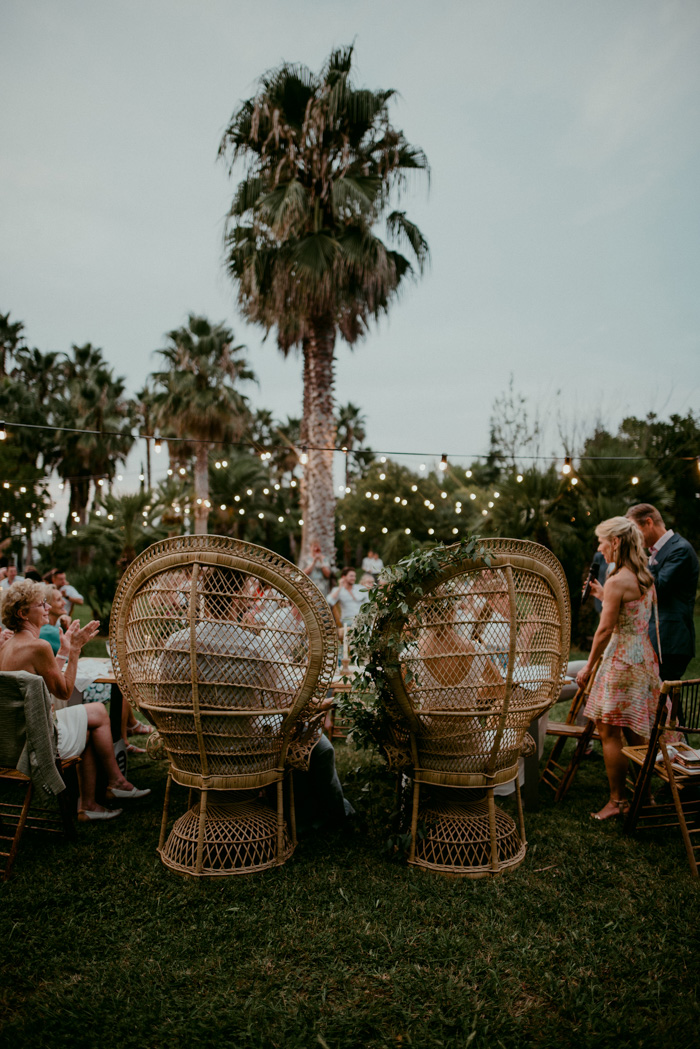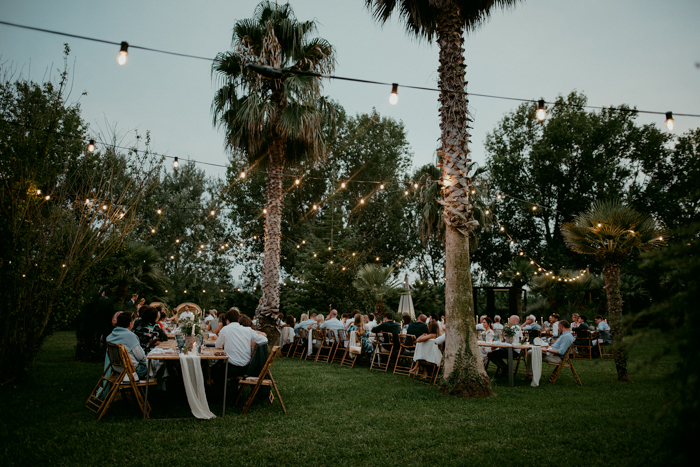 Because the guests were (mostly) traveling with hand luggage, we didn't want to spend time and money on creating favours that could easily be forgotten at the end of the night or left in hotel rooms because they couldn't fit in travel bags. As a couple we enjoy experiences, normally choosing to go to the theatre or an event for birthdays/anniversaries rather than buying material gifts. So, the favour came in the form of an entertainment group known as The Three Waiters. They pose as catering staff throughout the earlier parts of the day, and during dinner perform a well-rehearsed sketch that combines comedy and opera — a fun and lively surprise that brought a wonderful energy to this part of the evening and really got people in the mood for the evening party!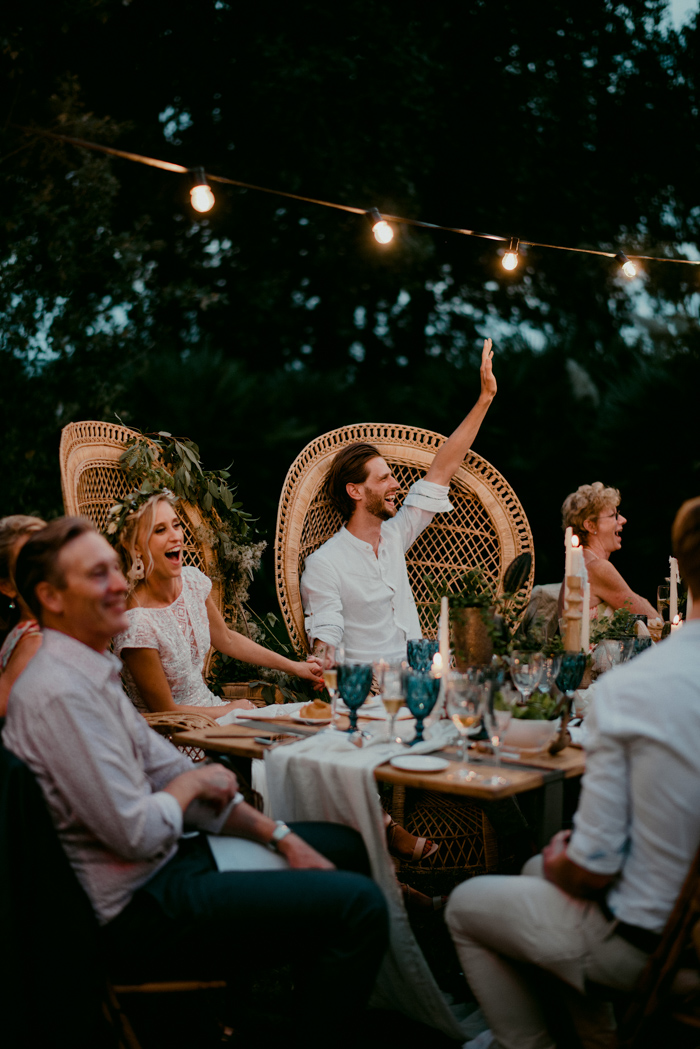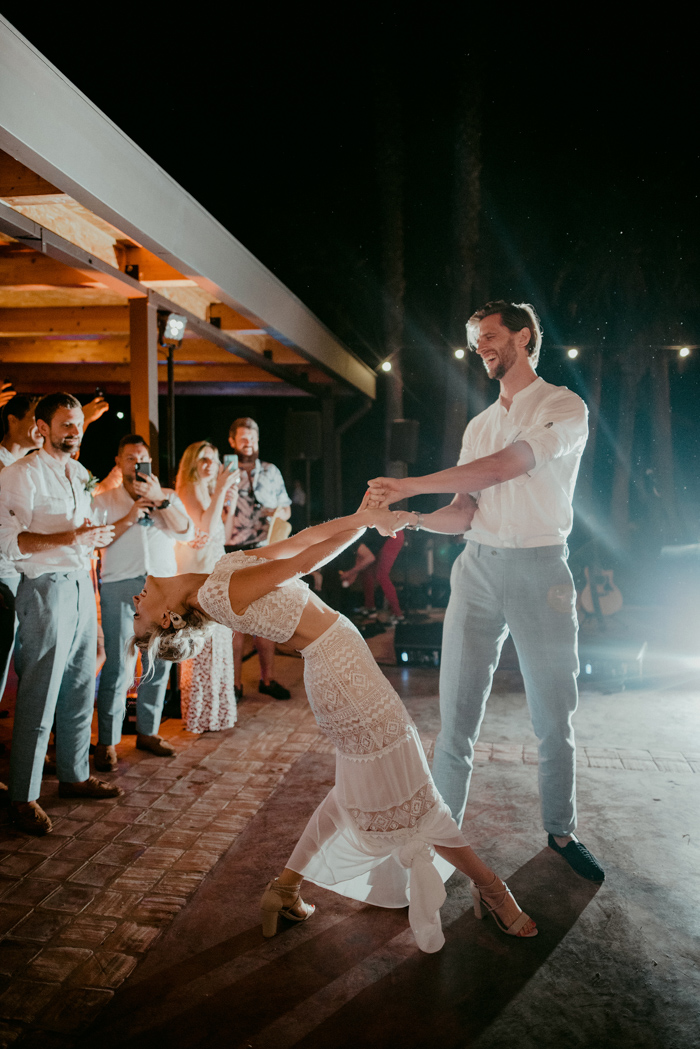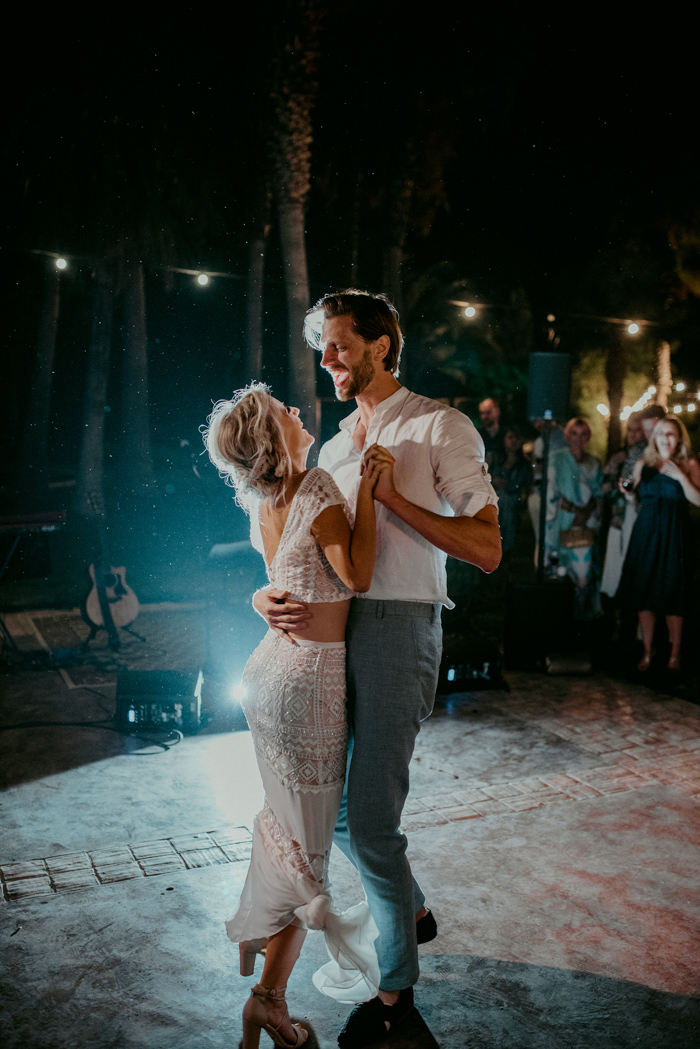 Congratulations to Tiffany and Ashley, and our biggest thanks to Junebug members Dallas & Sabrina Photography for sharing this incredible Cortal Gran wedding! To see more from this talented photography duo, check out this positively idyllic Canary Islands wedding at El Escudero!