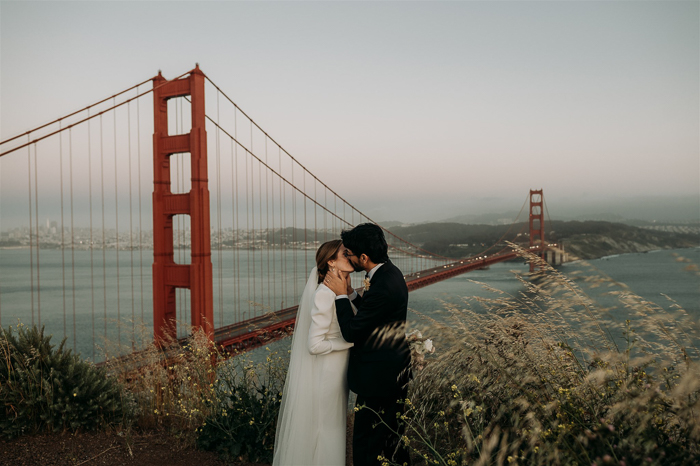 Zoe and Dominic decided to keep things beautifully simple for their wedding. They wanted a day focused on their closest friends and family without worrying or rushing. Their plan? A charming San Francisco micro wedding with stunning city views and delicious food. And so, their dream day became a reality—an intimate, joyful celebration of their love, surrounded by the people who matter most.
Living close to San Francisco, the couple discovered the San Francisco City Hall online and were immediately drawn to its stunning marble interiors and beautiful natural light. They knew right away it was the perfect place to tie the knot. After saying their vows, they hurried to capture the last rays of sunlight with the Golden Gate Bridge behind them. The day wrapped up with a restaurant reception at Leo's Oyster Bar, making for a truly memorable celebration.
Ready for some intimate wedding inspo? Take a look at these beautiful photos by Flora Gibson–they're proof that all you need for a memorable day is a beautiful location and your loved ones around you.
The Couple:
Zoe and Dominic
The Wedding:
San Francisco, California, United States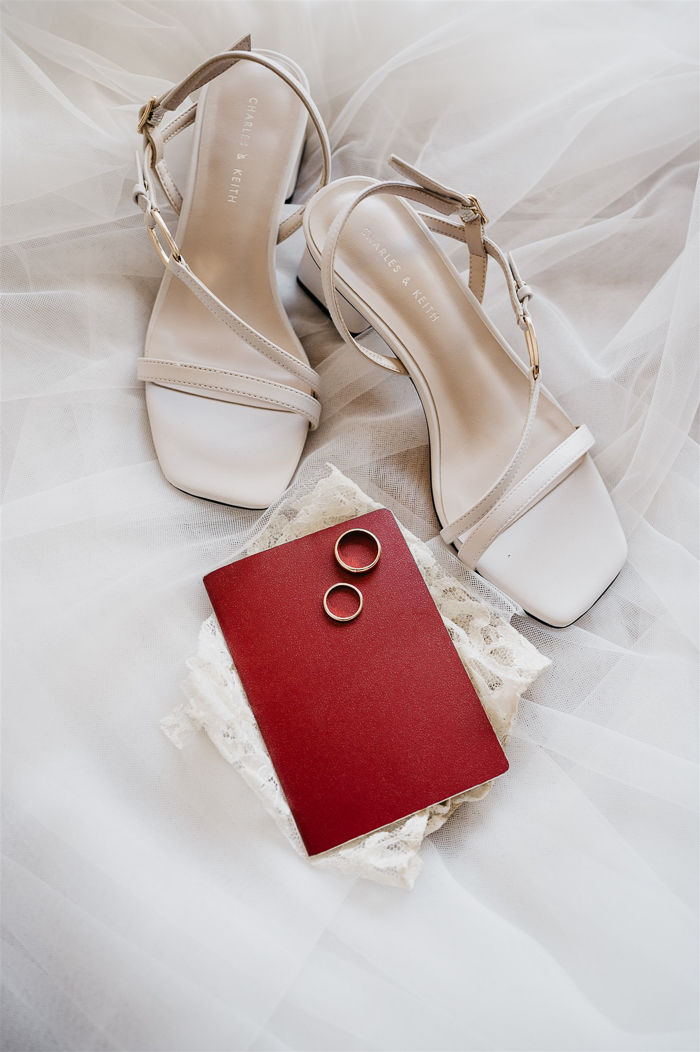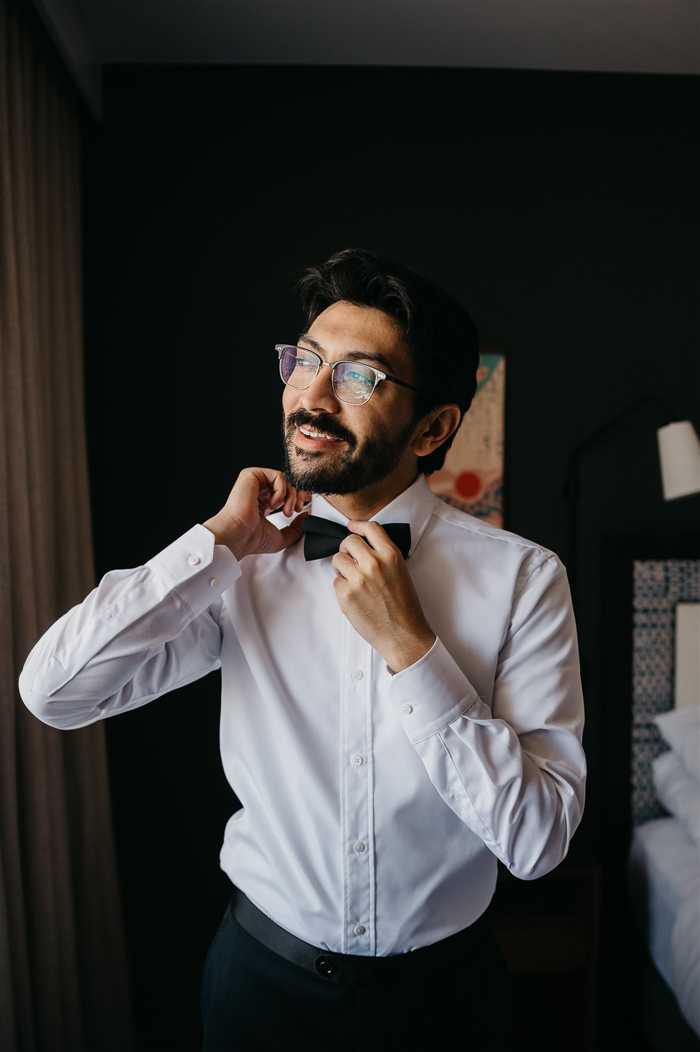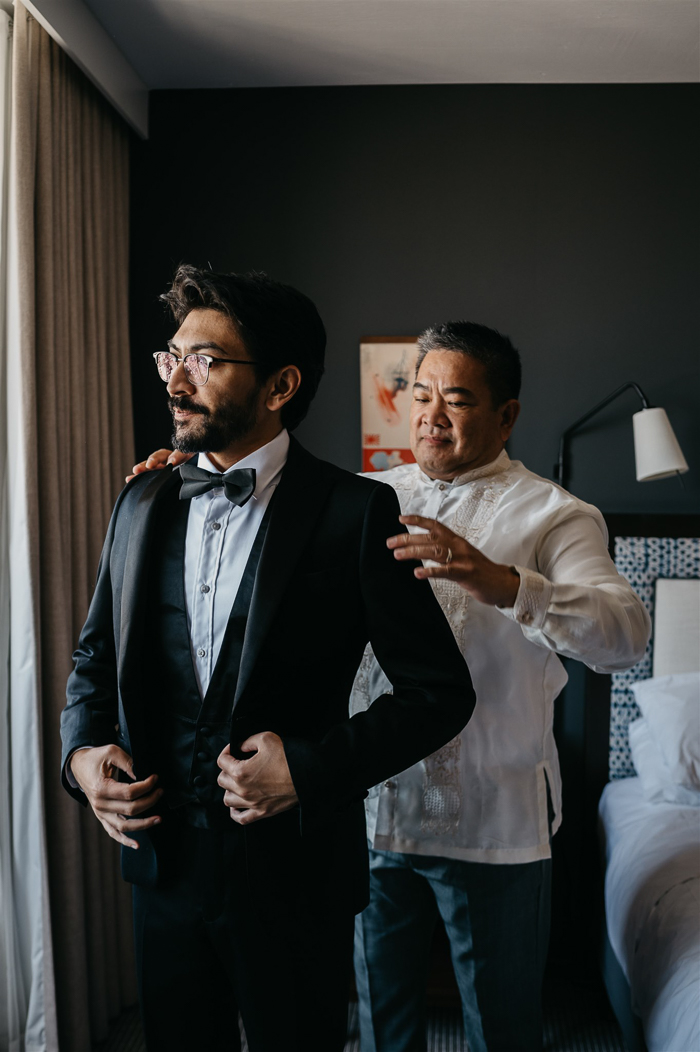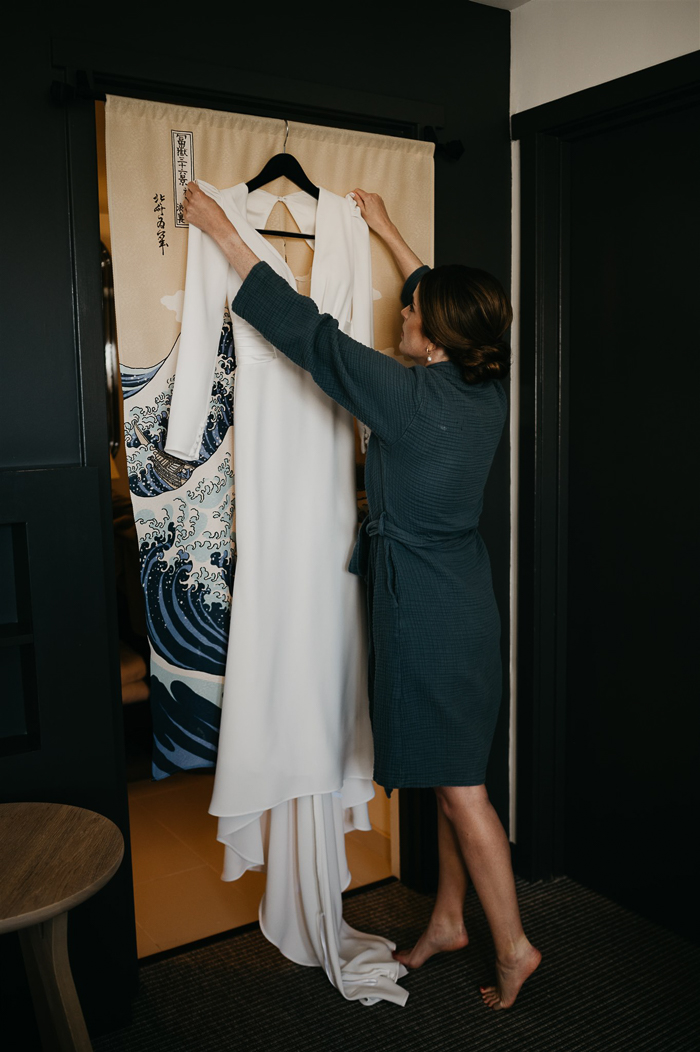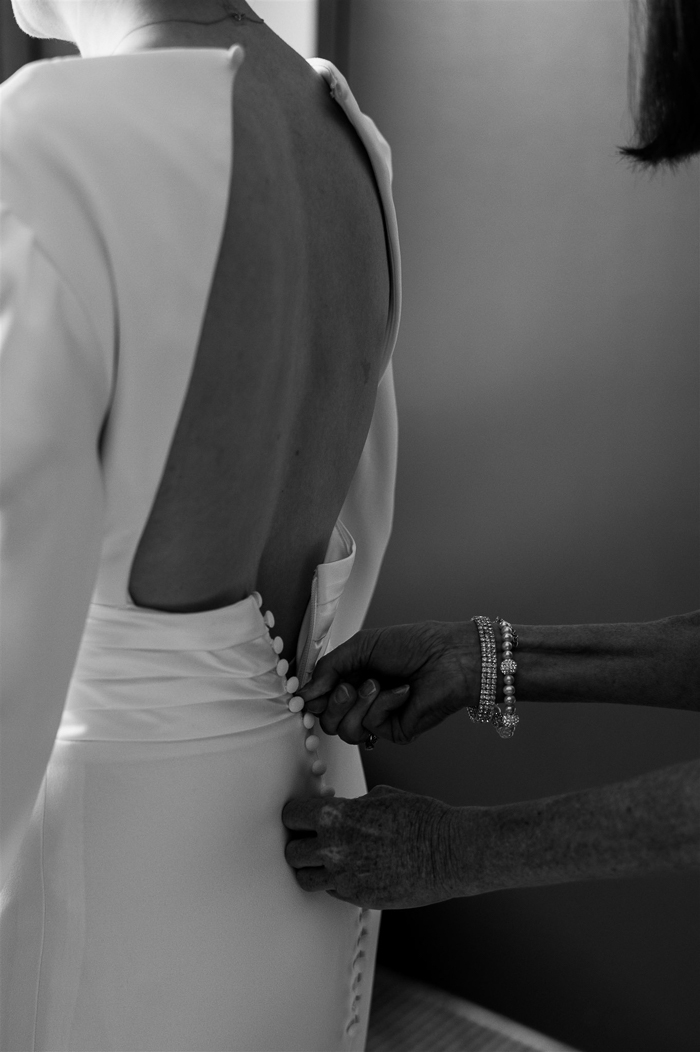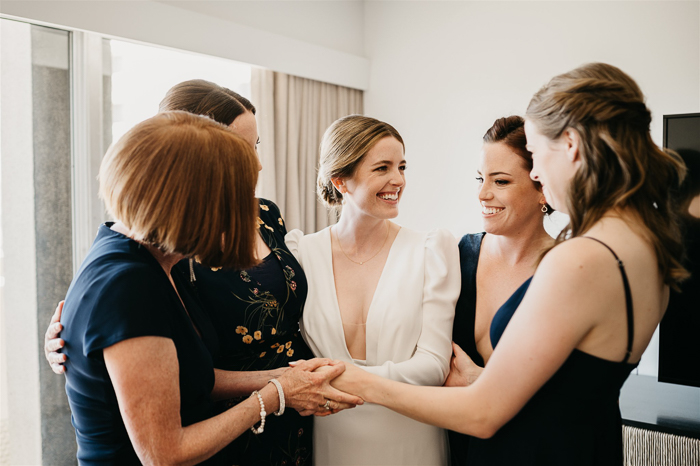 How Their San Francisco Micro Wedding Came To Be
We wanted an intimate, elegant, and uniquely San Francisco wedding. Once we decided to get married at city hall and have dinner at Leo's Oyster Bar, the rest fell together. We live in California near San Francisco, and once I googled photos of San Francisco City Hall and saw the beautiful marble and stunning natural light, we were sold. It was glamorous and elegant. It was a far cry from the sad government utility room I was expecting when my husband first suggested tying the knot at city hall.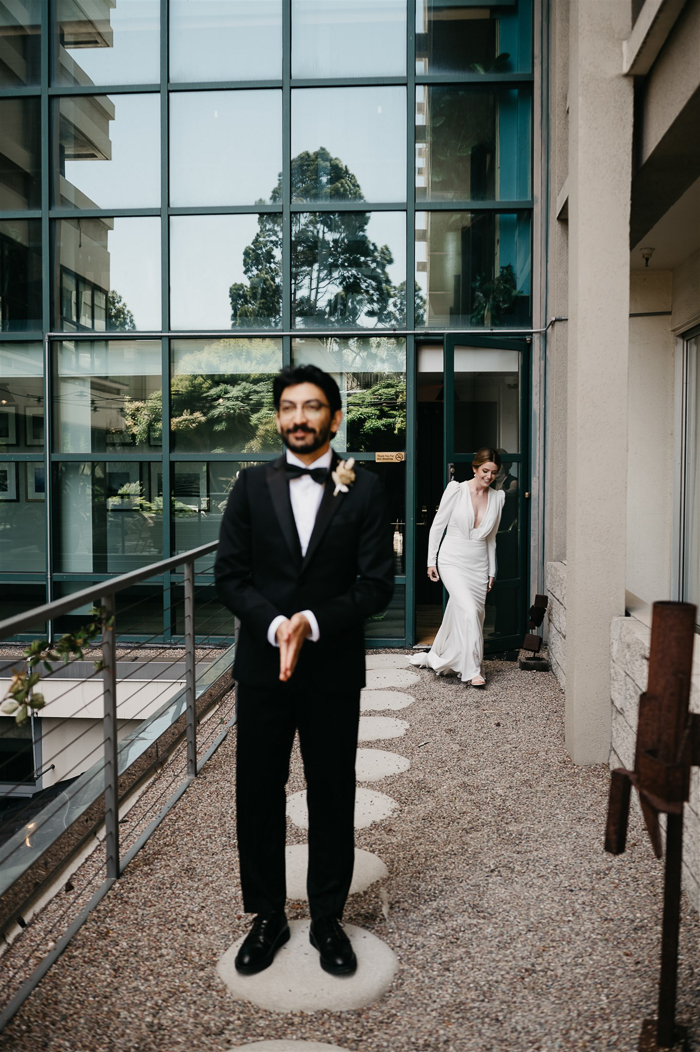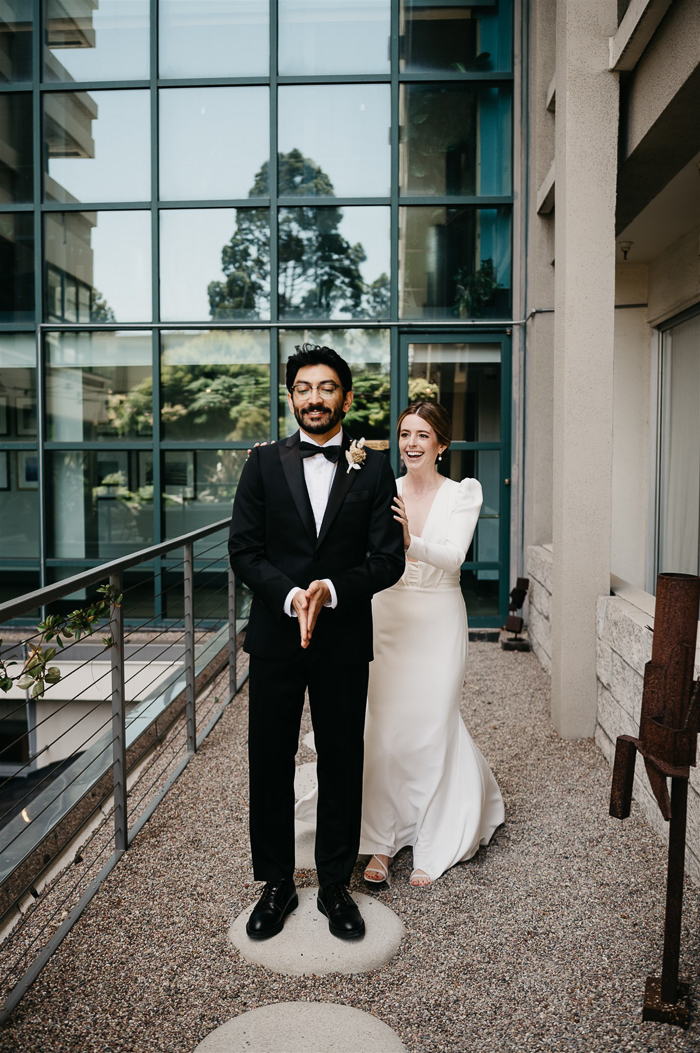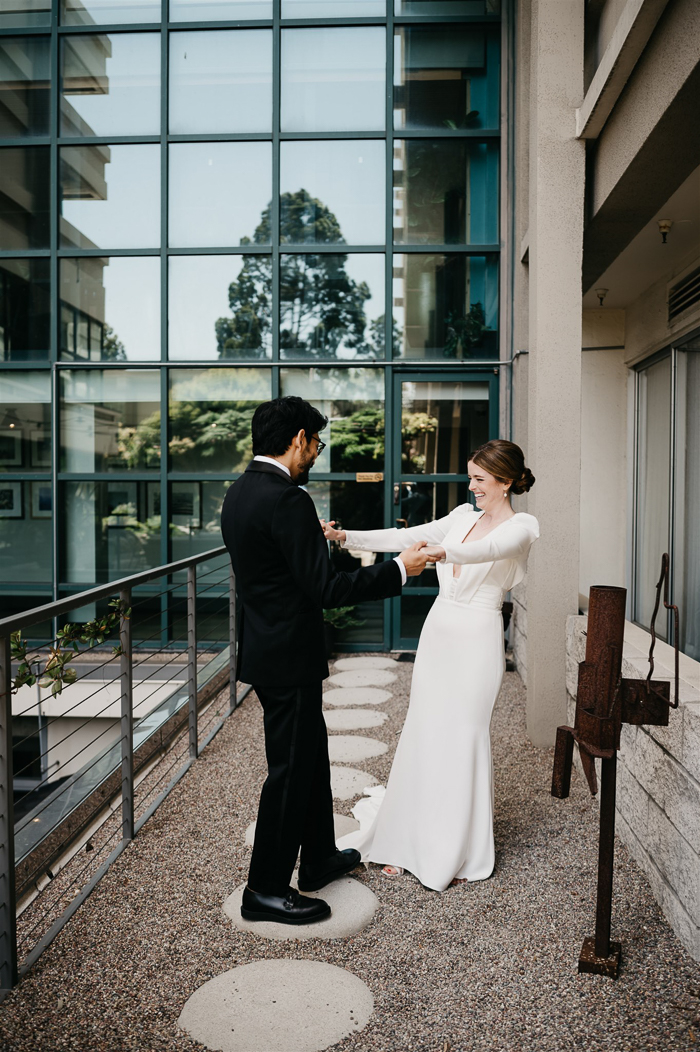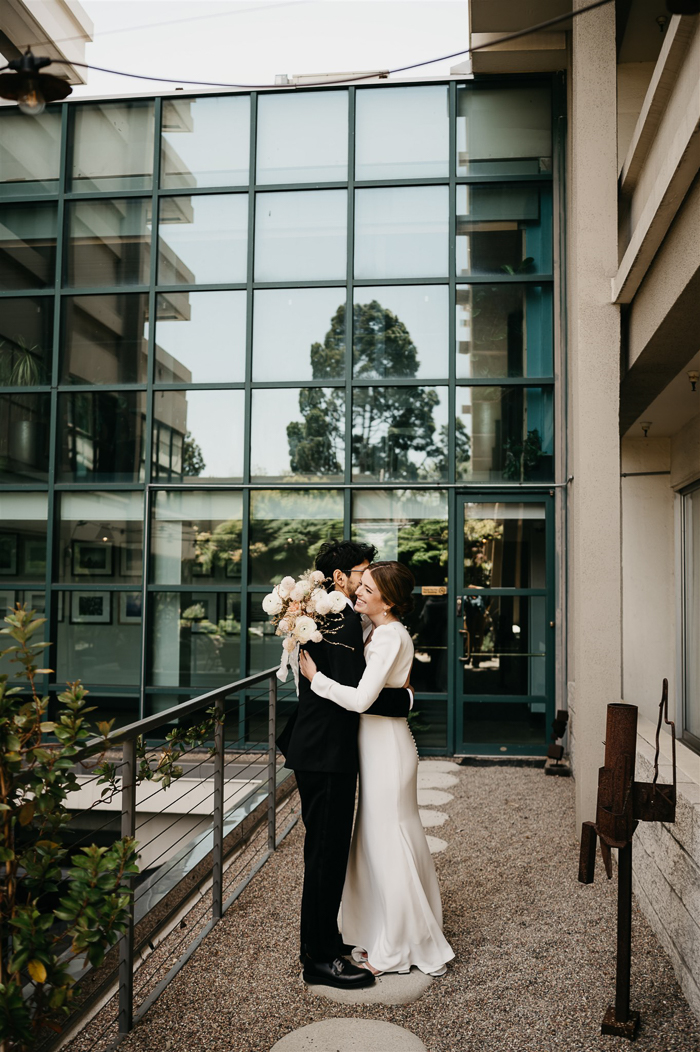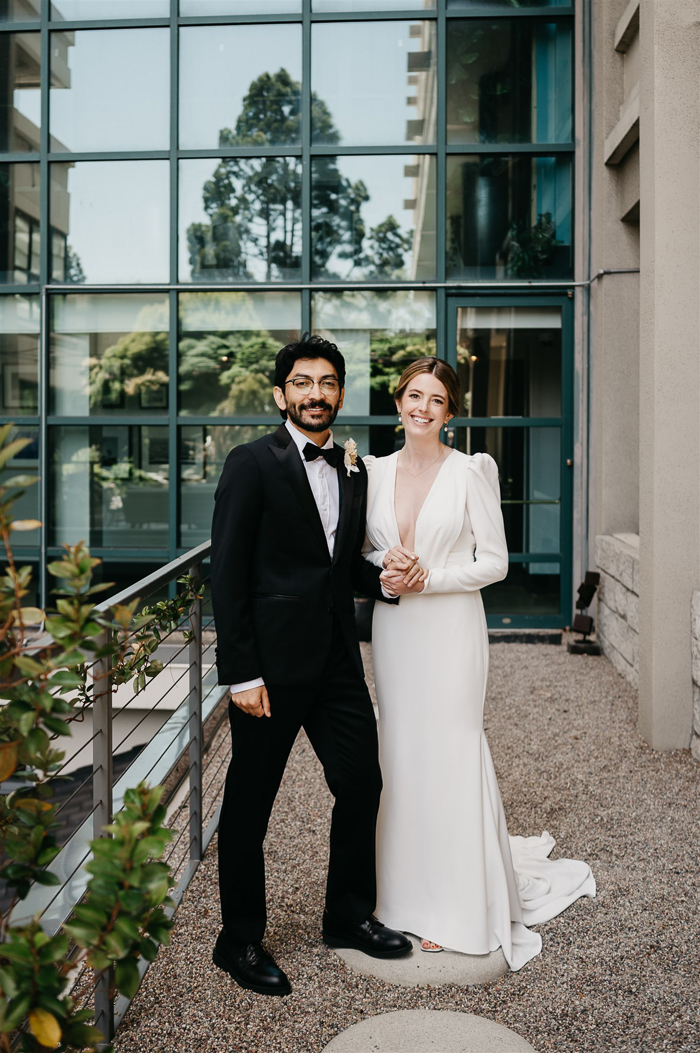 Crafting a Personalized Ceremony by Including a Ring-Warming Tradition
We worked closely with our officiant to create a ceremony that reflected our relationship and values. One of the most memorable parts of our ceremony was a ring-warming tradition where our wedding rings were passed around to each of our guests, and they held them for a moment and said a silent blessing for our marriage while music played in the background. Then when we exchanged rings, it felt extra meaningful and that we had the love and support of everyone in attendance.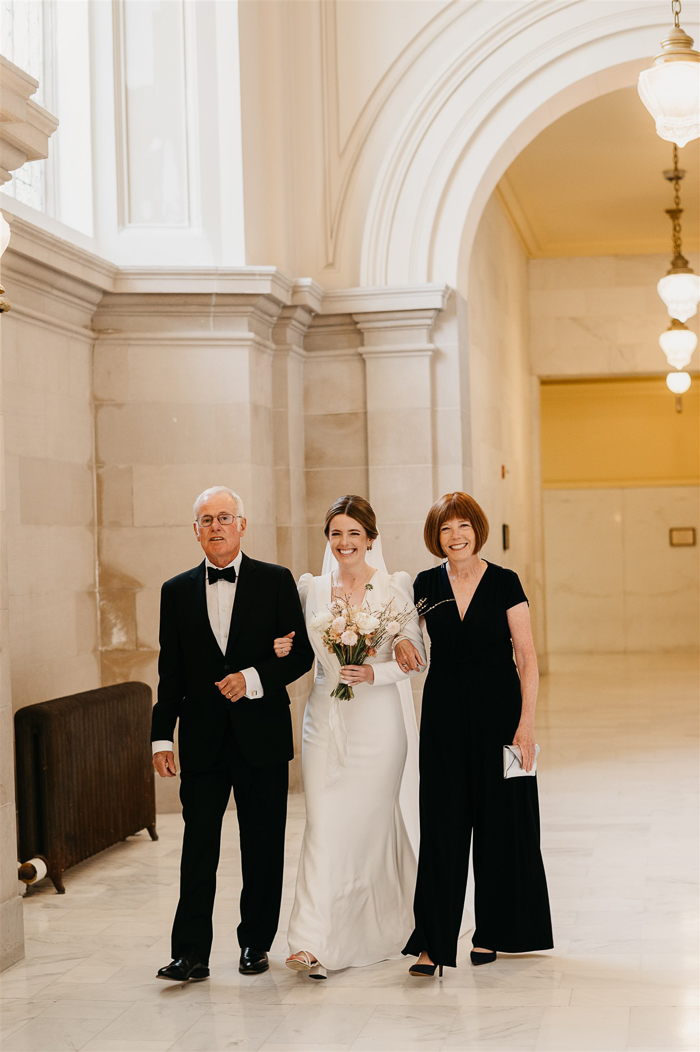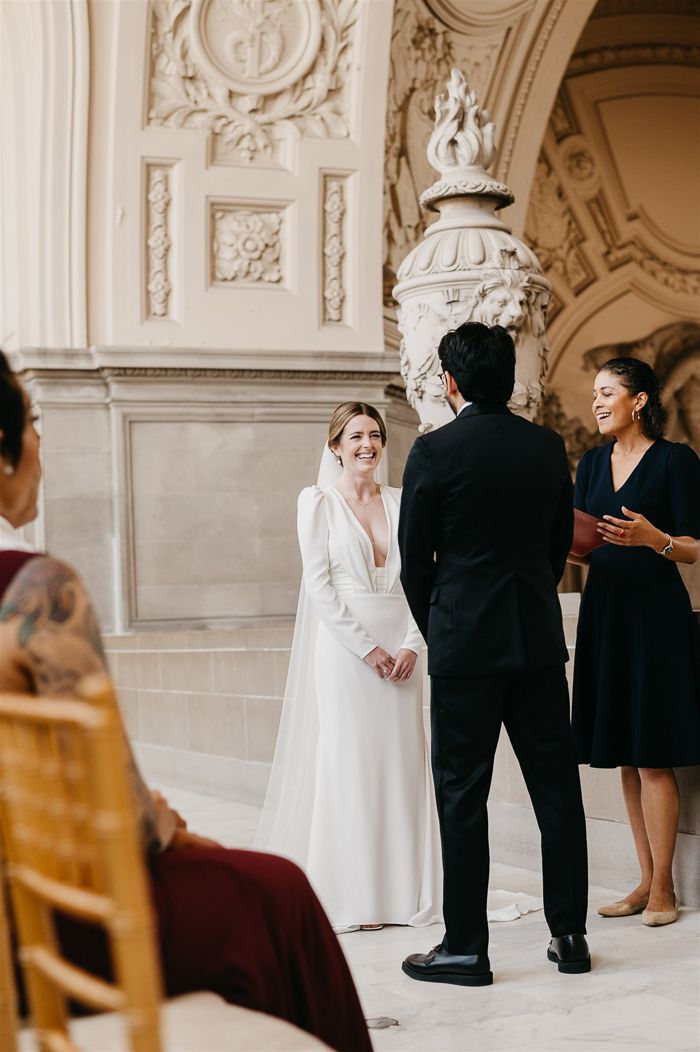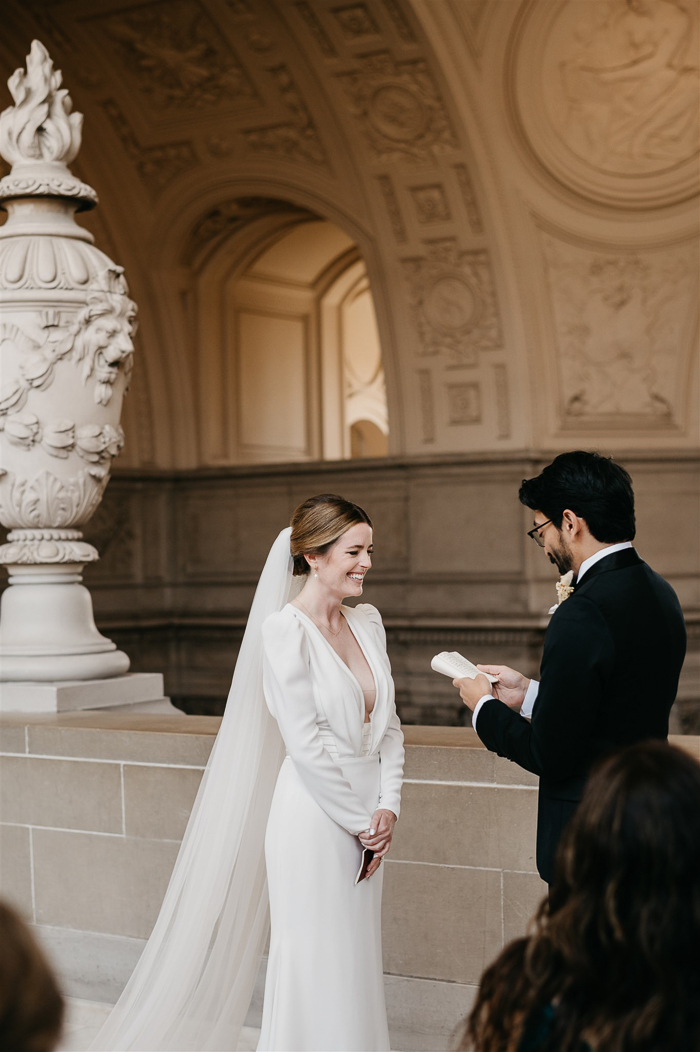 Every couple deserves unique vow books as special as their words. Explore our list of beautiful vow books fit for every ceremony.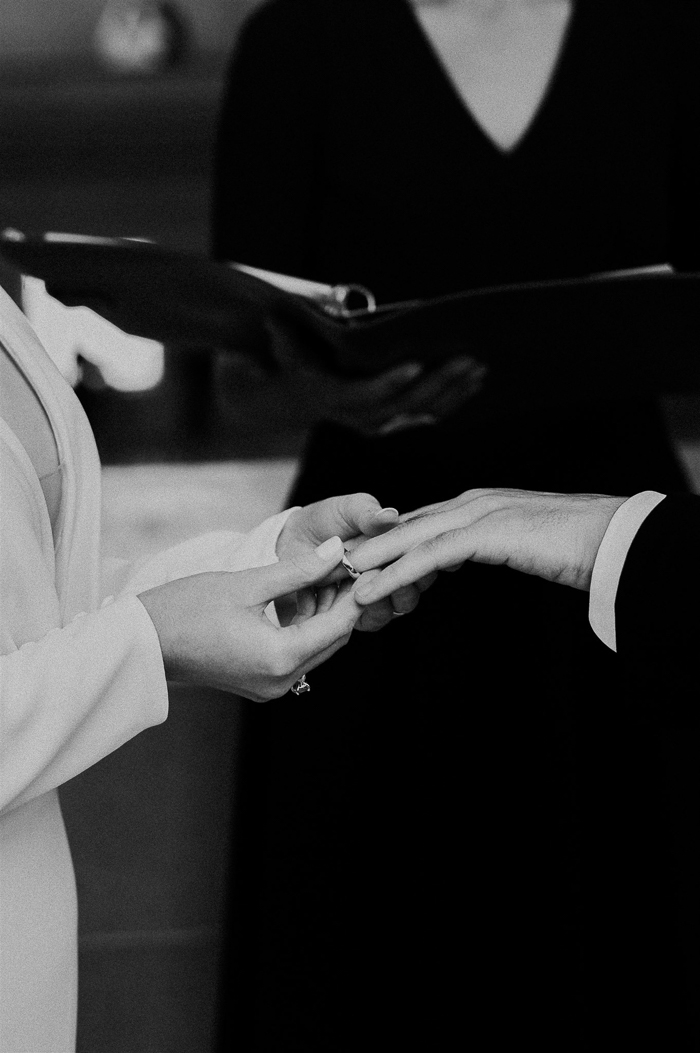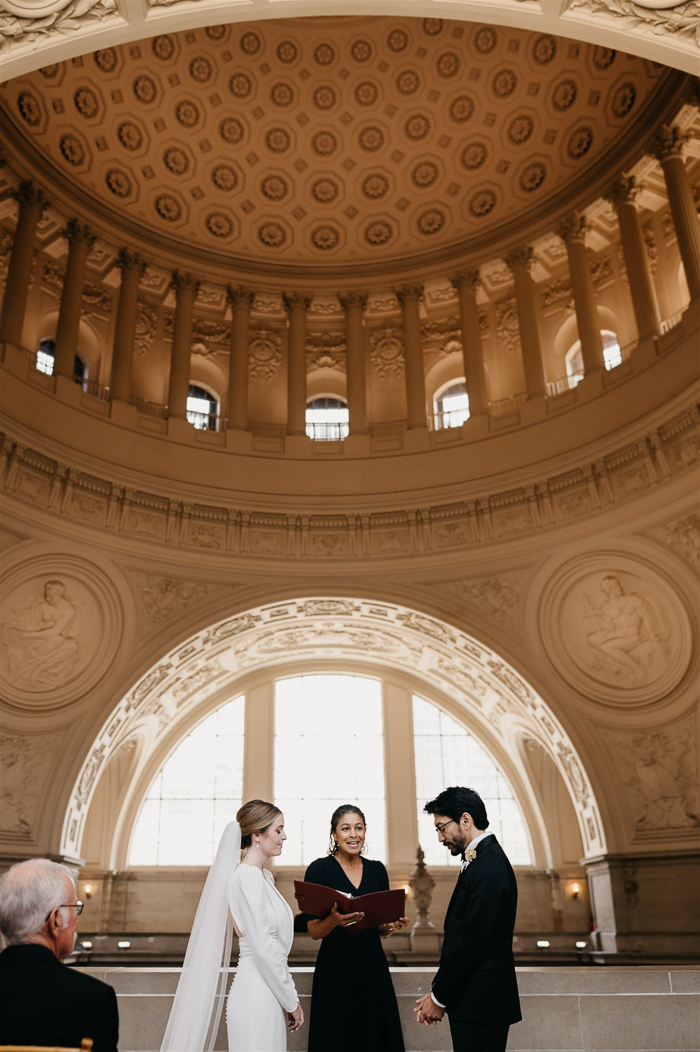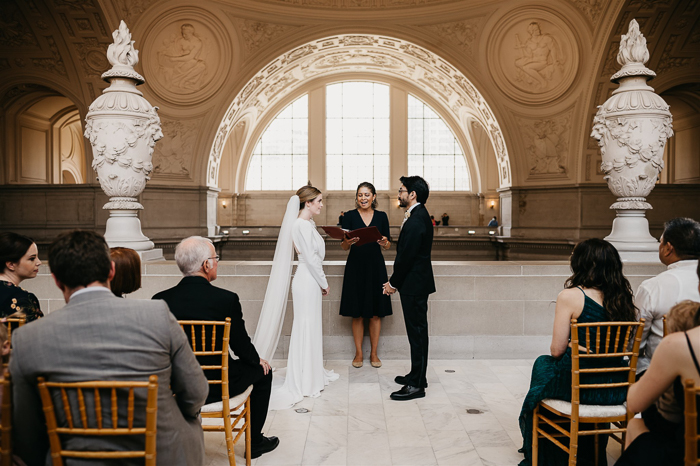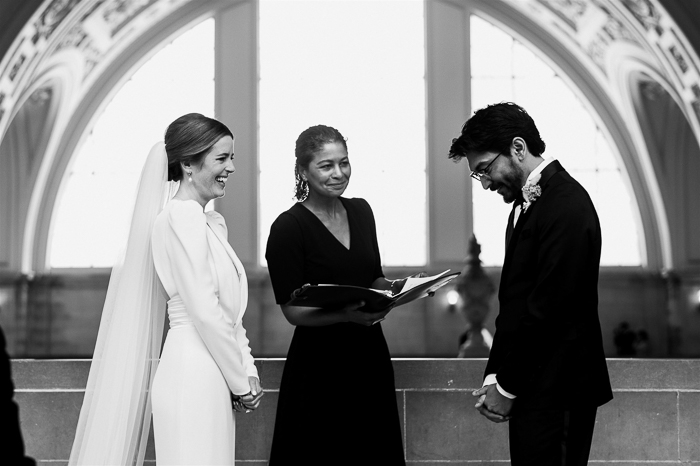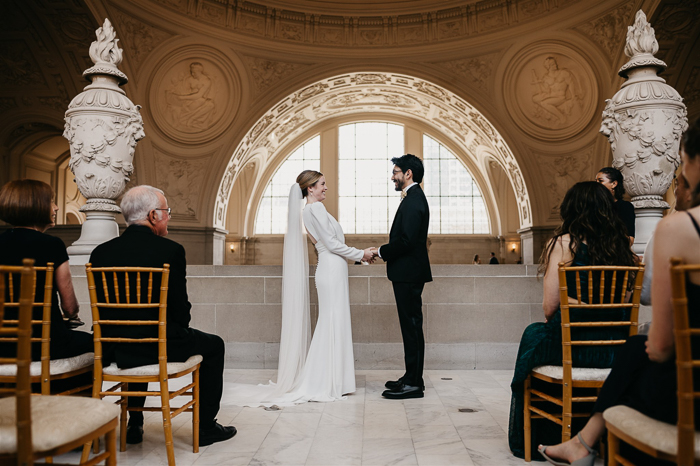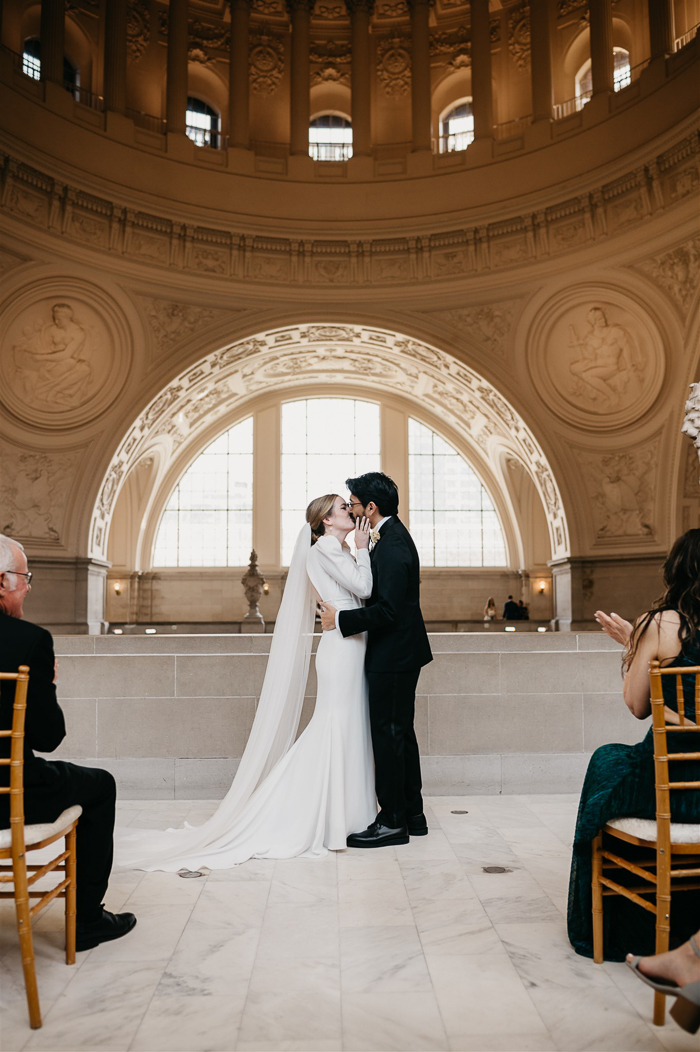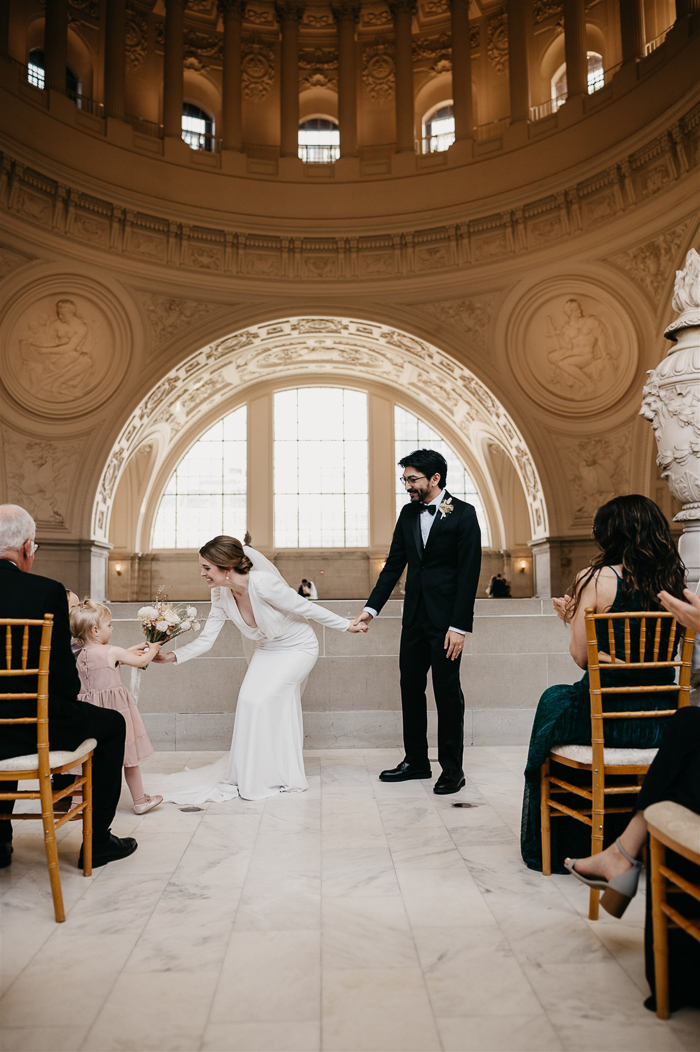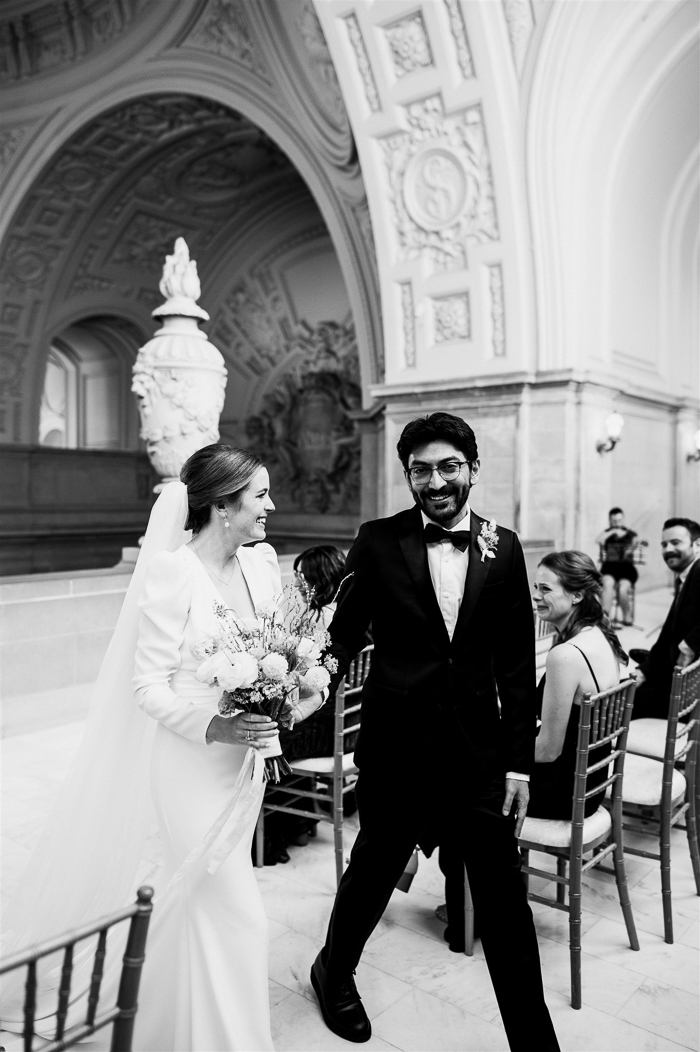 Bringing to Life a Meaningful San Francisco Micro Wedding Day with Loved Ones
It was a spectacular day filled with so much love and joy, and it was significant to celebrate it with our closest family. Everyone in our family had to travel to attend the wedding, and we're so touched they did that. Not easy when babies are involved! I'm proud that we stayed true to what we wanted: an intimate celebration with amazing food and cocktails.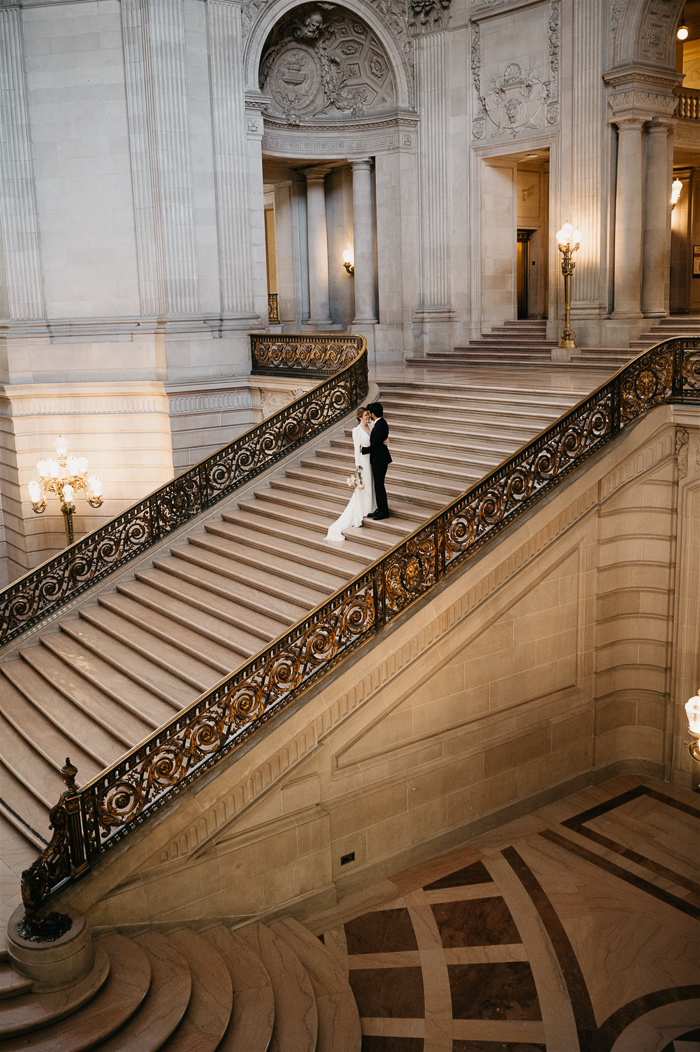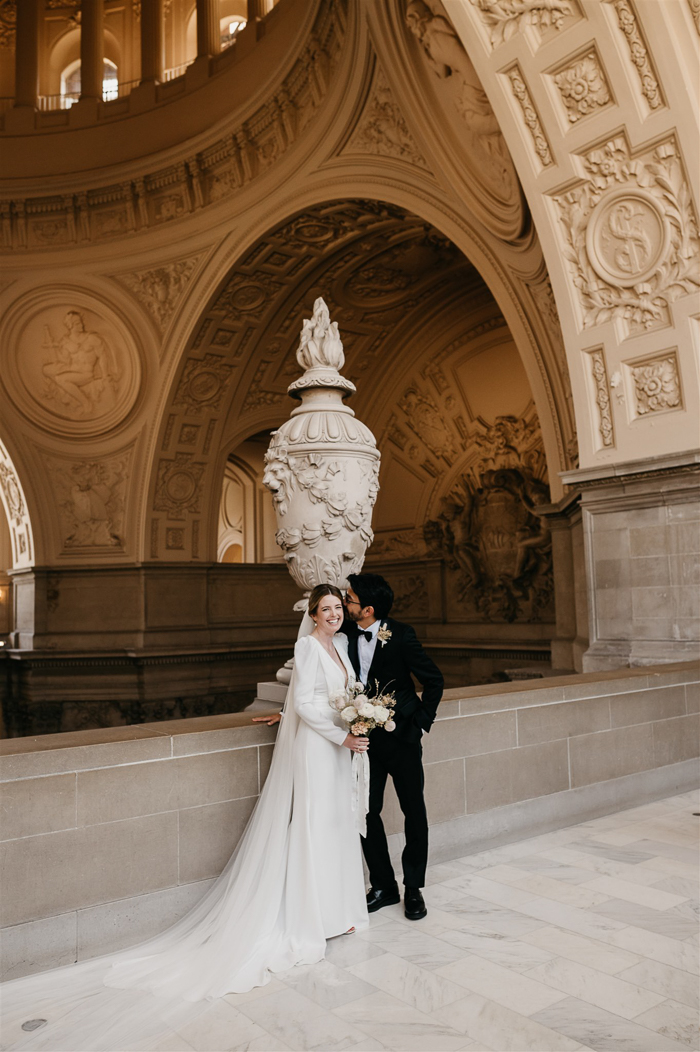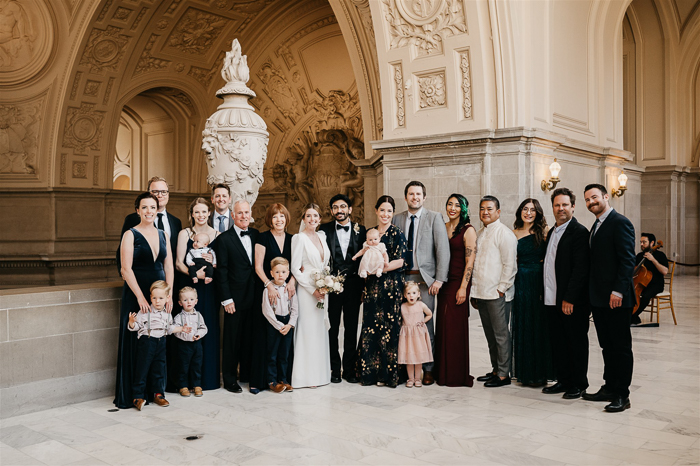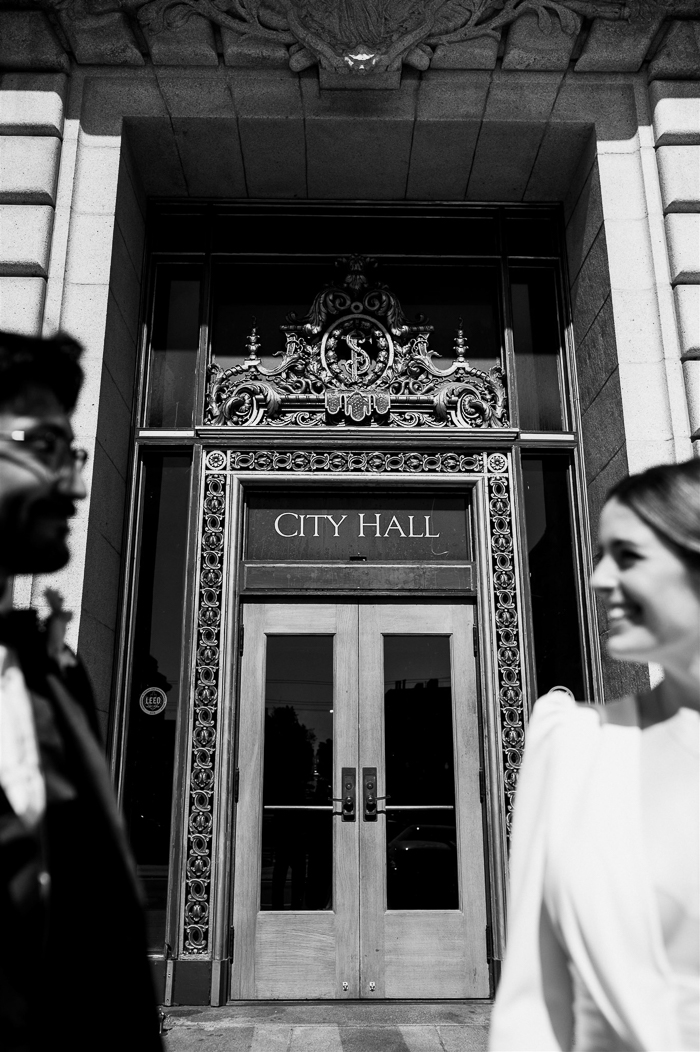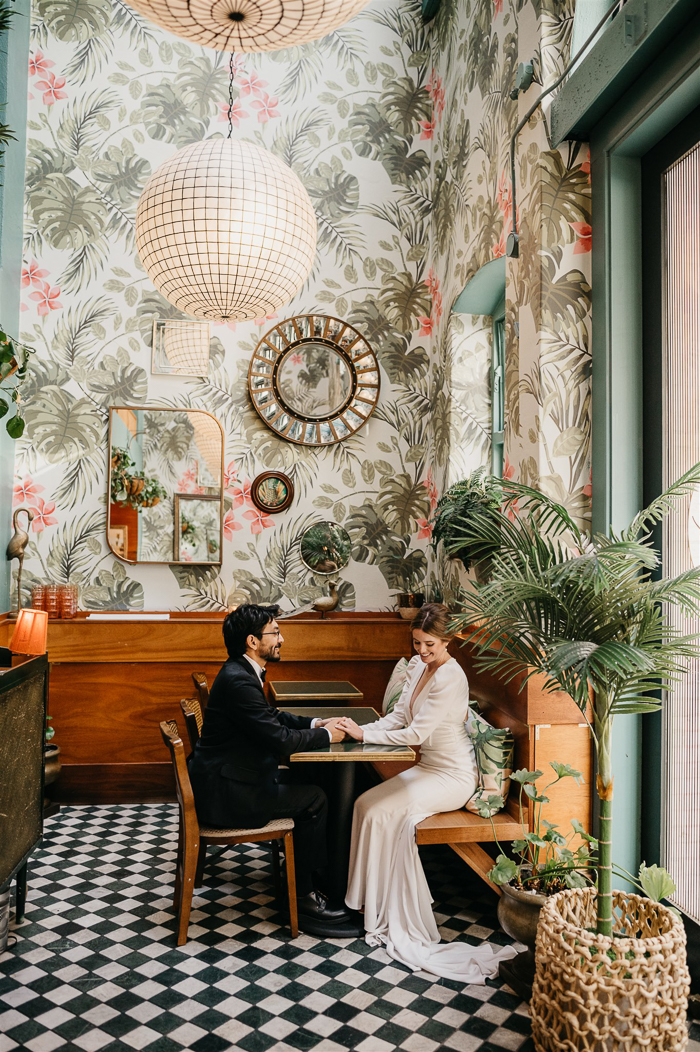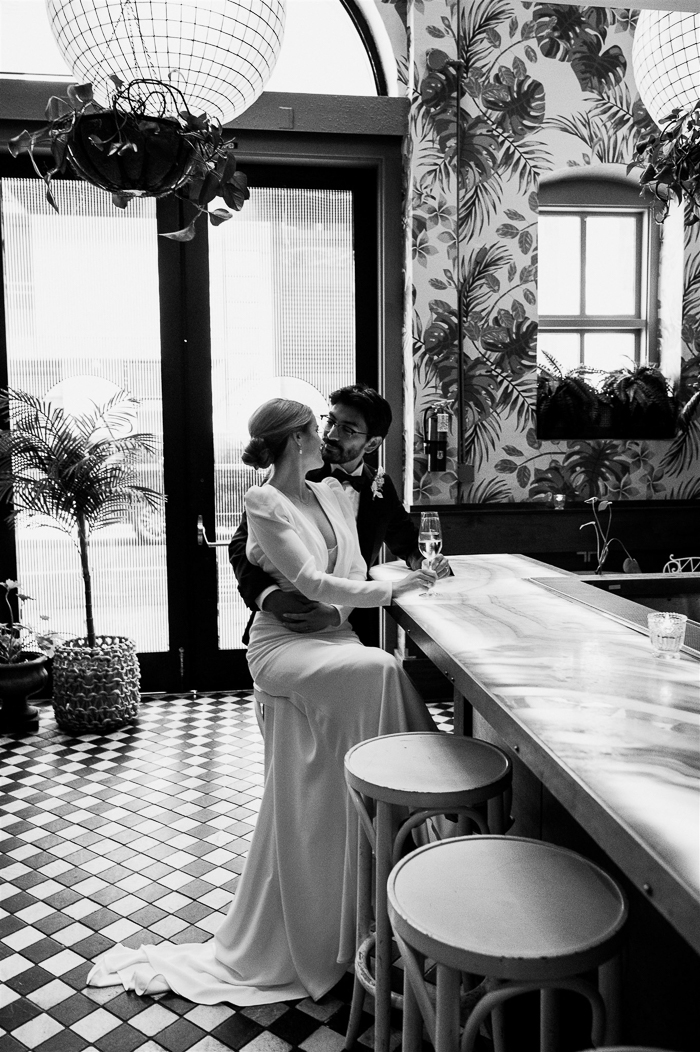 A Dash to the Golden Bridge Lookout for Sunset Portraits
We were running to the lookout together to catch the last light by the Golden Gate Bridge. My veil flew off, the wind blew the bouquet almost out of my hands, and we couldn't stop laughing.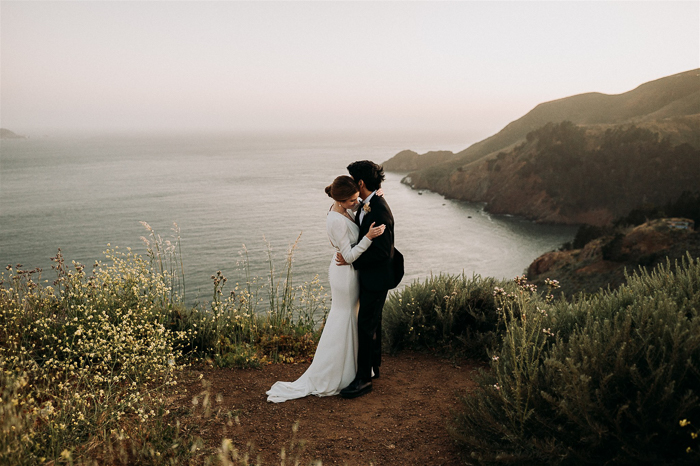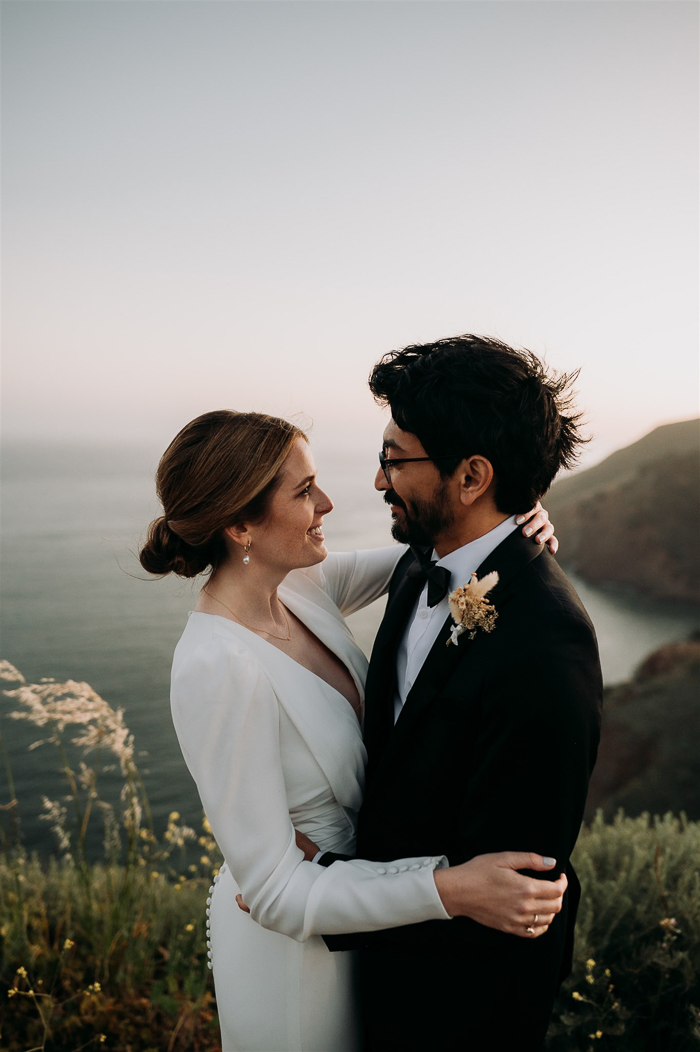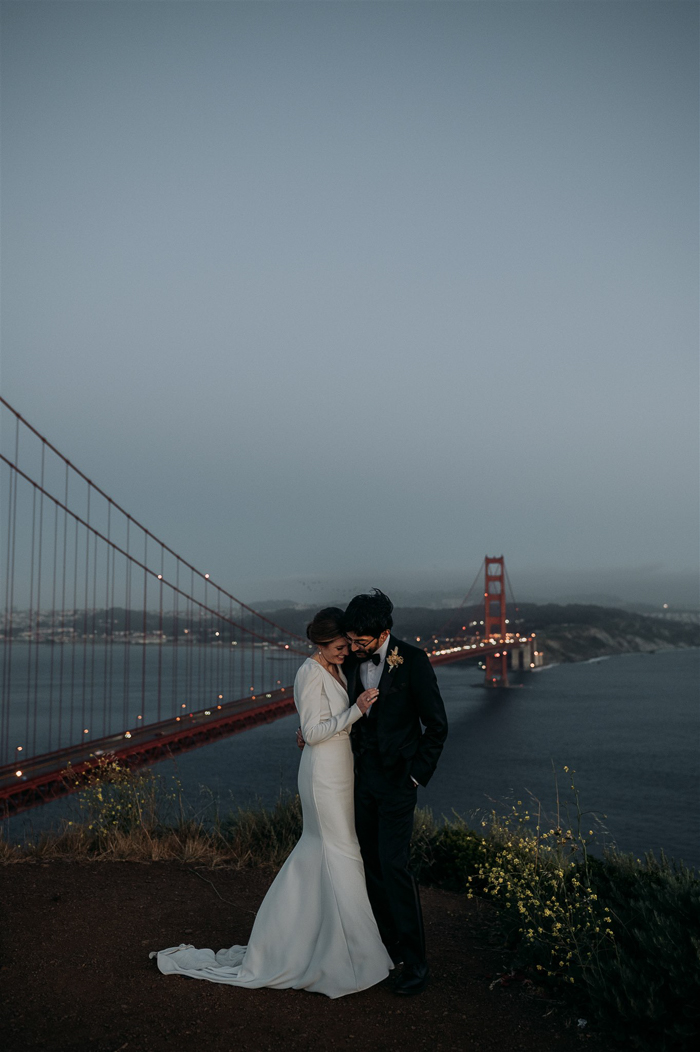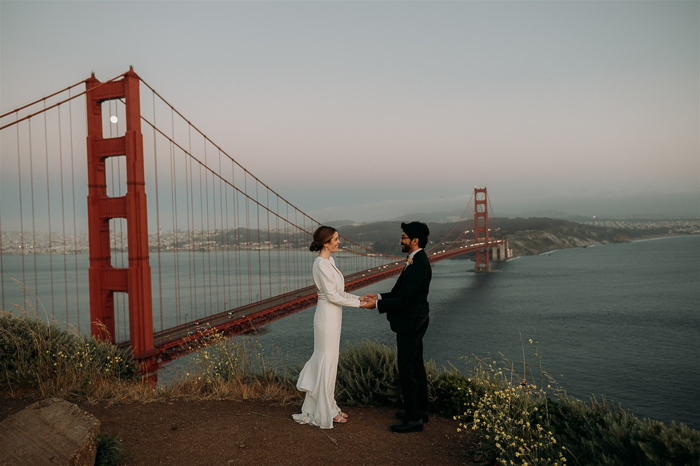 Thoughtful and Guest-Focused Preparations
Spending significant time considering your guests' experience on your wedding day is well worth it. It was essential to us that our family have a wonderful day where details like food, transportation, where they can park strollers, etc., were taken care of and planned. Planning this ahead of time ensured we could enjoy the day and not fuss over details. That we could enjoy the day and not be stressed by any last-minute details or organization. Everything was thought through and planned so we could be present on our wedding day.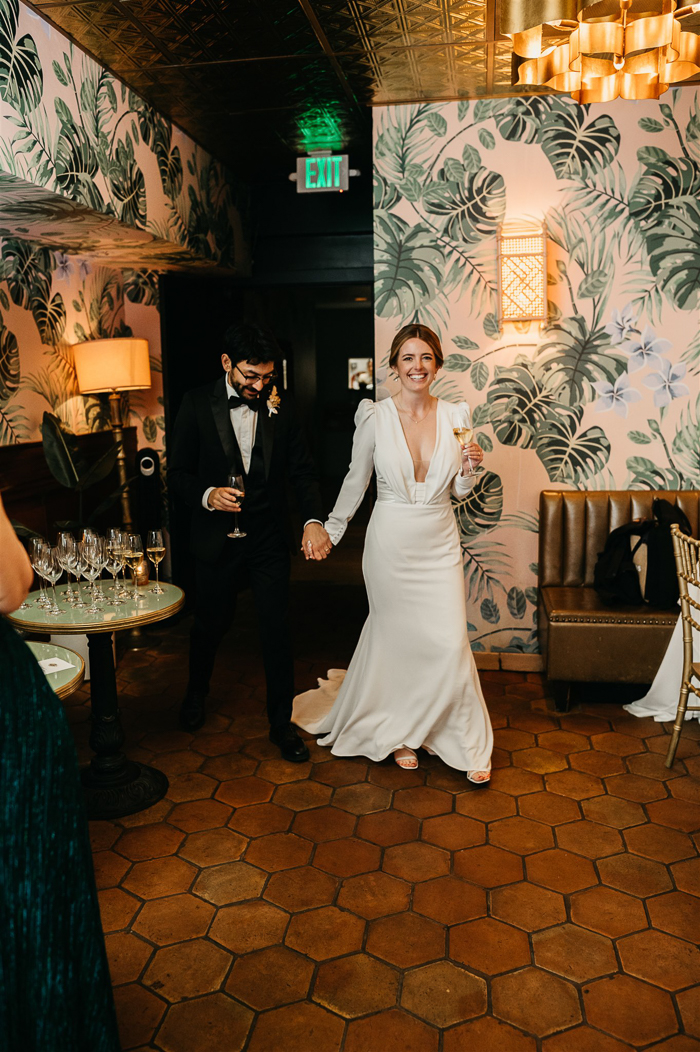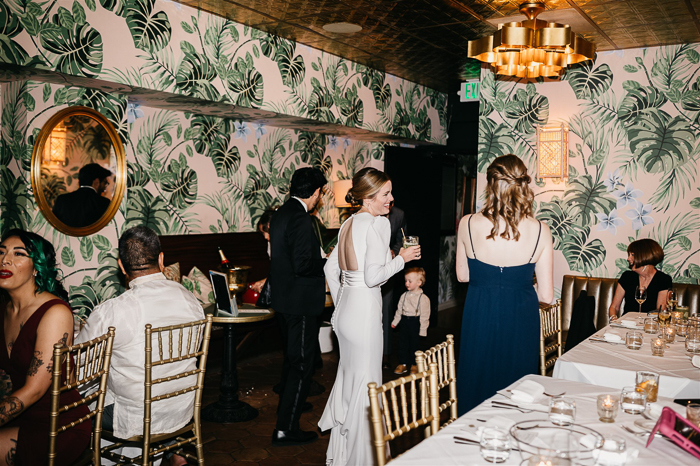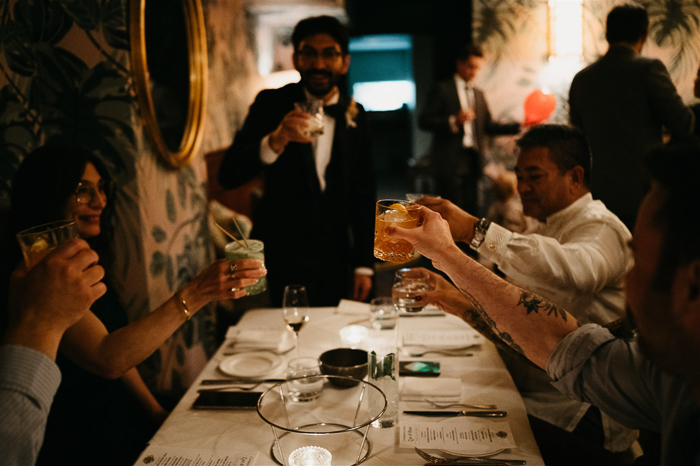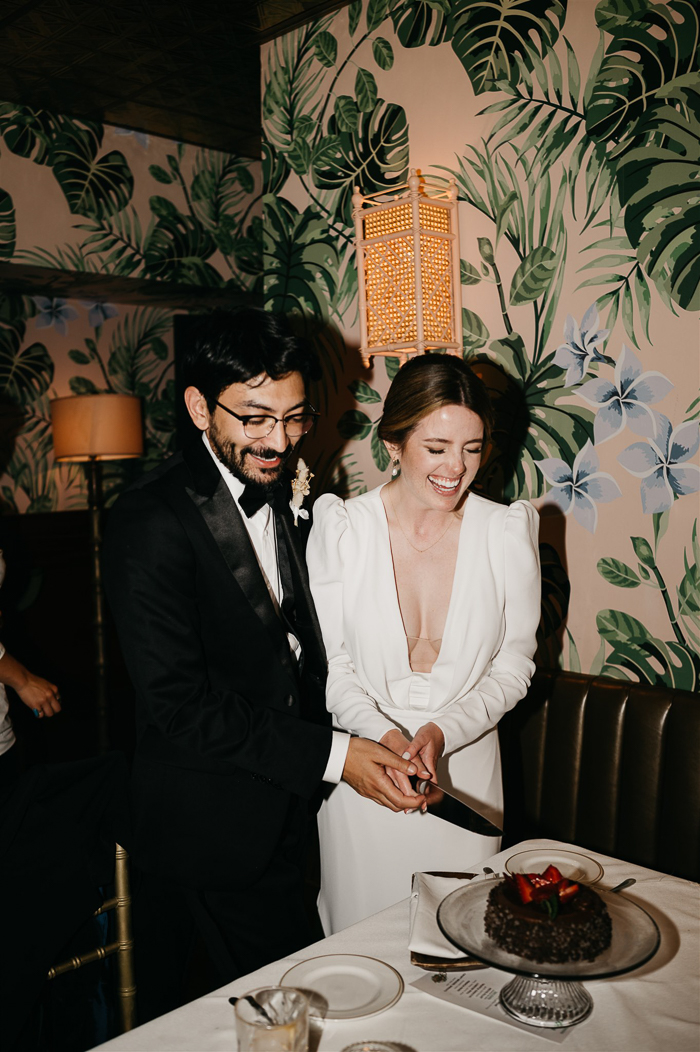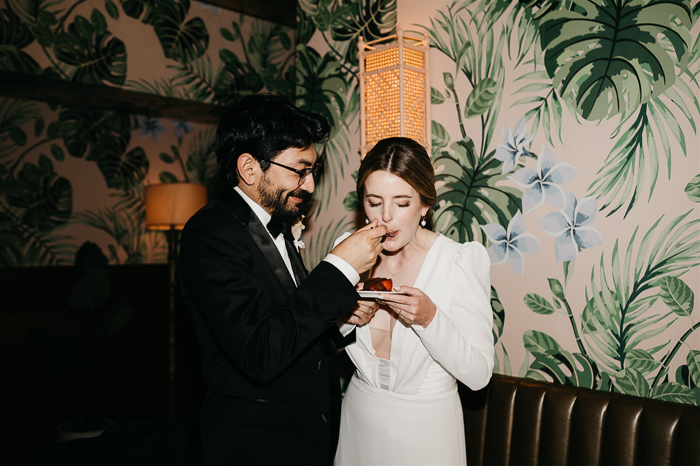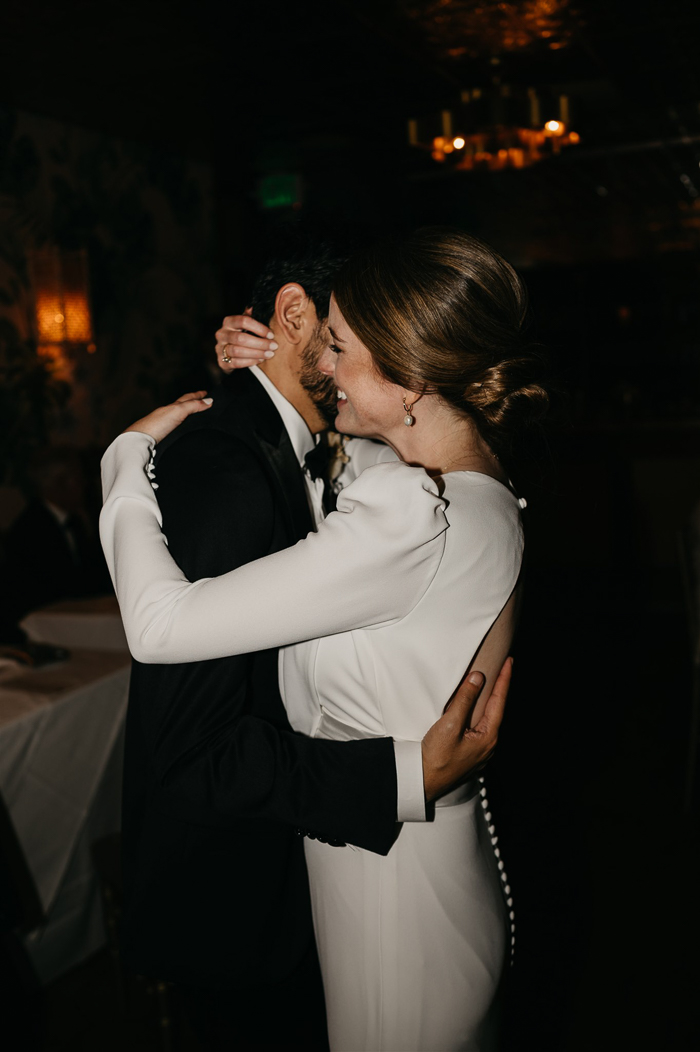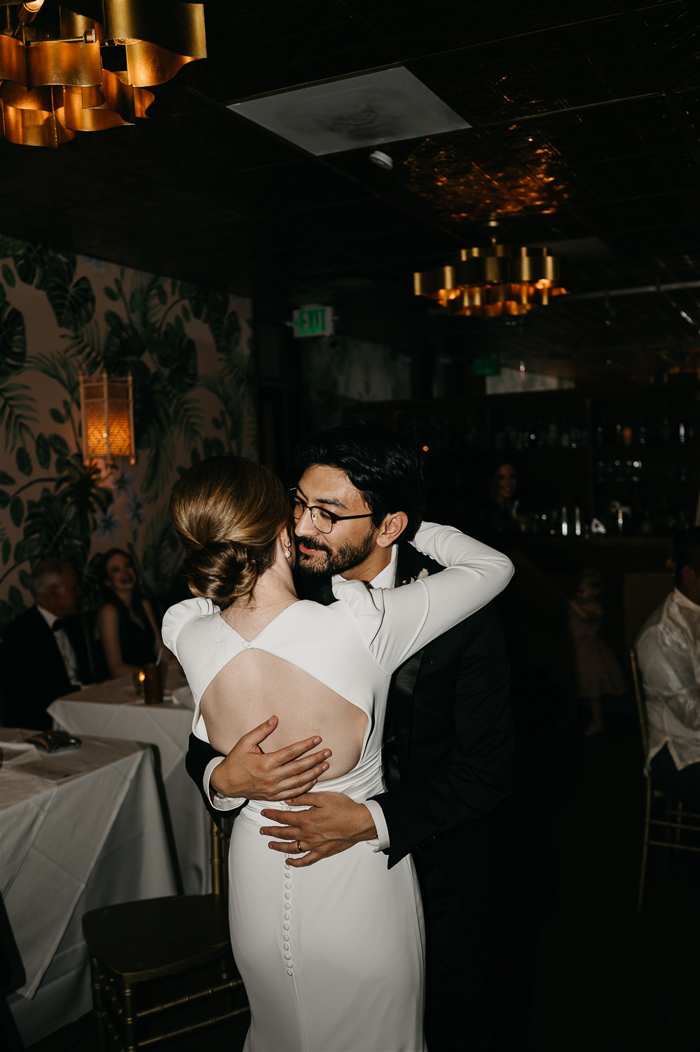 Congratulations to Zoe and Dominic on their intimate San Francisco micro wedding. Small and intimate, their special day allowed them to savor every moment, concentrating on the genuine connection that truly counts. And a big shout-out to Flora Gibson for skillfully capturing the happiest moments of their lives.
Opting for a micro wedding brings a more close-knit and heartfelt experience for you, your partner, and your loved ones. Whether it's the venue or decor, our guide is packed with ideas and tips to make your micro wedding truly unique and personal.