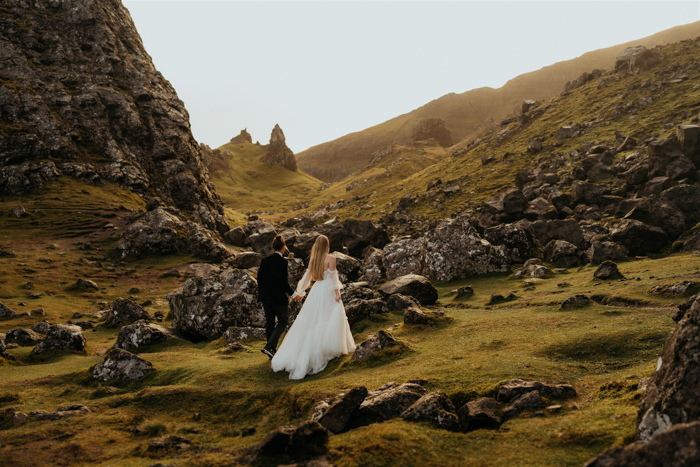 Lauren and Hayley had always dreamed of an Isle of Skye elopement after discovering the stunning destination years ago. Being together since 2012, tying the knot held deep meaning for them. But they had to put their plans on hold due to life's demands. However, their determination never wavered. Ten months before the elopement, they contacted their photographer, and luck was on their side—he had an available date in Skye. Taking it as a sign, they knew it was meant to be.
Their day started with getting ready at their Airbnb, where they enjoyed the stunning scenery. After their first look, they fulfilled their wish of taking photos at a Scottish castle, braving a muddy hike to reach their ceremony location. Surrounded by breathtaking landscapes, they exchanged heartfelt vows, embracing the natural beauty that surrounded them.
They continued their explorations until late into the evening, capturing ethereal portraits illuminated by glowing lamps. It all came to an end when the couple retreated to a cozy cabin where they signed their marriage license, enjoyed a delightful meal, and shared laughter and heartfelt conversations. If you dream of saying "I do" in a breathtaking exclusive location, take a moment to browse through these gorgeous photos by the talented Henry Tieu. Let this adventurous love story inspire you to plan your own romantic getaway in a faraway place.
The Couple:
Lauren and Hayley
The Wedding:
Isle of Skye, Scotland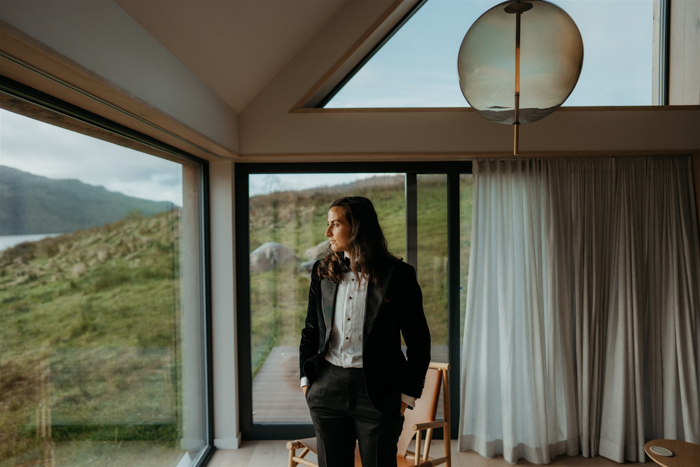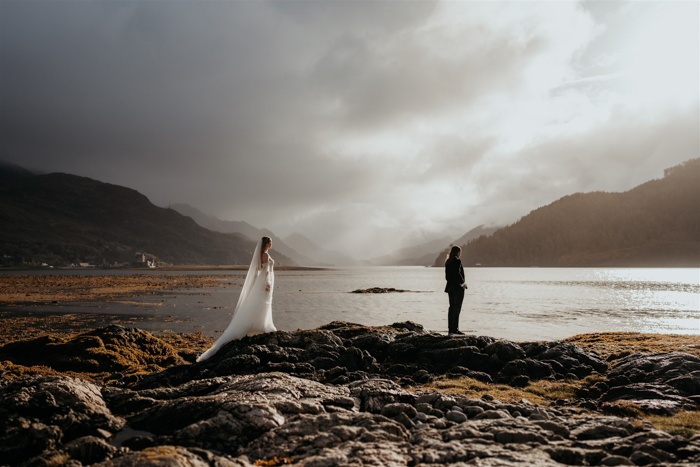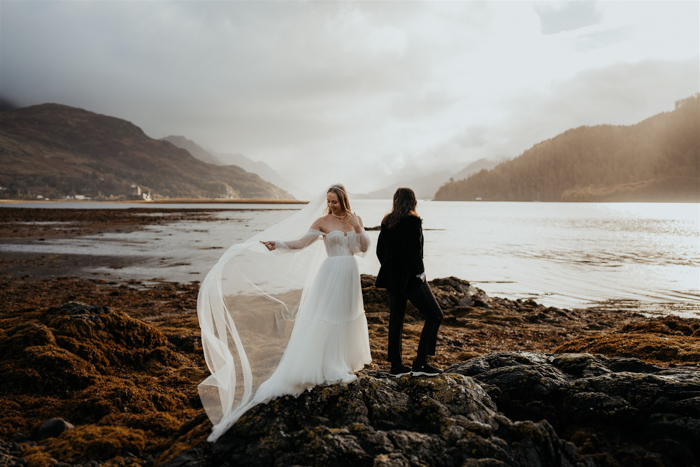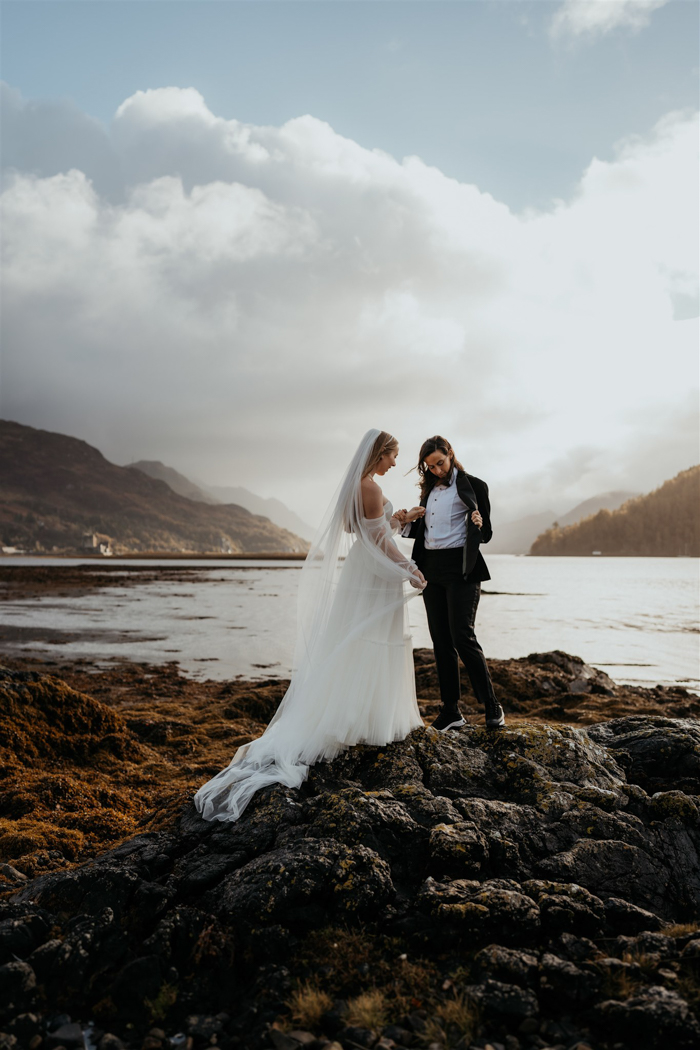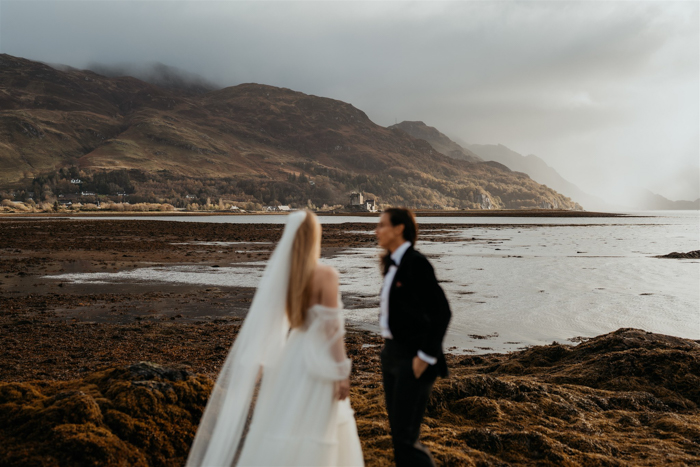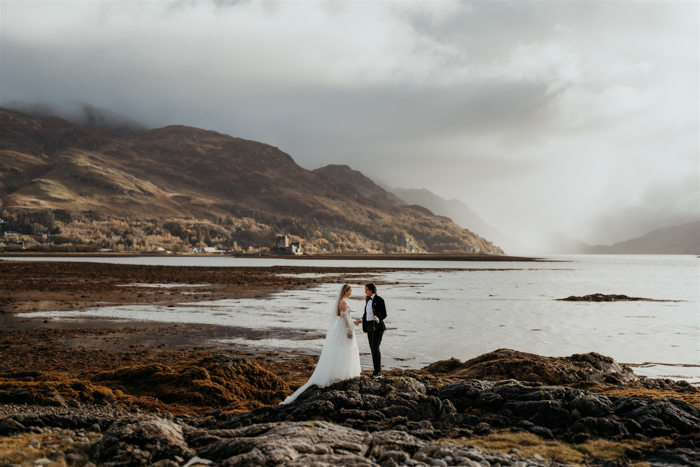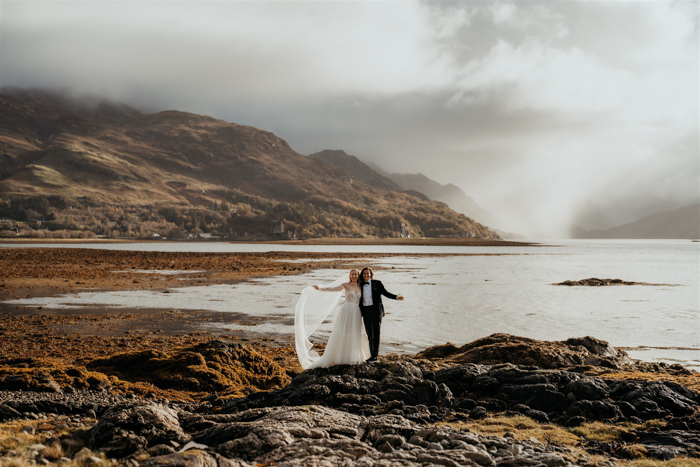 Henry Tieu's Take on This Isle of Skye Elopement
Lauren and Hayley's adventurous elopement in Scotland marked my final international elopement of the year. Despite November's rainy season, they remained determined to proceed with their plans and let nothing dampen their love-filled celebration. It was one of the most exhilarating days I've ever encountered. Rain poured whenever we sought shelter indoors but miraculously ceased whenever we were ready for outdoor adventures.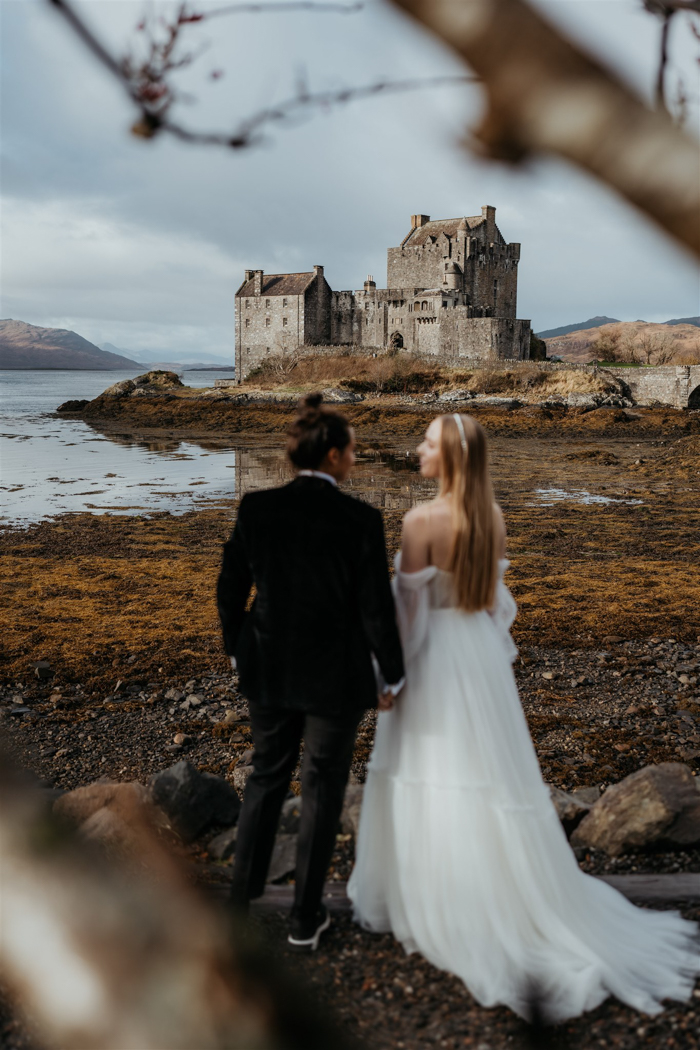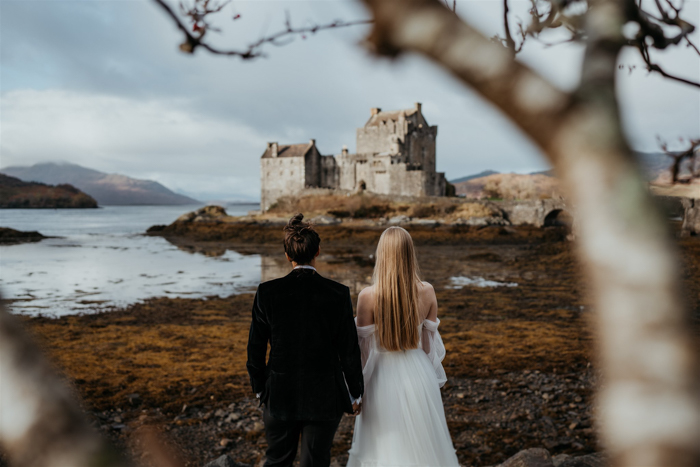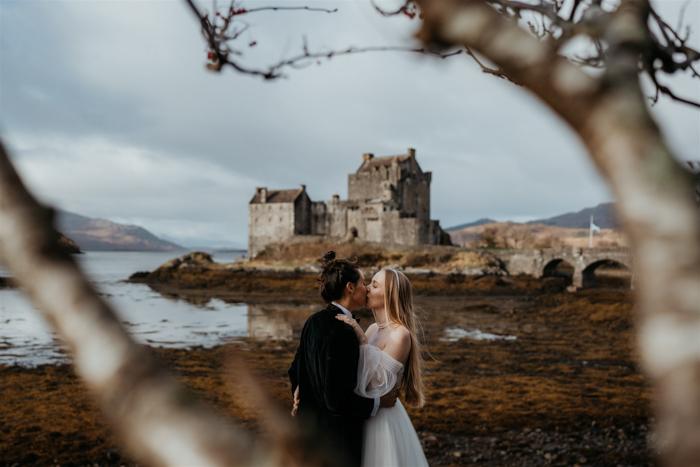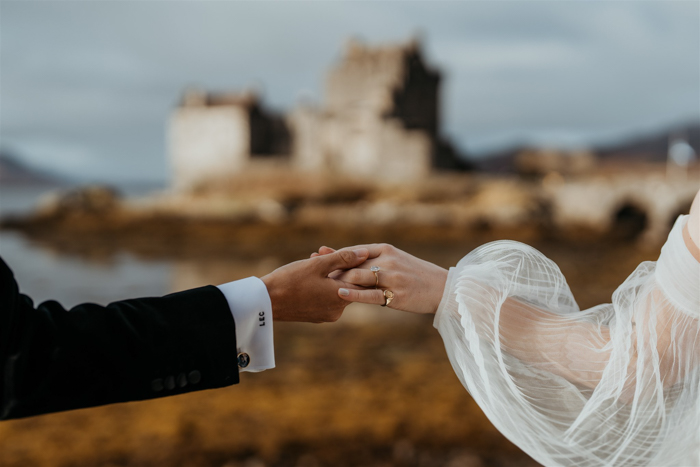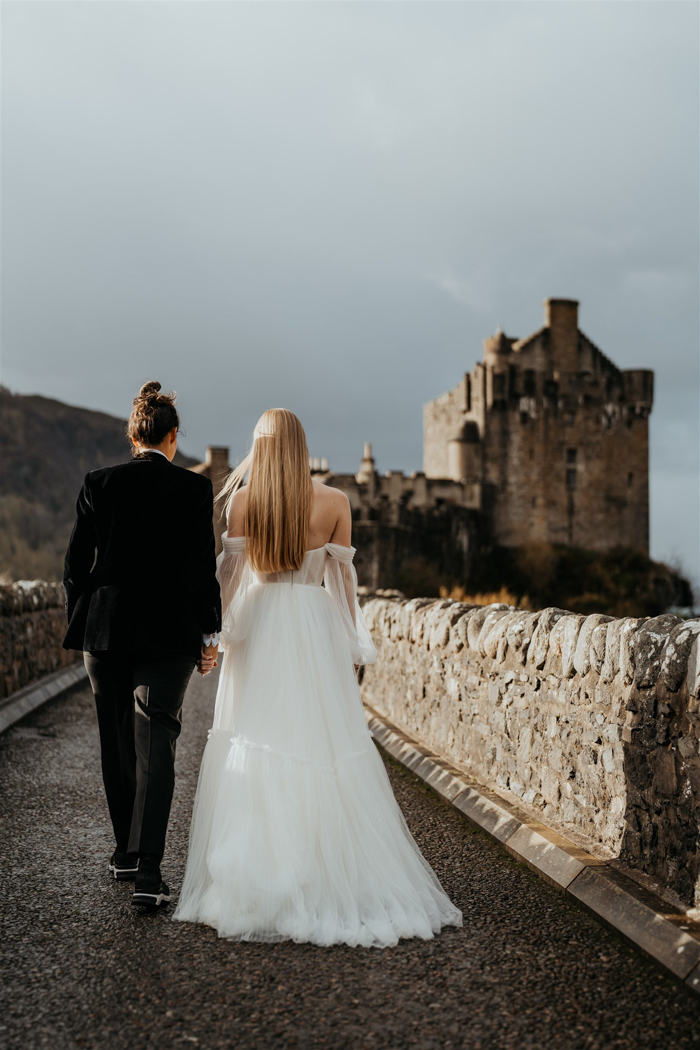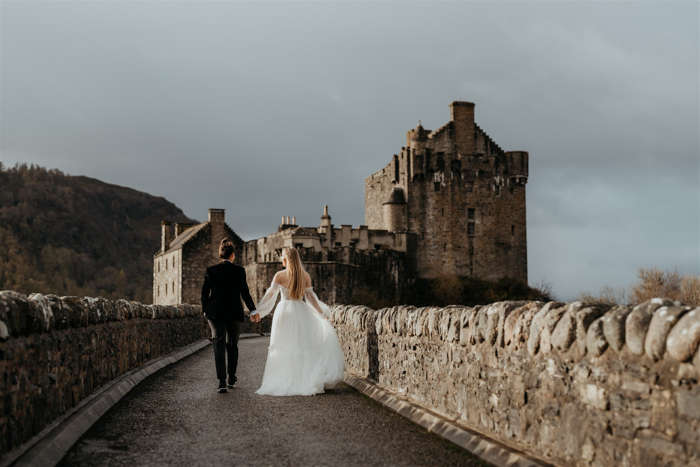 How Their Isle of Skye Elopement Came to Be
When we contacted Henry about ten months before our elopement, he was available in the Dolomites and Skye. The date on Skye was the only one that would work for us, so we took it as a sign. Years ago, we discovered the Isle of Skye online and planned to elope there. However, we put it on hold due to life getting busy. We were initially drawn to Skye because of its breathtaking pictures and the captivating atmosphere it conveyed. It truly is one of the most special places in the world, with a rich history and mystical folklore. It has an ethereal and whimsical fairytale feel with an underlying elegance.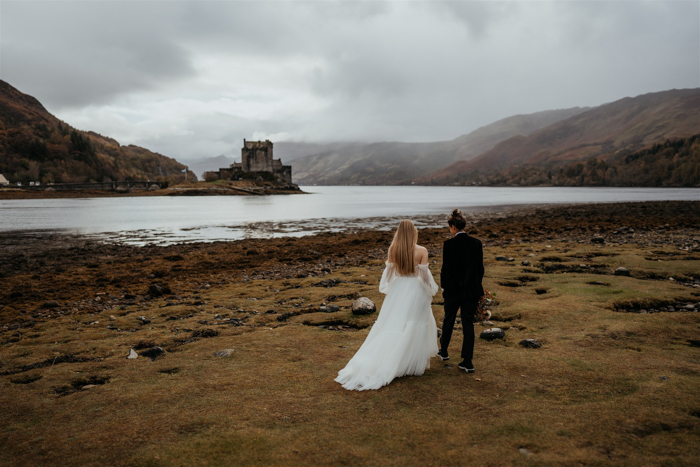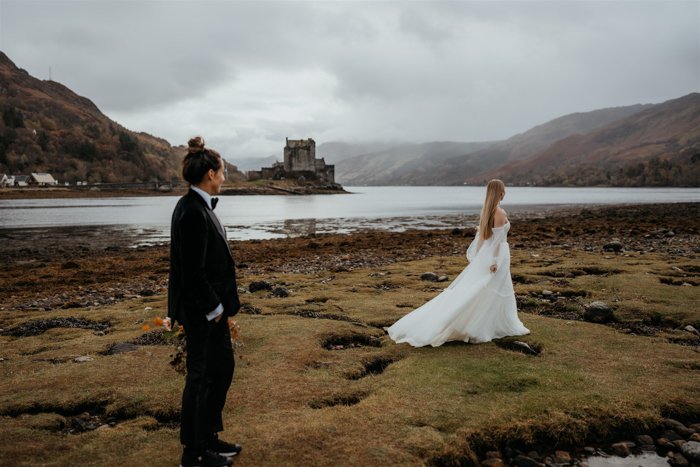 A Memorable Moment Alone Amongst Scotland's Cliffs
Besides the rainbows we saw all day, the most memorable part was probably the end of the day. The sun had set over Skye and Old Man Storr, and we were alone on a small cliff, looking out at the ocean, holding lanterns under the bright full moon. There was an extraordinary calmness in the air, accompanied by the gentle glow of the moment.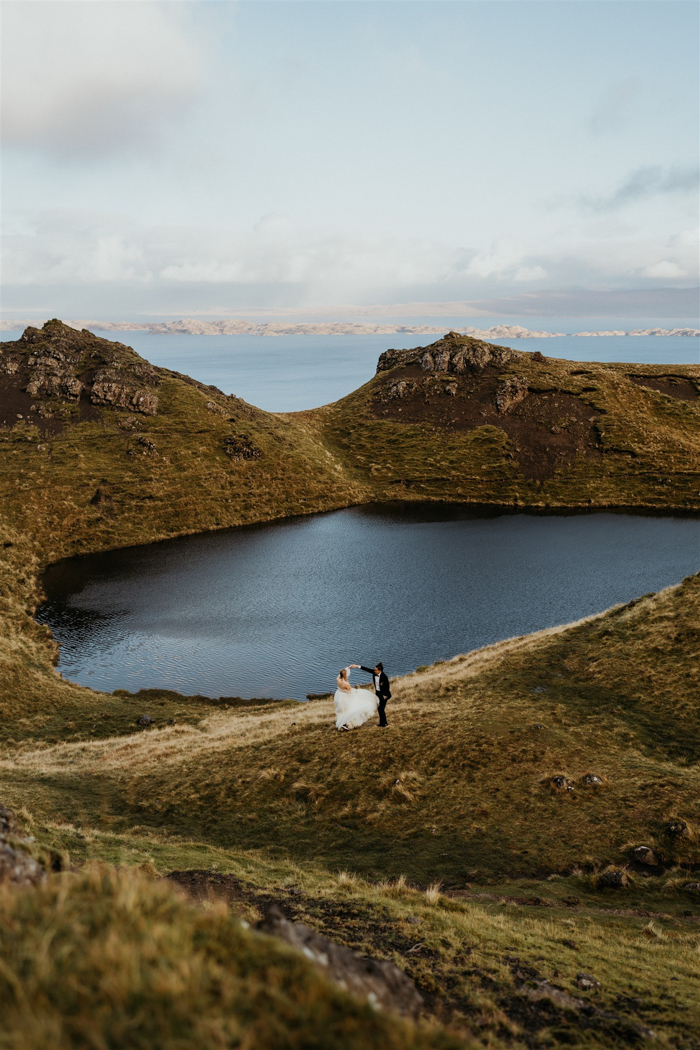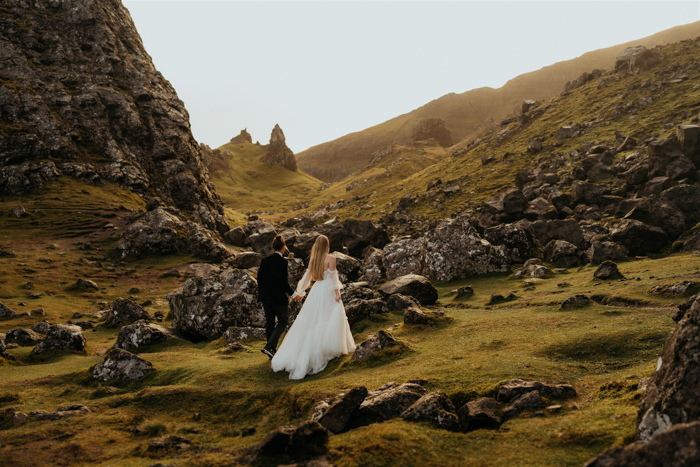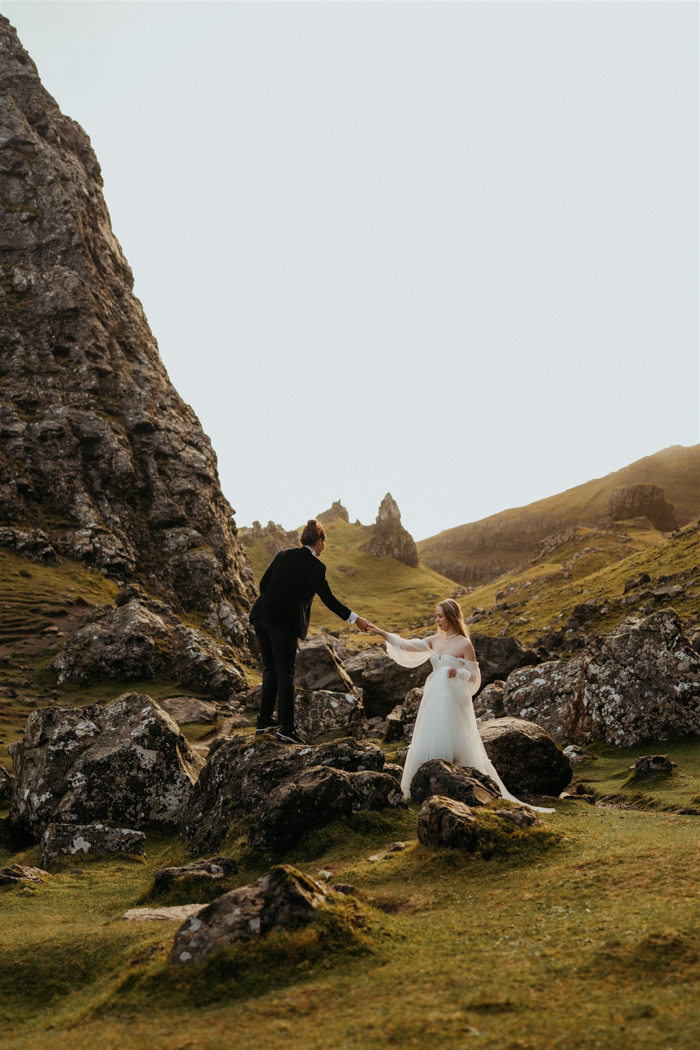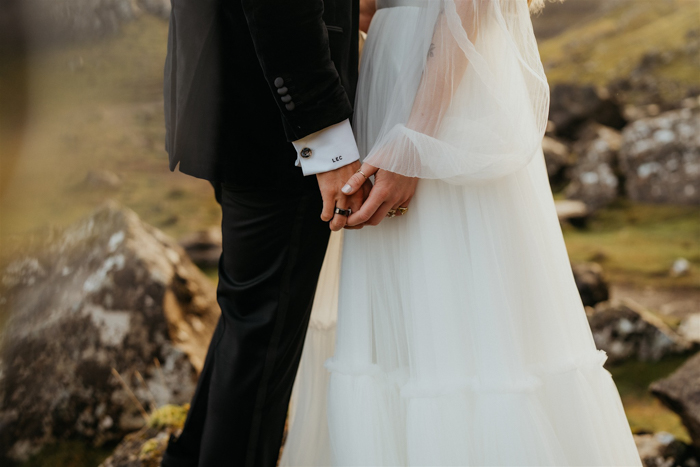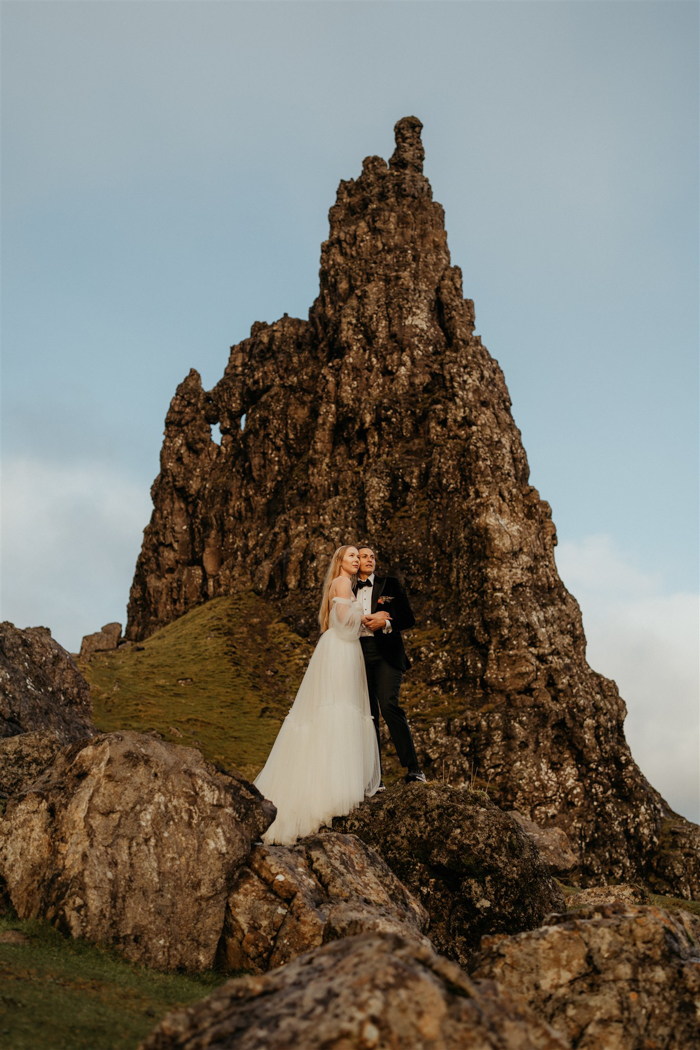 Exchanging Heartfelt and Sentimental Gifts As a Reminder of The Family at Home
I surprised Hayley with a wedding band from her mom with a diamond in it. It was the first diamond that her dad ever gave her mom. And since we were eloping and going to be away from family, I had Hayley's parents write her a letter that I handed her that night when we got back from the day.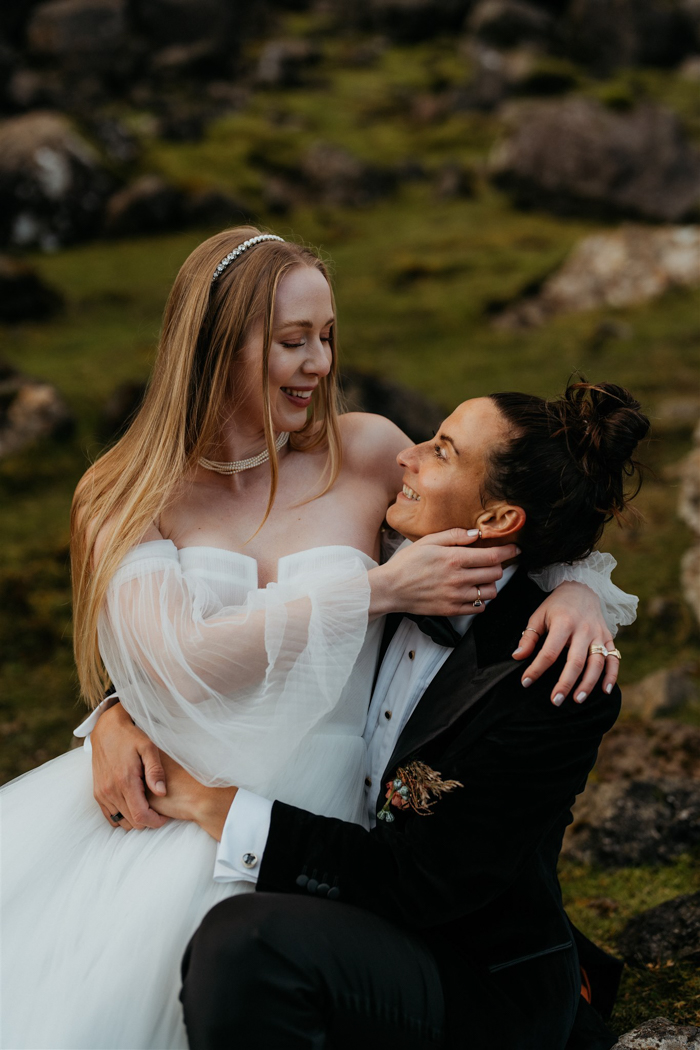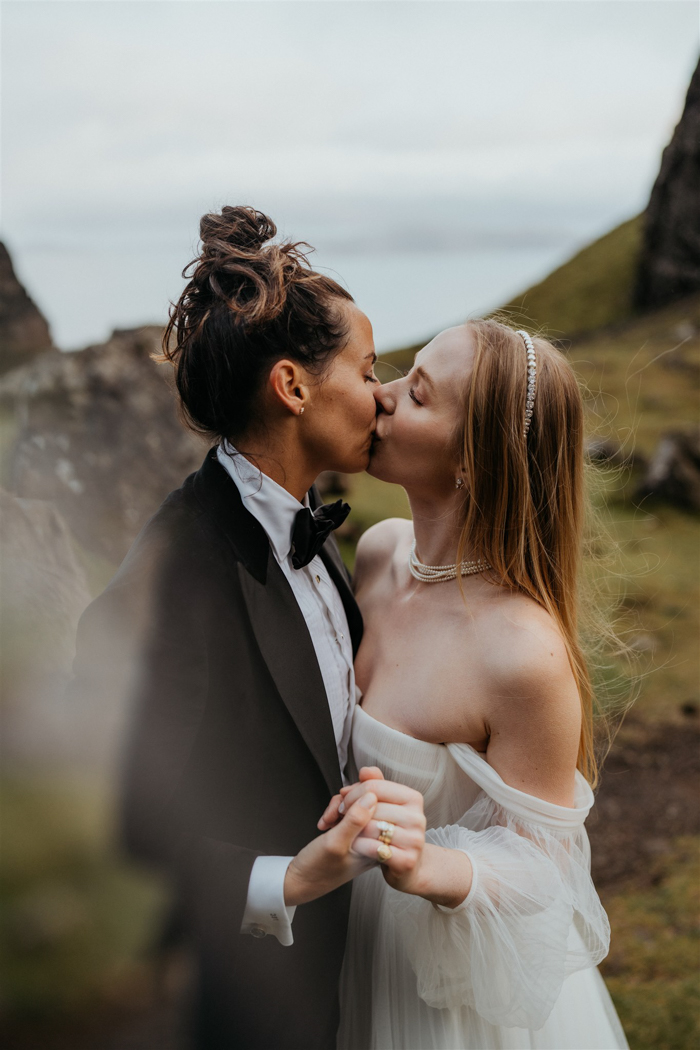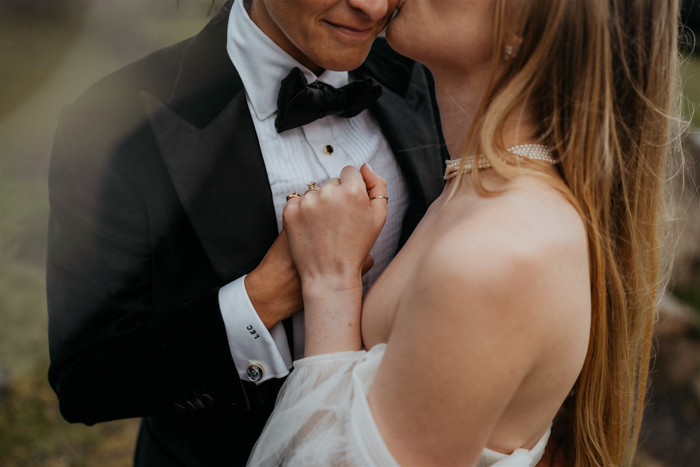 Authenticity Above All: Crafting A Celebration That Truly Reflected Their Love Story
The most important part of planning our wedding was that it was true to us and about us. We have been together since 2012, and finally tying the knot held deep significance. Therefore, ensuring that we could fully be with each other in a special place was crucial. Additionally, we wanted to have photographs that we would cherish, so the very first thing we did was find Henry.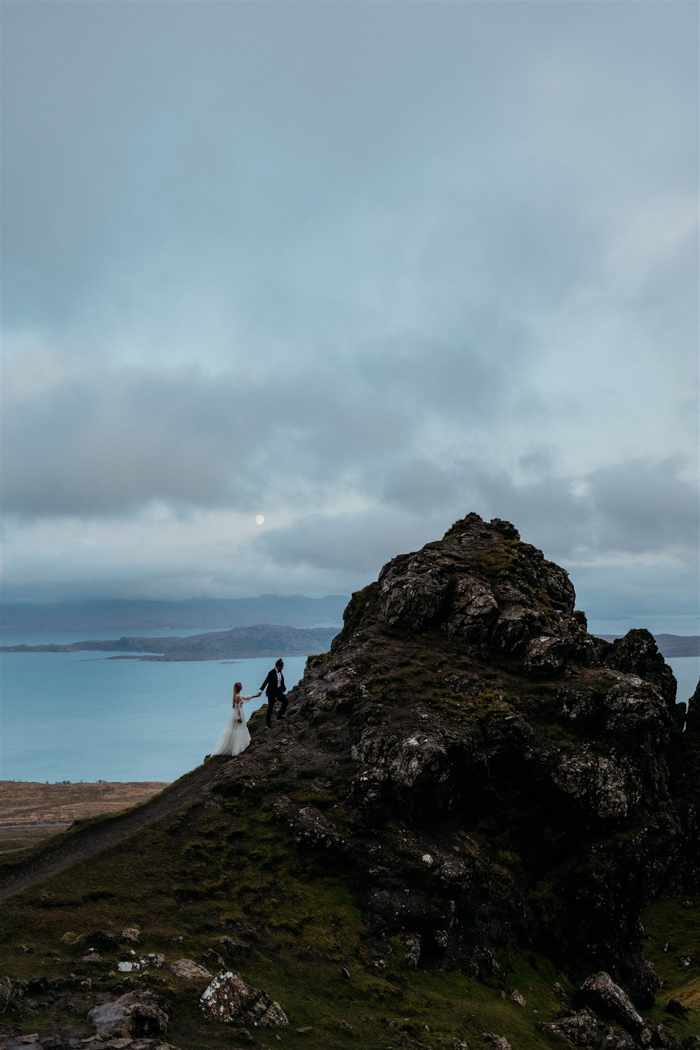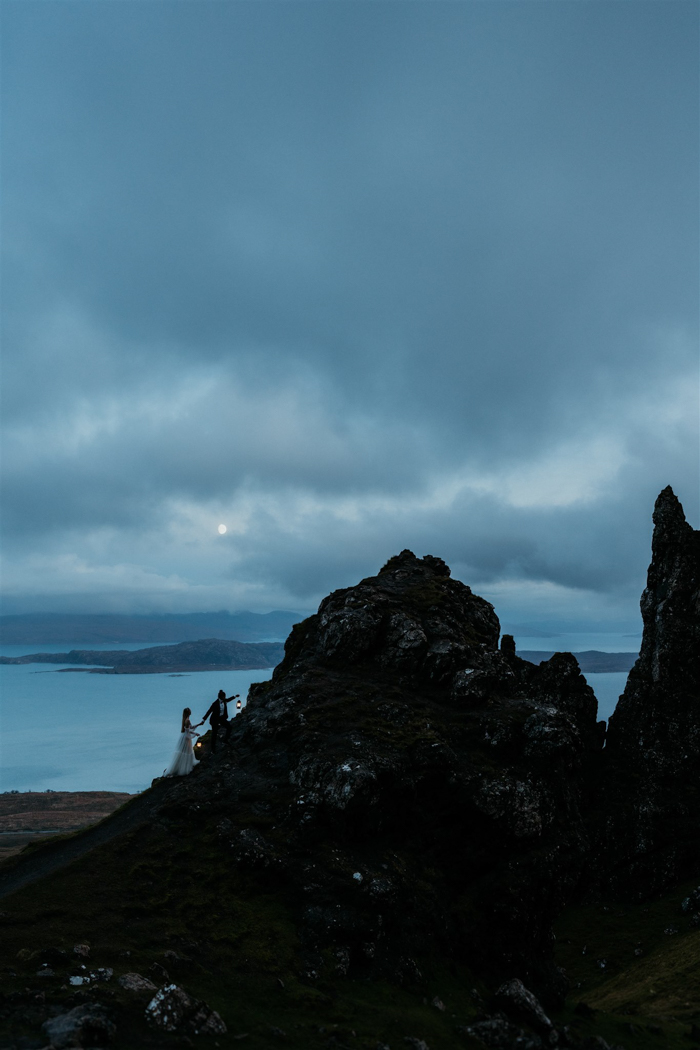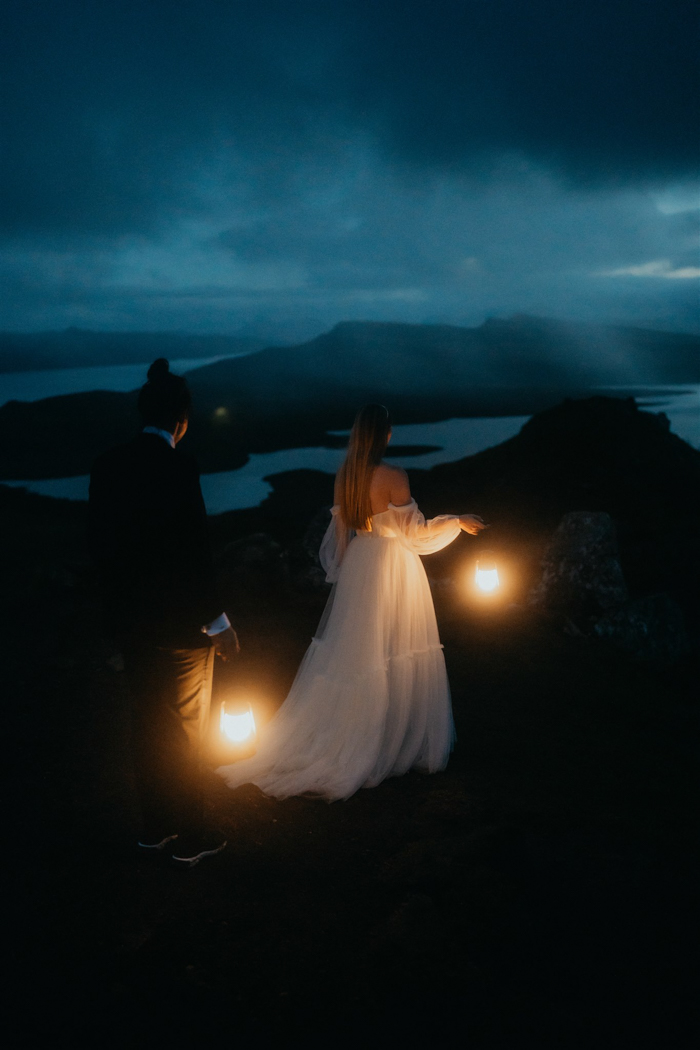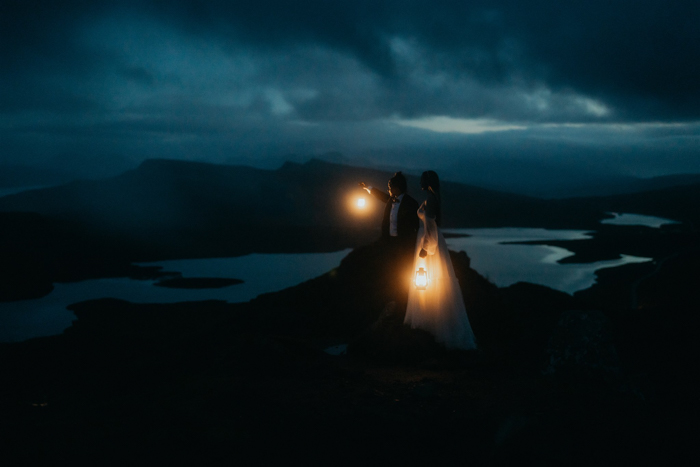 Congratulations to Lauren and Hayley on their ethereal and elegant Isle of Skye elopement. And huge thanks to the talented Henry Tieu for capturing and sharing every beautiful moment with us.
If this love story has sparked your desire to elope, but you need help figuring out where to begin, don't worry. We've got you covered. Take a look at our easy-to-use elopement planning checklist, designed to jumpstart your planning process and make it an effortless journey.