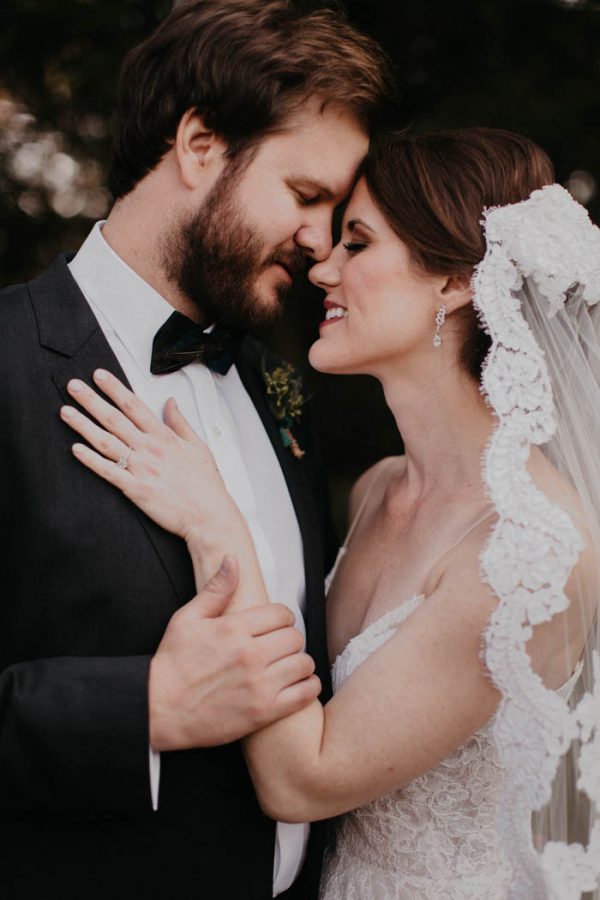 Martha Drake and Kristian brought glamour, elegance, and unexpectedly relaxed vibes to the farmhouse at Old Edwards Inn in their gorgeous autumn wedding! The couple exchanged vows in a lovely garden ceremony then danced the night away under the warm glow of cafe lights and antique chandeliers. The bride put her event planning and watercolor skills to work by planning the entire celebration and creating all of the paper goods, which included save-the-date cards, invitations, custom stamps, a map of NC for the welcome gifts, and the wedding programs. And the DIY artistry didn't stop there! The bride's mom, who is a freelance florist, created the dreamiest forest-inspired tablescapes with white and burgundy flowers, gold candlesticks, and moss. Needless to say, we're seriously impressed with all of the personal details in this wedding, which Cody & Allison Photography captured so beautifully!
The Couple:
Martha Drake and Kristian
The Wedding:
Old Edwards Inn, Highlands, North Carolina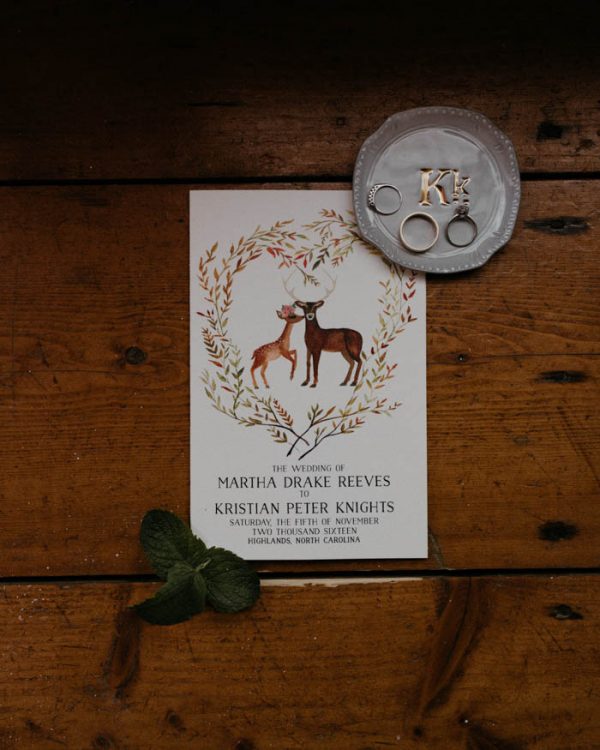 We knew we wanted a fun wedding focused on celebrating with family and friends, our beloved French bulldog puppy Remy to be part of the wedding party, great music, and a mix of tradition with our own personal touches. I knew I wanted a comfortable, timeless gown with an easy elegance. Oh, and great shoes. Obviously.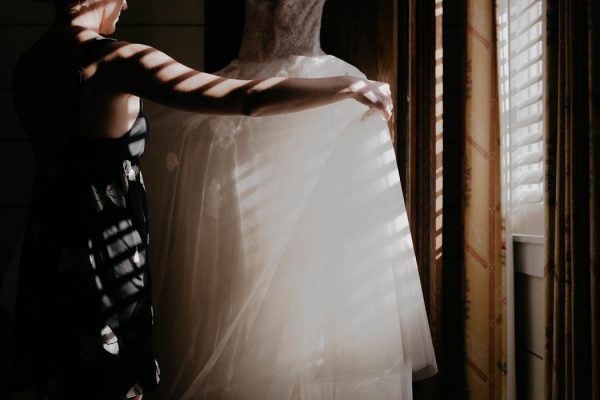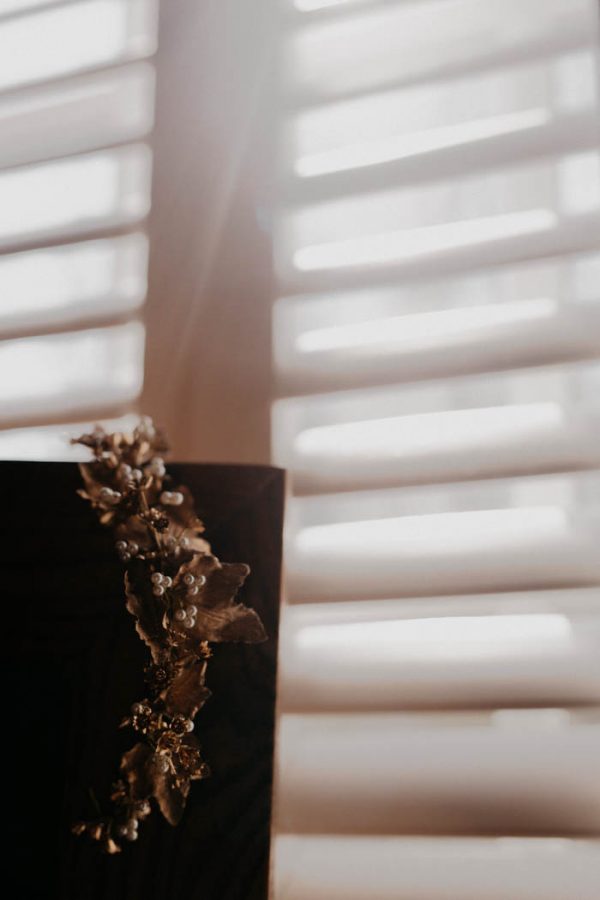 I am a freelance watercolor artist and paper goods designer, so the personalizing began with our save-the-date card. I painted a portrait of us in our favorite clothing – with our pup Remy of course – and then we recreated the portrait during our engagement photos with our photographer Cody! I also customized all the paper goods, with the exception of the formal engraved wedding invitation. My custom printed materials included the rehearsal dinner and welcome party invitation; customized stamps for all mailings; a painted map of Highlands, NC for the welcome boxes with renderings wedding weekend venue; and the wedding program. I loved making each printed material very personal. The most time consuming project I completed was the wedding program: it featured us Kristian and I as a doe and buck on the front, with the interior listing each selection of music with an explanation of its significance, small portraiture of the wedding party, and our little French bulldog pup Remy on the back cover. I found a simple white canvas book and painted the front as our guest book, as well as painted all the signage from framed art to a wooden sign with our names and wedding date.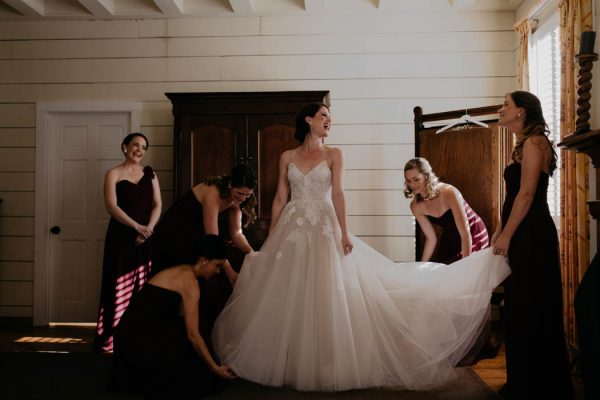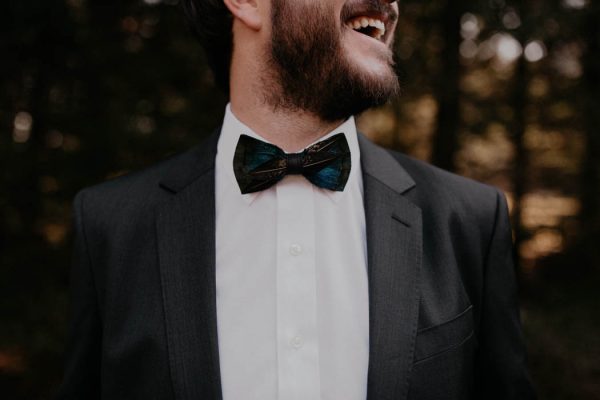 The bulk of my professional career has been in event planning, so I also took on the role of wedding planner for our wedding without really giving it much thought. For me, what was most important was finding a beautiful venue with catering and set-up vendors included to mark a HUGE check off my planning list.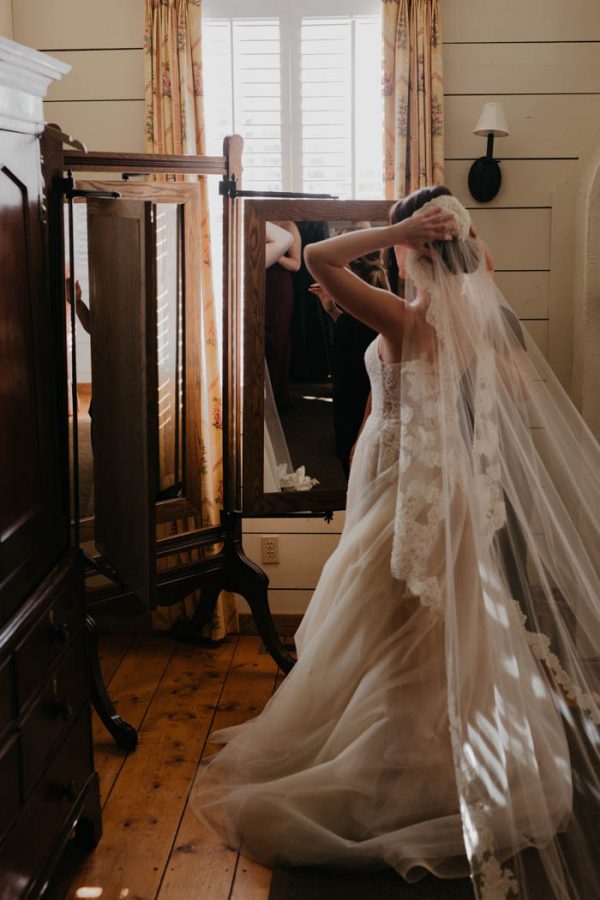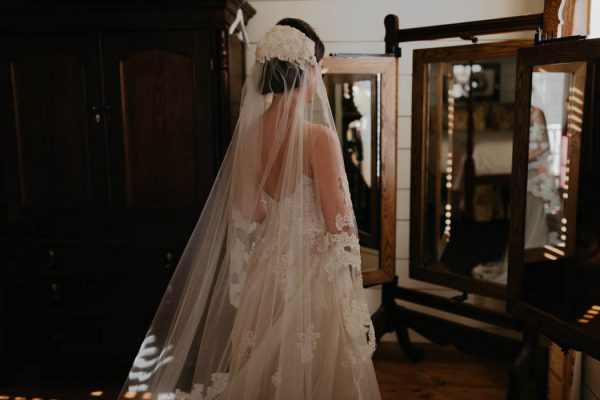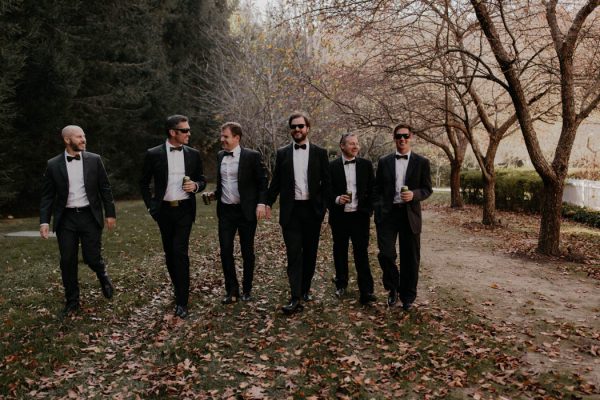 As a disclaimer, I've never been one to have imagined "My Dream Wedding." I didn't have a vision of myself in a poufy white dress as a young child. So a few days post-proposal, I examined my SHHHHTOPSECRET Pinterest wedding board. Come on. We all have/had one. Mine was absolutely hilarious. My creatively titled "Wedding Maybe" board looked like a collaboration of at least fifty random people with radically different personalities. I was either having a glamorous, black-tie Gatsby-esque affair in shimmering sequined dress; a frolicking good time in a field in a flowing gown of a gown and a glimpse of bare midriff; or a stark, minimal cocktail party in my imaginary New York penthouse apartment.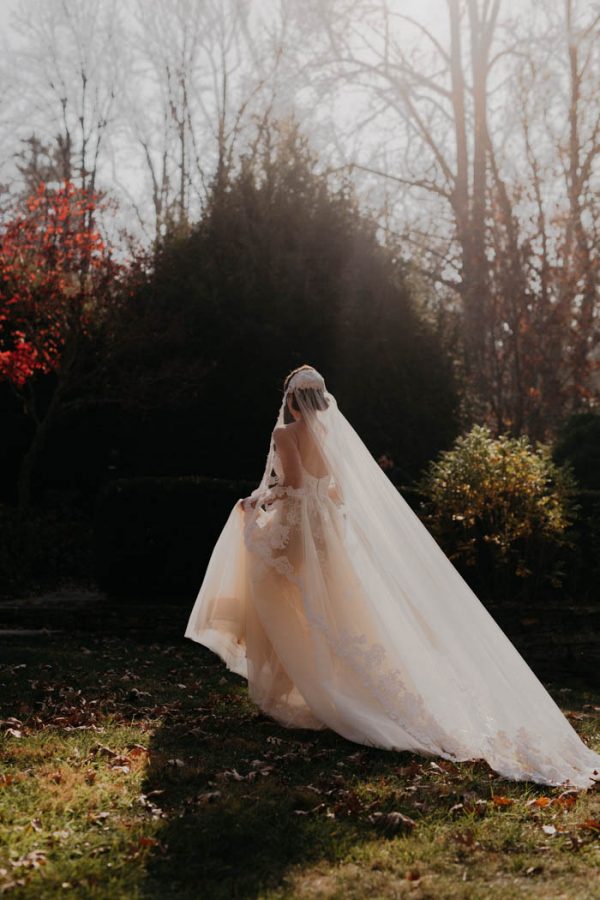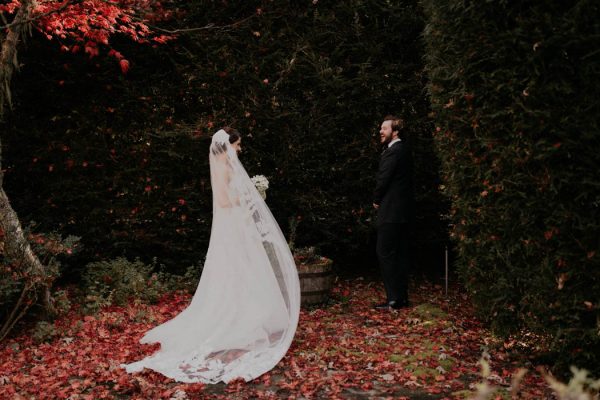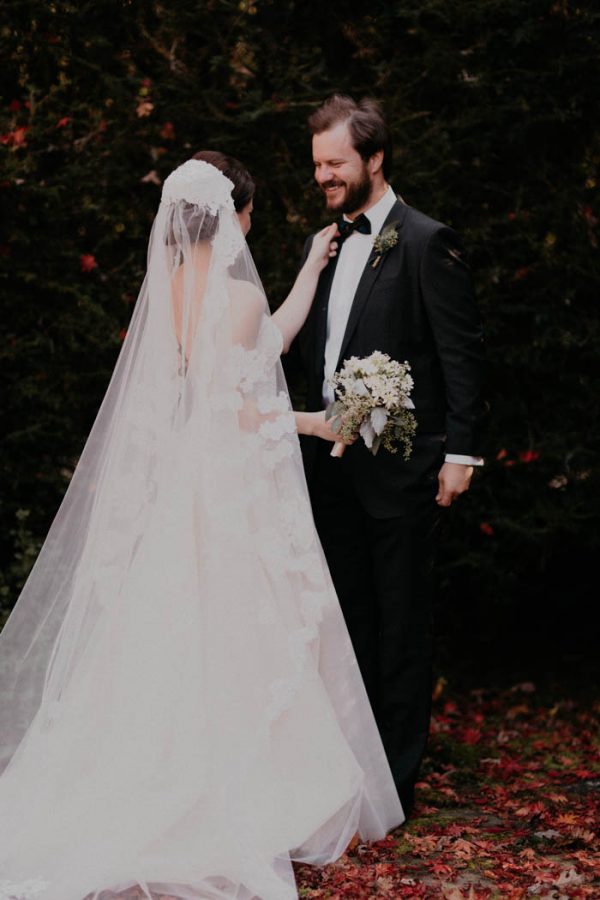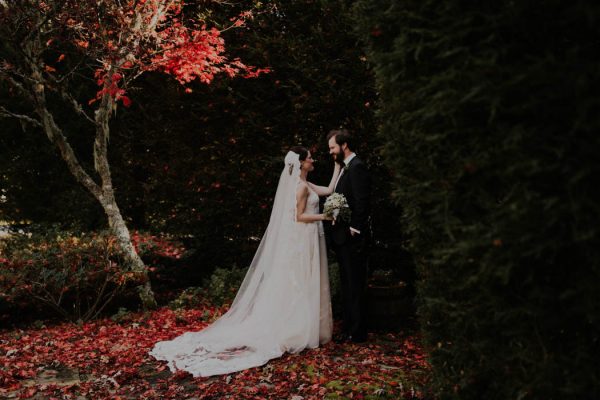 I think there is something magical about leaving the city where you do the daily grind and escape to celebrate such an important day with your favorite people. With family and friends scattered to the four winds, we knew our wedding was going to be a destination of sorts for most of our guests. My family has a home in Cashiers, North Carolina where Kristian and I took our first trip away together towards the start of our relationship. It became a very special place for us and we decided that the Western Carolina mountains would be the perfect location for our fall wedding weekend.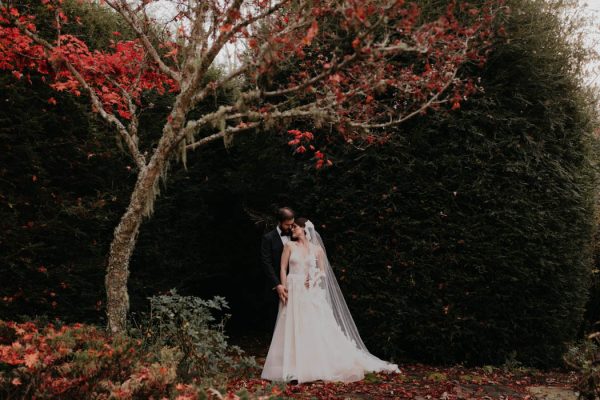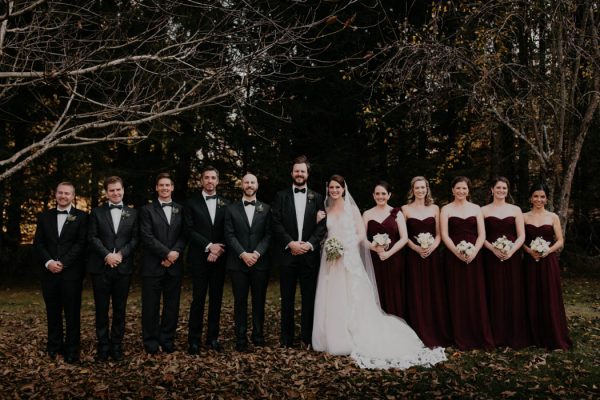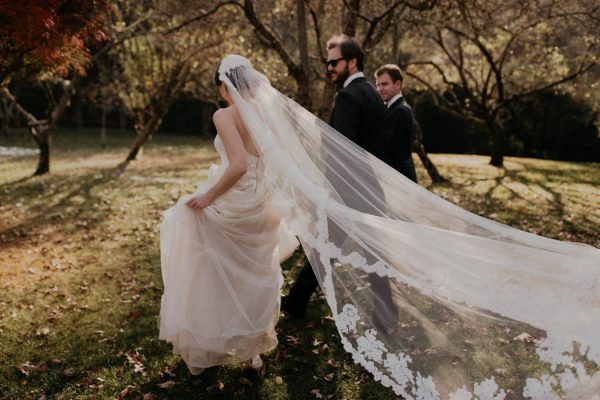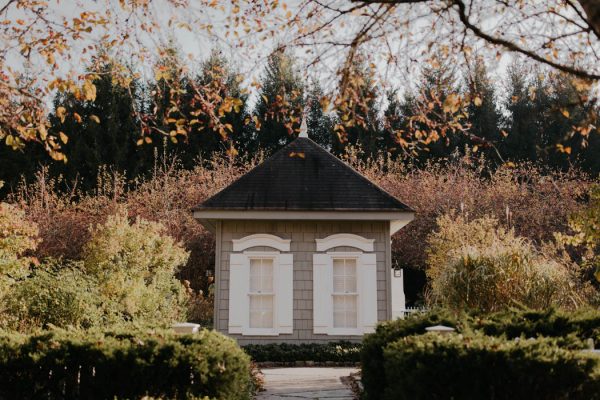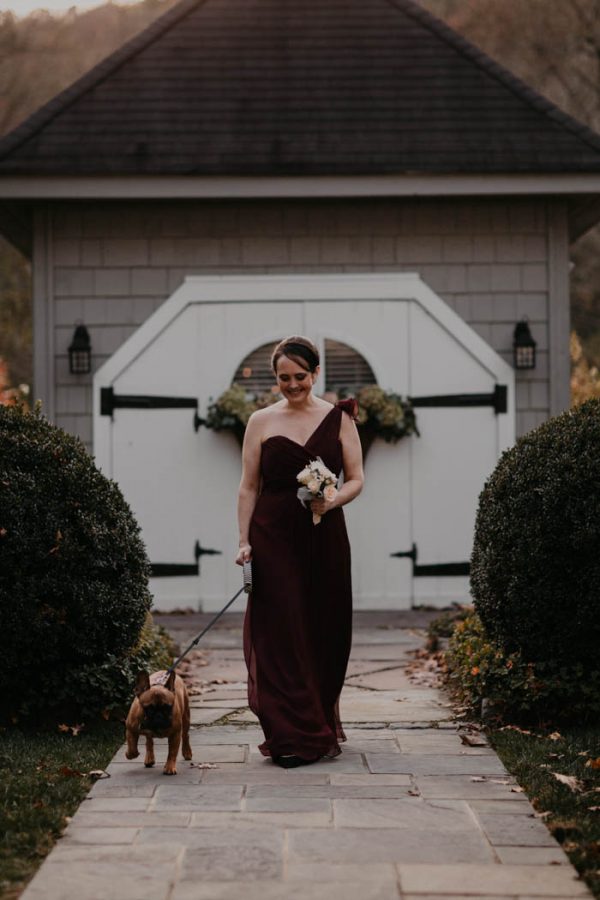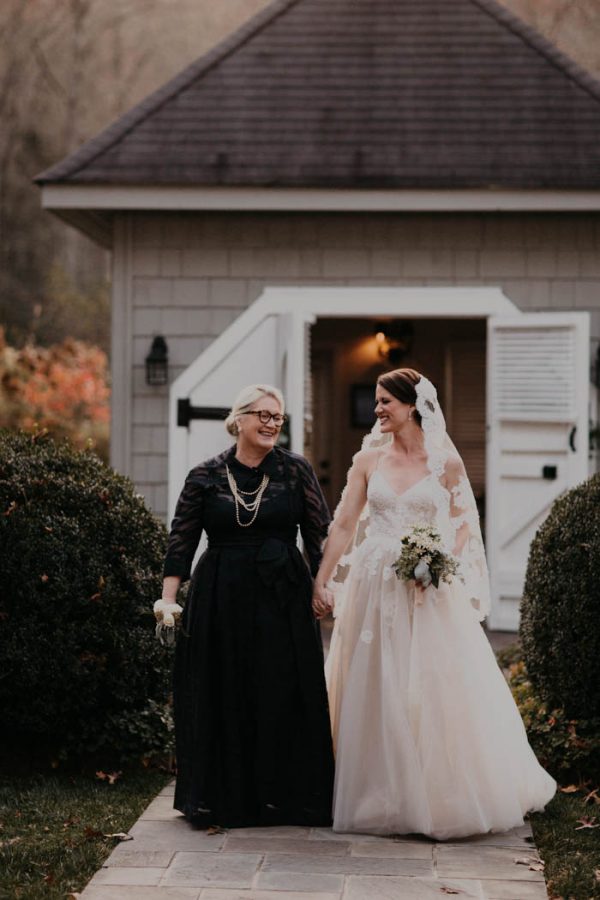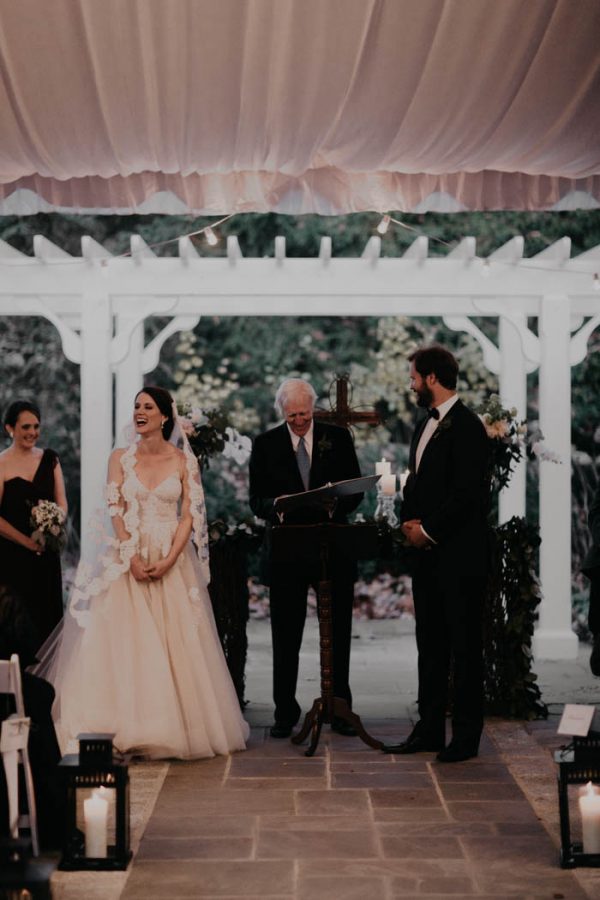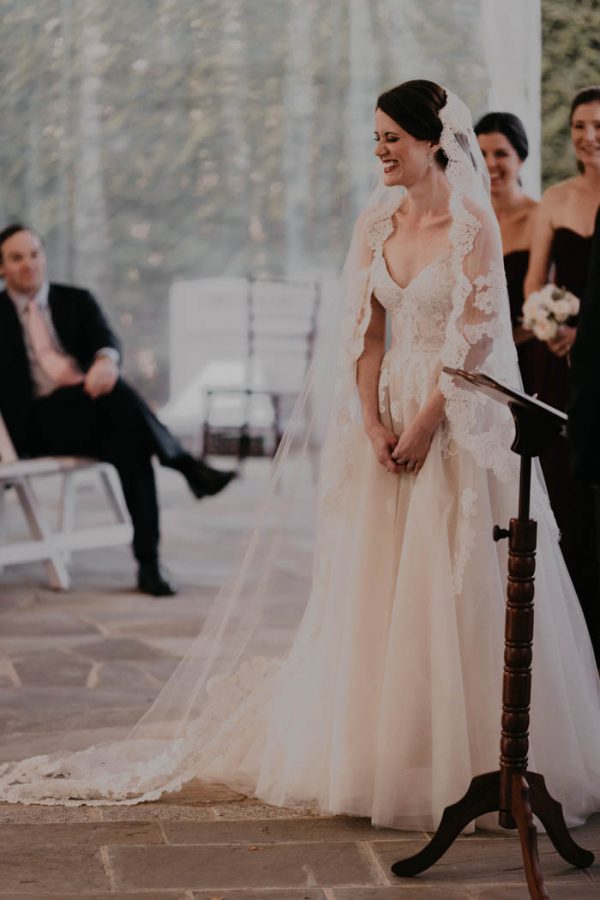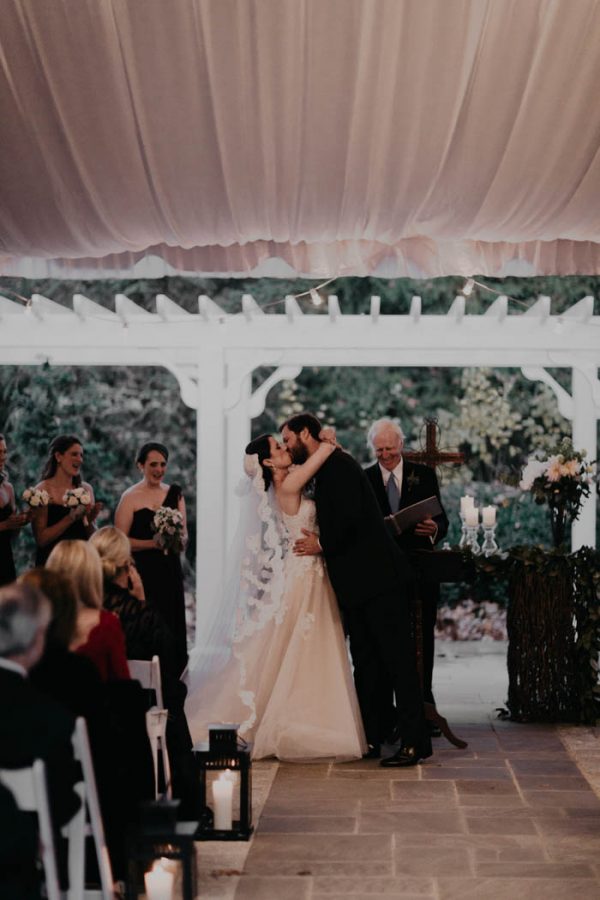 A family friend commented to me weeks after the wedding that she had never been to a wedding where the bride and groom not only seemed so happy, but also so at ease. As a result, she said she and her husband noticed everyone else there also seemed so happy, relaxed, and just totally enjoying themselves with ease. I thought this the greatest compliment. As a Southerner, I was raised with the traditional values of hospitality and graciousness: an almost ineffable warmth that makes others feel completely comfortable. My grandmother exudes Southern hospitality without realizing it and my mother is the warmest, most giving person I know. So I was pleased as punch to hear that our wedding felt comfortably inviting, with an easy elegance that let everyone relax and have a wonderful time celebrating with us.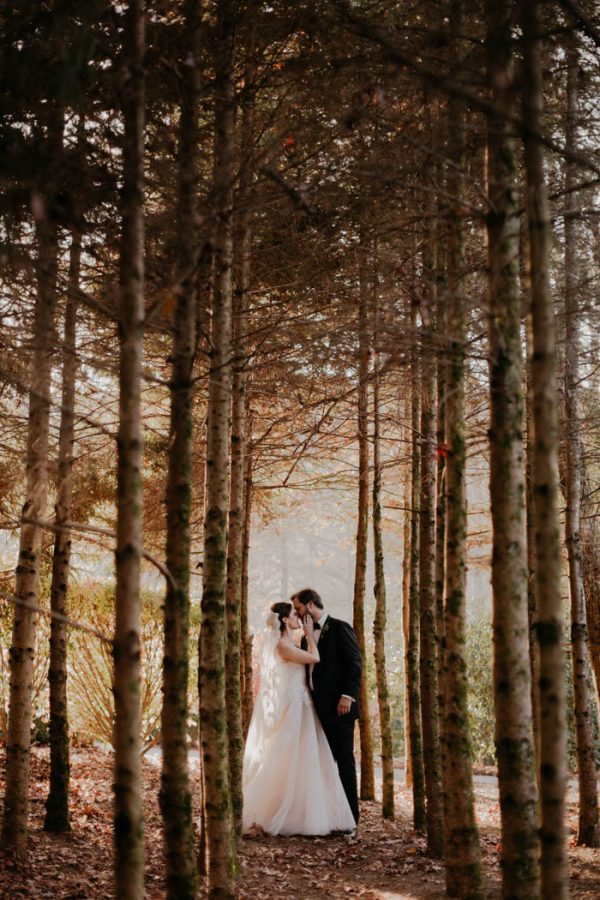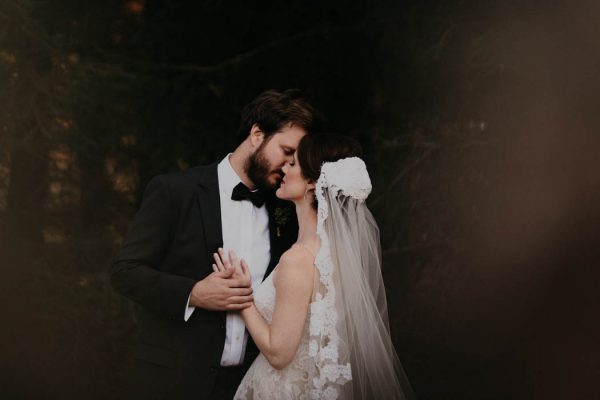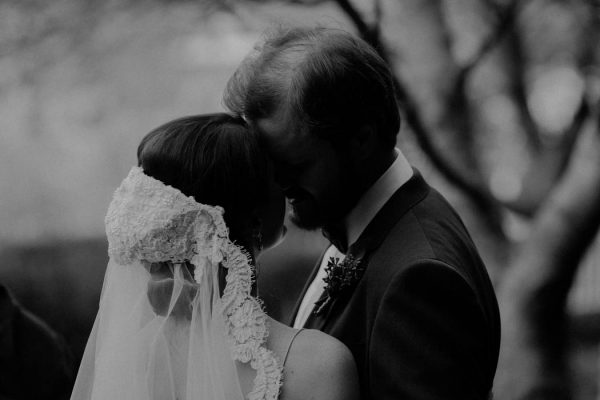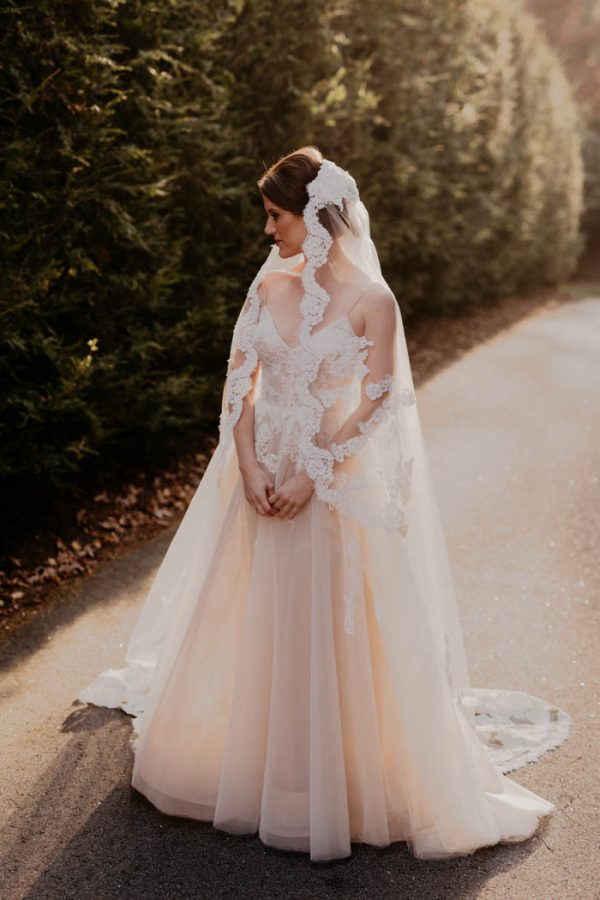 When I was an event planner and bridal stylist, I always told my bridal clients: you want to feel like YOURSELF on your wedding day – perhaps your most beautiful, professional-make-up-and-hair-done self – but like yourself. So everything from our attire to décor to menu choices were things we felt absolutely comfortable with and nothing that we wouldn't ordinarily surround ourselves with in daily life (well, if I lived our daily life wearing a tulle gown with an amazing personal chef, awesome band playing live music, and constant floral décor).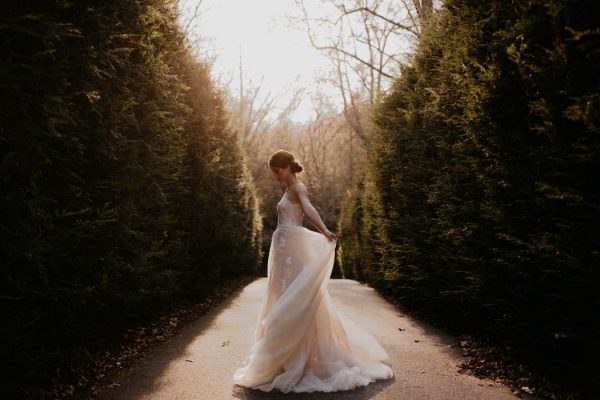 I adore photos that really play with the contrast of light and shadows – not always an easy feat in natural light. And this man knows his light. All the folks in his photos also seemed very at ease and natural – which is a testament to a photographer who can make even the most awkward of couples (i.e., us) feel comfortable in front of the camera. I wanted photos that were journalistic and candid, but still thoughtfully composed. I knew this was my photographer. The day of the wedding, I knew we were in excellent hands. With a crisp, clear day we had beautiful soft light amidst the foliage and hidden forest nooks on the property. Cody is a consummate professional and deeply committed to his aesthetic, which I very much appreciated. He made us feel completely at ease in our giddy excitement, but made it clear to us also that he knew was photographing something very, very special – which he managed to capture all so perfectly.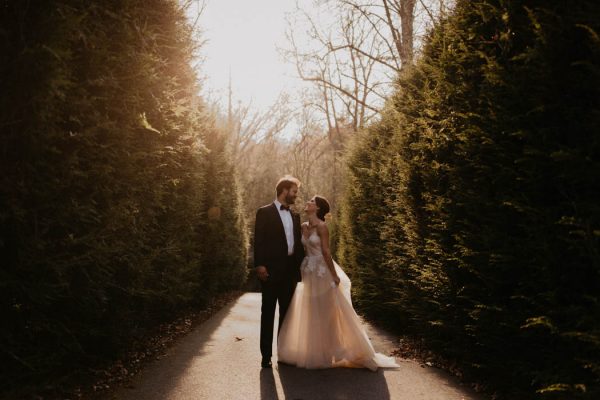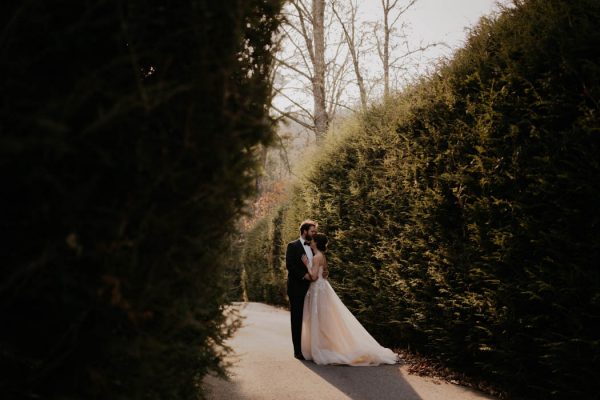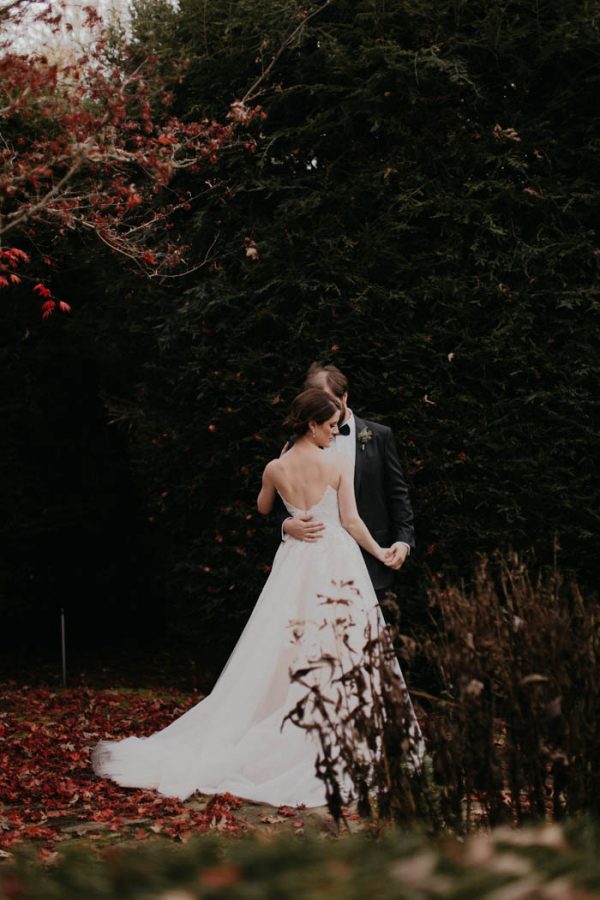 After we left a secluded wooded area and made our way up a small hill, I could see our bridal party scattered across the clearing above. Our families were smiling; the little flower girls appeared to be floating across the grass as they giggled and ran around in their tutus while their dads chased them; the bridesmaids and groomsmen were chatting and laughing; our French bulldog puppy Remy was looking around earnestly to see where we were. I looked back at my soon-to-be husband, who was carefully clutching my veil behind me so I wouldn't trip, and we smiled quietly at each other. It was just an absolutely perfect, serene moment: children laughing, our families and best friends gathered together, with a beautiful soft sunset settling on the entire scene – and then our puppy Remy broke loose and ran towards us in his green velvet bowtie. Love.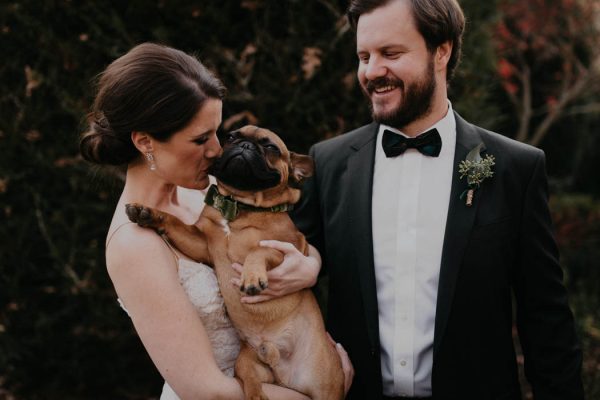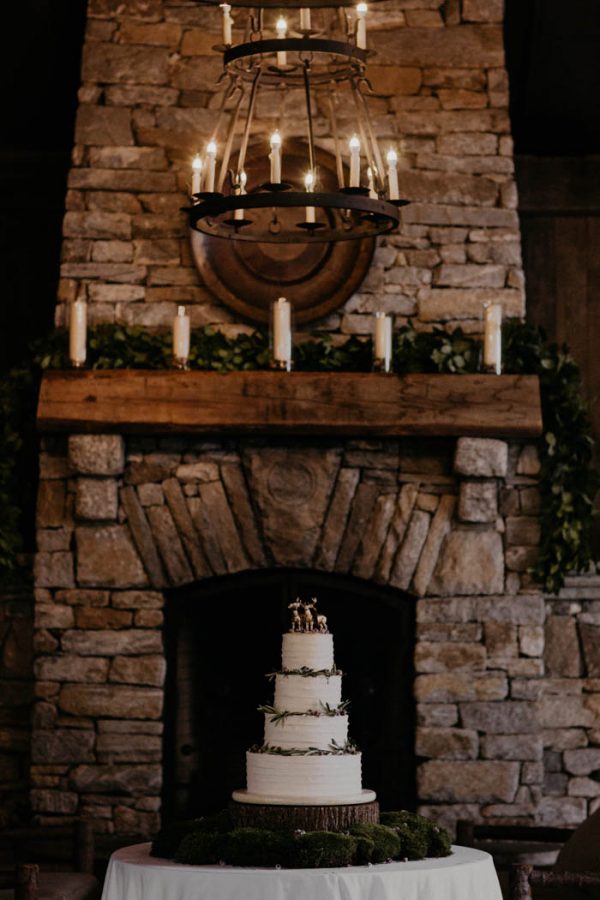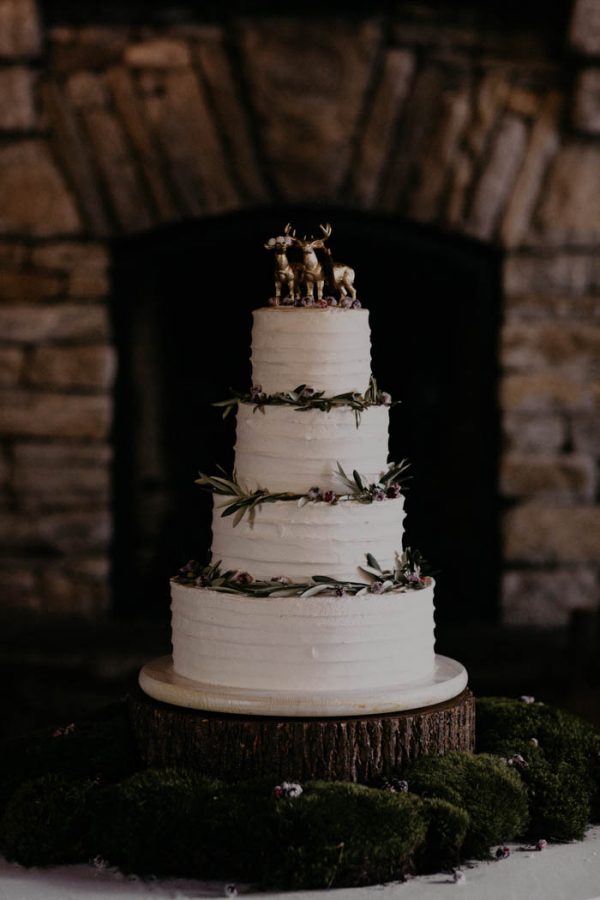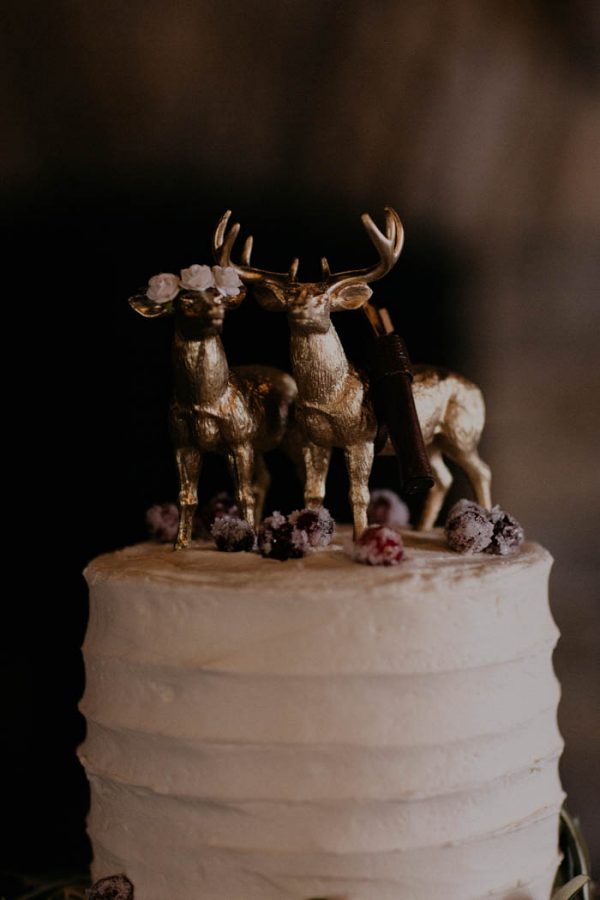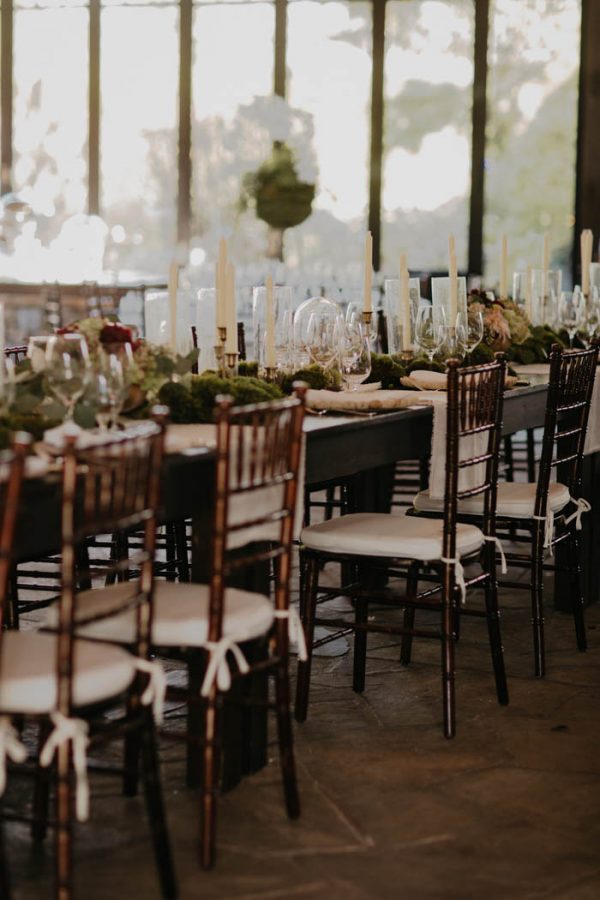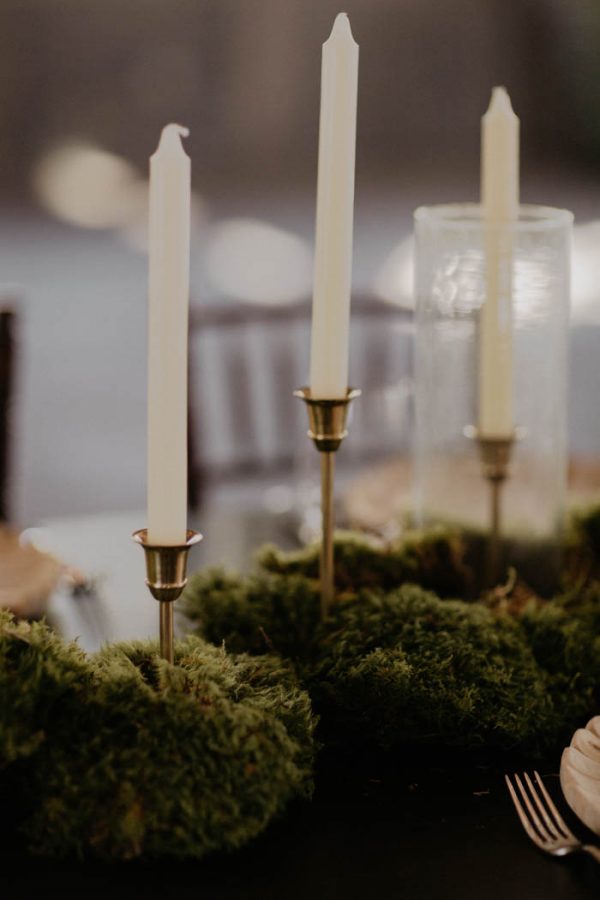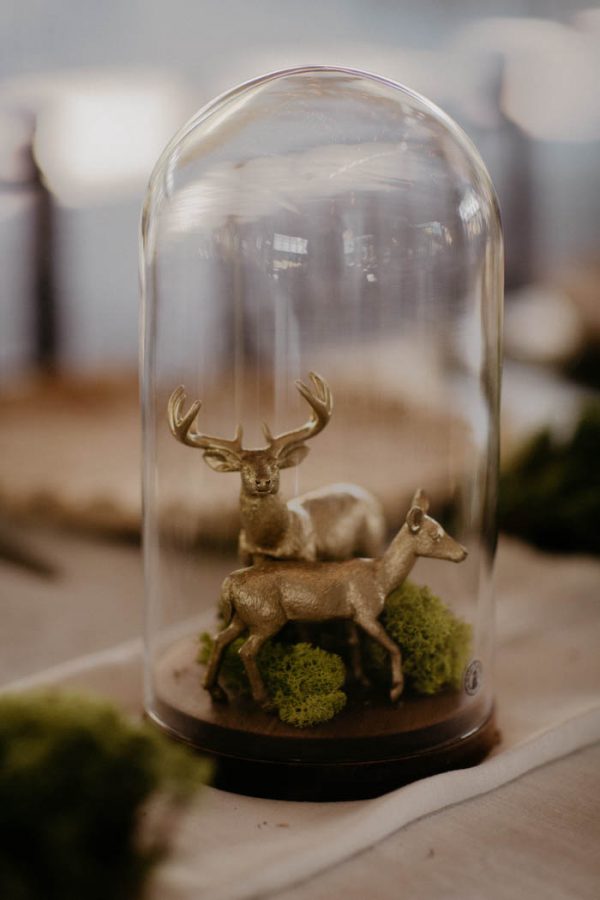 My mother is a freelance florist, so she and her team of friends and associates did ALL of the flowers: from the bridesmaids'' bouquets, boutonnieres, my own bouquet, and all ceremony and reception décor. I wanted a very traditional small cluster of lily of the valley to symbolize happiness in a loose, modern interpretation and it was just perfect. I've called my mother "The Orchid Whisperer" for years – she has quite the green thumb and an uncanny talent for styling orchids – so the centerpieces for the wedding guests were all luscious, elegant white orchids in raised beautiful cast iron planters. We had open seating for our guests at round tables except for the bridal party: we were seated at a long farm table my mother covered in moss and low centerpieces with rich burgundy and café au lait dahlias with flat-leaf eucalyptus. It looked like a magical little forest with antique brass candlesticks scattered throughout – complete with a little gold doe and buck ensconced in a glass cloche marking Kristian's and my place setting. She and her friend Ann also created the wedding cake table, surrounded with luxe moss and decorated very simply with olive branches and luscious sugared berries from our fantastic pastry chef. Everything was perfect and felt completely like us – since my mother knows me better than anyone, she knew how to make it just absolutely perfect!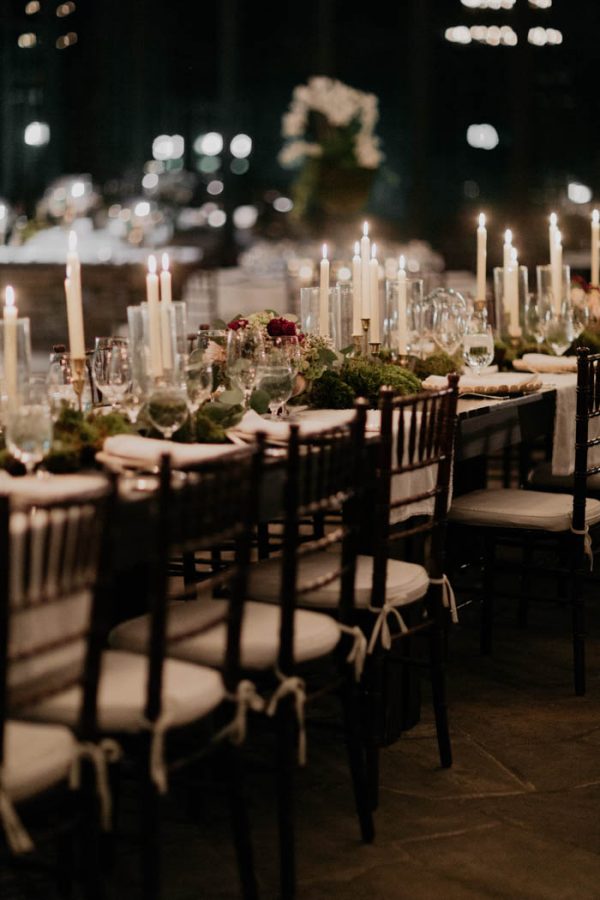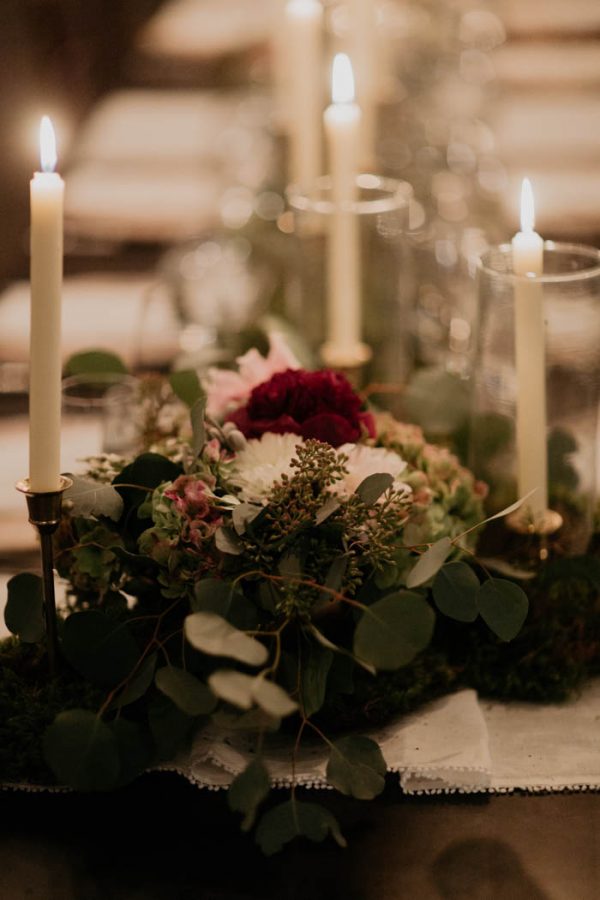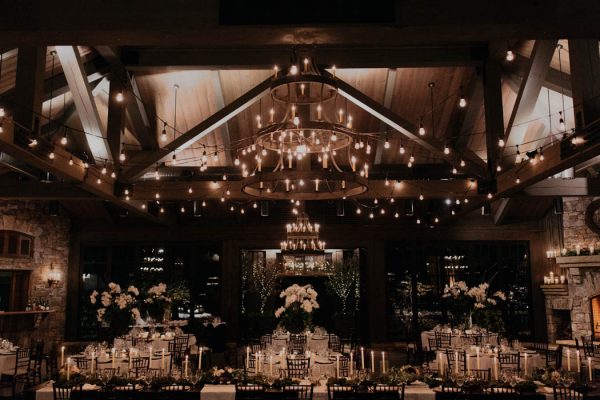 I'm a classically trained Juilliard opera singer and contacted our band the day before the wedding that I *may* want to sing our first dance song with the band to close the evening. So I don't know if this counts as "DIY," but I did sing during our reception! I was super nervous (more so than when I performed at Carnegie Hall!) and almost didn't go through with it, but the band, Java through East Coast Entertainment, was so enthusiastic that I just hopped on stage and sang "Our Love Is Here To Stay" (George + Ira Gershwin) to finish off the evening!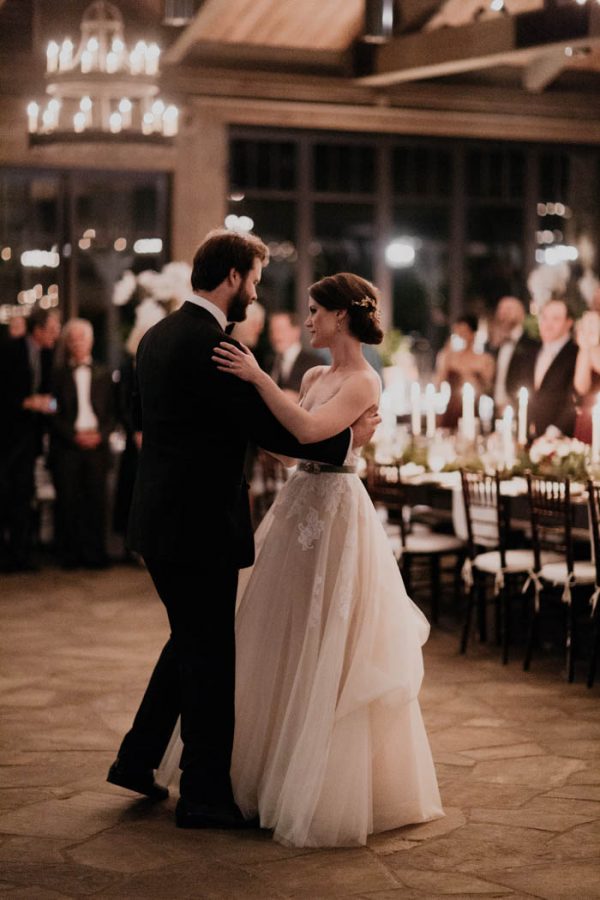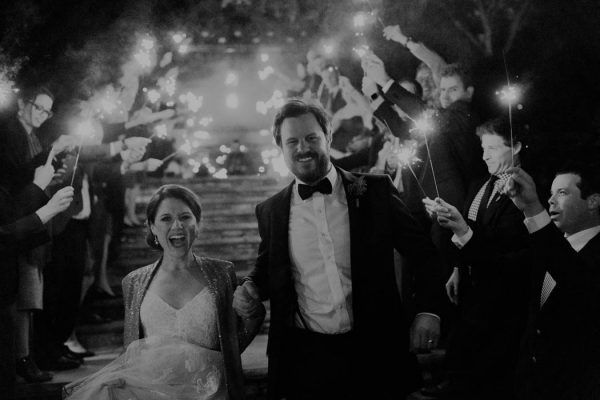 Congratulations to Martha Drake and Kristian, and a huge thanks to Cody & Allison Photography for sharing these incredible wedding photos with Junebug! Love the rustic + glam combination? Check out this glamorous upstate New York barn wedding at Handsome Hollow!