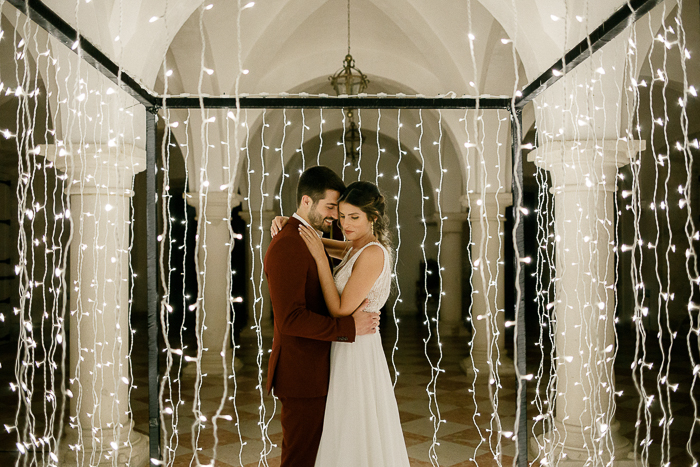 Trimming down your guest list and having to downsize your wedding can feel like the end of the world. But Inês and Nelson's Portugal palace micro wedding is proof that you don't have to sacrifice your dream day just because your celebration scaled back in size. With the help of planner Prometo Amar-te, the couple tied the knot in a courtyard ceremony before enjoying a garden dinner with friends and a private first dance under a canopy of fairy lights.
While we write about weddings every single day, we love getting insight from the incredible vendor teams that help put together these dreamy weddings. After all, they're the ones working closest with these amazing couples one-on-one! So naturally, we asked photographer Sandra of atmosphere what excited her most about Inês and Nelson's day, and this is what she had to say.
Sandra of Atmosphere Photo On The Day
The day started at Oryza Guest House, where they got ready–but not before having an amazing brunch set for them and their closest friends. After this, they went up to get ready. Inês rocked a Justin Alexander dress, which she later paired with a leather jacket and cowboy boots for a sunset photography session. Nelson wore a Bordeaux-colored suit. They looked so cool and edgy together.
Since the ceremony was only for six people, it was arranged to be in the cloister instead of the chapel. Nelson couldn't contain himself while Inês walked down the aisle, and his reaction will always be engraved in our hearts. Their love is so genuine, and we were witnessing it just there.
When the sun was finally setting, we went for the most gorgeous wedding dinner ever. A small table set outside for them, with every little detail carefully planned by their wedding planner–this was the perfect definition of a micro wedding.
The Couple:
Inês and Nelson
The Wedding:
Palácio de São Marcos, Coimbra, Portugal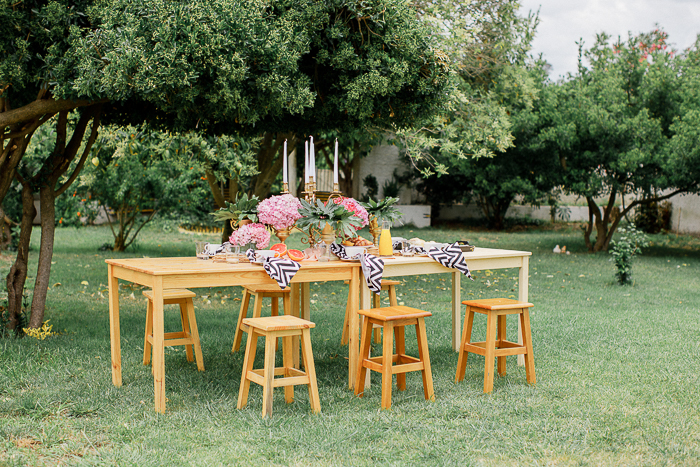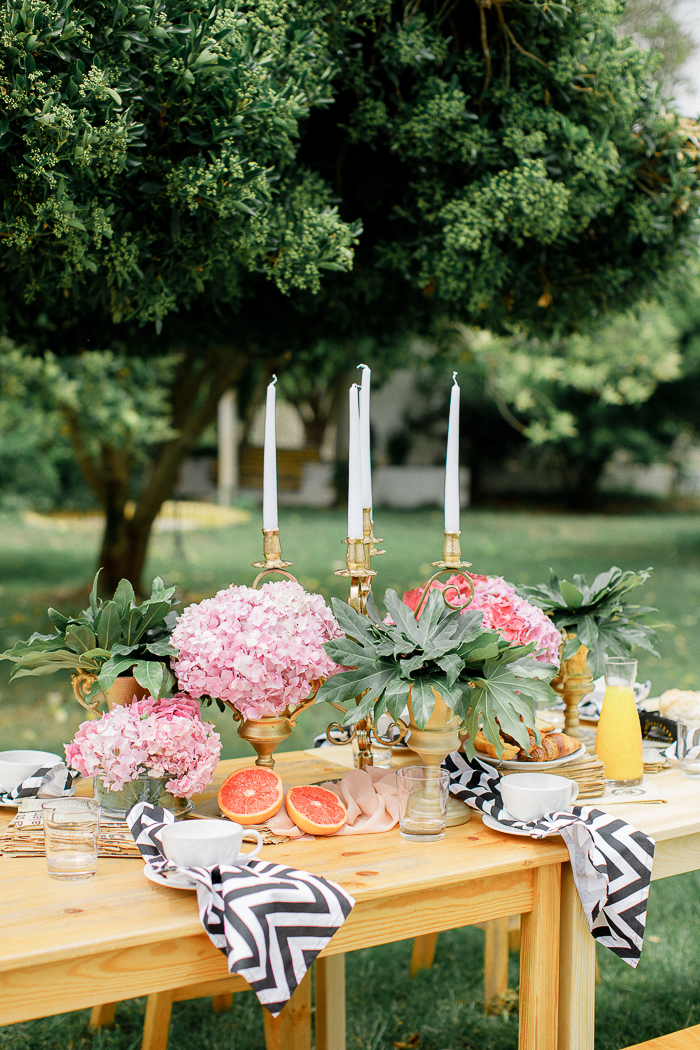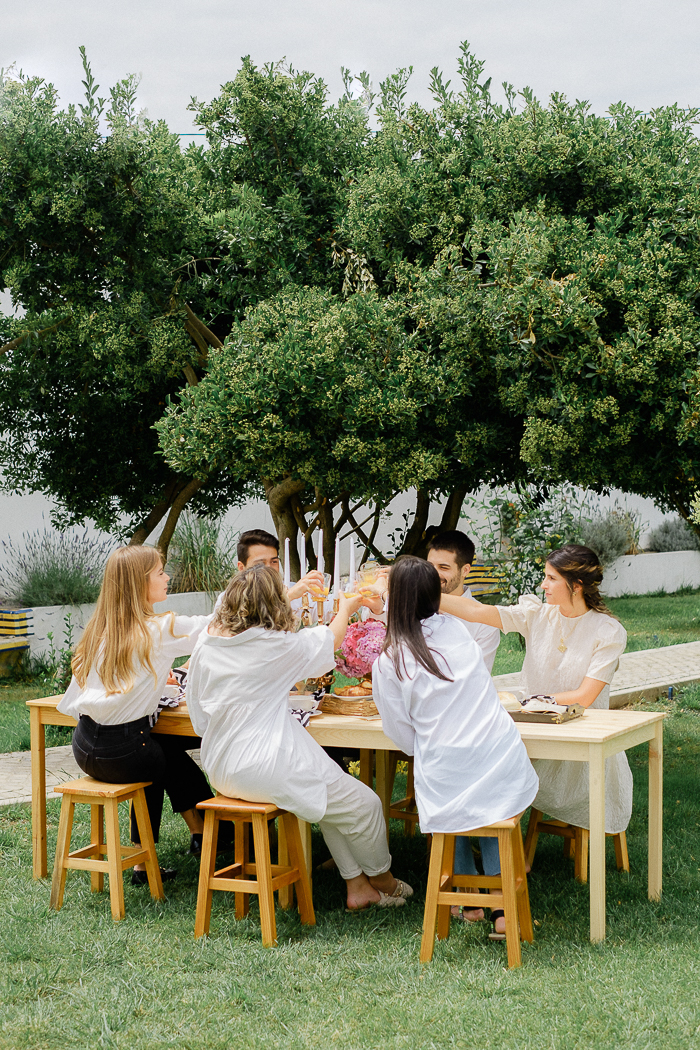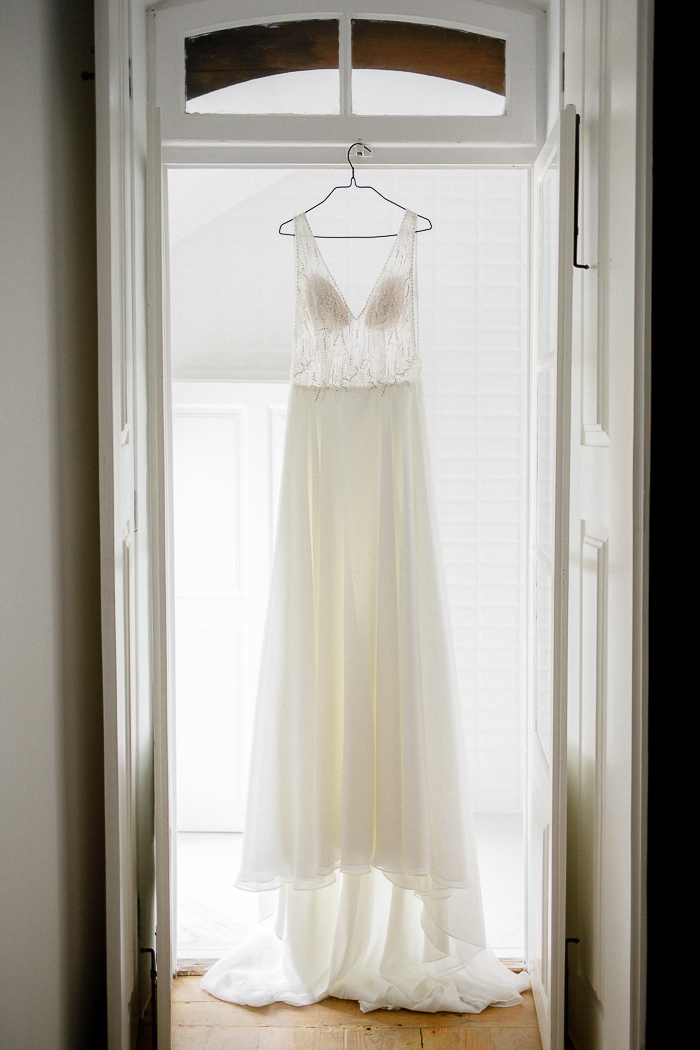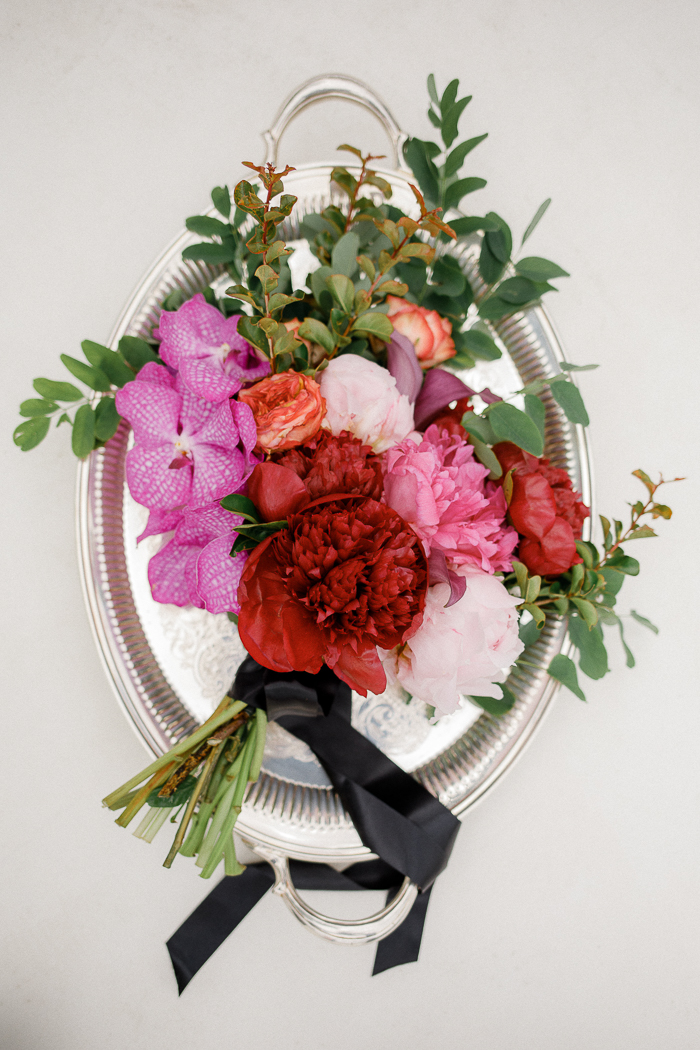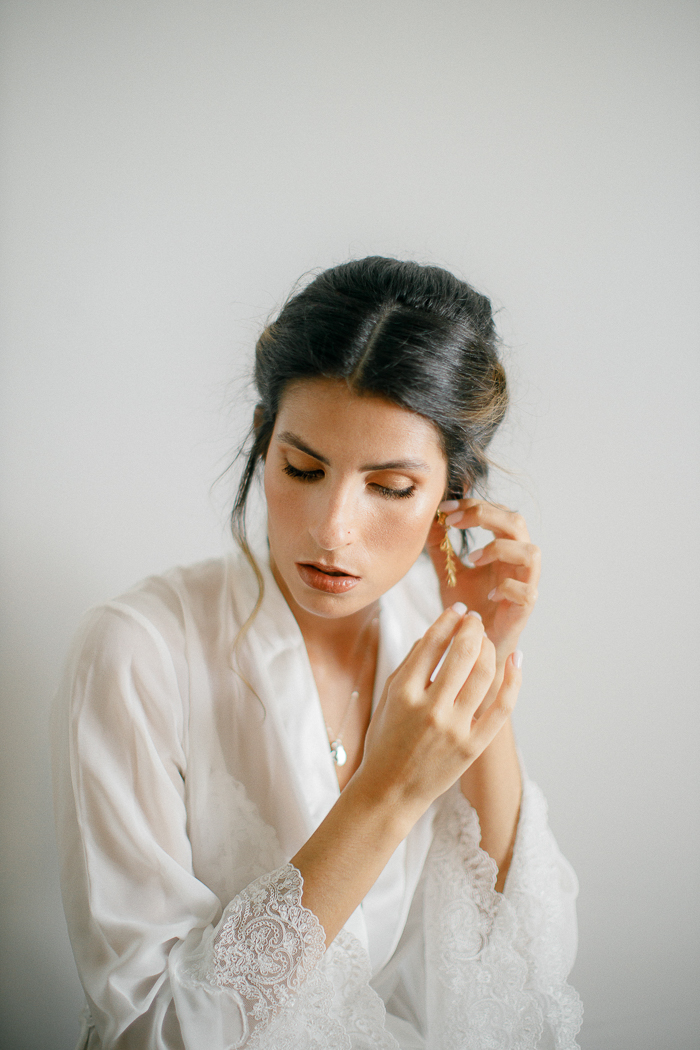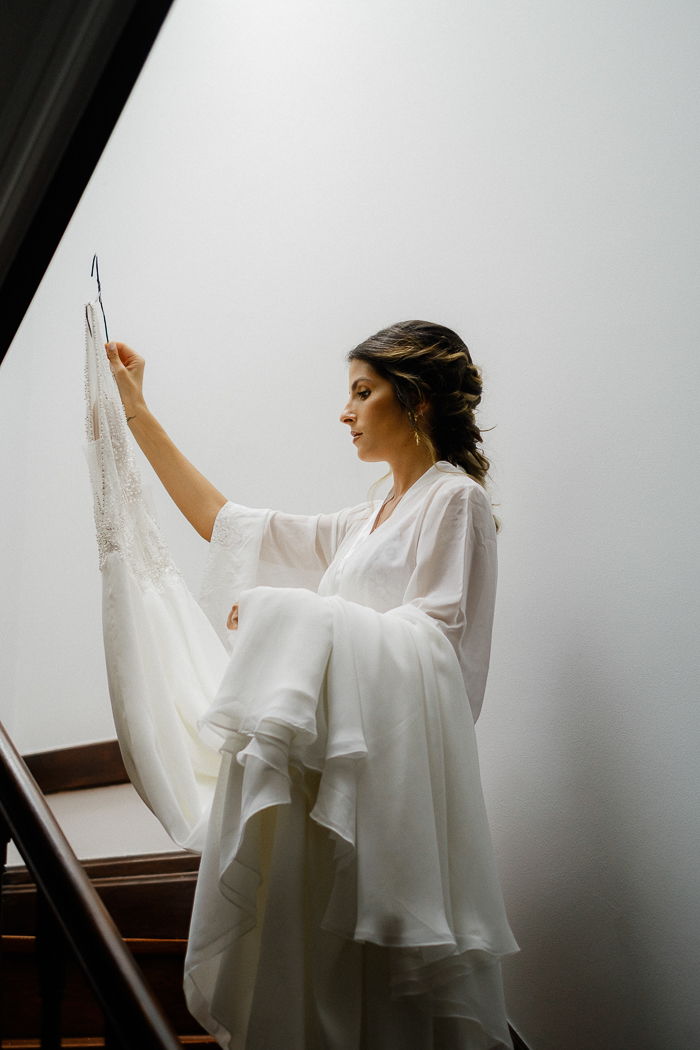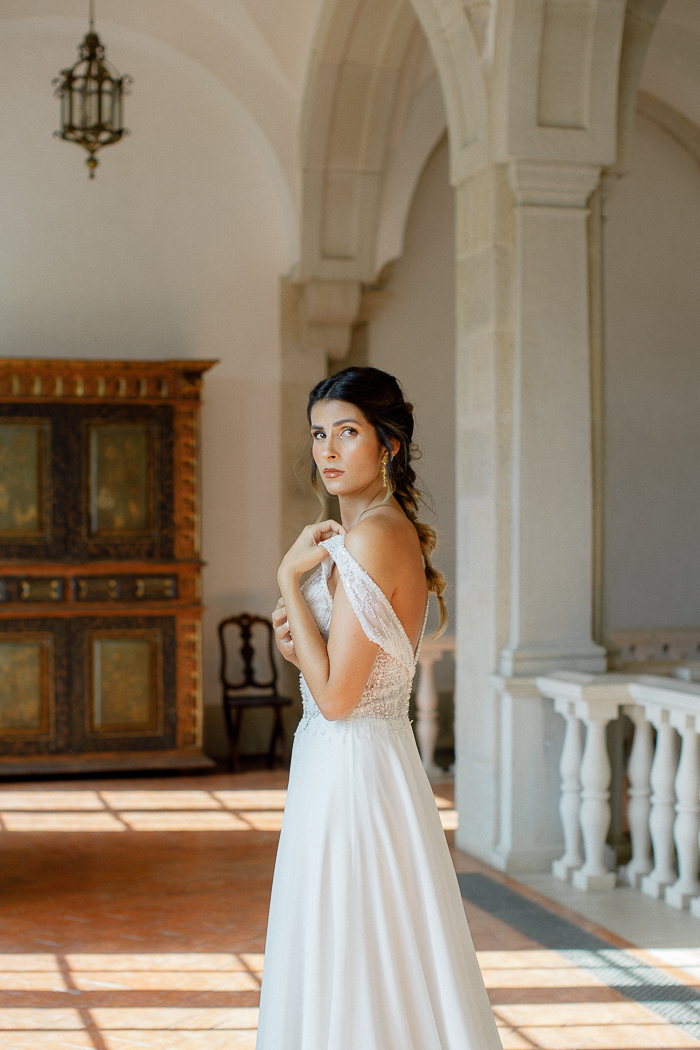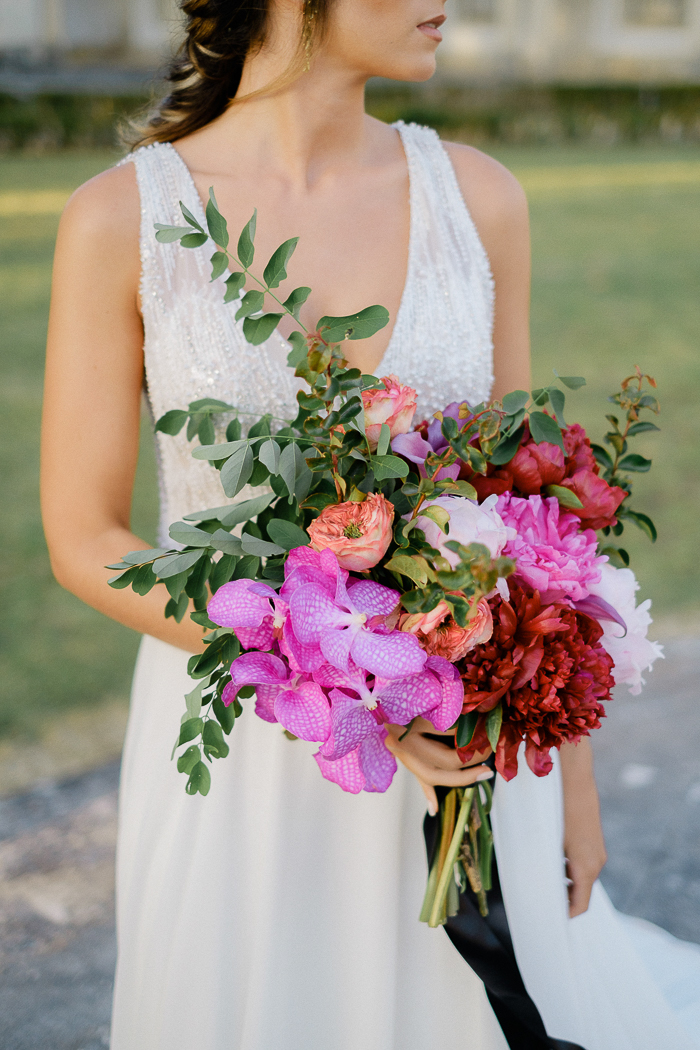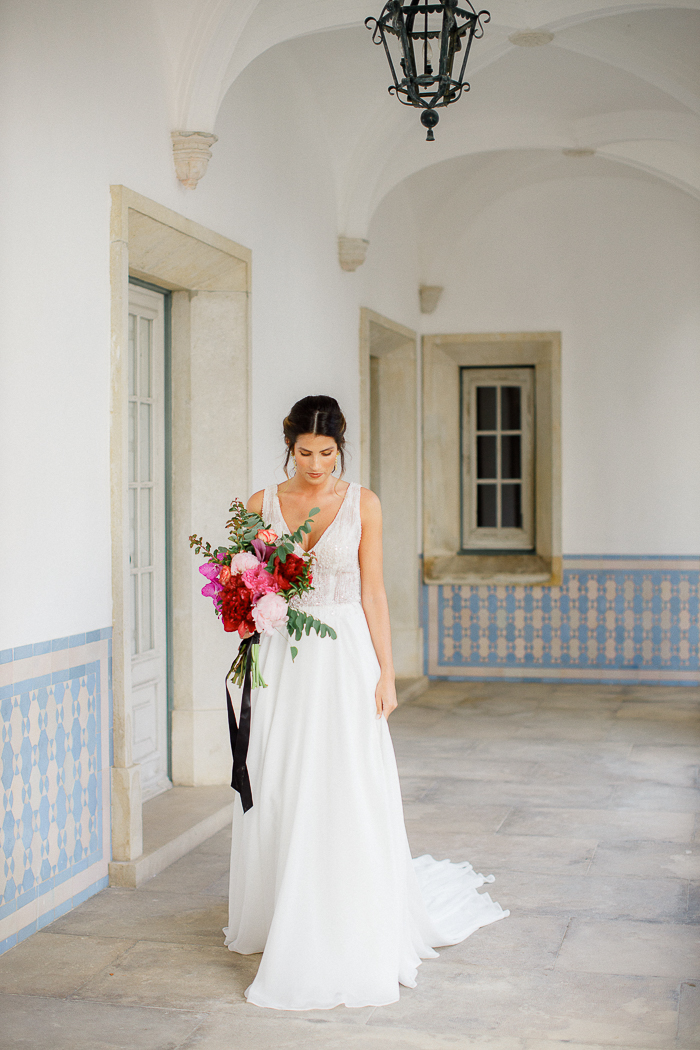 Why A Contemporary Portugal Palace Micro Wedding
Being from Coimbra, there was only one place where we could have imagined getting married. Palácio de São Marcos is the most beautiful wedding venue in our region, and after visiting for a friend's wedding, we were amazed by it. It was a bit of a challenge because it is huge, and we were afraid that it might look like too much for a small wedding like ours. But after speaking with our wedding planner and the venue, we were 100% sure that it would be the perfect place for us. Putting my wedding dress on in such a magnificent palace was unforgettable, and we had so many different spaces for different parts of our day. From the cloister where we had our ceremony to the entrance hall or the front garden where we took portraits to the garden outside where we had our dinner, everything was set up beautifully for our wedding.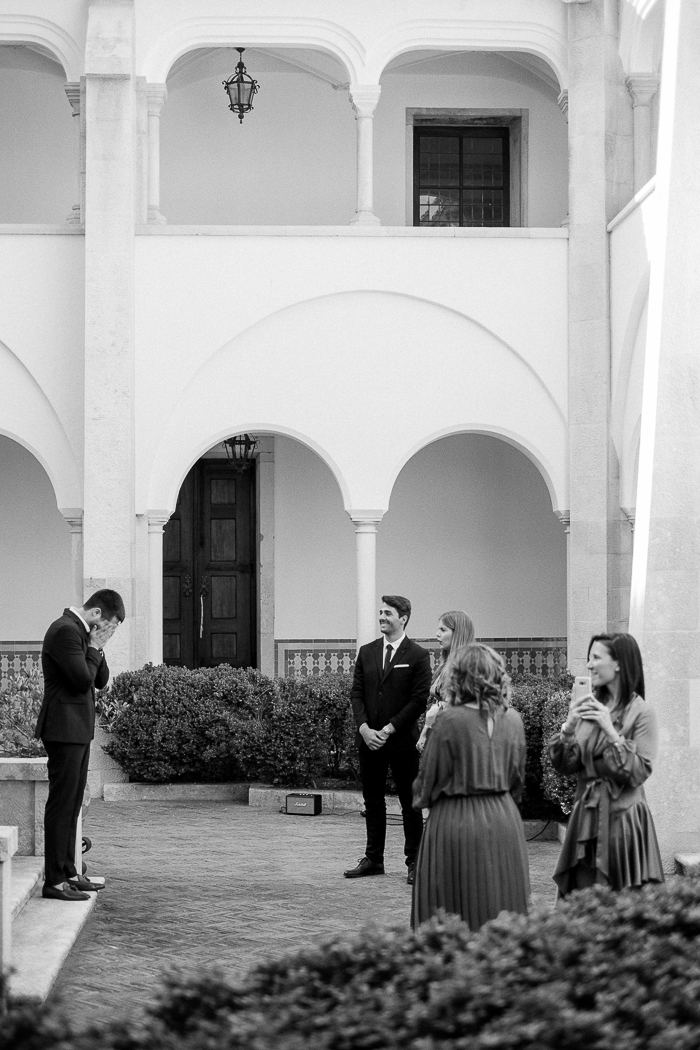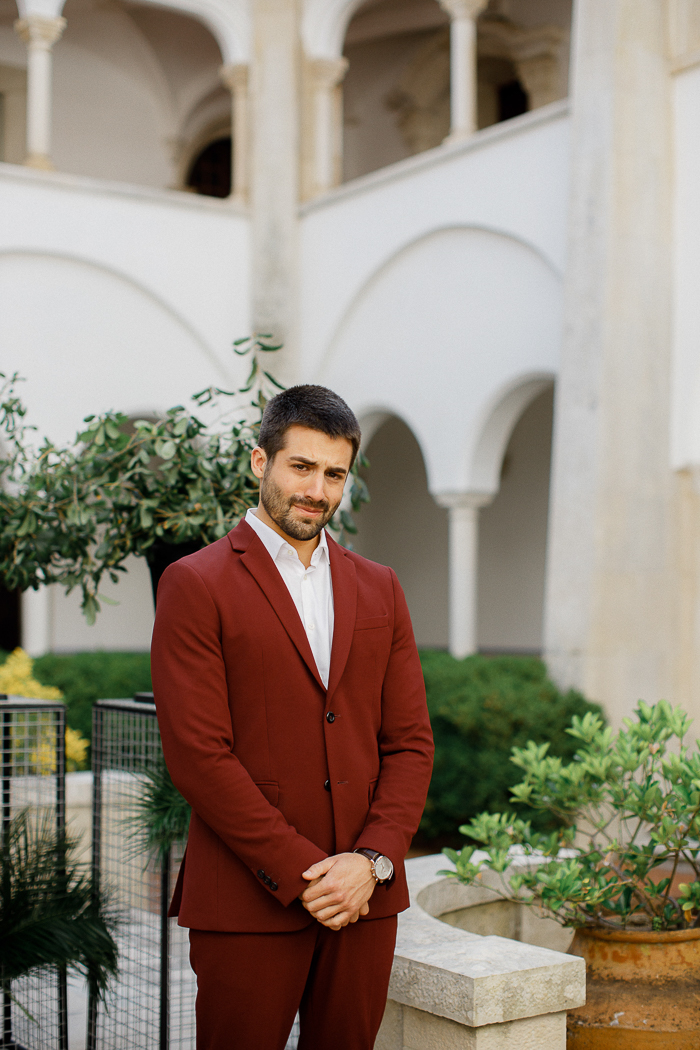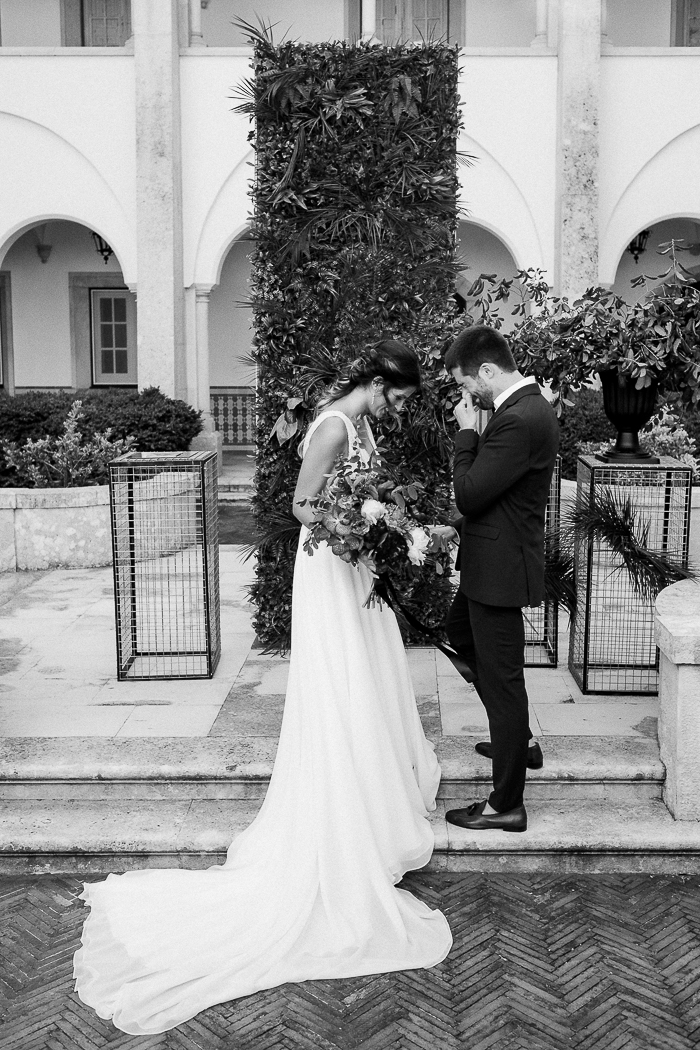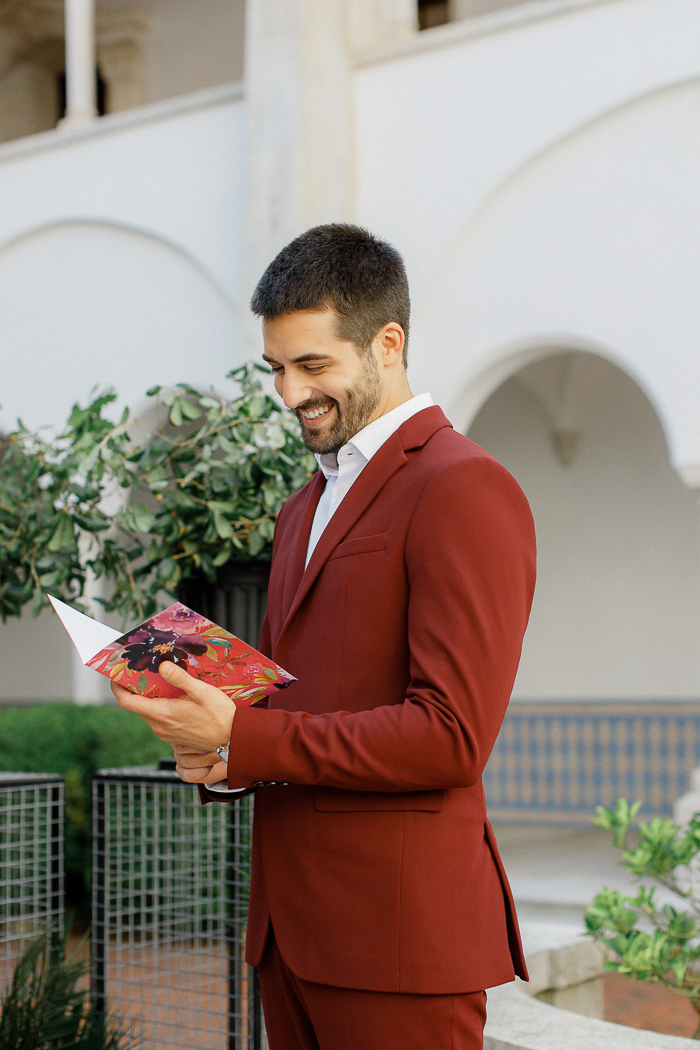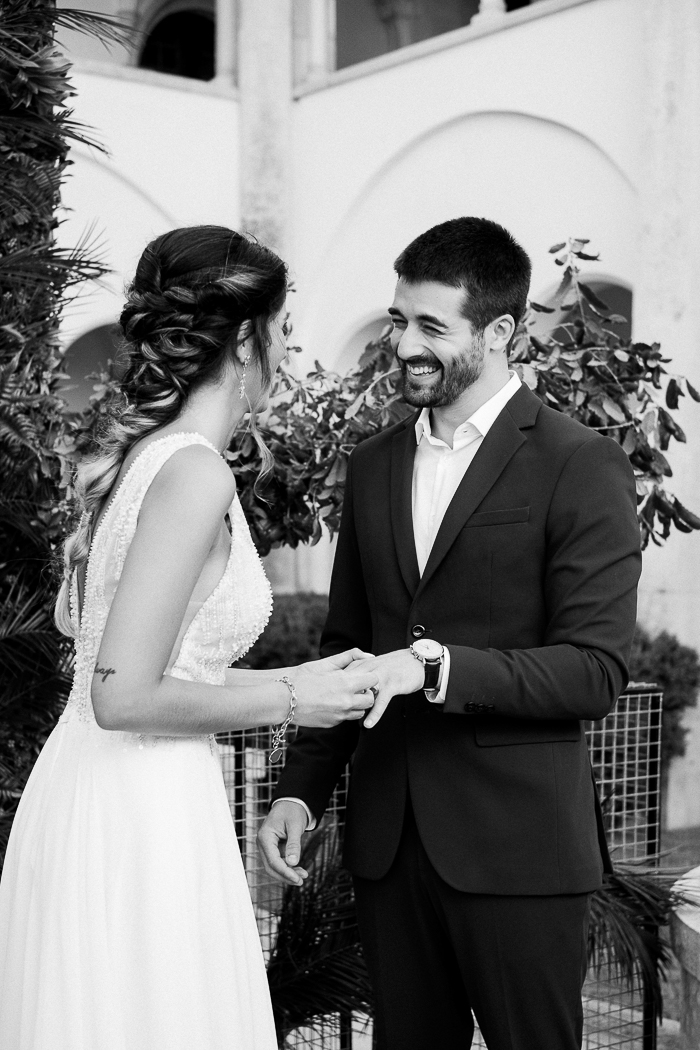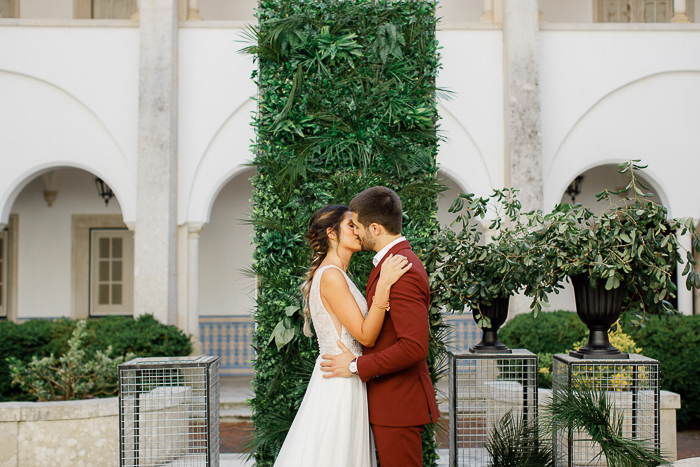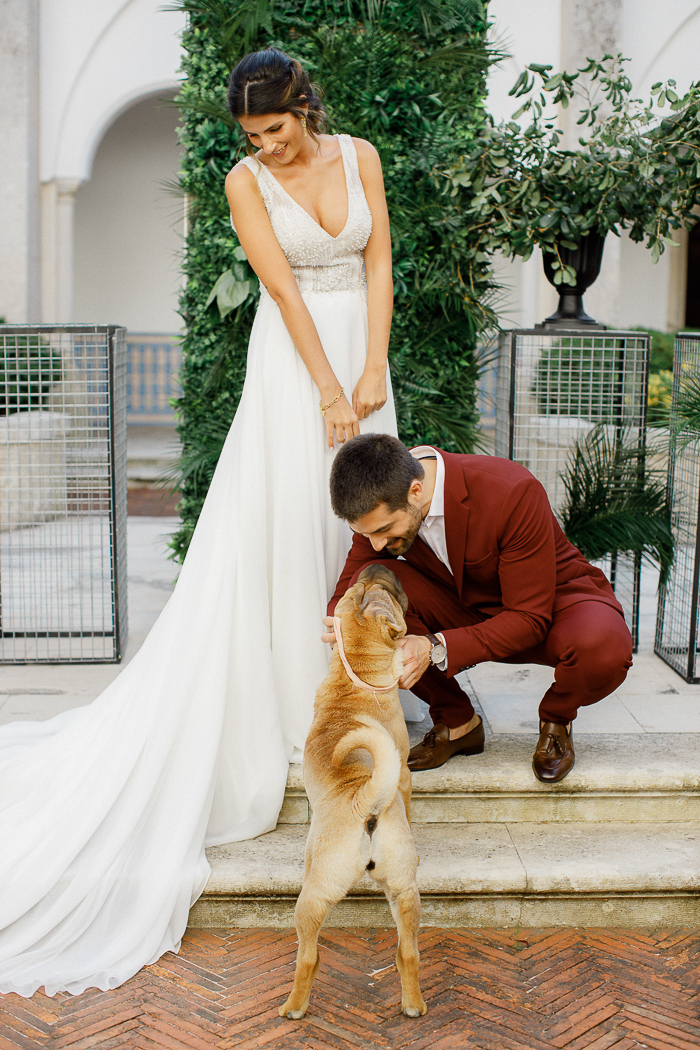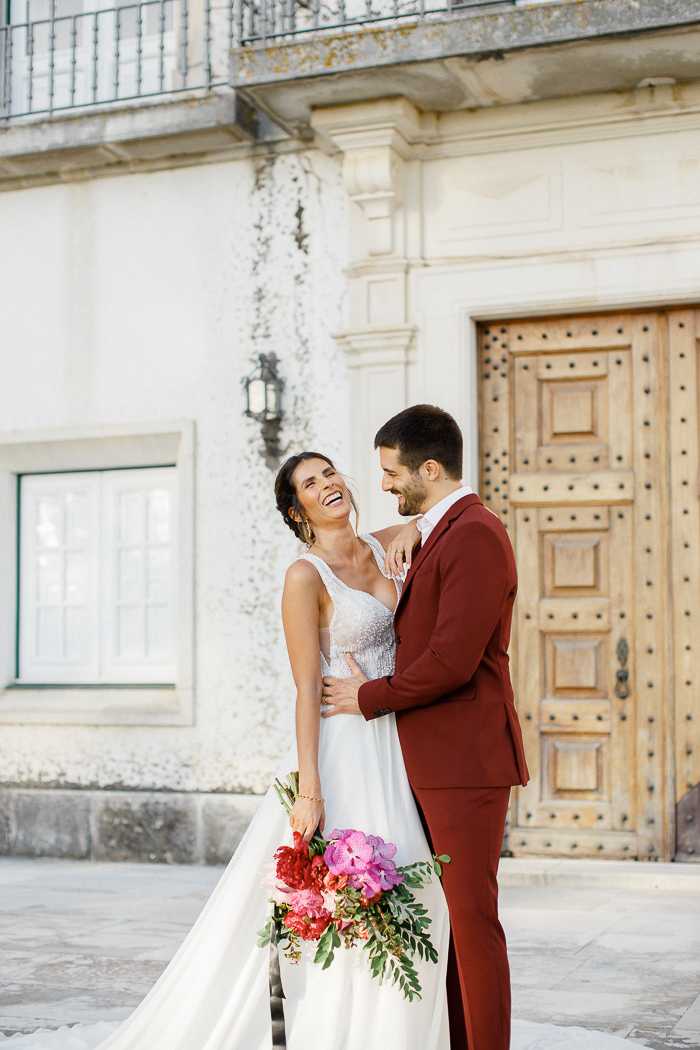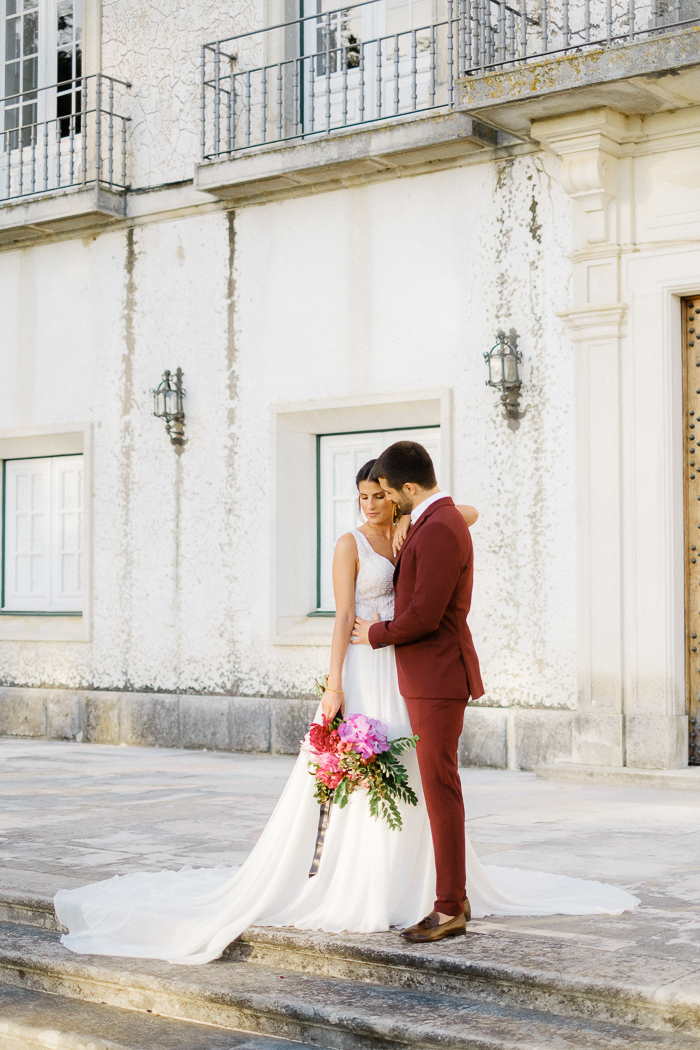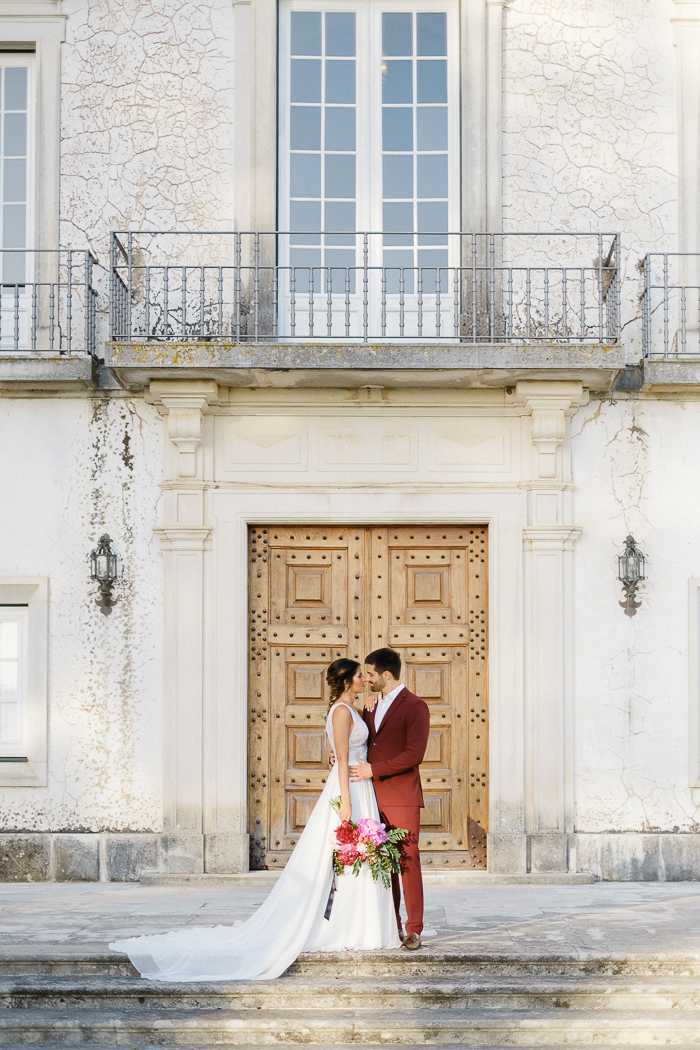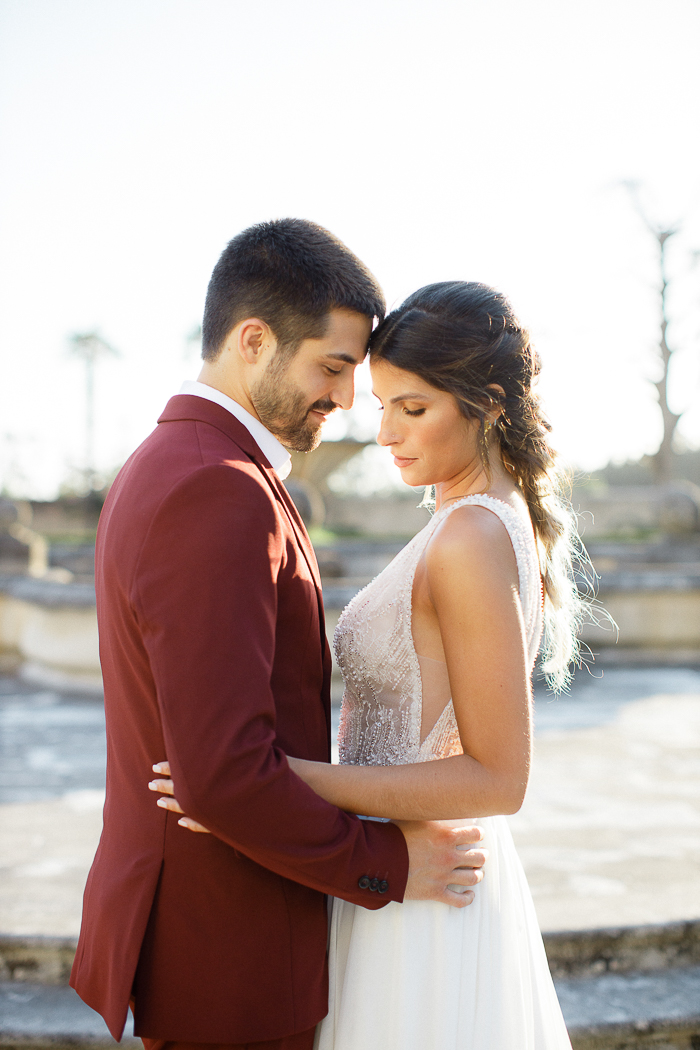 Creating Memories That Will Last A Lifetime
From the simplicity of the brunch to the beauty of the ceremony surrounded by our closest friends to the exuberance of our dinner–it was all so memorable. But one of the moments we will always keep in our hearts was our first dance, just for us, in a magical and intimate ambiance.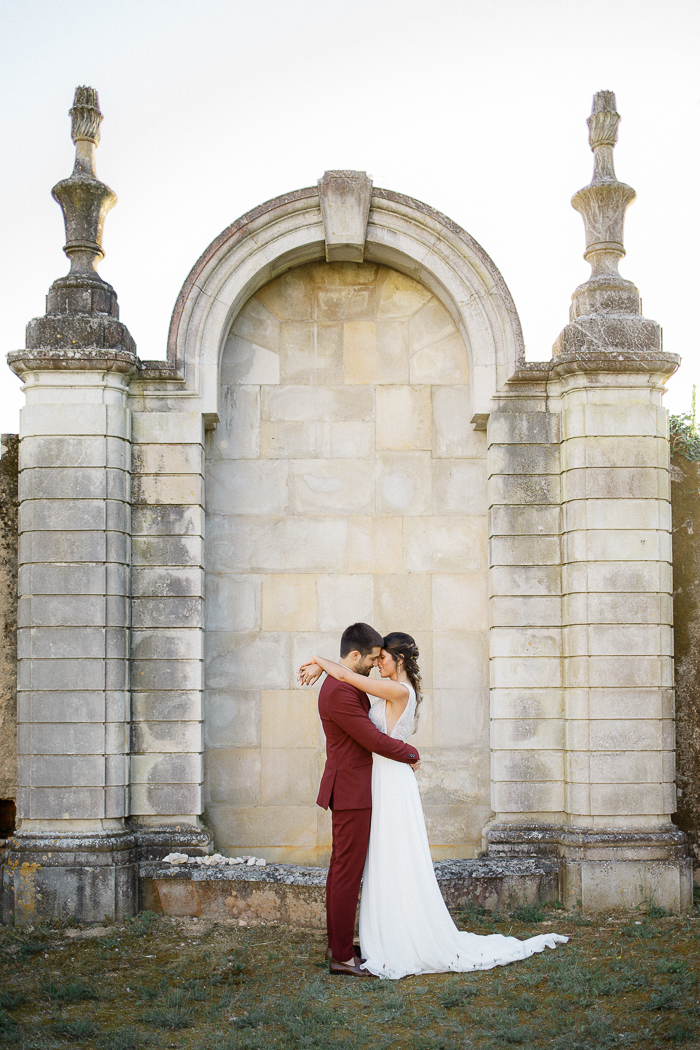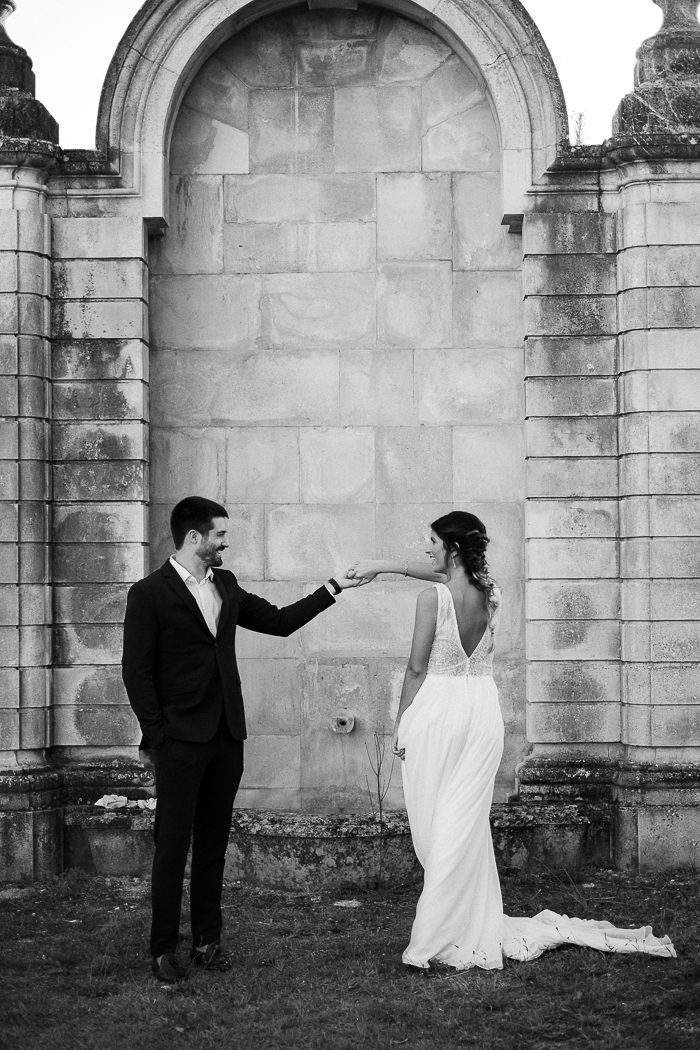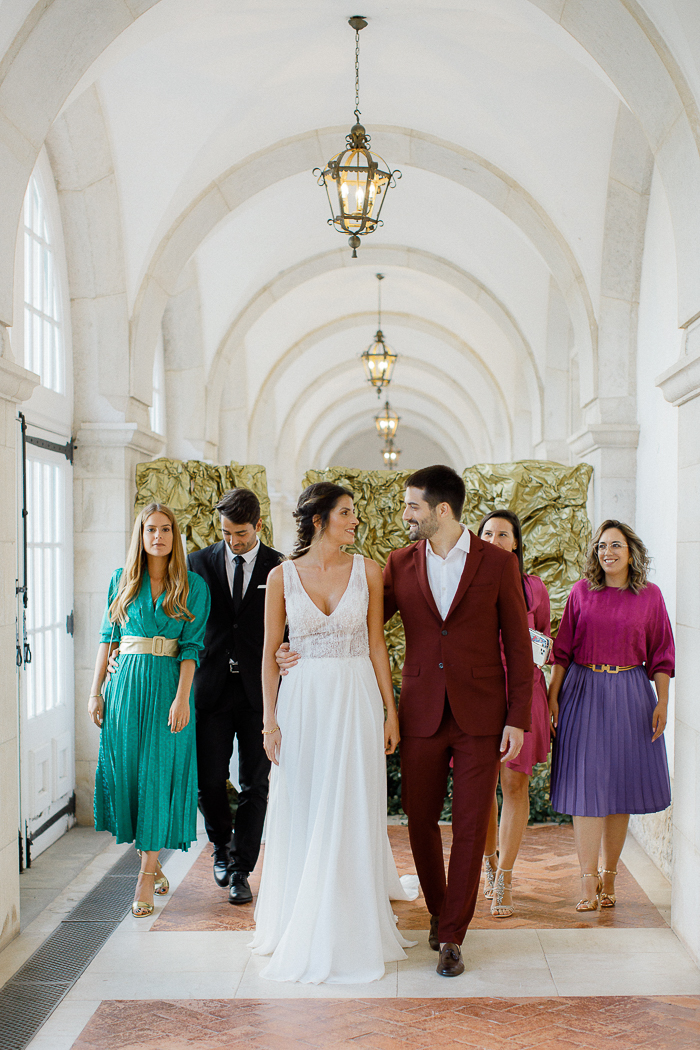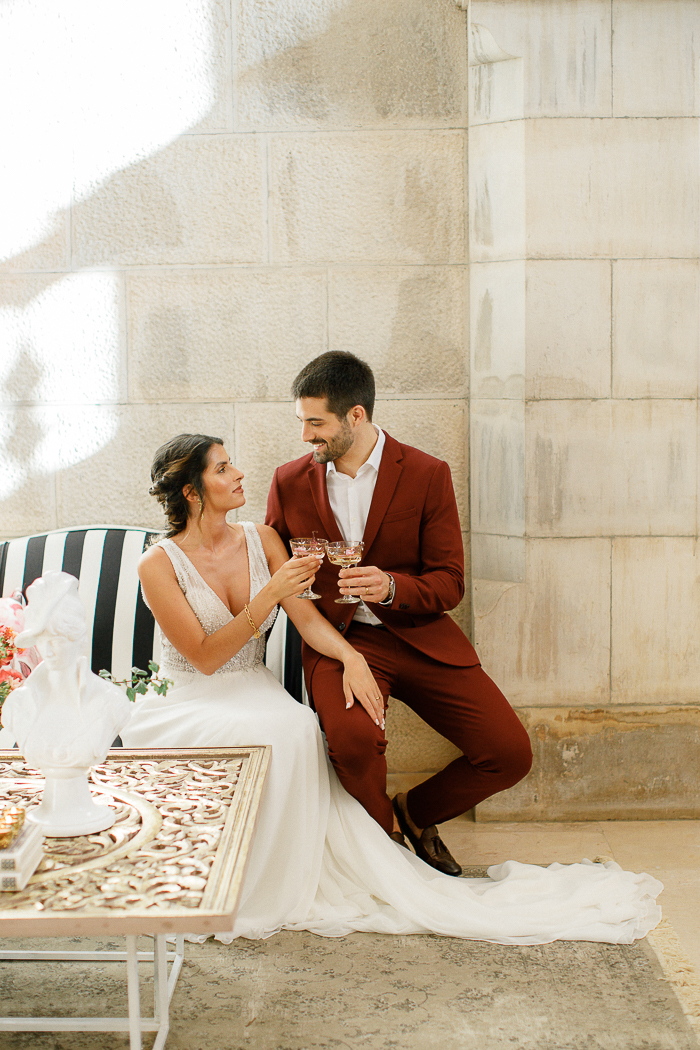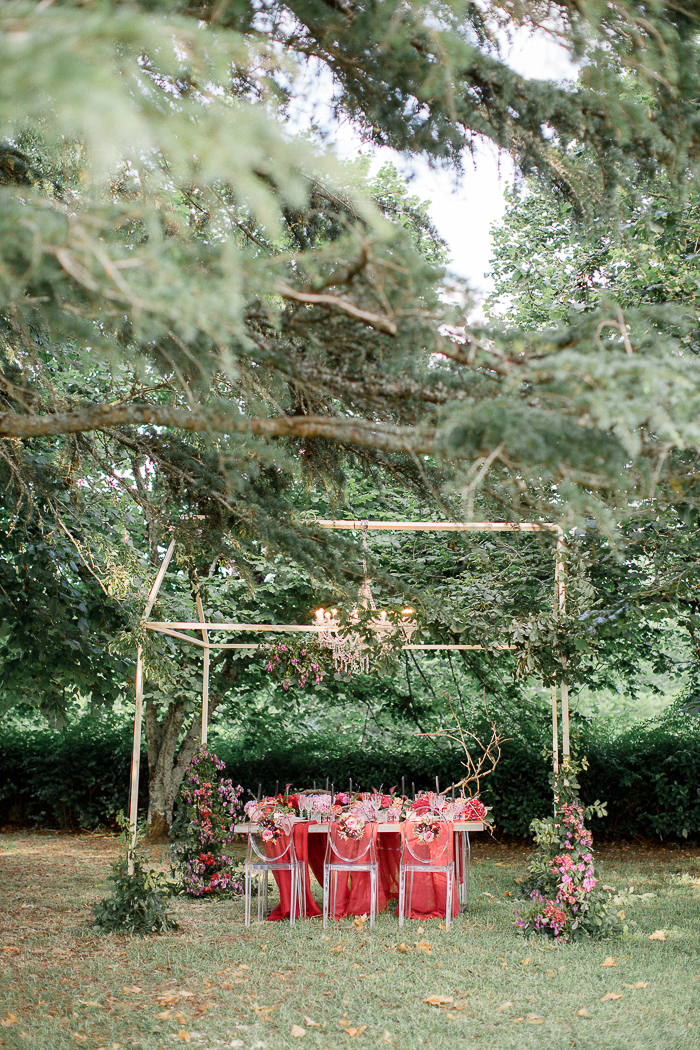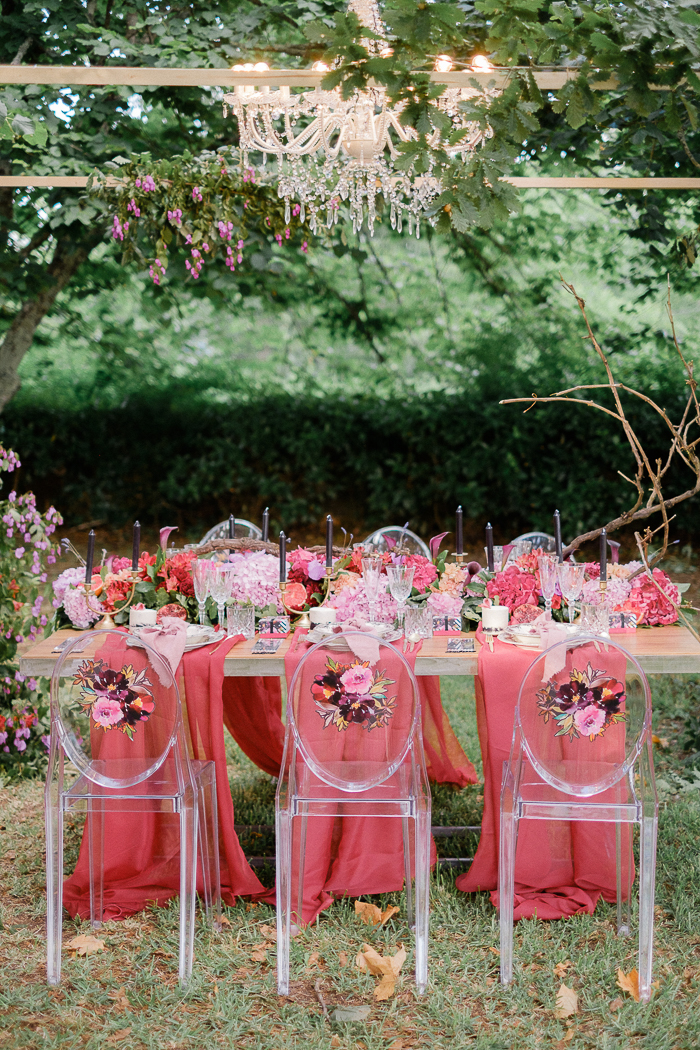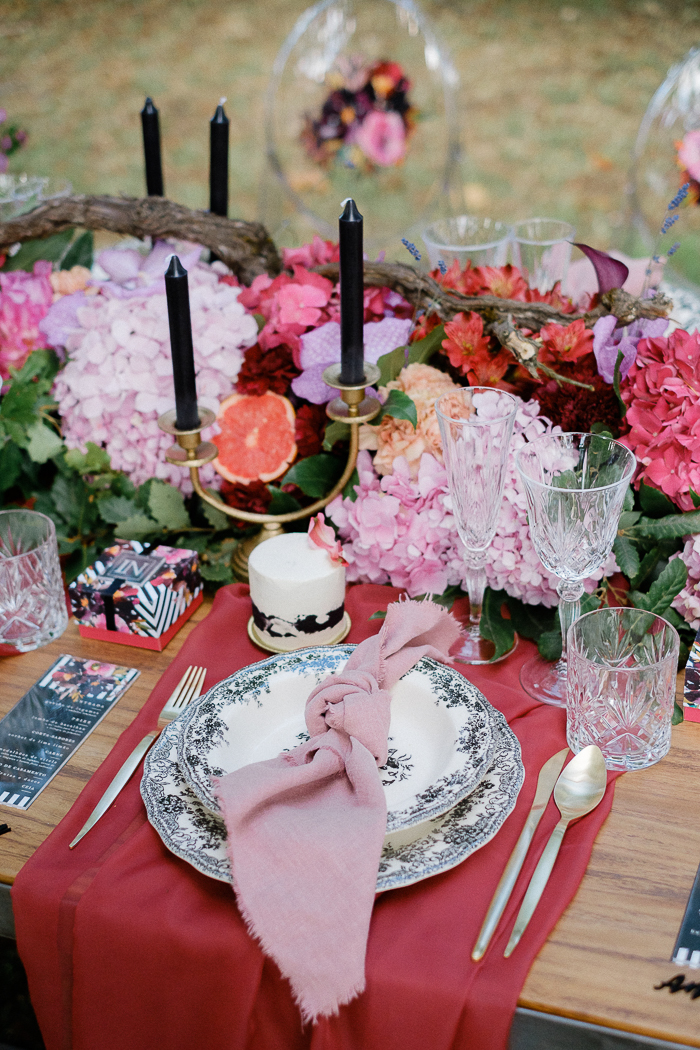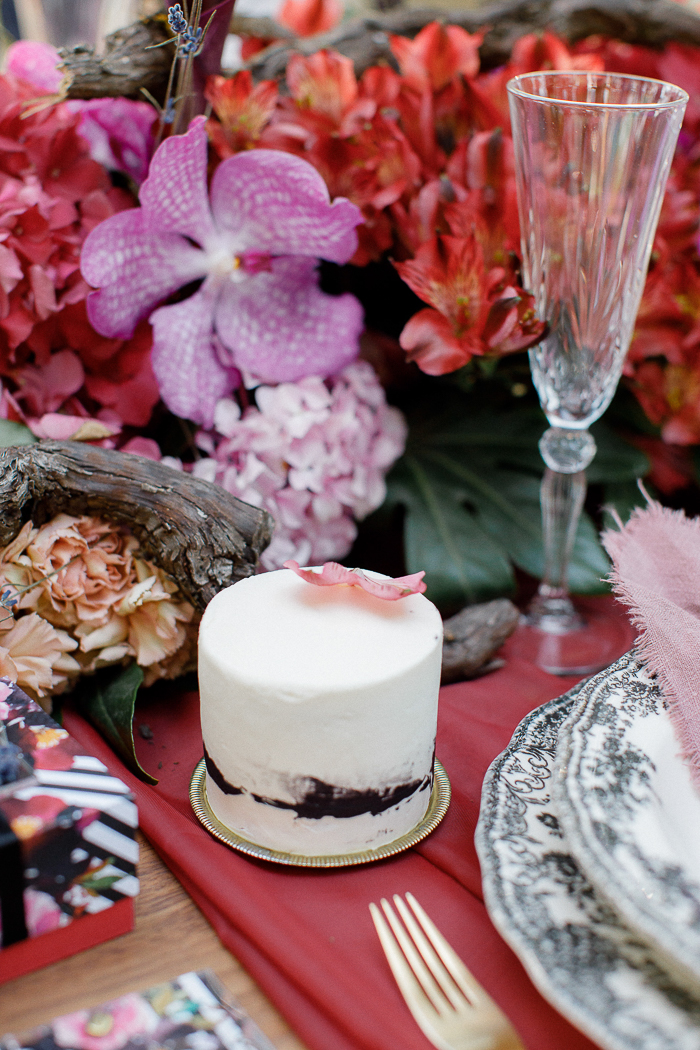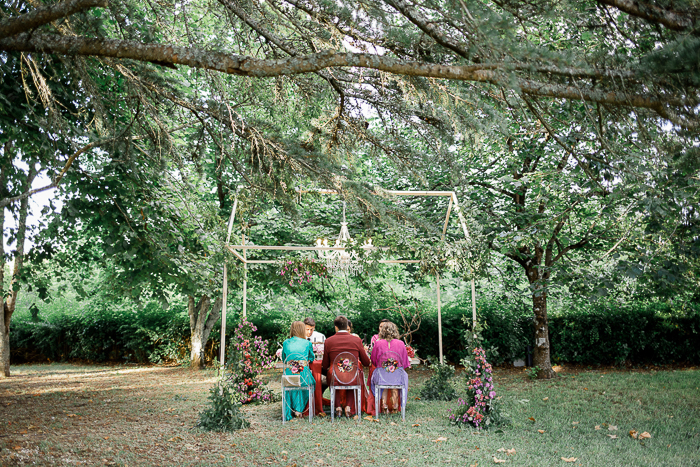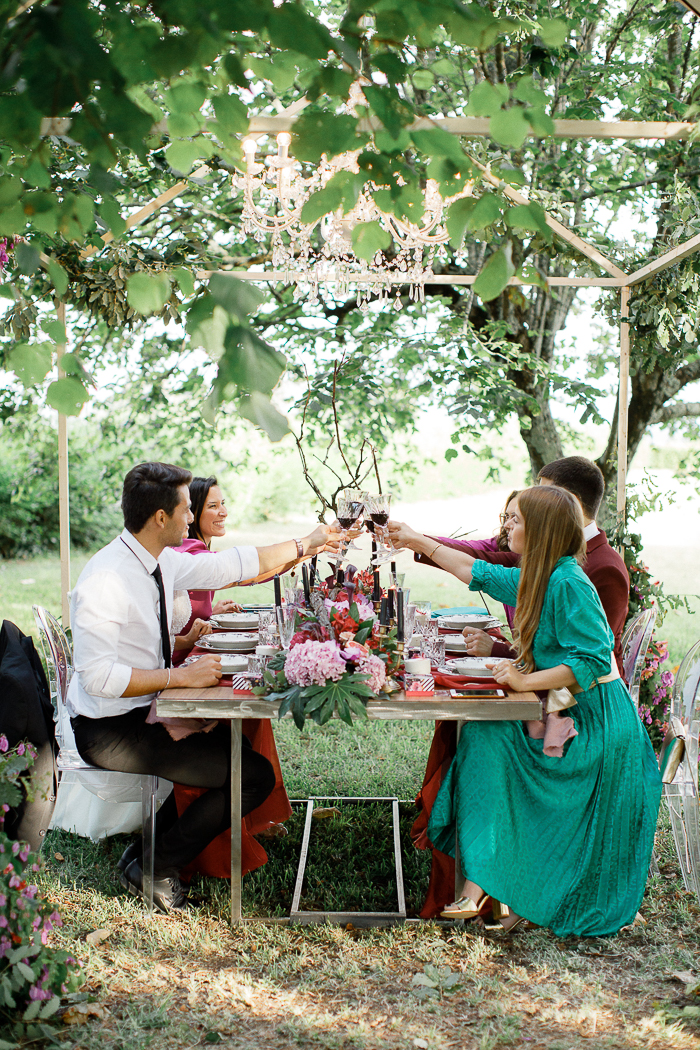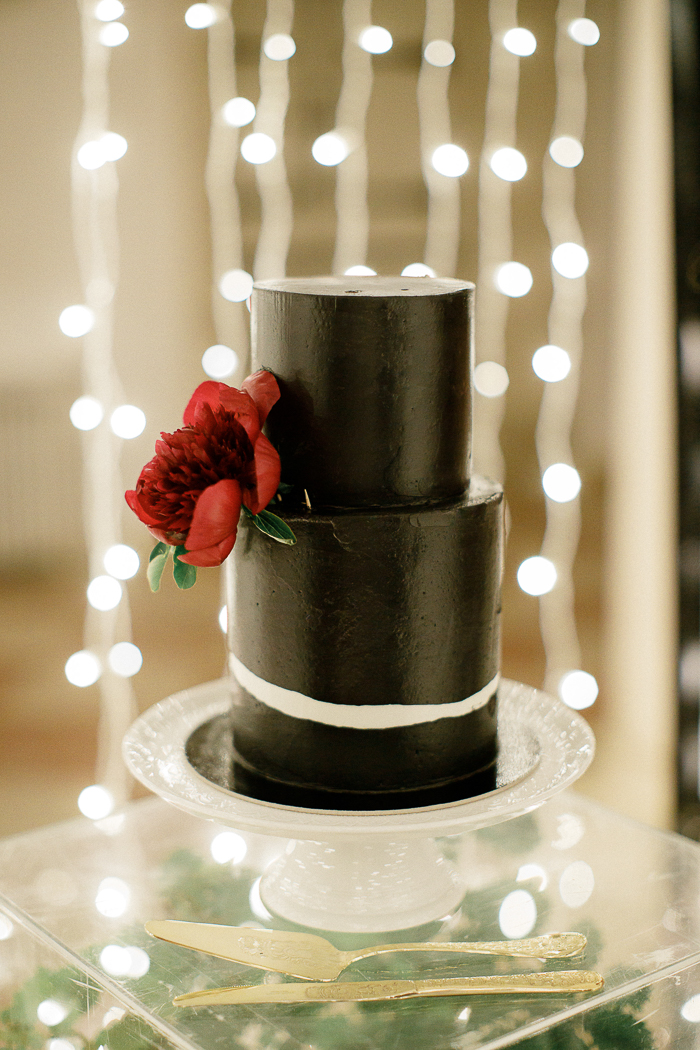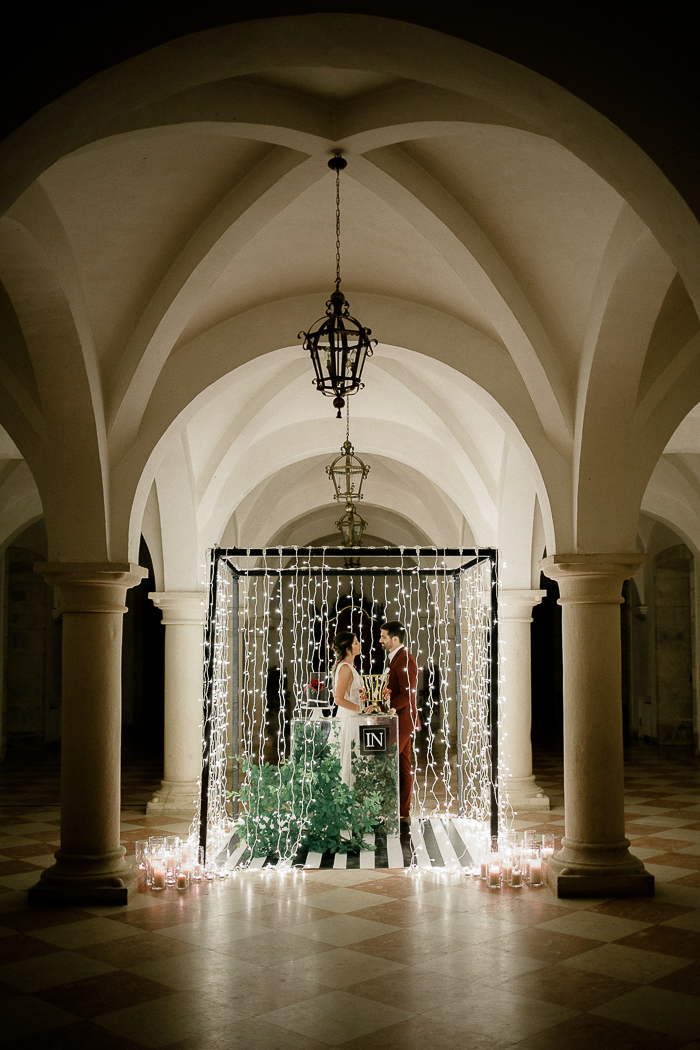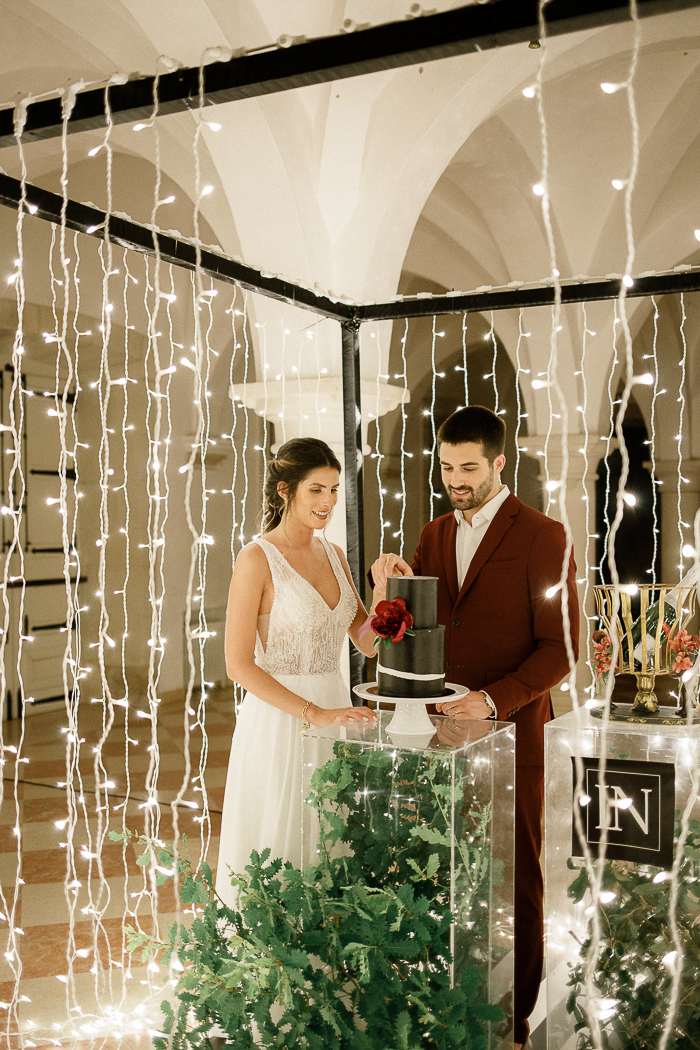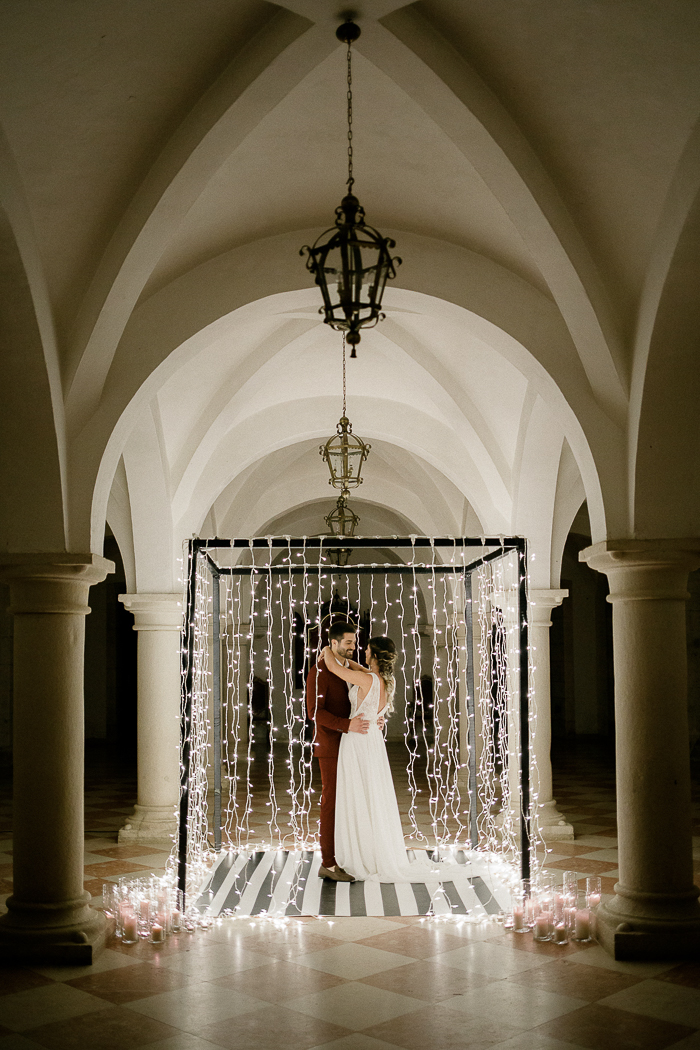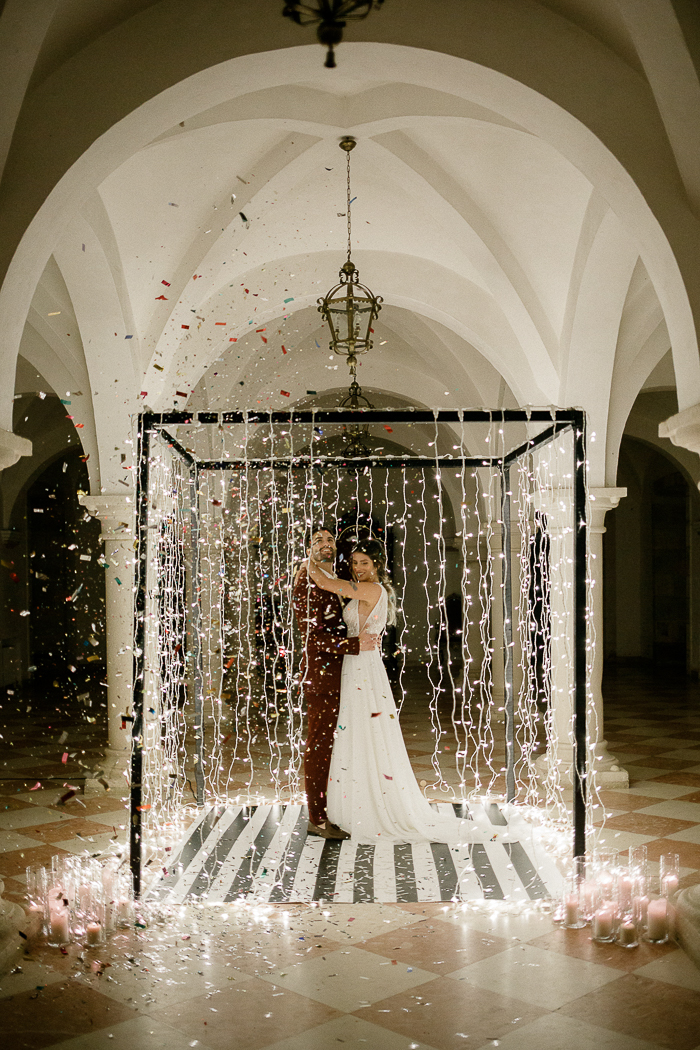 Congratulations again to Inês and Nelson on their Portugal palace micro wedding! Big thank you to atmosphere for capturing every heartwarming moment of the day. To make your own intimate wedding special, check out these tips for hosting a creative micro wedding!