If you're reading this, you're gearing up to celebrate your bachelorette party–and we just want to say congrats! That means you are so close to saying "I do." We know how stressful wedding planning can be but now is the time to kick back and relax and soak up time with your bridal party before getting hitched. We also know that groups love matching themed bachelorette party outfits. Who doesn't love an excuse to wear a cute outfit? From disco to western to rainbow, we're rounding up some of our favorite bachelorette party theme outfits so you can celebrate together in style.
Bachelorette Party Theme Outfits
1. Black and White
If you want to stand out amongst your bridal party while still sticking to the more traditional route, go for this classic black and white theme. Wear white while the rest of your party wears black and everyone will know who's tying the knot.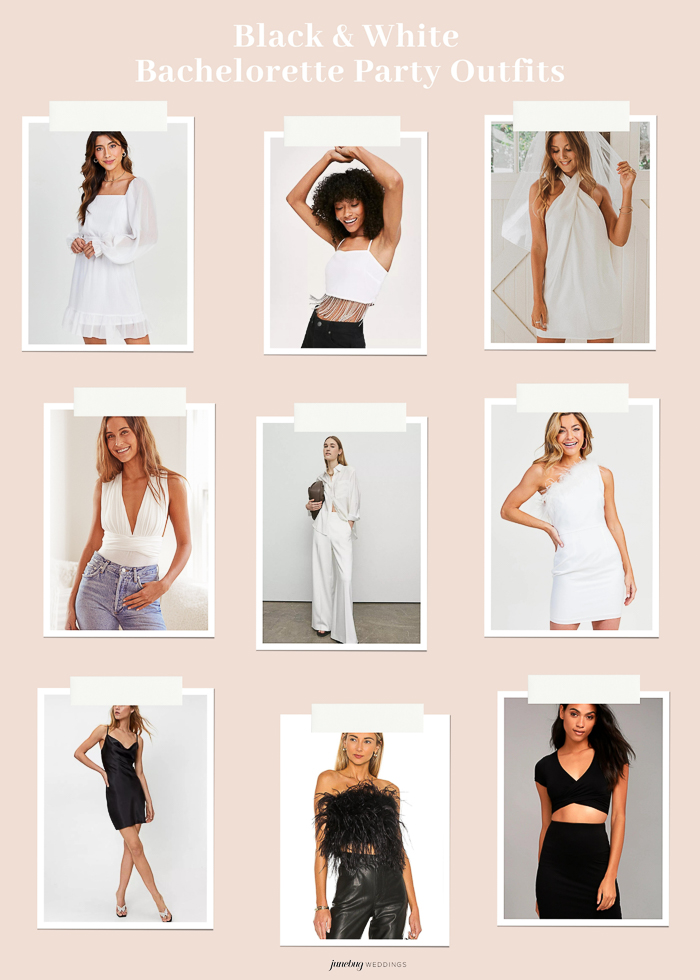 1.Claudia Dress; 2. Beaded Fringe Trim Cropped Cami Top; 3. Jasmine Halter Mini Dress; 4. In So Many Ways Convertible Bodysuit; 5. Warehouse Premium Wide Leg Trouser; 6. Savannah Dress; 7. Cowl Neck Satin Mini Slip Dress; 8. Lamarque Zaina Top; 9. By Your Side Two-Piece Dress
2. Pink And White
For a more playful version of black and white, opt for pink and white. This still allows you to shine while also giving your bridal party a chance to pop.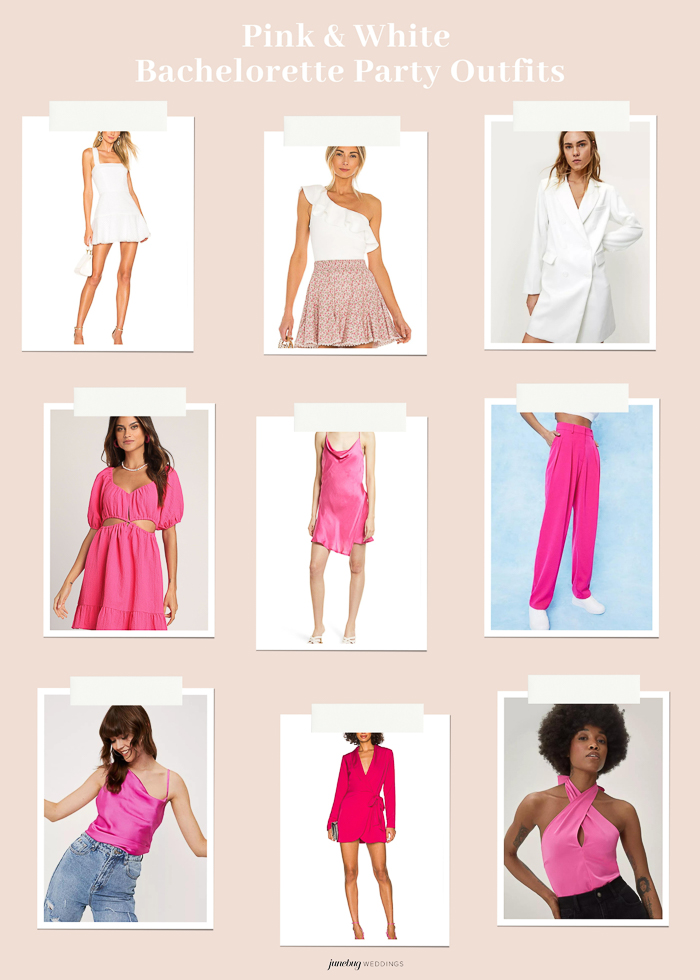 1.Amanda Uprichard Annalise Dress; 2. Show Me Your Mumu Ophelia Ruffle Bodysuit; 3. Double Breasted Oversized Mini Blazer Dress; 4. Exceptional Aura Pink Puff Sleeve V-Neck Cutout Mini Dress; 5. Area Stars Zoey Satin Mini Dress; 6. Pleated Tailored High Waisted Wide Leg Pants; 7. Satin Asymmetric Cowl Neck Cami Top; 8. Halley Blazer Wrap Dress; 9. Halterneck Satin Cami Top
3. Western
Hit the town for your last rodeo in these western-inspired outfits. Think all things fringe, leather, cow print, and snakeskin. If you want everyone in different outfits but also to match, consider all wearing similar cowboy boots or stick to one animal print.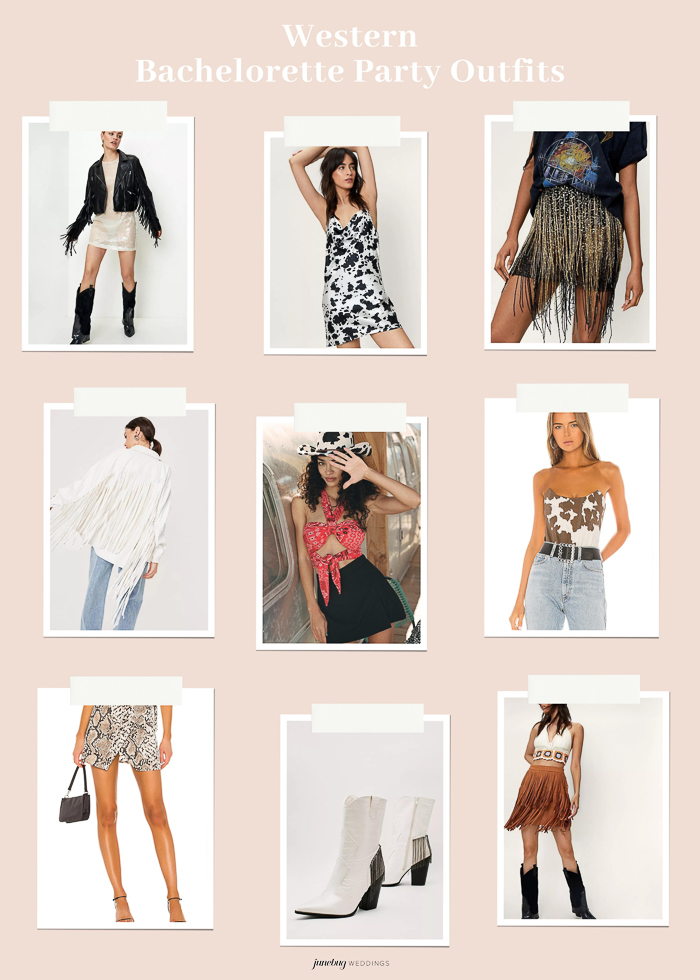 1.Real Leather Crop Fringe Detail Biker Jacket; 2. Cowl Neck Cow Print Satin Mini Dress; 3. Icon Embellished Metallic Fringed Mini Skirt; 4. Fringed Faux Leather Shirt Jacket; 5. Room to Roam Bandana Tie-Front Crop Top; 6. Miaou Leia Corset; 7. Superdown Alyssa Wrap Skirt; 8. Faux Croc Fringe Western Boots; 9. Faux Suede Fringe Mini Skirt
4. Disco
Add a little sparkle to your celebration with a disco theme. This is all about sequins, bell bottoms, disco balls, and the perfect throwback 70s playlist with so much ABBA.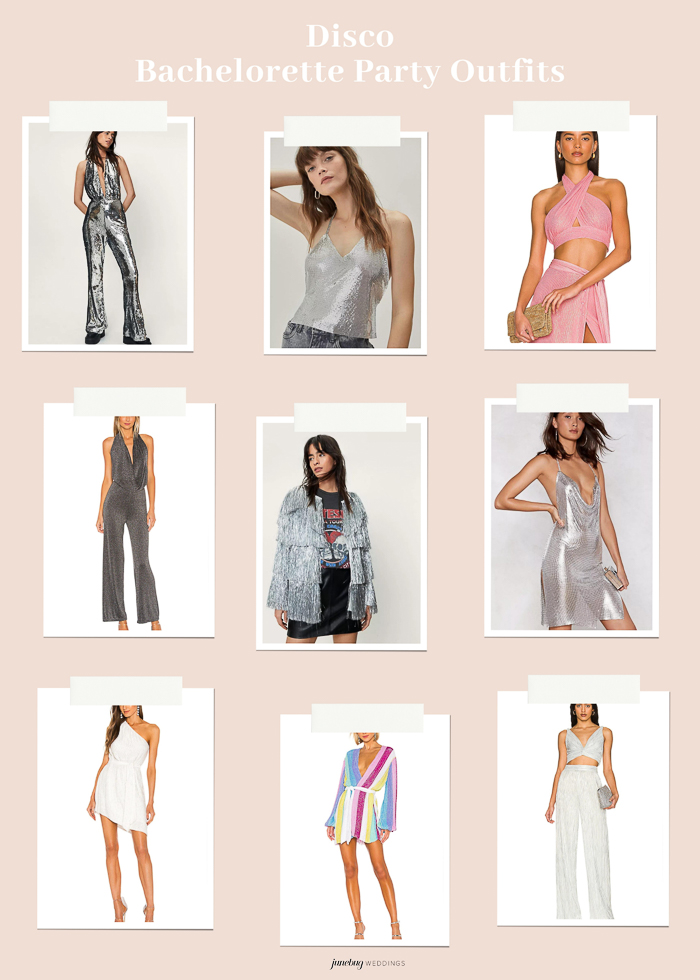 1.Sequin Halterneck Flared Jumpsuit; 2. Chainmail Extreme Plunge Halterneck Top; 3. Sundress Amy Crop Top; 4. Superdown Saffron Cowl Neck Jumpsuit; 5. Metallic Open Front Tiered Fringe Jacket; 6. Chainmail Cowl Neck Relaxed Mini Dress; 7. Retrofete x REVOLVE Ella Dres; 8. Retrofete Gabrielle Robe; 9. Sabina Musayev x Revolve Ross Pants
5. Beach
You can never go wrong with a beach bachelorette party. There's truly nothing more calming than laying on the beach working on your tan with a piña colada in hand and the ocean waves crashing in the background. While this one doesn't require a specific color palette, nothing says bridal more than a white bathing suit.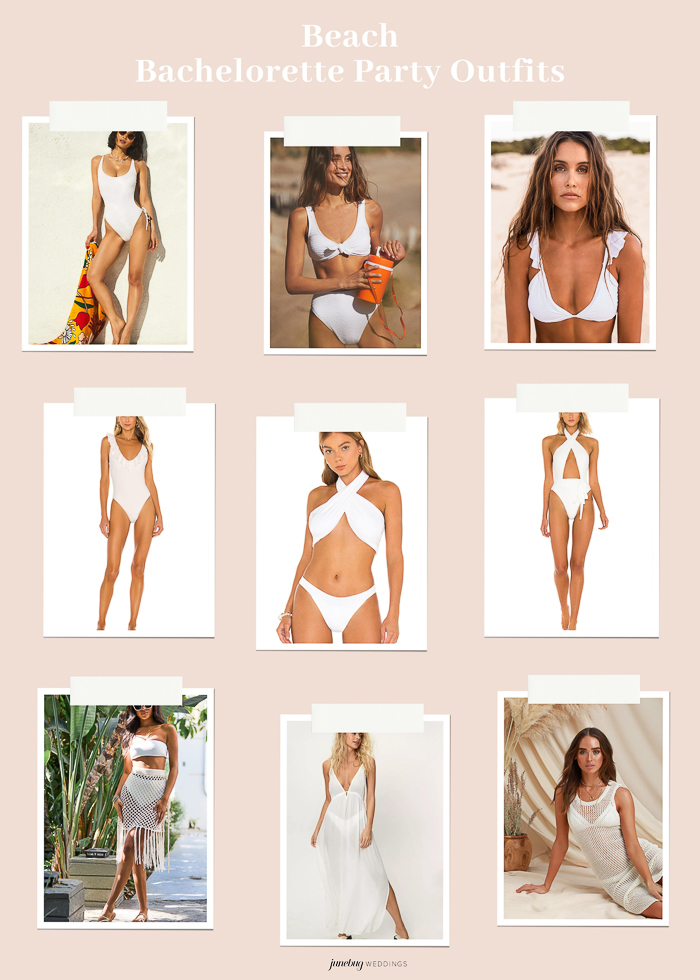 1.Sandy Love White Crinkle One-Piece Swimsuit; 2. Made For Sun White Tie-Front Bikini Top; 3. Across the Tides White Ruffled Bikini Top; 4. Eberjay So Solid Loreta One Piece; 5. Revel Rey Simone Bikini Top; 6. PQ x Vale Genta Alex One Piece; 7. Back at the Beach Beige Crochet Fringe Swim Cover-Up Skirt; 8. Crinkle Strappy Shirred Maxi Cover Up Dress; 9. Sandy Cove Cream Sheer Crochet Swim Cover-Up
6. Jungles and Safaris
Get ready for a good time you party animals because this one is a rumble in the jungle. The hunt is over and you've found your forever which is cause to celebrate in leopard, cheetah, zebra, and snakeskin.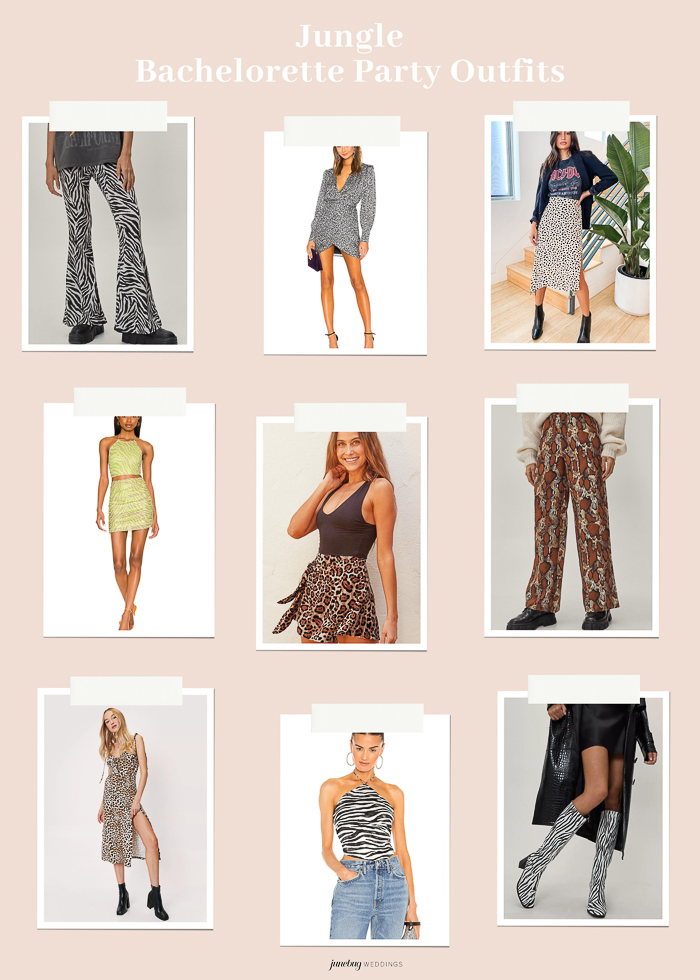 1.Zebra Print Recycled Flare; 2. L'Academie The Joyce Mini Dress; 3. Set a Trend Cream Cheetah Print Midi Skirt; 4. Superdown Cierra Ruched Skirt Set; 5. Free to be Wild Beige Leopard Print Tie-Front Skort; 6. Wide Leg High Waisted Snake Print Pants; 7. Animal Print Slip Split Front Midi Dress; 8. Retrofete Doris Top; 9. Zebra Print Knee High Boots
7. Rainbow
If you've got a larger group using a rainbow theme is a perfect option. Dress every single one of your friends up in a color from the rainbow while rocking all of the colors yourself.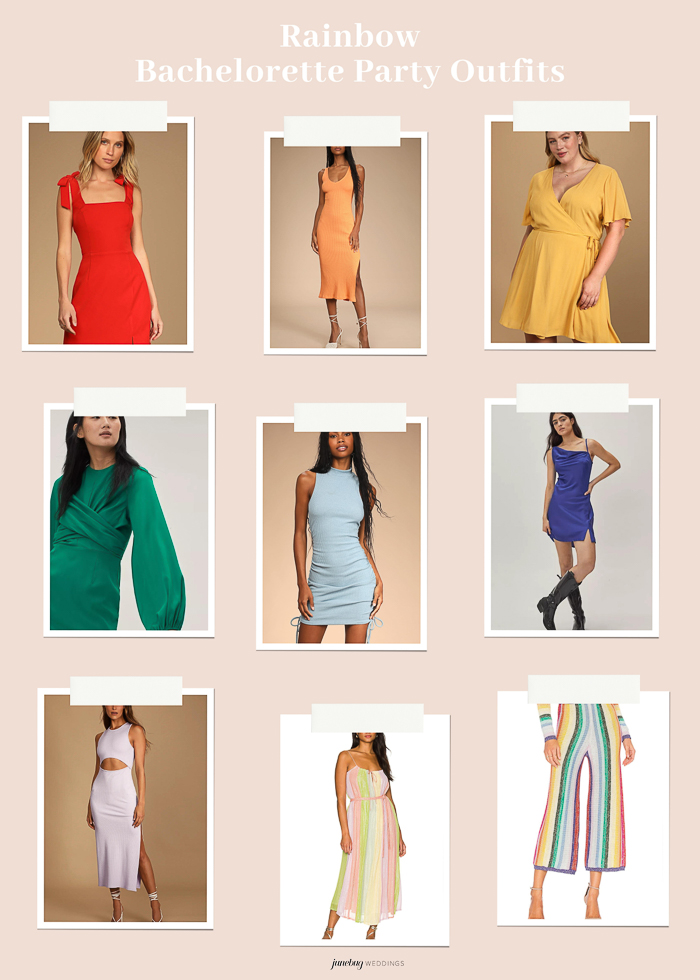 1.Your Sweetie Red Tie-Strap Mini Dress; 2. Beauty in Simplicity Light Orange Ribbed Bodycon Midi Dress; 3. Harbor Point Mustard Yellow Wrap Dress; 4. Twist Front Puff Sleeve Mini Dress; 5. Cinch Hitter Denim Blue Ruched Drawstring Bodycon Mini Dress; 6. Satin Cowl Neck Mini Dress; 7. Cut to the Feeling Lavender Ribbed Cutout Bodycon Midi Dress; 8. Sundress Keya Dress; 9. Lovers and Friends Believe Pant
Bachelorette Party Theme Accessories
No bachelorette party would be complete without some fun accessories. From wigs that help you develop a new identity to matching fanny packs to disco ball-shaped cups, these will take your party up a notch.
1.Bachelorette Fanny Pack; 2. Bride Bachelorette Visor; 3. Disco Ball Cup; 4. Bride Cowgirl Hat; 5. Bride/Babe Bucket Hat; 6. XL Bride Party Straw; 7. But Did You Die Hangover Kit; 8. Party Wigs; 9. Happily Ever After Mrs Purse Bride Clutch
Now that you've got your epic bachelorette party theme outfits planned, take a look at these incredible Airbnbs that are perfect for you and your wedding day crew.