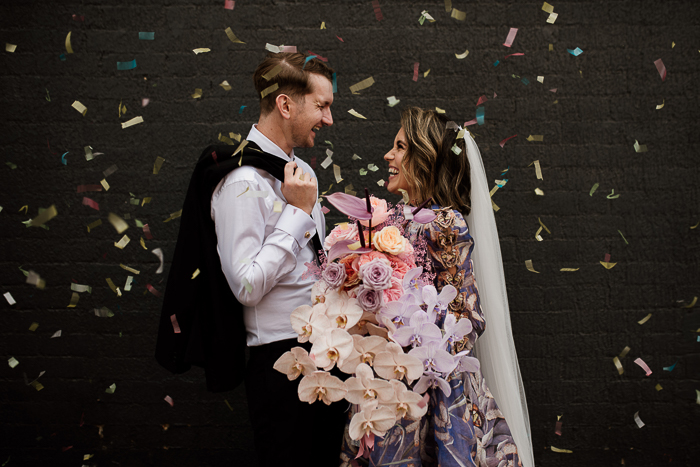 A purple Zimmerman dress covered in butterflies, a Vegas-style wedding chapel, one of the most stunning bridal bouquets we've ever seen, and a Ring Pop exchange–it doesn't get more unique than Sophie and Logan's Altar Electric micro wedding! After their wedding was postponed, Sophie found out she was pregnant with their second child. The couple canceled their 80-person affair and opted for a small, laidback wedding that spoke to their personalities.
The couple planned a day full of colorful bridal fashion, disco balls, neon lights, and a vintage ride around Melbourne in less than two months. Oh, and we can't forget the casual reception full of cocktails and cake in a Cantonese-inspired bar at The Esplanade Hotel. It's no wonder we're having such a hard time picking out our favorite aspects of this wedding!
We're so thankful that Tahnee Jade Photography was there to capture every detail of this epic day. Keep scrolling to see how an unconventional love affair can be the definition of Pinterest-worthy.
The Couple:
Sophie and Logan
The Wedding:
The Altar Electric, Melbourne, Vic, Australia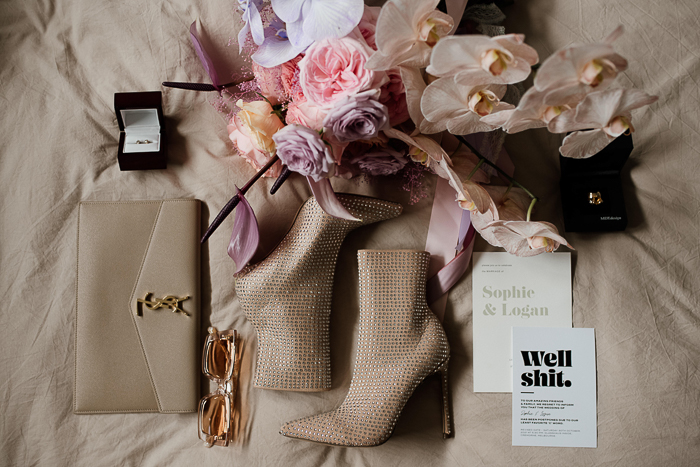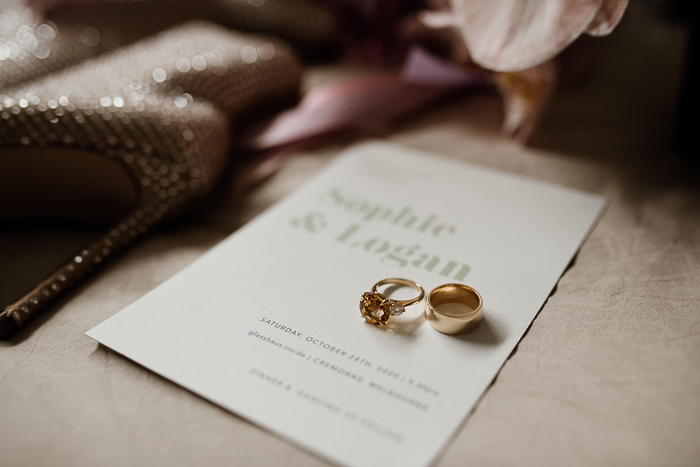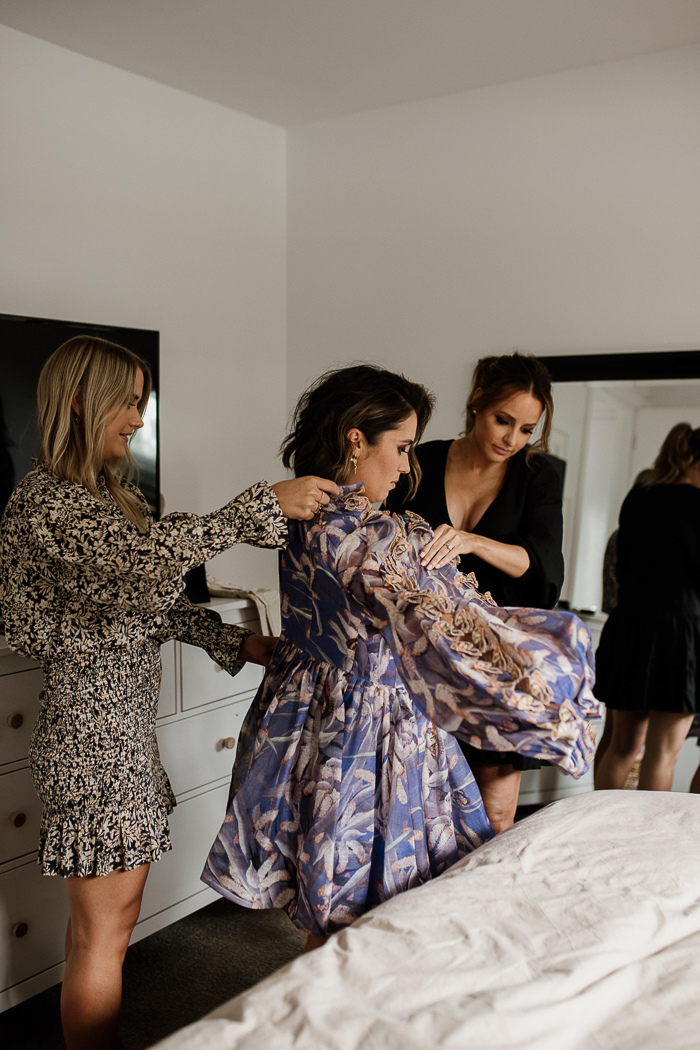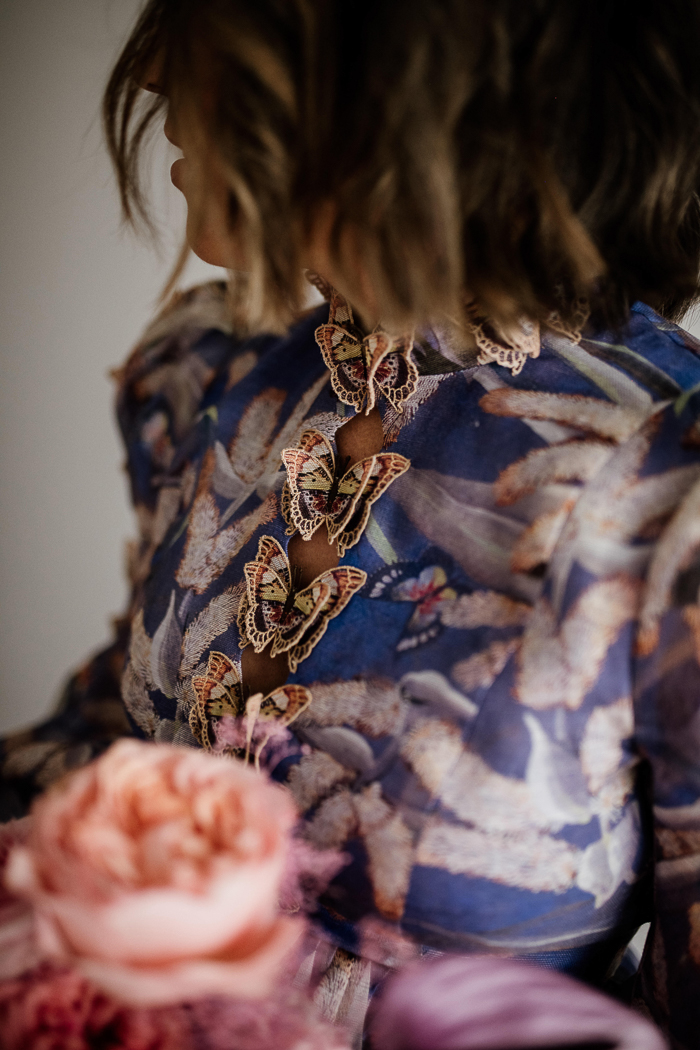 Unique Wedding Fashion
From the get-go, I played around with the idea of wearing a Zimmerman dress. They're unique, original, and quirky–breaking the norm of a traditional wedding gown. However, due to being five months pregnant on our wedding date, I was very realistic that this wouldn't be easy. Would you believe that two days before the wedding, I squeezed myself into a butterfly Zimmerman dress off the rack and it fit? It was a miracle. Thankfully it paired perfectly with my Steve Madden glitter boots purchased before the original wedding date in 2020.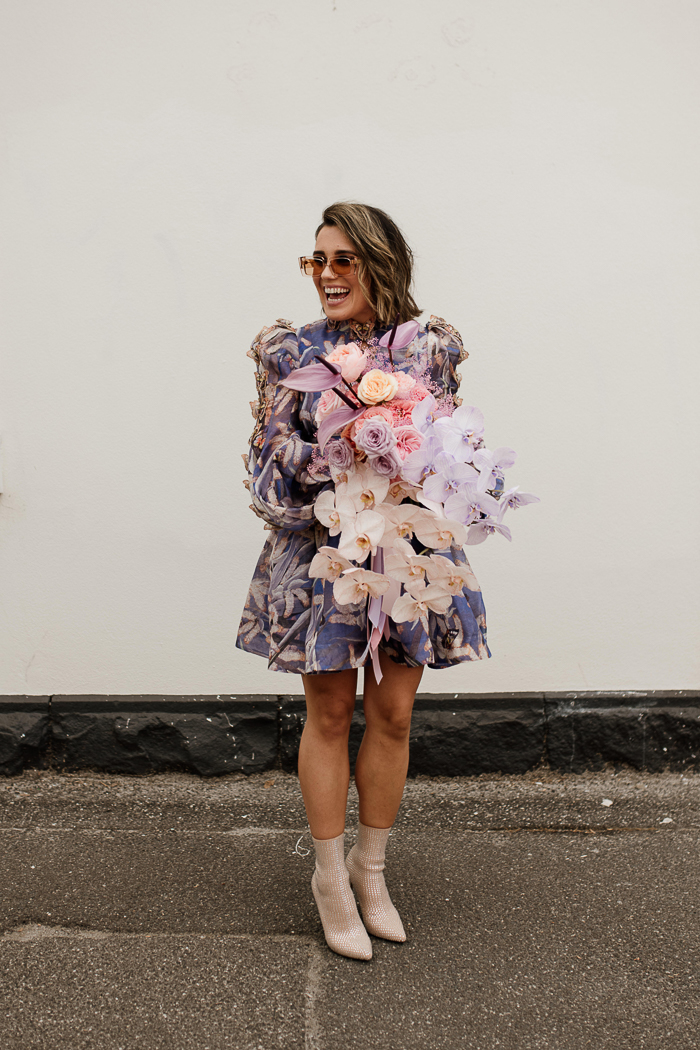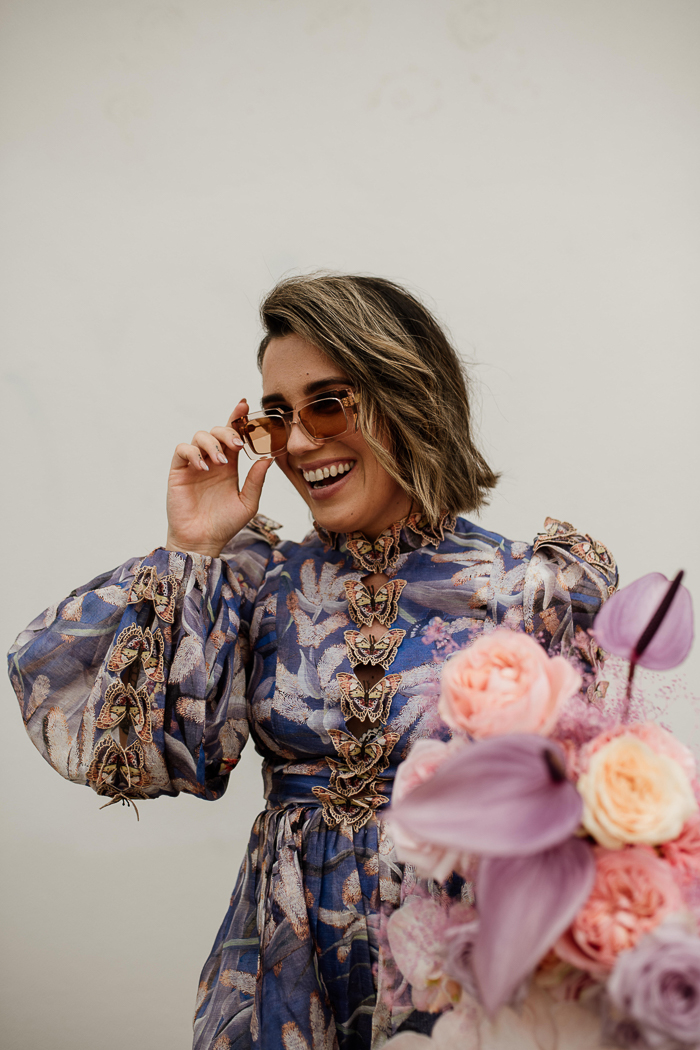 Shop similar dresses: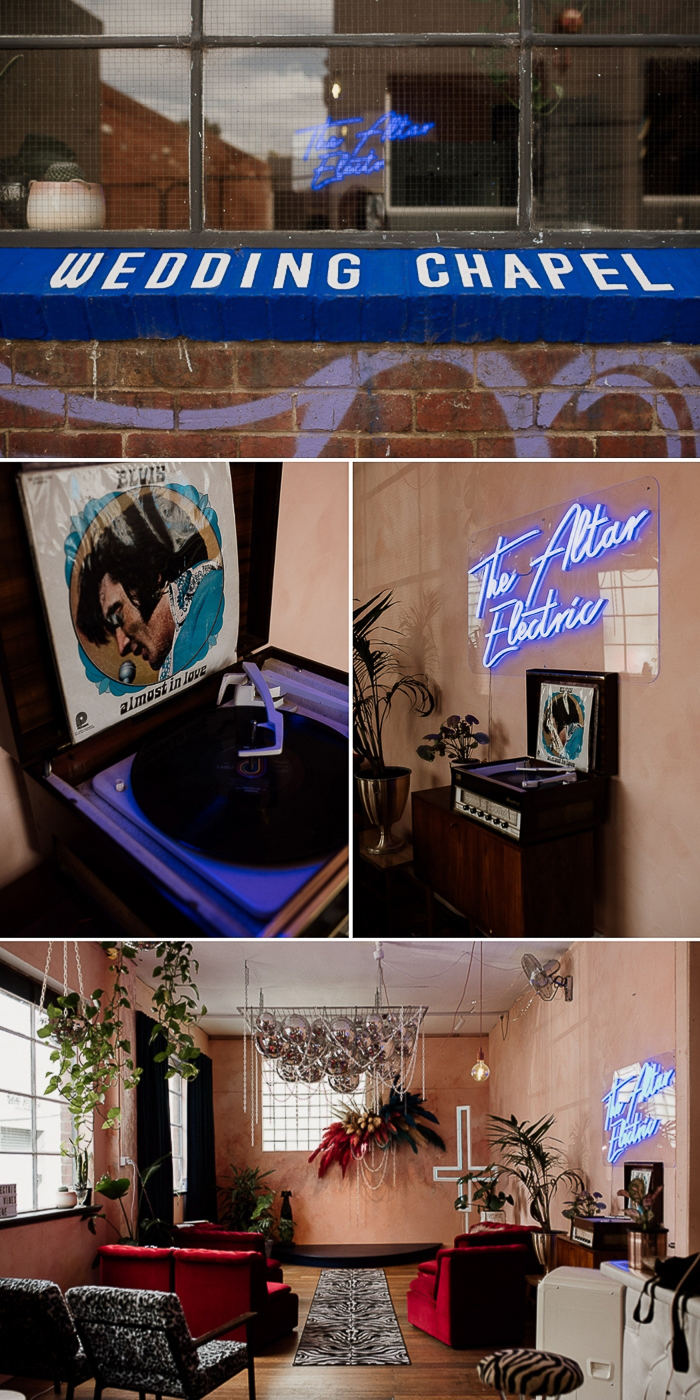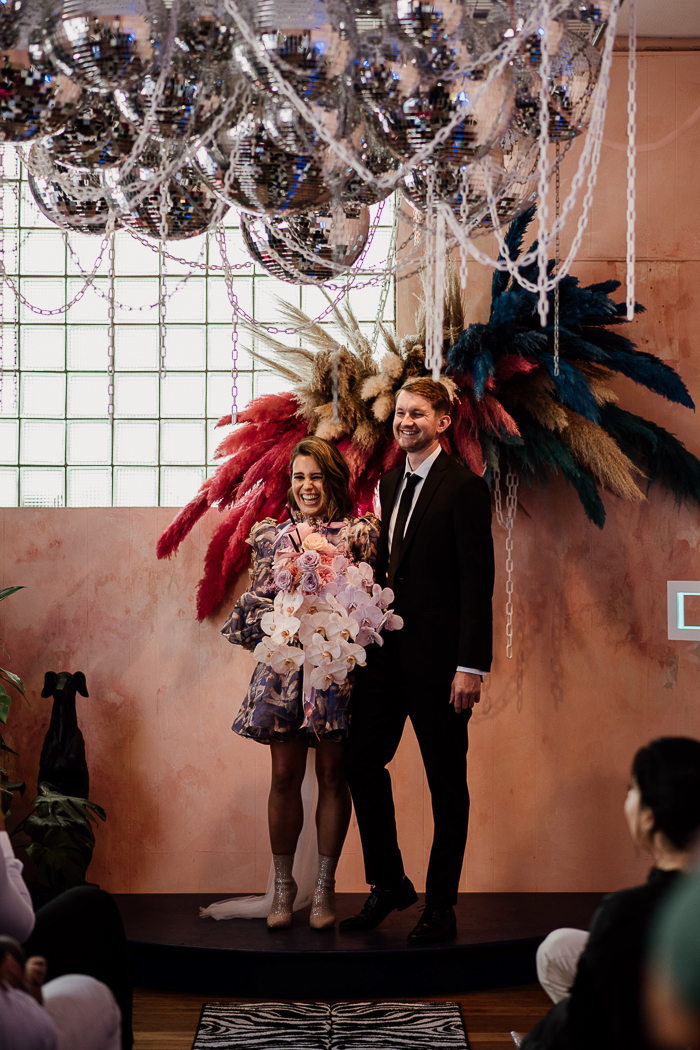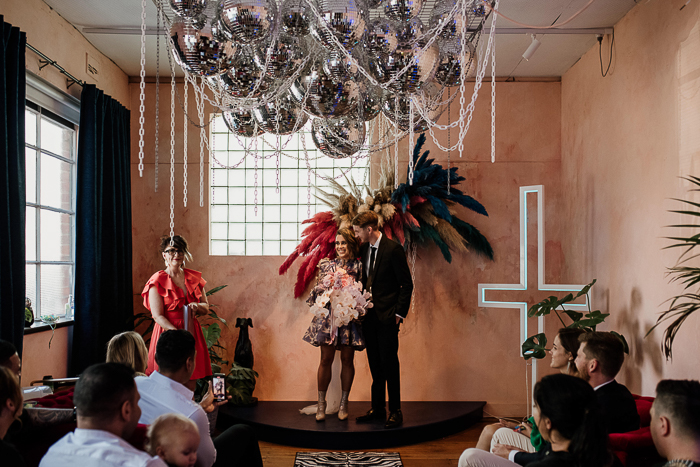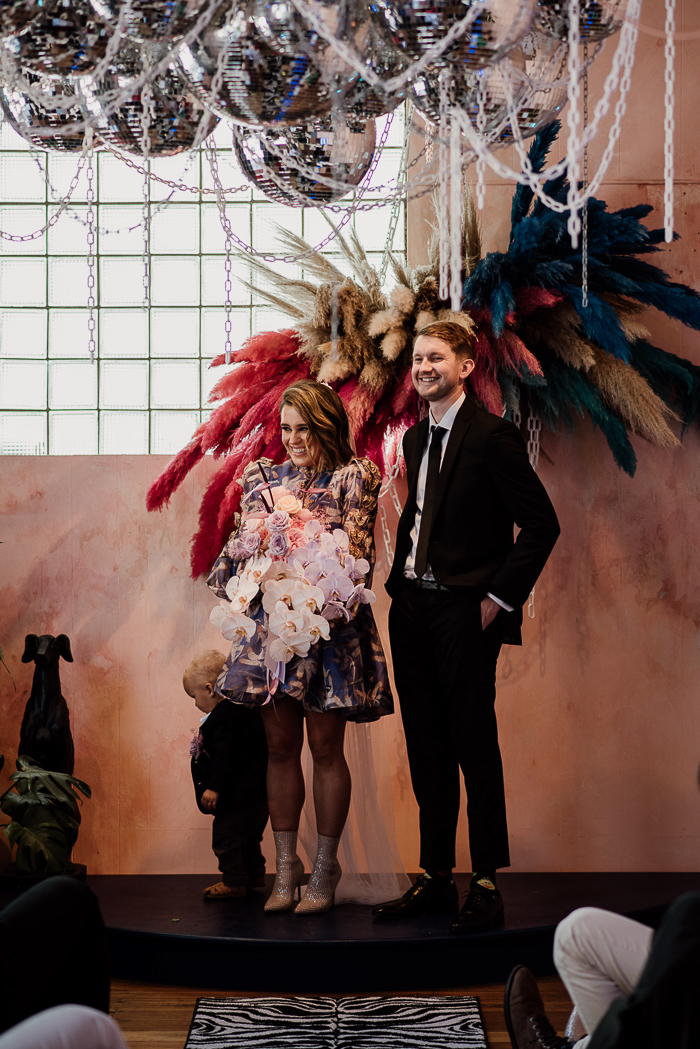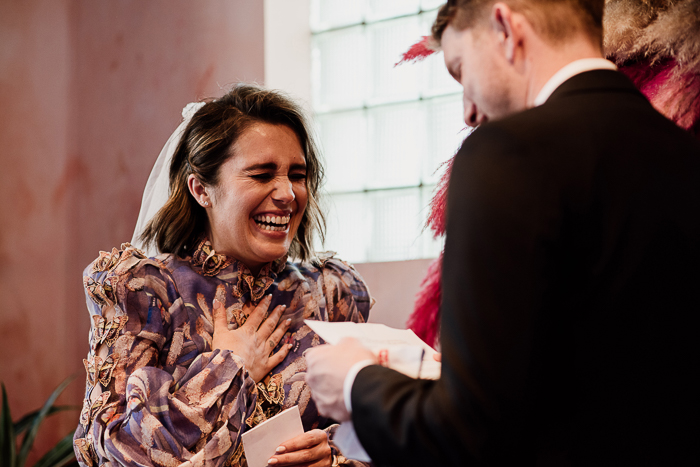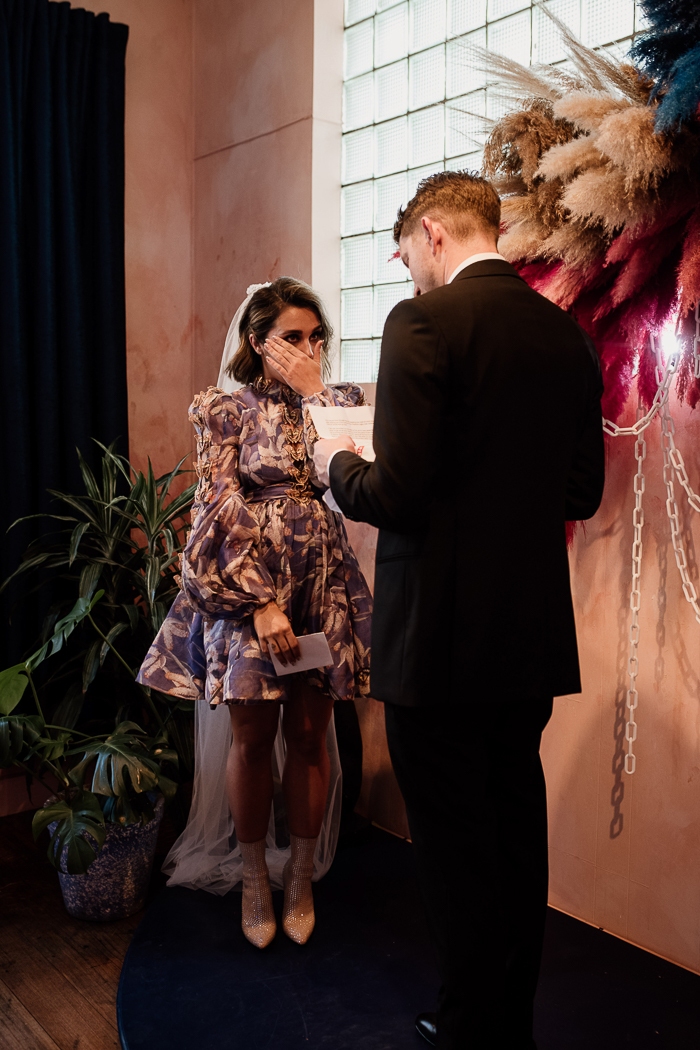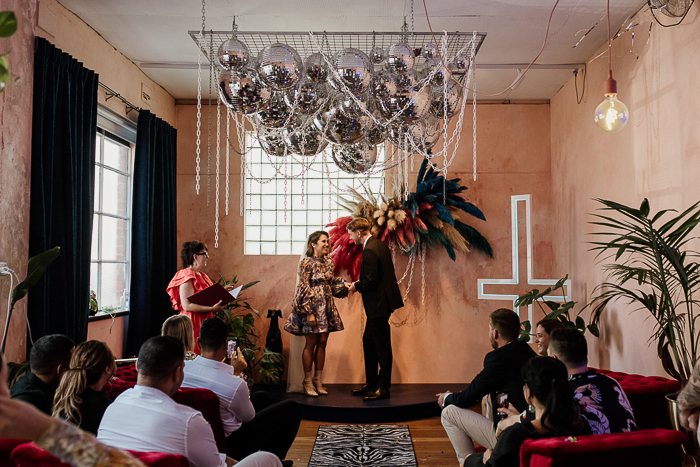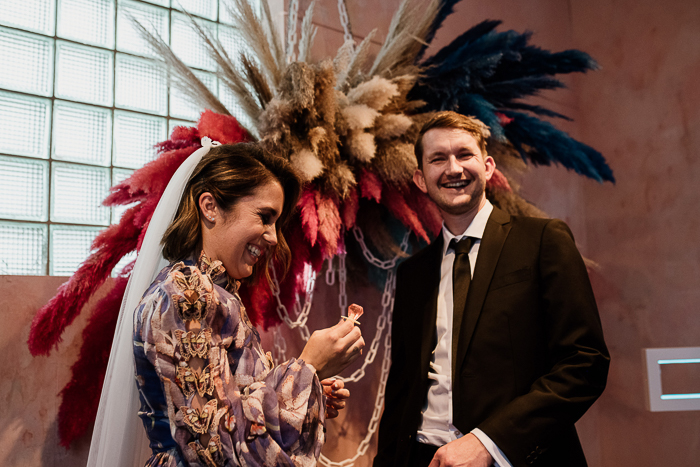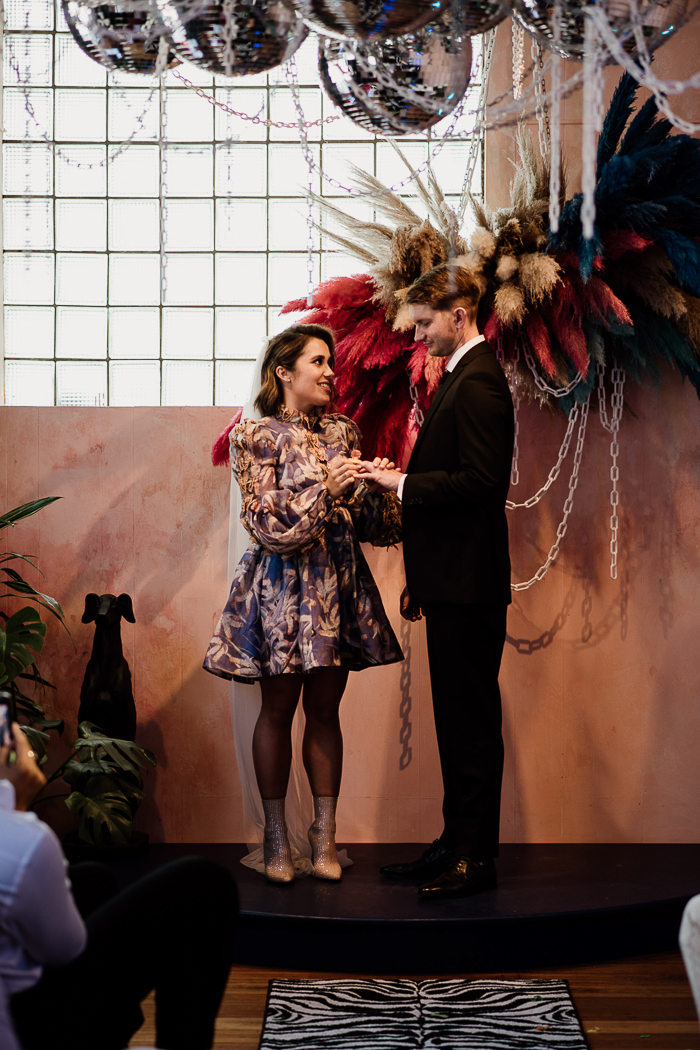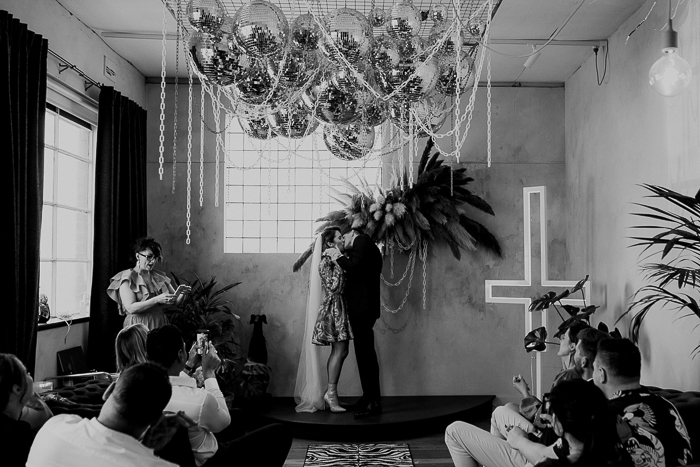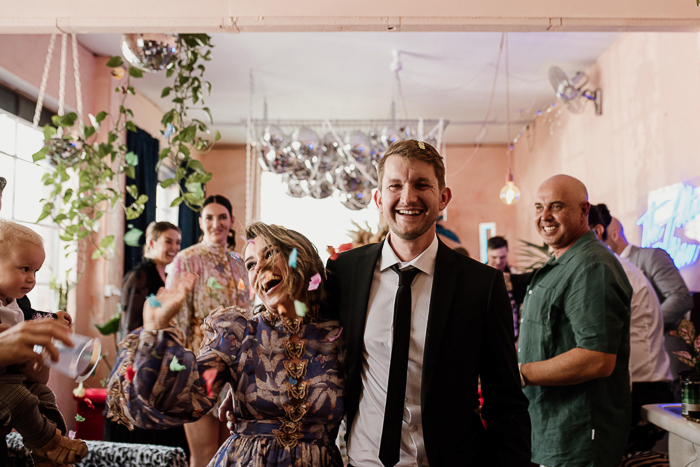 Why An Altar Electric Micro Wedding
We hadn't actually planned on getting married in February. Our original date of October 2020 was revised to October 2021. However, I knew it was destiny when I found the venue–it just spoke to me. From that night on, I reshuffled everything and planned the wedding in two months. Although let's face it, there wasn't much to plan. The Altar Electric was the perfect balance of drama and romance, all rolled into a great big ball of peach walls and mirrored disco balls.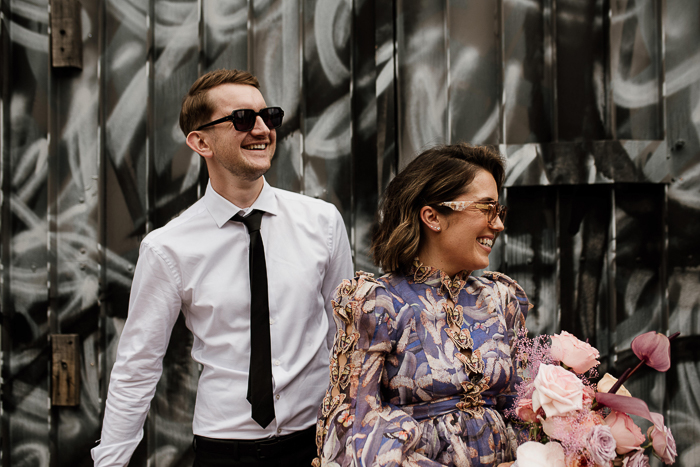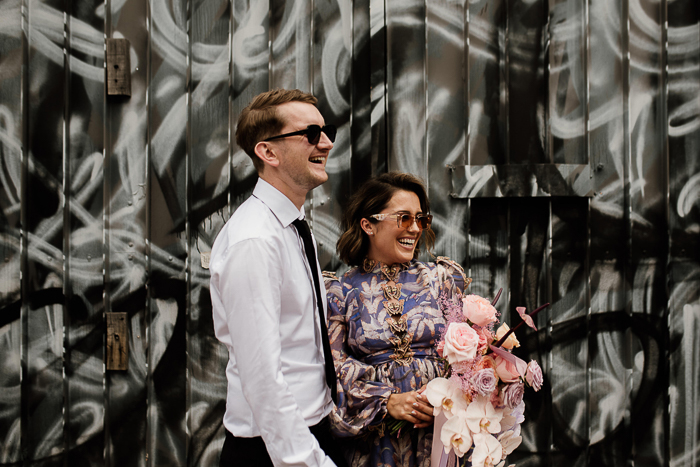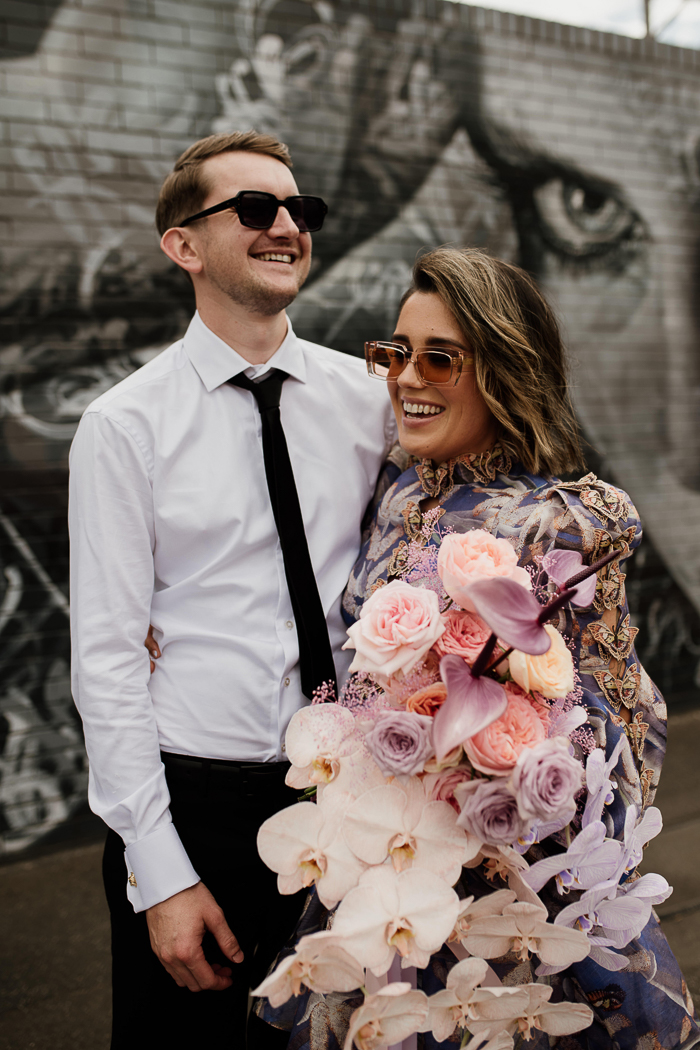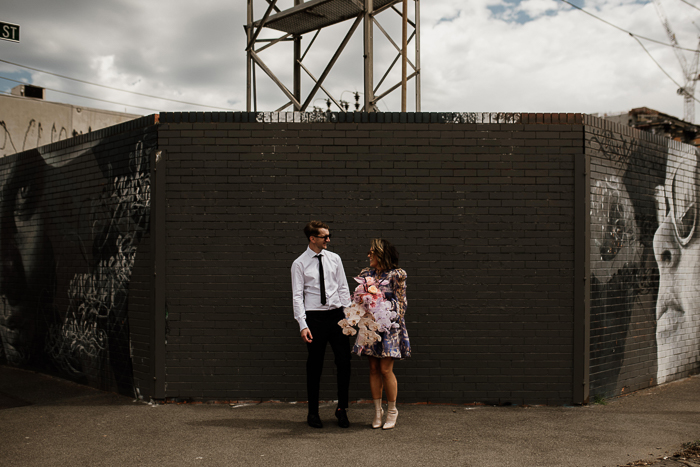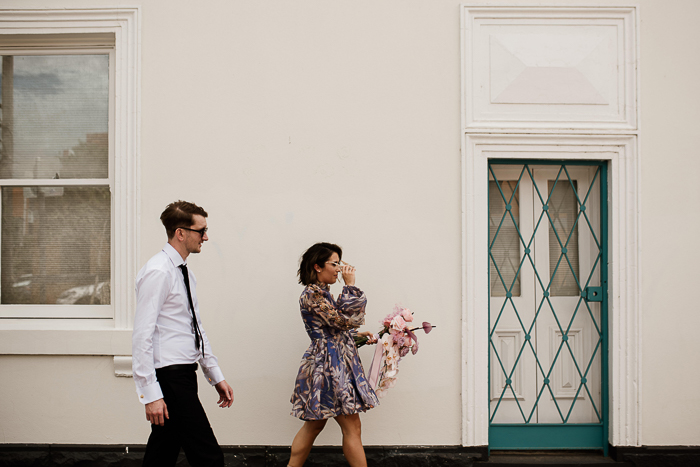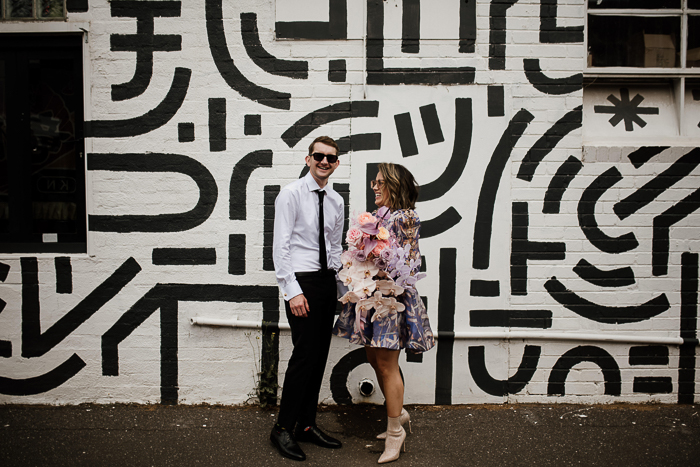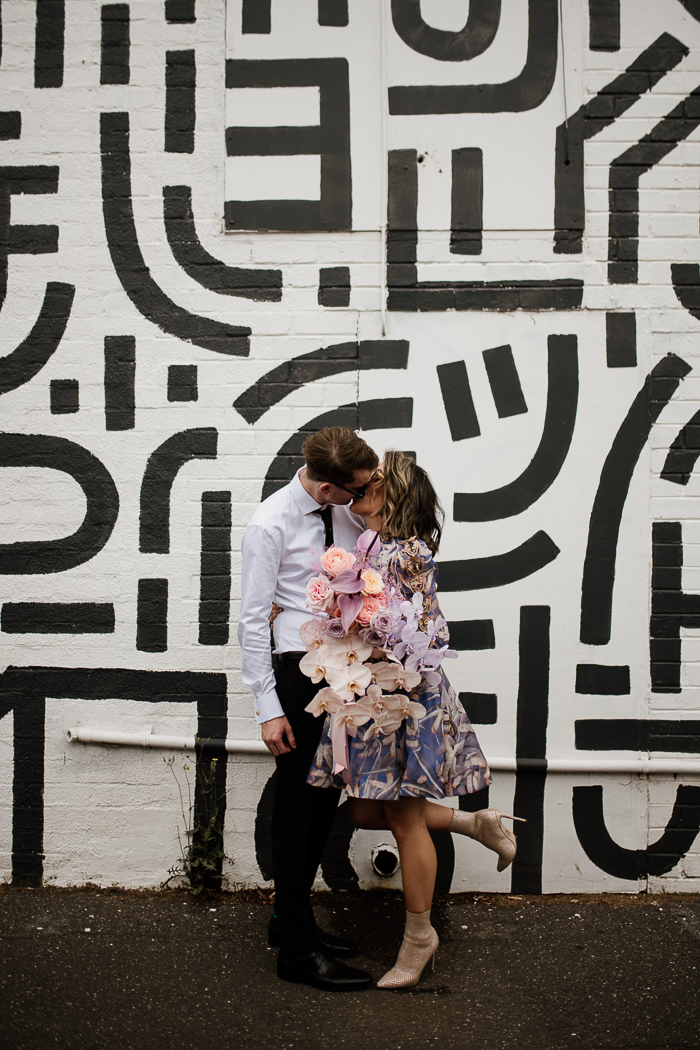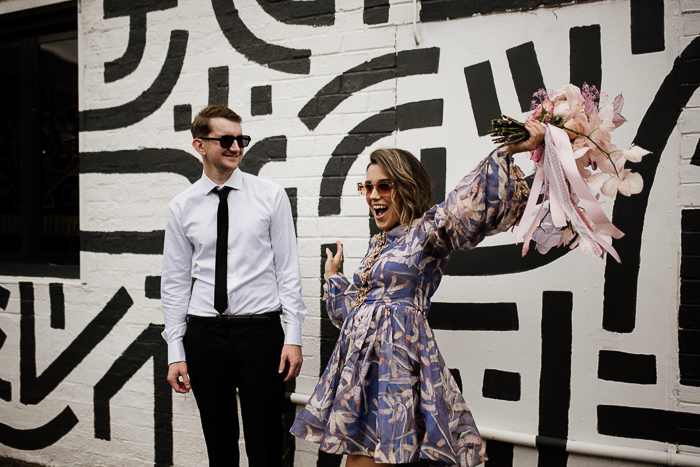 A Change Of Wedding Plans
After numerous postponements and a second baby on the way, we decided to regain control of the COVID wedding curse. Our wedding day was far from what we had originally planned. Eighty guests and a crisp white gown is quite the opposite to the 20 person party in Collingwood with a purple butterfly mini dress. But we're so happy we ended up with the latter. Because of travel restrictions, our family was unable to make it from New Zealand. As a result, we felt like we had total autonomy to break the mold and have fun. In all honesty, it was so nice to create a day that was built purely around our own personalities, without any external influence.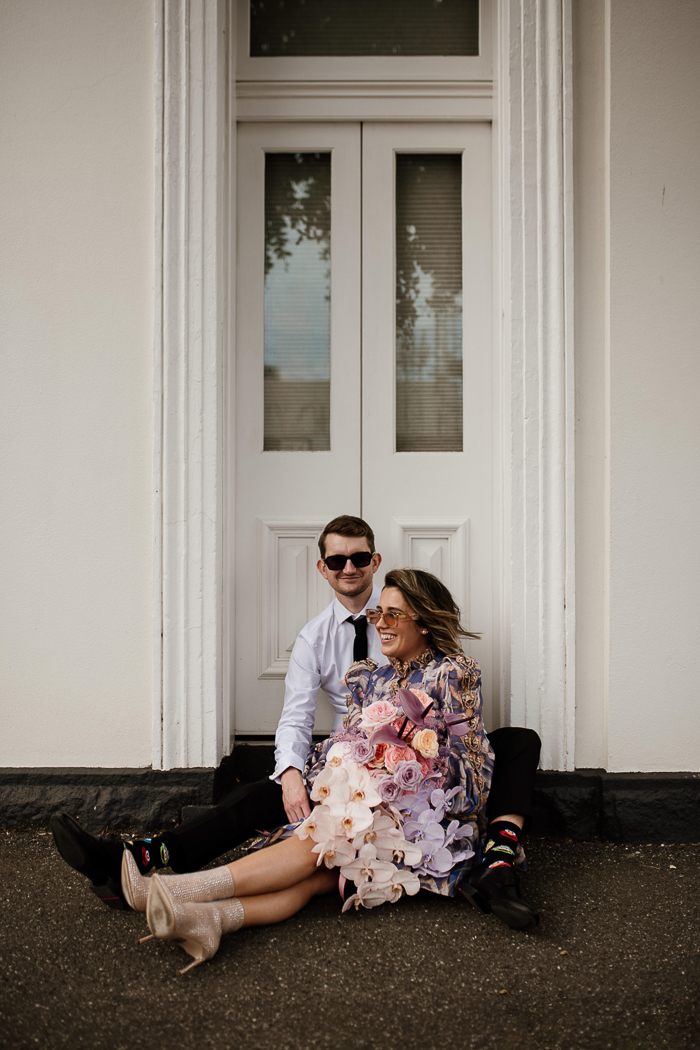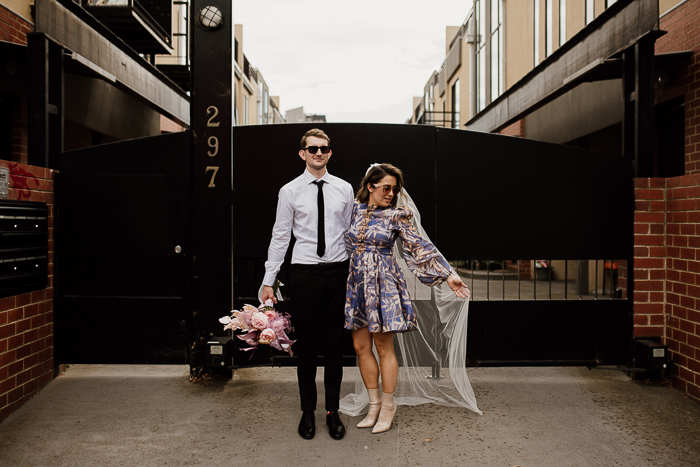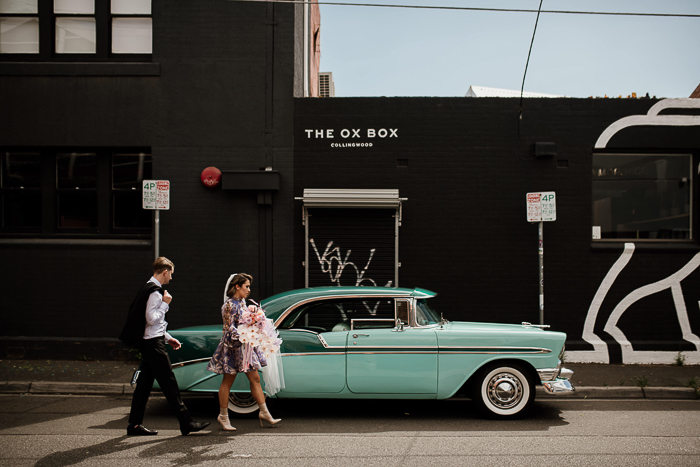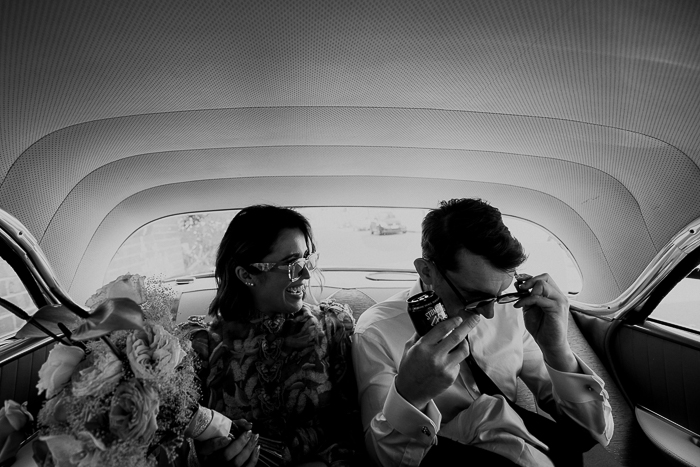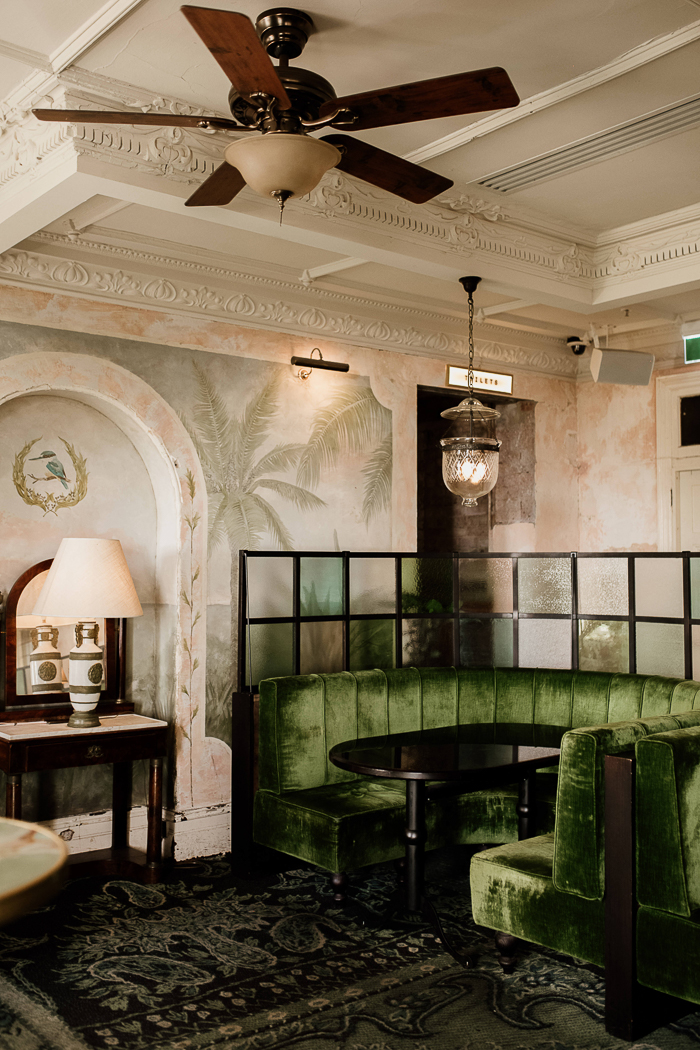 An Homage To Their Grandparents
Although our wedding was far from traditional, I am a sucker for tradition when the time and place are right. Having broken away from the mold of the conventional wedding, I was adamant about incorporating small essences of tradition. I believe it's what keeps us connected to who we are and where we come from. For as long as I can remember, I had always wanted a vintage bride and groom cake topper on my wedding cake. Both Logan and I are very fond of our grandparents, and I found comfort in knowing that we had a cake topper similar to what they had when they wed. The similarity made them feel as though they were there with us on the day, too.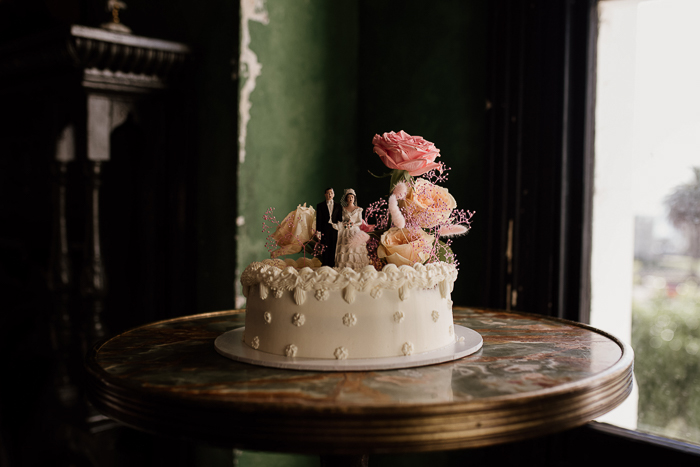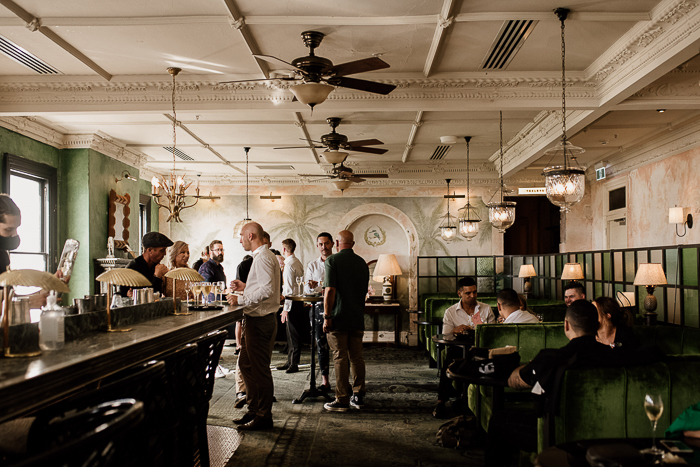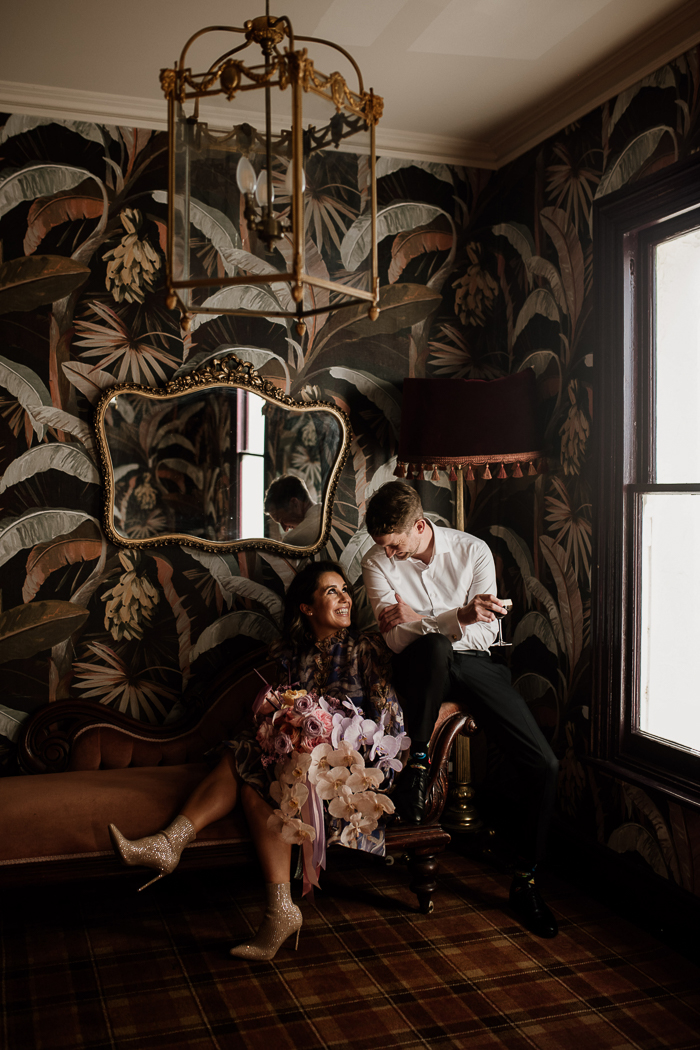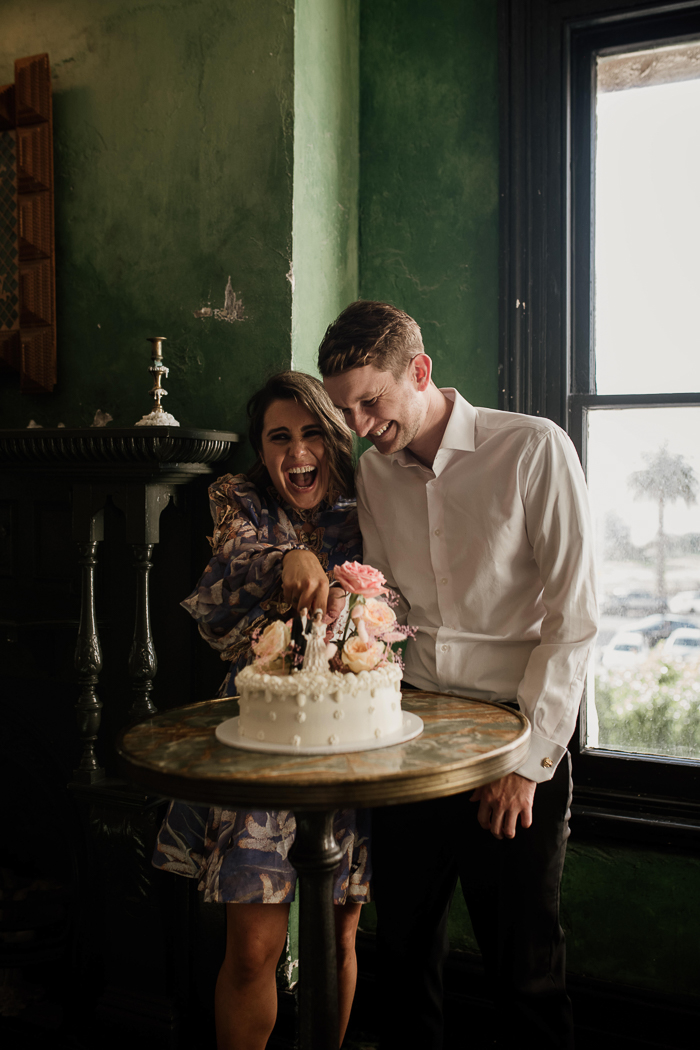 Congratulations again to Sophie and Logan on their Altar Electric micro wedding! Thank you to Tahnee Jade Photography for capturing their day and sharing it with Junebug. To plan your own creative micro wedding, check out these tips and get started today.