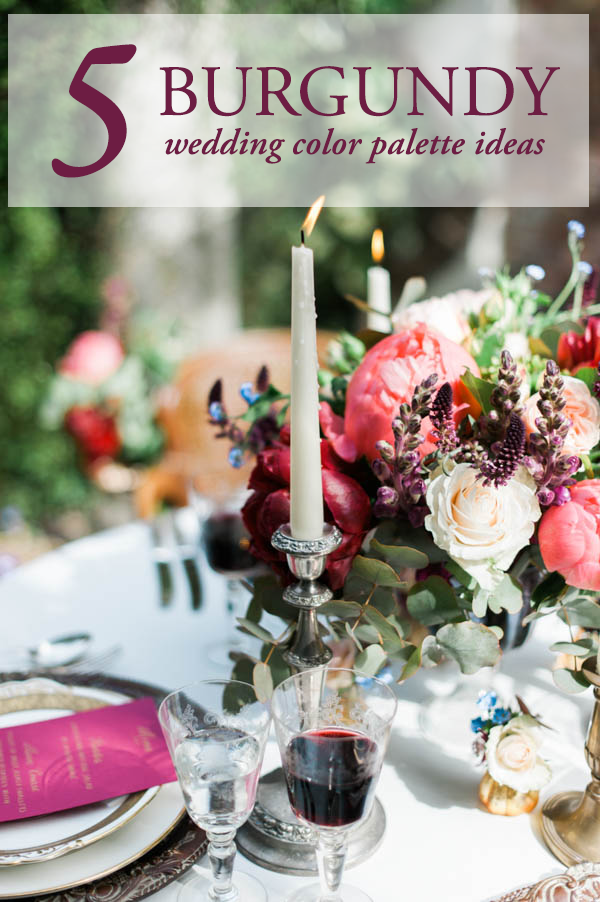 photo by Kate Nielen
If there's one wedding color we don't see going away anytime soon, it's burgundy. The berry-hued, wine-inspired jewel tone beautifully pairs with a wide range of colors while providing a rich context for any wedding palette. With variations of gold, blue, and delicious autumnal shades, these burgundy color palettes will have you rethinking your wedding colors!
Burgundy, Dusty Blue, Marigold, Pumpkin
Allow the spirit of the harvest to dictate your wedding colors with vibrant and warm hues like marigold and pumpkin. When juxtaposed with a cool shade of dusty blue, your beloved burgundy really pops!

photos by Marina Mauletkali Photography, wedding & floral design by Petals by the Shore; see more from this wedding here!
Burgundy, Aubergine, Muted Navy, Amber
If you've found yourself drawn towards moody color palettes throughout your wedding planning process, this one is for you! Burgundy, aubergine, and muted navy are the sweetest trio of berry-hues. When paired with vintage amber glass, your color palette achieves a gorgeous depth that is so aesthetically pleasing!

photos by Holly Kringer Photography, wedding & floral design by 3 of Cups, rentals by Birch and Brass, cake design by Cakes Rock; see more from this wedding here!
Burgundy, Dusty Gold, Ivory, Sage Green
If "romantic" and "natural" are guide words for your wedding design, look no further than this burgundy color palette complemented by dusty gold, ivory, and sage green. The Merlot-color steals the show when accompanied by a beautiful backdrop of almost-neutrals.

photos by O'Malley Photographers, floral design by Stacy Anderson Designs; see more from this wedding here!
Burgundy, Kelly Green, Gold, Black
This modern take on the burgundy color palette still surprises us every time! Striking kelly green leaves, petals as gold as they come, and black glassware make for a uniquely bold approach to your reception design.

photos by Lad and Lass Photography, wedding design by Wedding Concepts, floral design by Fleur le Cordeur, cake design by Roxanne Floquet; see more from this wedding here!
Burgundy, Rose, Crimson, Blush
While burgundy pairs effortlessly with competing colors, we can't help but love a semi-monochromatic approach! This combination of burgundy, rose, crimson, and blush is equal parts feminine and bold, as it commits to developing its color story from a single hue. Plus, how gorgeous is that rose-colored stationery!

photos by Kate Nielen, wedding design by Extraordinary Days, floral design by Blue Sky Flowers, cake design by Vanilla Orchid Bakery; see more from this wedding here!
Looking for more wedding color palette ideas? Get inspired by these moody wedding color palettes!