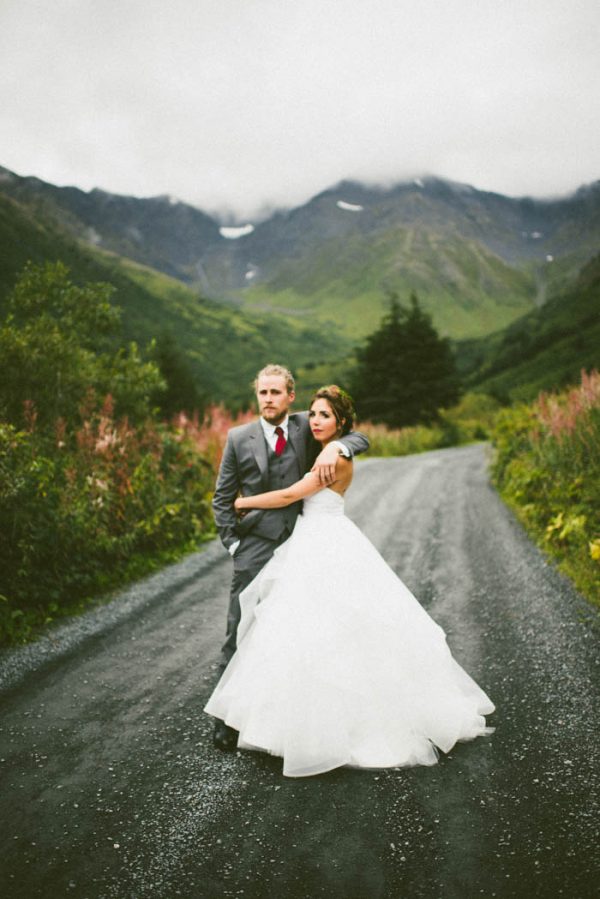 The only thing more wildly romantic than a winter wedding in Alaska is the pure, joyful love story Devon and Brian have written over the last 8 years. Surrounded by their closest family and friends, Devon and Brian said, "I Do," at the picturesque Raven Glacier Lodge, which they found by a lucky stroke of fortune (and a lot of Pinterest browsing, of course!). The couple wanted their guests to feel wrapped up in love, intimacy, and intention, which definitely showed in all of the personal touches and DIY details. Our favorites were the personalized antique bells the guests ran after the ceremony as Devon and Brian walked down the aisle. The bride looked lovely in a Hayley Paige ballgown, and we love that she and the bridesmaids donned handmade fur stoles to match the cozy, elegant winter vibe. Marcie and Shawn Photography captured this special day with such warmth and love; it's nearly impossible not to get swept away by the romance of it all!
The Couple:
Devon and Brian
The Wedding:
Raven Glacier Lodge, Girdwood, Alaska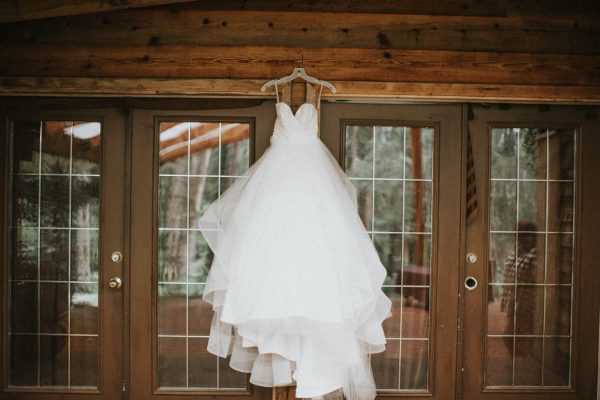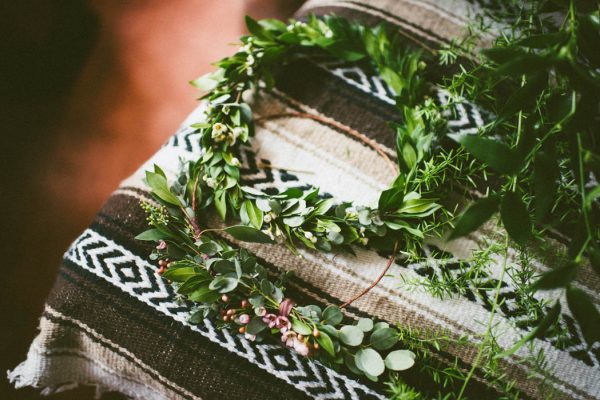 I wore Brian's flannel shirt — one that I used to steal from him in college — while I was getting ready the morning of the wedding. It was a really fun touch and felt like he was a part of every milestone I crossed that morning.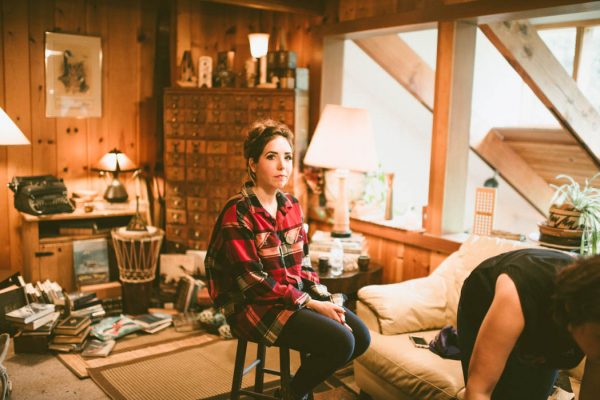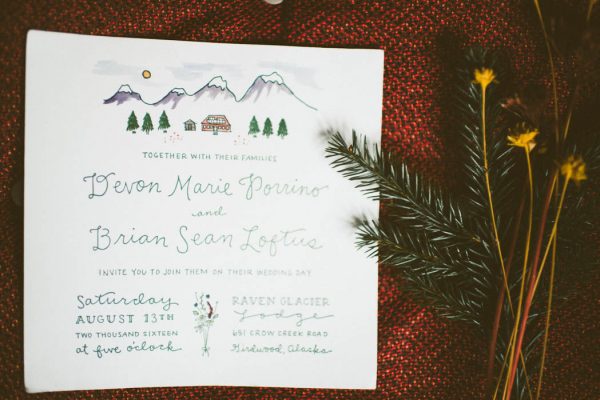 Instead of having sparklers or streamers, we had the guests ring bells when we walked up the aisle after the ceremony. We found these really beautiful, copper bells in California and decided we would personalize each one with a tag that had the guests name on it — that way they could use them going forward as a memento or Christmas ornament. The coolest part about that was the tag we used. We ended up finding an authentic Alaskan railroad ticket for the day of our wedding EXACTLY 100 years ago (8/13/1916). It was spooky in all the right ways!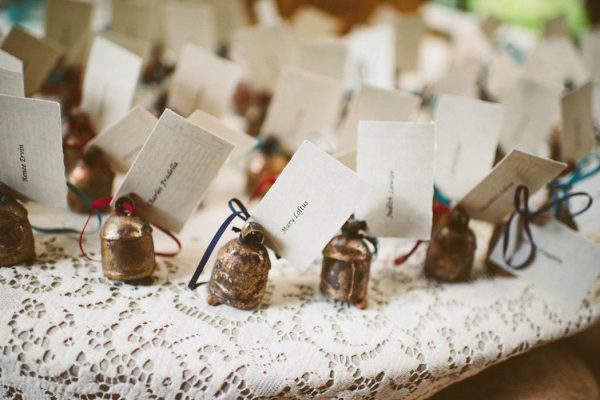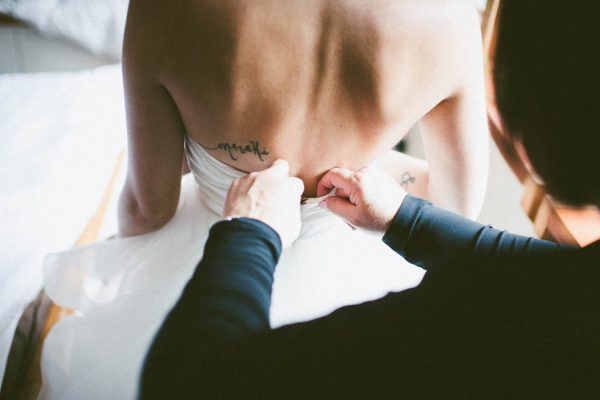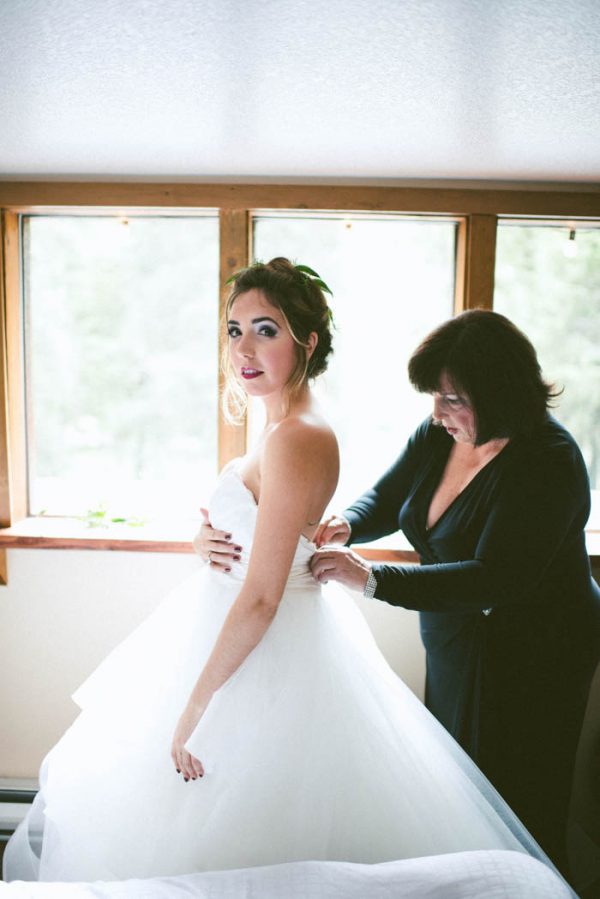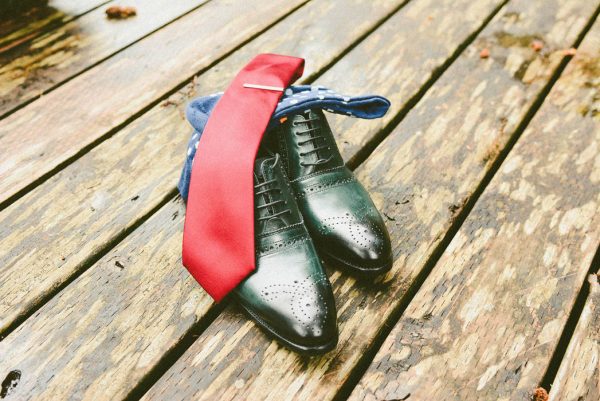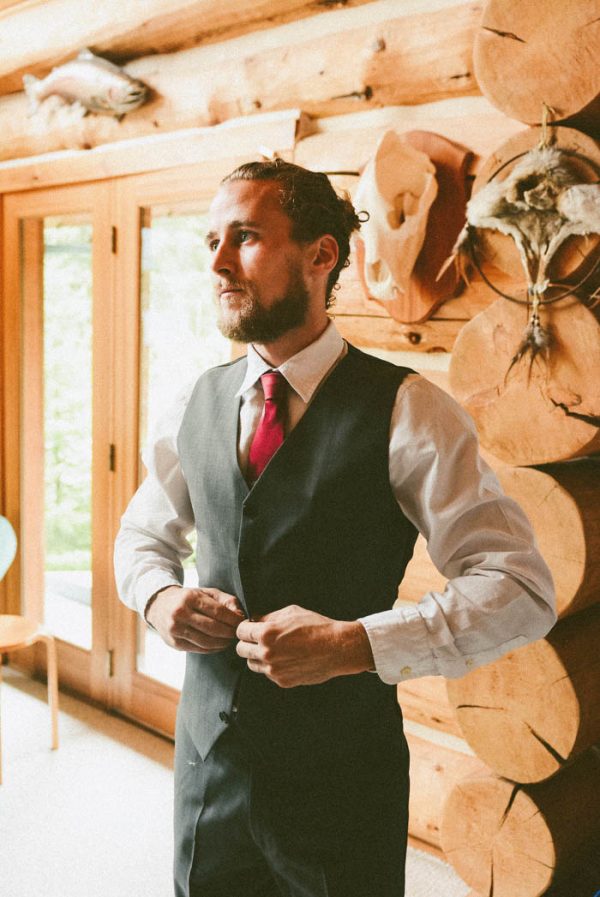 The way in which Brian and I chose our venue was quite serendipitous. Bri and I knew we wanted to get married in a magical place and nature always felt like it offered up magic to us. I had wanted to go to Alaska since I was a little girl and, on top of that, it was on my Grandma's bucket list. I knew this would be a way to get her and the rest of my family there. We knew we wanted something different, non-traditional, and off the beaten path. Finally, we found a photo on Pinterest of a gorgeous lodge covered in snow with lights in the windows and a sense of warmth emanating from every corner. We clicked through, but it took us to a photography website. We searched for an hour to find the image of the lodge, to figure out what town it was in, but we couldn't find it. Because we wanted a venue close to Anchorage, my mom called a B&B there (the owners, Rachel and Jake, quickly felt like family) and asked about the area. She also asked Rachel if she could recommend any venues and, Rachel quickly responded with, "Tell them to look up Raven Glacier Lodge". After hearing from my Mom, we opened up my laptop, googled Raven Glacier Lodge, and there it was — the image we had found on Pinterest months earlier. We had found our dream lodge, after all!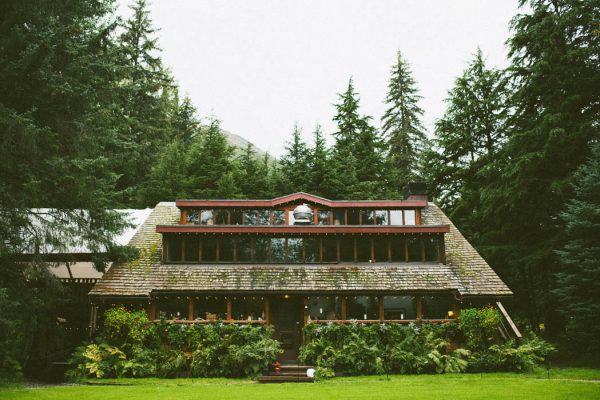 Bri's Aunt Jenny has always been a rock in our life and when we asked her to marry us, we knew it was going to be a ceremony unlike any other. One of my favorite things she did the morning of our wedding was cleanse the space around the venue with sage and good energy — something we value — reaffirming the love and joy that would take place there later that day. She brought that extra element of stability and mindfulness that Bri and I loved and needed.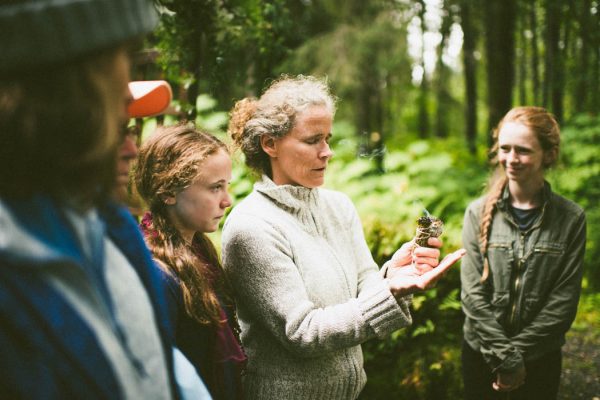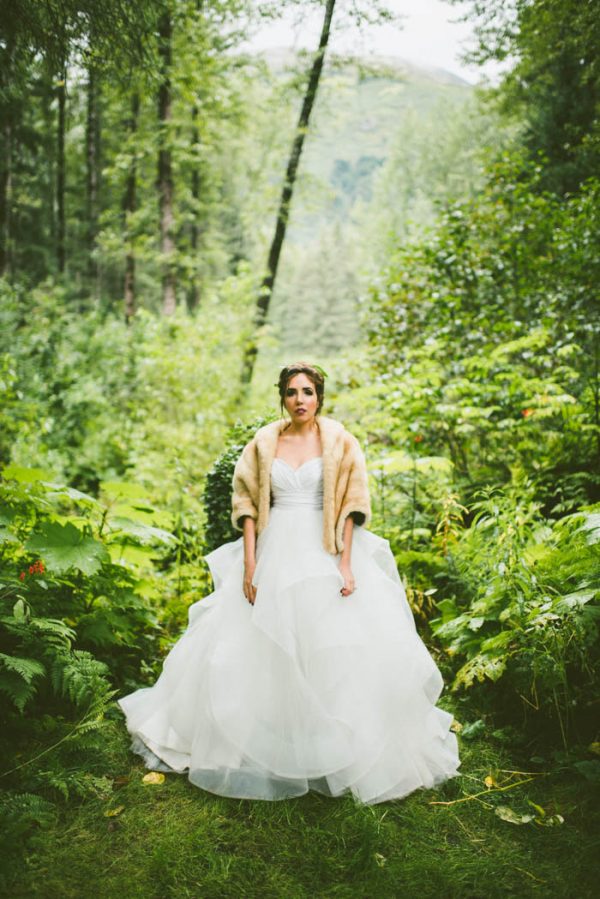 The most memorable part of the day was our first look. It wasn't until a few days before the wedding that we decided to meet at a spot that we found by accident when we first visited Alaska the year prior; a spot that quickly became one of our favorite spaces in the whole world and easily sealed the deal on having an Alaskan wedding. Not only were we able to get some of my favorite pictures from that day, but we surprised each other with gifts, and made it back with 5 minutes to spare! The excitement and nervousness I felt in my belly as we drove towards the gravel road we had marked as our own made me feel as though I was 17 again and I was driving to NY to see Brian for the first time outside of college. It was such a special moment and I am so happy we took the chance and made it work.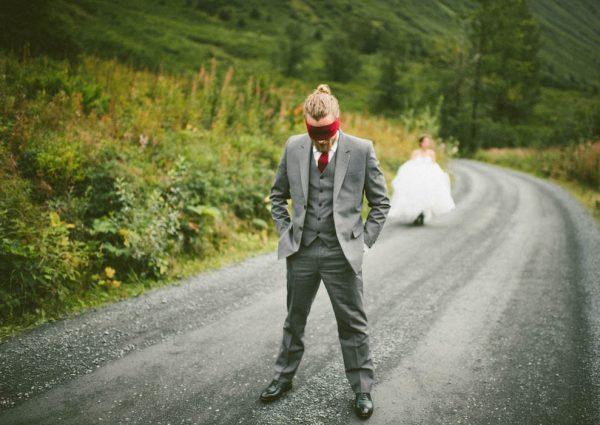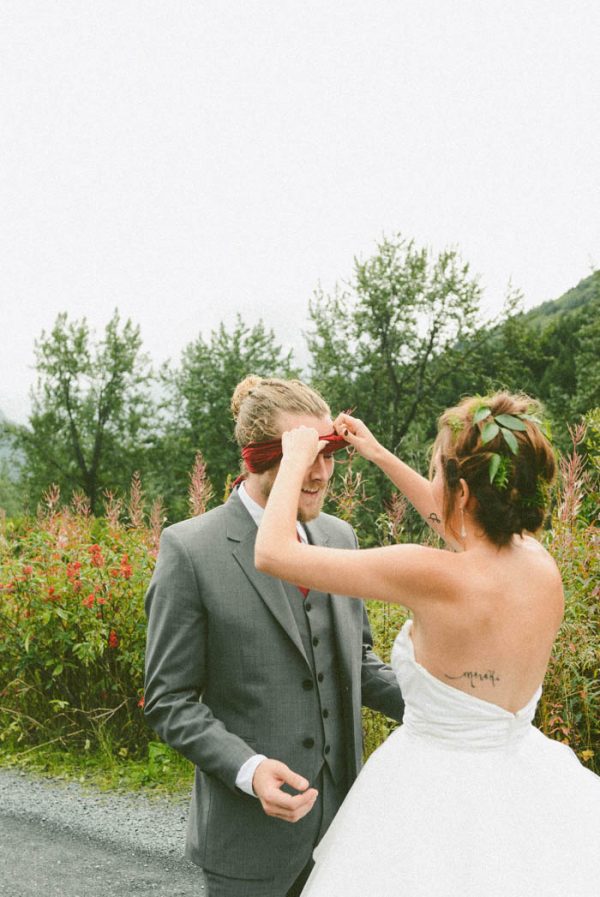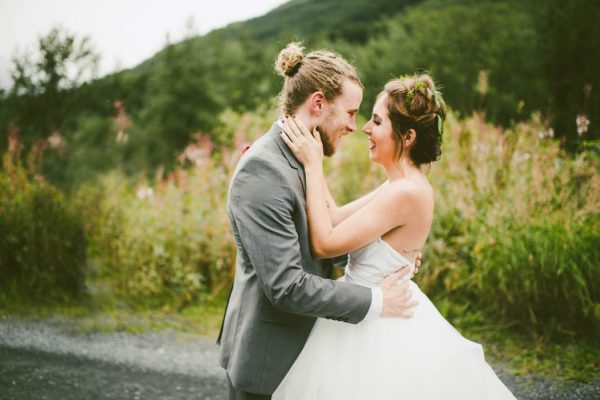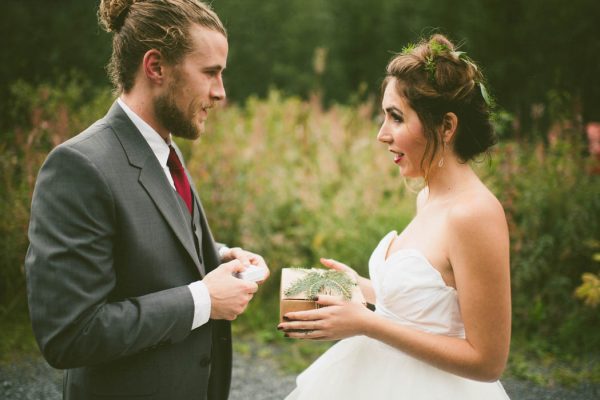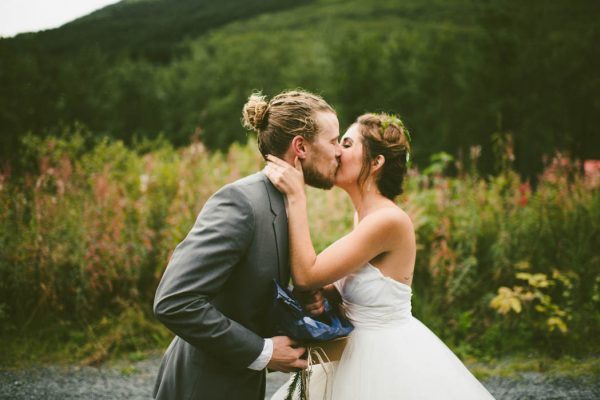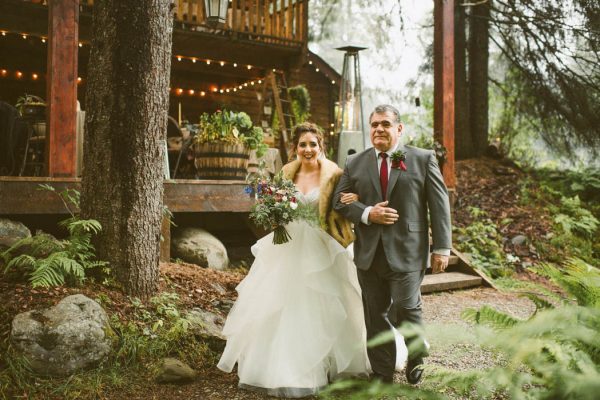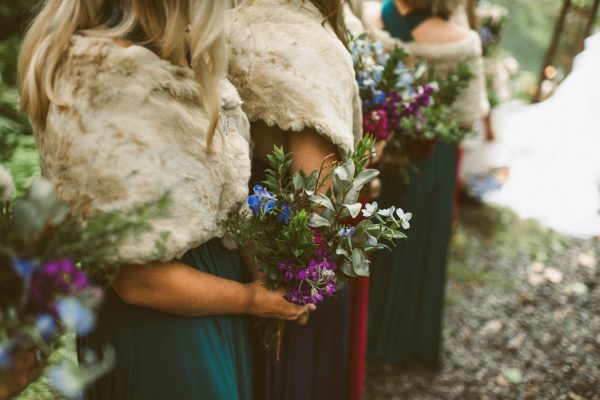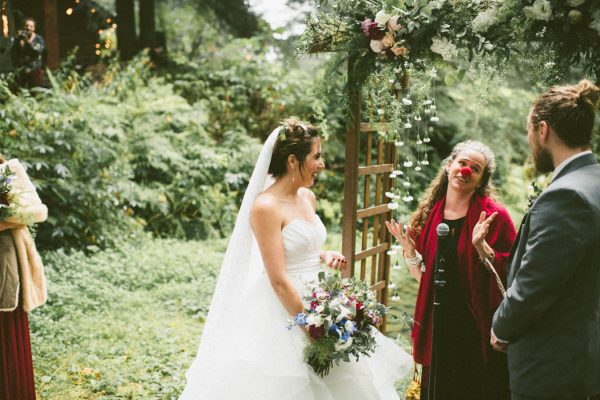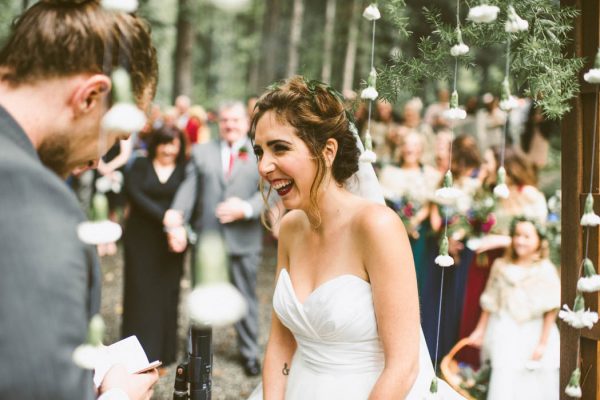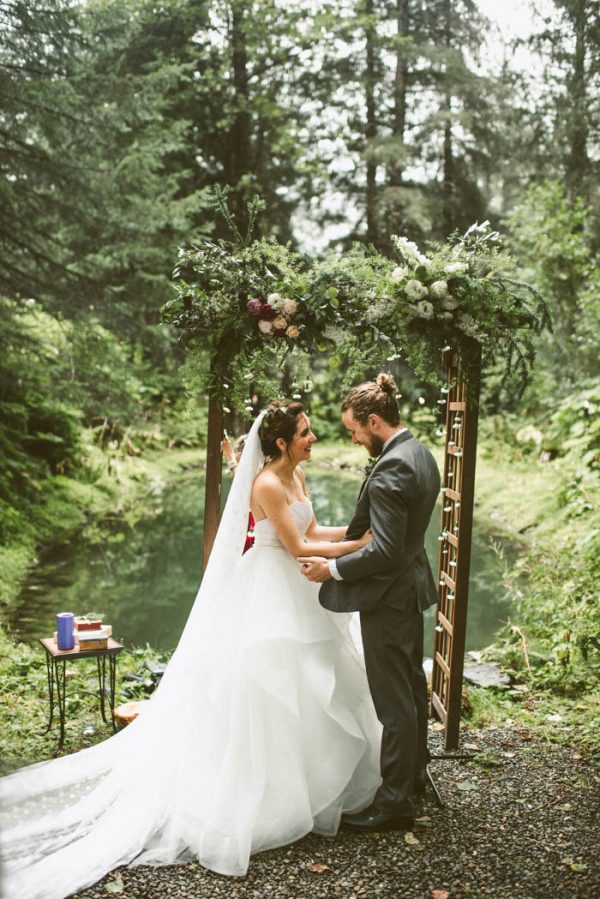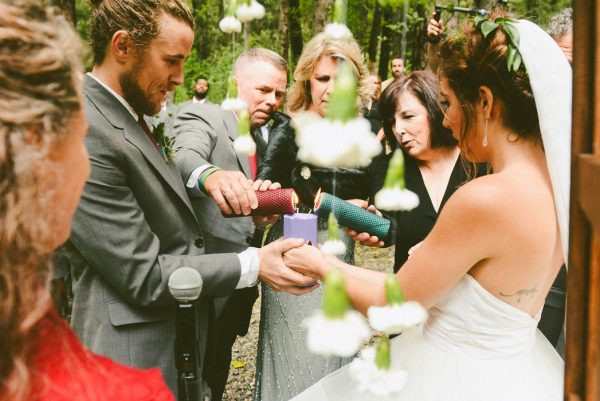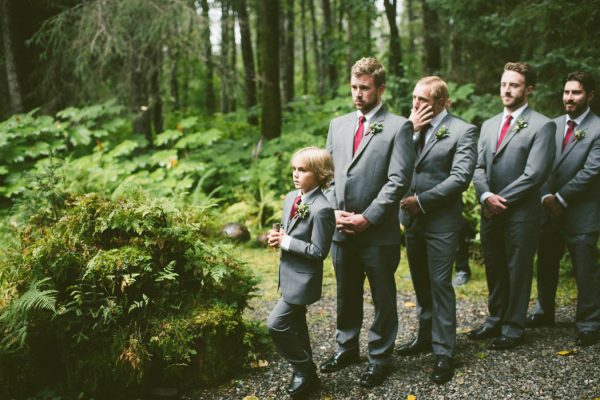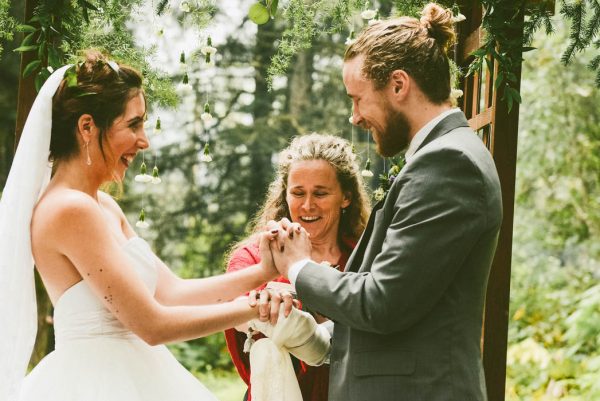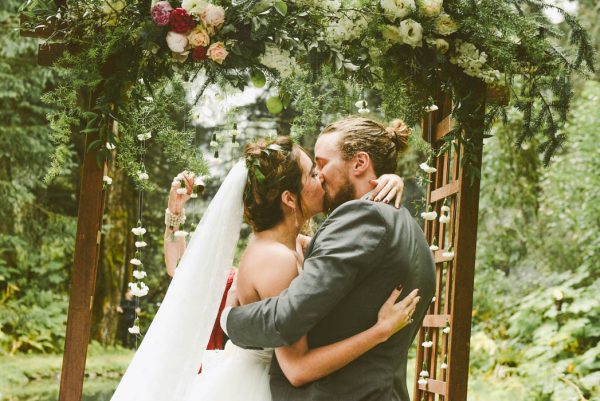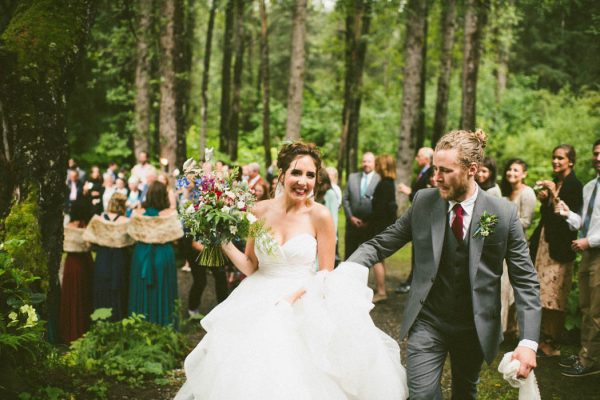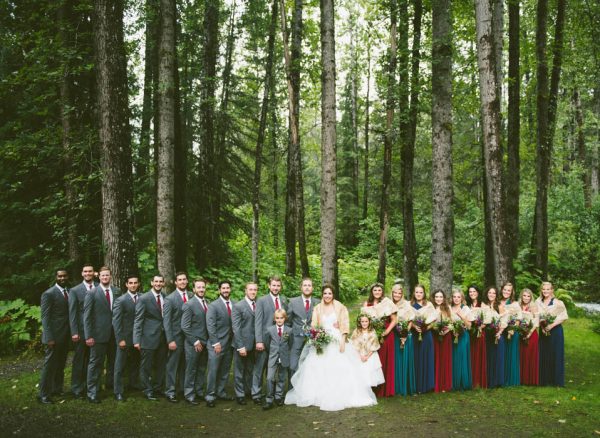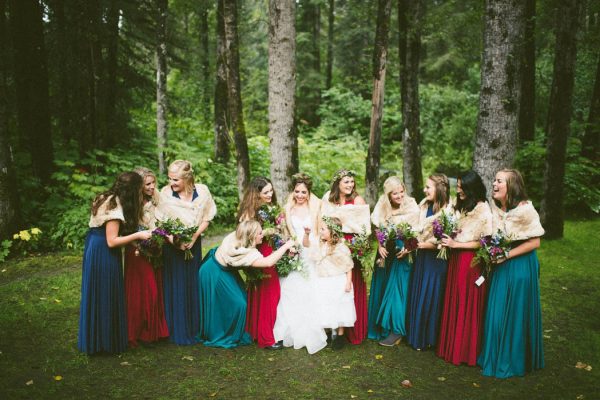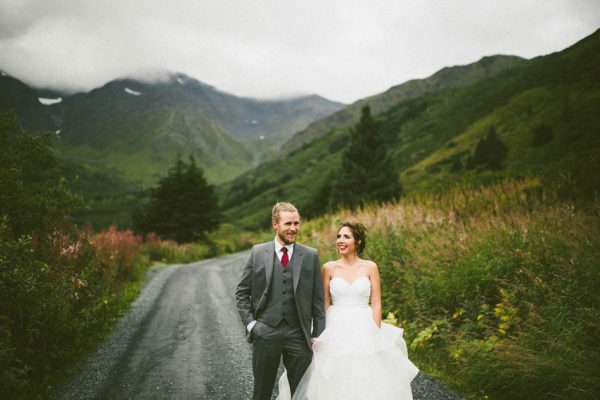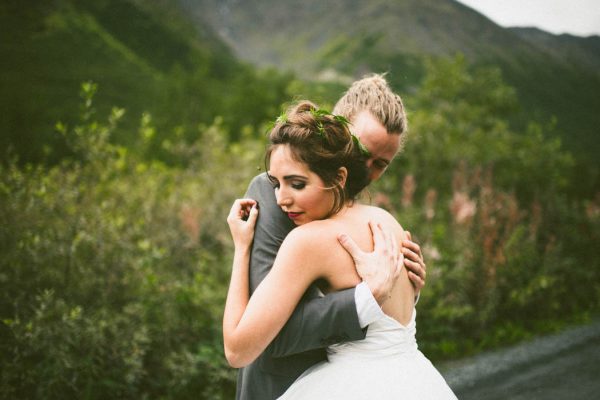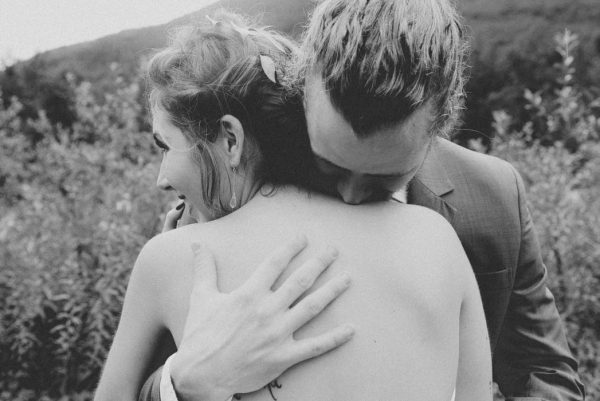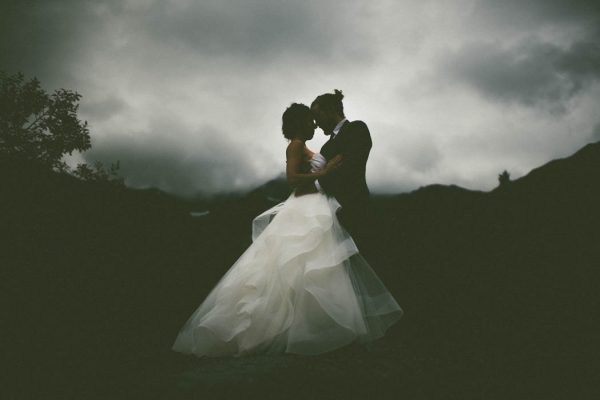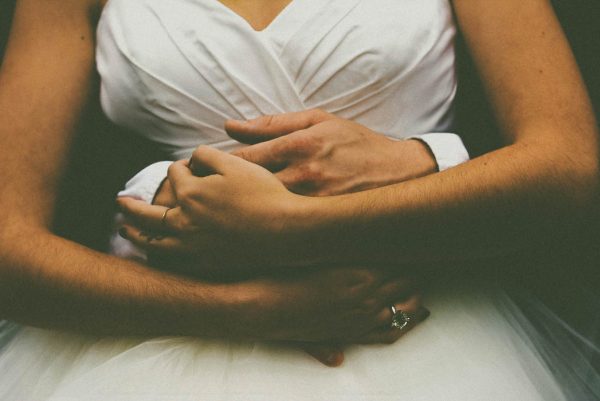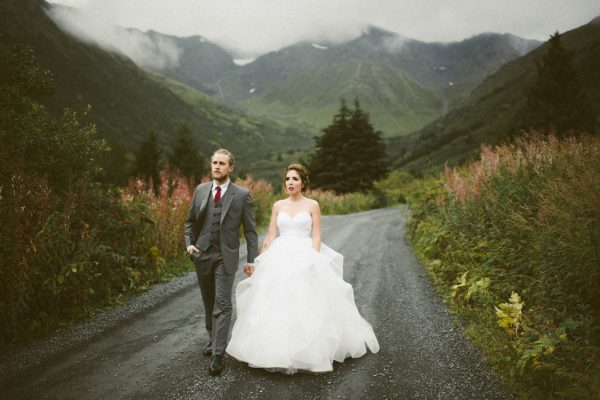 Bri's mom baked our amazing 3-tiered, lavender and chocolate olive oil naked cake!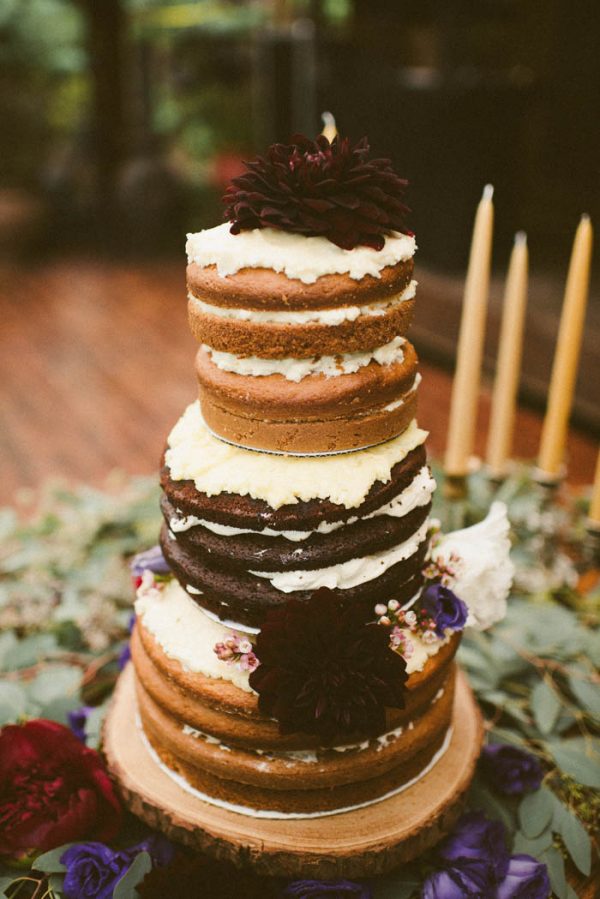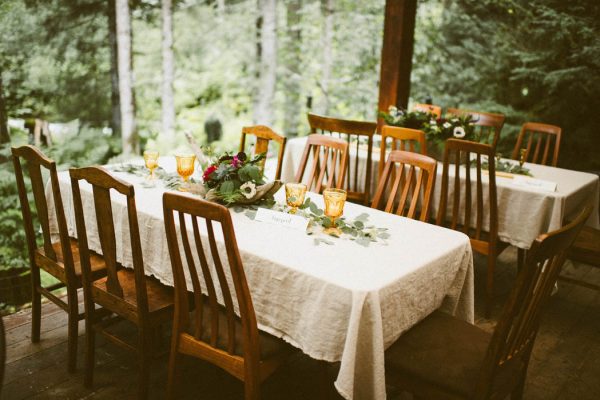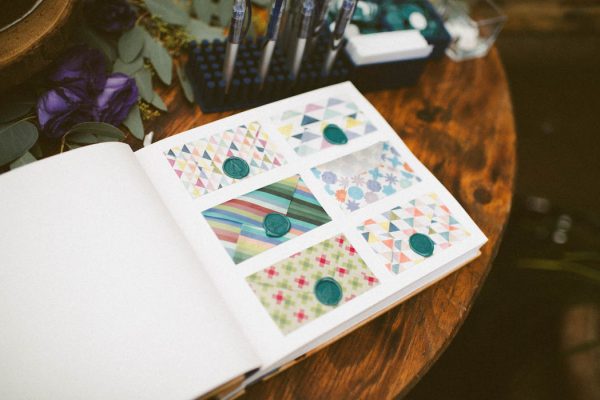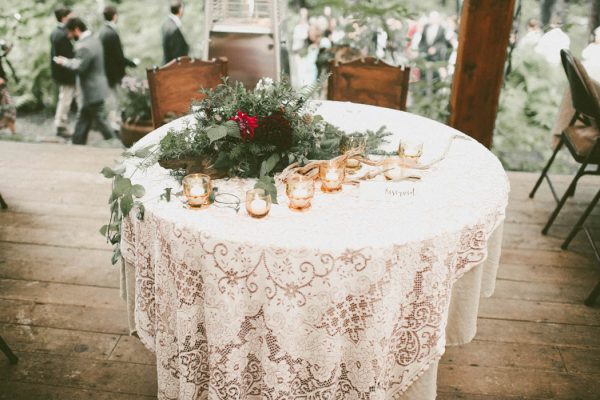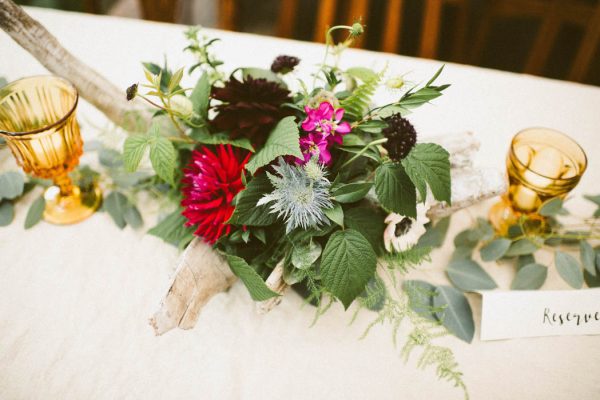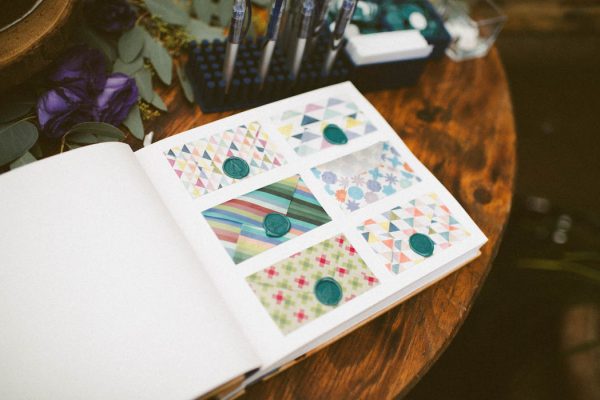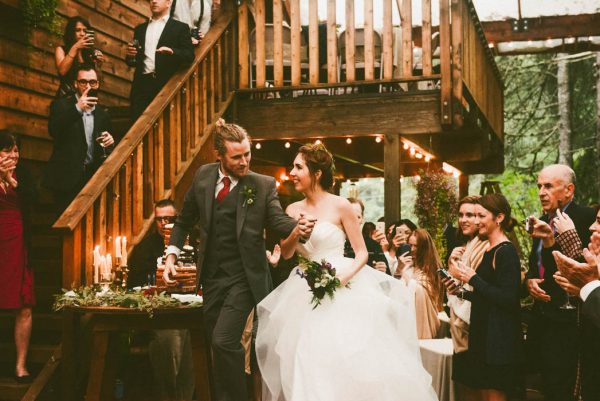 Processional – "What Is Life" by George Harrison
First Dance – "I Won't Give Up" by Jason Mraz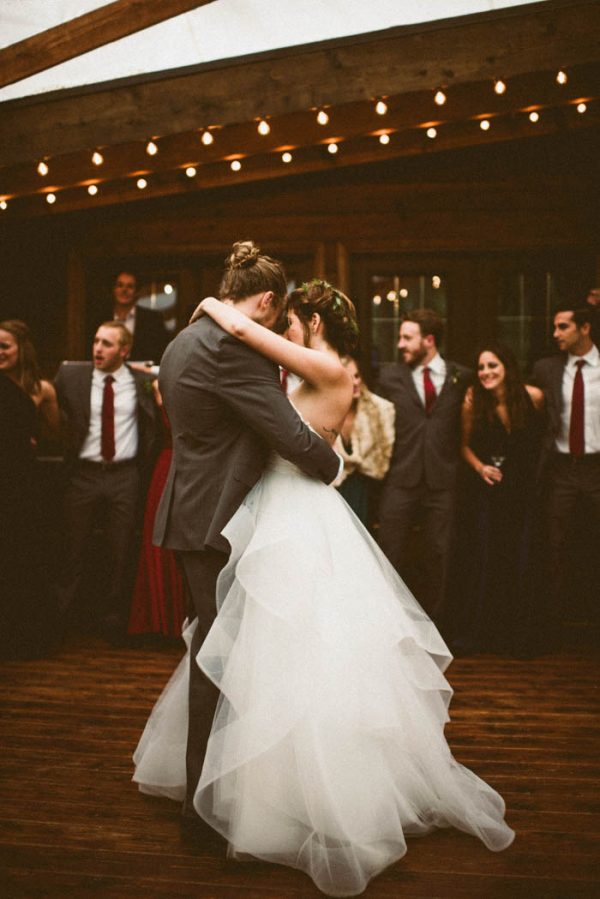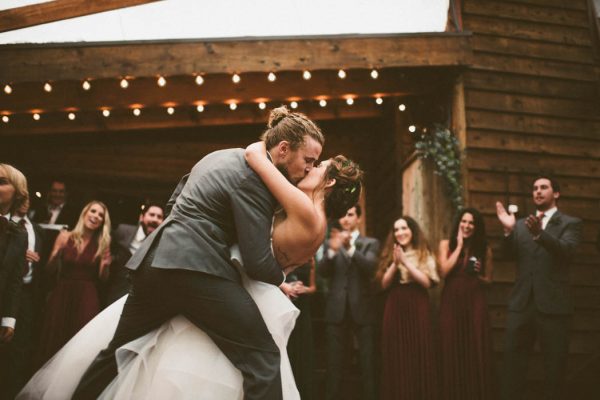 During the speeches, I was floored at how loved we were not only by the speakers, but by everyone listening. It was this overwhelming, surreal realization that this group of people know us on such a deep level — they know our flaws and our journeys and our dreams, and they love us unconditionally for all of it. At one point, my dad said something that rang so true, and hit so deep, I lost it. After his speech, I sat in the chair next to Bri and cried the happiest tears I have ever cried in my entire life while he held me and kissed my head. Marcie & Shawn captured that moment in a photo and every time I look at it, I can feel that unconditional love and the gratitude we have for our amazing friends and family.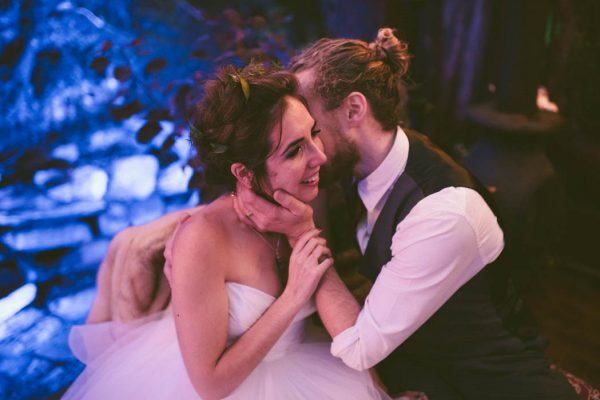 Congratulations to Devon and Brian, and a special thanks to Marcie and Shawn Photography for sharing this beautiful wedding with us! Looking for more winter wedding inspiration? Snuggle up and enjoy this winter wedding at Gunpowder Falls State Park!