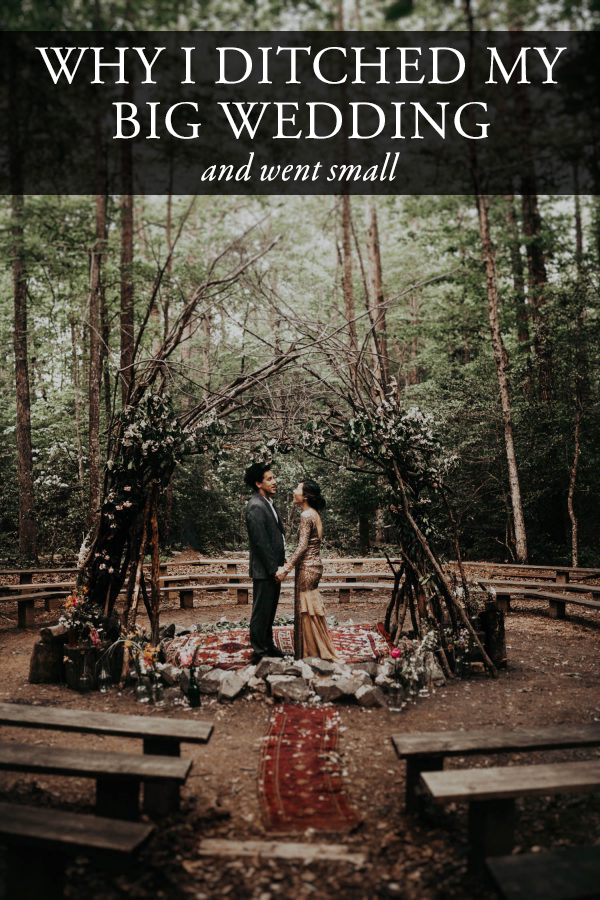 photo by India Earl
I have dreamed of a big wedding my whole life. When my fiancé Patrick and I first got engaged, our families agreed that a big wedding was the only way to go. Our personal networks are large enough for the huge, inclusive event we had always hoped for, and we couldn't imagine a better way to celebrate our marriage than with an endless sea of smiling faces toasting to our future.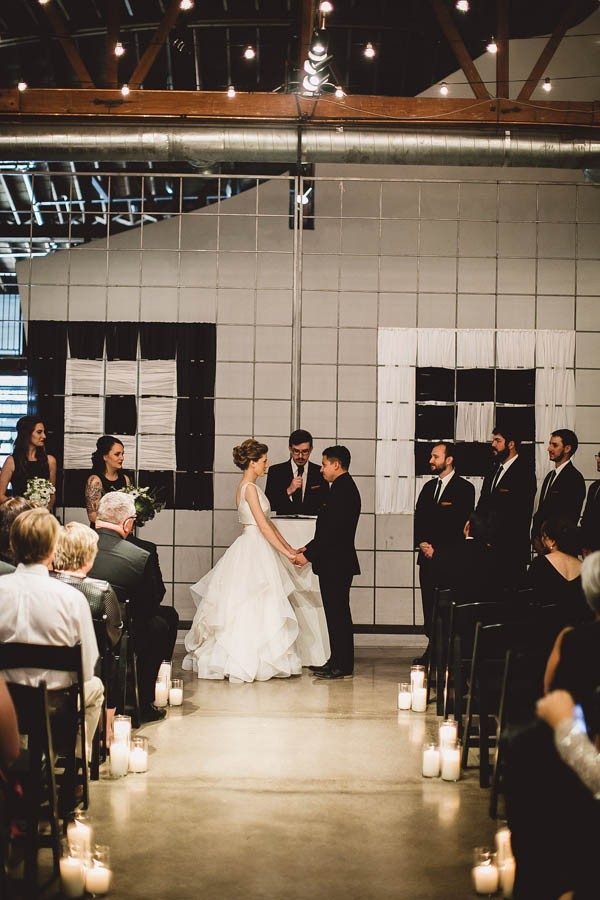 photo by Kym Ventola Photography
At first, planning a big wedding felt perfect. Patrick and I fell in love with a sprawling, modern venue in the Texas Hill Country that could perfectly accommodate our guest list of 230. We secured all of our vendors, created a day-of timeline, and started planning our DIY projects. I even bought my wedding dress and began to schedule fittings.
In the midst of creating timelines and discussing tablescapes, something started to feel off. I could feel it, my fiancé could feel it, and even our families felt it. Instead of brainstorming my vows, I was stressing out over the metallic finish of our 50 flower vases. Rather than smiling when I imagined my walk down the aisle, I frowned when I thought about the money we'd be spending on ceremony chair rentals. My heart began telling me a massive wedding wasn't right, but my brain didn't care. After all, the venue we fell in love with accommodated our guest list, and it seemed really important at the time to invite my fiancé's 4th grade math teacher.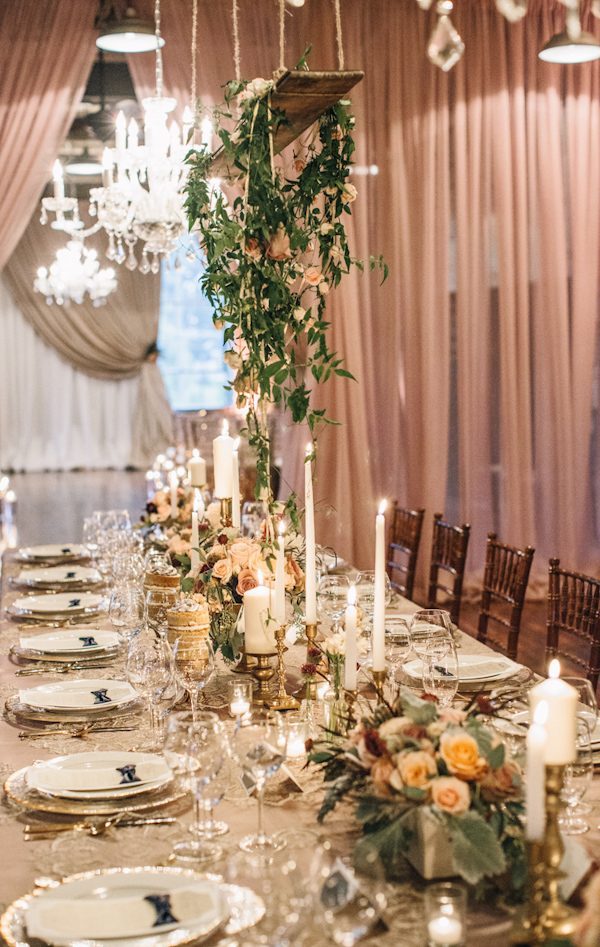 photo by Vue Photography
After weeks of feeling this way, Patrick and I started to regret committing to a big wedding. Everyone talks about how being newly engaged is one of the best times of your life, but the giant event was starting to affect our relationship. We found ourselves arguing about our wedding and we knew we weren't as connected as we should have been.
Somewhere along the way, Patrick and I lost touch with the most important detail of the wedding day: our marriage.
When there are personal and societal pressures on a couple to have a big wedding, the blinders go on and there's seemingly no other way to do it. Our relationship was undermined by the extraordinary effort that goes into executing a big wedding. It felt as though our wedding had ceased to belong to us and had begun to belong to our colossal guest list. Deep down, Patrick and I knew a smaller wedding was for us.
After many long and difficult conversations, Patrick and I decided to postpone our wedding. We called our vendors, negotiated deposit returns, and cancelled the whole event. The process was emotionally exhausting and our relationship was put to the test. Trying to gracefully explain our decision to postpone (but not cancel!) the wedding to each member of the guest list was a daunting task, but we managed it.
It took months for Patrick and me to truly heal from the experience, but once we did, we knew we had made the right decision. As much as we love our extra-large communities of friends and family, we want to be fully present with each other while still being able to engage with all of our guests on our wedding day. To us, this means we need to have a smaller wedding.
After postponing our wedding, Patrick and I needed time to digest our decision before we could jump into planning another wedding. After six months had elapsed, we agreed that it was time to dust off the wedding binder and revisit the idea. Right off the bat, we promised to be honest, open, and communicative every step of the way.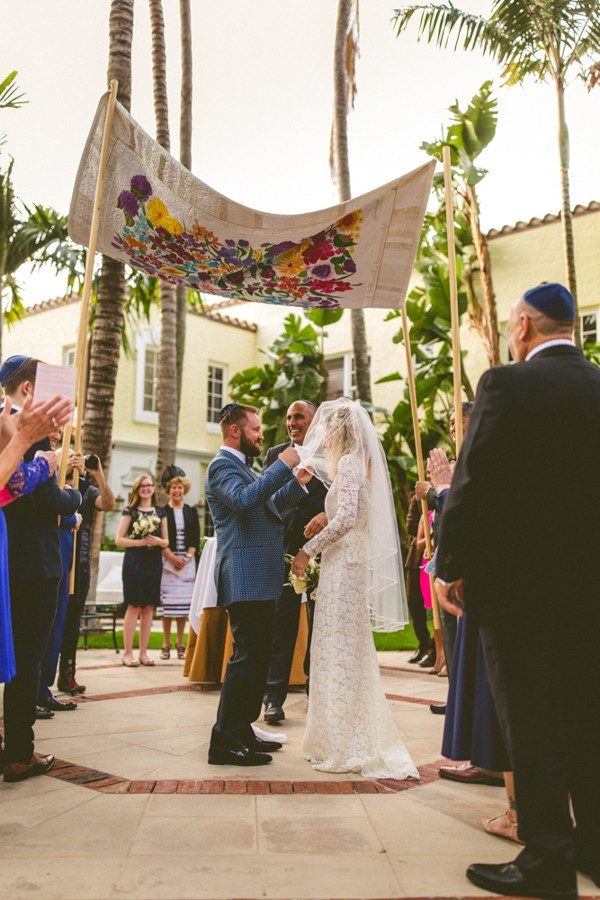 photo by Concept Photography
When Patrick and I started talking about our "second" wedding, the first line item to discuss was the size of our guest list. We had watched our sanities, our friendship, and our budget spiral out of control when our guest list was 230, and we weren't going to watch ourselves do it again.
Many brides and grooms offer the same piece of advice once their wedding has occurred: a wedding is about the celebration of a couple's union, and it's not about the angle of their cake topper, the way their napkins are folded, or whether your fiancé's 4th grade teacher is in attendance.
If you ignore the elephant in the room (or, in my case, the potential wedding guests in the room), you're compromising the integrity and beauty of what your wedding day should really embody. Throughout the wedding planning process, it's important to take a step back with your partner, breathe, and have frank conversations about what is truly important to you.
I'm happy to say that Patrick and I are enjoying every moment of planning our April 2017 wedding. We have grown stronger through the surprisingly difficult process of realizing our wedding day priority is our lifelong promise to each other. We cut our guest list to more than half of its original size, secured a charming French Victorian venue for the day, and simplified as much as we could about our wedding. We're still allowing ourselves to "go big" on the wedding details that really matter to us, but by cutting back on our guest list, Patrick and I are finally going to have the true wedding of our dreams.