With weddings in full force once again, there's a good chance that you've been invited to at least two (if not more) weddings in the next year. There's a lot to look forward to at weddings–the love, the food and drinks, the dancing. But before you can get to partying, you have to figure out what to wear. To save you the stress of going out and shopping only to be disappointed by the selection, we've rounded up wedding guest dresses for every kind of wedding. From beach to winery to rustic, there's something for everyone. And the best part? You don't even have to leave your house!
Beach Wedding Guest Dresses
Is there anything more beautiful than a beach wedding? The warm summer air, the waves crashing in the background, the sand between your toes. When it comes to beach wedding attire, think flowy fabrics and bold colors.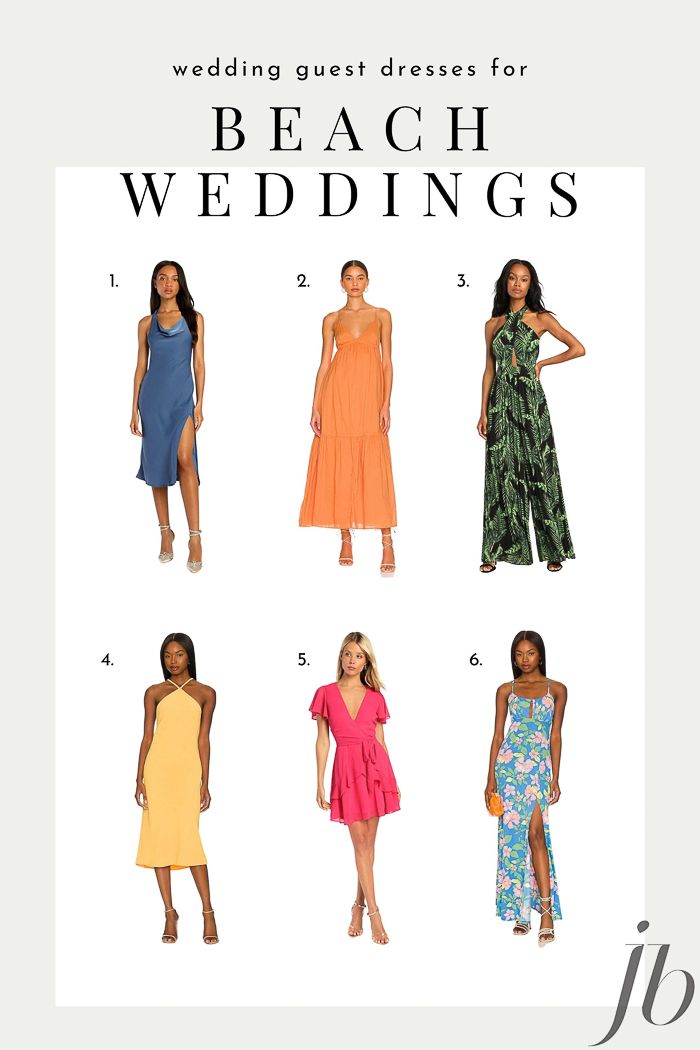 Night for Love Halter Cowl Neck Slip Midi Dress; 2. Faithfull Wilonna Midi Dress; 3. Tremendously Tropical Leaf Print Halter Jumpsuit; 4. Amanda Uprichard Melonie Dress; 5. Sweet Like You Ruffled Mini Dress; 6. Maaji Zandra Maxi Dress
Formal Wedding Guest Dresses
There's nothing like getting dressed up and attending a formal wedding. It will have you feeling like you're attending a gala. We recommend floor-length dresses in dark, neutral color palettes for a sleek, timeless look.

AW Furst Dress; 2. Norma Kamali x REVOLVE V-Neck Rectangle Gown; 3. Last Forever One-Shoulder Ruffle Maxi Dress; 4. Norma Kamali Halter Turtle Side Slit Gown; 5. Romance Me Satin Off-the-Shoulder Maxi Dress; 6. Norma Kamali Cayla Side Drape Gown
Garden Wedding Guest Dresses
Gardens mean all things floral, why not tie that into your wedding guest look? Pastels are also another great option as well.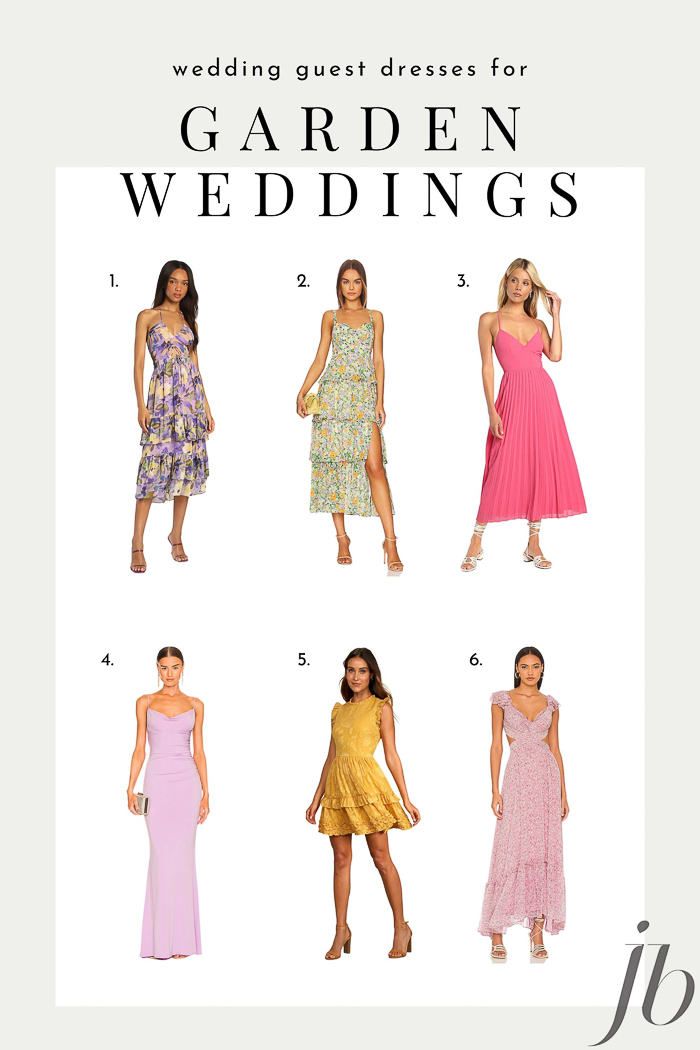 Vividly Vibing Floral Tiered Cutout Halter Midi Dress; 2. ASTR the Label Midsummer Dress; 3. Perfectly Passionate Pleated Sleeveless Midi Dress; 4. Katie May Surreal Gown; 5. True as Can Be Burnout Floral Ruffled Mini Dress; 6. ASTR the Label Primrose Dress
Rustic Wedding Guest Dresses
Rustic weddings typically involve beautiful scenery and earthy touches, which is why incorporating these elements into your fashion is ideal. We're big fans of earthy hues, textured fabrics, and patterns like paisley or gingham. Bonus points if the dress looks cute with a pair of boots.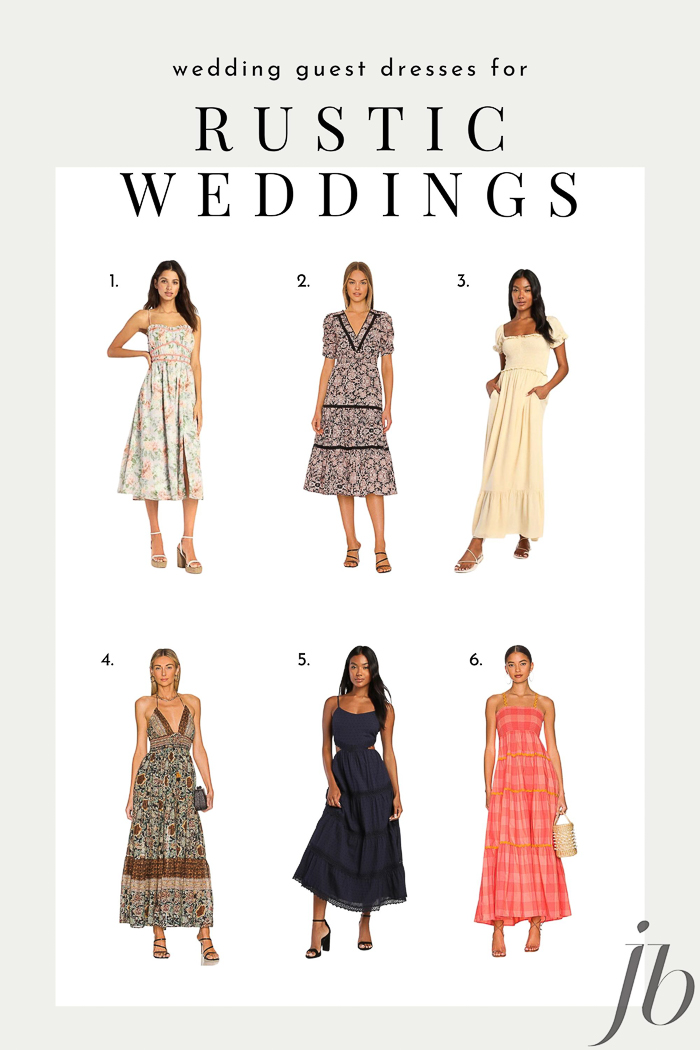 Dear to You Floral Print Backless Lace-Up Midi Dress; 2. BB Dakota by Steve Madden Boho Next Door Dress; 3. Always So Sweet Smocked Puff Sleeve Maxi Dress; 4. Free People Real Love Maxi; 5. Sweeten the Occasion Lace Short Sleeve Maxi Dress; 6. Sundress Vanina Dress
Winery Wedding Guest Dresses
The dress code for winery weddings typically varies depending on the couple. If no dress code has been specified by the soon-to-be newlyweds, opt for something that is the perfect combination of dressy and casual.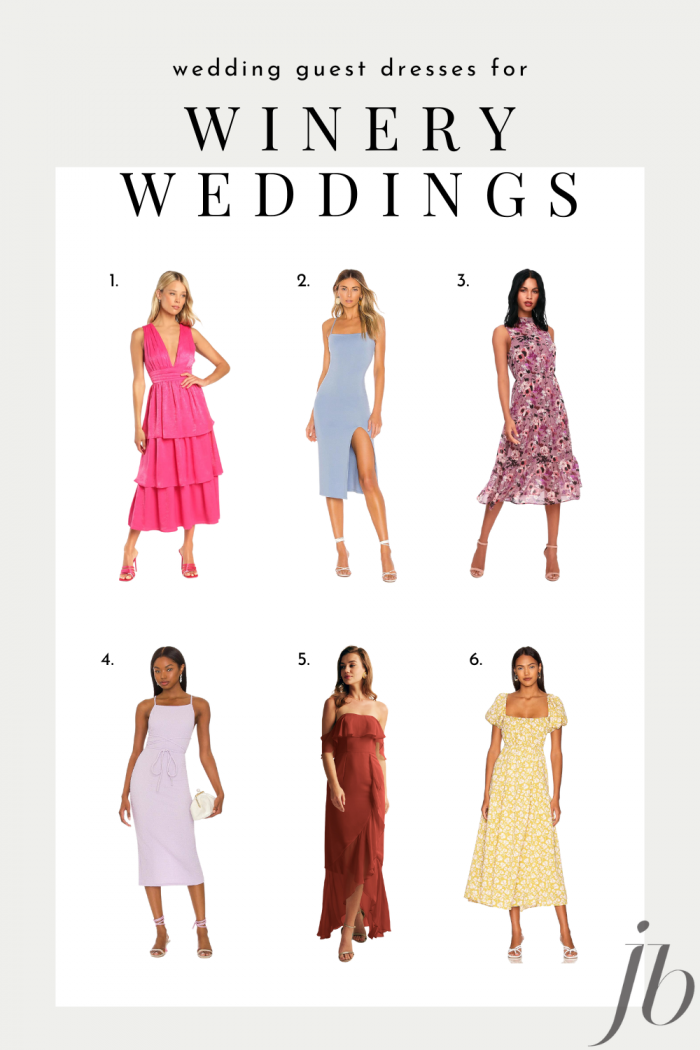 Peak Party Vibe Satin Tiered Tie-Back Midi Dress; 2. Lovers and Friends Skylar Midi Dress; 3. In My Dreams Floral Print Midi Dress; 4. Lovers and Friends Gathers of Love Midi Dress; 5. AW Nana Dress; 6. ASTR the Label Bubble Tier Maxi Dress
Urban Wedding Guest Dresses
When we think of urban weddings–such as rooftops or historic industrial venues–we think of cocktail dresses. These are very similar to those that you'd wear for a formal wedding with shorter hemlines.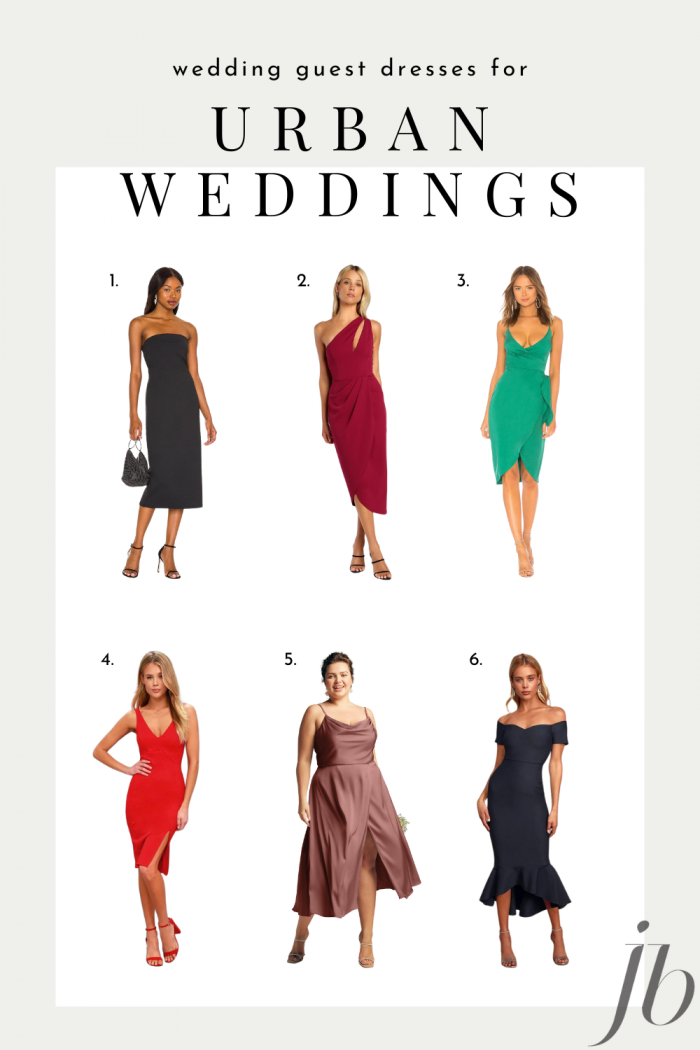 525 Midi Tube Dress; 2. So Flirty Dark One-Shoulder Cutout Asymmetrical Dress; 3. Lovers and Friends Orchid Dress; 4. Iconic Moment Bodycon Midi Dress; 5. AW Renee Dress; 6. How Much I Care Off-the-Shoulder Midi Dress
If you prefer to shop by season, you're in luck. We've rounded up our favorite wedding guest dresses by season here!