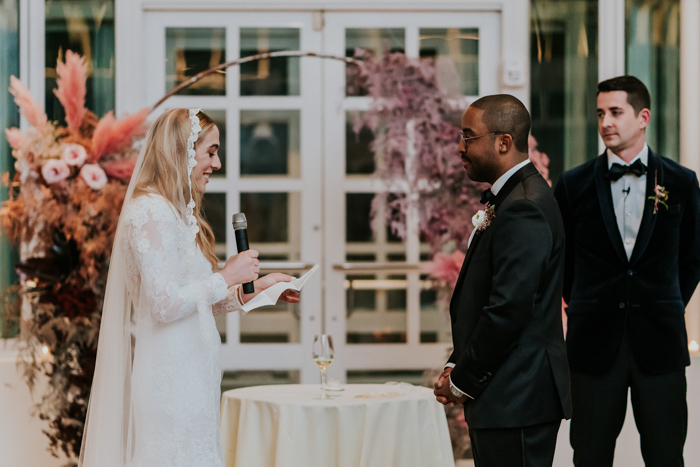 Catherine and Tyler wanted a winter wedding—as they beautifully put it, "there's something romantic and warm about filling a space with candles, music, food, and loved ones surrounded by snow"—so when they visited the Palm House at Brooklyn Botanic Gardens, their dream started to fall into place. We're totally heart-eyes over ever magnificent little detail Blossom Events NYC helped this couple create for their day. From the whimsical floral arch by Aurora Botanica to Catherine's absolutely jaw-dropping bridal look, we are smitten by all the thoughtful decisions that made this day a true delight. We can't wait for you to swoon over every gorgeous photograph Elvira Kalviste Photography captured of this sweet couple's Brooklyn Botanic Gardens wedding!
The Couple:
Catherine & Tyler
The Wedding:
Palm House at Brooklyn Botanic Gardens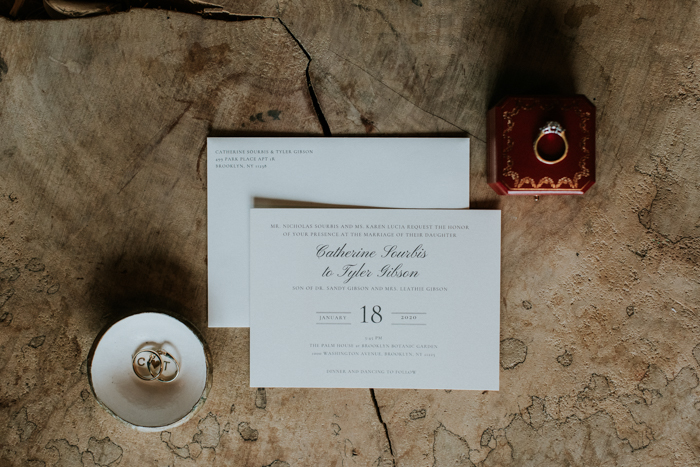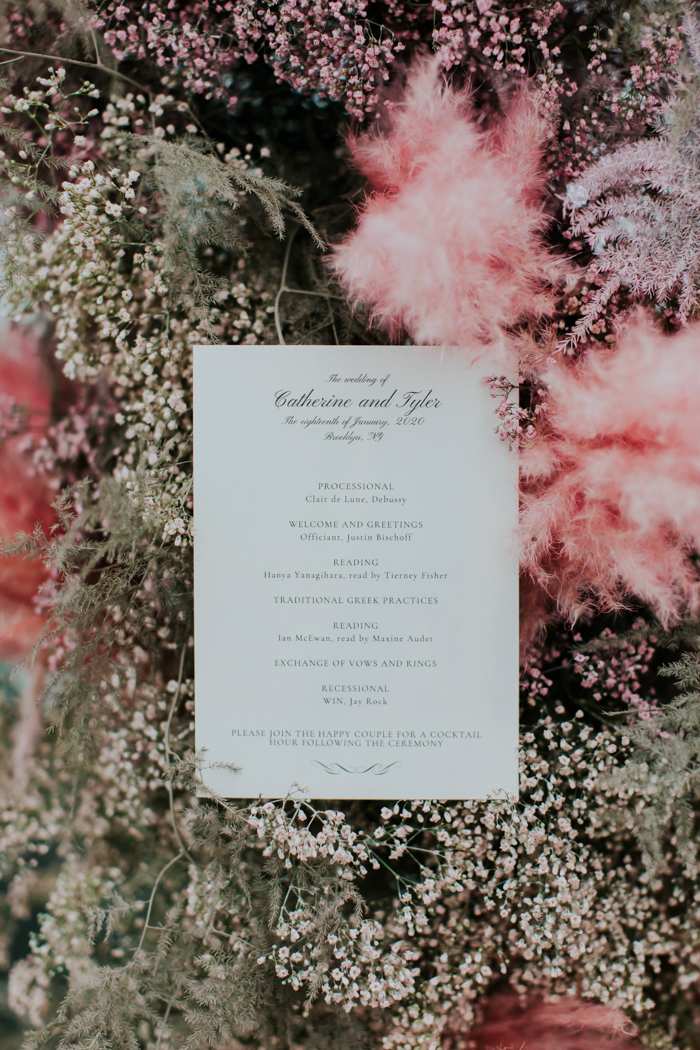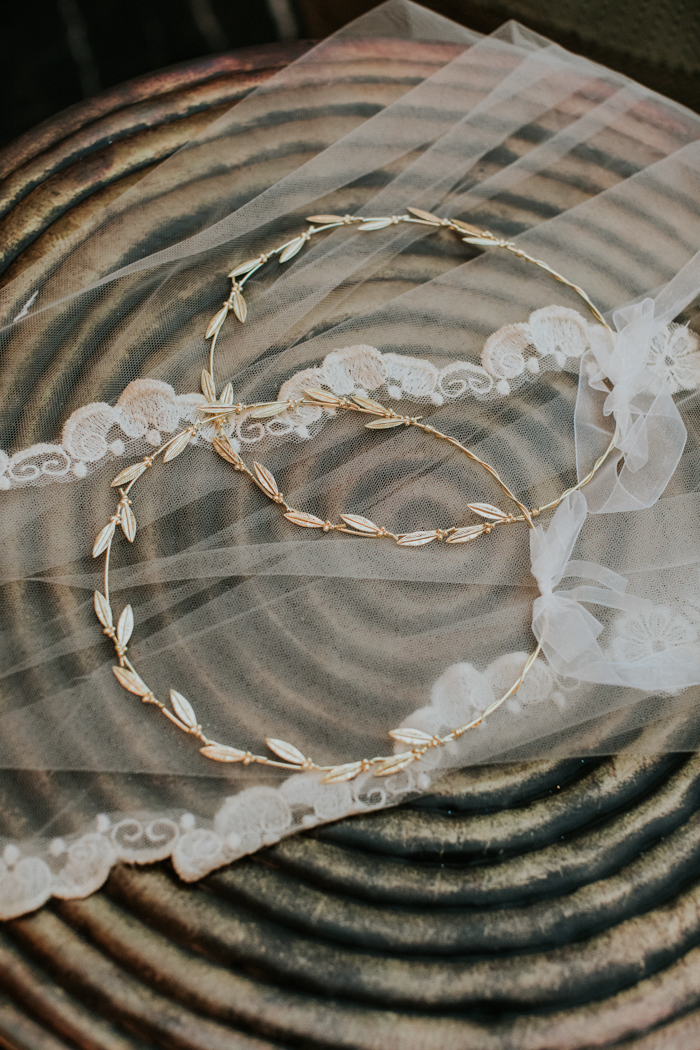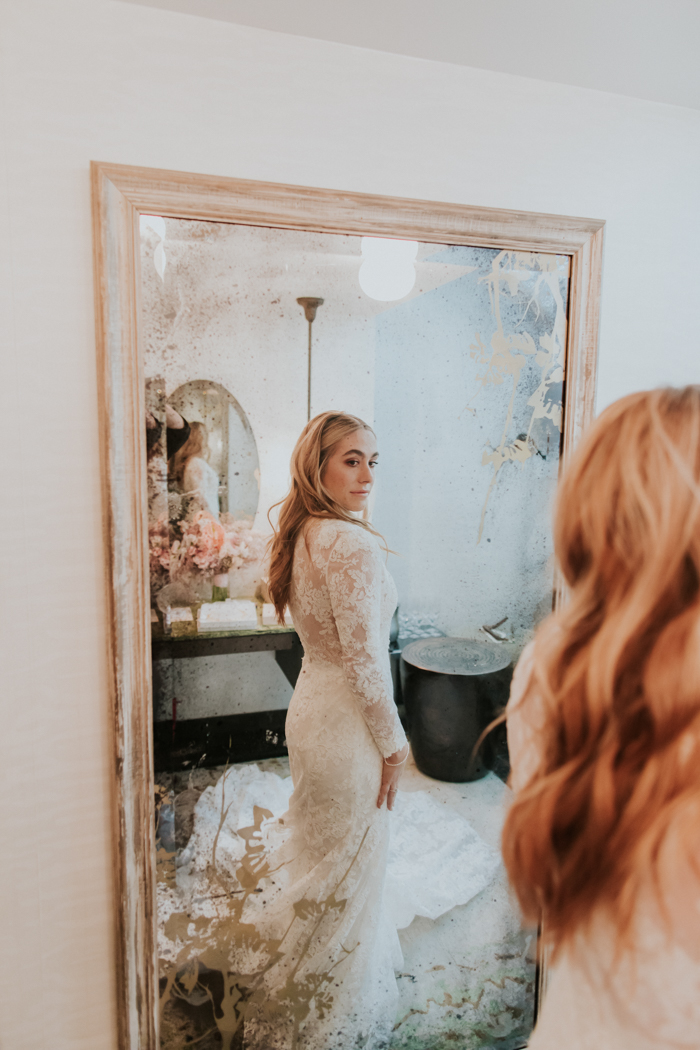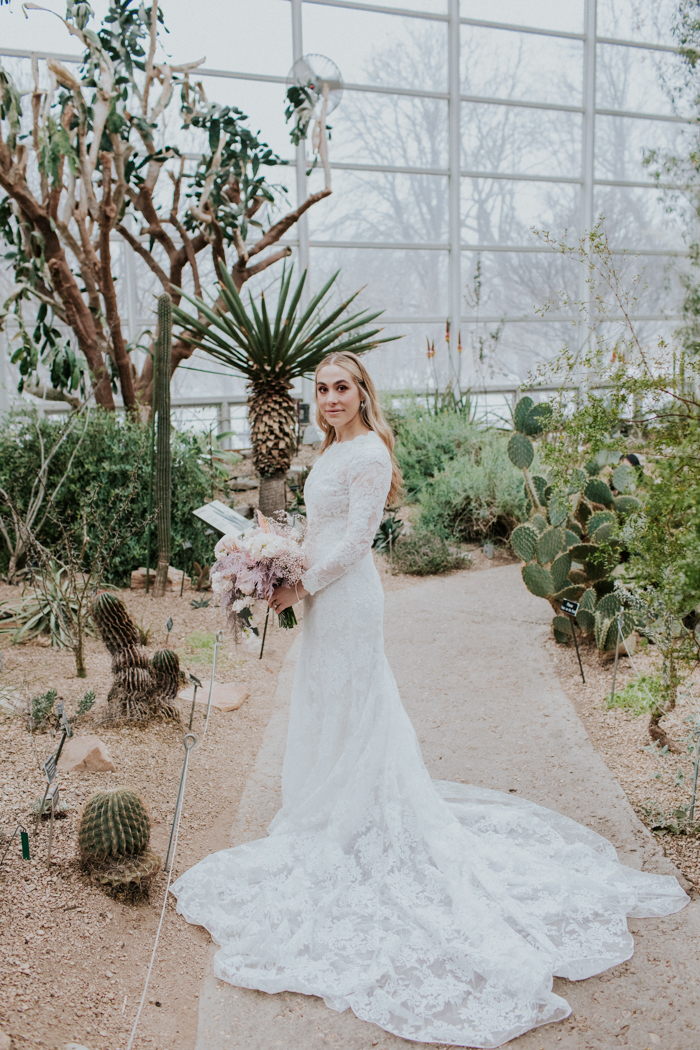 I wanted a high necked lace gown with long sleeves- is it a cliche to site Princess Grace?? I know its been done and done and done but its unavoidable, she's iconic. I skipped the mock collar of her cape but definitely was inspired by the intricate lace detail. It allowed me to pick a dress with simple lines and silhouette but still feel elegant. I loved my earrings because they were a present from Tyler– we decided to do a morning of gift exchange and he went above and beyond with beautiful white diamond white gold drop earrings that completely set my look for the day. I also treasured the pearl bracelet his mother gave me as a "something borrowed" and the opal rings my sister and I wore matching with each other as my "something new".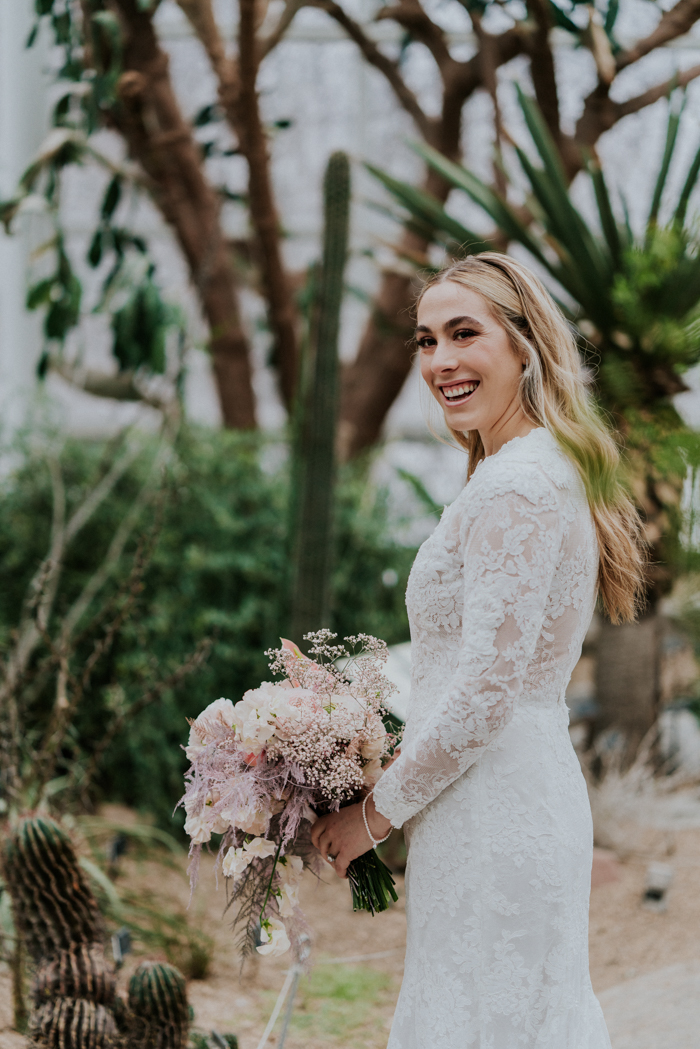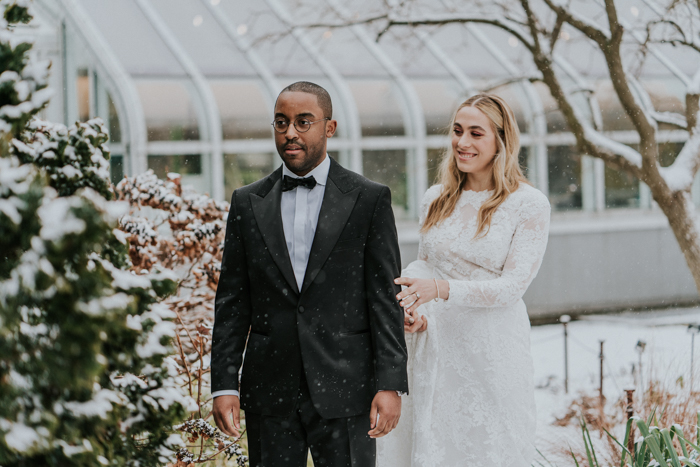 The biggest stand out memory I have from the day of is the surge of adrenaline and nerves that I felt as the morning progressed until the very moment I would see my future husband for first look photos. The moment I was with him and holding his hand, I felt safe and comfortable like I could conquer the world. The rest of the day and evening went by as a blur, the most fun party of our lives, and all I needed to enjoy it to the max was be reunited with my partner.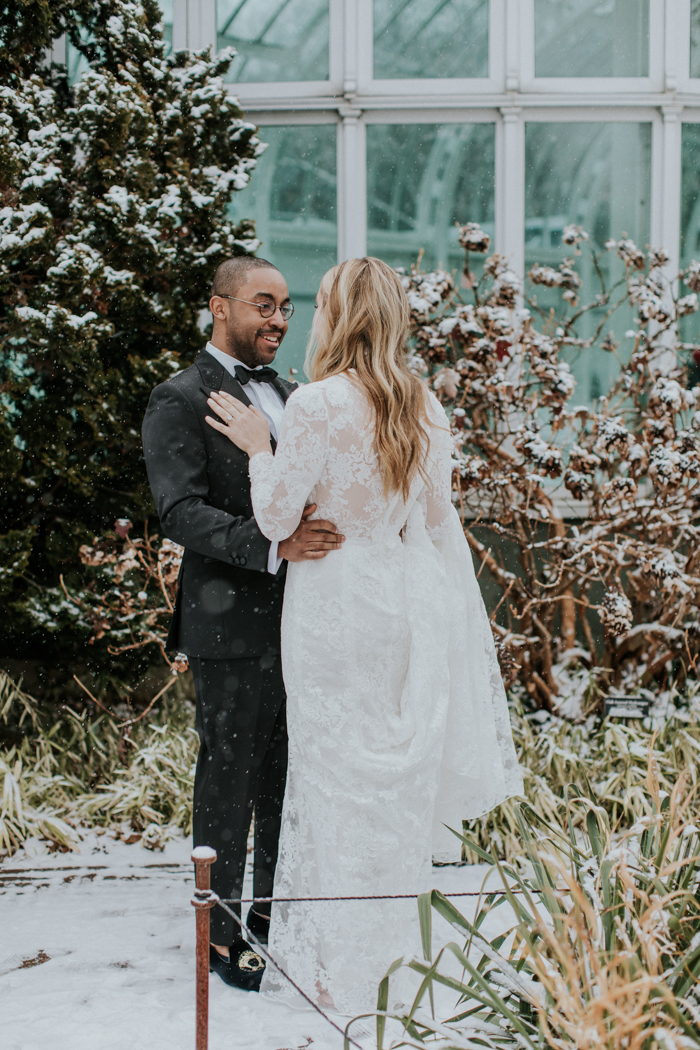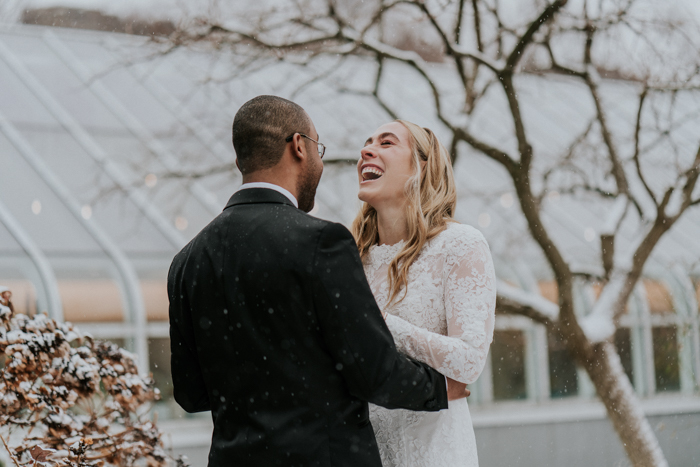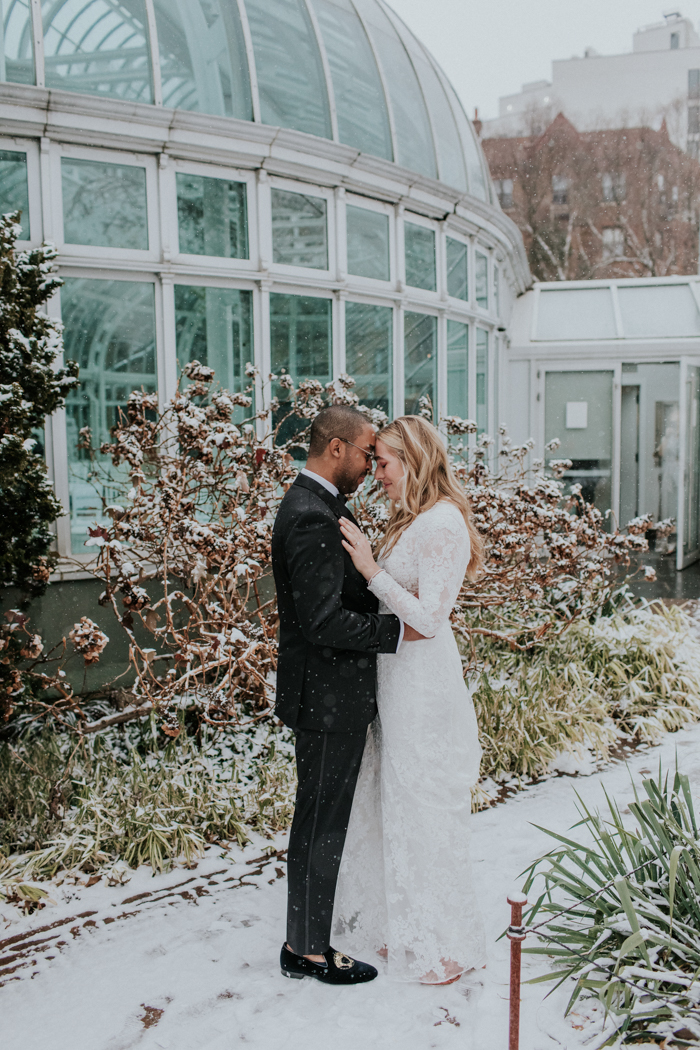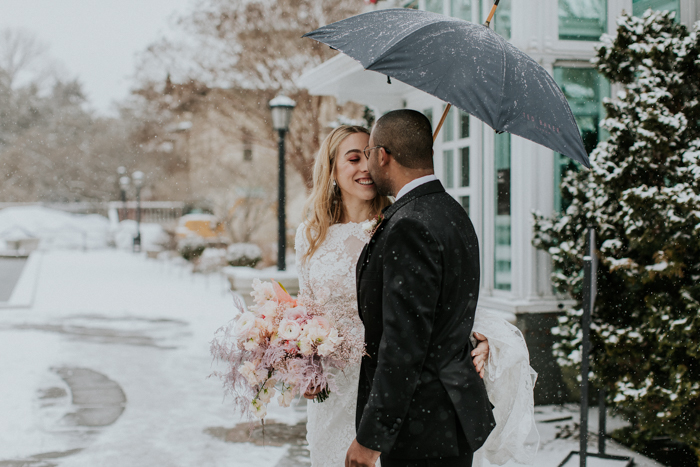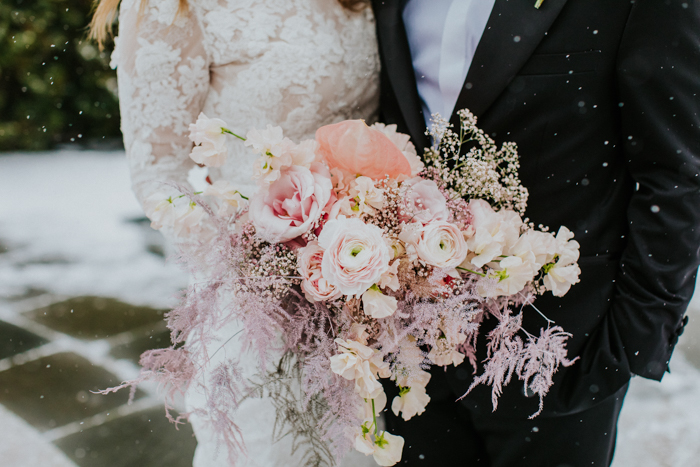 The one element of the overall feel of my wedding that was completely outside of my control was the snow- I couldn't make my snow globe fantasy come true with sheer force of will, but nature was on my side and we got the most beautiful light dusting (just in time for photos) that I had been hoping for.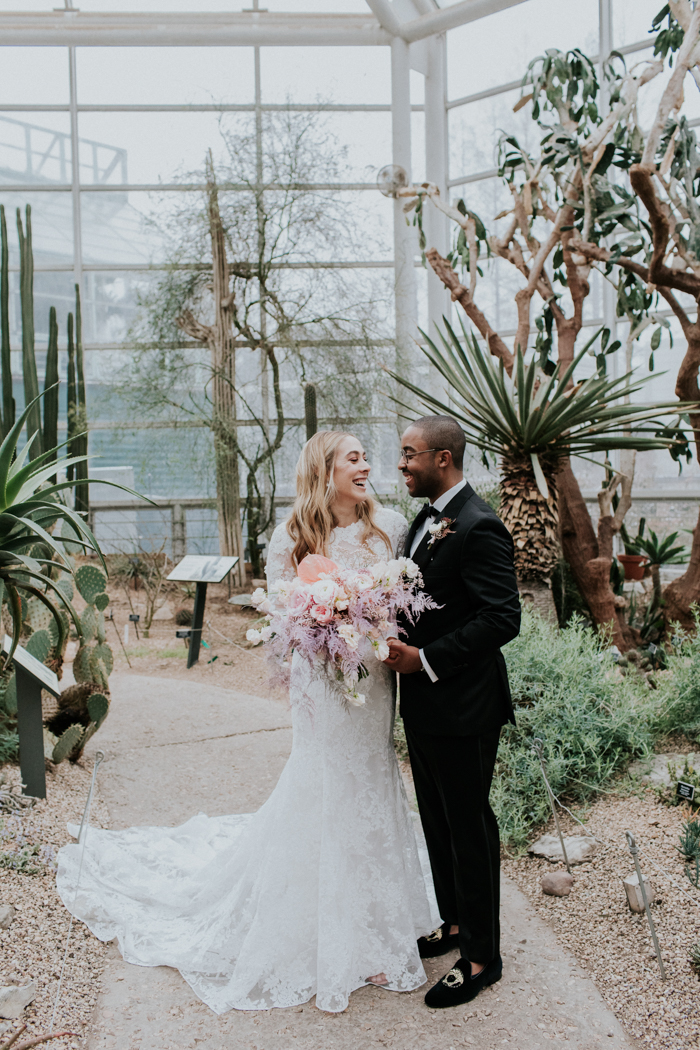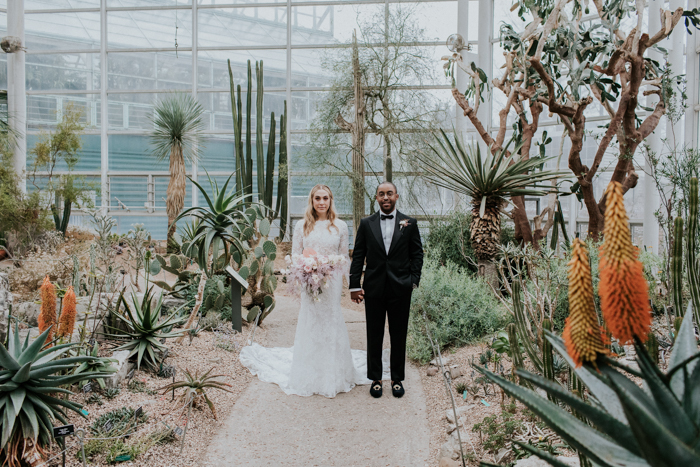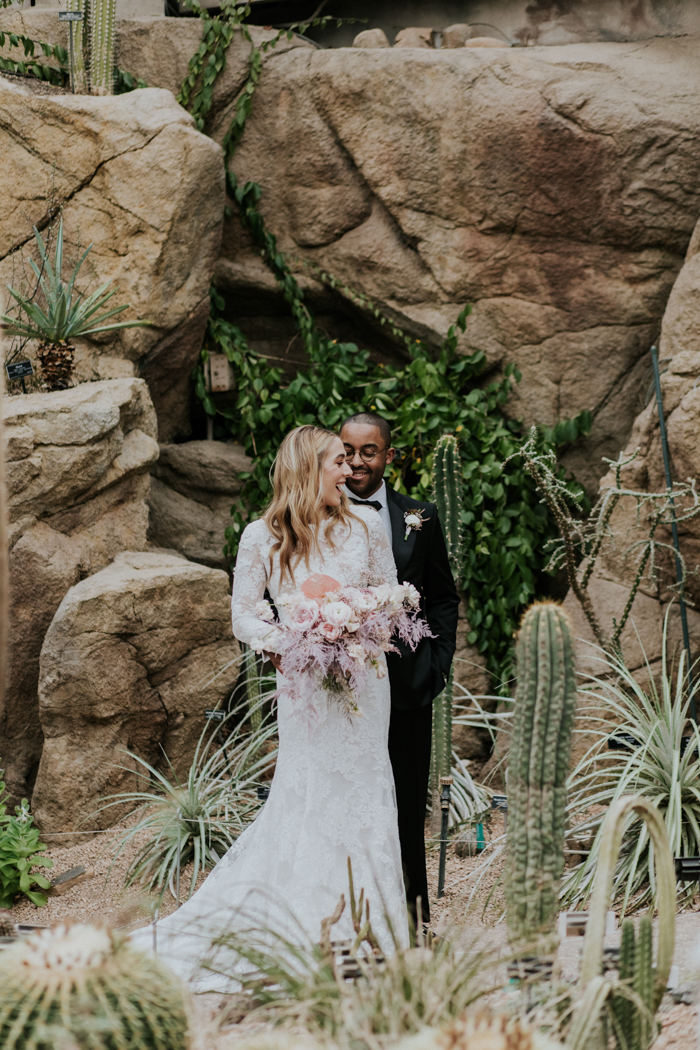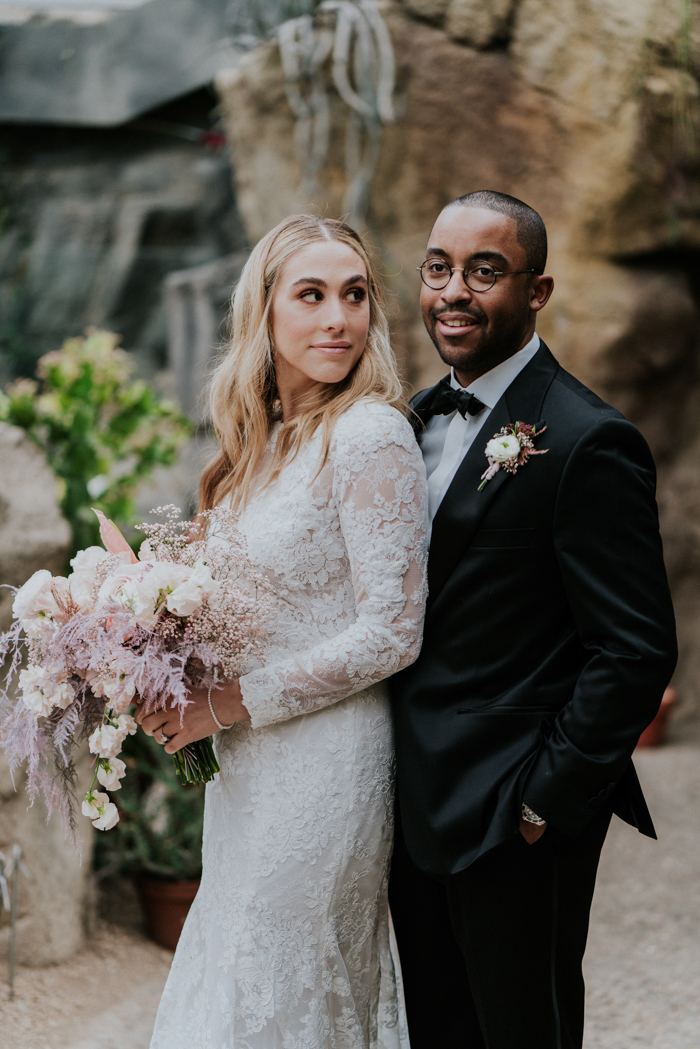 When we visited the Palm House at the Brooklyn Botanic Gardens, everything I had imagined for my wedding came into place. The garden was the perfect combination of an iconic New York City venue, as well as homey neighborhood feelings since we live up the street in Crown Heights. Its a magnificent glass dome and I knew that with the right design elements it would be the setting of my dreams. I wanted a classic and timeless aesthetic, but also wanted my husband and I to feel natural and true to ourselves.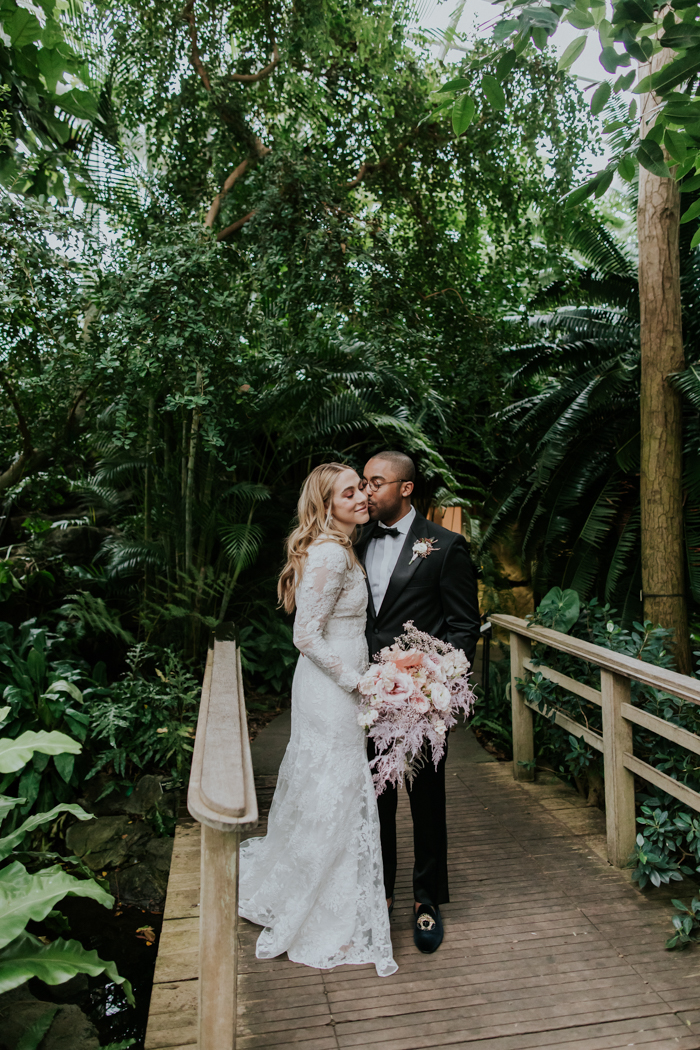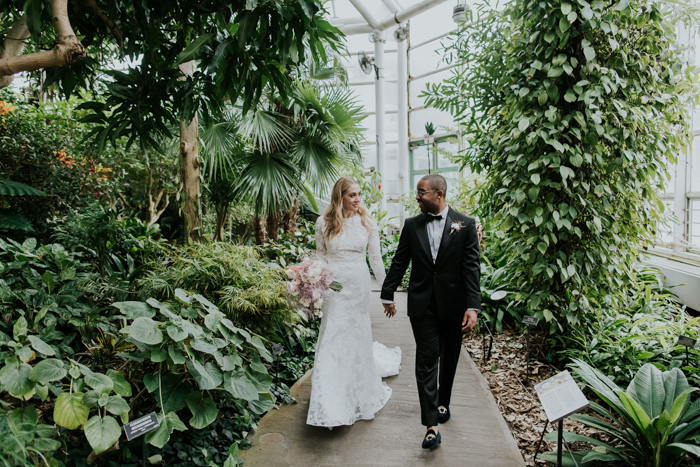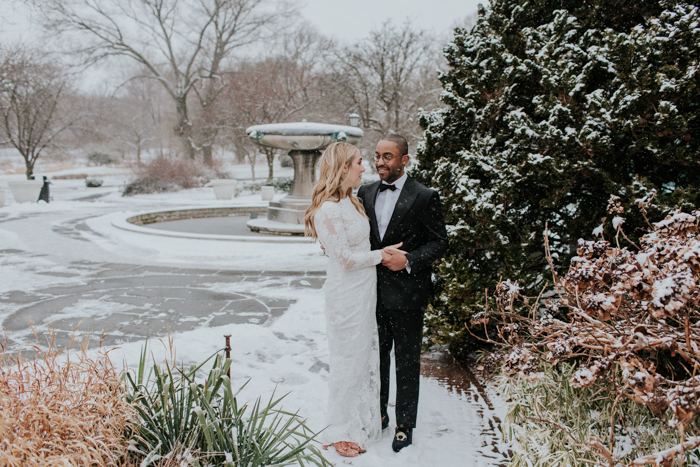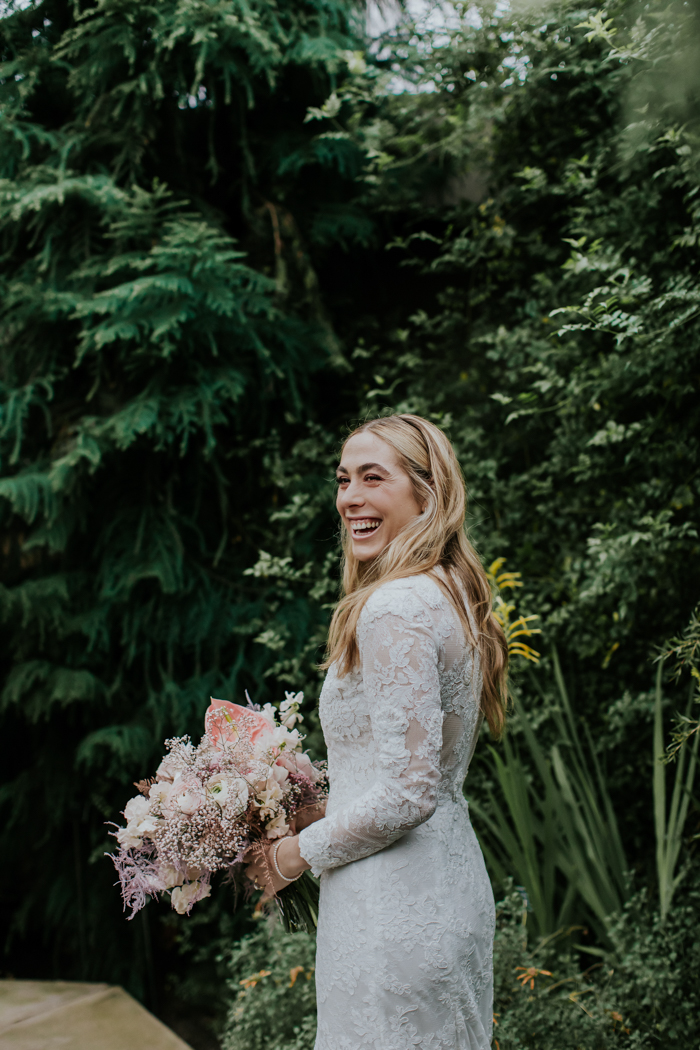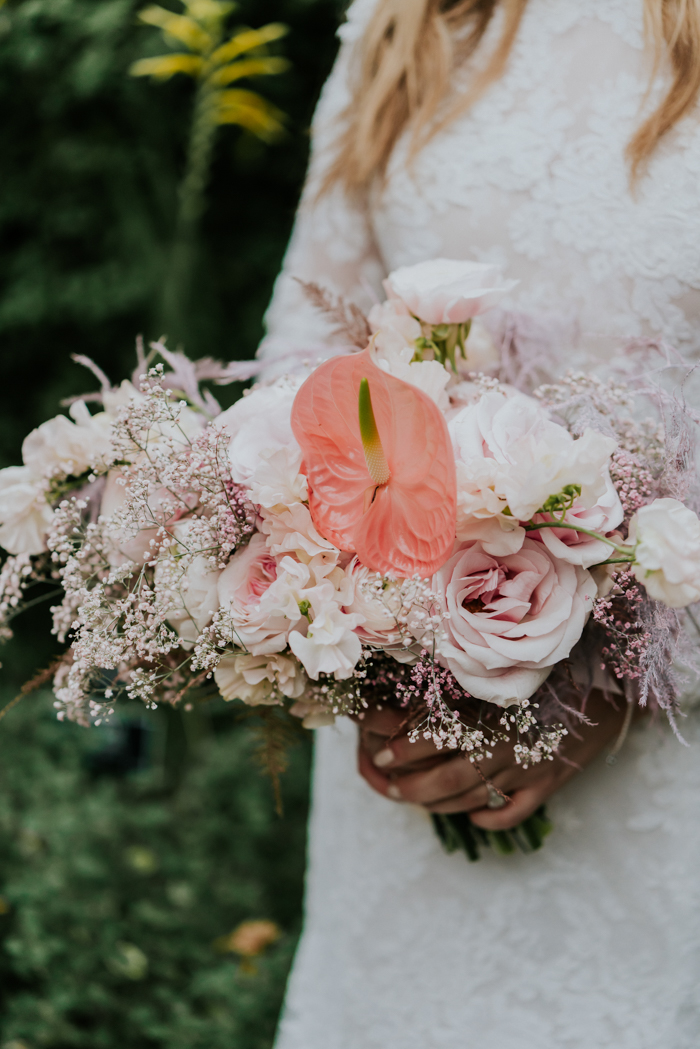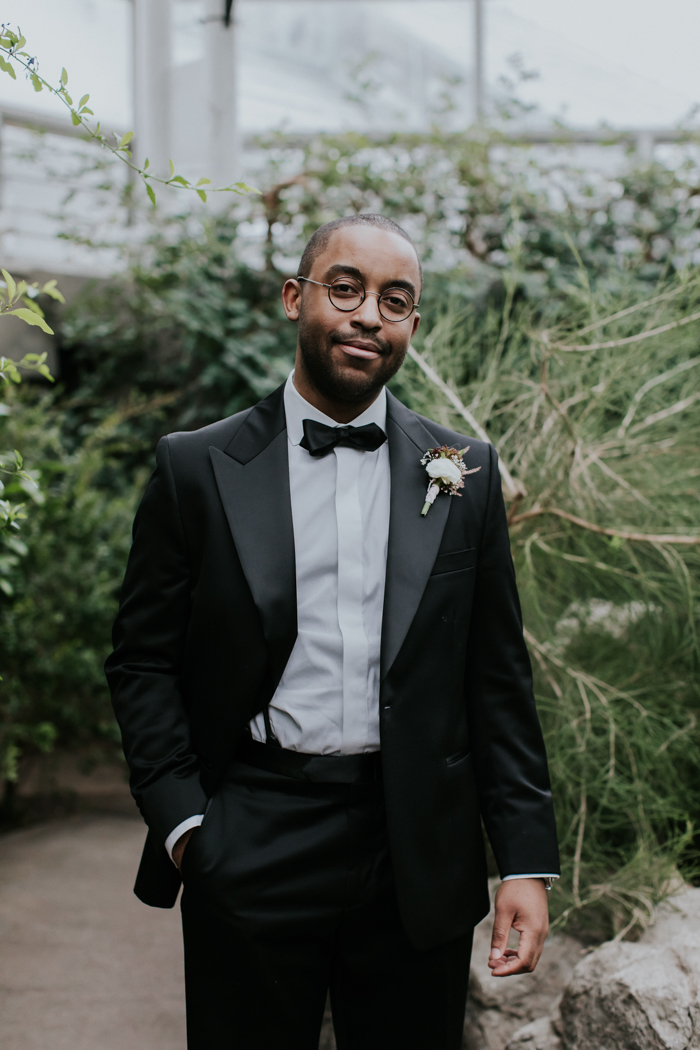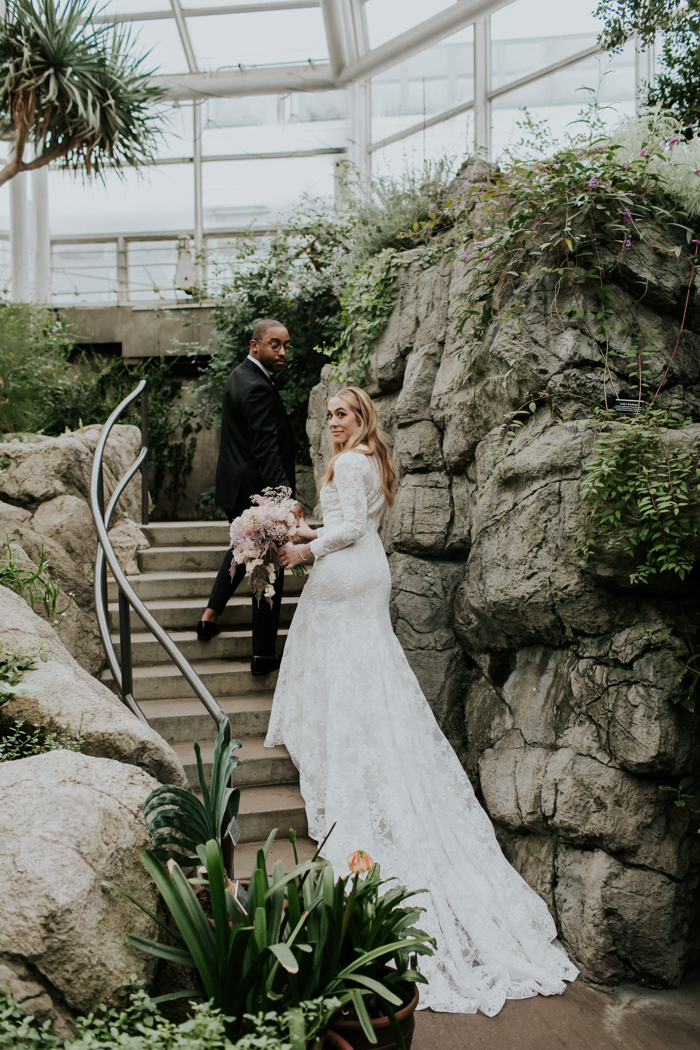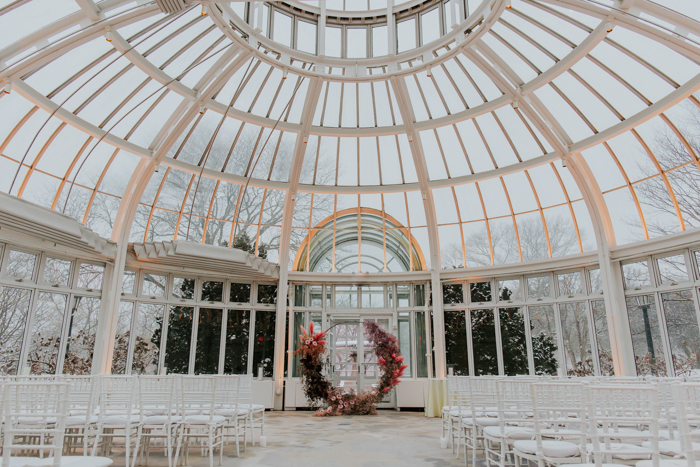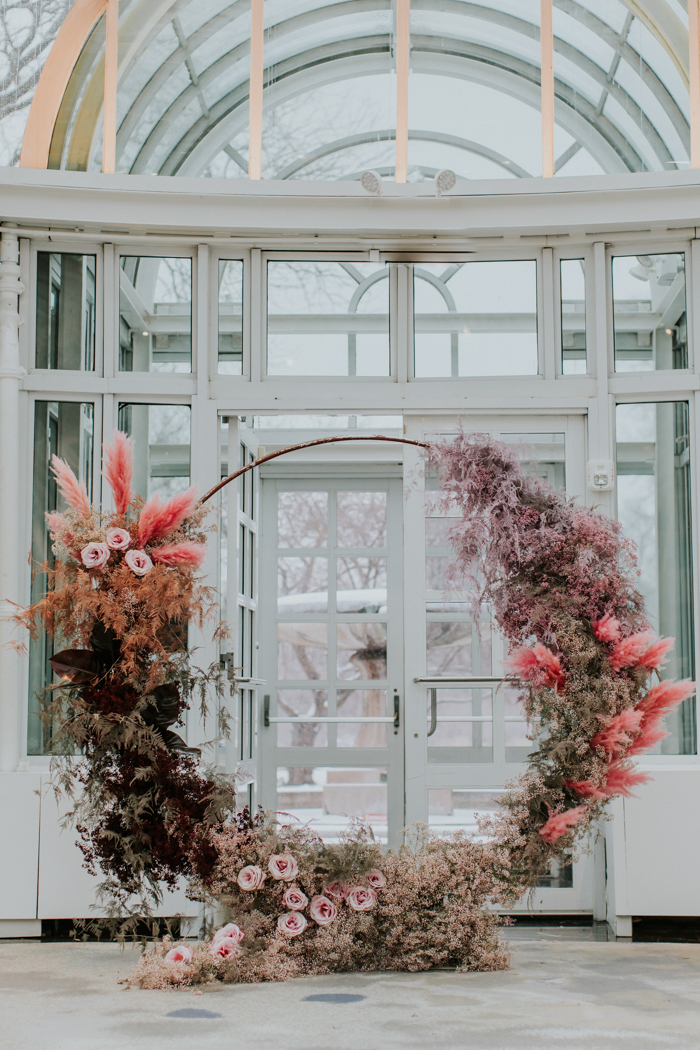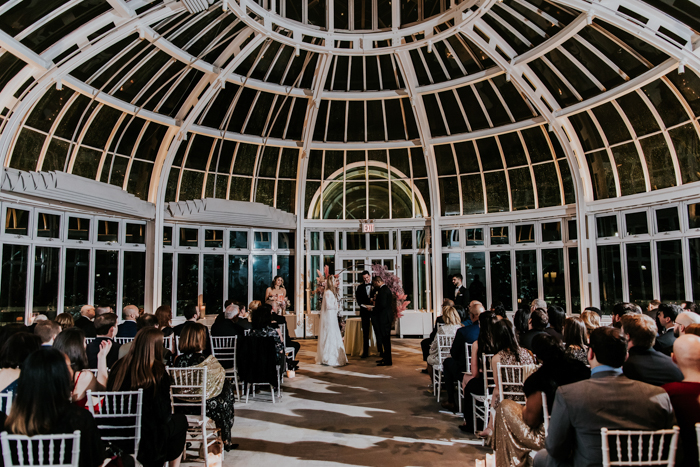 Though Tyler and I opted for black-tie, we didn't want to make the night stuffy and filled the festivities with plenty of personal touches. As a nod to my Greek heritage, Tyler and I exchanged Stefana (traditional gold leaf crowns) to show our union as a couple and drank wine from a "common cup." The ceremony was performed by my brother-in-law, who's been my big brother figure for a decade, which really grounded the ceremony. We walked down the aisle to Claire de Lune, but our recession was to Top Dawg's rapper Jay Rock, and I quickly changed from my femme pink organza Loeffler Randall pumps to fresh white Air Force 1s to dance the night away.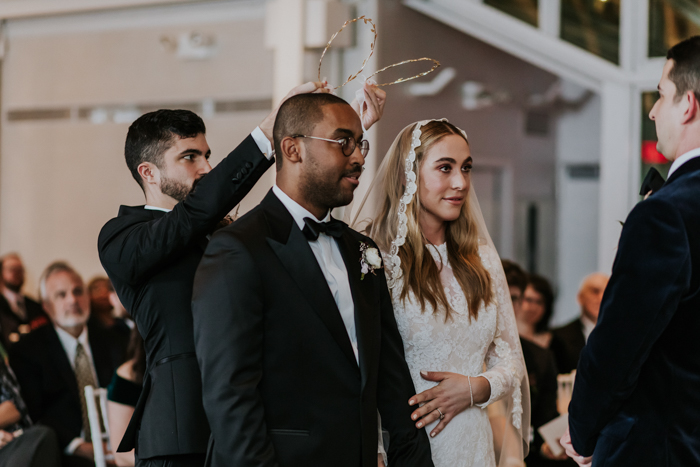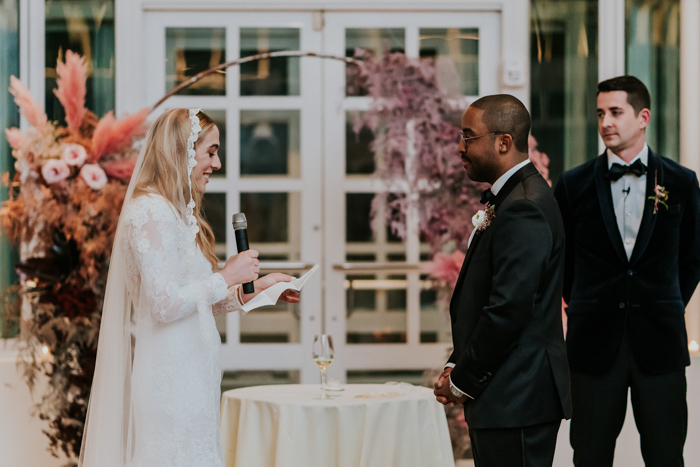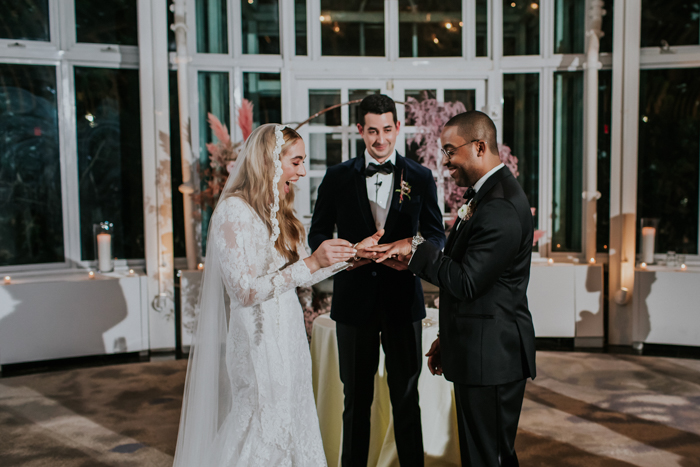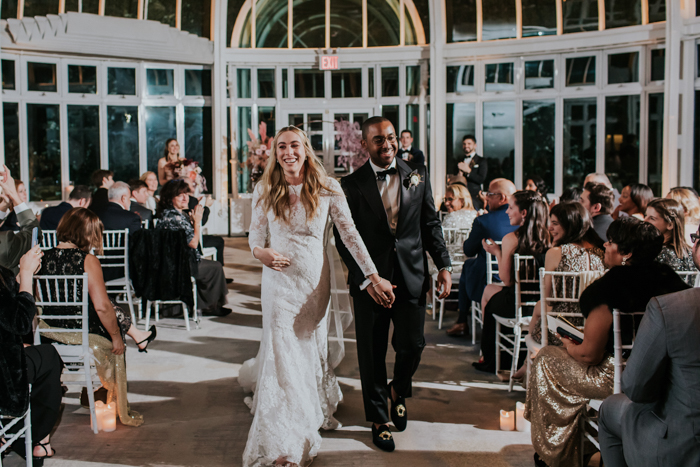 Possibly my favorite part of my look was my veil- I opted for a Spanish style Mantilla veil that gave my relatively simple gown an alternative edge. But what I loved the most was that I used lace from my mother's wedding dress to line my veil. My parents have been married for 30 years and I would have been mistaken not to honor the success of their love on my wedding day. I didn't have a bridal party, I just had my sister as maid of honor and she wore a custom nude silk gown designed by my florist.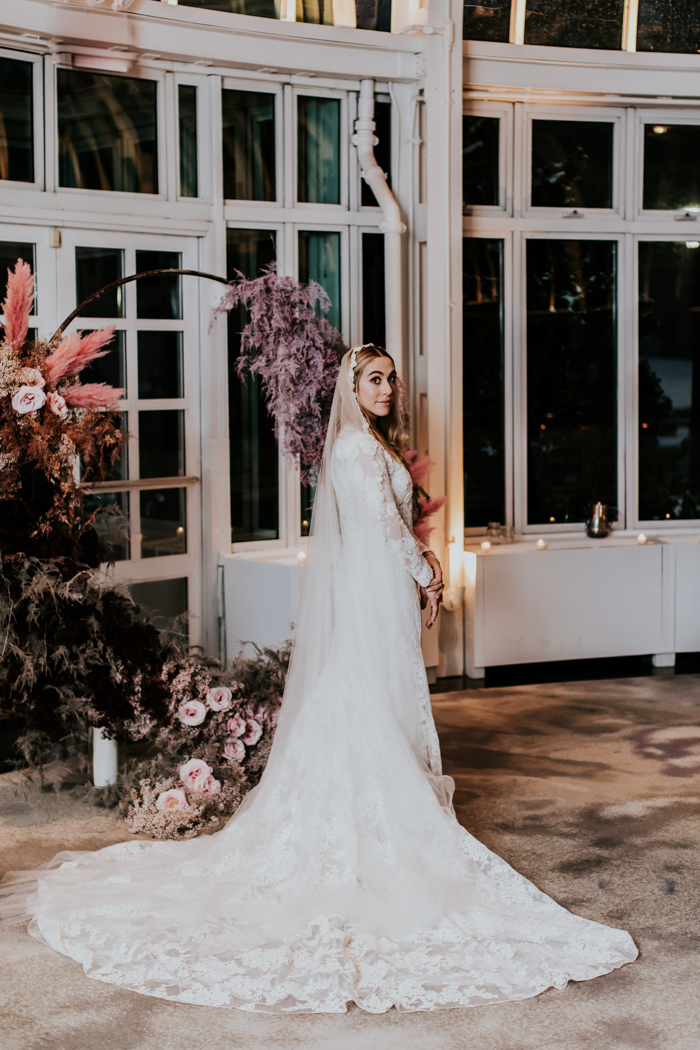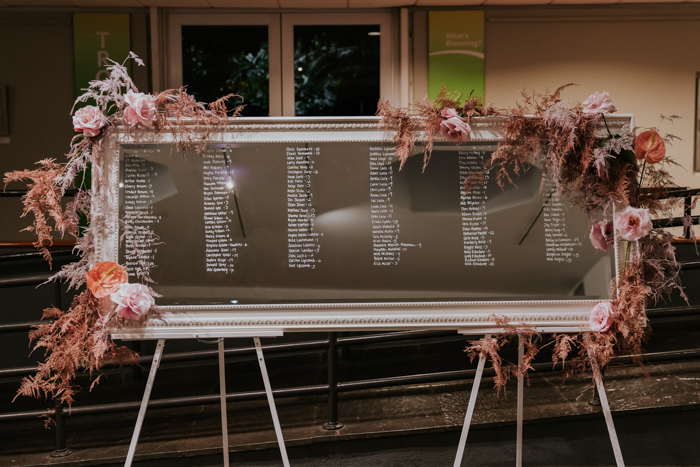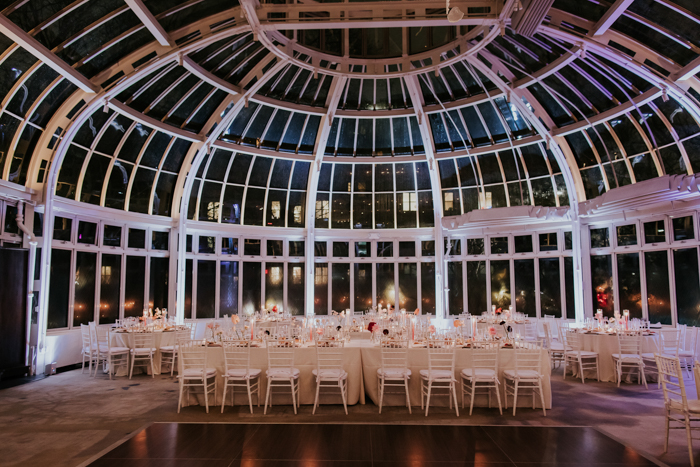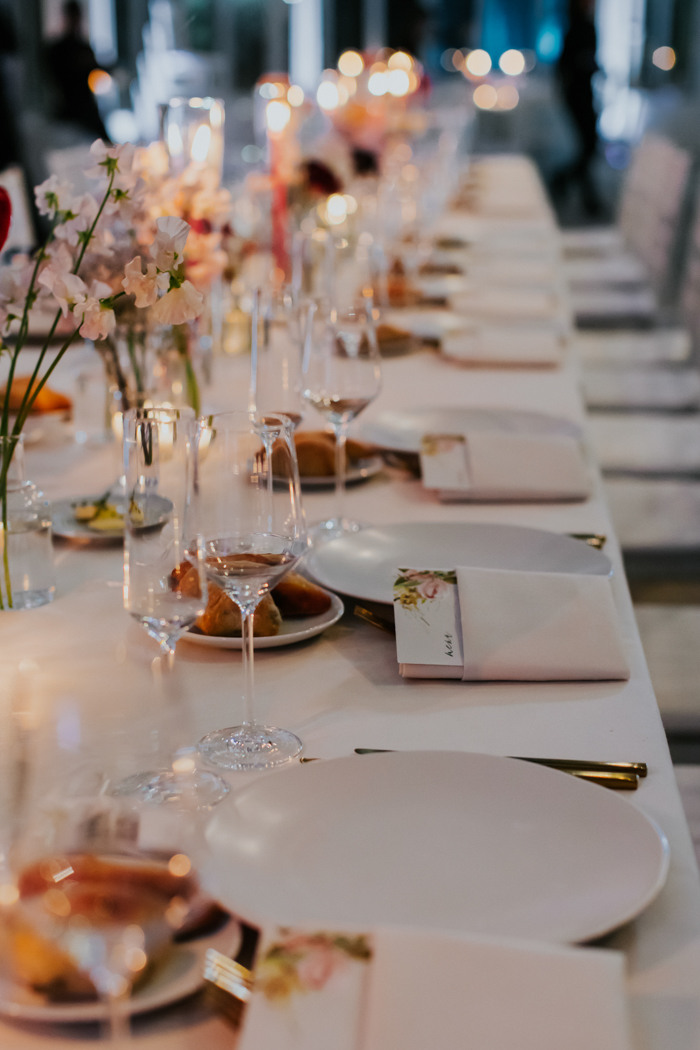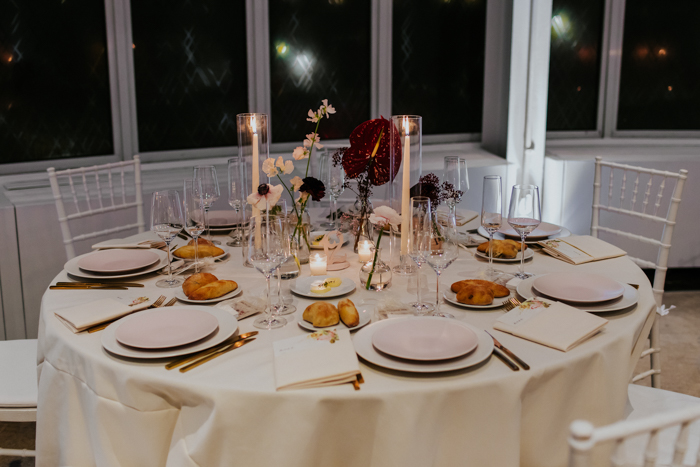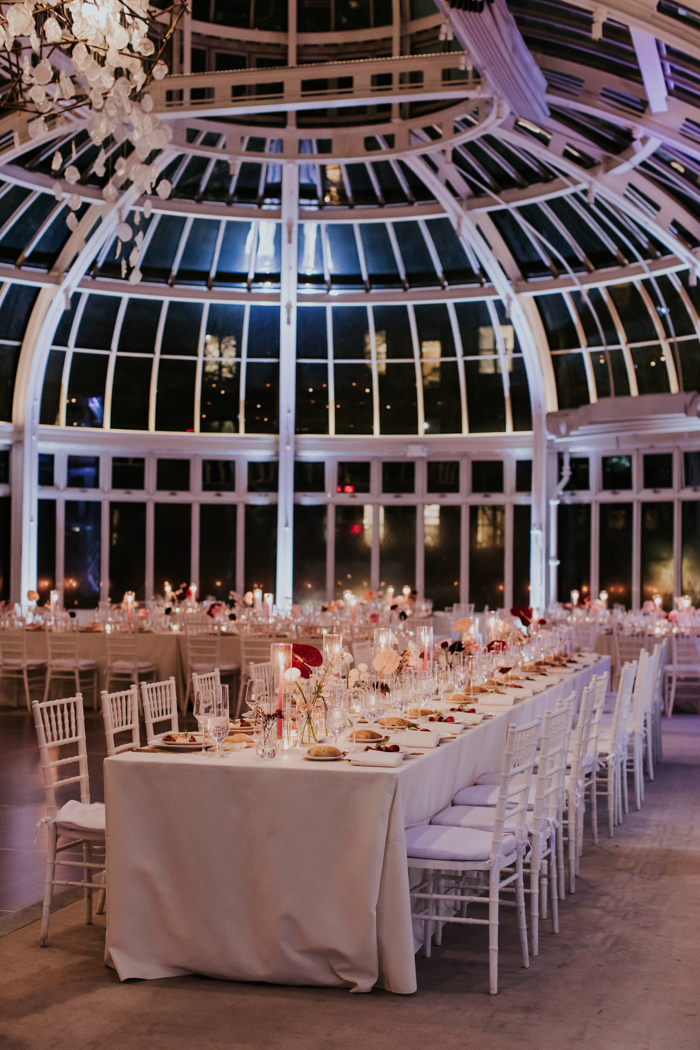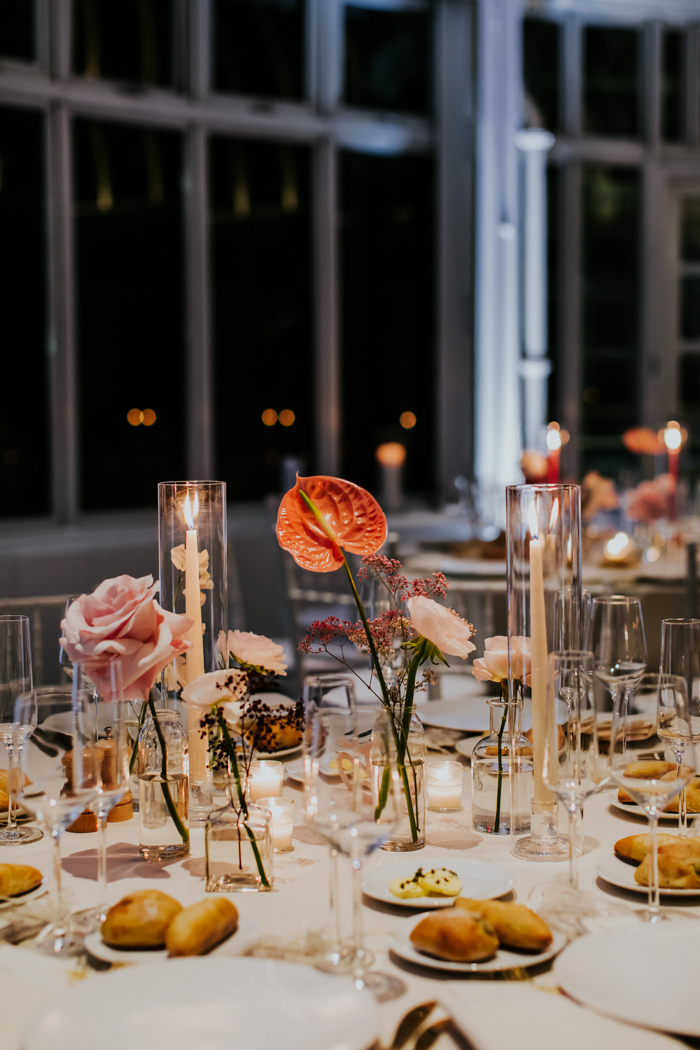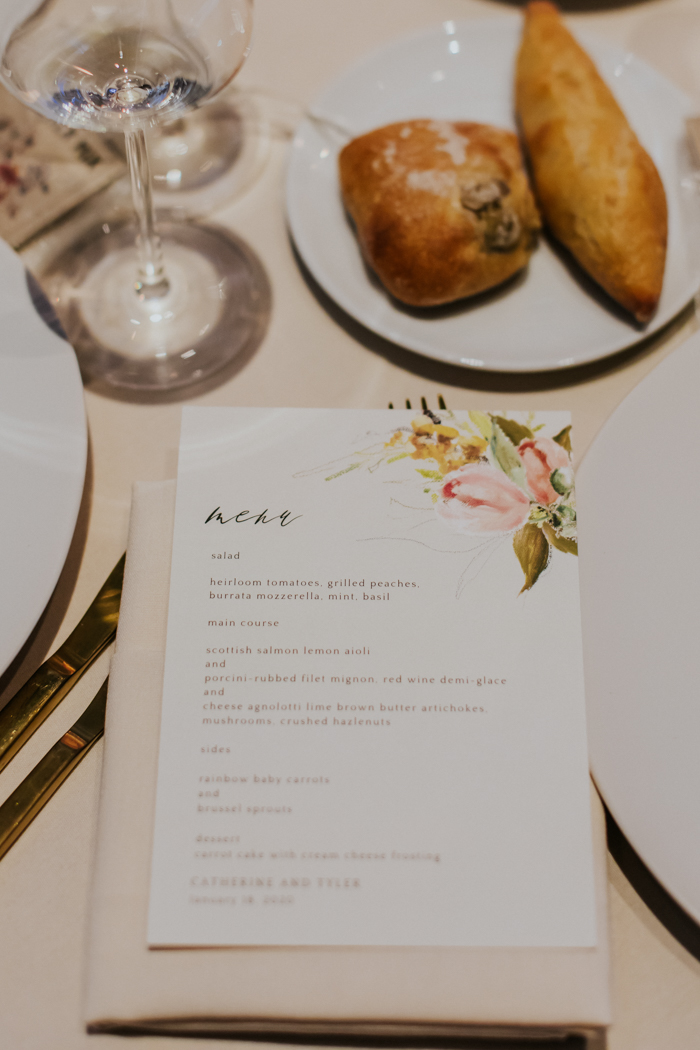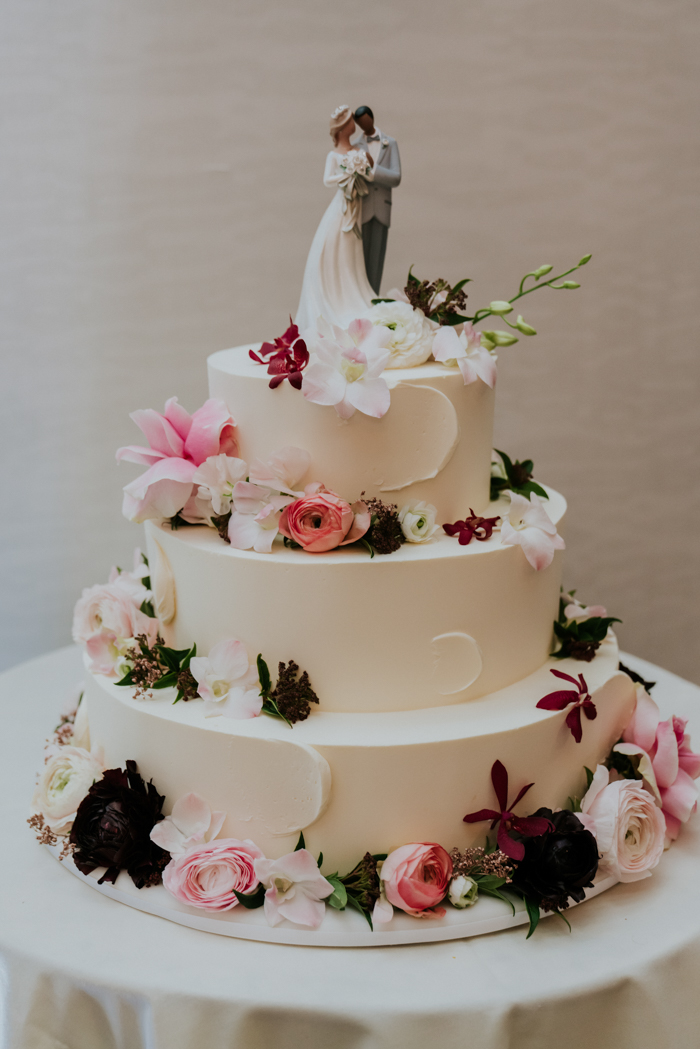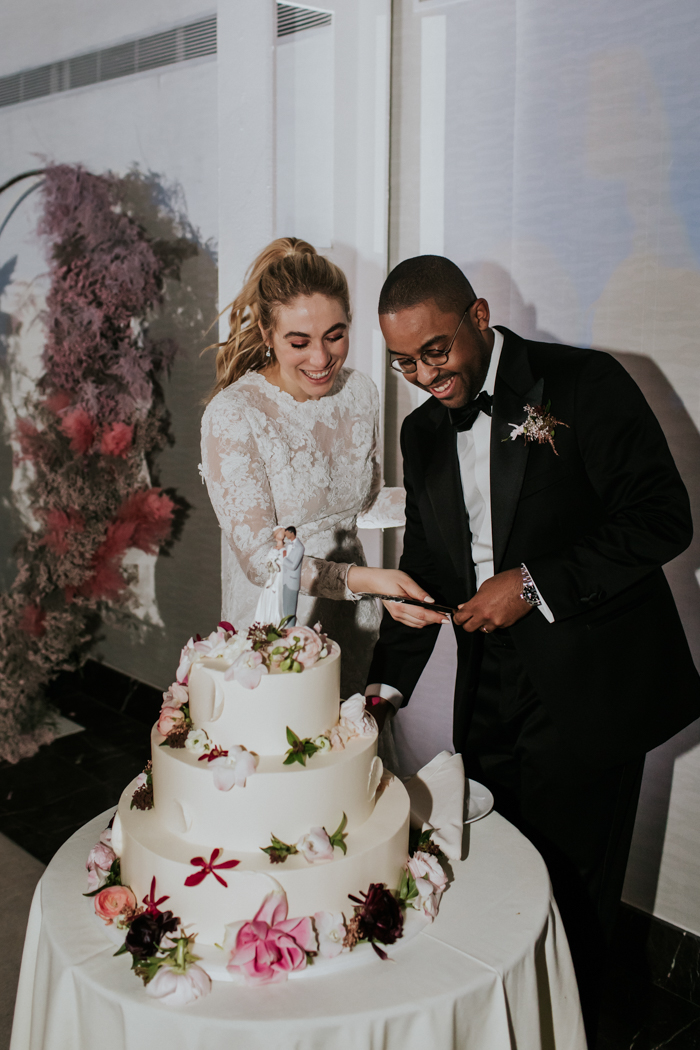 Trust in the people that love you and know that their priority is your happiness- everyone is gathering together to share this moment with you and no one will enjoy themselves to the fullest if the couple isn't happy. So every step of the way with wedding planning, as tempting as it is to ask people their thoughts and opinions, always put yourself and your spouse as number one. You're allowed to be selfish (within reason, of course) and choose what will give you joy. Throughout the whole process, I couldn't help but think what my mother would want or what my mother in law would think of these minute details of planning- but when the day come, I had complete trust that what they wanted most of all was for me to enjoy myself. And so we all did.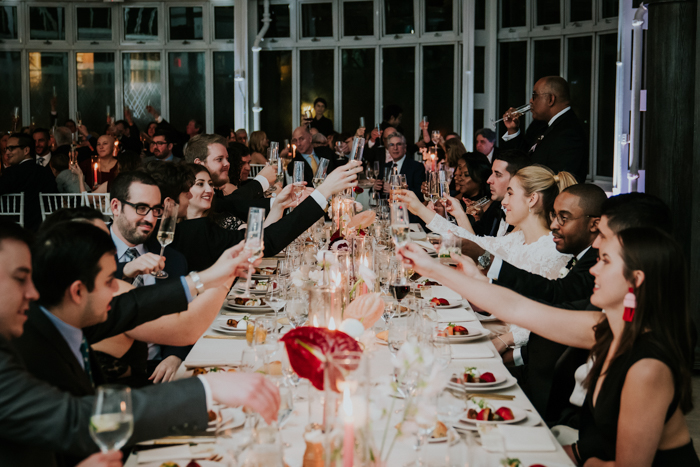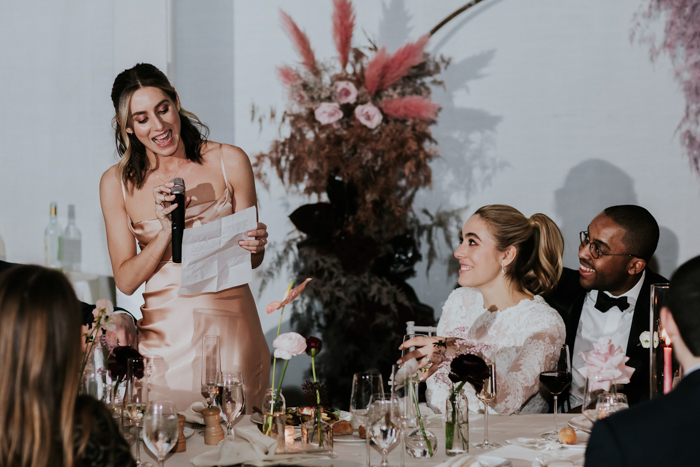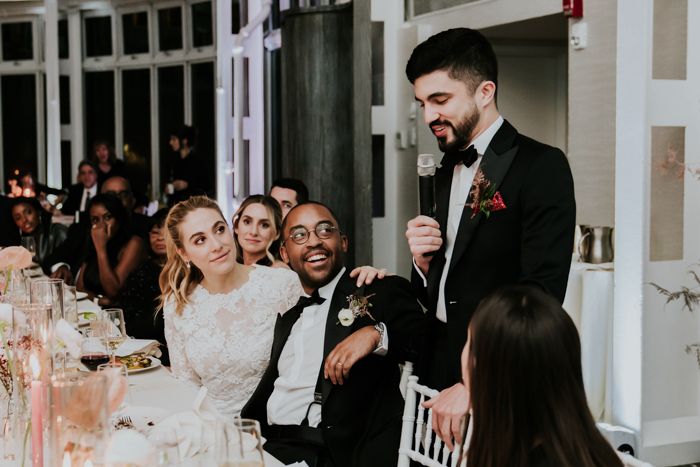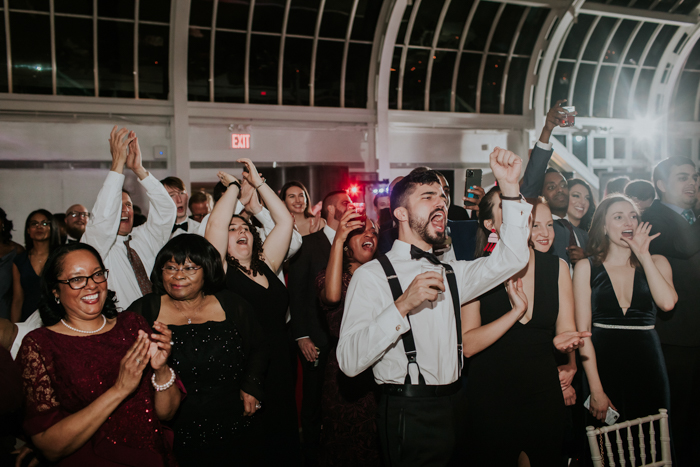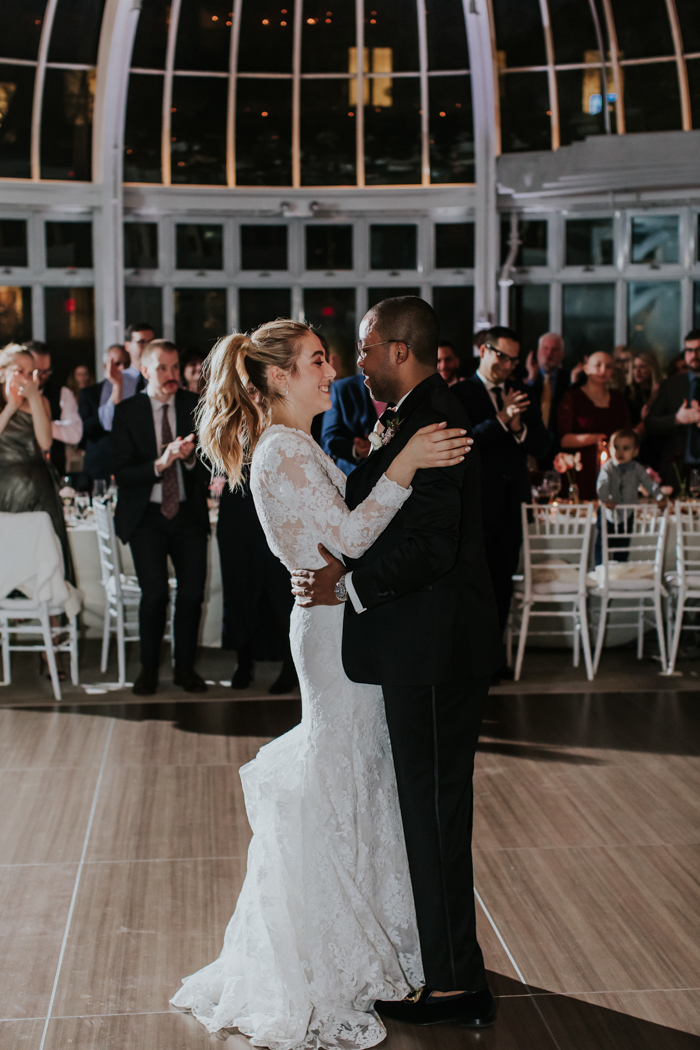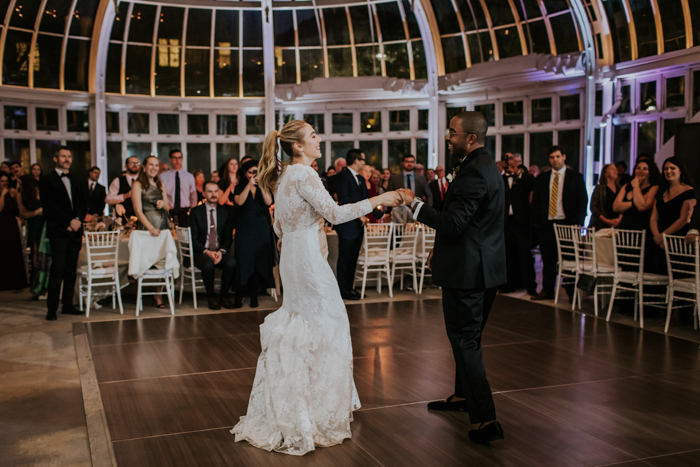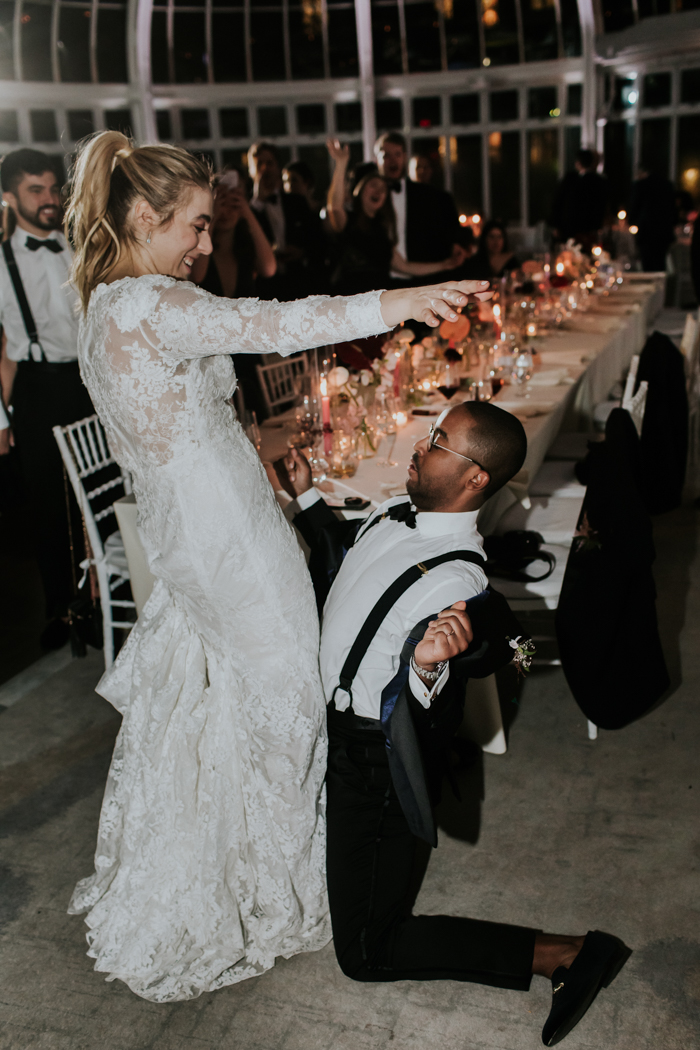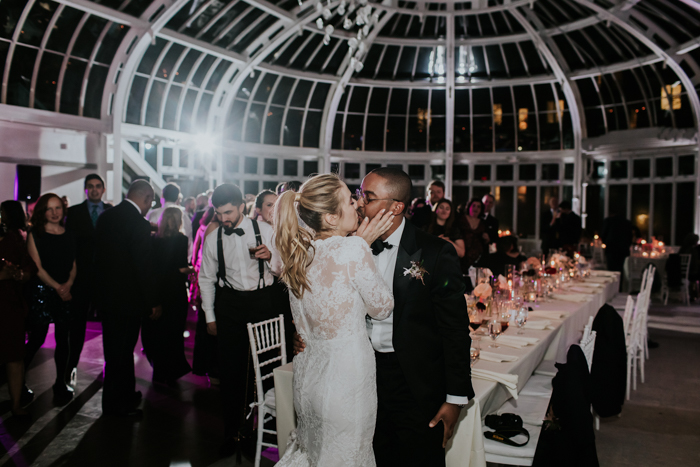 Congratulations, Catherine and Tyler, and many thanks to Junebug member Elvira Kalviste Photography for sharing their day with us! If you love Elvira's work, be sure to visit her page in our directory of the world's best wedding photographers.