Valentine's Day is just around the corner and we're here to help you celebrate–not just the holiday, but each other. Whether you're making you're lounging around the house, working towards new goals, indulging in little luxuries, or out embracing the world, you're doing it together and your Valentine's Day gifts can totally play a part in making that happen. So what are you waiting for? Get to shopping with this ultimate Valentine's Day gift guide!
Valentine's Day Gift Guide For The Homebody
If your special someone's ideal day is spent lounging on the couch, binge-watching a new Netflix show, these gifts for the homebody are perfect. From puzzles to cozy blankets to games, these are sure to keep you entertained in the comfort of your own home.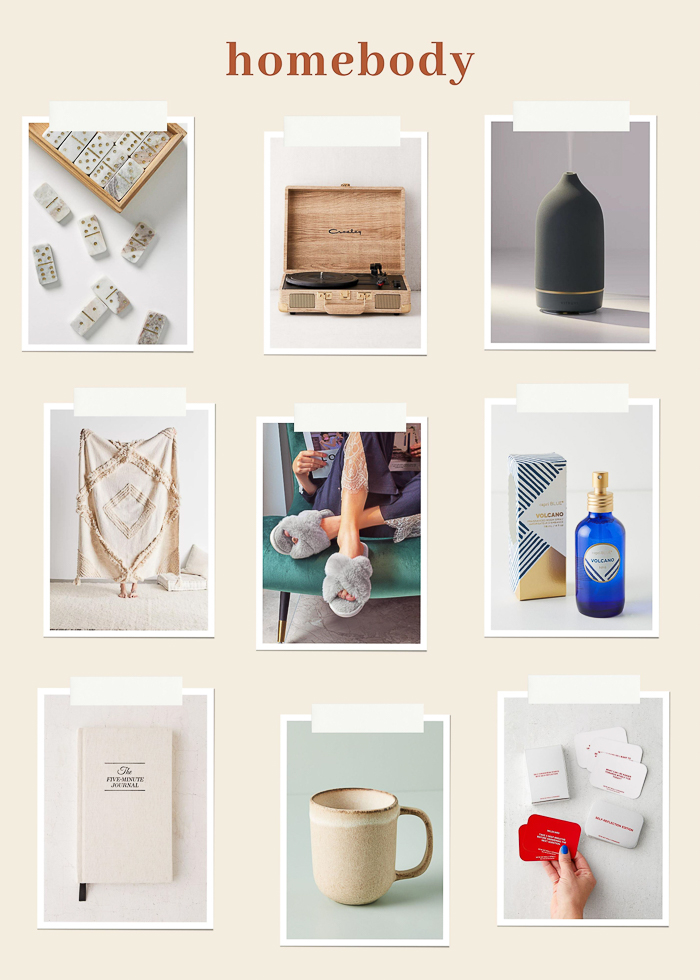 1. Torrento Marble Dominoes Set; 2. Crosley UO Exclusive Wood Crusier Record Player; 3. Vitruvi Essential Oil Diffuser; 4. Aden Tufted Throw Blanket; 5. Women's Cross Band Slippers; 6. Capri Blue Volcano Room Spray; 7. The Five-Minute Journal By Intelligent Change; 8. Set of 4 Levi Mugs; 9. We're Not Really Strangers: Self Reflection Edition Card Game
Valentine's Day Gift Guide For The Chef and Bartender
If your significant other can't keep away from the kitchen or is always concocting new cocktail recipes, surprise them with a brand new cookbook or Instagram-worthy cocktail glasses. They'll be cooking up a storm which means you'll both be left happy–and full.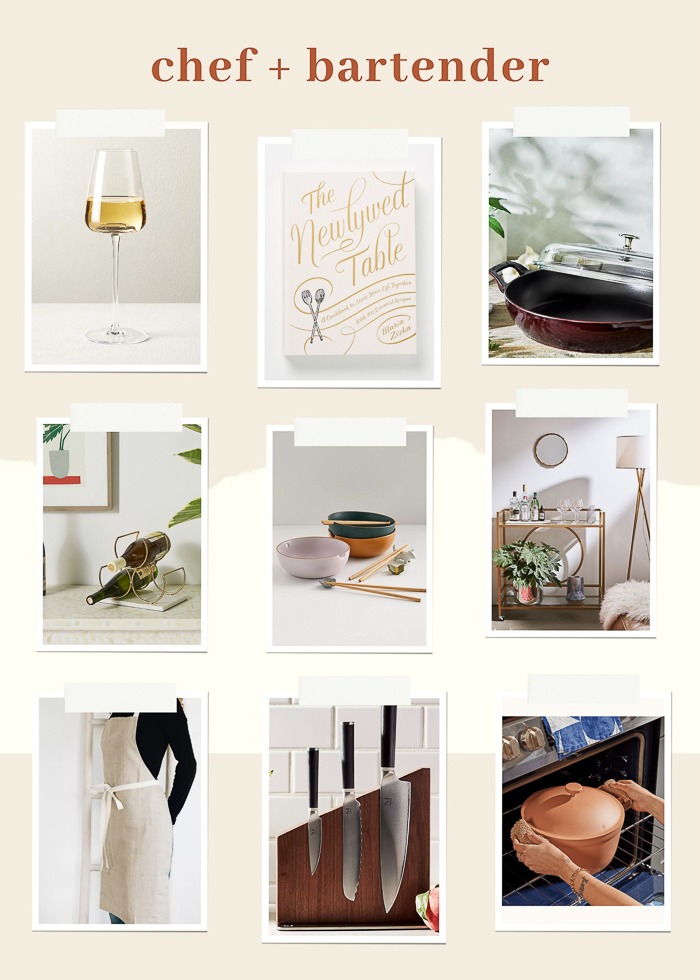 1. Float White Wine Glass; 2 The Newlywed Table Cook Book; 3. Staub Cast Iron 12-Inch Braiser; 4. Brass Wine Rack; 5. Rowan Noodle Bowl Set; 6. Claire Bar Cart; 7. Connected Goods x Fernhill Linen Apron; 8. Material Trio of Knives; 9. Our Place Perfect Pot
Valentine's Day Gift Guide For The Beauty Lover
Skincare routines have taken the world by storm. From serums to rollers to masks, it can be hard to navigate the beauty world if you're unfamiliar. That's why we've made your job easy and gathered some of the best beauty gifts that any beauty lover is sure to enjoy.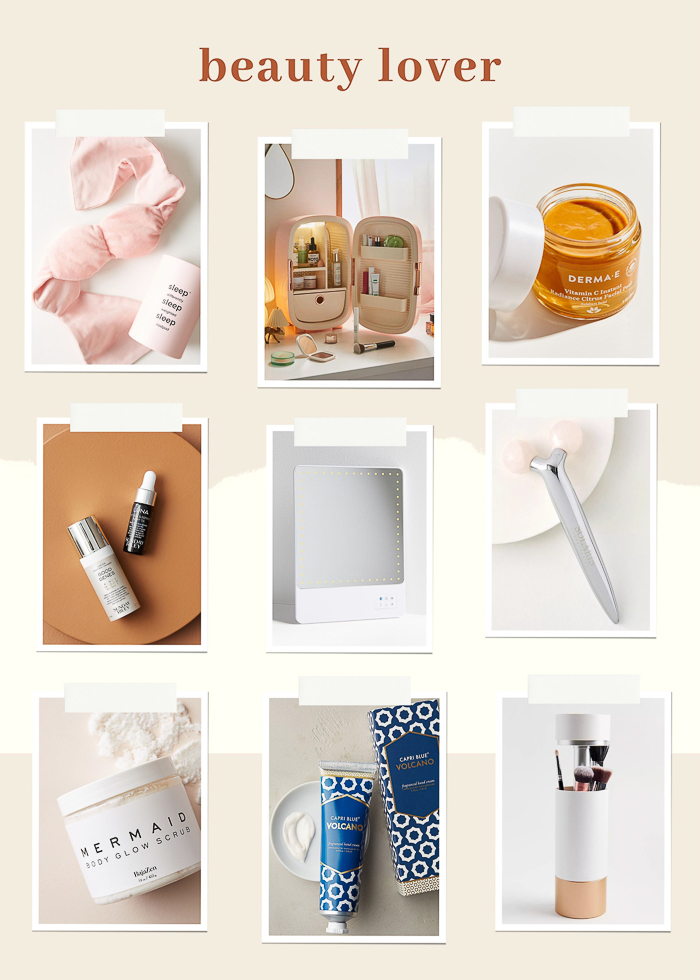 1. Nopod Weighted Eye Mask; 2. Cooluli 12L Mini Beauty Refrigerator; 3. DERMA E Vitamin C Instant Radiance Citrus Facial Peel; 4. Sunday Riley Power Couple Mini Kit ($28); 5. Glamcor Riki Skinny Vanity Mirror; 6. Solaris Dome Hexagonal Crystal Facial Roller; 7. Baja Zen Mermaid Glow Body Buff Scrub; 8. Capri Blue Volcano Hand Cream; 9. Brushean UV + Ozone Makeup Brush Sanitizer
Valentine's Day Gift Guide For The Tech Aficionado
Technology has come ridiculously far these days. In fact, there's pretty much a gadget for every problem one can run into. If you've got a techie in your life then there's a good chance that they already have all the new gadgets, so consider one of these more unique items.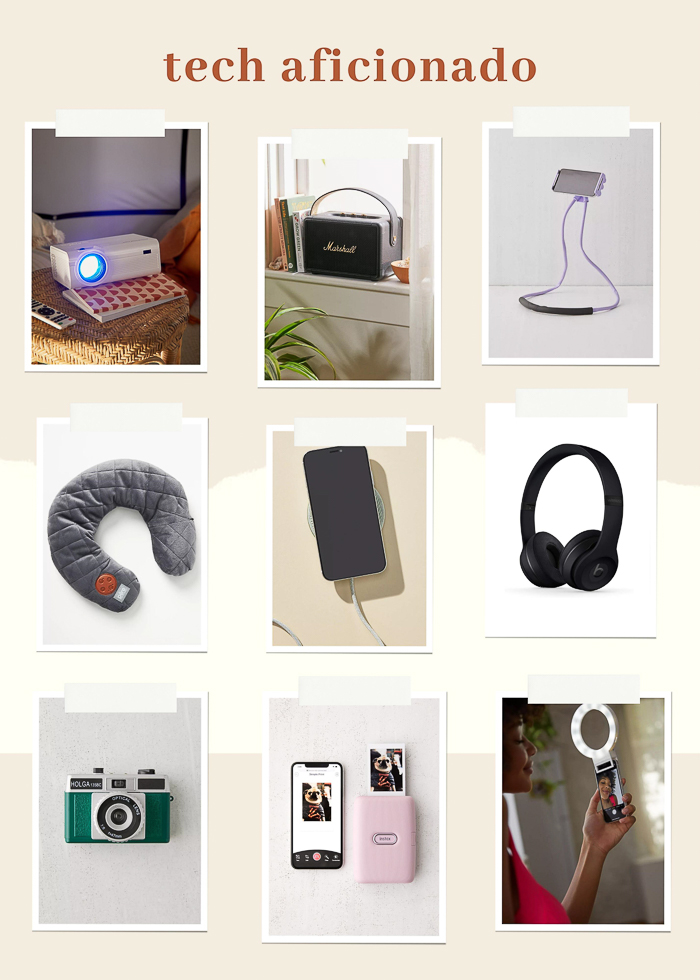 1. Packard Bell Home Theater Projector and Screen; 2. Marshall Kilburn II Portable Bluetooth Speaker; 3. Phone Neck Mount; 4. Pure Enrichment Wave Sound Therapy Neck Pillow; 5. Native Union Wireless Charger; 6. Beats Solo3 Wireless Headphones; 7. Holga 135BC 35mm Camera; 8. Fujifilm UO Exclusive Mini Link Smartphone Printer; 9. Polaroid Jumbo Ring Light
Valentine's Day Gift Guide For The Gym Junkie
We all know at least one person who eats, sleeps, and breathes, and the gym. With more and more people choosing to work out at home, why not get them equipment that will help them miss their gym a little less?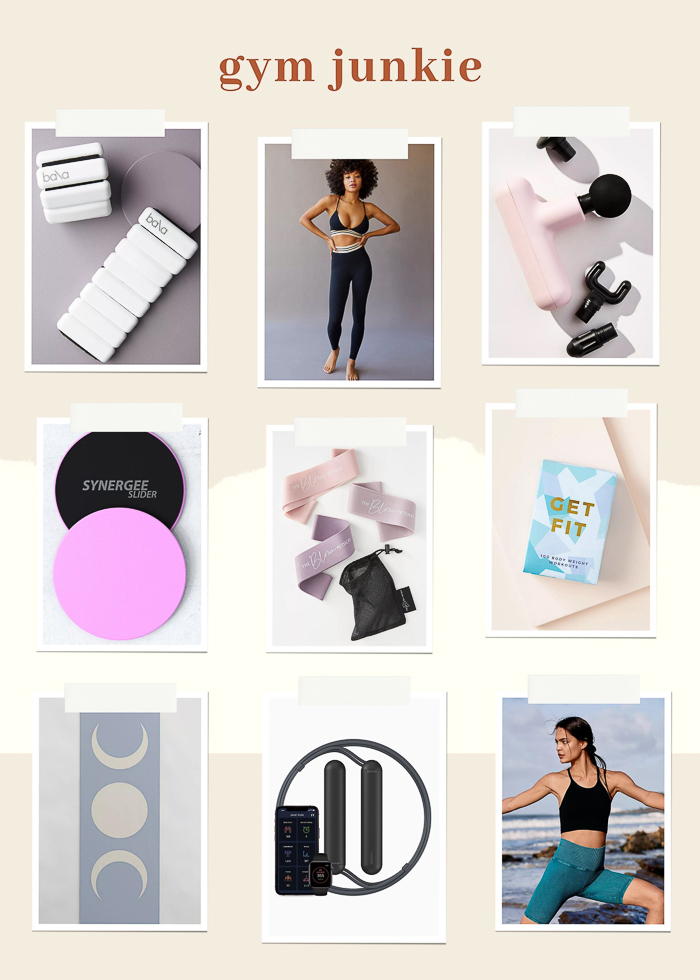 1. Bala Weighted Bangle Set; 2. Splits59 Roxan Airweight Legging; 3. Lola Massage Gun; 4. Synergee Core Sliders; 5. The Bloom Method Loop Resistance Band Set; 6. Get Fit Card Deck; 7. Colour Poems For Deny Moon Minimalism Yoga Mat; 8. Tangram Rookie Smart Jump Rope; 9. Happiness Runs Crop
Valentine's Day Gift Guide For Outdoor Enthusiast
While no gift compares to being outside for an outdoor enthusiast, there's a long list of gifts that you can get to help them enjoy their time in nature a little more. Water bottles, hammocks, portable espresso machines–these gift options make for the perfect camping trip.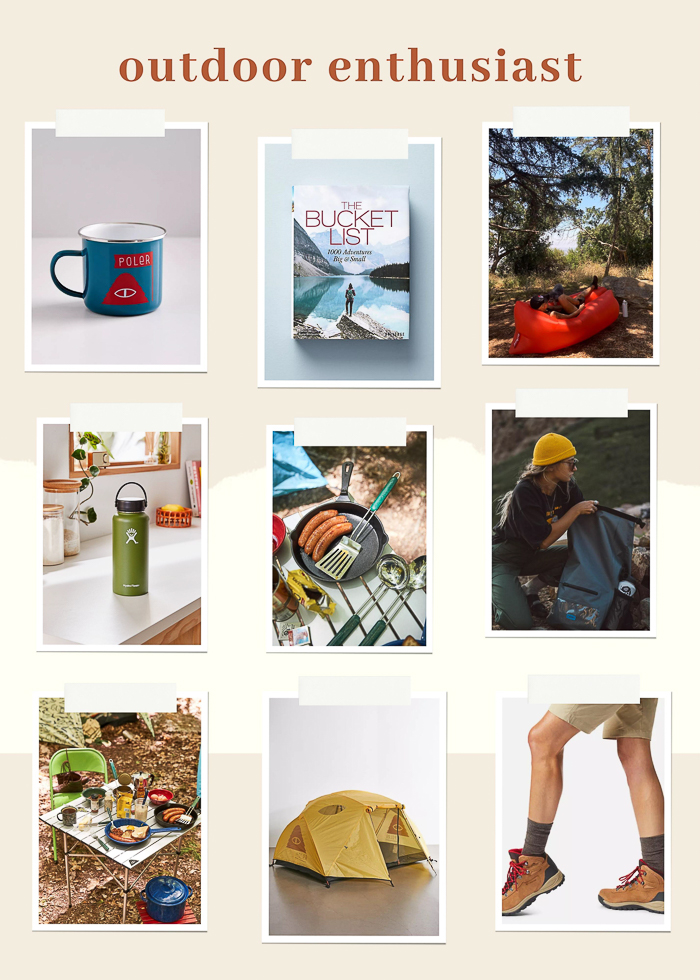 1. Poler Classic Camp Mug; 2. The Bucket List; 3. Fatboy Lazmac Inflatable Chair; 4. Hydro Flask Wide Mouth 32 oz Water Bottle; 5. GSI Outdoors Pioneer Chef Utensil Set; 6. Chums Downriver Rolltop Backpack; 7. Poler Adventure Folding Table; 8. Poler 2-Person Tent; 8. Columbia Newton Ridge Plus Hiking Boot
Valentine's Day Gift Guide For The Spiritualist
We could all use a little more zen in our lives from time to time and these gifts make that process a little easier. If your loved one is in touch with their spiritual side, they're going to love these self-enlightenment gifts.
1. Sunday Citizen Crystal Meditation Pillow; 2. Himalayan Salt Massage Ball; 3. Tattoo Tarot: Ink & Intuition; 4. Halfmoon Hand-Hammered Brass Singing Bowl; 5. Shoppe Geo Reveal Stone Collection; 6. Zodiac Juice Glass; 7. Crystals: The Modern Guide to Crystal Healing by Yulia Van Doren; 8. Dream Journal And Sticker Set; 9. Mer-Sea & Co. Live Well, Be Well Palo Santo Set