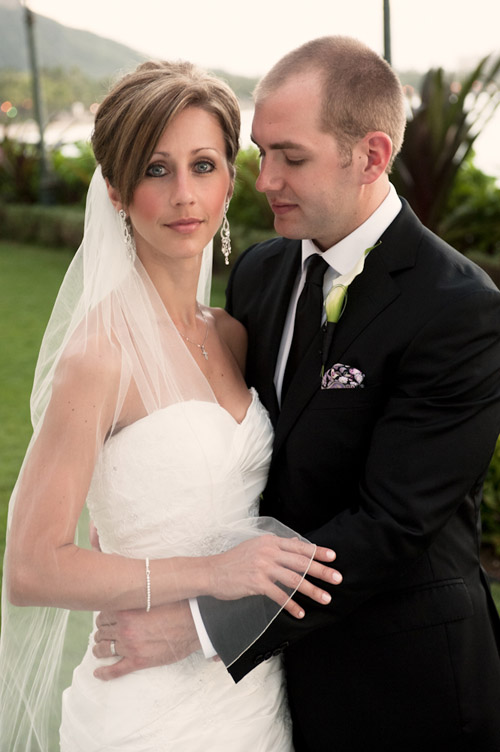 To have a tropical getaway in January is a dream come true for most people, and couple Rachel and Adam took it to a whole other level inviting their very closest family and friends to Waikiki Beach for an chic, intimate, destination wedding last winter. Talented photographer Derek Wong was on hand to capture every special moment!


The Goals: With only 33 guests in attendance, including the bride and groom, Rachel and Adam were able to truly enjoy time with each and every person throughout their stay at the Westin Moana Surfrider Resort. Their main goal was to be able to share this experience with their loved ones, so planning a destination wedding turned out to be their very best decision. "Going to Hawaii, the stresses of a 'traditional' wedding were non-existent, allowing the entire party who traveled in from around the world to enjoy not only the wedding day, but the week before and after as well."

The Design: Rachel's personal style is simple and clean, so they opted for a color palette of black and white with pink accents, and kept the look of the whole wedding classic with a modern, streamlined aesthetic. The island's beach, palm trees and ocean view created the ideal backdrop for their modern Christian ceremony, and the hotel's Beachhouse Restaurant was home to their elegant dinner reception.

The Look: The whole wedding party looked classic and sleek – Rachel in a mermaid shaped wedding gown from ETHOS Bridal Group and accessories from Tiffany & Co. (the bracelet was a gift from Adam on the morning of the wedding!) and Adam in a sophisticated black suit. To keep everyone in the wedding party feeling fabulous and ultra confident, the bridesmaids and groomsmen were asked to choose their own black cocktail dresses and suits, which created just enough uniformity balanced with individual style.

The Moments: Unfortunately because of illness, Rachel's father couldn't make the wedding so on the morning of the big day, Adam surprised her with a sweet video message from him.
During the ceremony, Rachel favorite moment was waiting to walk down the aisle, and as a couple they loved their first dance. It was under a banyan tree to a live version of the "Hawaiian wedding song". Perfect!
The Pros: To learn about all of the wedding professionals who worked on this wonderful wedding day please visit Rachel and Adam's page in our Real Wedding Library.

Thank you for sharing your wedding with us Rachel and Adam!
Readers, don't miss more real weddings all week long here on What Junebug Loves, and to plan your own Southern California or Seattle area wedding, check out our Plan Your Wedding Hotlists. To find a dream wedding photographer for your wedding anywhere in the world, don't miss our World's Best Wedding Photographers Hotlist!