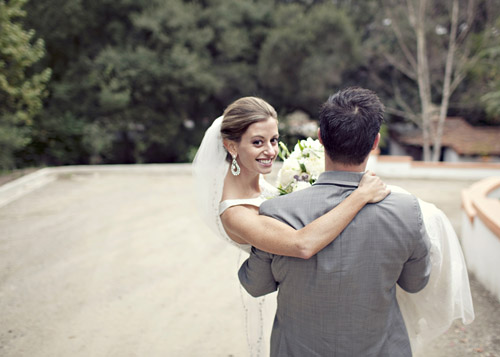 It's day two of our Real Wedding week here on What Junebug Loves, and we're off to beautiful Southern California! Lindsay and Ryan were married at the one-of-a-kind location Rancho Las Lomas (a Junebug member business and one that we've loved getting to see in person!) and as you can see from these images by Taryn Kent Photography it was simply the perfect venue for this sweet, family-oriented celebration.

The Goals: Lindsay and Ryan wanted to find a wedding location that felt like home, where everyone in attendance would feel comfortable and could easily move around the grounds. When they discovered Rancho Las Lomas right next to the Cleveland National Forest where these two avid hikers love to spend time they knew it was the one. Making it even more perfect was the huge California Sycamore tree that drapes over the entire ceremony site. "It sounds silly, but I always wanted to be married under a California Sycamore (it's my favorite tree). I was already sold on the site before I saw the tree, then when I saw it I immediately said, 'When can we book our wedding date?'" Meant to be!

The Design: To compliment the fall look of this Spanish-inspired venue, Lindsay and Ryan chose an earthy color palette of black, white, brown, silver and sage. Each of the ten dining tables were decorated with photos of the couple from the ten years that they have been dating, and there were elements of nature all around. Delicious food from 24 Carrots was served, favors of small glass jars filled with chocolate were given out, and a 4 tired wedding cake from Savoie's Fare had different flavors in each layer.
The Look: Lindsay really wanted a wedding dress that was vintage-inspired and that she would be comfortable wearing all day long, so her choice of a gown by Claire Pettibone was ideal. "I fell in love with the dress I chose because the lace on the back was gorgeous and the jewel design on the front was so stunning. Plus, I didn't feel self-conscious in it and I could move around without feeling like I was carrying 50 pounds of extra fabric." Following tradition, Lindsay had something old, new and borrowed taken care of, but when she couldn't find anything blue, she ended up drawing blue dots on the bottoms of her shoes. Very resourceful!

The Moments: Lindsay and Ryan have been together for ten years, so being away from each other the night before the wedding just didn't feel right. "We didn't like the idea of spending a night away from each other on the eve of one of the most important days of our life, so we stayed home and packed for the honeymoon and talked about how nervous/excited we were. We wound up staying up really late because we couldn't go to sleep."
On the day of the wedding, the most romantic moments for the couple came after the ceremony when they were alone with their photographer taking pictures, and later at the end of the night when the finally climbed into their limo to head to their hotel and then off to their relaxing honeymoon! It was an intimate wedding filed with family, friends and meaningful moments, and looking back Lindsay and Ryan wouldn't change a thing about it!
The Pros: To learn about all of the wedding professionals who worked on this wonderful wedding day please visit Lindsay and Ryan's page in our Real Wedding Library.

Thank you Lindsay and Ryan!
Readers, don't miss more real weddings all week long here on What Junebug Loves, and to plan your own Southern California or Seattle area wedding, check out our Plan Your Wedding Hotlists. To find a dream wedding photographer for your wedding anywhere in the world, don't miss our World's Best Wedding Photographers Hotlist!