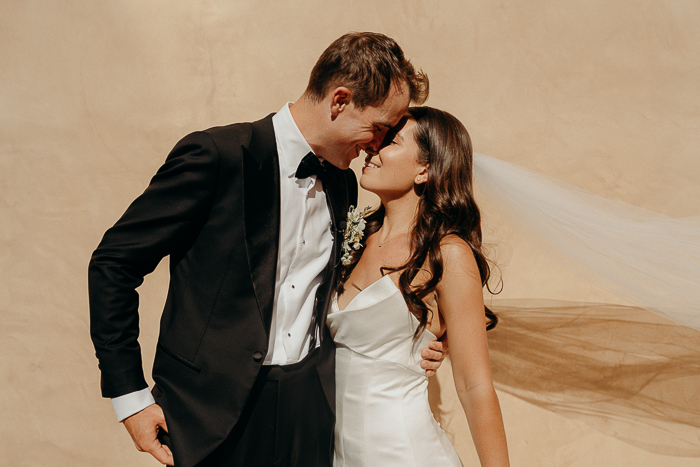 Set in a beautiful Tuscan-style estate perched above the clouds, Natalie and Kevin's Malibu mountaintop wedding was both fashion-forward and timeless. Between the beautiful vineyard, the stunning villa, and the spectacular ocean, mountain and city views, the Malibu Solstice Vineyards truly was the perfect venue for the couple as they toasted to their new life and marriage.
While their guests looked on, the couple exchanged their heartfelt vows with the breathtaking Santa Monica mountains as their backdrop. And as if the scenery wasn't beautiful enough, the two stood out in their glamorous wedding attire–Natalie in a custom Monique Lhuillier dress and Kevin in a classic tux by Suit Supply.
Their romantic outdoor reception featured U-shaped seating for an intimate feel, gorgeous white florals by Creative Light Design, a chic all-white tablescape, and unobstructed views of the ocean and the city skyline. To top it all off, they kept the celebration going by surprising guests with a silent disco and a late-night snack of soft pretzels.
Despite the venue change four months before the wedding, their big day went off without a hitch thanks to their planner, Only One Events, and their incredible vendor team. If you've been dreaming of tying the knot surrounded by scenic mountain views, then you need to scroll through these amazing photos by Rachel Wakefield!
The Couple:
Natalie and Kevin
The Wedding:
Malibu Solstice, Malibu, California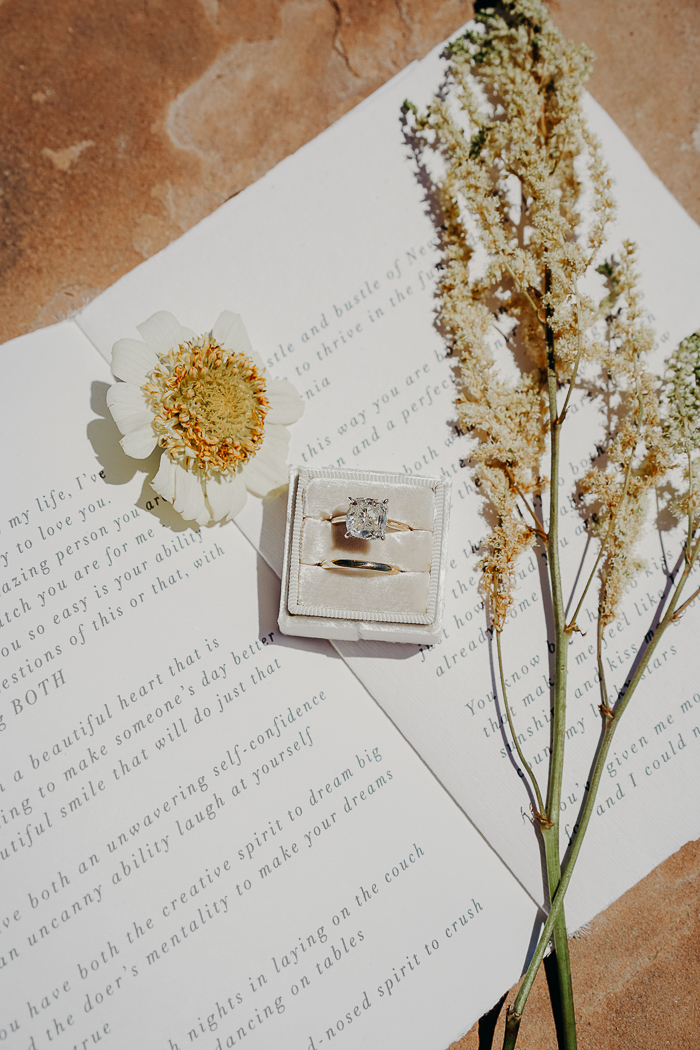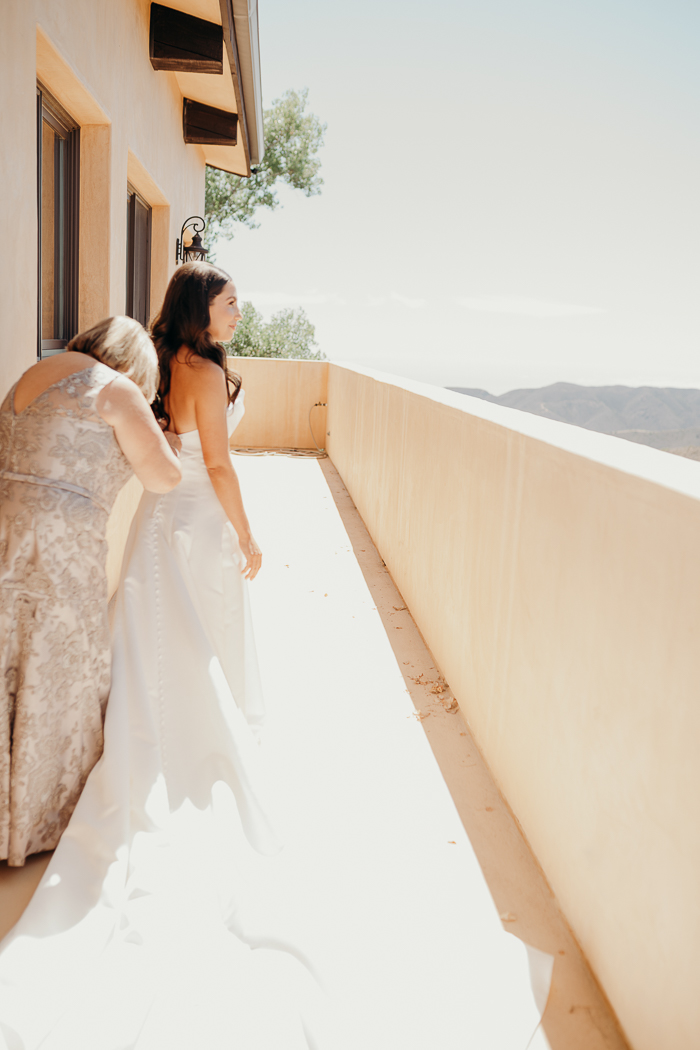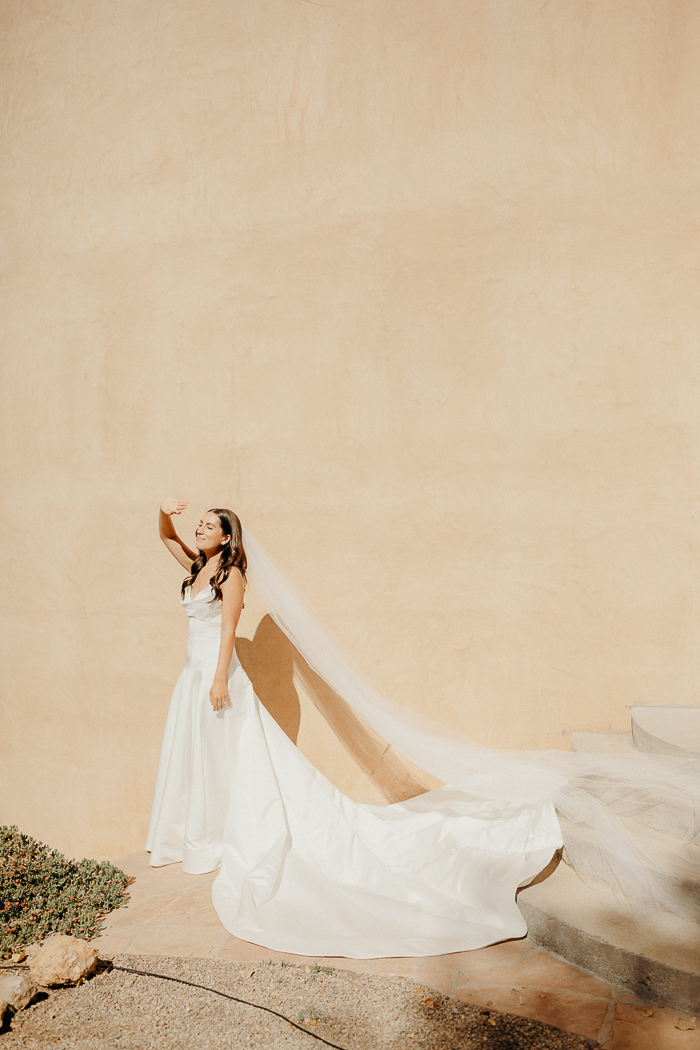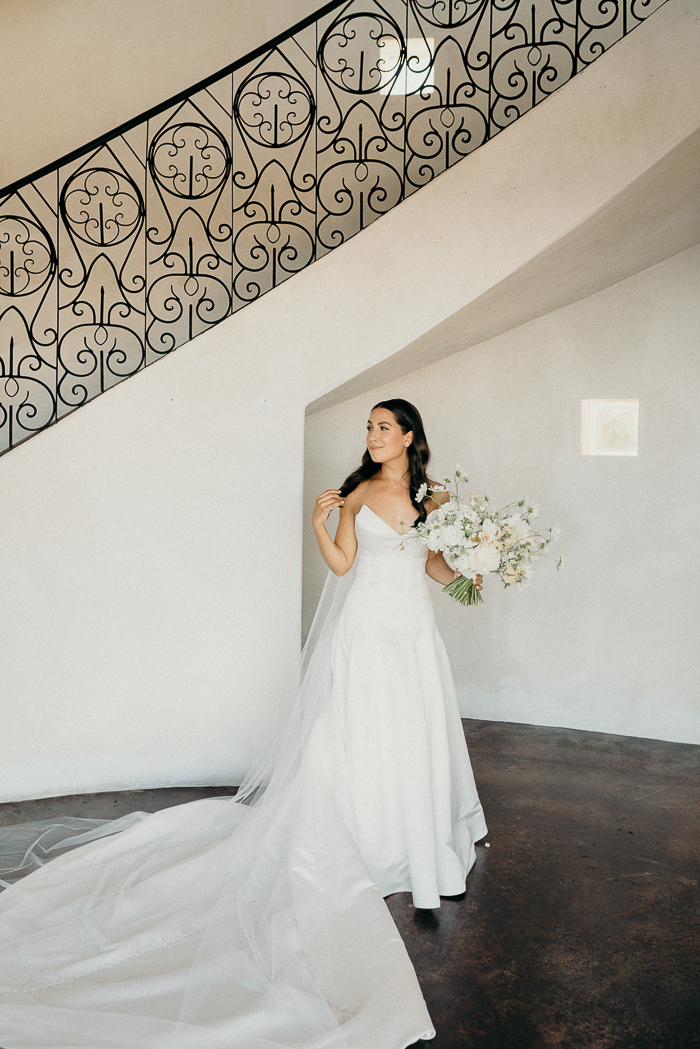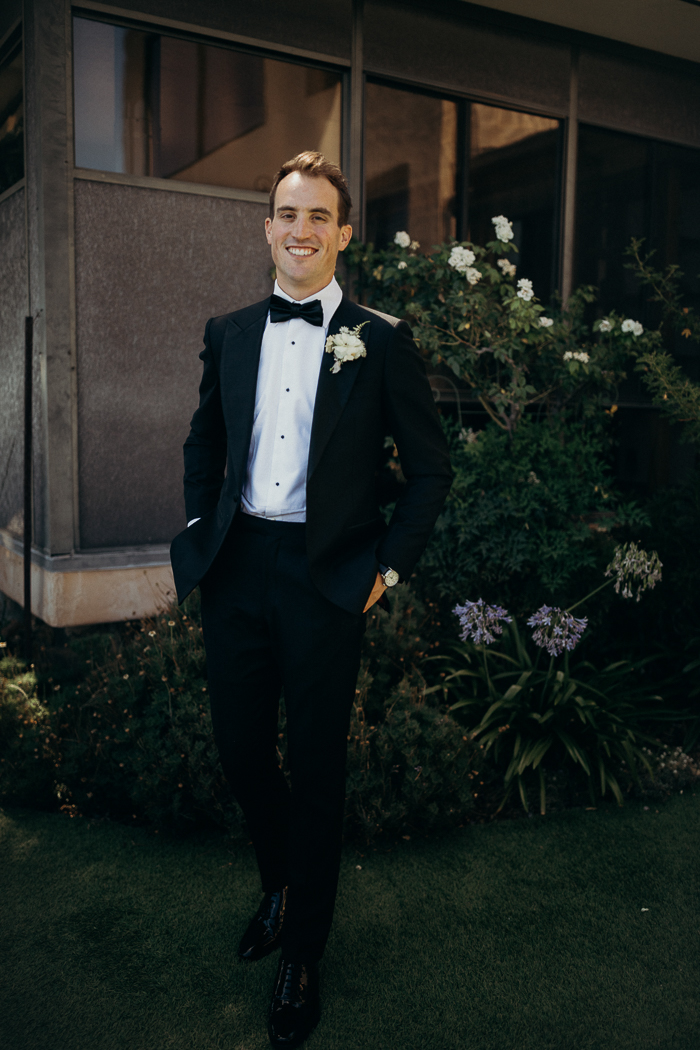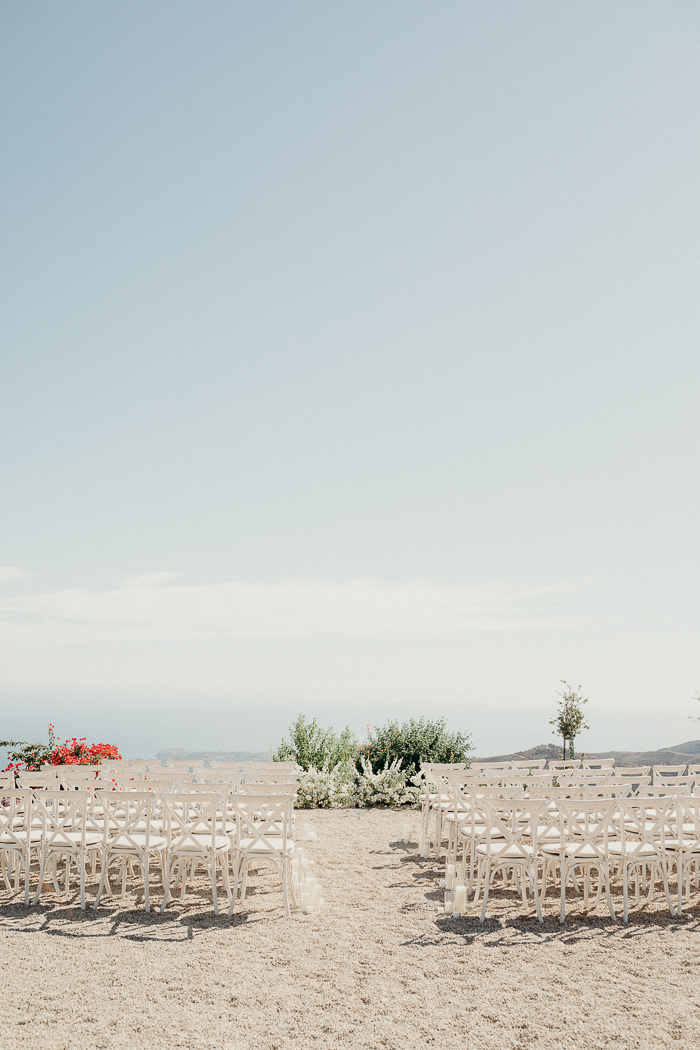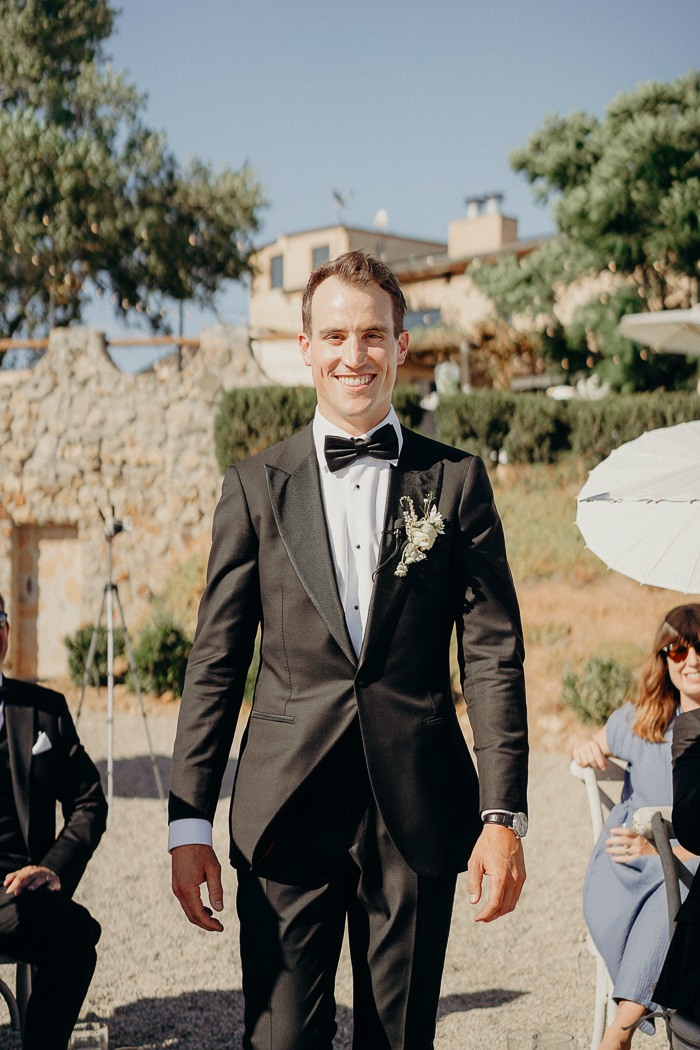 Emotional Moment Walking Down The Aisle
From where I was standing, the staircase curved, so I couldn't see everyone until I turned the corner. Seeing all of my loved ones holding their parasol umbrellas and the gorgeous ocean view just took my breath away. Even though Kevin and I did a first look, it was an emotionally charged moment I will forever remember. Our chairs were placed really close to where we were standing at the altar, and I just remember feeling so embraced with the love of our closest family and friends, who traveled from New York City and Boston to be there.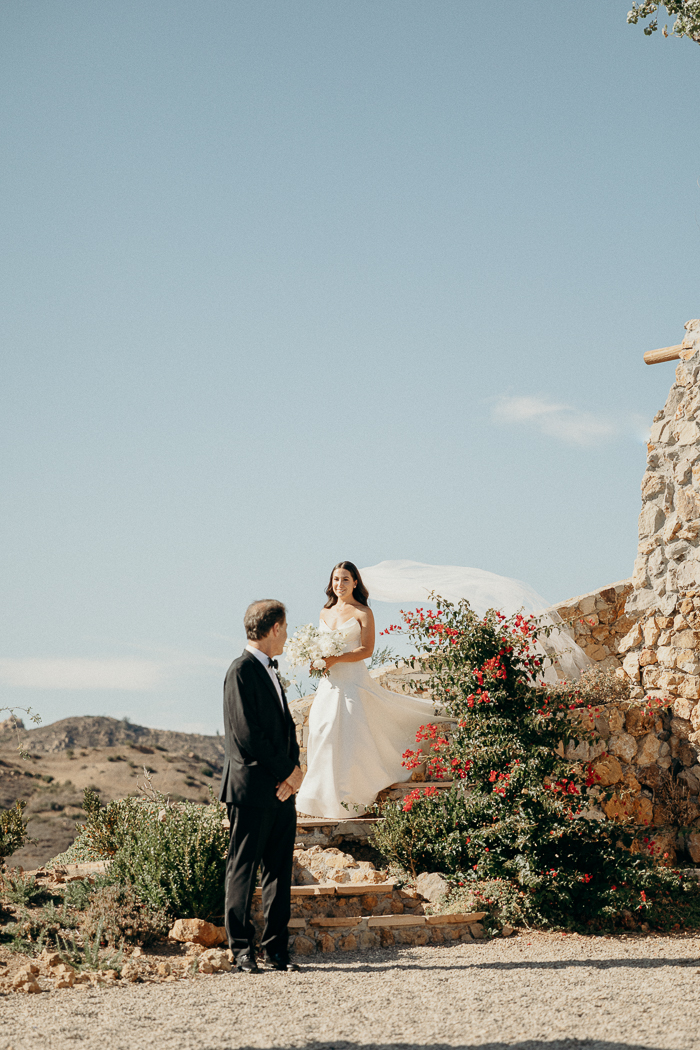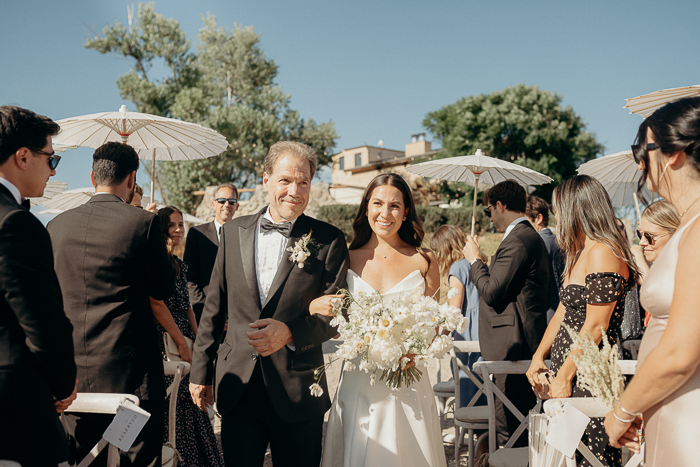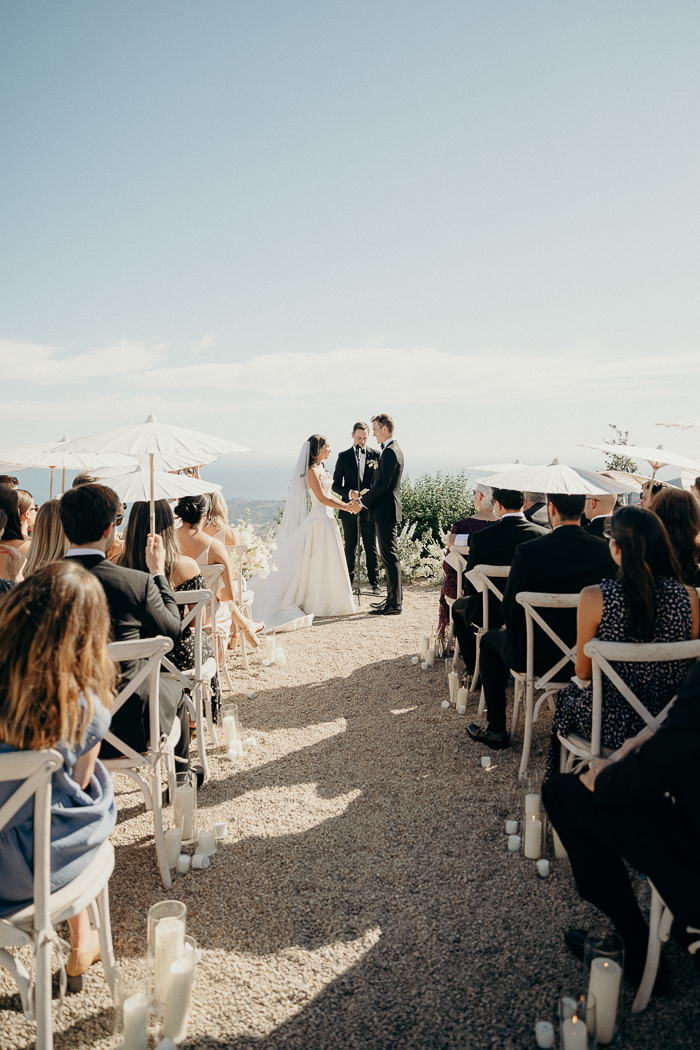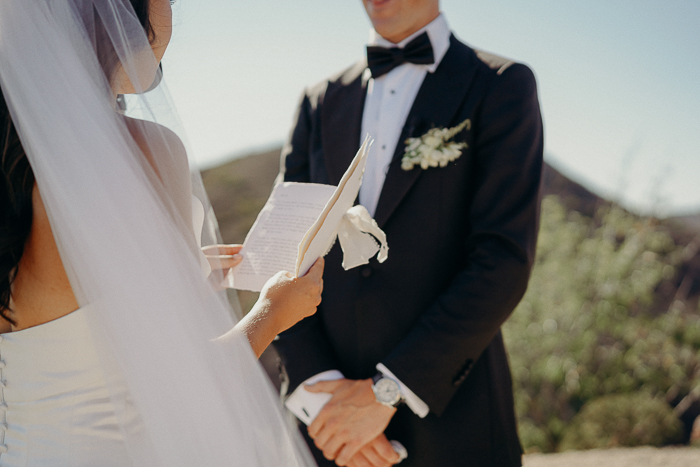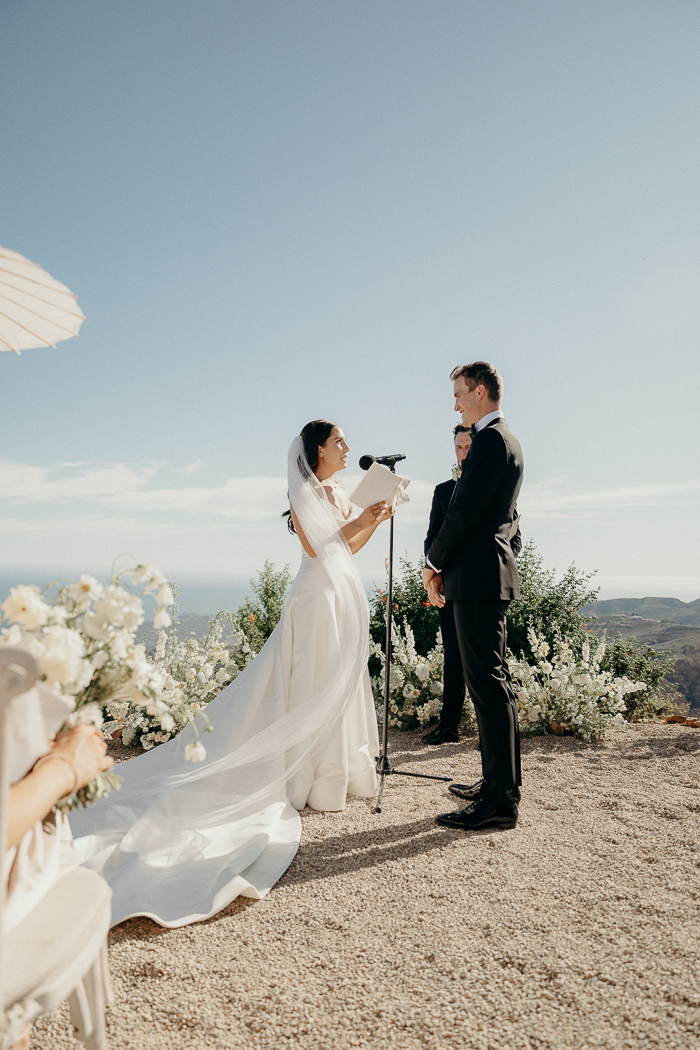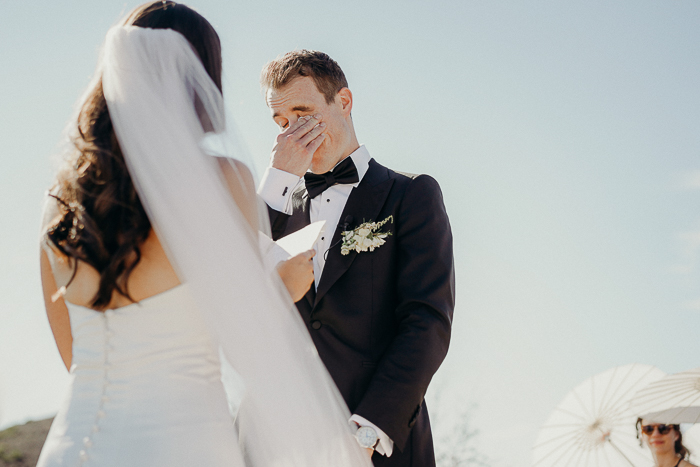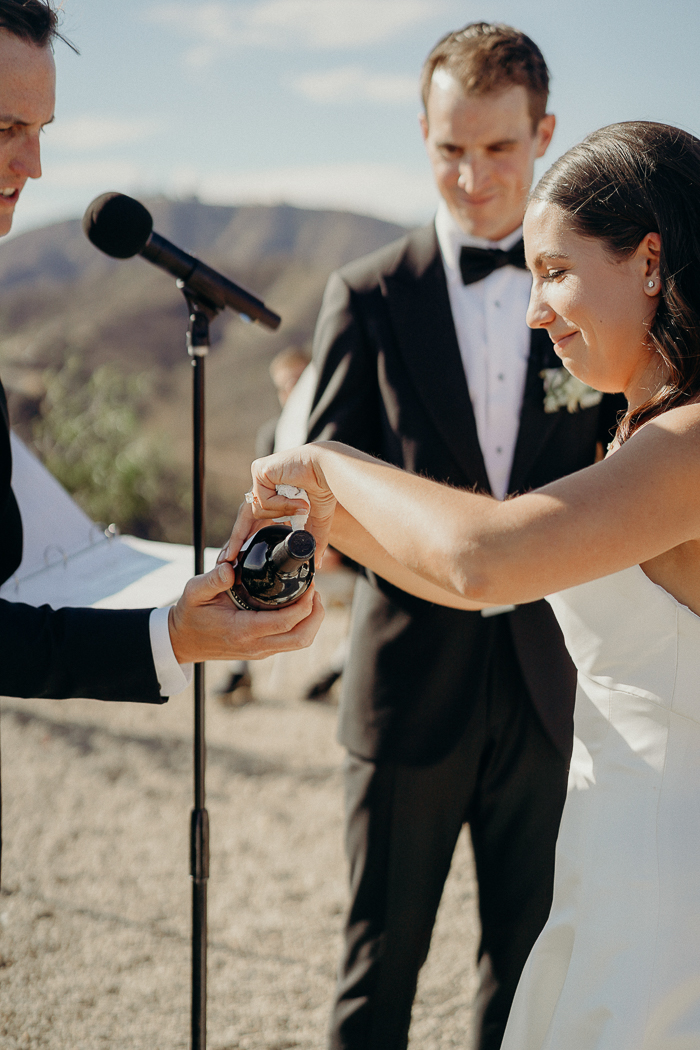 A Unique Wine Unity Ceremony
Our venue has a vineyard, and we love wine, so we wanted to incorporate that into our ceremony. We had a section of our vows printed onto adhesive paper that we stuck to the back of one of the wine bottles from the venue during the ceremony. Our officiant–Kevin's brother–explained that we had purchased ten bottles, and for our first ten anniversaries, we would revisit our vows over a glass of wine each year.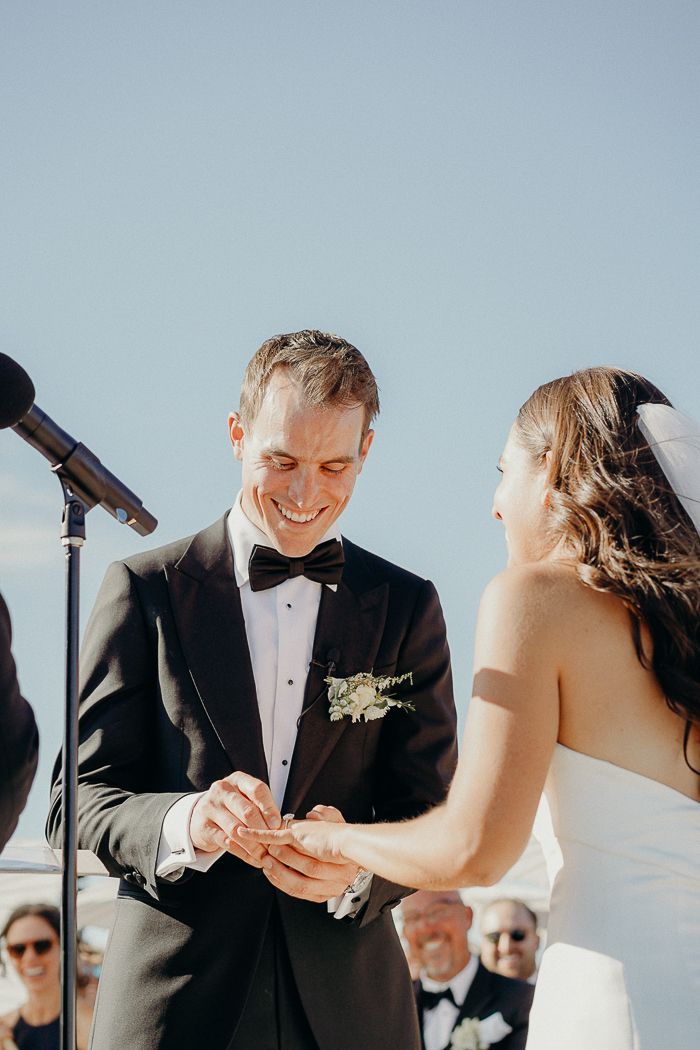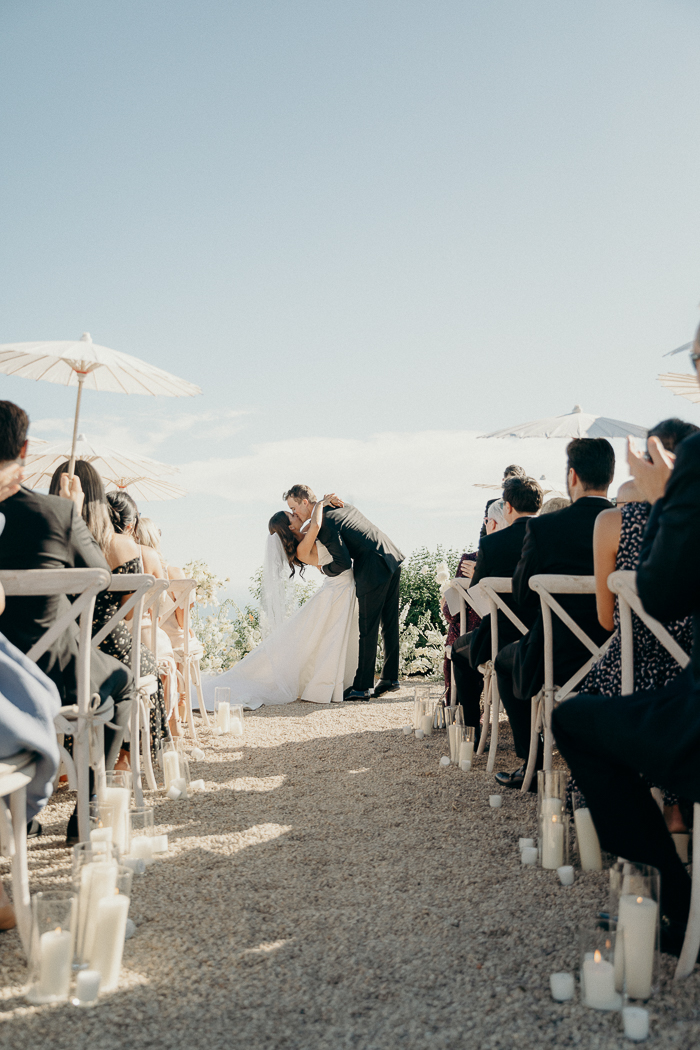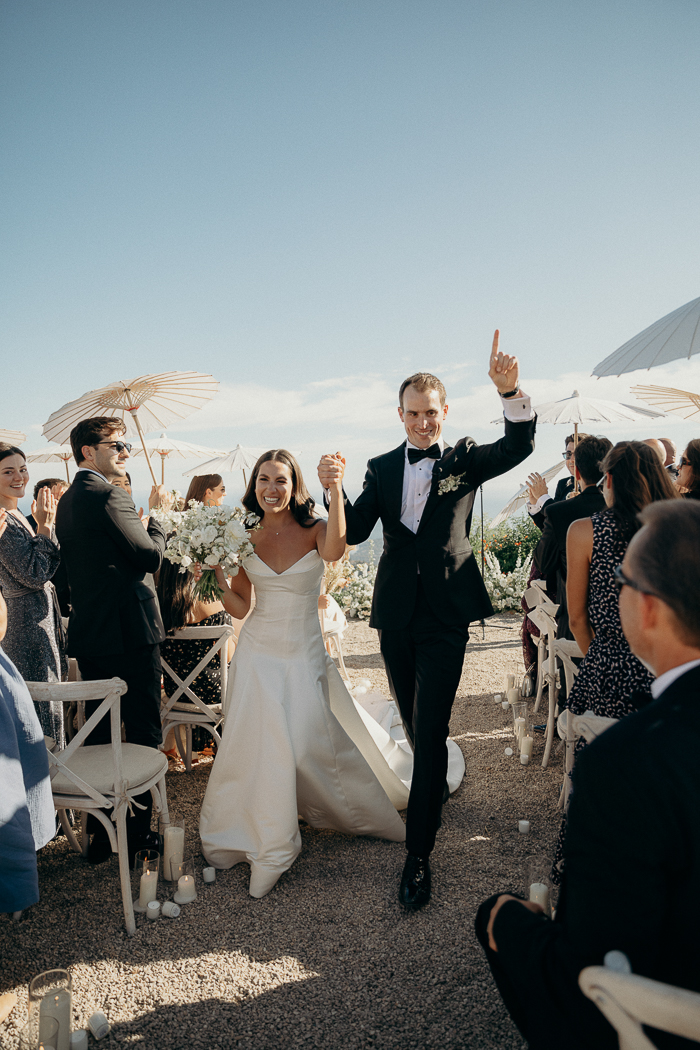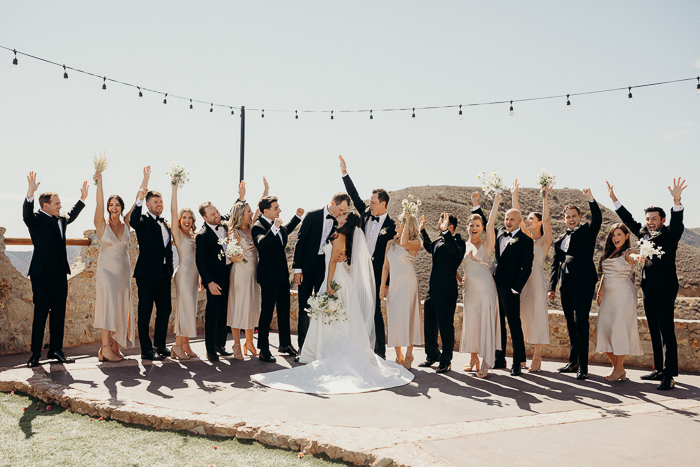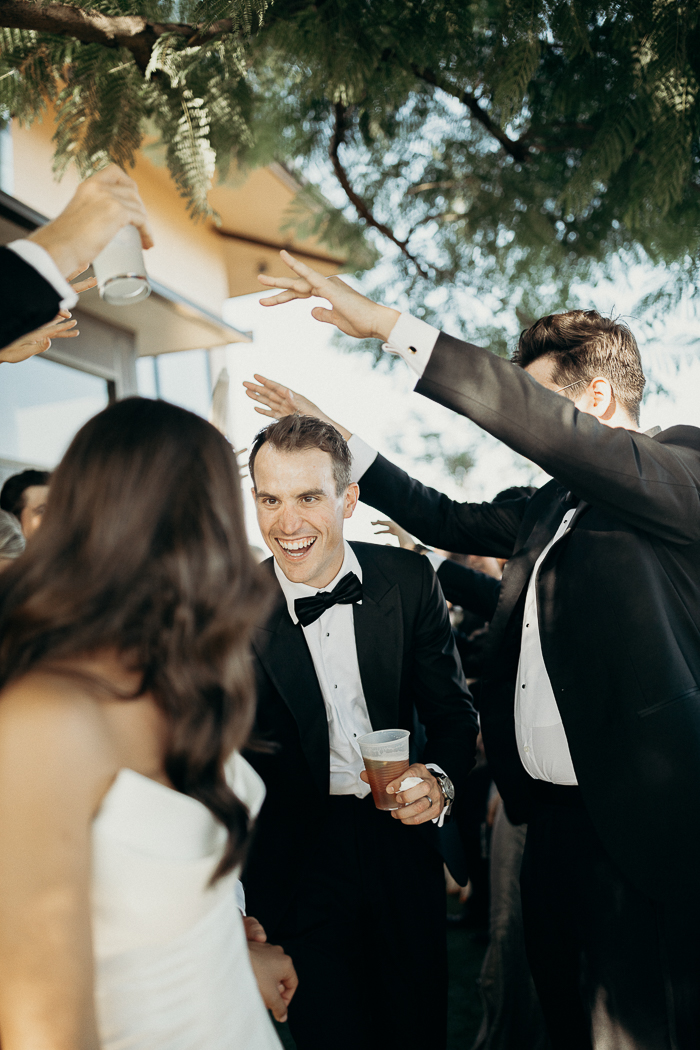 Flexibility Is Key To Wedding Planning During A Pandemic
Be flexible–especially in the ever-changing COVID climate. And always be ready and willing to shift your plans. We were supposed to get married at a different venue, but four months before our wedding, we changed venues to Malibu Solstice Vineyard and couldn't have been happier.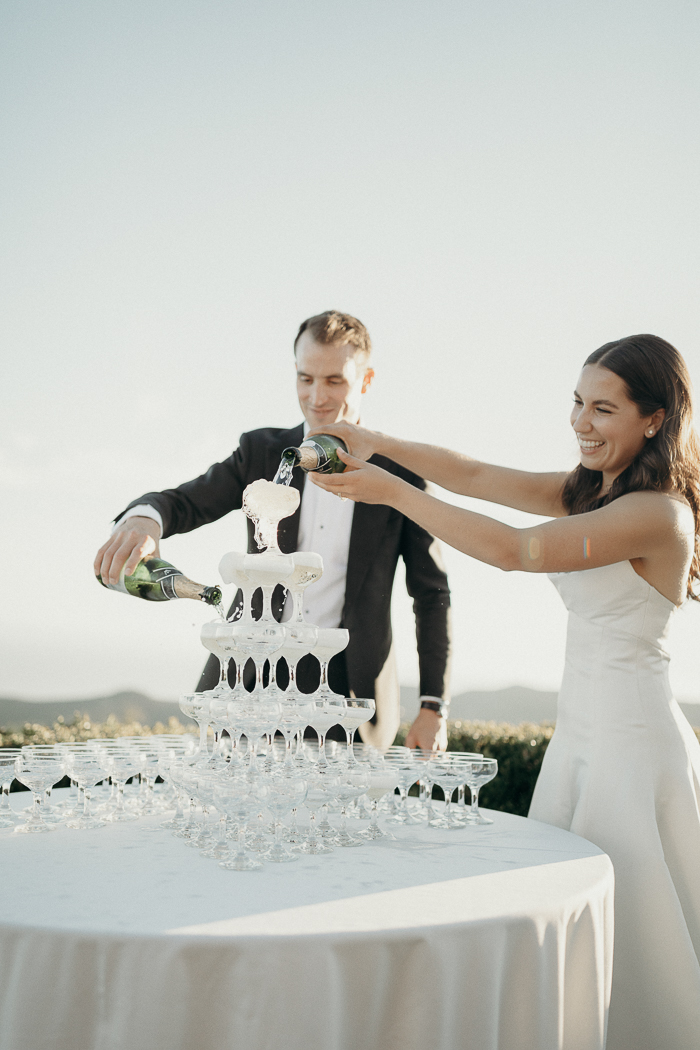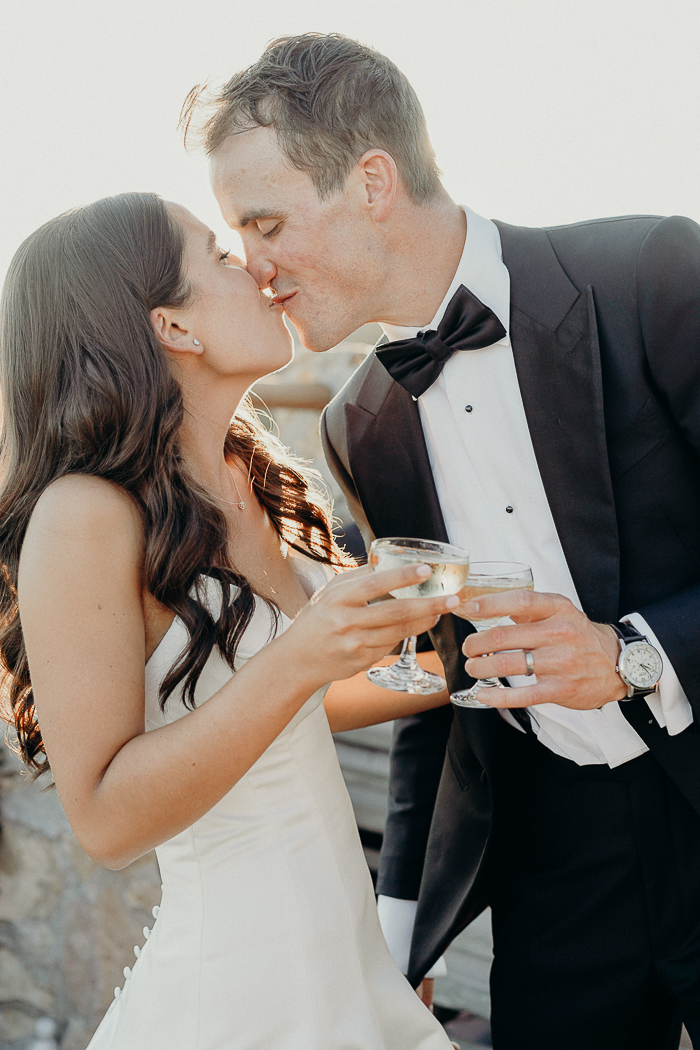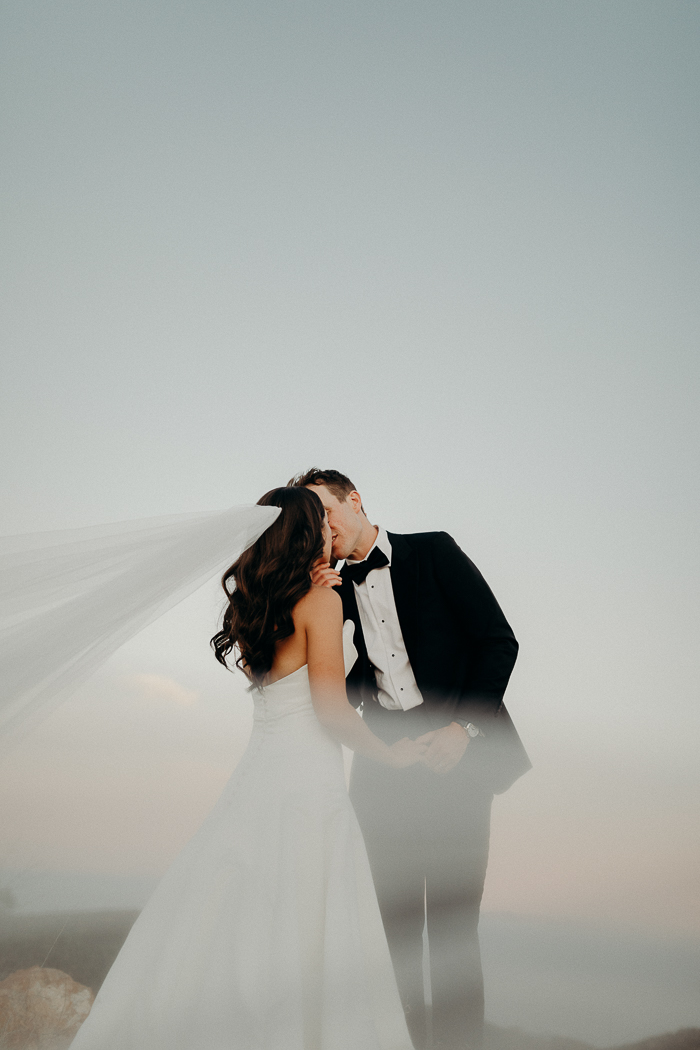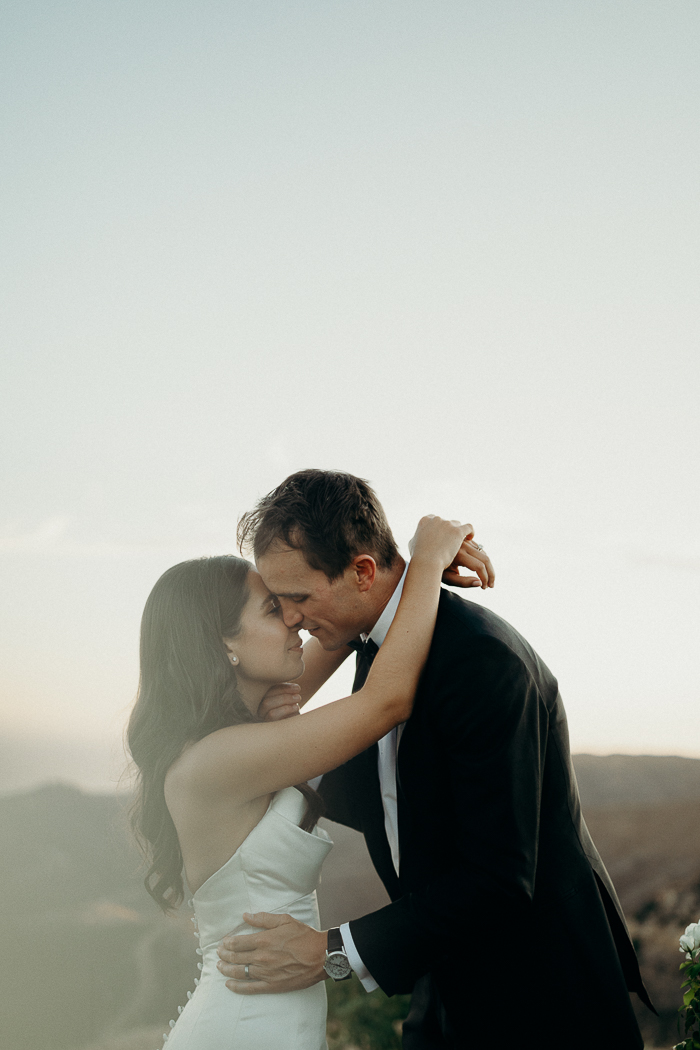 Photographer Rachel Wakefield Made The Couple Feel Comfortable
Rachel was incredible—so easy to get along with. She honestly felt like just another friend there, which was important to me. I wanted my friends and family to feel comfortable around her so the raw moments could be captured, and everyone just kept saying how great she was. She had incredible ideas and made our vision come to life.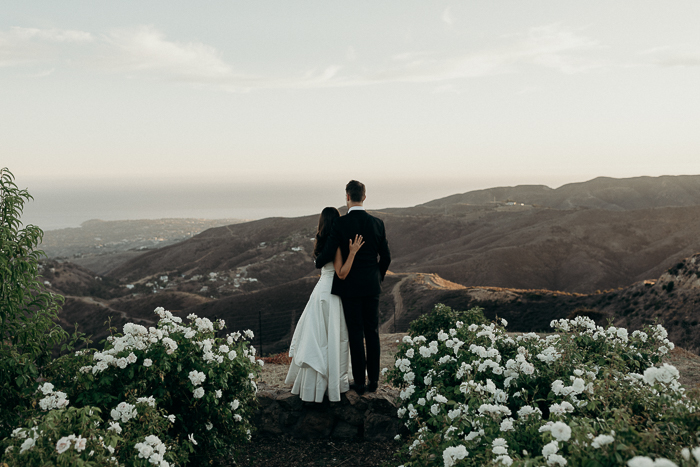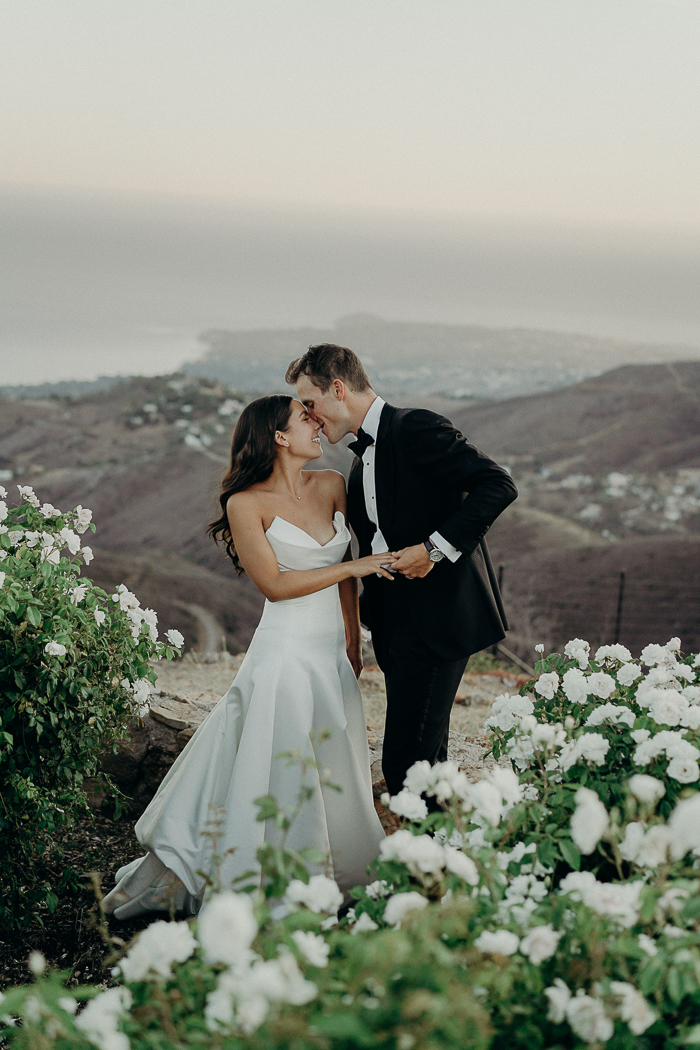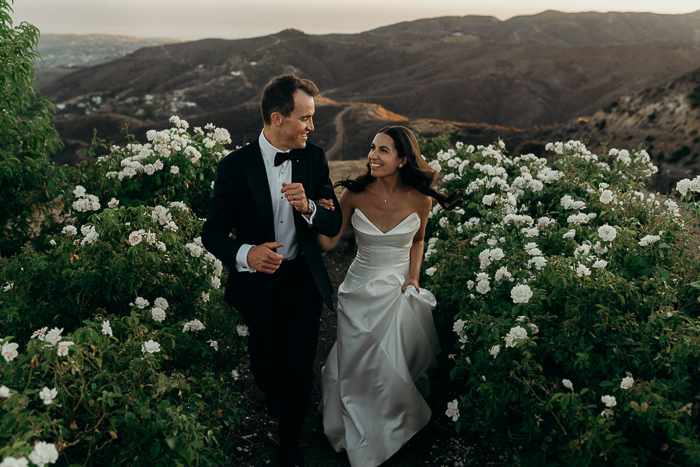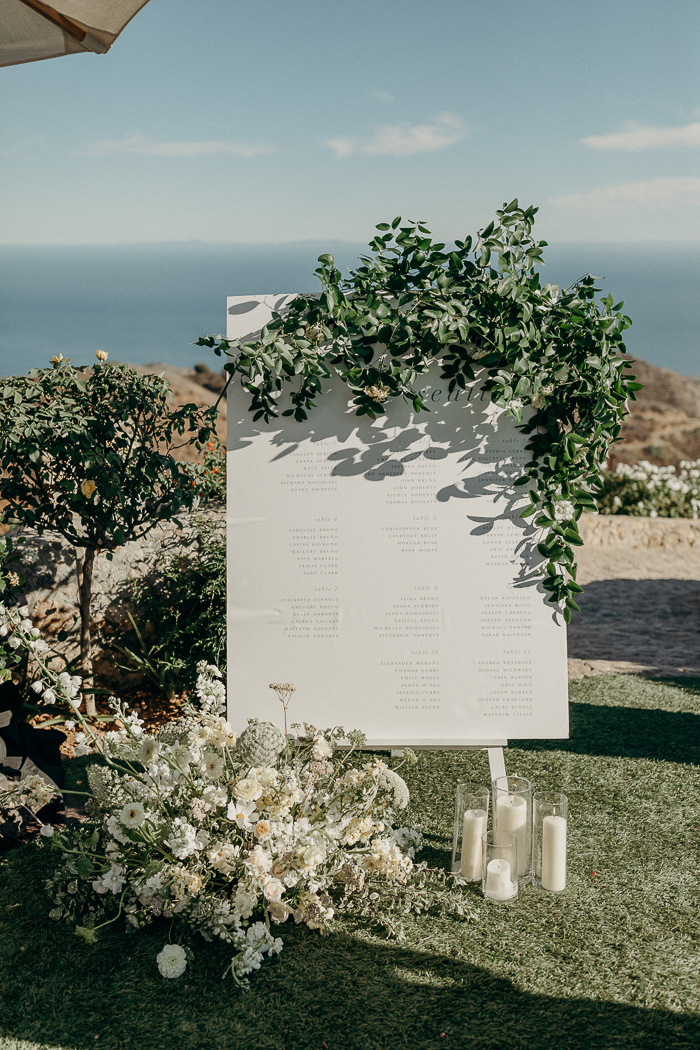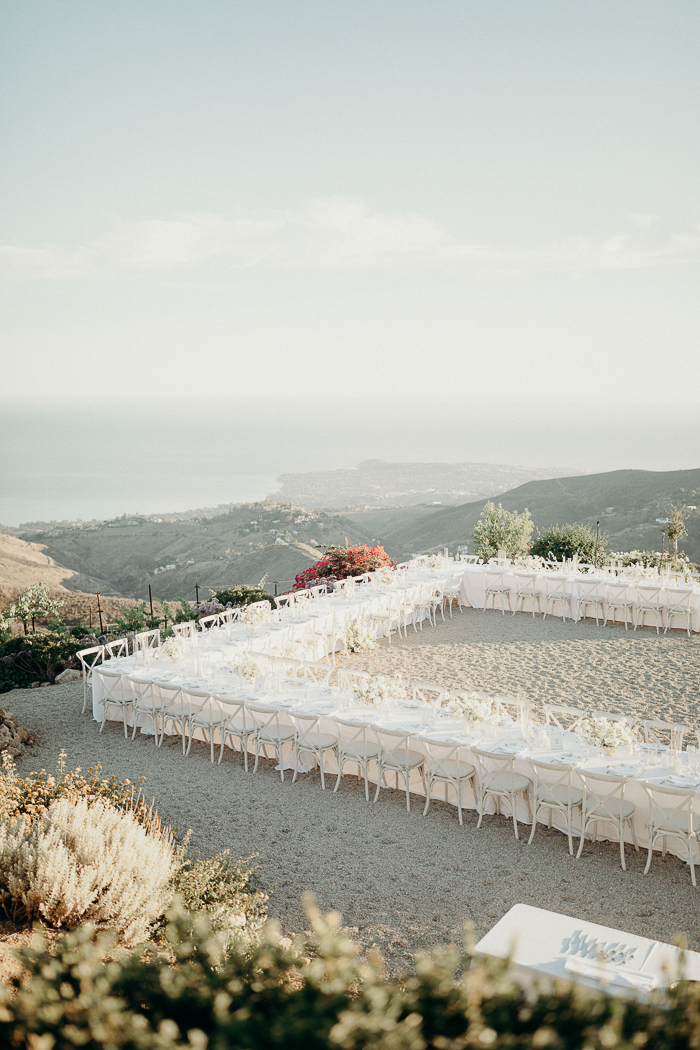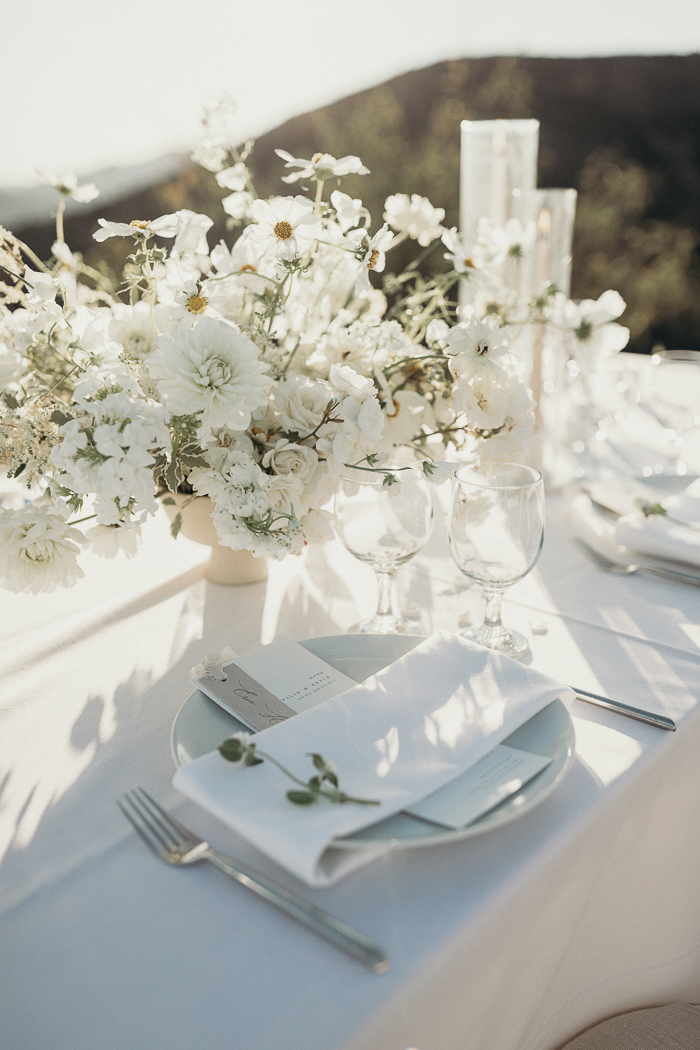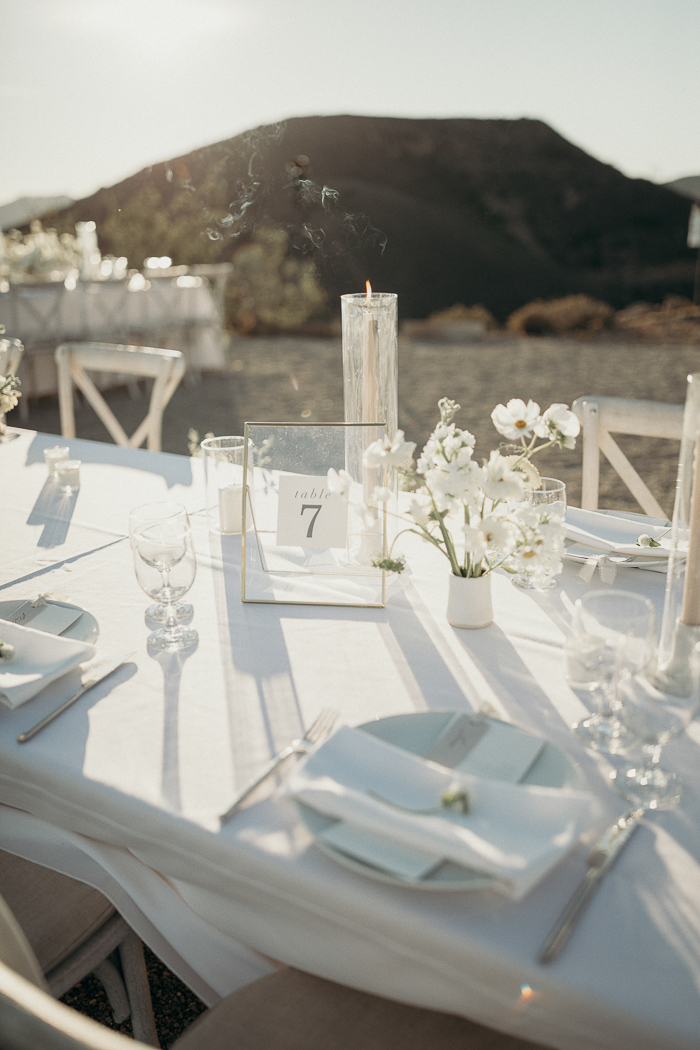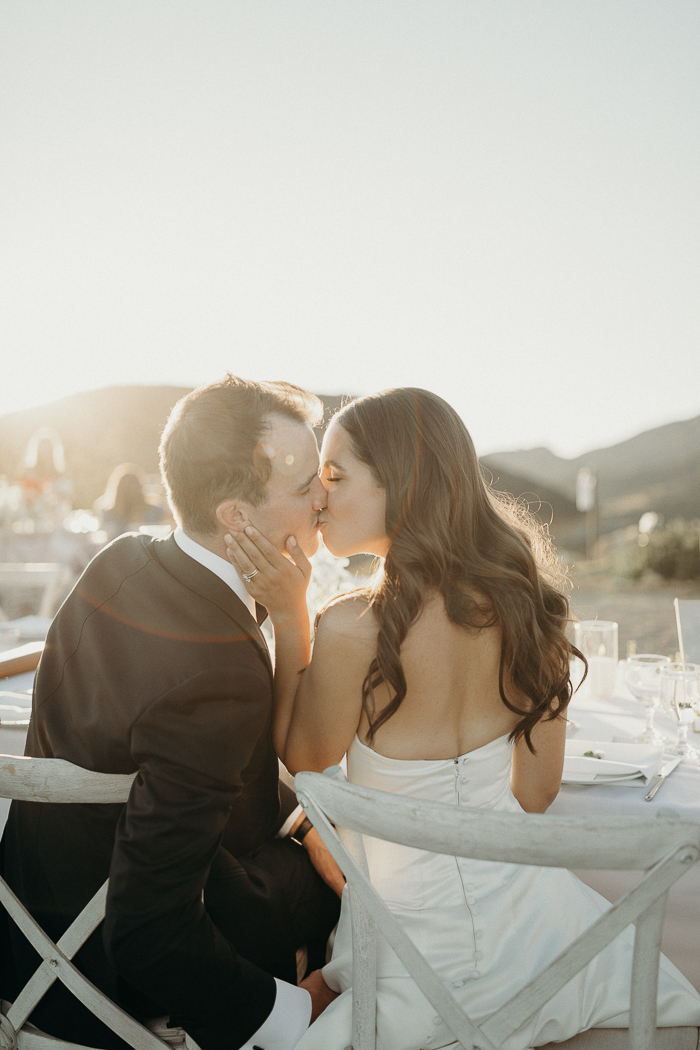 A Malibu Mountaintop Wedding That Feels Like An Intimate Dinner Party
I wanted our reception to feel like we were at a dinner party with our closest people. We opted for family-style and had everyone sit at one big U-shaped table. It created community and conversation and made it feel like we were at the most amazing restaurant with our favorite people.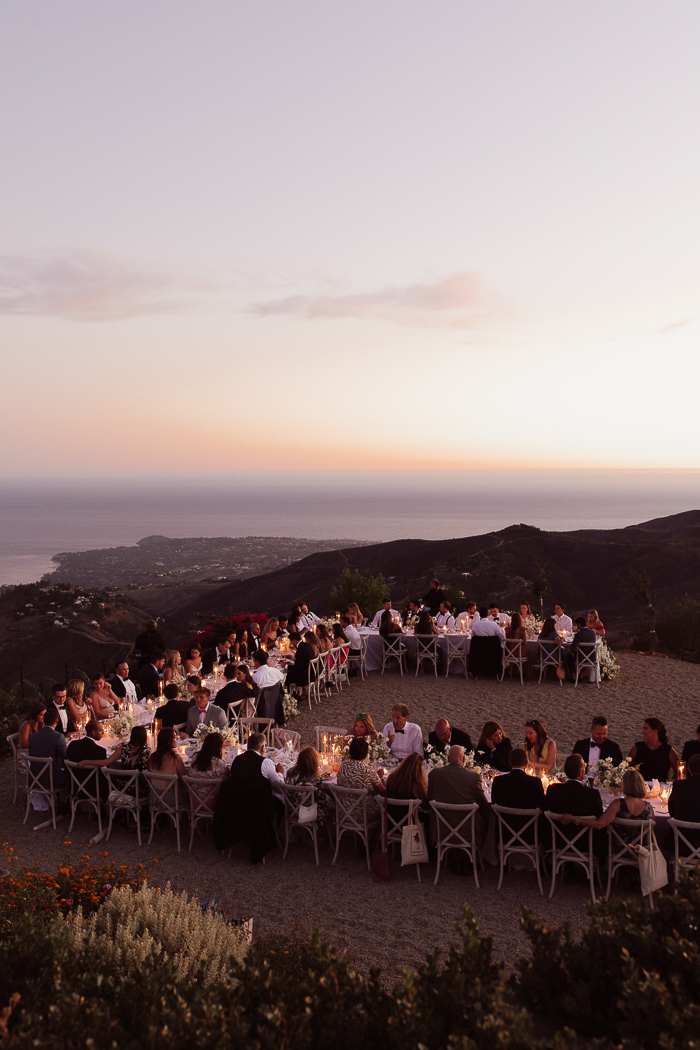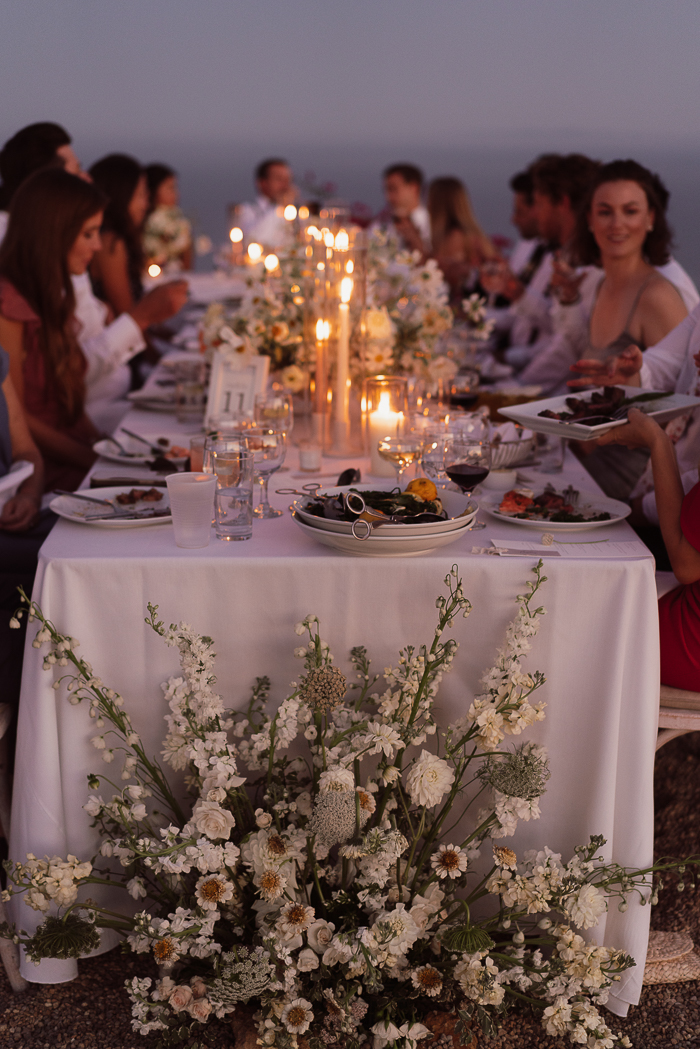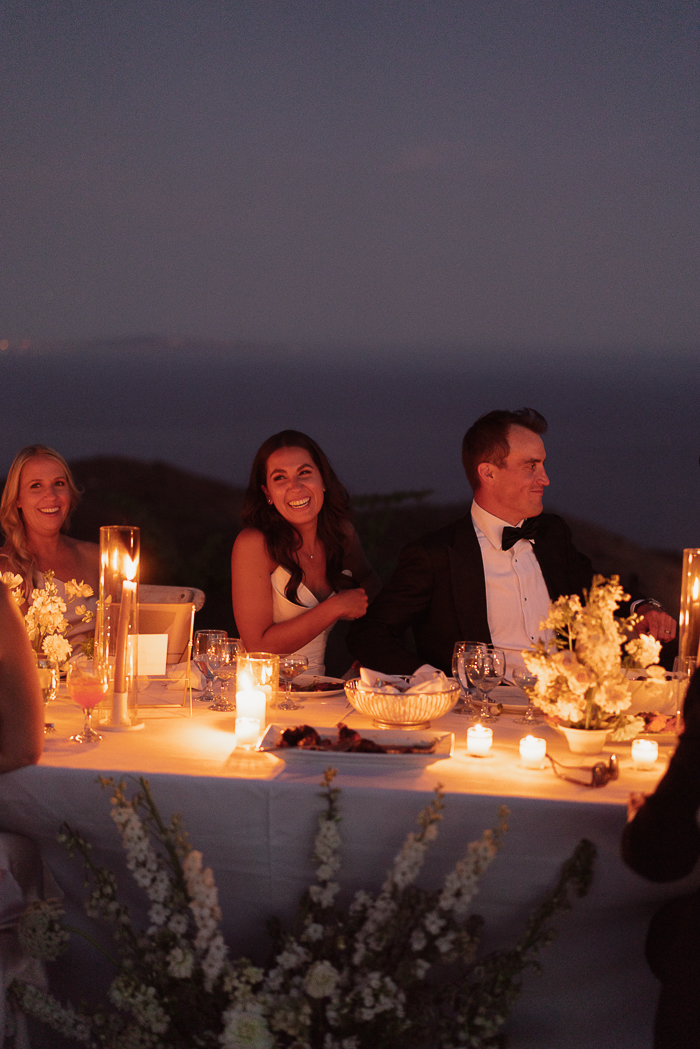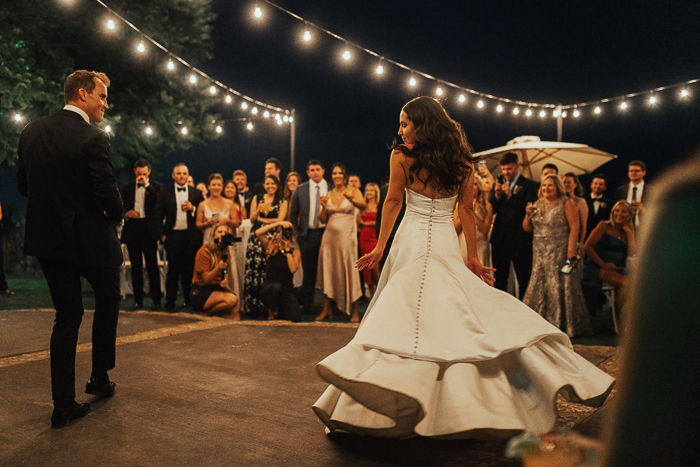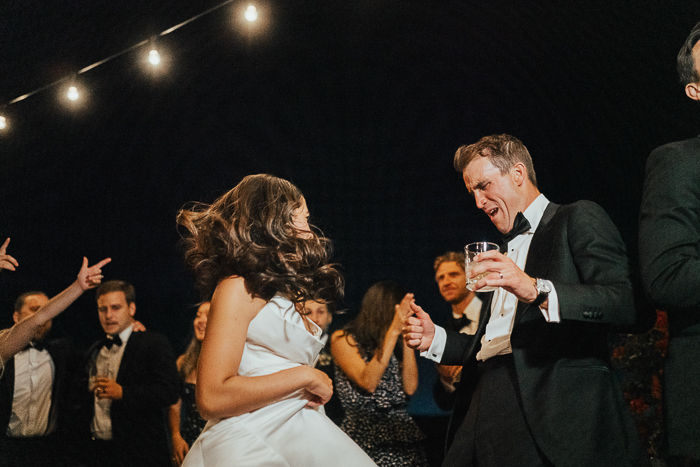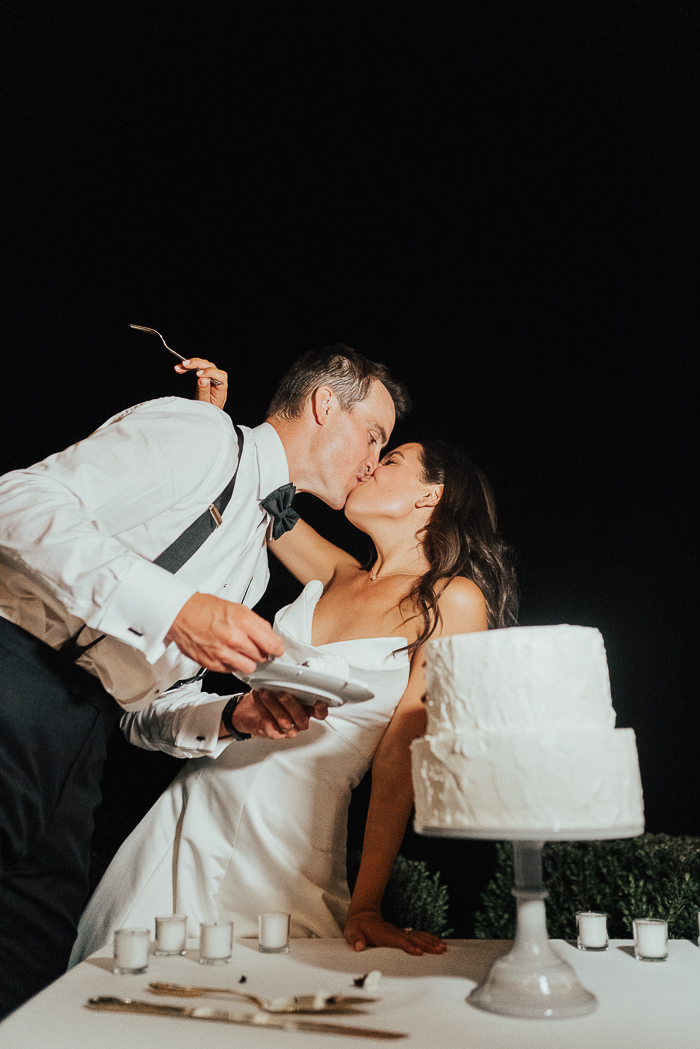 A Silent Disco Surprise For Their Guests
The silent disco was a complete surprise to everyone. We were so tempted to tell everyone about all the exciting things we had planned for our wedding, but we're so happy we kept it a surprise. People were so excited when they realized what it was and had the best time. People still talk about how great it was!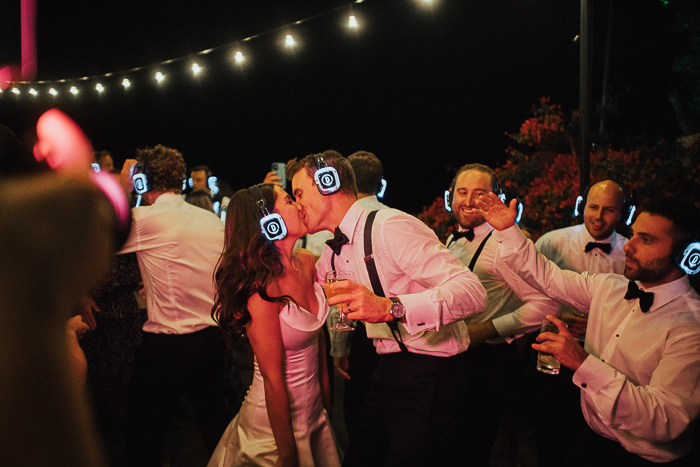 Congratulations to Natalie and Kevin on their fashion-forward and timeless Malibu mountaintop wedding. Big thanks to Rachel Wakefield for capturing the most beautiful moments of their special day.
Your wedding is about you and your partner, which is we firmly believe you should add your own personal touches to make it unique to your relationship. And just like Natalie and Kevin, working with the right team can help you put together a celebration that stands out.