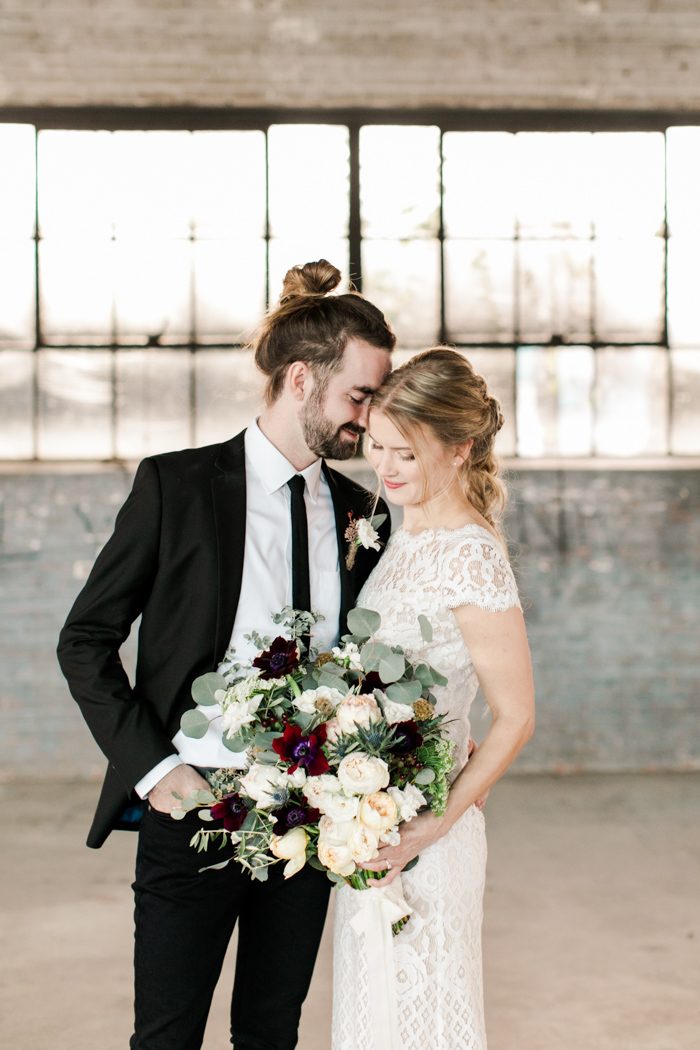 Megan and Sean's wedding at The Glass Factory was minimalism at its finest. The industrial venue offered the perfect blank canvas for them to add their artistic flair, which included a modern hand-painted black, white, and grey canvas ceremony backdrop, black and white letter boards, tons of natural greenery, and mismatched glass vases. The contrast between the feel of the space and the crisp decor, which Natalie Broach Photography captured perfectly, was as refreshing as it was beautiful. This sweet couple also nailed their youthful wedding day style. Megan's simple lace BHLDN dress, long braid, and lush floral bouquet looked effortless, and Sean's suit jacket, black skinny jeans, and messy bun were a modern twist on traditional groom style.
The Couple:
Megan and Sean
The Wedding:
The Glass Factory, Jacksonville, Florida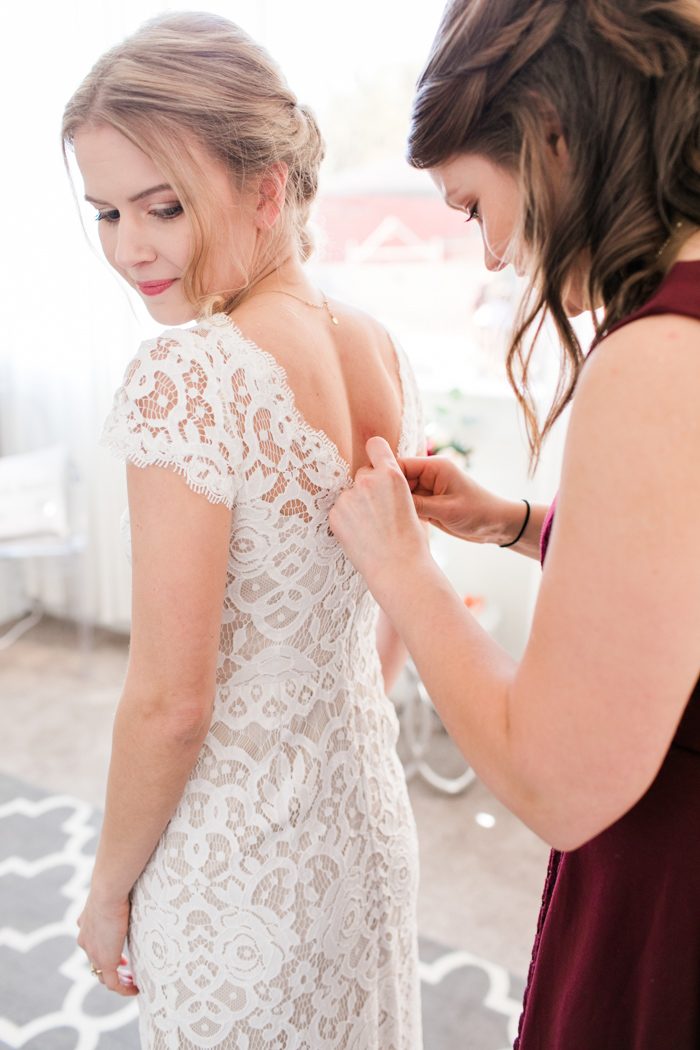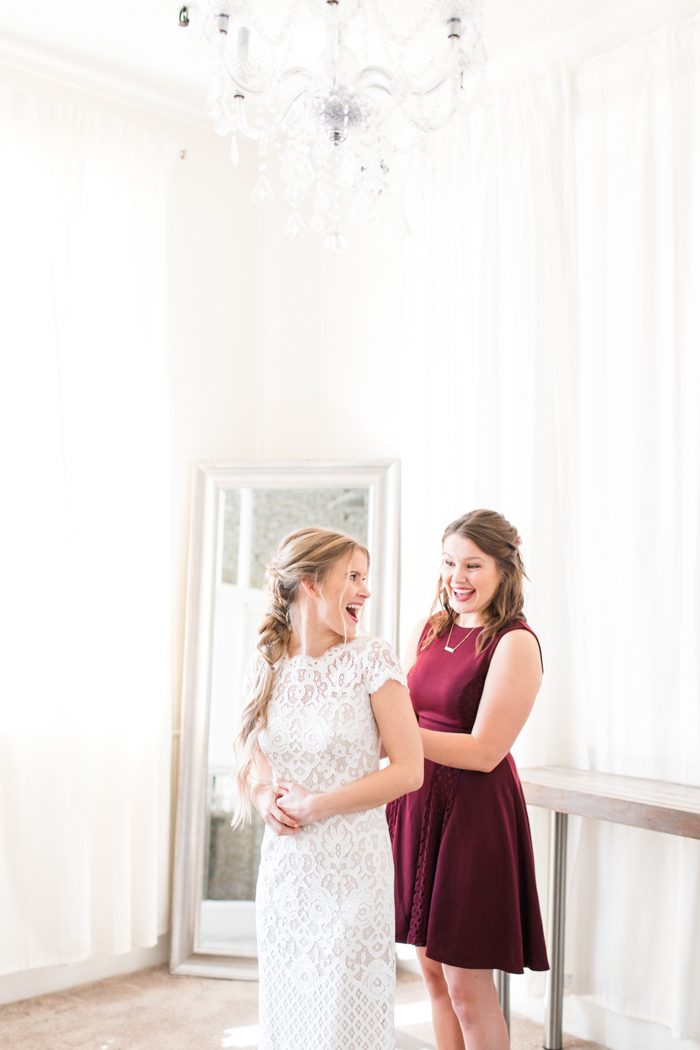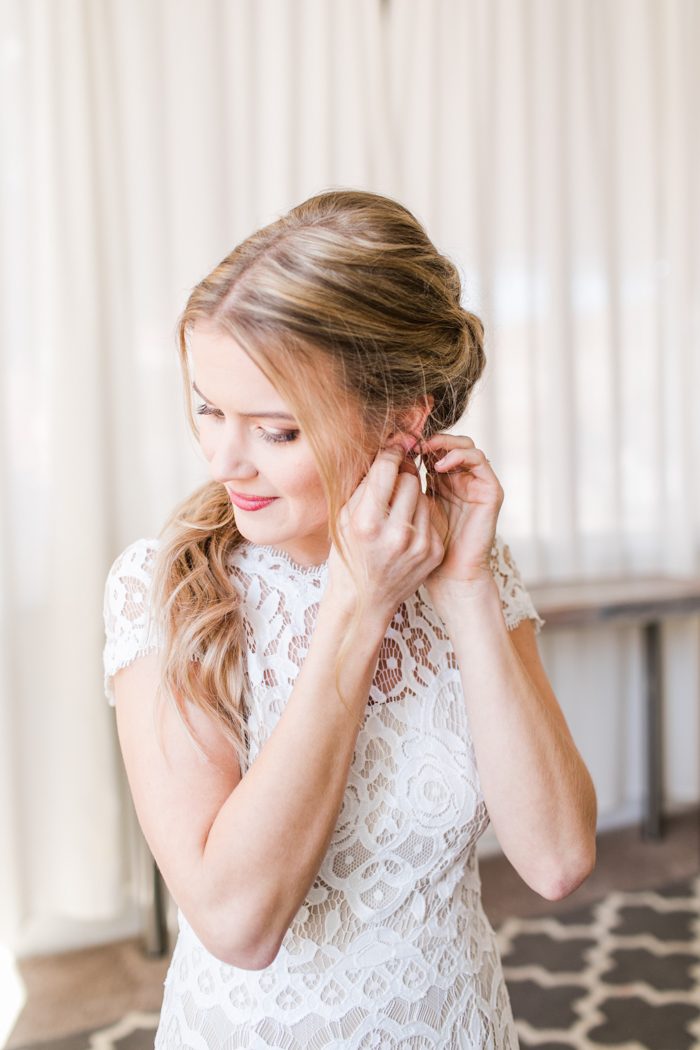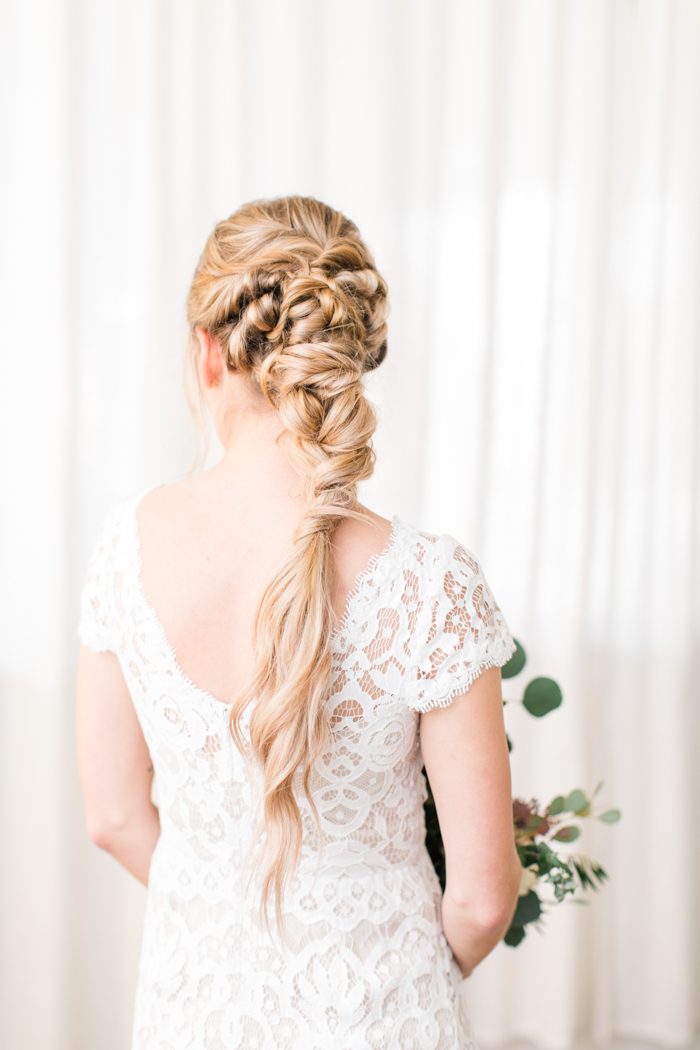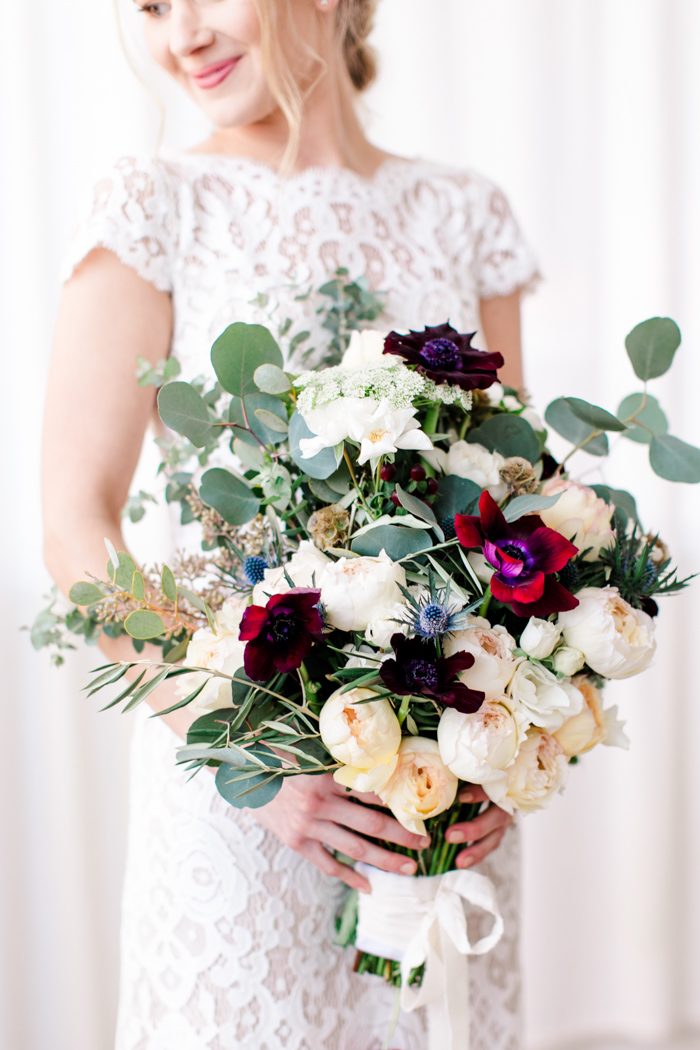 We both get a little nervous when any/all attention is on us, so the thought of everyone looking at us during our ceremony was quite intimidating! We did all of our pictures before the ceremony, and had a little time scheduled between pictures and the ceremony where our close friends and family could come into the back area and just hang out. We're so glad we did! It ended up being one of our favorite and most memorable parts of the day – as a bonus, it took some of the pressure off the ceremony since we'd already seen and talked to about half of everyone there.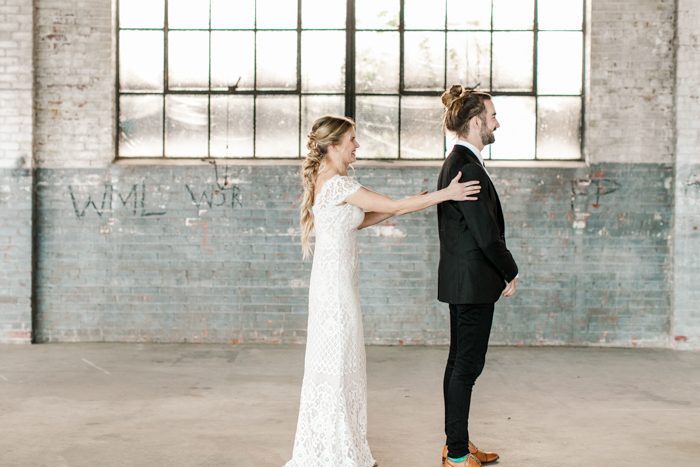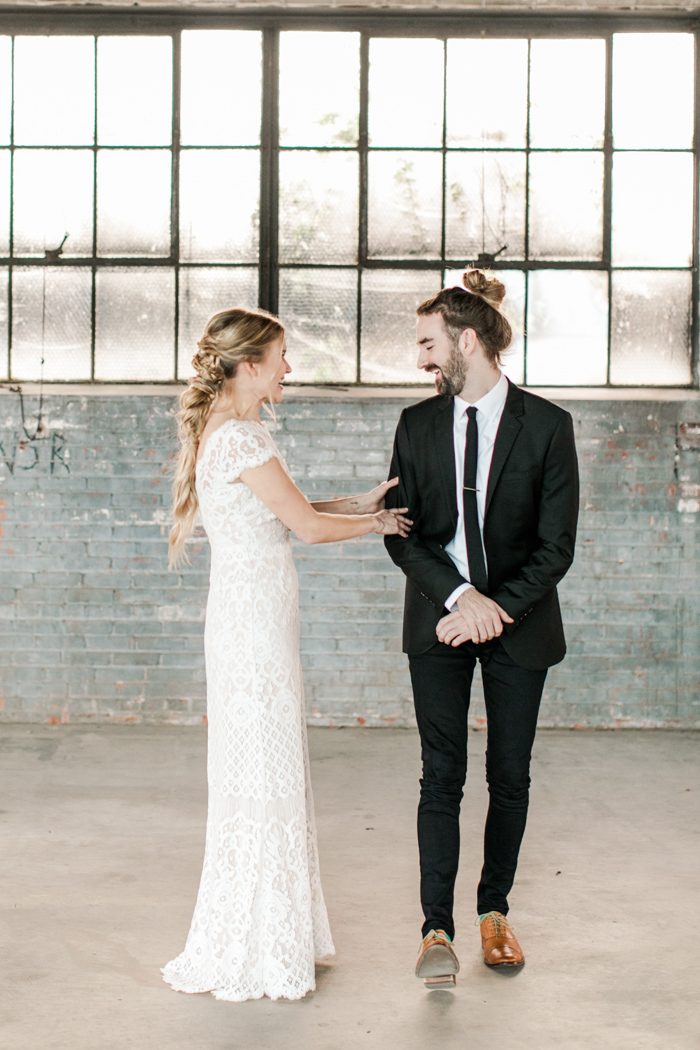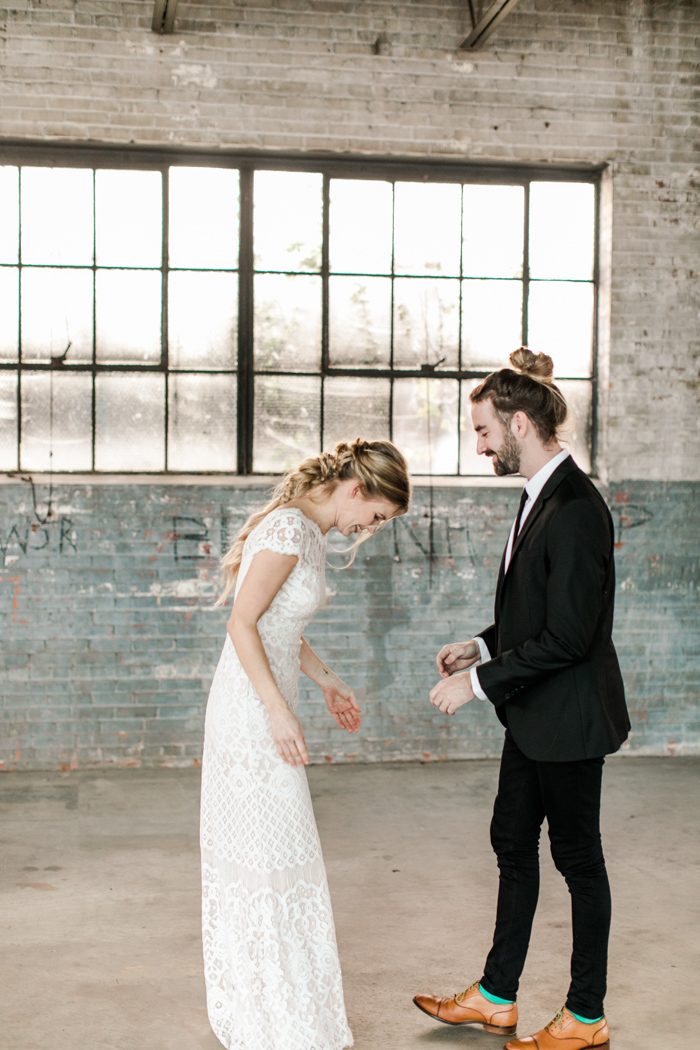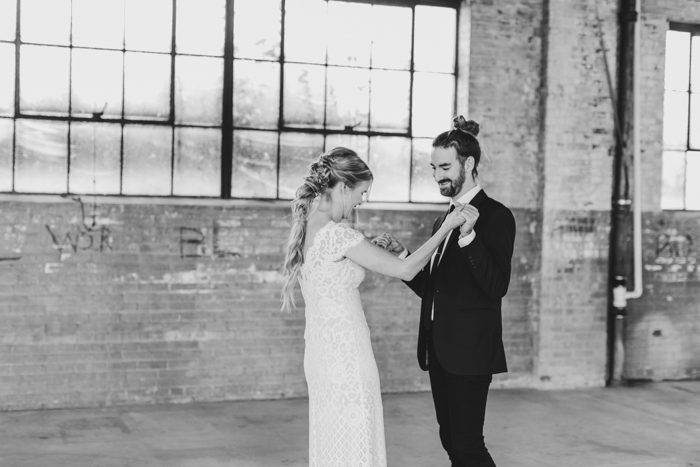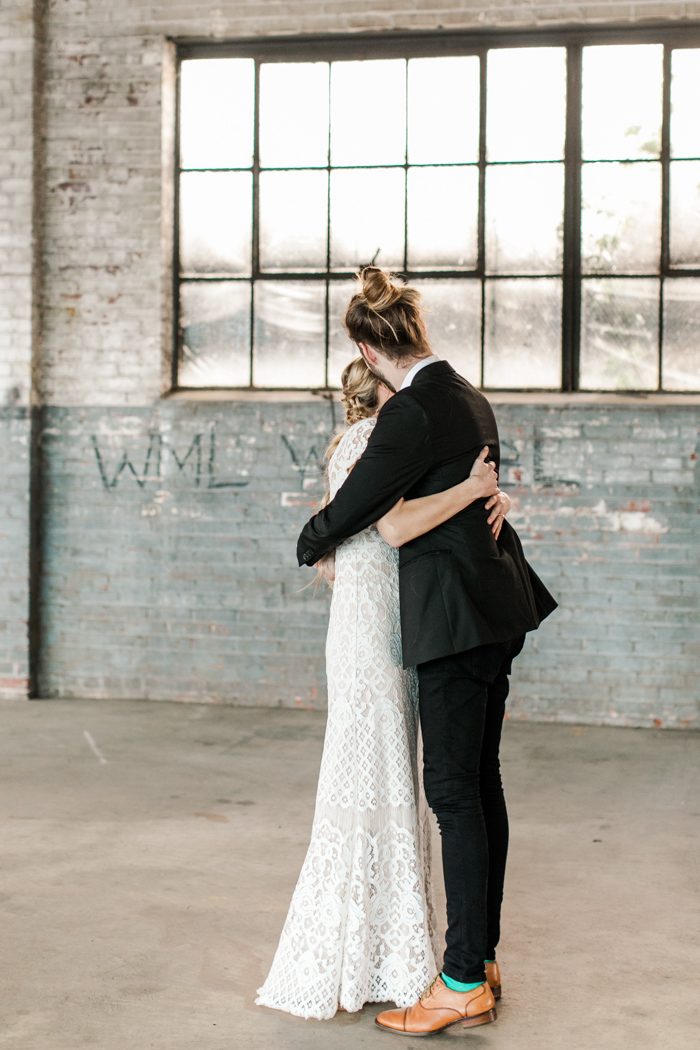 Ironically, while we were wedding planning it was most important for us to not get caught up in what can easily become the frenzy of wedding planning. We didn't want to forget the best thing about our day: we'd come out of it getting to keep each other forever! This mindset led us to make decisions that really were the best for and true to us — we didn't want to do anything "because that's what you do." It was important that each element of our day was something we really wanted.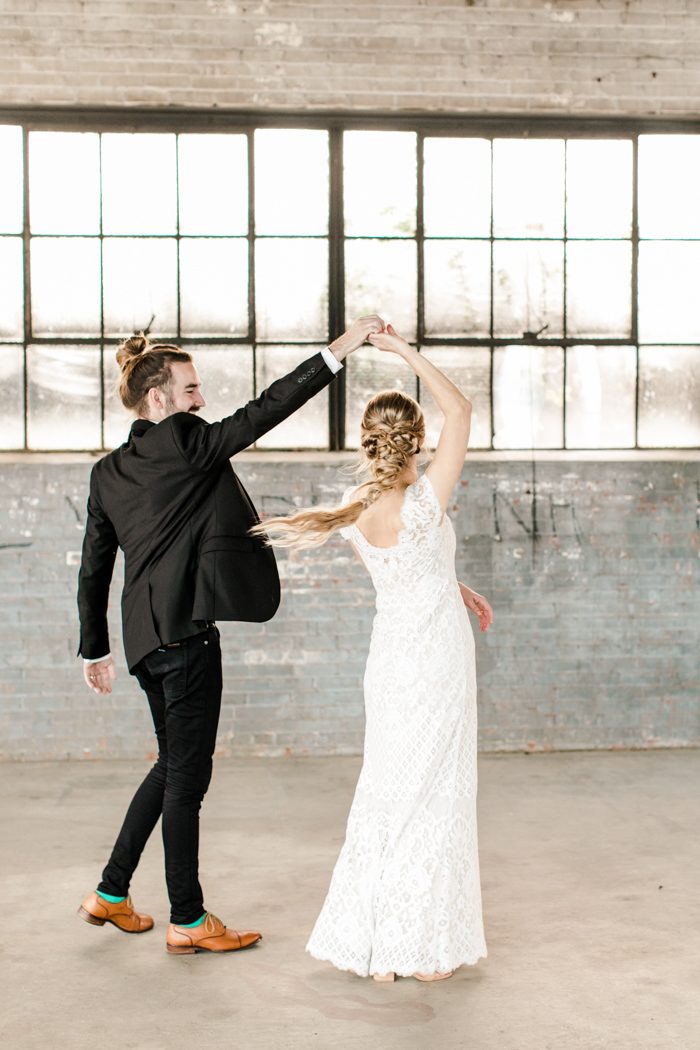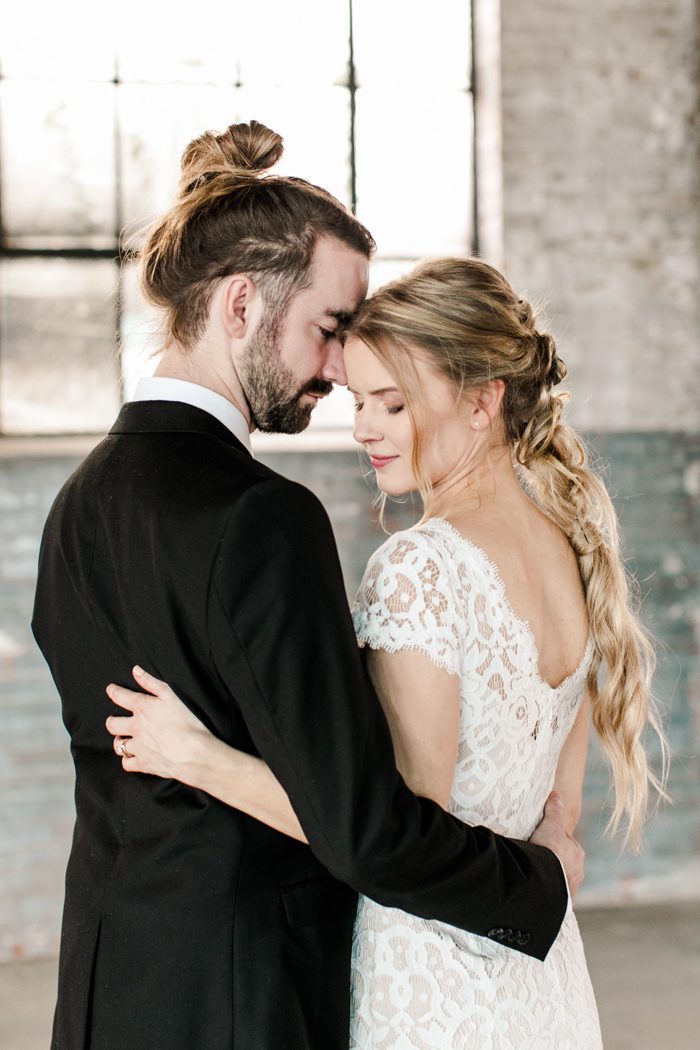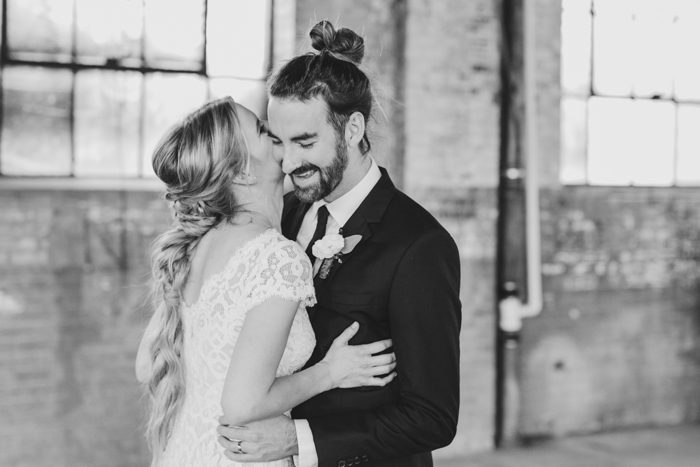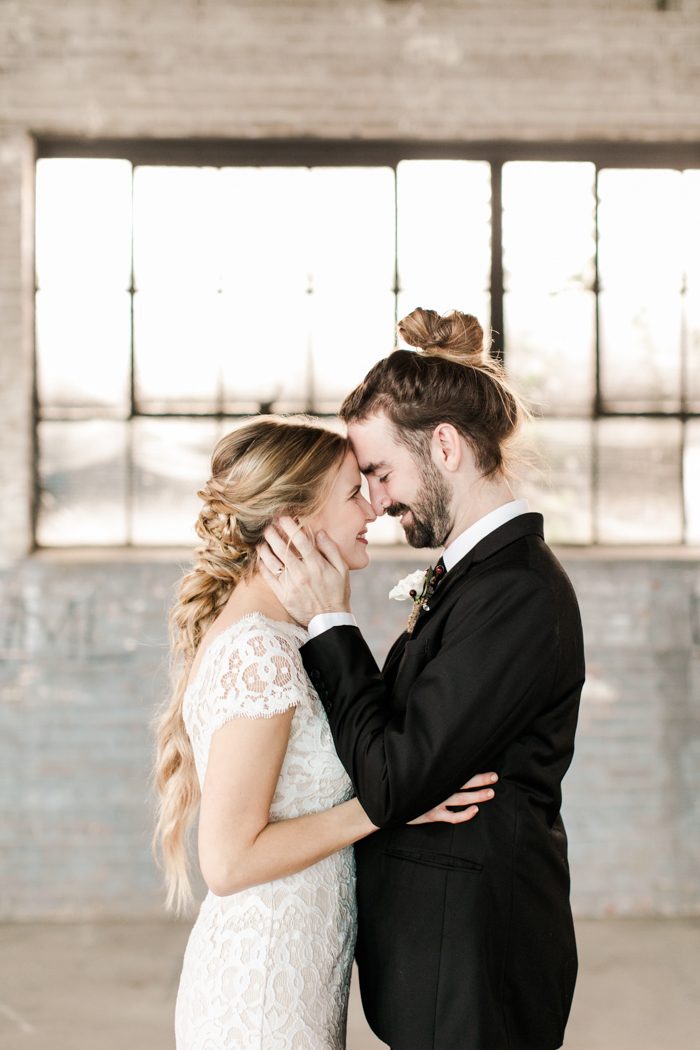 <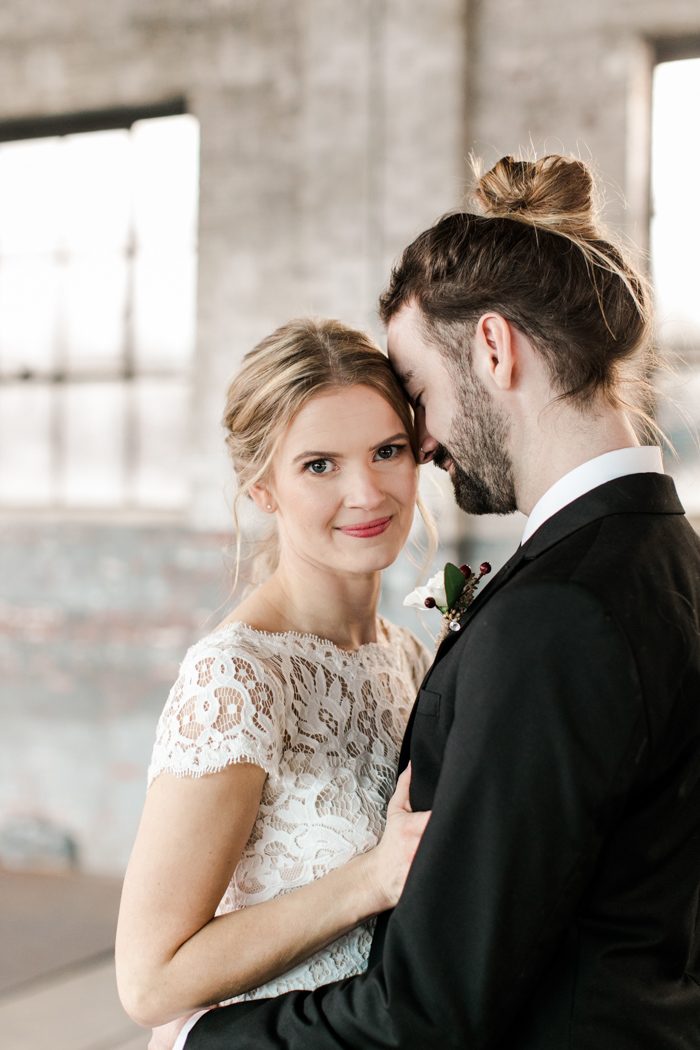 Our photographer, Natalie, is also one of our very close friends. I call her our "life photographer" because she's photographed pretty much every special and significant moment in our lives! We feel so at ease and comfortable being ourselves, and she captures it all so beautifully. Her images always take us back to the best moments in time, and exactly the way we felt while we were in them. One of our favorite photos is from right after we first saw each other. We were doing some portraits and Natalie was directing us, but Sean must have tuned her out for a moment. He snuck behind me and gave me the sweetest hug and kiss on the shoulder. It looks (and was!) so beautiful and natural. I remember the moment and it still gives me stomach flips!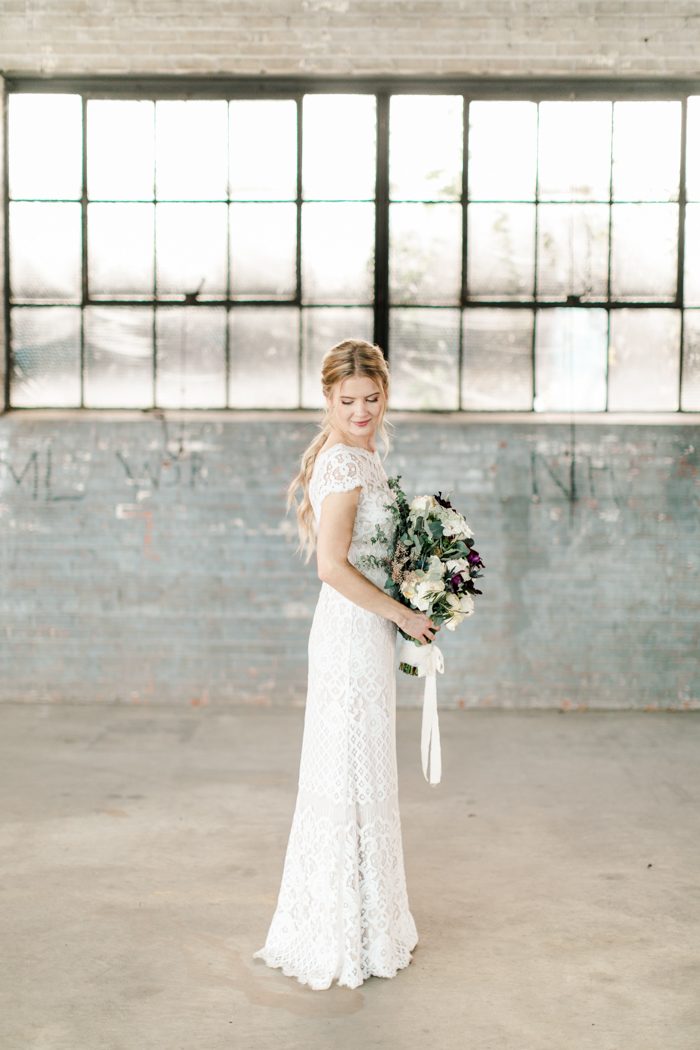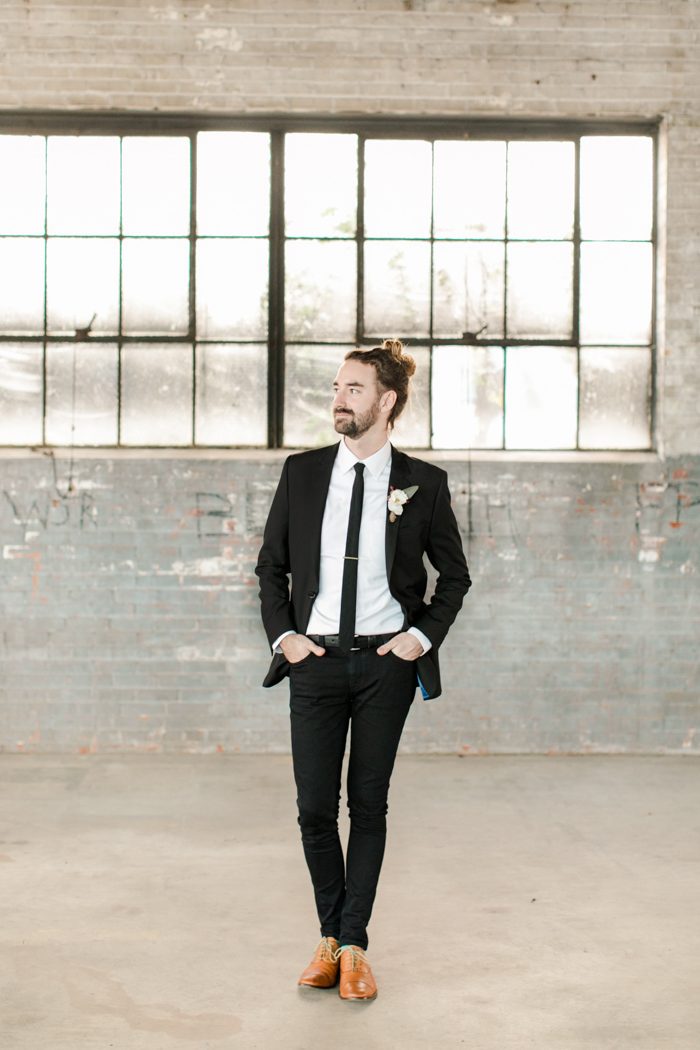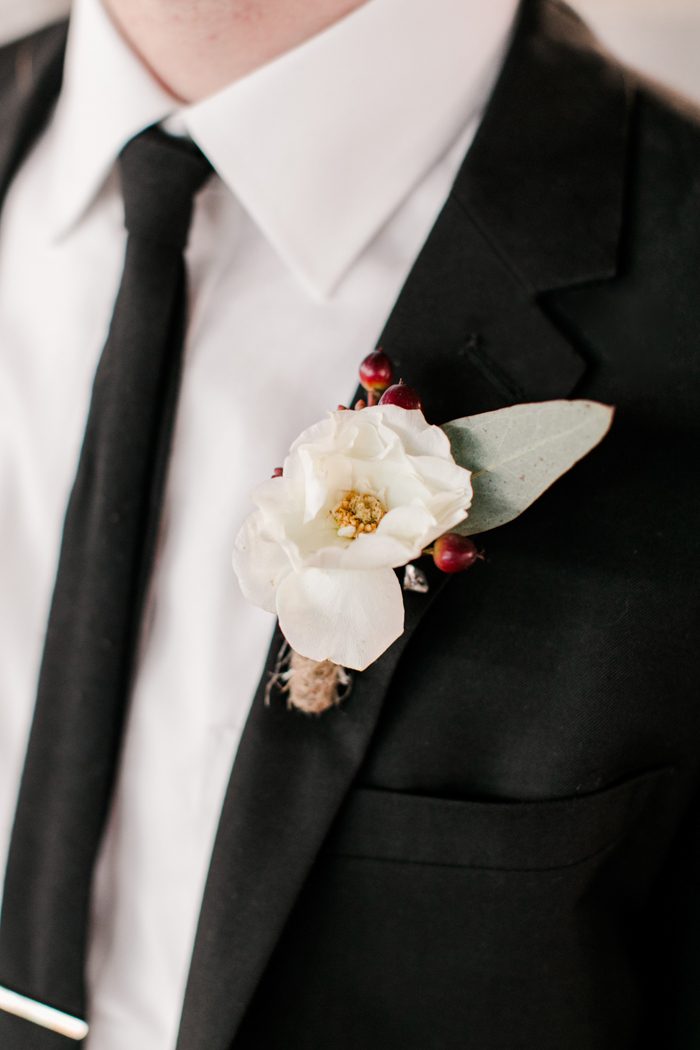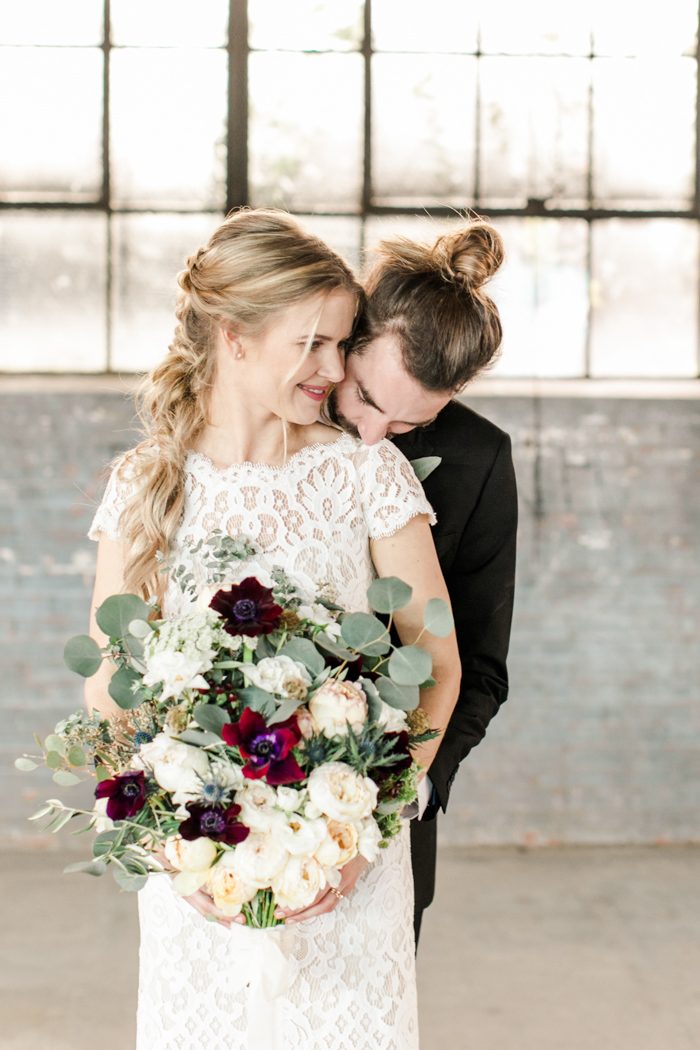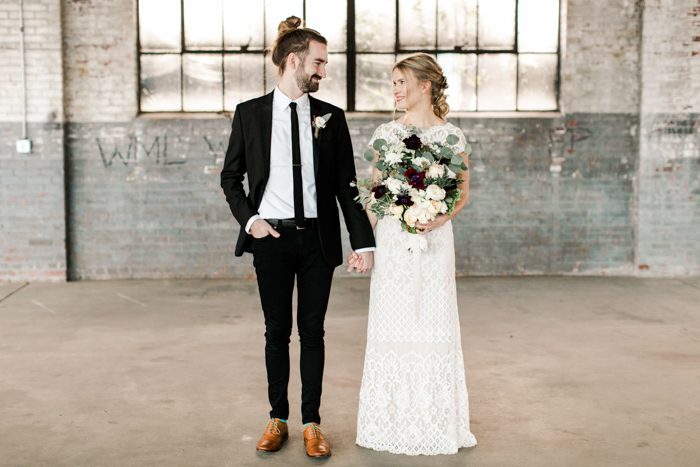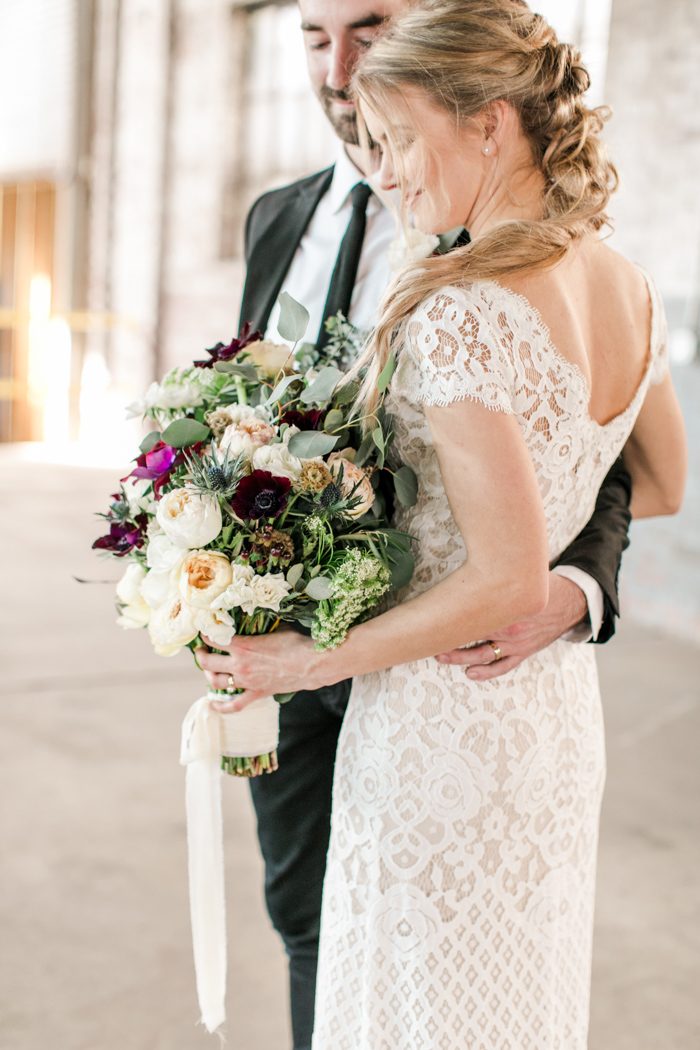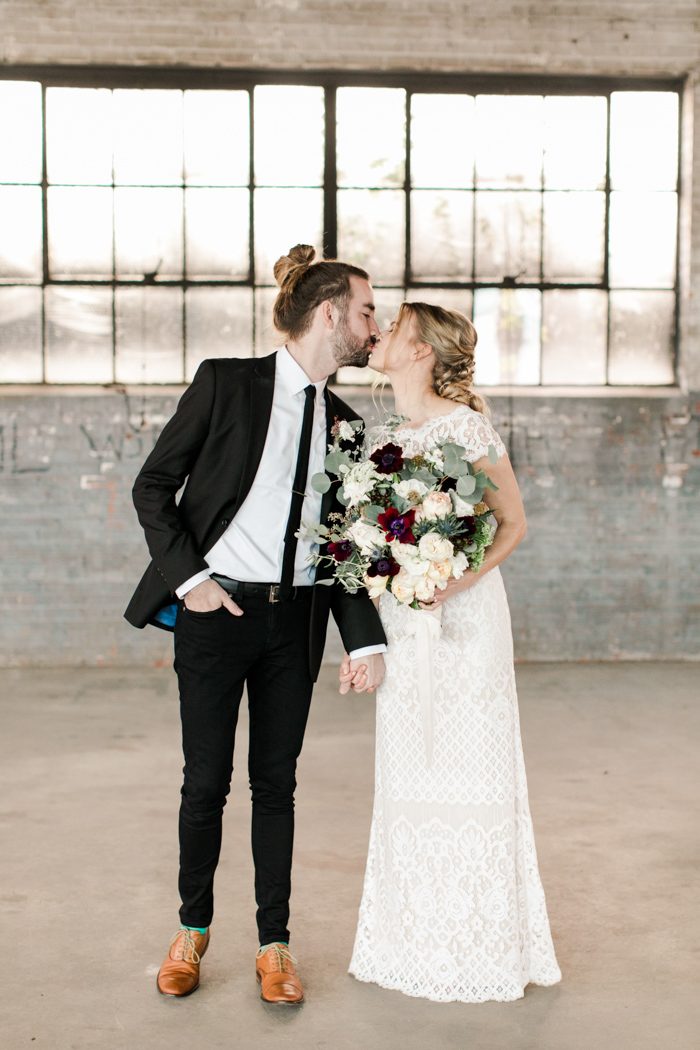 Sean and I both work in creative fields, he's in video production and I'm a graphic designer. Sean is also an incredible fine artist. We knew we wanted to create our own invitations, so after finalizing the layout, content, and design elements of each card, we had the idea to make the back of the main card an art print that could be displayed beautifully in our home. I grabbed paints in black, grey, and white tones on my way home from work one day and we made a date night out of it! Sean scaled the same idea and painted it onto a massive canvas backdrop for the ceremony. We love the way it turned out!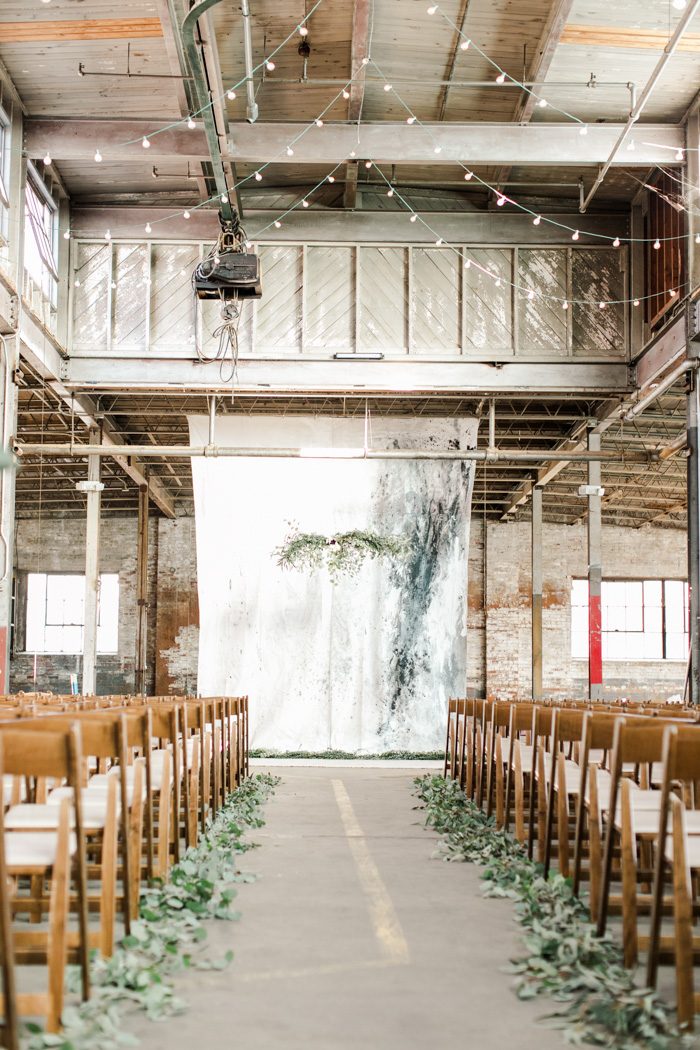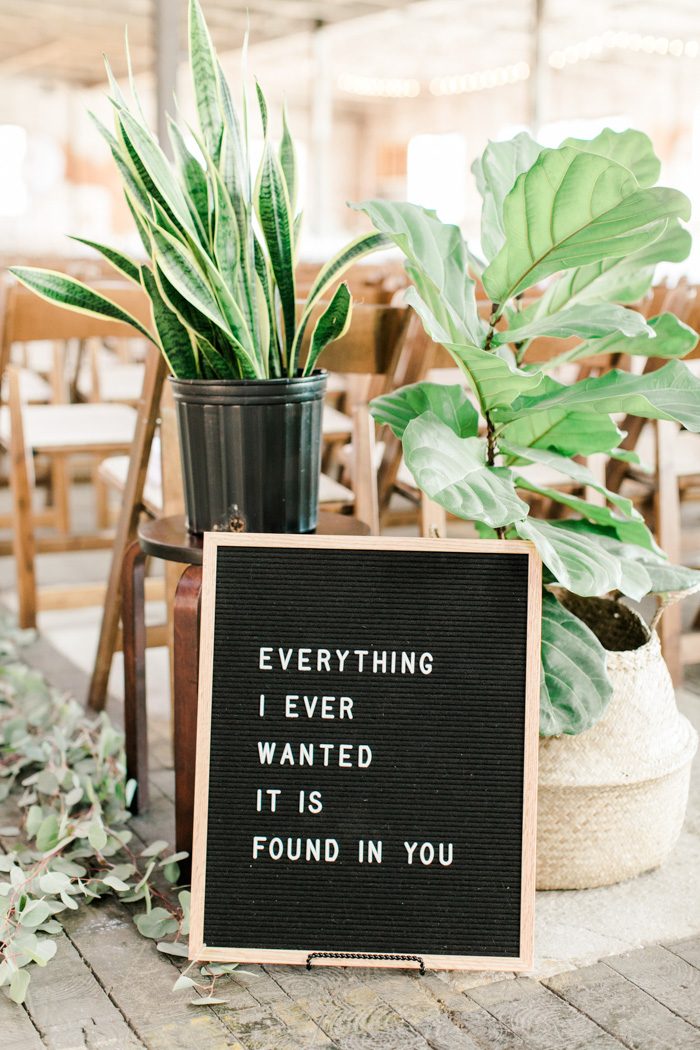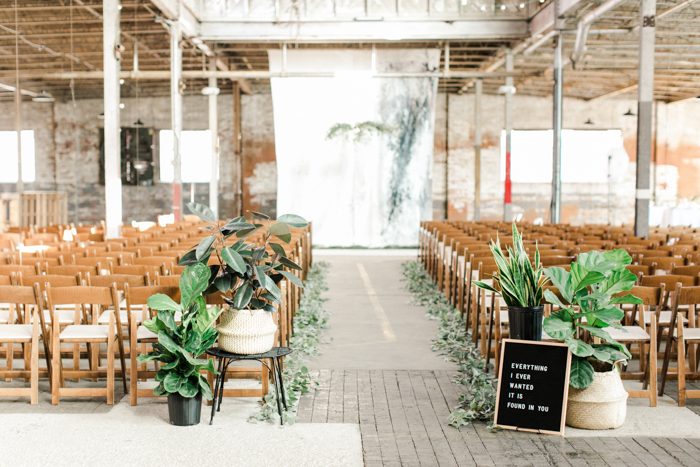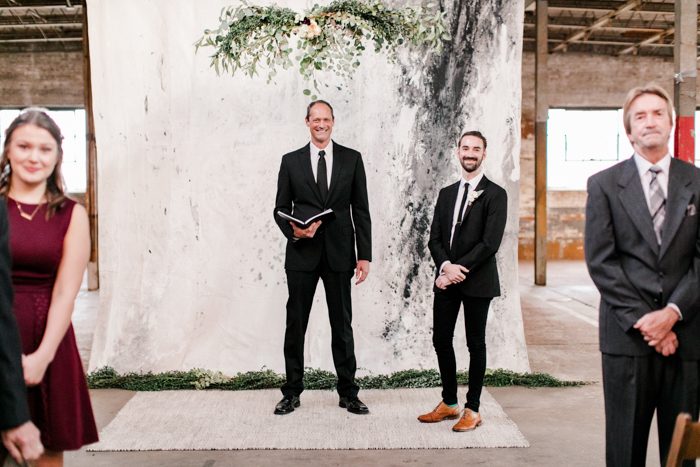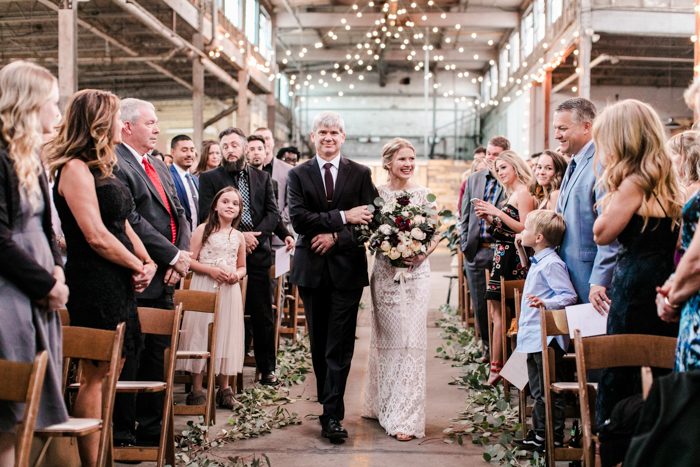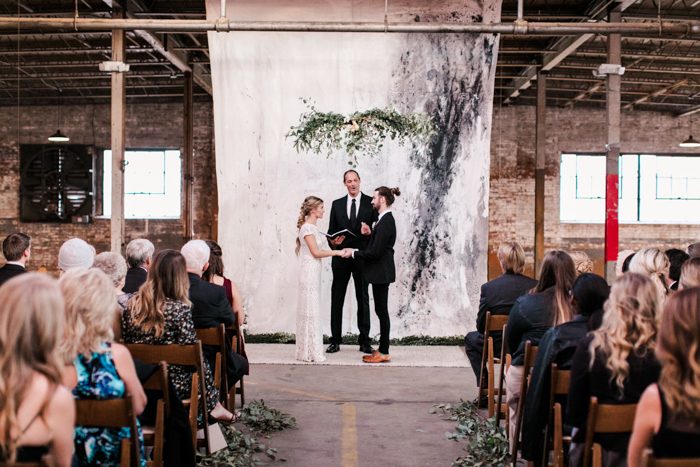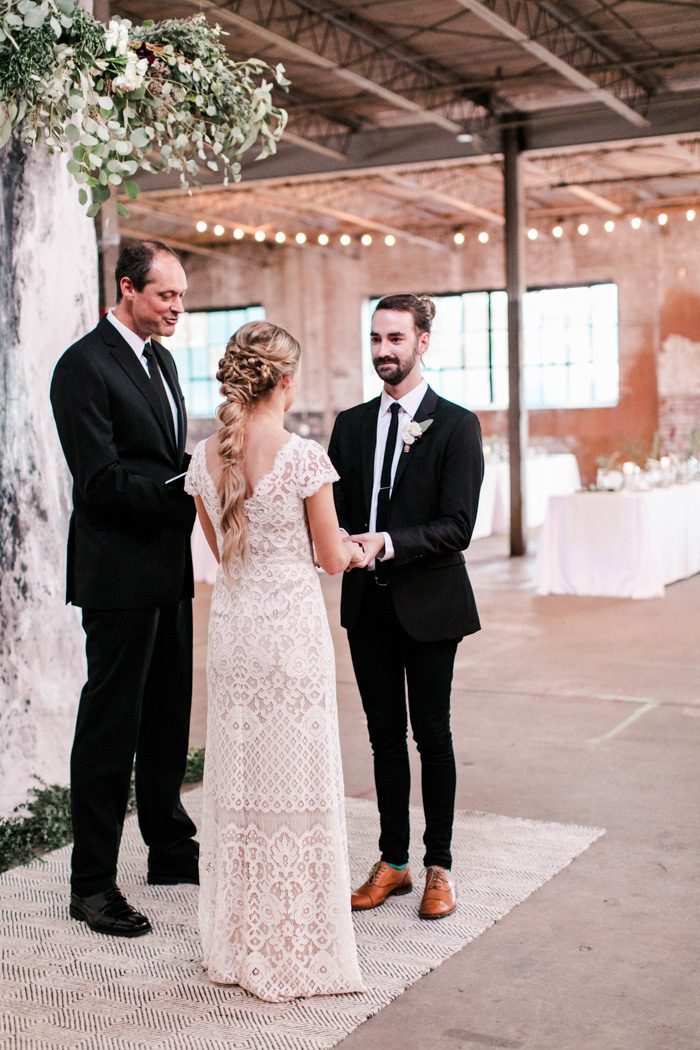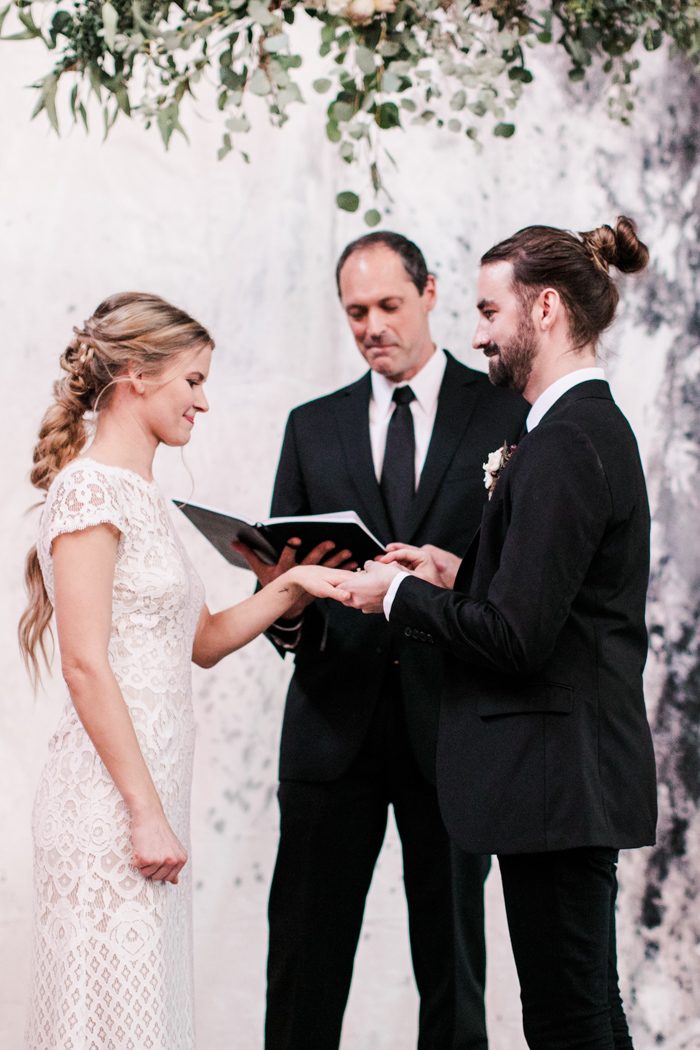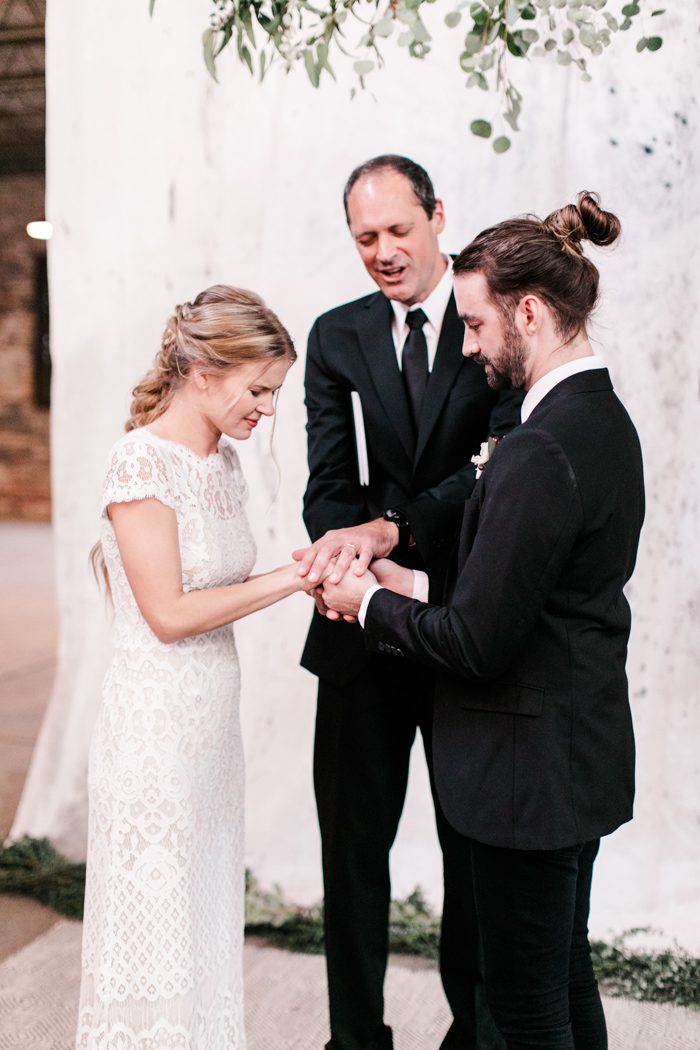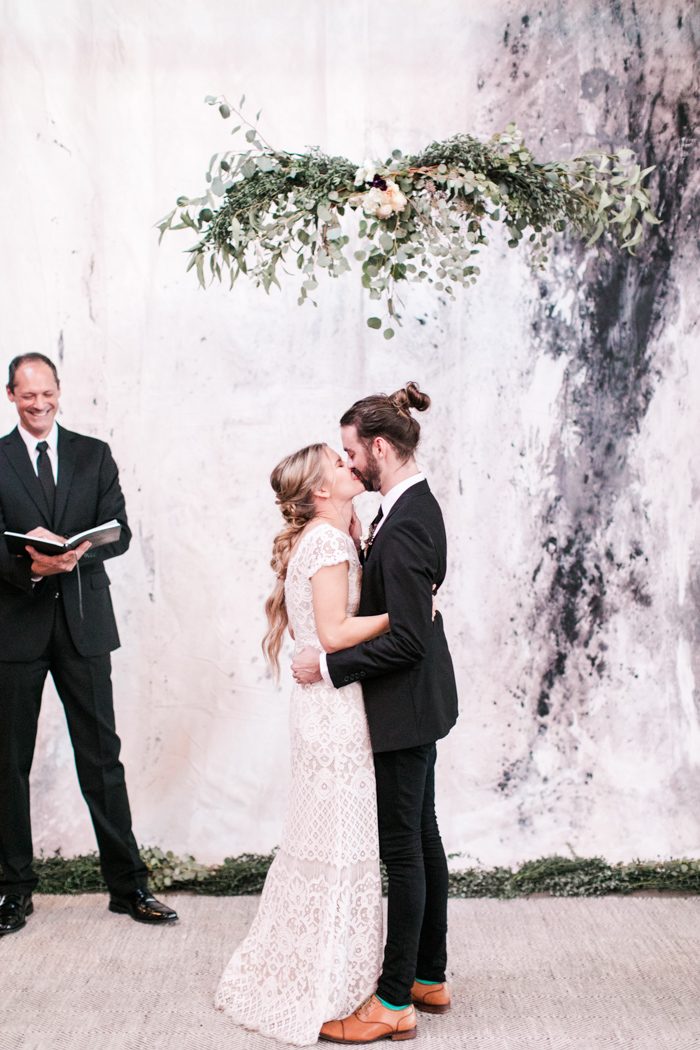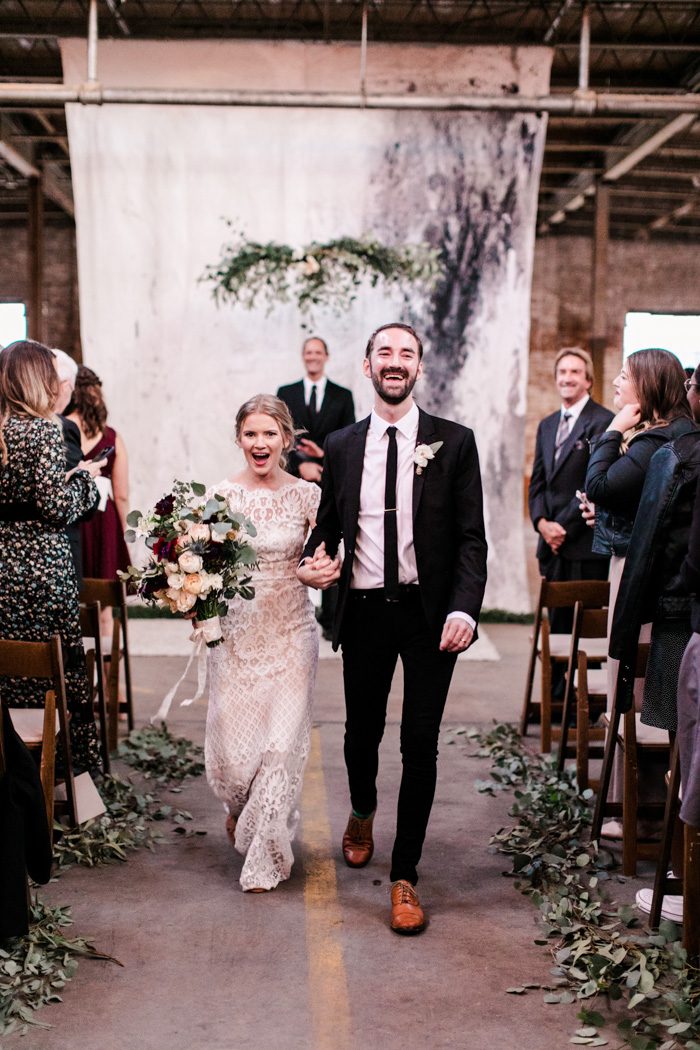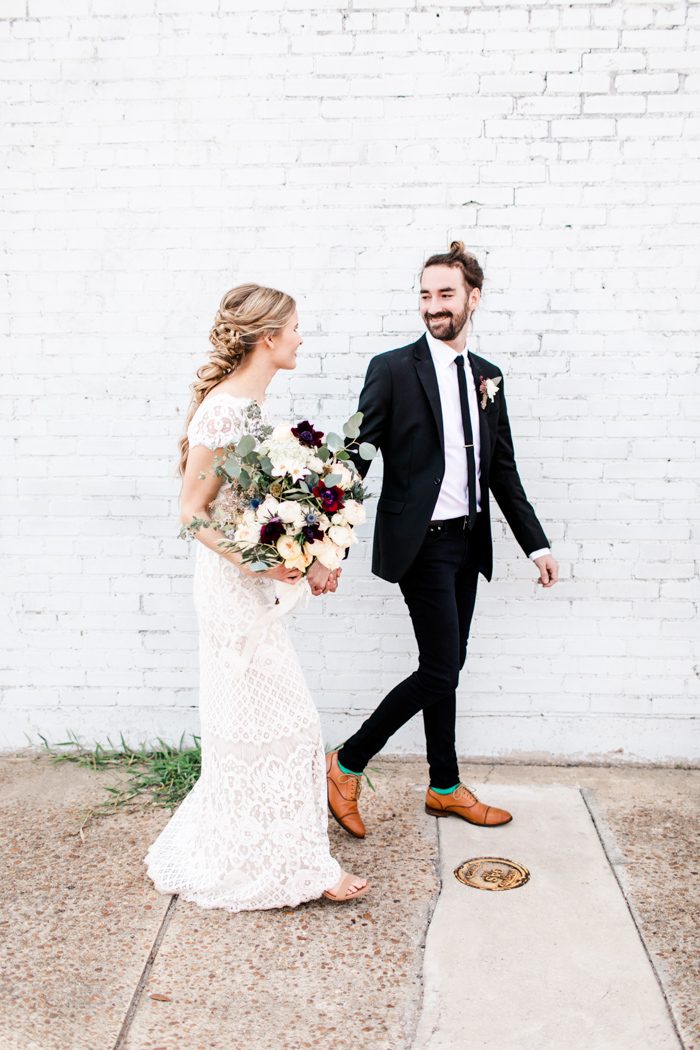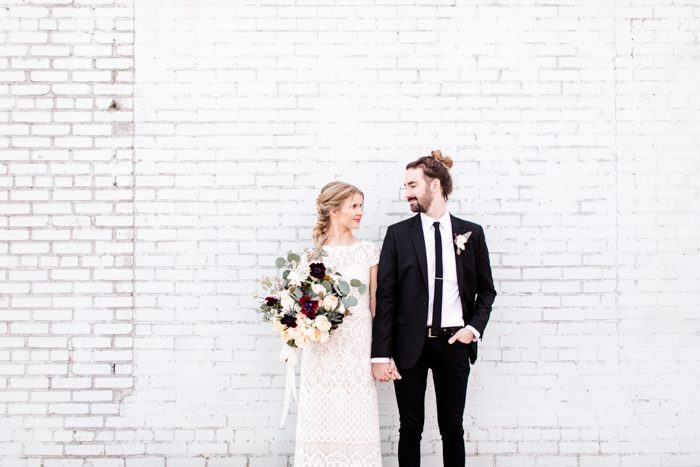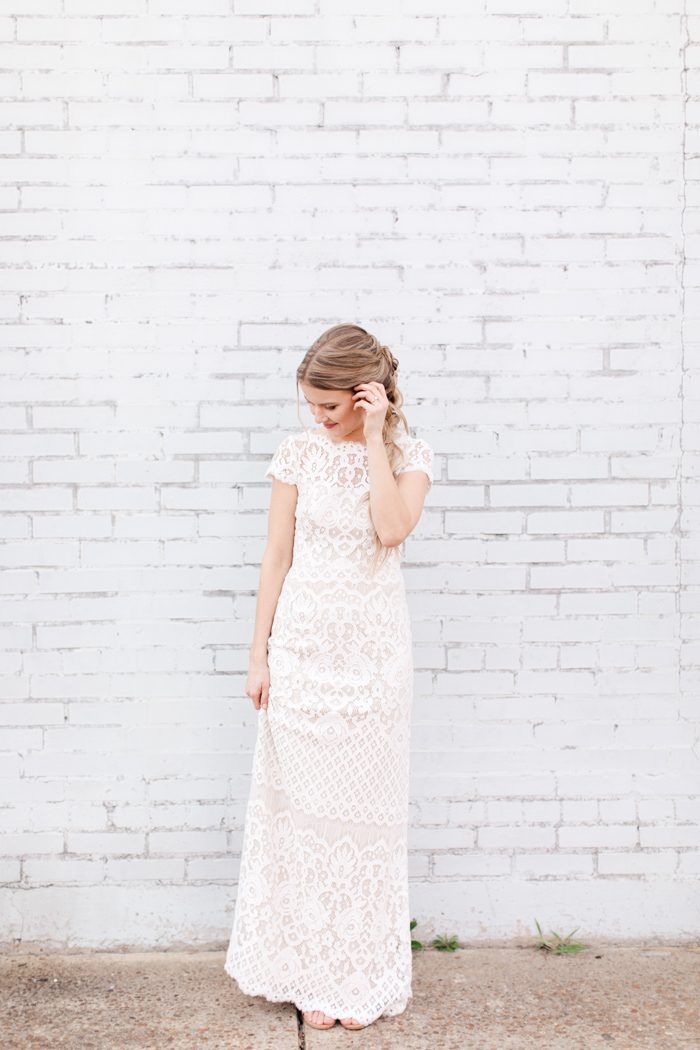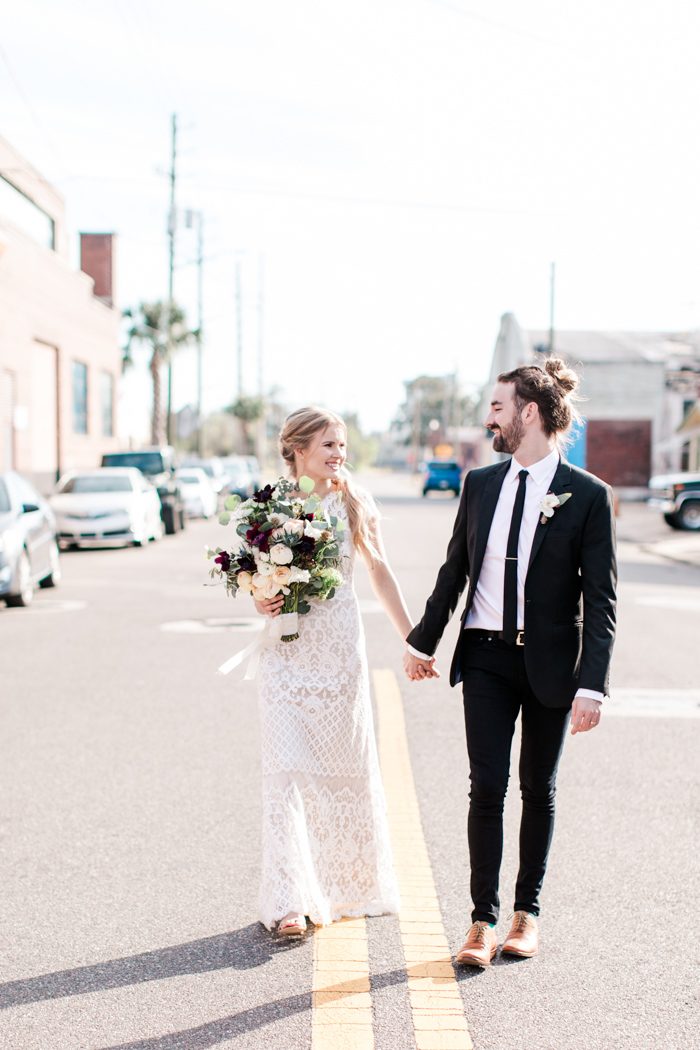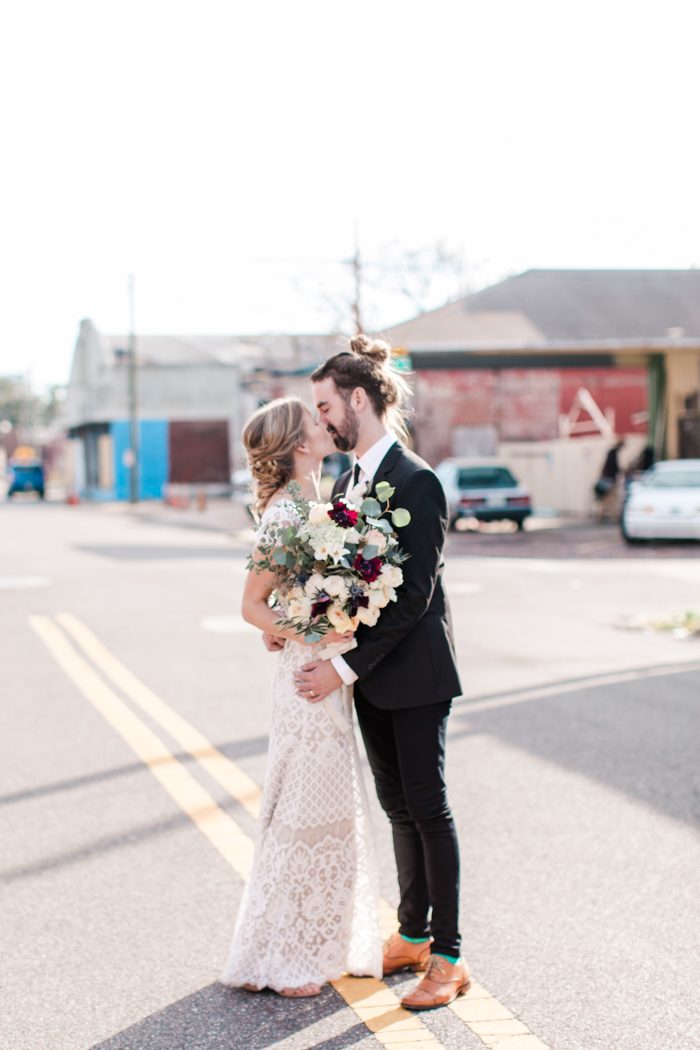 One thing that really helped us in wedding planning was controlling our exposure to all the resources out there. There are so many great places to get wedding inspiration, but being exposed to too many could put you in decision (and comparison) paralysis! We picked a couple resources (Junebug was our number one!) whose content we appreciated and thought reflected our style and personality. It made it way easier if/when we hit a roadblock: we'd just head to one of our chosen resources and do some research. Aside from that, you know yourselves best, so do what you like!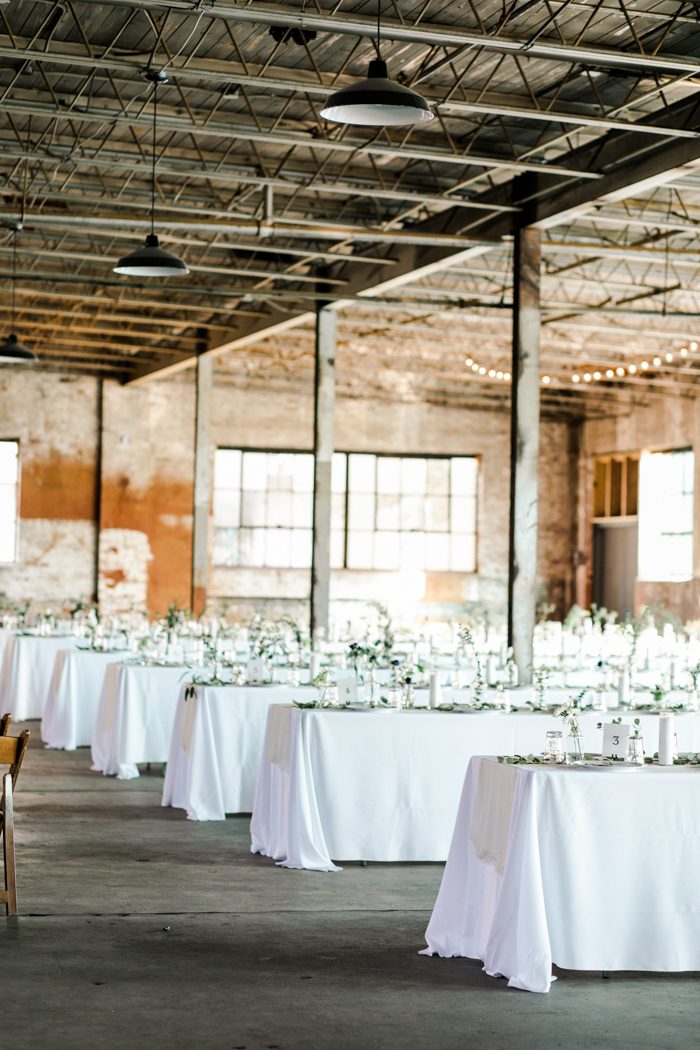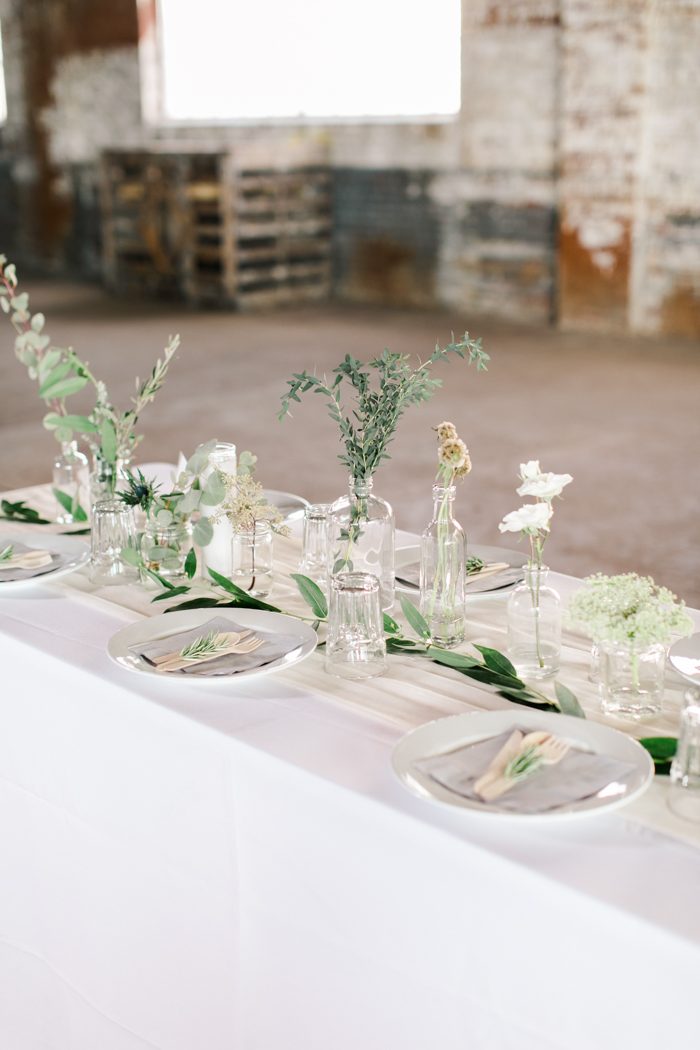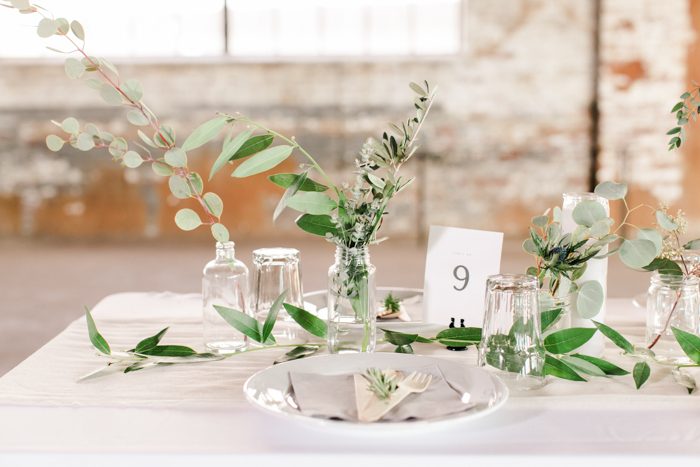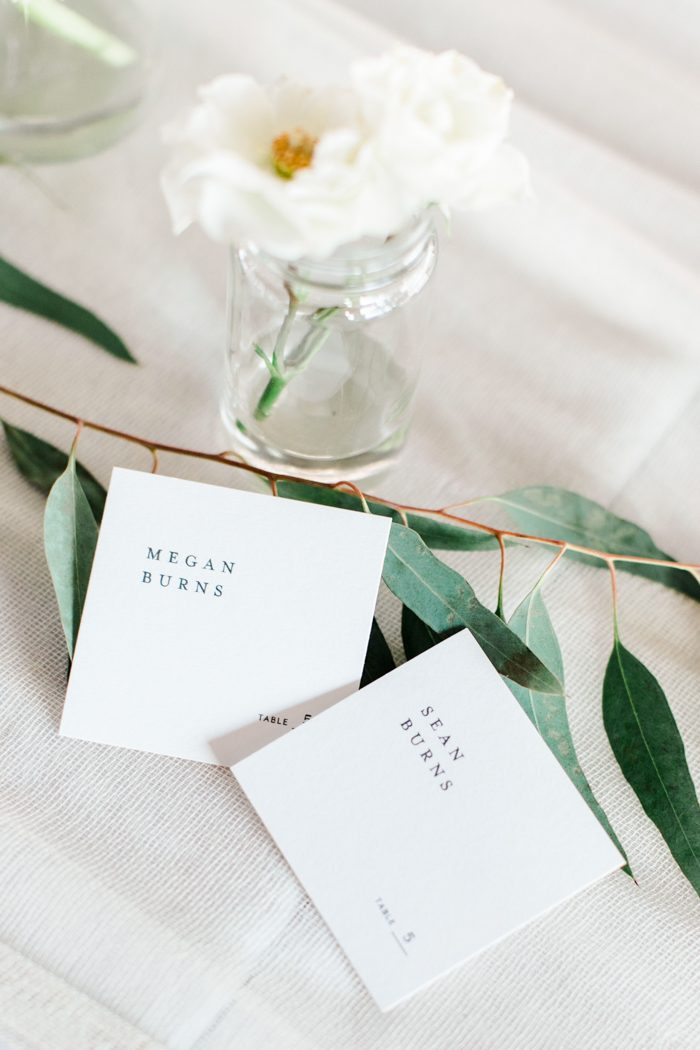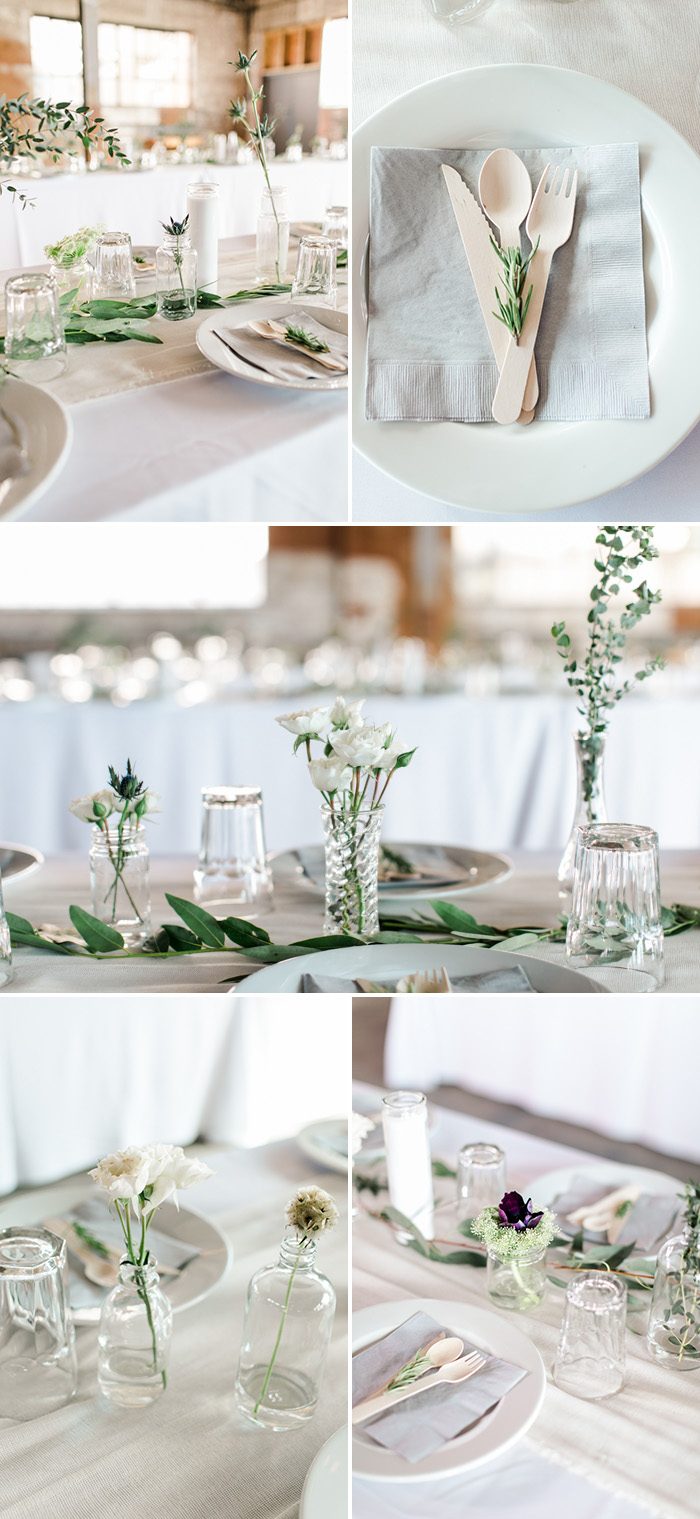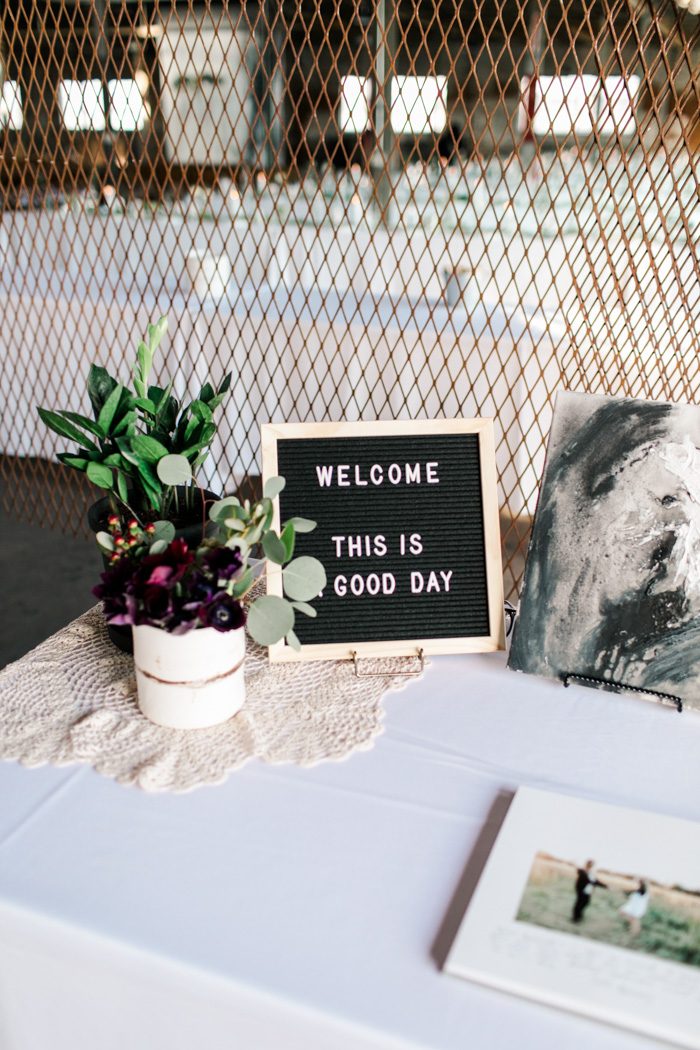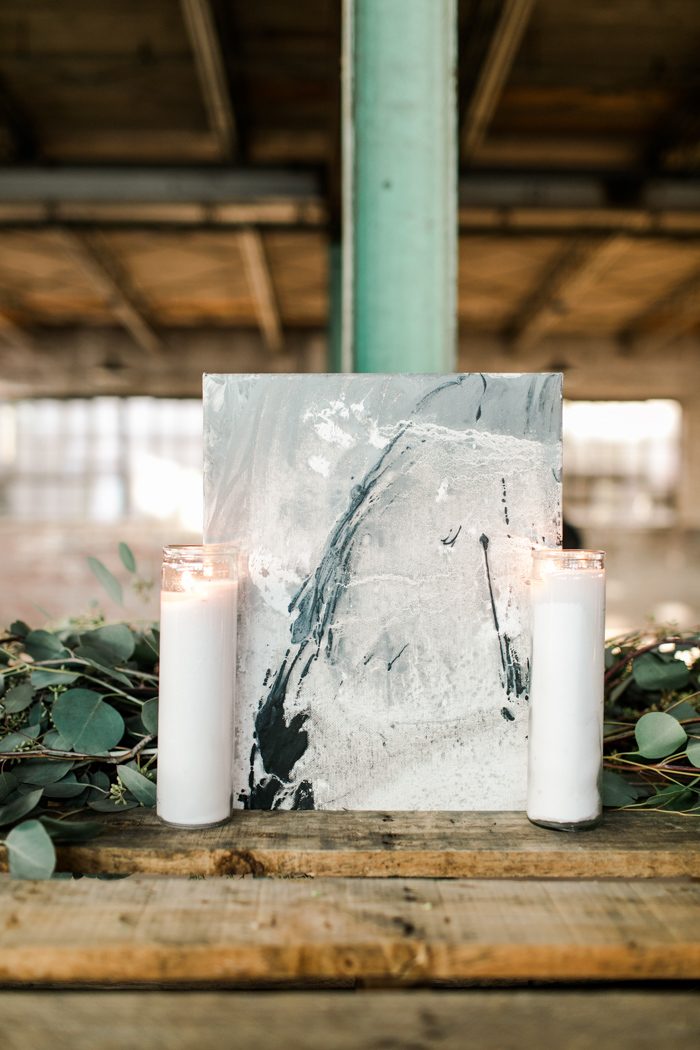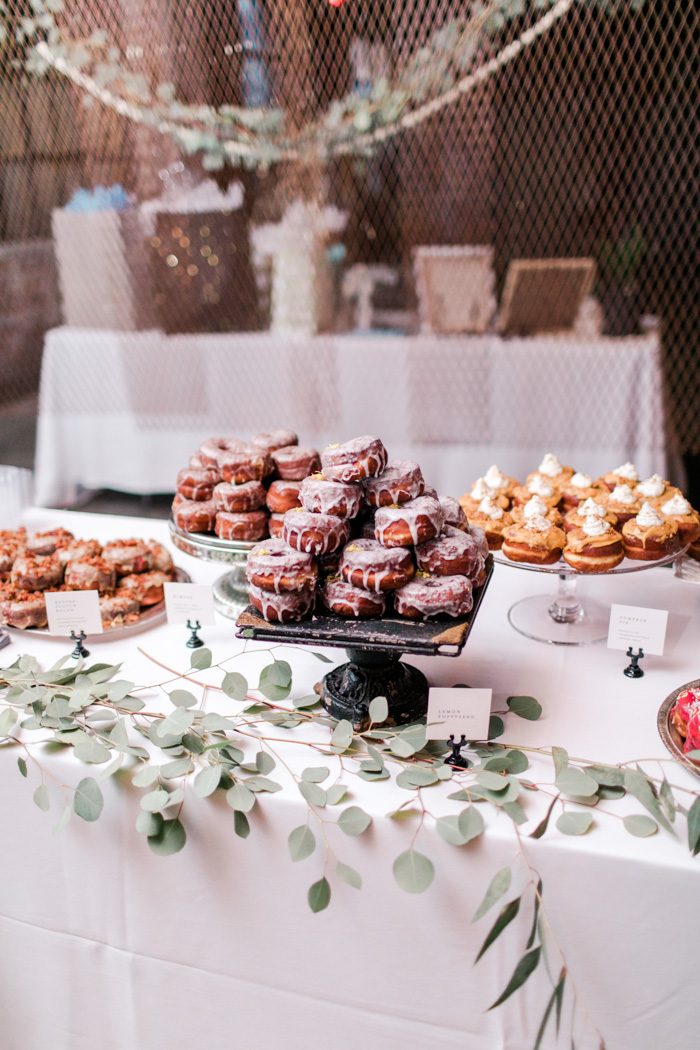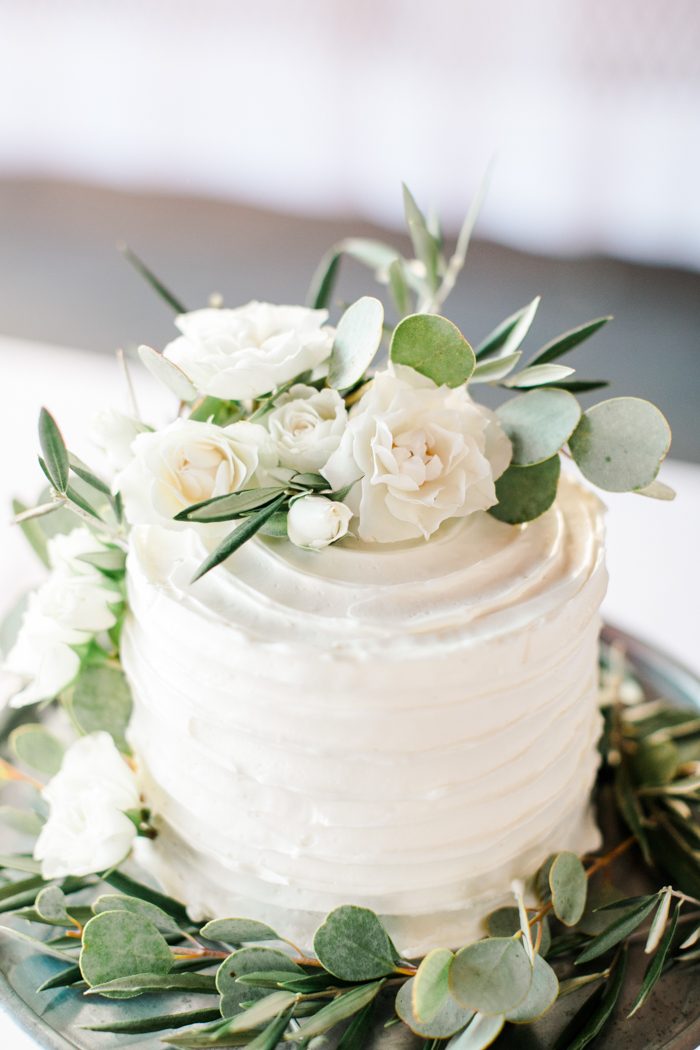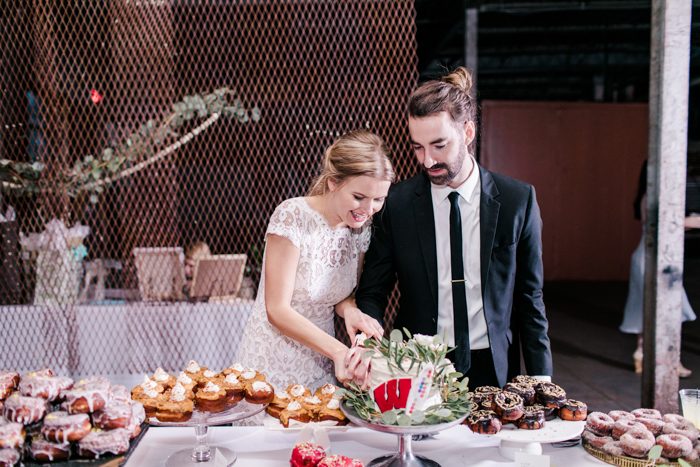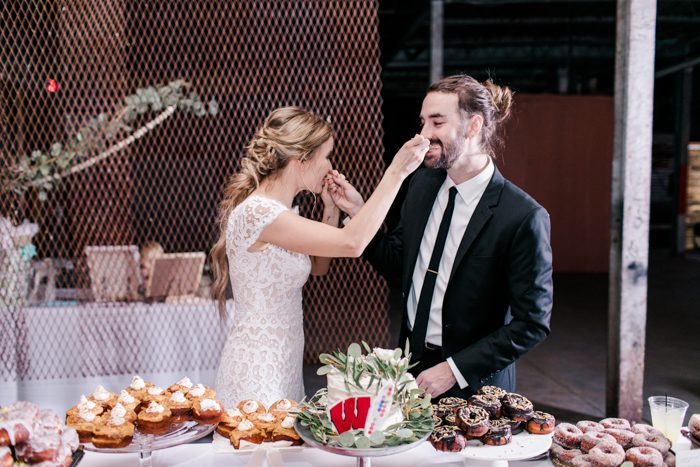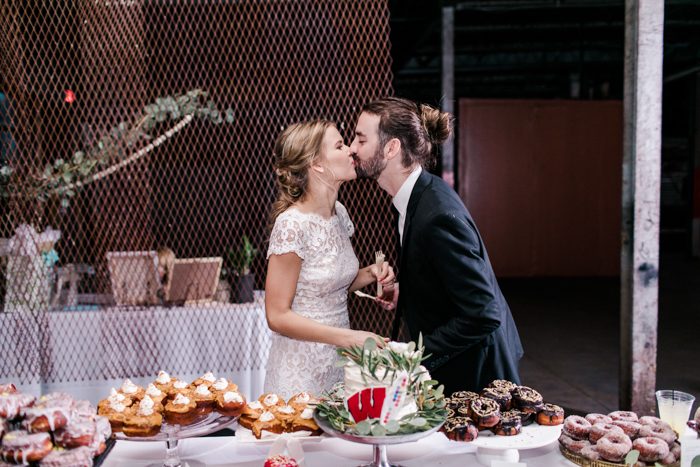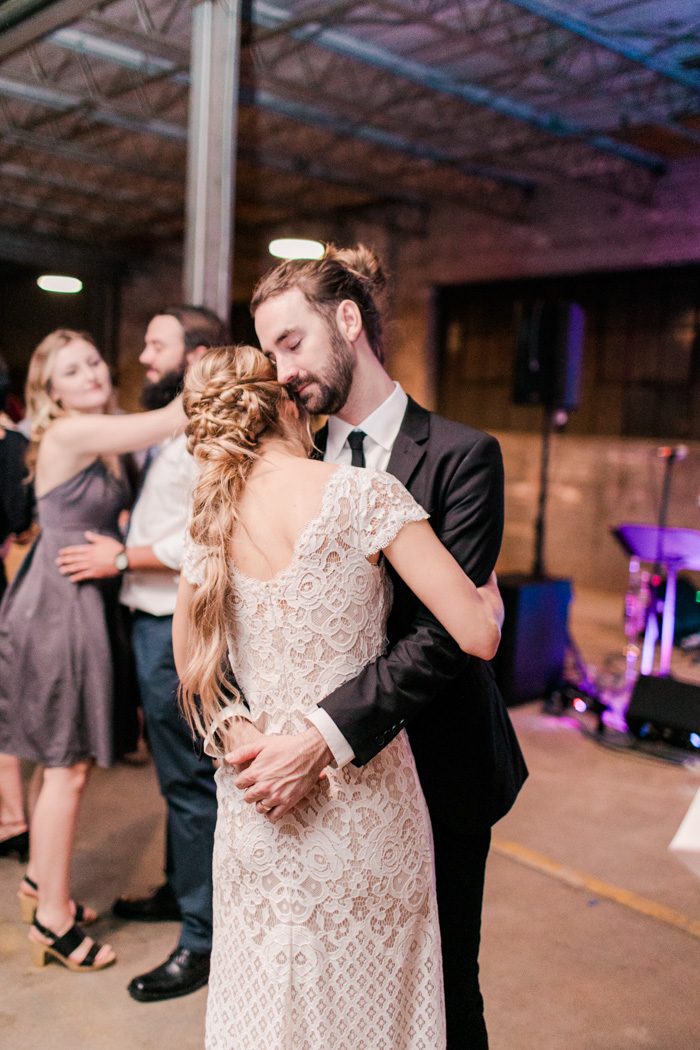 Congratulations to Megan and Sean, and a big thanks to Natalie Broach Photography for sharing this lovely wedding with Junebug! Are you into the minimalist vibes Megan and Sean channeled into their decor? Then you'll love how Taylor and Ryan made their Portland wedding at The Colony minimalist with a touch of glam!