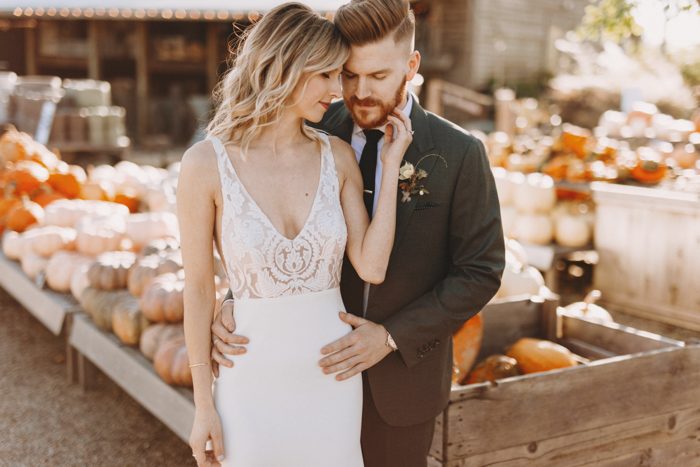 Jennifer and JW's Terrain wedding was an earnest and heartfelt celebration of their long-time love for one another. The couple, along with the planners at Heart and Dash, spent the better part of a year creating a wedding day that would feel truly authentic to the them. Jennifer designed and assembled their invitations, event signage, and hand-lettered a vintage mirror from JW's family with table assignments. Every single detail from this day was selected with careful intention — including cocktail napkins decked out with Michael Scott quotes (an homage to many nights the pair spent watching The Office together) and rentals with hues of rust, burgundy, and orange from Maggpie Vintage. We're feeling thankful the talented Nessa K Photography was there to capture all of this and even more Autumnal vibes from Jennifer and JW's Terrain wedding day!
The Couple:
Jennifer & JW
The Wedding:
Terrain, Philadelphia, Pennsylvania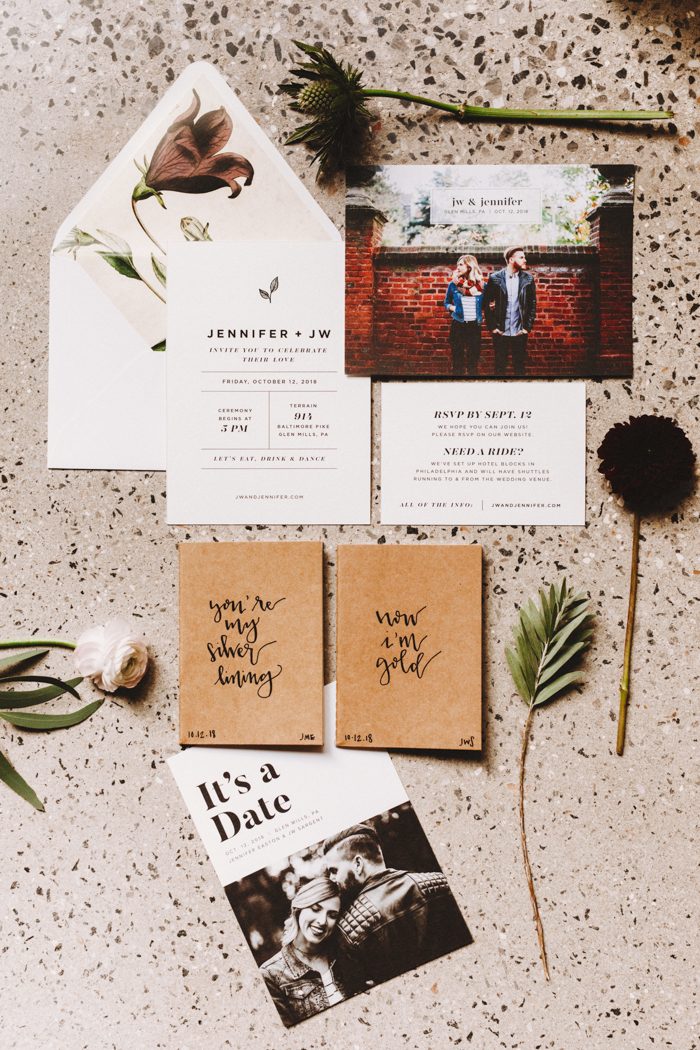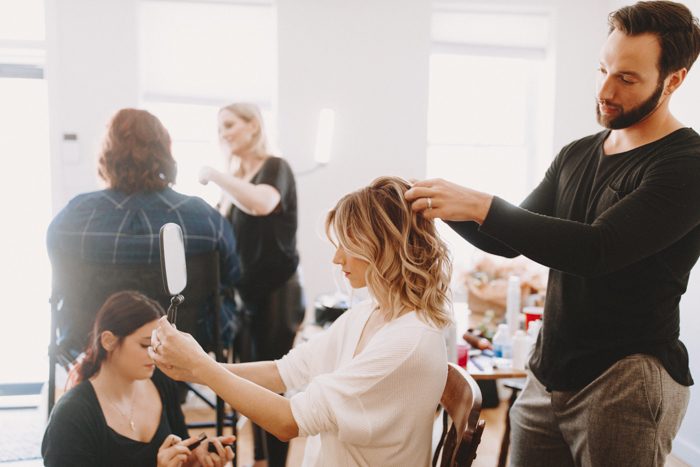 My experience buying a dress at Sarah Seven was also one of the most memorable parts of the wedding process. Not only did Sarah make my life by naming my gown the "Easton" (cue sobs) but every time I stopped in to the New York flagship for alterations or appointments, I felt like I was hanging out with my closest friends. They are so cool, chill and fun to be around, and always made me feel like a million bucks. I miss seeing them!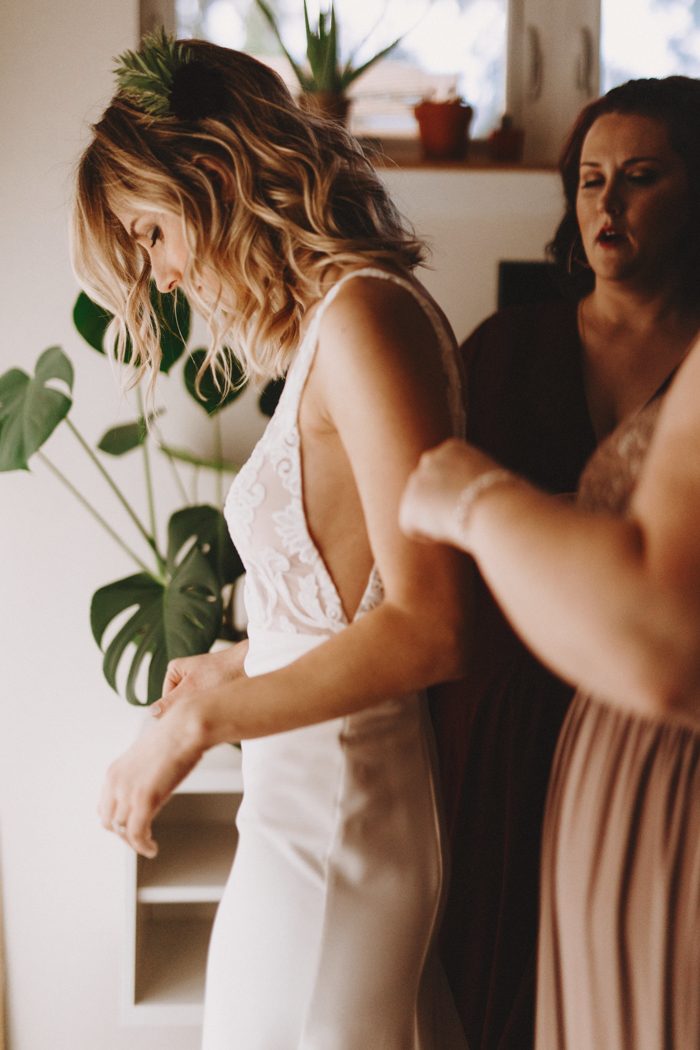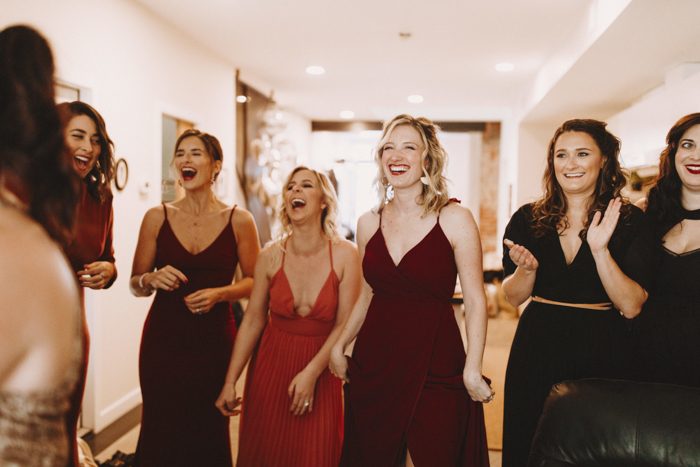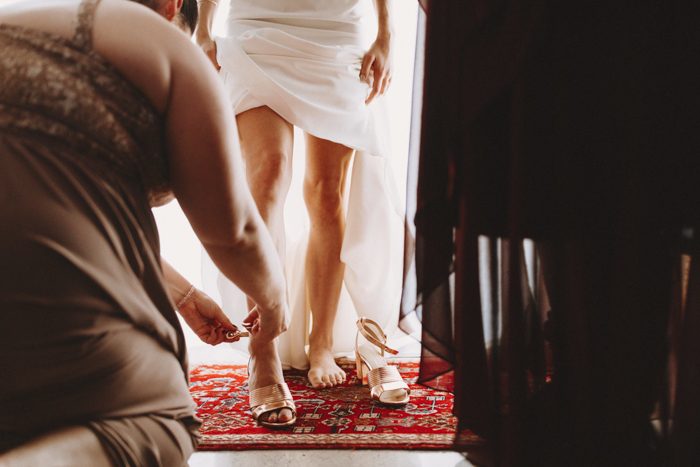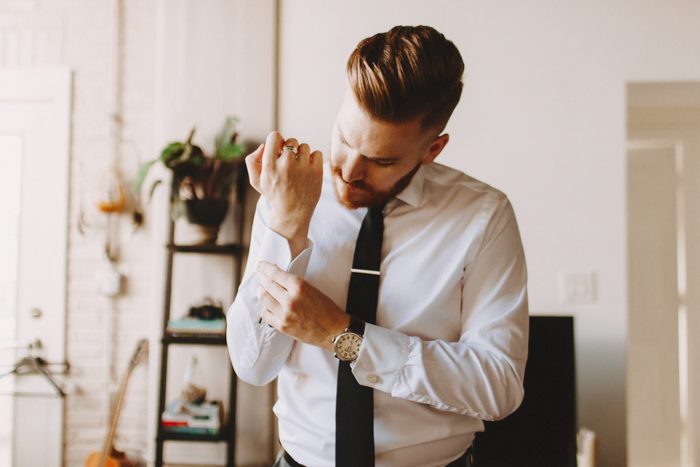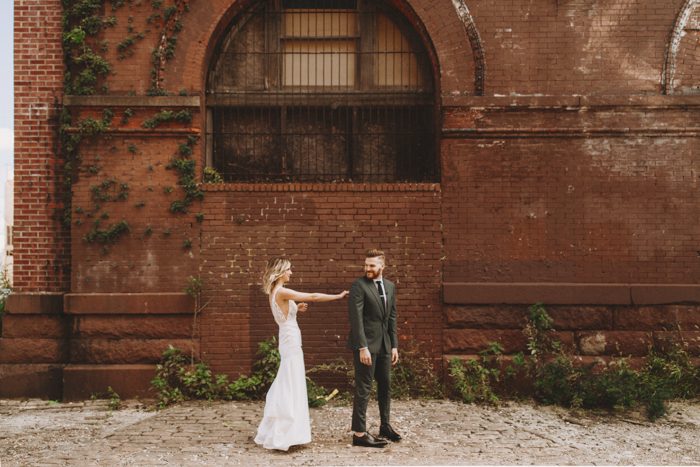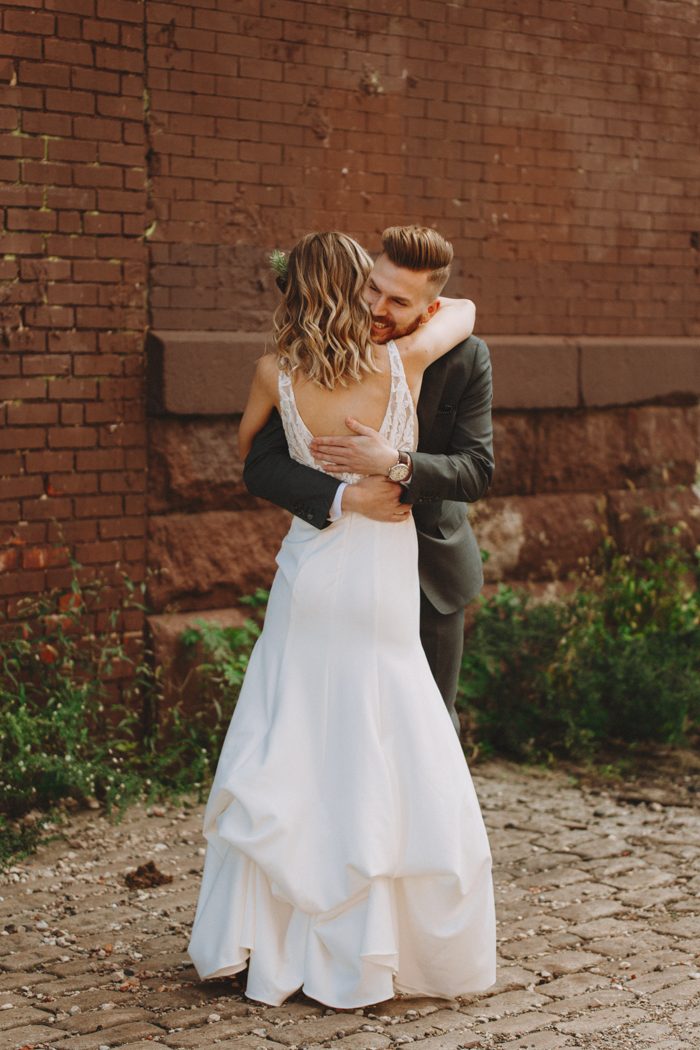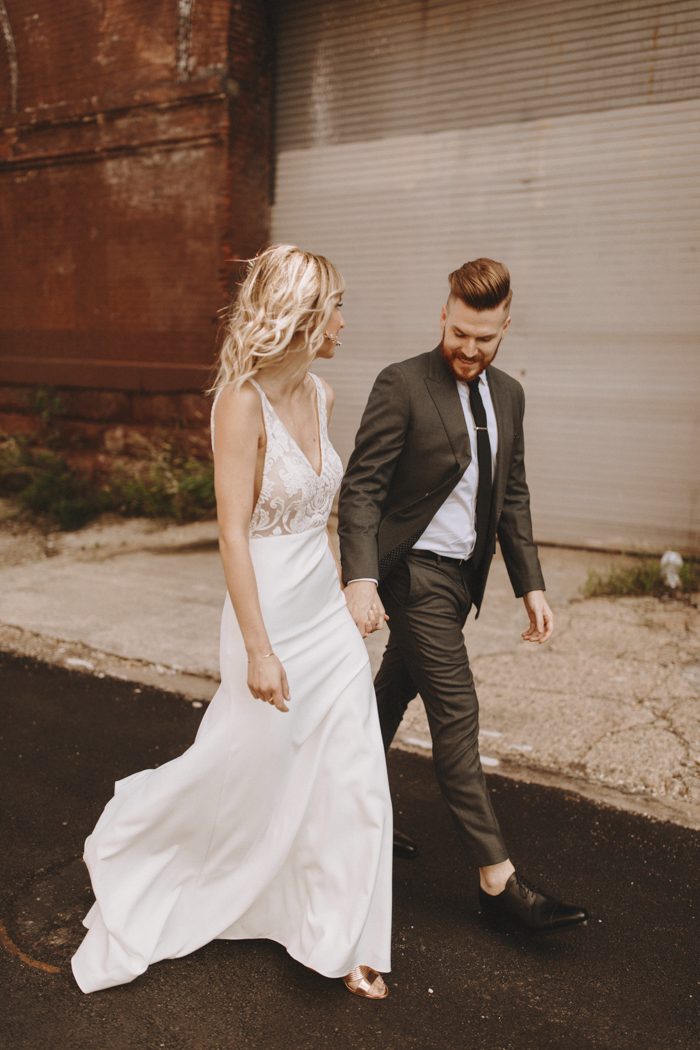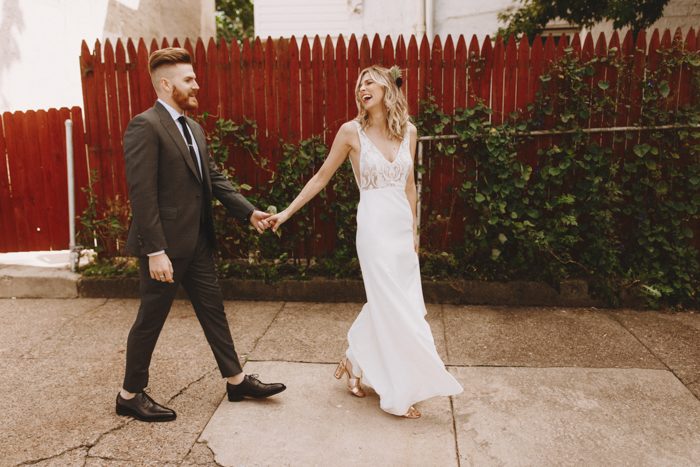 We were so lucky to have Nessa shoot our wedding. Her work speaks for itself and she is such a kind and thoughtful soul. Her talent is limitless. Fun fact: She's also an illustrator, and sent us one of her prints (a scene from The Office, our favorite show) after the wedding!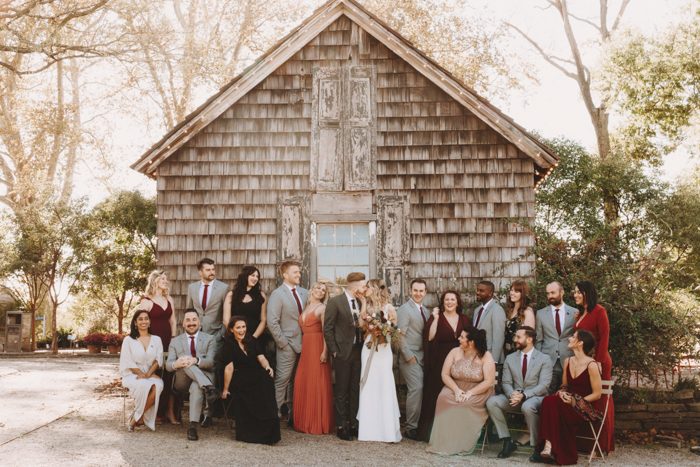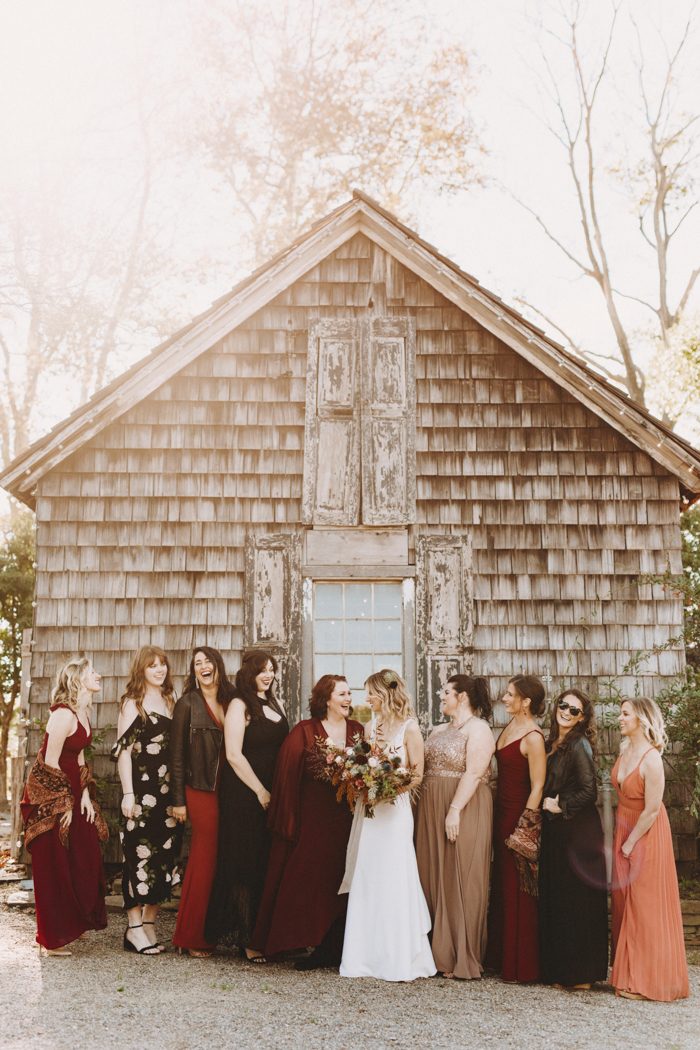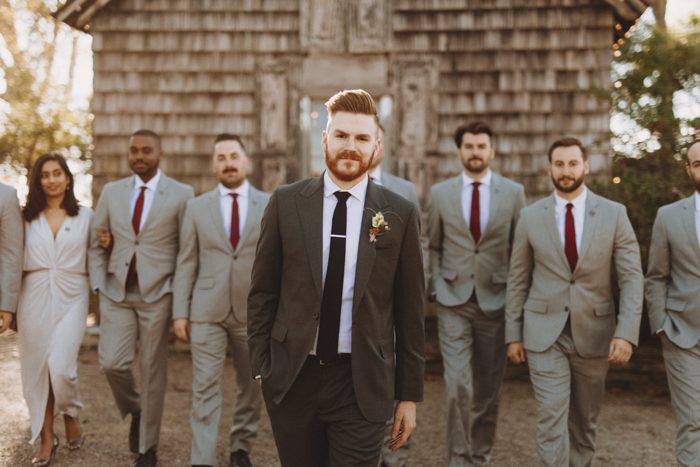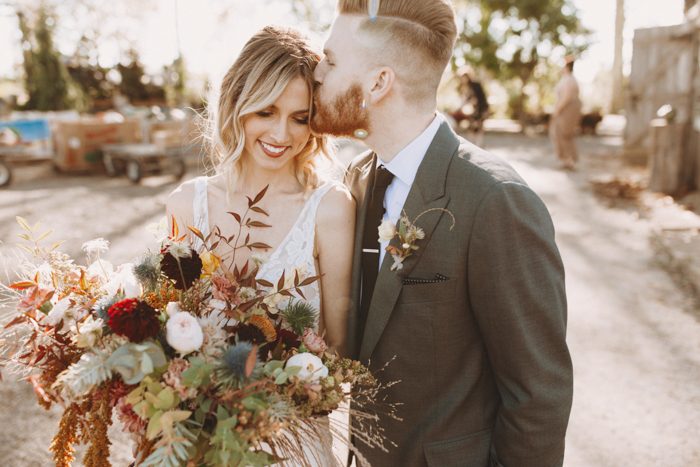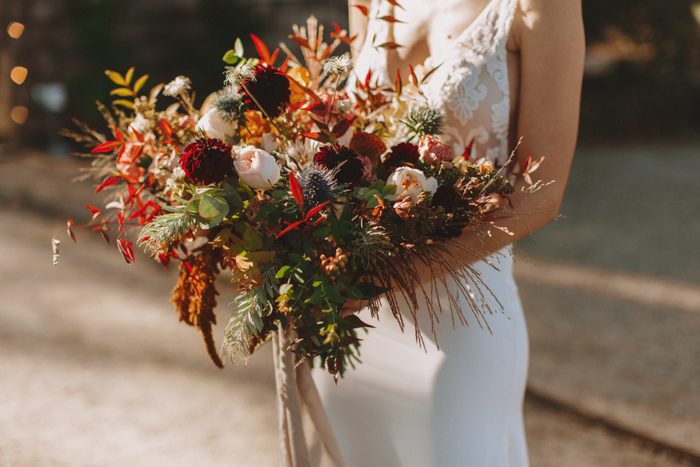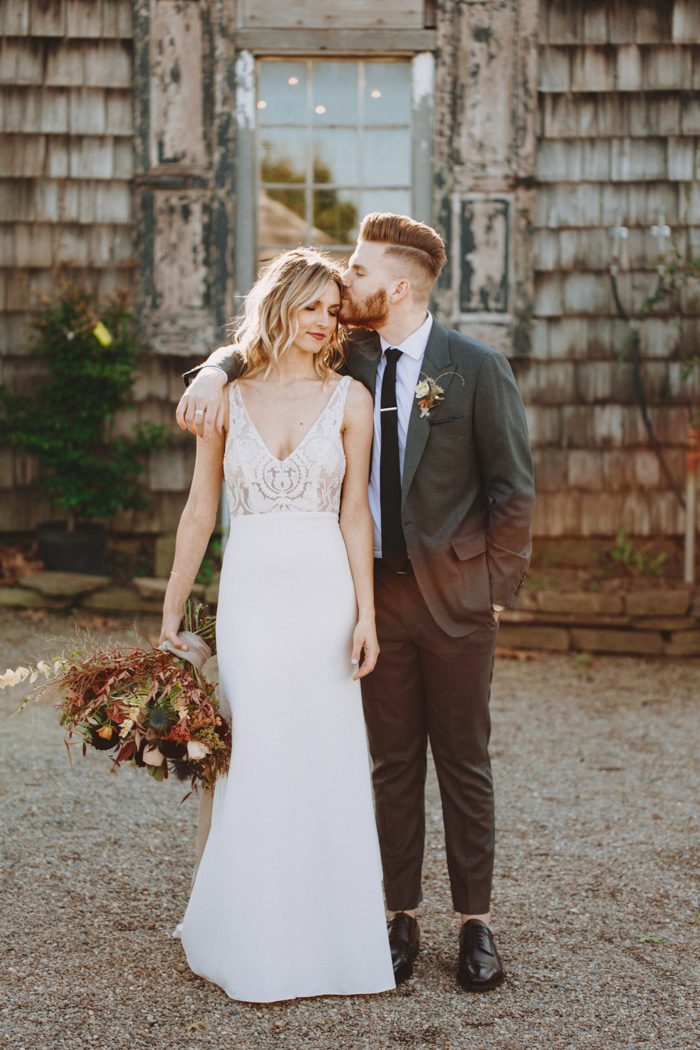 Wedding planning advice from the bride: My Dad passed away just a few months before our wedding. So to my fellow brides and grooms who are weathering the tides of grief alongside the joy of marriage – I share with you some advice that my mentor and dear friend gave to me. "I have two children, they got married eight weeks apart and my dad died suddenly, missing both ceremonies. My mom could barely stand up to give a toast, her grief was still so strong, but stand up she did. And you will stand up too."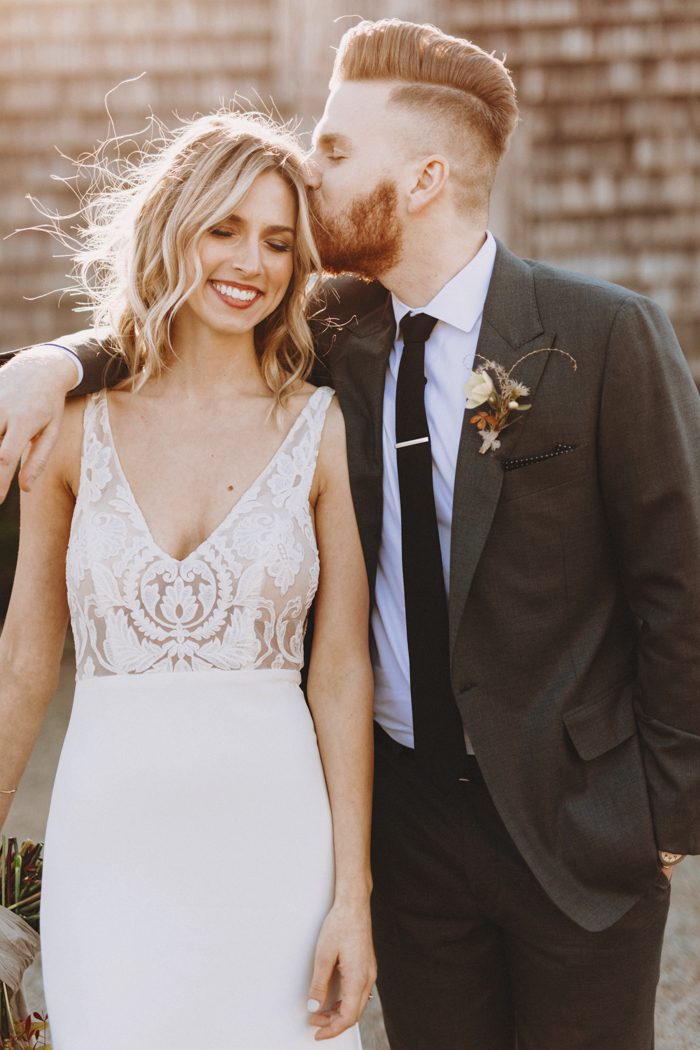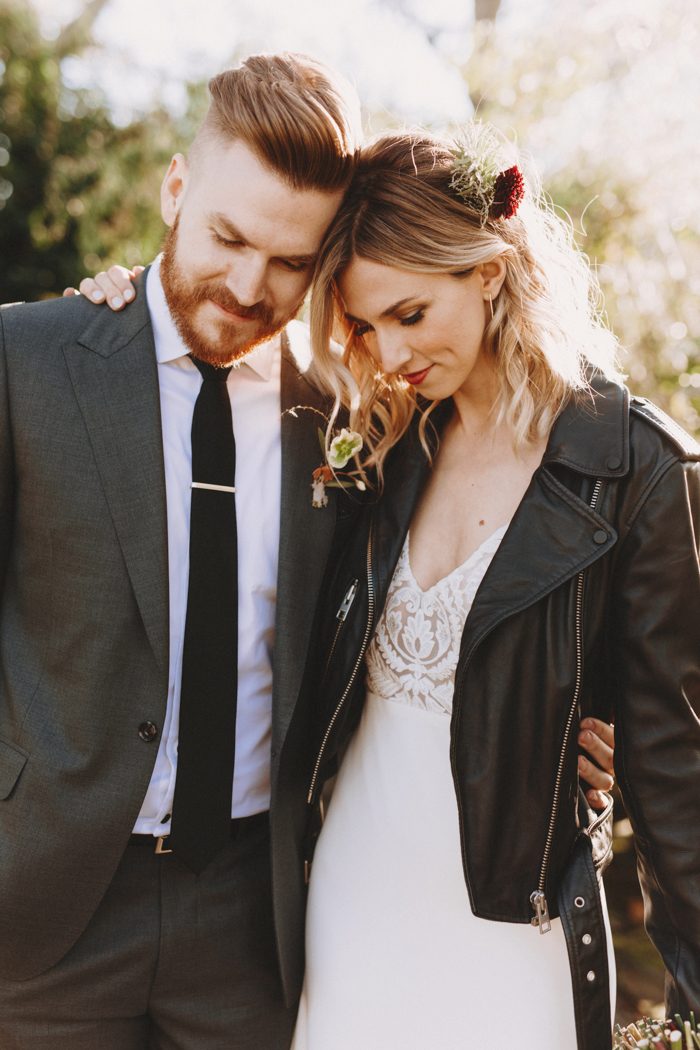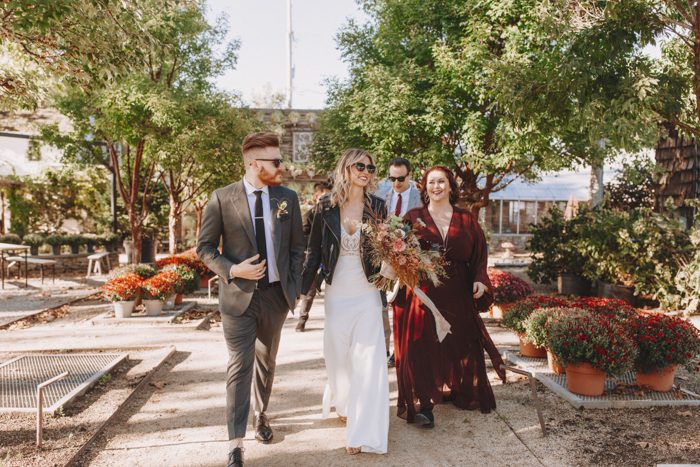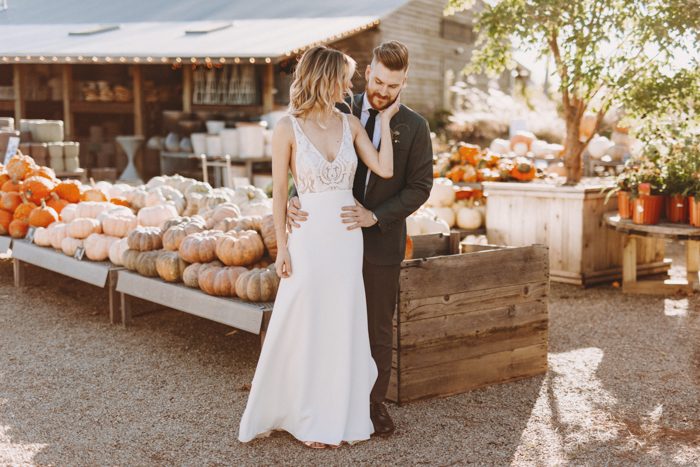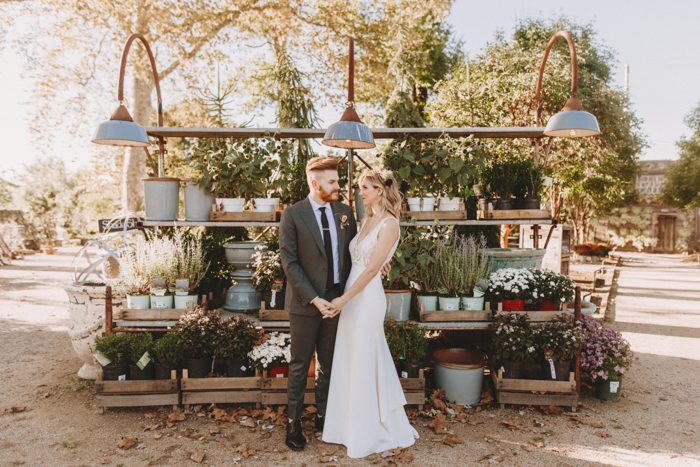 Our friend and groomsman Mike played us down the aisle to the song "Plans" by Twin Forks, which my husband arranged on guitar – it's one of the songs we exchanged at the very beginning of our relationship. We recessed to "The Power of Love" by Huey Lewis and the News (because – '80s) and danced to "Past Life" by the band Lydia. Music brought us together as a couple and there's been a definitive soundtrack to our relationship, so choosing our playlists and milestone songs was a meaningful and fun part of the process.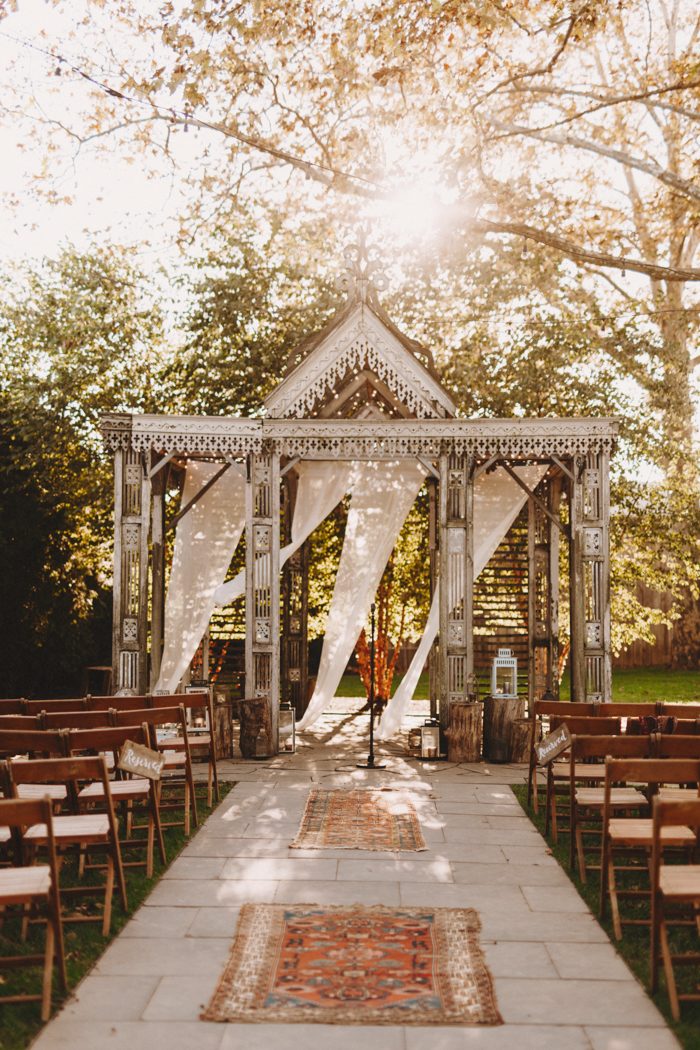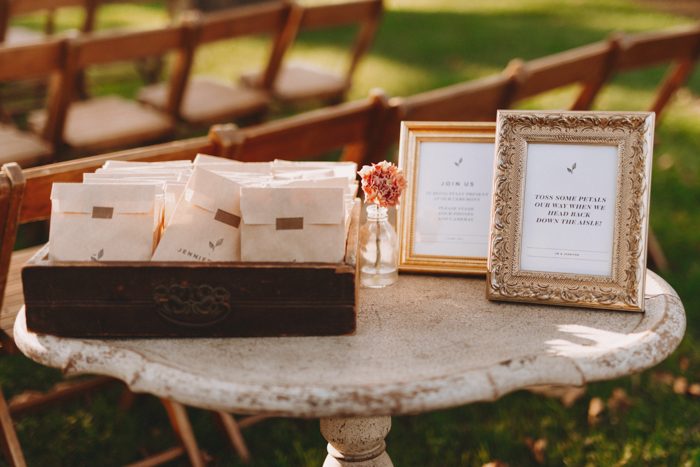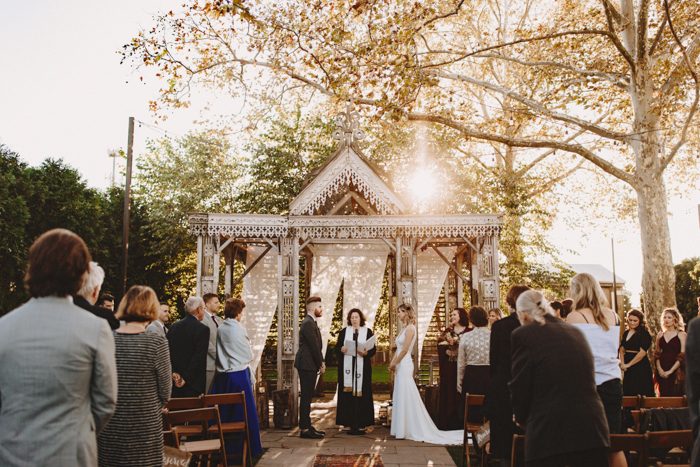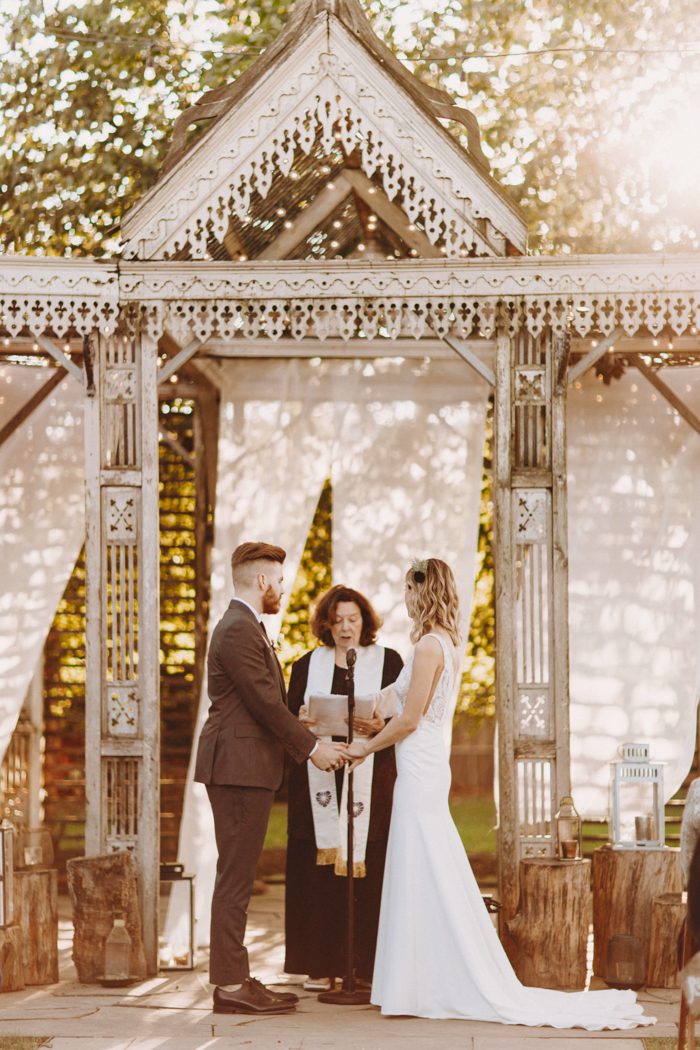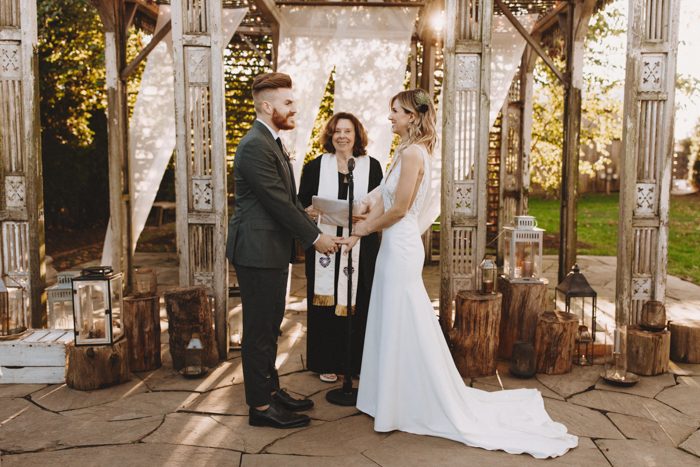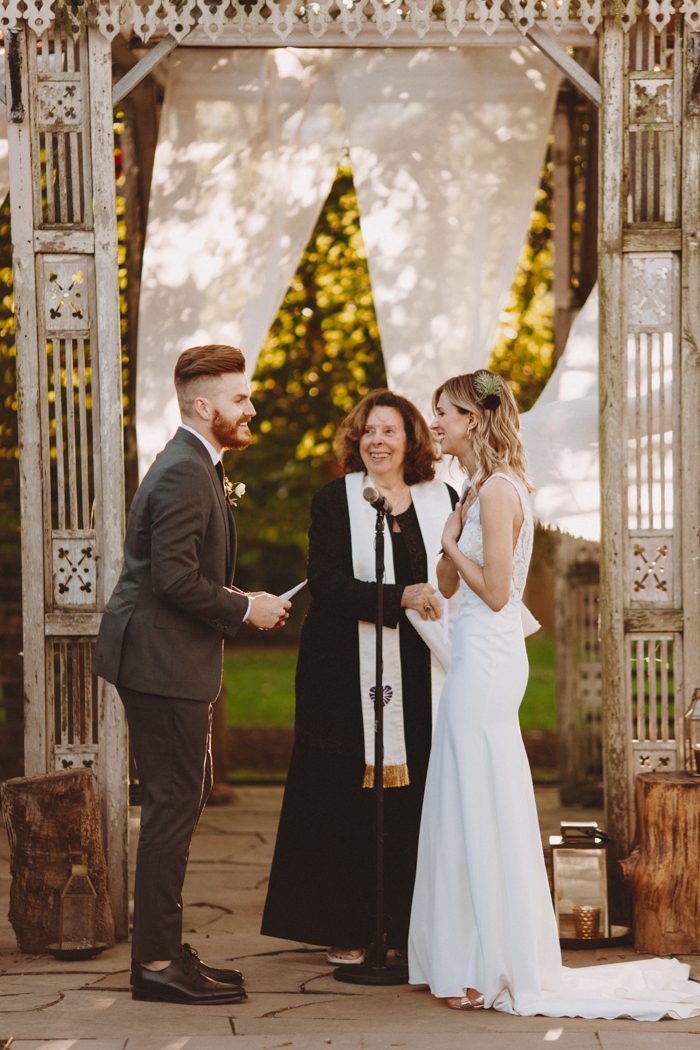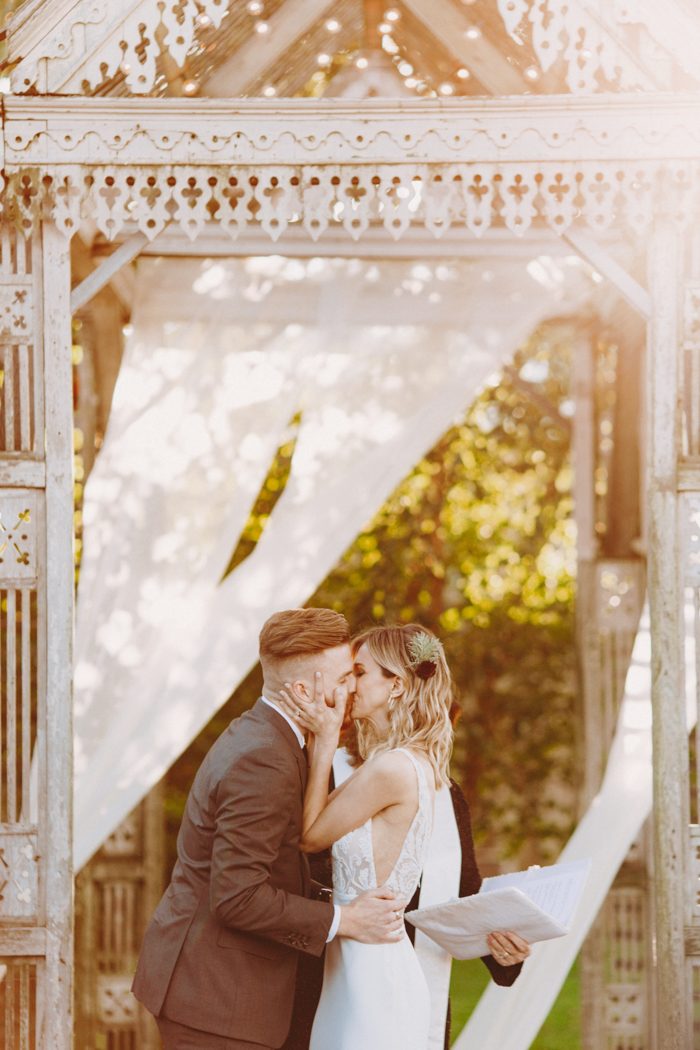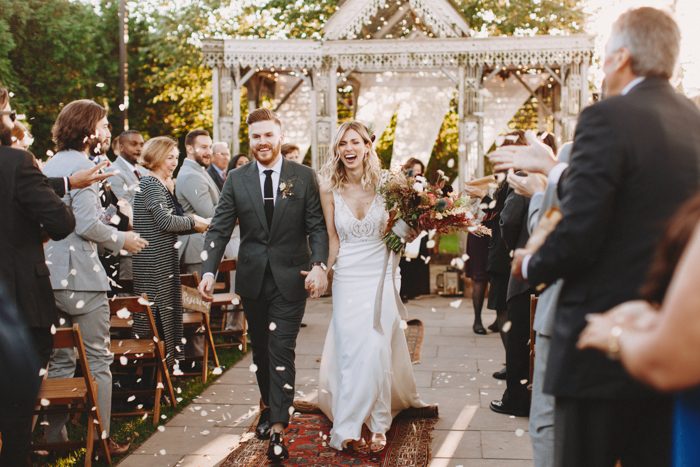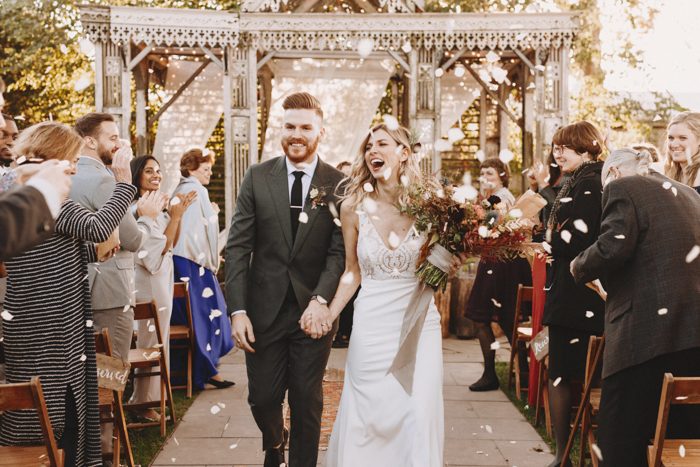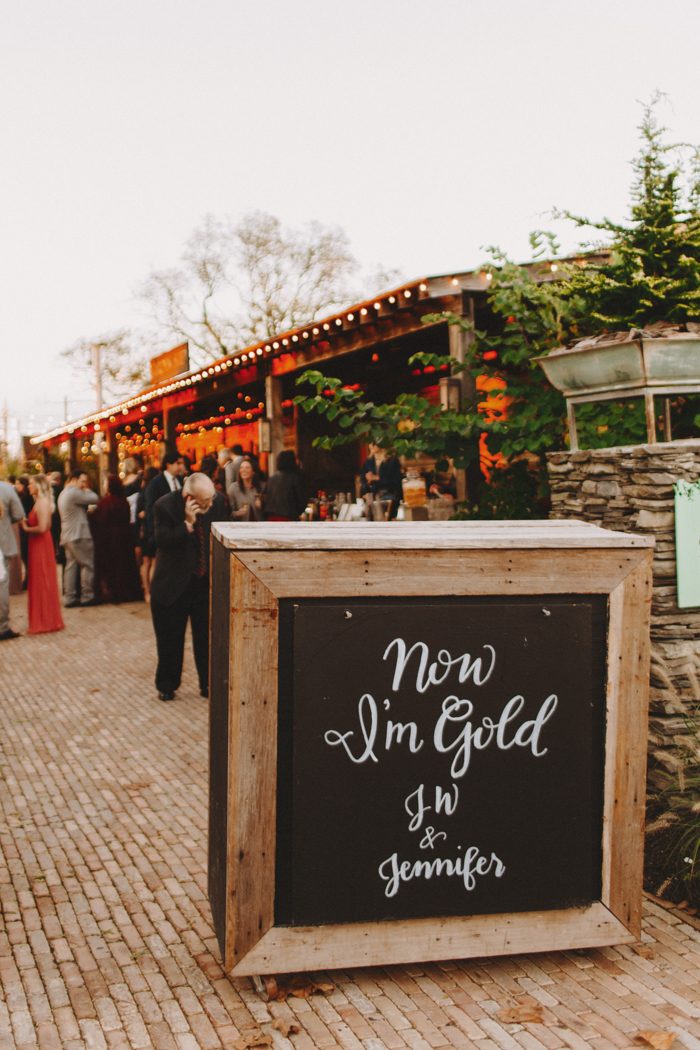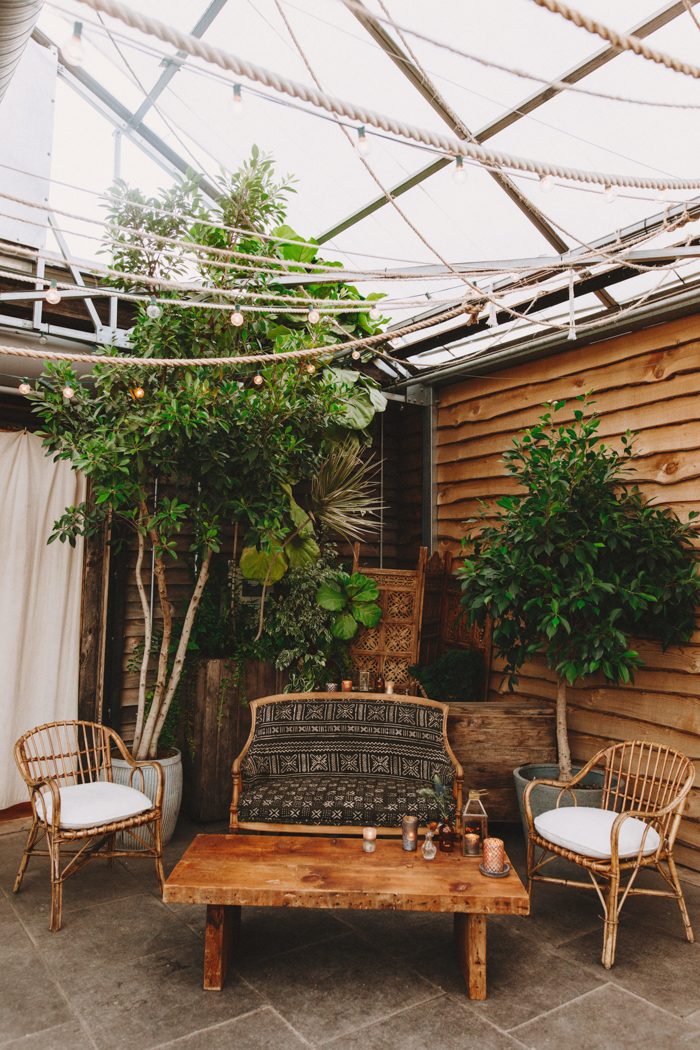 We wanted our day to feel like "us!" That meant playing our favorite pop punk and indie songs on vinyl, passing out cocktail napkins with Michael Scott quotes on them and serving ice cream sandwiches instead of wedding cake. Our aspiration was to embed our favorite things – and the pieces of life that we love the most – into our wedding so that the whole experience felt like home. Our friend Abby, who manages our favorite neighborhood restaurant and is a cocktail-creating connoisseur, invented our signature drinks. And here's how you know they were really ridiculously good: we defied the recommendation from the liquor store and significantly overbought on cocktail ingredients – and we STILL ran out by 9 p.m. People just couldn't stop drinking the "Ginger Gentleman." She is a mixology master!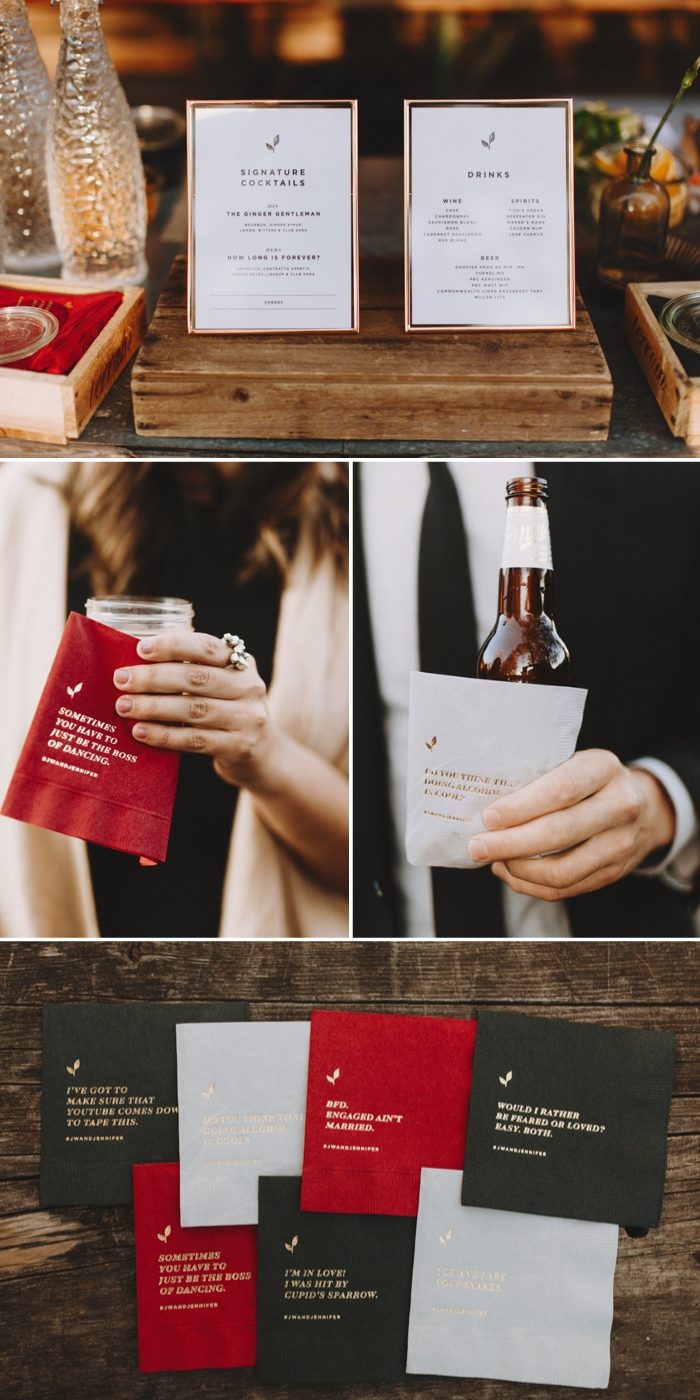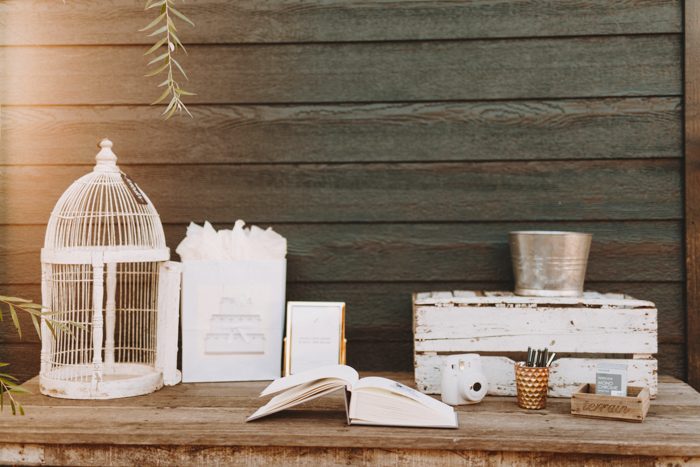 I designed our invitations and had them printed locally, lined the envelopes with botanical prints and hand lettered the addresses. My eyes turn into hearts for all things snail mail: making these was meditative, creative and fun. I also whipped up petal tossing bags (washi tape is my friend), and tabletop signage for our bar, guestbook table, etc. to match our invites, putting them in different gold frames for an eclectic look. My proudest project, though, was hand-lettering a vintage mirror from JW's family with our seating chart using chalk markers. I still haven't erased it!…it's probably time to move on.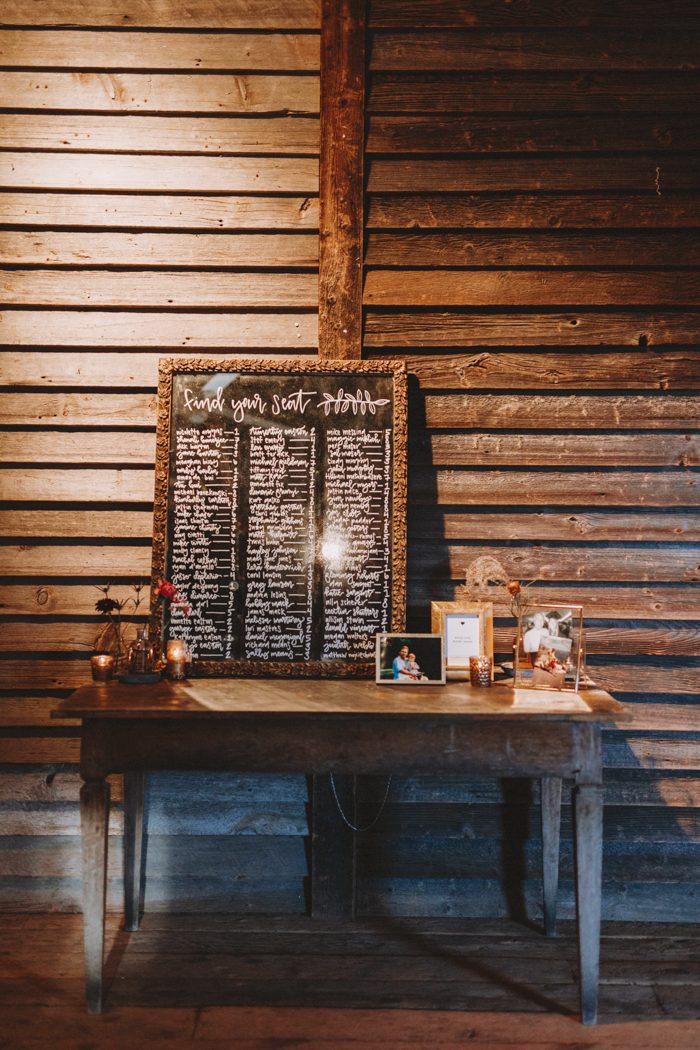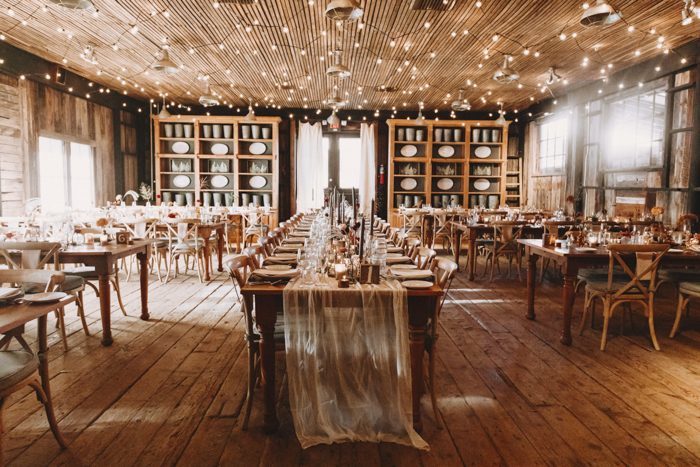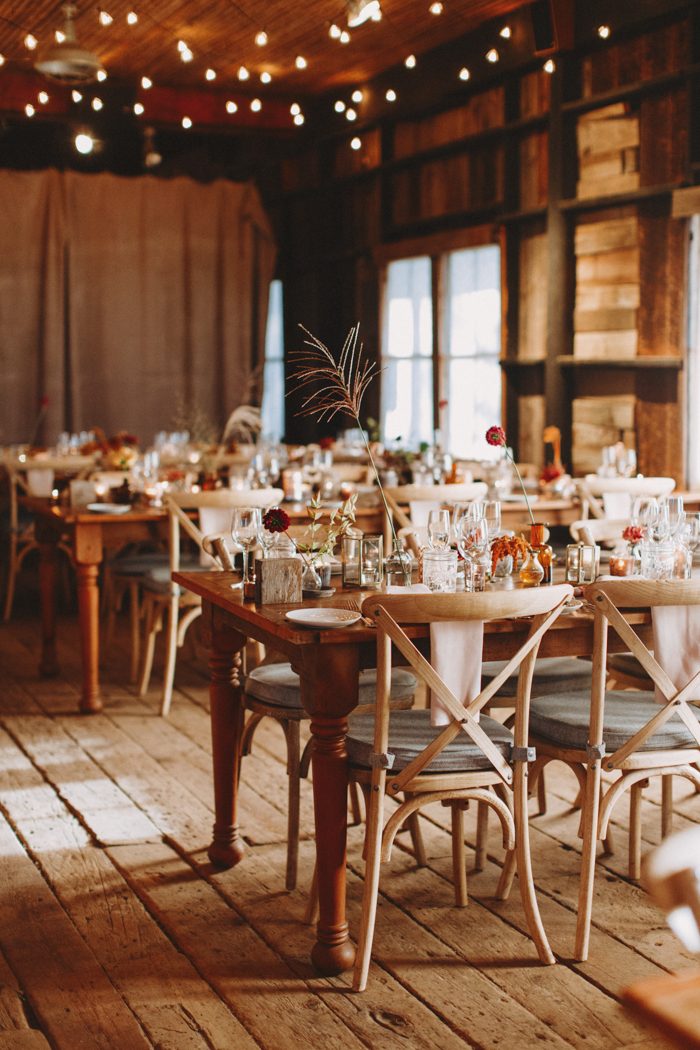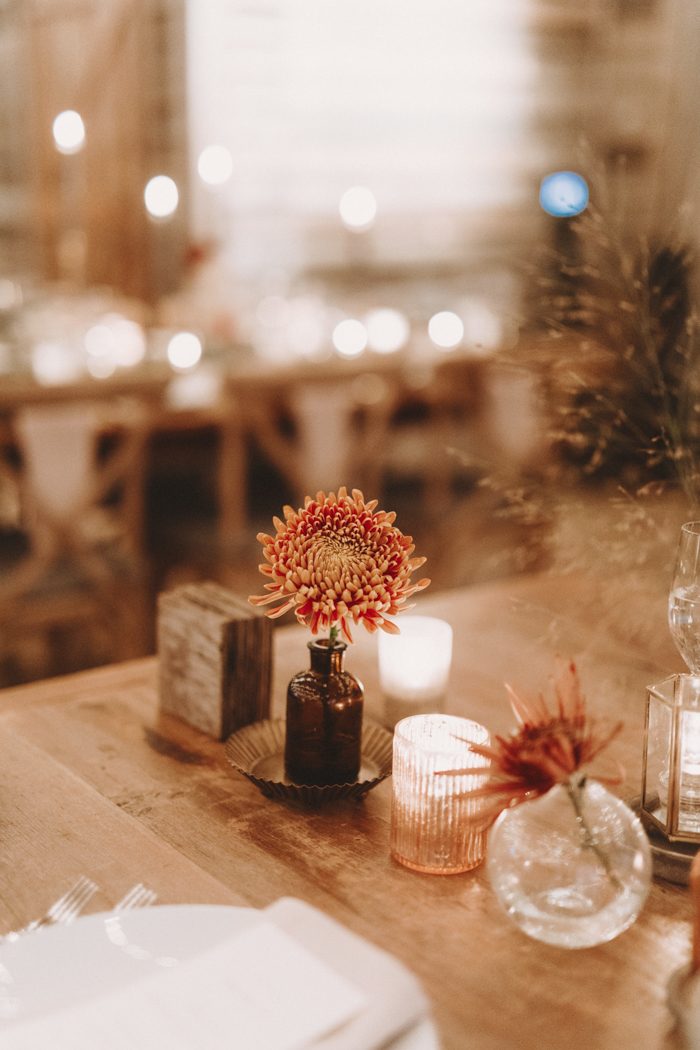 All of our vendors were wonderful! We were really fortunate to work with so many talented creatives. Special shout-out to the team we worked with at our venue, Terrain. Everything at Terrain has a touch of magic and the professionals there bring the most beautiful aesthetic to all they do, from how they arrange decor, to the way they plate food and put together florals. Wedding planning was stressful, and Terrain was turnkey in many ways. We knew everything they created for the day would be bespoke and stunning – and we were blown away (and so grateful!).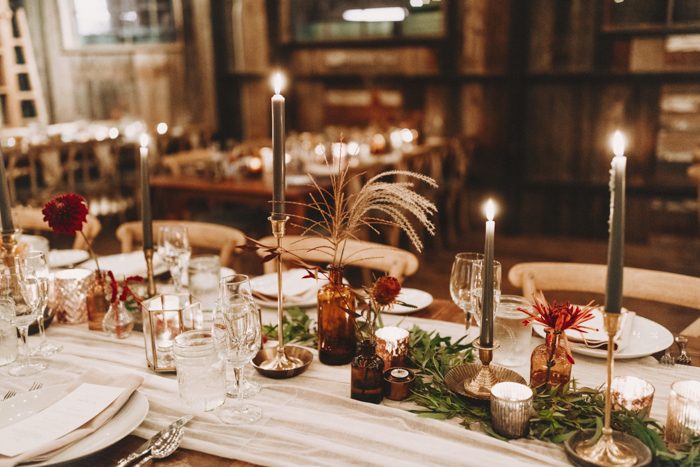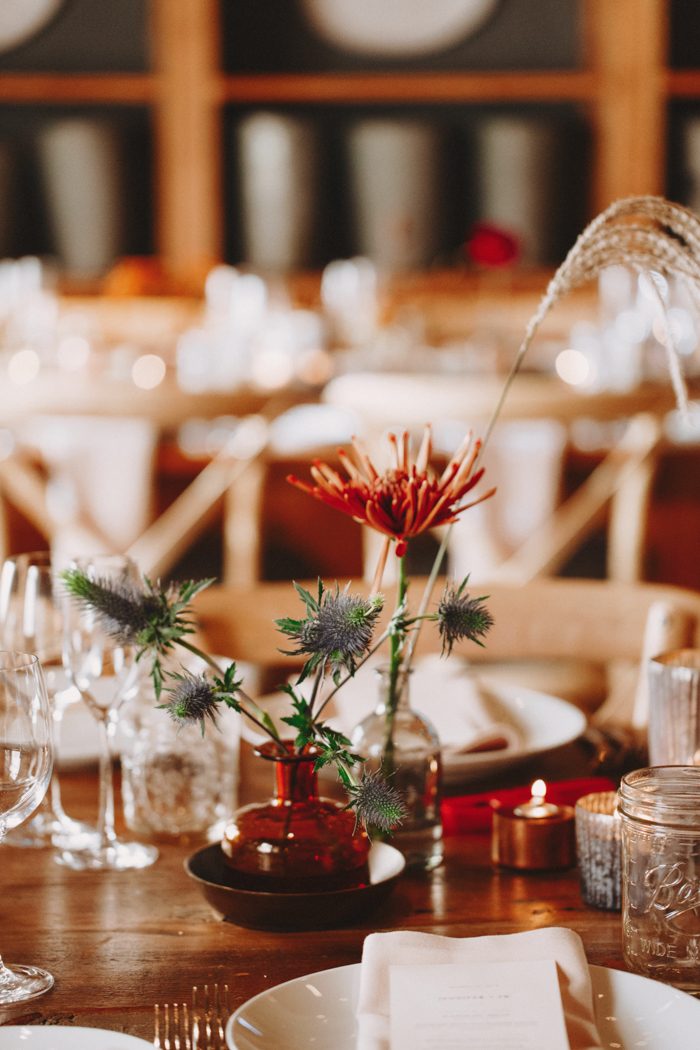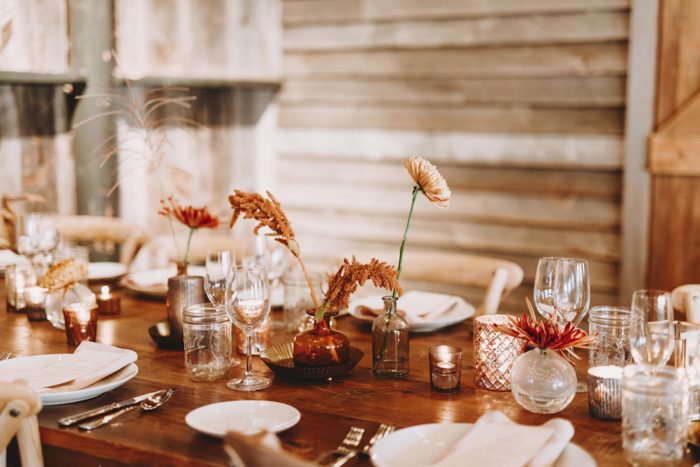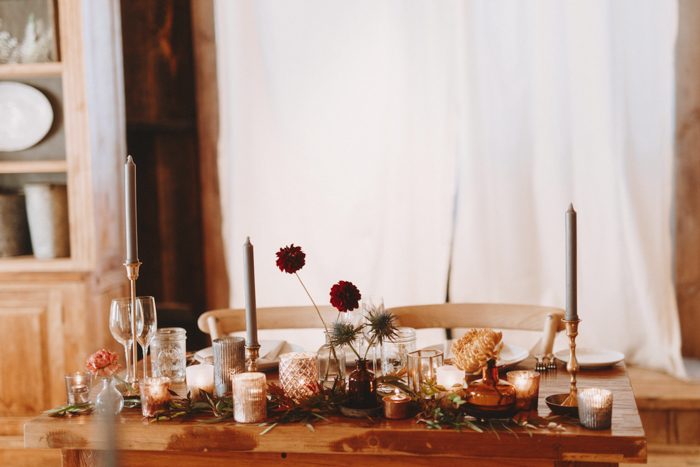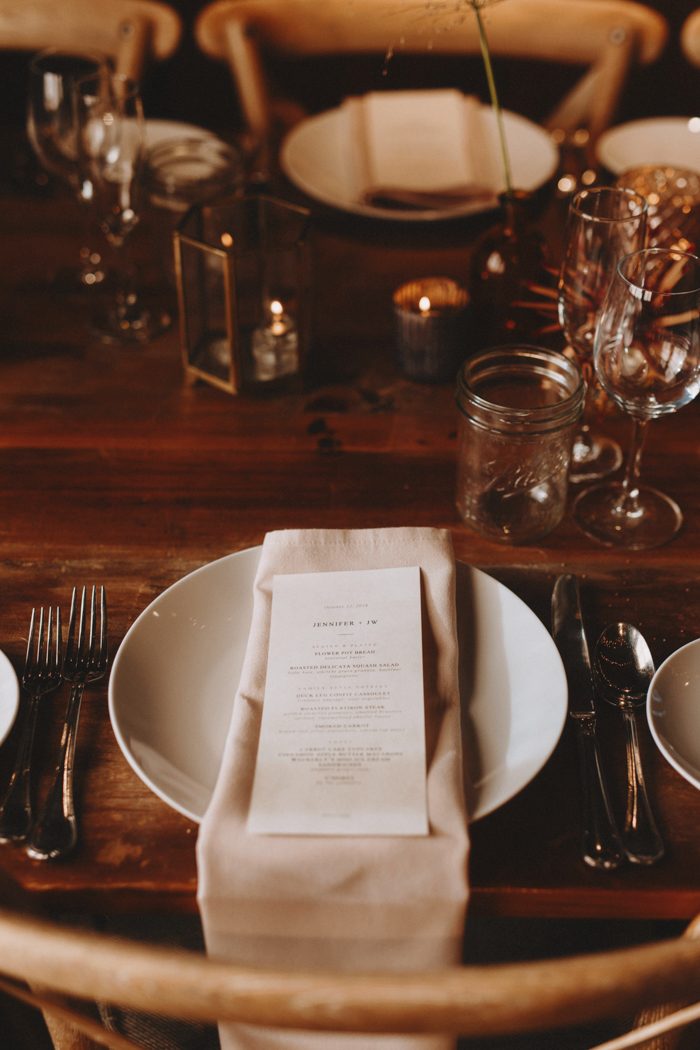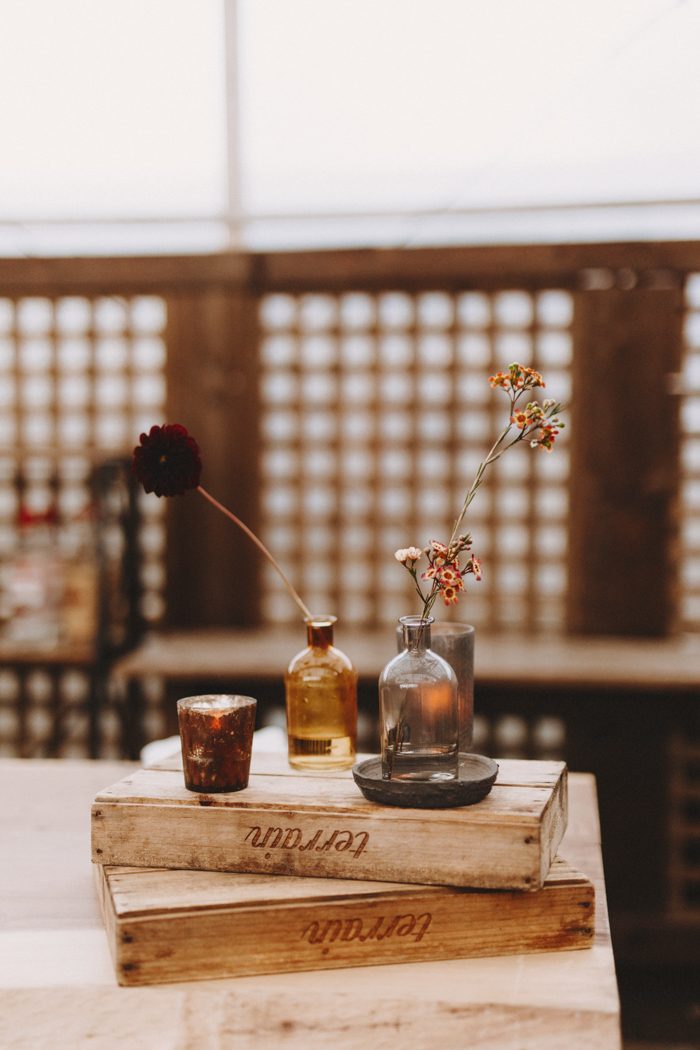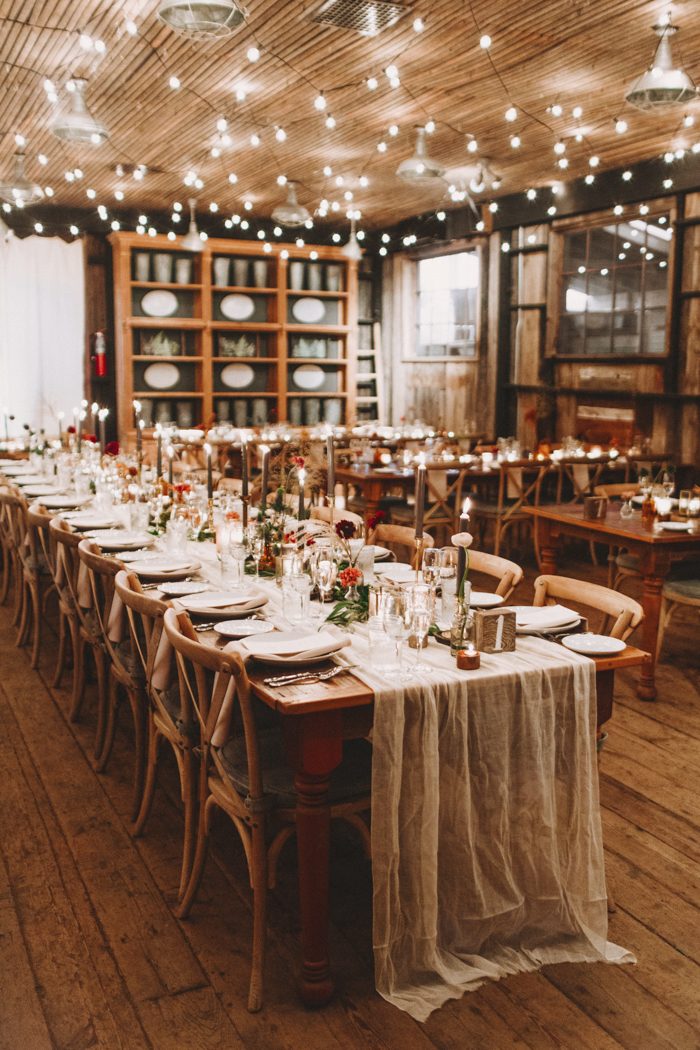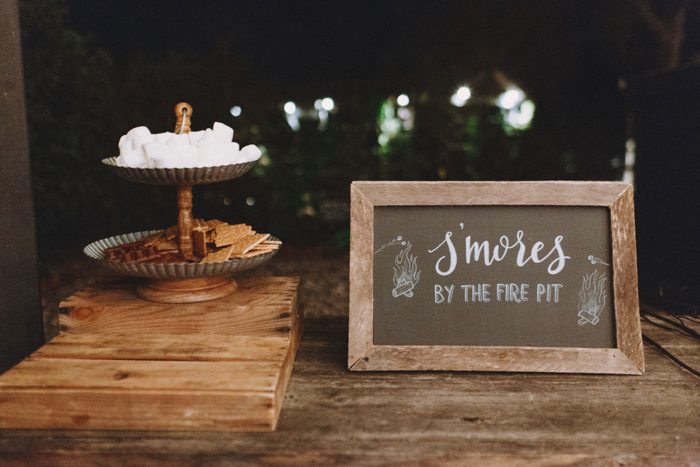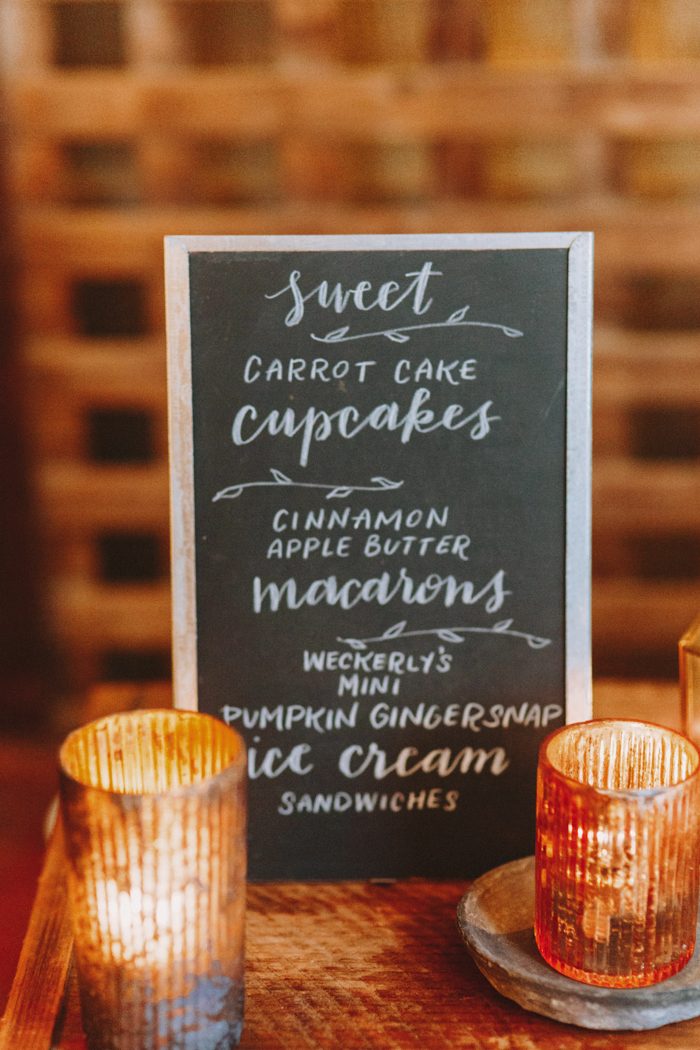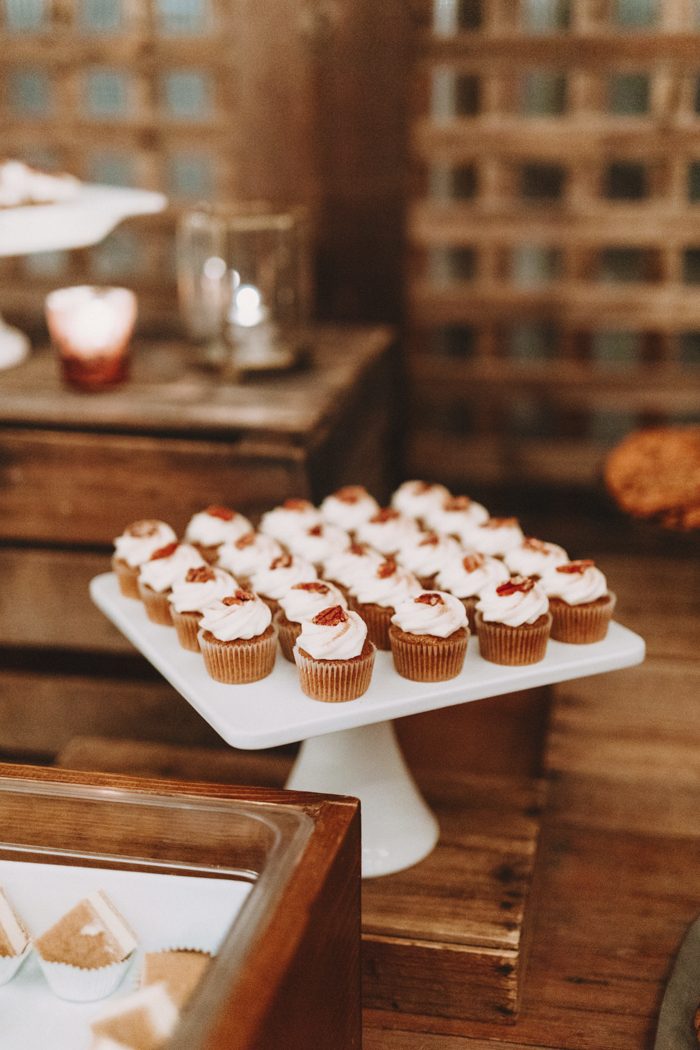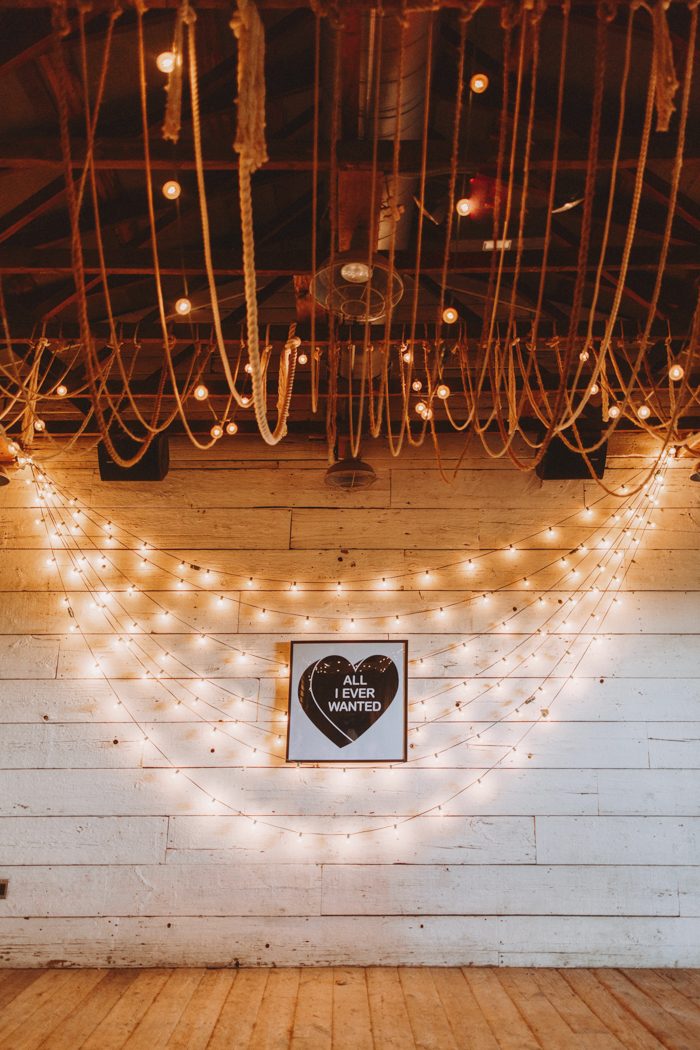 Our day-of coordinator, Sarah from Heart and Dash, was a lifesaver (and then some). She solved so many befuddling logistical issues for us, ensured all of our family and bridal party photos finished with time to spare, and even whipped out a sewing kit on the dance floor when we ran into a snag (literally). I am convinced there is nothing she can't do or solve – she's basically a life coach mixed with the most prepared and confident event planner.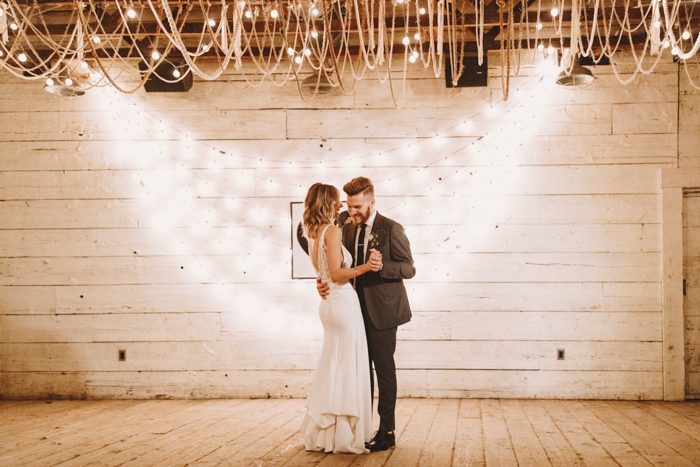 Congratulations, Jennifer and JW! We're thankful this adorable couple shared their Autumnal Terrain wedding with us at Junebug! For more fall wedding inspiration, be sure to check out this romantic backyard Palm Coast Wedding in Autumnal jewel tones.