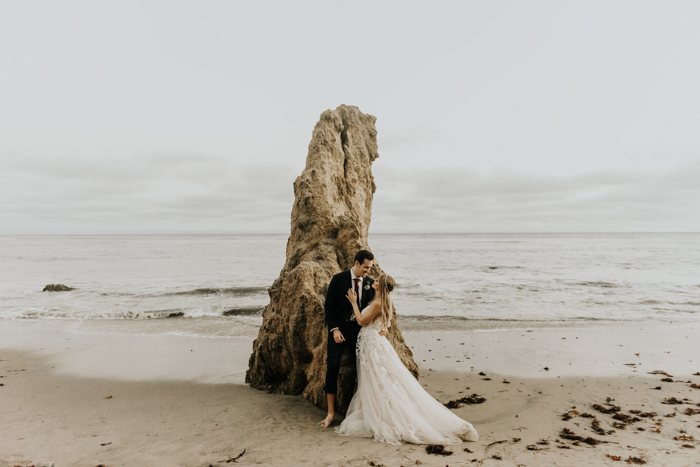 We can hardly find the words to describe how impressed we are that this groom pulled off not just a surprise proposal but also a surprise wedding without his beautiful bride suspecting a thing! Michael planned a trip to "visit friends" in California, picked El Matador Beach as the perfect location to exchange vows, and enlisted a small team of vendors and family to pull of the surprise of a lifetime. They even managed to get Kassidy to pick out her own dream wedding dress beforehand — sized and everything — and had it waiting for her in the studio after she said, "Yes!" Luckily for us, Map + Compass Photography was there to capture every unbelievable moment of this day. From the proposal to the moment Kassidy saw her wedding dress to the sunset portraits up and down the iconic beach, this Malibu wedding will go down as one of the most romantic and joyful celebrations we've had the honor of publishing!
The Couple:
Kassidy and Michael
The Wedding:
El Matador Beach, Malibu, California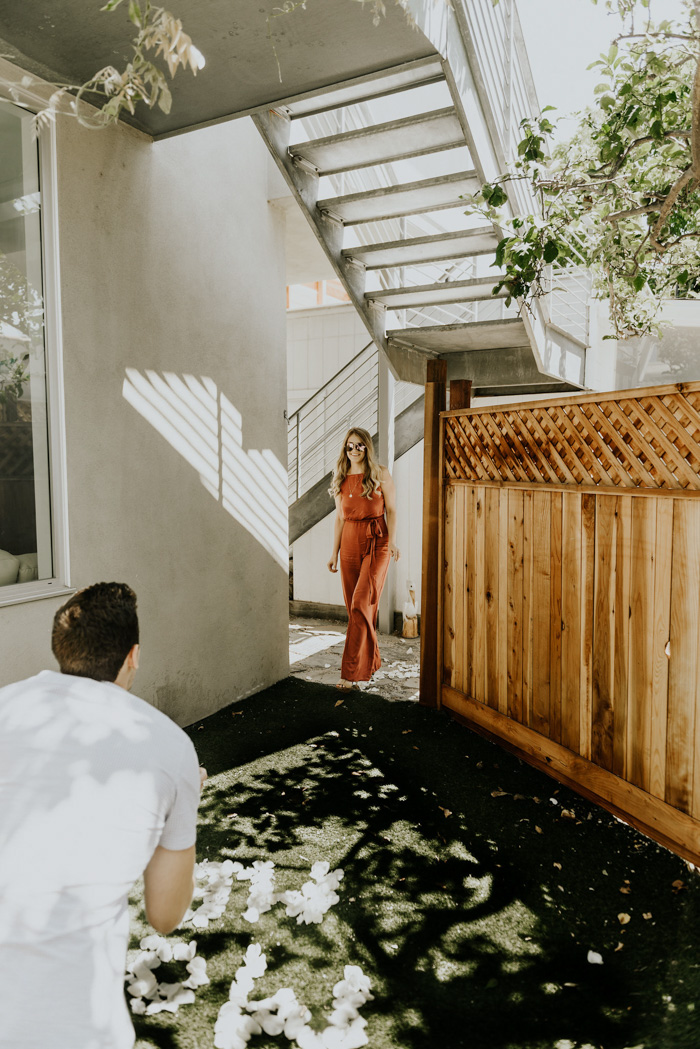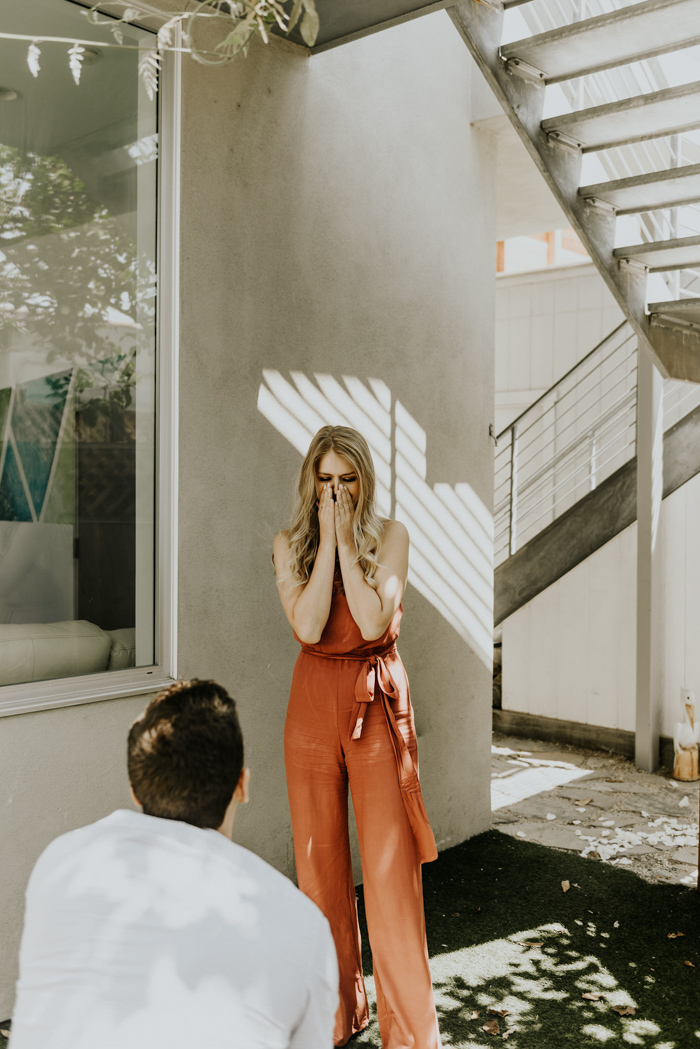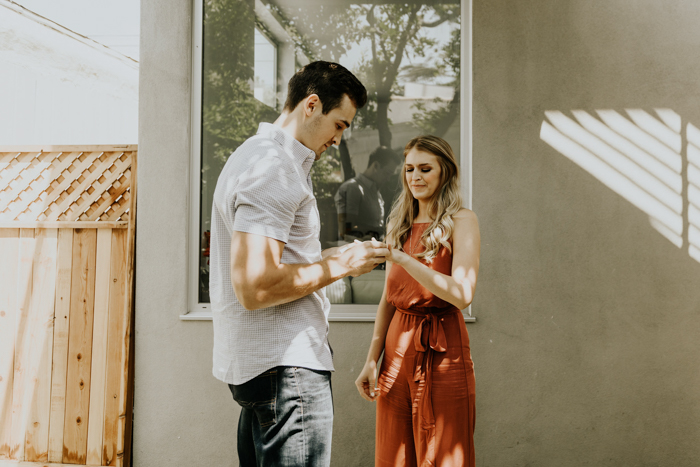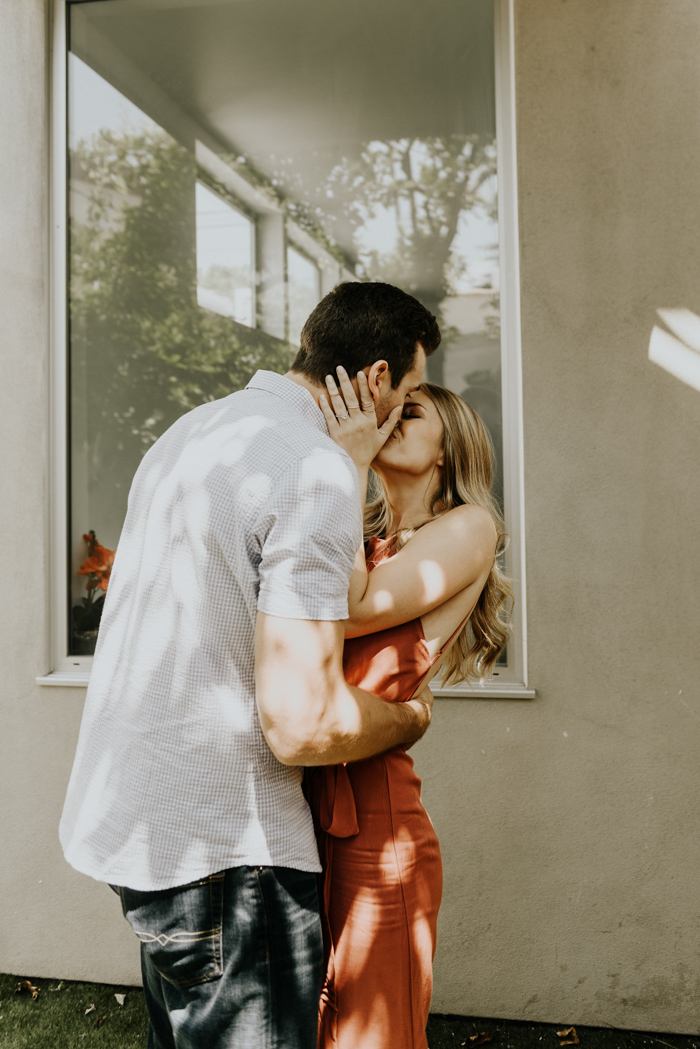 From the bride: After Michael had proposed and we hugged, kissed, and took a moment to appreciate each other, he took my hand and said: "I did a thing, I hope you like it." He then walked me up some stairs into a studio where my mom was waiting for me with my dress. As we were walking up the stairs, I turned to look at our photographer, and this was the first moment that I realized that it was Nicole, whom I had been admiring online for months! This was the most memorable moment to me because this is when it hit me exactly how much thought Michael had put into this moment for me. At this moment, I still thought this was only a proposal, little did I know I was about to be given everything I didn't even know I needed.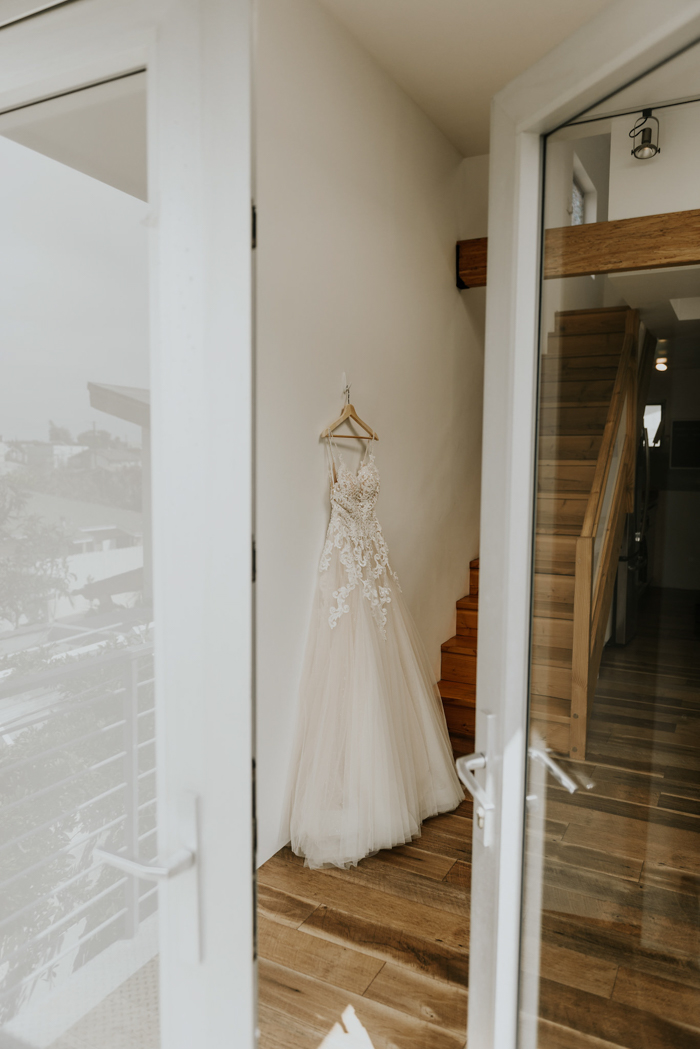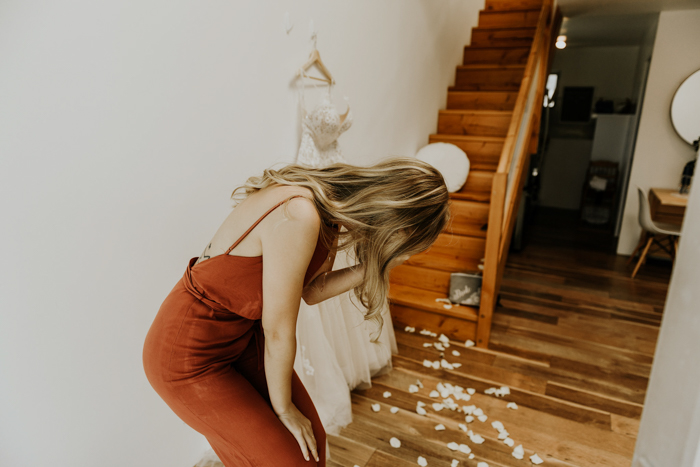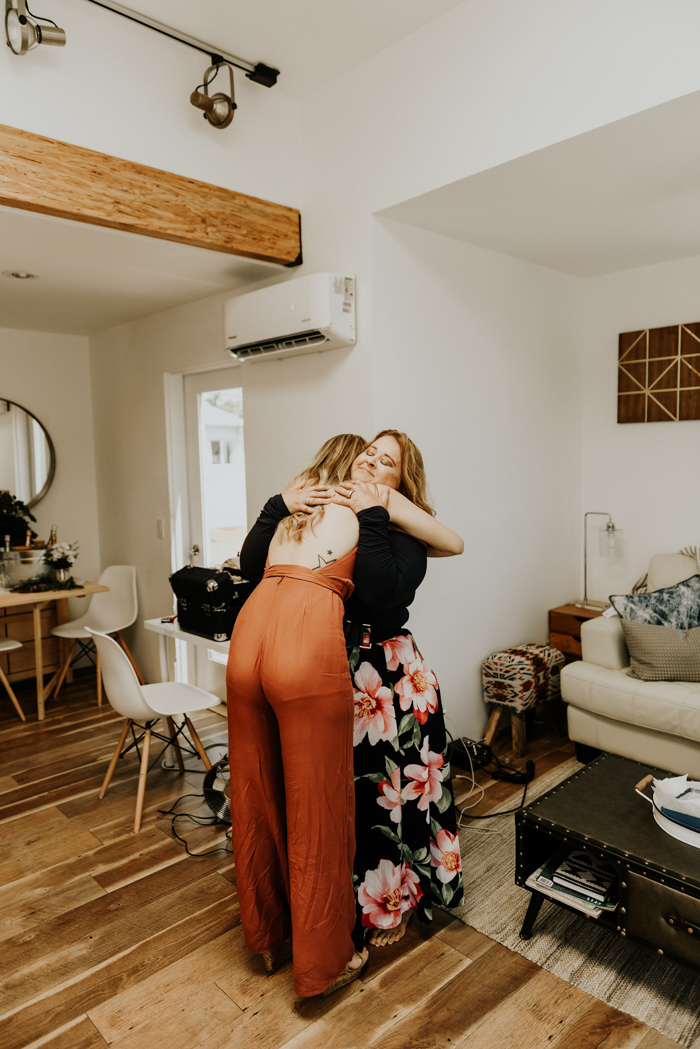 As if that all wasn't enough, one by one, my closest relatives and friends walked into the studio to surprise me, including my sister who I absolutely did not expect to be there since my nephew is on life support back in Indiana. I was in such shock and awe about what had been done for me that I literally cried for two straight hours.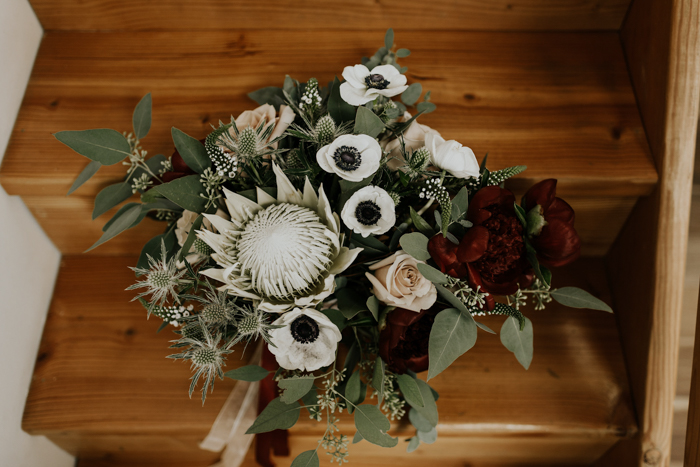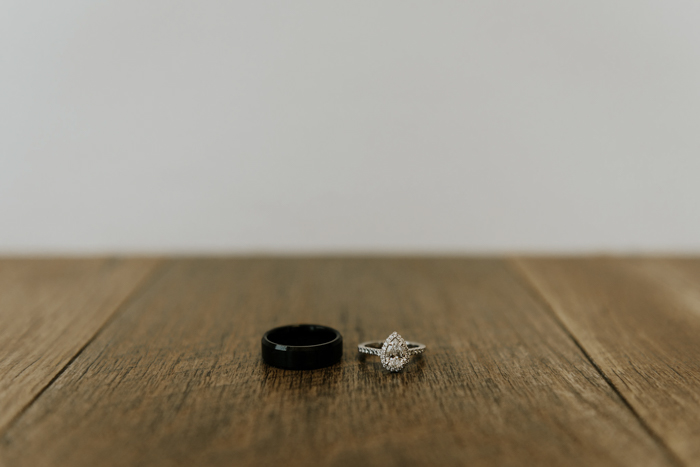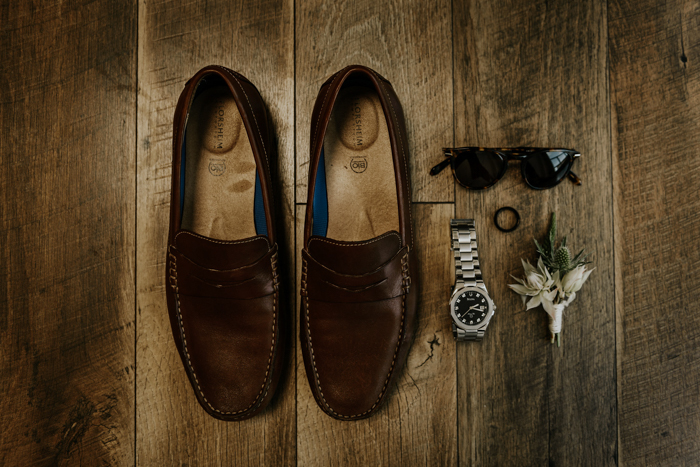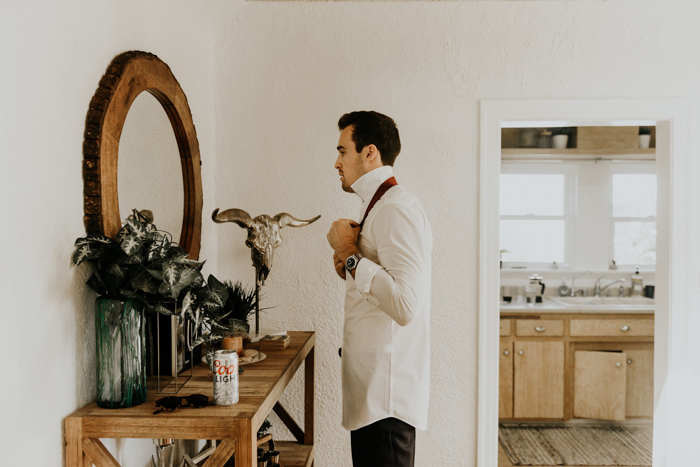 From the groom: For me, there were two moments that really stood out. The first was when I heard Kassidy walking to where I would propose to her, as this was the moment that it truly sunk in that I would be marrying my best friend that day! (I was pretty optimistic that she'd love the whole surprise wedding thing.) The second was after the ceremony and pictures when we stopped at the top of the cliff we got married on, turned toward the ocean where the sun was setting, put our arms around each other, and took a brief pause to reflect on everything that had just happened.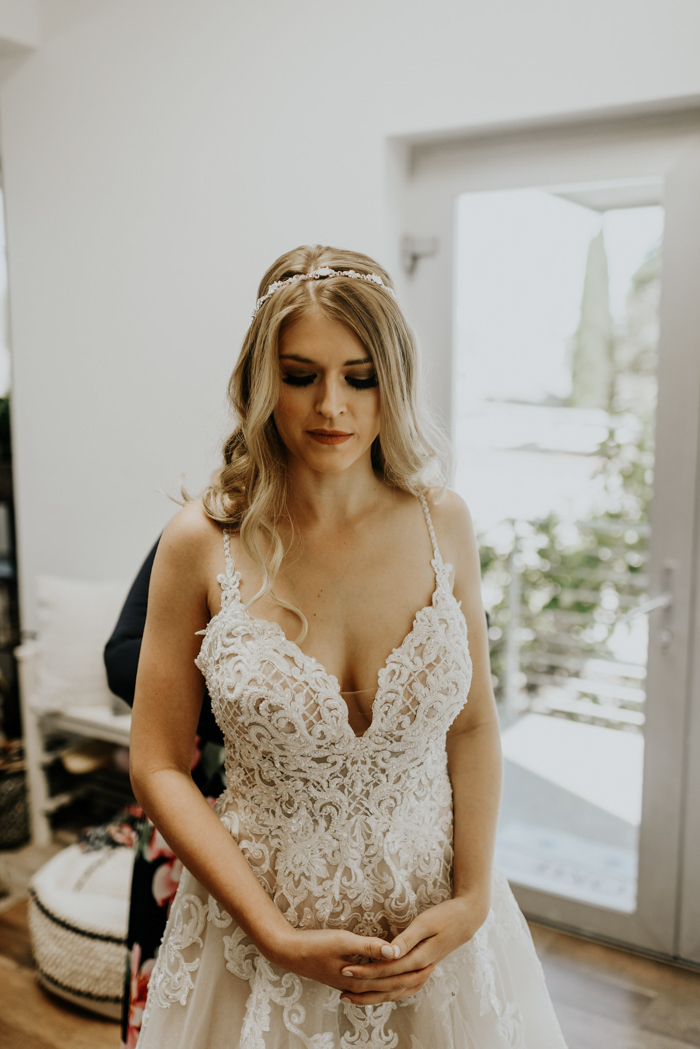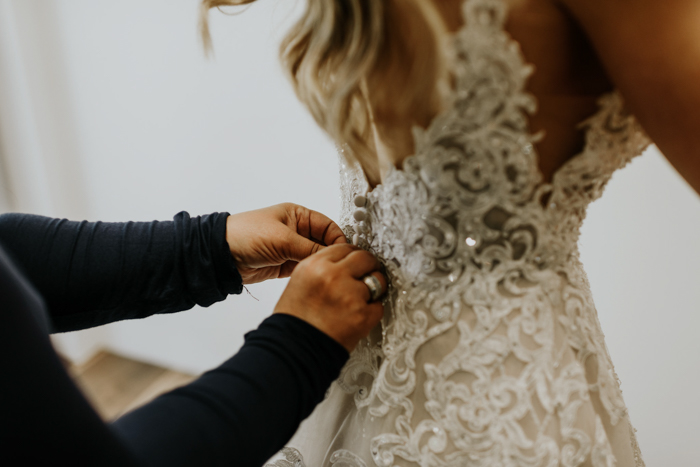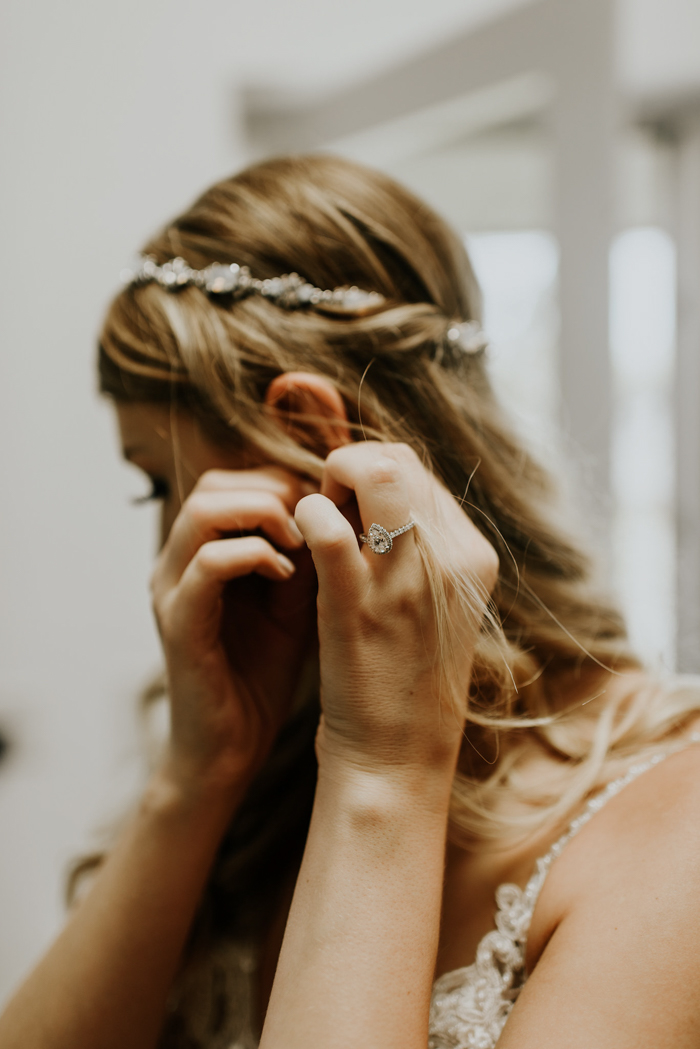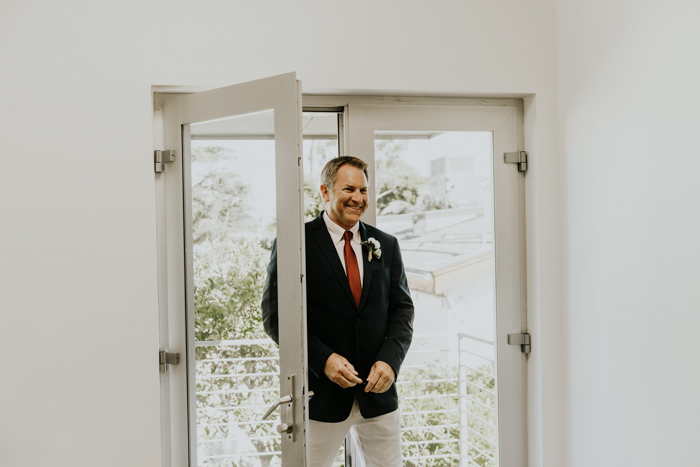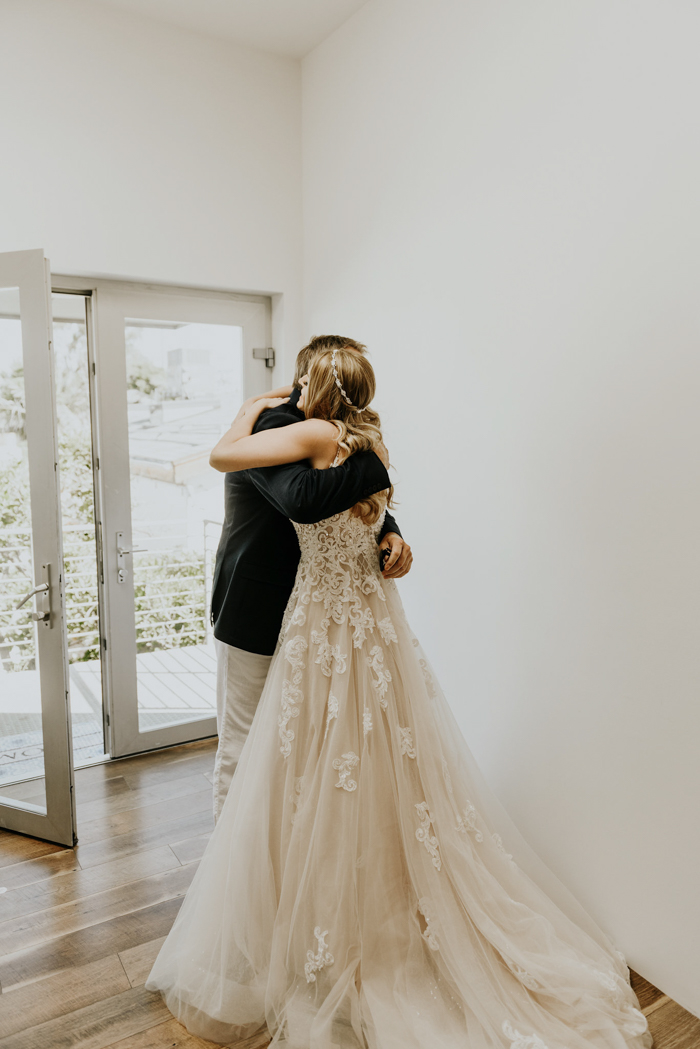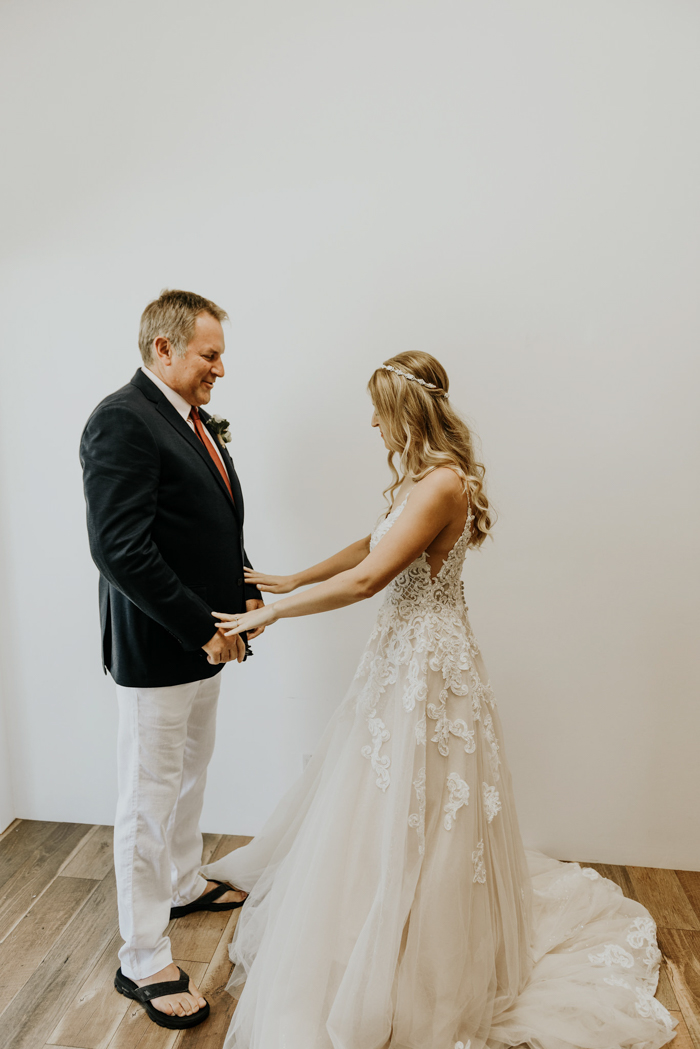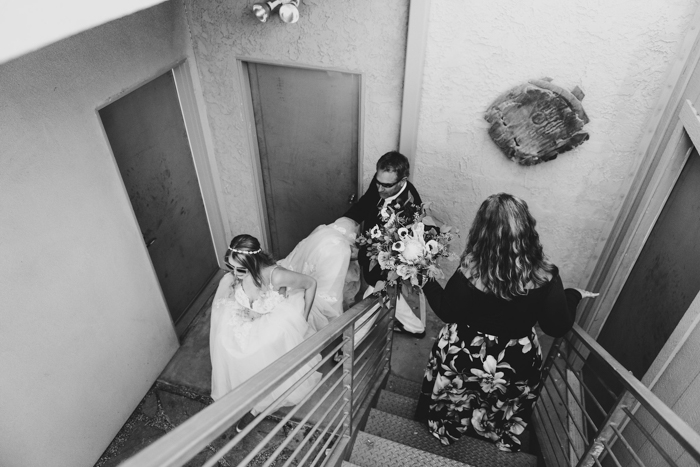 Kassidy struggles with anxiety, so the first and most important thing that I wanted the day to be was easy-going, laid-back, and smooth. As for aesthetics and overall vibe/theme, I had Kassidy's mom constantly looking at Kassidy's Pinterest for ideas and inspiration that I knew she already liked! When deciding on a venue, I started with California because we have friends in Pasadena and visiting them was my way of getting Kassidy there without suspicion. Then I simply started to search for beaches that were within reasonable driving distance. Once I saw El Matador beach, even just the pictures were so breathtaking that I knew that had to be our spot. Funny enough, Nicole sent me the location about an hour after I had found it myself, so I knew it was meant to be!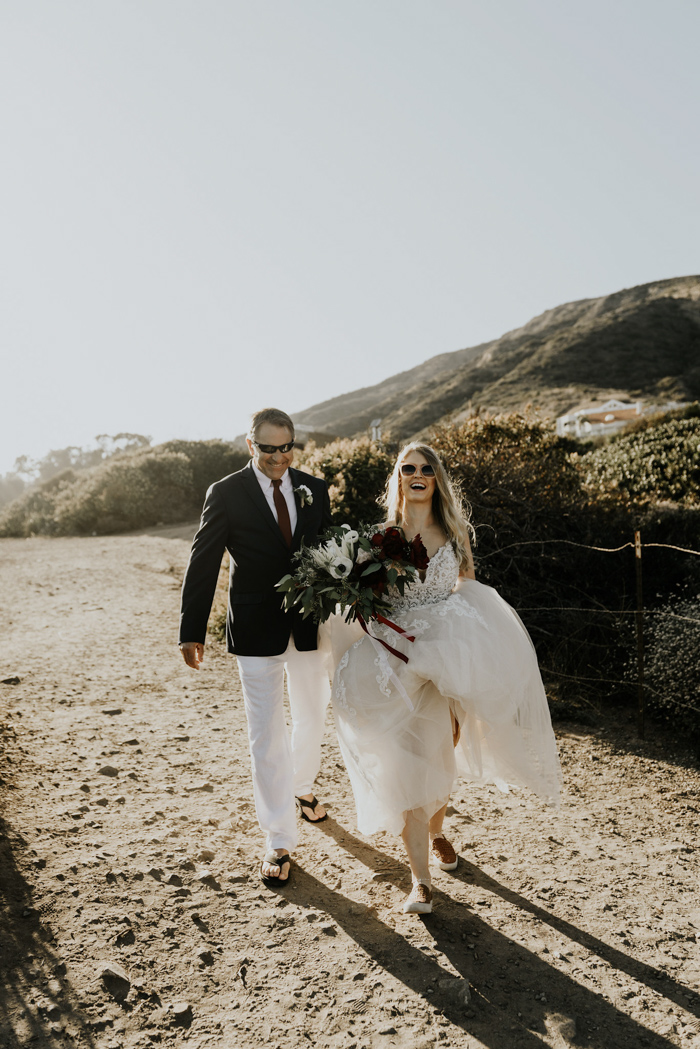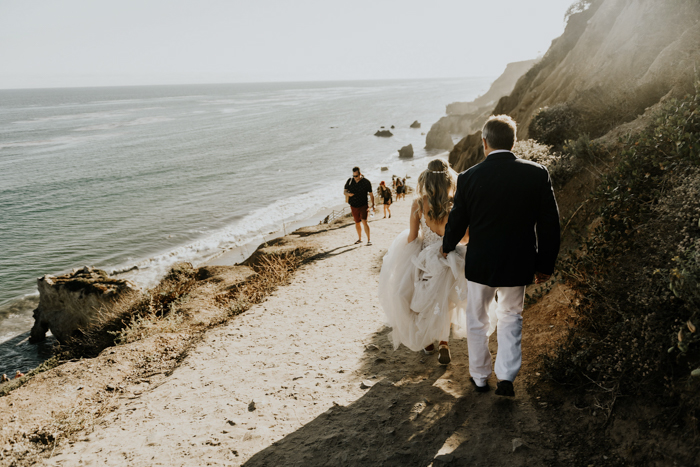 Our ceremony was naturally very personal and intimate. It was us, our siblings, our parents, and our closest friends for a total of 21 people. Also, Michael's grandfather is ordained, so he was the one to marry us, which we are extremely grateful for.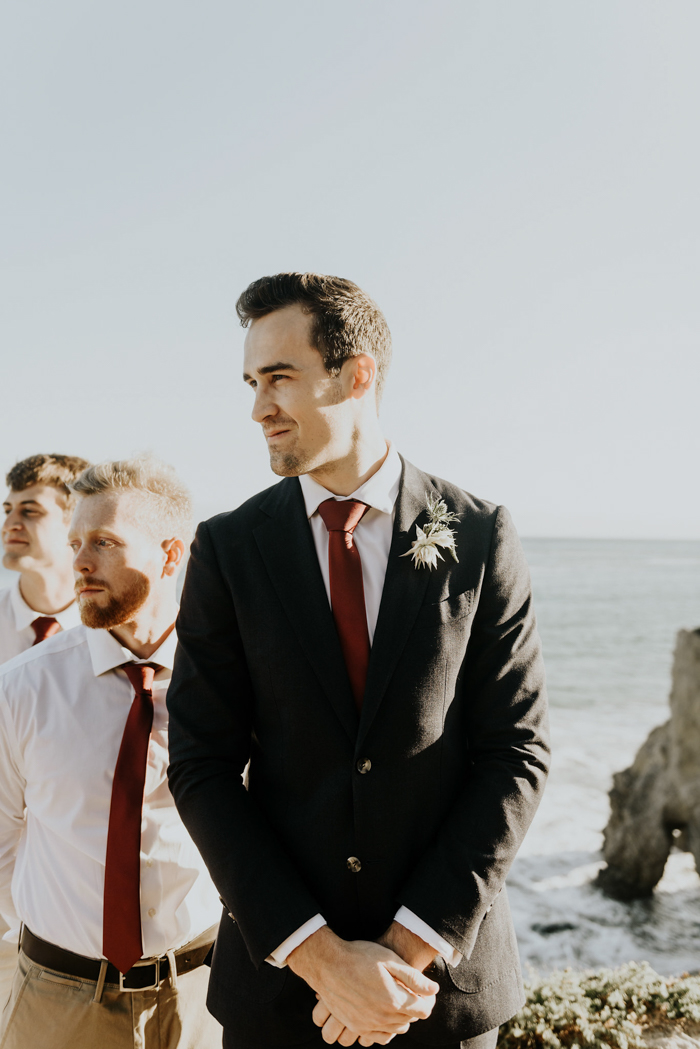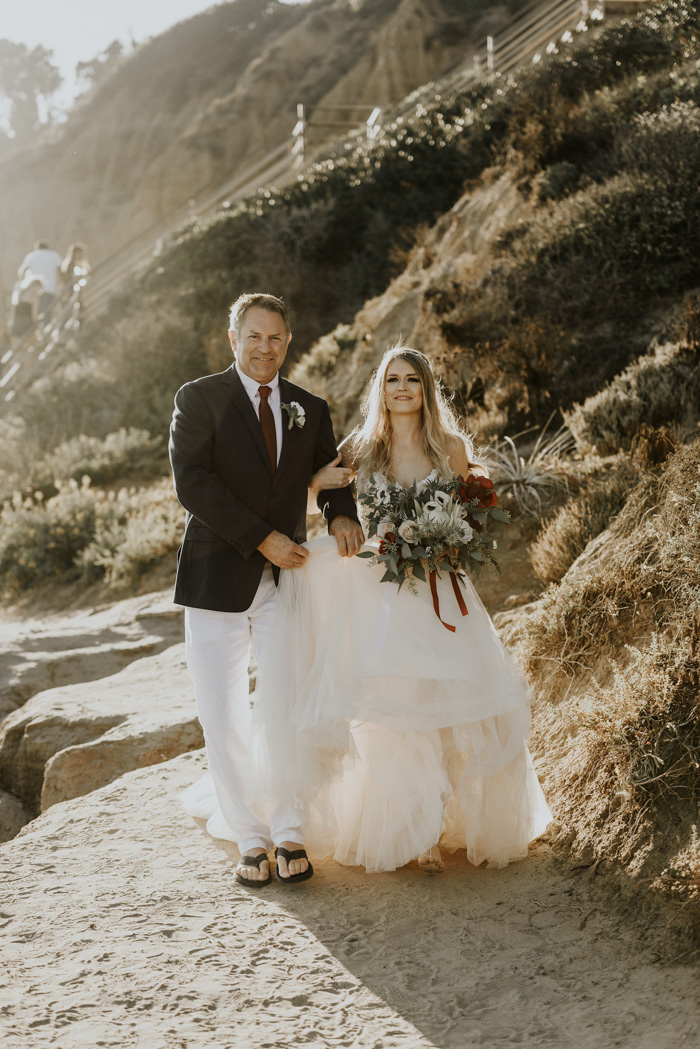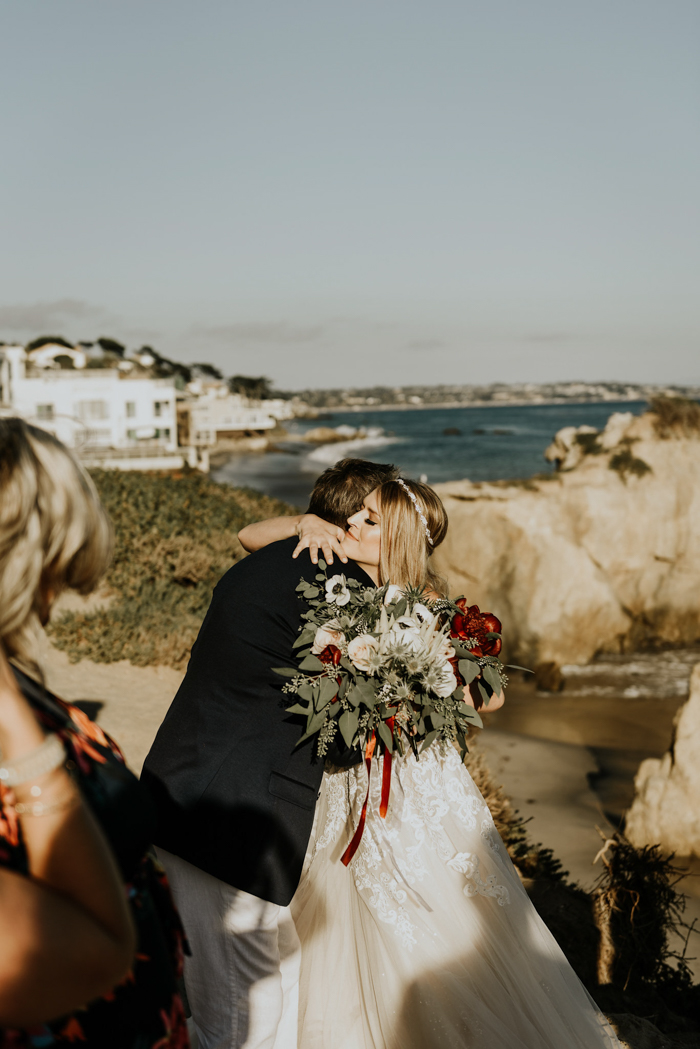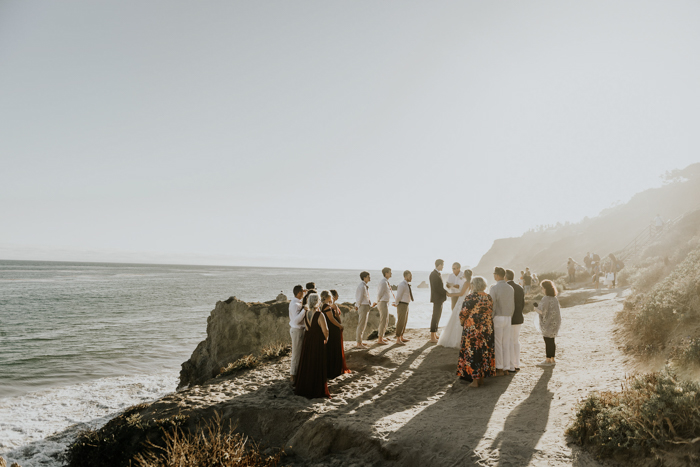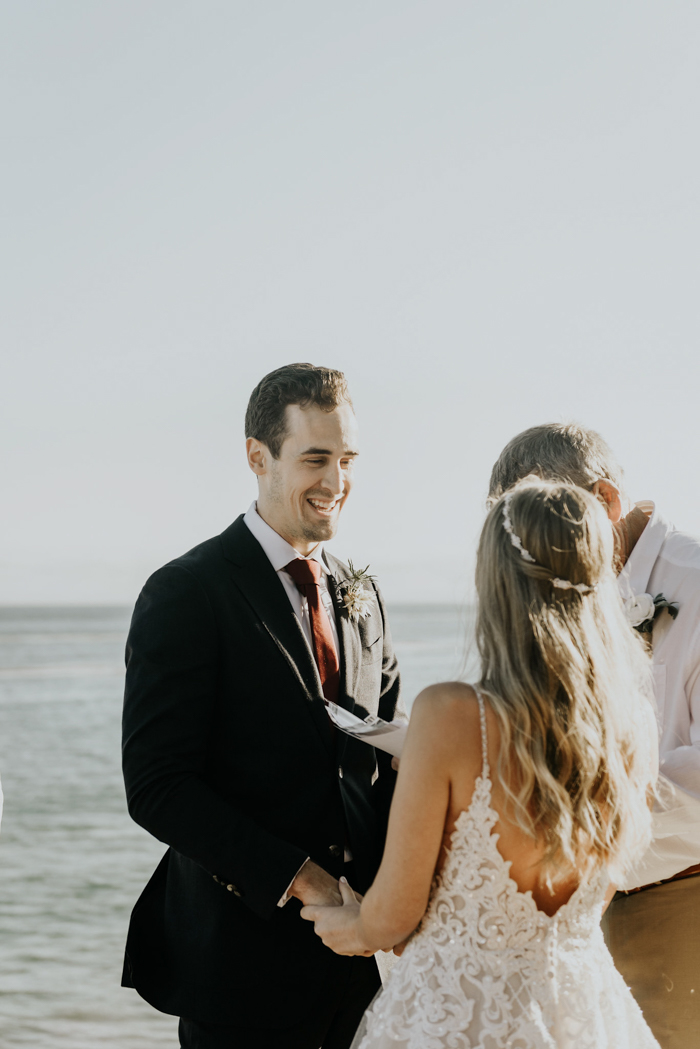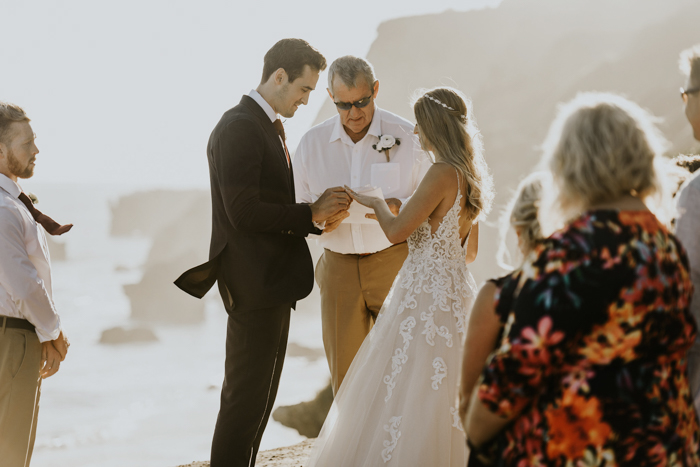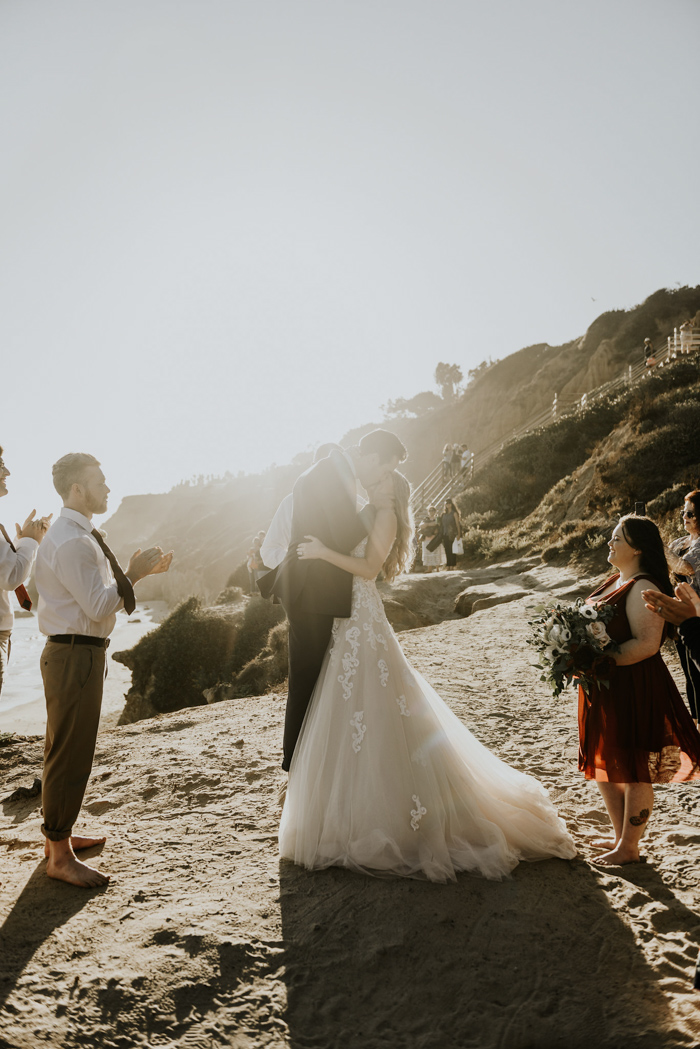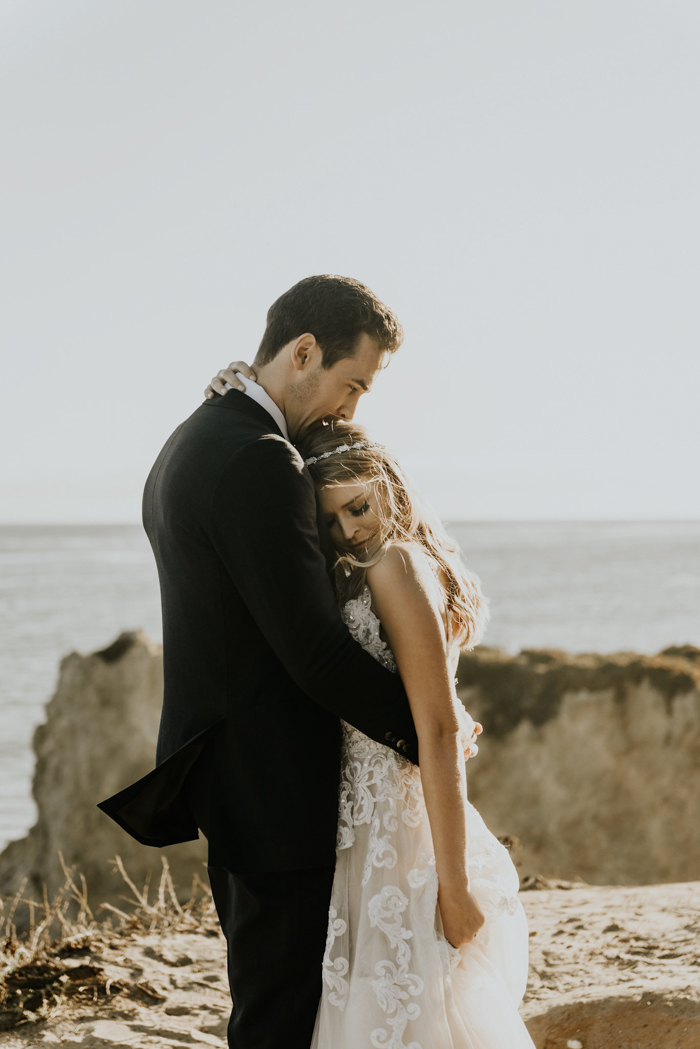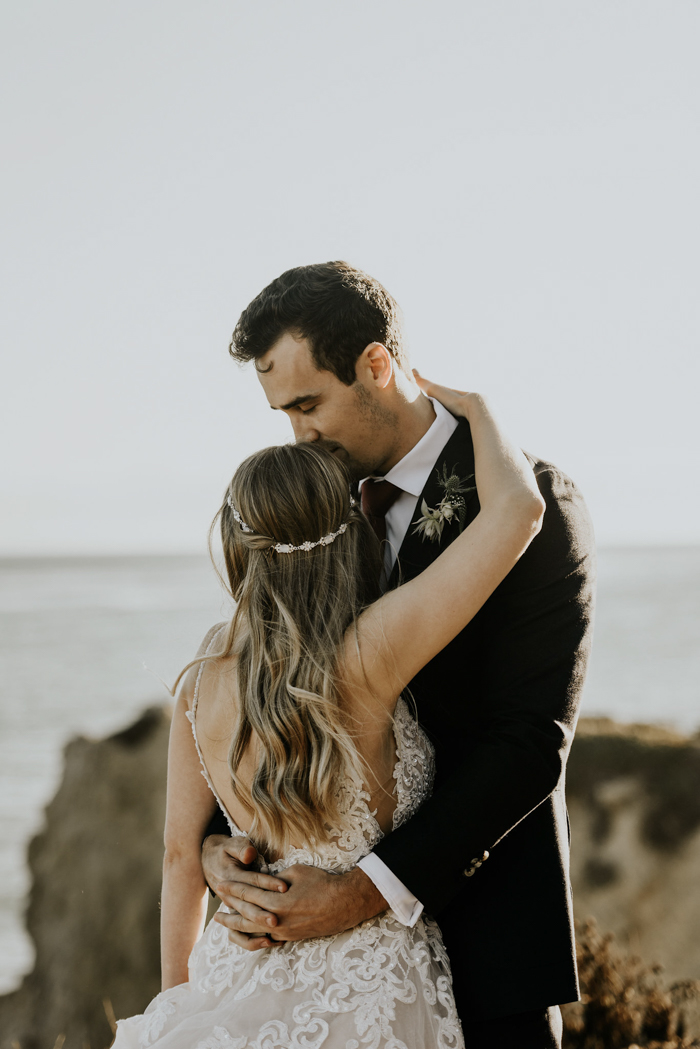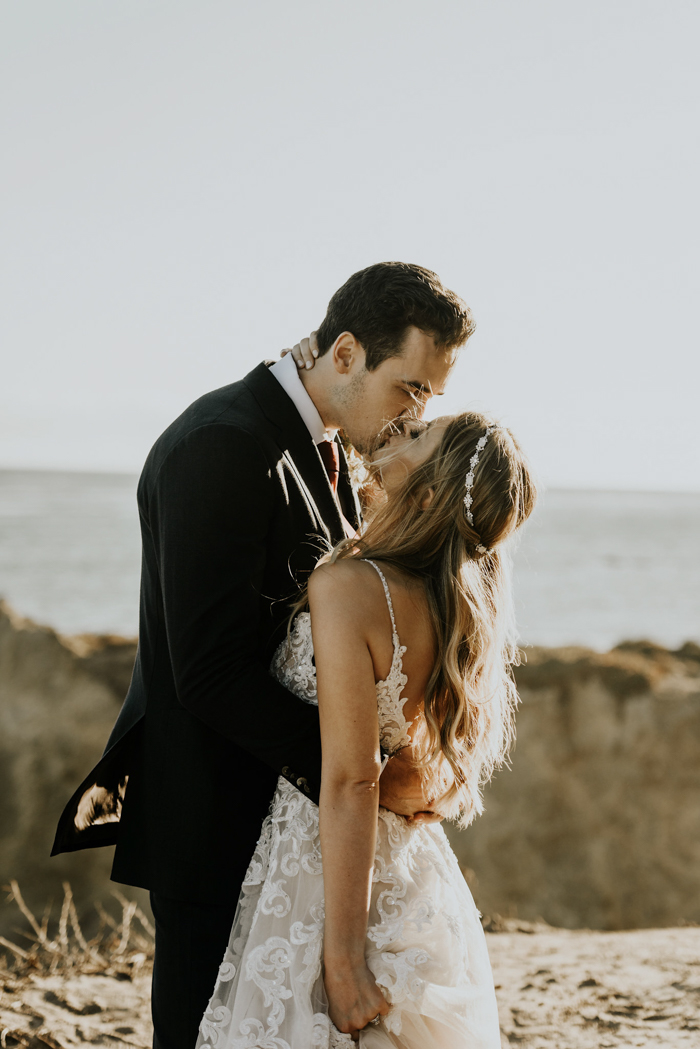 From the bride: Michael and both of our moms had decided that I had to pick out my dress myself — thank goodness! Michael had nonchalantly asked how I'd feel about possible eloping in Greece in 2019 and, of course, I was all for it! After making that decision, my mother called and told me that it takes over 12 months to get a wedding dress in after purchasing it and that I needed to schedule a fitting sooner than later. With my anxiety, I was now panicked that I wouldn't have a dress in time even though I had no proposal or a wedding date planned at this point. It made so much sense at the time to fly to Indiana and pick out my wedding dress with our moms, my sister, sister-in-law, grandmas, and friends, but thinking back now it made no sense and it makes me laugh that they were able to pull it off without me having any idea! Even though I had just picked out my wedding dress, I could never have imagined the gift Michael would soon give me.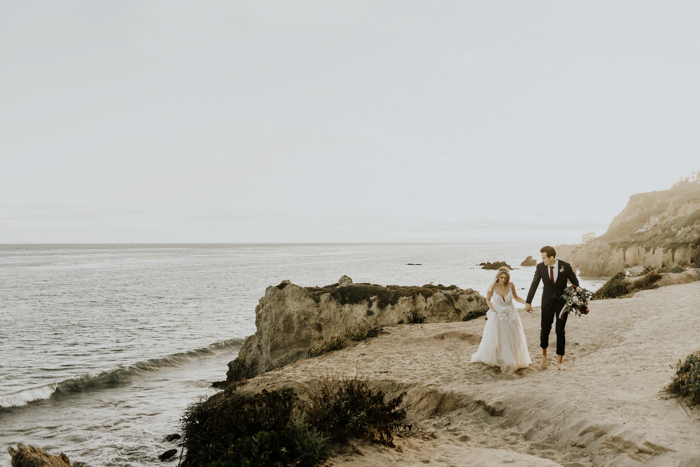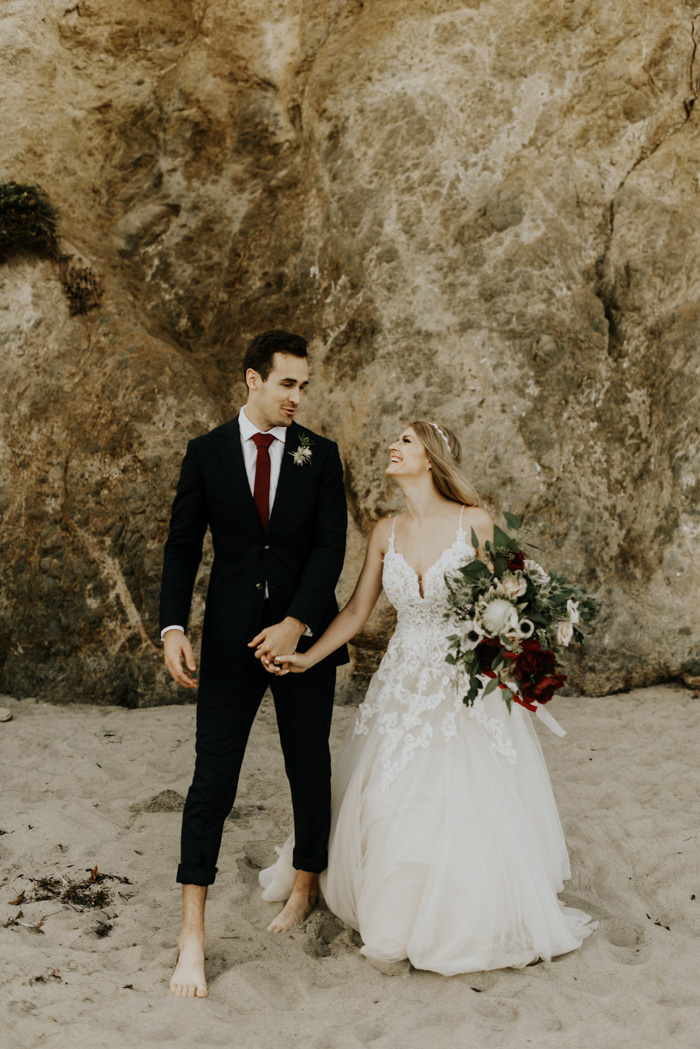 From the groom: I can't really give any advice on planning a traditional wedding. However, if you plan on surprising your significant other with a same day proposal/wedding, I've got three pieces of advice. 1.) Have a good team of people behind you! I could not have done this without my mom, Kassidy's mom, and our photographer. 2.) Tell as few people as possible. The fewer people that know, the less likely it is that someone will slip up and ruin the surprise. 3.) Know your significant-other well. This helps when trying to sneakily start conversations to gather pieces of info you need for planning. For example, I had to figure out what Kassidy wanted the bridal party to wear, what kind of flowers she wanted, and so on.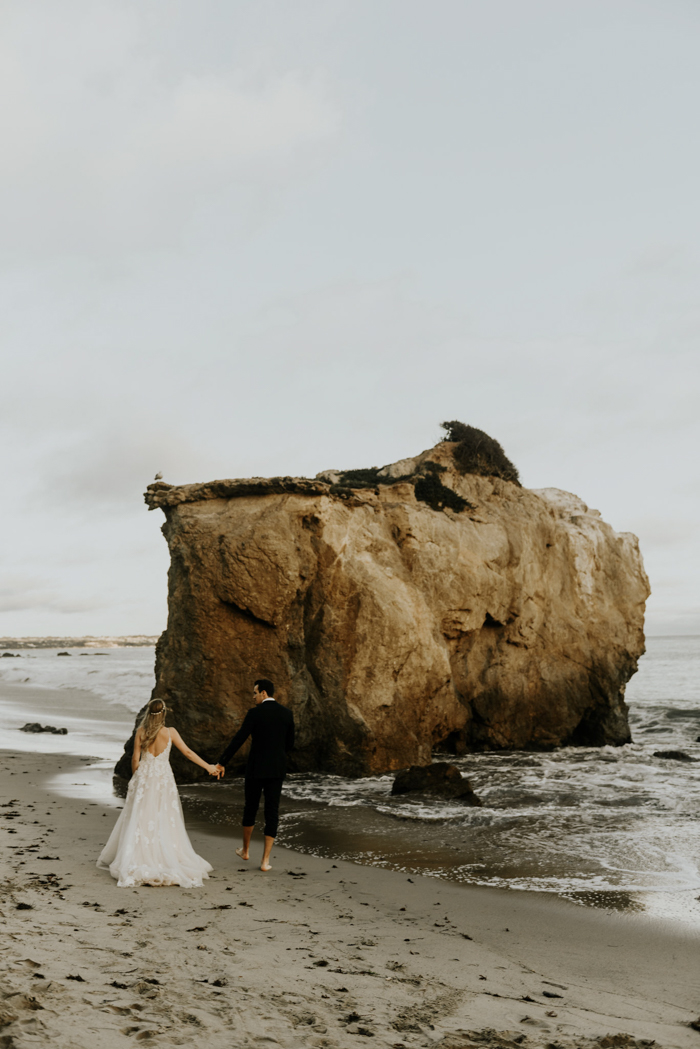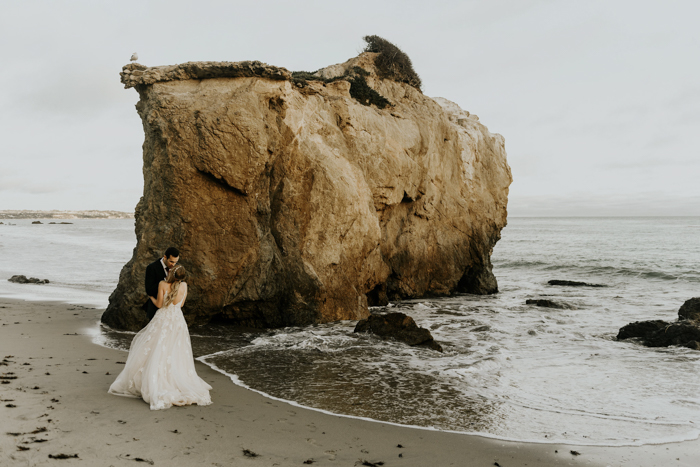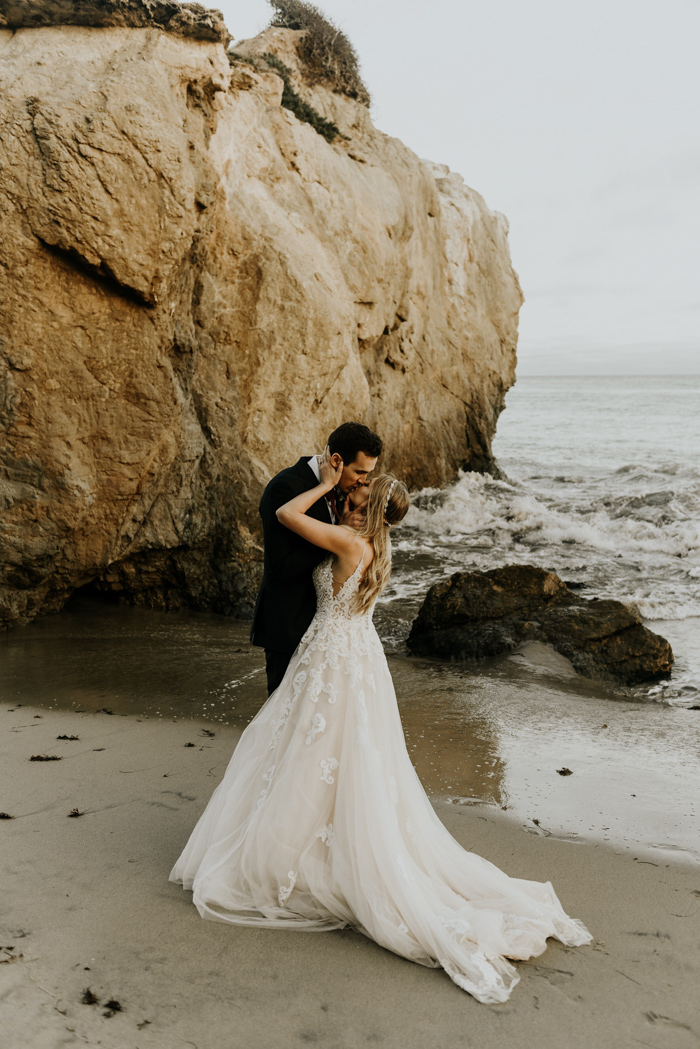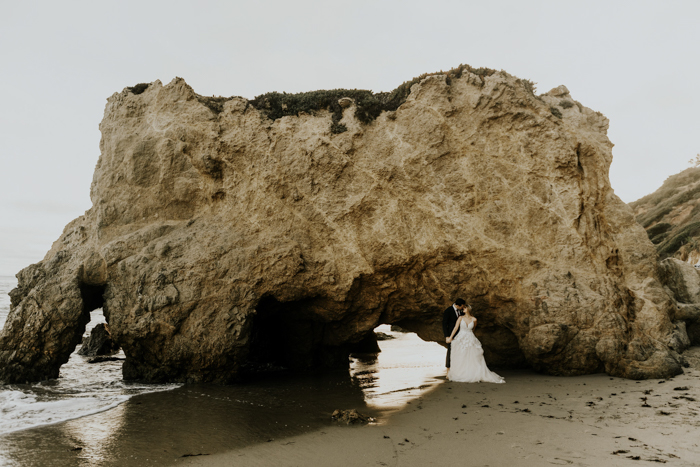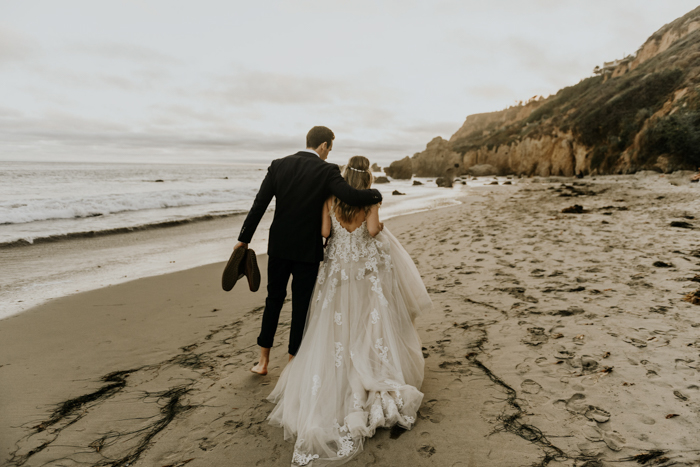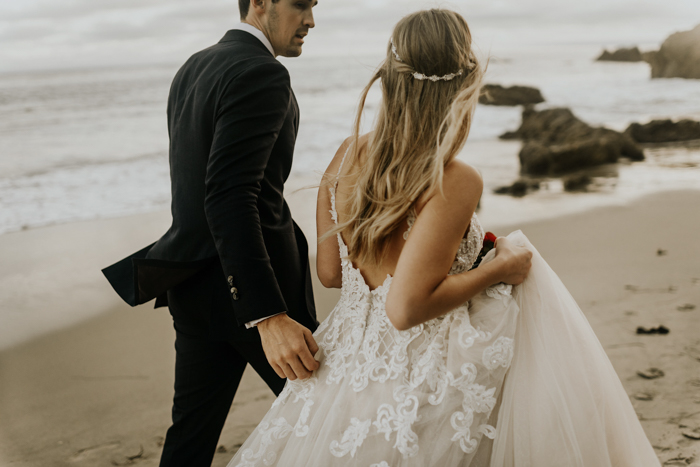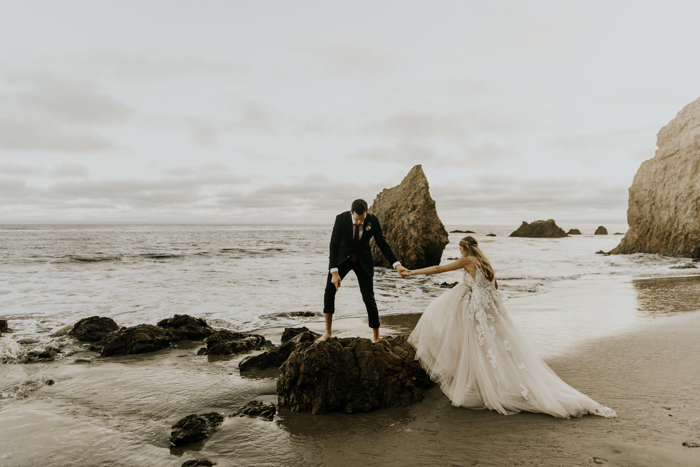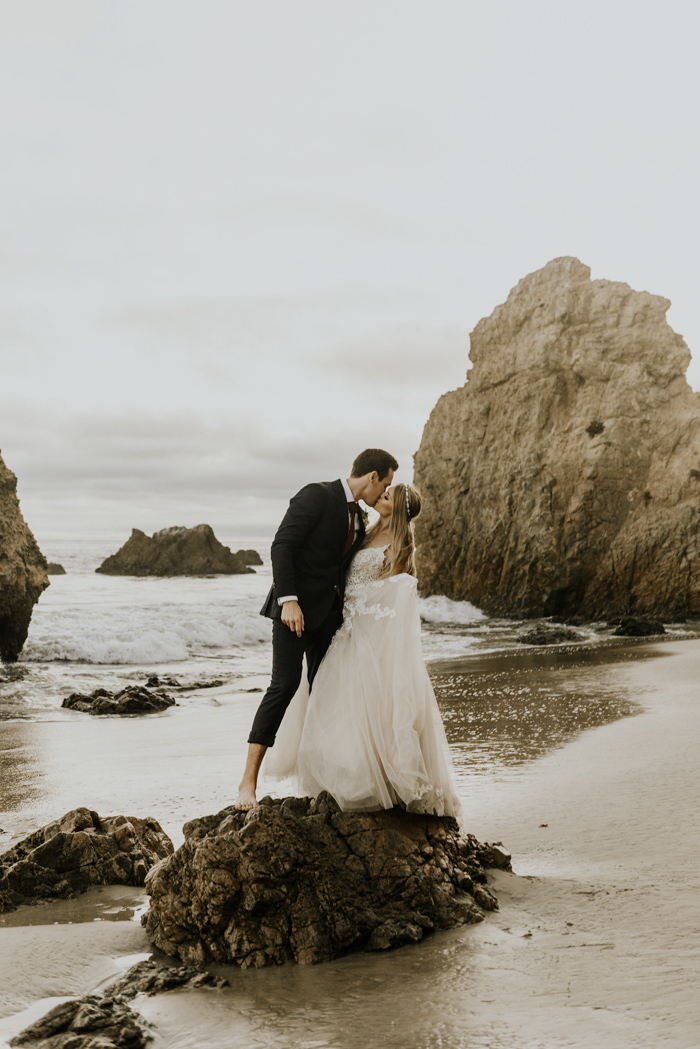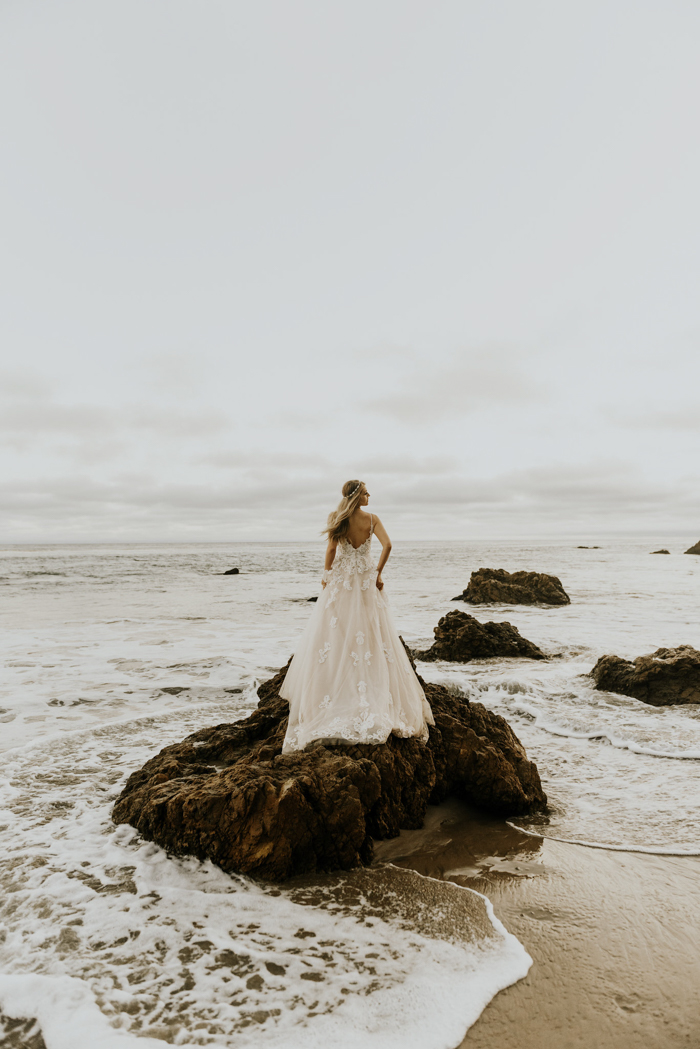 From the groom: My favorite photo is the one of Kassidy standing on a rock near the water looking back at the camera because she looks absolutely beautiful with a stunning background, and I could really tell at that moment, as I watched her pose for the camera, how much she loved the day.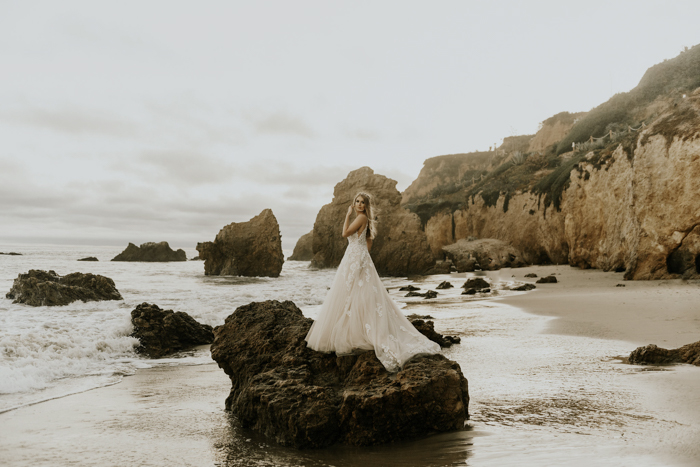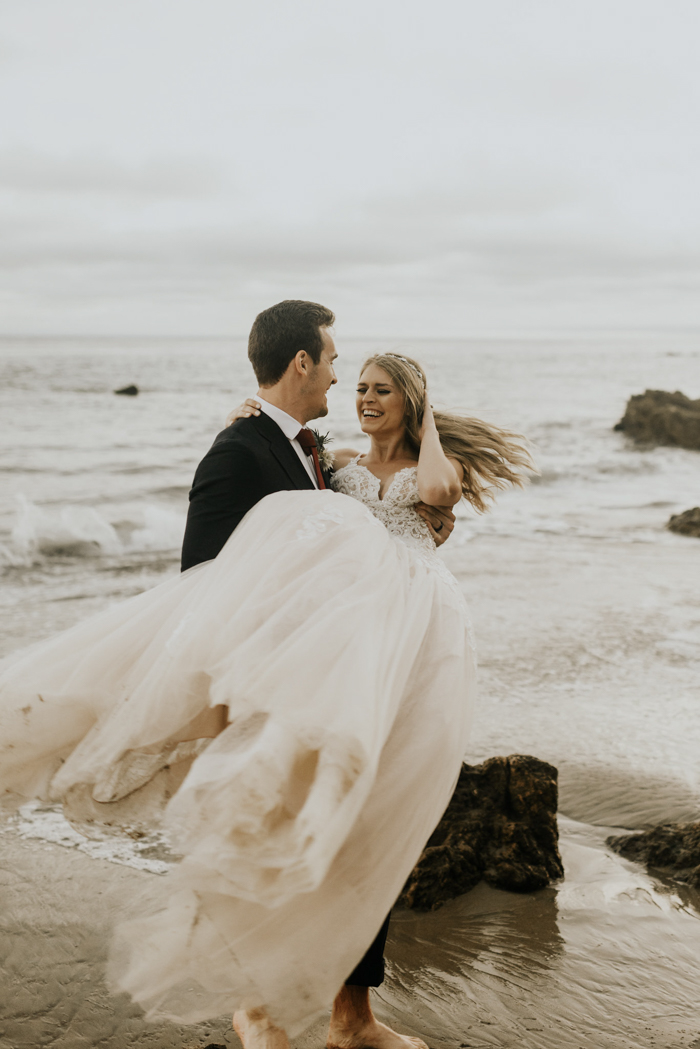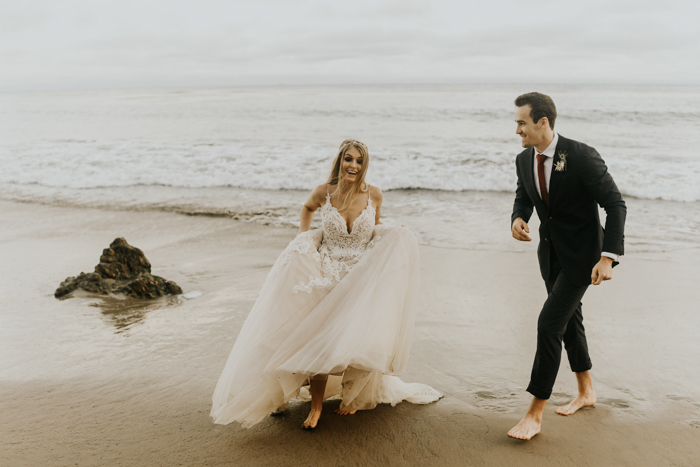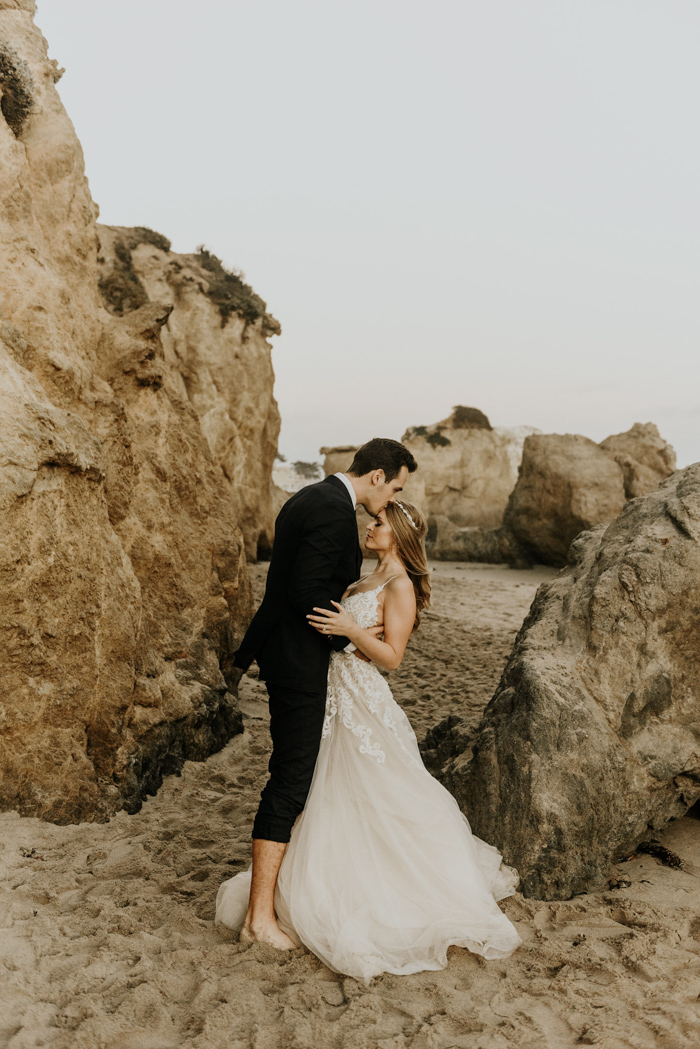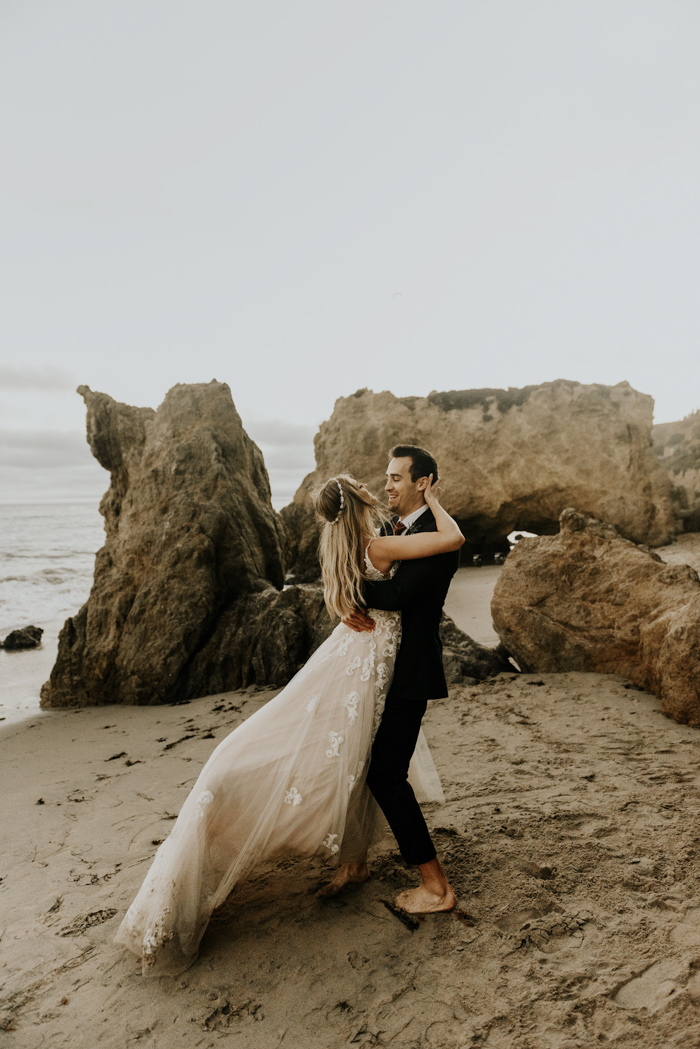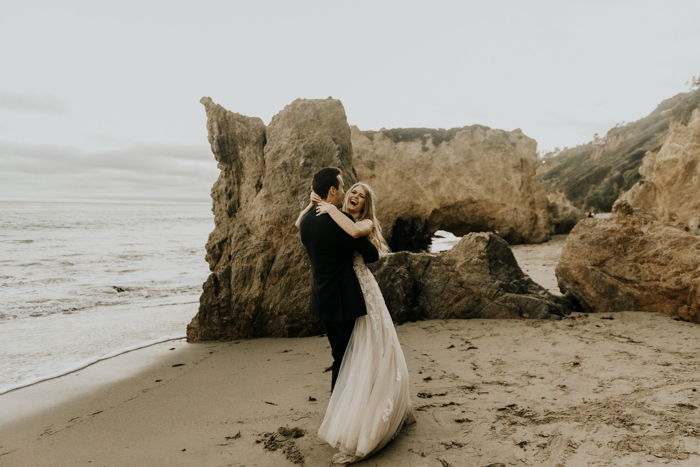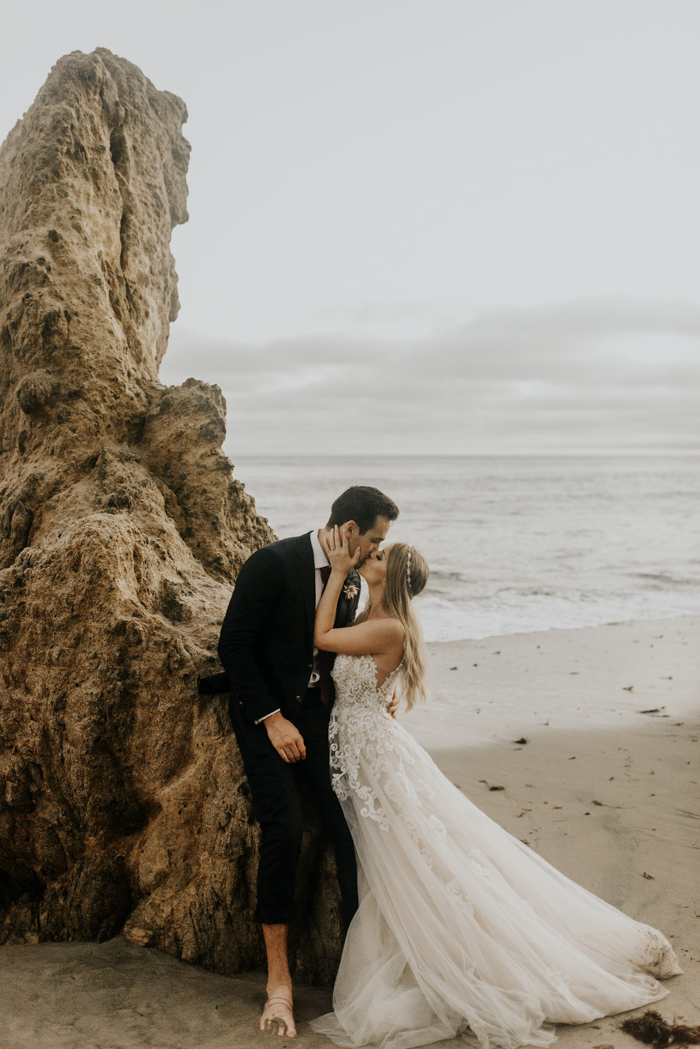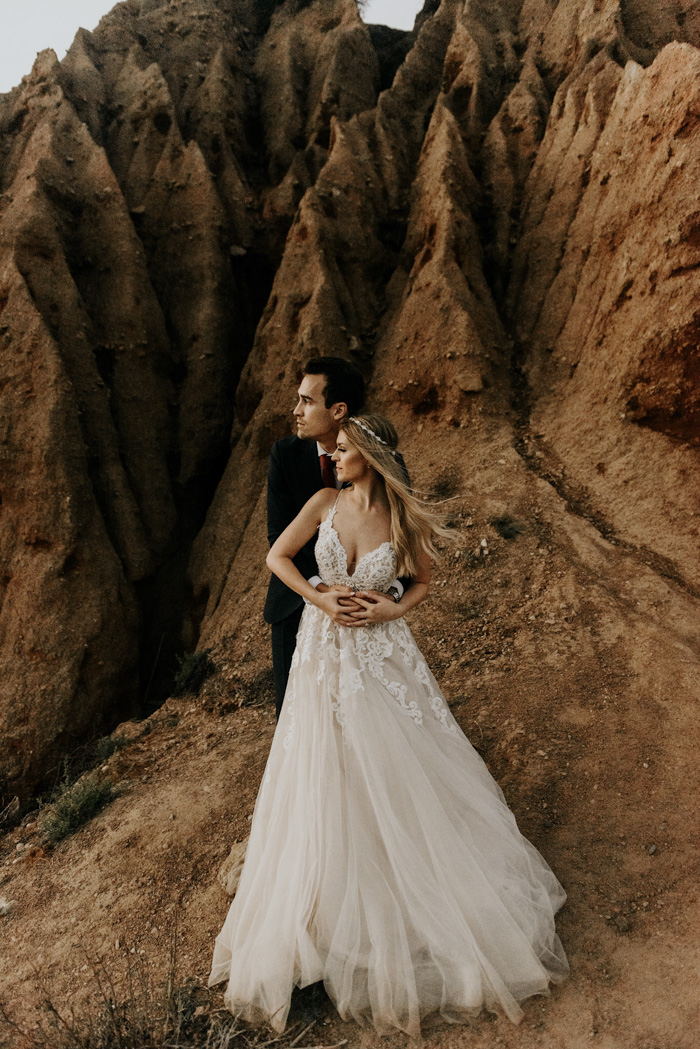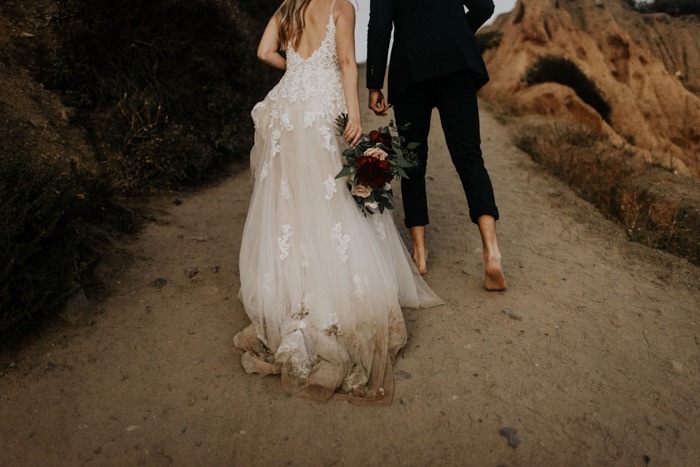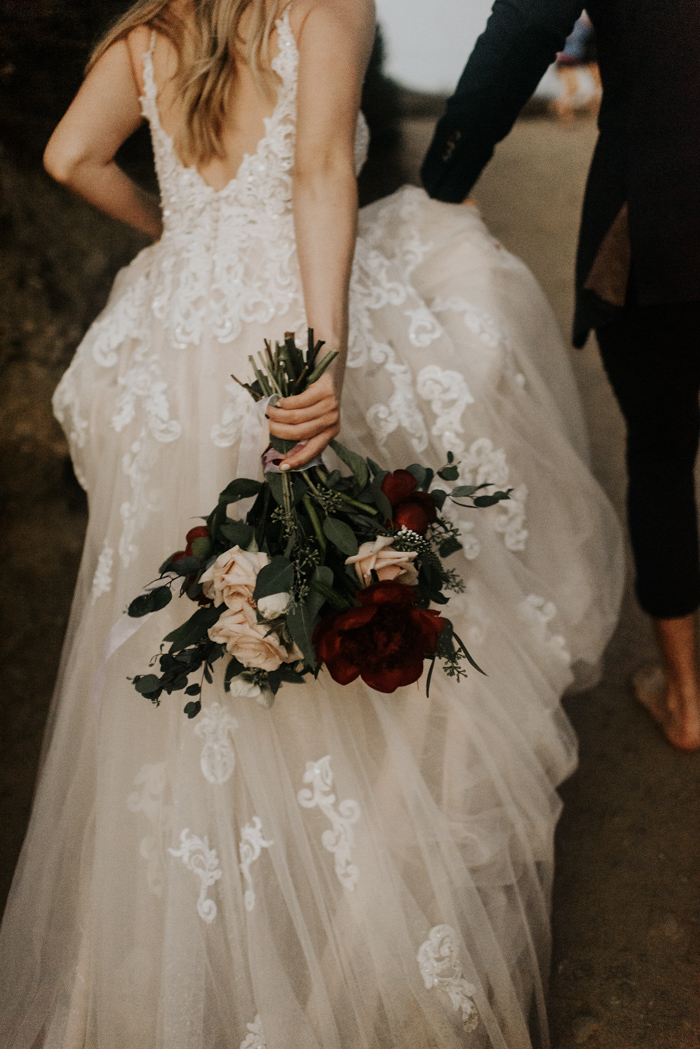 From the bride: My favorite photo is the one of Michael and I looking out toward the sunset just before we left the beach because it was candid and an extremely special moment to both of us.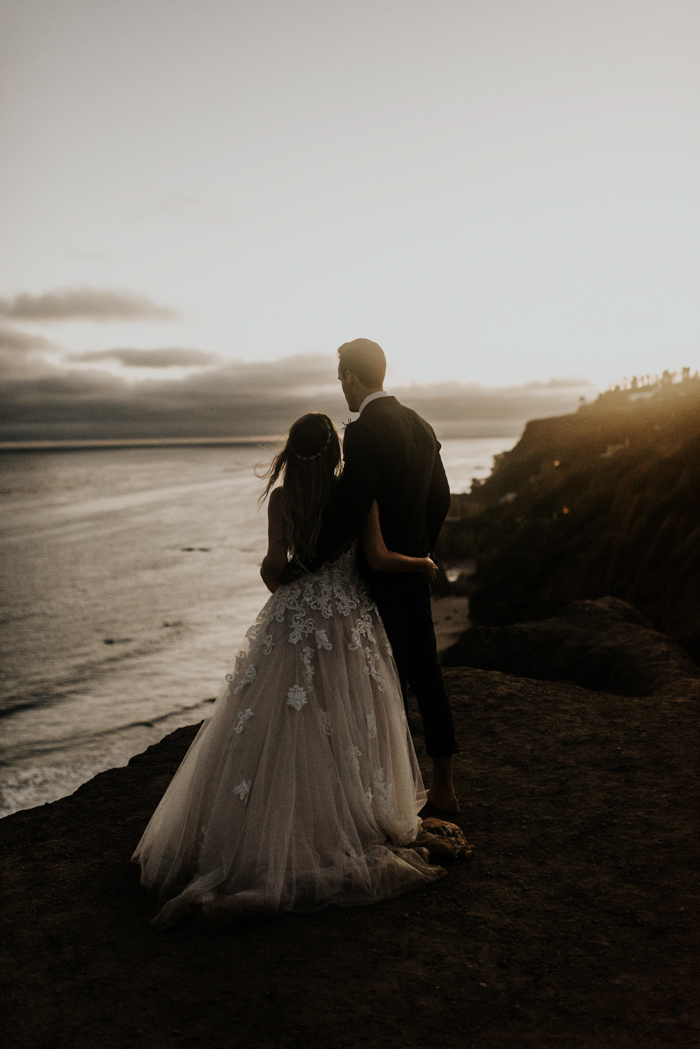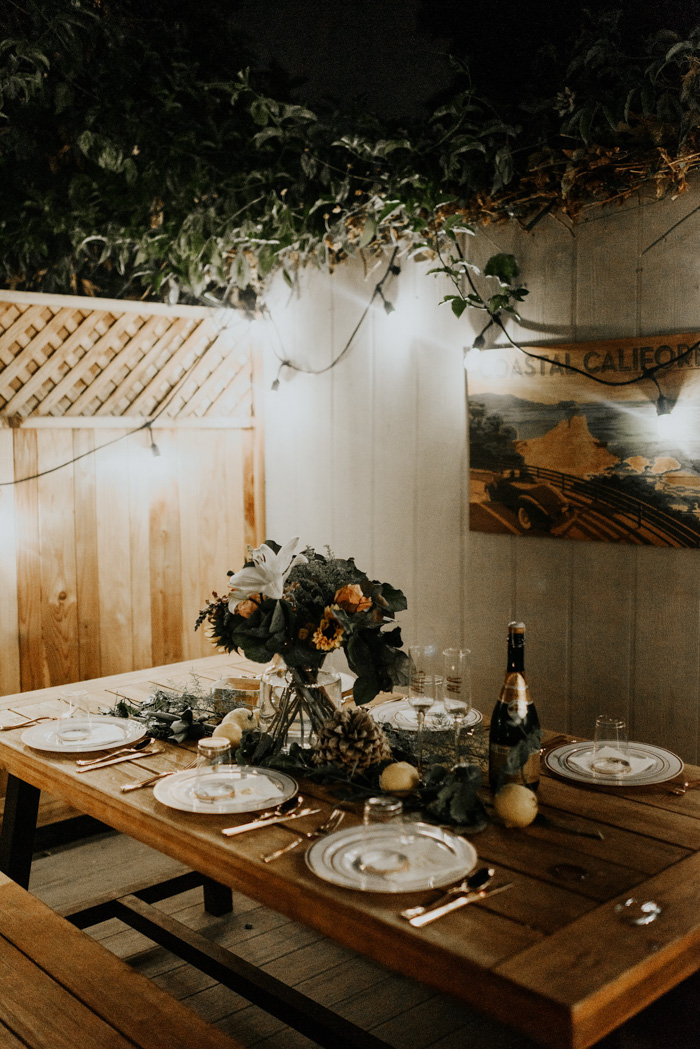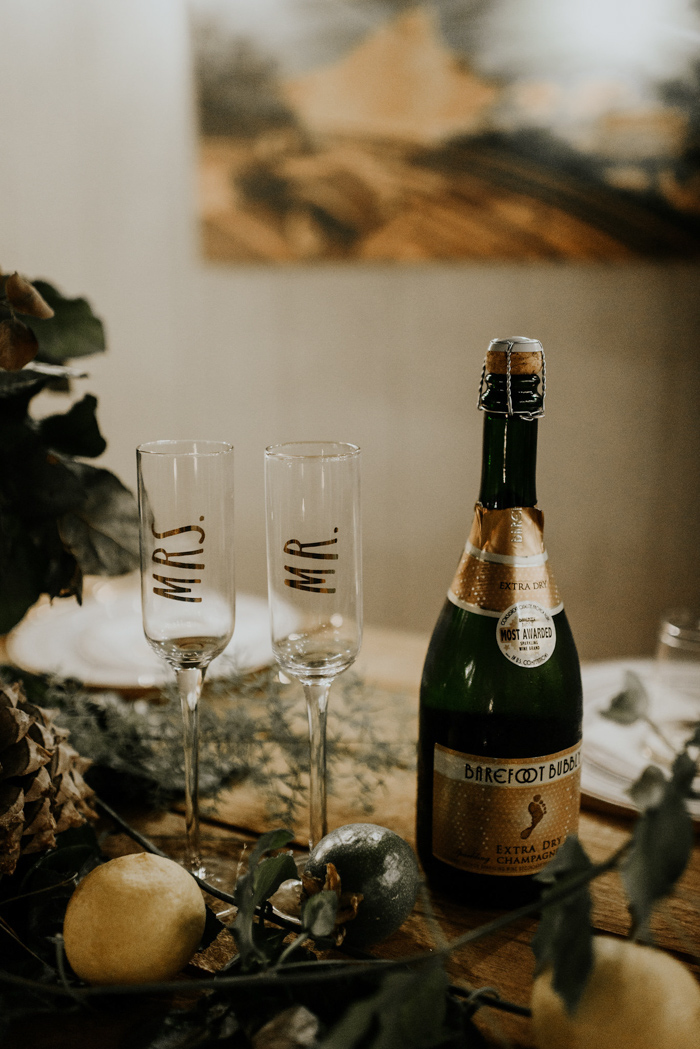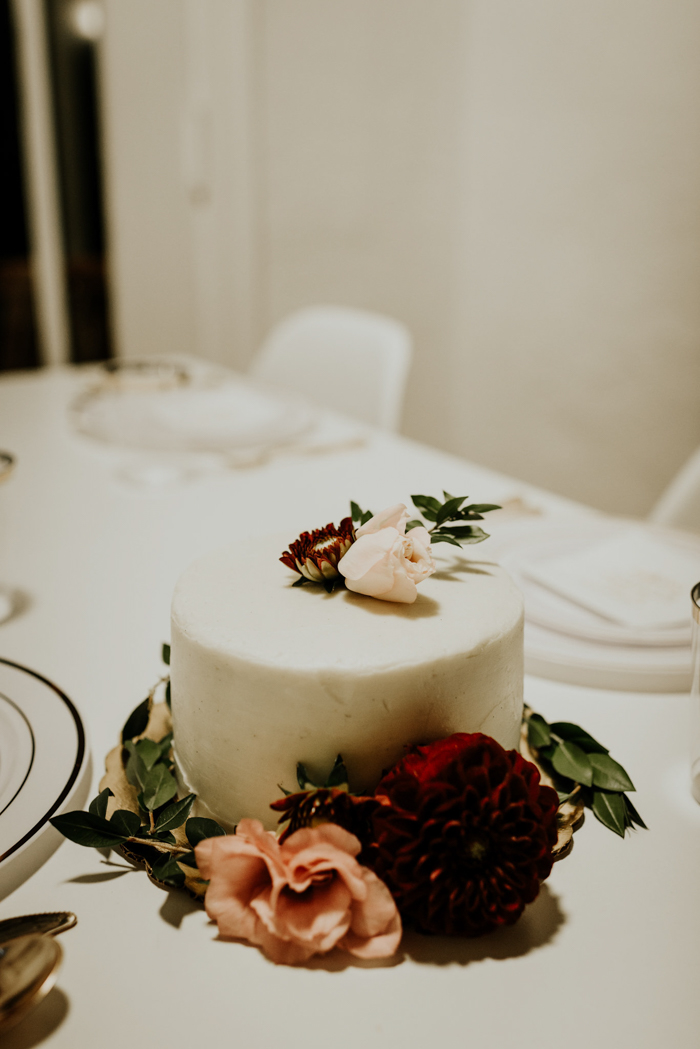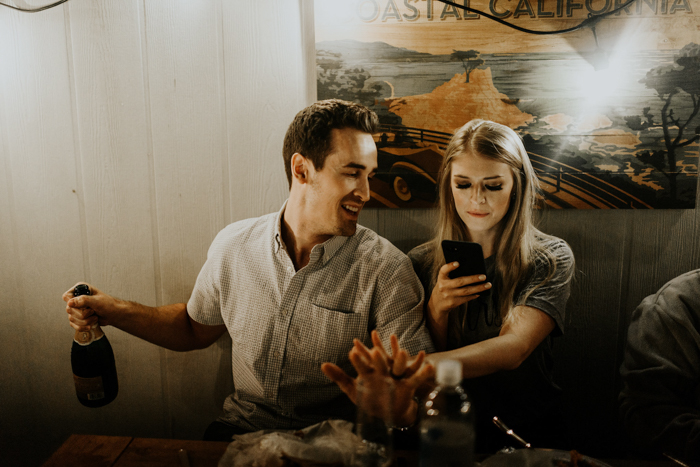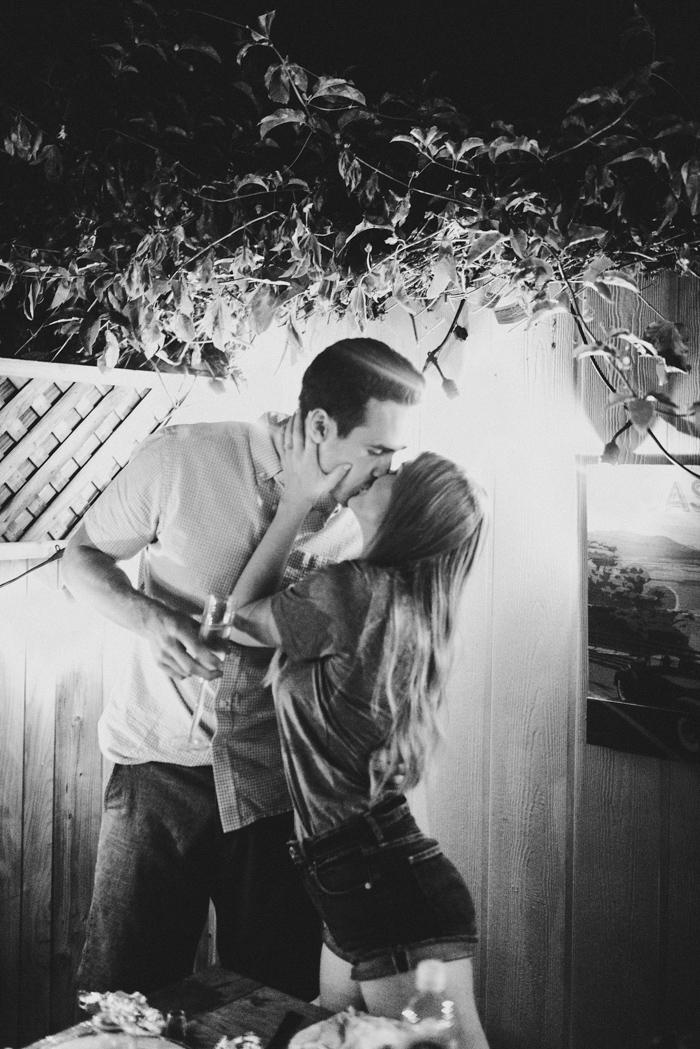 Our biggest congratulations to Kassidy and Michael, and a huge thanks to Map + Compass Photography for sharing this incredible surprise wedding with Junebug! Can't get enough of this special kind of wedding magic? Get your tissues ready for this sweet surprise wedding at Saint Irene's!