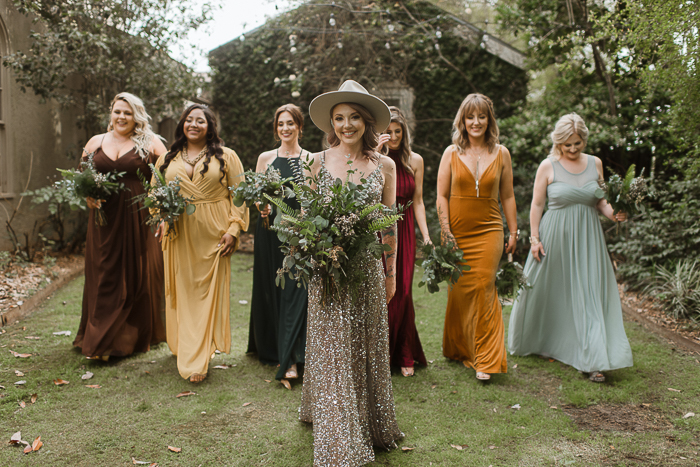 There's nothing we love more than a non-traditional showstopping wedding that is personal to a couple. Catherine and Bobby's Louisiana L'eglise wedding was exactly that and then some. Without the help of a planner, the couple created a rustic yet over-the-top day with a guest list of over 300!
We can't get enough of Catherine's custom rose gold sequined gown that she paired with a custom Colby Herbert hat. And the mismatched bridesmaids and groomsmen match their boho theme perfectly. All of the wedding fashion paired beautifully with the greenery put together by Leona Sue's Florist.
If you love non-traditional nuptials as much as we do, then you are going to love every photo captured by Junebug member Erin and Geoffrey. Keep scrolling and get those Pinterest boards ready. This one is totally pin-worthy.
The Couple:
Catherine and Bobby
The Wedding:
L'eglise, Abbeville, Louisiana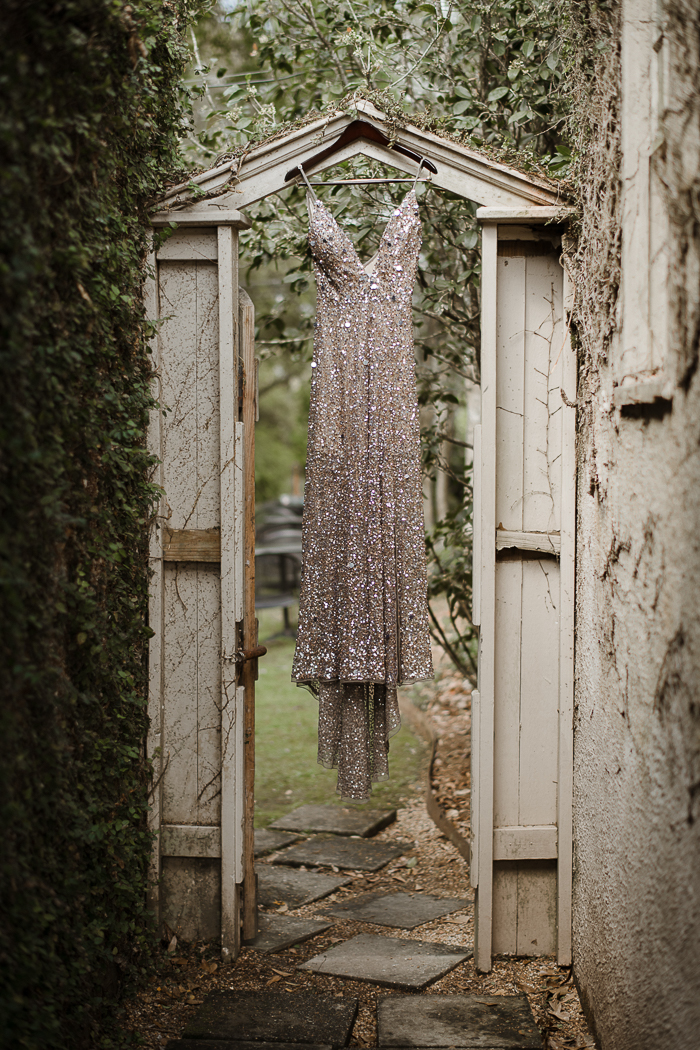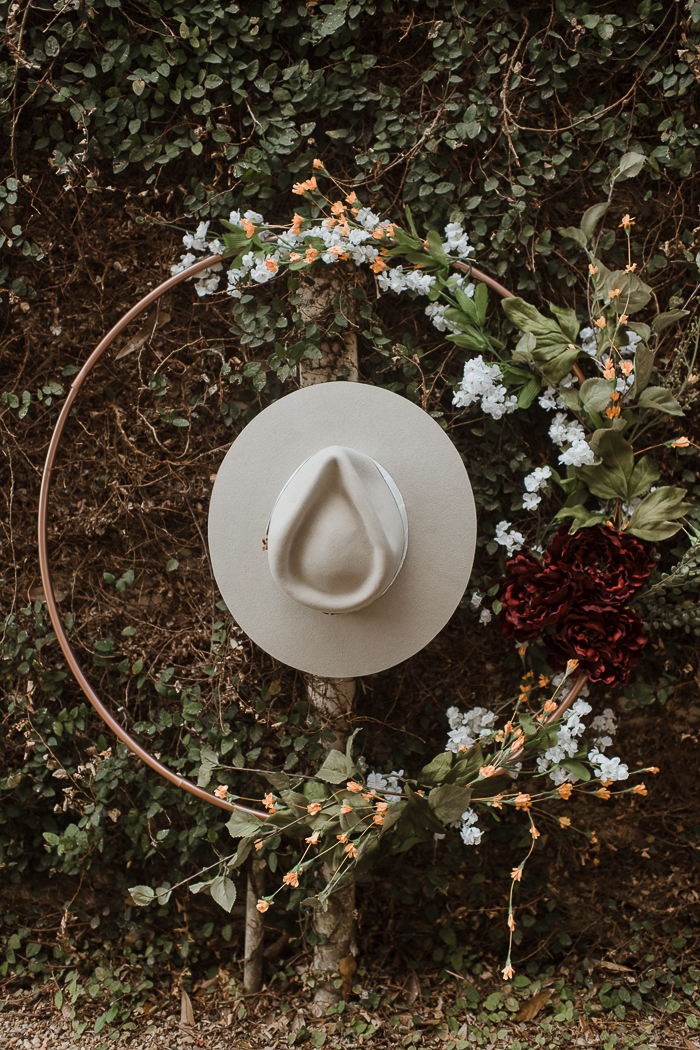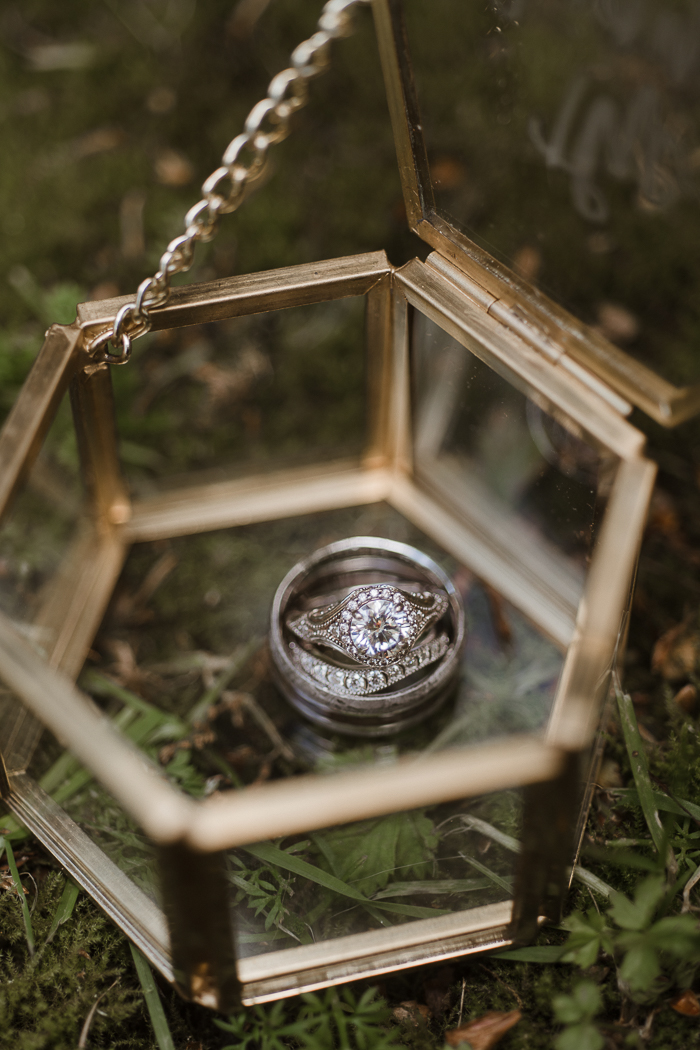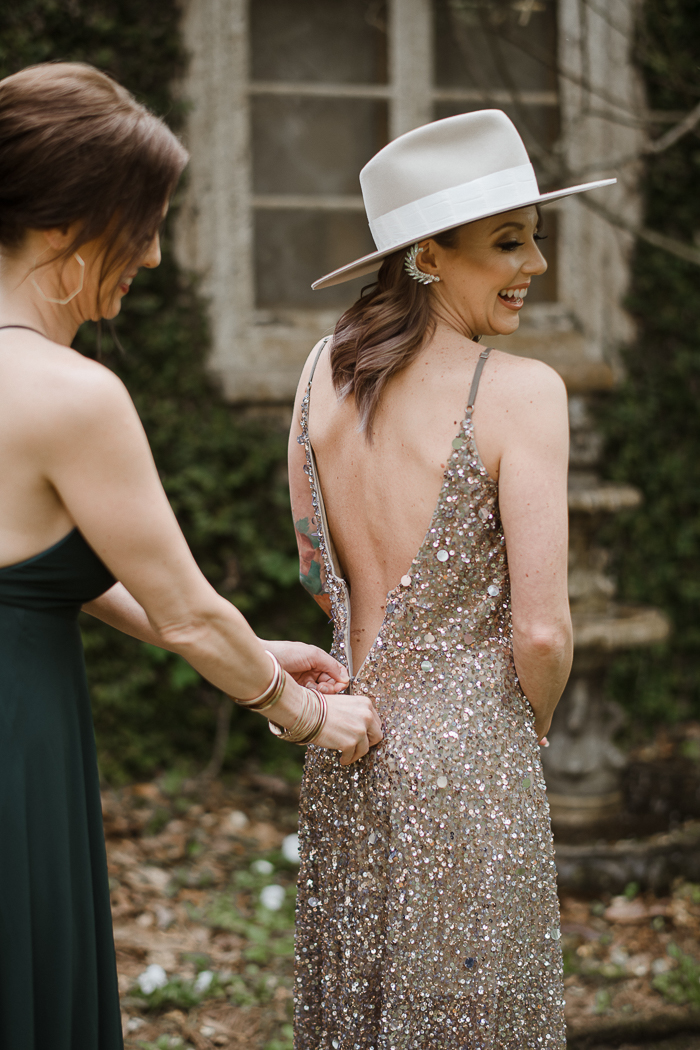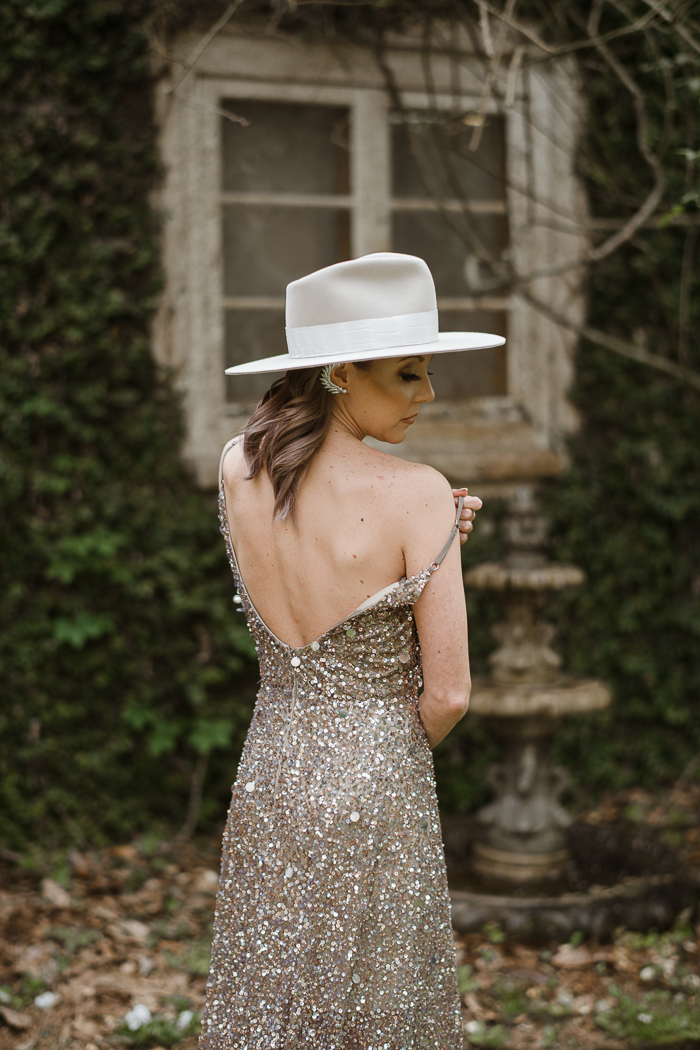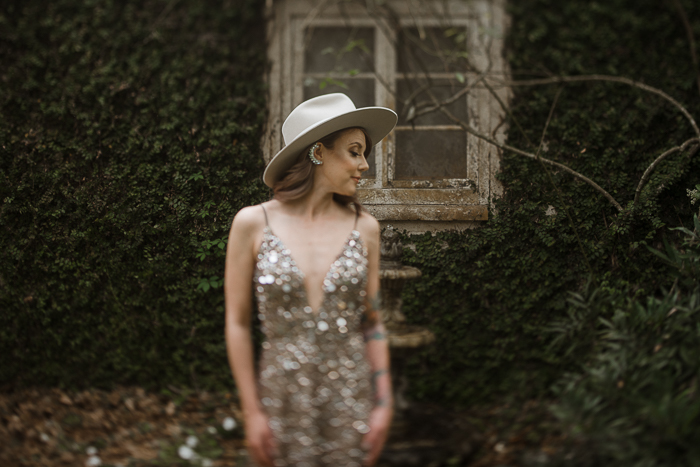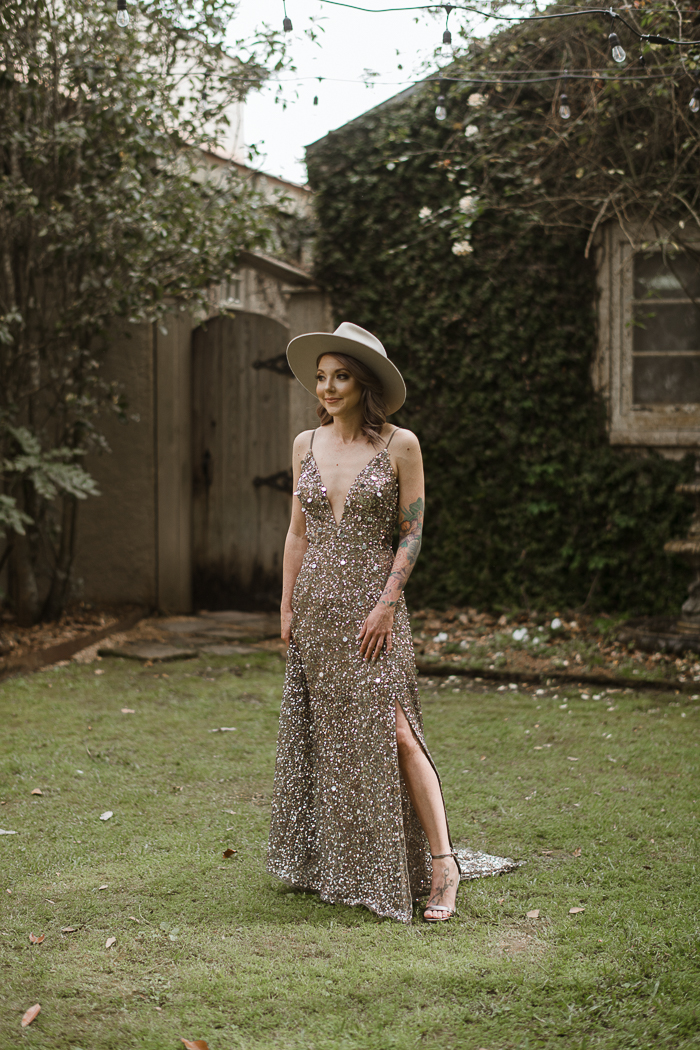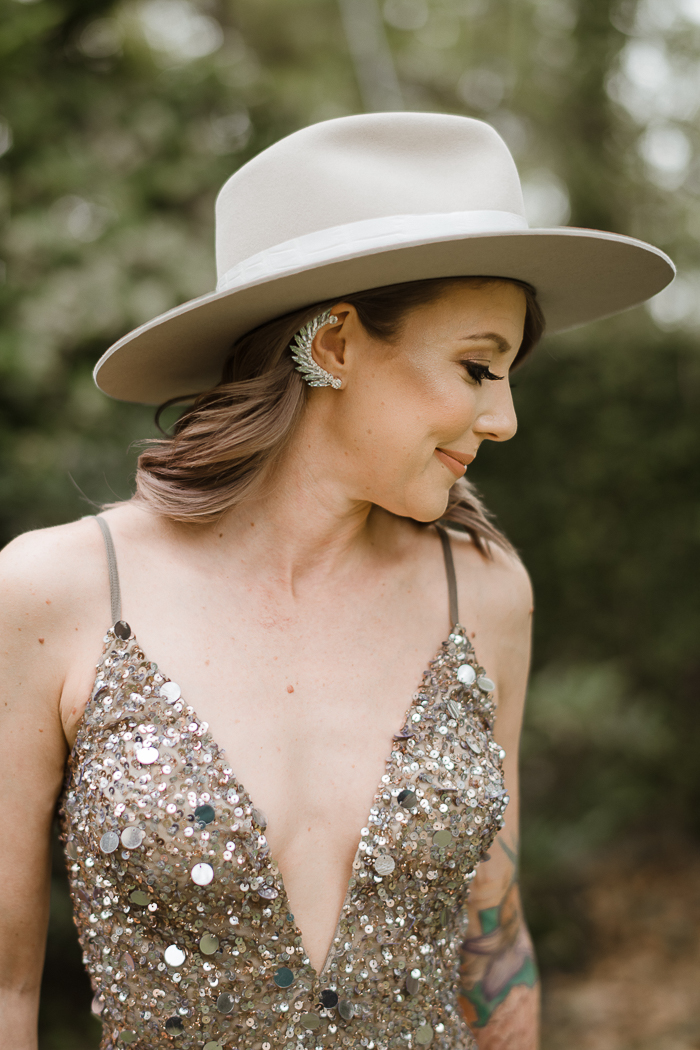 Show-stopping Bridal Fashion
My wedding day look was a dream come true. I wanted to make sure I brought my true inner self out and didn't play it safe because that's what people expect you to do. Live your life and be who you are, I say! I knew I wanted to wear a hat, so that's when my hat maker came into play. It was made from a light color nutria fur with antique white alligator skin wrapped around the base. My hat sat on top of my soft pastel lavender hair, which tied in with my customized metallic rose gold sequined dress. I added a pop of crystal blue with my earrings, which climbed up my ear for a bold show-stopping effect.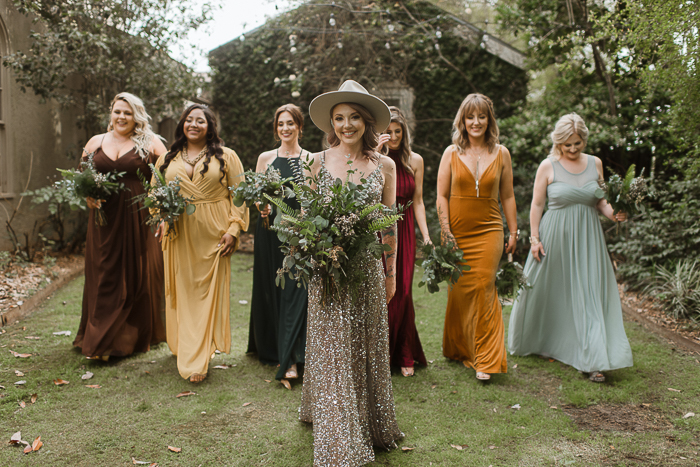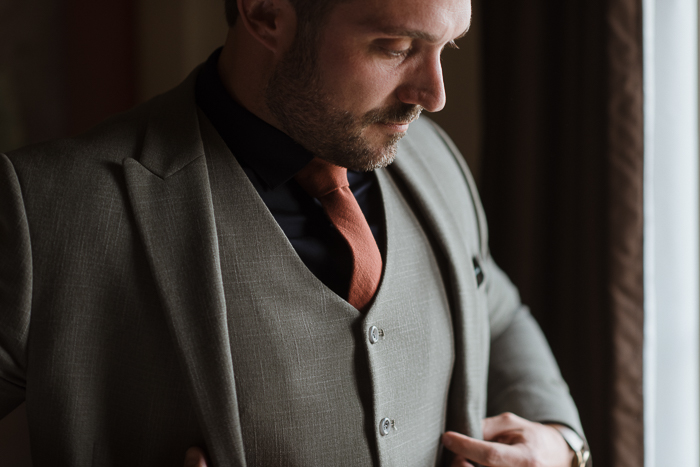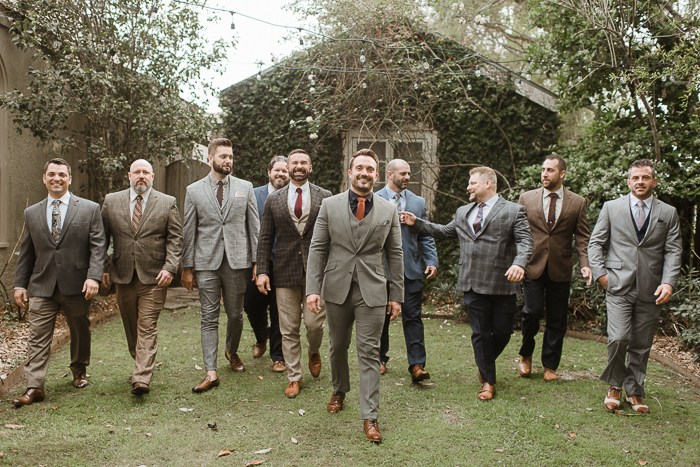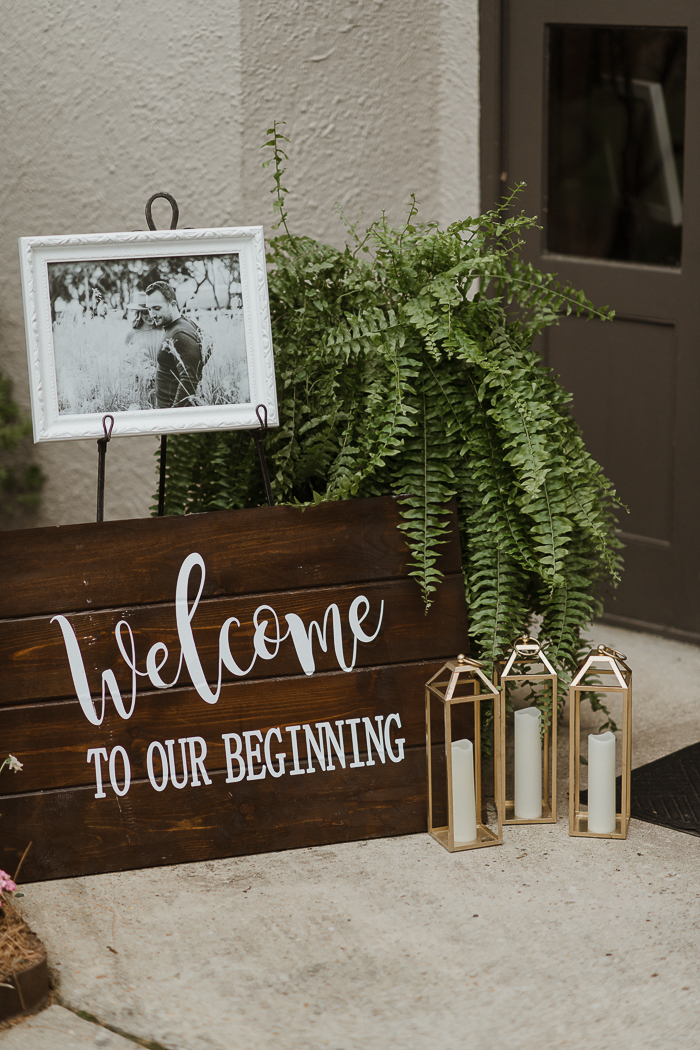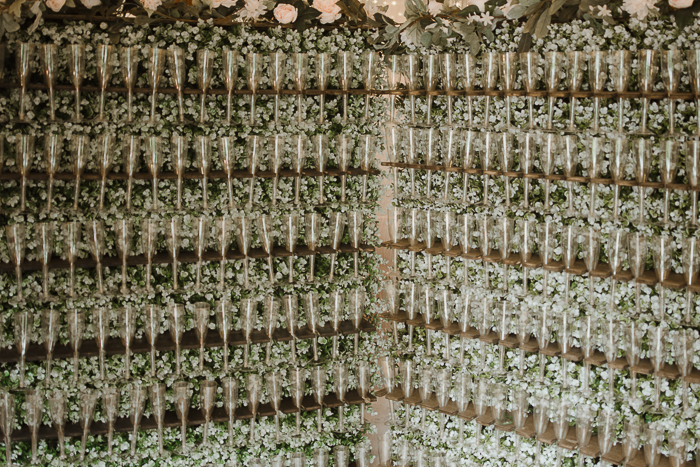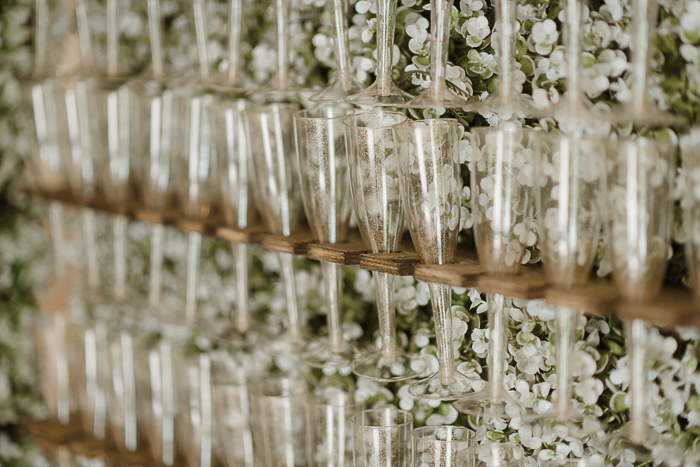 Why A L'eglise Wedding
We chose the venue we did because we were able to have free range, which was important for our wedding day vision. It had an indoor and outdoor option for us to choose from with an enchanted whimsical feel that pulled us in immediately. To top it off, it had lights hanging above us during the ceremony and then inside for the reception–who wouldn't want that!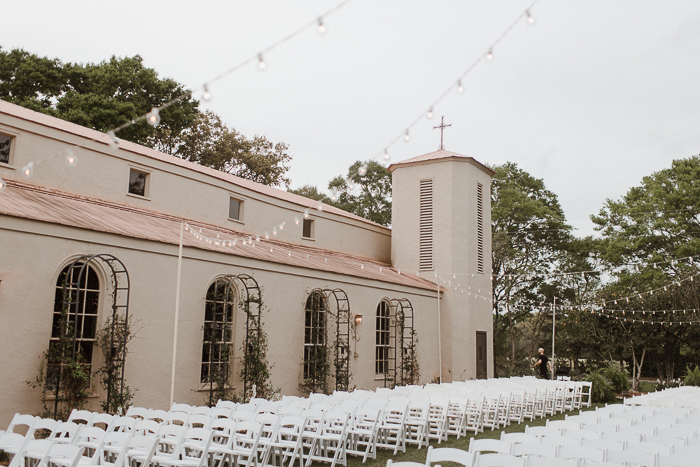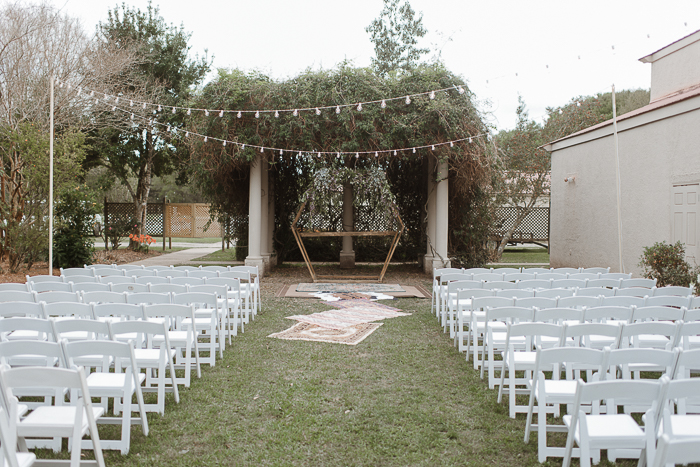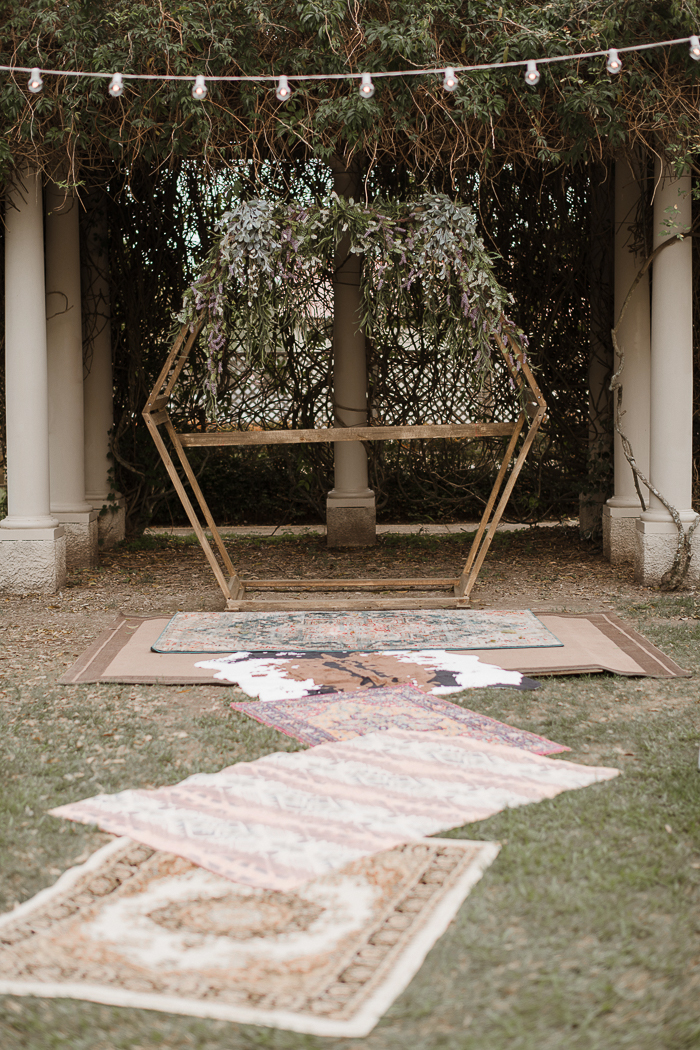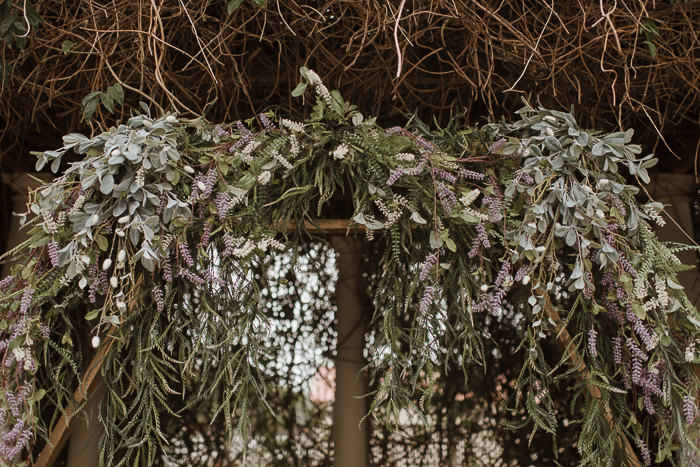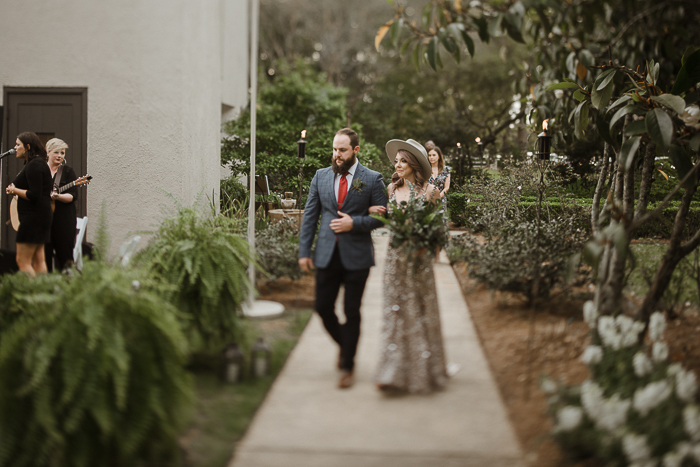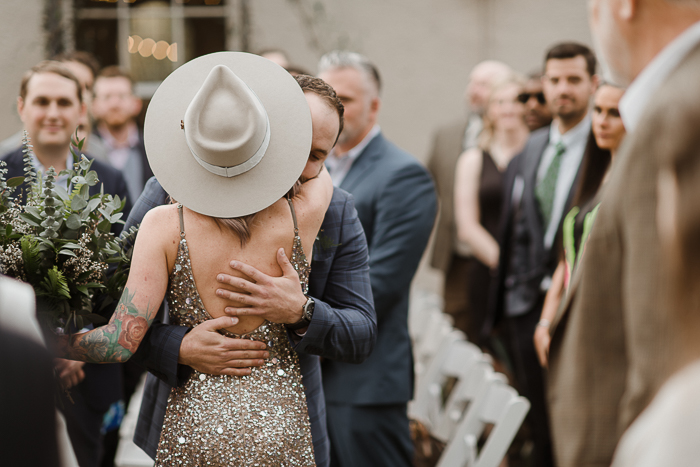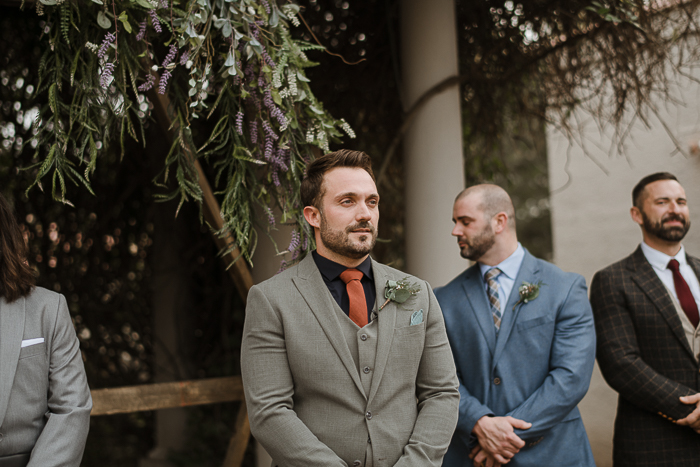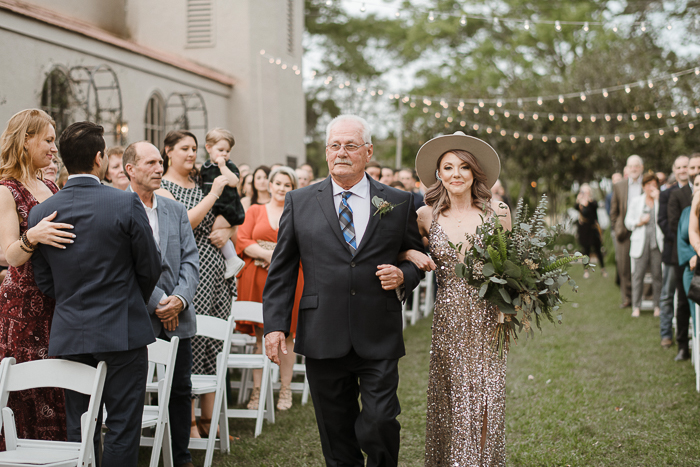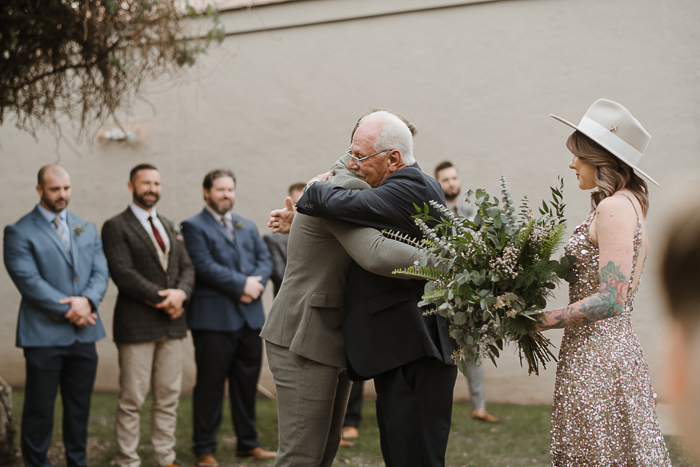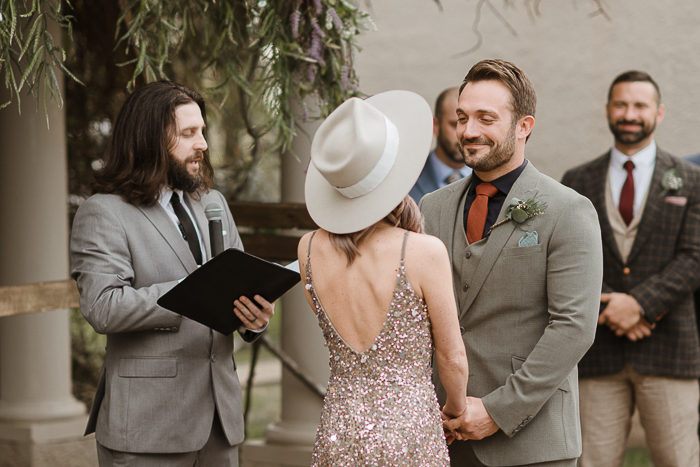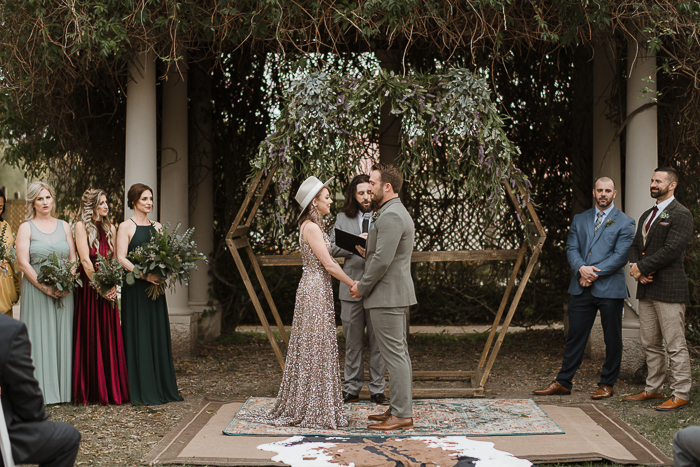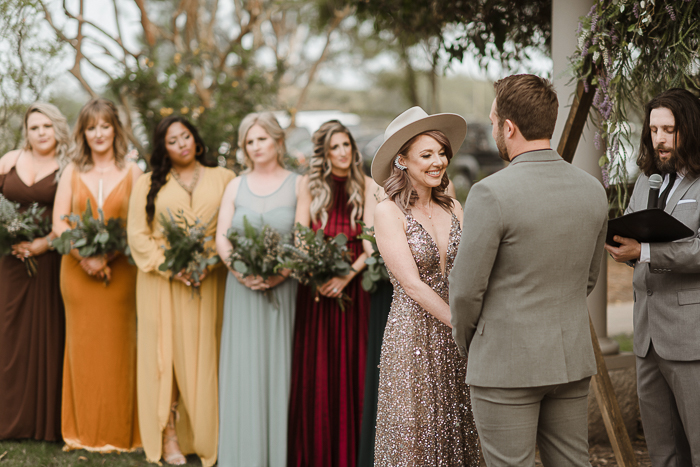 A Round of Rock, Paper, Scissors
Our ceremony started off with a talented artist singing acoustic the entire ceremony with hand-selected songs that are special to us. My older brother was our officiant, and I had my younger brother walk me halfway down the aisle and pass me off to my dad for the remainder. We wanted to write our own vows but wanted to add something funny to get them started because, again, we wanted our inner selves to be shown. So we decided on a game of rock, paper, scissors! We played three rounds, and my husband won, so he got to start us off.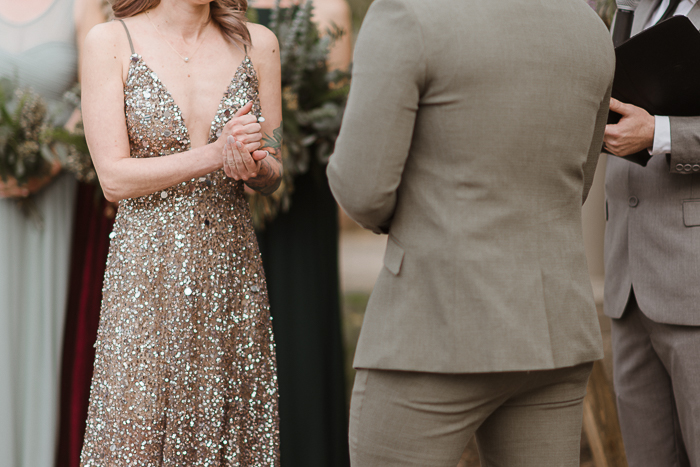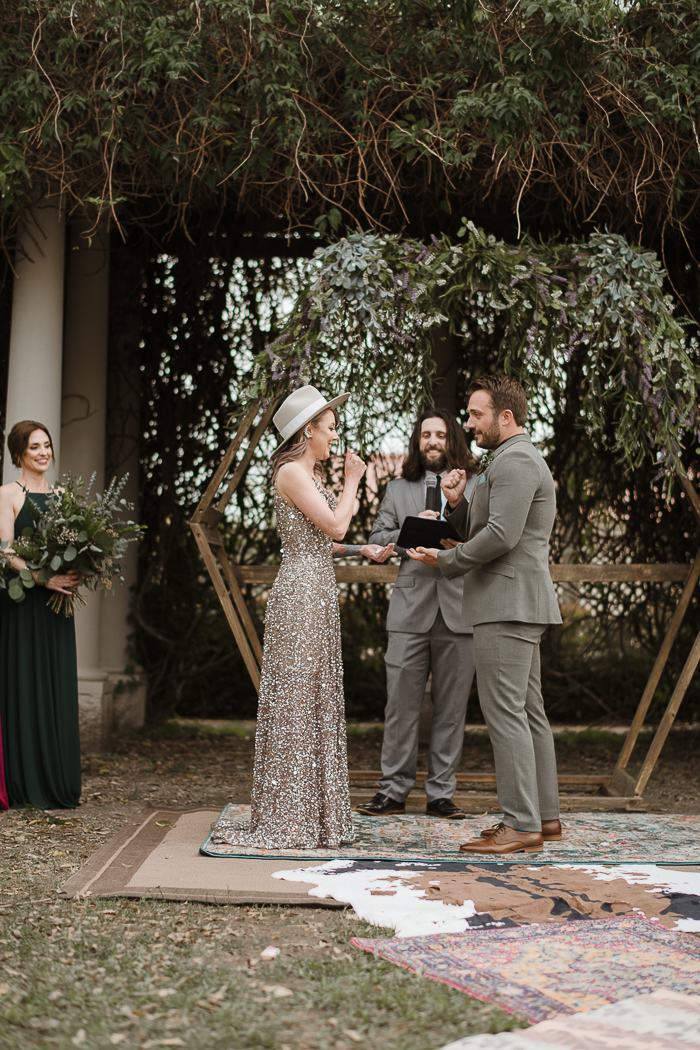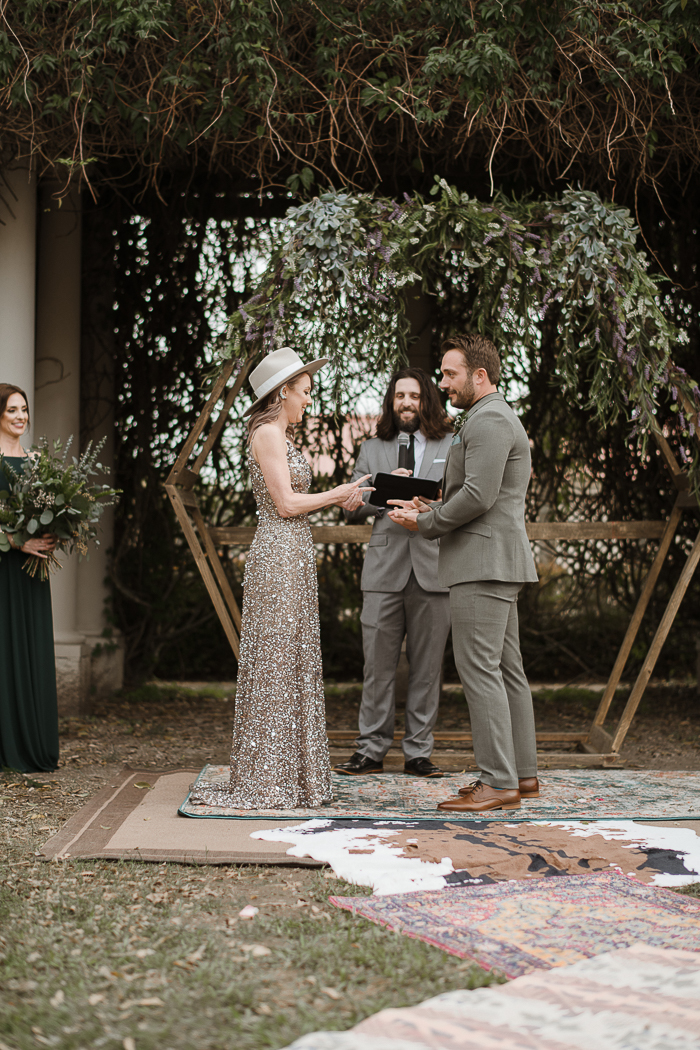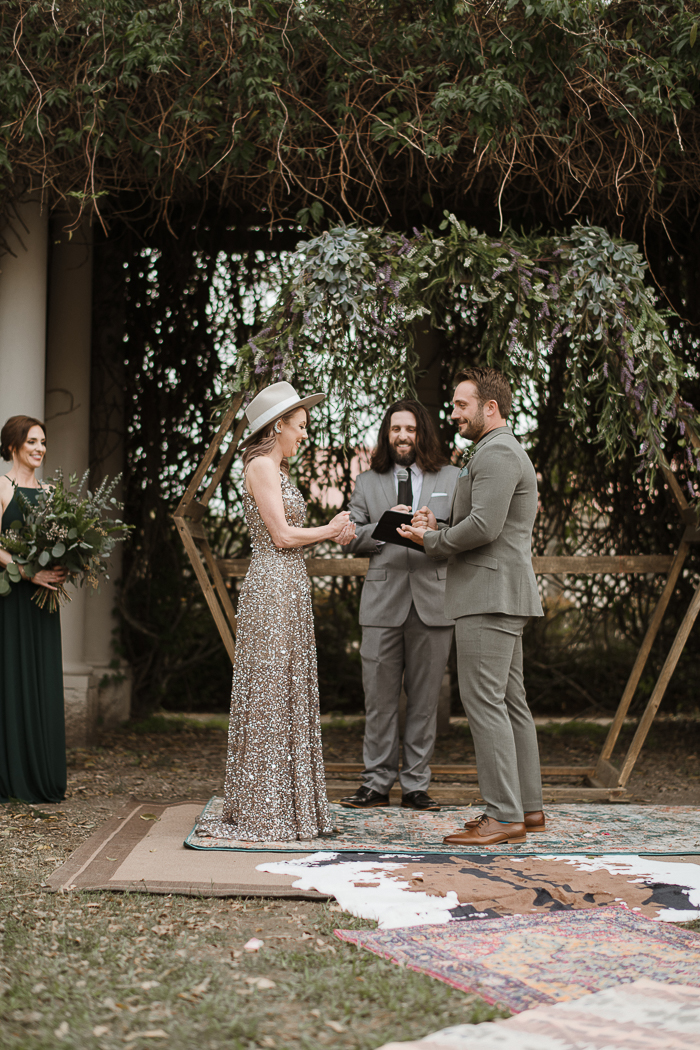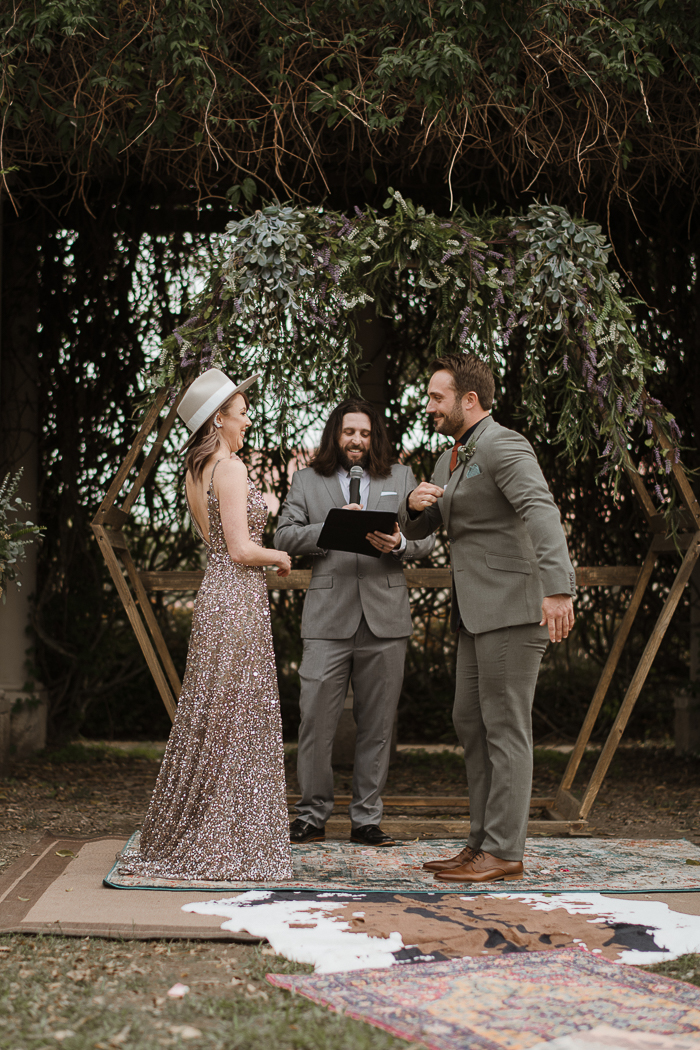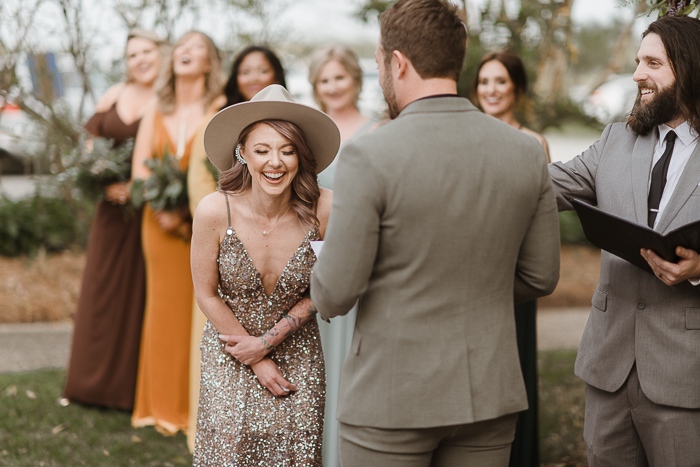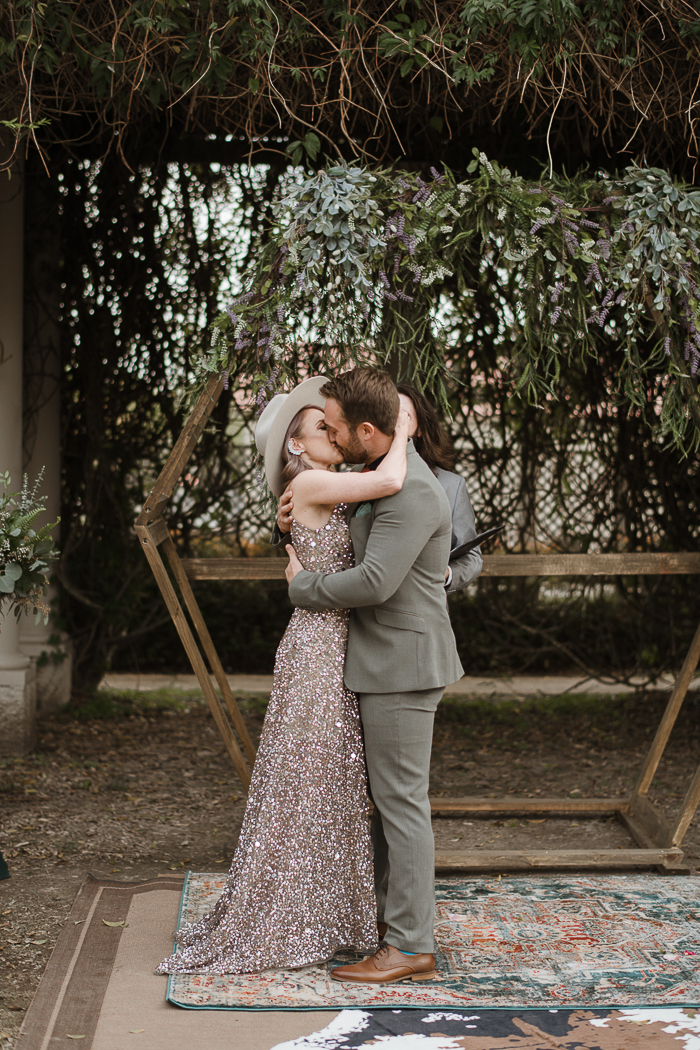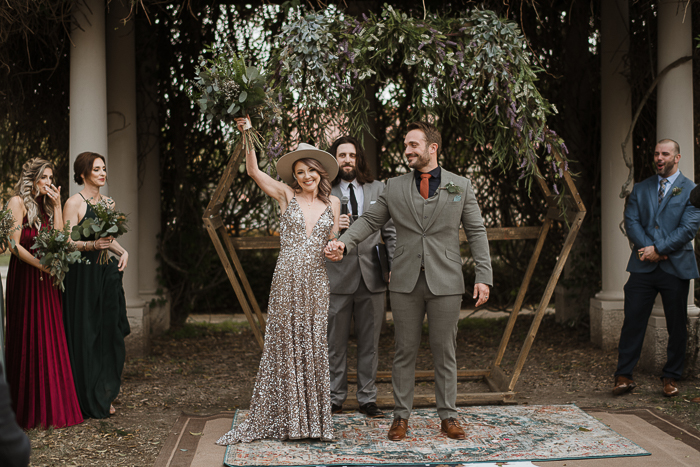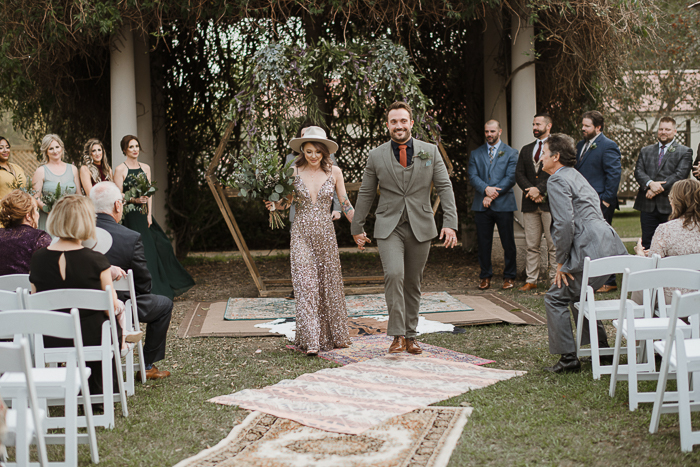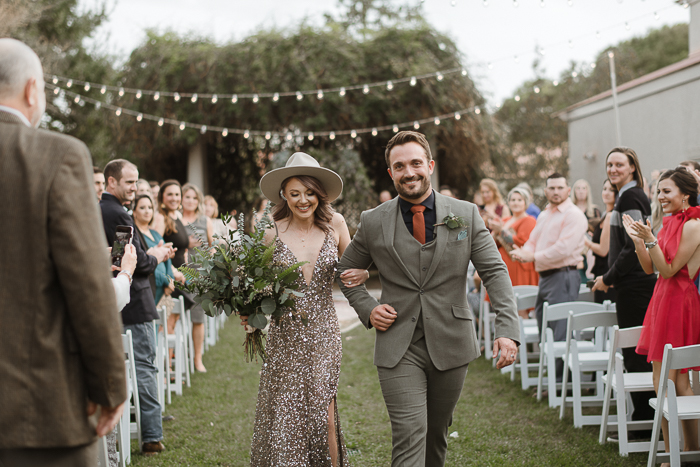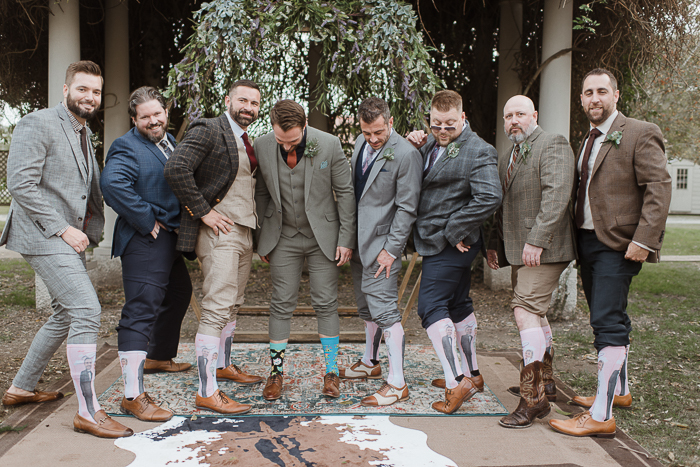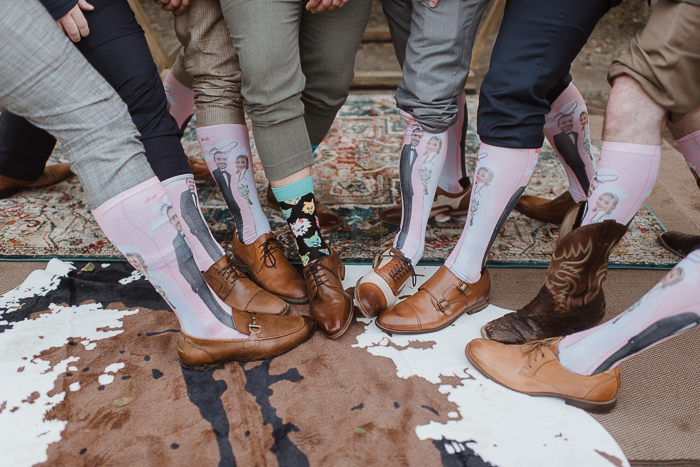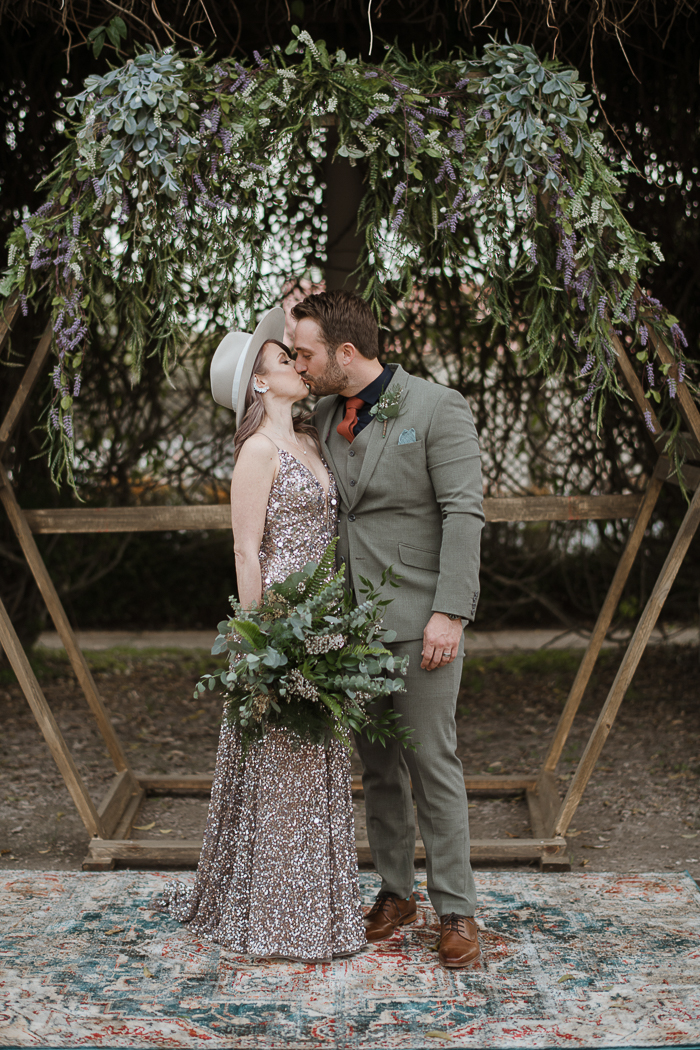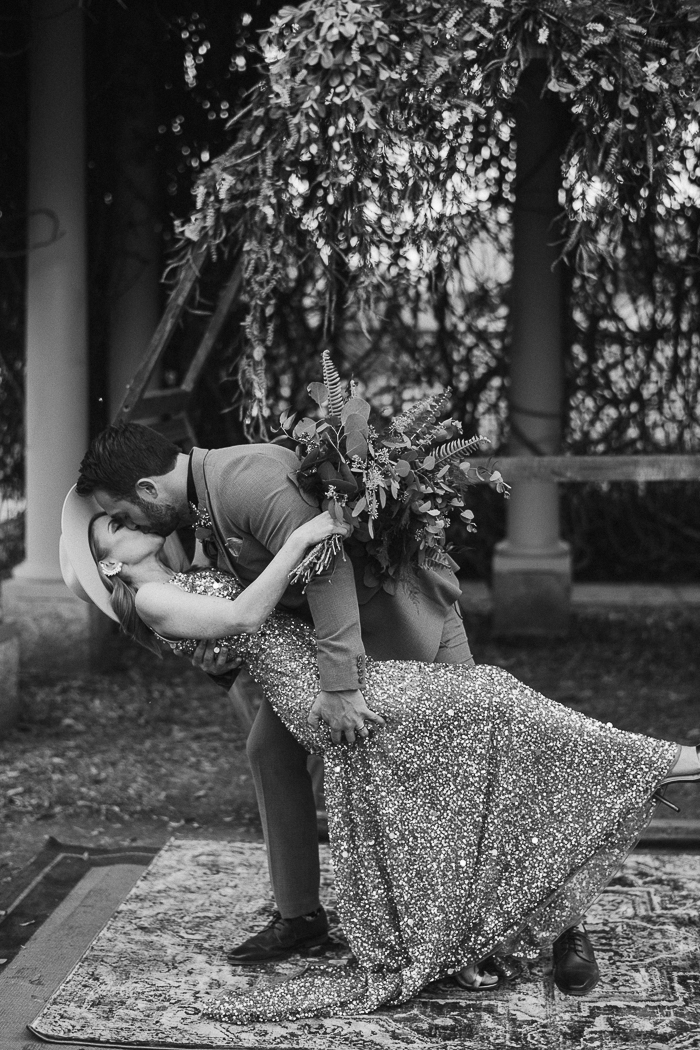 Non-Traditional Invites
Rather than traditional wedding invites, we did text invites. Using an app that allows you to make hundreds of invites and hold everyone's personal numbers and emails was AMAZING! We used this approach for all of our wedding events–it was customizable and so easy to do.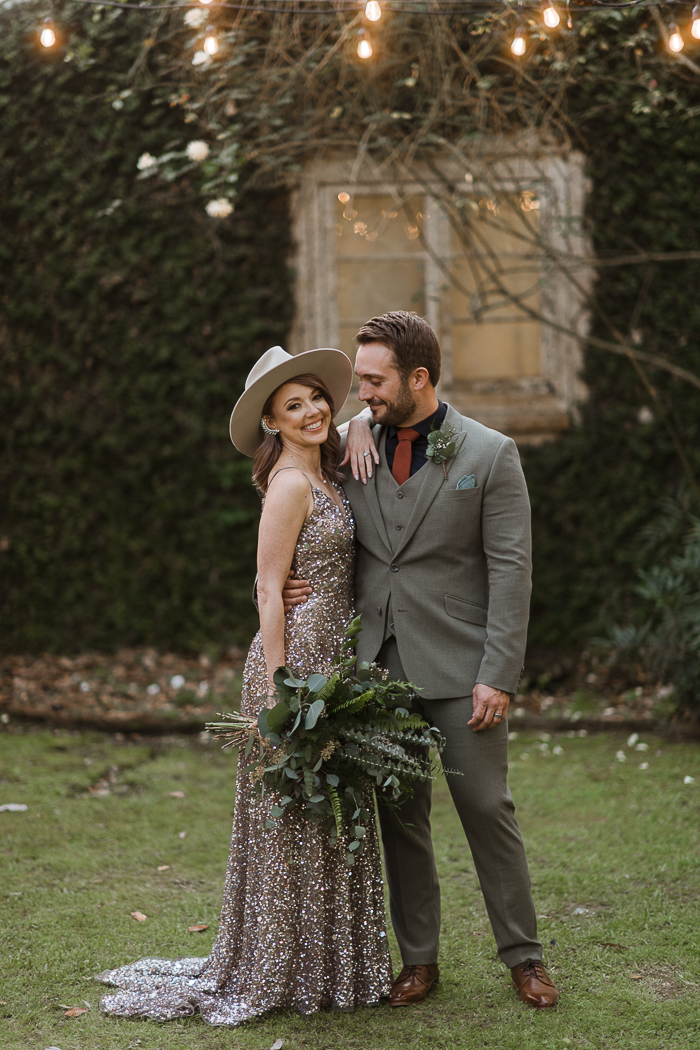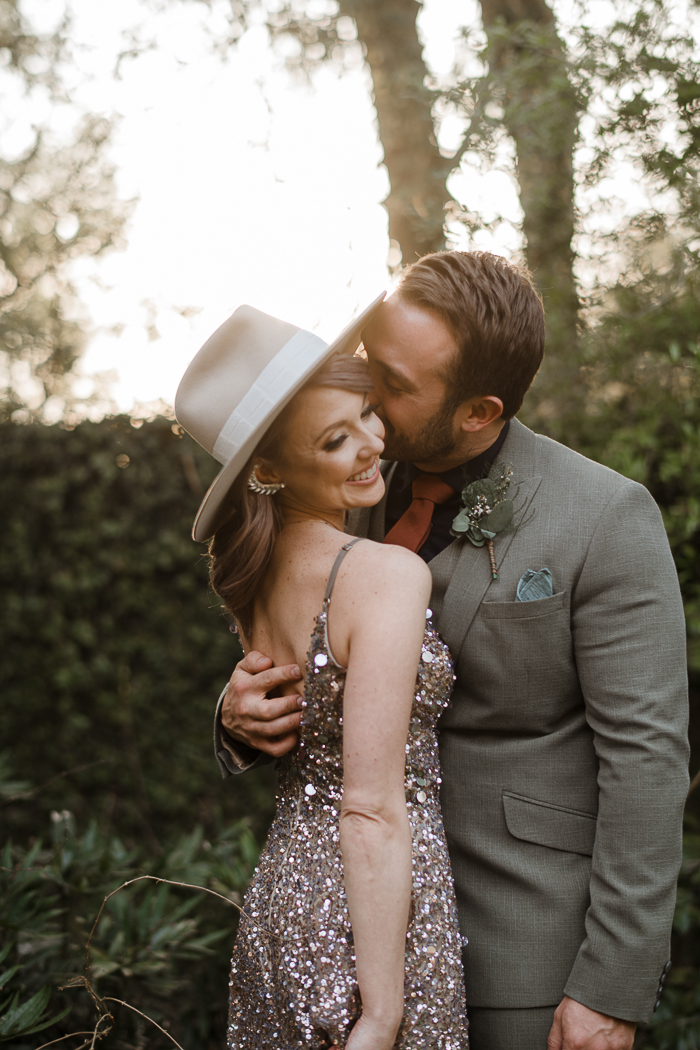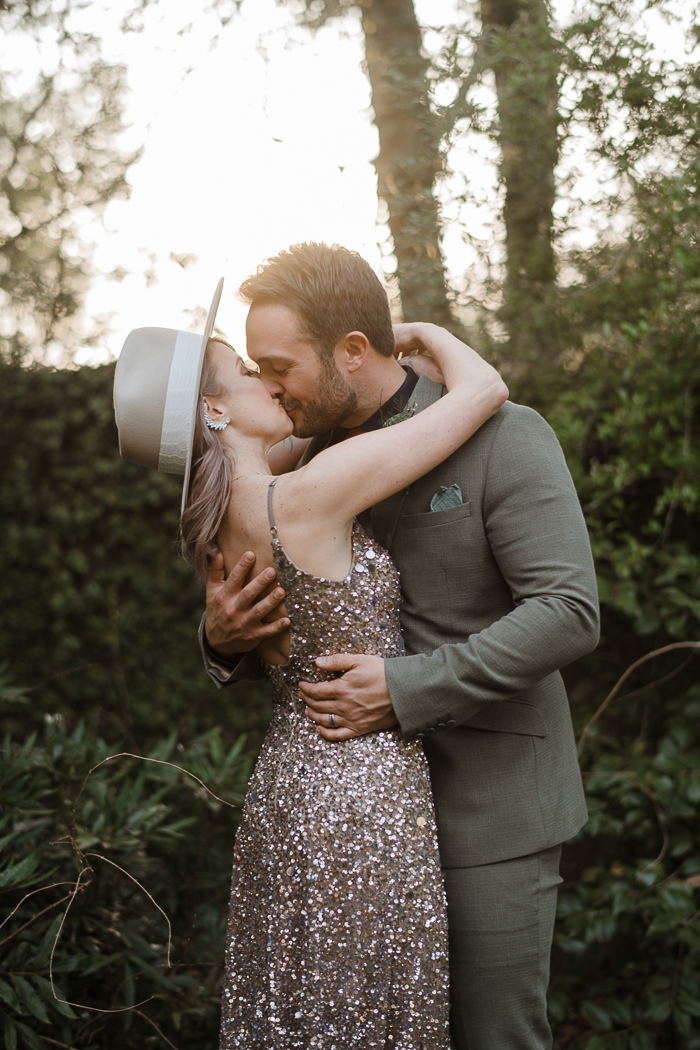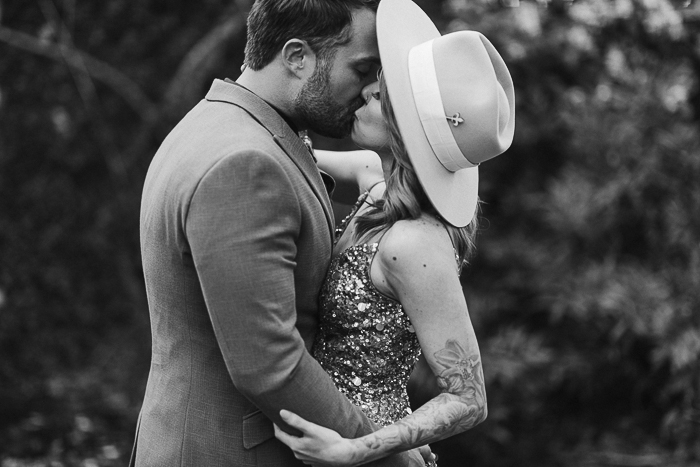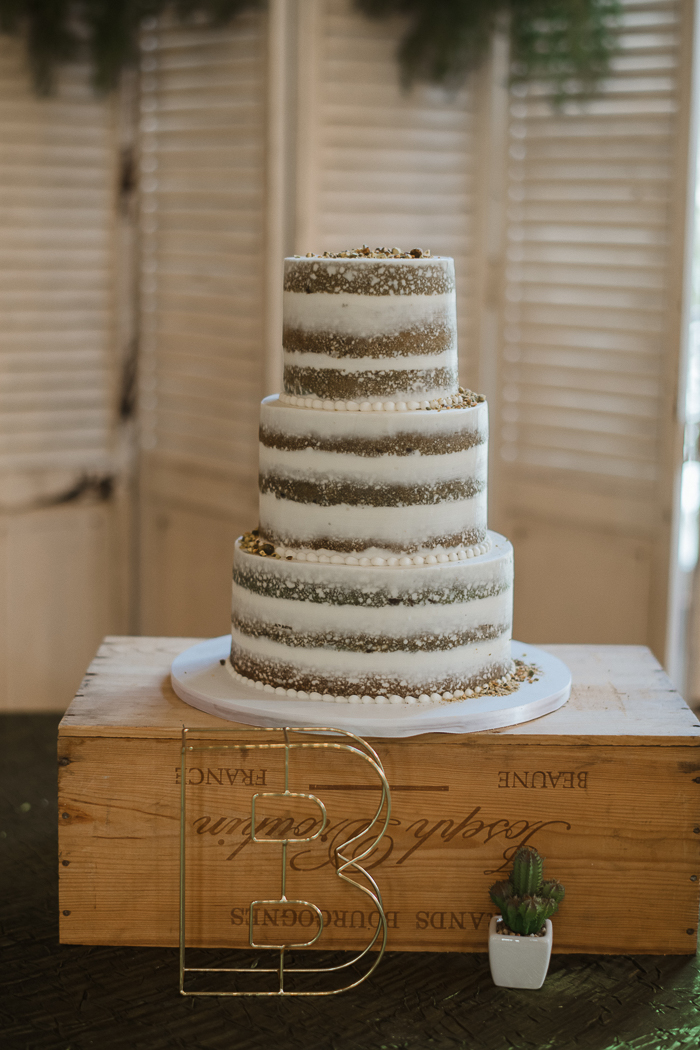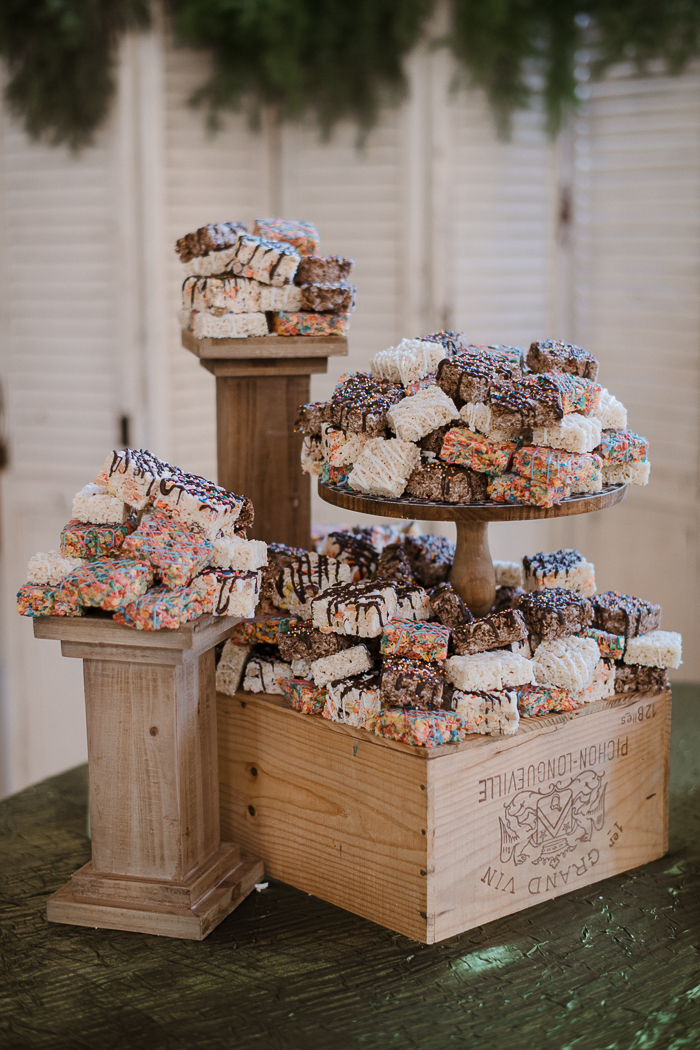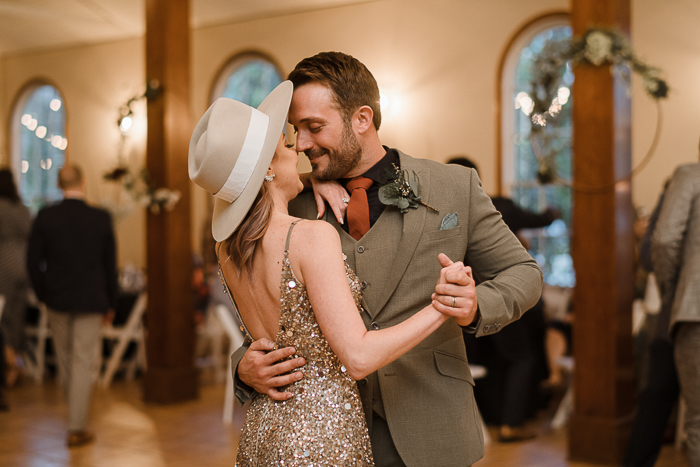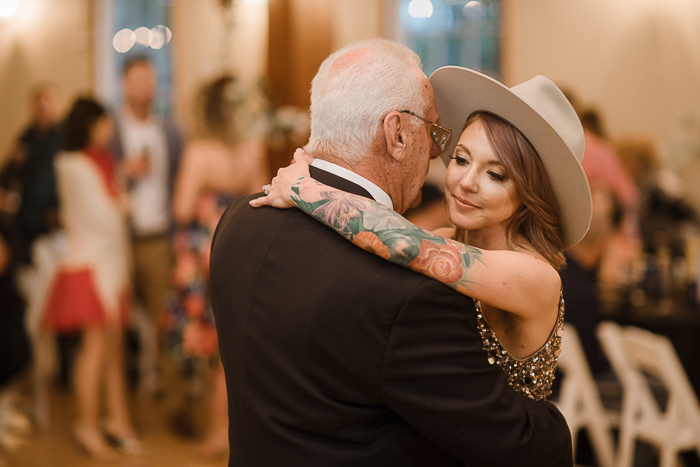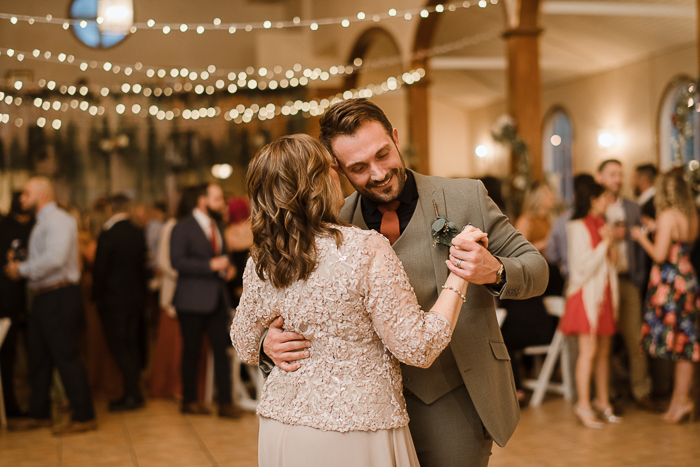 Homemade Wedding Favors
I would say our wedding favors were unique, but much needed for the good time that Louisianans like to have. We placed ourselves in the guest's shoes and thought about what we would want after a long night of drinking and dancing with friends–a tasty snack for the ride home. My husband, Bobby, loves Mexican food, so we wanted to give guests a taste of something he enjoyed. We had homemade chicken, pork, beef, and jalapeno with cream cheese tamales along with homemade churros. Everyone took their to-go bags with smiles on their face.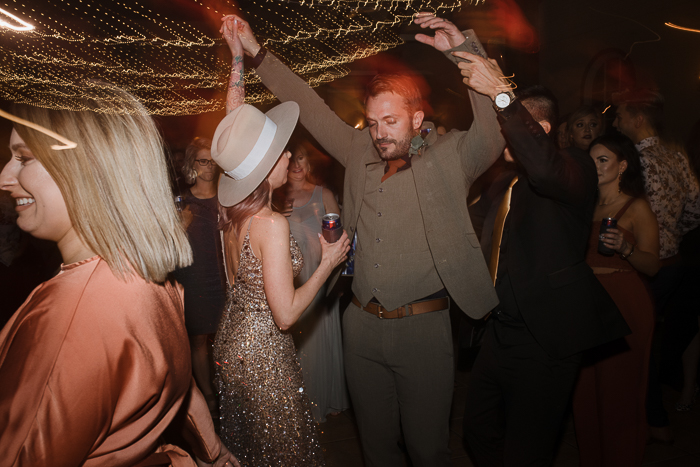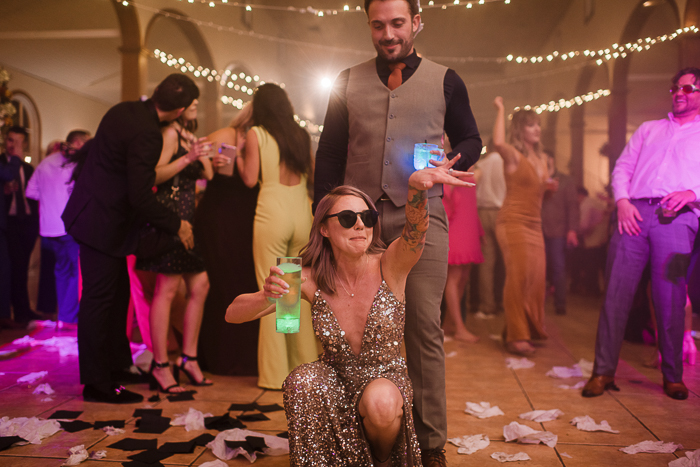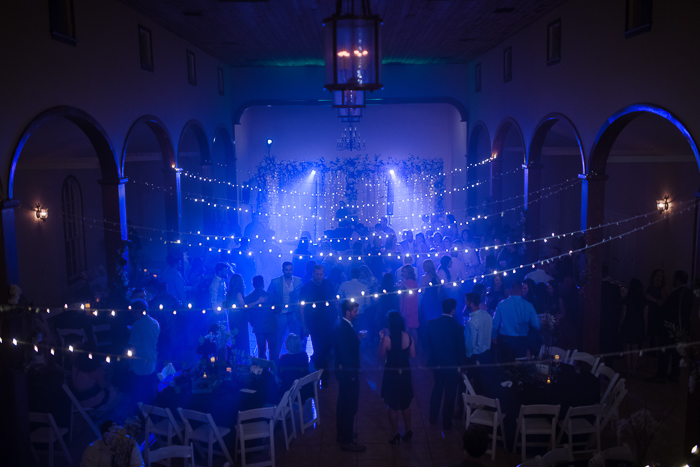 Congratulations again to Catherine and Bobby on their Louisiana L'eglise wedding! We're so glad that Junebug member Erin and Geoffrey were there to capture the special day. To see more of their work, check out their profile in our directory of best wedding photographers in the world!