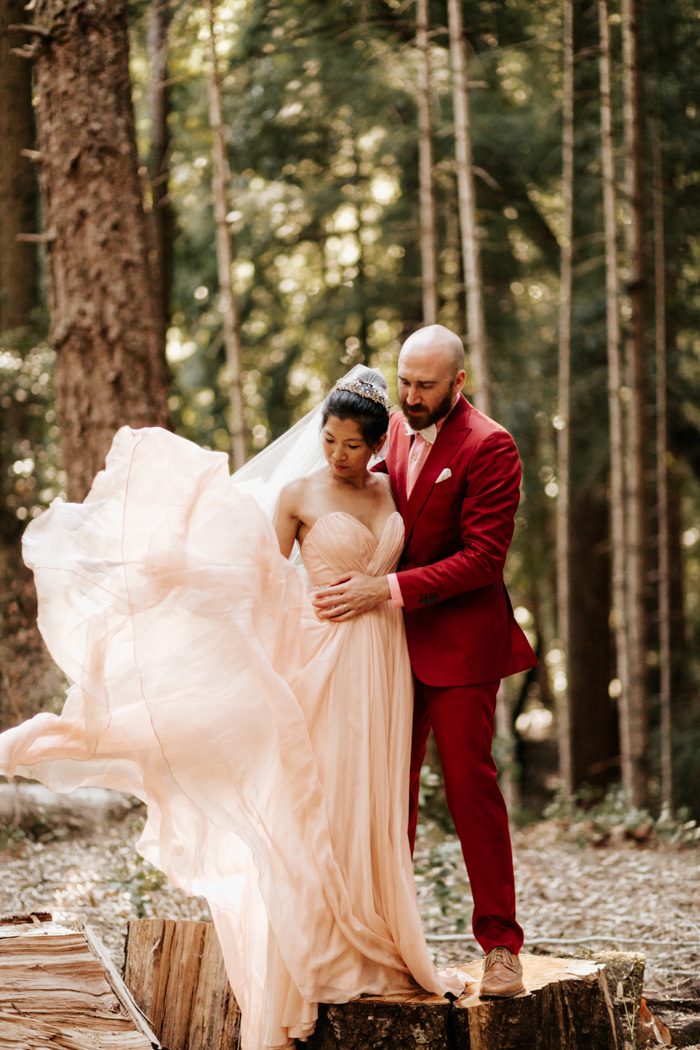 There are so many perfect locations for a wedding in the Redwood forests of California, and Leonard Lake Reserve is one of our new favorites! Jem and Peter took full advantage of the lakefront property, the private cabins, and the dreamy woodsy spaces to host an unforgettable wedding weekend. It's not hard to see that this wedding was all about community. Every element, from the decor to flower arrangements to the reception dinner, were made by Jem, Peter, and all their friends and family. We adore the unique look Jem and Peter created by making everything themselves, and we especially love their twist on traditional wedding style. Jem's blush Leanne Marshall gown and Peter's red and blush Beckett & Robb suit added both a level of whimsy and a pop of color that looked beautiful against the woodland landscape. Paige Nelson Photography nailed it in capturing every detail of this wildly romantic California wedding!
The Couple:
Jem and Peter
The Wedding:
Leonard Lake Reserve, Redwood Valley, California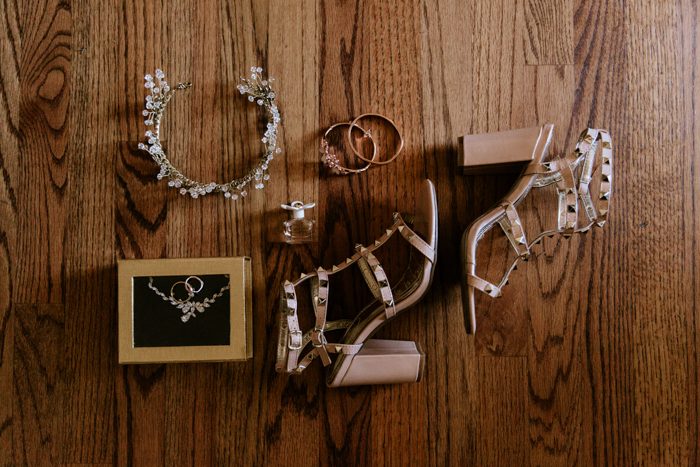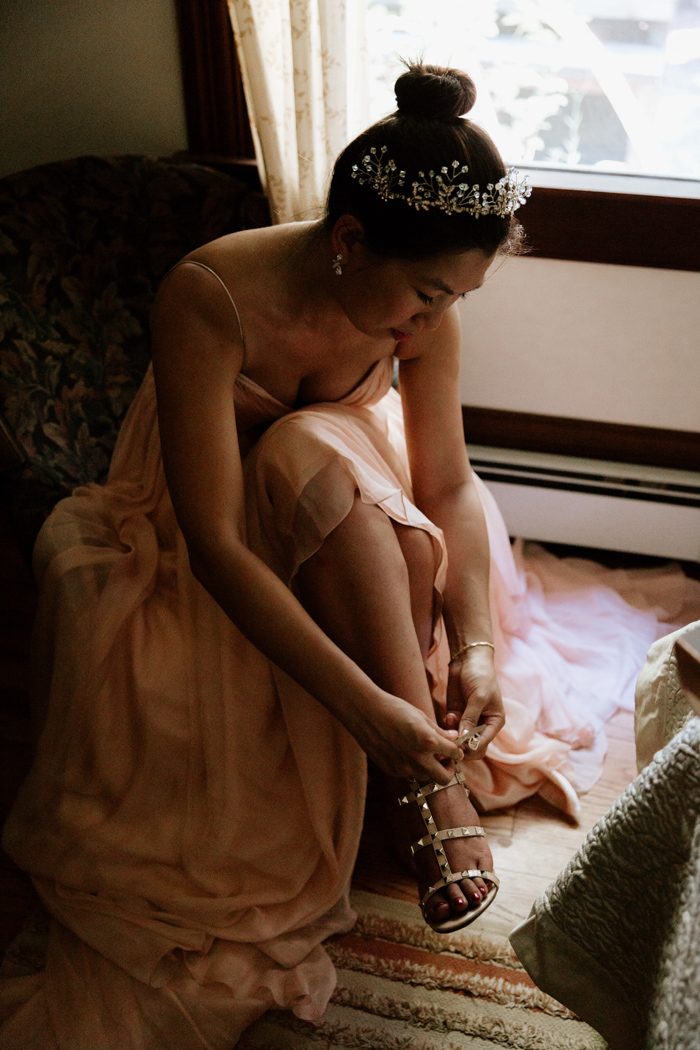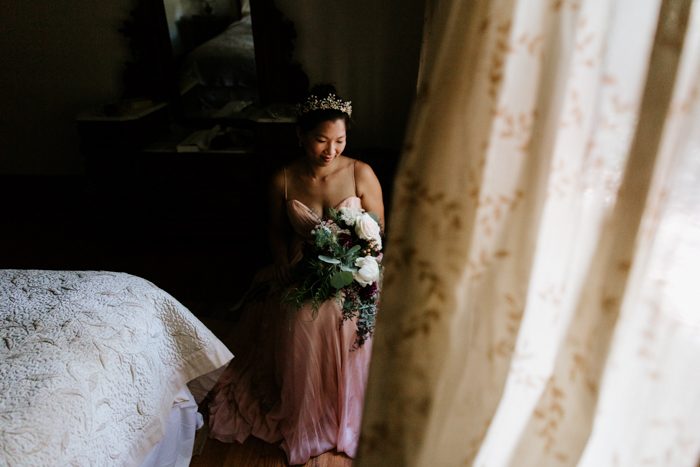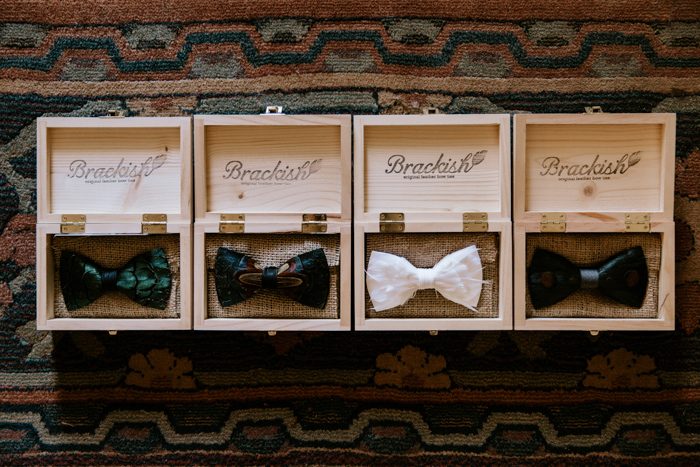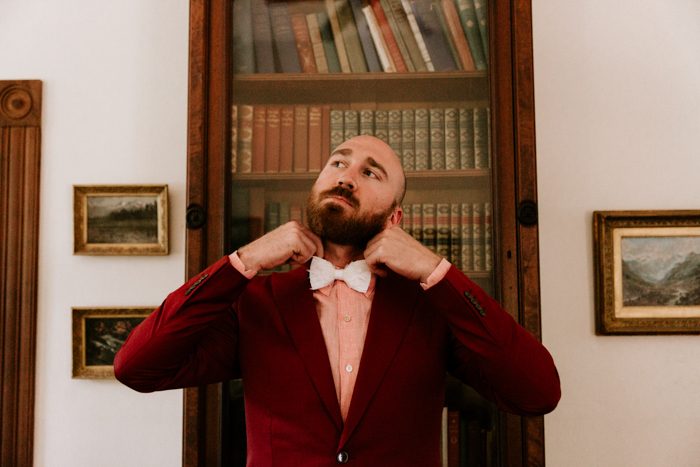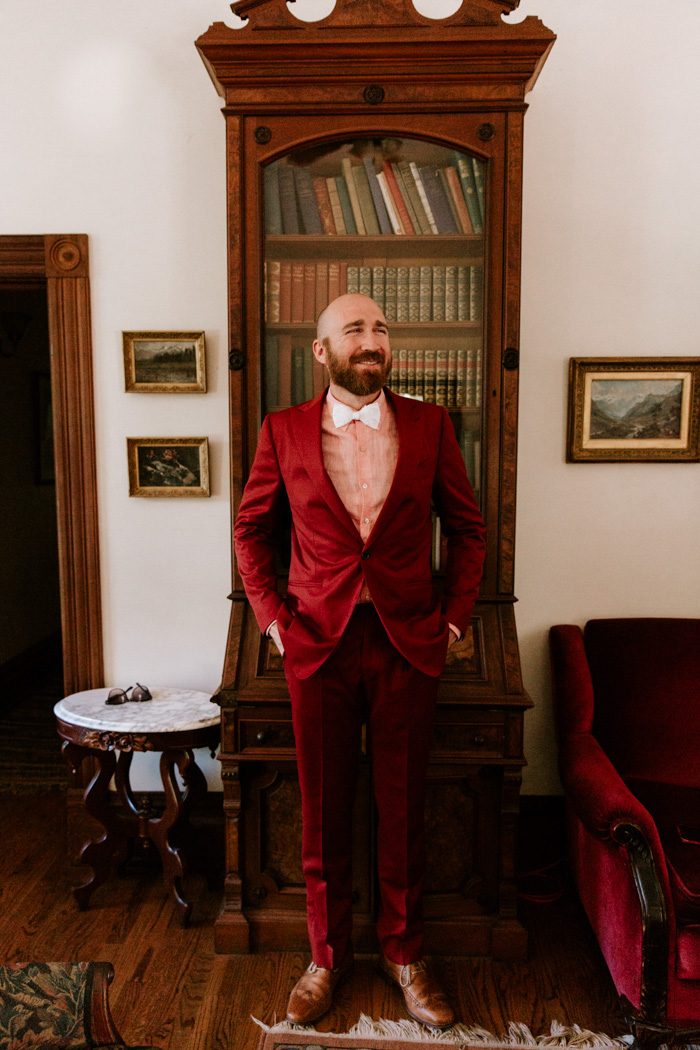 SHOP THIS LOOK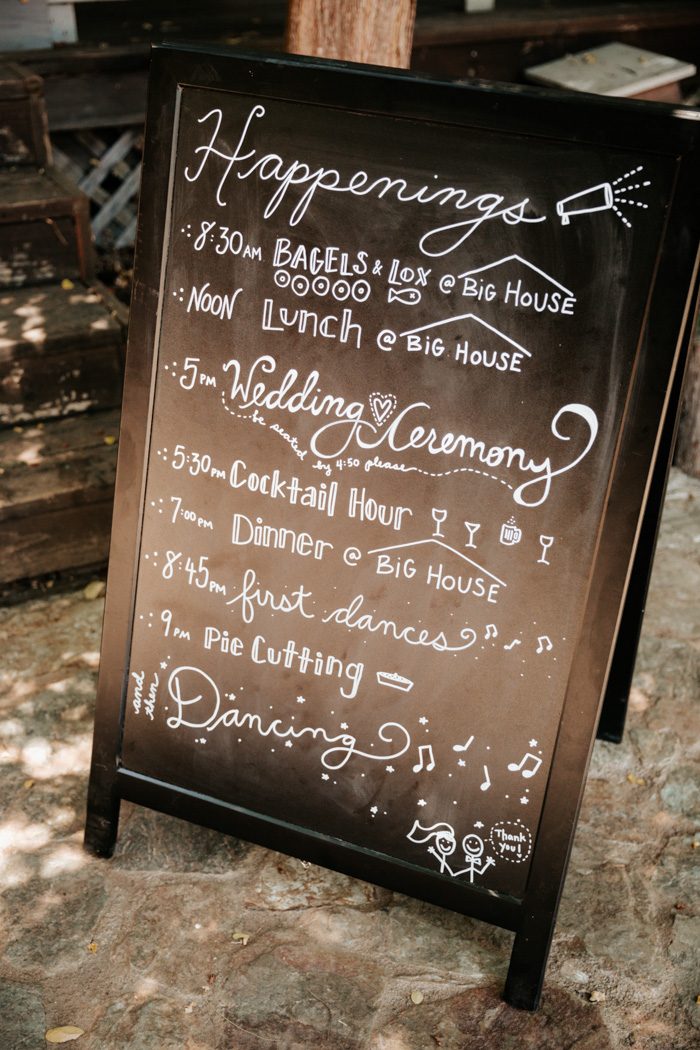 The venue was one of our main priorities. We wanted a place that could host us and our guests for a weekend. We didn't want people to have to travel once they got to the site. We also wanted somewhere outdoors. Peter and I love spending time in nature, and we started falling for each other on a camping trip. I knew I wanted either the ocean or a forest, and eventually decided on redwood trees in particular, and Peter requested that our venue still have a body of water. After a long search for venues with redwood trees and a body of water that met our requirements, we landed on Leonard Lake Reserve. The place was a dream!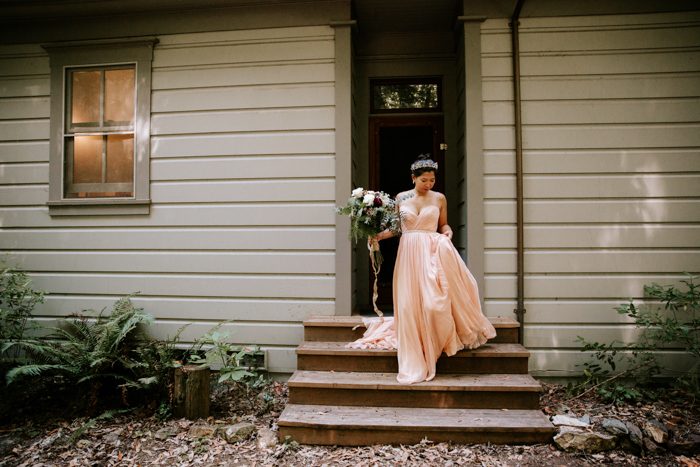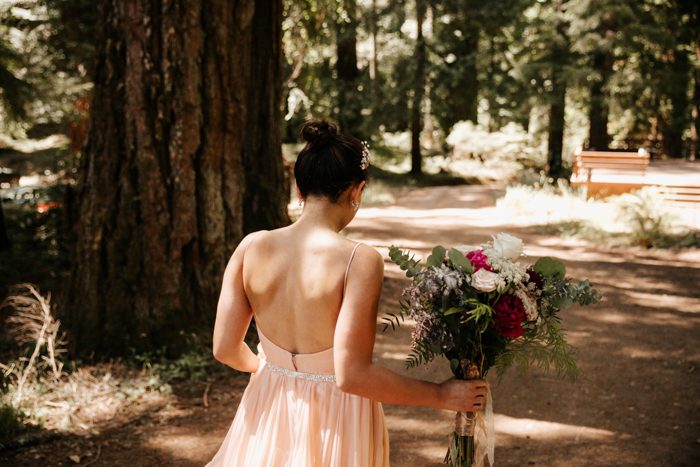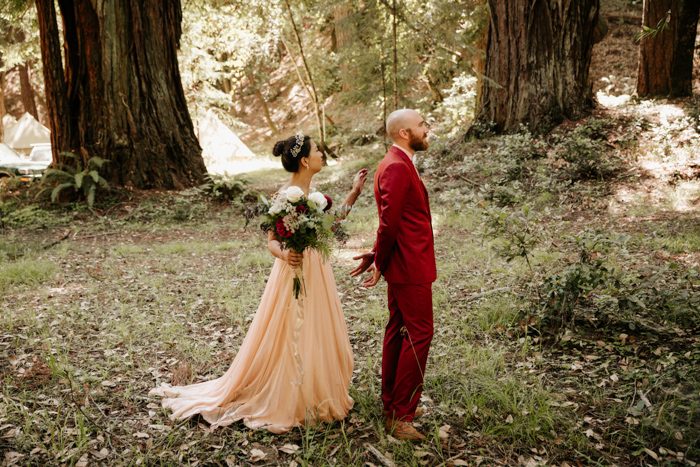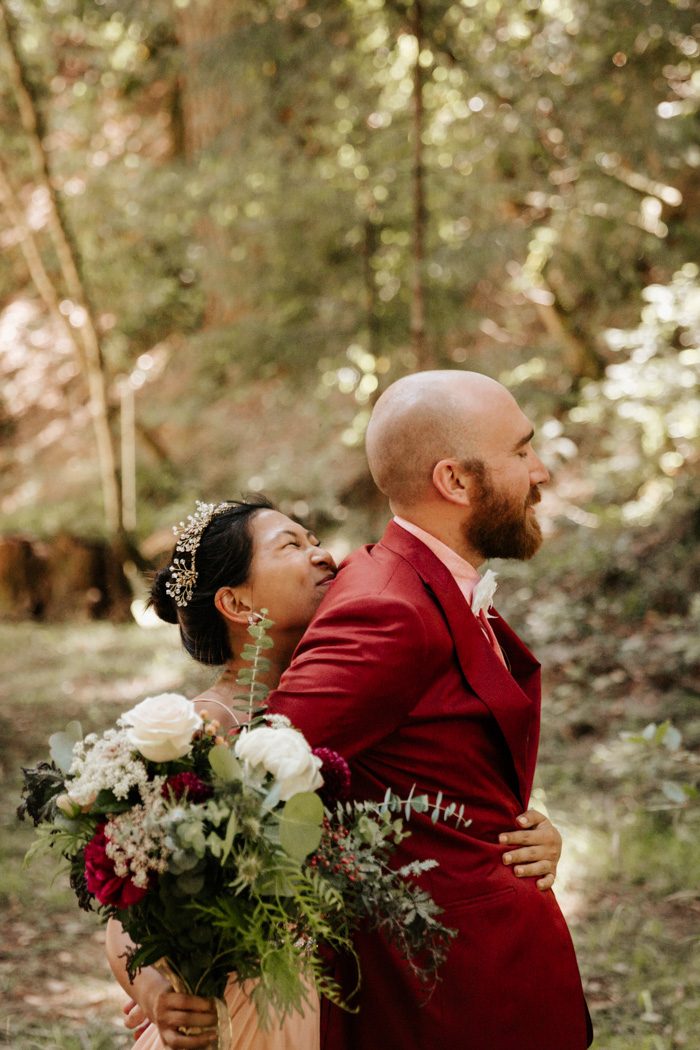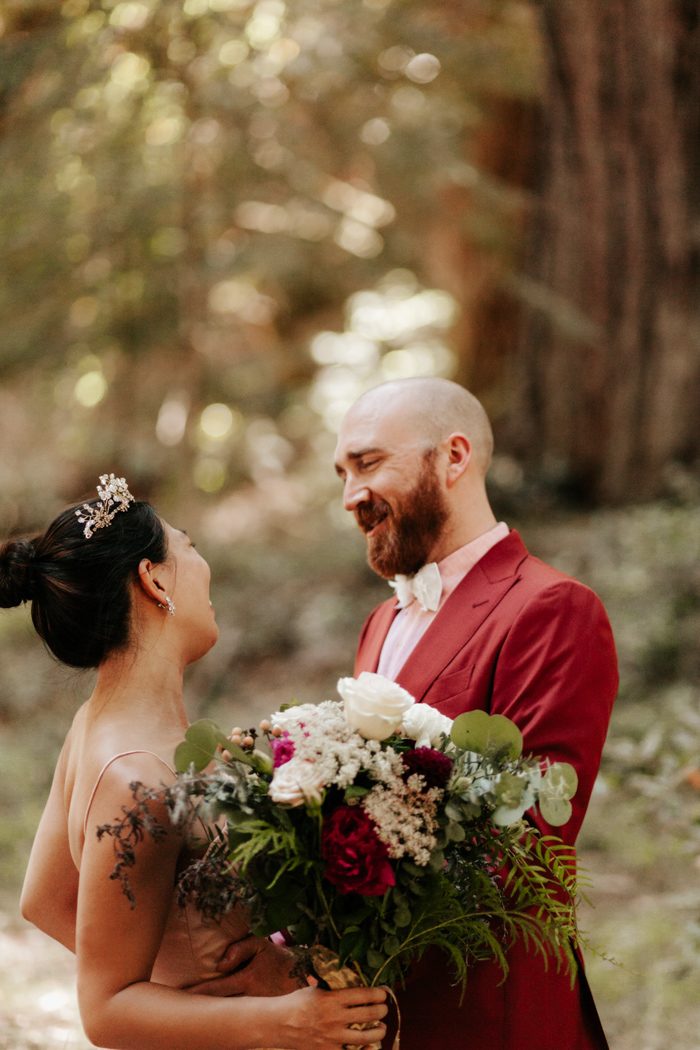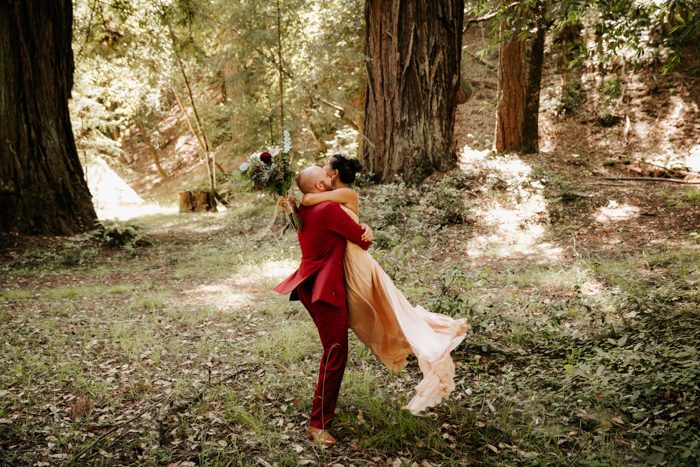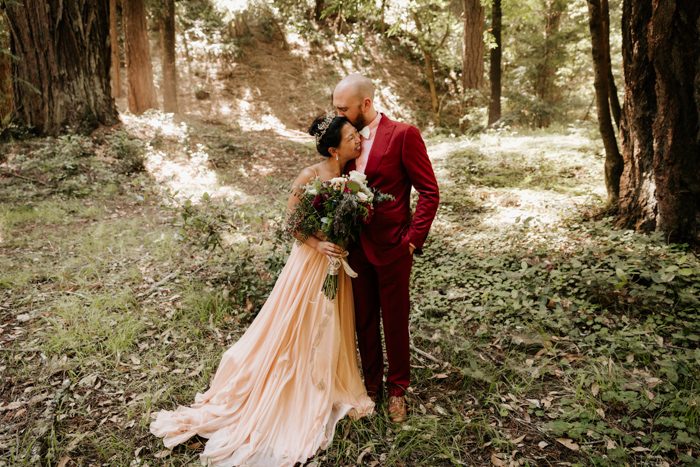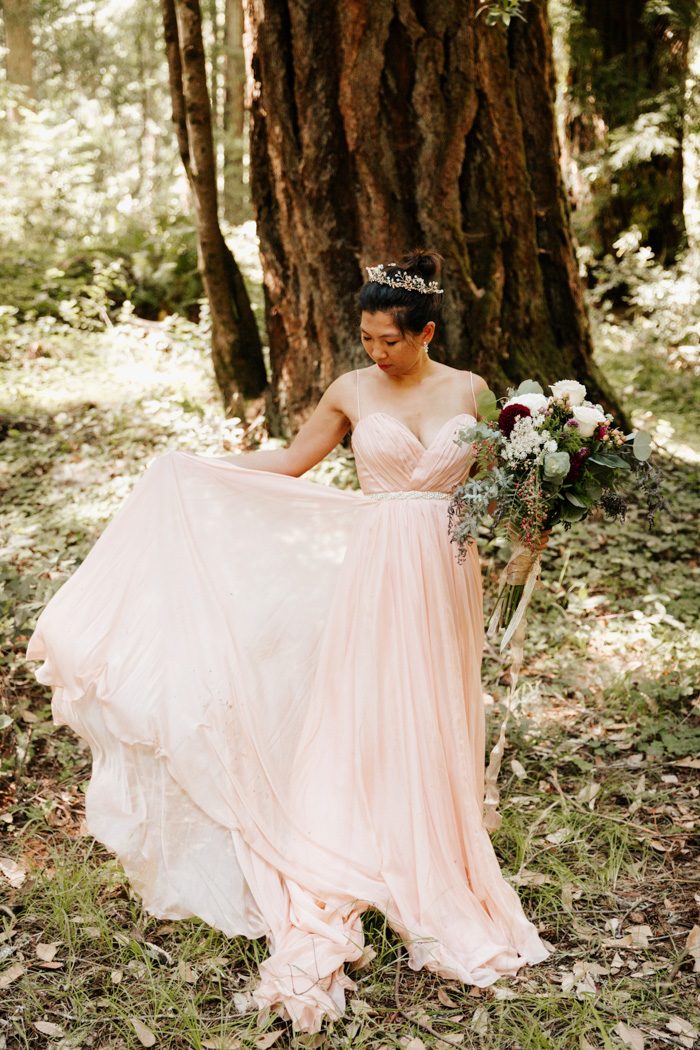 SHOP THIS LOOK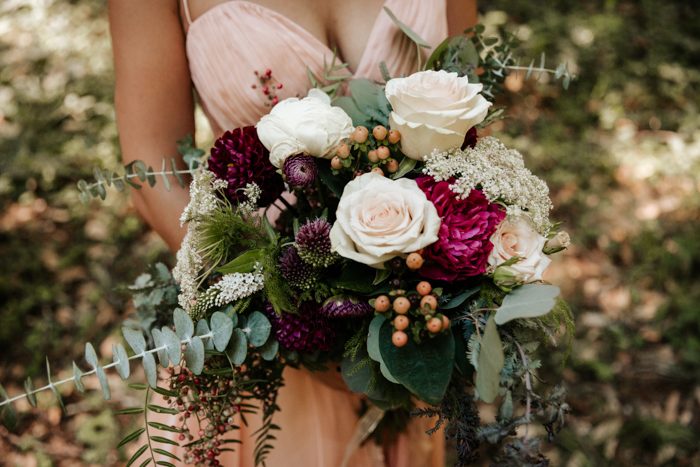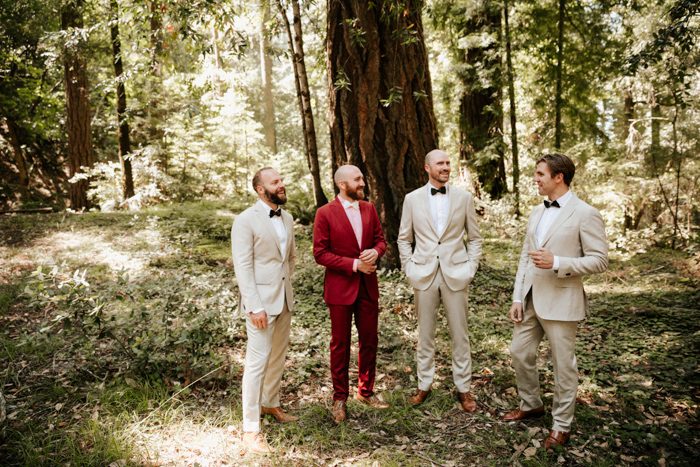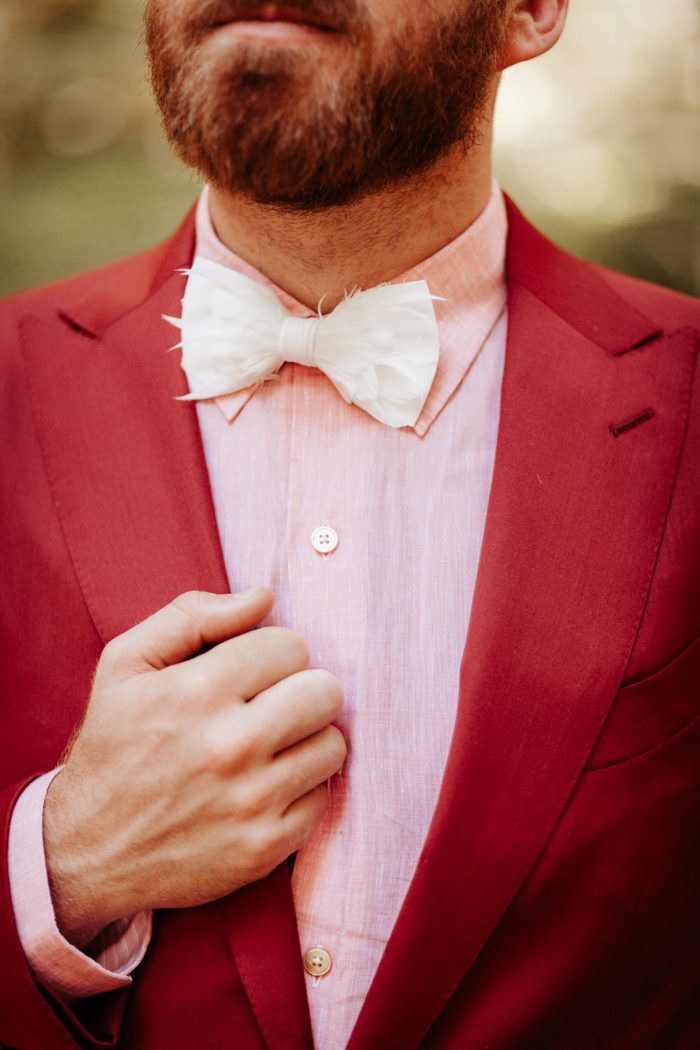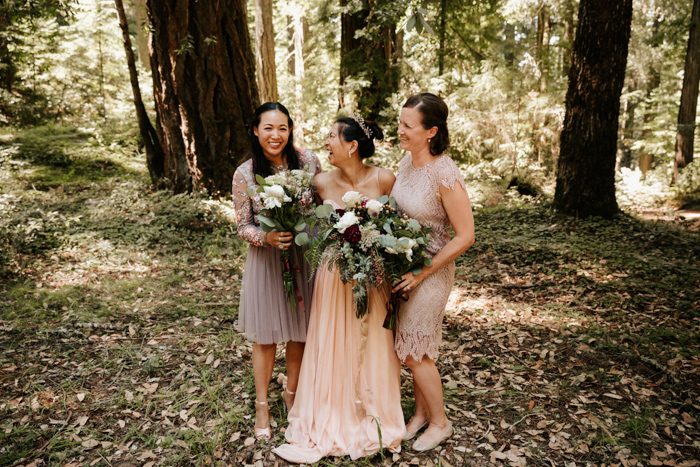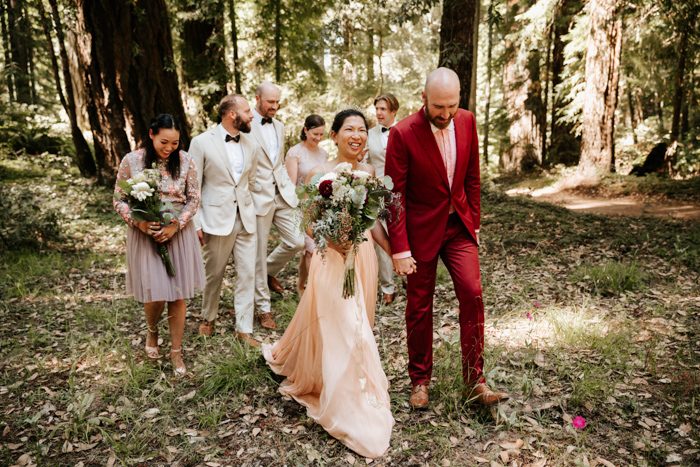 The most memorable part of the wedding day for me was during the ceremony. I had asked our officiant (Peter's step-dad) to include a moment early into the ceremony for Peter and I to take a deep breath, slow down, and turn and look at our guests. This allowed me to be really present and soak up the loving support of our guests. Being able to share this special moment with our wonderful community was very important to me. So much of the day can rush by quickly, so having that moment carved out was really lovely.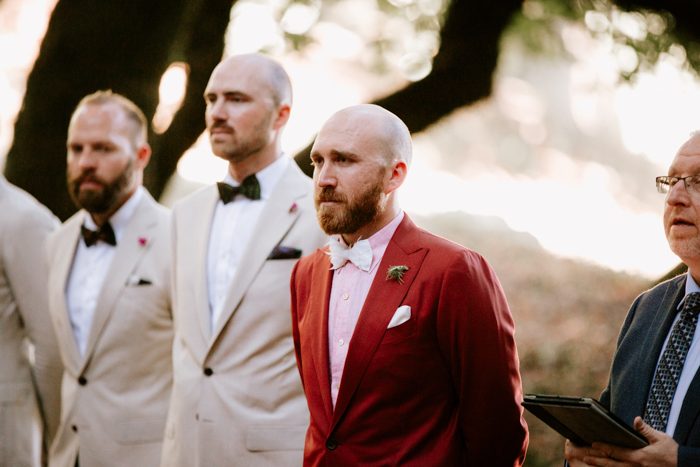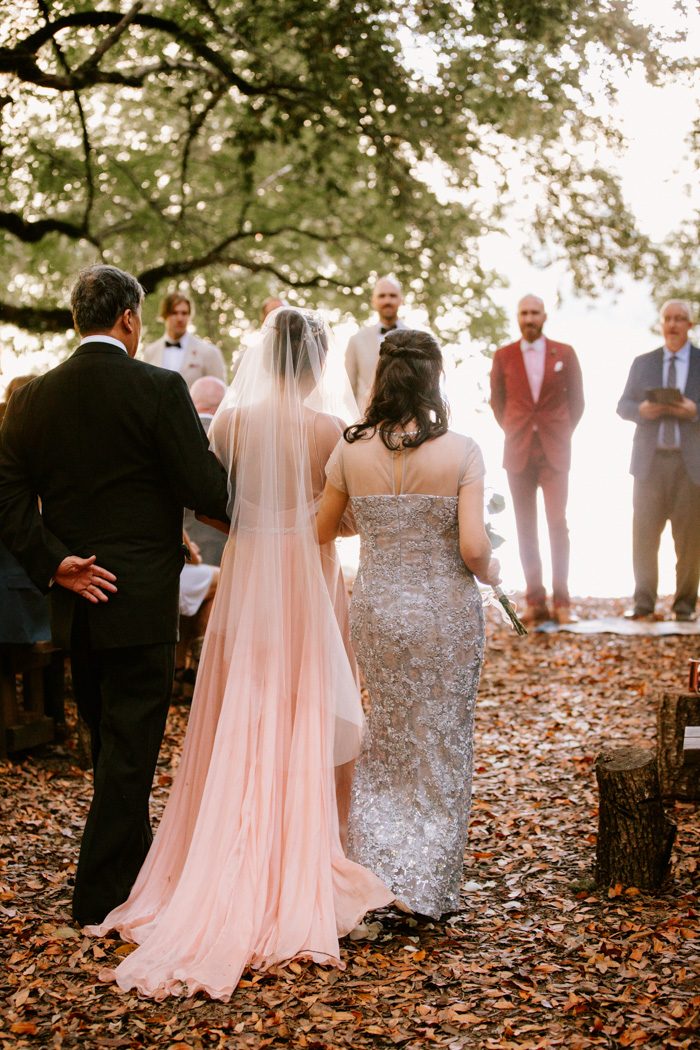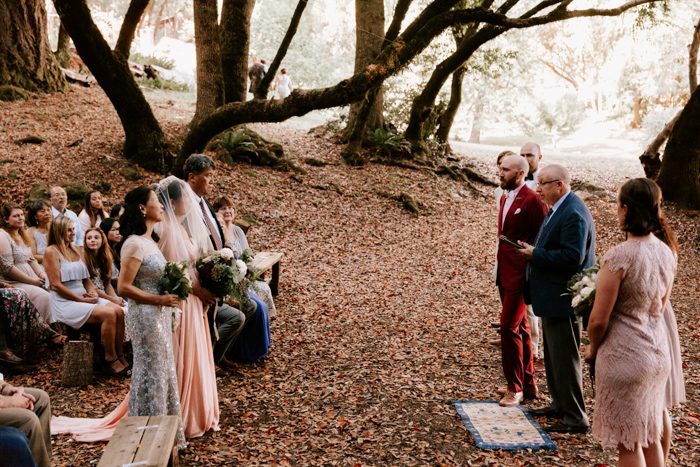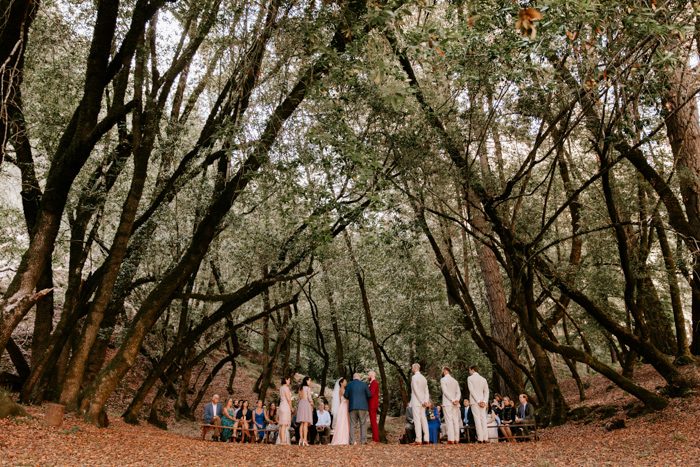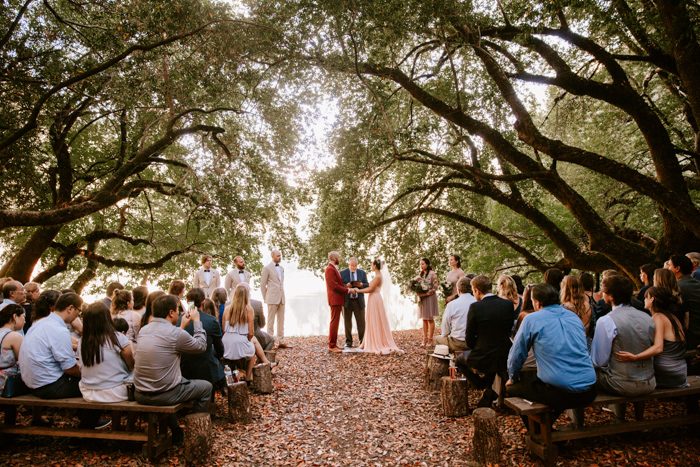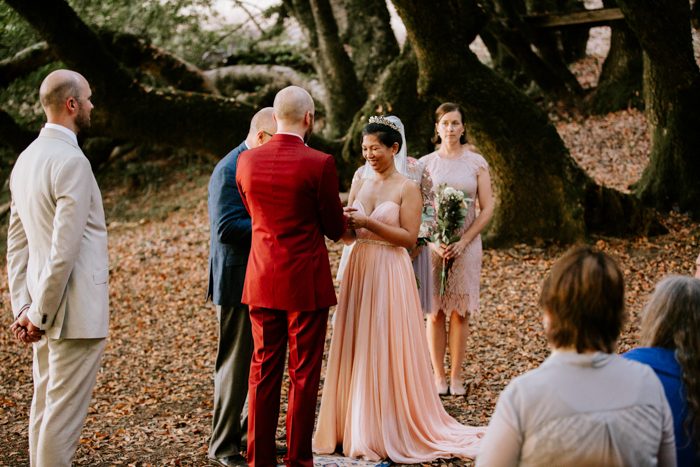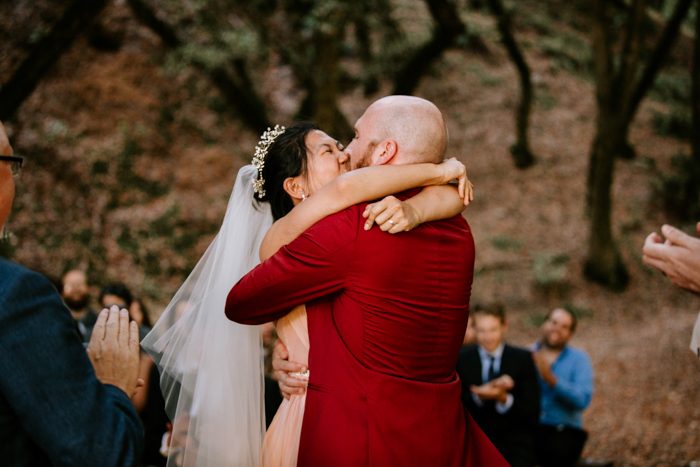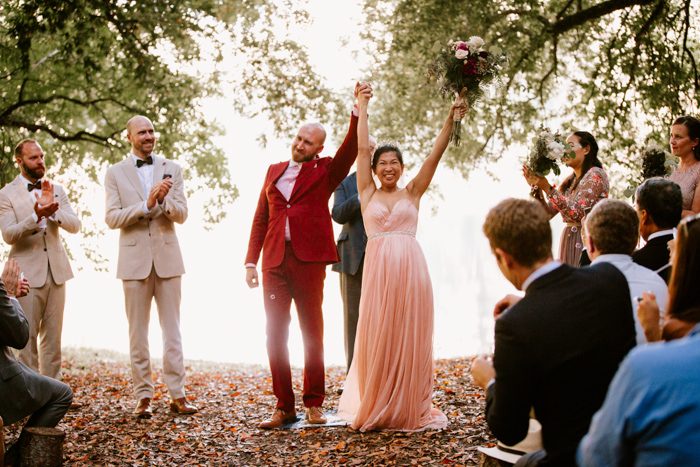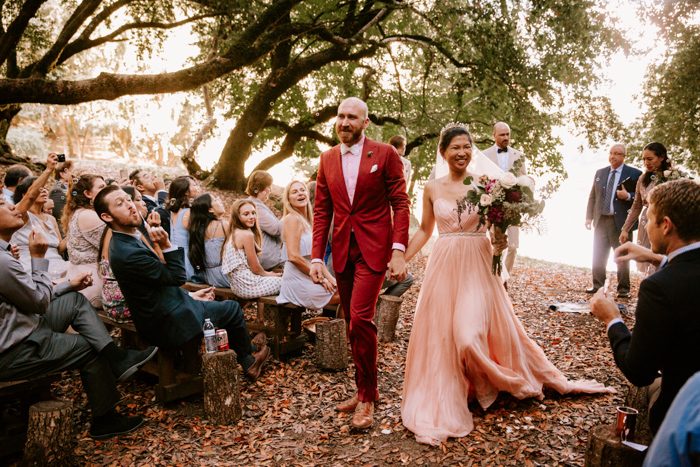 When I asked Peter what the most memorable part of the day was for him, his first response was, "Only one?" I asked him to think back on the day. What is a memory that came to mind? Then his answer was, "Dinner." I asked him if there was anything particular about the dinner — the toasts, the food. His answer, "Eating with guests. Just eating it." Peter decided early on that he wanted to serve tacos at the wedding. We both love tacos, and it fit in well with our wedding theme! In all fairness, he did add, "Besides you being my wife, right?"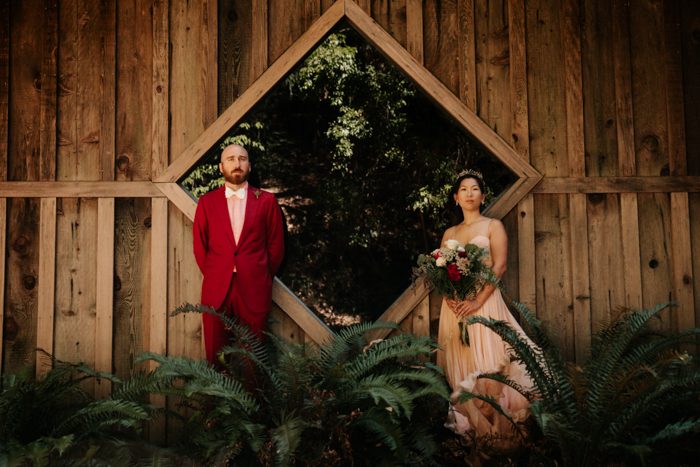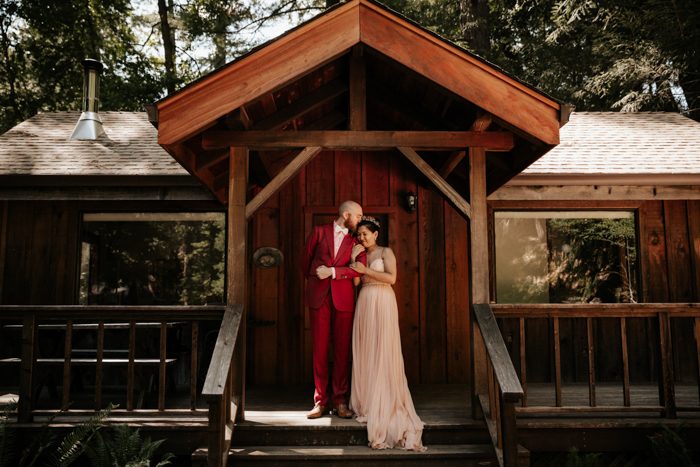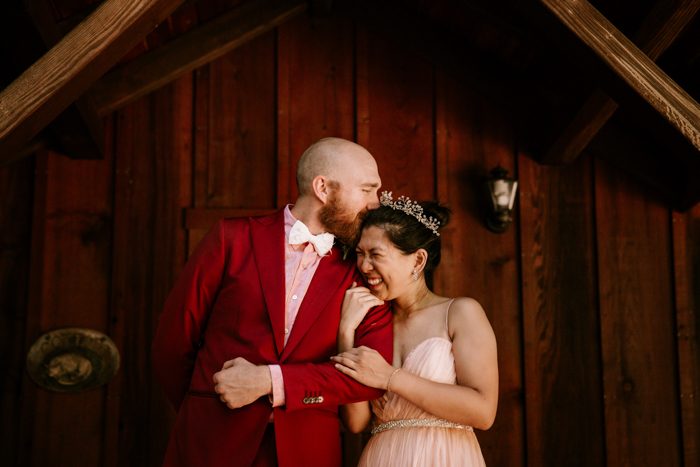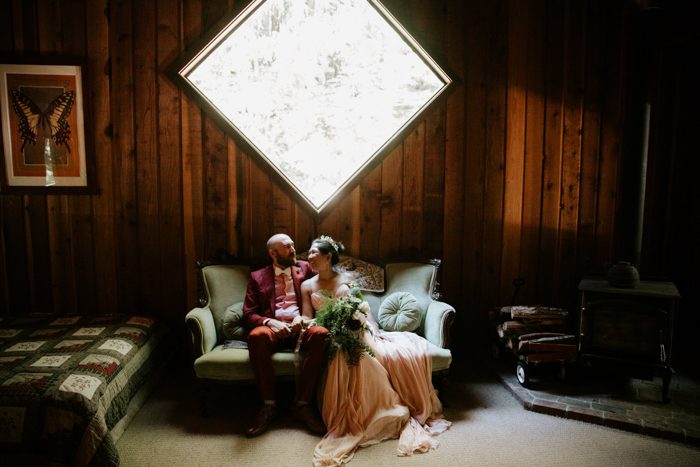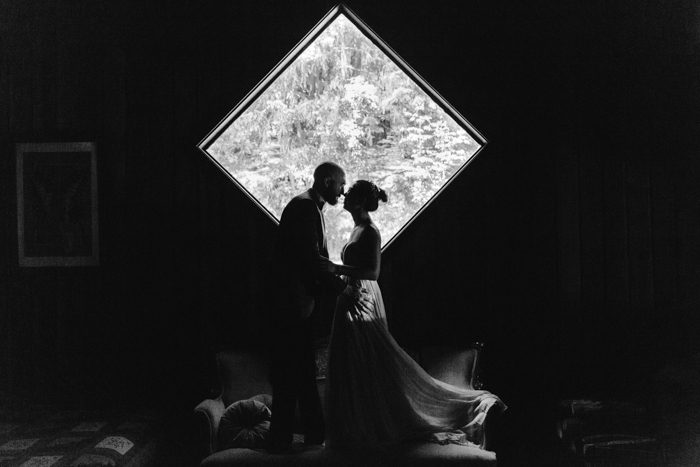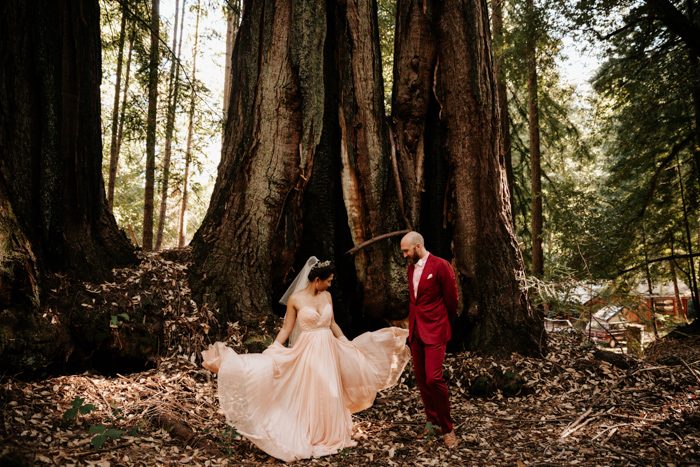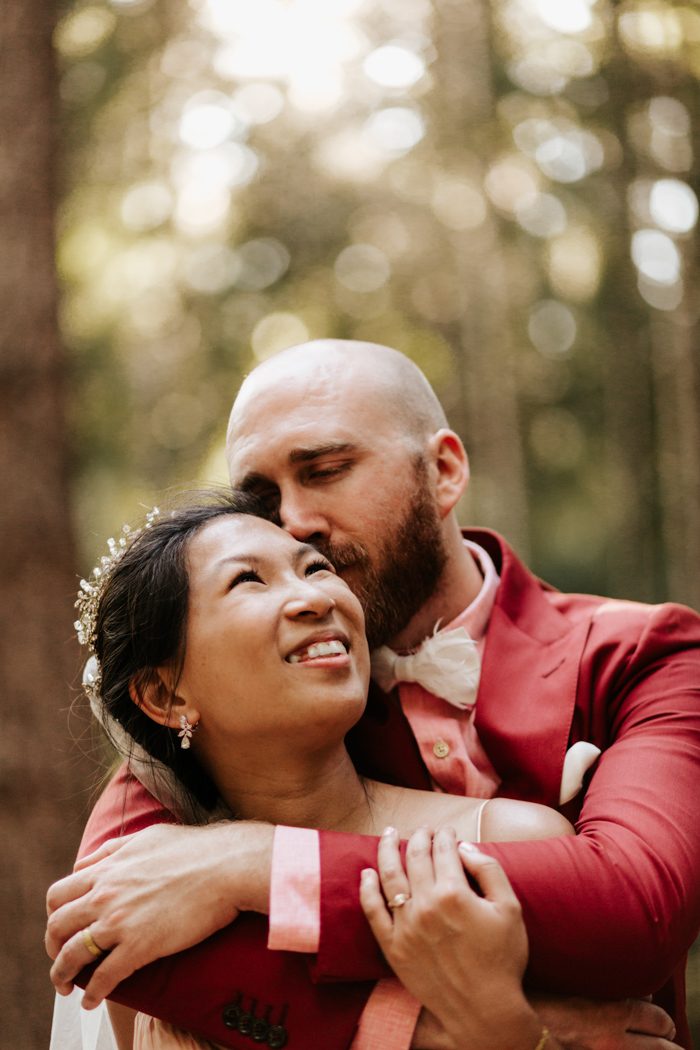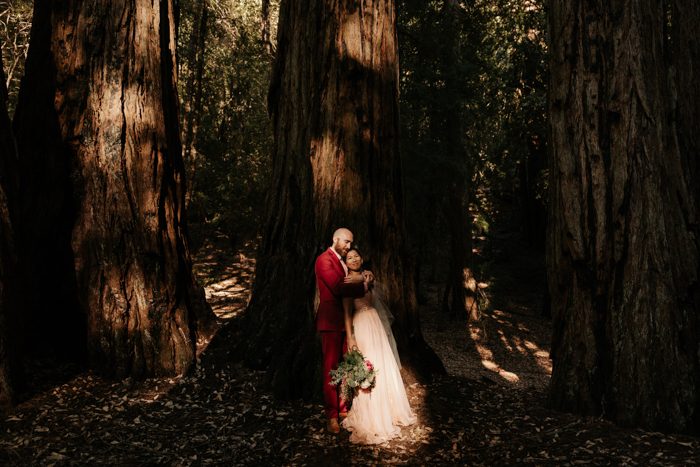 Our advice is to start early, especially with securing a venue! But I would also say dream big first. What is your dream wedding? What are the themes/concepts you can distill from that dream? Take those and edit it down to something that is more manageable. Consider feelings, not just how something will look. It helped Peter and I to discuss our priorities early on, and also our budget. Remember that it's the groom's day too, so include him as much as he wants to be included! Lastly, if you can, definitely make a weekend of it! Peter and I were able to spend a lot of time together on the actual wedding day, because we were able to hang out with our guests the night before and the day after.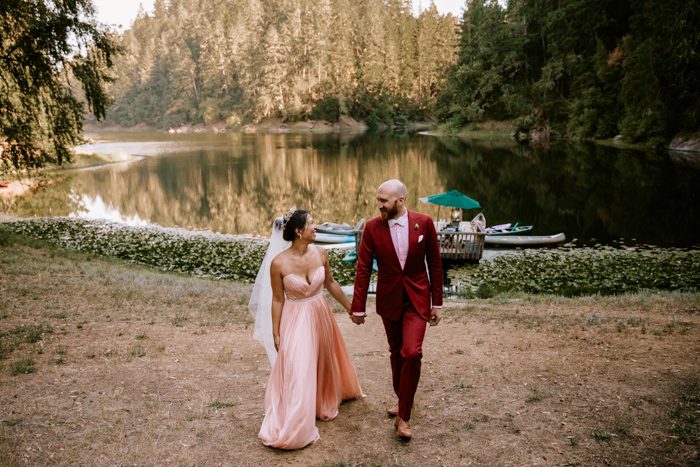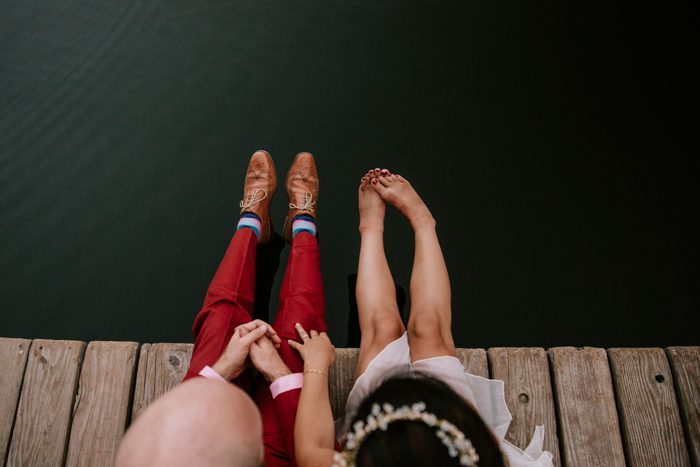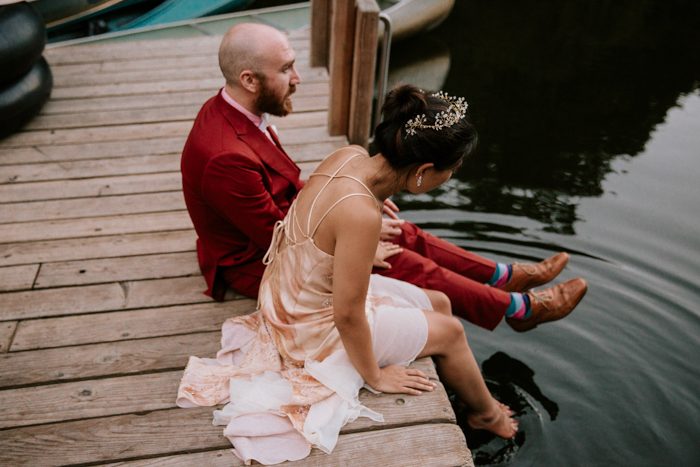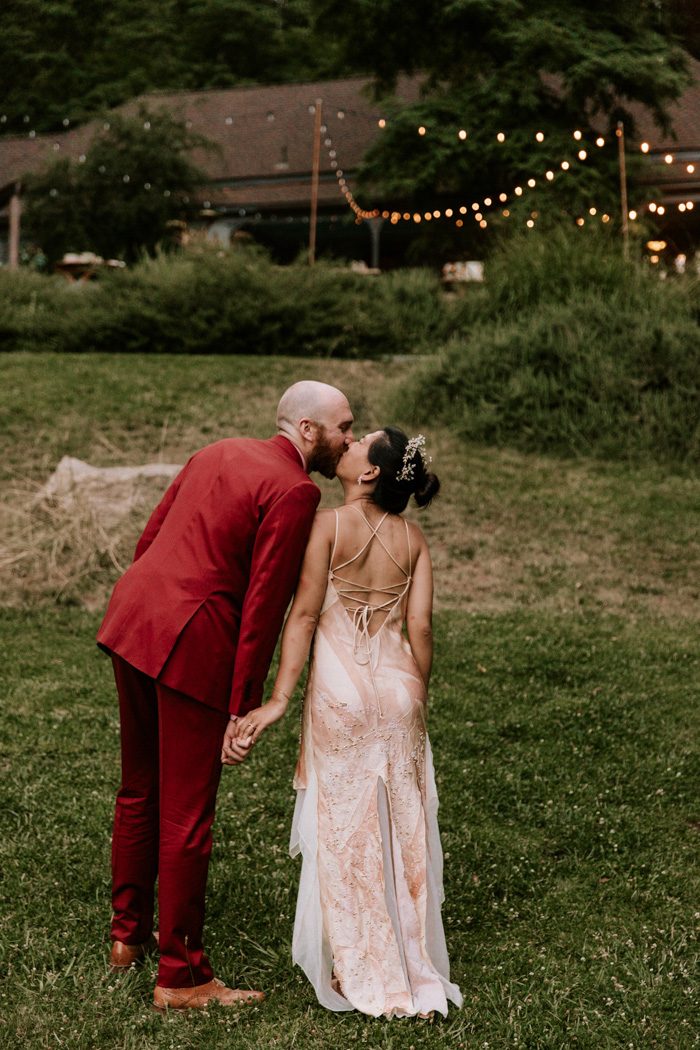 To save money, and also because our venue was basically a destination wedding, we ended up DIY-ing a lot. It was really a community affair. I hand-lettered all the favor labels, escort cards, and place cards. I made hot cocoa mix to go with campfire s'mores. Peter, his cousin DJ, and I pickled a bunch of vegetables, which we served for our Plowman's lunch platters. A couple day's before the wedding, I went flower shopping with our friend Lynn and then home we de-thorned and de-leaved a bunch of the flowers so they would stay alive and healthy for the wedding day. On the day of the wedding, a bunch of our guests came together to do the wedding flower arrangements. They were gorgeous and extra special because I felt the love that had gone into making them.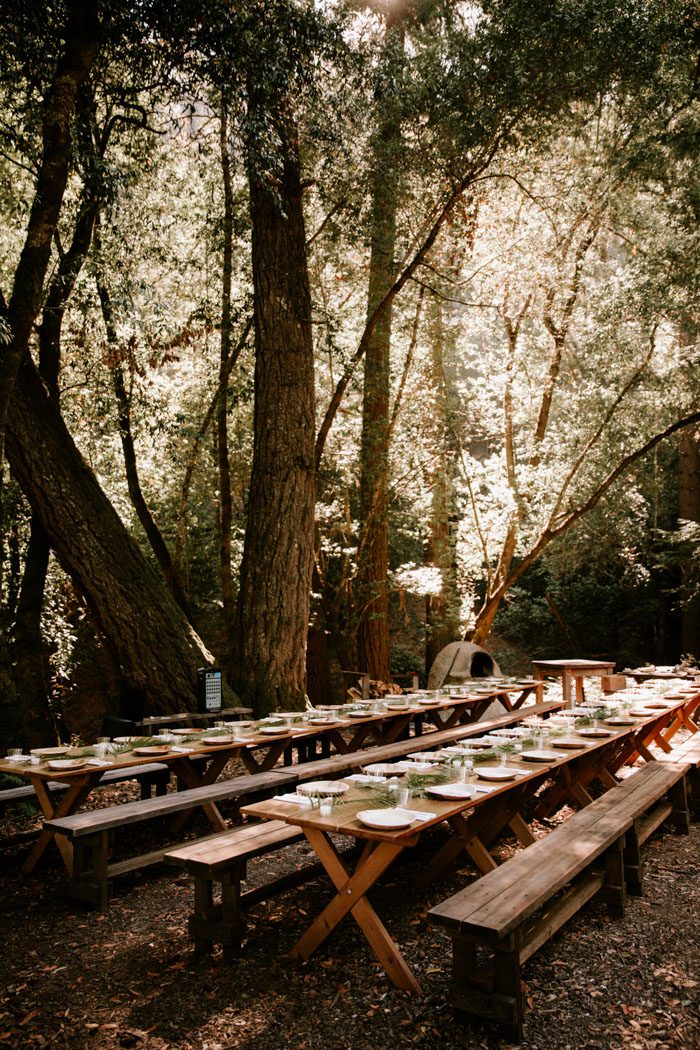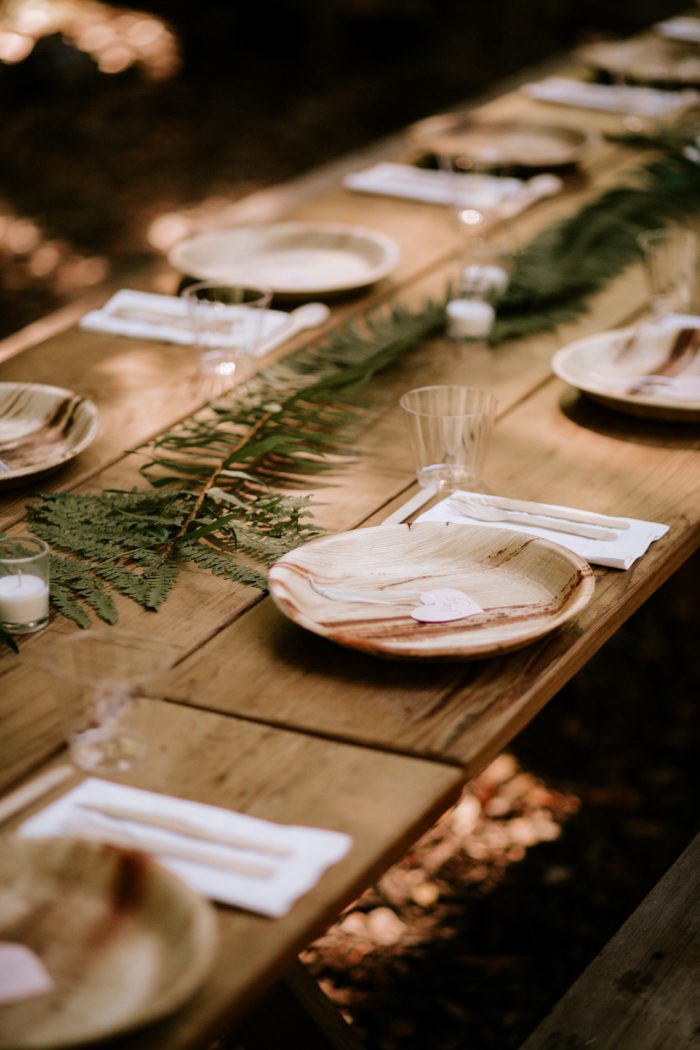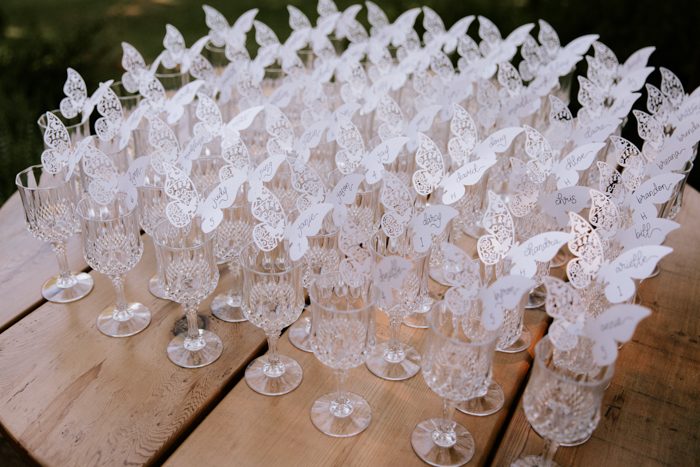 SHOP THIS LOOK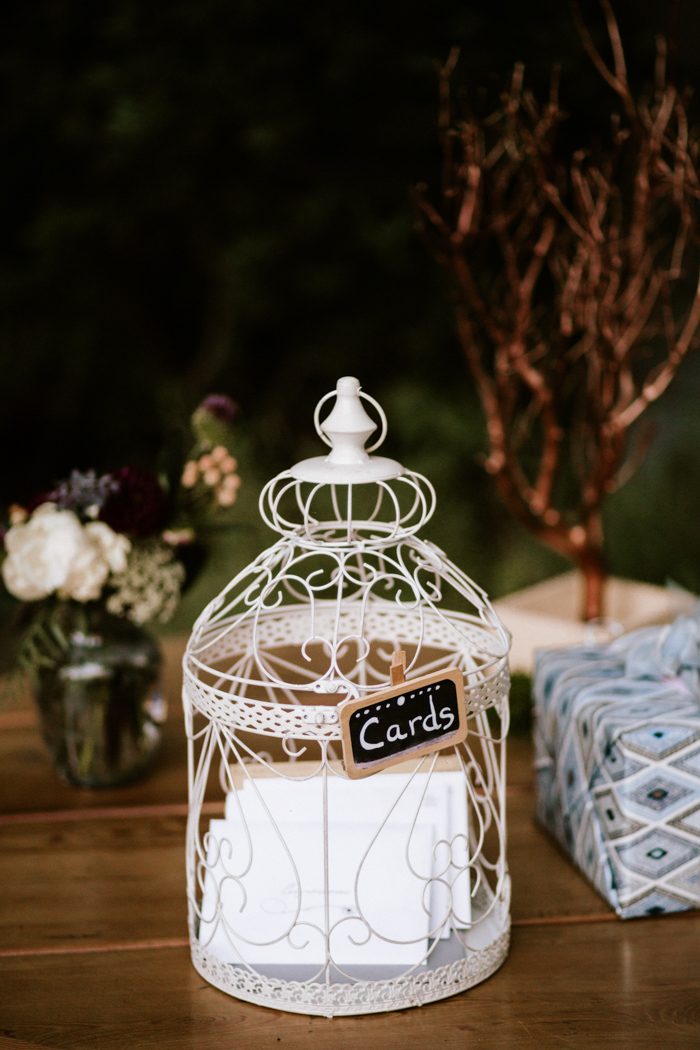 SHOP THIS LOOK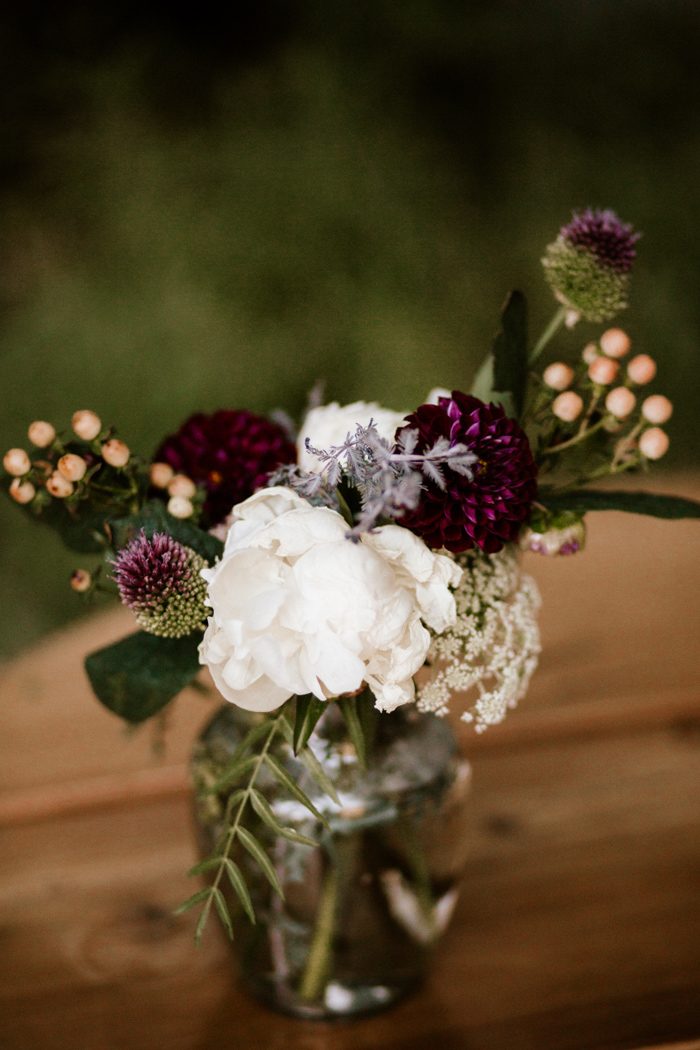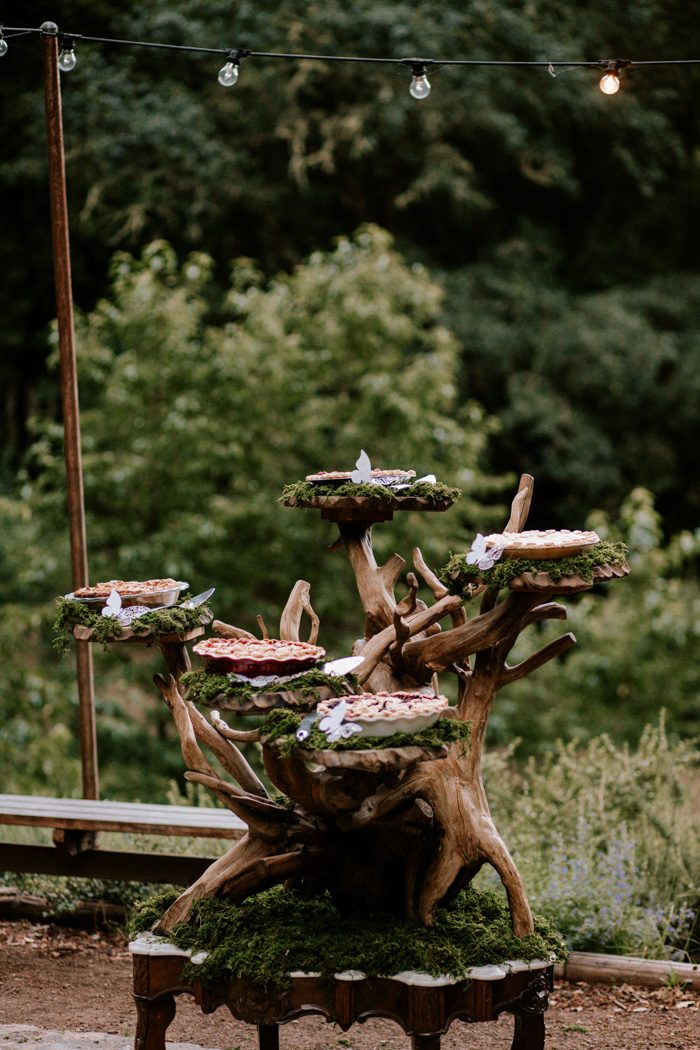 For dessert neither Peter nor I wanted cake. So we asked his aunts, who are the best bakers ever, to make us pies, and thankfully they said yes! We seriously had the best guests and could not have pulled off this wedding without them.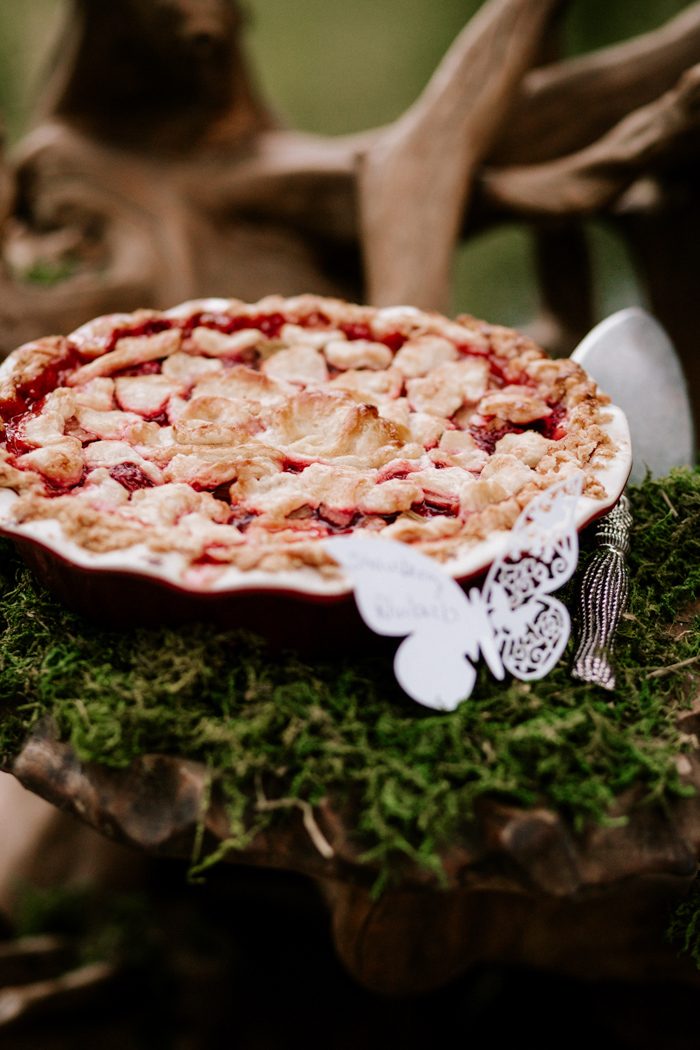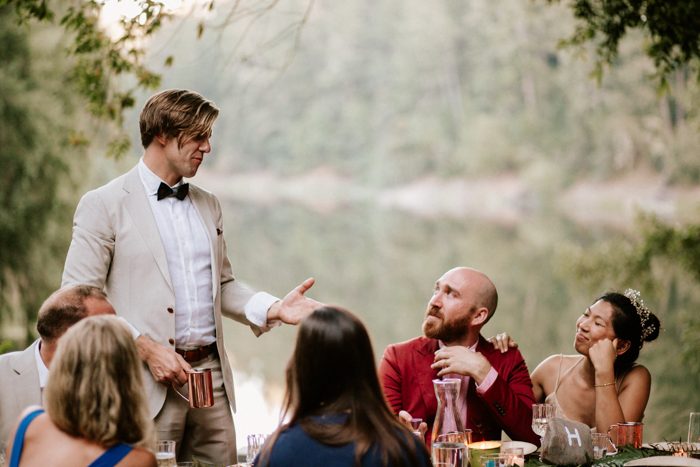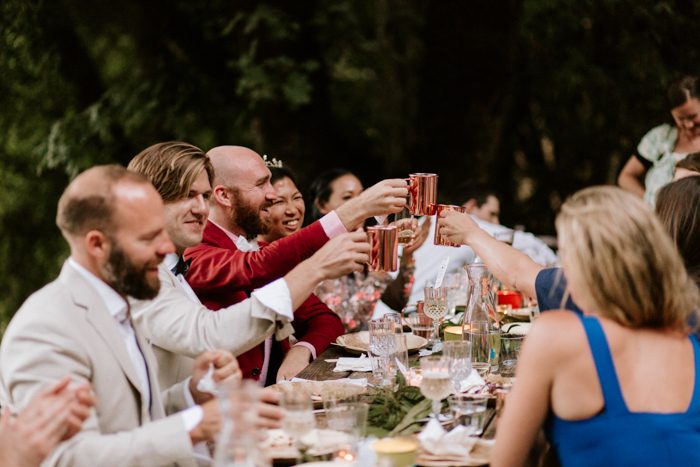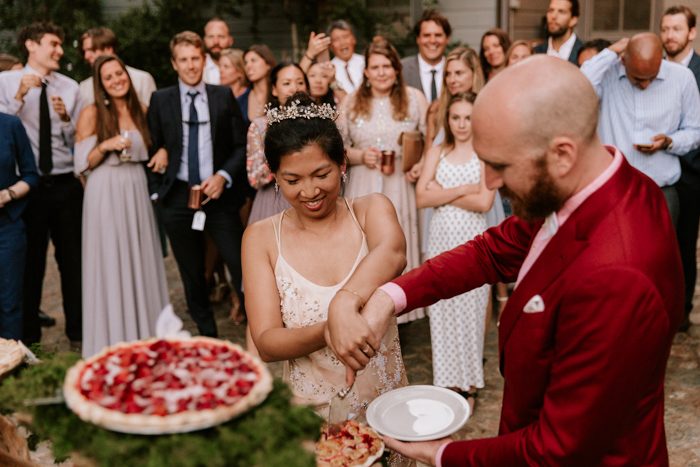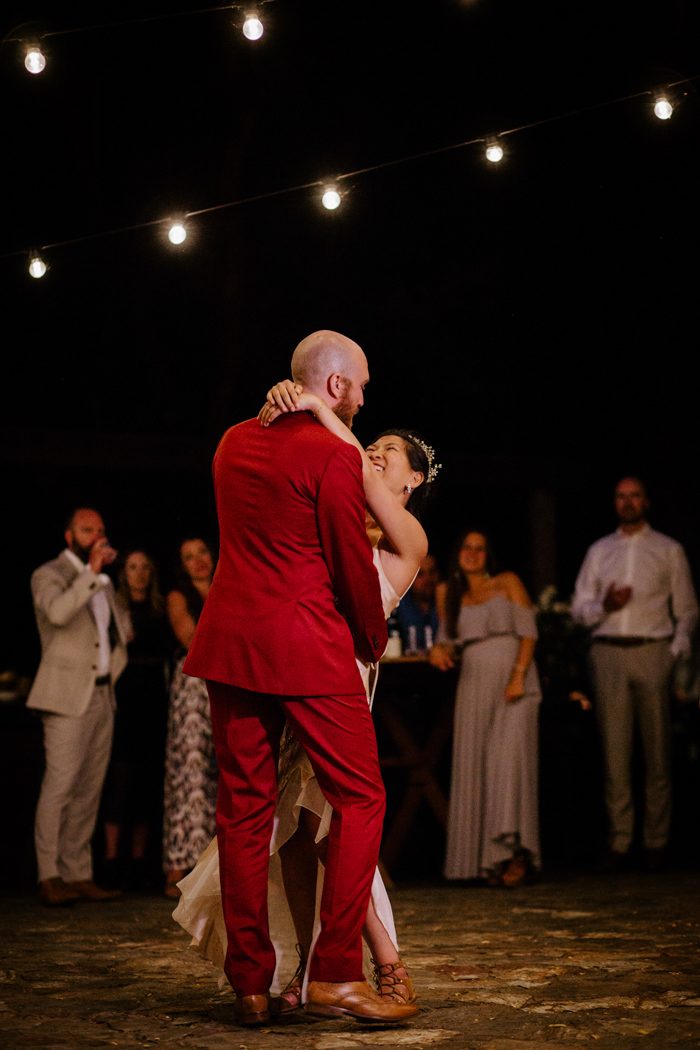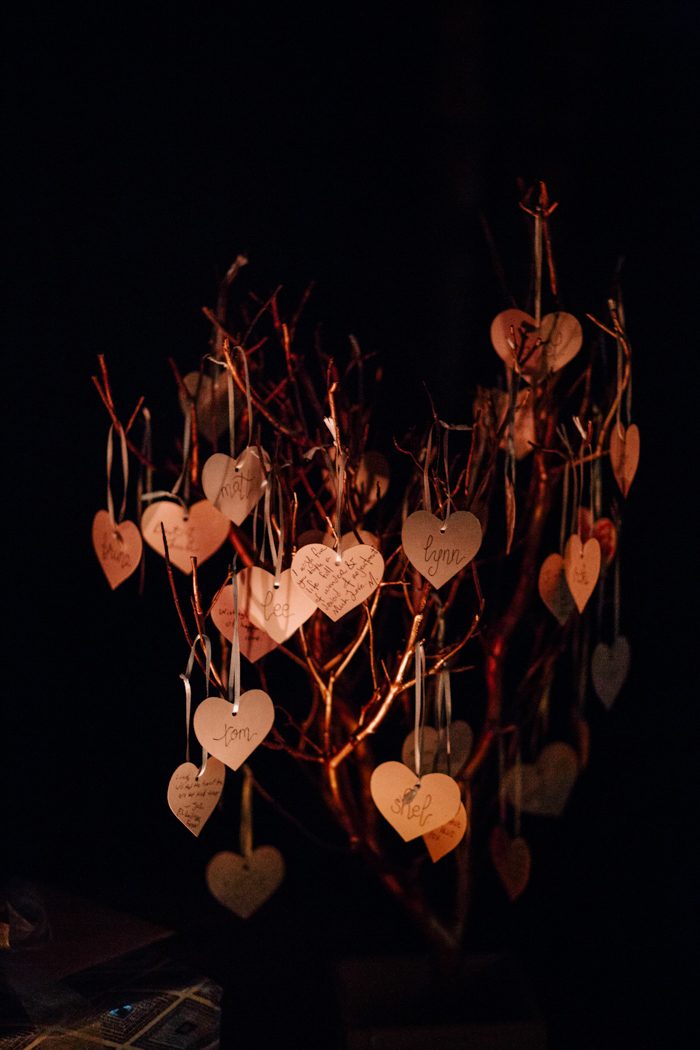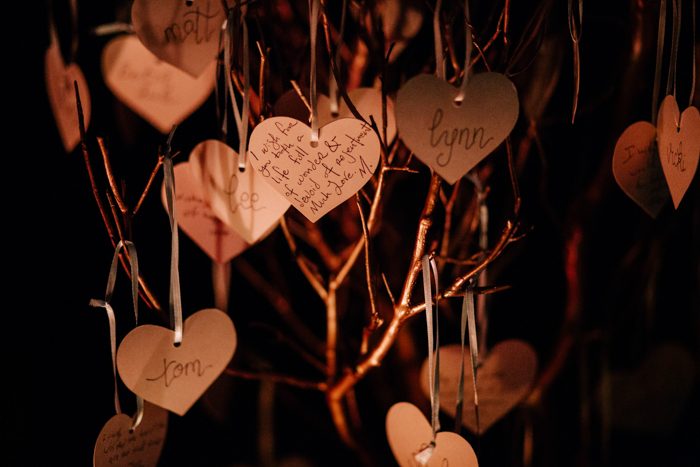 Congratulations to Jem and Peter, and a special thanks to Paige Nelson Photography for sharing this incredible forest wedding with Junebug! Love the whimsical details and looking for more inspiration? This whimsical Crete wedding transformed Agreco Farm into a Greek wonderland!