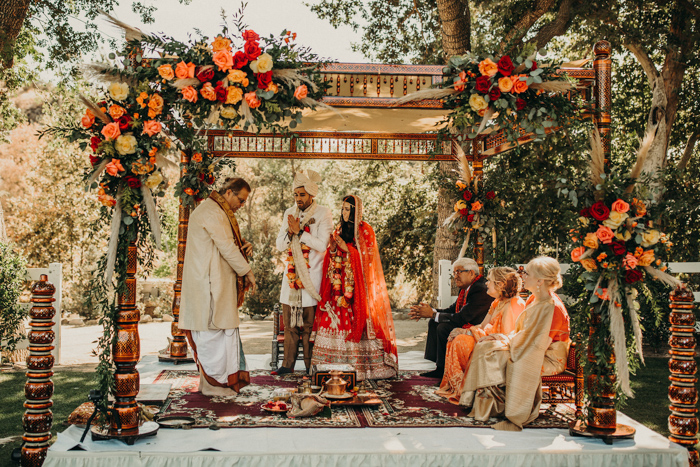 The warm days of summer might be gone, but we've got Grace and Rohan's gorgeous wedding at Brookview Ranch to bring some sunshine into our lives today! The creative couple planned a traditional Indian ceremony and backyard-inspired reception that celebrated their cultures and their love of the outdoors. The Southwestern style and color palette came through in every detail, most notably the captivating floral arrangements created by Flowers by Leah. While there were tons of traditional elements infused into this celebration — from the traditional ceremony that involved every member of their families to the traditional sweets they provided for their guests at the reception — the couple also focused on making the day look and feel like nothing we've seen before! From the sweetest first look reveal to their romantic golden hour portraits, this wedding was a California summer dream come true, and photographer Jenny Collen nailed it in capturing every single moment!
The Couple:
Grace and Rohan
The Wedding:
Brookview Ranch, Agoura Hills, CA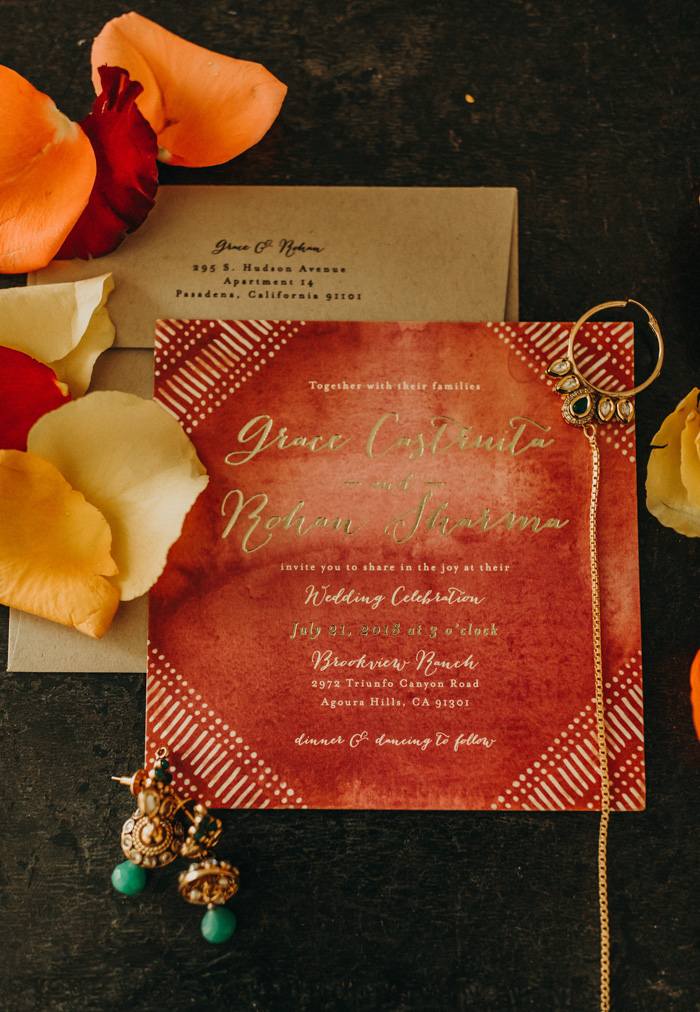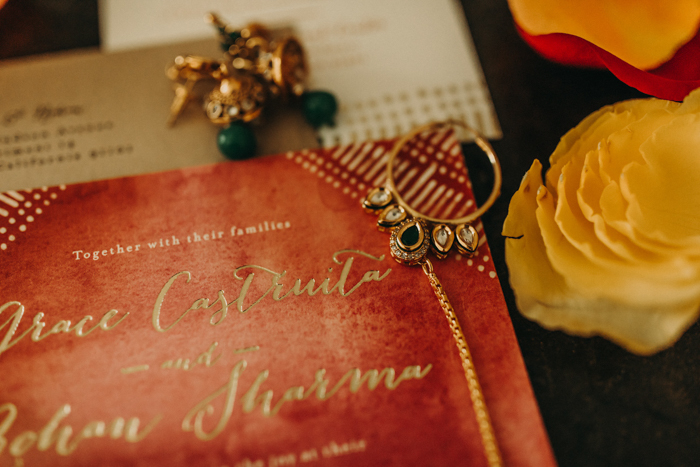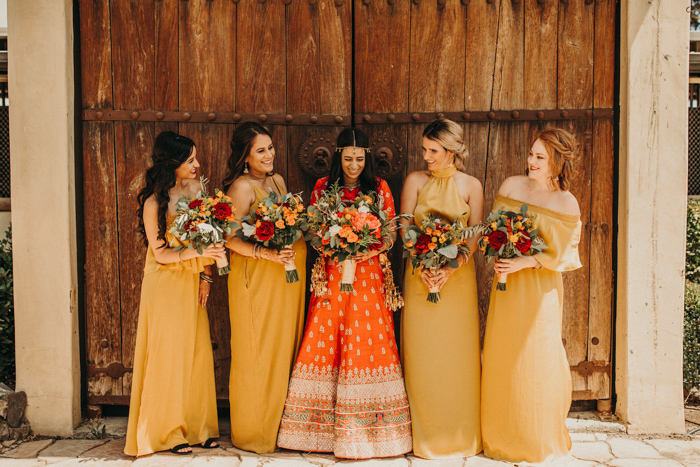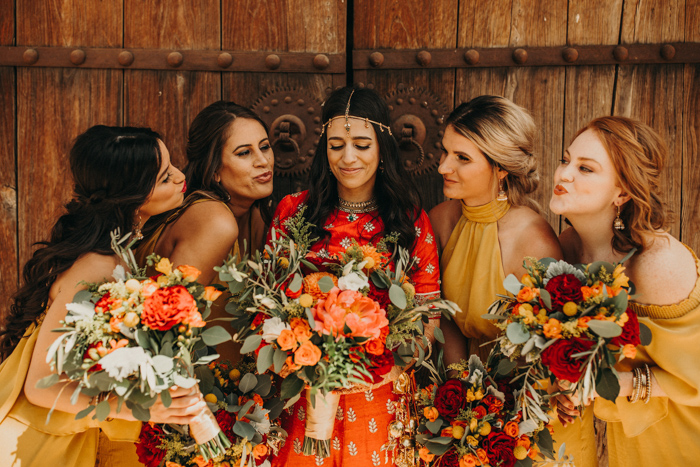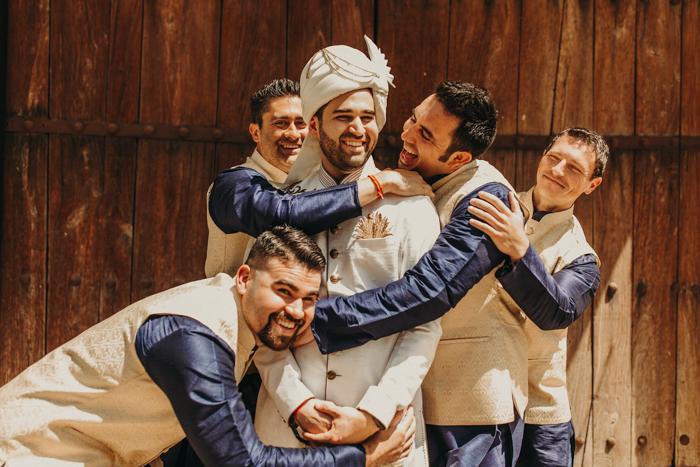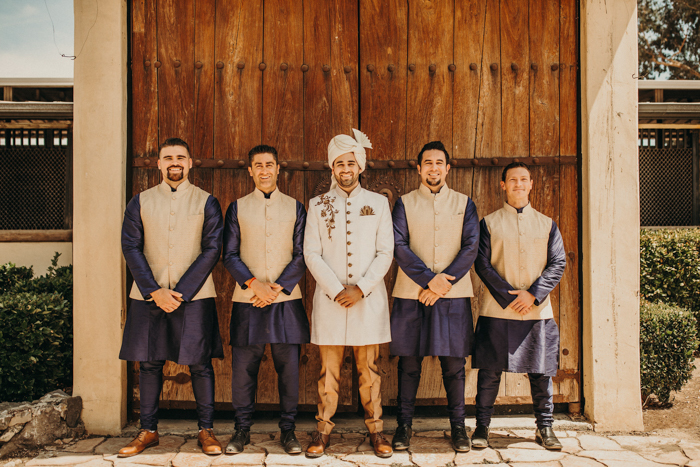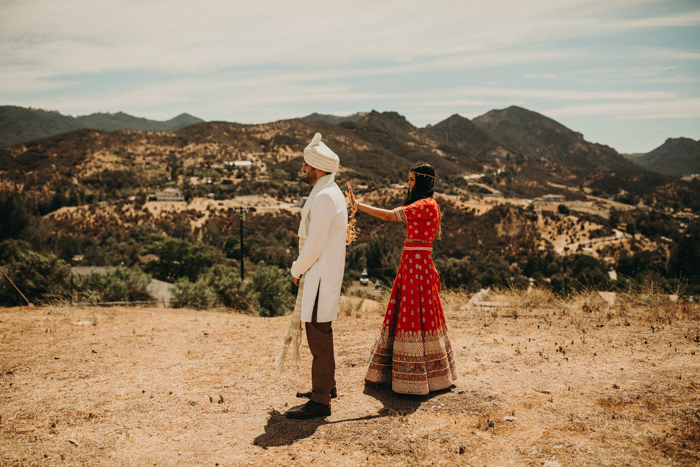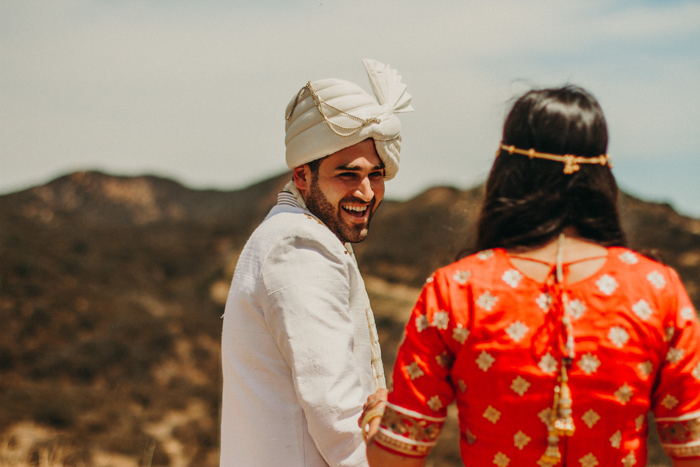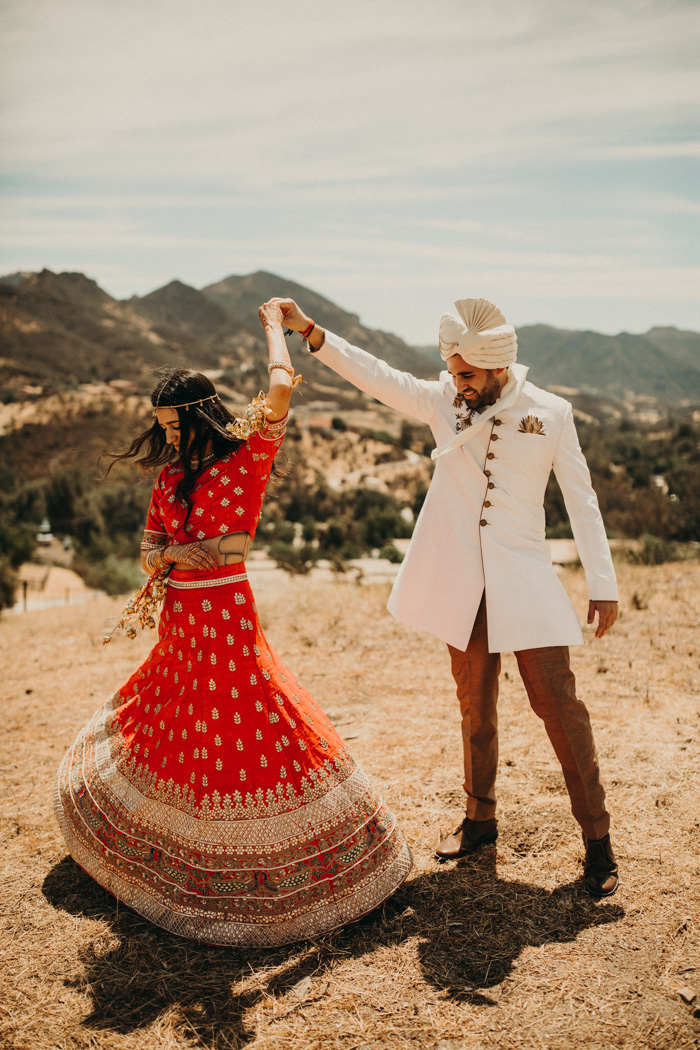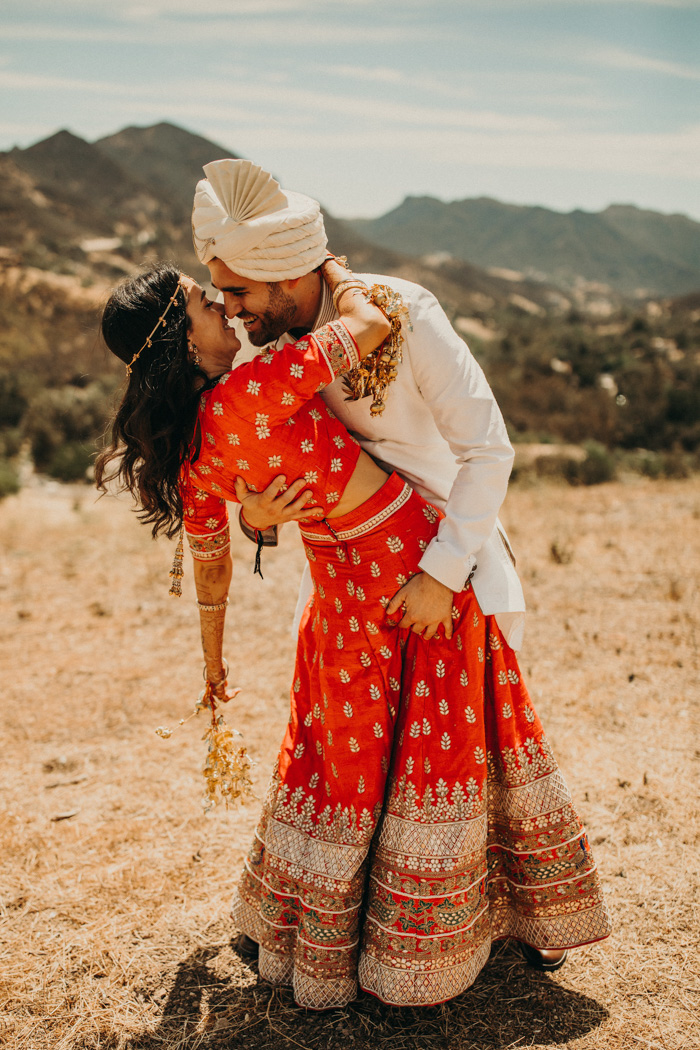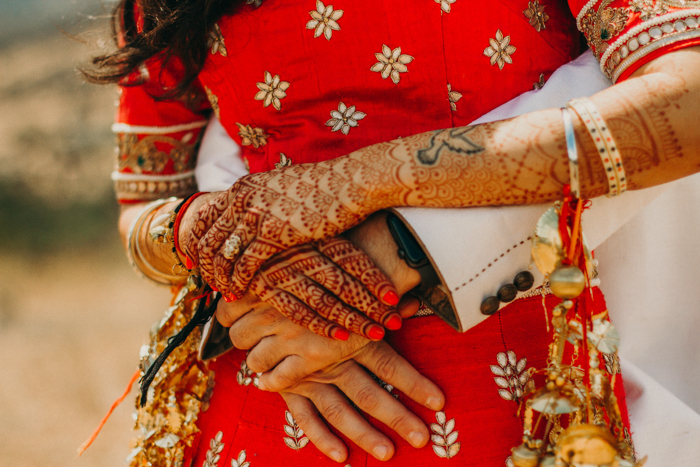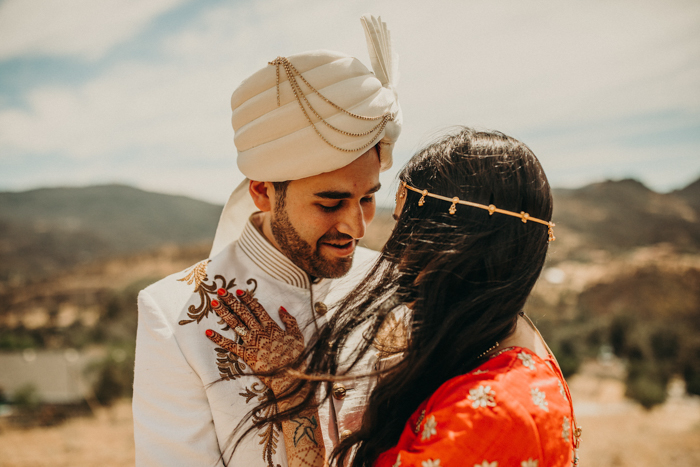 Our most memorable part of the day was definitely the ceremony. The day goes by so quickly but because the ceremony had so many parts, time seemed to slow down and we felt like we were able to take everything in. It was also really personal because it involved so many different family members.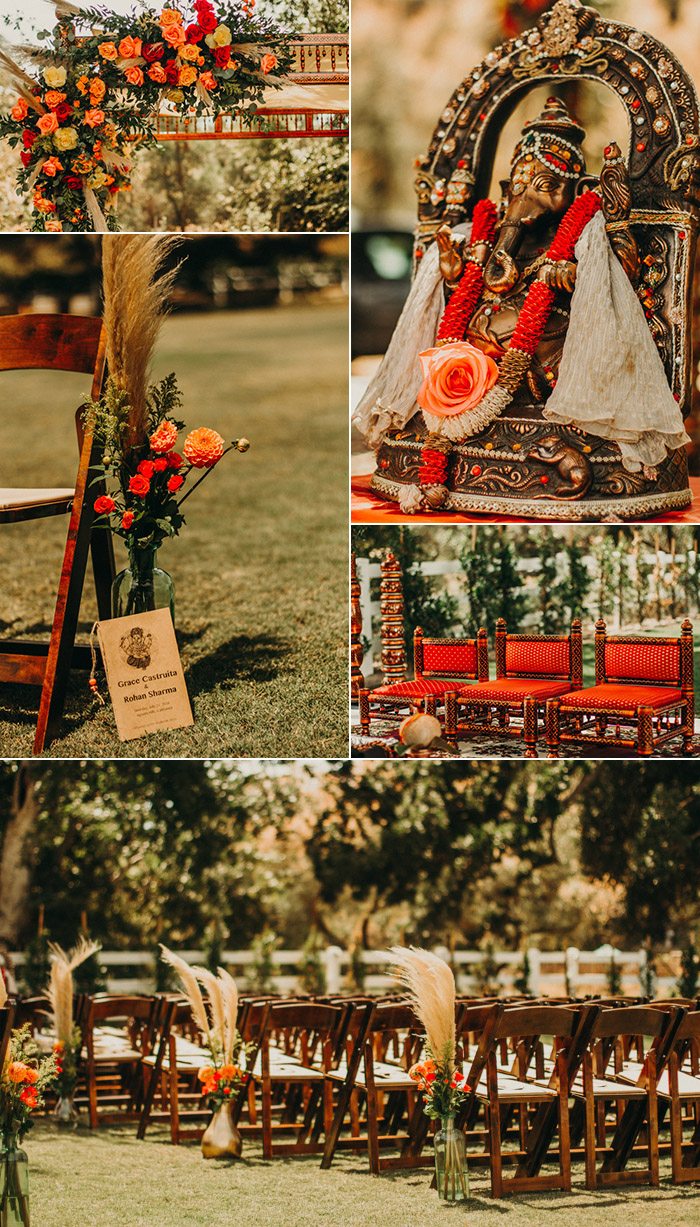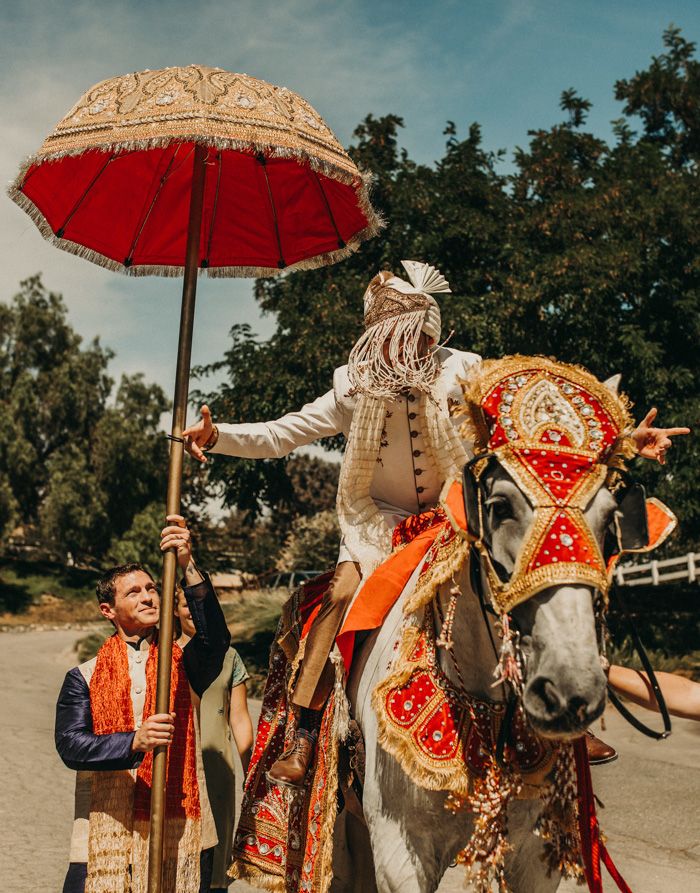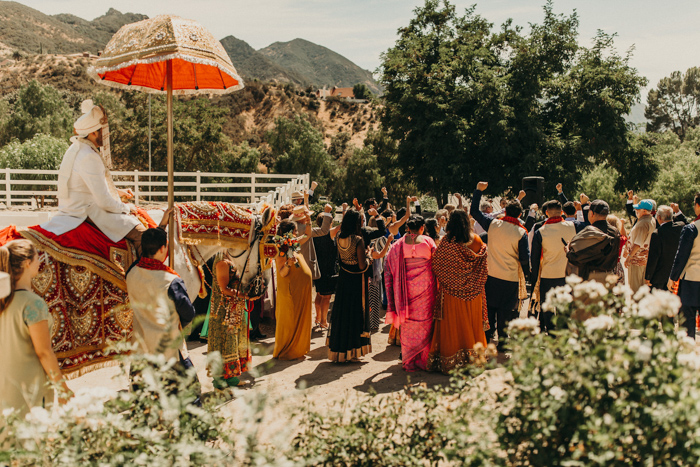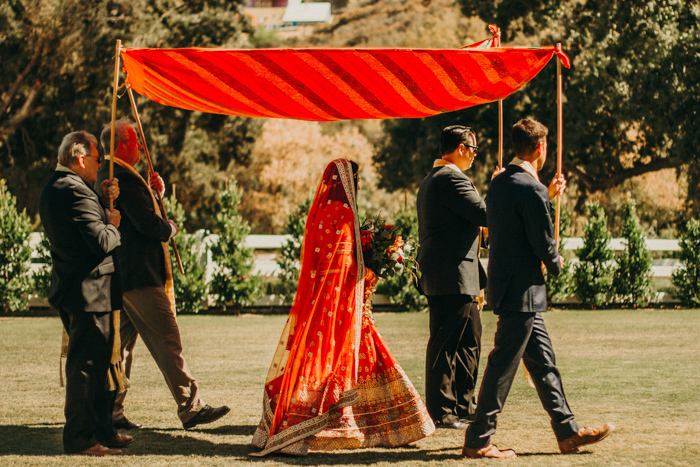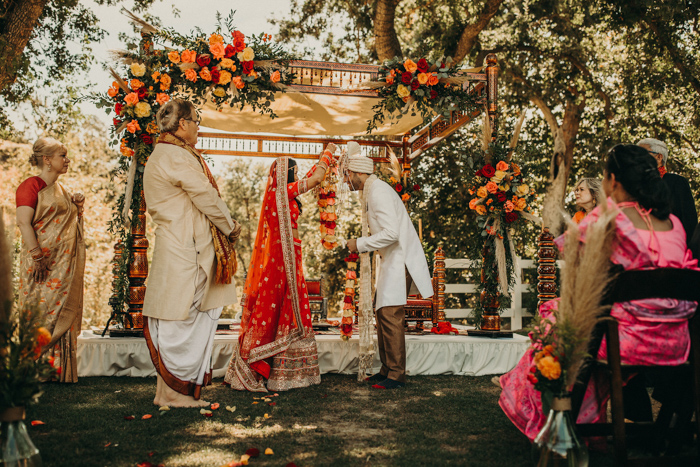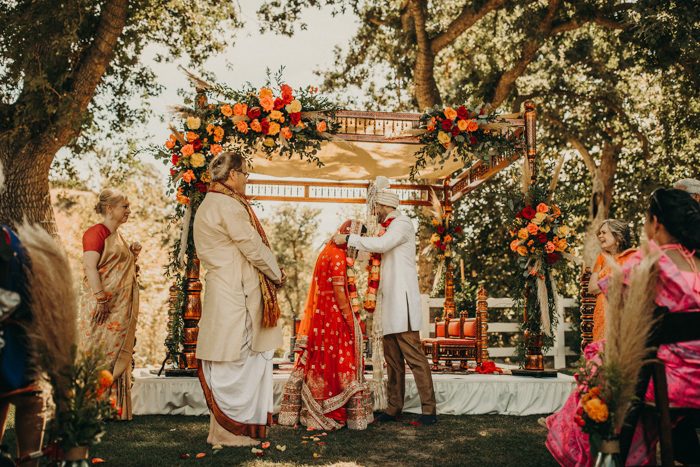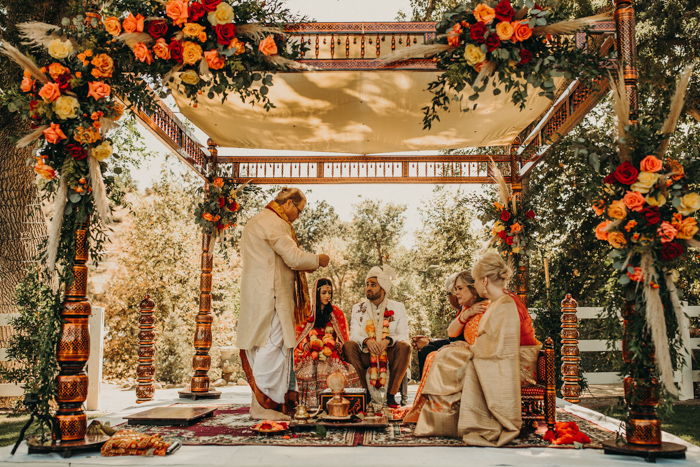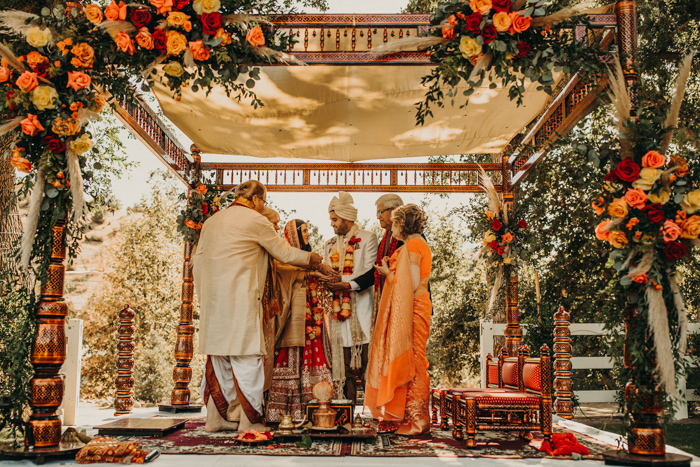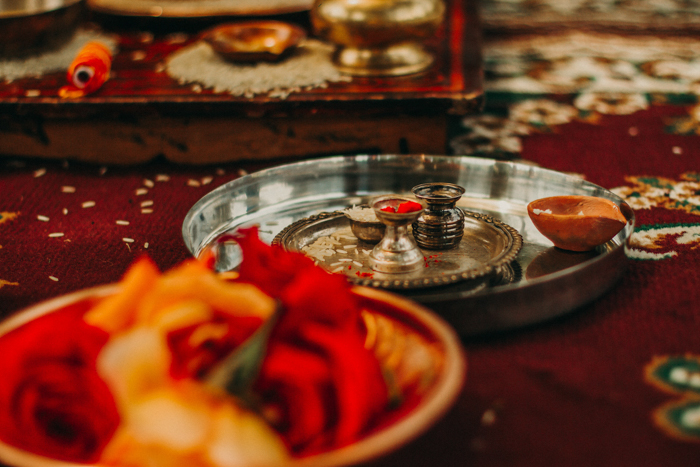 My brothers come up to help me give blessings and tug on the groom's ear as a warning to take care of their sister. Our parents literally tie the knot that bound us together. My brothers and uncles stood at each corner of the mandap to help the groom and I complete the circles around the fire. Our aunts came up to put sindoor (red powder) on me and give me marital advice. We also walked down to each elder family member in the crowd, touched their feet, and asked for blessings. It really felt like two families were joining together. Our officiant also made sure to explain everything and engage with the guests so that they knew the significance of each step.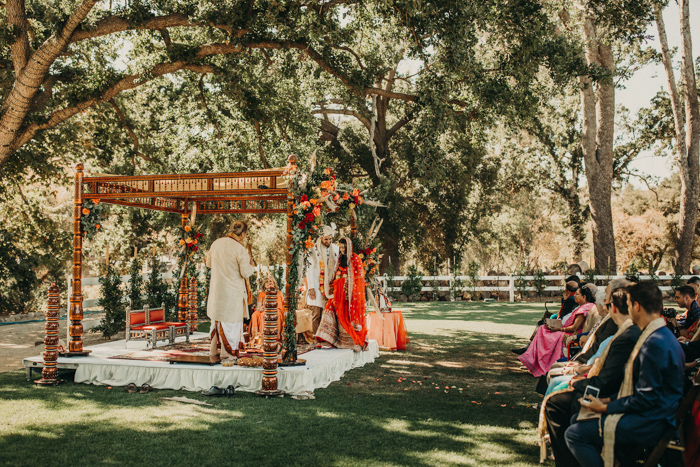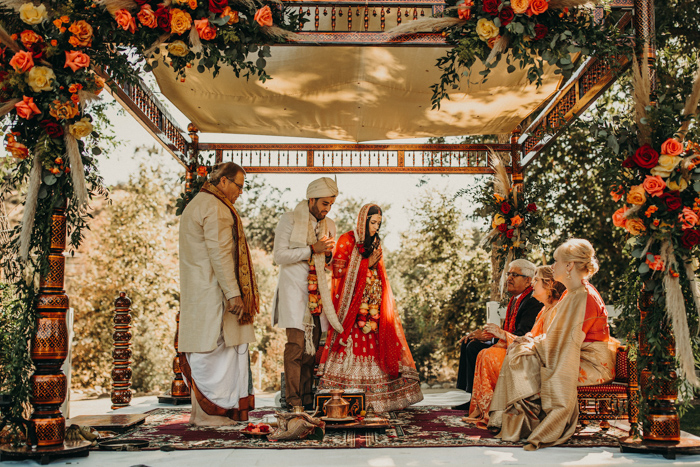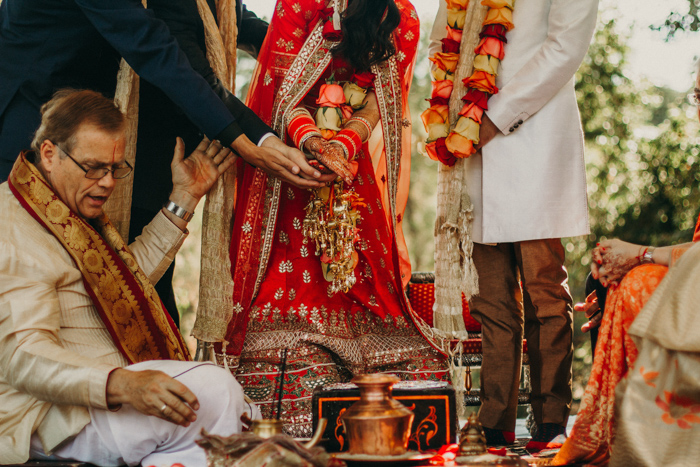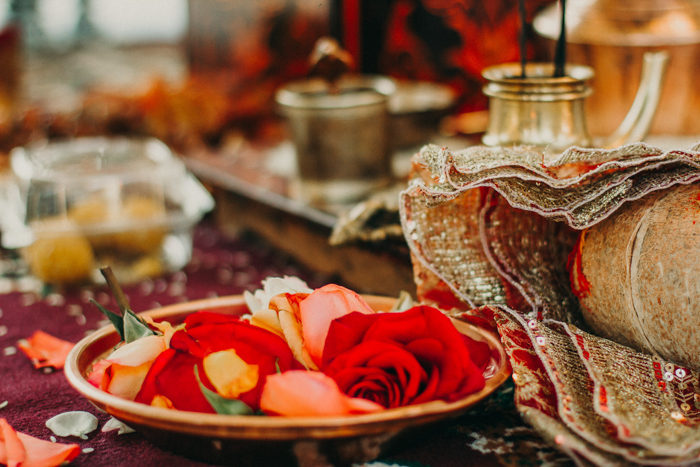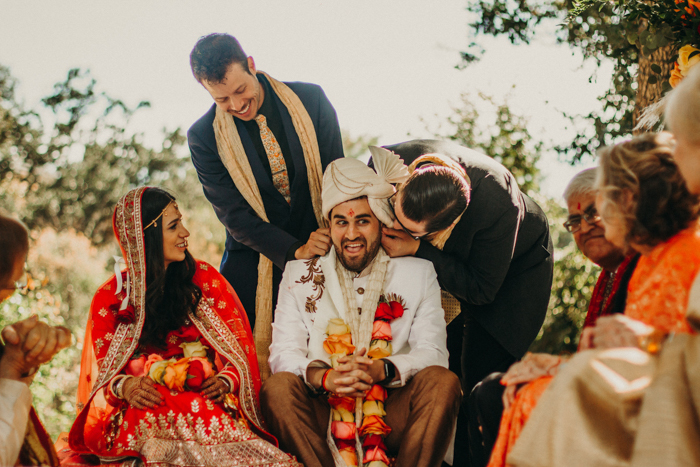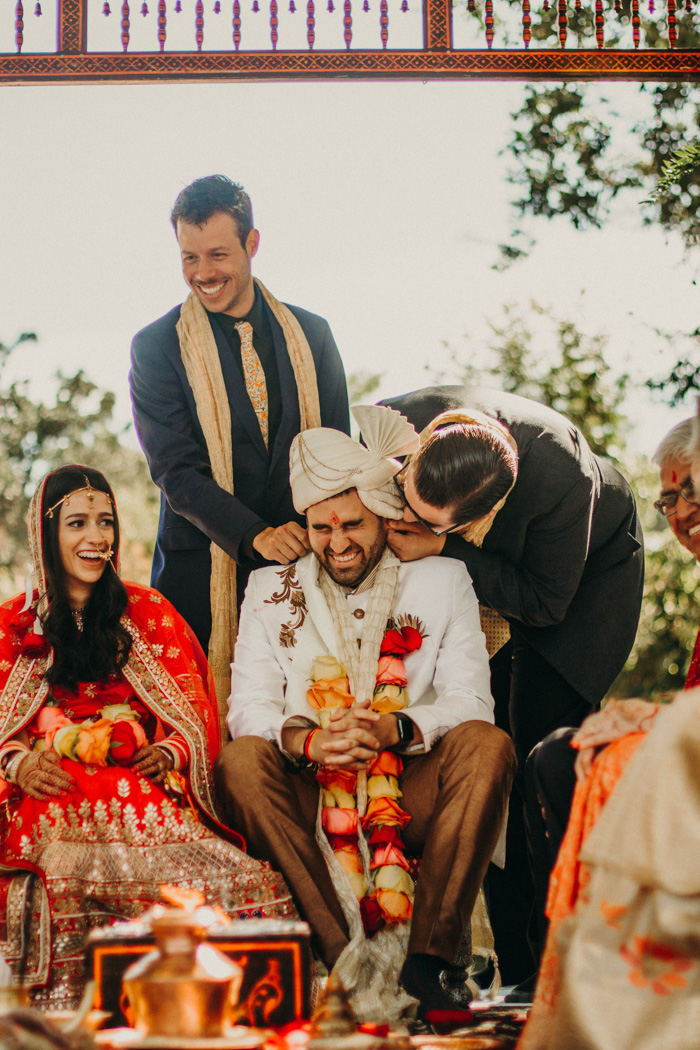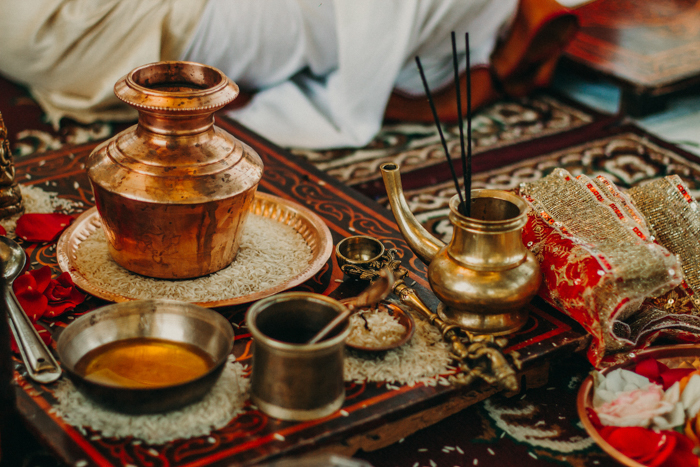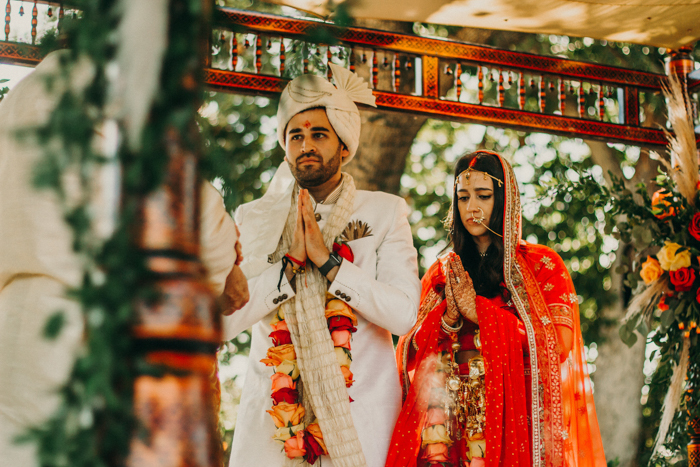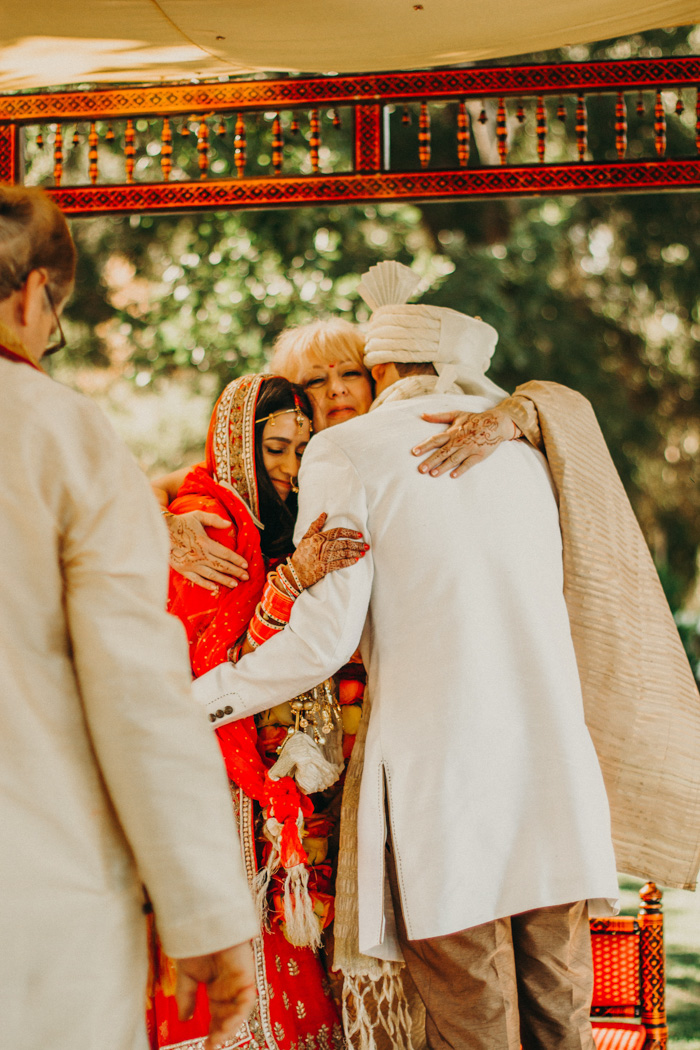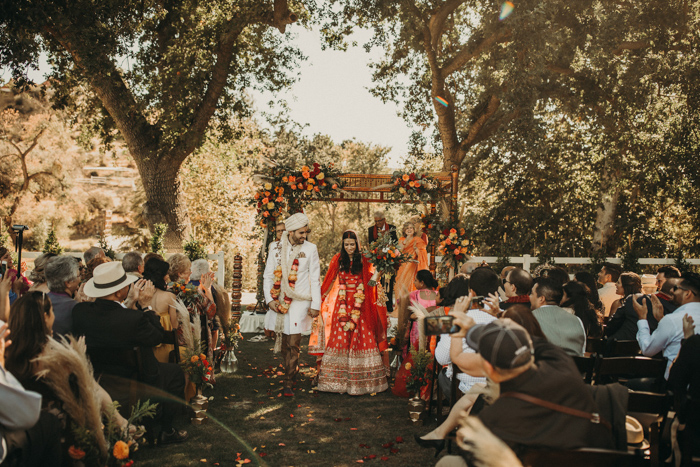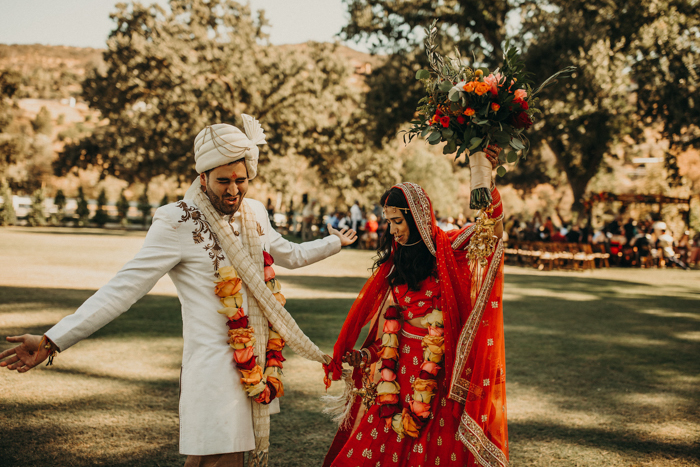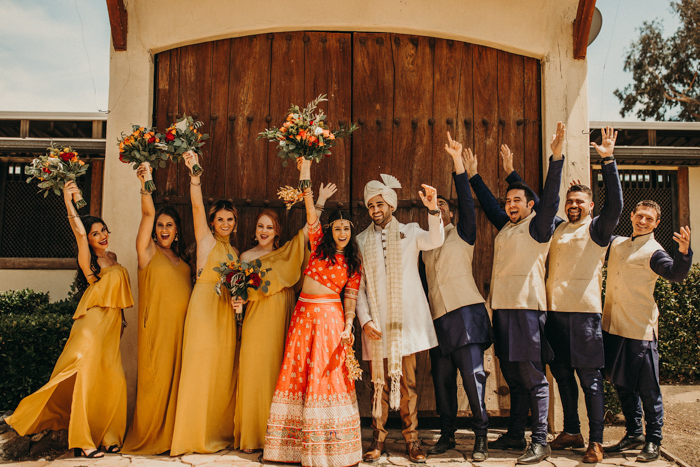 Our advice: don't feel trapped by all of the wedding norms and customs! Make sure the events reflect who you are as a couple. As you're planning, it will begin to feel like the wedding is for everyone else and not you two, so I highly recommend setting aside moments for just the two of you during the day. For us, those moments were the first look and the golden hour photos. These were before and after the ceremony, so it really gave us the time to breathe, get away from everyone, and just be together.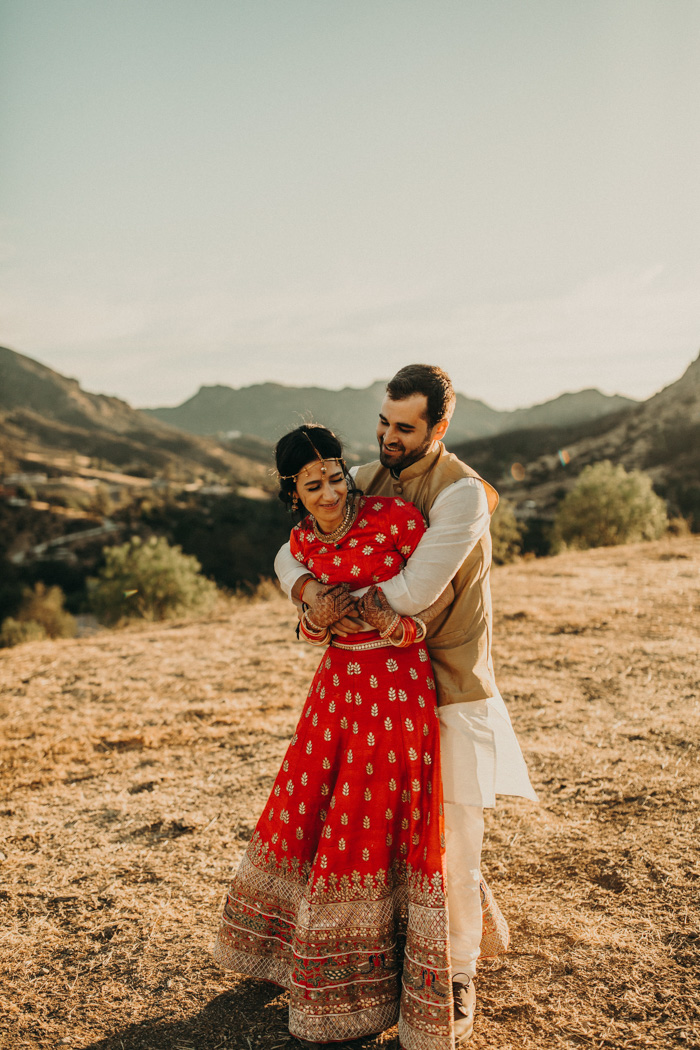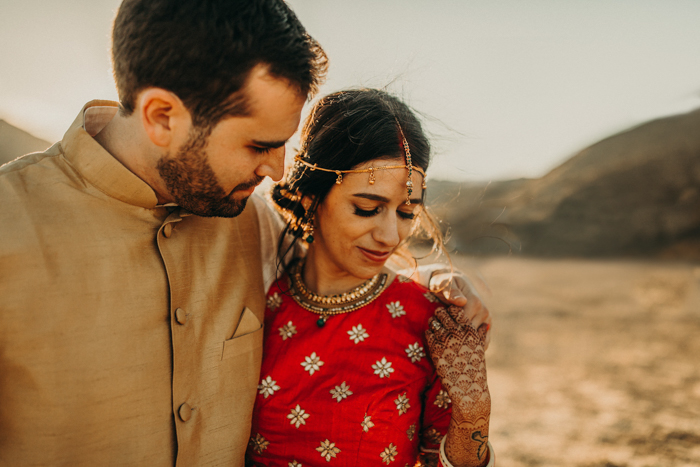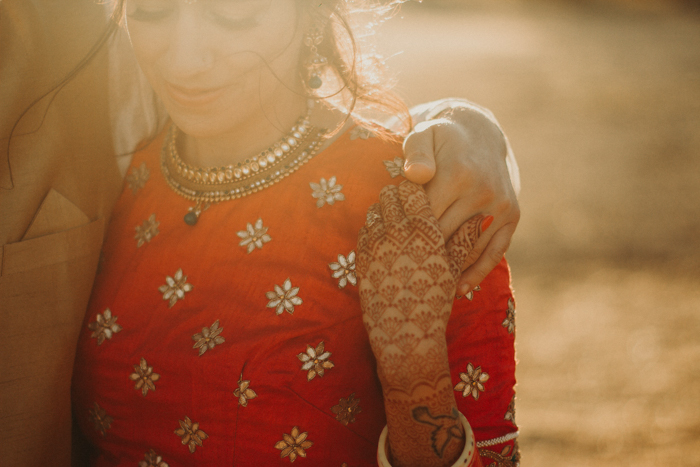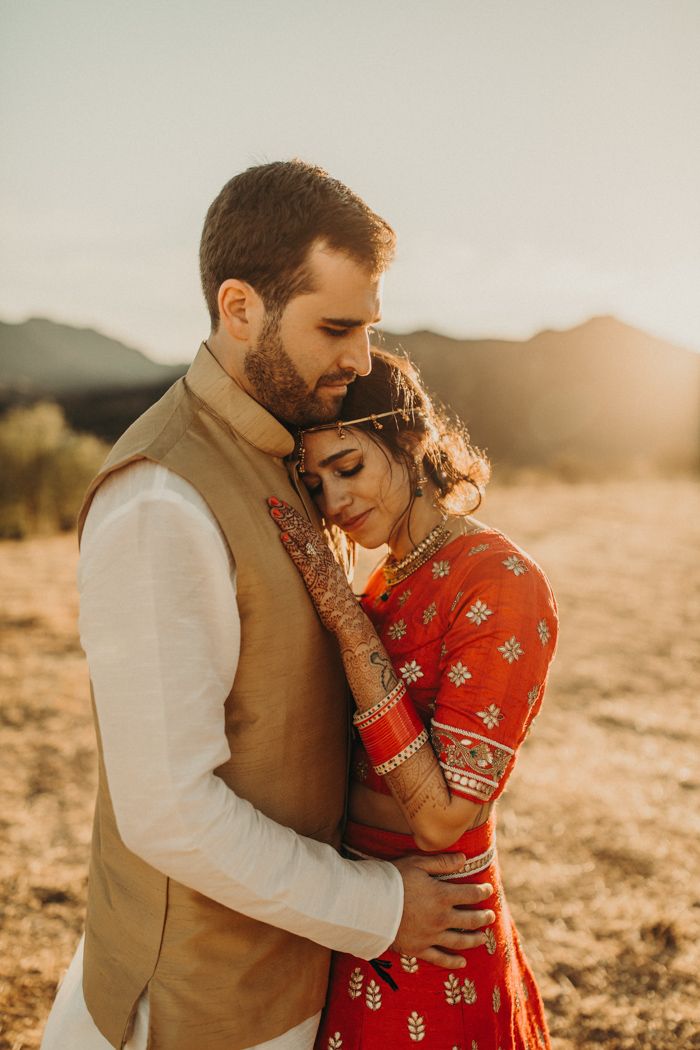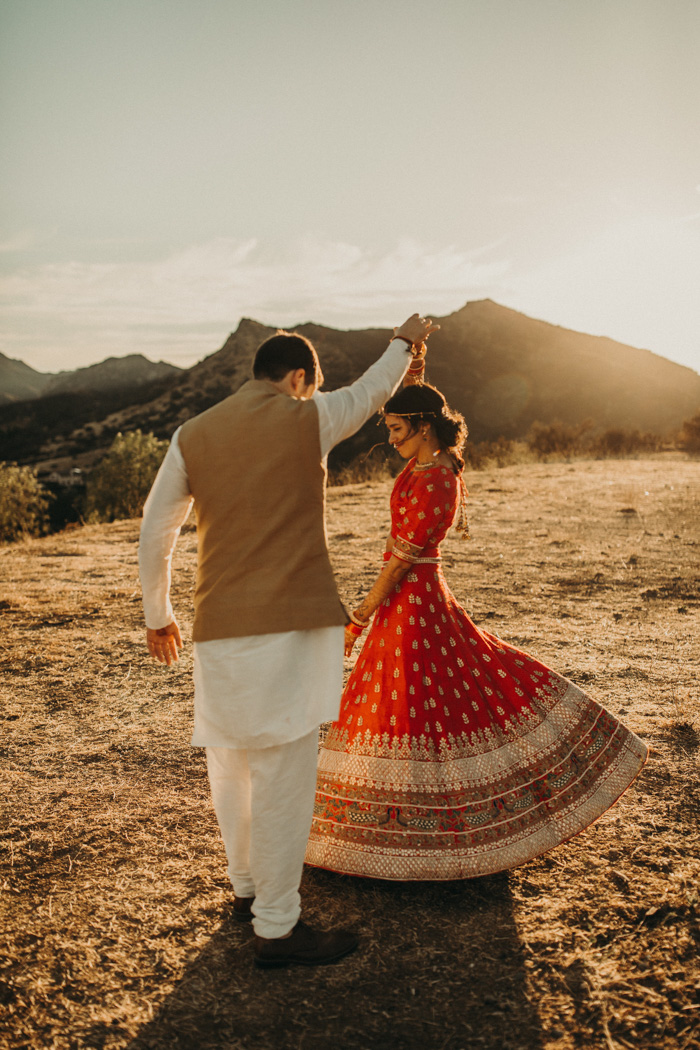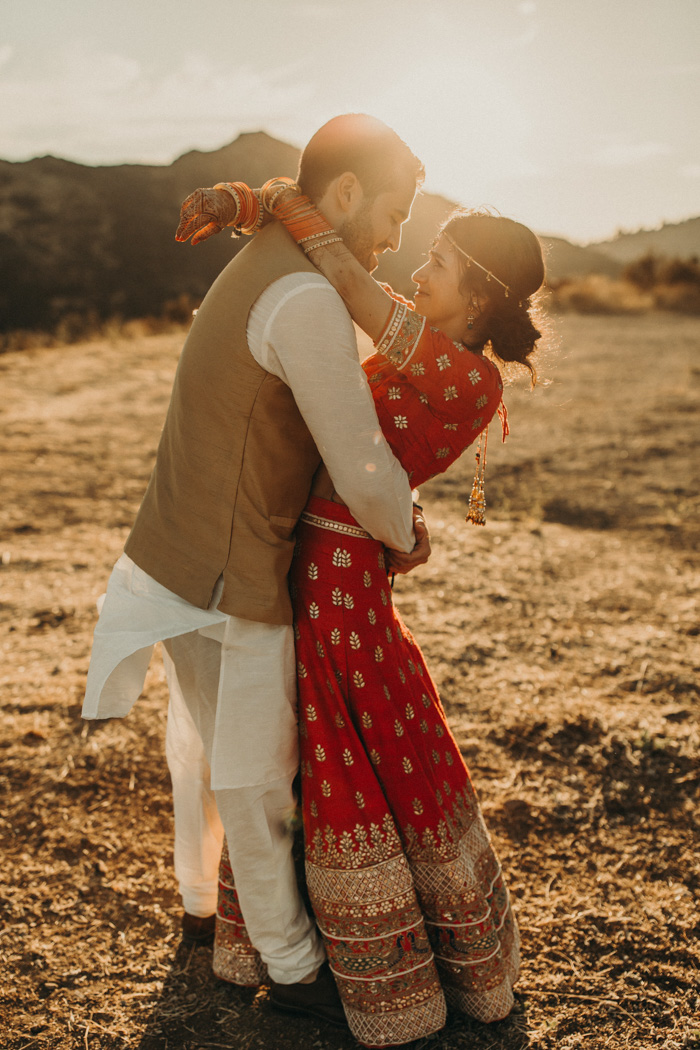 I wanted the vibe for our wedding to really celebrate summer. I love being outside but not in an outdoorsy, camping kind of way — more like if we go to a restaurant, I always ask to sit outside and my ideal hangout situation is someone's backyard/outdoor space and a glass of wine. There's just something about sitting outside with friends as the sun goes down. It might sound cheesy or nostalgic, and perhaps it comes from growing up in the suburbs, but I wanted to capture that feeling of being a kid and realizing you can be outside longer because the sun doesn't set until 8 and school is out — those evenings when it's still warm after the sun sets.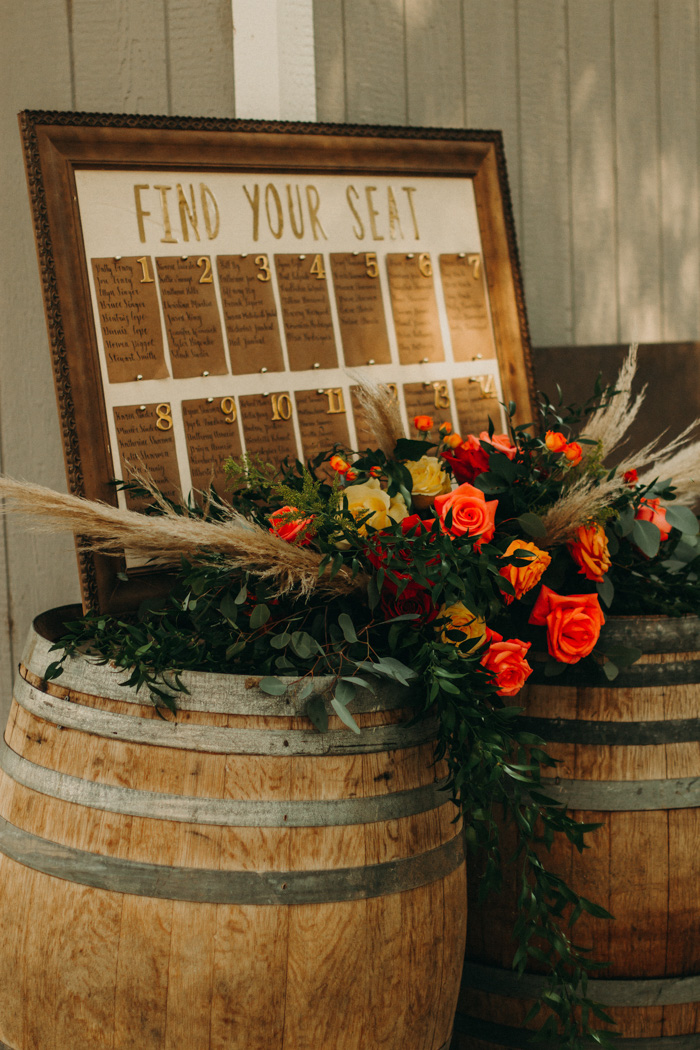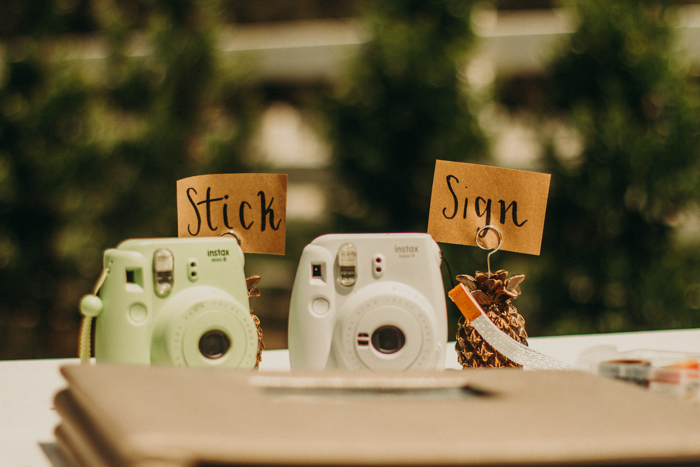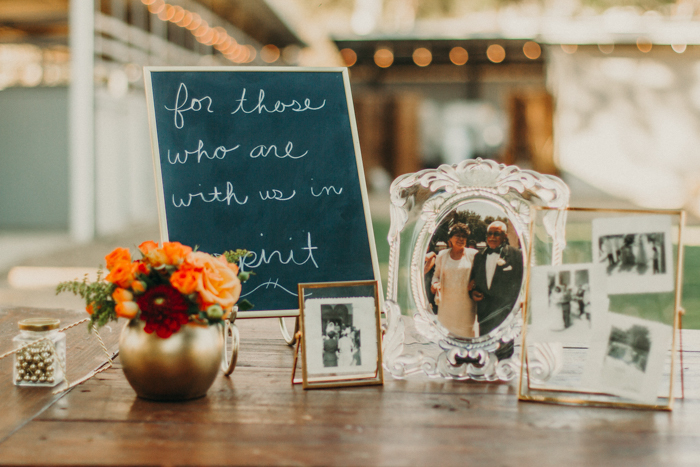 Basically, the vibe was really dependent on finding an outdoor venue that felt welcoming and had more of a backyard feel than a wedding venue. This casual vibe was difficult because Indian weddings are typically very elaborate and extravagant. But that's just not us, so we tried to draw inspiration from our trip to India the year before, where it felt like more happens outside than inside and vibrant colors fill the streets. Overall, we celebrated summer with bold bright colors and having both the ceremony and reception outside, which might seem crazy for a July wedding in So Cal, but we got the Malibu Canyon breeze and it all felt perfect.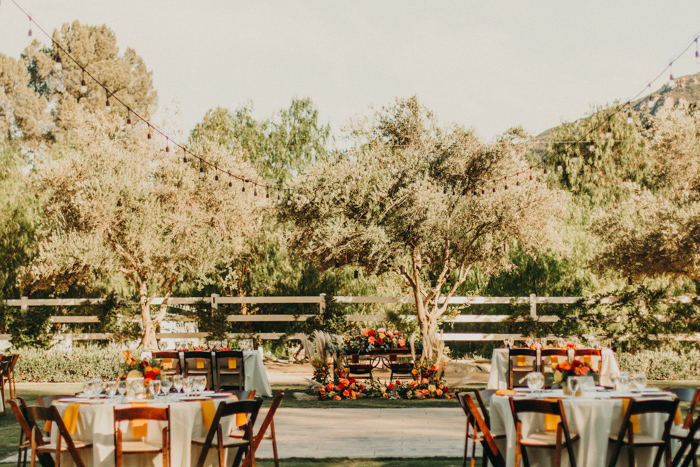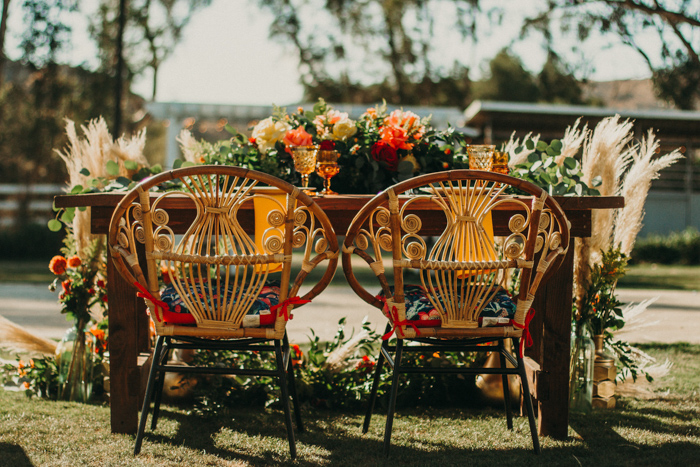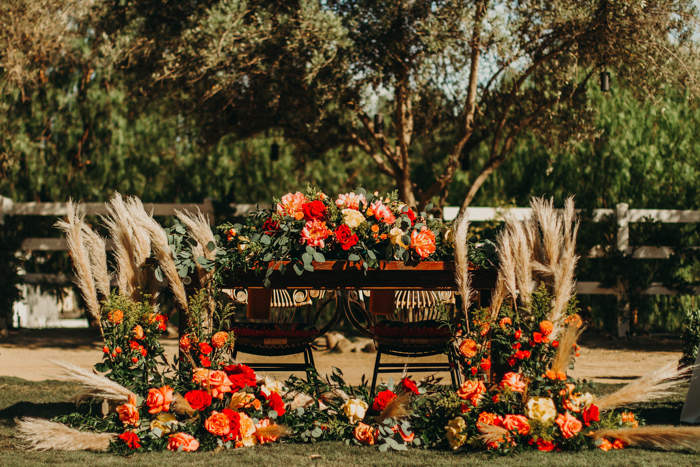 We opted out of the traditional wedding cake and cake cutting. I'm not a huge fan of cake (not to mention the cost), so we chose to have desserts that represented our mixed cultural backgrounds. We had an assortment of pan dulce (Mexican bread), brownies, mini cupcakes, and Kheer (Indian rice pudding). Our wedding favors were also small boxes of barfi, another Indian sweet. We also didn't feel the need to have a cake-cutting because part of the wedding ceremony involves the bride and groom feeding each other sweets, traditionally a laddu which is what we opted for. It felt redundant to make everyone watch us feed each other again and it was an easy way to cut costs.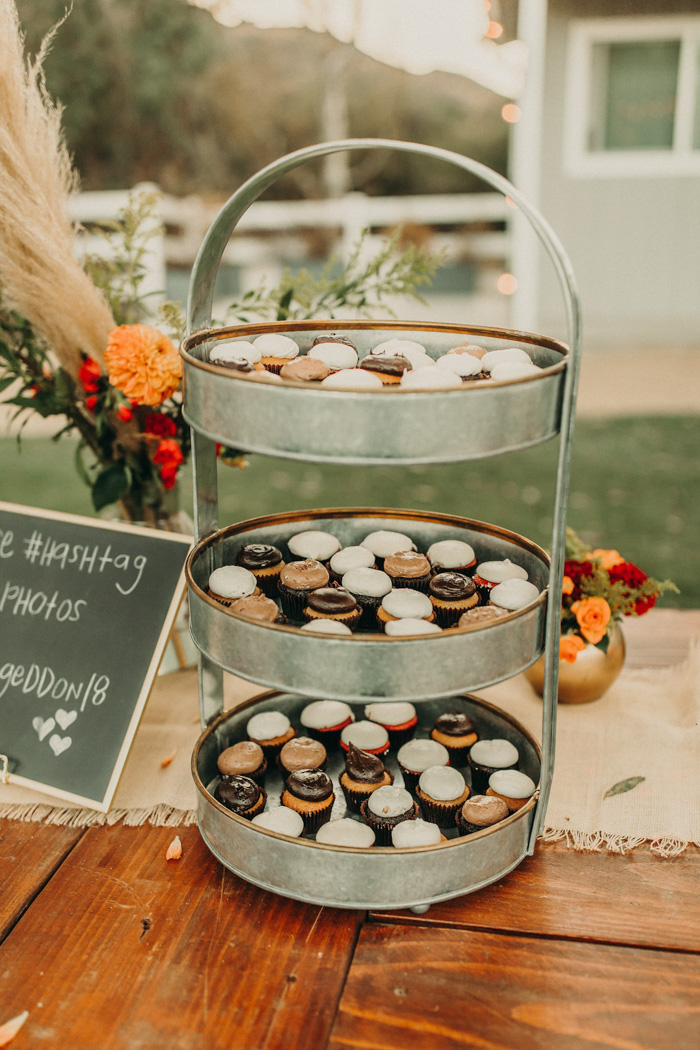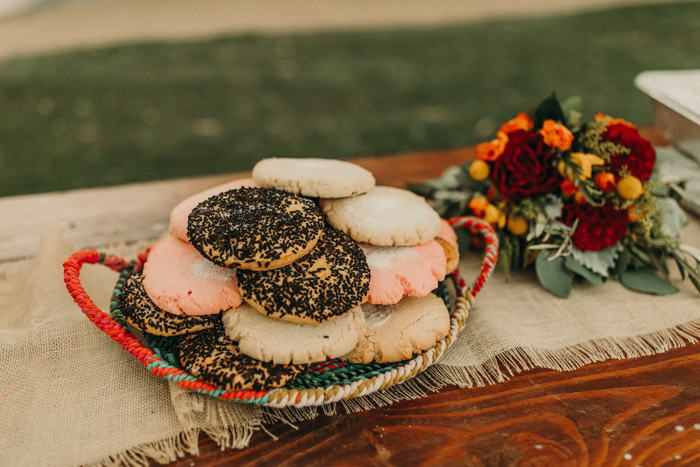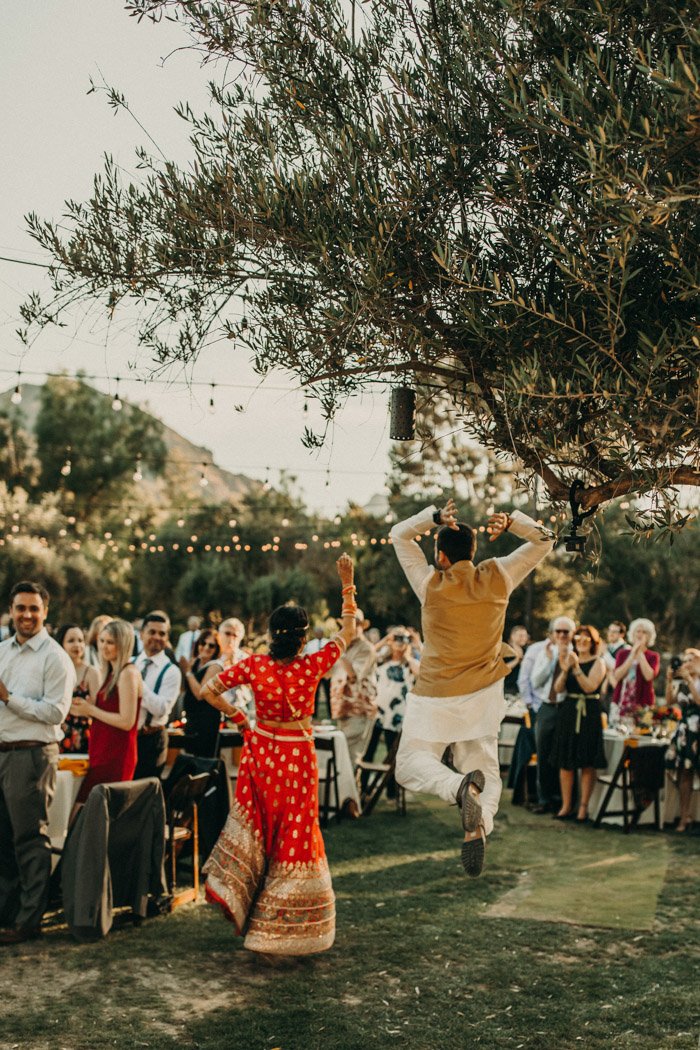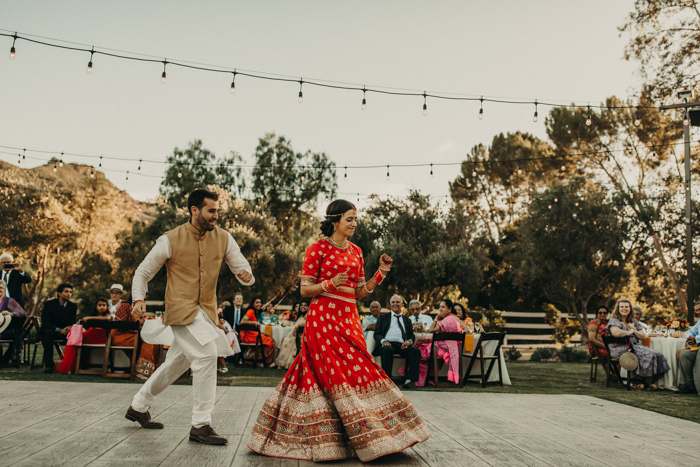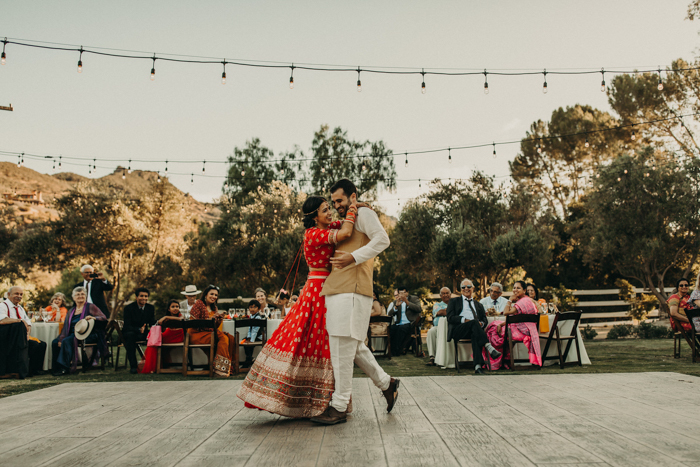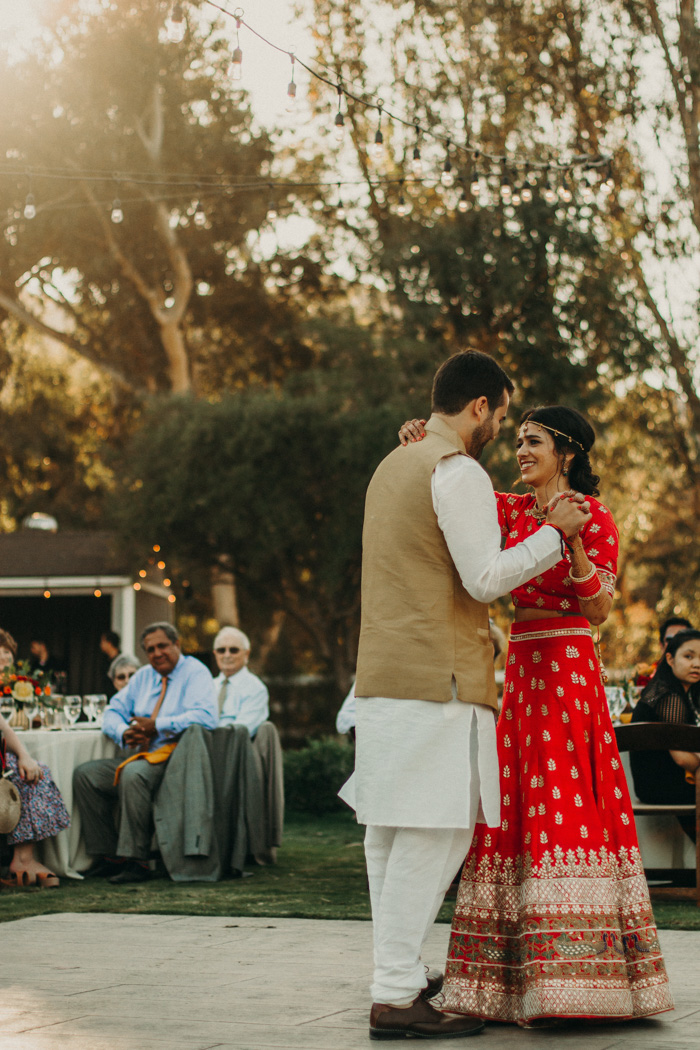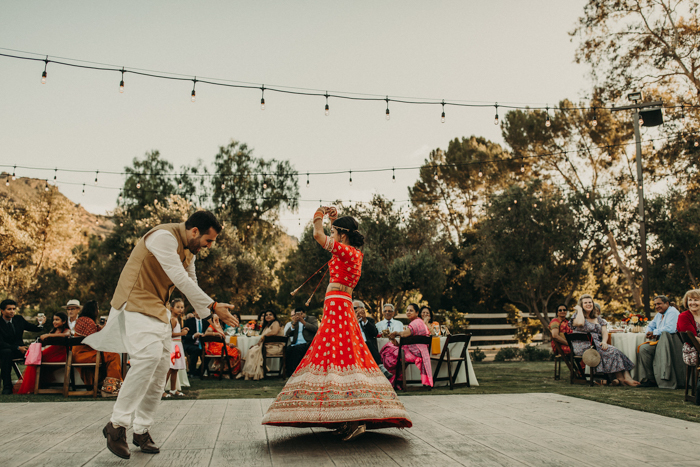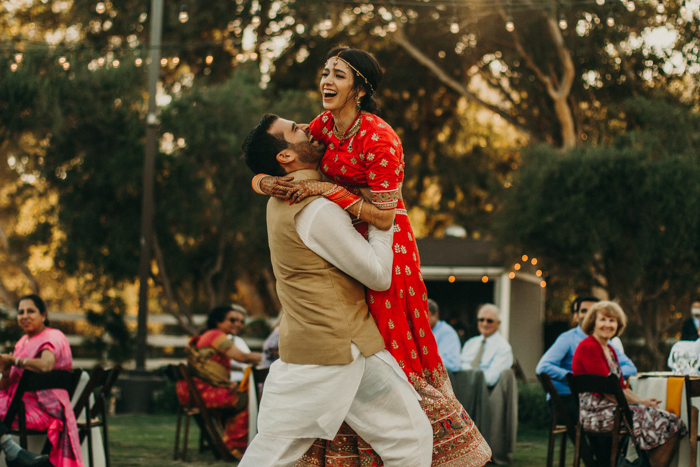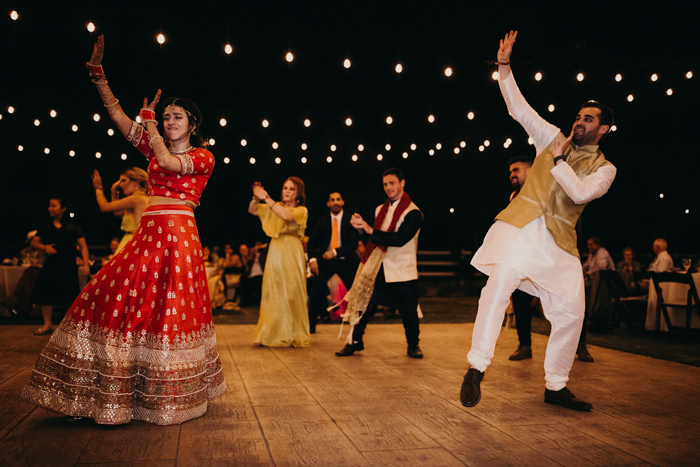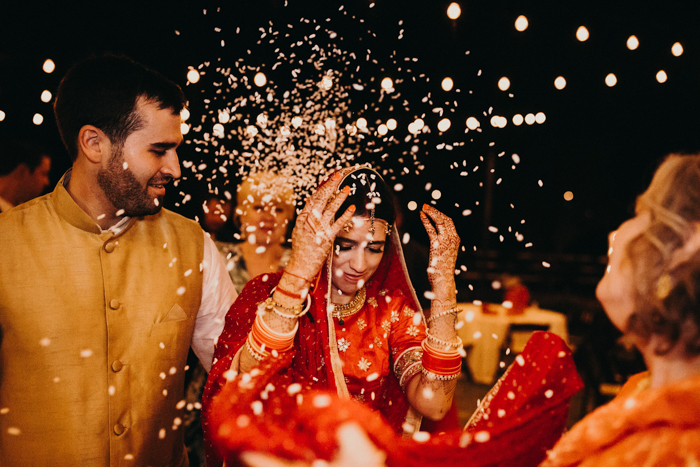 Congratulations to Grace and Rohan, and a special thanks to photographer Jenny Collen for sharing this incredible wedding at Brookview Ranch with Junebug! Looking for more inspiration to personalize a culturally traditional wedding? This Santa Barbara destination wedding at Crossroads Estate included Persian, Indian, and Western ceremonies!