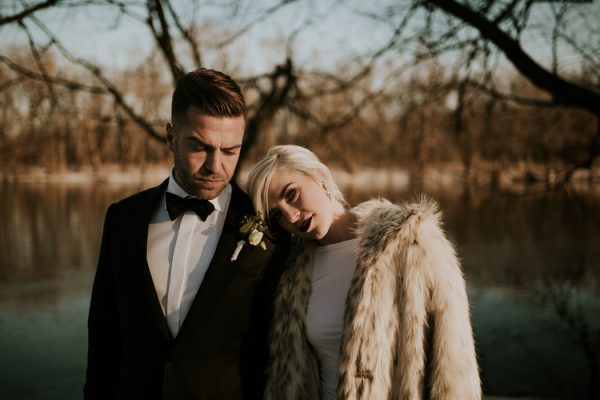 When Jessie and Andrew were planning their Cincinnati wedding, they knew they couldn't contain their love to just one venue. The couple's four (yes, four!) venues included a centuries-old lagering tunnel in which they had their incredibly intimate candlelit ceremony, and then they took their "moving wedding" over to the Findlay Market by way of a winter stroll complete with warm, boozy drinks. This incredible wedding is also full of DIY moments, like typewritten menus and a totally impressive dessert spread that Jessie single-handedly baked. Hearts and Color Co. photographed every breathtaking detail of the couple's wedding, including the surprise billboard that Andrew surprised Jessie with on the day of the wedding!
The Couple:
Jessie and Andrew
The Wedding:
Private Location & Findlay Market, Cincinnati, Ohio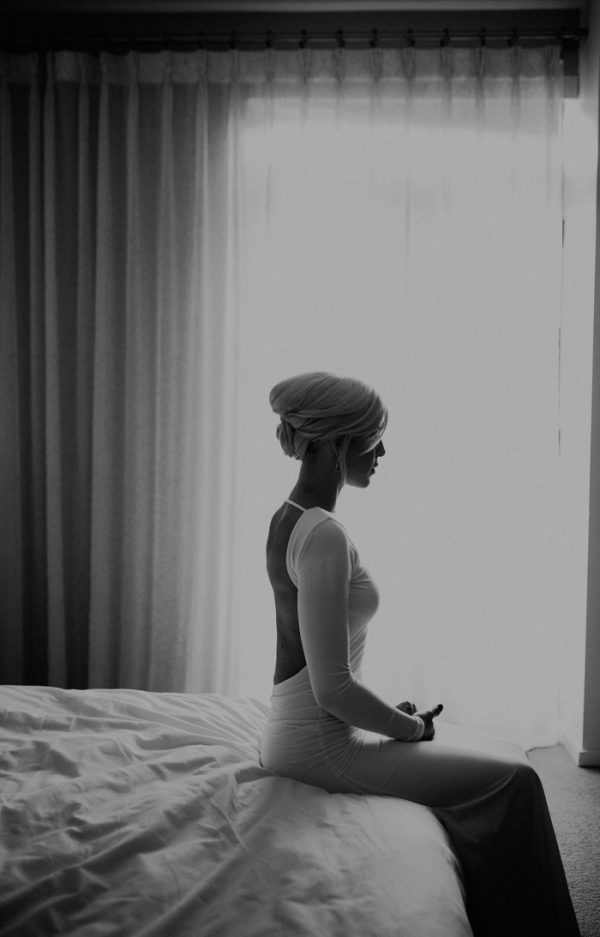 Our wedding was as much about the people there as it was about us as the bride and groom. We kept it intentionally small and intimate and as such, wanted to give our guests an experience and to make them feel honored.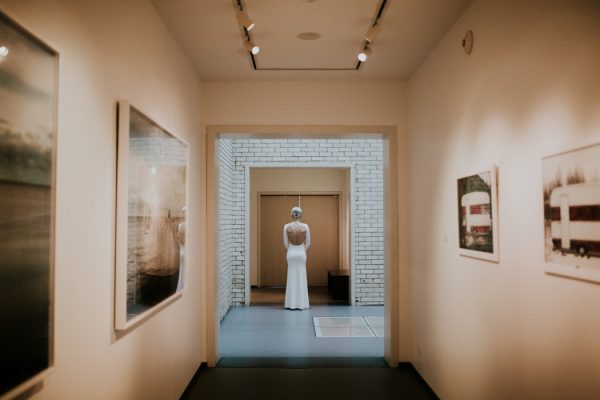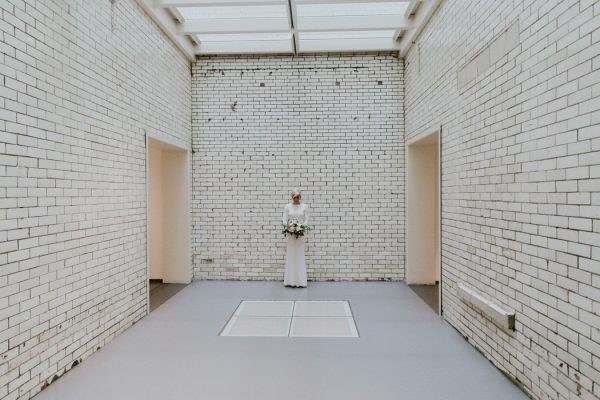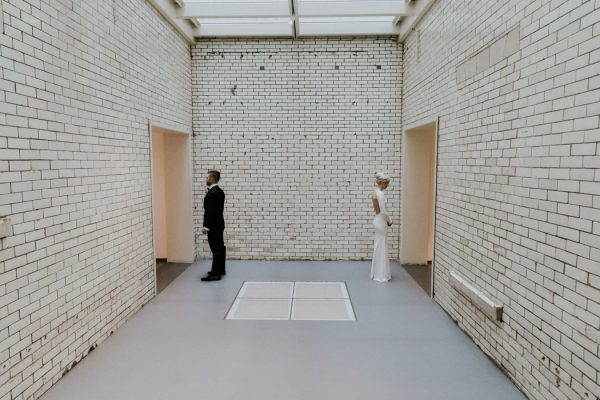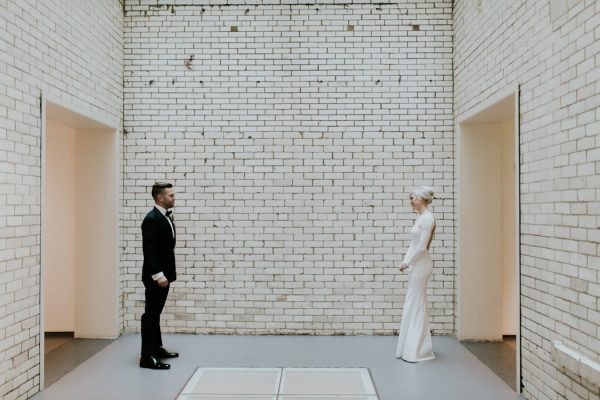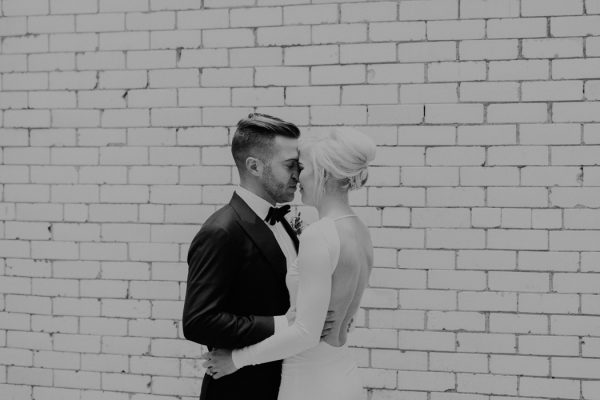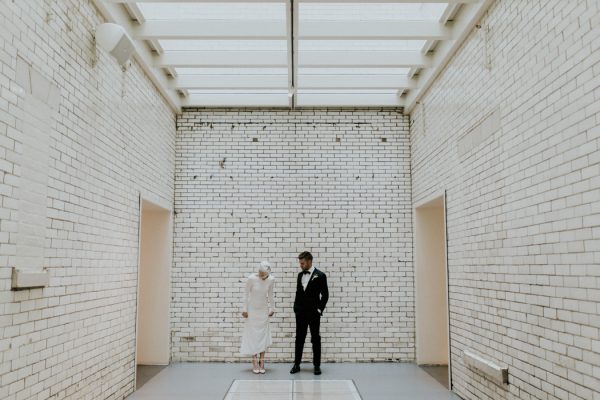 Hannah (our photographer) was incredible. If the mark of a good photographer is to not even notice her for most of the day and then somehow end up with beautiful photos perfectly capturing every part of your wedding, then she nailed it. She selected locations for our first look and outdoor photos that would have never even occurred to me, and the photos turned out better than I ever could have imagined. She was incredible, our photos are so perfectly unique, and I can't praise her highly enough.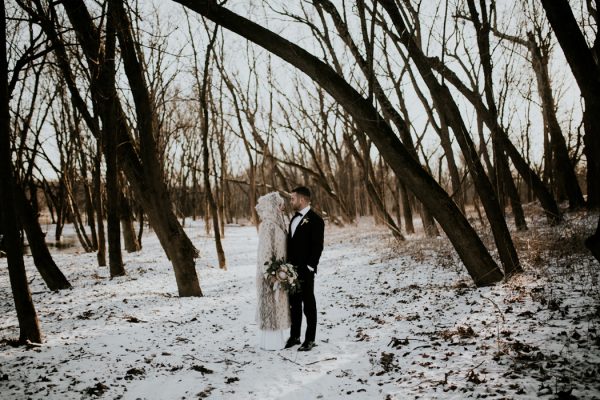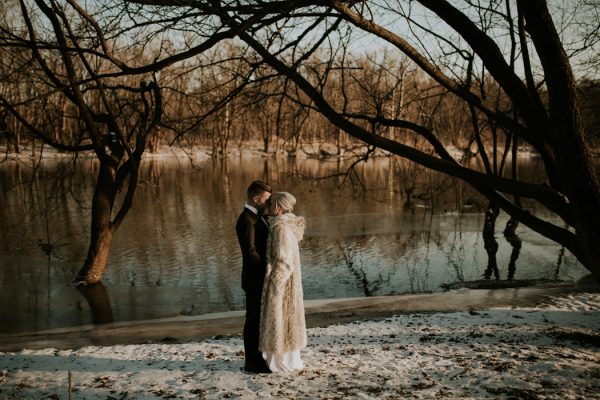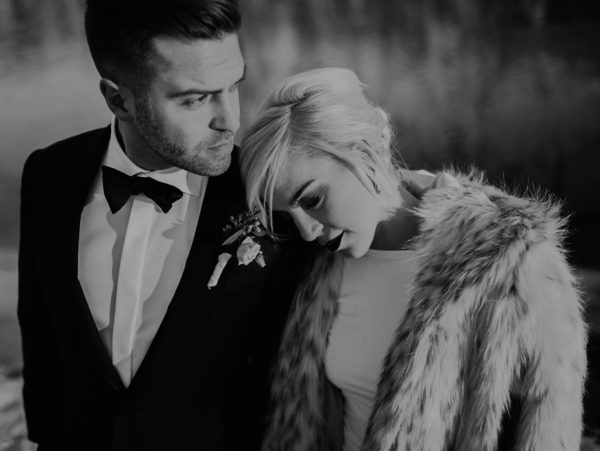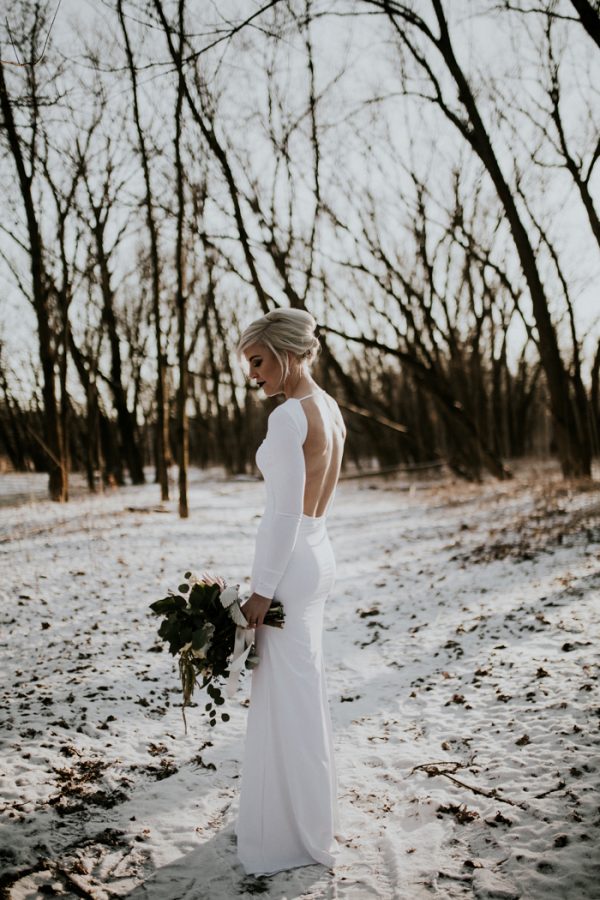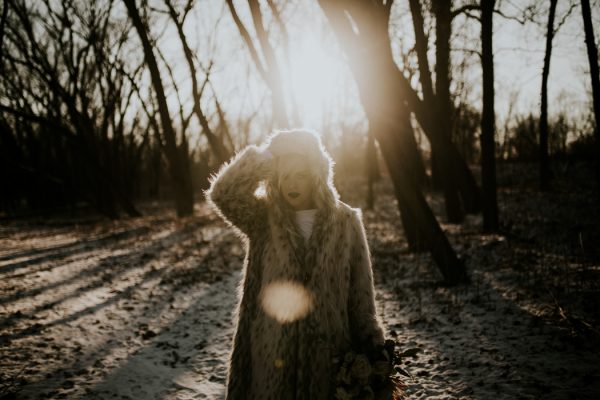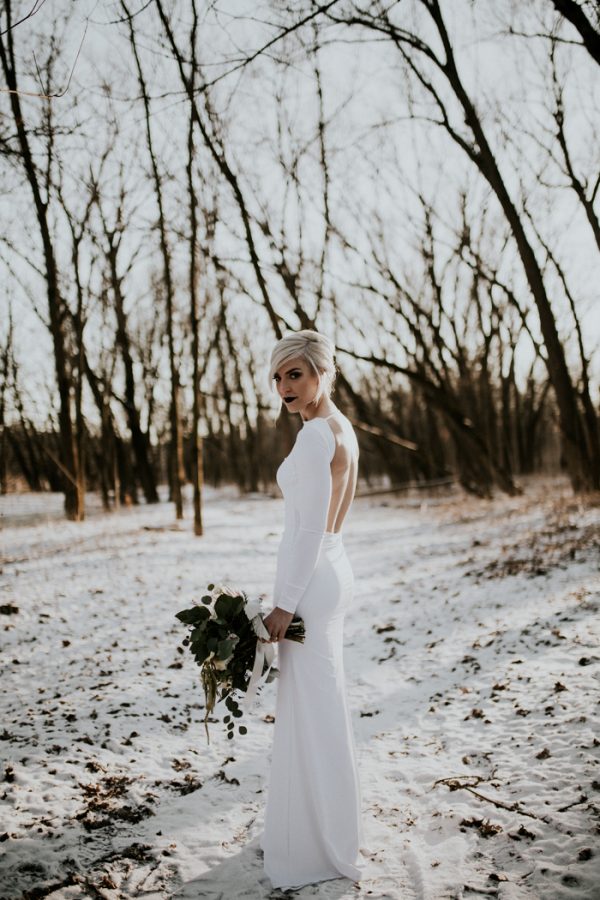 My husband had the brilliant idea of having a "moving" wedding, where we took our guests on a literal journey, starting in the tunnel. We then provided a make-your-own boozy hot drink bar to equip each of our guests with a warm drink for a winter stroll through the oldest continually operating public market in the state (Findlay Market) which led to the restaurant we rented out for dinner. Good food was important to us, so by having our dinner directly in an incredible restaurant, we knew they were equipped to feed us some amazing food.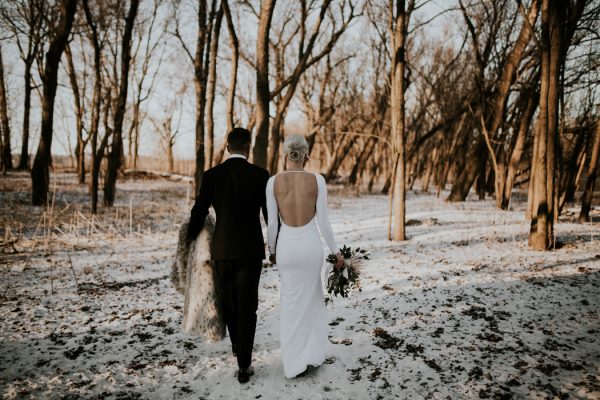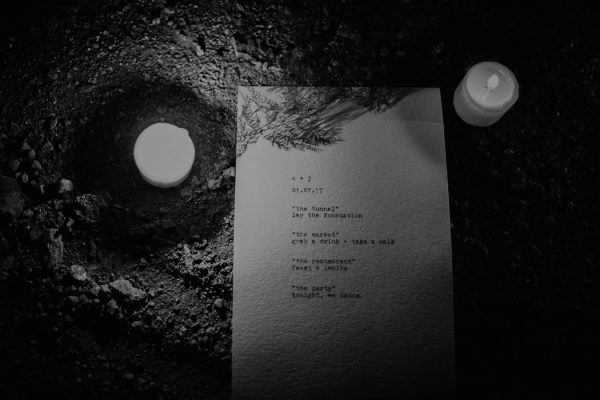 The experience came in the form of a literal journey, with four separate parts to the evening in four different places. And we hope that small touches like a montage of wedding photos of every married couple in attendance & hand written cards to every guest went a long way in letting them know how much we value their role in our lives.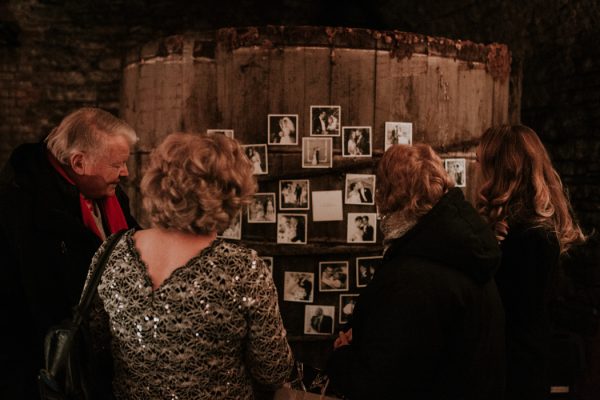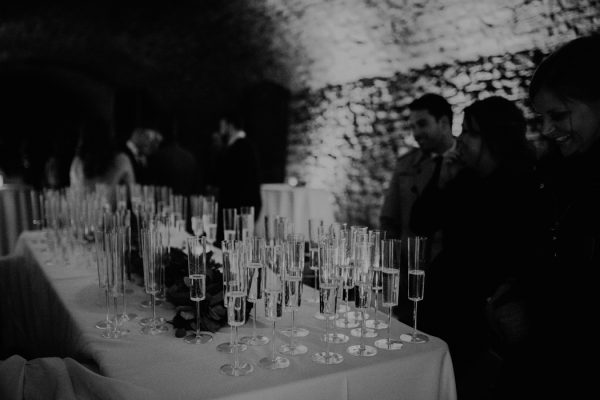 With regard to our ceremony venue (a centuries-old lagering tunnel 20 feet underground from the market)… we've have both rehabbed 130+ year old homes in the same neighborhood and are the type of people that walk into a crumbling old building and see it for what it could be, not just what it is. When we first viewed the tunnel (which was discovered by chance when a friend purchased the building above it), there wasn't even a staircase down into it. We climbed down a 30-foot pile of 100 year old debris to see it. It was musty and damp and dark but all we saw was its beauty and knew it was exactly what we wanted (and eventually a staircase was built for the ceremony, of course).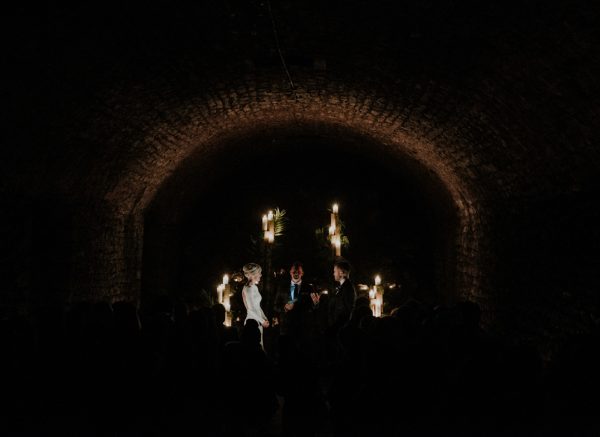 During the ceremony, the man who purchased the building(s) that sat atop the tunnel shared the history of the building, the story of finding the tunnels, and the significance of our wedding in that space. Those tunnels are foundational and no matter what happens to the building above, those tunnels will never cave, never crack, never break. The parallels to a marriage and setting the foundation with our ceremony and vows was amazing.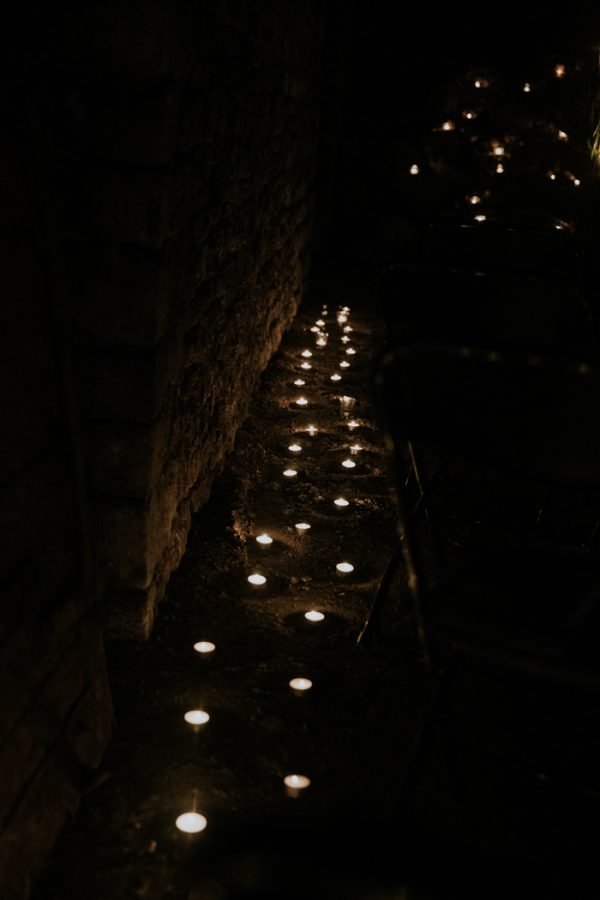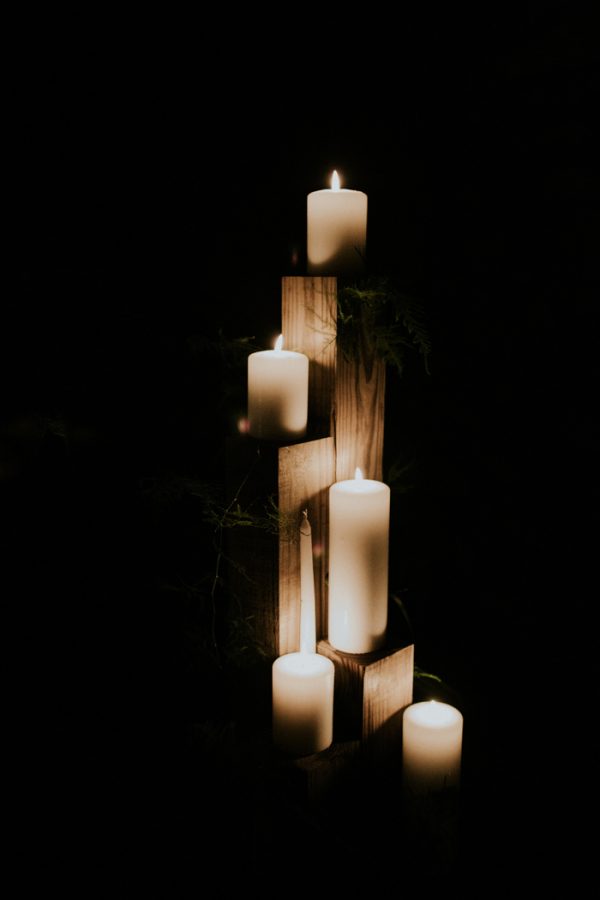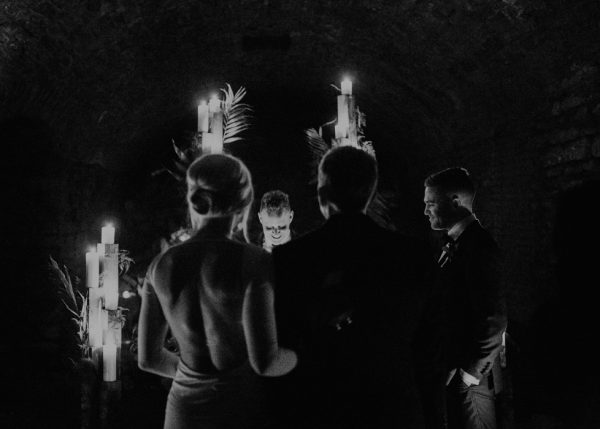 From the groom: The most memorable part was actually standing at the altar and looking at Jess with such a feeling of accomplishment. Not only that we made it to a place that was going to launch the rest of our lives but also to be able to look into a dark room filled with close family and friends and be able to not only see them, but hear and feel their presence in the intimacy of the tunnel space.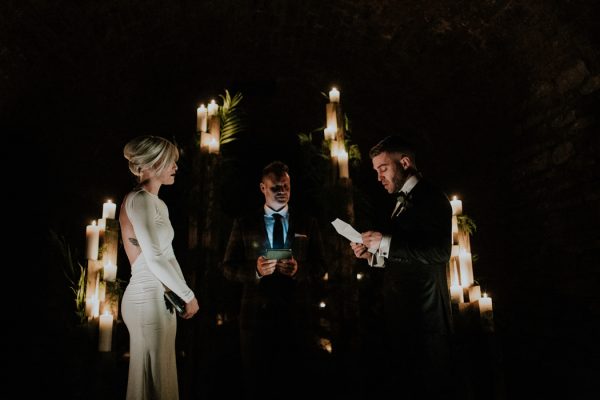 We had a candle lighting ceremony, but involved each of our guests, with us lighting their candles rather than our own. This was a nod to them and the significant role they play in our lives and will play in our marriage.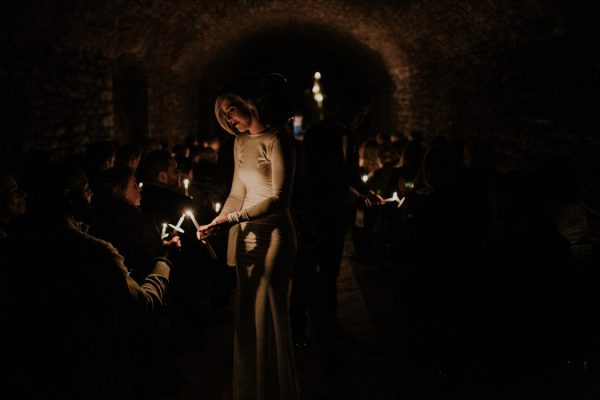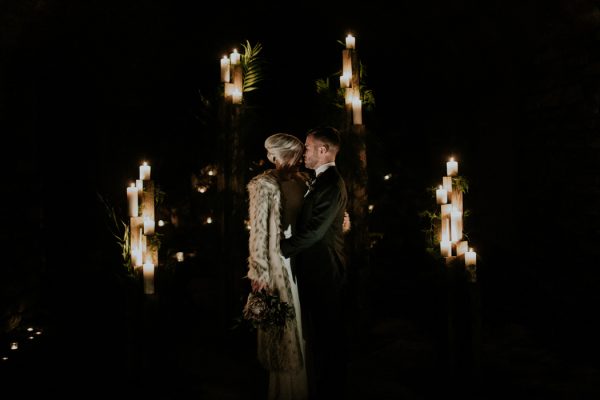 Processional Song: My father walked me down the aisle to a piano ensemble he wrote/composed and recorded for me, called "A Song for Jess." It was incredibly special having him walk me down the aisle to it.
Recessional Song: We exited the ceremony to Father Stretch My Hands Pt. 1 by Kanye West (really). It was custom edited by a friend so that the build up took place as we neared the end of the ceremony, then climaxed during our kiss, and repeated the instrumental part as we exited (editing out some ridiculously vulgar lyrics Grandma would certainly have not enjoyed – ha)! It was amazing and perfect and hilarious and so very us.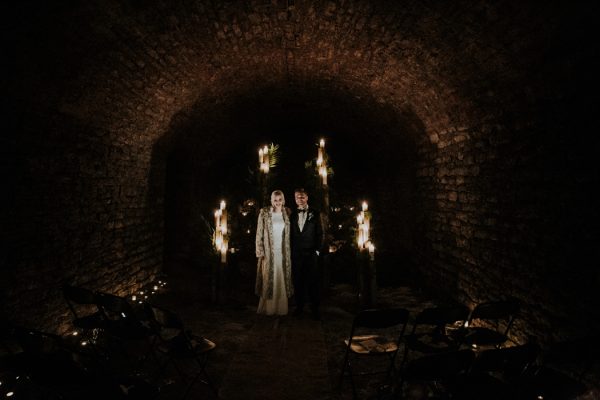 Our dinner and reception venues are on one side of Findlay Market, and on the other side is a 4-story building with an old blank billboard on its roof. When you look out the windows during dinner and dancing, that building is perfectly framed in the distance. And at 6am the morning before our wedding, Andrew climbed (with permission) on top of the building and in sub-zero temperatures, hand painted our initials on the billboard then ran electricity to illuminate it with flood lights [seen in the photo below]. I had no idea he was doing this, and first saw it while walking across the market that evening. It was the absolute icing on the proverbial wedding cake.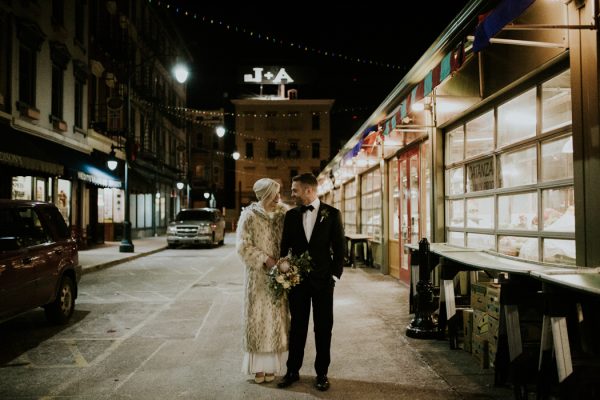 Shed all expectations of what you think a wedding is supposed to be, and imagine what your perfect day looks like. For us, that was a beautiful space with a small group of our closest family and friends, with good food and a dance party. So we took that, found some fancy outfits, threw in some very intentionally written vows, and turned it into our wedding.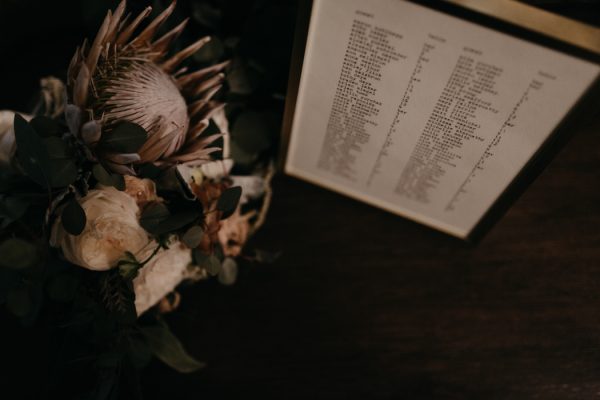 Our day of coordinator is what made it all work. Trying to pull off a wedding in four separate non-traditional venues is all but impossible without someone to oversee logistics. I didn't have to lift a finger the day of our wedding, thanks to Rachel and her team.
I purchased a vintage typewriter and hand-typed every copy of our invitations, programs, menu cards, seating chart, and food/drink labels.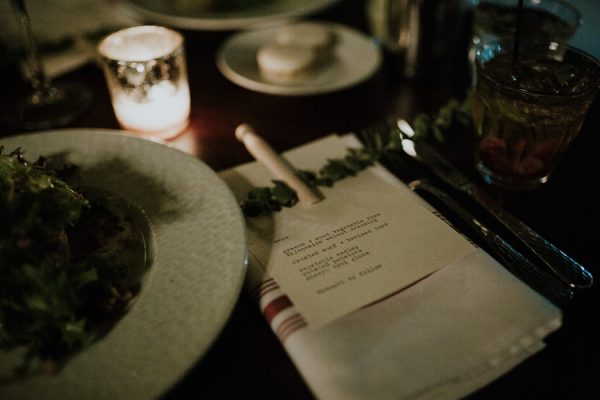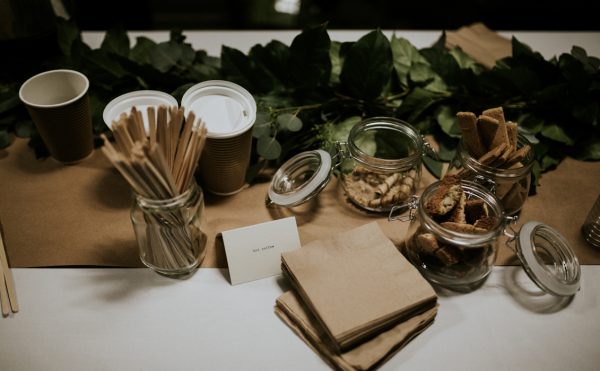 I made our cakes and every dessert on our dessert bar. We had over 500 macarons, four types of chocolate bark, 6 types of chocolate dipped pretzels, and three kinds of spiced/sugared nuts. I made a macaron for our place settings and hand-stamped the name of every guest in edible ink.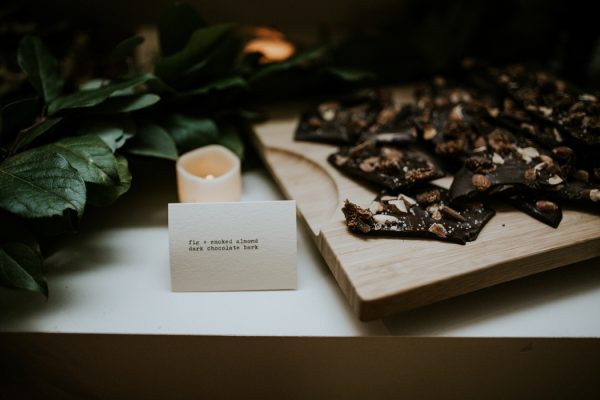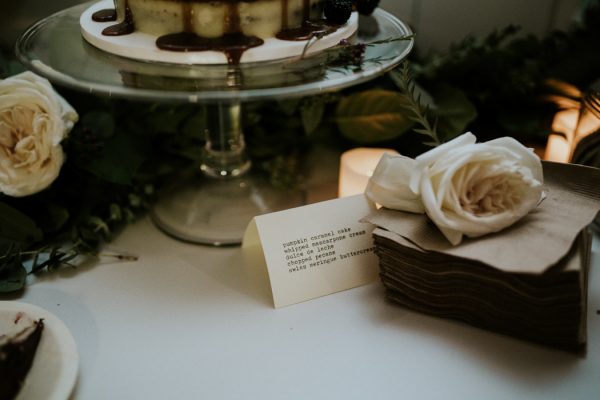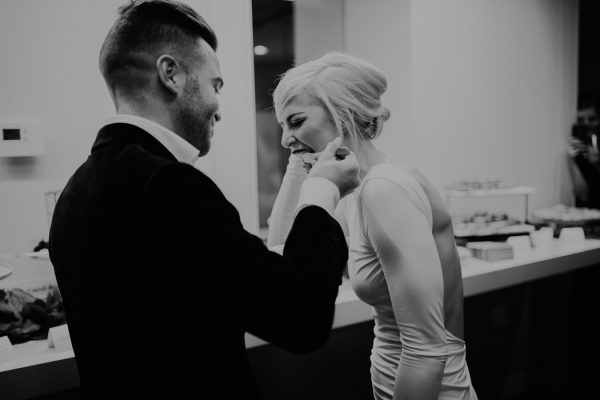 Lastly, we headed upstairs from the restaurant, which is office and event space for a local foundation run by a guest at our wedding. The space is beautiful and has an incredible view overlooking the market – it was a perfect final stop on our wedding journey.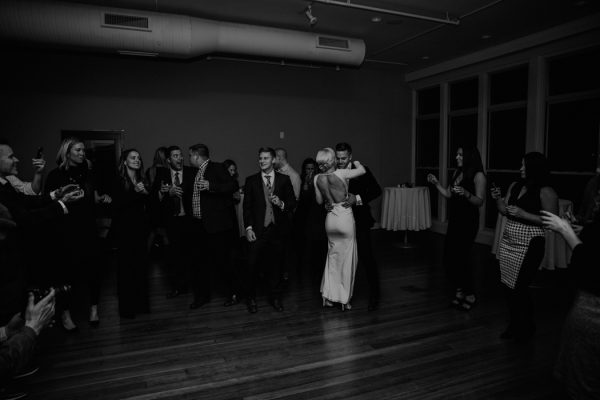 Finally, I am absolutely convinced our DJ is what made our wedding so much fun. We almost didn't hire one at all, and then when we did, he backed out with three days to spare. DJ Bandcamp stepped in on a favor and absolutely killed it. I can't recommend enough making an investment in the right music. It sets the stage for the party part of your night. If you want your crowd dancing and having fun, make sure the music is perfect.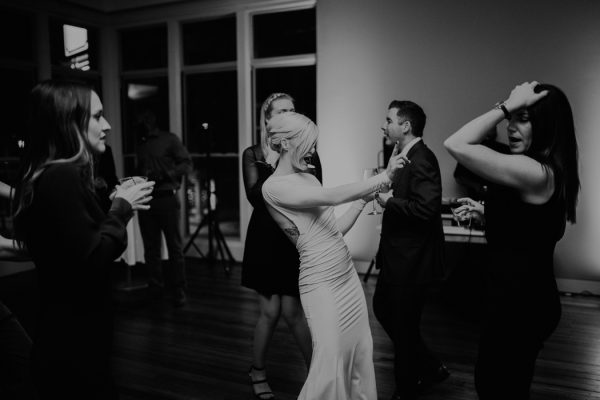 Congratulations to Jessie and Andrew, and a huge thanks to Hearts and Color Co. for sharing the gorgeous photos of their day with us. Love this Cincinnati wedding's alternative venues? Then you've got to see this unique wedding in Manchester that takes place in a swimming pool!