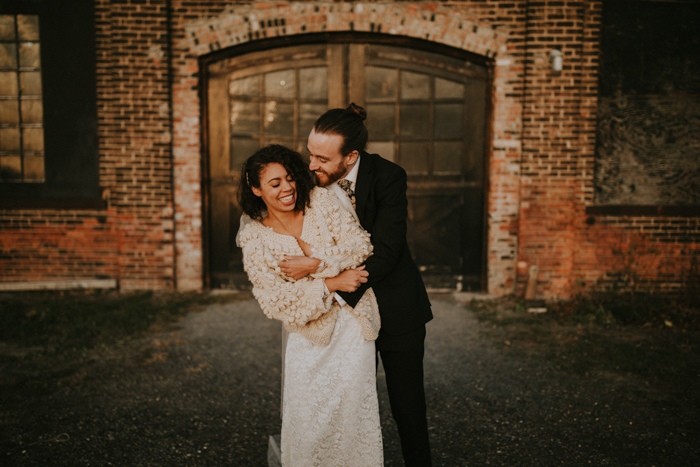 A cozy industrial venue, a multimedia cocktail hour, and all the handmade decor made Dana and Martin's wedding at Basilica Hudson one of the most creative we've seen! Lukas Piatek Photography did a phenomenal job capturing every inch of this unforgettable day and the moody vibes that went along with it. Because the venue was essentially an empty, industrial warehouse, the couple and their family and friends were able to fill it with balloons, string lights, long tables, greenery galore from Forage + Sundry, and quirky details that represented their relationship to each other and to their loved ones. We can't get enough of Dana's sweet, lace Sarah Seven gown and love that Martin went for a more modern approach to groom style with a floral tie and man bun. From the whiskey-sour unity shot to the choreographed group dance, this New York wedding at Basilica Hudson was truly one of a kind!
The Couple:
Dana and Martin
The Wedding:
Basilica Hudson, Hudson, New York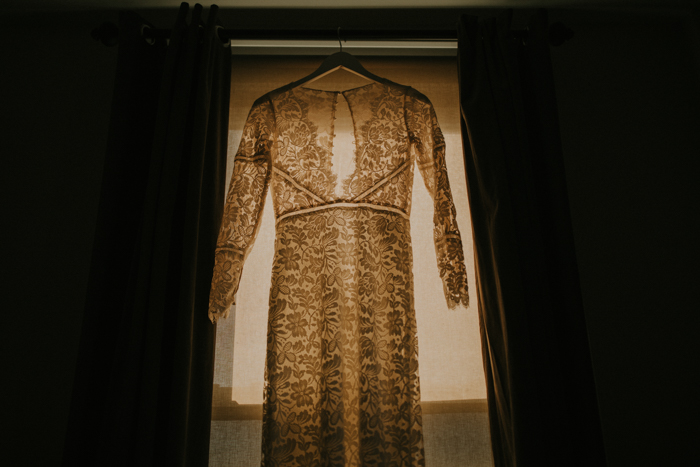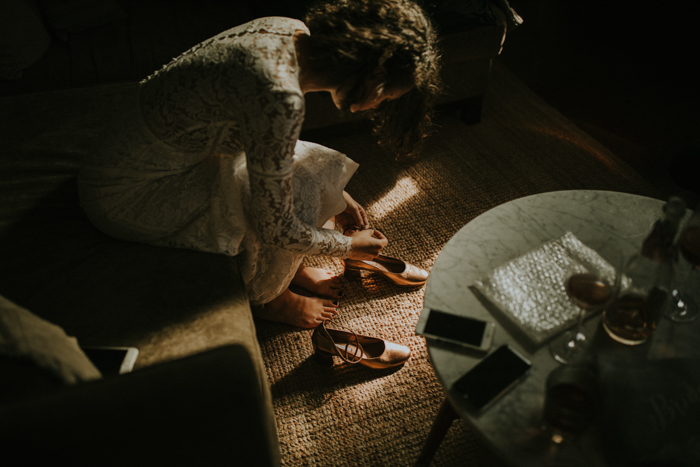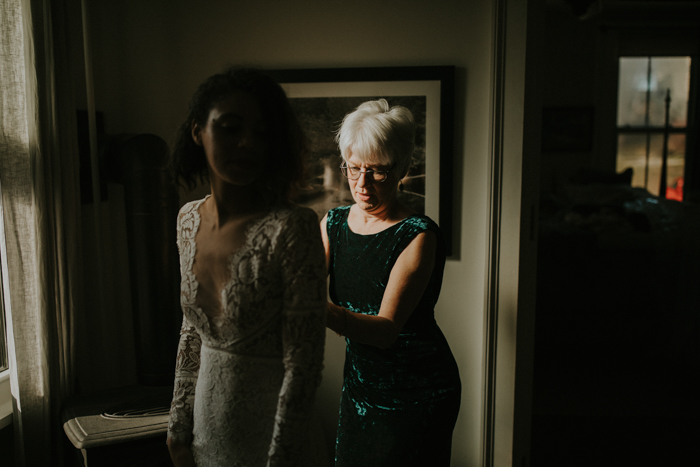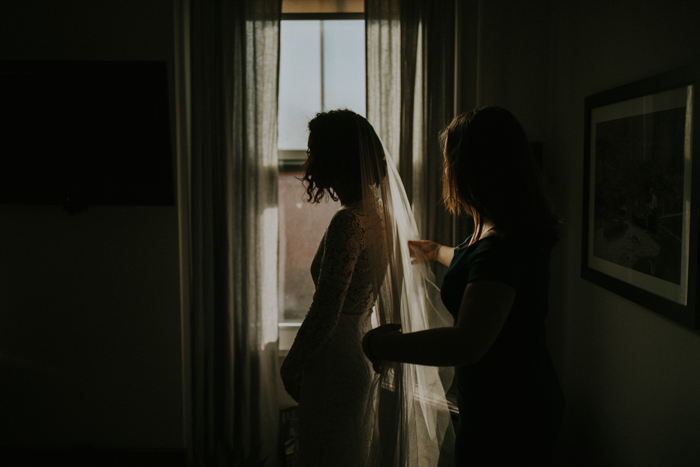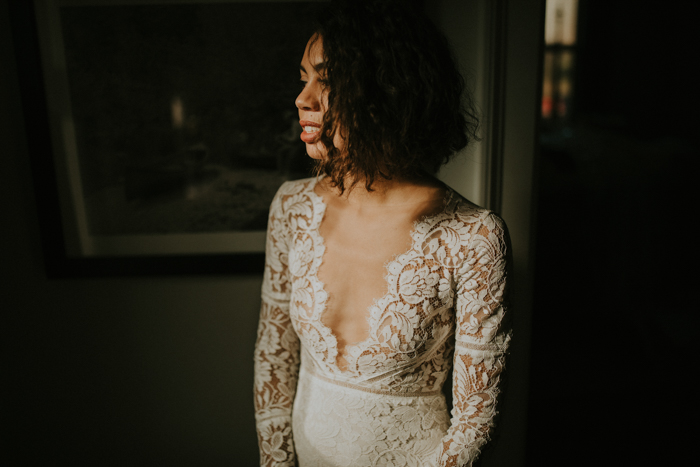 We spent a lot of time thinking about songs from our relationship to include in our ceremony. Our family walked down the aisle to an acoustic version of "For Emma" by Bon Iver, played by our good friend, Kevin Flynn. I walked down the aisle to our guests singing "In My Life" by The Beatles, accompanied by Kevin on guitar. We included the lyrics in our program but had also prepared our family and close friends ahead of time and practiced during our rehearsal dinner. Martin's aunts had sung this at his Aunt Mary's wedding, and it's a song that gets sung at family occasions. Once we decided to include this song in our processional, we couldn't listen to it without crying. Our recessional music was "In Your Arms Again" by Josh Ritter, again played by Kevin.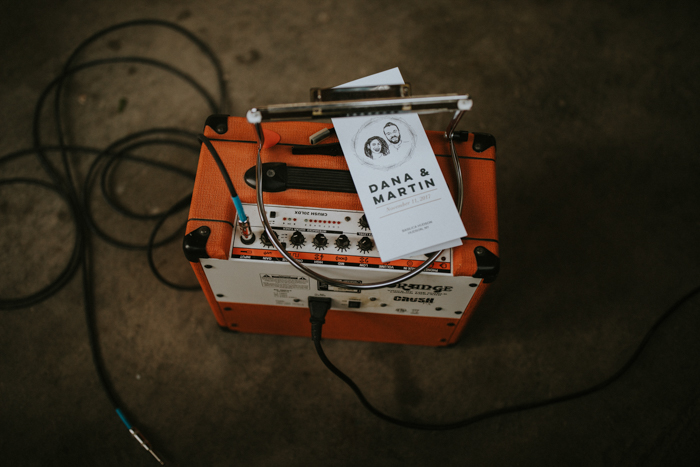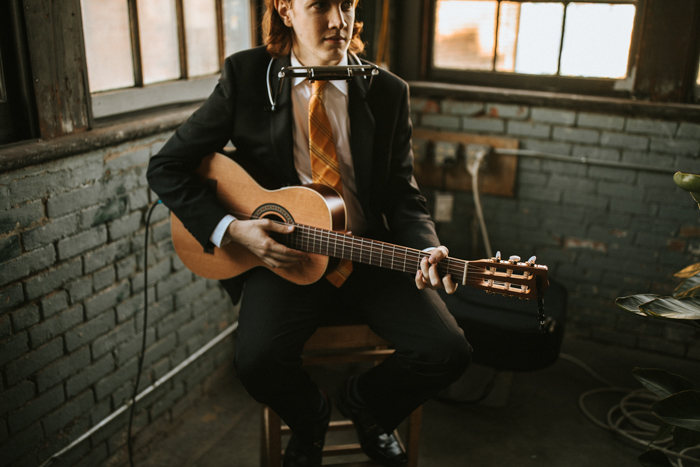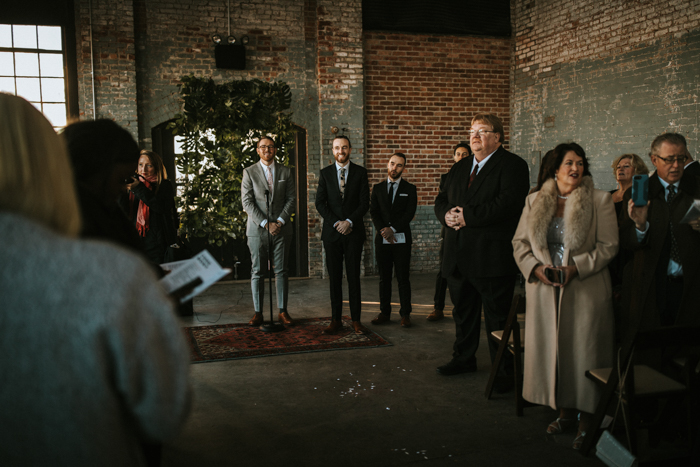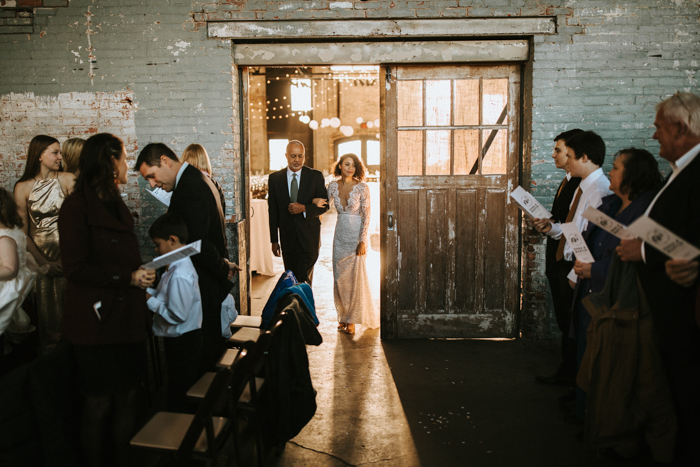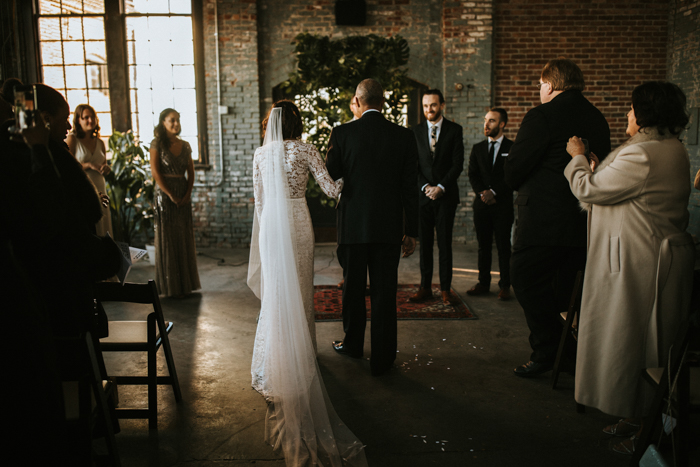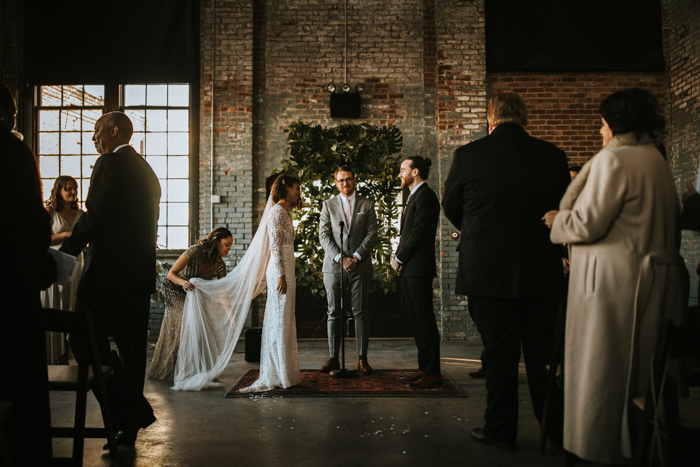 It was really important to us that our ceremony be a celebration of our partnership, the relationship we'd been building for seven years, and our families that made us who we are. Our best friend, Zach Kohn, officiated our wedding and was really patient about the fact that we finalized the wording for our ceremony two nights before the wedding. We included three readings that we felt expressed the equality and nuance of our relationship. The first was an excerpt from a letter written by Mildred Loving on the 40th anniversary of the Supreme Court ruling Loving vs. Virginia. The second was a verse from the poem, 'The Country of Marriage,' by Wendell Berry. The third was Kay Ryan's poem, "Things Shouldn't be so Hard" to honor Martin's mother and other loved ones we have lost.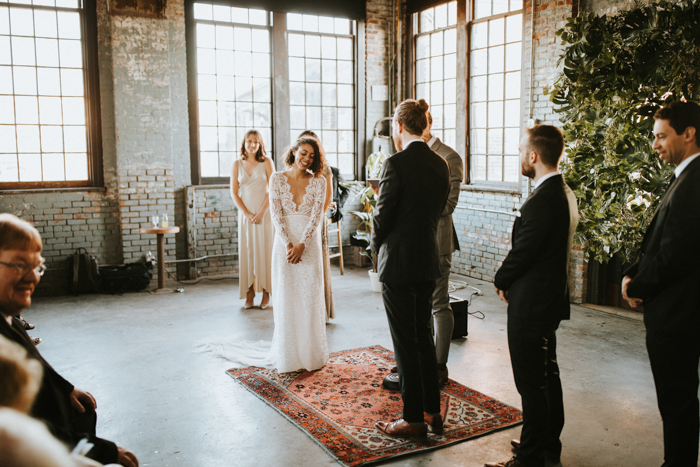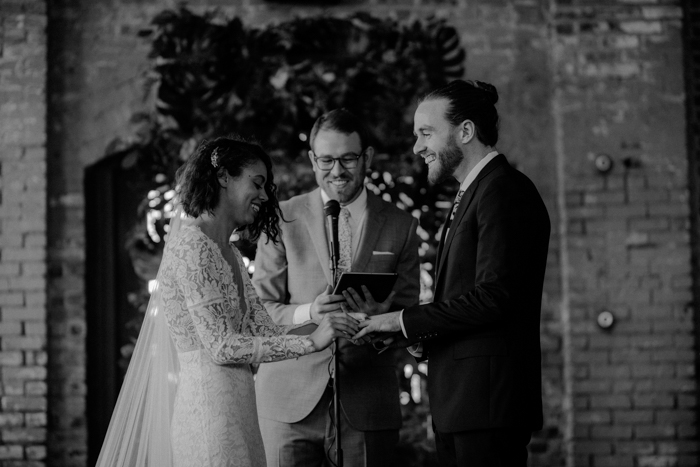 We really liked the idea of the candle lighting ceremonies and wine mixing ceremonies we had seen at weddings, so we created a whiskey sour ceremony where our parents poured whiskey and a sour mix into a cocktail shaker and our siblings each took a turn shaking it before we each took a sip of our family favorite drink at the altar. Whiskey sours ended up being so popular at our reception that one of our friends had to go out to buy more sour mix during the night!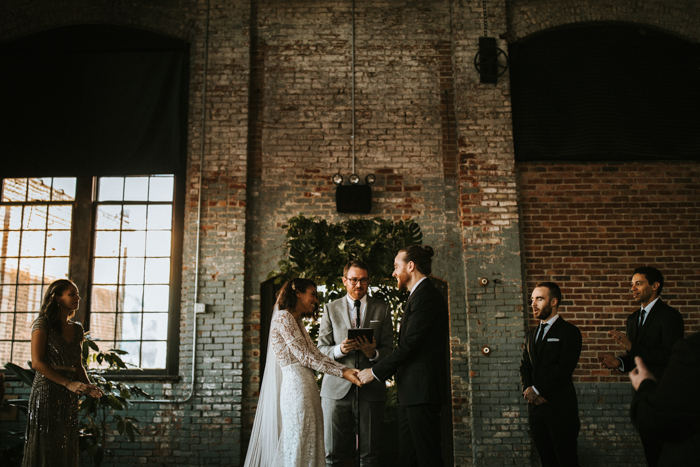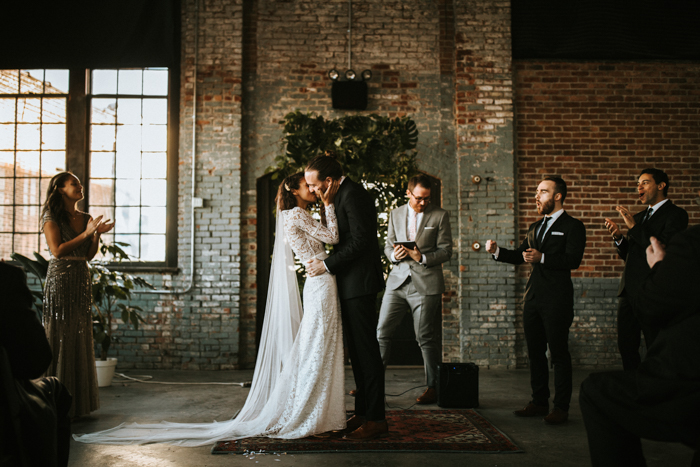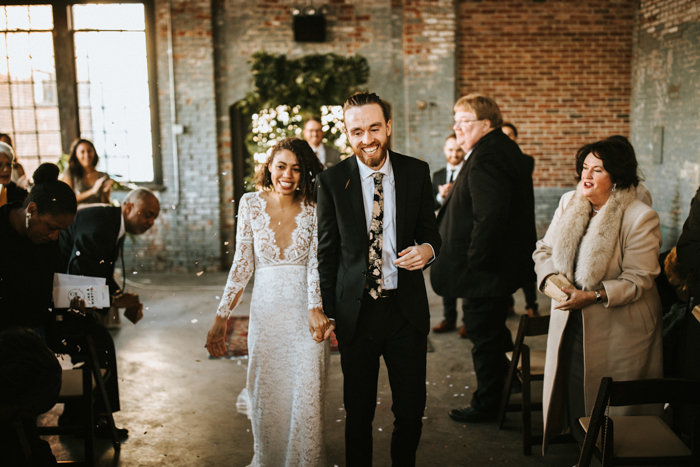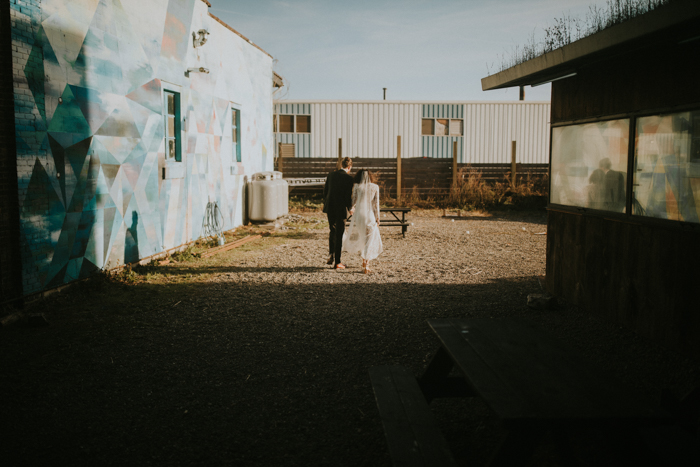 Because our venue, Basilica Hudson, is a large, empty, industrial building, there was a lot we could customize and we really took advantage of all the space. There is a gallery room in the back of the property, which inspired us to create a multimedia cocktail hour space for our guests. We asked our closest friends, many of whom have comedy and arts backgrounds, to surprise us with video and audio installations. We put our friends in charge of creating all the pieces and they truly went above and beyond with what they made. Their pieces included a hilarious and embarrassingly accurate drunk history of our first kiss, performed by Martin's brother and his wife, an original song about our relationship from our talented friend, Garrett Brooks, compiled videos of advice and memories recorded by our families, and a fake This American Life podcast about our engagement featuring a surprise shout out at the end from the real Ira Glass!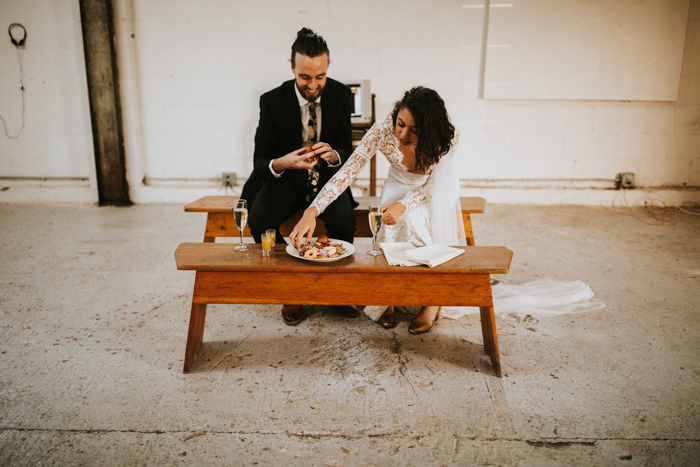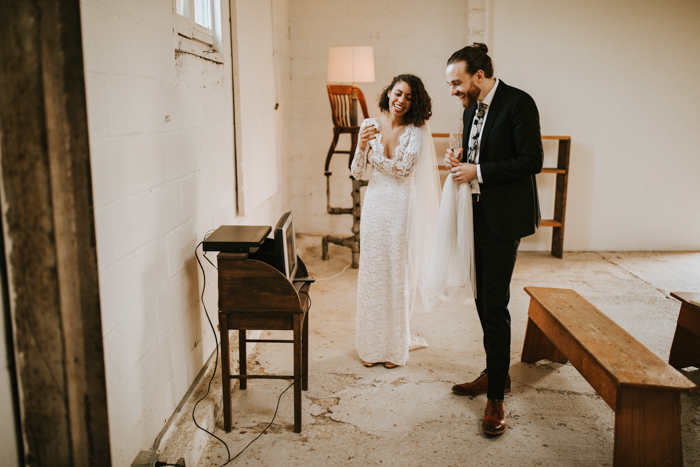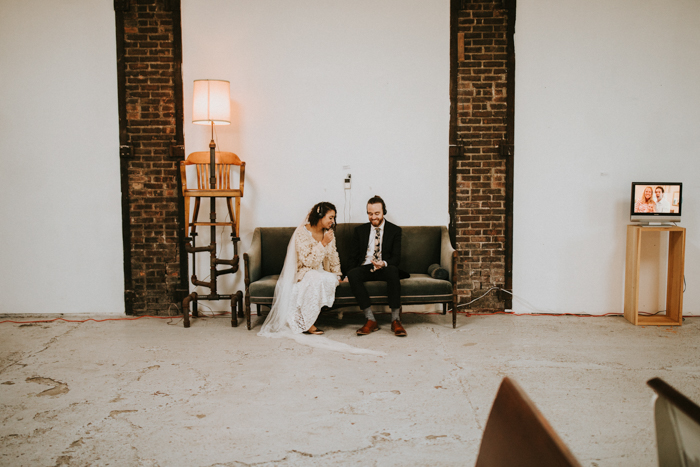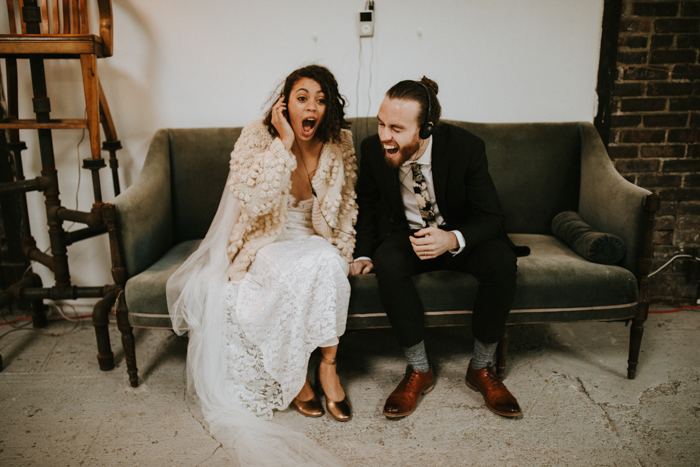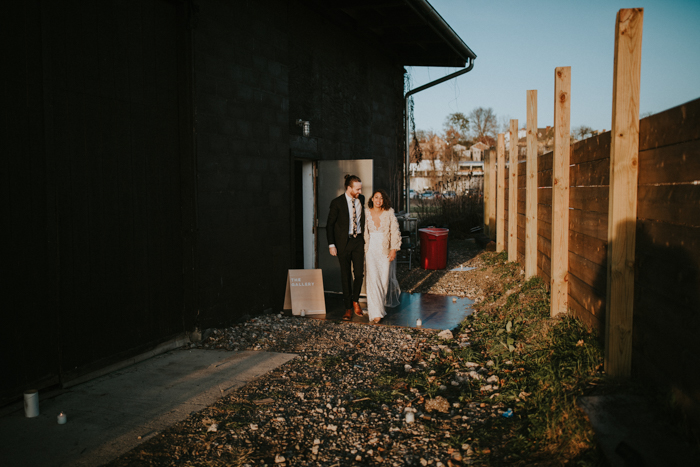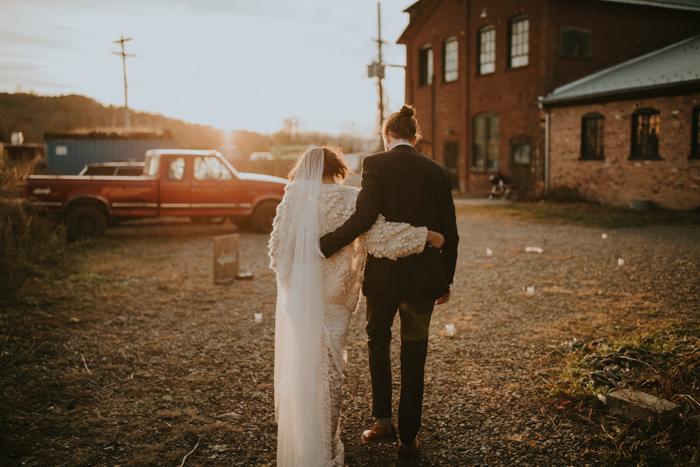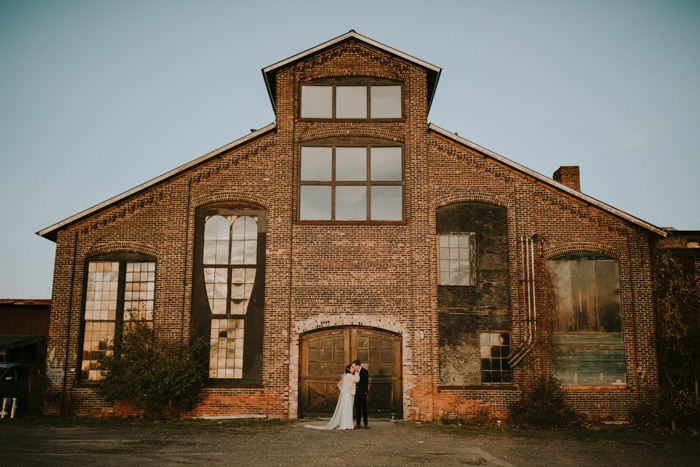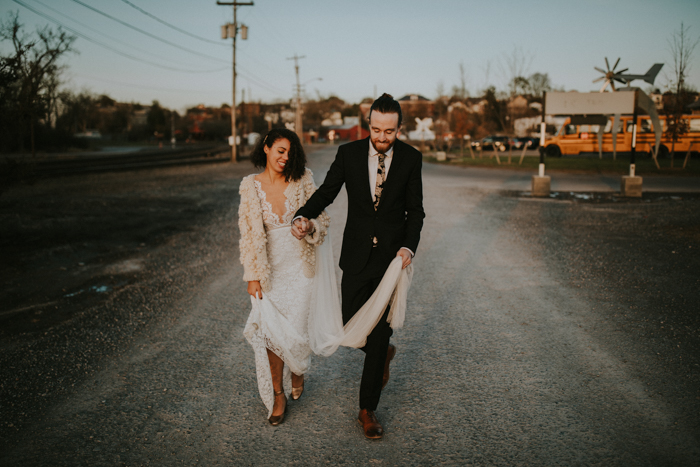 Our advice: plan your wedding together! Martin wasn't super involved in the early stages of planning and so decision making got a little stressful for both of us, but once he started taking more ownership over what our wedding would be like we really enjoyed working on it together. Even if one partner has been vision boarding your wedding way before your engagement, both partners have opinions and visions for your wedding day. The final product will be more true to your relationship and more meaningful for you and your guests if you both share in the planning.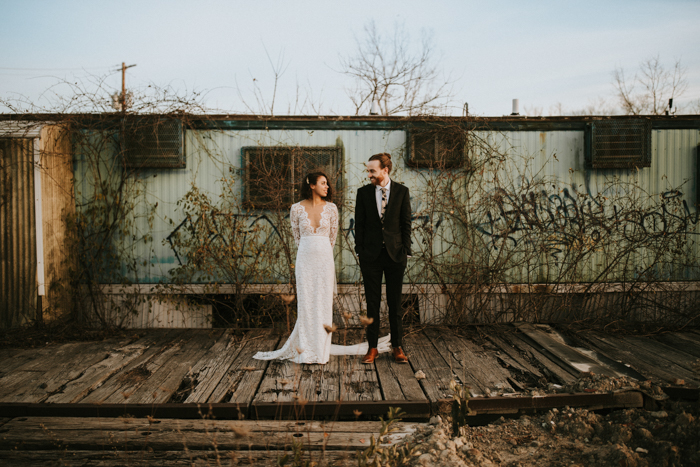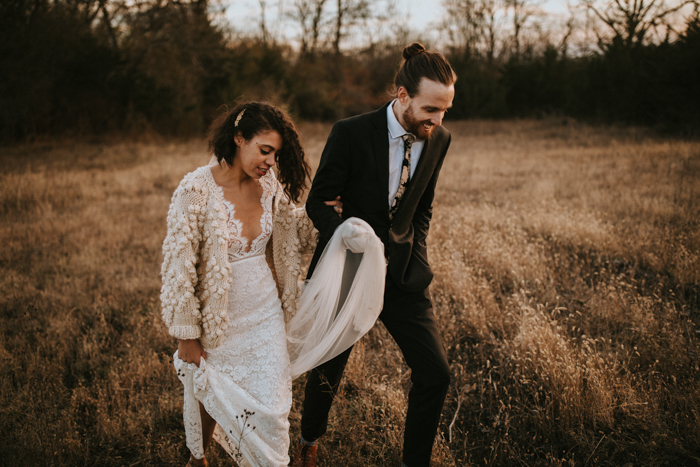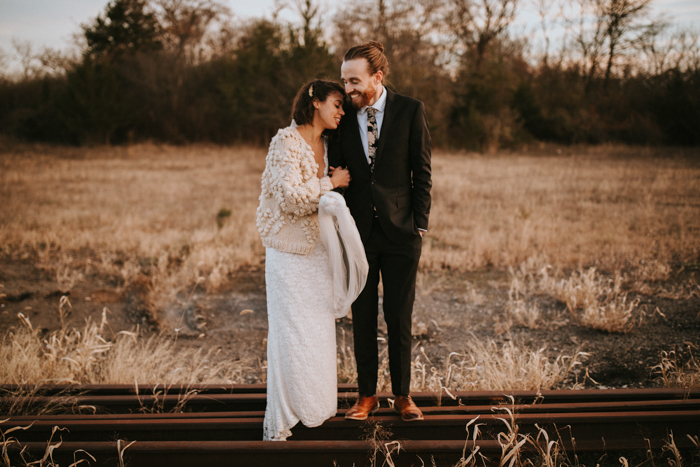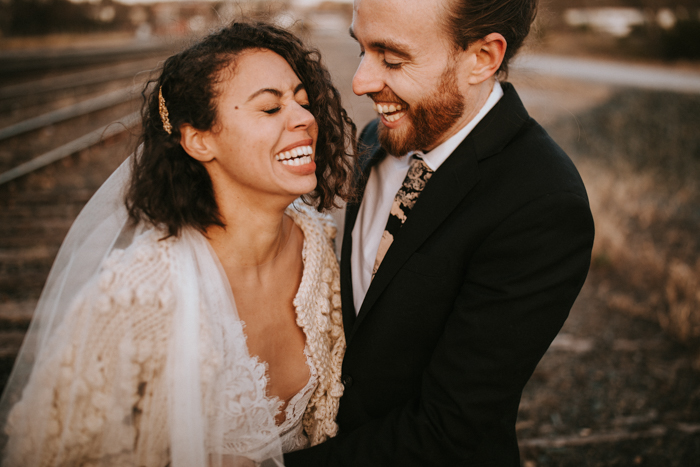 In terms of DIY projects: I built and painted the signage, we made confetti from old classroom worksheets, and our friends helped us fill the cracker snaps with gold crowns from Etsy and stories about our relationship or quotes Martin pulled from our favorite books and authors. Our brother-in-law and some friends helped construct walls for a balloon room we filled with giant white balloons. One of Dana's students drew an amazing portrait of us that we included on the front of our programs. The day before our wedding our friends and family came up and helped us put out all of the tables for the reception, the benches for the ceremony, and dozens of candlesticks I had been buying from eBay throughout the year. The end result was a super personalized and beautiful space that we are so proud of and so grateful to our people for helping us create!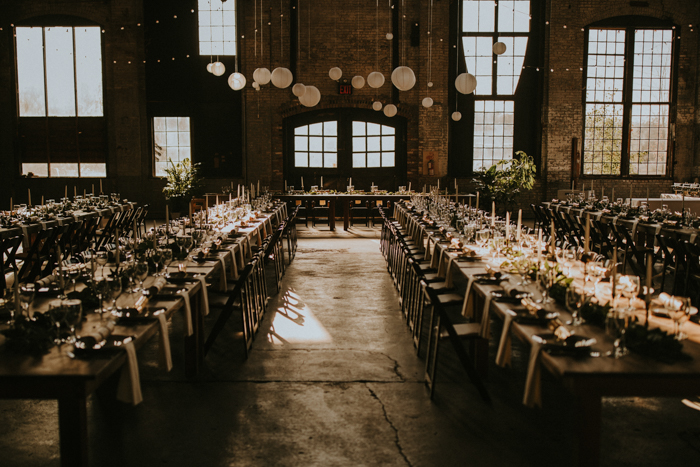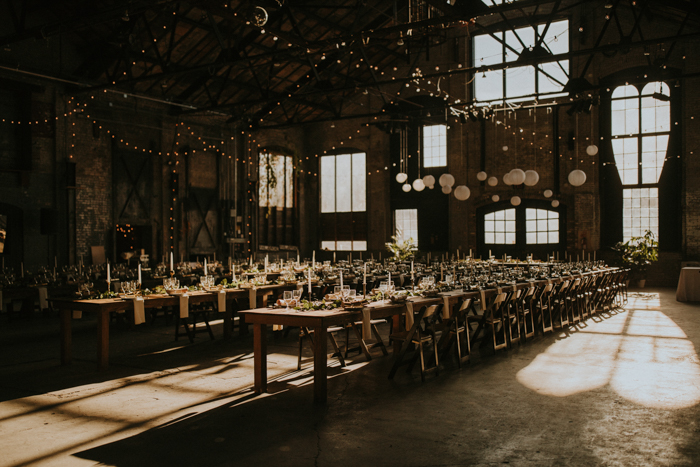 Our first dance was to "Eyes on the Prize" by M. Ward, which was an easy pick for us because we had been slow dancing to this in my apartment in college way before we started dating.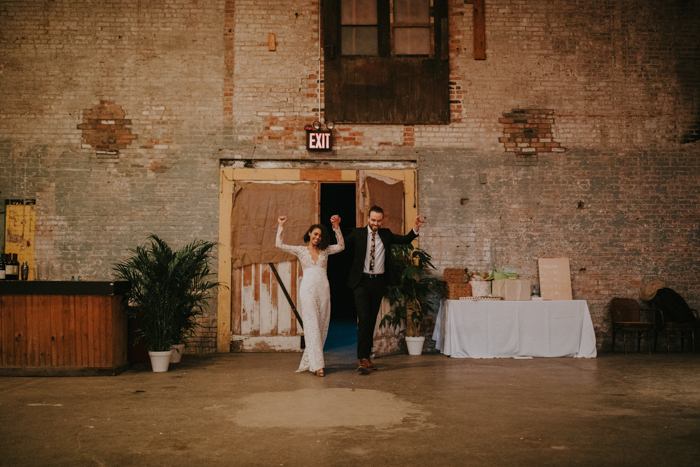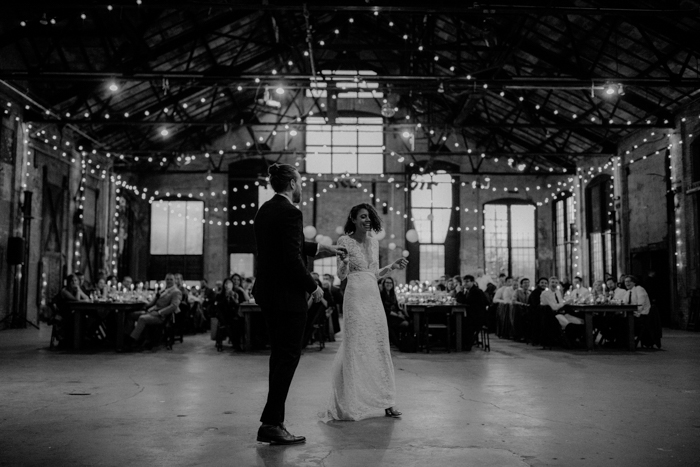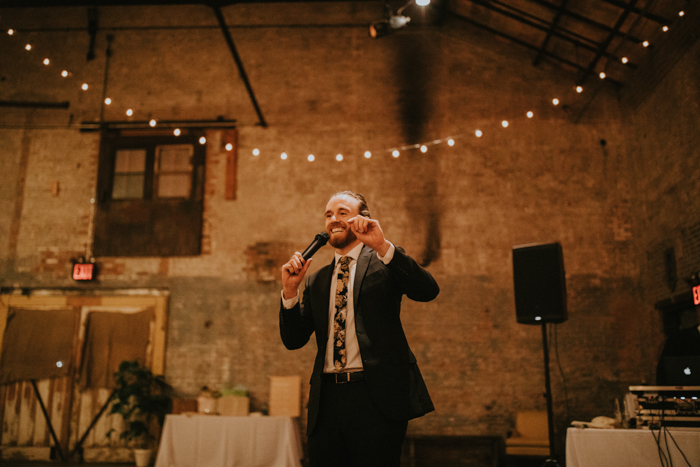 Martin, our brothers, and our officiant (and best friend) surprised me by learning the whole dance from Francis and the Lights' music video for "May I Have this Dance." It's kind of a strange choice for a choreographed dance, and our guests might not have known why they were circled around Martin for the first minute and a half of his performance, but it was truly spectacular and made me feel really special and loved.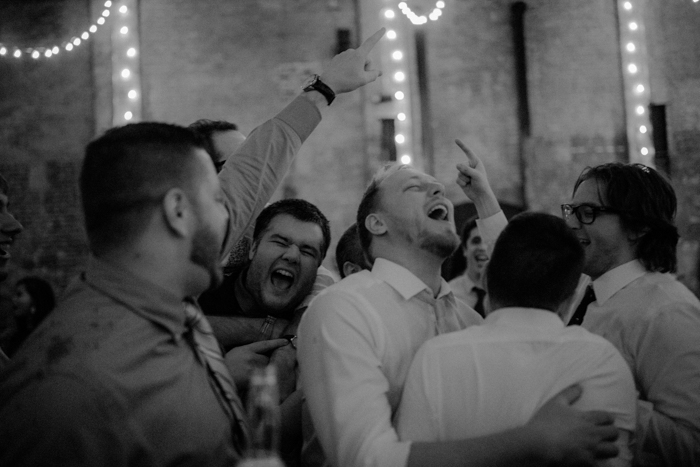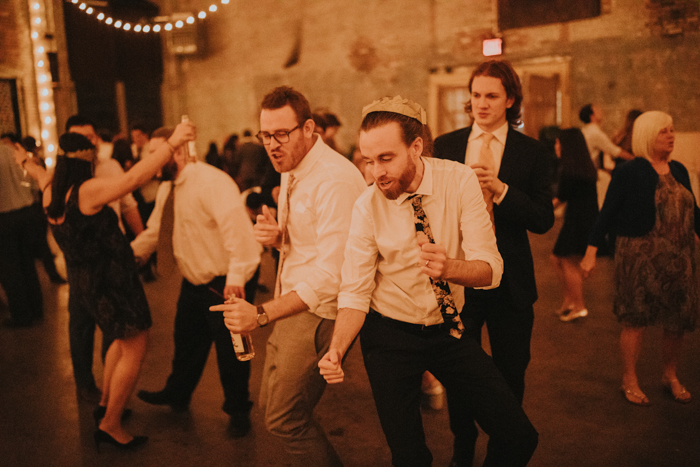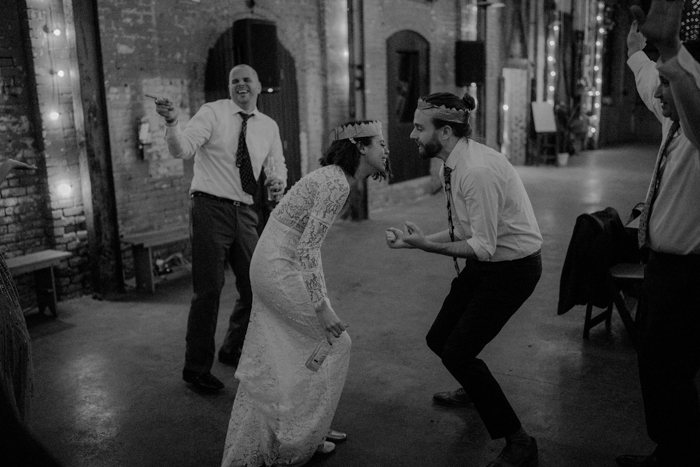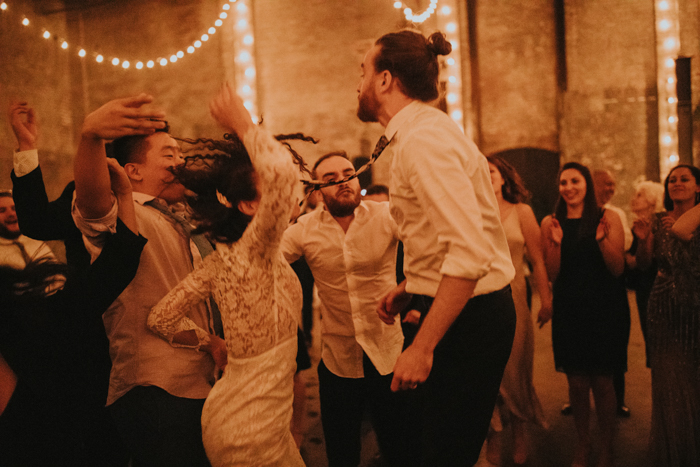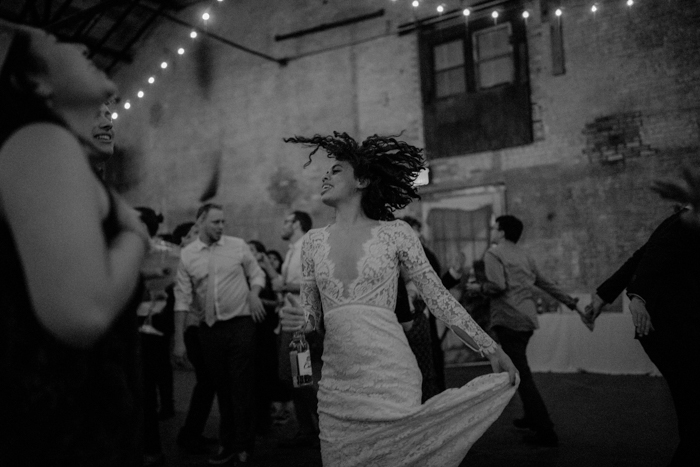 Congratulations to Dana and Martin, and a big thanks to Junebug member Lukas Piatek Photography for sharing this beautiful wedding at Basilica Hudson! To see more from this talented photographer, check out this island destination wedding in Barbados at Almond Beach Resort!