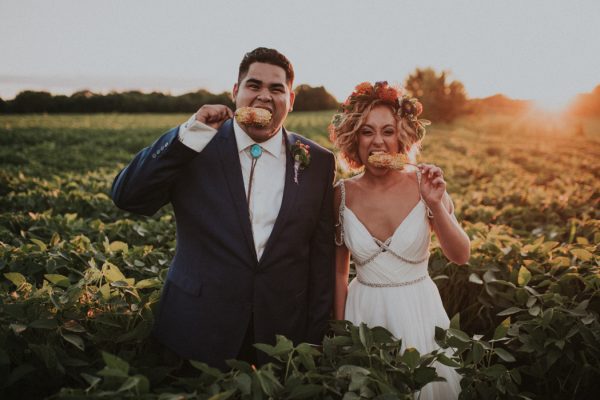 Haley and Jose's backyard fiesta wedding takes the cake as the most colorful wedding we've seen! Choosing to draw inspiration from Frida Kahlo and traditional fiestas, the couple incorporated fun Mexican details like Mariachi bands, Folklorico dancers, and rainbow floral décor everywhere. Haley took her Frida Kahlo inspired look a step further with a gorgeous flower crown made of protea, daisies, and chrysanthemums. We love the vibrancy that Hinterland Stills captured in Haley and Jose's wedding, including the couple's sunset photo shoot with elotes!
The Couple:
Haley and Jose
The Wedding:
Private Residence, Chicago, Illinois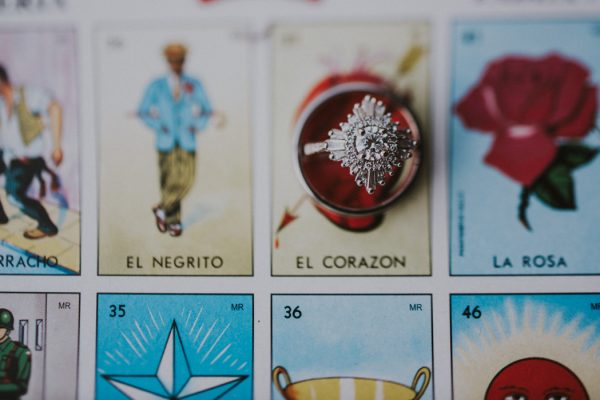 Our main goal was for everyone to have fun. We wanted everyone to join us in celebrating in our backyard with the best fiesta of the year! Jose and I wanted a laid-back wedding where everyone felt comfortable to eat and drink as much as they wanted, and danced like a crazy person until the end of the night.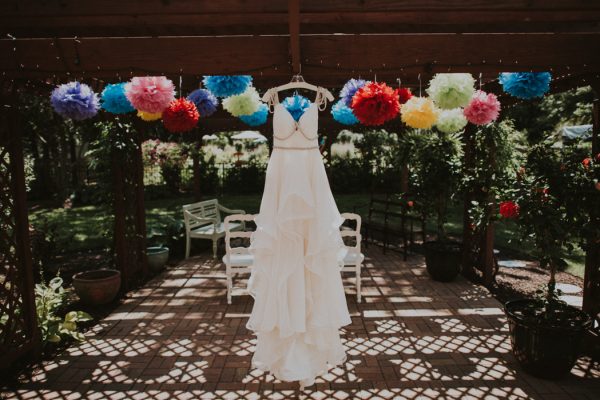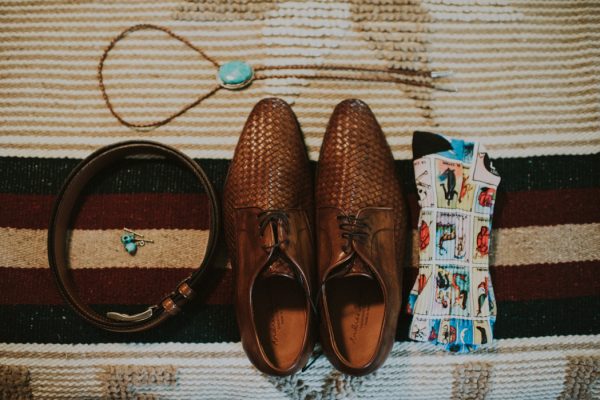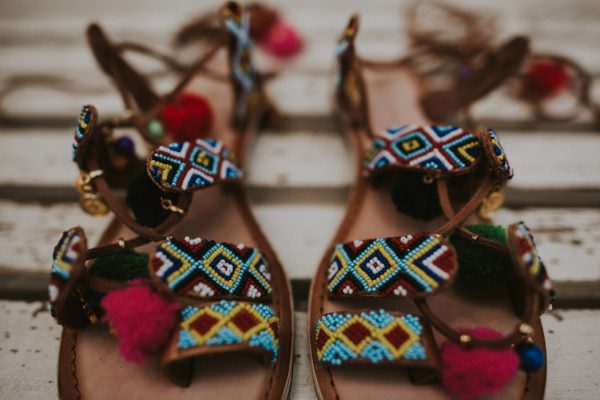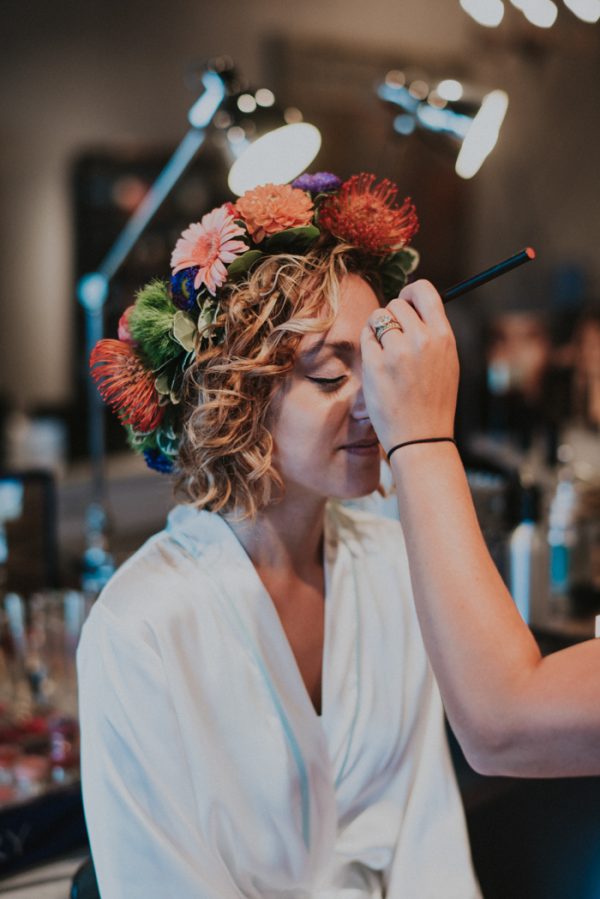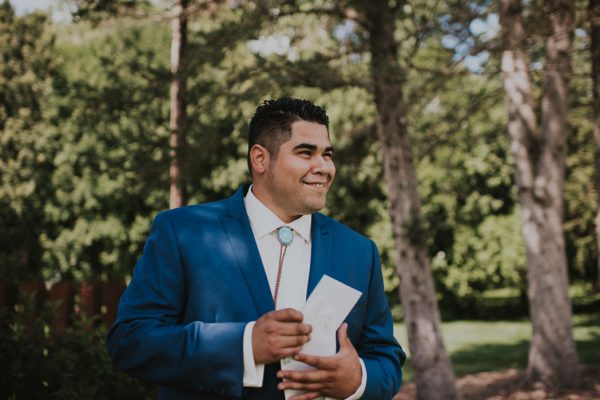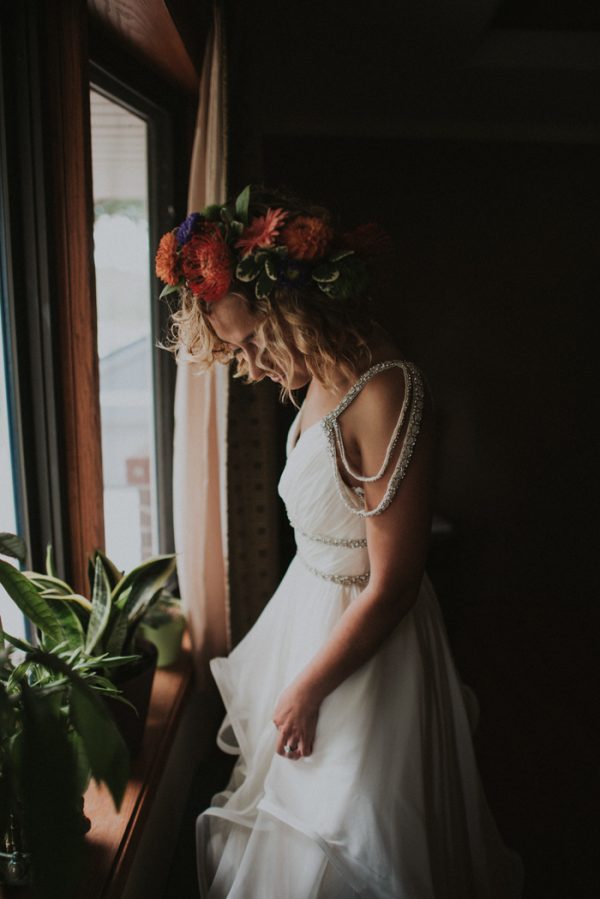 Jose and I were engaged since 2013. We majorly took our time in planning the wedding, and I'm so glad we did! We ended up purchasing a home together this past fall, and it has the most beautiful, huge backyard…perfect for a wedding! It only made sense to have it in our new backyard.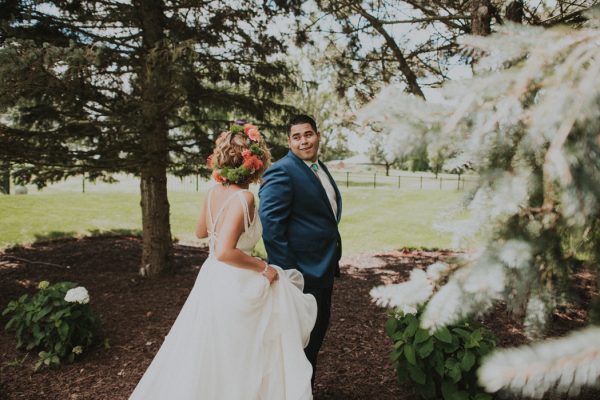 We both agree that the first look was the most memorable. We met under three big pine trees in our backyard (the same place we had the ceremony), and it felt so great to be in his arms. He was beyond handsome. His eyes sparkled, and I am sure mine did too. I can't even explain in words what it felt like to stare back at my soon to be husband. It was truly awesome.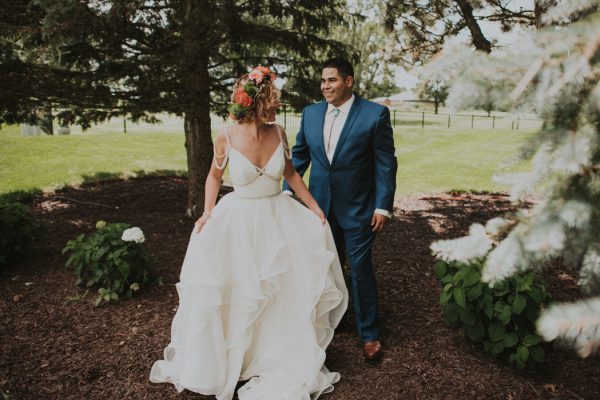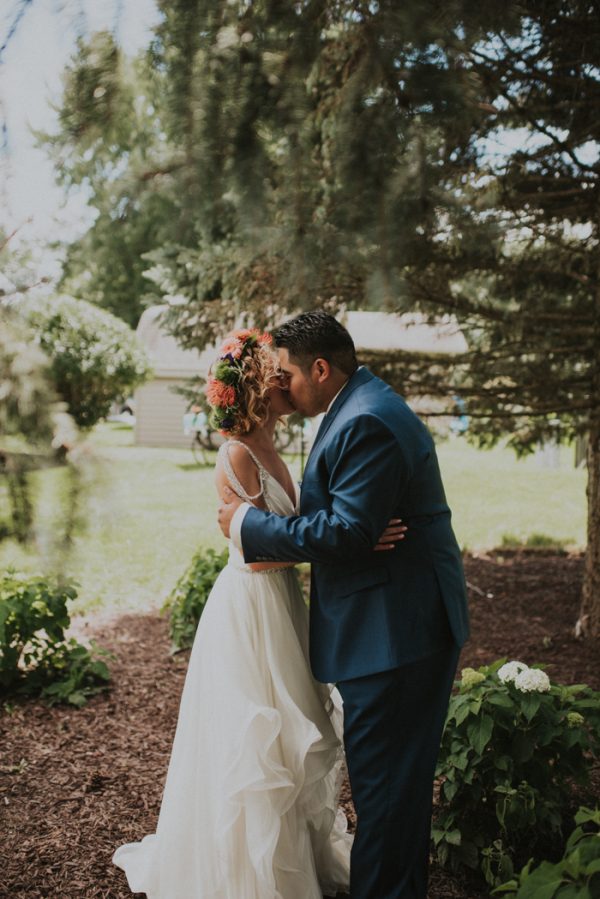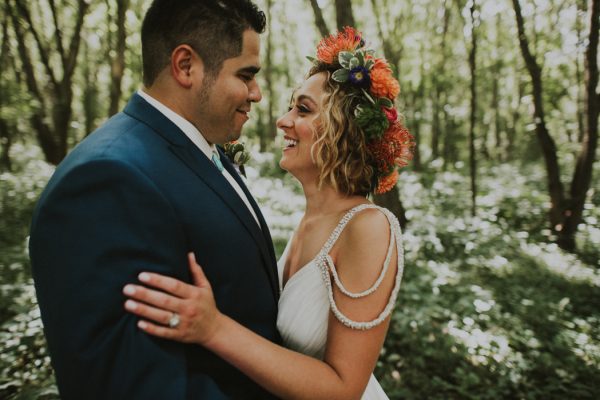 My whole style inspiration was Frida Kahlo. She is a beauty, and I have admired her look (especially her floral crown) for forever!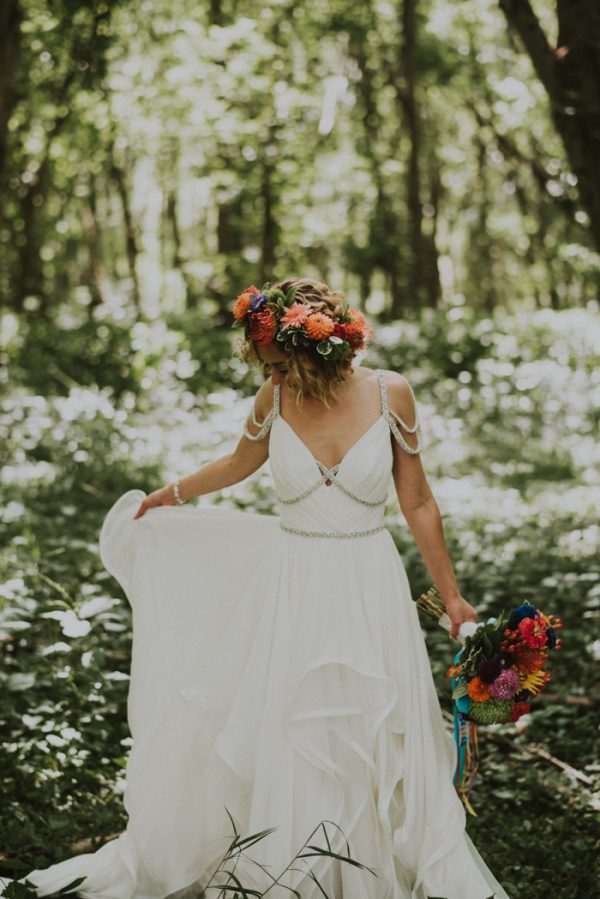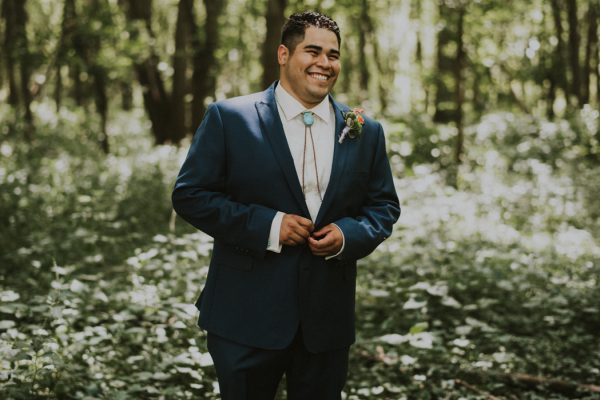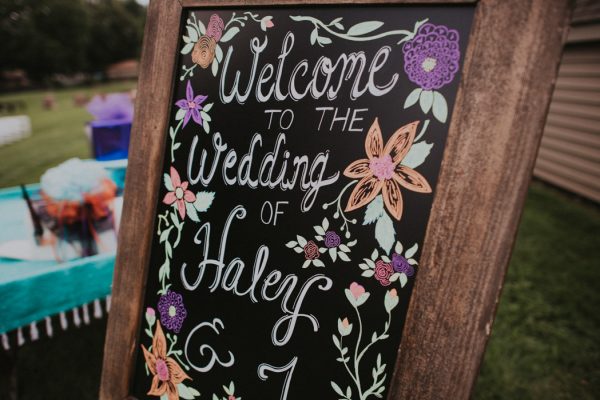 We did not really have any set wedding colors. Whenever someone asked me, I would always say rainbow, and I would most likely get a jaw drop. But really, it was rainbow– truly any bright color made the cut. A fiesta should not be limited to just a couple colors. It ruins the fun of things. The more color the better in our books.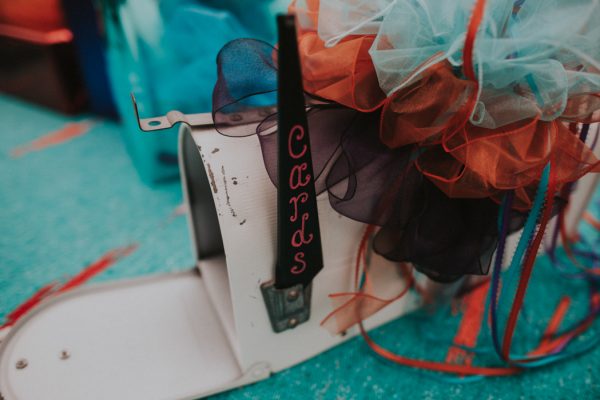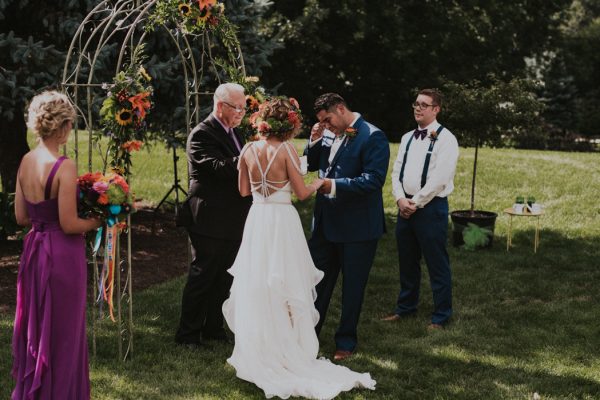 Instead of a unity candle, we had a unity planting. Jose and I chose a tree to eventually plant in our backyard. We each poured a cup of dirt into the big pot, and my mom and my sister-in-law then sprinkled water in the pot to bless the tying of two families. This was very special to Jose and I.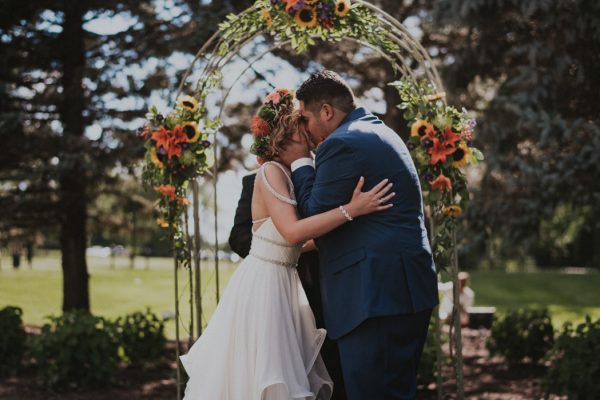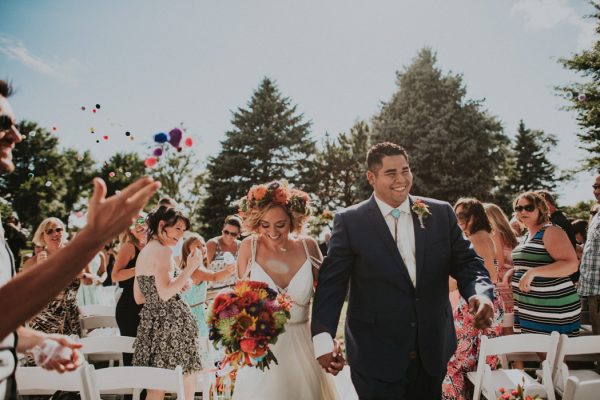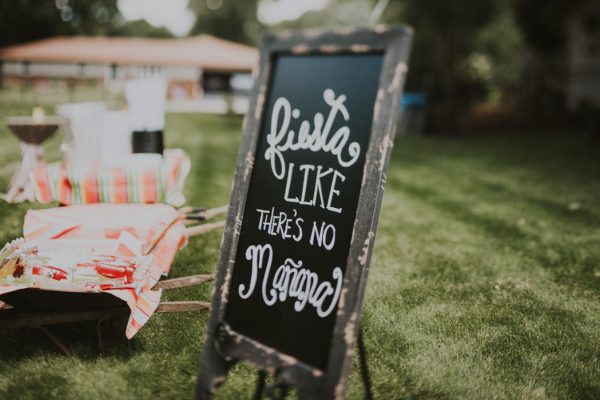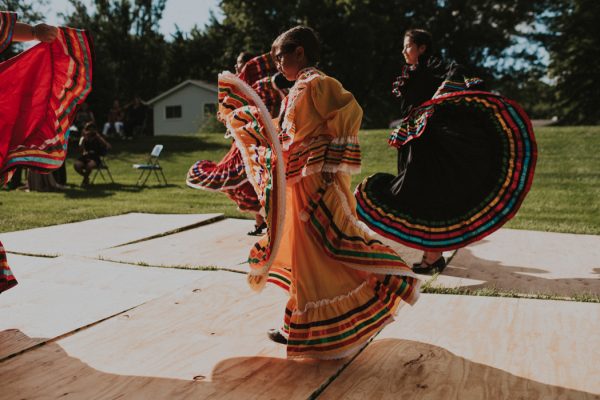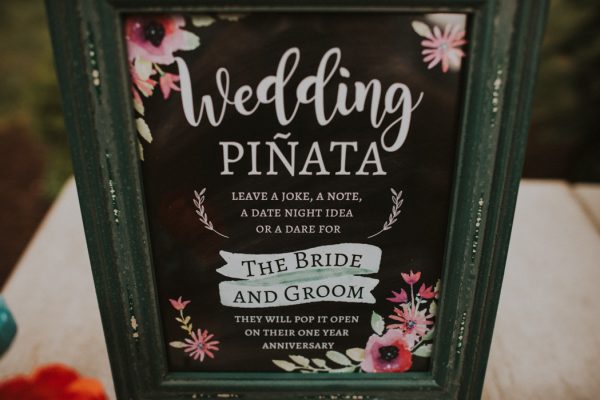 Looking back on our wedding day, I can truly say that everything was picture perfect, and I never thought I would say that. It was amazing how all of the small details came together.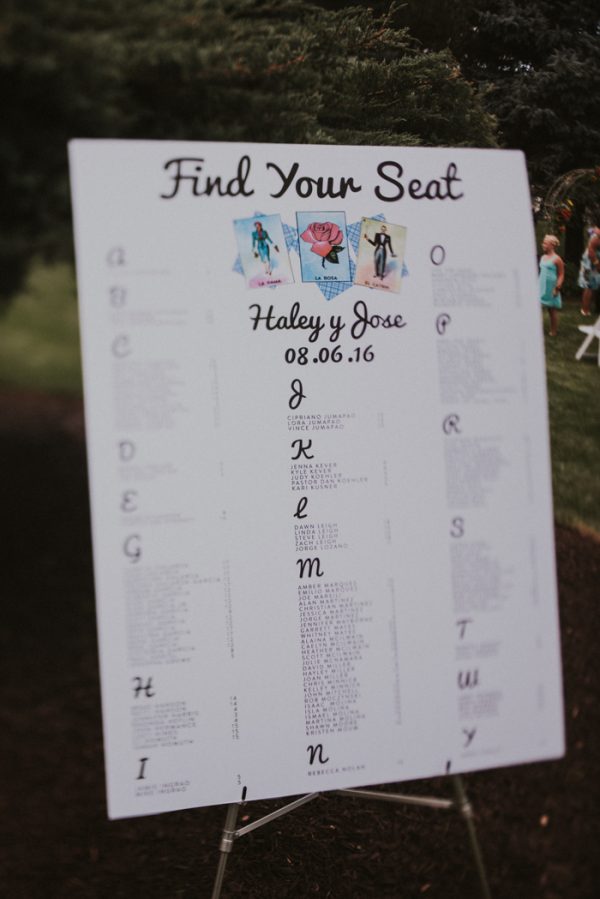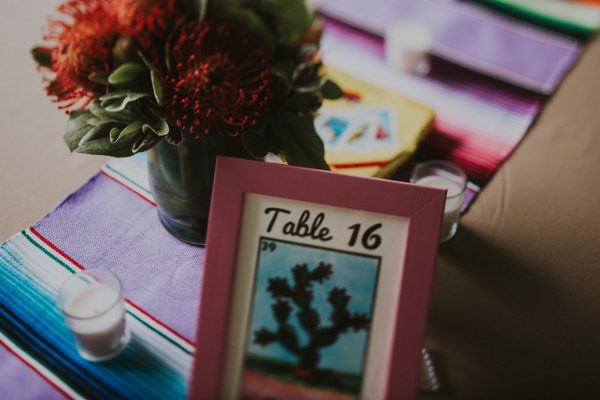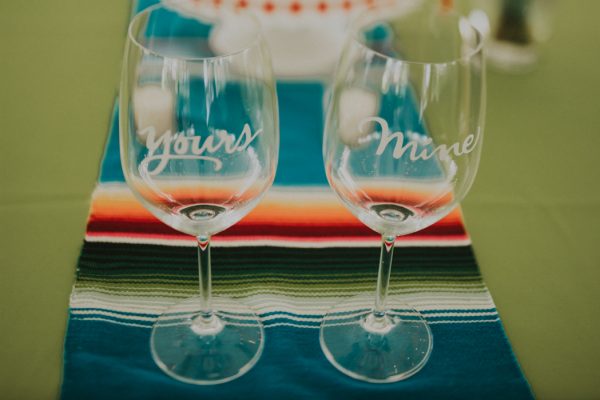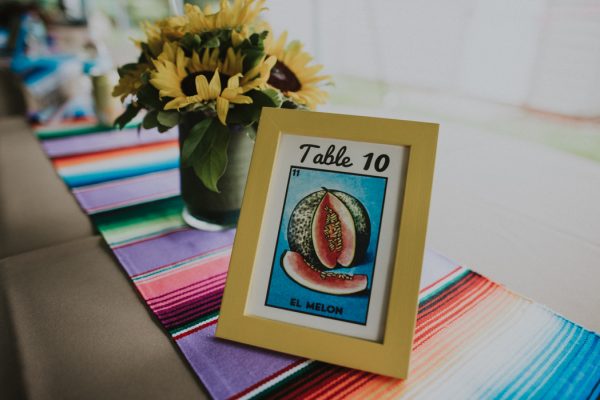 Great family friends of ours started a salsa business called Culturally Confused. They made special small jars of their salsa for us, and we have customized stickers placed on the lids. We chose salsa since it went perfectly with the fiesta theme… and who doesn't like salsa?!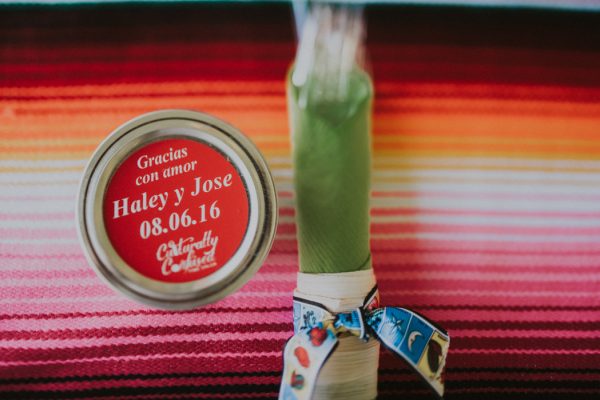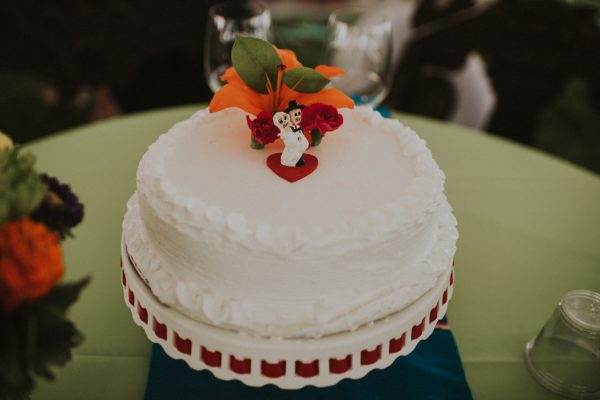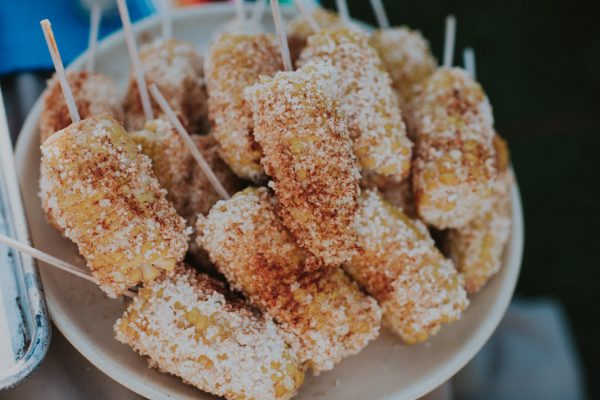 One of my favorite moments of the night were the late night churros. They were served mid-way through the dancing.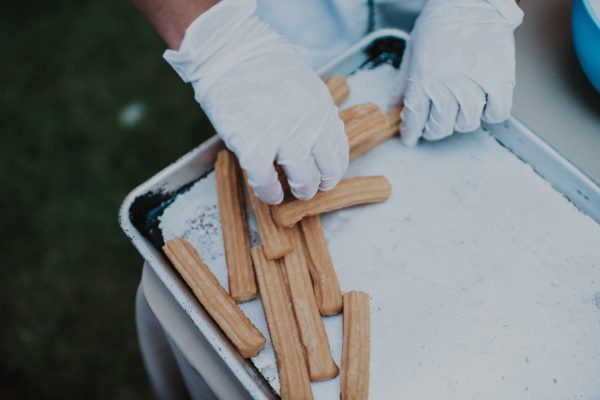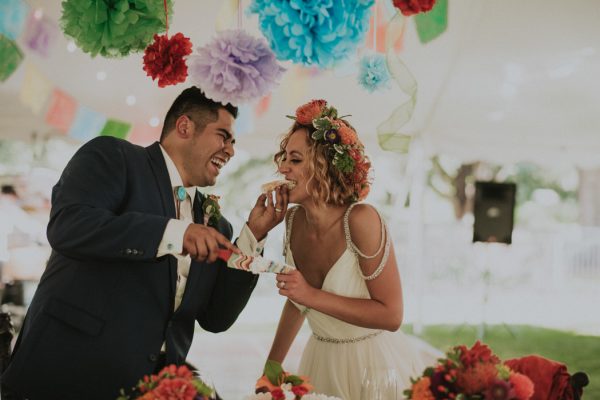 Processional – Hoppipolla by Sigur Ros
Recessional – Home by Edward Sharpe and the Magnetic Zeros
First Dance – Sea of Love by Cat Power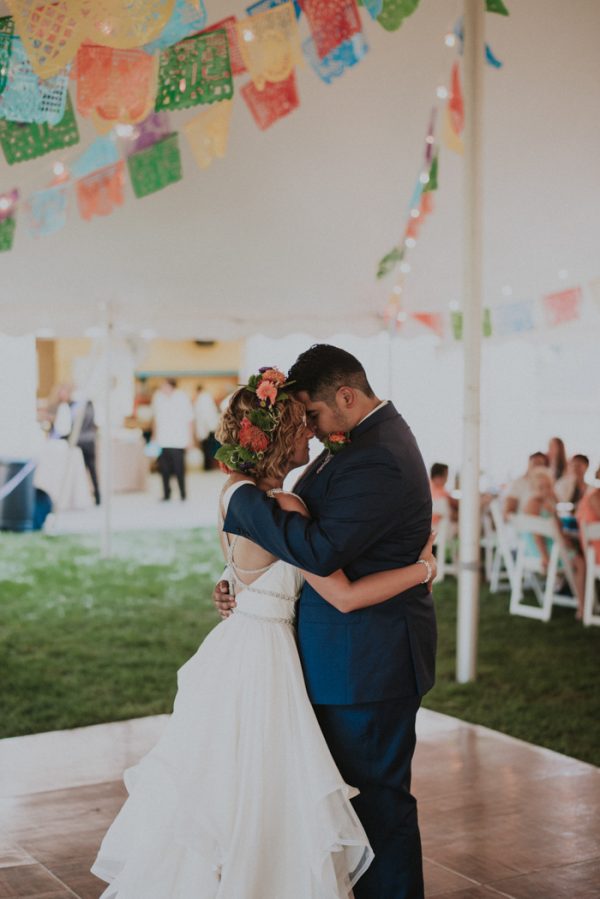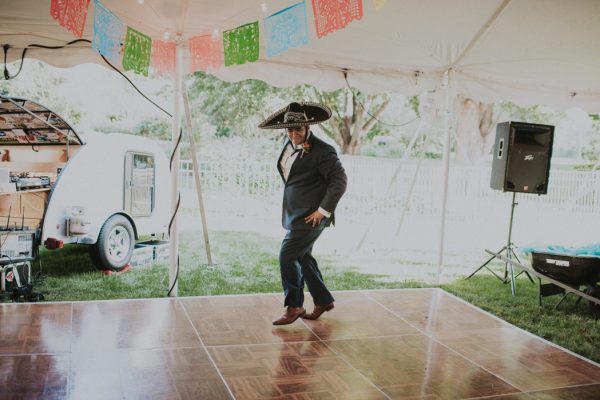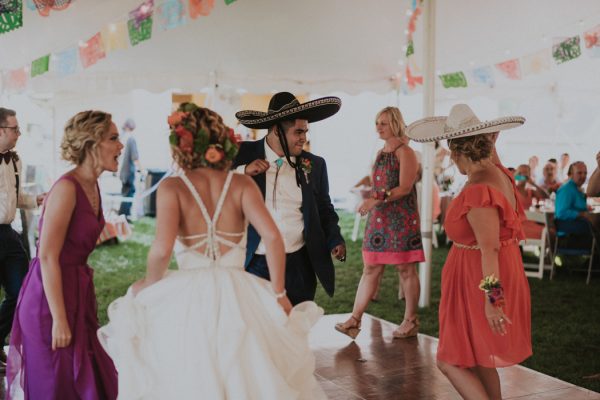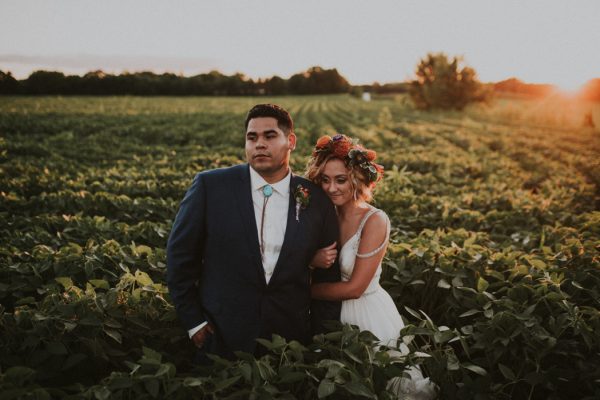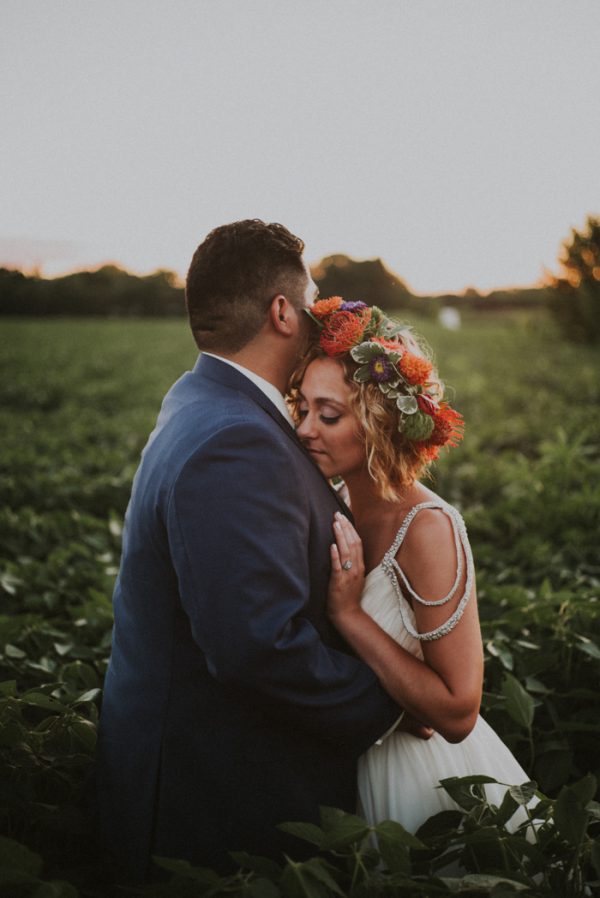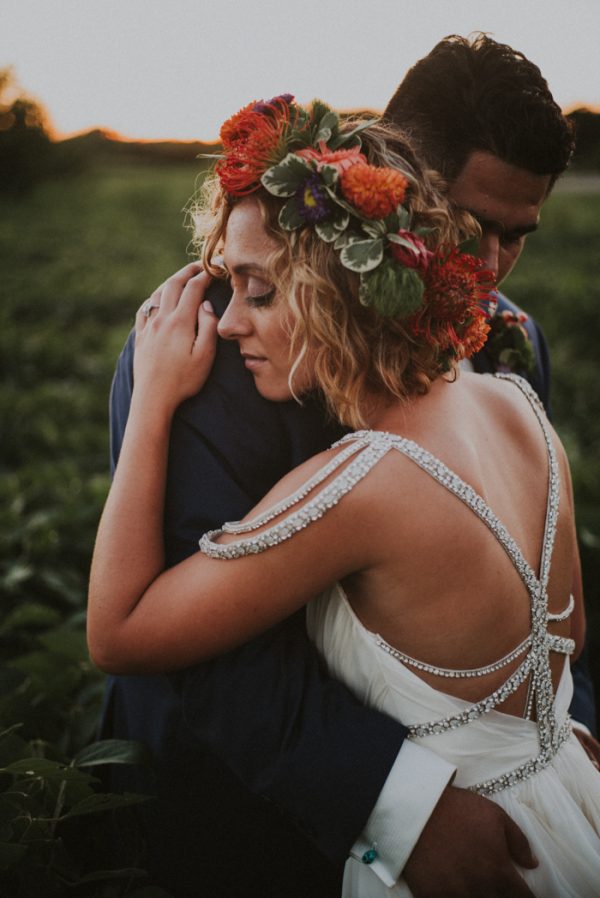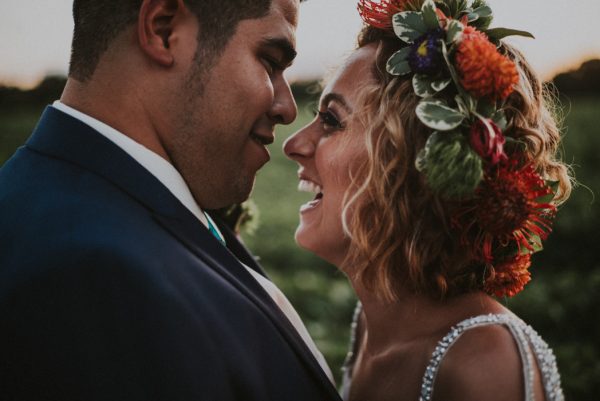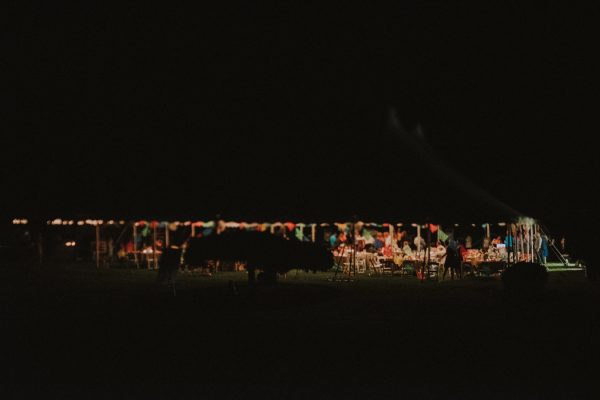 Congratulations to Haley and Jose, and a big thanks to Hinterland Stills for sharing their wedding with us! Love the idea of a vibrant backyard wedding? Then you've got to see this epic and eclectic DIY backyard wedding in Texas!