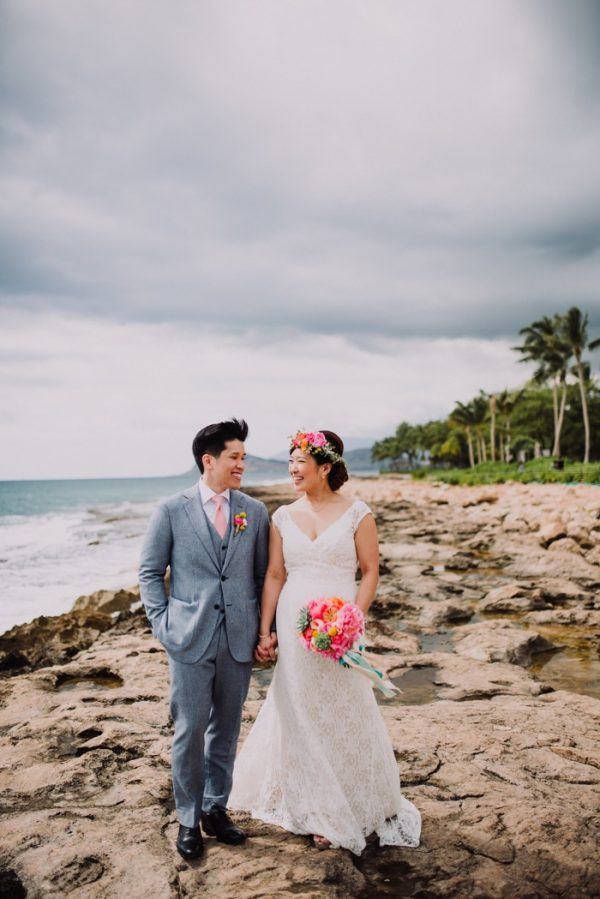 This Honolulu wedding's colorful blooms and cheerful moments are sure to put a smile on your face! Rachel and John love every color under the rainbow, so they allowed their fun invitation suite's design set the tone of their Lanikuhouna Cultural Estate wedding: amazing neon flowers, exciting surprises at every turn, and tropical vibes all over! We can't get enough of Rachel and John's jaw-dropping floral design by Flowergirls Hawaii, and their bar service provided by Stir Beverage Catering incorporated the cutest striped straws and drink dispensers for a truly unforgettable drink station. Christie Pham Photography and the videography team of Aria Studios documented every moment of the couple's day beautifully, including Rachel's surprise ceremony challenges for John!
The Couple:
Rachel and John
The Wedding:
Lanikuhouna Cultural Estate, Honolulu, Hawaii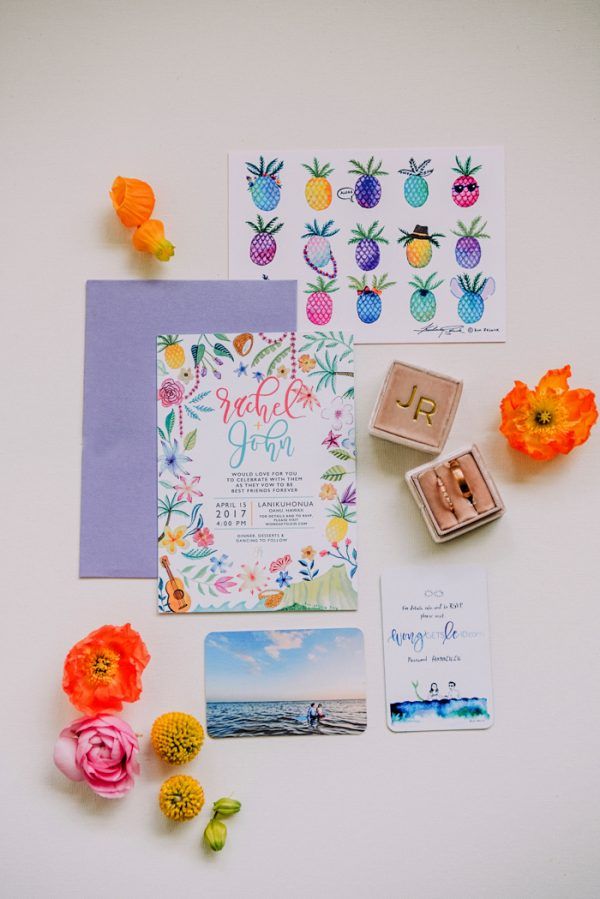 Because we love so many colors, we knew we had to be organized from day one to avoid disastrous clashing. Instead of choosing an invitation suite to fit our wedding, we decided to let our invitation suite come first so that it helped set the design parameters for our wedding. I asked my best friend, Kim Zeluck, to design our wedding stationery (and to be our "color coordinator"). This was the perfect start to wedding planning as Kim's art is – figuratively and literally – a dreamscape. Her designs brought our vision to life: a multi-colored pastel-perfect tropical dream.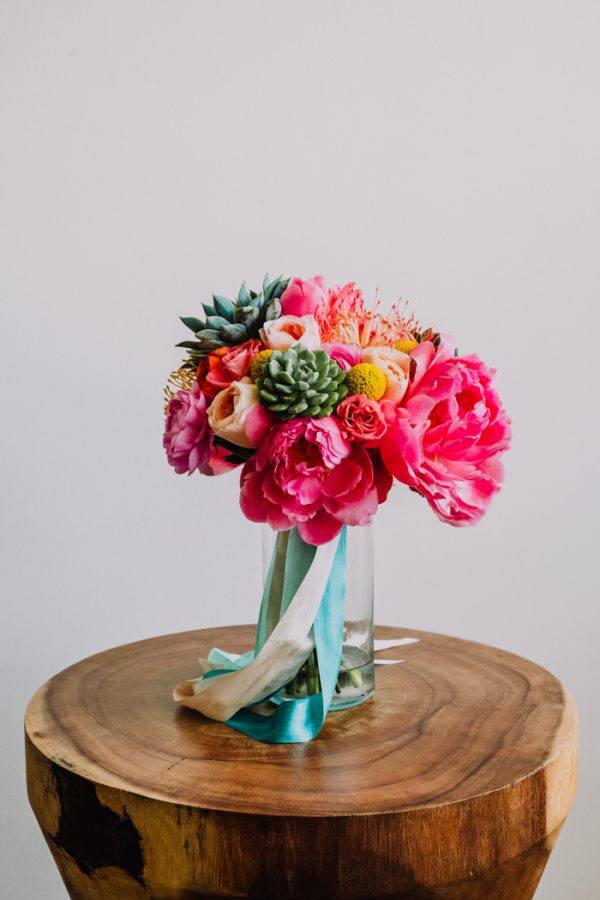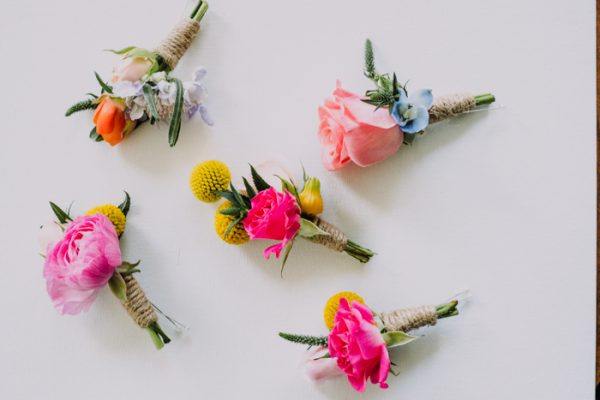 John and I fell in love with Hawaii when we visited together for the very first time. We knew that we wanted to share our love for the island with our closest friends and family. An oceanfront sunset, a sweeping lawn and a grove of beautiful palm trees aside, choosing Lanikuhonua as our wedding venue was the perfect choice as we could pour our hearts into the pristine, blank canvas. The intimacy of having a destination wedding allowed us to treat every guest as a VIP – our goal was to make every bit of our guests' trip as memorable as it was for us.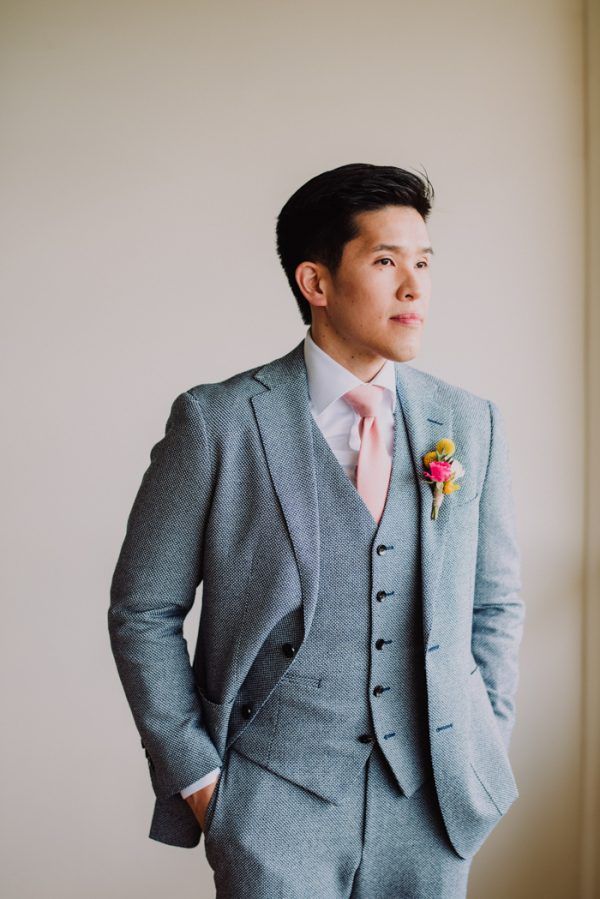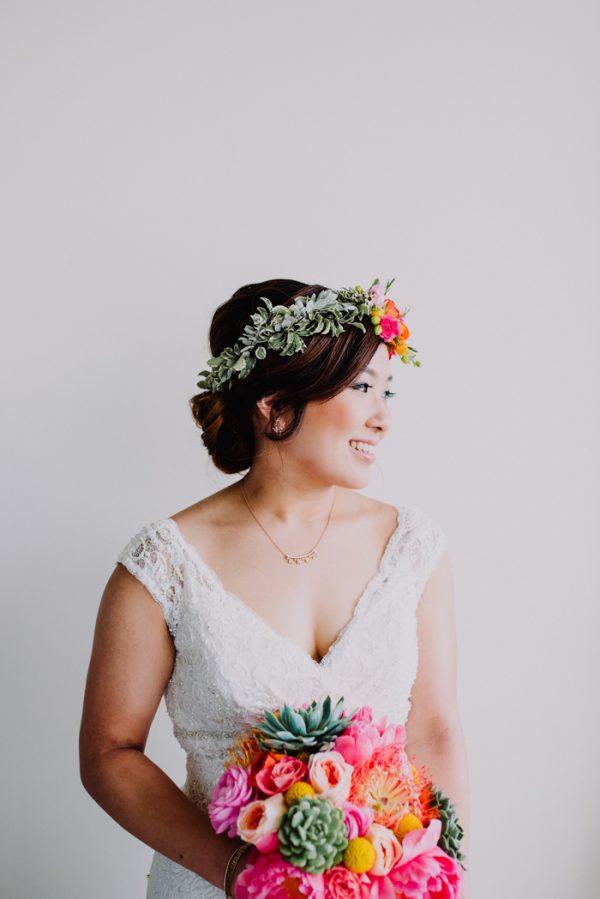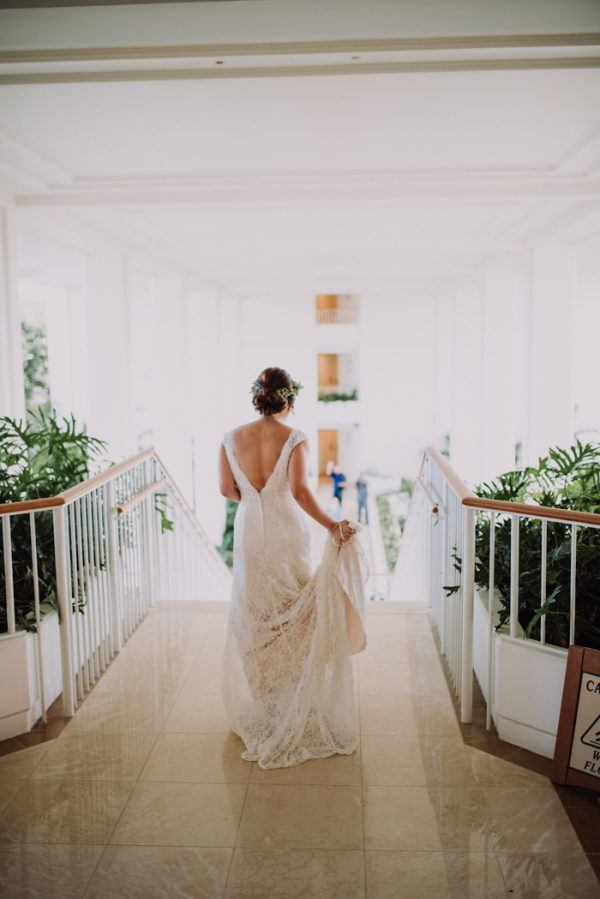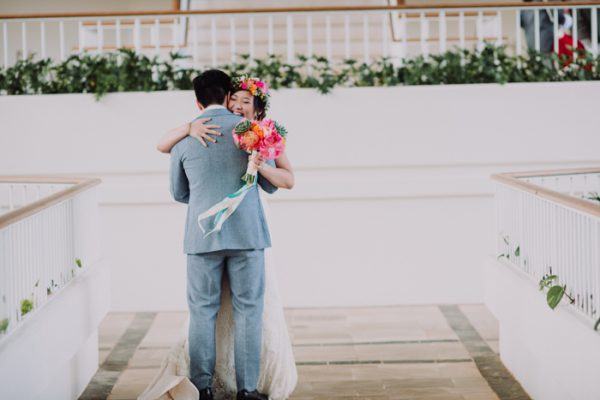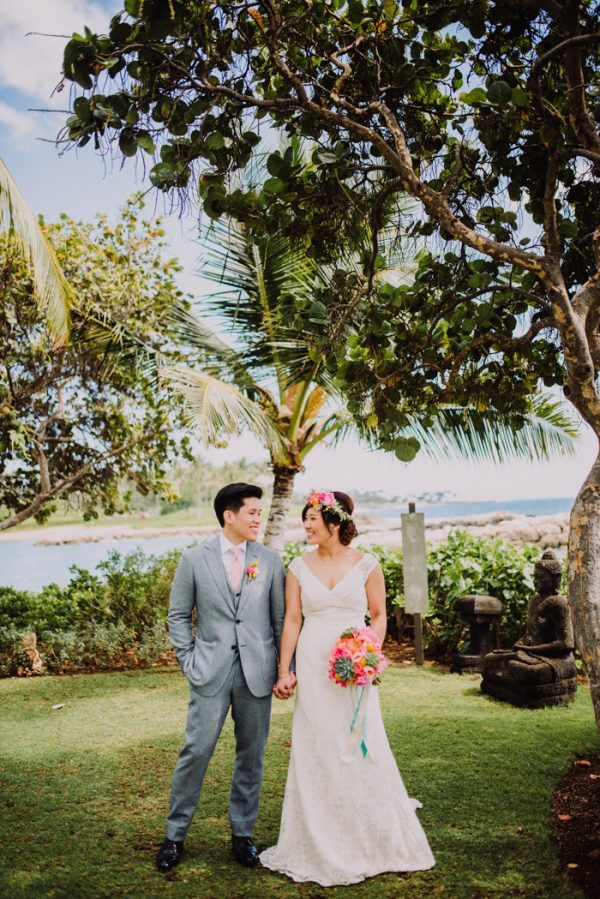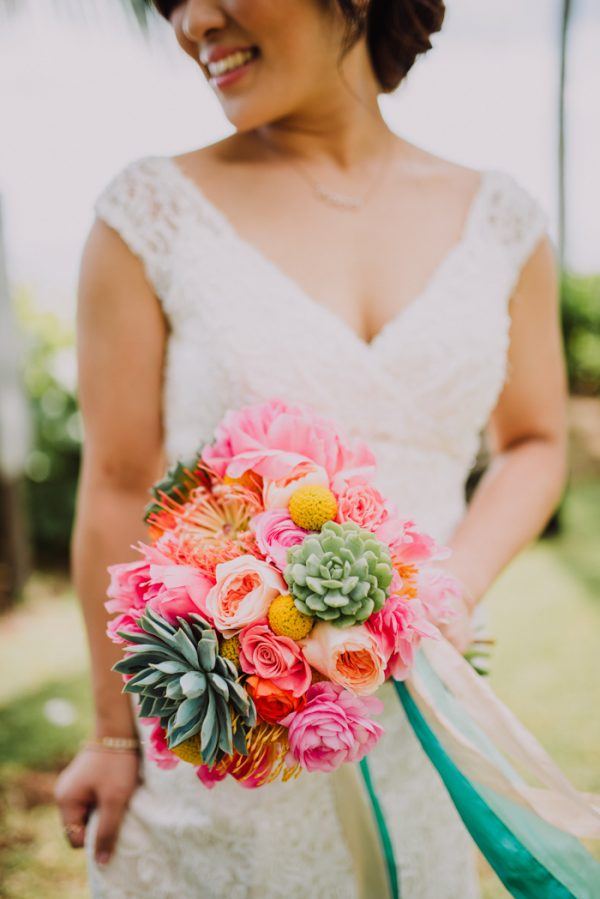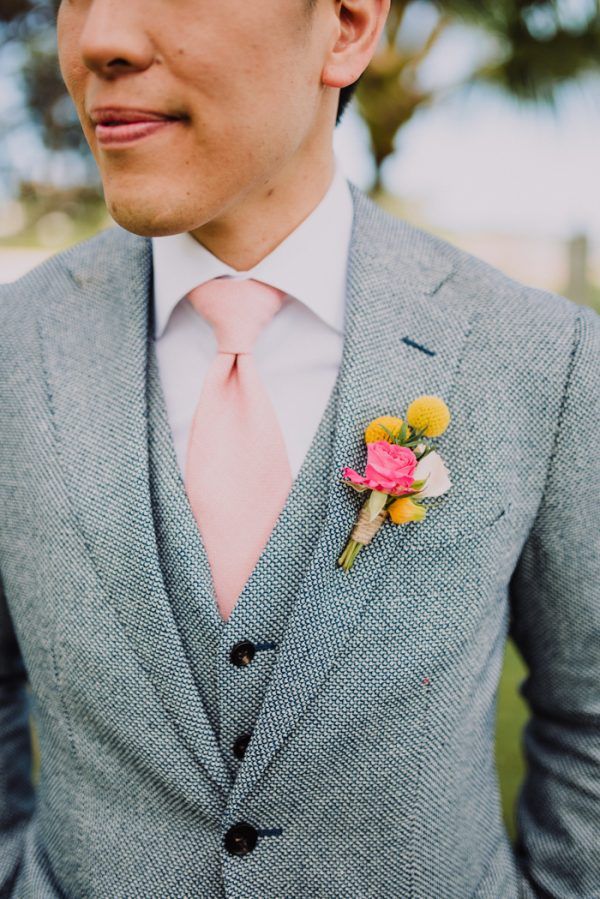 The wording on our wedding invitation welcomed friends and family to join us as we "vowed to be best friends forever". This was particularly meaningful for us, because during the early days of our relationship, we quickly realized that we would be BFF and that we would marry each other. Invitation and vows aside, we decided to incorporate this vow into our ceremony backdrop. We commissioned Letters to You for a laser cut sign. At the ceremony, we hung it up against a foliage of greens and floral between two palm trees, and now we have it hung above our bed in our first home together.

I also decided to personalize our ceremony by working with our vendors, officiant and bridal party to surprise John at the altar! As the first pair of bridal party people walked down the aisle to an acoustic version of "Forever" by Boyce Avenue, the DJ's sound system "suddenly went bust" – the original, upbeat version by Chris Brown started playing instead (our DJ was in on this surprise!). To John's surprise, each bridal party pair walked down the aisle with a mini task for John. These included writing my Chinese name on a whiteboard (a difficult task for my non-Chinese speaking husband!) and drinking quirky-tasting shots (to prove that he can withstand all the different "flavors" that marriage may bring). This all came to John's surprise and gave everyone a good laugh as they cheered him on to complete all the tasks. Once he had completed all of them, I walked down the aisle with my parents.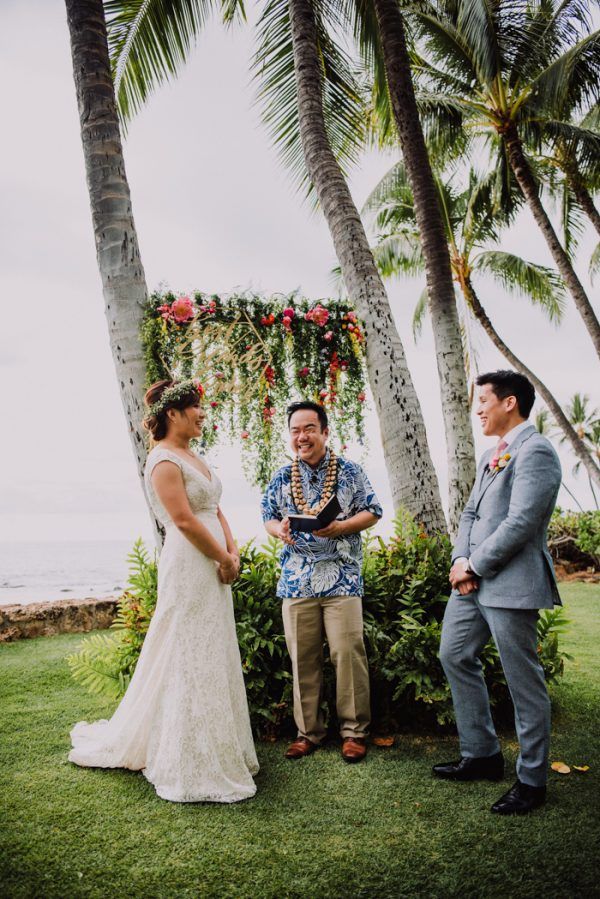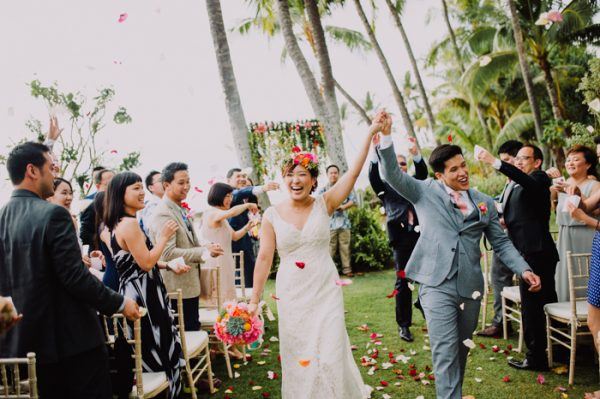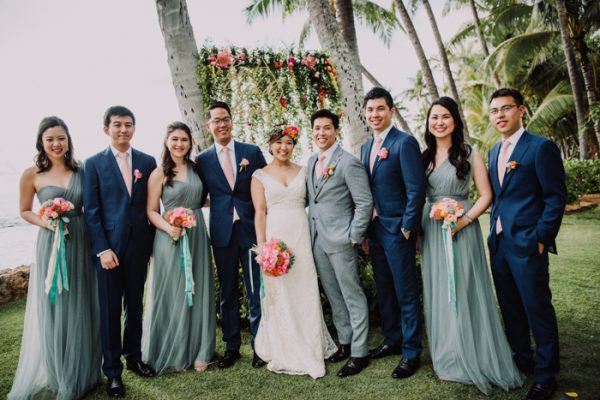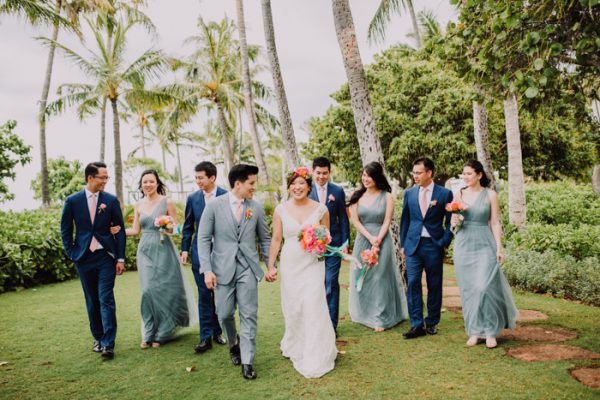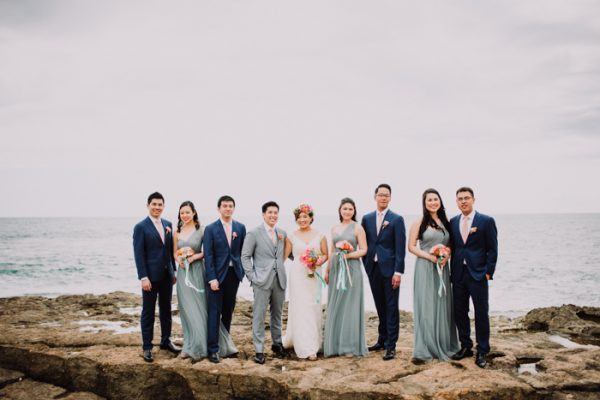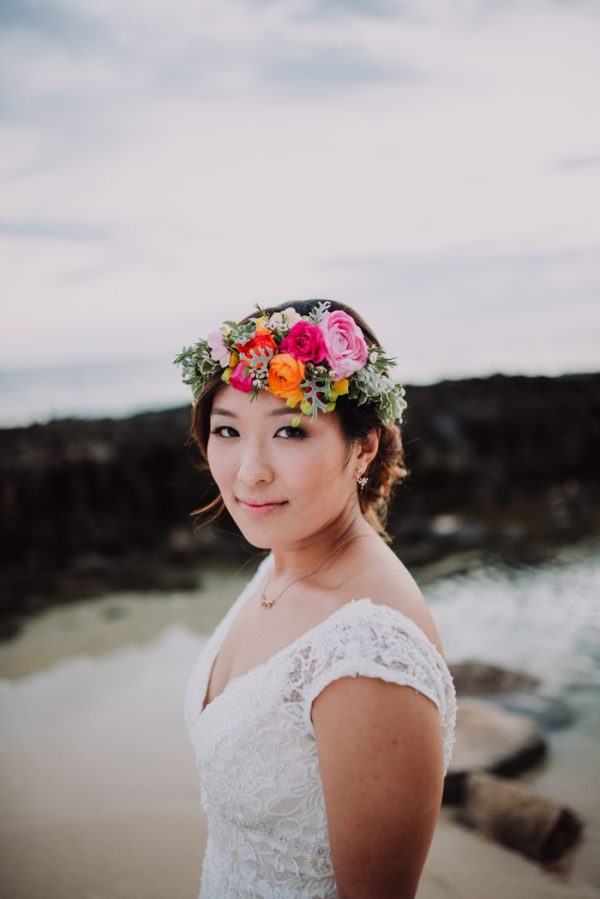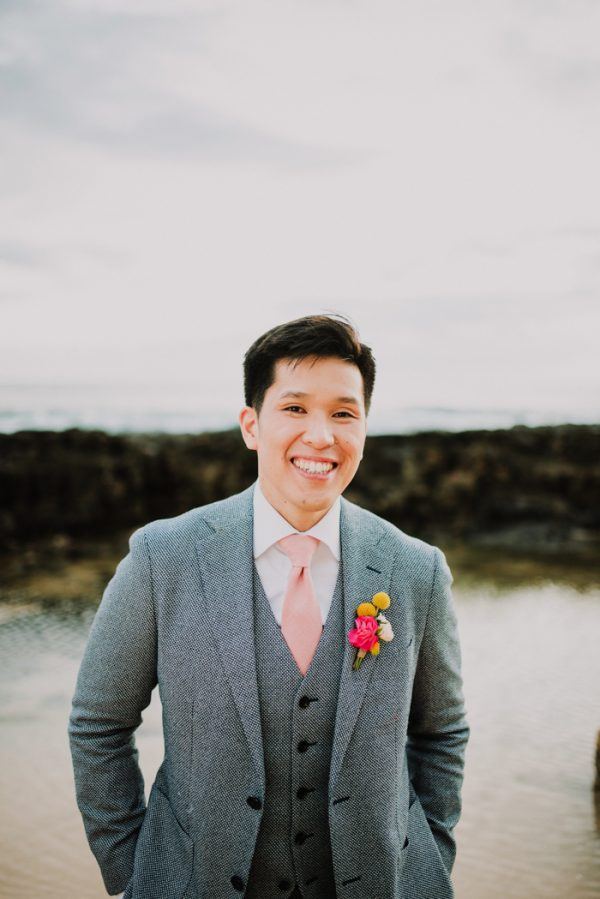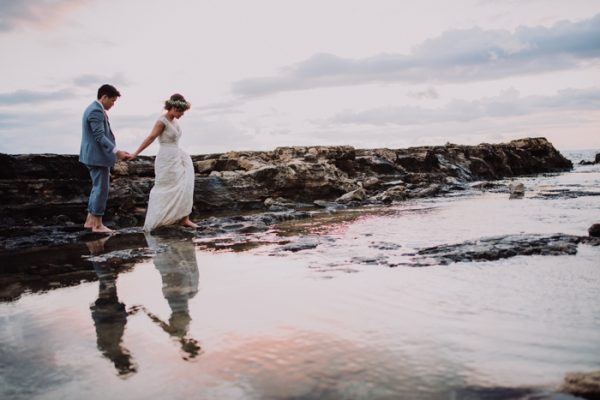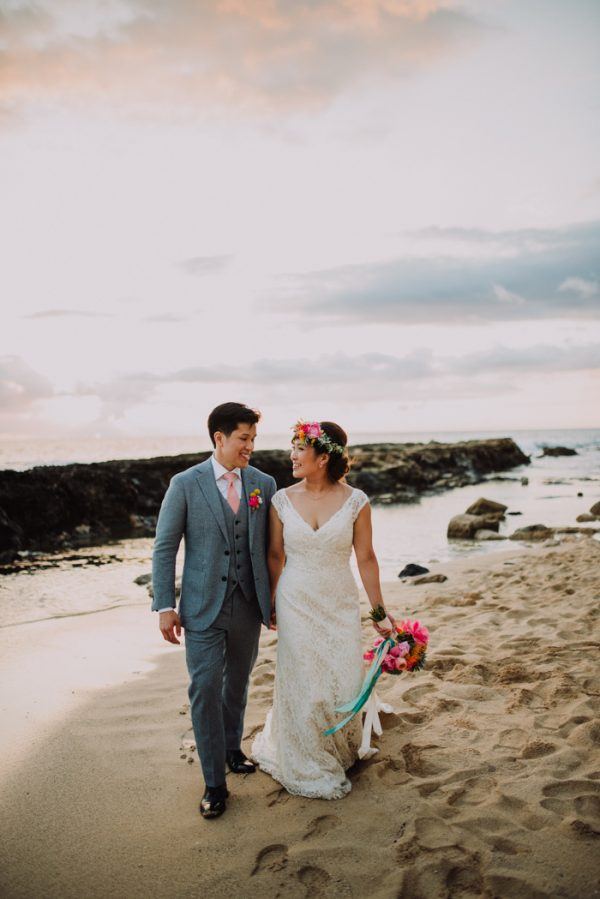 We decided to DIY our wedding favours which also doubled up as place cards. When we first started dating, John and I kept a daily journal of how our "best-friendship" developed. We recorded our memories in Moleskine journals: date nights, first fights and funny things said. We decided to share this element of our relationship by hand-lettering guests' name and stamp-embossing tropical leaves on each Moleskine cahiers. We also wrote a little personalized note to each guest inside the detachable page of each notebook – a big thank you for traveling to Hawaii to celebrate our day with us.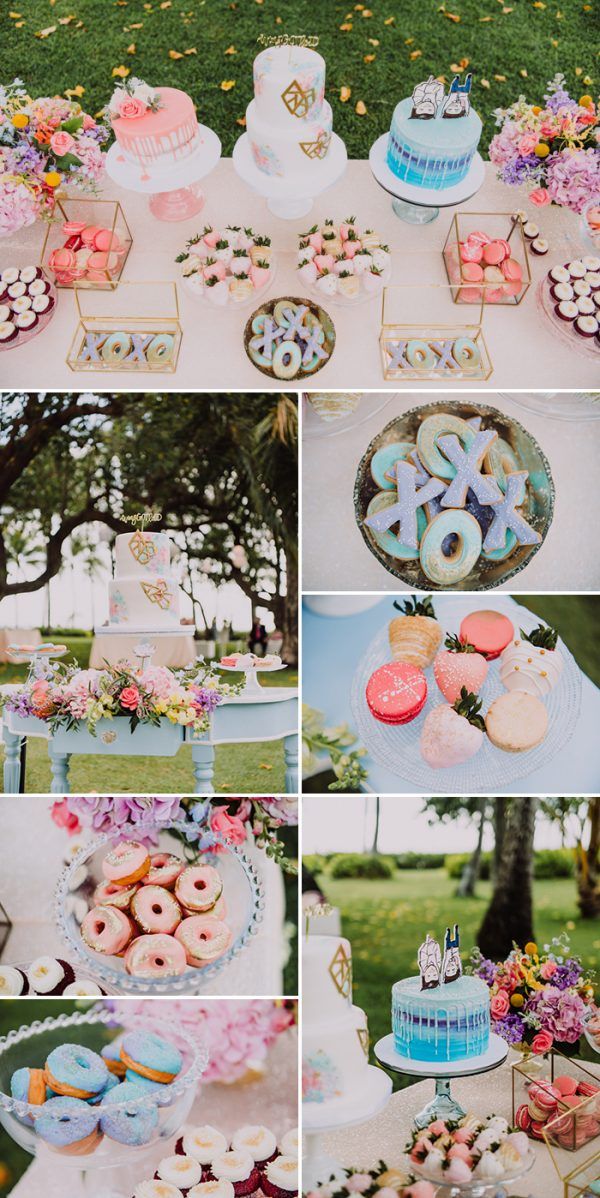 The one thing that stands out the most was our grand entrance. I had no idea what came over me (it may have been my increased level of comfort after changing out of my wedges and into sparkly Kate Spade Keds), but as we waited for the emcee to announce us, I asked John: "I think I'll carry you." We went for it! It was a big shock and laugh for everyone – we have photos and videos to prove it!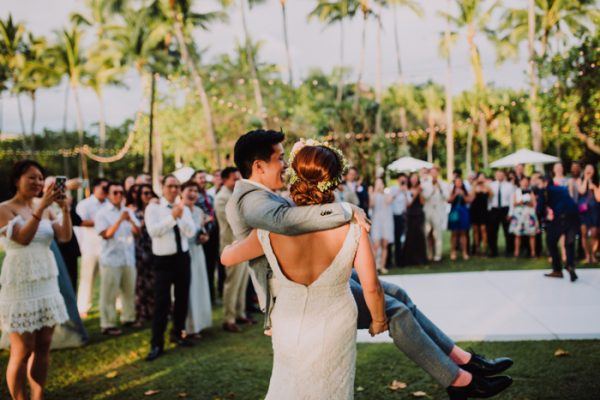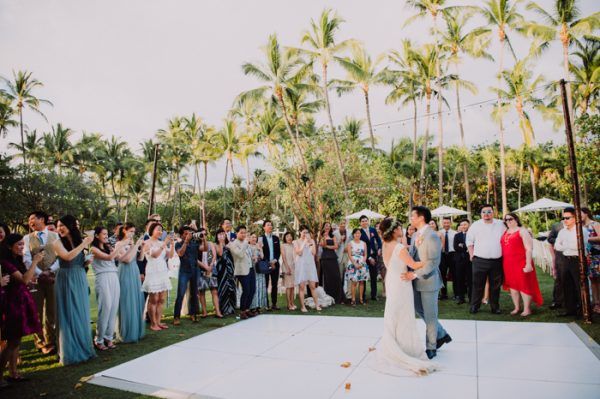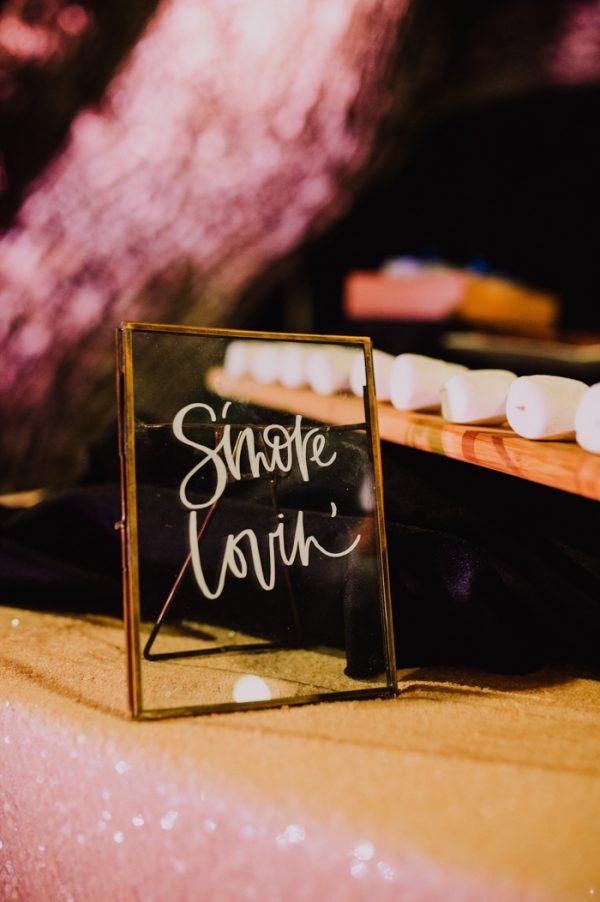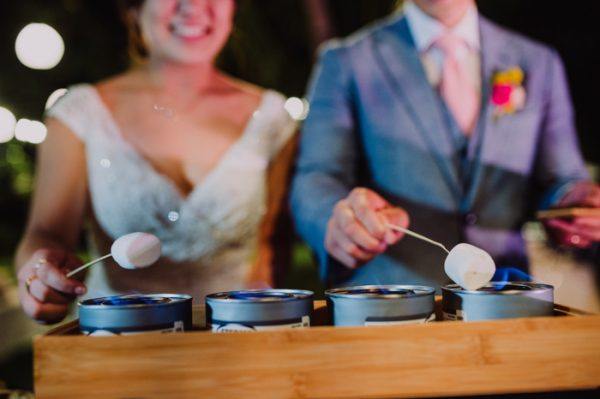 Congratulations to Rachel and John, and a special thanks to Junebug member Christie Pham Photography for sharing their day with us. Love this Hawaiian wedding's tropical vibes? Take a look at this Olowaku Plantation House wedding that marries Hawaiian tradition with New England charm!