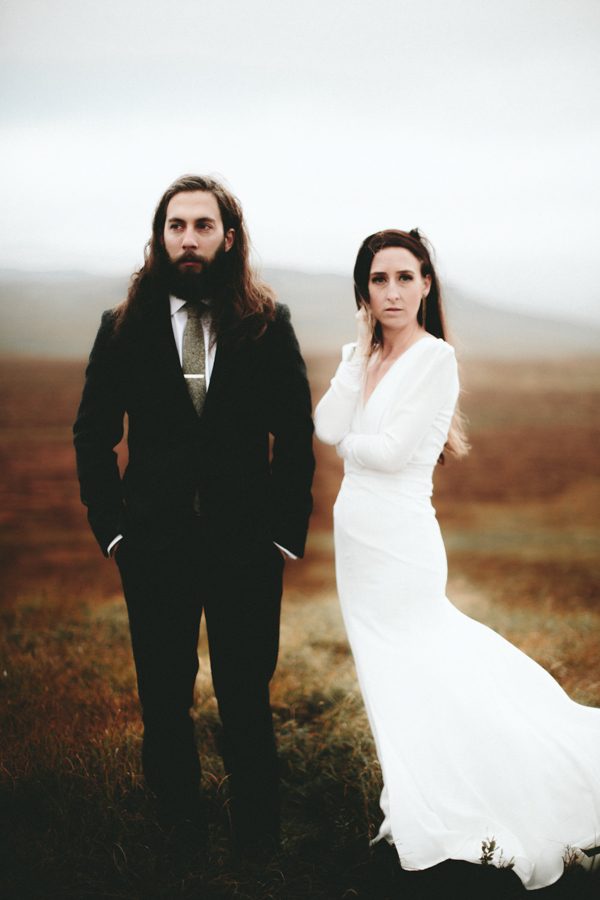 Between the DIY elements, its intimate guest list, and Ash & James Photography's perfectly moody portraits of the couple, we can't get enough of this Isle of Skye destination wedding. Jamie and Alex's decision to fly to Scotland for their destination wedding was an easy call to make because their Isle of Skye engagement years prior was so magical. Their 24 wedding guests were treated to an emotional ceremony led by the groom's brother and an intimate reception dinner made with fresh Scottish fare. Jamie's long-sleeved Yasmine Layani gown stole the show, while Alex's marled wool suit was relaxed and classy.
The Couple:
Jamie and Alex
The Wedding:
Uiginish Point, Isle of Skye, Scotland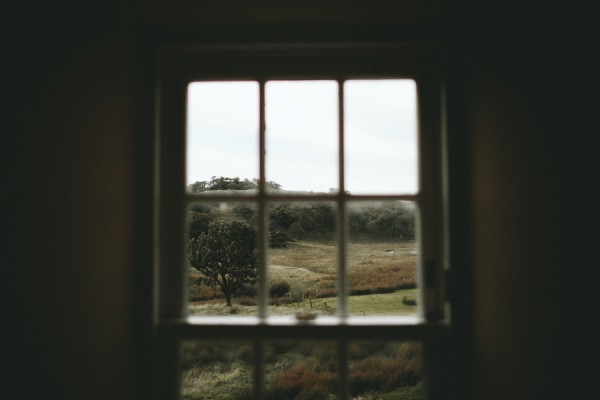 With a destination wedding, we knew it was a good way to spend more time with our families. We really hoped everyone would look at it more than a wedding and consider it an adventure. Everyone still talks about it today and we made memories we never expected.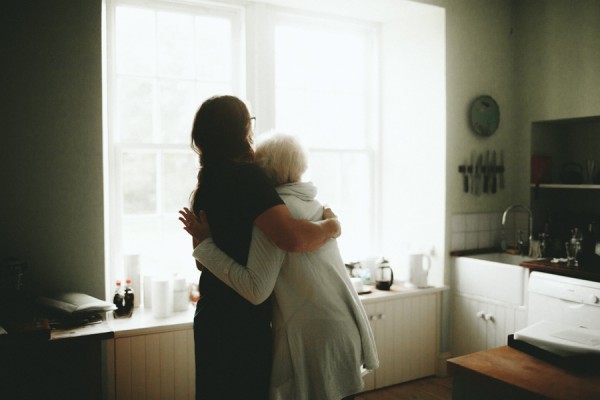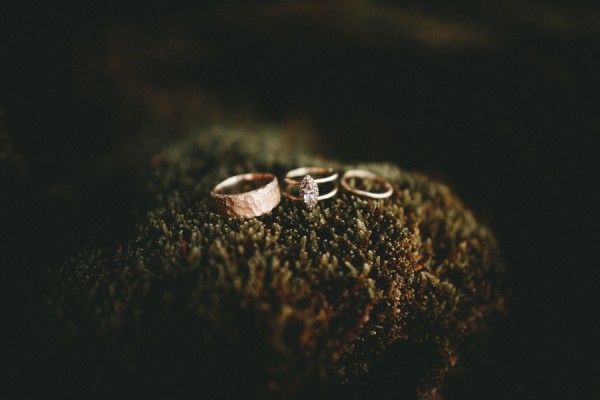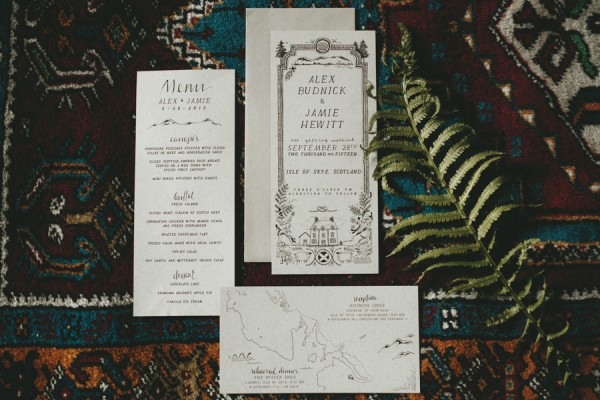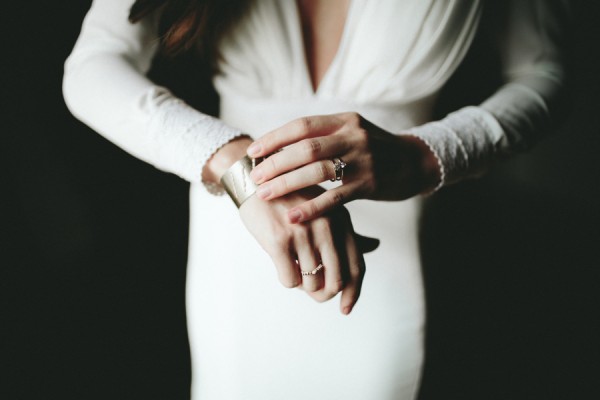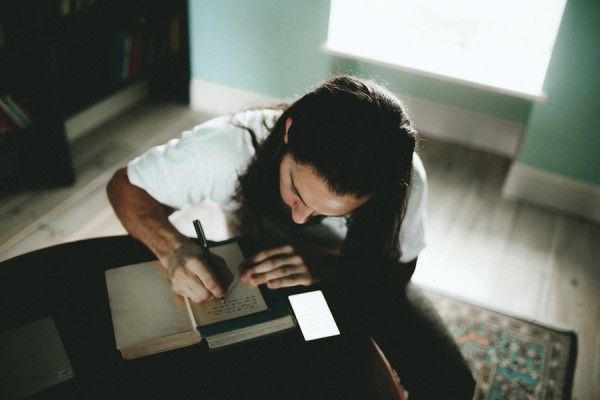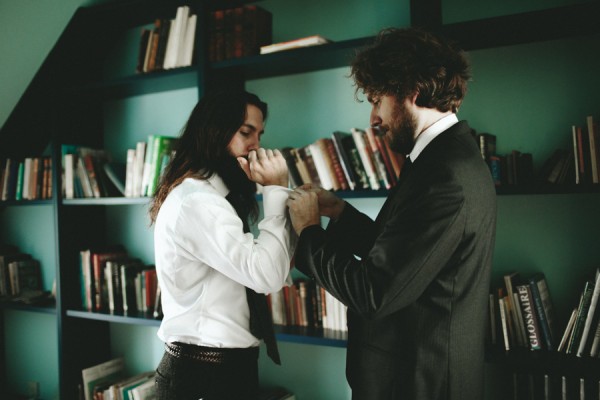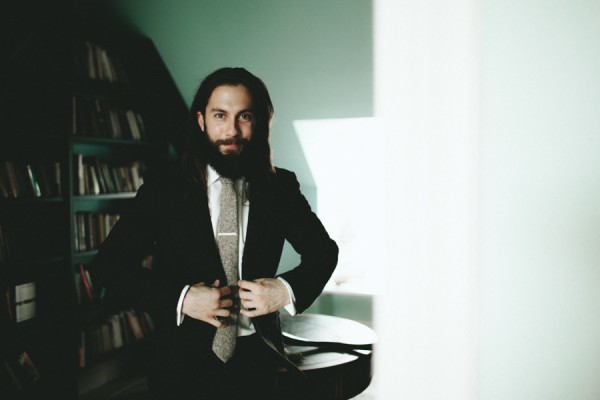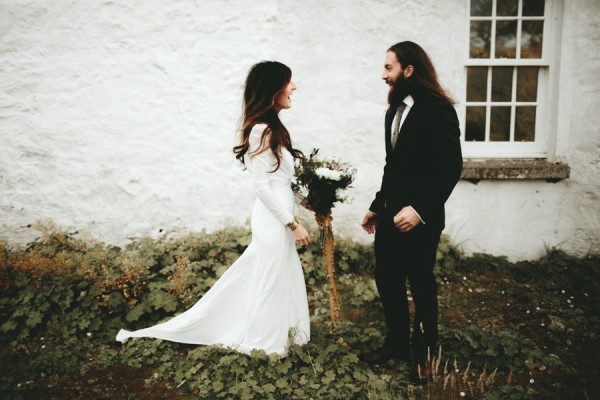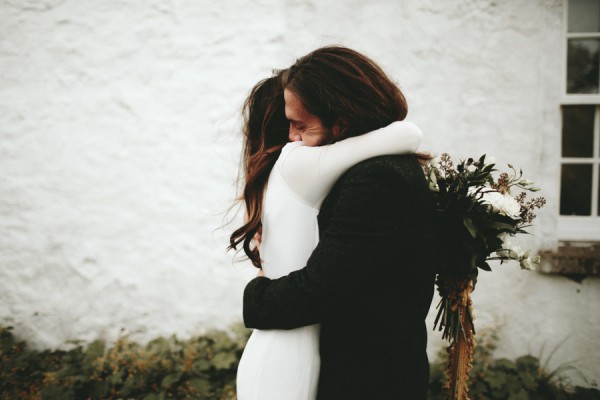 We wrote our own vows, so hearing those words from one another was an emotional and memorable part of the day. Neither one of us made it through each other's vows with dry eyes.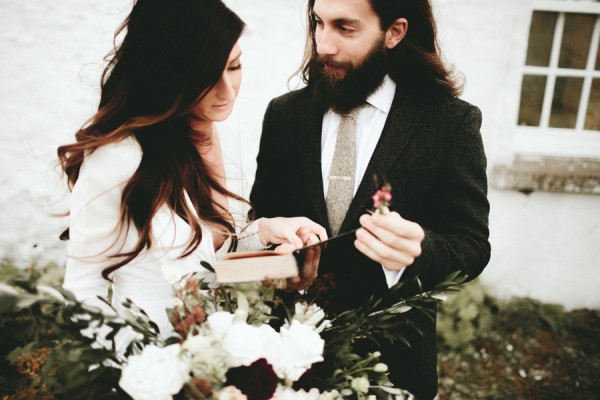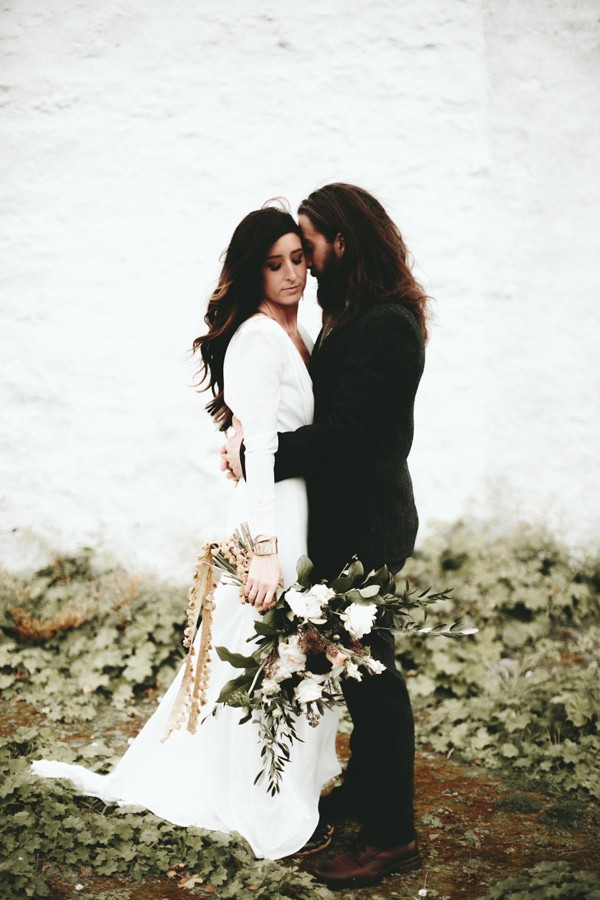 Since there were only four tables for dinner, I was able to arrange floral centerpieces a couple nights before the wedding along with my bouquet. I was in contact with a florist on the Isle of Skye whom I ordered the flowers from and picked them up the day I arranged them.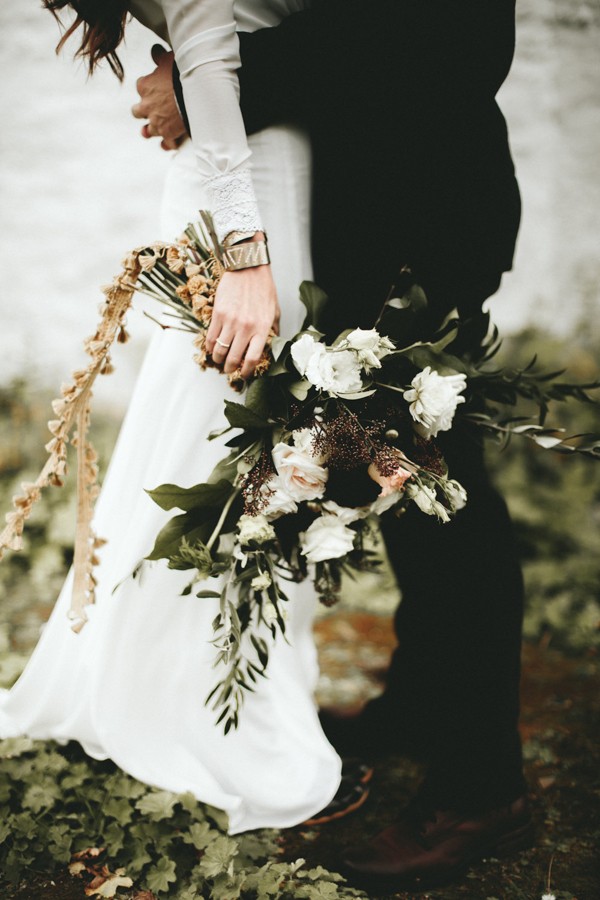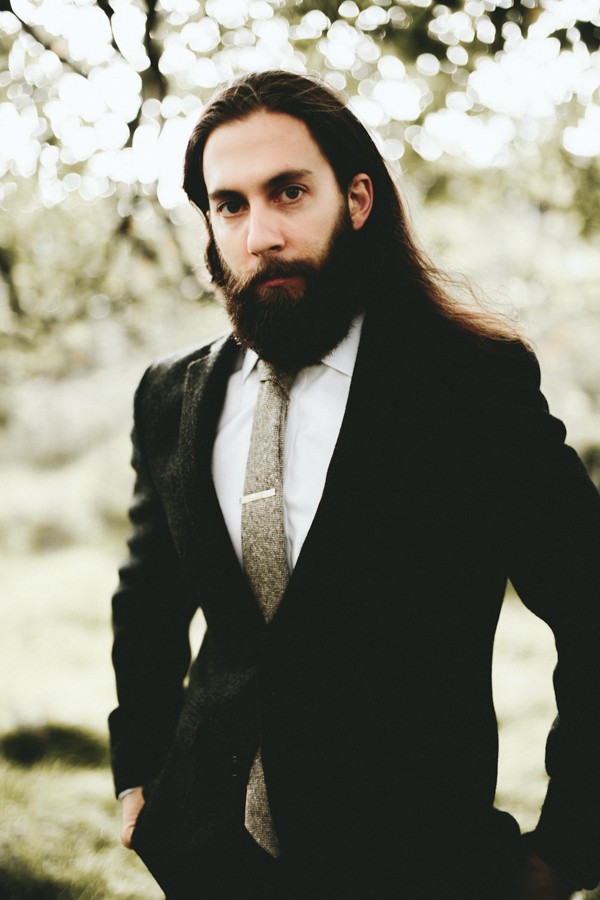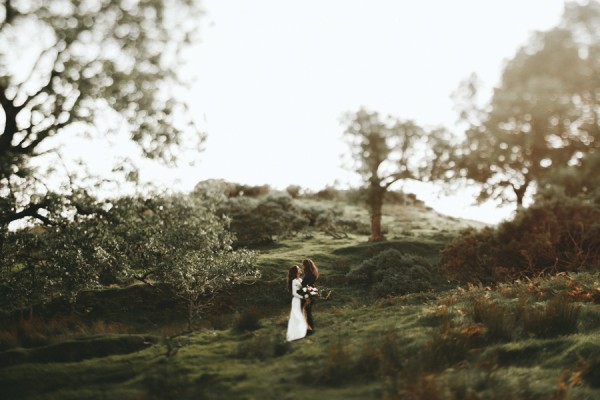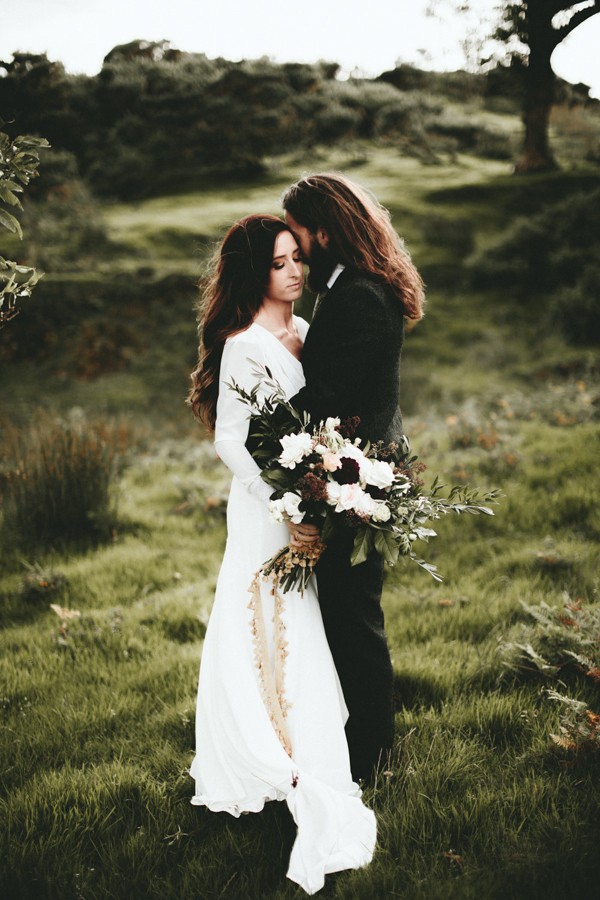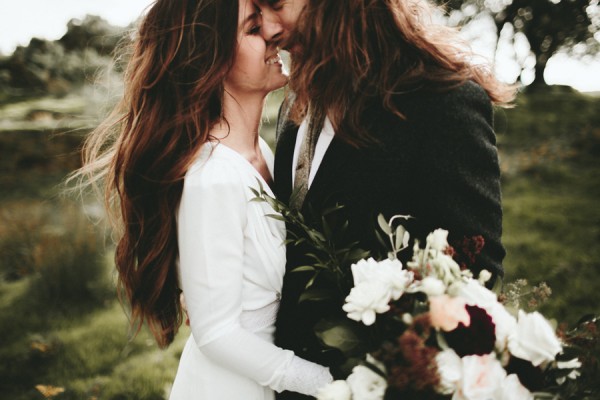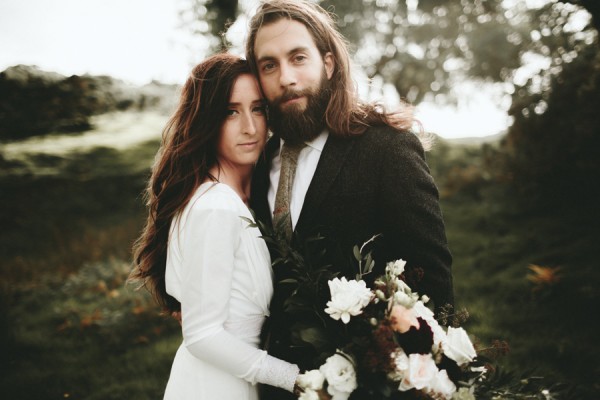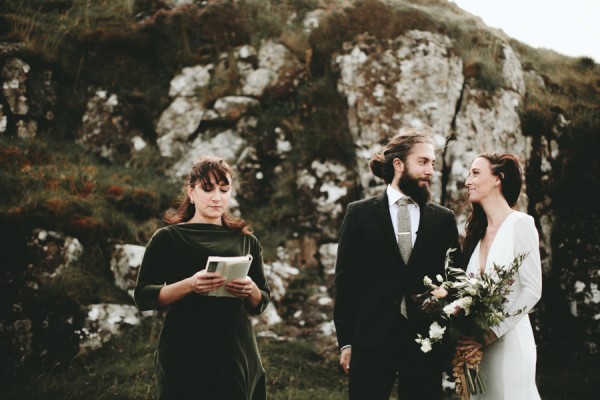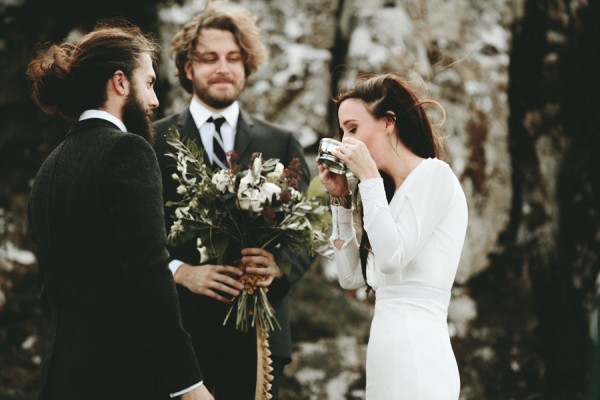 We had all the legal formalities completed back home, so we didn't hire an officiant. Alex's brother was so kind to be the official reader for our ceremony. Including family in small ways throughout the day and ceremony made the wedding more personal.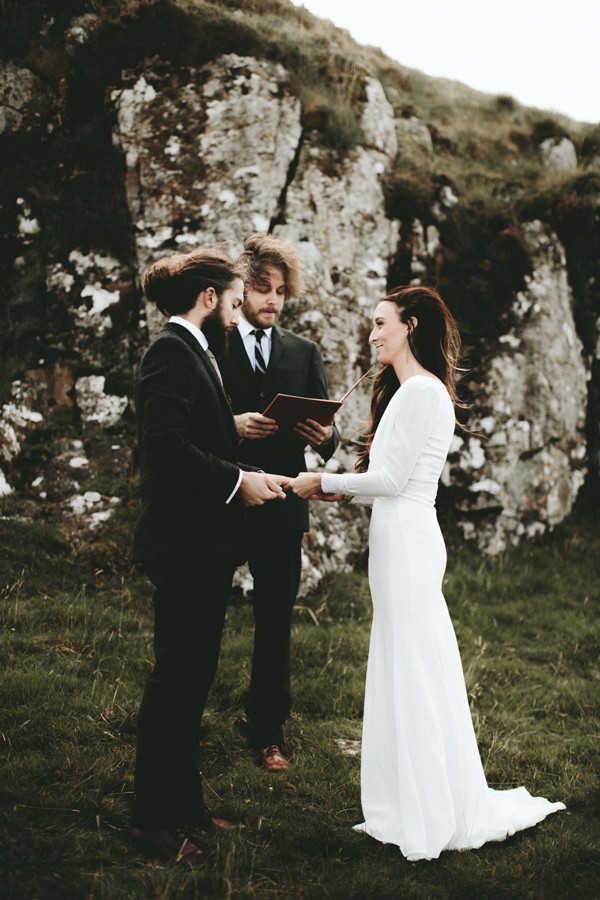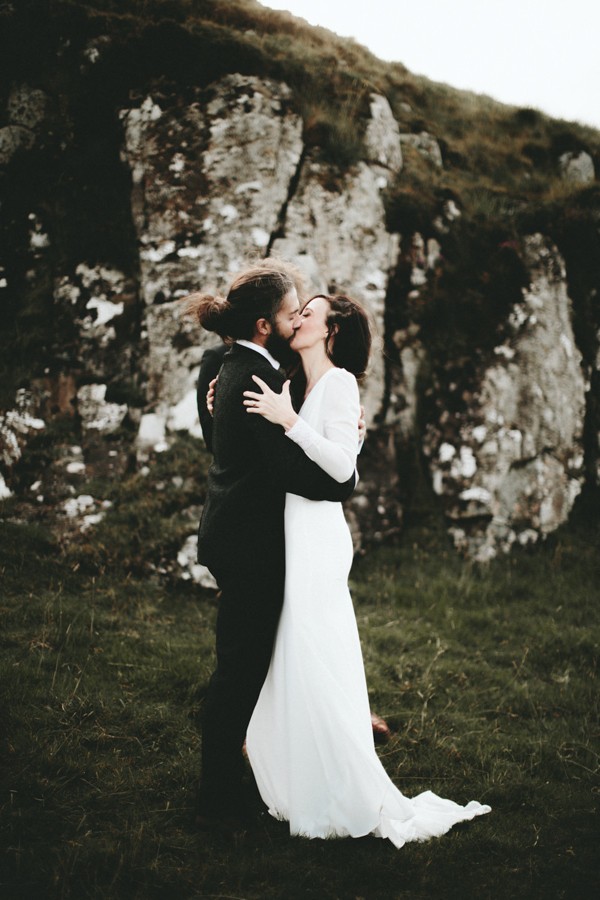 We got engaged on the Isle of Skye while spending two weeks traveling around Scotland. At first, we joked that we would come back to get married, even though that was our idea of a big dream wedding. Even though Scotland truly stole our hearts, we started to plan a backyard wedding in Minnesota. After talking it through and continuously adjusting plans and realizing we were heading in the direction we never wanted to go in the first place for our wedding, we started back at square one. We rethought what we really wanted and instantly went back to the drawing board with Scotland. We decided to put some feelers out to family and friends and much to our surprise, the majority were on board and wanted to join in on our adventure.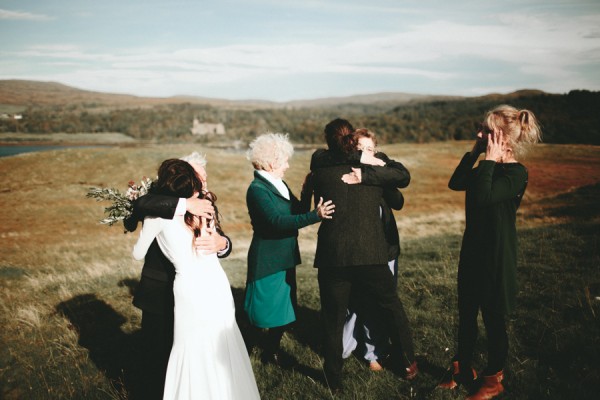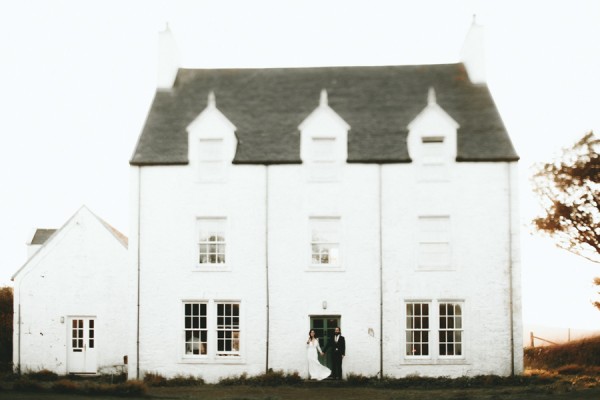 My twin and I run Ash & James Photography together, so Alex and I both trusted my sister more than anyone. I first asked many months in advance how she felt about photographing the day, knowing that it was going to be such a small and intimate group and she had no objections whatsoever. I asked her all the way until the week before we left "are you sure?" And she never for a second changed her mind.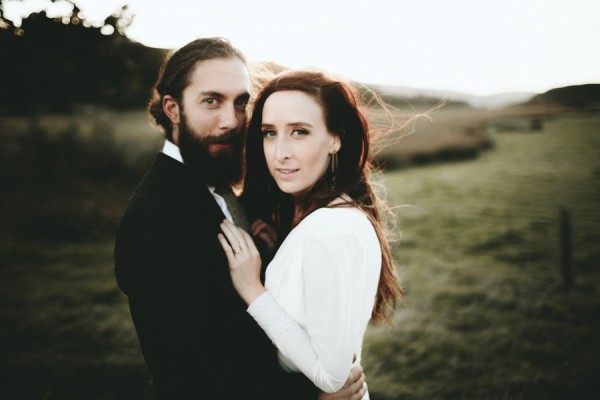 Being in the wedding industry, I've always been a cheerleader for couples to celebrate the way they want it. Go with your gut and you'll never regret it. If you're throwing a large traditional wedding, but you've always wanted something small, you're doing it wrong. Do not be afraid of having a small intimate wedding. Nobody ever said they had the wedding of their dreams and regretted it.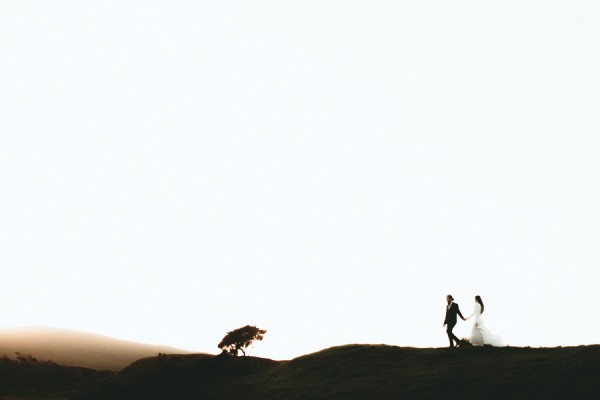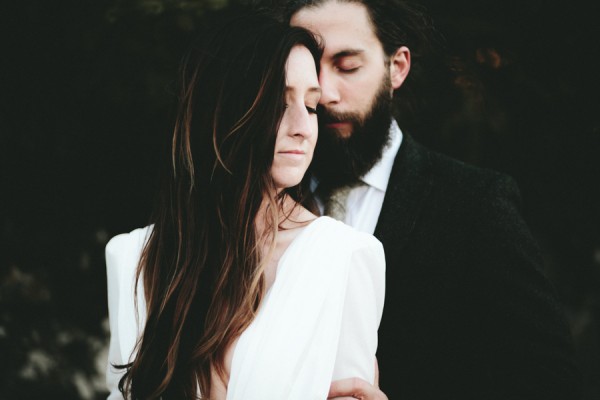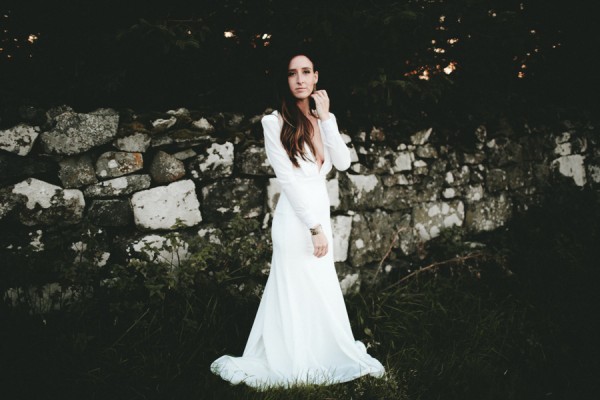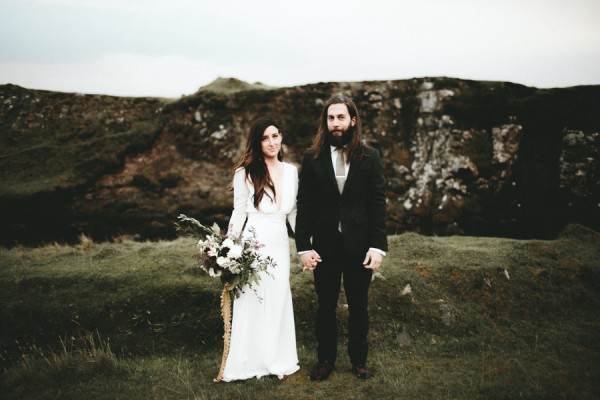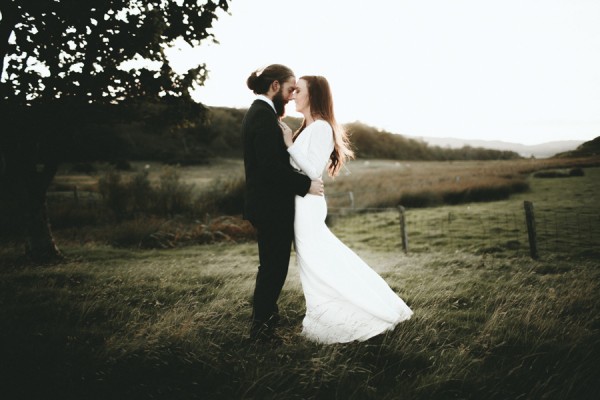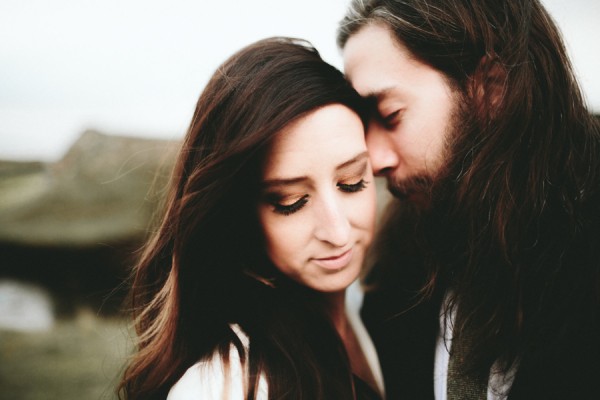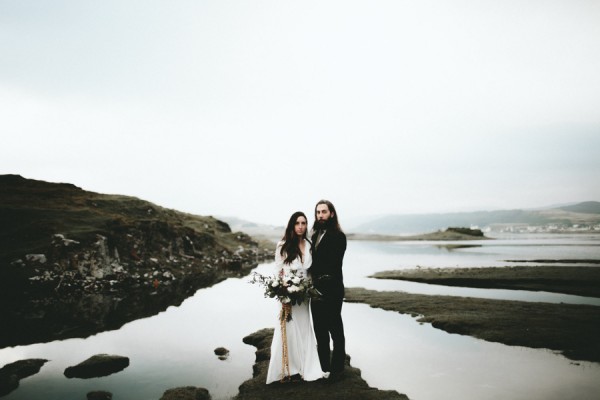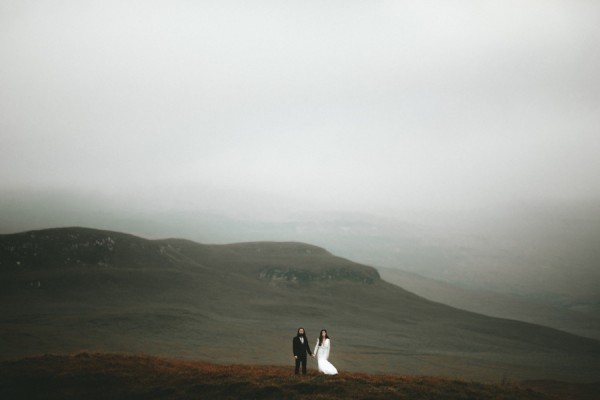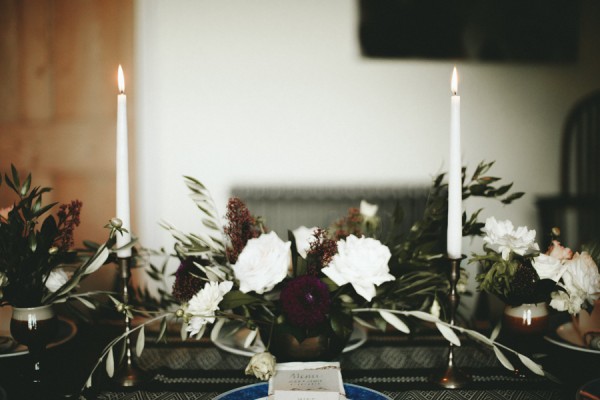 Many parts of the wedding were DIY. Keeping it small allowed us to do many parts of the wedding ourselves including the wedding favors, flowers, dessert, and music. With the help of friends and family, the wedding favors were wool blankets with hand-stitched hems. Knowing that Scotland weather can be on the chilly side in the evenings, having something to wrap up in during the later hours was fitting and it was something our guests could always use in the future in their own homes.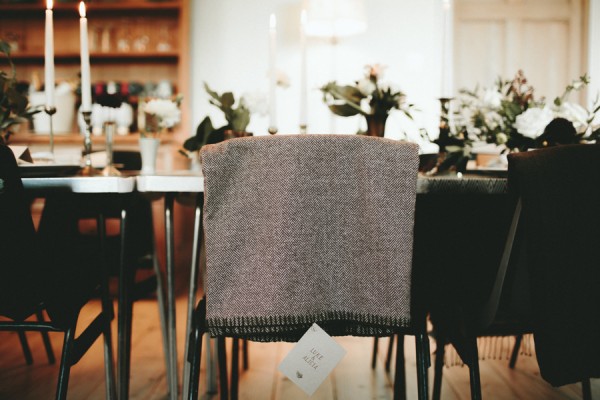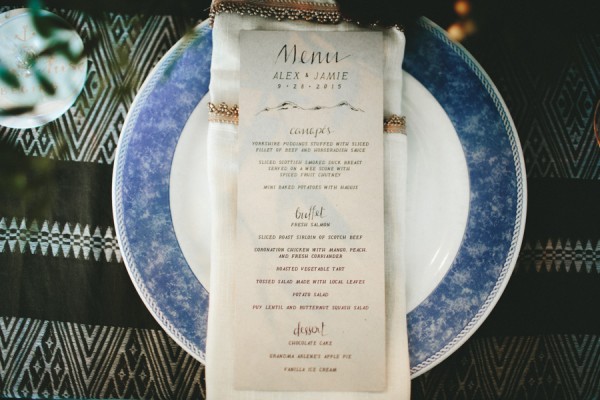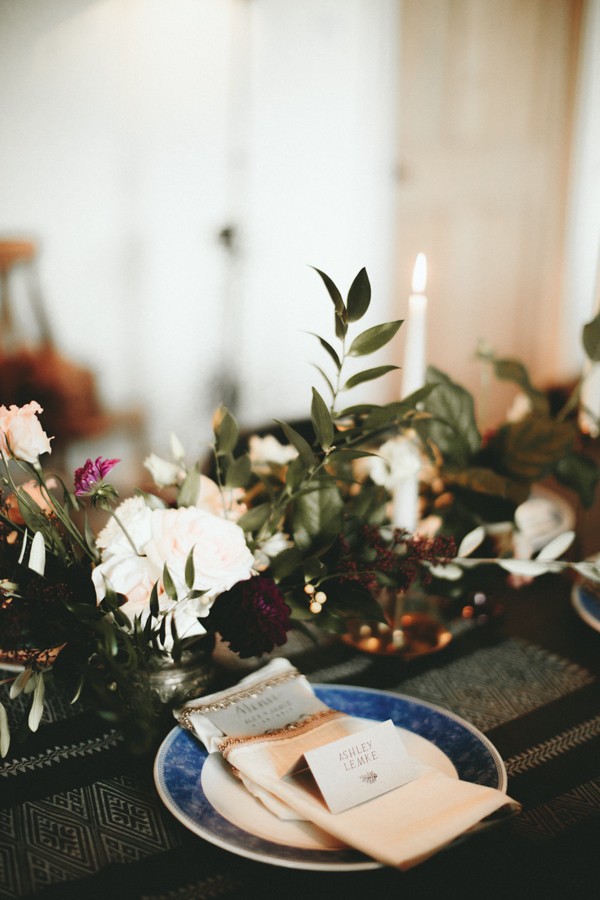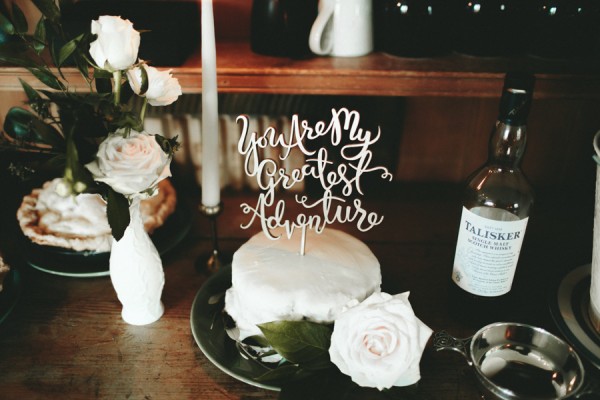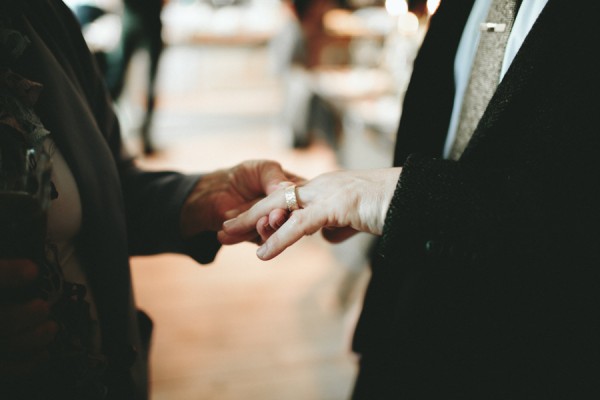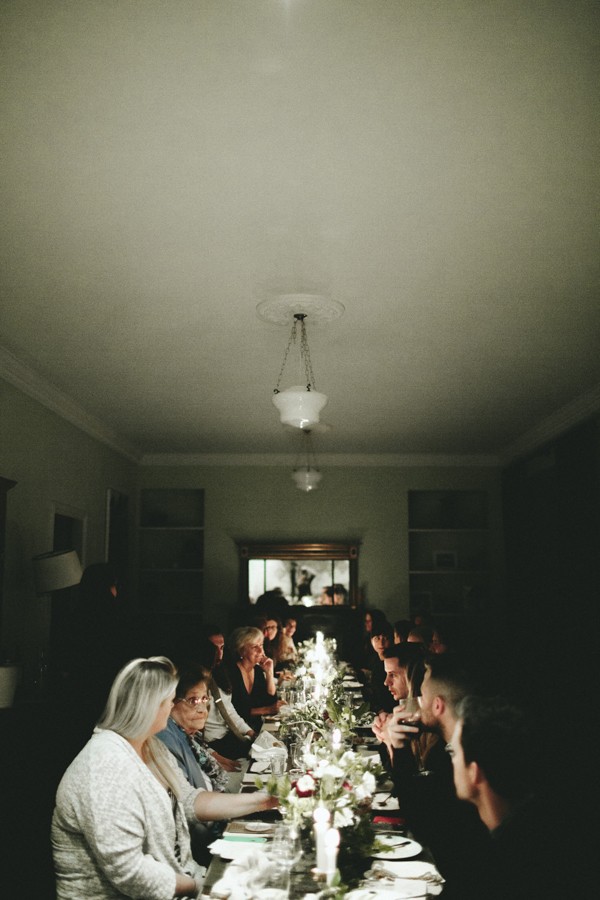 Our first dance stands out because it felt like that was the first time of the day that everything stood still and every moment was able to soak in. Those were the minutes where I felt most in the moment than any other part of the day. It was just the two of us in a moment, but surrounded by all our loved ones. We didn't have to think. It was time to enjoy being close and let it sink in.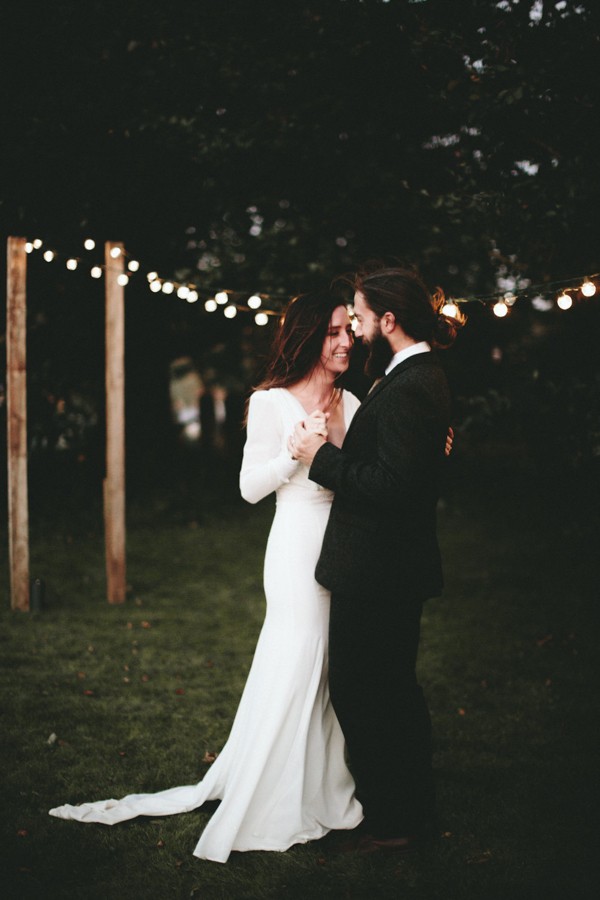 Congratulations to Jamie and Alex, and a big thanks to Ash & James Photography for providing Junebug with this amazing wedding! Want more destination wedding inspiration? Take a look at this effortlessly cool destination wedding in Sayulita, Mexico!