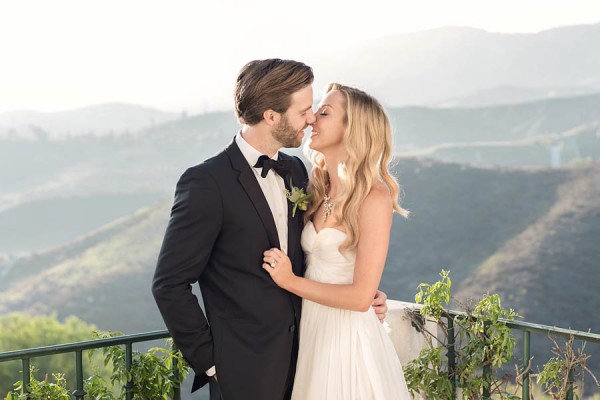 A sophisticated and simple gold and sage green color palette transformed Caitin's grandmother's home into she and Mark's dreamy California wedding venue. By pairing an abundance of greenery with subtle old-glamour elements like a Grace Kelly-inspired bridal look and sequined bridesmaids dresses, Events by M & M achieved a modern vintage style that couldn't be more timeless. Jason Burns Photography beautifully captured the day, including the sunset-lit ceremony in the lawn.
The Couple:
Caitlin and Mark
The Wedding:
Private Residence, Soimis, California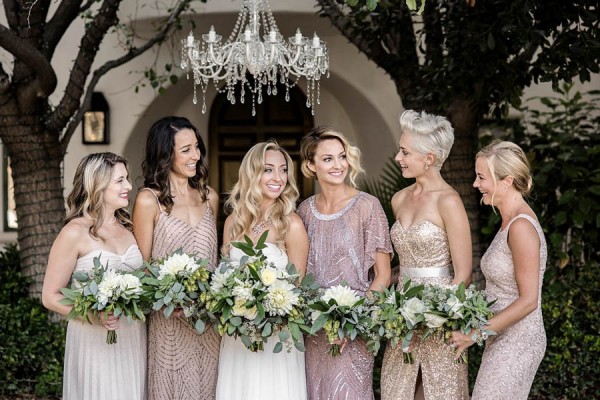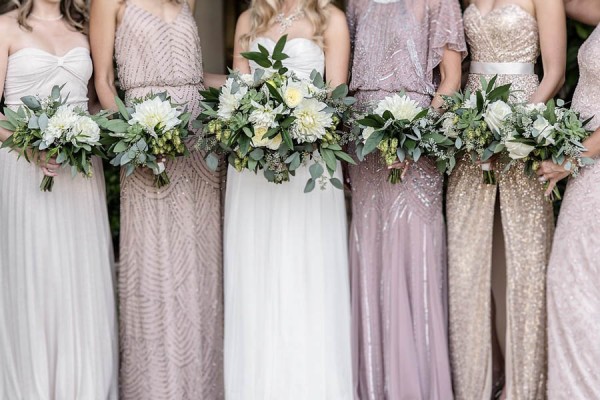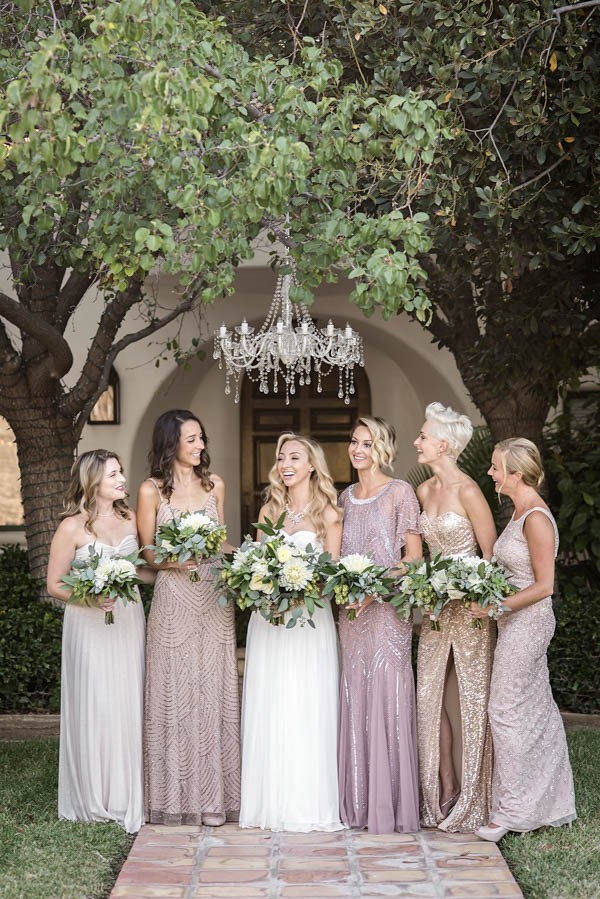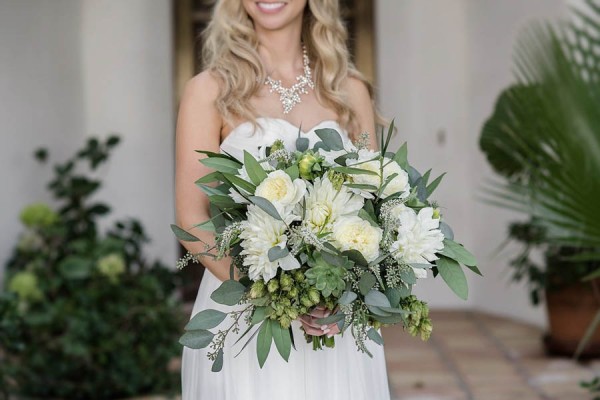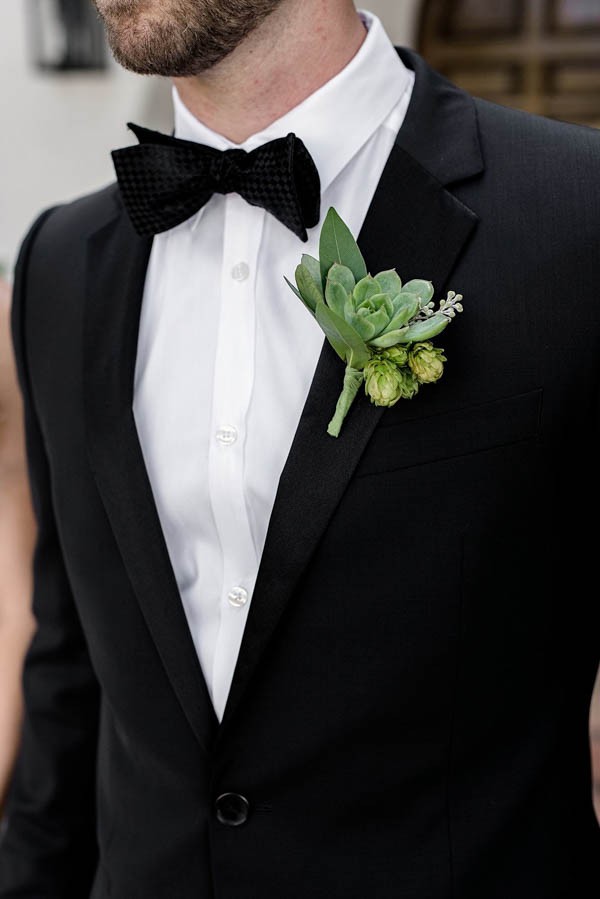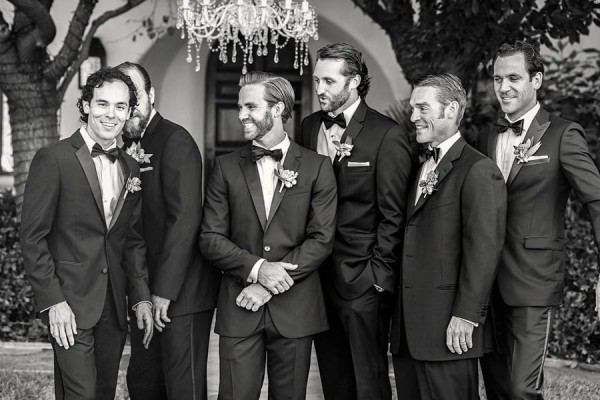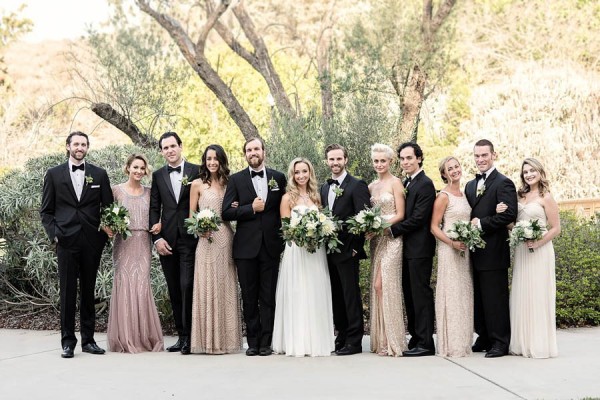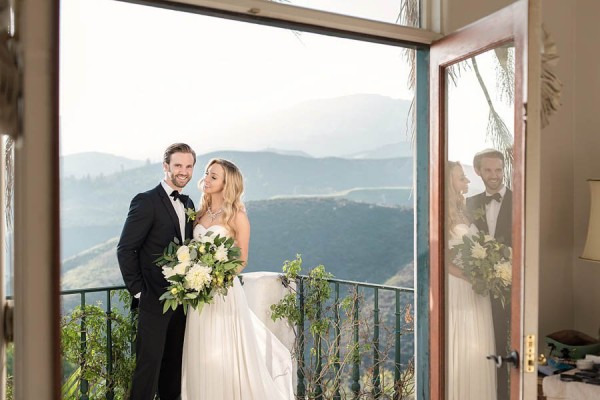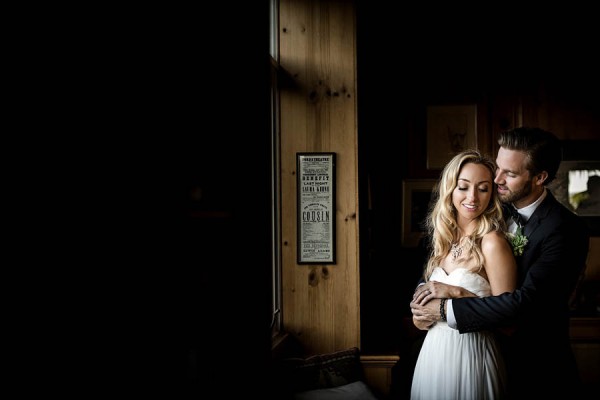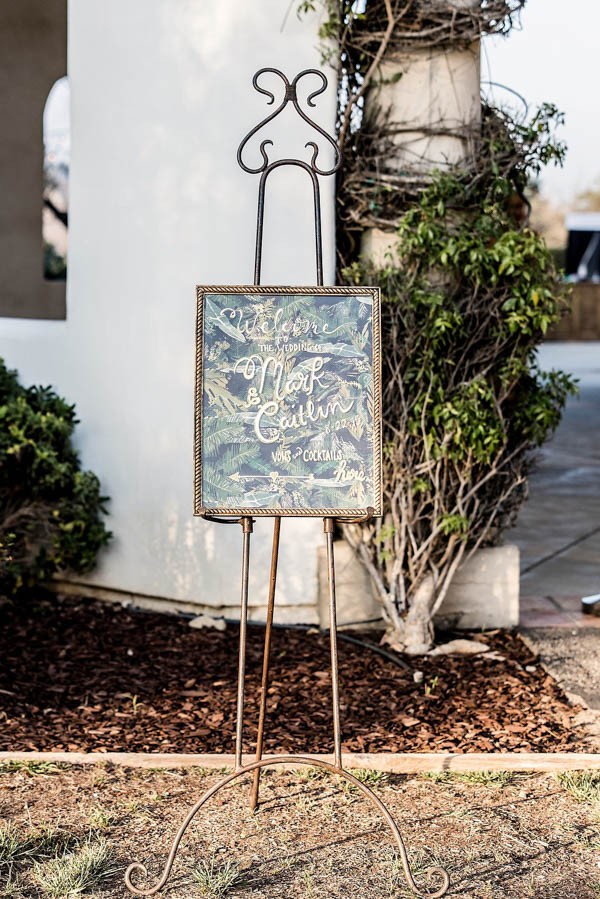 The day's details were inspired by my Grandmother's style and the local landscape. She and I share an aesthetic of classic, vintage elegance with a European flair and old Hollywood romance.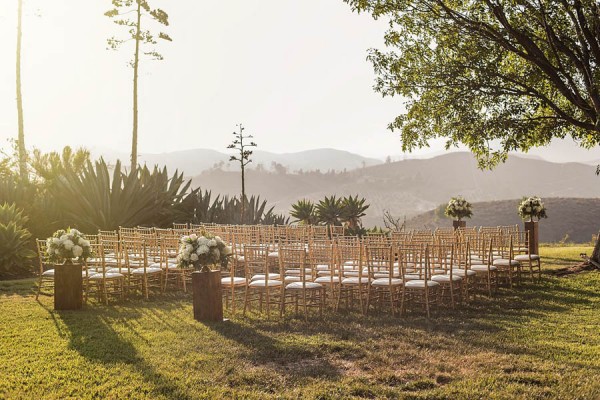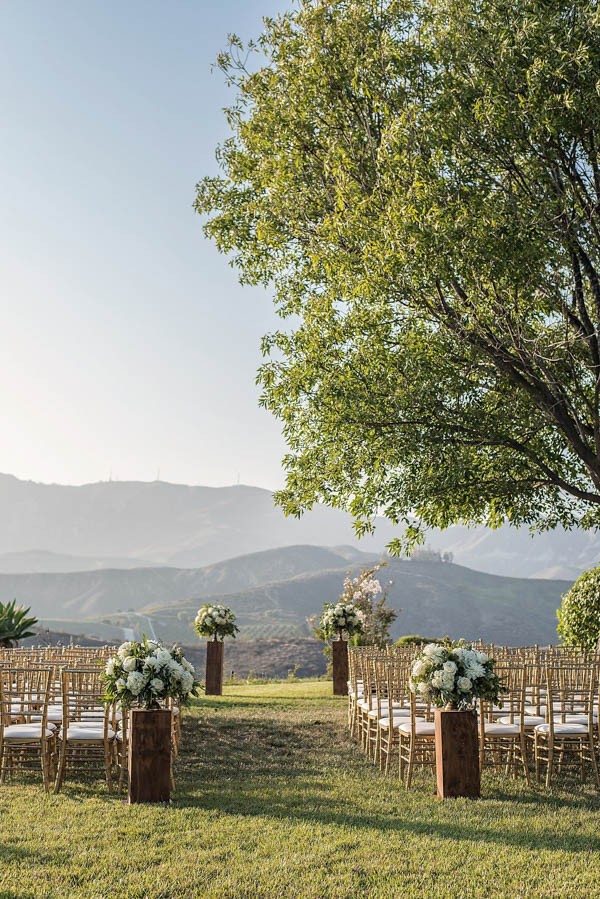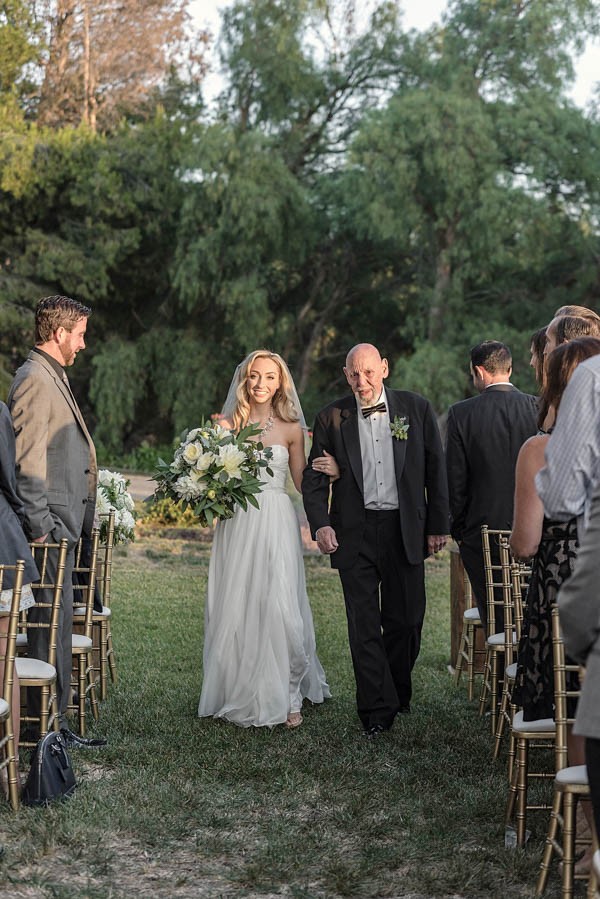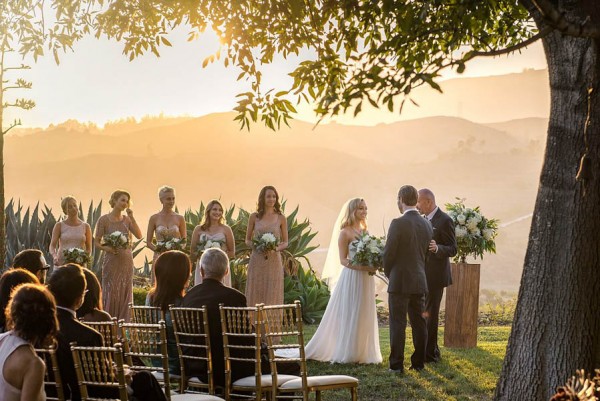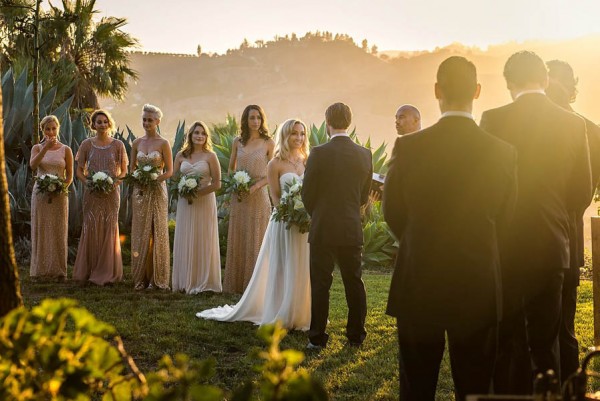 Standing in the glow of the sunset surrounded by so much love from our favorite people and saying the vows we'd written to each other felt like a dreamland. Our officiant, who is also Mark's business partner and mentor, had us turn after the vows to look at all our friends and family in attendance. That was such a beautiful moment because we got to connect with everyone who came to celebrate with us, and we were overwhelmed with gratitude for all the love surrounding us. The emotion of those moments was spectacular and something we will always remember.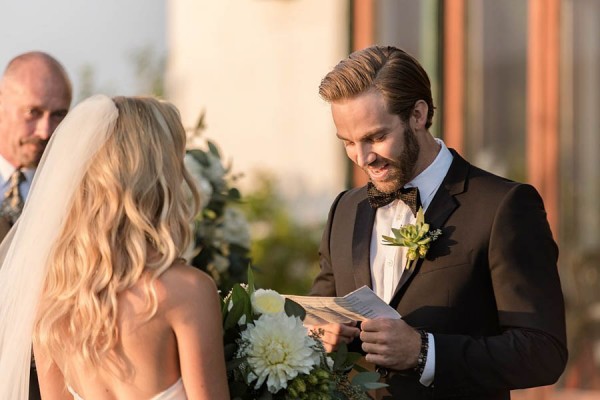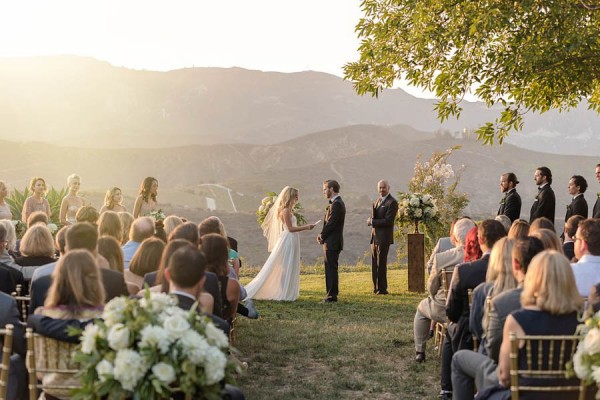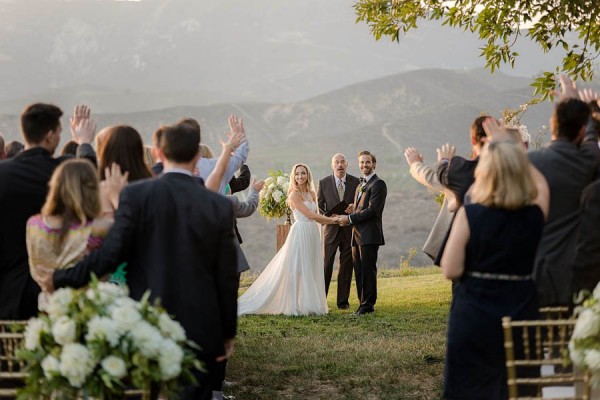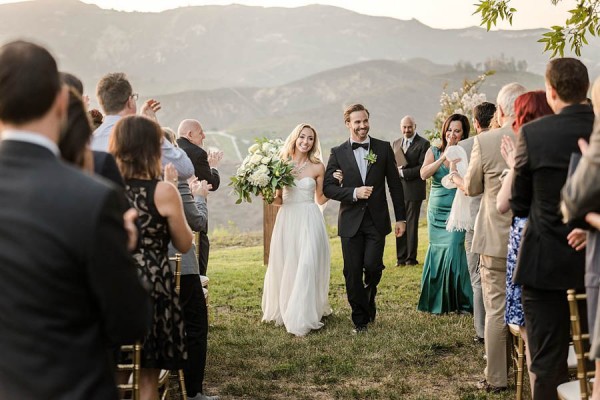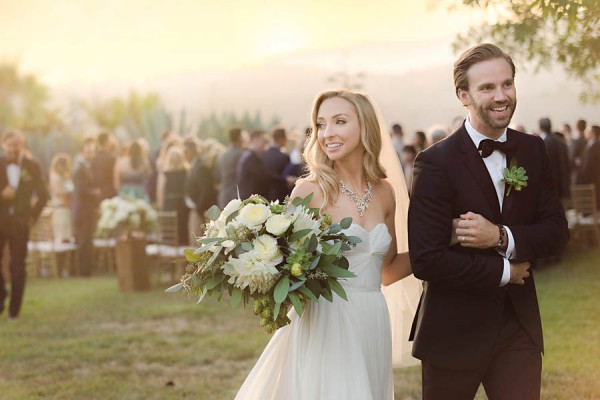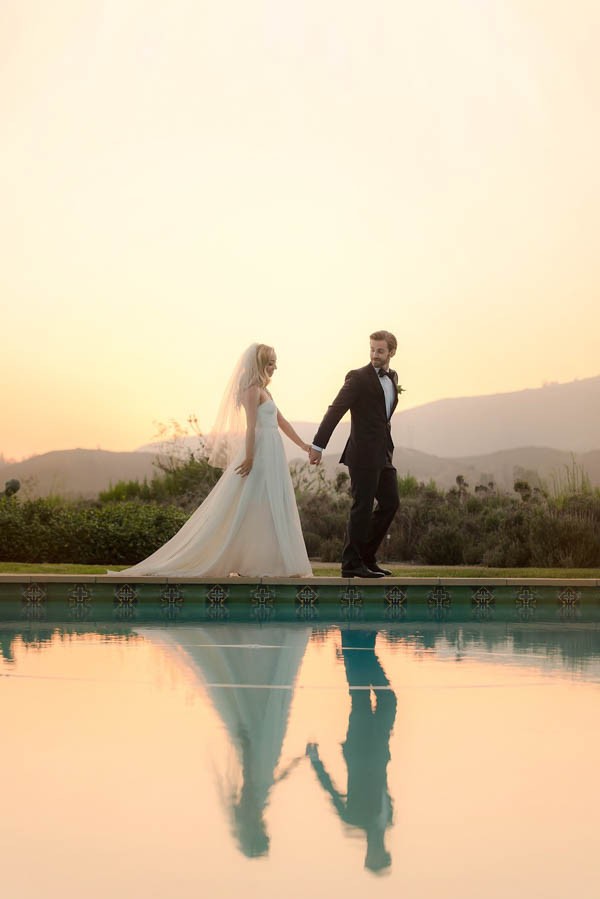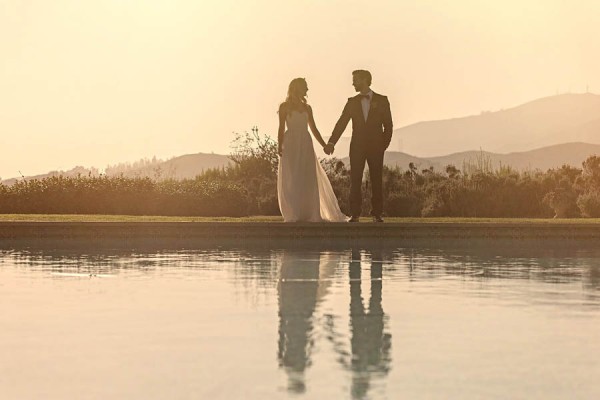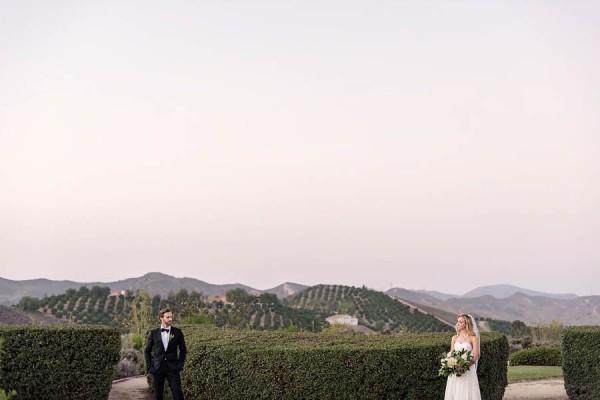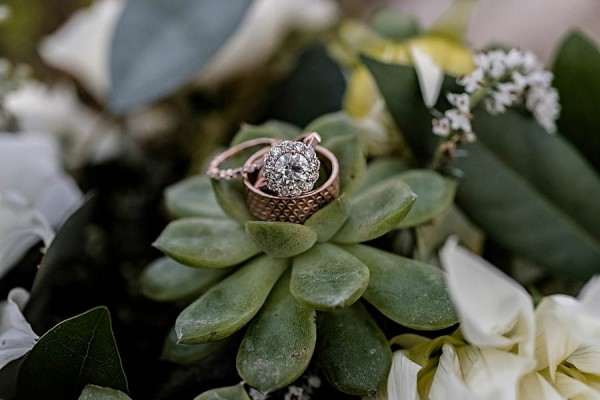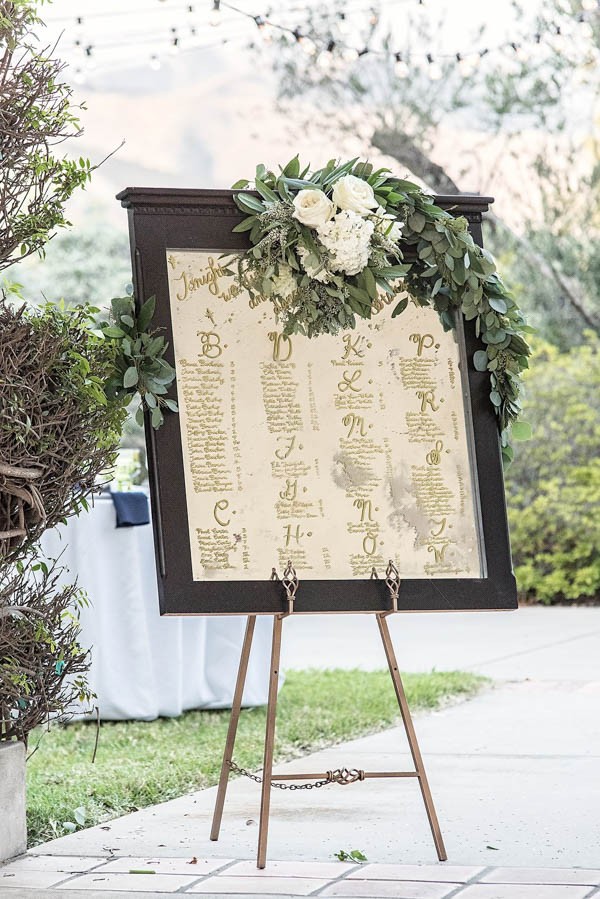 Our decor was based a lot on our venue, the stunning home my Grandparents built together 30 years ago, situated on a hill surrounded by acres of lemon orchards and views reminiscent of the Italian countryside. It is a home that holds decades of family memories for me, andis also sentimental to Mark because it is in his hometown of Somis, CA. Unfortunately, at the time of our engagement the house was already on the market for sale. Despite our best judgement and the many people who advised us against it, we decided the house was special enough to us to take the risk of celebrating there knowing that it could sell at any moment and we would be left with a lot of vendors, cake and no venue. I'm so grateful we trusted our hearts and took that risk. The home itself is so beautiful we kept decor to a minimum.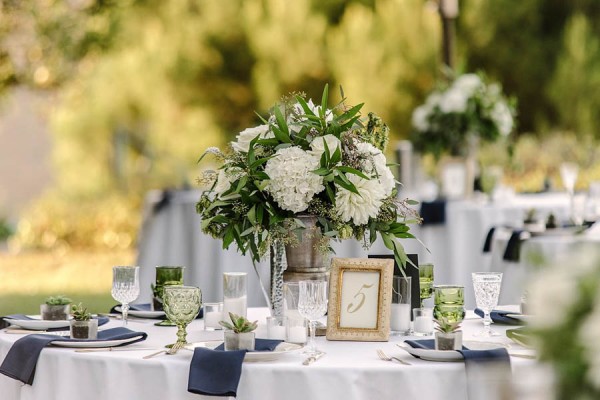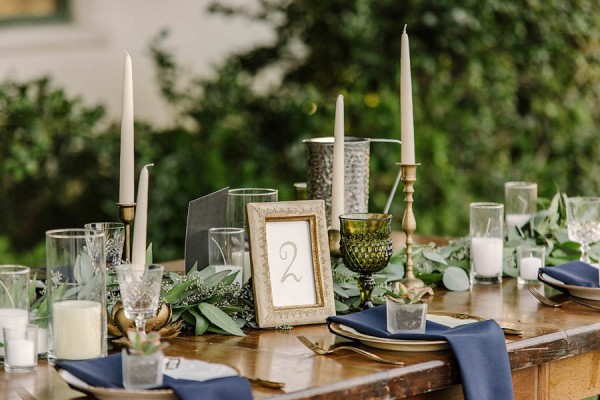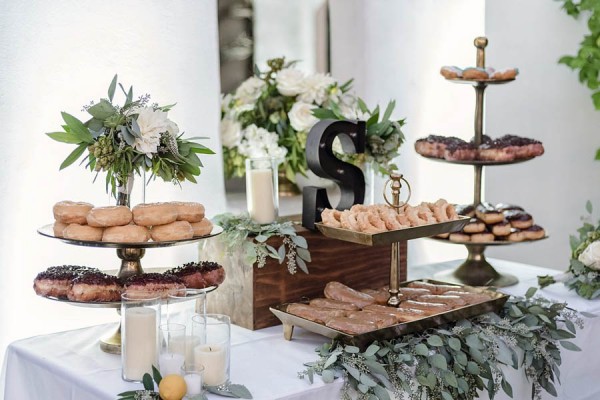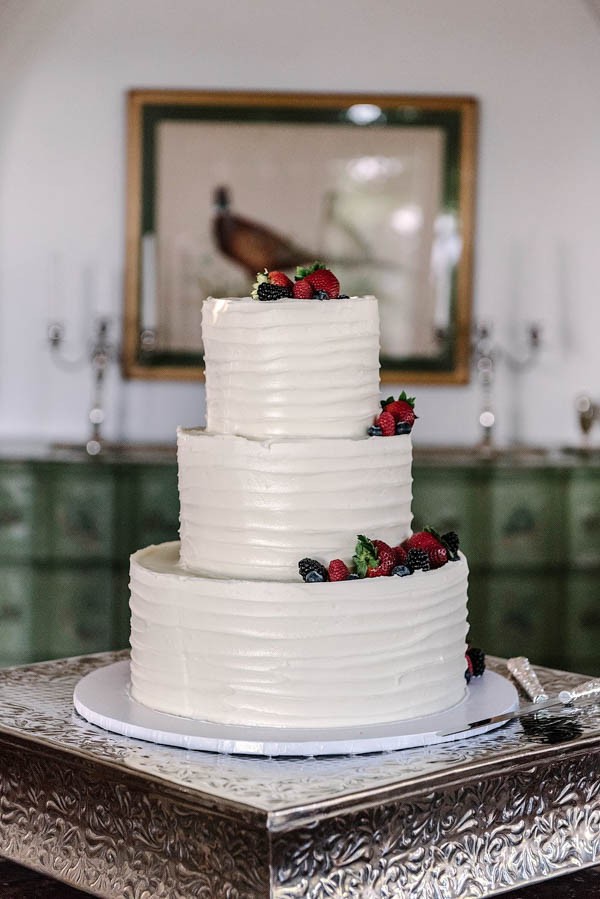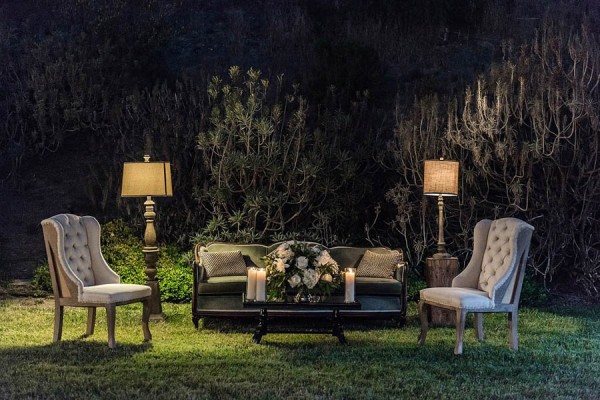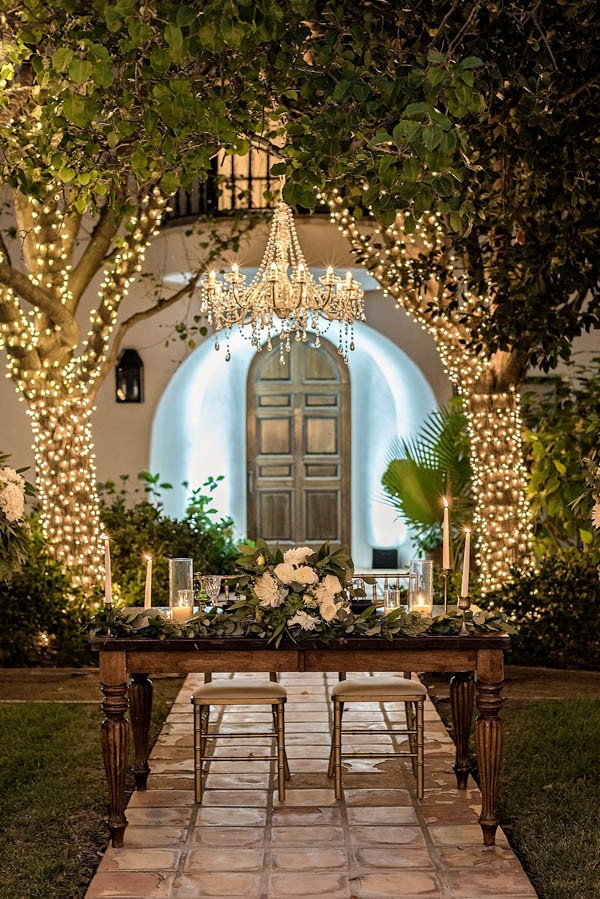 I know a lot of brides, like myself, are on tight budgets. My advice is to have open communication with all of your vendors about that and see where you can cut costs. Let less be more and focus on what really matters to you andput most of your funds into those areas. If you don't ask, you may think something is out of your budget but some tweaks can make it work. For instance, we wanted gorgeous table settings, but most packages for renting china and flatware were really expensive. By communicating with Otis and Pearl whom our rentals were from, we were able to determine that we only really needed a knife and spoon at the setting, and then dessert forks for cake. omitting salad forks and spoons saved us a ton of money and wasn't noticeable when you looked at the gorgeous settings. I love the look of a full, formal, setting, but I was able to still get stunning gold flatwareand china for a price in my budget by focusing on the overall look rather than minute details, and it turned out just as beautiful.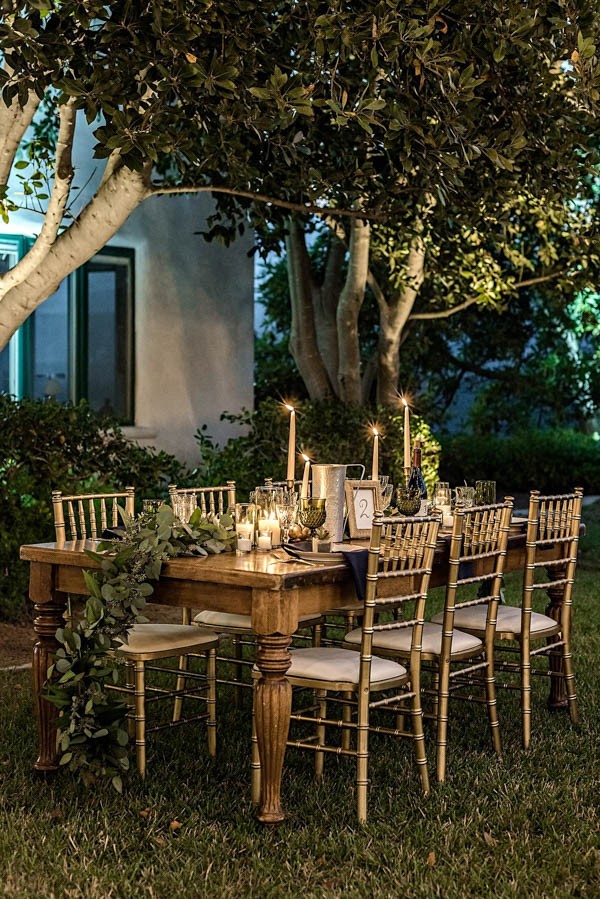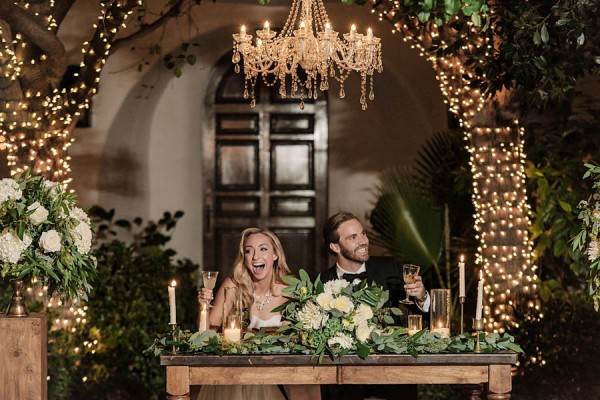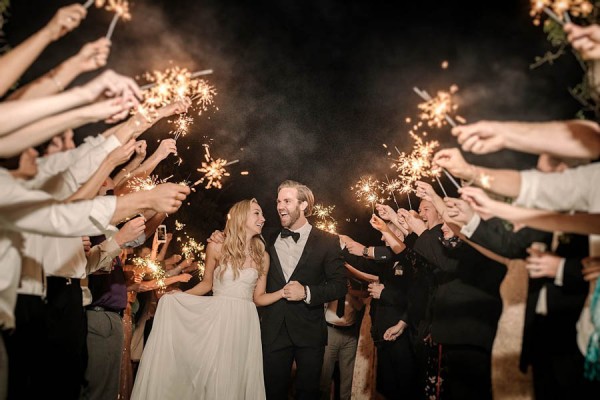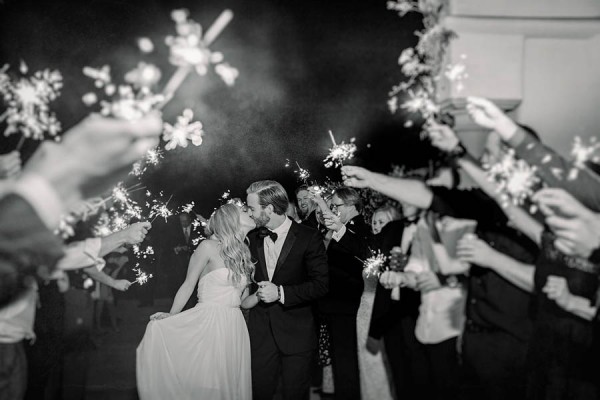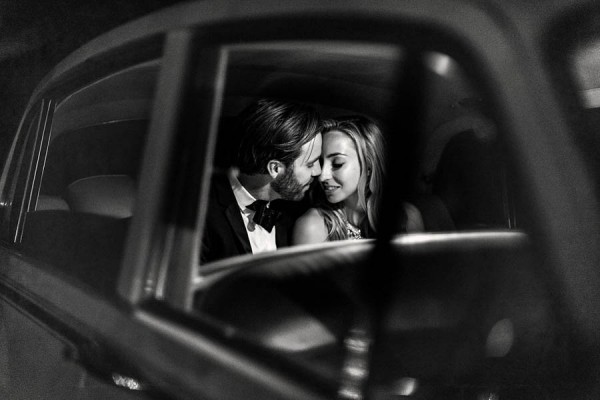 A big thanks to Caitlin and Mark, as well as their photographer Jason Burns, for sharing this timeless gold and sage green wedding with Junebug! Love the sage green wedding styling? Check out this Southern plantation wedding inspiration at Magnolia Grove for more ideas!