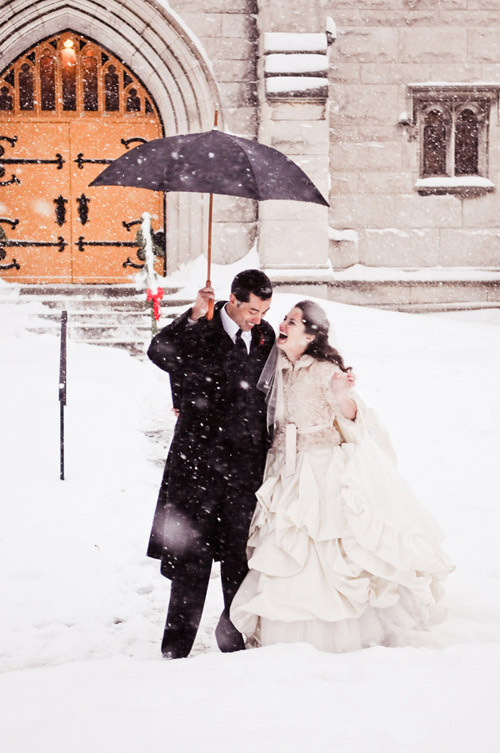 The couple: Abigail and Pablo
The Wedding: 12.19.09 Fogo de Chao, Washington, DC
What three adjectives best describe your wedding? Spontaneous, joyful, classic.
Looking back, what are the moments, decisions or memories that you love the most about your wedding? There were so many incredible moments that day! We woke up in the morning to see that over a foot of snow had fallen overnight and it was still coming down. As I had homemade muffins for breakfast with my sisters I got the fateful call from my hairstylist that she couldn't come, so I called my friend Mikaela and told her to grab her curling iron and jump in the car quick! Because of all that beautiful snow, our guests, and even our photographer Rebekah, helped dig out our car, moved my gigantic dress into the car and church, volunteered to shovel the church steps and pitch in in any way they could, and some even showed up in snow boots after hiking miles through the city. We were surrounded by all of the people that we really lovedthe whole day was magical!

What inspired your personal wedding style, and how were your personalities incorporated into your big day? Our personal wedding style was mostly inspired by the things we enjoyed as we were falling in love; perfectly cooked steak, Chilean wine, classical art and architecture, love of adventure and the outdoors, commitment to our families and friends, and most importantly our love of Christ, which is what made our wedding ceremony itself so powerful and joyful. Also, I loved the sense that our wedding wasnt just about us, but about our community and all the people in our lives that we loved. It was friends and family making the cake, playing the music, designing the programs, designing the flowers, styling my hair and make-up – it was a hundred times more special than if we had only hired professionals! I think part of the secret was that we only had eight weeks from engagement to the big day – not enough time to micromanage, worry, or become obsessed, just enough time to revel in all the joy of planning and celebrating a wedding!
Color palette: Deep red, pale green, and cream.

Wedding Team:
Photographer: Rebekah J. Murray Photography
Ceremony: Church of the Holy City
Reception Venue: Fogo de Chao
Officiant: Chuck Garriott and Duke Kwon
Invitation Designer: Evite
Florist: Rebecca Wither
Cake: Bride's mother's carrot cake
Wedding Dress: Sarah Danielle
Brides accesssories: DYI veil, borrowed earrings, cream faux fur coat from H&M
Bridesmaids: Red dresses from Dressbarn
Groom and groomsmen apparel and accessories: Calvin Klein tuxedo and red ties from Men's Wearhouse
Live Music: Daniel Fisher
Rings: Mervis
Thank you so much Abigail and Pablo! Such a fun wedding!
To find inspiration for your own personal wedding style, don't miss our Wedding Image Gallery!
All images above by Rebekah J. Murray Photography