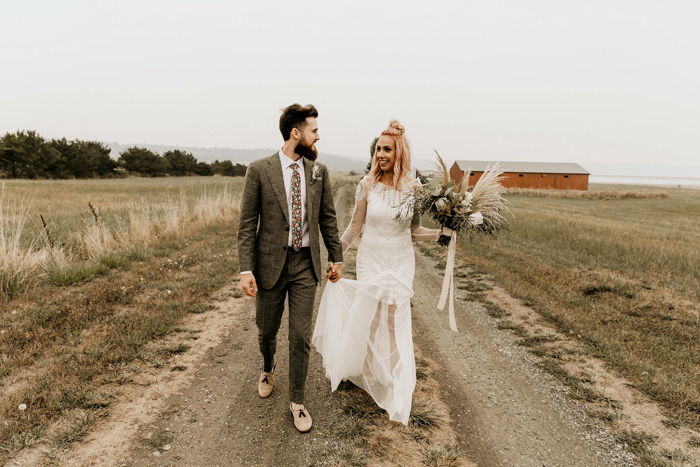 All your rose gold dreams are about to come true in Jacqui and Shea's PNW wedding at Crockett Farm! With the help of the planning and floral design team at Whidbey Island Weddings, the couple created a truly unique celebration that was romantic and bohemian, while simultaneously edgy and modern. Maya Lora Photo knocked it out of the park capturing every dreamy moment of this day, from the couple's sweet and secluded first look in the woods to their whimsically fun newlywed portraits out in the farm. In keeping with that edgy bohemian feel, the bride chose a wildly romantic Rue De Seine gown and paired it with rose gold accessories to complement her rosy locks. Every detail of this wedding had that perfectly curated yet completely effortless and natural feel that we've come to love about PNW weddings!
The Couple:
Jacqui and Shea
The Wedding:
Crockett Farm, Whidbey Island, Washington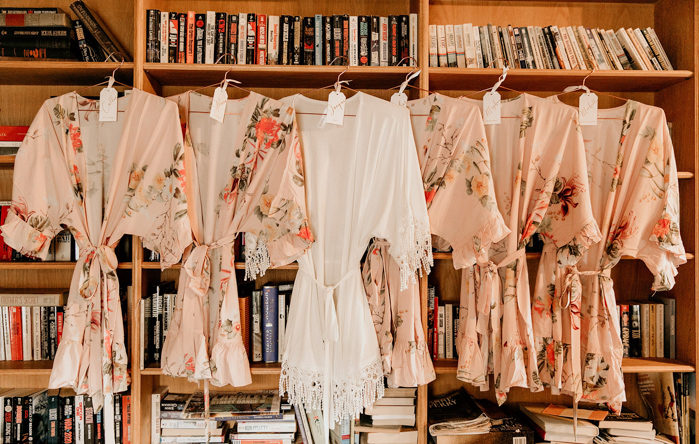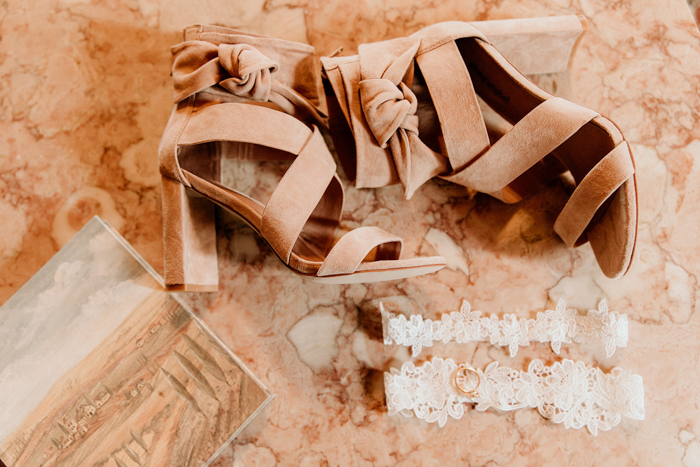 The most important thing to us in planning our wedding was that it felt like "us". We definitely have a certain vibe. We really enjoy good food and drinks, enjoy good music, love a good adventure and getting out in a beautiful natural setting, and love where we are from. We wanted to combine all of that in a somewhat intimate setting to share our love as we took the leap into the next chapter of our lives! Shea was also pretty keen on wanting a venue outside of the city but that still felt really accessible for our friends and family to join for an amazing weekend together.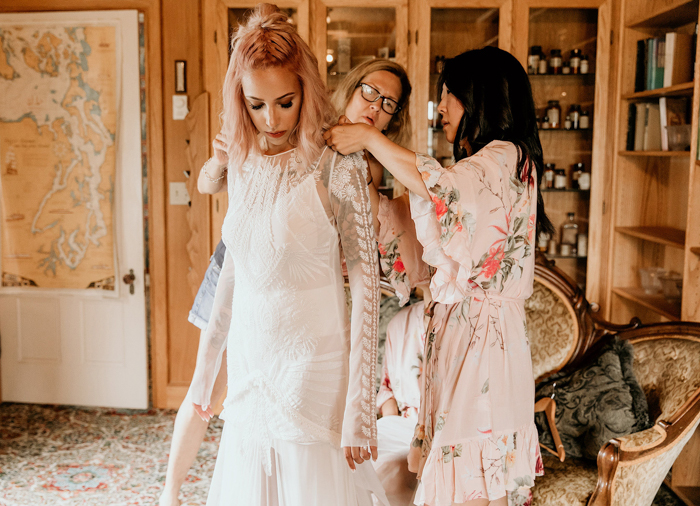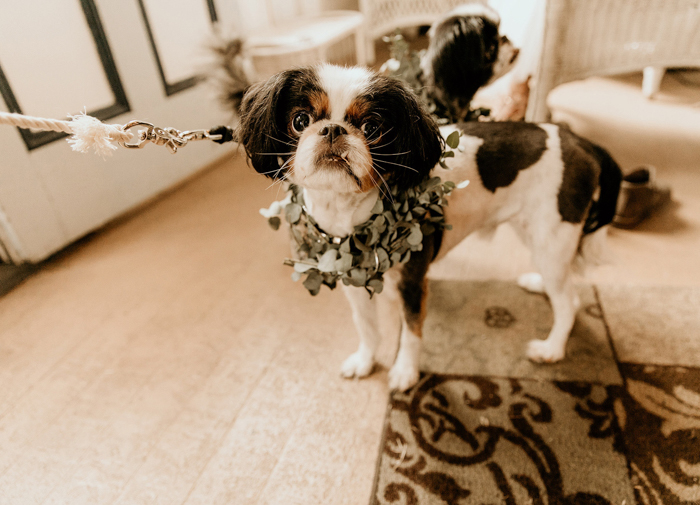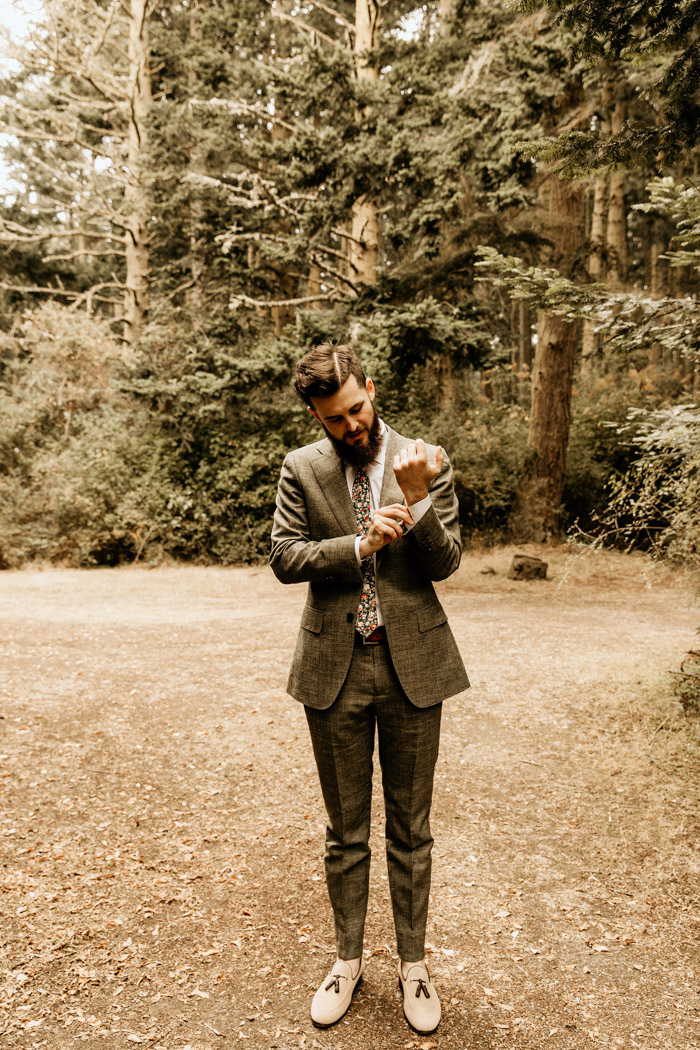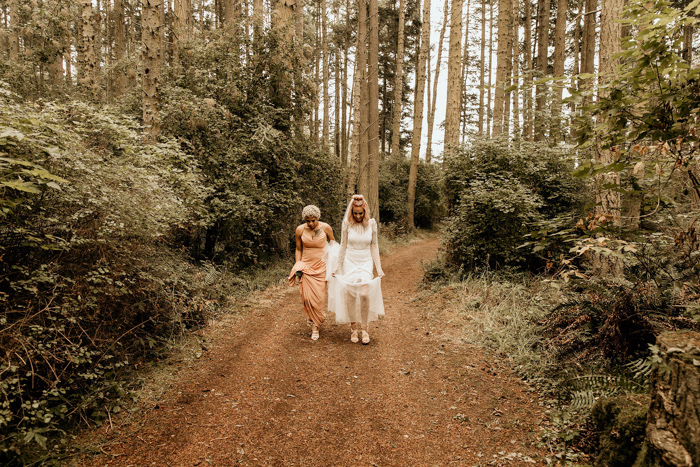 One of my favorite moments was our first look. I was so nervous for Shea to see me in my dress. I'm not typically much of a girly type, typically going for a more minimal style But, for this day, I had a really romantic and bohemian vibe that I was feeling and it just all came together with my hair, makeup, and shoes. The softness of my entire look made me feel like a bride — tattoos and all! It was lovely, and Shea was blown away. He had no idea what to expect and said the dress was very fitting and unique, like me.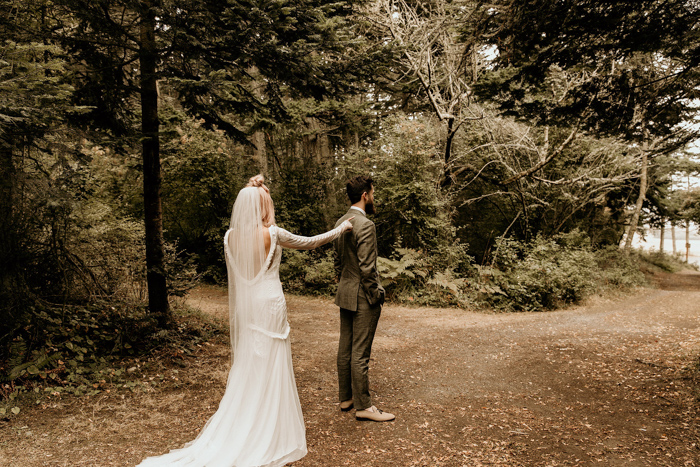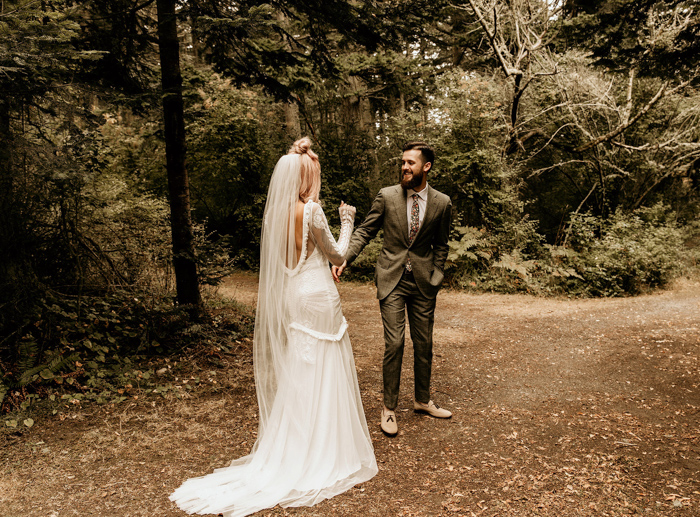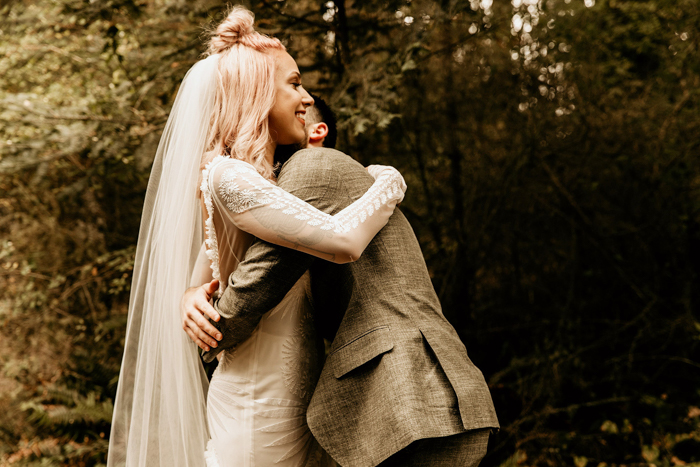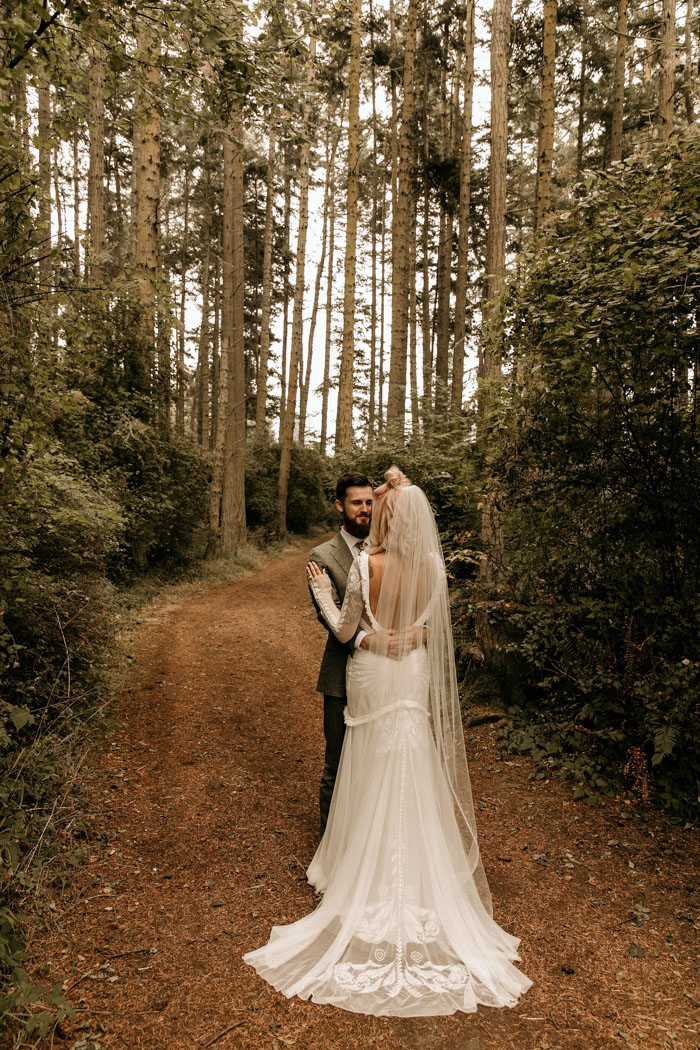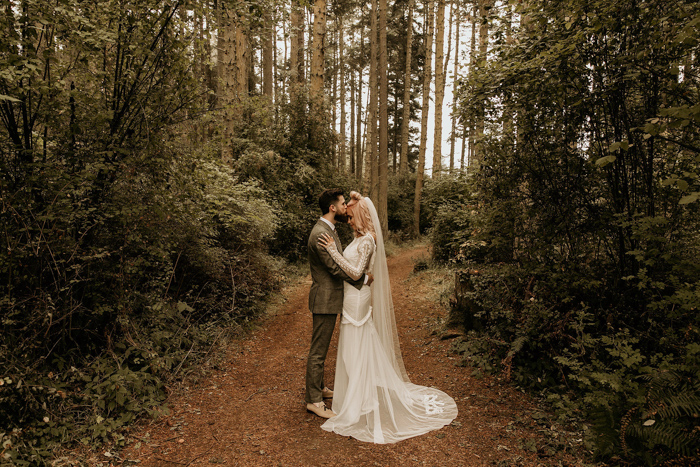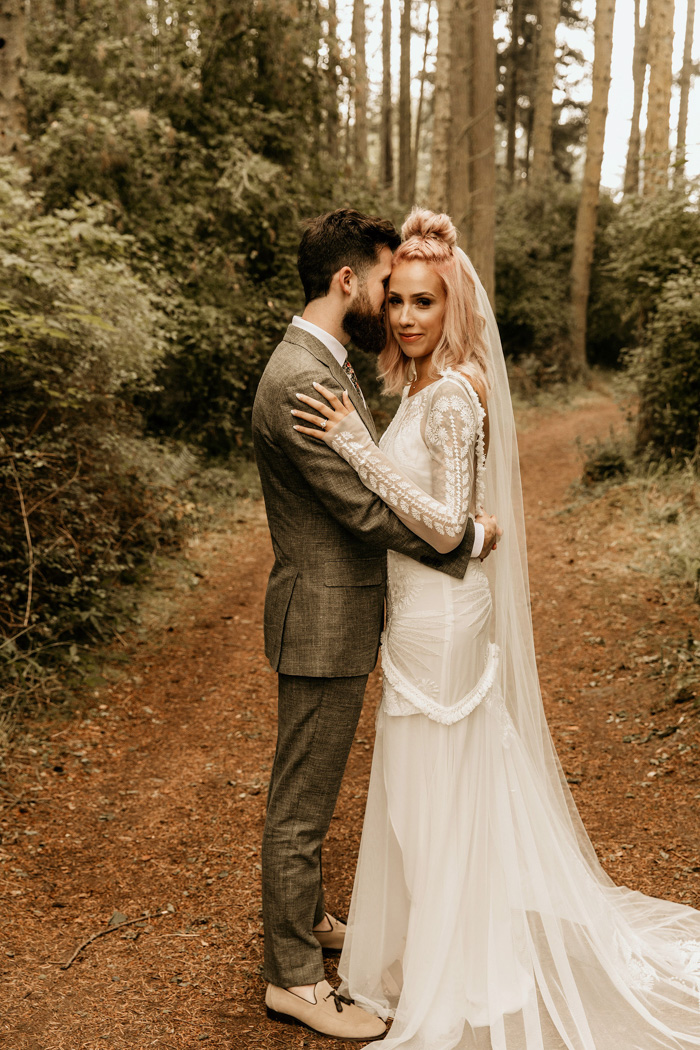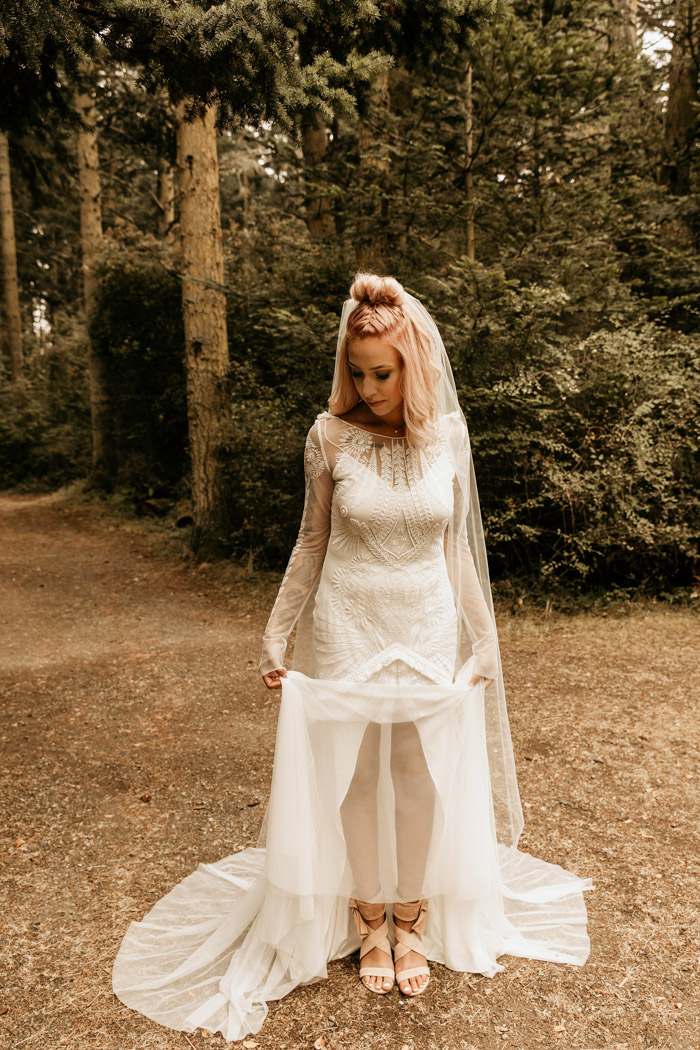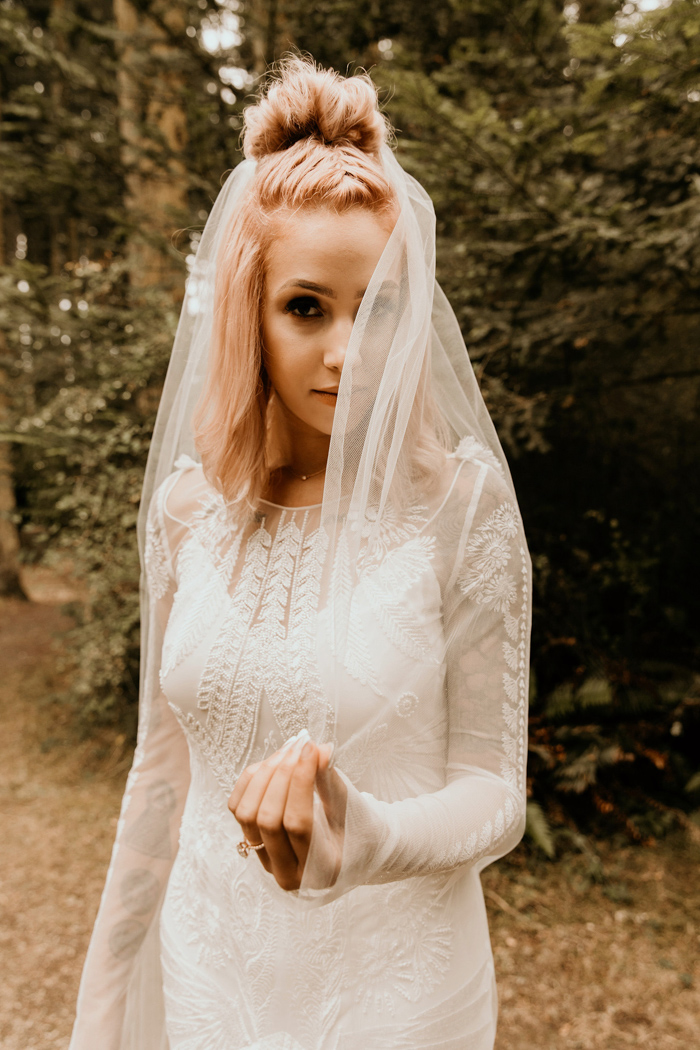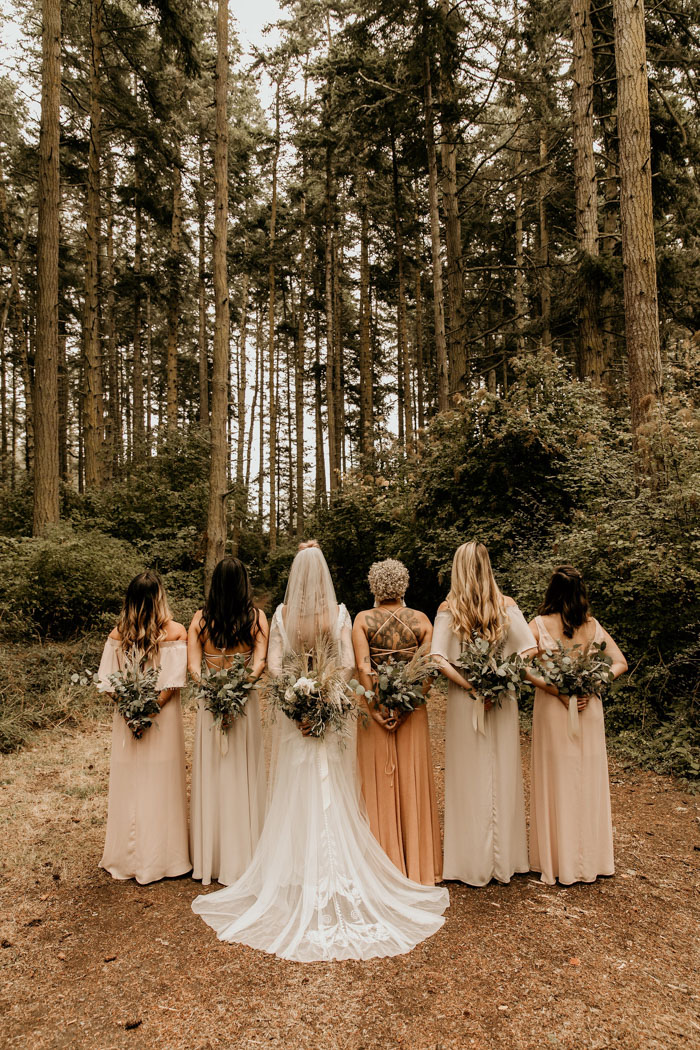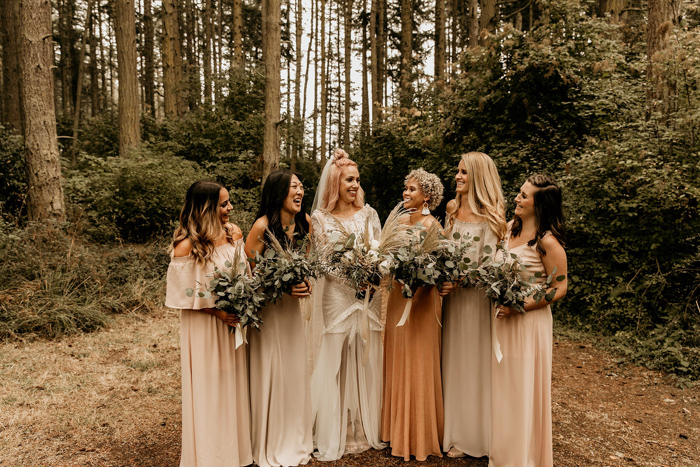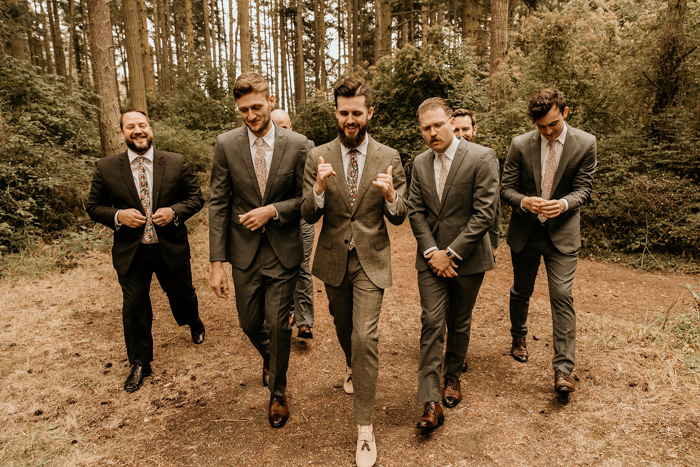 We chose our venue because we wanted something a bit out of the city, where we felt like it was a destination, yet it was only a ferry ride from home. Whidbey Island is stunning and we felt the sweet romantic vibes as we explored the island and venue, and knew right away that it was right for us. Our venue also provided coordination, floral design, and immediately picked up on our vision for the day, so we knew it was the perfect fit!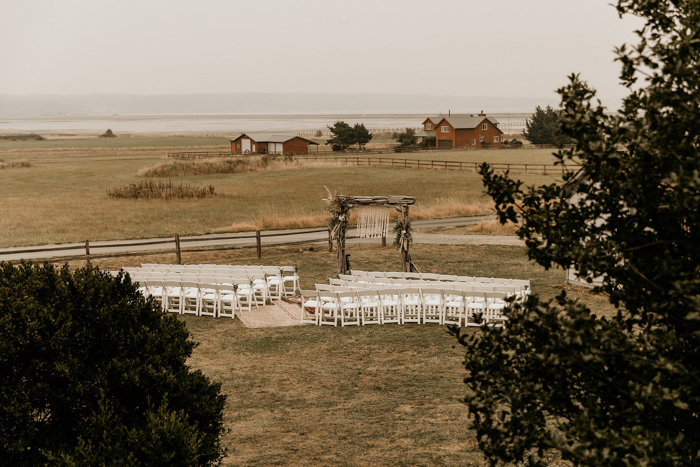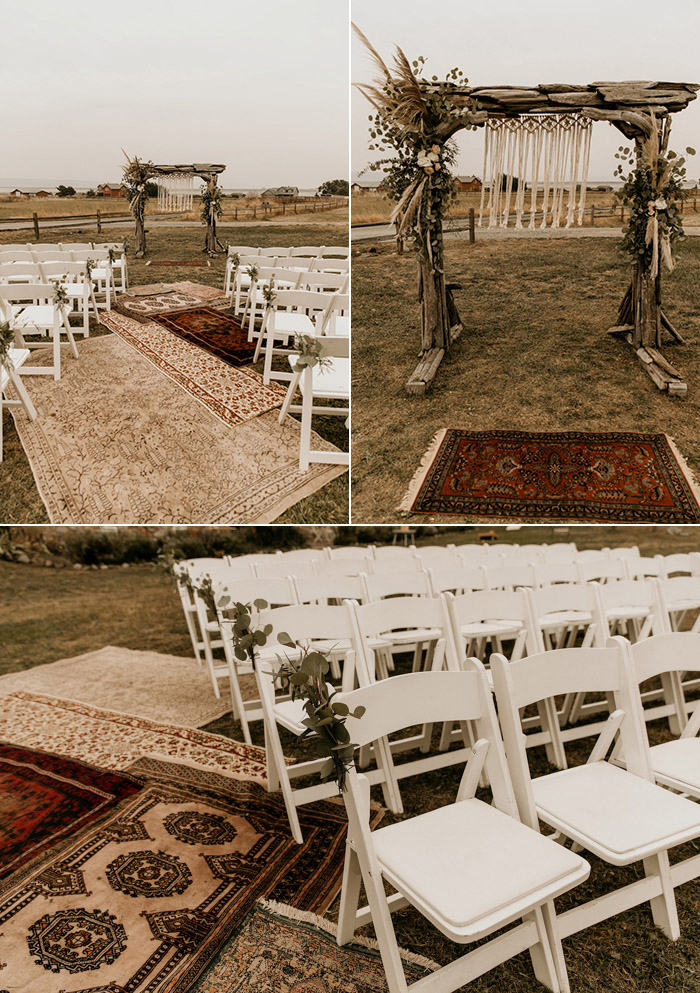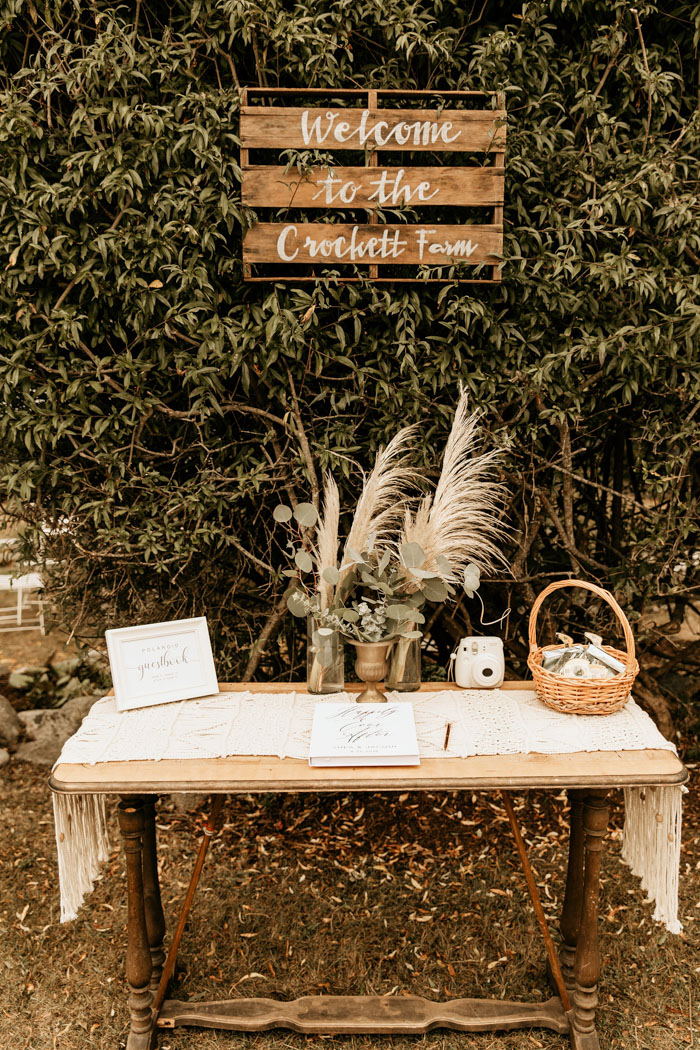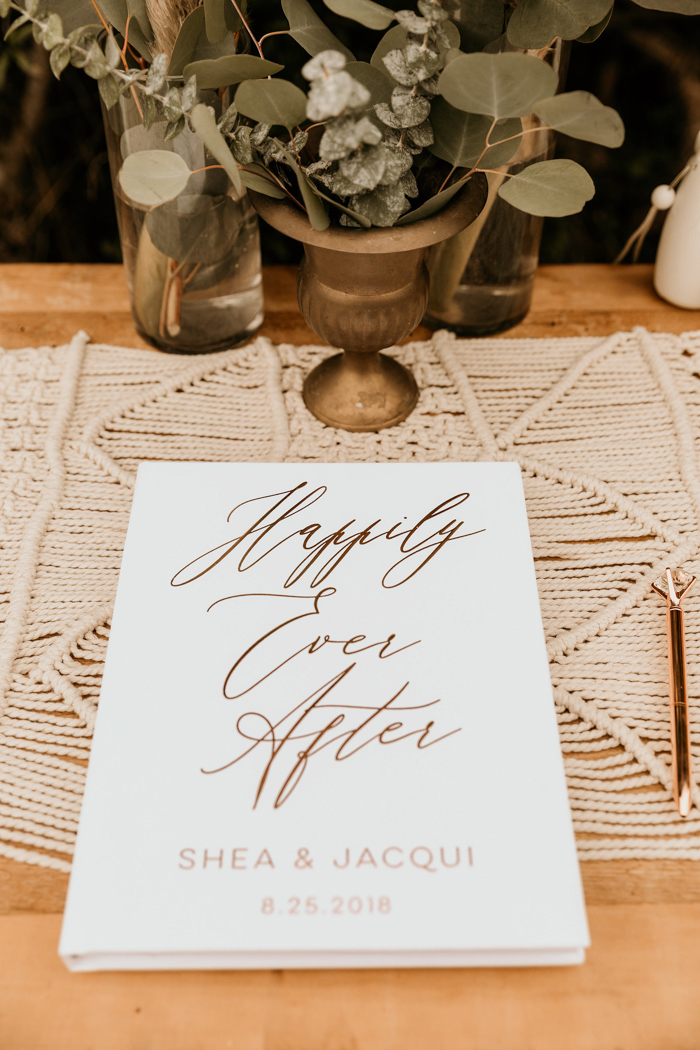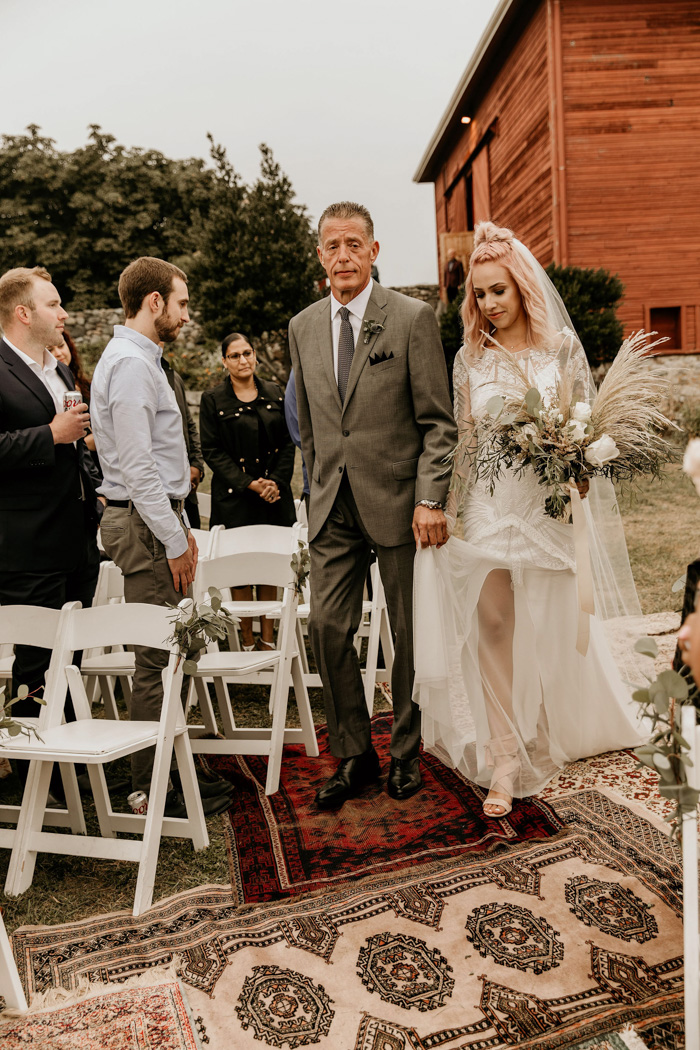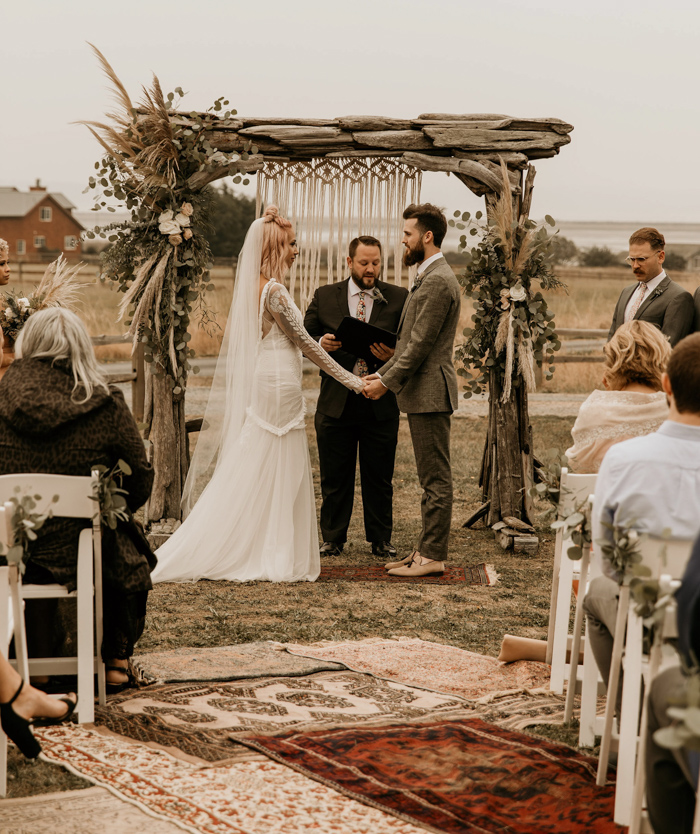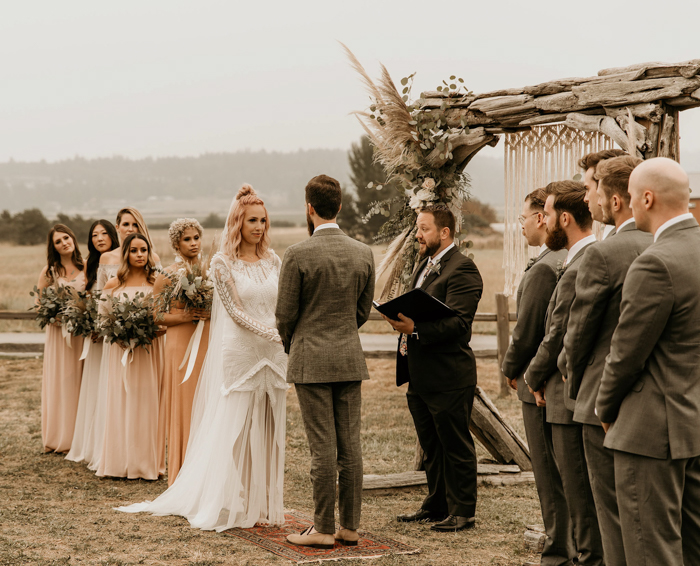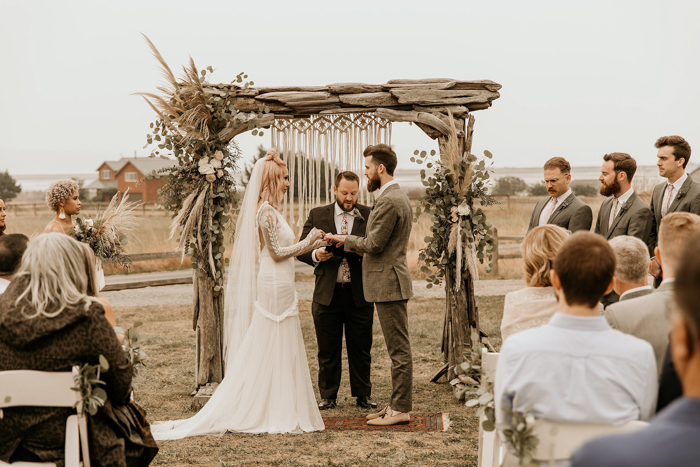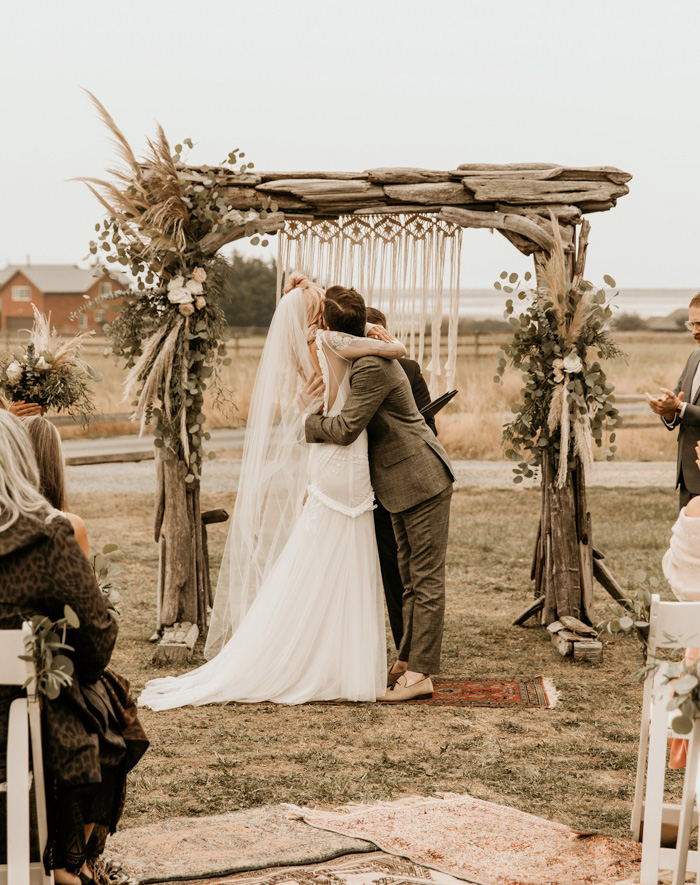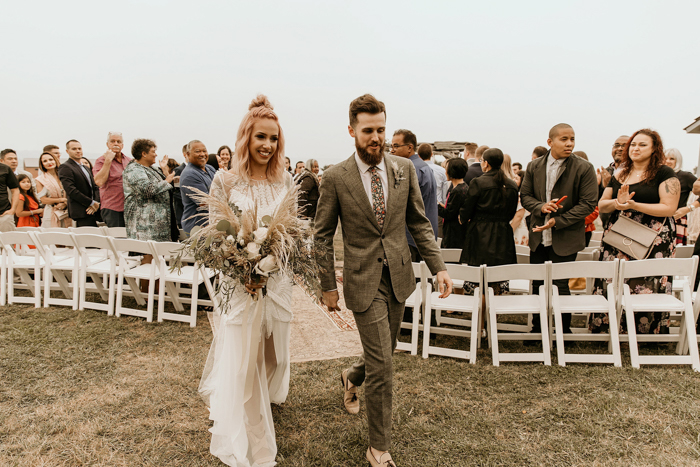 I think that the vibe of our wedding really stemmed a lot from our engagement. Shea proposed on a sunset gondola ride in Venice, Italy with the most amazing rose gold pear-shaped diamond ring (of my dreams) that he custom designed himself. Total surprise! He chose the design to be unique and fitting for a girl like me who enjoys a bit of edge in a chic modern way. Rose gold totally became an inspiration for our day (and fitting with my rose gold hair color). The sweet romance of the proposal lead us to a simple, romantic, and bohemian vibe for our wedding.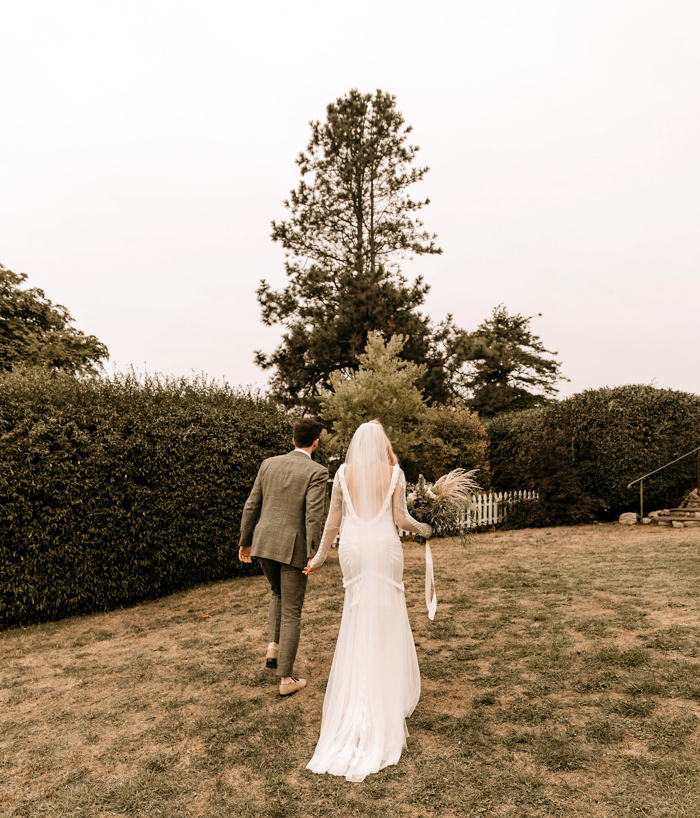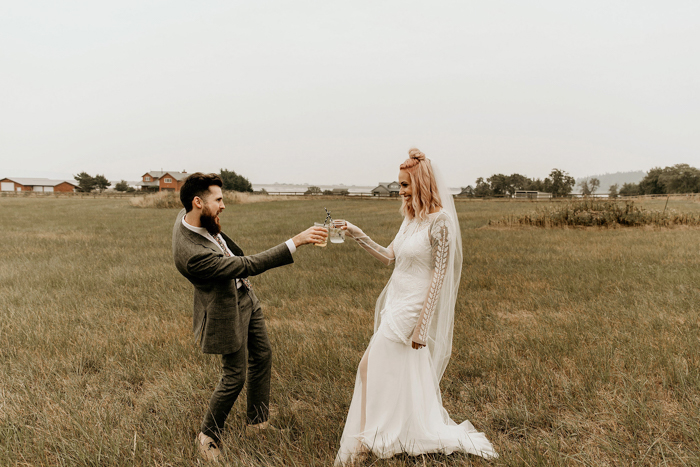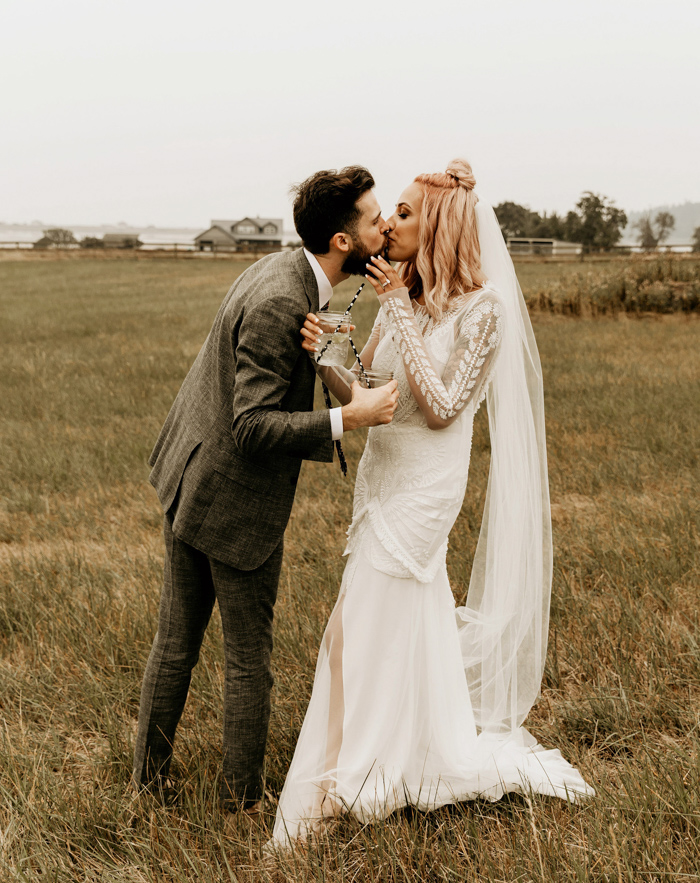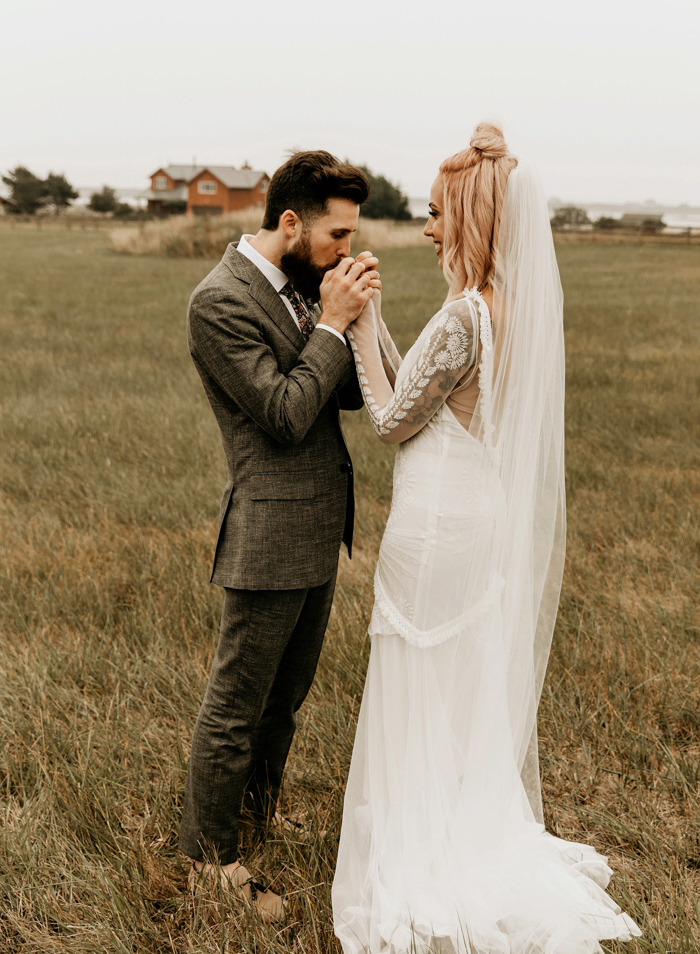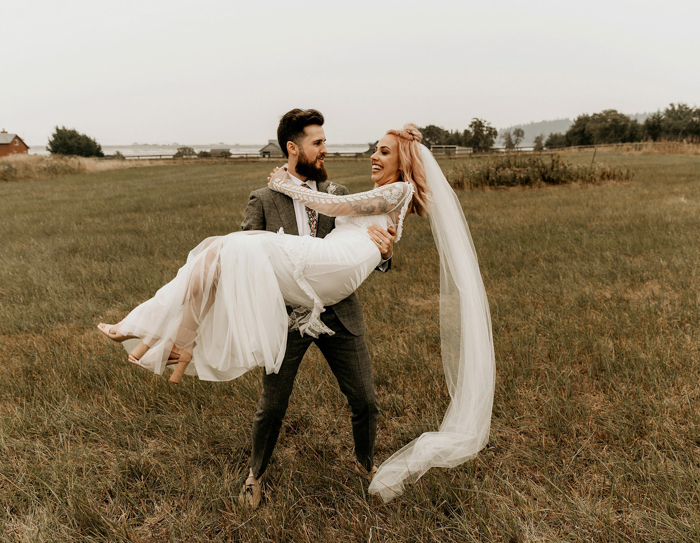 I knew immediately that my dress was going to be at The Dress Theory in Seattle and that Rue De Seine would be the designer. Their dresses just made me feel so gorgeous and looked amazing with my colorful hair and tattoos. It was love at first sight. I also wanted a dress that fit my personality and unique style…something unexpected…and Shea said I delivered. I fell in love with the modern, romantic, bohemian vibe of Rue De Seine and wanted that for my beauty look, as well. We went with a simple, glowy look to complement my rose gold hair. I loved my blush suede Jeffrey Campbell shoes, and for jewelry, I just wore my engagement ring, a minimal hammered rose gold ring, and a simple rose gold diamond necklace.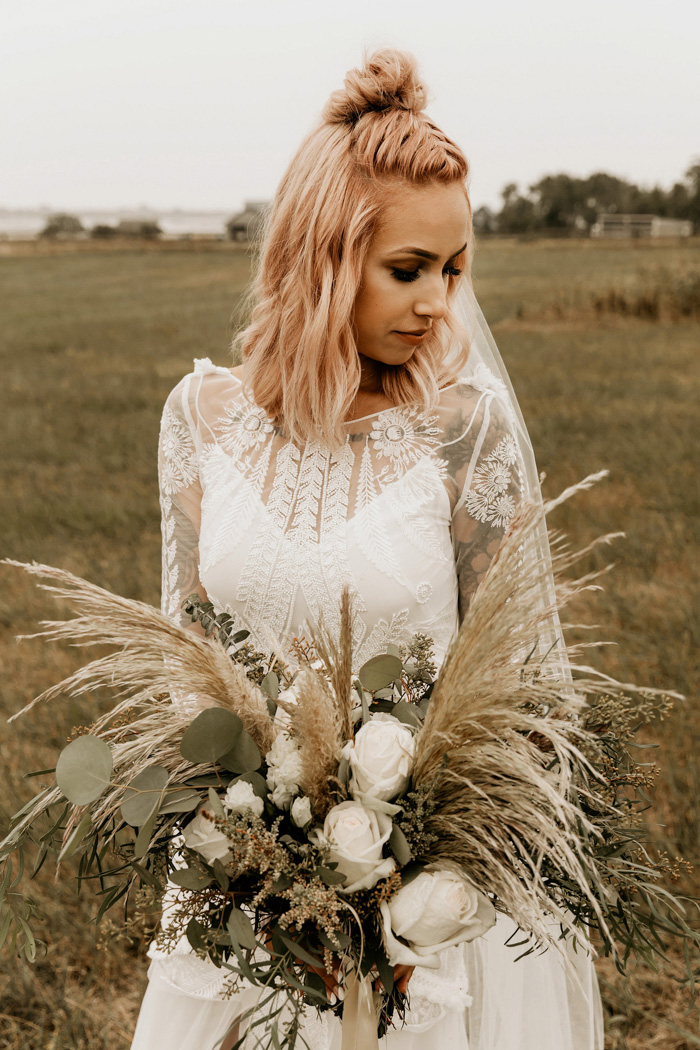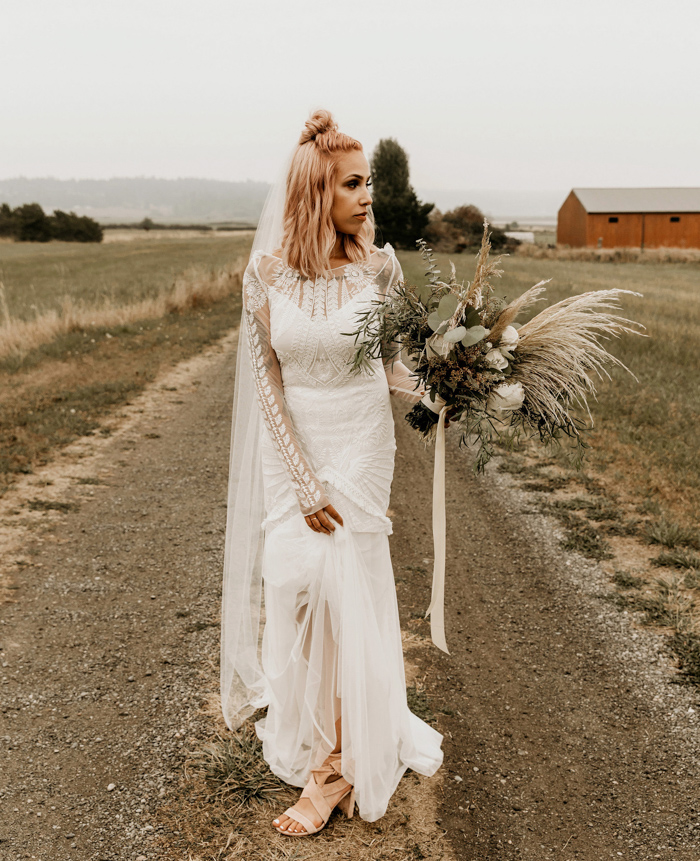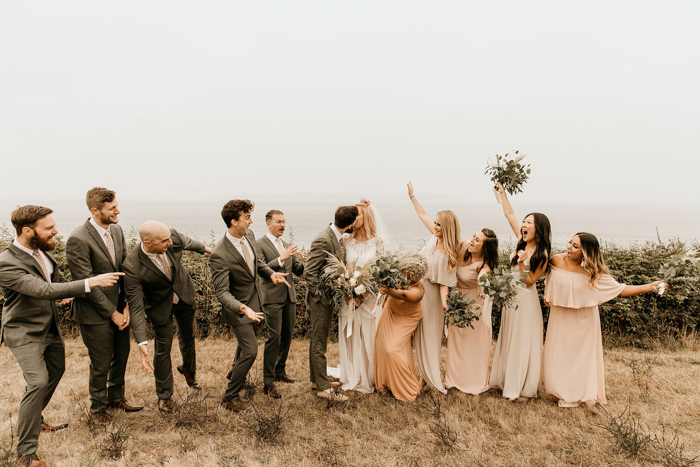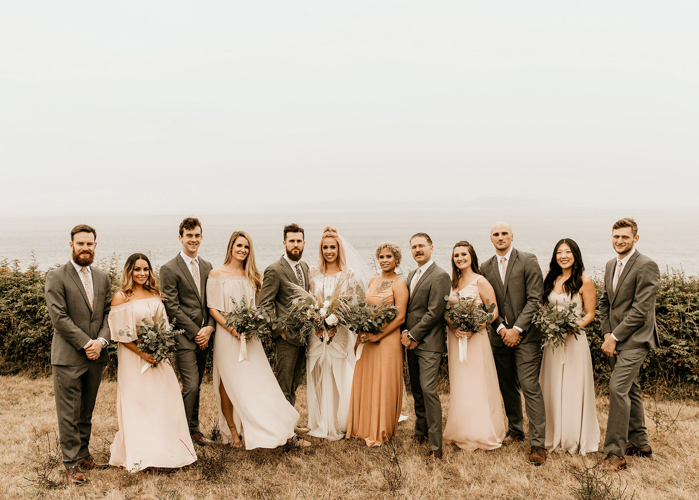 One of the things that was important to Shea and I was to have our dogs, Goonie and Yoshimoto, be a part of the ceremony. They are totally our babes and it was so special to have our pups be able to share in the love of mom and dad getting married (and the guests loved it). Our officiant is a very good friend of the family, and it was awesome to have him offer to take on this important role of marrying us, as someone who knows us both really well. We also wanted to bring some things that are just "us" into capturing pre-ceremony moments and that detail was our polaroid guestbook. Shea and I take polaroids of all of our travels and special occasions, some of which are displayed around our home, so it was fun to incorporate this touch into our day. Our friends and family loved it! And it was so sweet to go through it on the ferry ride home and read the notes everyone left us, and to have a photo of everyone on our special day.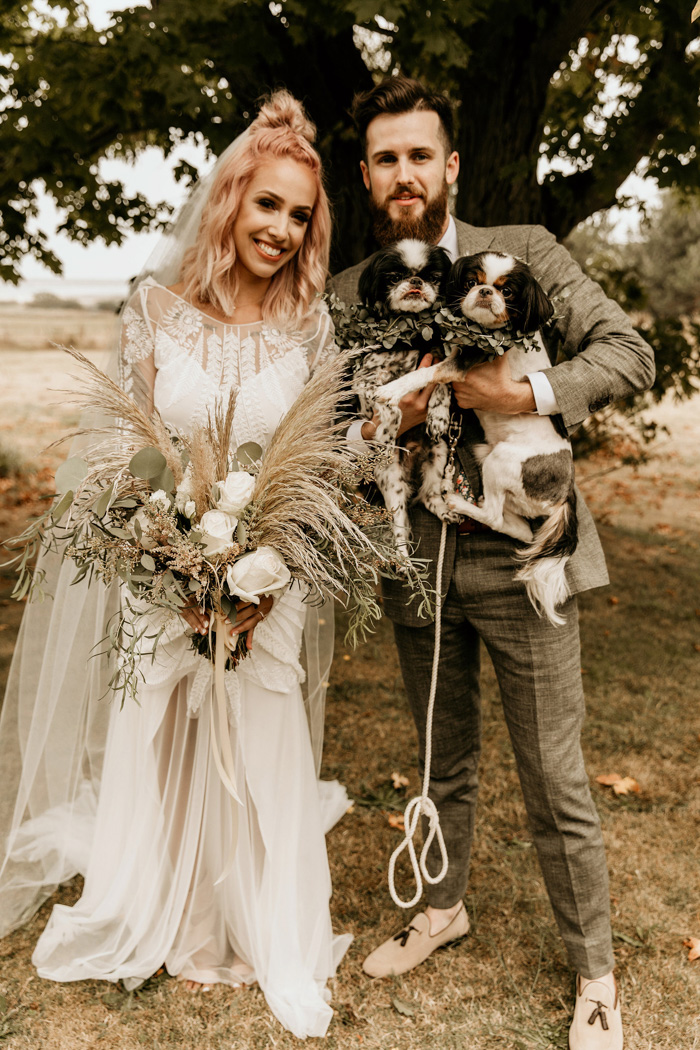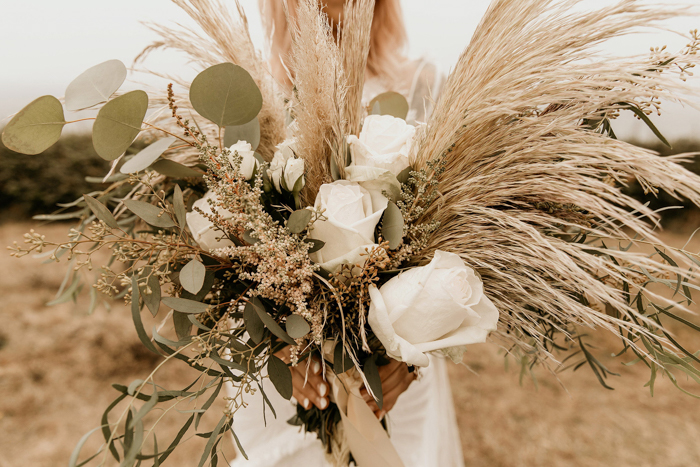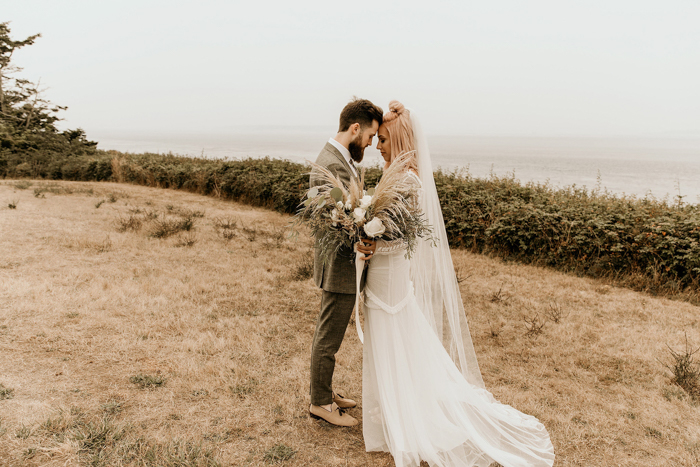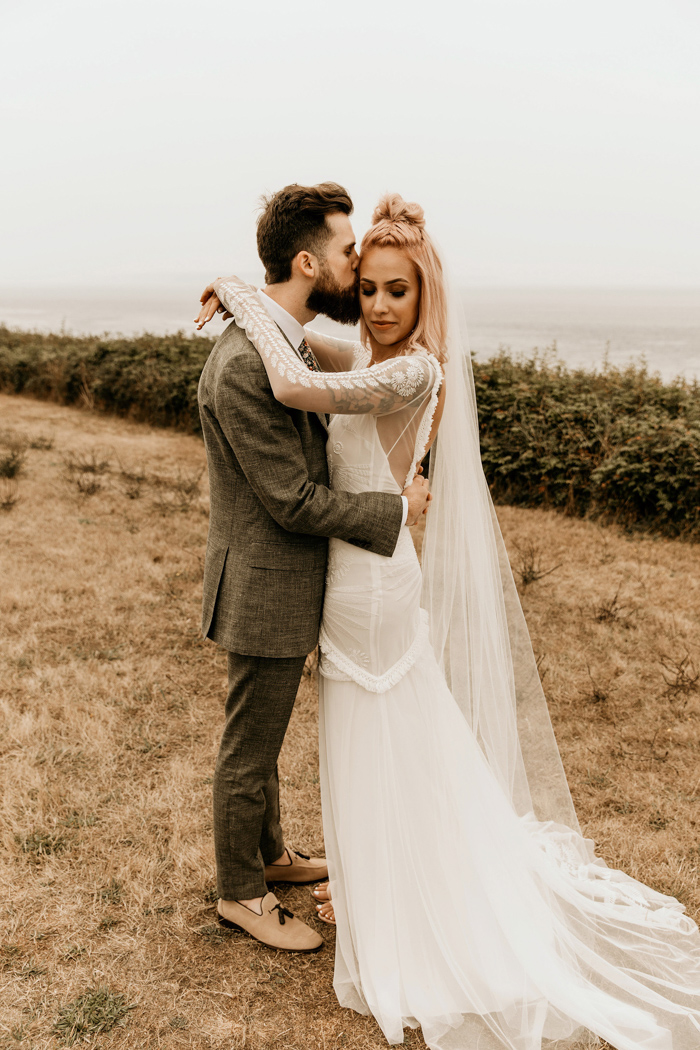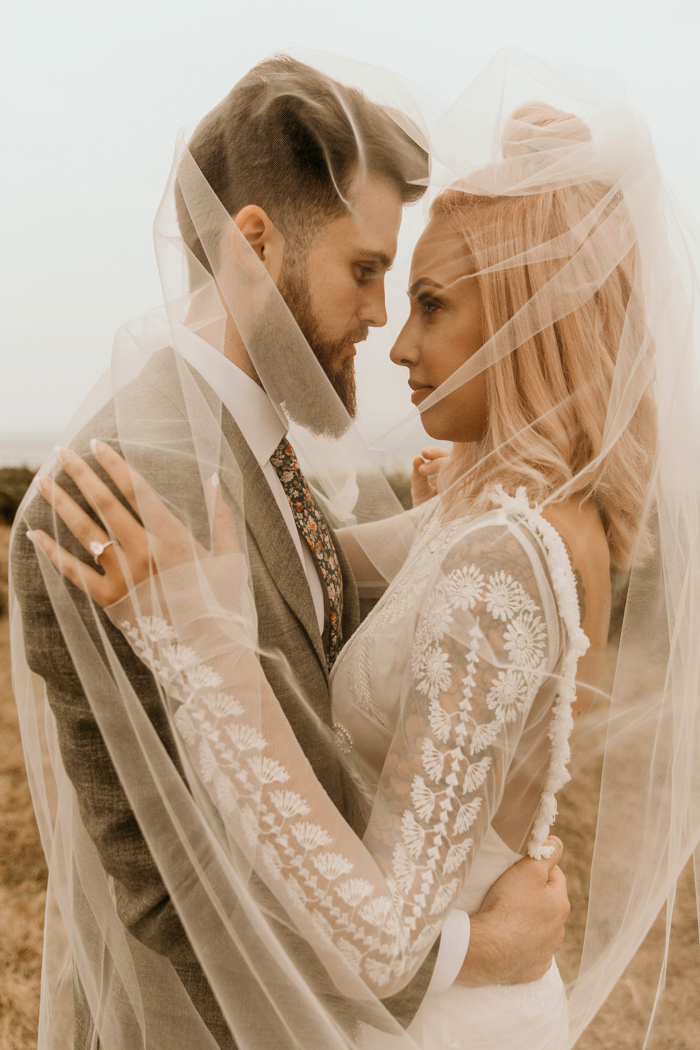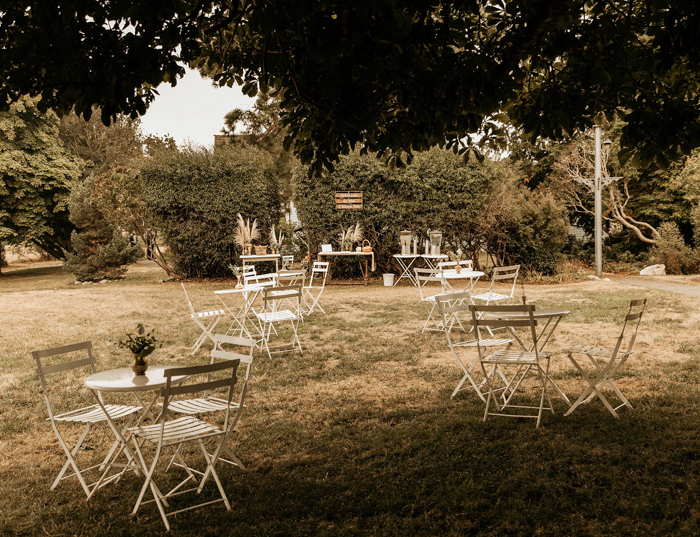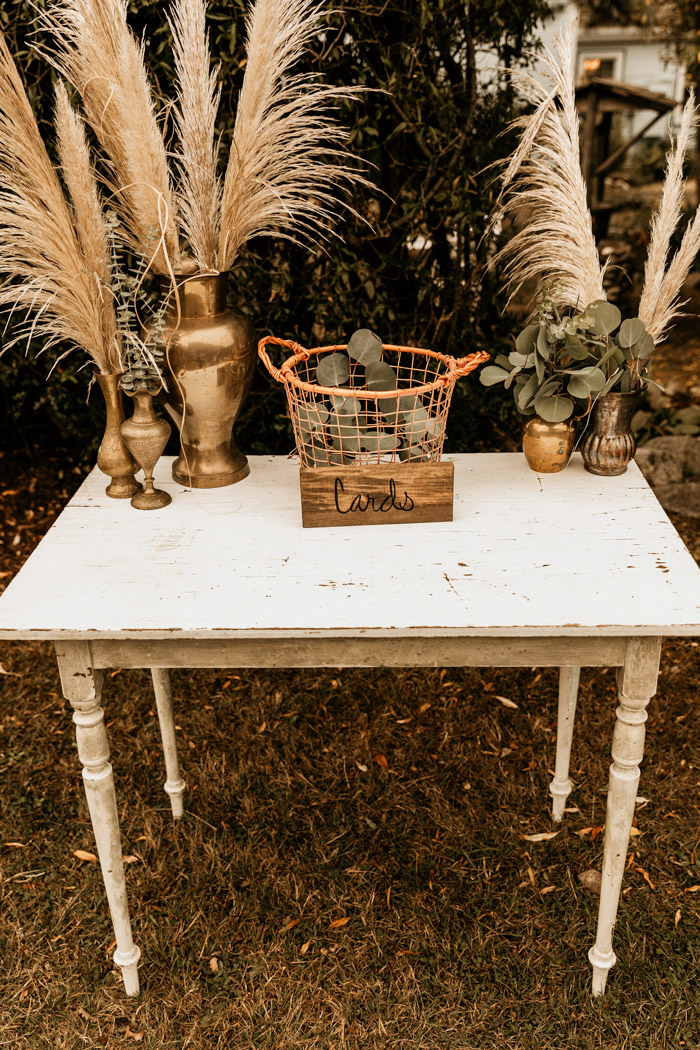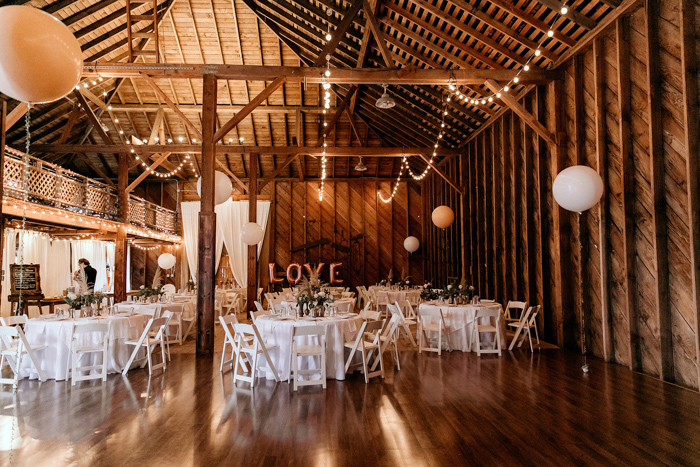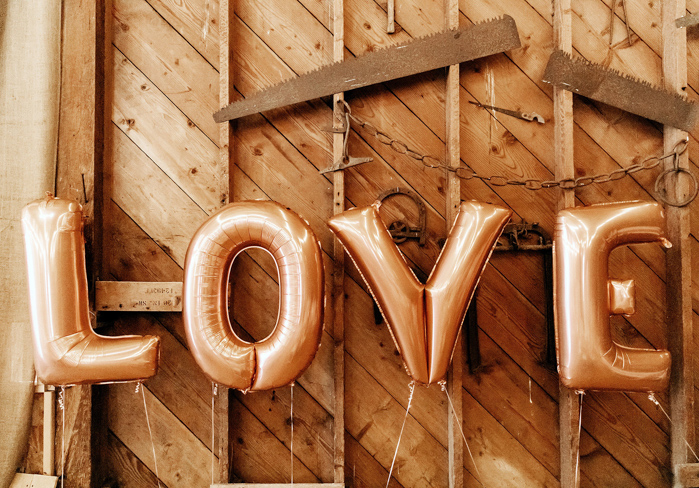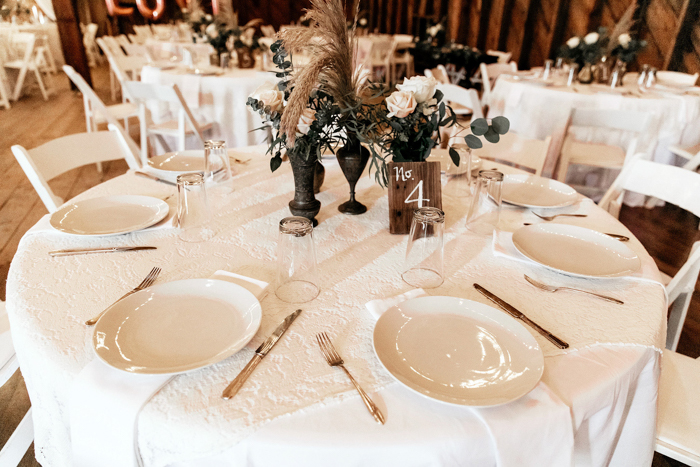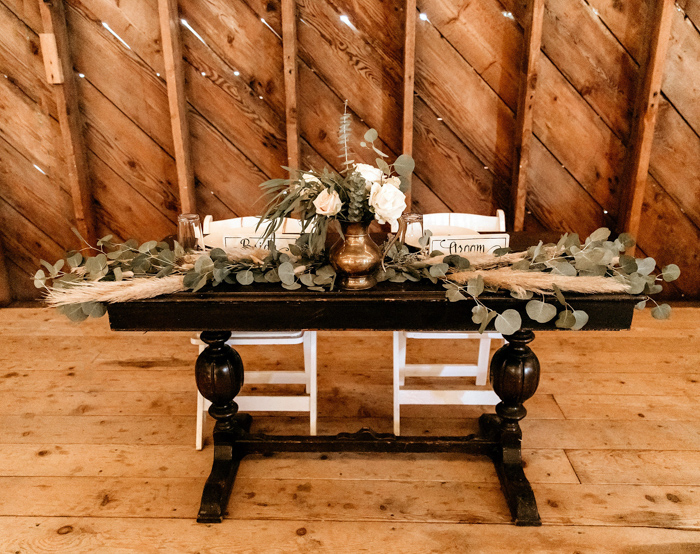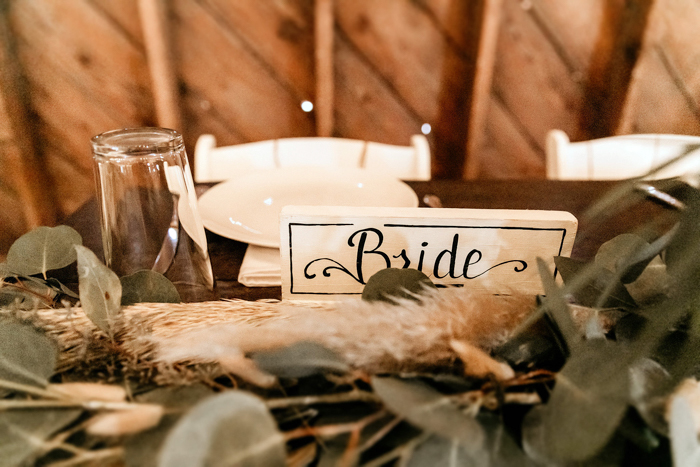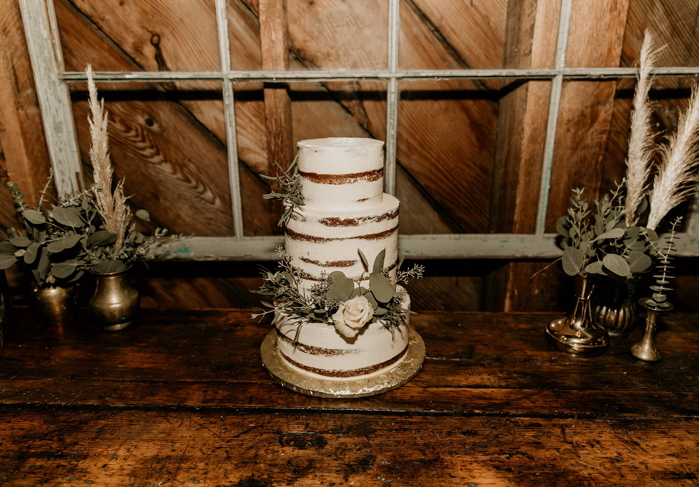 Give yourself lots of time! The best thing I did was to start early so that when it starts to get close to crunch time, I never felt too overwhelmed. I booked the venue and photographer first (within the first 2 months), and I feel that that was a key move if you are planning a summer wedding.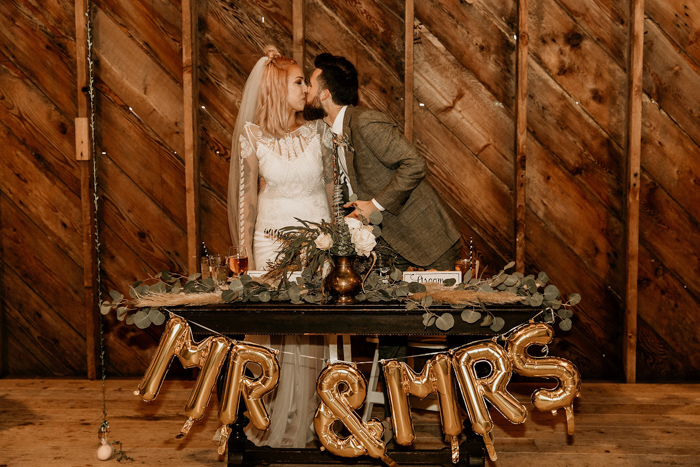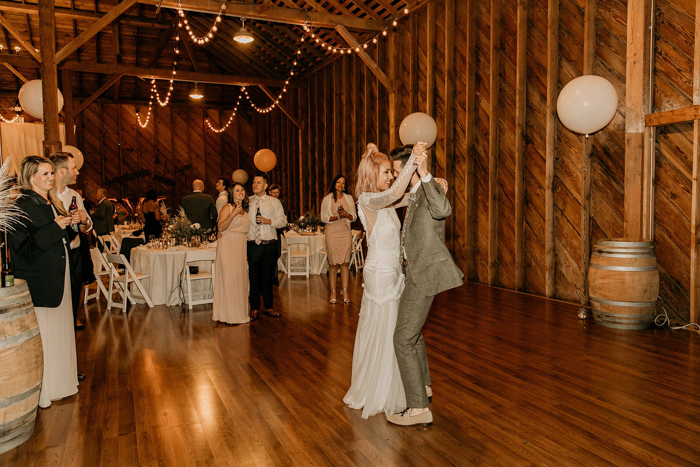 Congratulations to Jacqui and Shea, and our biggest thanks to Maya Lora Photo for sharing this beautiful wedding at Crocket Farm with Junebug! Love the rose gold theme this couple used? Then you have to see this rose gold and burgundy Audrey's Farmhouse wedding in Wallkill, New York!