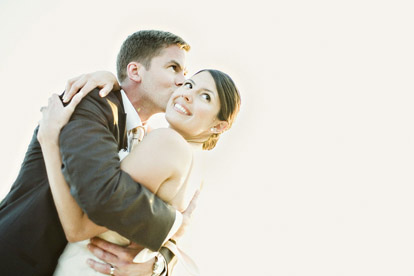 Stacey and Andrew were married on a sunny spring day last April in San Clemente, California, in a wedding that was creative, romantic, and fun! Their goal was to really incorporate aspects of their personal style into the day so their guests got a feeling of who they were, from beginning to end. The day was full of friends and laid back fun, and photographers Amelia and Justin Lyon from Amelia Lyon Photography were there to capture every gorgeous moment.

The thoughtful fashion and decor details of the day were abundant, but all were clean, casual and full of fun-loving spirit. The white, ivory, peach and chocolate brown color palette they chose was inspired by the subtle layers of color in Stacey's stunning Amsale "Bali" wedding dress. For her old, new borrowed and blue, Stacey's pearl earrings were old, her dress was new, she borrowed her grandmother's religious medal, and her garter underneath it all was blue. The groom and his groomsmen wore Calvin Klein Infinity Chocolate Brown striped tuxes with blush colored ties, and the bridesmaids wore short J.Crew Goddess dresses in ivory with brown pearl earrings. The reception decor incorporated white linens and all white flowers by JL Designs. (Different blooms were used at each table, but each vase only contained one type of flower.) Chocolate brown chairs surrounded the tables and white couches with blush throws for color were scattered throughout for guests to lounge on.

The wedding ceremony was performed by Stacey's best friend Kris, who they thought would be a perfect symbol for what marriage means to them as he's a wonderful father, husband and devoted family man. Dinner during the reception was all about being delicious, so they went with a Mexican food buffet including chipotle chicken, sweet corn cakes and vegetarian chile verde enchiladas, and for dessert instead of a traditional wedding cake they went with an alternative they loved even more- pies! They danced their first dance to The Way I Am by Ingrid Michaelson, and one of the most sentimental moments of the evening came when everyone was brought to tears by the toast Stacey's mother gave, on the fly, celebrating the happy couple.

Thank you for sharing your wedding story with us Stacey and Andrew! To learn about all the wedding professionals who contributed to this wedding day, please visit our Real Weddings section.