There is no question this dreamy garden wedding in Sydney, Australia will make your heart skip a beat! With a garden ceremony venue, beautiful lilac and gray colors and amazing wedding party on the sea, this romantic day was a memorable adventure for Erin and Matt. To top it off, it was beautifully captured by Chris Prestidge of At Dusk Photography, recent recipient of the prestigious award "Emerging Wedding Photographer of the Year" by Capture Magazine.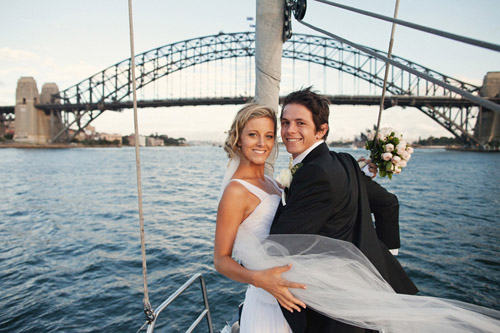 The Couple: Erin and Matt
The Wedding: 2.10.12 – The Deckhouse Sydney, Australia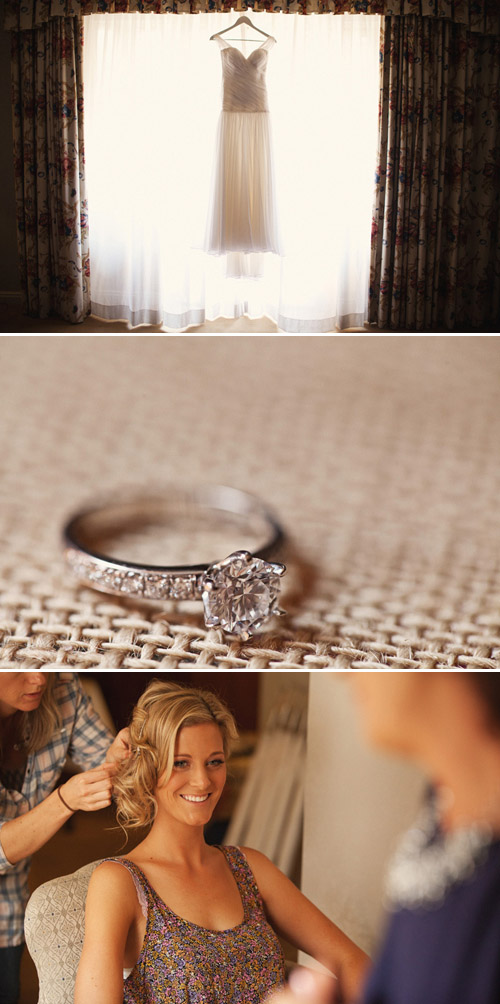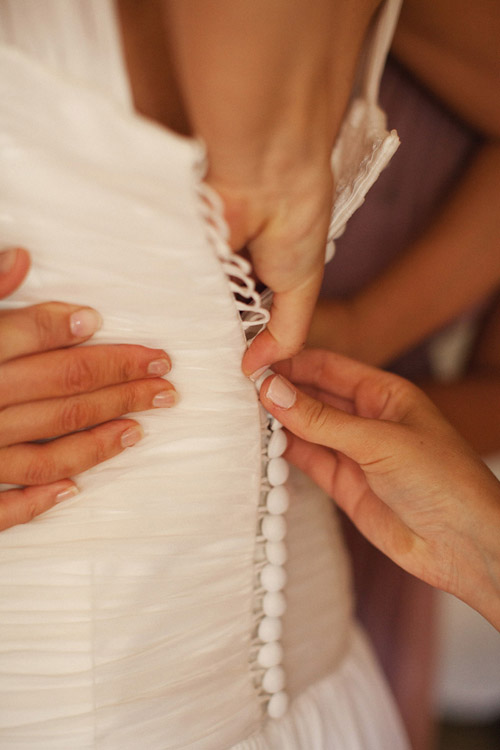 What three adjectives best describe your wedding? It was really important to us that our wedding was a celebration and not just a formal event. We wanted everyone to feel comfortable and relaxed, and have a great time! We decided to run with the romantic and rustic theme, with a few touches of elegance.
What was your wedding color palette? We chose to pair a feminine dusty lilac with a more masculine gun metal. We then mixed splashes of these colours with the classic bridal creams. We also used recycled brown paper for our invitations, working with our rustic theme.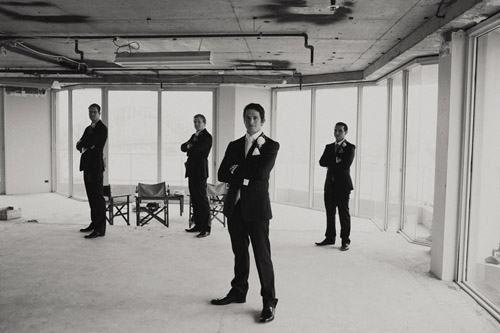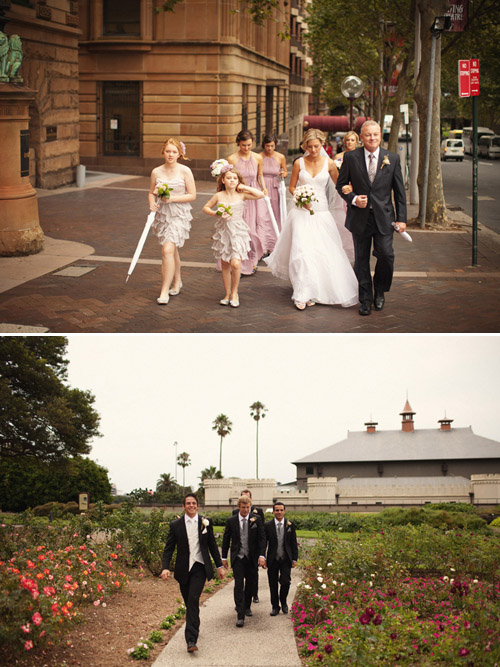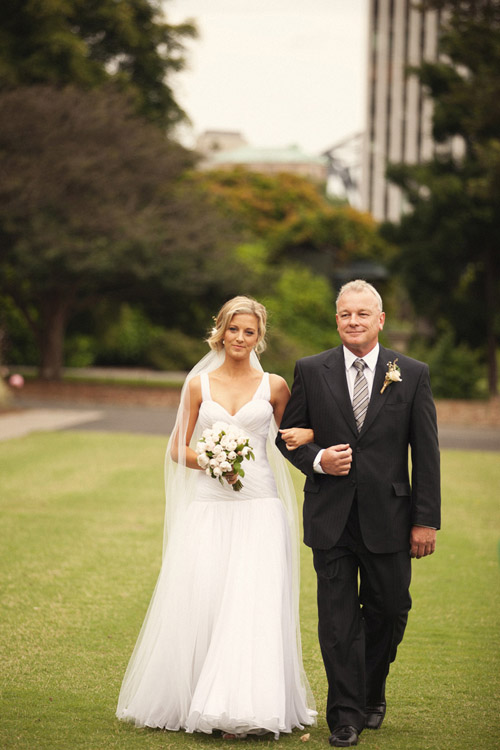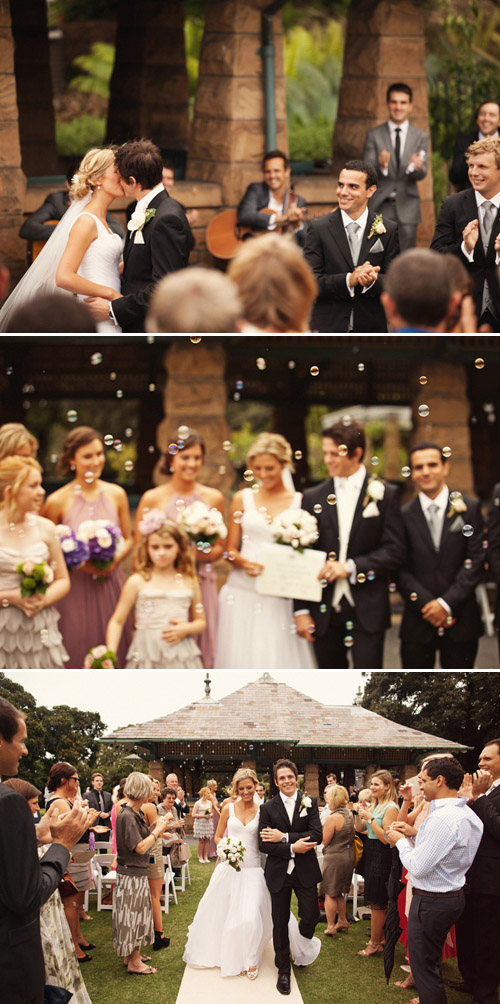 What inspired your personal wedding style, and how did you incorporate your style and personalities into your big day? Our wedding style sort of evolved throughout the planning process. We werent the sort of people who knew straight from the get-go how we wanted the day to unfold. What we did know was that we wanted our guests to feel relaxed and to be able to spot a few special touches that reflected our relationship. We started thinking of what we could make ourselves, and discovered the simplest things could have the biggest impact! We decided to have our ceremony at the Botanic Garden. This is where we went on our first date, so it held a very special significance for us. Plus, it was a beautiful background for our photos! During summer, the gardens are bright and colourful,so we let the beauty of the garden provide the ceremony decor. At the reception, we tied in our bridal colours with homemade pom-fleurs and candles hanging from the roof; splashes of color on the tables and rustic lanterns; and candles and flowers as the centre pieces. So many of our guests commented on how our handy work made the night feel so much more personal. Both the groomsmen and bridal party got ready in buildings next to each other. The ladies spent the day getting pampered in a hotel. But, the groomsmen chose to get ready in a friend's unfinished loft! The convenience of the locations played a big part in the choice, as well as the amazing views of the harbour. But, we also liked the idea of having such contrasting settings for our photos.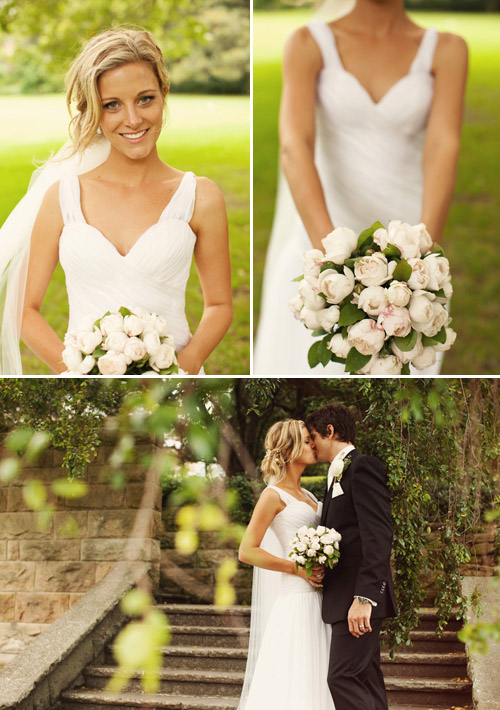 Looking back, what are the moments, decisions or memories that you love the most about your wedding? Of course the ceremony was a special part of the day and saying our vows in front of our family and friends is something that we will both cherish. We also loved the end of the ceremony, looking into the huddled crowd as they blew bubbles towards us in those first moments as husband and wife. One of our favourite parts of the day was sailing across Sydney Harbour as the sun was setting and enjoying a glass of bubbles with our bridal party after the ceremony. It is something we will always remember and it definitely made for a grand entrance! We hadnt told any of our guests, so it was quite a surprise to see us sail in towards the jetty while they were enjoying canapes on the deck. We loved hearing the cheers and seeing the looks on our guests' faces as we waved to them from the yacht!! We were really pleased that we chose to have a friend make our cake – it gave the experience a very personal touch. Another special moment for us was leaving the reception. Our guests lined the jetty with sparklers as we ran through and jumped on a boat! It made for a magical end to a perfect day.
What piece of advice would you give to a bride planning her wedding today? Take all the help you can get! While you may feel like you need to be across all the decision making and planning, having other people organize the parts of the day that you arent particular about really takes off some of the stress (and makes for a few nice surprises on the day!)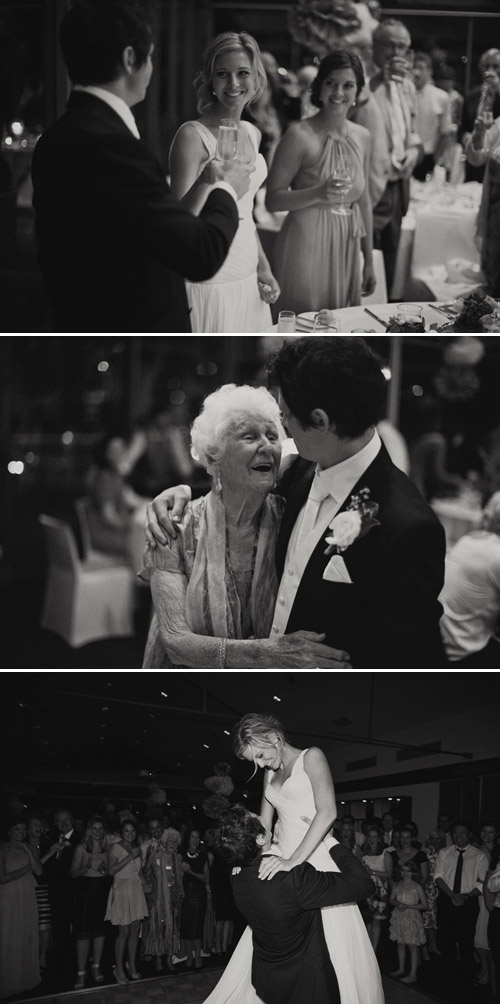 The Wedding Team:
Photographer: Chris Prestidge
Ceremony Venue: The Rose Garden, Royal Botanic Gardens
Reception Venue: The Deckhouse
Officiant: Russell Hansen
Invitation Designer: Rowan Bell
Catering: The Deckhouse
Florist: Summers Floral
Wedding Cake: Xanthe Roberts – Assistant Food Editor: Australian Women's Weekly
Wedding Dress: Personalised Weddings Couture
Bridal Accessories: Shoes – Cinderella Bella, Bouquets – David Austin Roses
Bridesmaids' Apparel and Accessories: Dresses – Bridemaids Only and Myer, Shoes – Georgini and Myer
Groom and Groomsmen Apparel and Accessories: Suits – Rhodes and Beckett, Boutonniere – David Austin Roses
Hair and Make-up: Jess Flemming
DJ: Impression DJs
Live Music: Violinists
Transportation: Water taxi
Dance Instruction: Arthur Murray Dance School
Rings: Diamond Emporium
Thank you so much Erin and Matt, for sharing your amazing wedding day!
See more more beautiful wedding photographs on our Photobug blog!