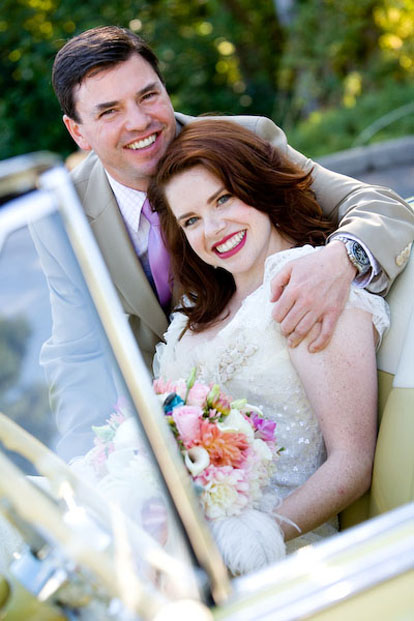 If you've been reading this blog over the past few months, you are sure to remember Justine, the amazingly lovely bride in today's Real Wedding! While I was away in Africa, Justine filled us in all all her creative wedding plans for her vintage French themed wedding, and in early September it went off without a hitch! She and Kurt were married in Port Gamble Washington in a celebration that was full of whimsy, romance and personal sentiment. It was photographed by Kim and Adam Bamberg of La Vie Photography (and Junebug Weddings!) and I can't get enough of how beautiful the photos are!


The wedding took place on Kurt's grandmother's 99th birthday, Justine wore her grandmother's wedding veil, their nieces, nephew and dog Jazz were all part of the ceremony and family and friends were the focus of the day. To bring a bit of their French theme into the ceremony, their officiant was a good friend and Justine's former French teacher, and there was a reading from the book, The Little Prince by Antoine de St. Exupery. Everyone wept with joy as Justine entered the church, saw Kurt waiting for her, and burst into tears herself.

The pink, lavender and peach details made the church and reception tent into it's own special wonderland. Justine wanted the decor to be, "gorgeous, but without being fussy or overdone." Their wedding cake was made with French madeleines, and a table filled with French sweets delighted the guests. Pretty paper extras like place cards, favors and rose petal cups were ordered frominvitation designer, the Folios of M. Thomas from Stuhlbergs, and lovingly designed and assembled by Justine's mom, Irene.

During the reception a special photo booth was set up in front of a custom painted Parisian themed backdrop created by painter and family friend Judy Wise. Extra props like fans, wigs and boas got all the guests in on the action and made for some fantastic photo opportunities! Even photographers Kim and Adam are in there, 10 points if you can pick them out!


Justine's dress was by Vera Wang, and being the creative woman she is, she redesigned it slightly, taking the belt made of fabric flowers and moving it up to the bust line."I wanted to highlight my best feature!" says Justine. Smart! At the end of the day the happy couple sped off in Kurt's uncle's car, a 1953 yellow Plymouth and had an impromptu party with loved ones on the ferry ride home to Seattle.
Justine and Kurt truly succeeded in creating a day that was timeless, heartfelt, romantic, and joyful for everyone involved. Thank you for sharing it with us you two! For all the info on Kurt and Justine's wedding and wedding professionals, check out our Real Weddings section.