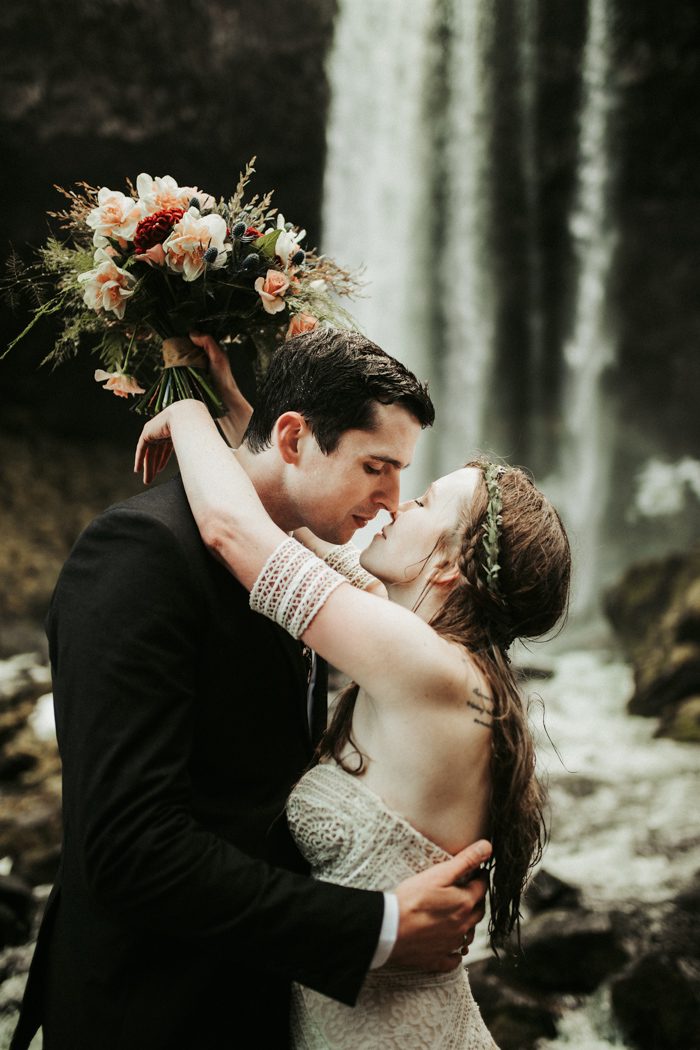 A cozy wedding ceremony in the woods, portraits under a waterfall, and an intimate cabin reception made this Mt Hood elopement one for the ages. Texas sweethearts Hannah and Jake have always been drawn to the romantic, adventurous vibes of Oregon, so they treated 20 of their closest loved ones to a weekend of the best the PNW can offer. With just two Airbnb cabins, simple florals designed by Oak Grove Floral, a boho-chic Rue De Seine gown, and lots of DIY crafts and curated goods, the couple created the wedding day of their dreams, which Cassandra Michelle Photography captured in brilliant detail.
The Couple:
Hannah and Jake
The Wedding:
Tamanawas Falls Trail, Mt Hood, Oregon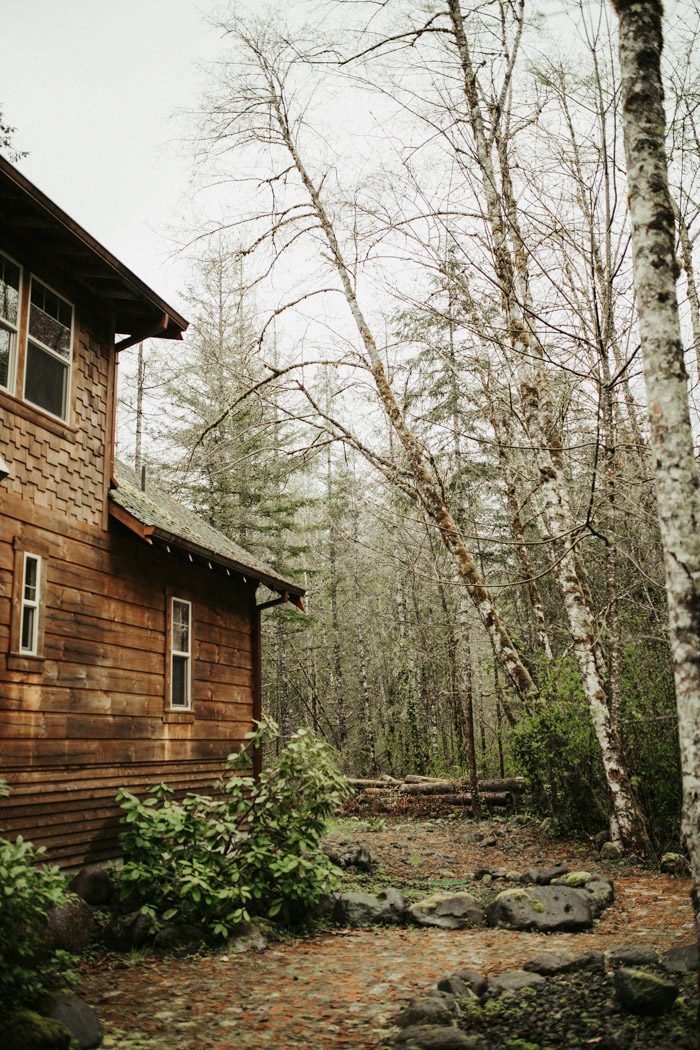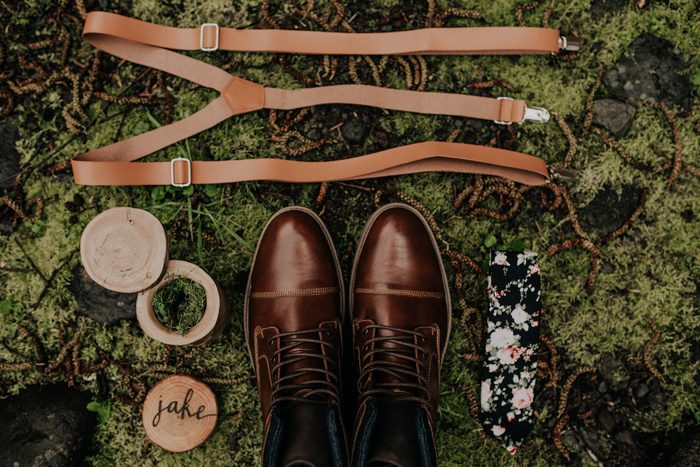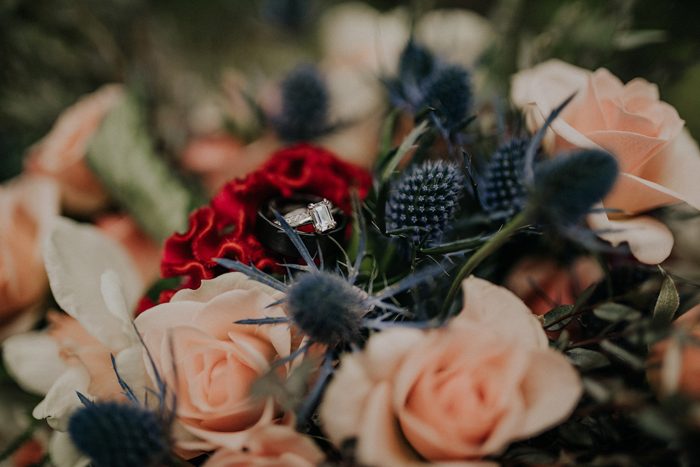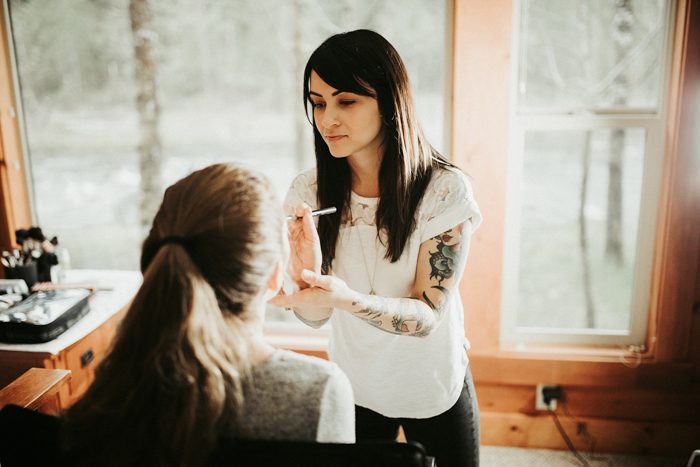 We just really wanted to keep it intimate and relaxed, so we only invited about 20 of our closest family and friends. We actually live in Texas, but we have always loved our trips to Oregon and always knew we wanted to get married there. The most important thing for us was staying true to ourselves and creating a day that felt like 'us' – even when people disagreed with our choices. We also really wanted to use that weekend to reconnect with family and relax. It couldn't have turned out better!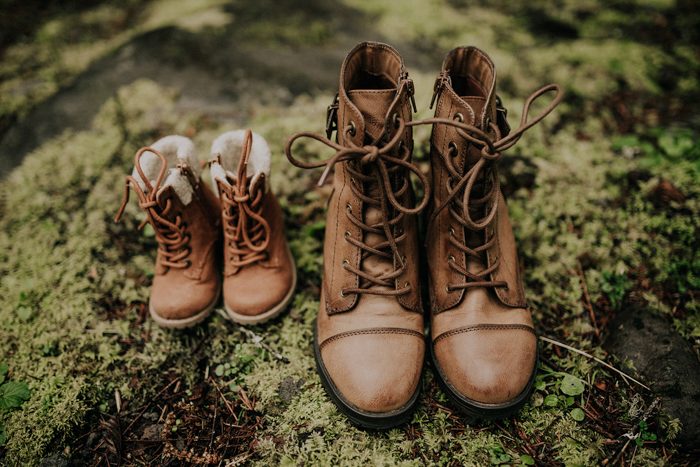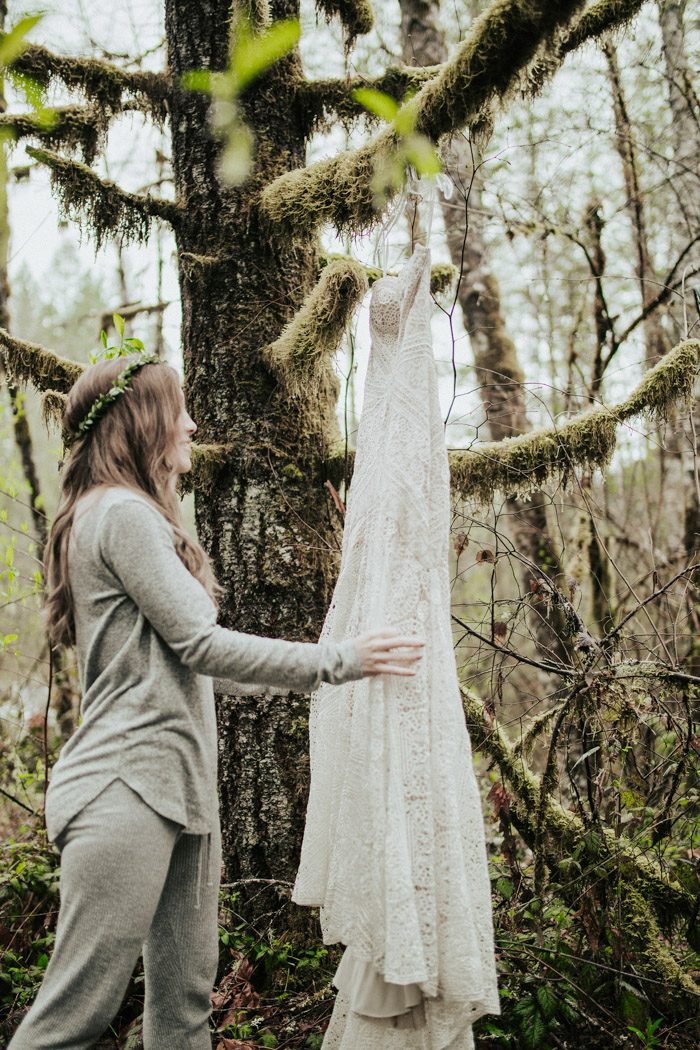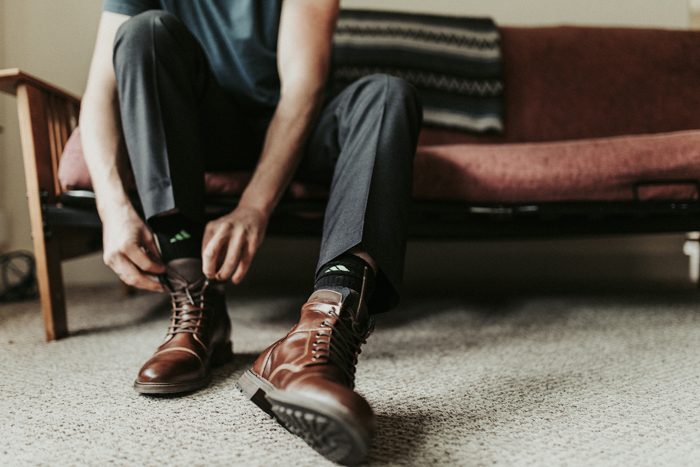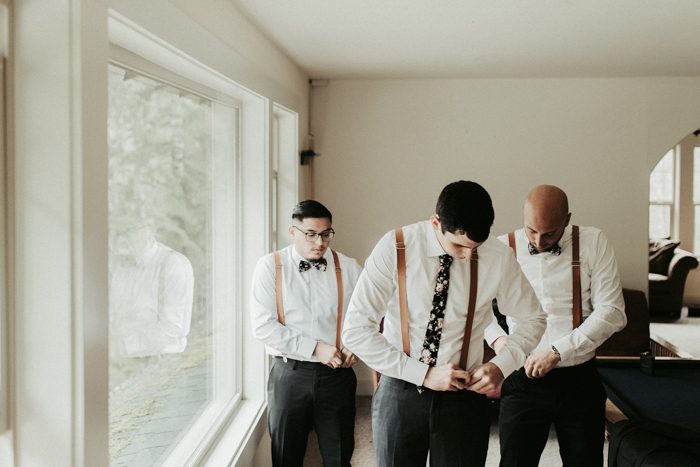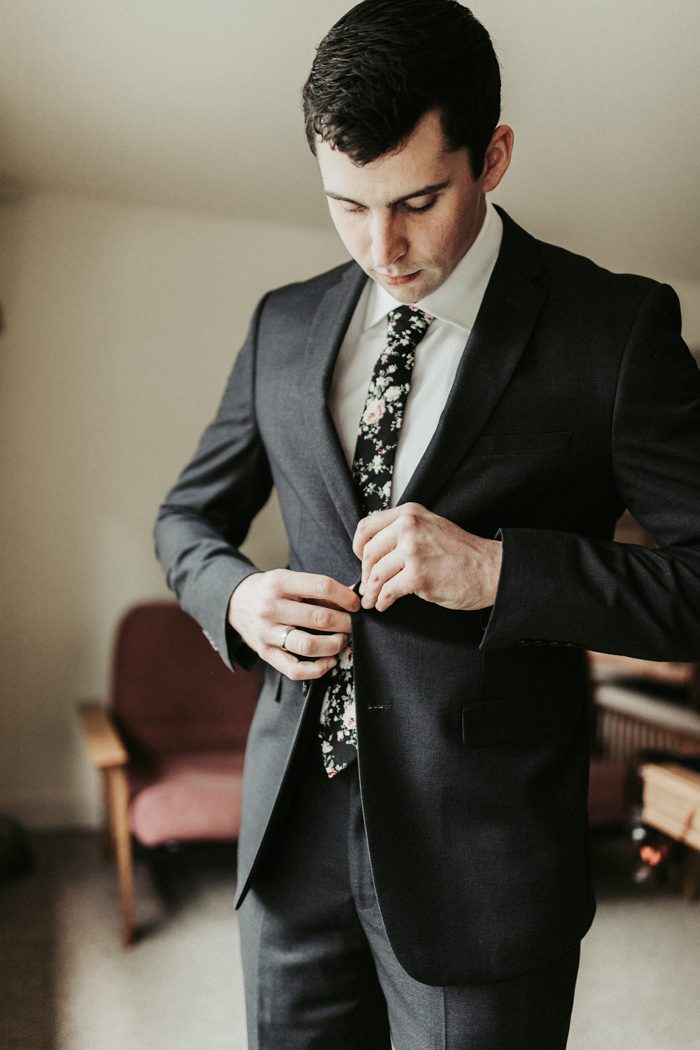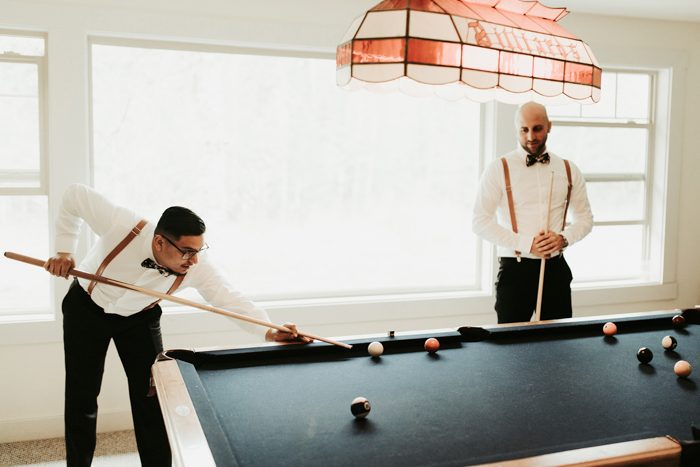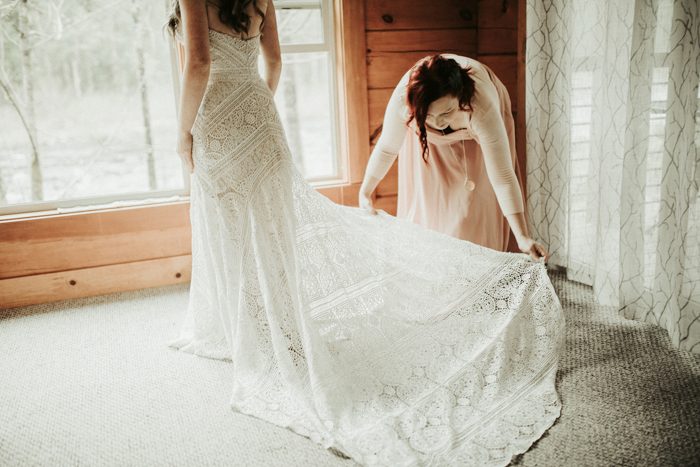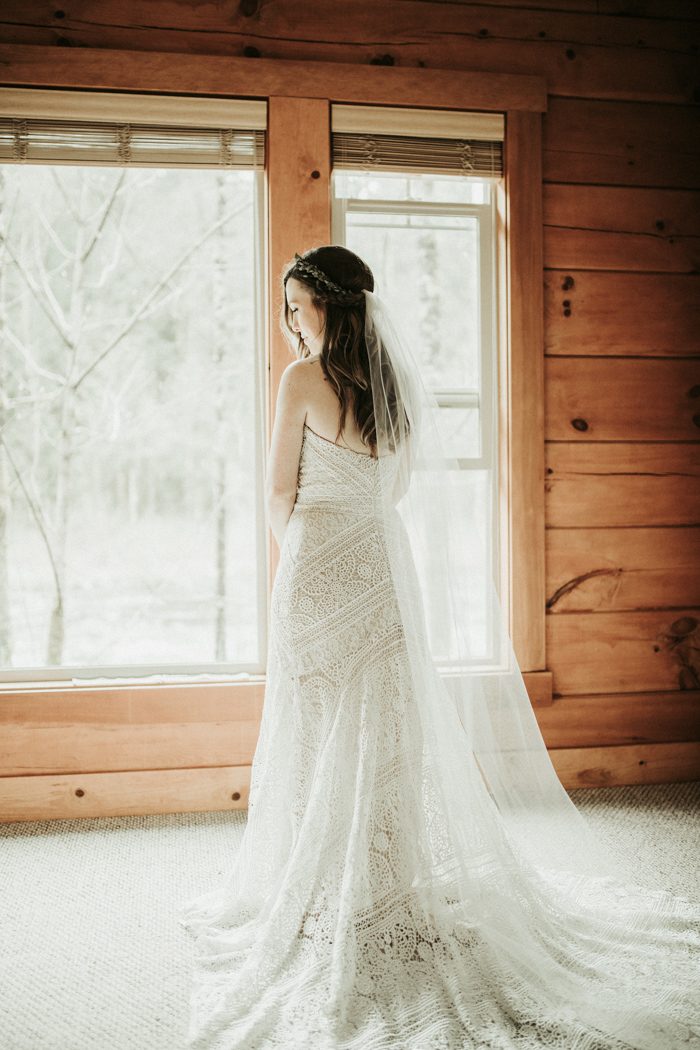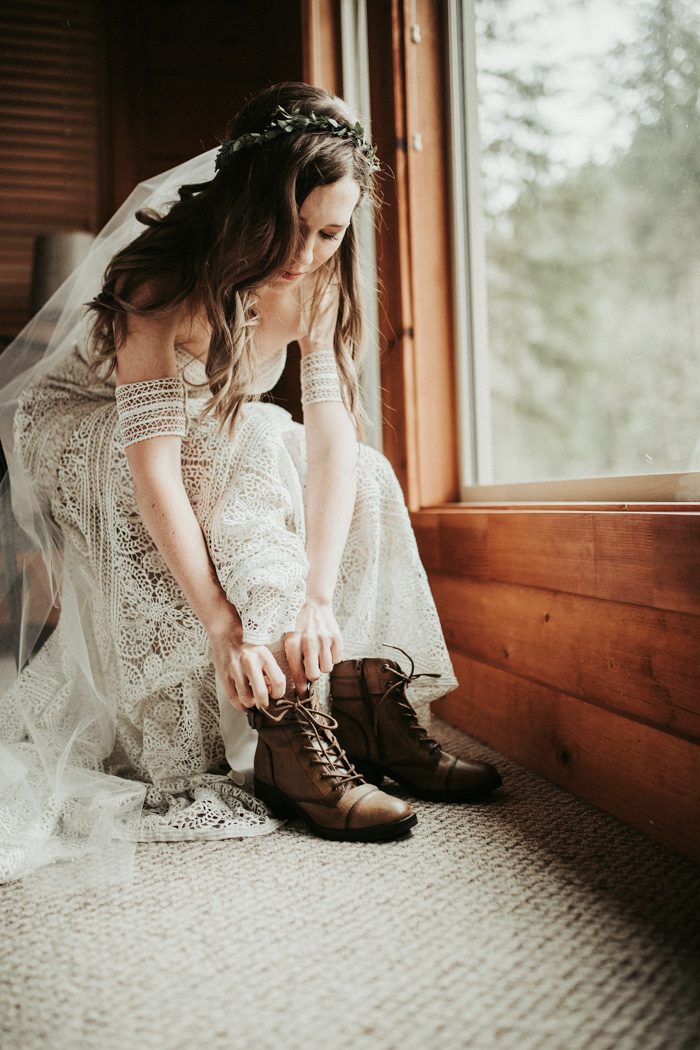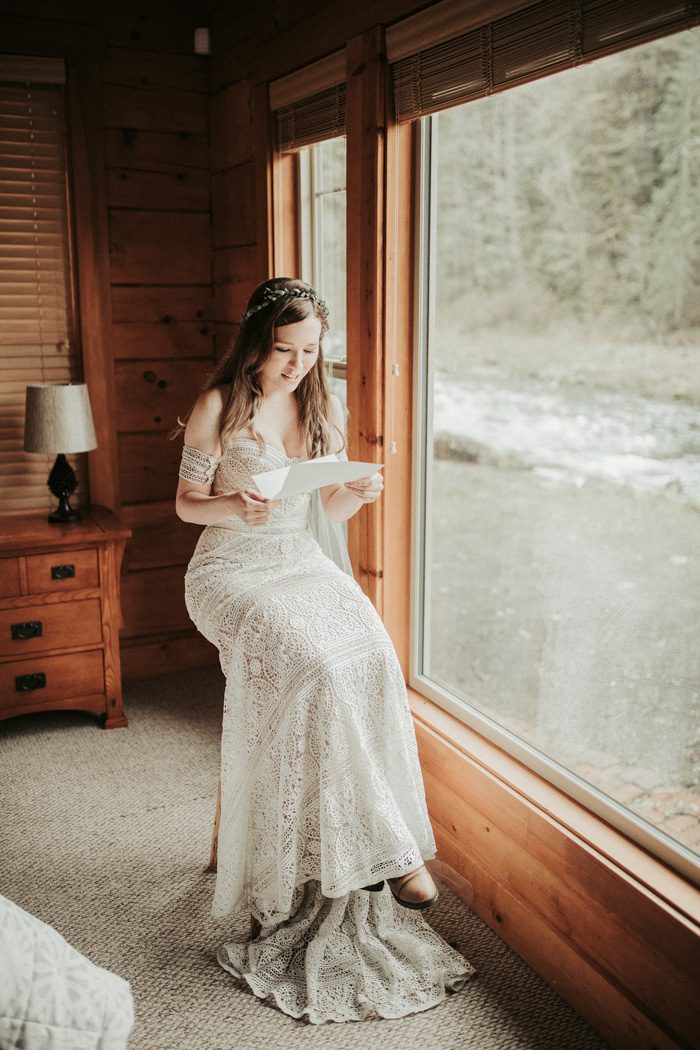 I honestly couldn't justify paying a couple thousand dollars on a venue for a single day. We rented two Airbnb cabins right next to each other on the banks of the Sandy River for our friends and family to stay at and for the reception. We then got married for FREE in one of the most beautiful places we had ever seen!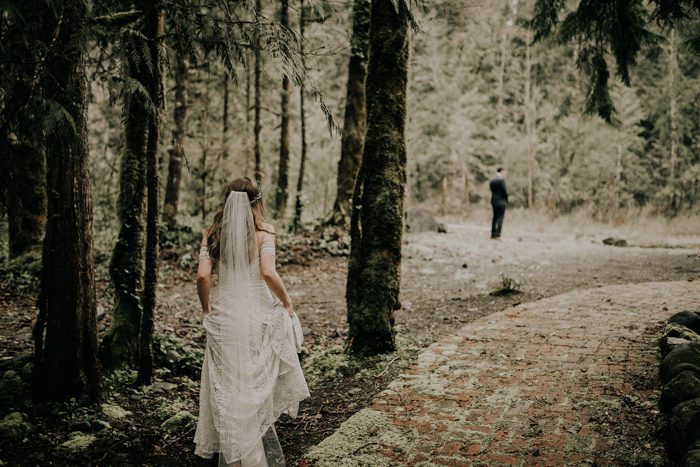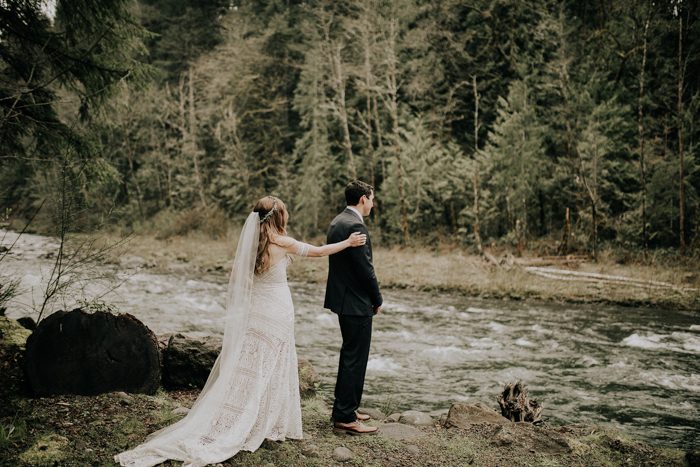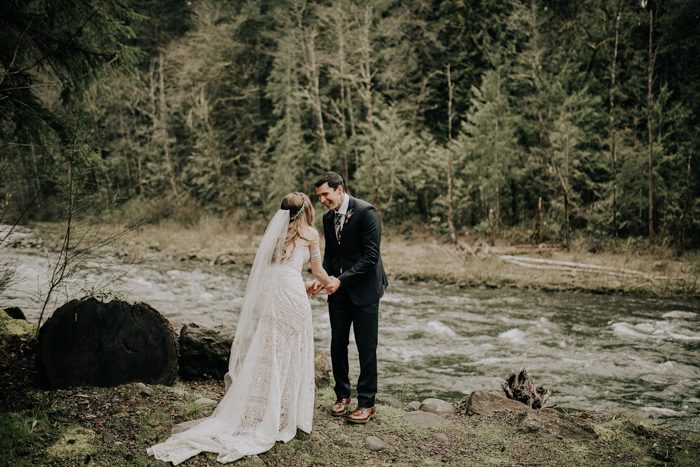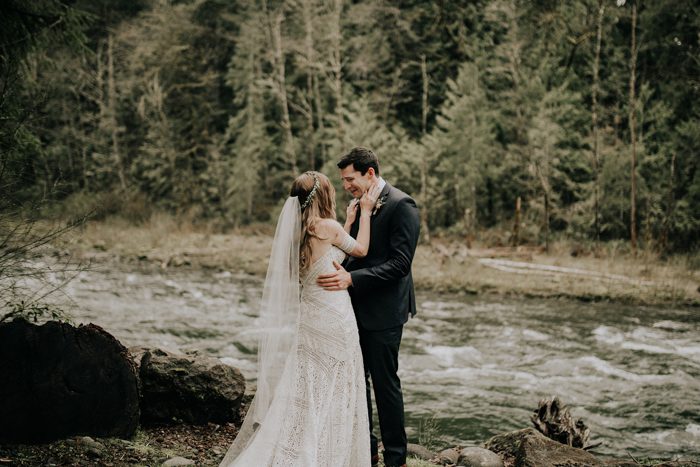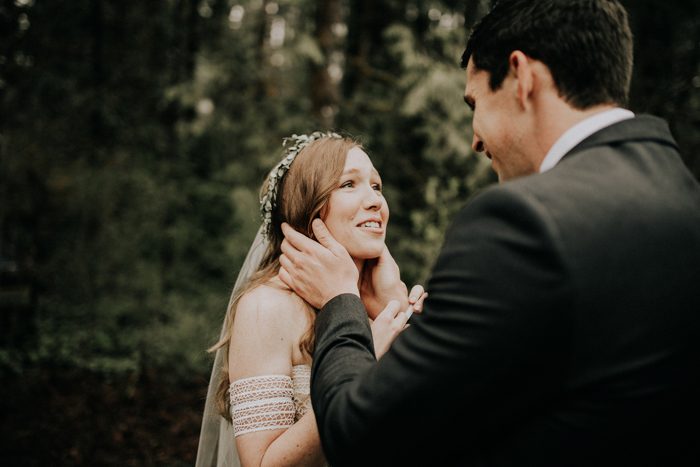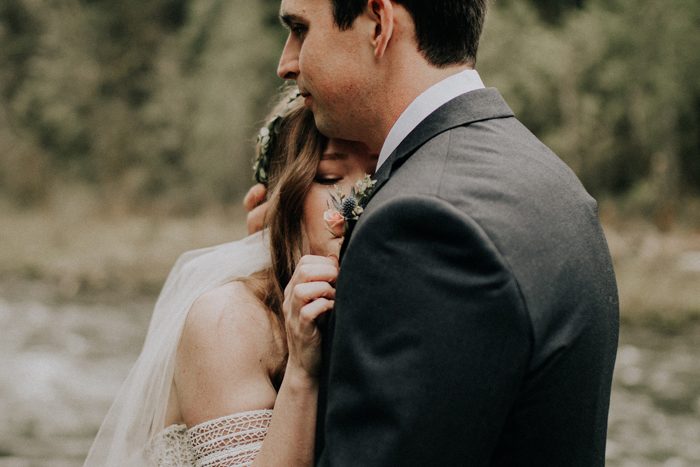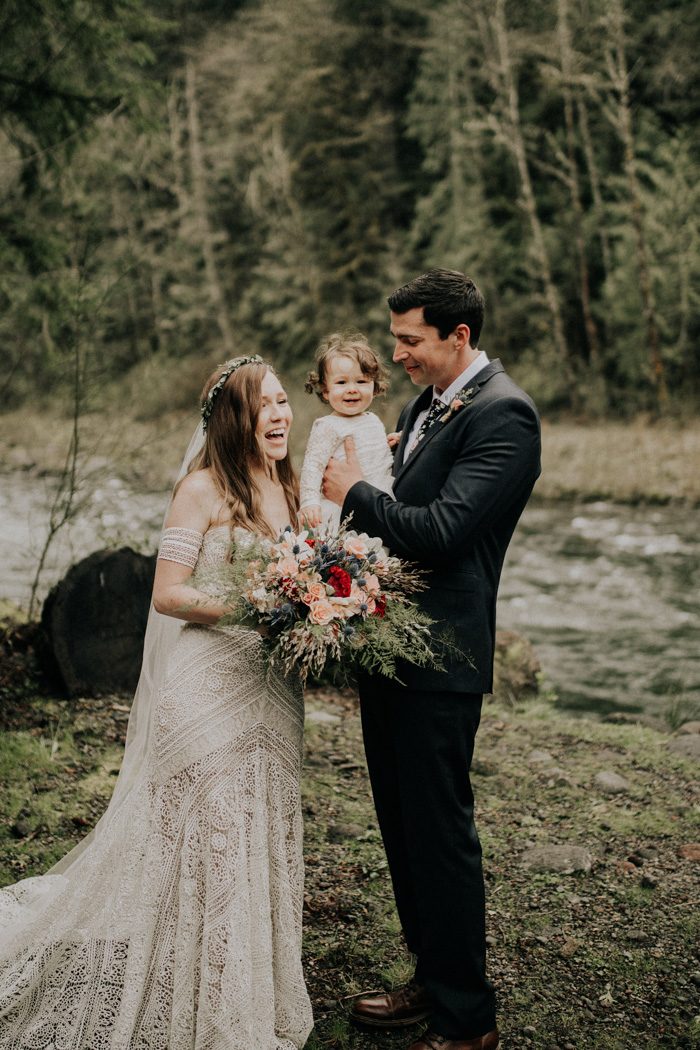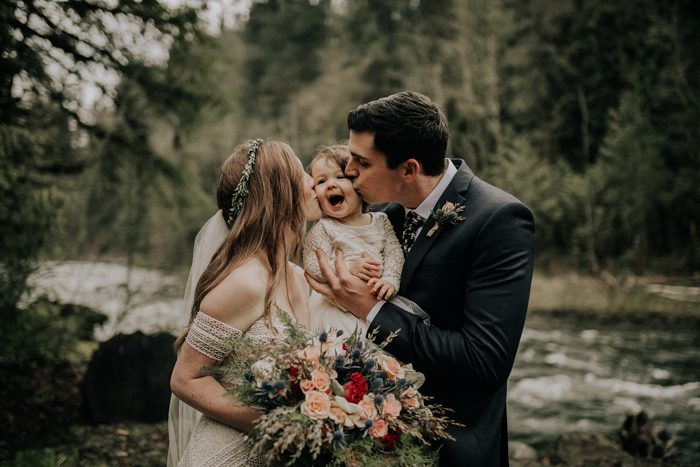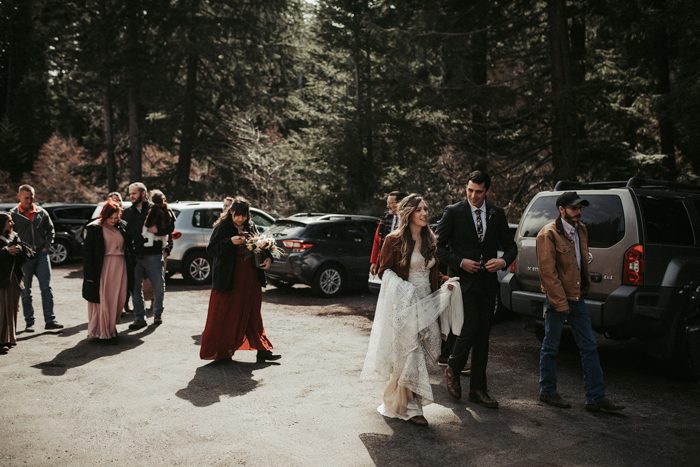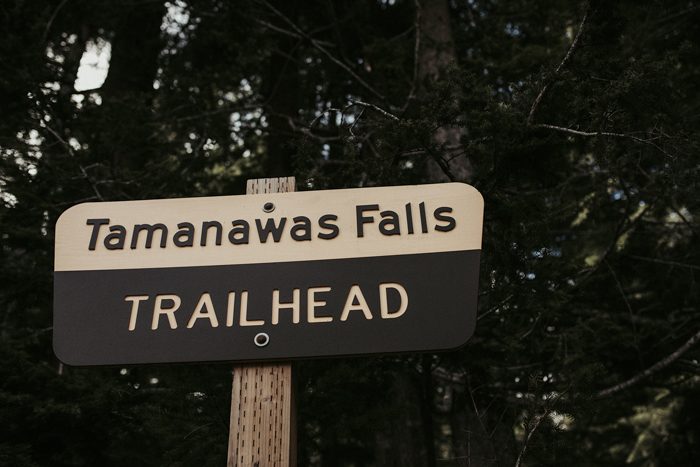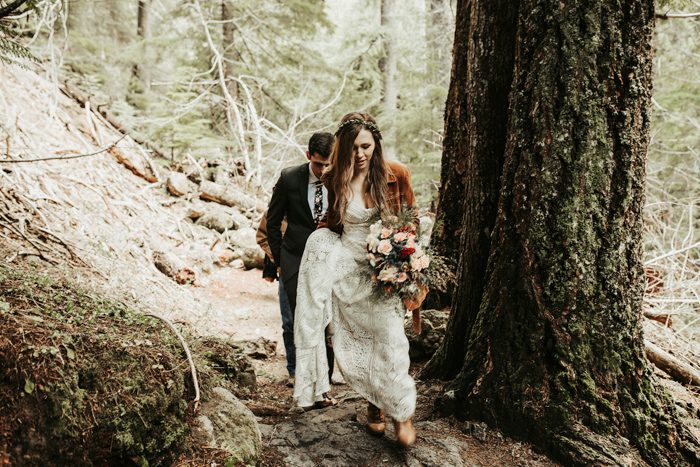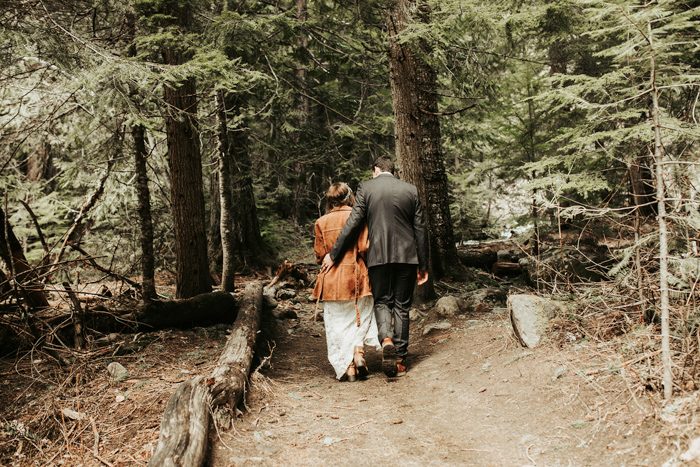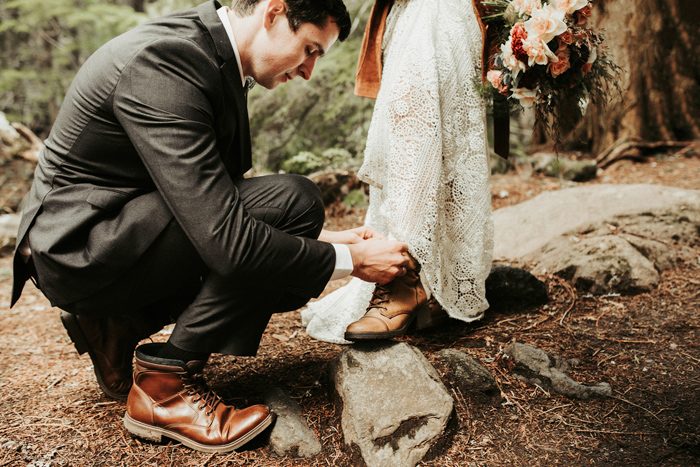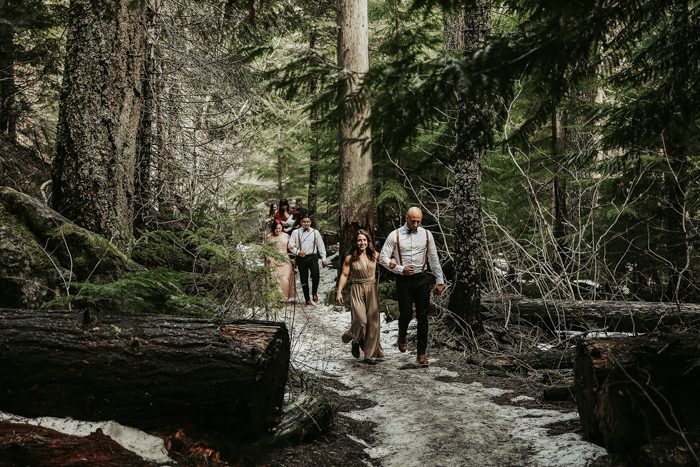 There were so many amazing moments! The two that stick out most are probably reading our vows to each other and finally reaching the waterfall. Jake's voice cracked during his vows and we couldn't stop laughing, and I fumbled on my words once or twice, but that didn't even matter. We had waited for this for over 8 years and it was so amazing to finally experience it together! By the time we got to the waterfall, we were just so happy to be married that we didn't mind getting drenched in freezing mist!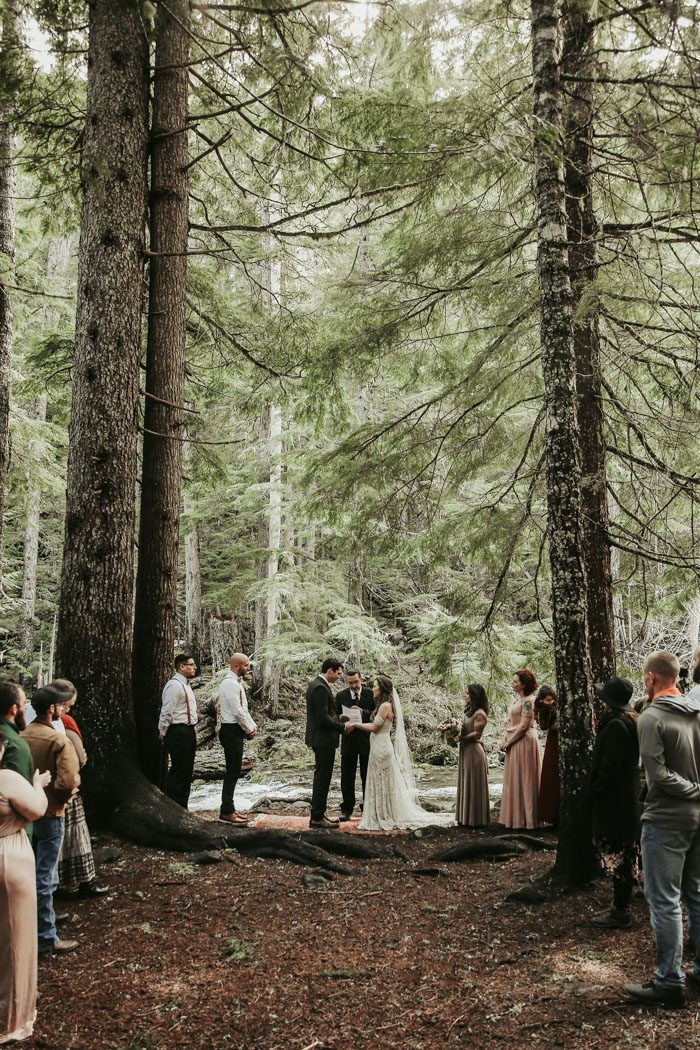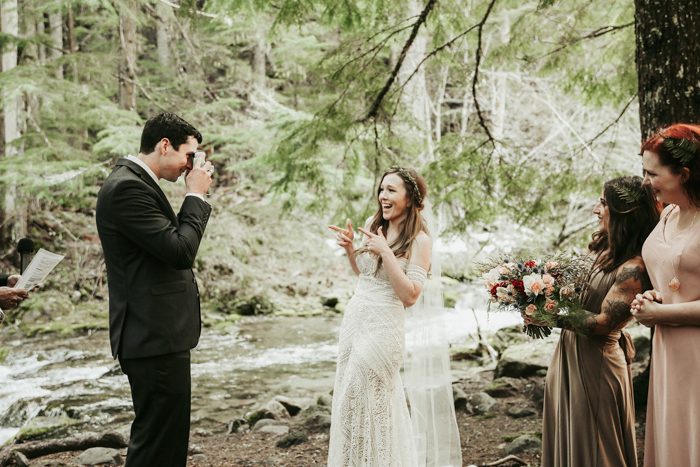 We decided to take Polaroids of each other at the altar! We added them to a wood box I made, in addition to a special local wine we love, plus love letters to each other. On our first wedding anniversary, we plan to open the box and see the pictures for the first time, drink some wine, and read our letters. It was one of our favorite things about our wedding!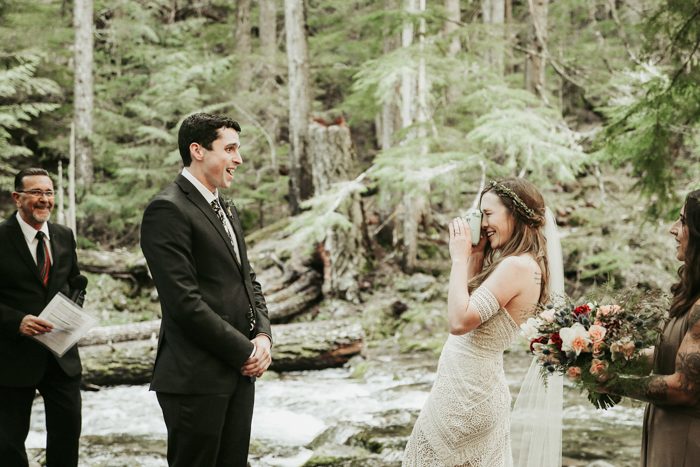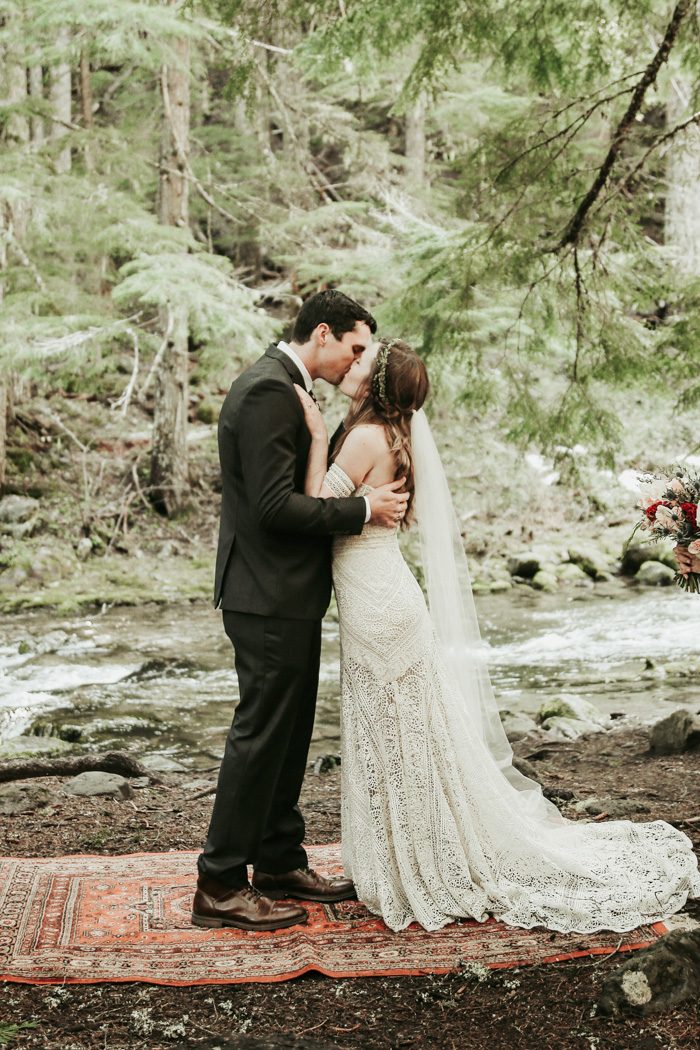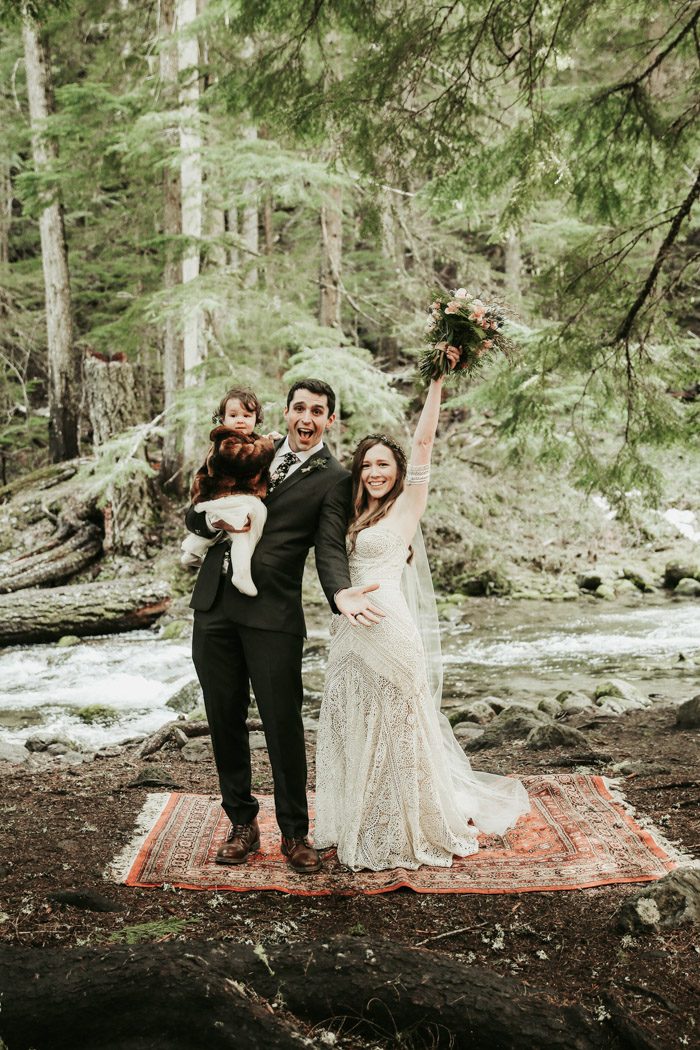 We made welcome bags for our guests and included in them were ramen noodle and Pabst Blue Ribbon beer. I know it seems strange, but when we got engaged we were zip lining in Colorado and we hit a temporary financial bump two days after he proposed. We were basically flat broke in a different state, but we bought some ramen noodle, PBR, and rented a cheap hotel room for the night. We ended up having the most hilarious and memorable evening – probably our favorite one of the entire trip. It was such an important lesson for us and showed that life isn't always perfect and things go wrong (especially when traveling), but that we could always make the best of any situation as long as we were together.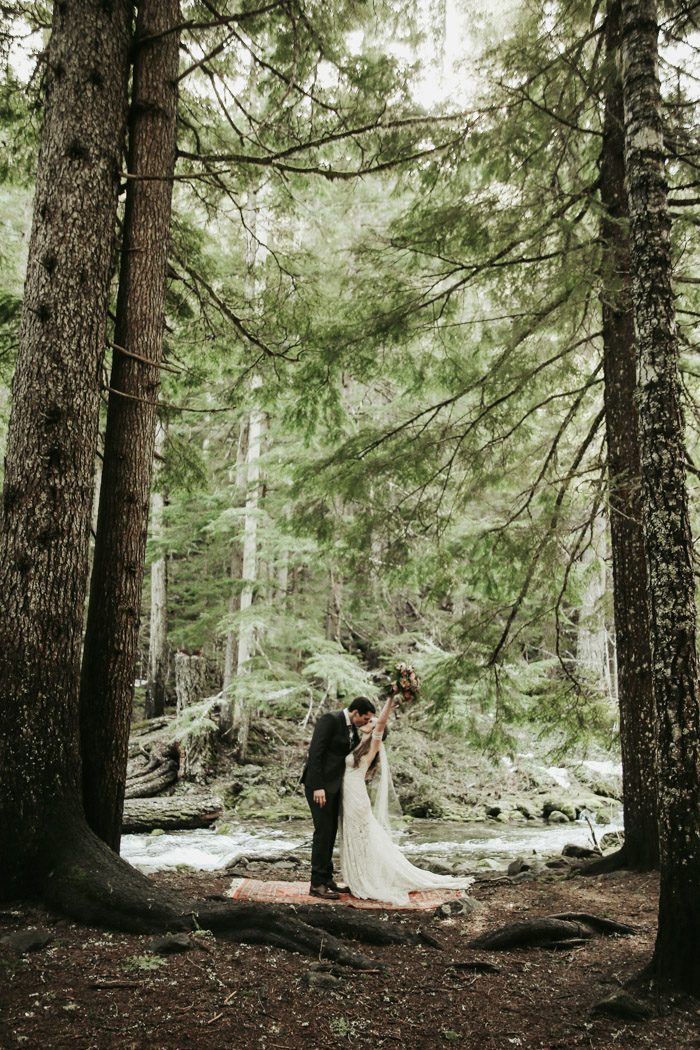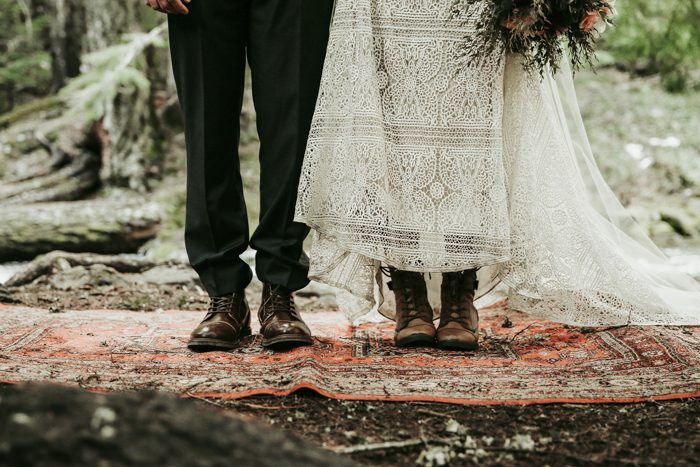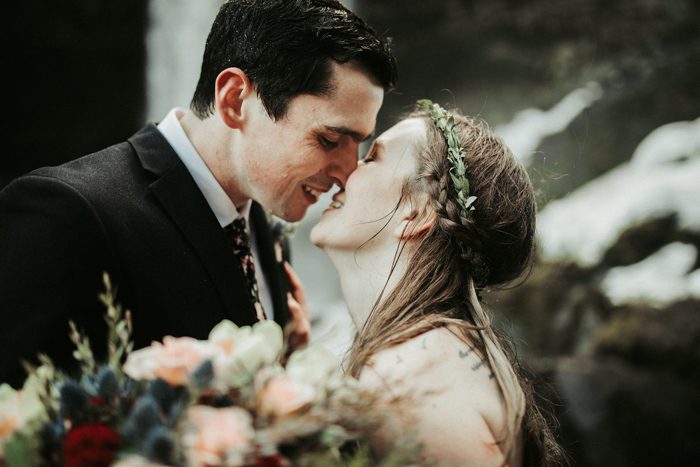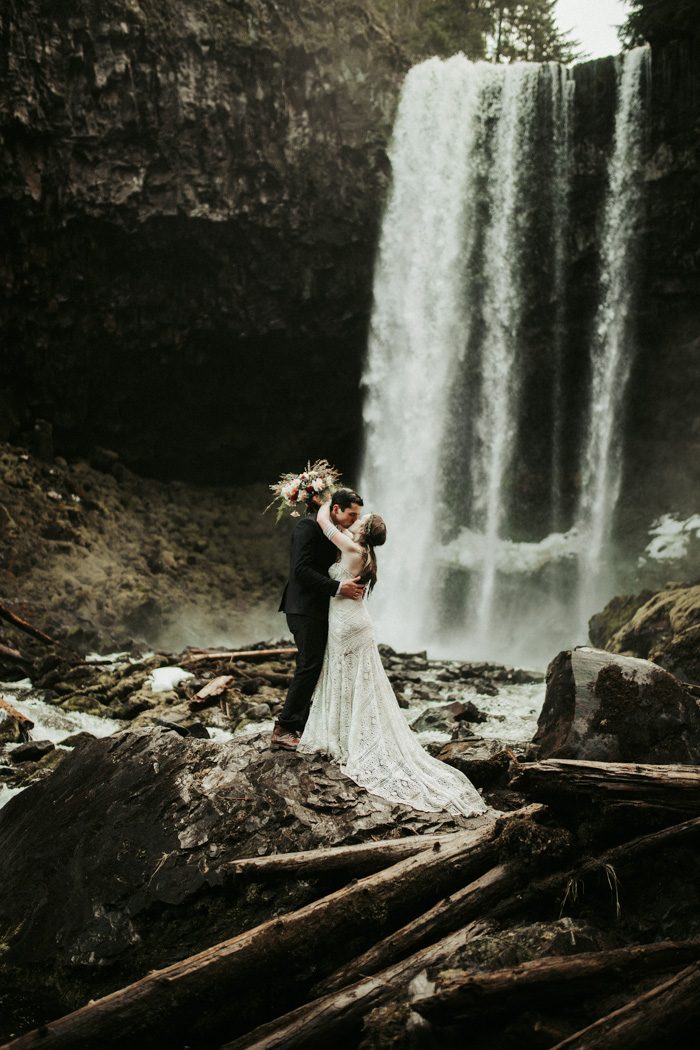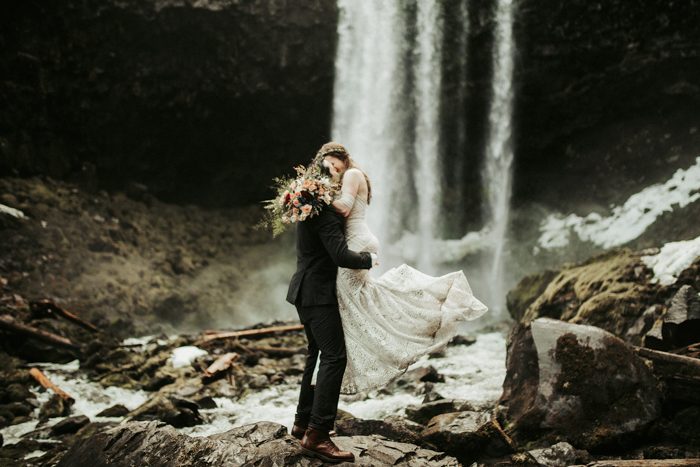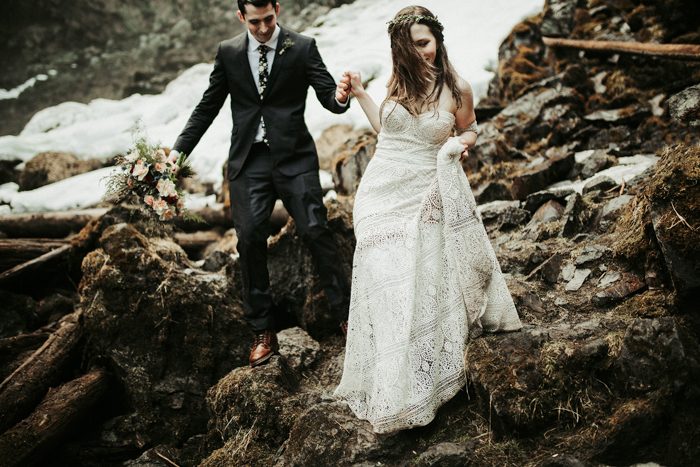 Our photographer Cassandra was so relaxed and genuinely excited for the adventure! She joined us for the rehearsal dinner and stayed in the cabin with our family and friends that weekend. The morning of, she was up early and joked with everyone while we got ready, snapping away and capturing so many little moments. I didn't even notice her during the ceremony, which is a great thing! During bridal portraits, she would gently guide us into a few poses but captured so many great candid shots as well. She also coordinated with our absolutely phenomenal videographers, Jay & Mack Films, and they all worked together perfectly to capture our day. Cassandra was so down to earth and hiked over three miles with a smile on her face. One of the best decisions of our entire day.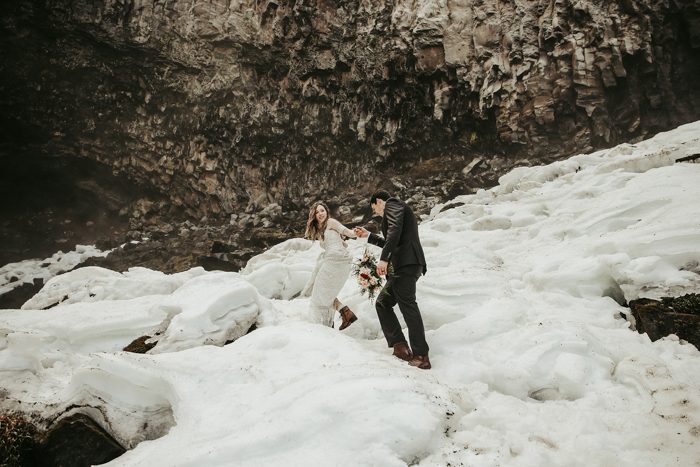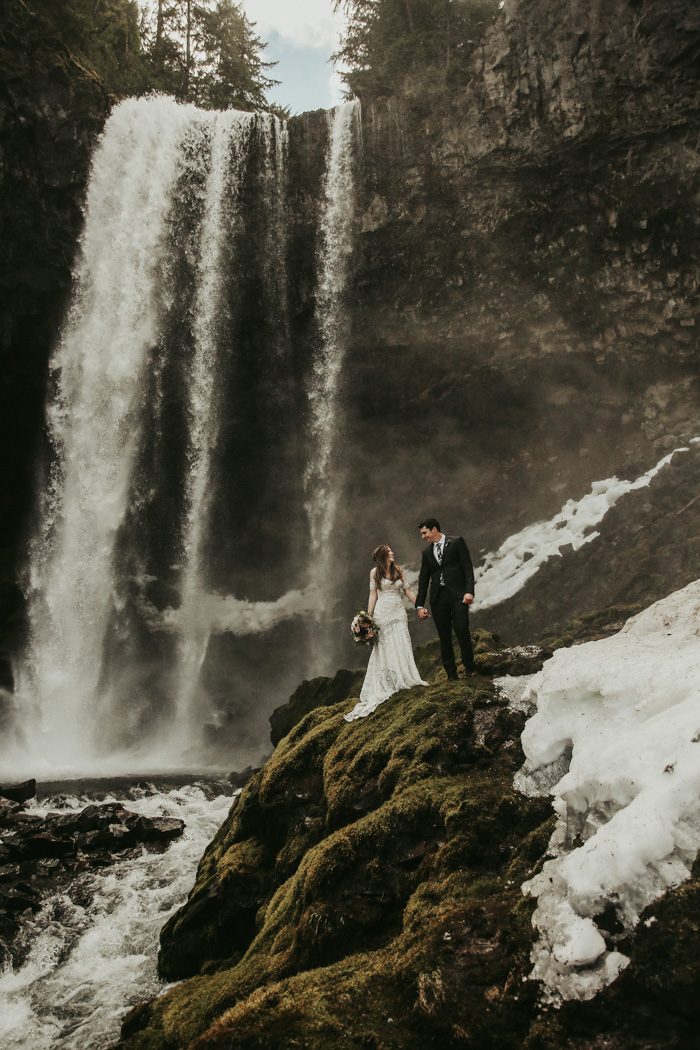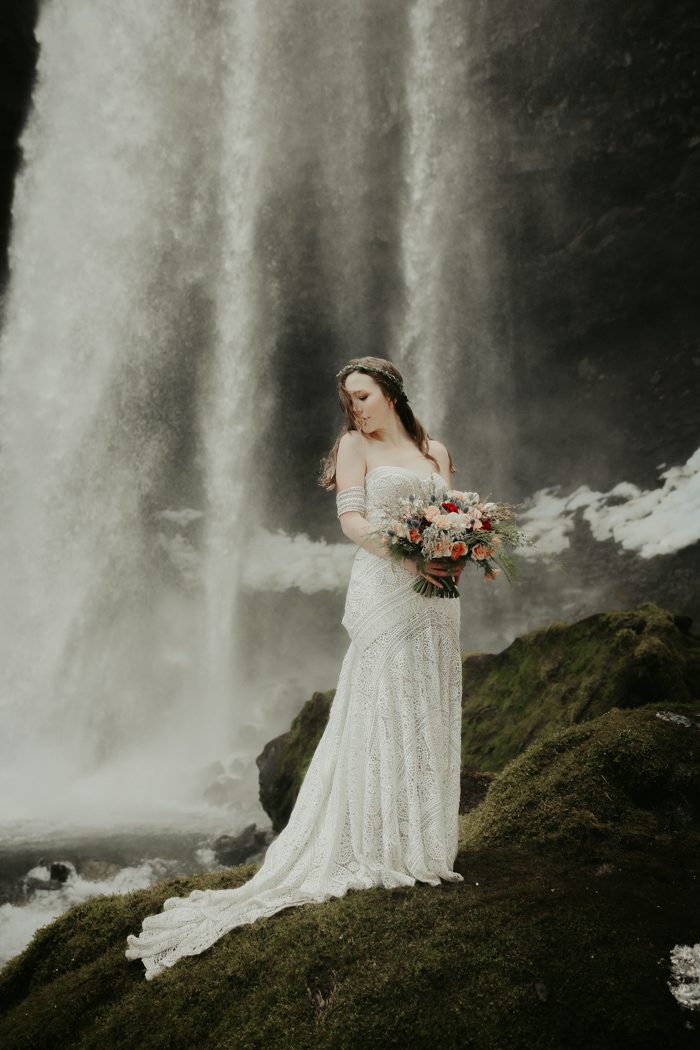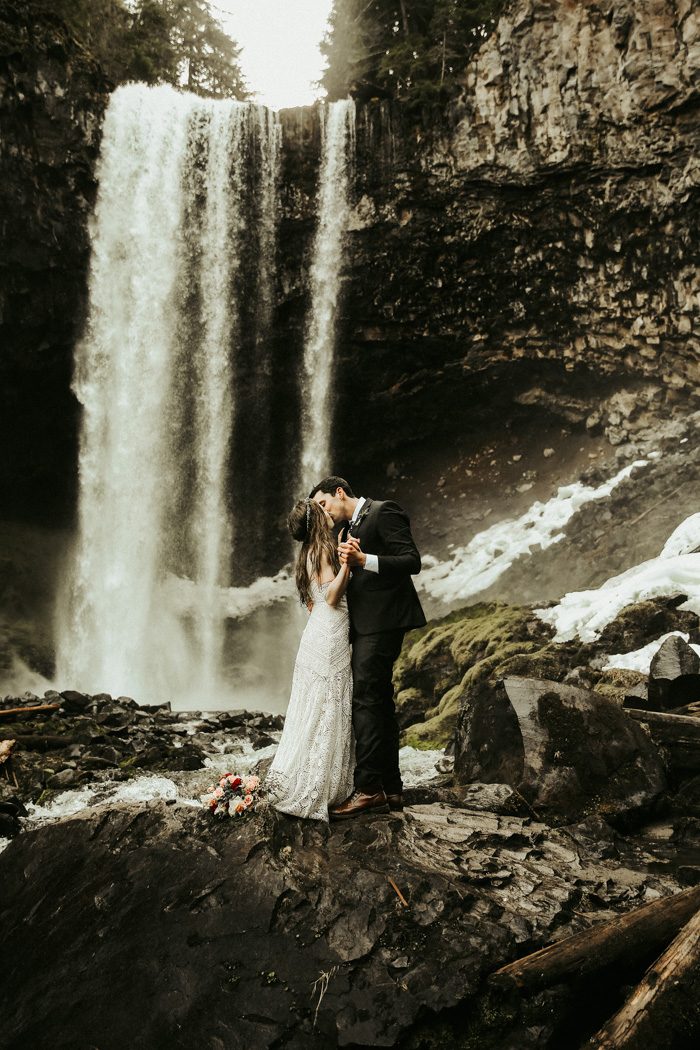 Practically everything was DIY! For weeks, we collected brass candlesticks and dessert dishes from Goodwill and yard sales. I found a huge amount of white gauze fabric at a yard sale for only $1! With that, I cut and dip dyed every single napkin and the runner for the head table. It was such a huge money-saver and I loved the way they turned out! I also burned calligraphy onto wood slices for place cards and everyone got to keep them as a momento. My sister gathered fern leaves and laid them out on the head table, and the rest of it I kept simple!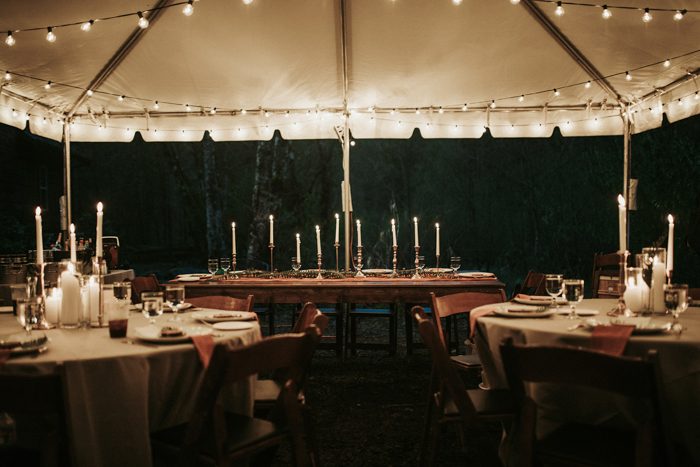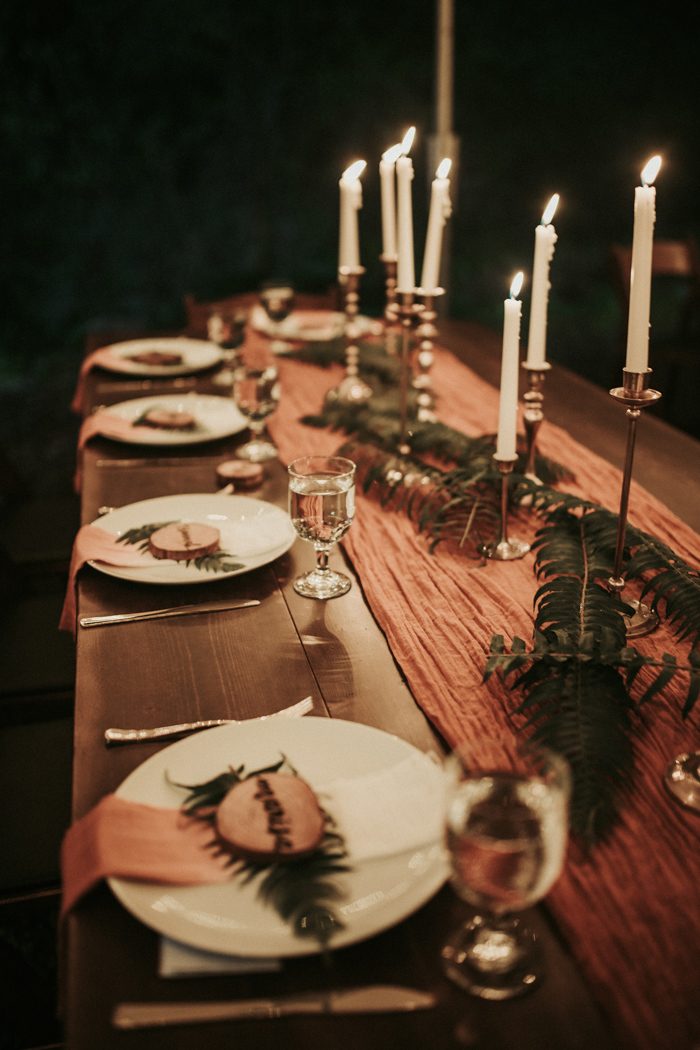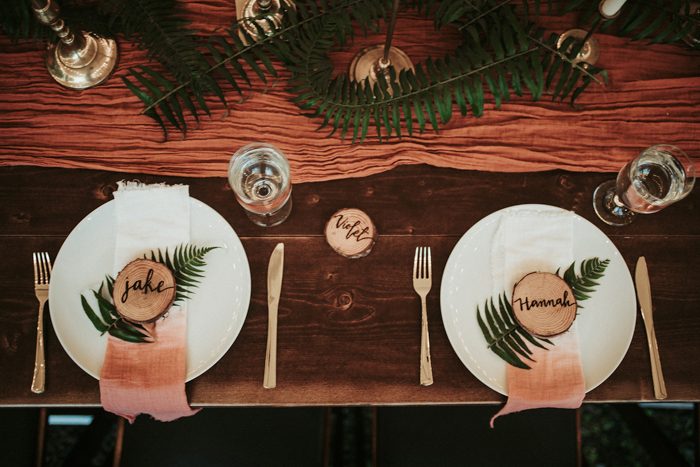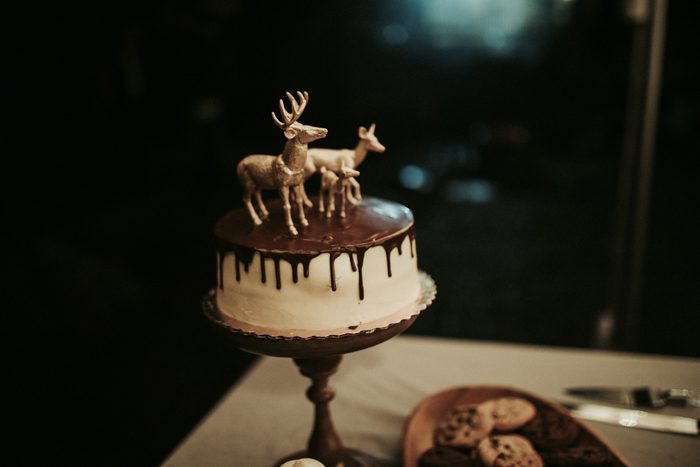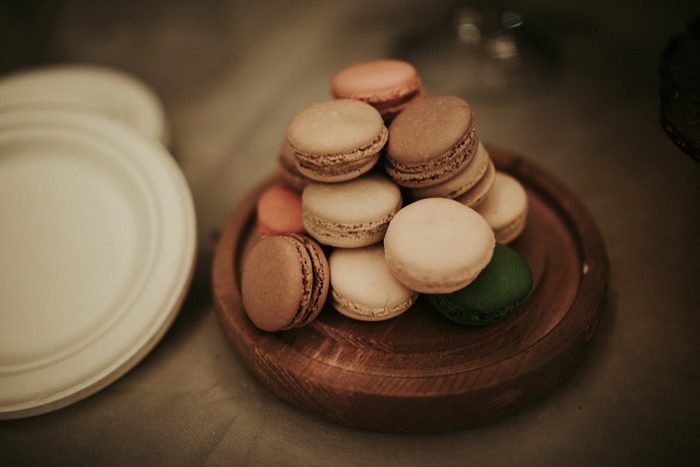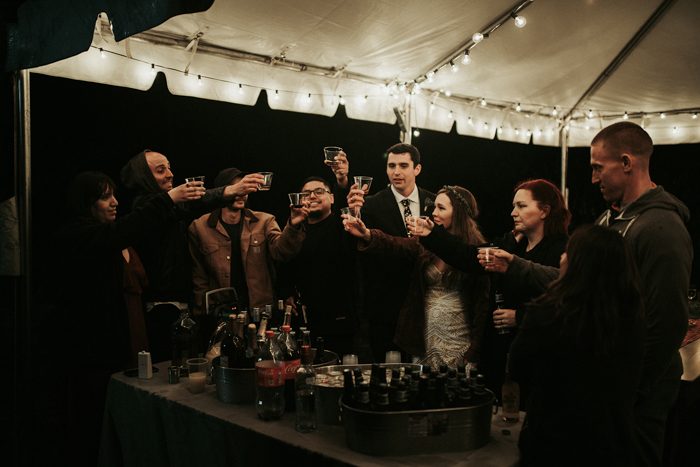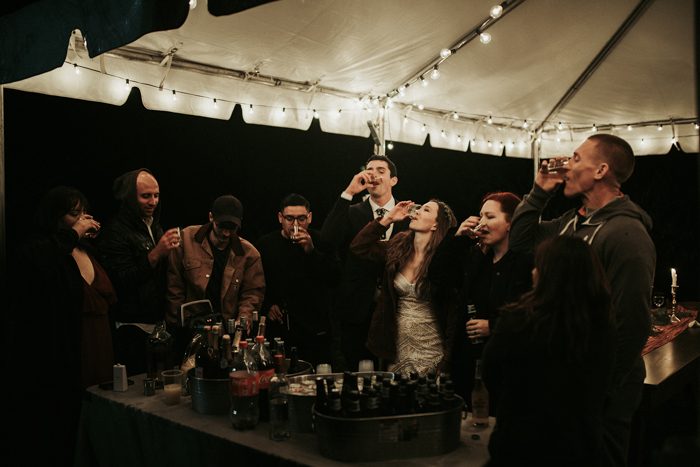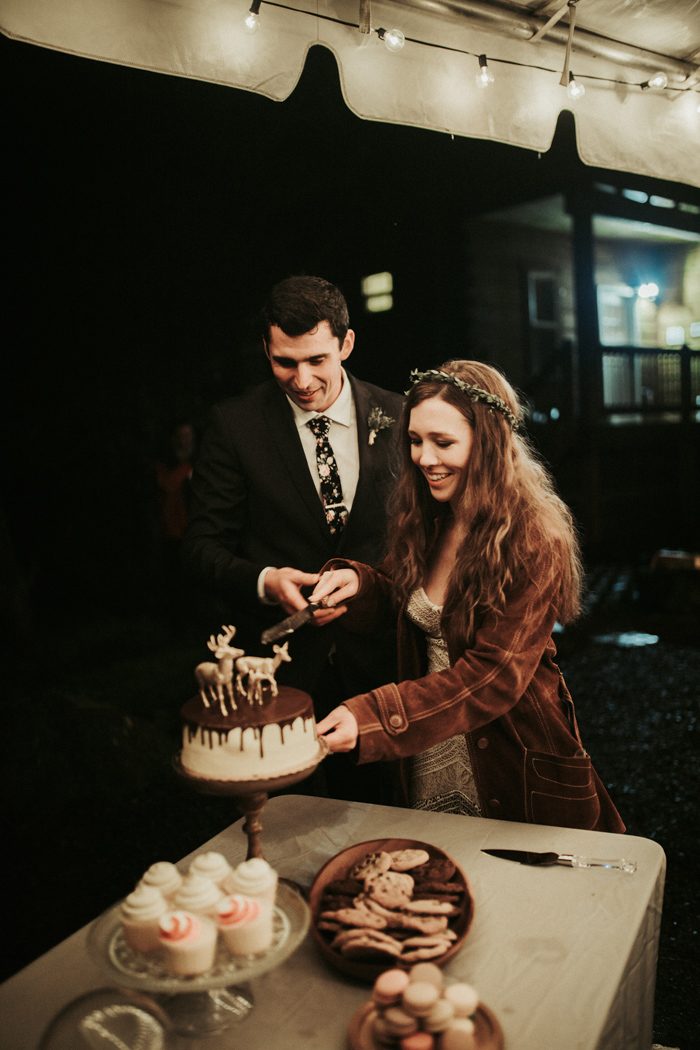 Processional – "Heartbeats" by Jose Gonzalez
Recessional – "Wild Cub" by Thunder Clatter
First Dance – "Coming Home" by Leon Bridges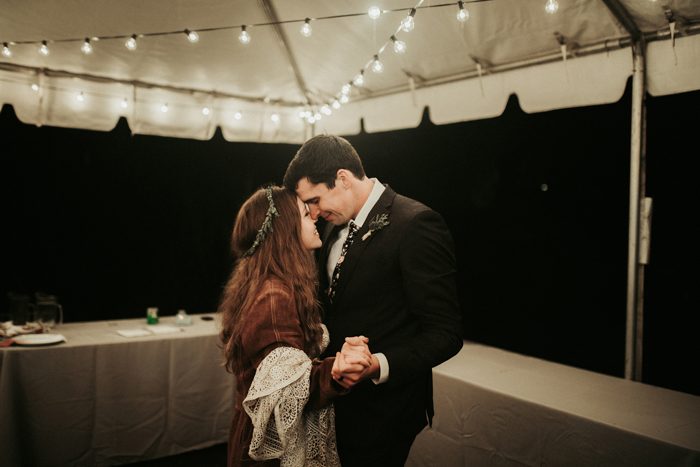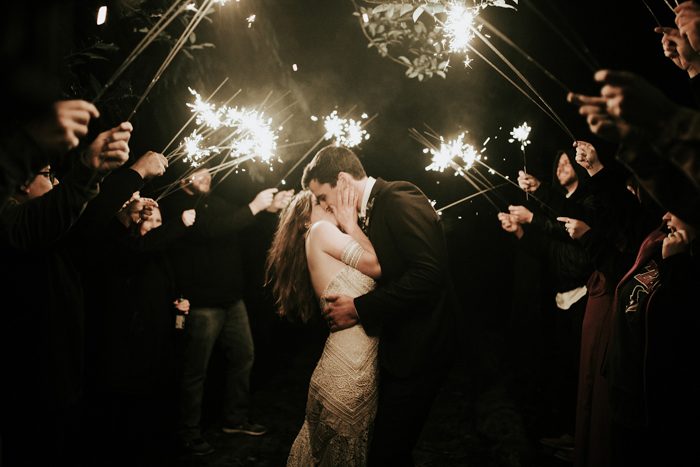 It's so hard to choose a favorite photo of the day! Obviously, we love the photos in front of the waterfall and the super cute ones taken of us with our daughter, but Cassandra captured us sitting around the fire with friends at the end of the night and we just remember feeling so completely happy and exhausted. We are out of our wedding clothes and bundled under a blanket, and it was the perfect end to a perfect day.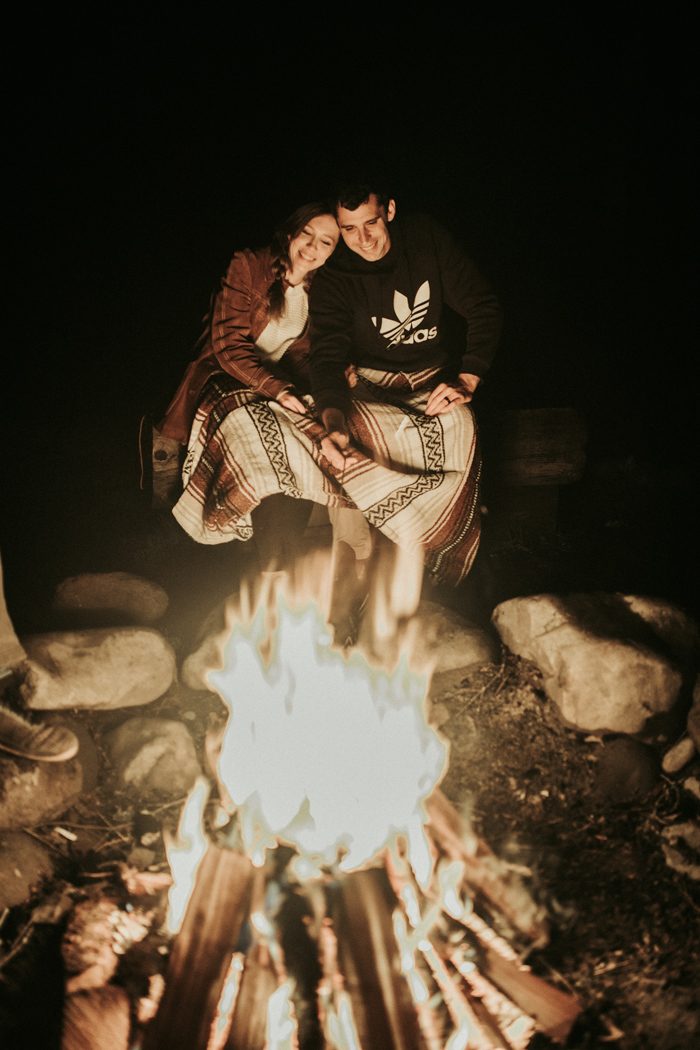 Congratulations to Hannah and Jake, and a big thanks to Cassandra Michelle Photography for sharing this beautiful Mt Hood elopement with Junebug! Want to see more epic elopement inspiration? Grab your tissues for this impossibly sweet Rocky Mountain National Park elopement!