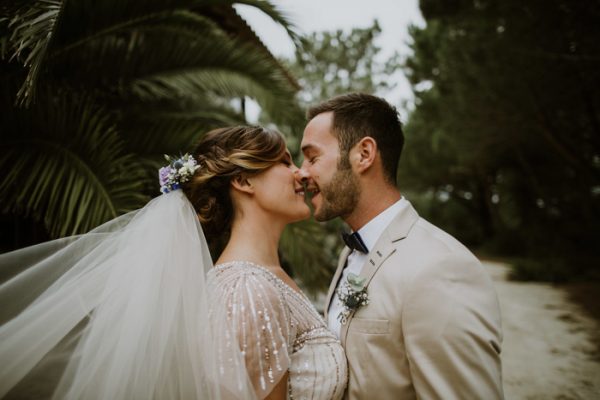 Chelsea and Hugues both work closely with the ocean – they're a marine conservationist and boat captain, respectfully – so they knew they wanted to honor the sea and all its beauty in their wedding. The couple chose to have an intimate destination affair at Cabanes Bartherotte, an eco-boutique venue on the Bay of Arcachon featuring stunning wooden craftwork and gardens. Chelsea and Hugues placed an emphasis on lavender and indigo florals to echo their favorite oceanic details, and kept décor natural and nautical to complement their venue. We are totally captivated by the romantic photographs that Stephen Liberge captured of Chelsea and Hugues's day, including their intimate dinner party reception!
The Couple:
Chelsea and Hugues
The Wedding:
Cabanes Bartherotte, Lège-Cap-Ferret, France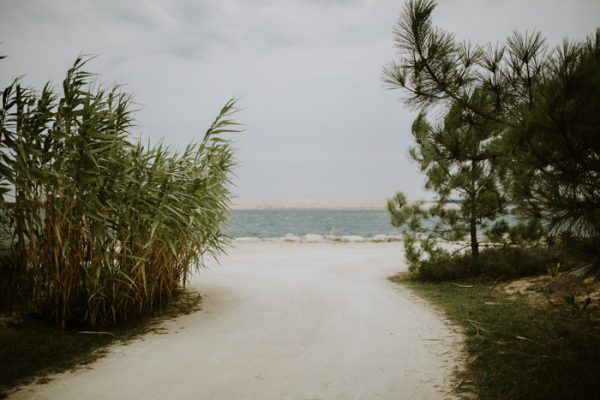 We really wanted the wedding to reflect who we were, what inspires and represents our relationship, and the people who have helped support us throughout almost 3 years of long distance! Rather than go through generic invitation websites or standard avenues, we really customized it to suit our preferences, down to every little detail. We chose Cabanes Bartherotte for a few reasons. First, we wanted to have a venue that was near the water, and CB is on the literal point of where the Bay of Arcachon feeds into the Atlantic Ocean.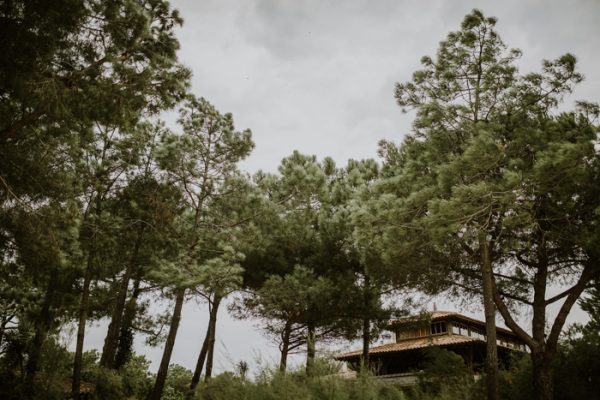 Second, we were looking for something rustic, natural, with a special amount charming whimsy. CB has the most beautiful wooden craftwork throughout the house, unique treasures from all over the world within it and has beautiful surrounding forest and gardens that harbor enchanting light and mystical pathways. Thirdly, we wanted something that was intimate, so as to match our small group of family and friends. As lovely as a chateau may have been, it didn't suit the vibe we were going for. CB offered a variety of locations for us to have our private ceremony, all of which were incredibly beautiful and appropriate for how we wanted to organize the ceremony.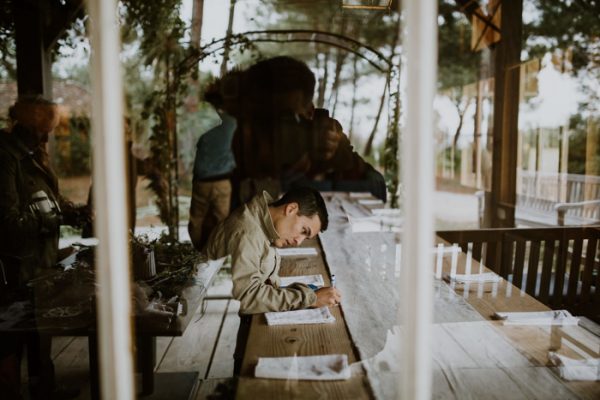 Lastly, we wanted a venue that was able to house our guests so that we could have everyone housing together, since we had a destination wedding week. We also wouldn't have to worry about anyone drinking and driving because we were all staying there. Everyone was able to spend time getting to know each other, while also being involved in preparing for the wedding, without having to worry about coordinating meeting times and places- everyone could interact at their own leisure.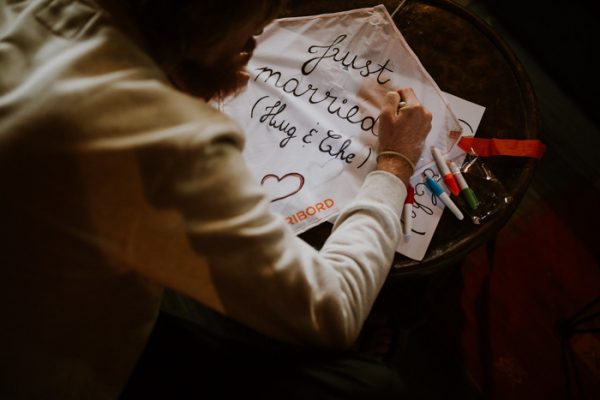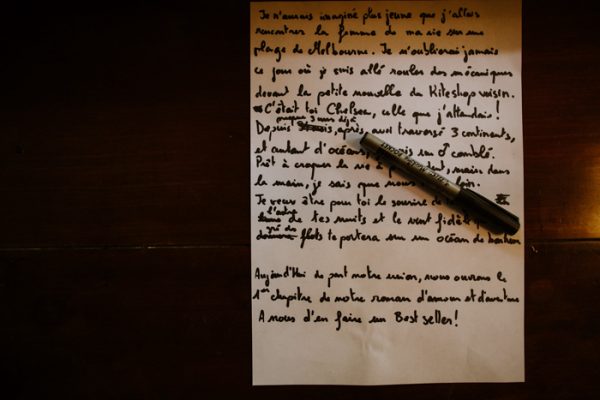 My grandmother is an avid gardener and creates the most beautiful arrangements from her garden. We ordered flowers from a supplier we had met at the local farmer's market. I was inspired by our colors of indigo and lavender, with accents of white and eucalyptus green. Thanks to Pinterest, I had compiled an image for each arrangement, from boutonnieres to the wedding arch, and she recreated them all even better than the image I provided her with! It is possible to do your own flowers and save a great deal of money, but it should not be the couple's responsibility as they really must be completed on the day of the wedding and bride and groom should have nothing concerning them expect experiencing this most wonderfully special day.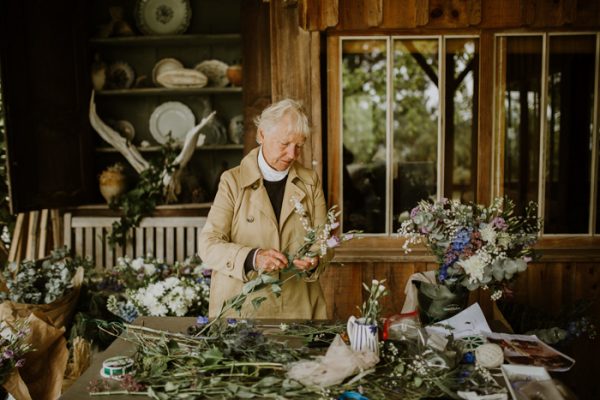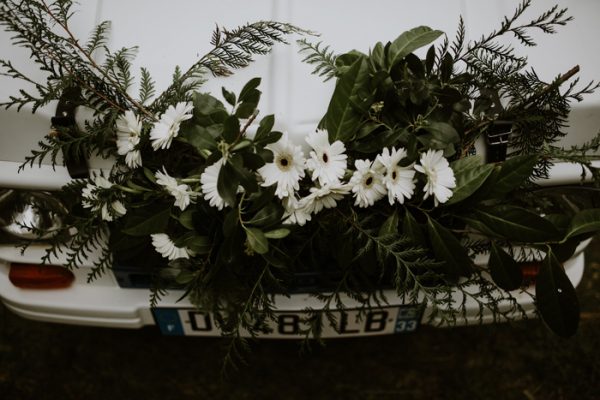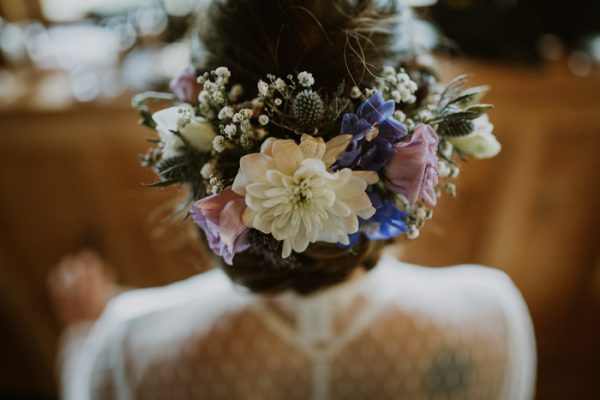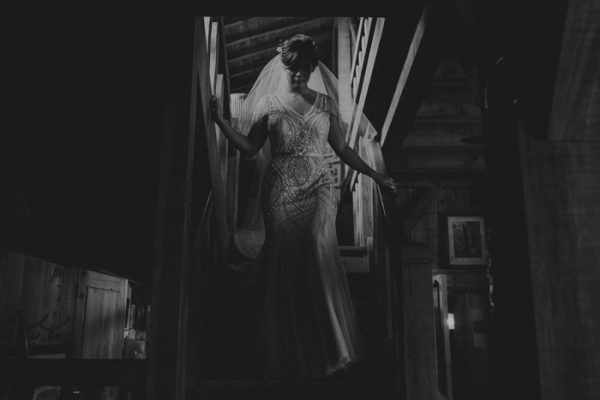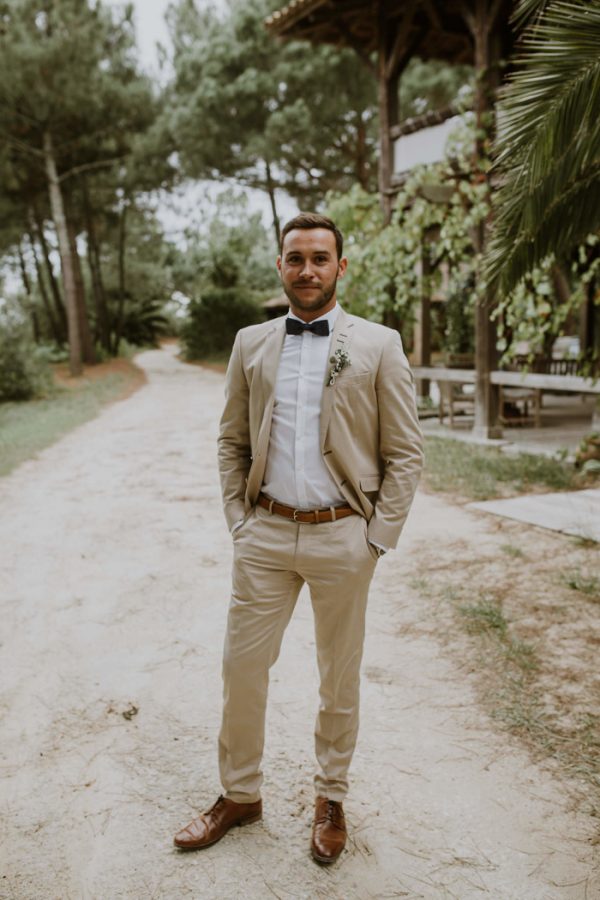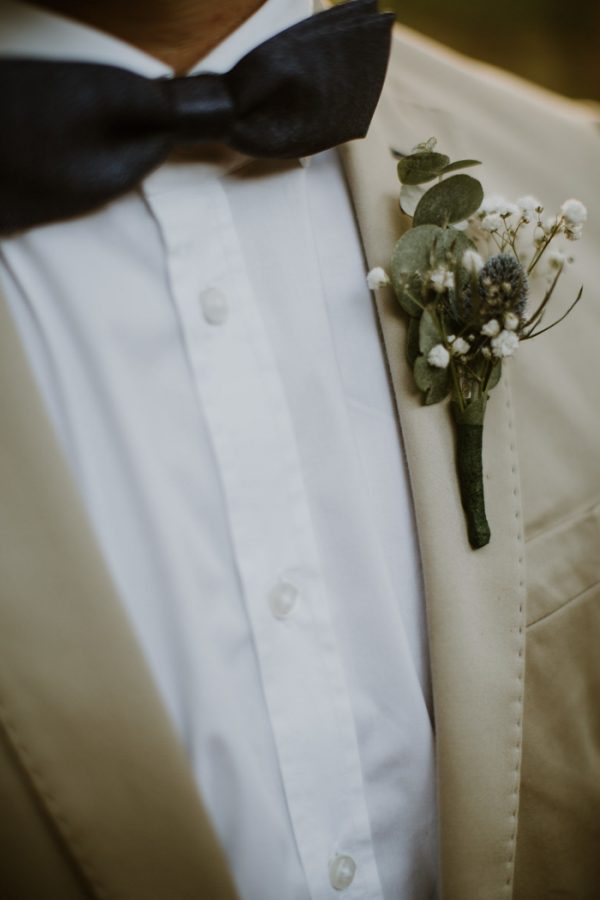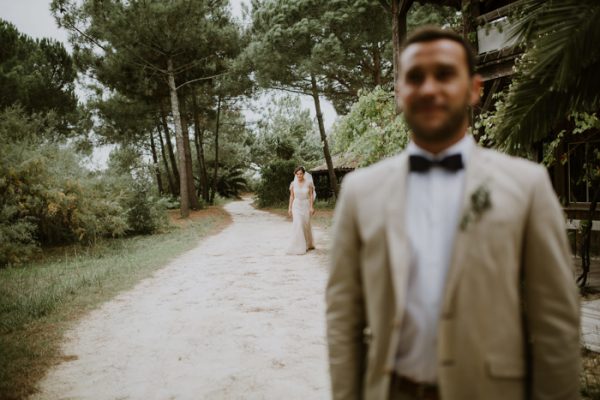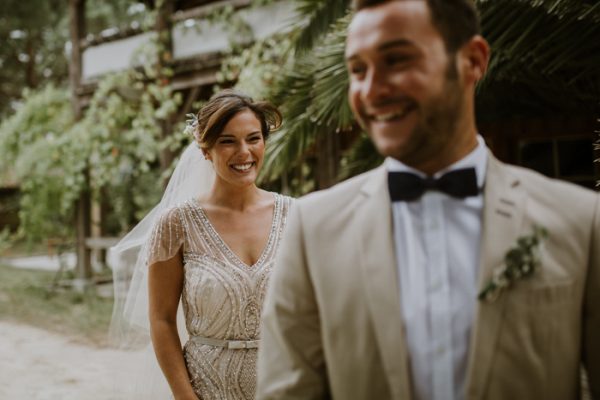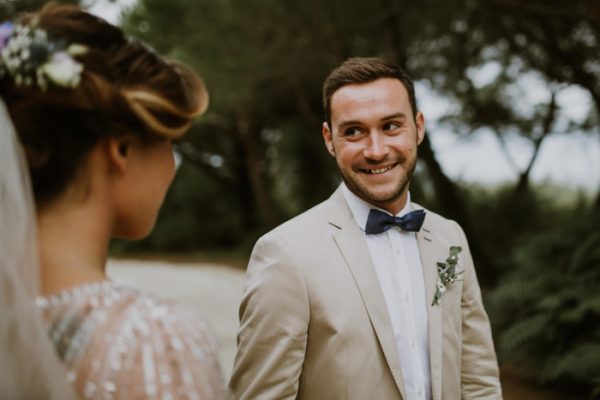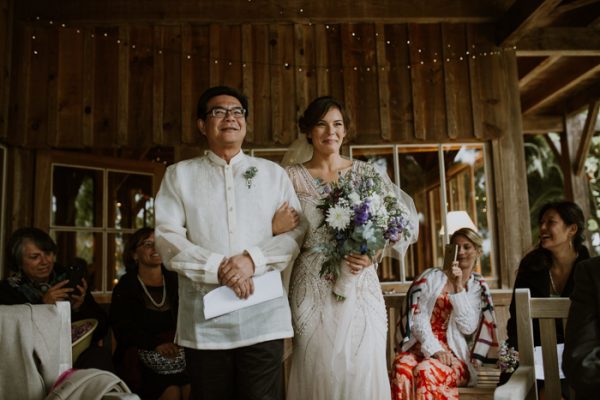 In France, you have to have a civil ceremony at the town hall, but we also chose to have a private ceremony at our own venue and I wrote the entire ceremony. I based it on other home ceremony scripts I had read for the order of the script, but accentuated it with accents that reflected our personalities as a couple whilst paying homage to the individual personalities of our fathers who would both be leading the ceremony.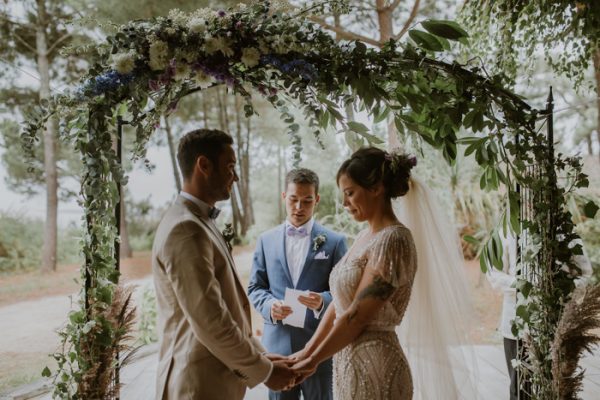 One of my brothers and Hugues' sister shared some readings that we had chosen that were relevant to us and a unity of love. We also included Filipino traditions that involved our friends and family and allowed me to incorporate my heritage into our special day, given that we were getting married in France.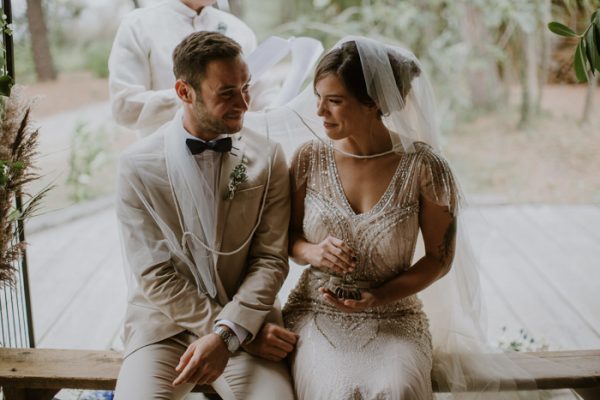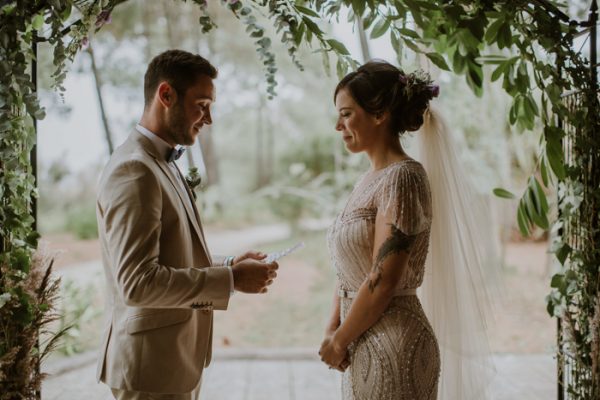 It's impossible to choose just one memorable moment, but I would say one of my favorite memories was during our private ceremony, with Hugues' father leading the closing phase of 'I do's', and he started to choke up and eventually cried – which of course caused Hugues to start crying and I was already in tears, so I started crying more – but they were all tears of pure happiness.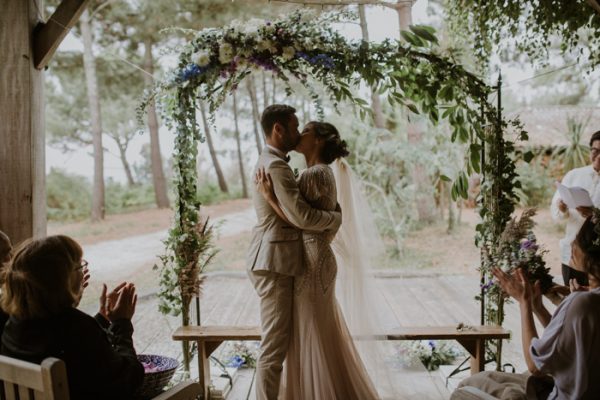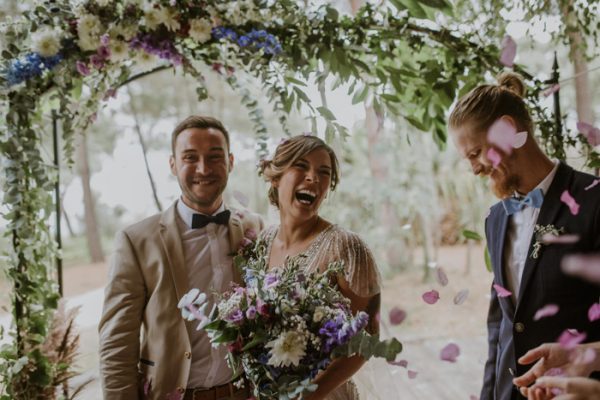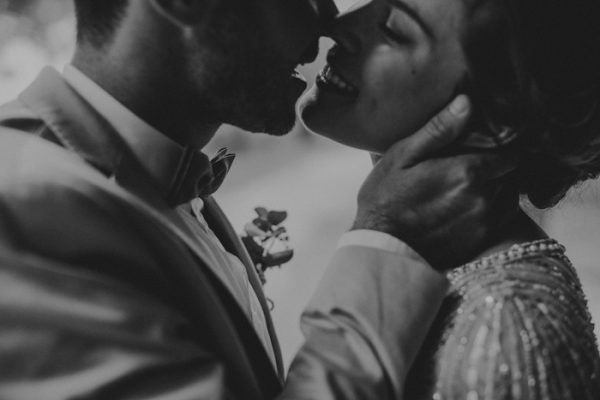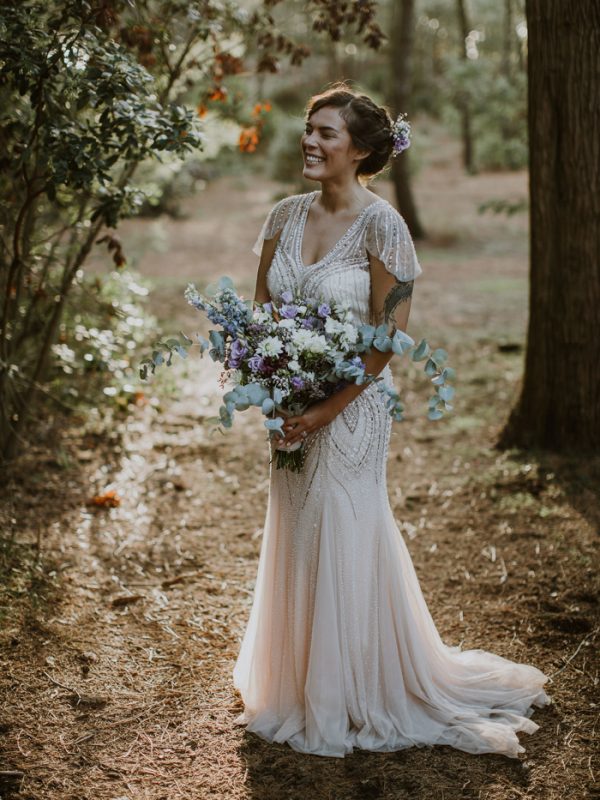 Our colors were indigo and lavender, because they represent the mystical majesty of the ocean, which is the force that brought us together, and continues to inspire our lives each and every day. I am a marine conservationist and dive master, while Hugues is a boat captain, so to include the ocean and water in every way we could was definitely a priority for us.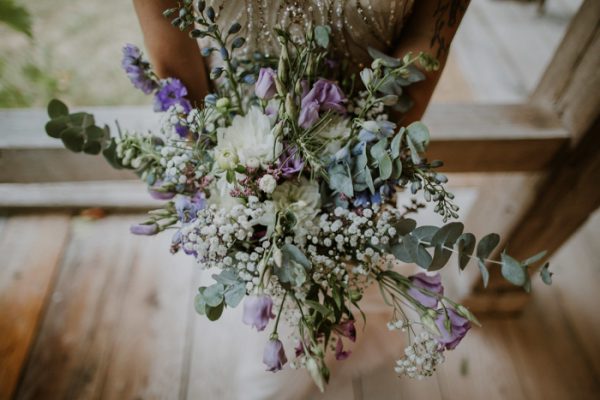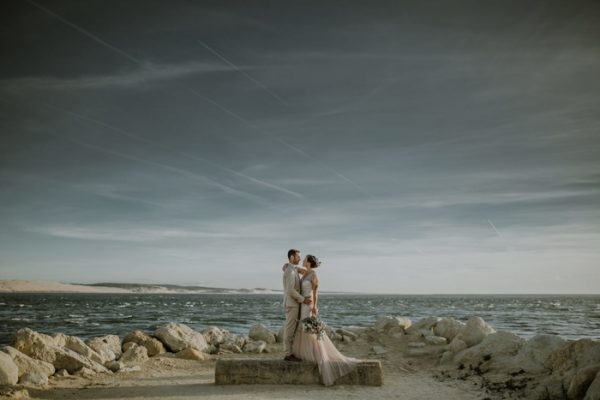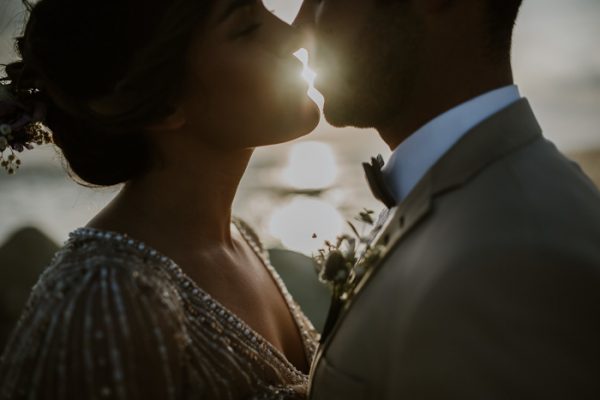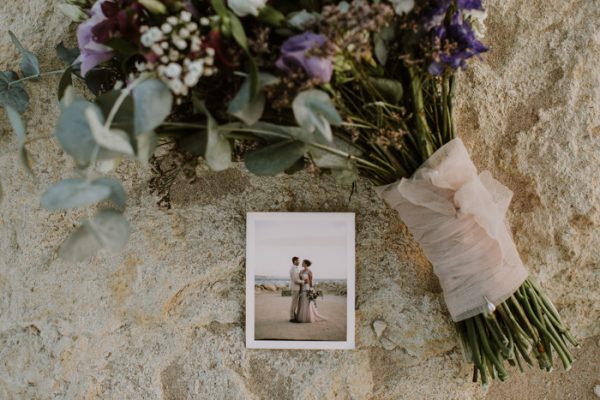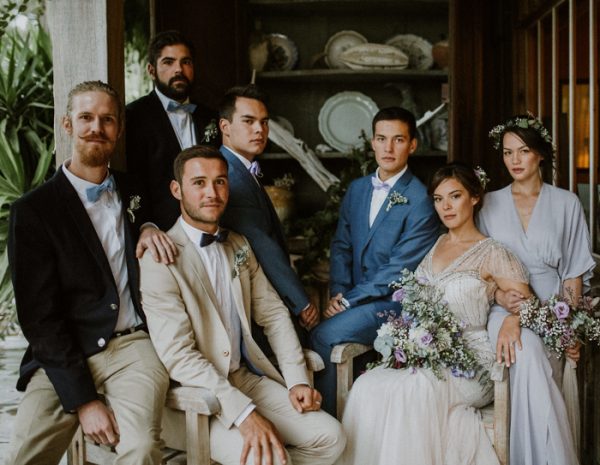 I would recommend planning everything as much in advance as you can so that the closer to the day you can relax more knowing that everything is set. That way you can also ensure that you are able to get your first choices of venue, caterers, etc, because you are so far in advance to your 'special day'. I would also make sure that you organize the wedding exactly as the two of you want it. There will be many helpful voices and opinions, but you need to stay true to how you two operate and what you want this day to look like. It won't all be a walk in the park, there will be disagreements, so have a manageable way to handle discrepancies when making wedding planning decisions.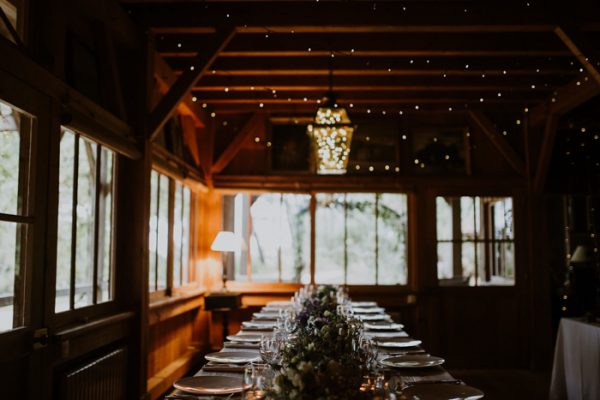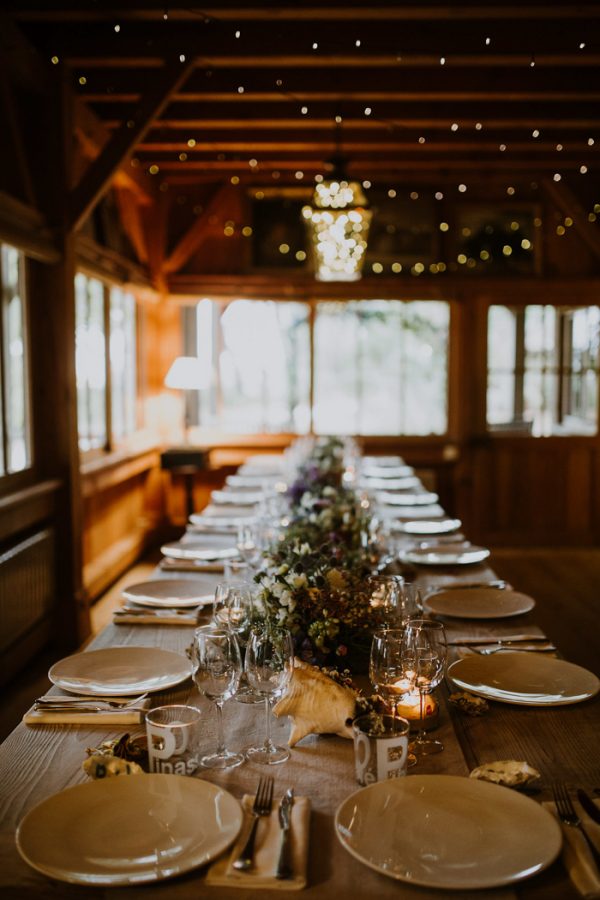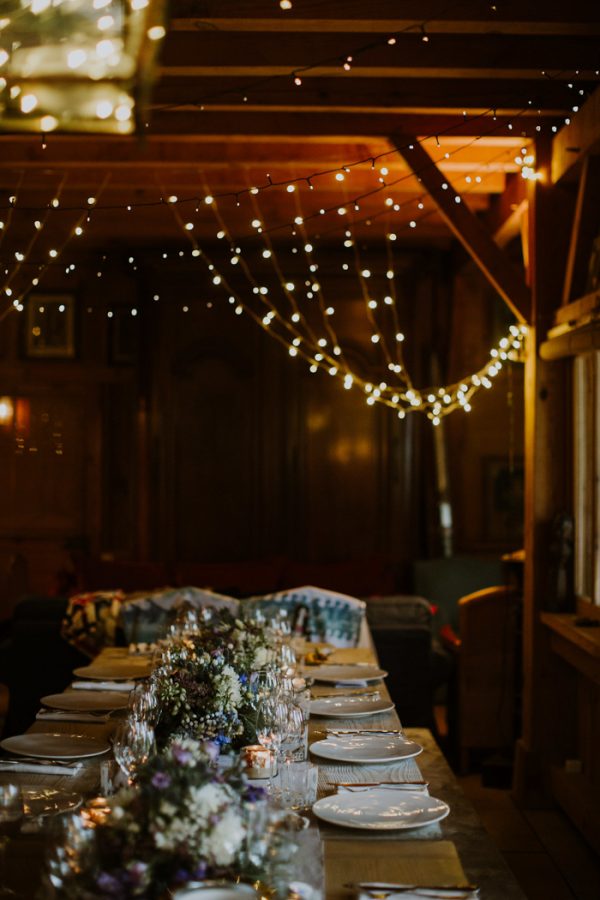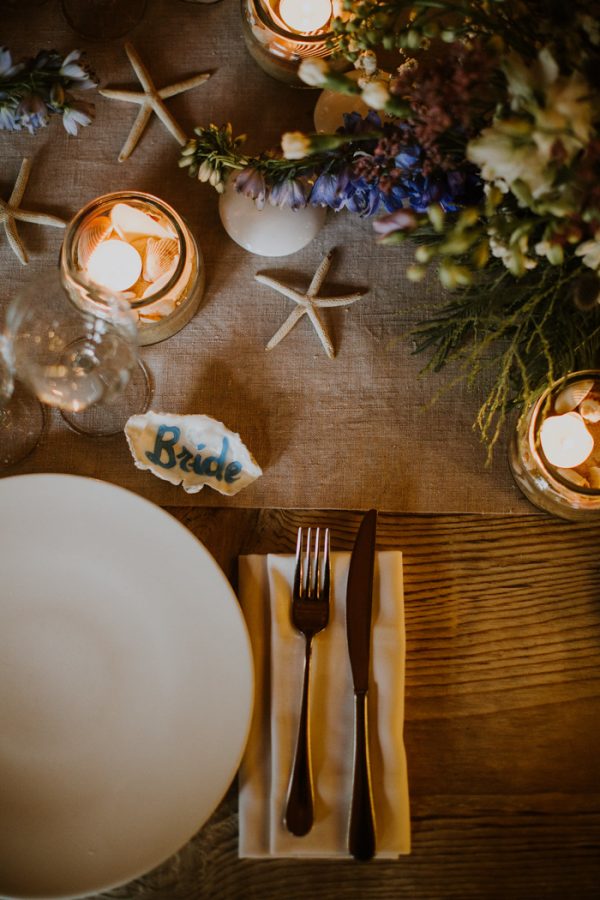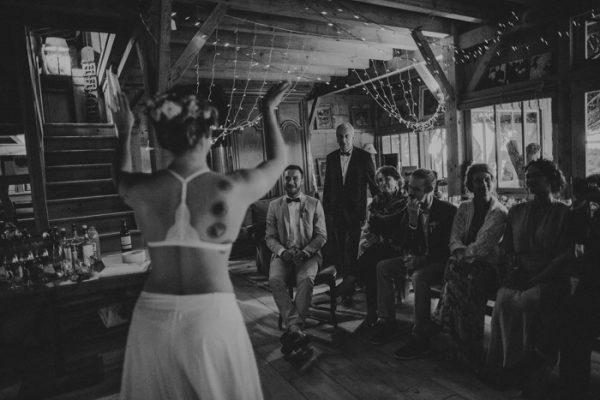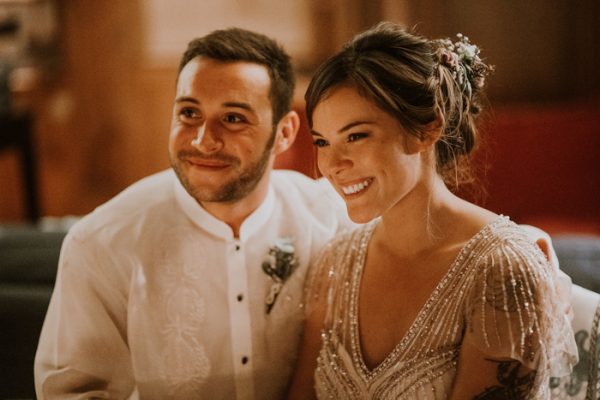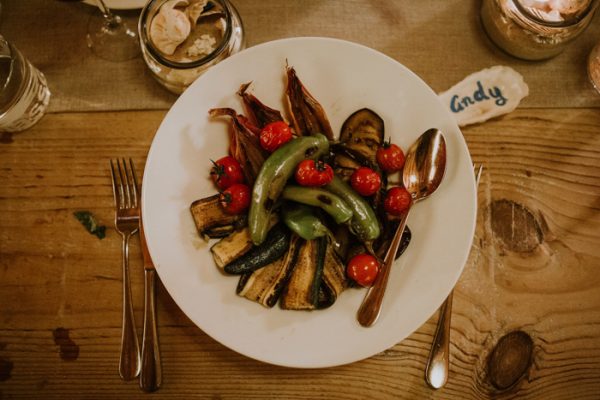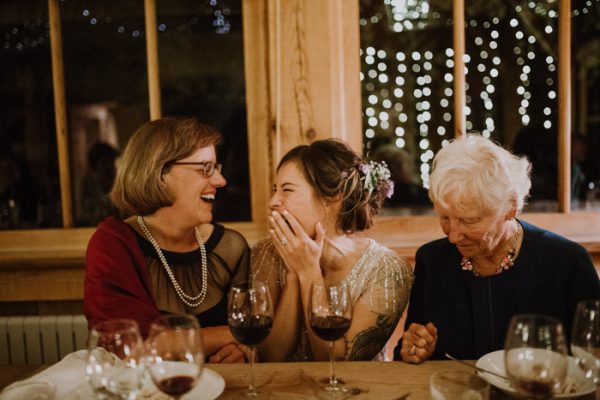 Groom's Processional: Is This Love by Bob Marley, covered by our good friend, Zoe O'Sullivan
Bride's Processional: La Vie En Rose, also covered by Zoe O'Sullivan
Recessional: Home by Edward Sharpe and the Magnetic Zeros
First Dance: Feeling Good by Nina Simone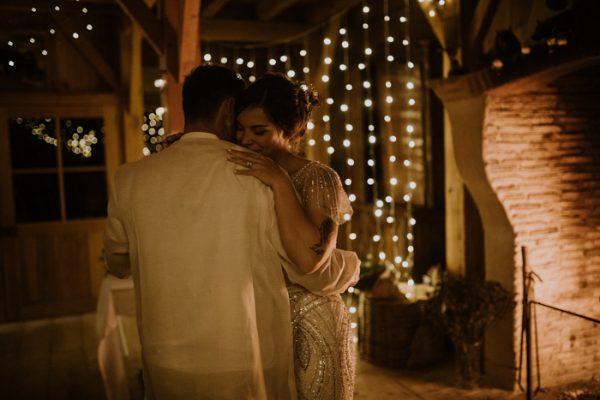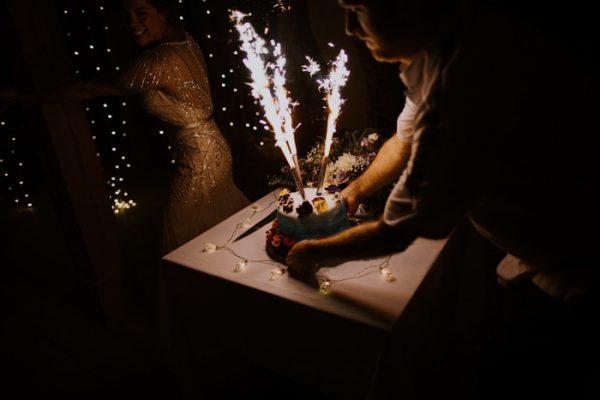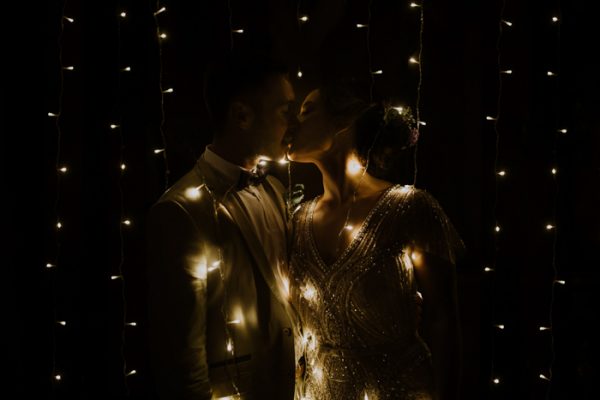 Congratulations to Chelsea and Hugues, and a special thanks to Junebug member Stephen Liberge for sharing their day with us. Love this wedding's naturally nautical vibes? Then you've got to see this nautical Maine wedding inspiration at Bangs Island Mussel Barge!