This Mexico wedding falls into our favorites category for so many reasons – the event was incredibly unique, totally authentic and overflowing with love, the photos just couldn't be better, and the couple themselves are people we adore. Photographers and Junebug members Ben and Erin Chrisman are two of the most special people we've been lucky enough to get to know over the past 5 years of Junebug, so of course we're excited to take another look at their beautiful wedding post, originally published on March 14, 2011…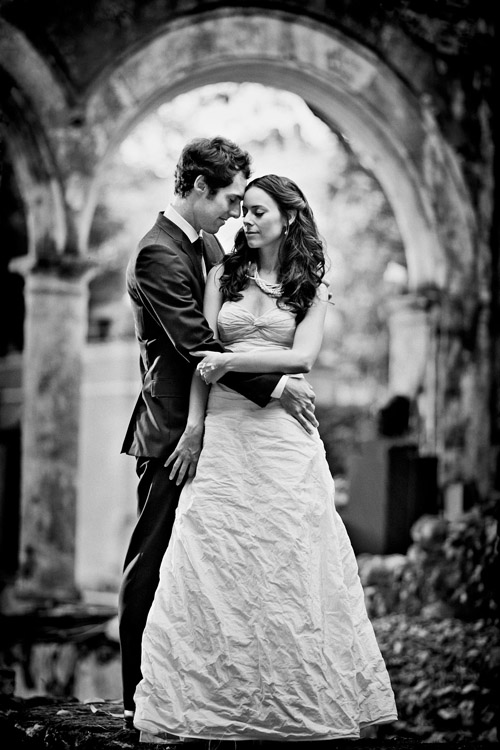 Today we have a very special Real Wedding that's so sweet it spans both of our blogs as well as our Real Wedding Library! Photographers Erin and Ben Chrisman are not only some of the very best wedding photographers in the world, they are also madly in love with one another and when you're lucky enough to see them together in person, there is no doubt that their love story is one for the ages. They were married in Mexico last November, and they used their creativity and experience attending hundreds of other weddings to create an event for themselves and their friends that was 100%, perfectly, personal.

With many of their friends being wedding photographers one of their biggest goals was to have a "kickass party for all our wedding photographer friends who never get to go to weddings as guests." How fun is that?
The wedding was officially photographed by one of Erin and Ben's associate photographers, Aaron Morris of Chrisman Studios, whose heart-stopping images you are seeing here, as well as by Twin Lens Images, whose work you can see today over on Photobug today along with an interview of Ben and Erin. Don't miss it!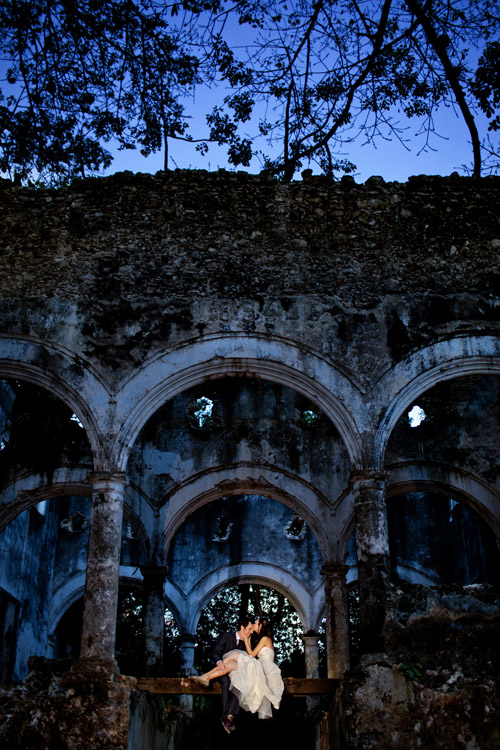 Another main goal was to have an intimate and meaningful wedding that felt fun, relaxed and spontaneous, without too many rules or formalities. Erin and Ben met in and adore the country of Mexico, so after an intense search for the perfect location, they chose to have a destination wedding at the stunningly unique Hacienda Uayamon in Campeche. It's a luxury boutique hotel that holds authentic ruins from the 1700s, including the incredible crumbling chapel where their candle-lit wedding ceremony took place.
After throwing out the ceremony they had been rehearsing because it just felt too formal, they asked their friend and officiant Sam to improvise and surprise them with something new. As the wedding began, Erin and Ben walked down the aisle together and were overwhelmed with emotion as all of their guests clapped and cheered along with the live music. For Erin this was her very favorite moment of the day, and "was just the warmest, most encouraging, most embracing feeling I could ever imagine. I was immediately relaxed by it, and it set the tone for the rest of the ceremony. It's just another example of why sometimes it's best to let everyone surprise you."

The wedding reception was a true celebration, and their outdoor setting was simply unbelievable! Surrounded by ancient ruins as well as incredible modern lighting, Erin and Ben danced with their friends and family long into the night. One look at these dance floor images and you'll see exactly when I mean – what a perfect party!

There is much, much more to this special wedding, so I hope that you'll jump over to Photobug as well as to Erin and Ben's page in our Real Wedding Library to get the full, wonderful story.
Huge thanks to Aaron for sharing your gorgeous images, and to Erin and Ben for sharing your wedding story with us! We're so touched to get to be a part of your wedding experience.