This was one of my favorite wedding color inspiration boards to put together because of the unique rainy day theme of the wedding! Originally published on May 15, 2009, the tranquil blue, gray and red color combination is just so nice!
The lovely bride-to-be and Junebug reader Charisse emailed me for a little help finding inspiration for her somewhat unusual wedding theme. Charisse and her fiance love the calm and quiet of rainy days and are hoping to plan a rainy-day themed wedding (regardless of the day's actual weather!) with a blue-gray color palette that includes some splashes of Charisse's favorite color, red. "I don't want it to be depressing or dreary but very calm with an unexpected punch of red. Romantic, very romantic, and elegant with a little bit of bling."
What a fun project this was pulling some ideas together! My focus with this inspiration board was incorporating natural elements like feathers, bird's nests, branches, twigs and fern motifs to help bring the feeling of the outdoors, in. The soft blues and grays look like the sky on a cloudy day and keep everything feeling delicate, romantic and serene. Here you are Miss Charisse, enjoy…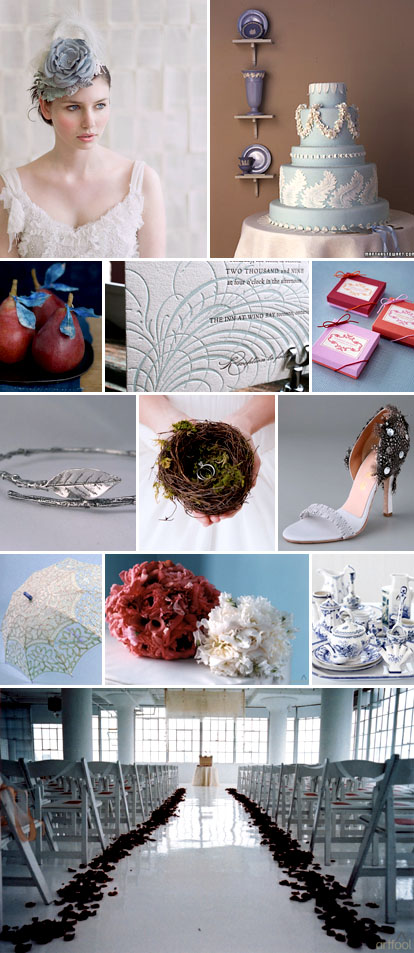 Top row:
Blue flower and feather hair accessory by Twigs and Honey, image by Lisa Warninger
Wedgwood wedding cake from MarthaStewart.com
Second row:
Pear photo from Sweet Paul
Guild letterpress wedding invitations from Bella Figura
Chocolate box wedding favors from MarthaStewart.com
Third row:
Twig and Leaf wrap style bangle from Stratus Silver on Etsy.com
Birds nest ring bearer pillow by Acanthus Floral, image by Junebug Weddings
Lesley one band feather sandals by L.A.M.B. at ShopBop.com
Fourth row:
Lace bridal parasol from Bella Umbrella
Bridal bouquets by Artfool
Delft dishes photo by Frances Janisch, from Sweet Paul
Bottom row:
Wedding ceremony photo from Artfool
See more blue wedding color ideas in our wedding photo gallery!