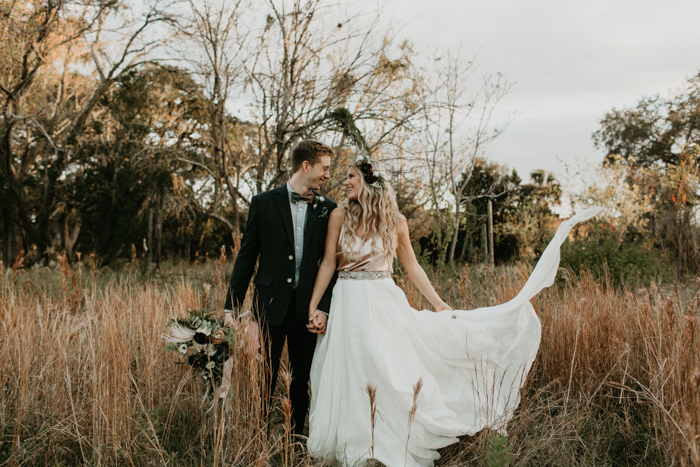 Ali and Wesley blended bohemian, industrial, and edgy elements to create a romantic and unique look for their wedding at The Glass Factory! If you've been dreaming of ways to add a little spice to your day — look no further than these gorgeous images Stefanie Keeler Photography captured of this sweet couple's day. We're tearing up at Ali's sweet first look with her dad and the one of the cutest "Flower Grannies" we have ever seen. Talk about a fun way to honor your grandmother! With stunning bohemian florals designed by The Wild Thistle Co that warmed up the industrial venue, a (spoiler alert) SURPRISE SANTA, and an exit outfit that lit up the night, we'll be swooning over this wedding at The Glass Factory forever!
The Couple:
Ali & Wesley
The Wedding:
The Glass Factory, Jacksonville, Florida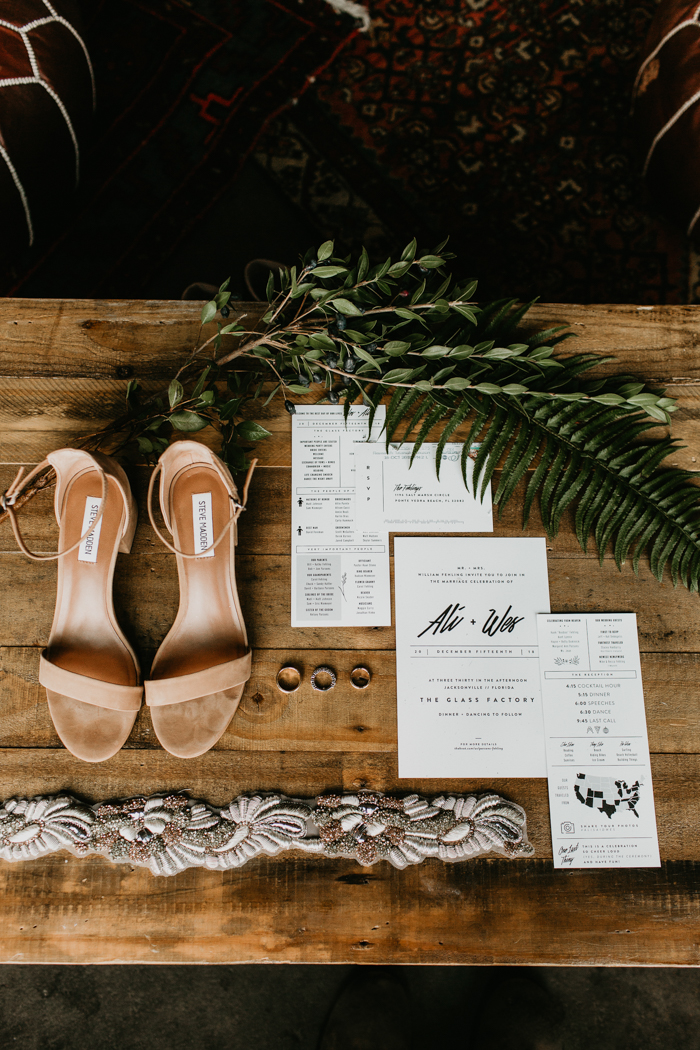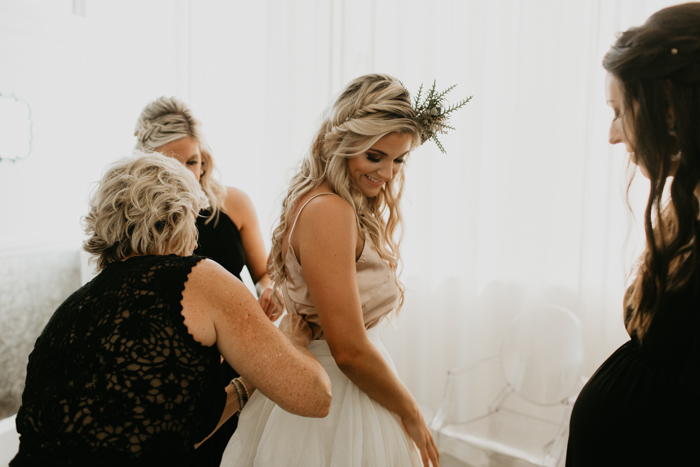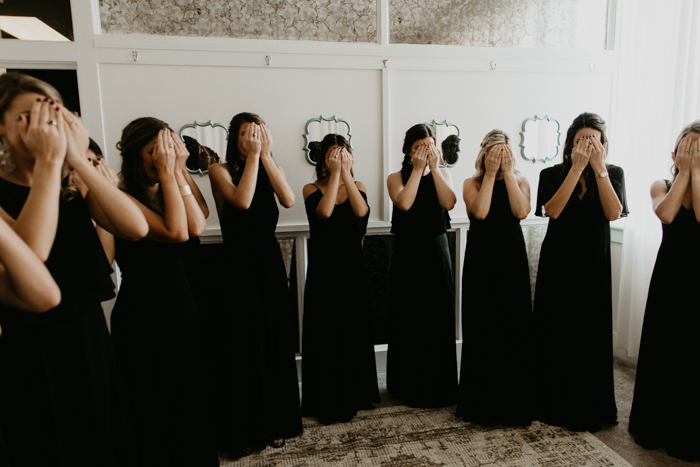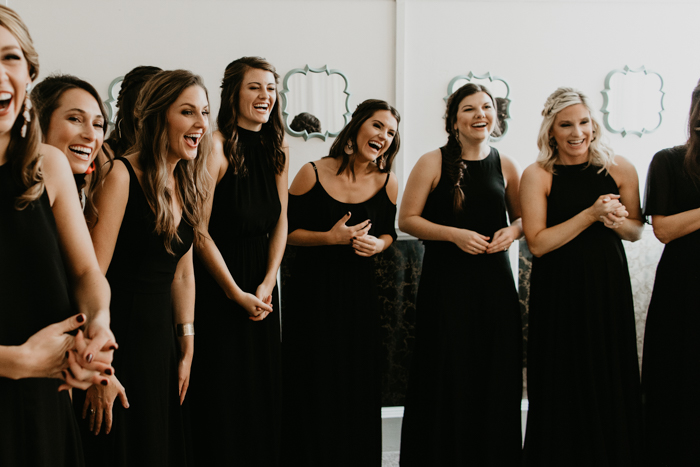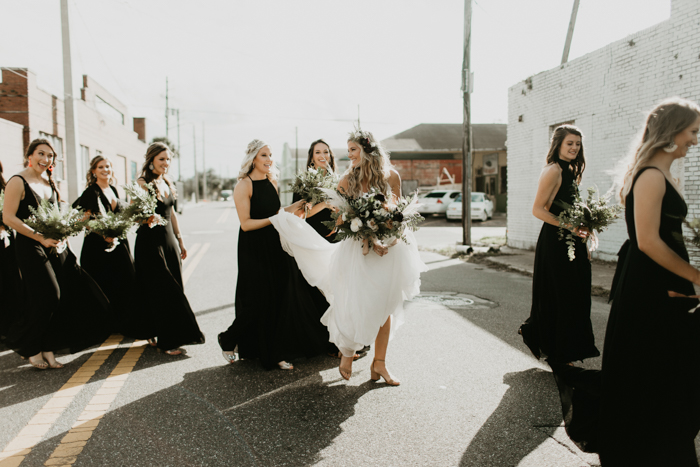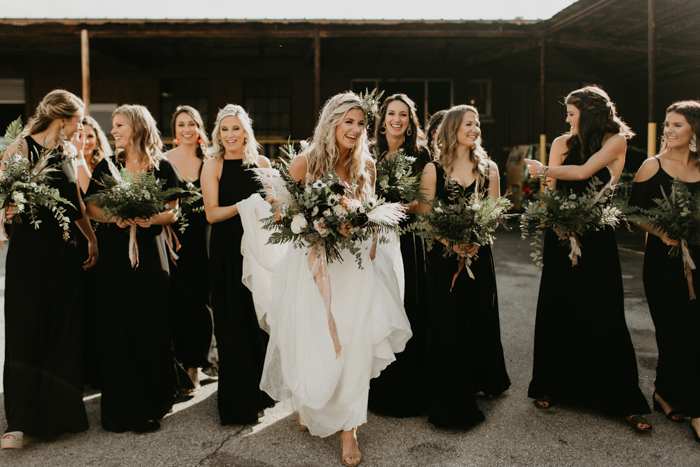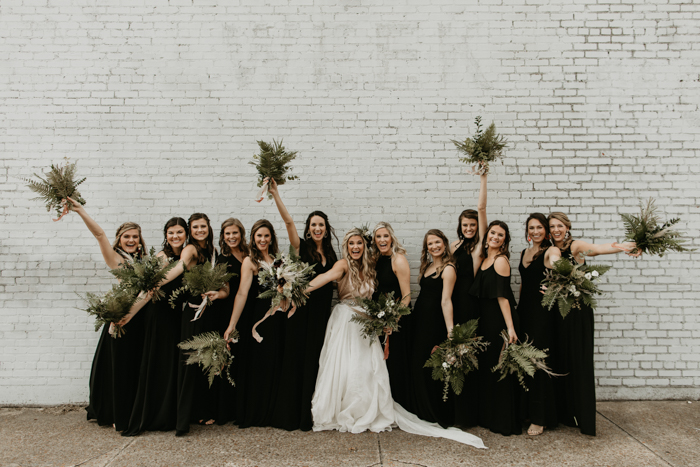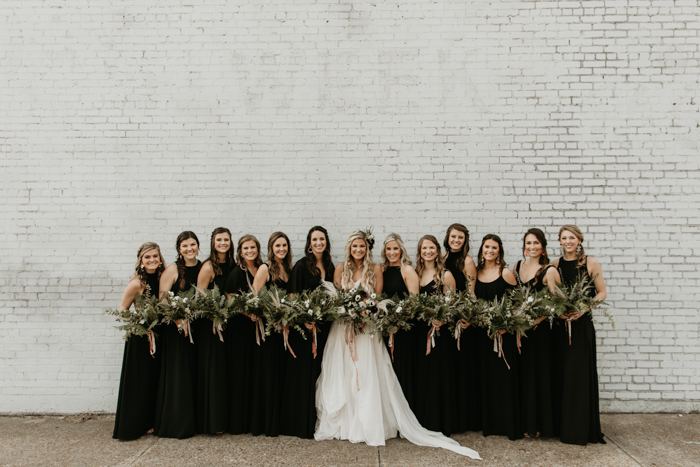 Fashion is such an important expression of creativity to me so choosing my wedding day look was one of the harder (and longer) decisions for our day. My dress was a two-piece – skirt and top. The skirt was a billowing cream linen with lots of asymmetrical layers so it had a very whimsical, light feel about it. The top was a silk, blush spaghetti strap top that tucked into the skirt giving it a romantic feel with a little edge since it was a non-traditional color. I finished off the dress with a belt that had opal and greens in it to give it the exact formal touch it needed.
For my hair, I did beach-y waves with a front braid that came over to one side with gold and silver beads woven into it. I chose to forgo the traditional veil and instead wear a bold, bohemian floral piece on the side of my head. It was quite possible my favorite element of my wedding day look! With the busyness of my outfit and hair, I did very minimalist accessories. No bracelets or necklaces and simple silver ear climbers for earrings.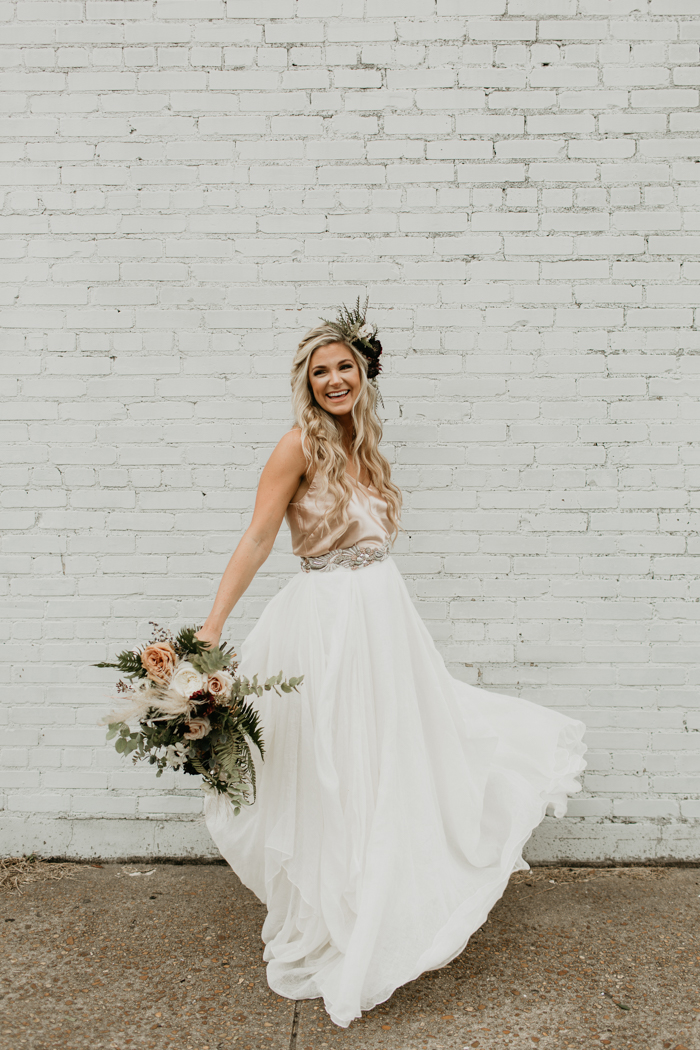 Our floral designer, Sarah, is one of the most talented creatives. She helped us achieve the edgy, wild florals we were going for from big displays at the ceremony to the wild green garland on the tables. I actually teared up when I saw my sprawling, bohemian bouquet for the first time. It was perfect.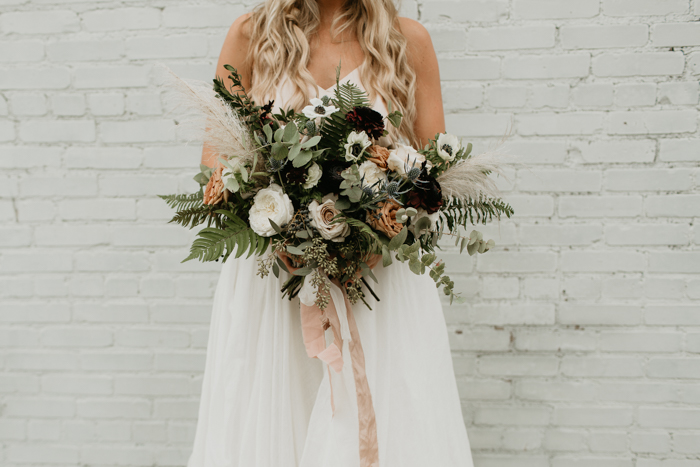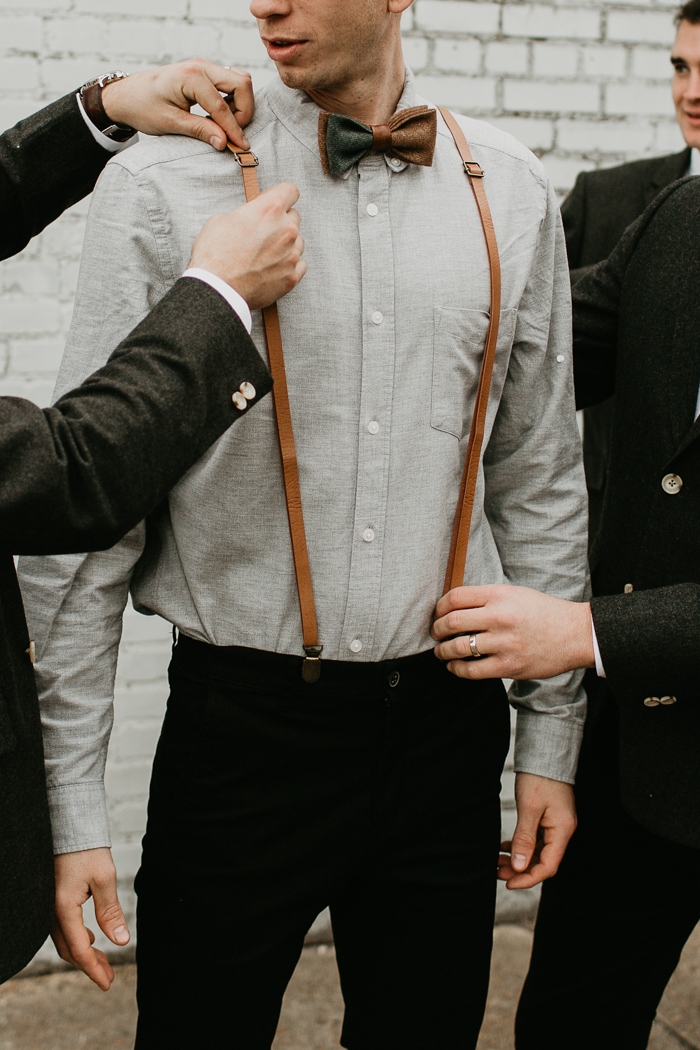 SHOP THIS LOOK: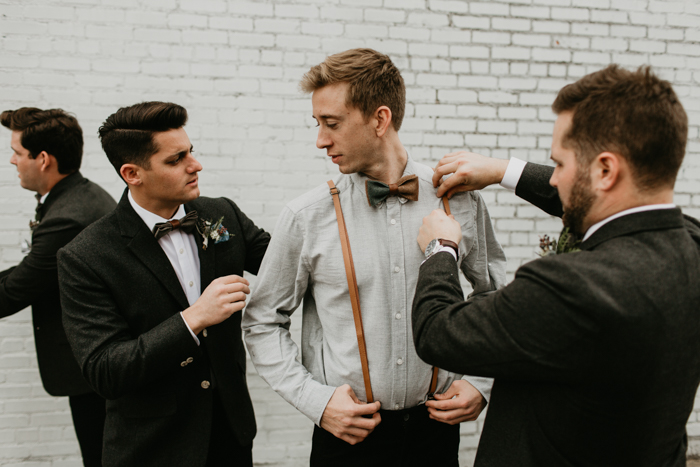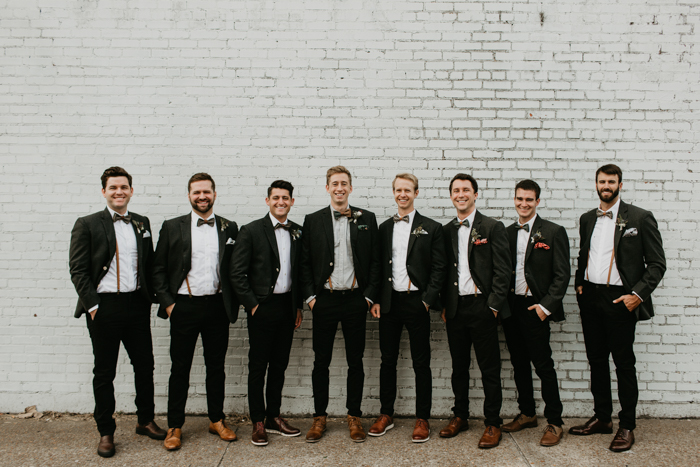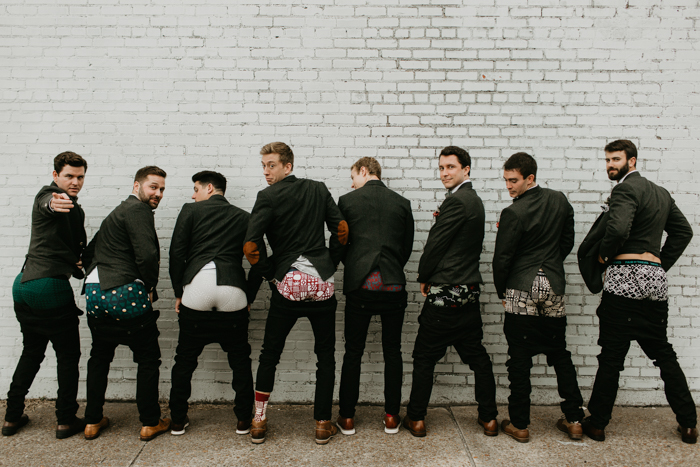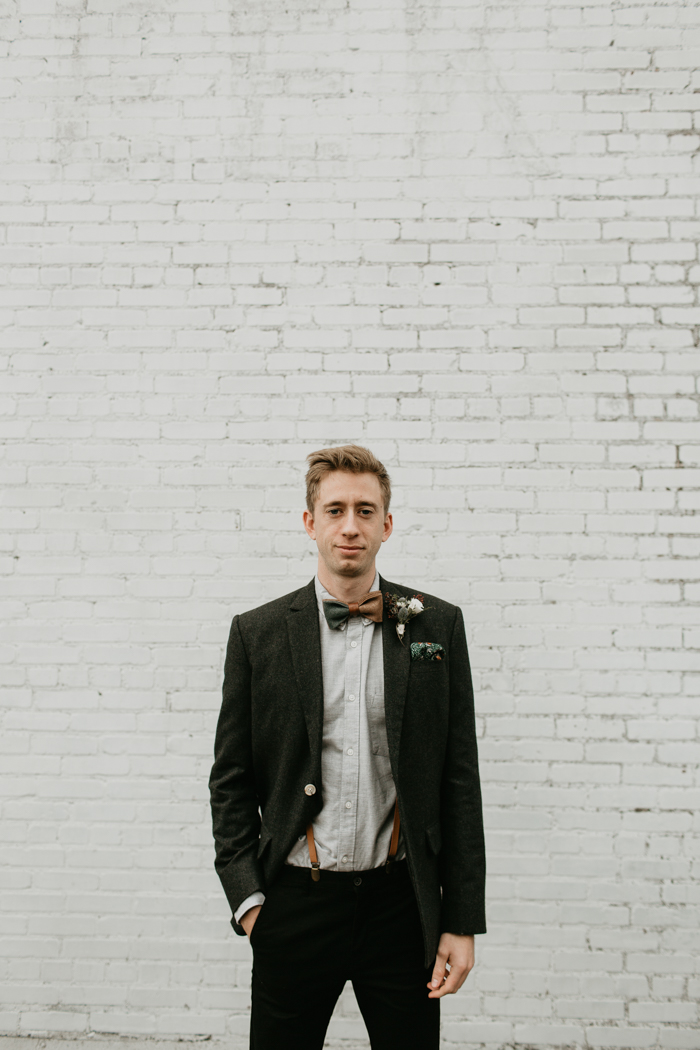 I had two most special moments of our day. The first was when Wes and I read our letters to each other about an hour before the ceremony. We did not do a first look, so we stood around the corner from one another and exchanged a letter. I cried a lot and was overwhelmed with the man the Lord had given me to share life with. My second favorite moment was when I saw my dad for the first time in my dress. My dad and I have been best friends for as long as I can remember and seeing him so emotional over his youngest daughter getting married was such a sweet moment.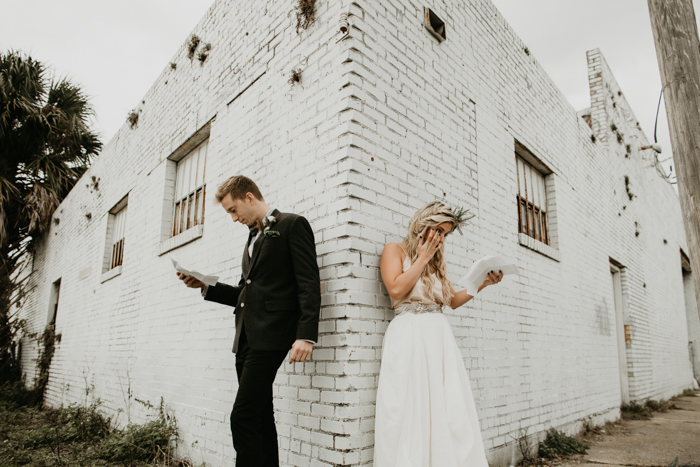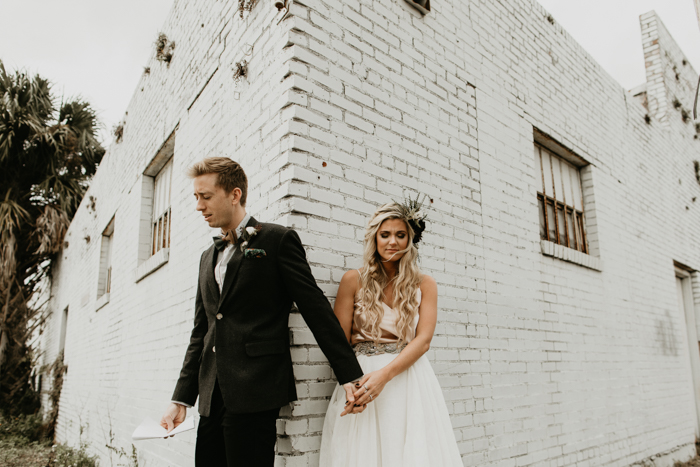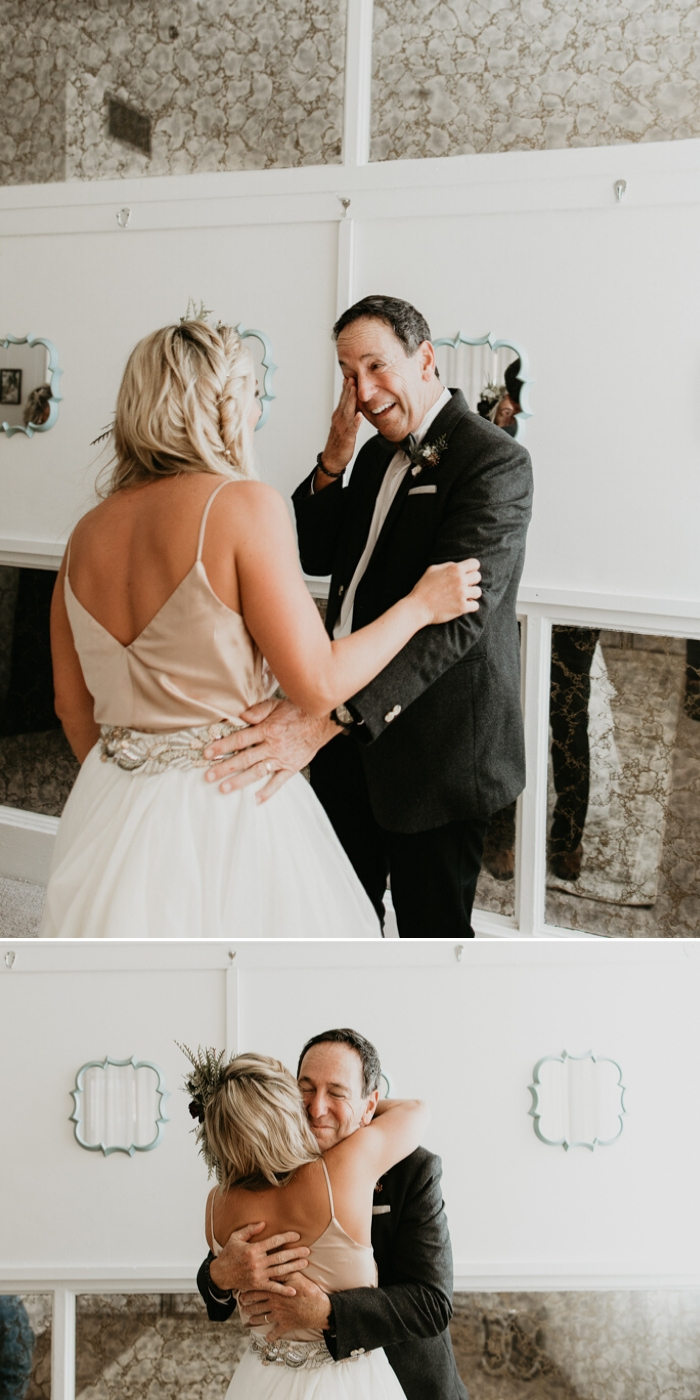 We had a modern bohemian ceremony with a hex arch, artisan rugs, and wild florals. Our venue was a blank canvas for us to express ourselves however we wanted. Our inspiration was wanting a blend of bohemian, industrial, and edgy elements to create a romantic and unique look for our day. We did not have a specific color palette, rather a general color wheel of many shades and variations because I love to mix-match color and texture. We primarily used bohemian neutral colors – tans, creams, blushes, and merlot with a mass amount of greenery all over.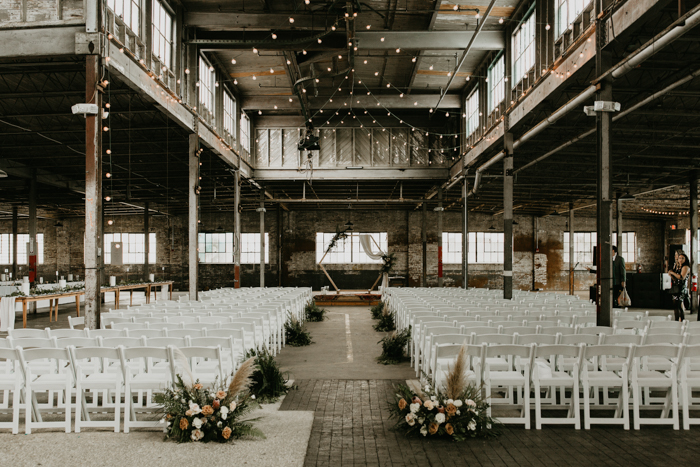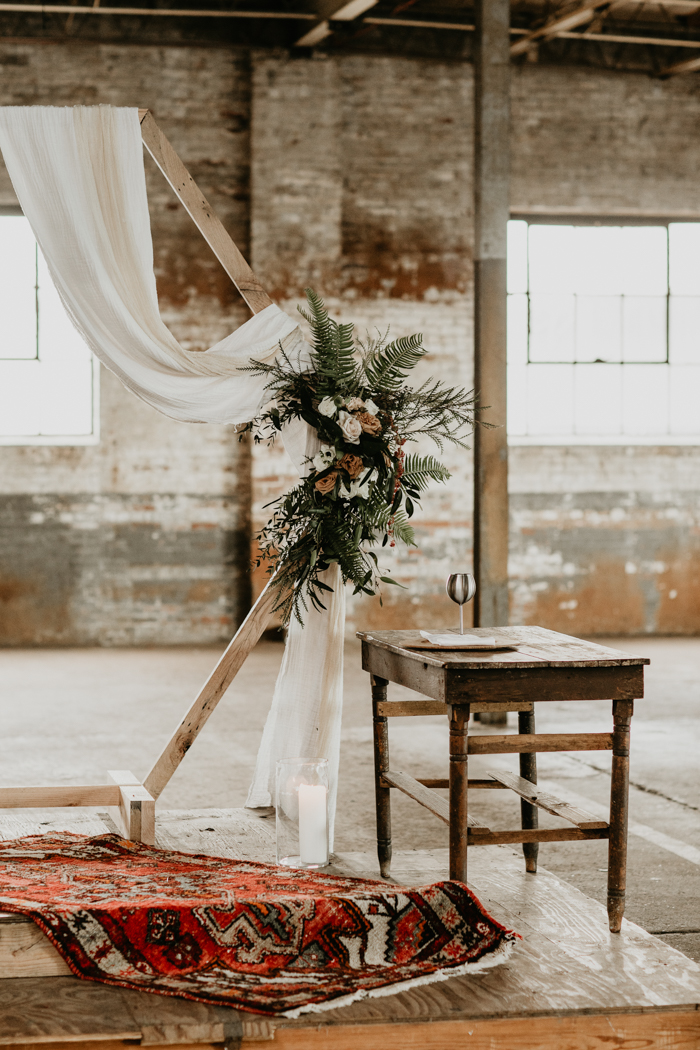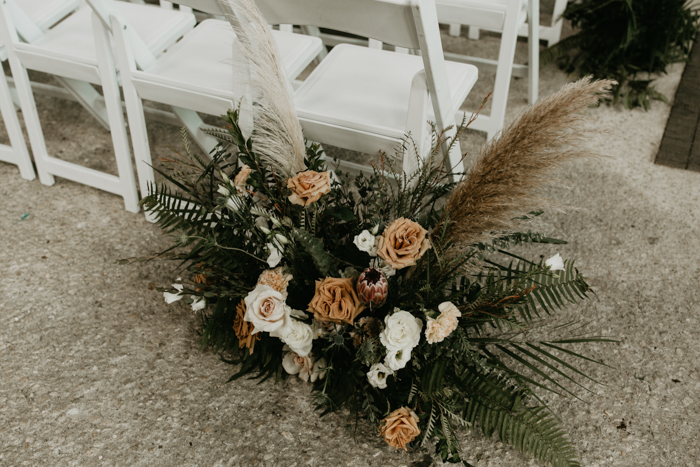 We had a "Flower Granny" as a way to honor my amazing 90 year old grandma and naturally she stole the show in the best way possible!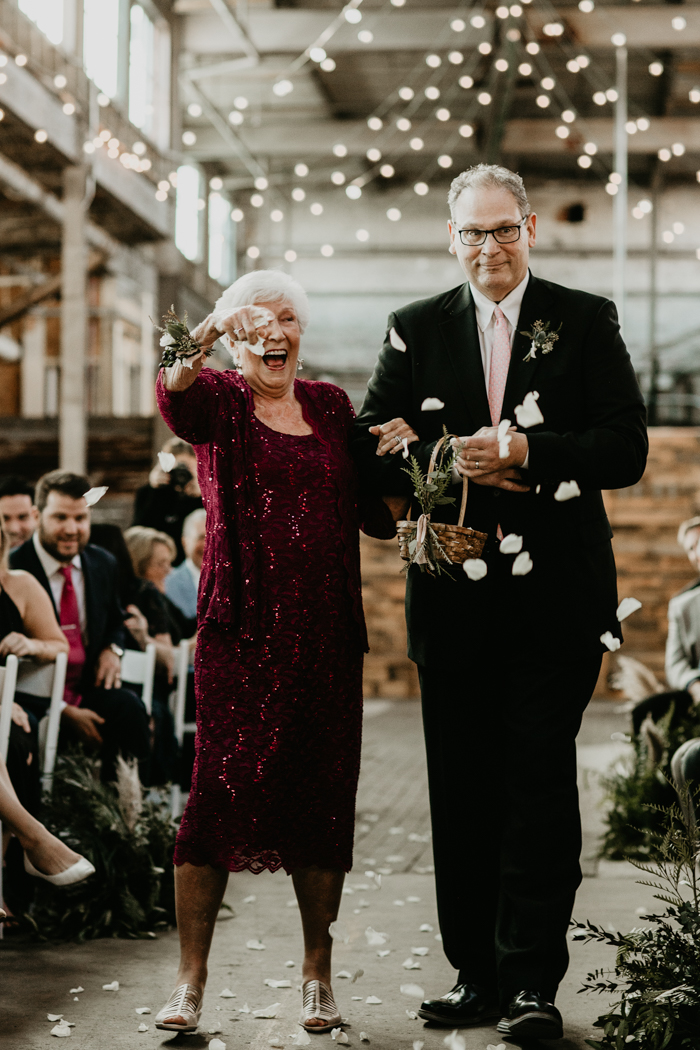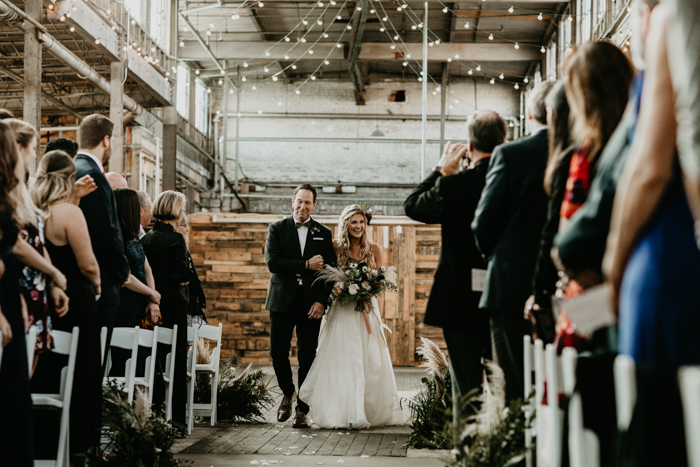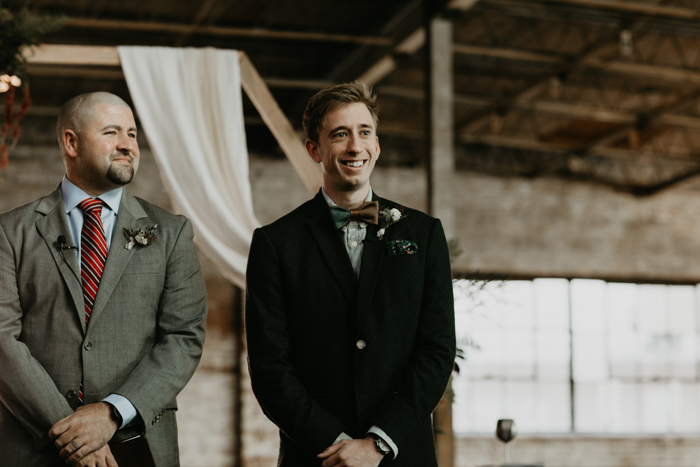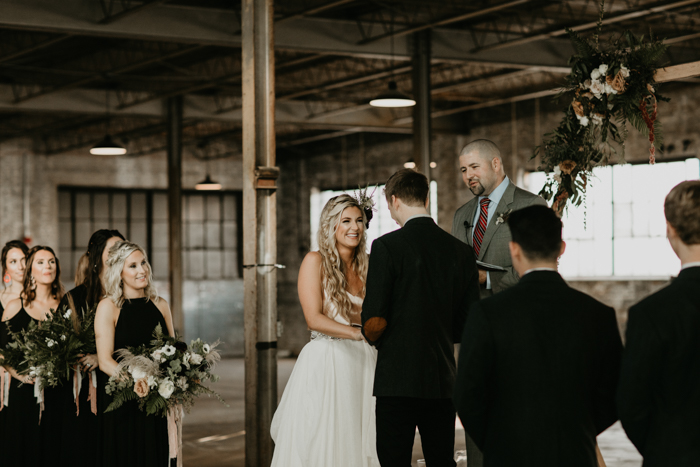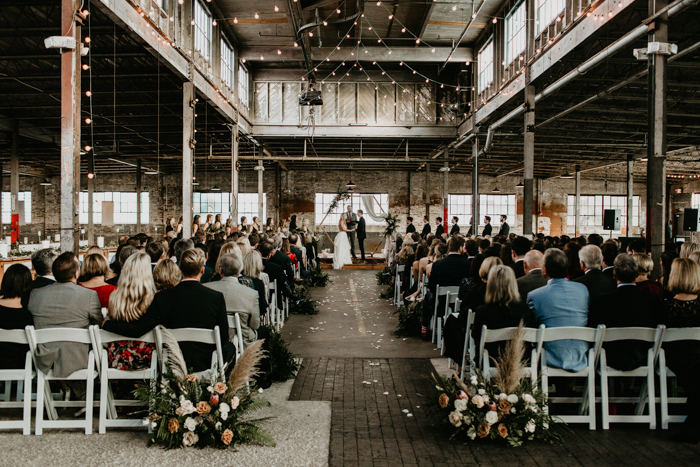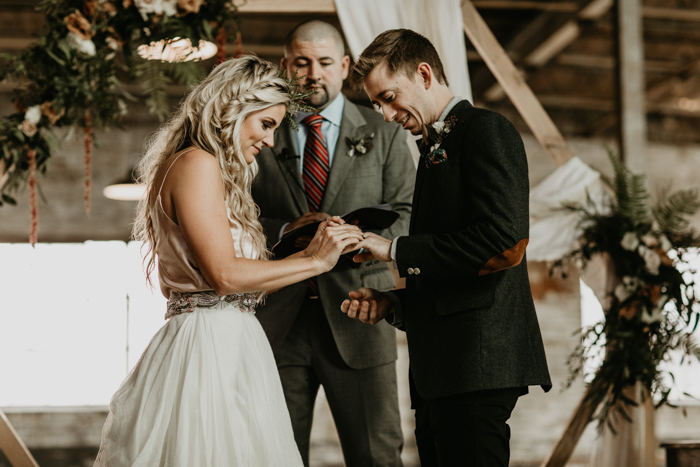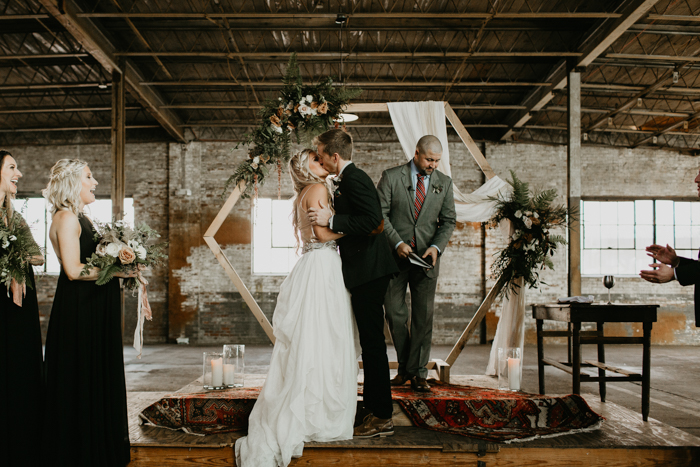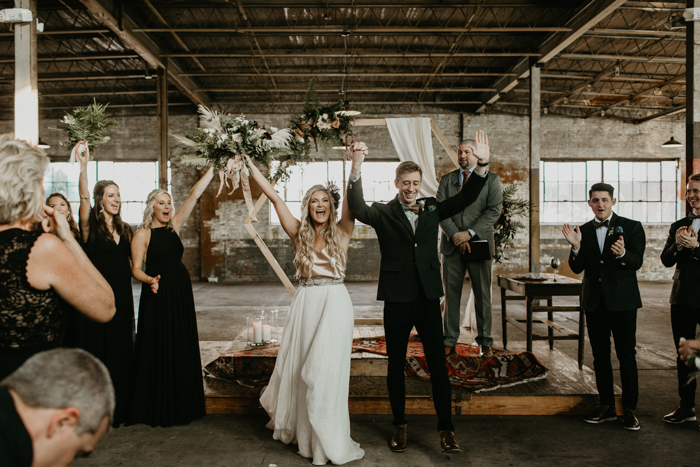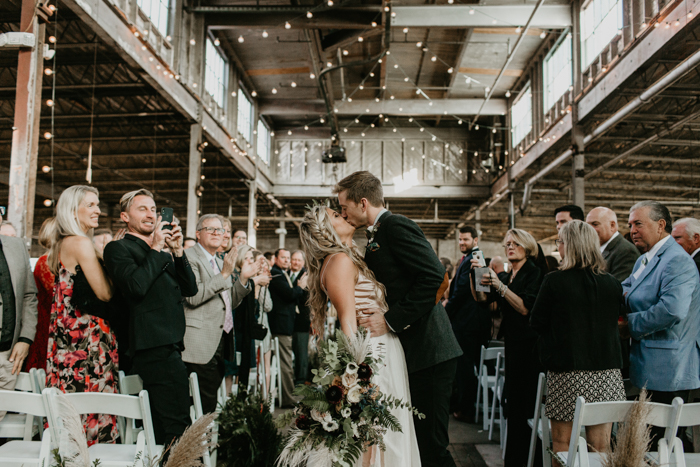 Wedding planning advice from the couple: Do you!!! Don't listen to what others day you "have to do" or "should do". Your day is YOUR DAY. You should express yourself uniquely and make decisions based on what you like. Reality is, no matter what you decide to do, we're all going to look back 10 years after and say "I cannot believe I wore that!!" Secondly, once your day actually arrives, ENJOY IT. At that point, there is no more planning or orchestrating that you need to do. All of your people are there to celebrate you so embrace that and get out on the dance floor and have the best night of your life. I would re-live our wedding day one thousand times over if I could!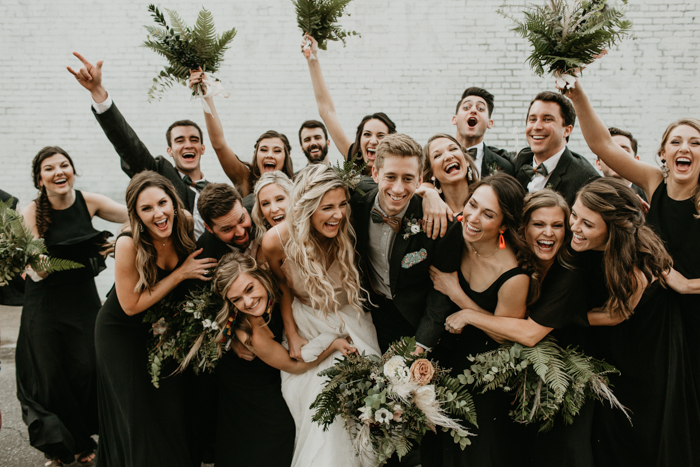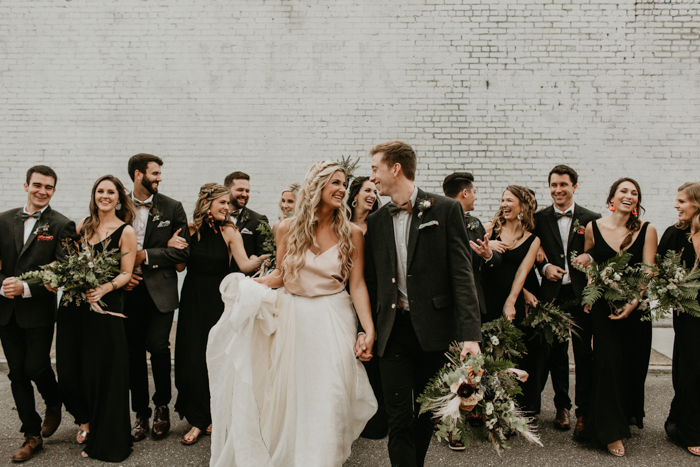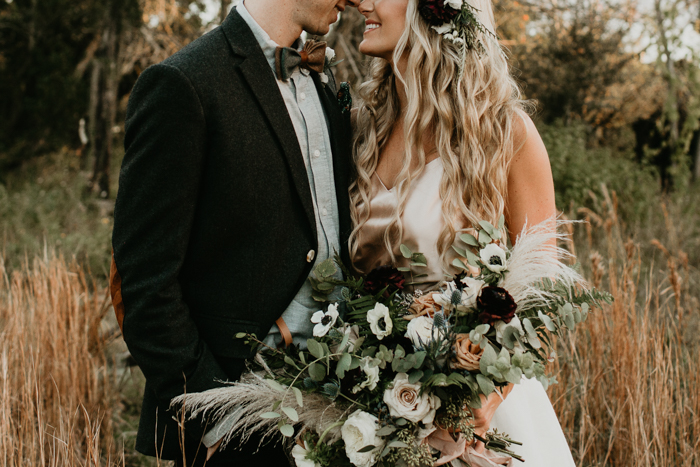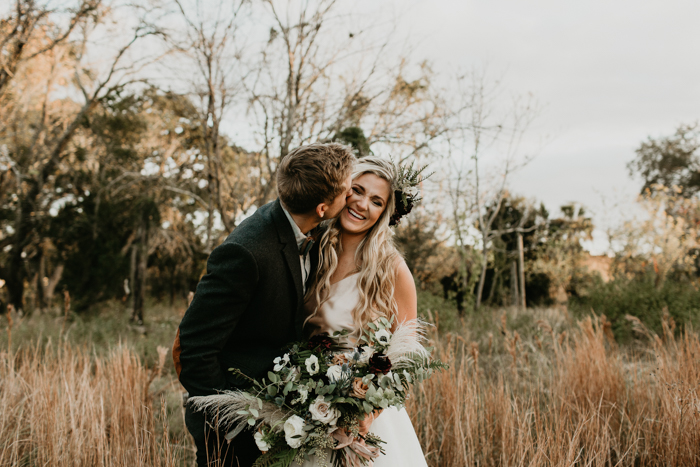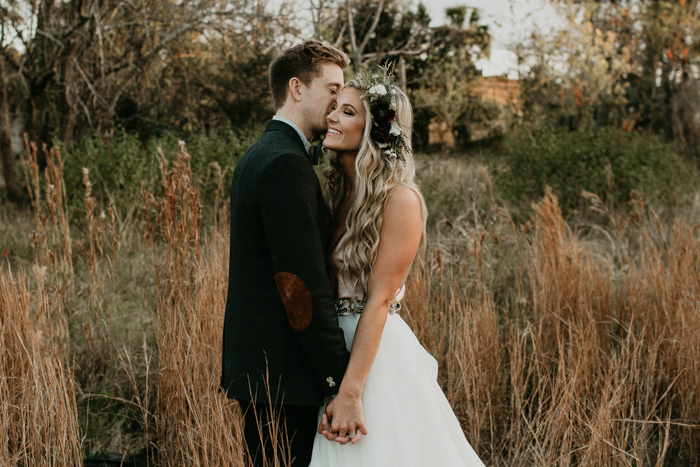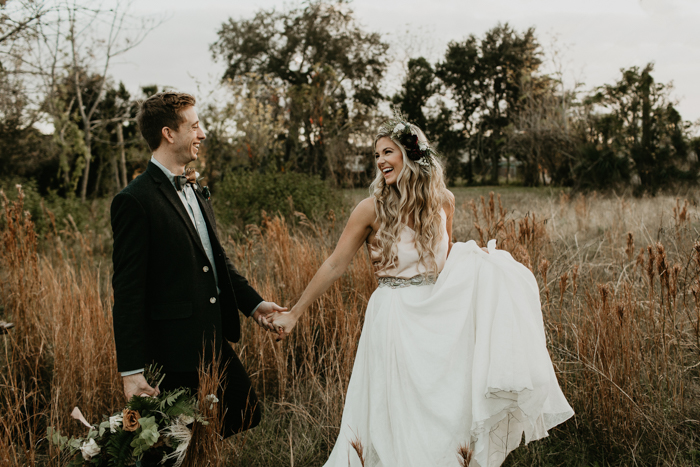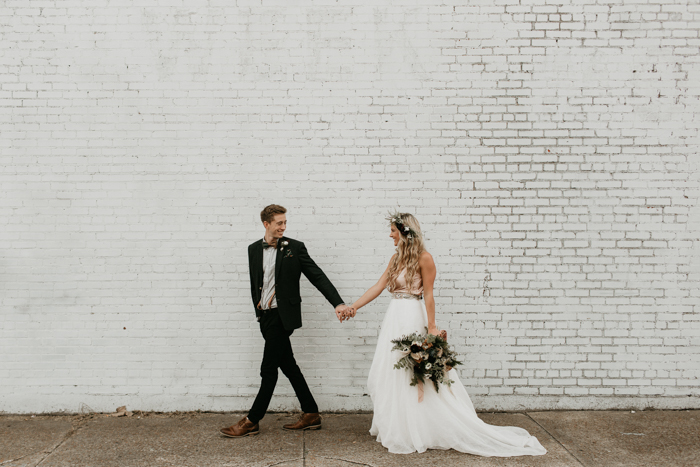 When our guests walked in to our wedding at The Glass Factory, we had modern, oversized canvas fabric hangings that read our favorite verse. Those canvas hangings now live in our master bedroom and we get to look at them everyday.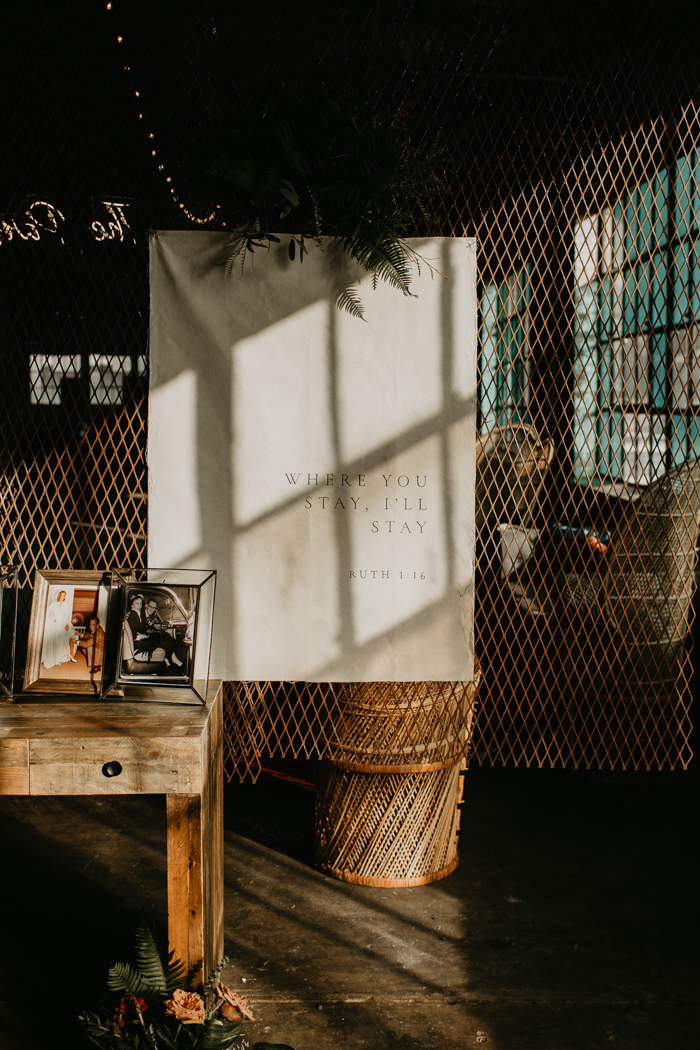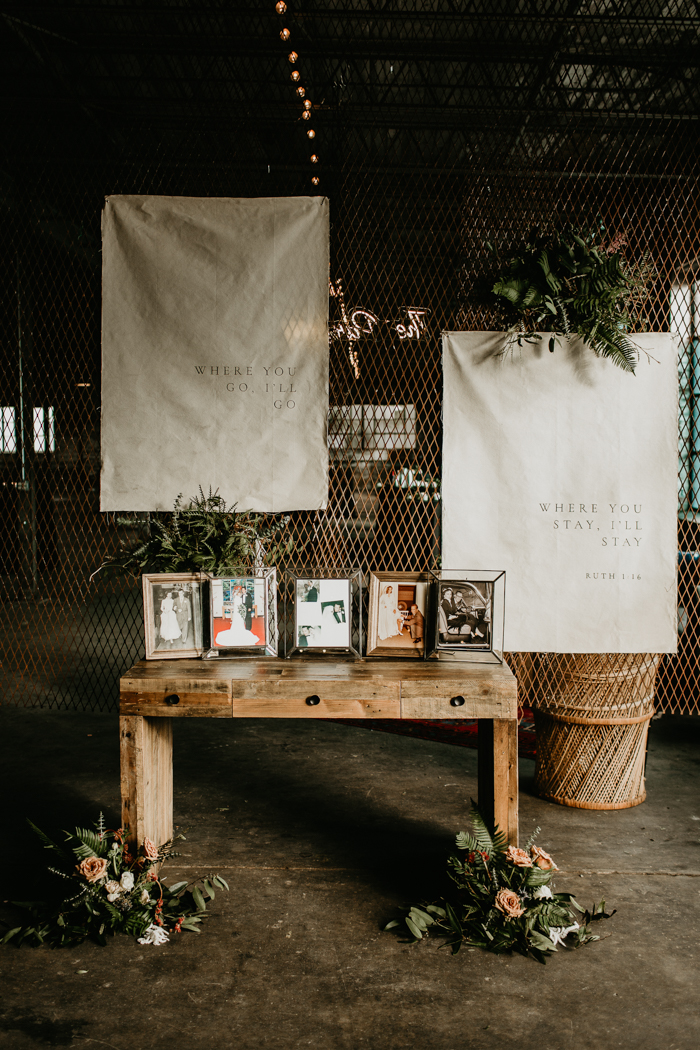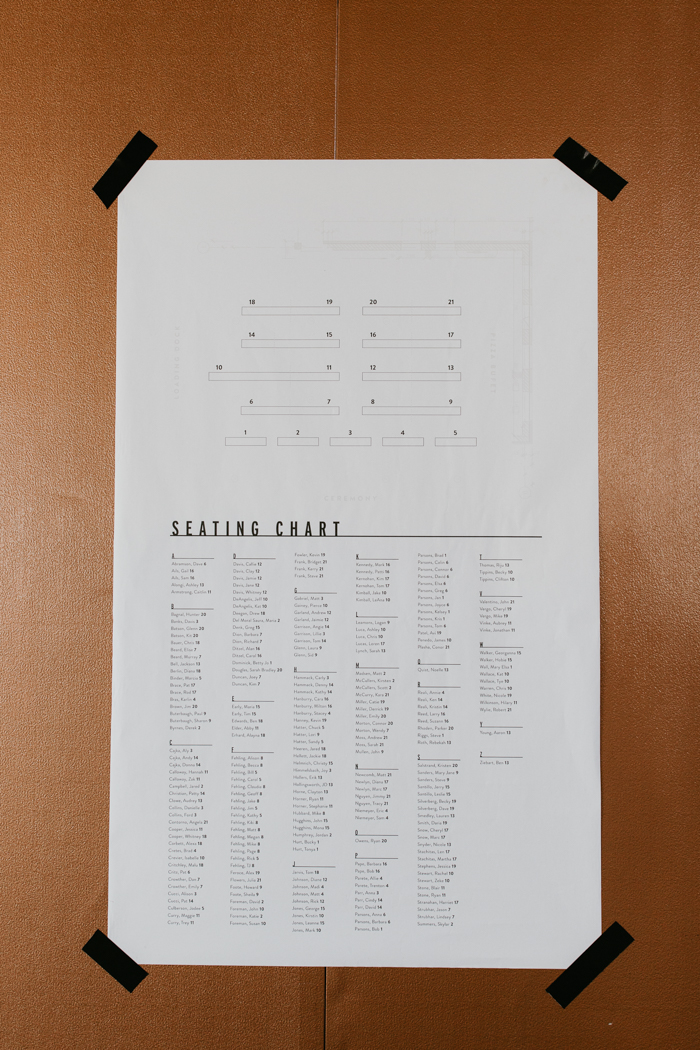 Moving further into the space, we had a lounge area with vintage couches and chairs paired with bohemian rugs. Our tablescapes were minimalist and modern. We had long, banquet style tables with plain green garland and candles along the center. Each plate was a silver pizza platter with a hand-dyed grey napkin (yes, we hand-dyed 300 napkins in our backyard), a personal thank you note, and a river rock that represented the refining and smoothing actions of nature on rough items, just as God has refined and smoothed us.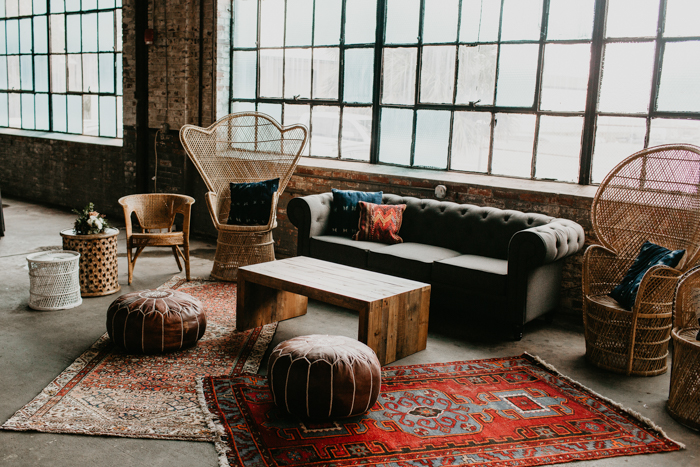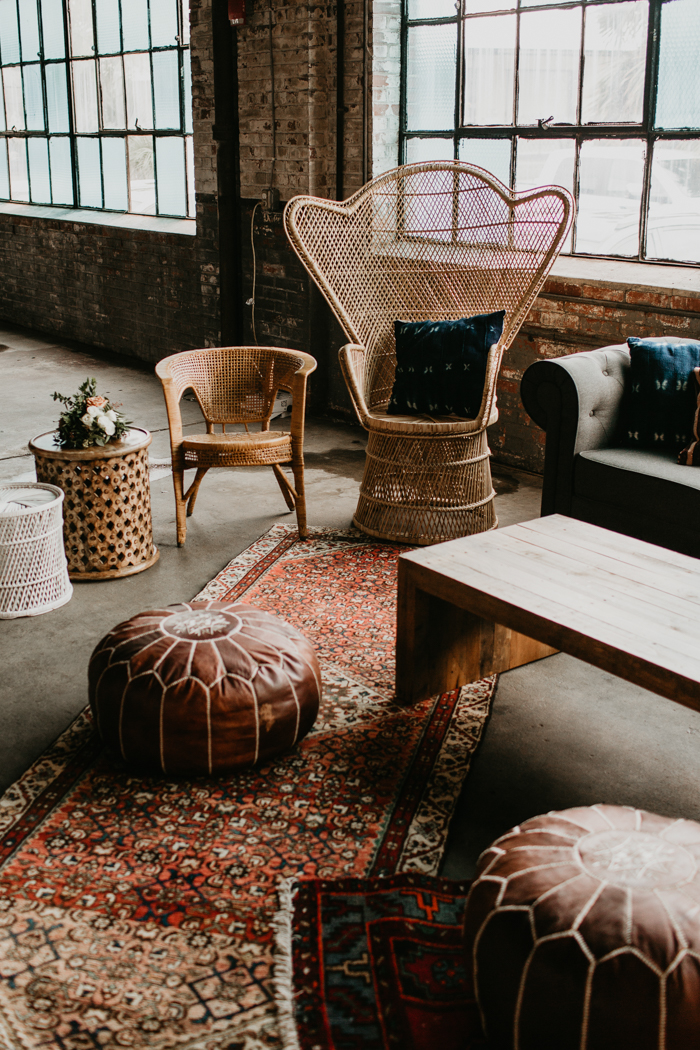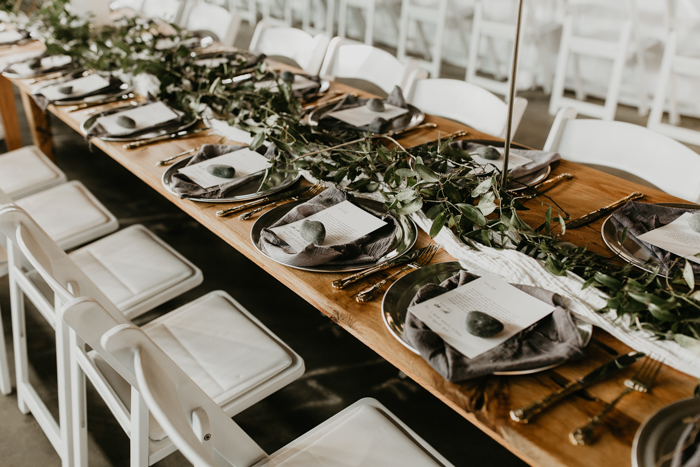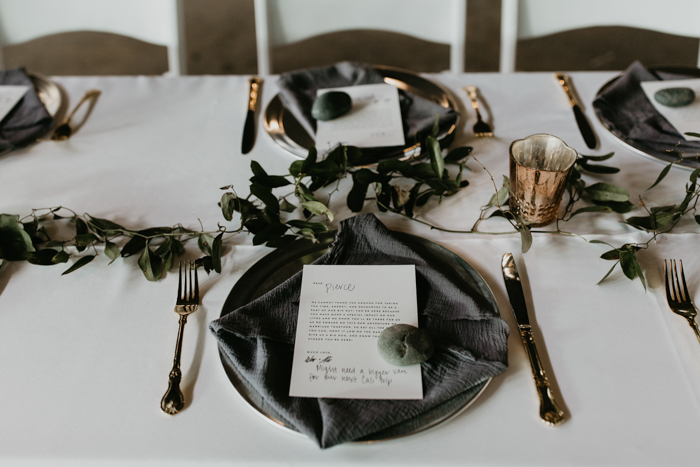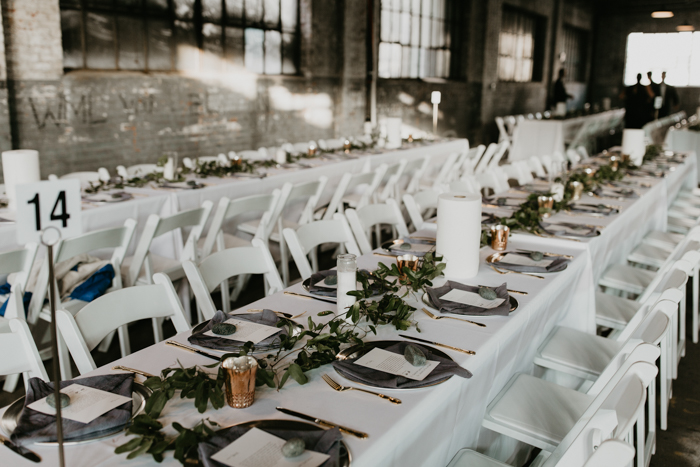 We wanted a lot of unique elements that made for a memorable and totally "us" day. Each guest got a personal thank you note of how they've impacted our lives at their seat when they sat down. We had a craft pizza food truck that made unique pizzas and salad as our food and craft donuts as our dessert.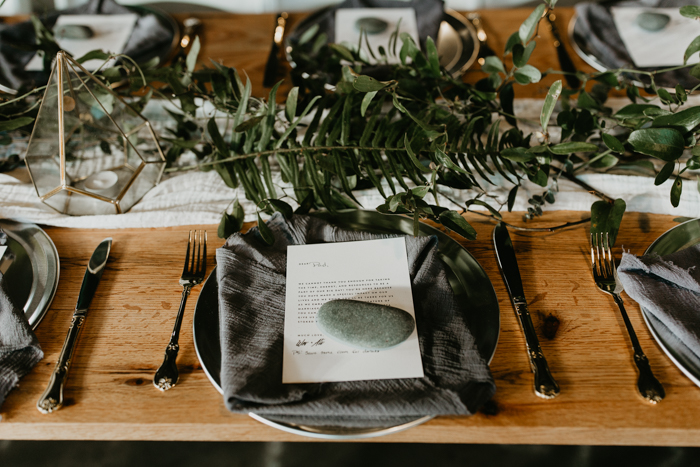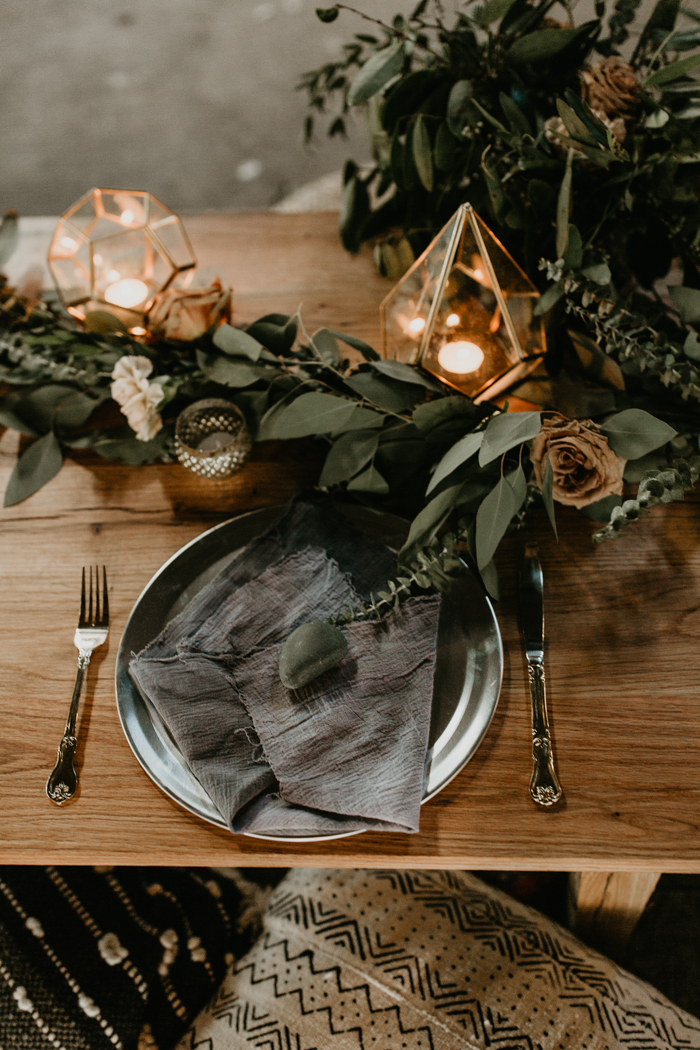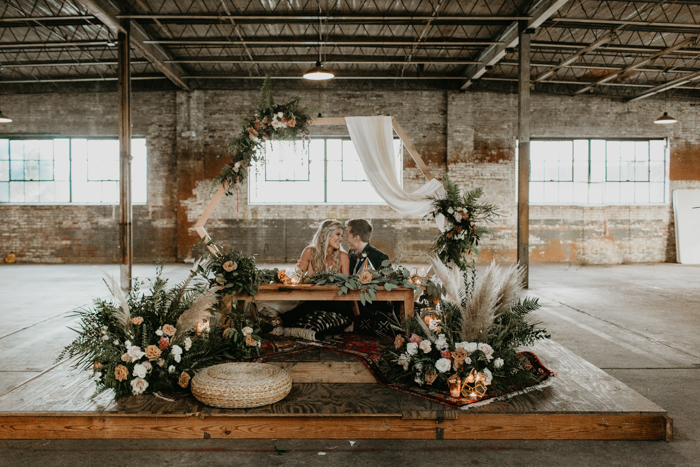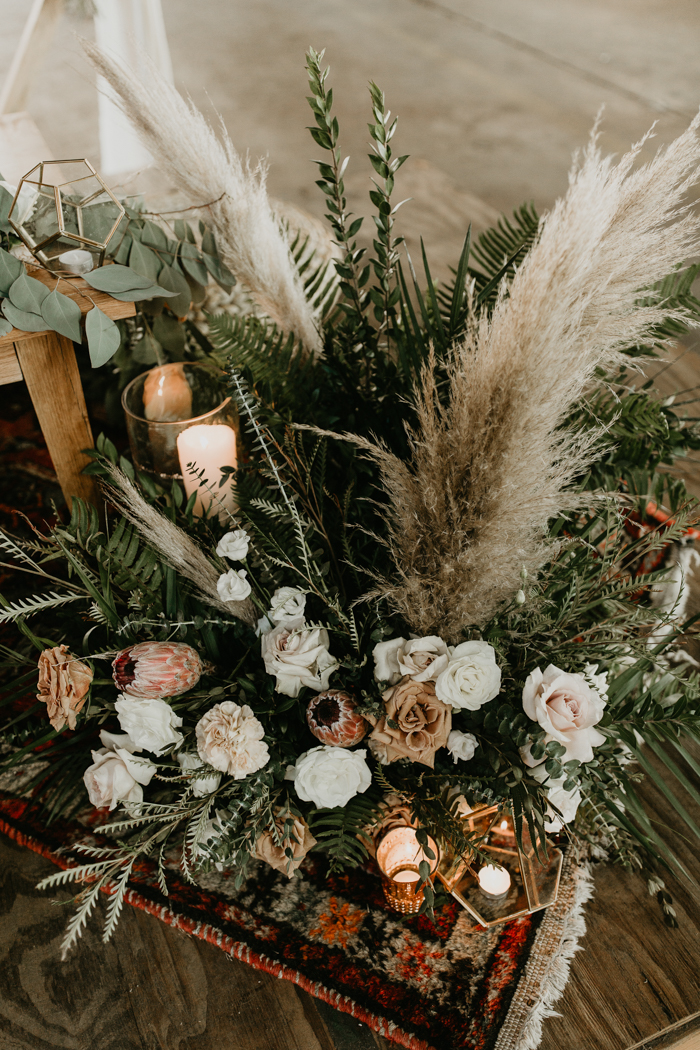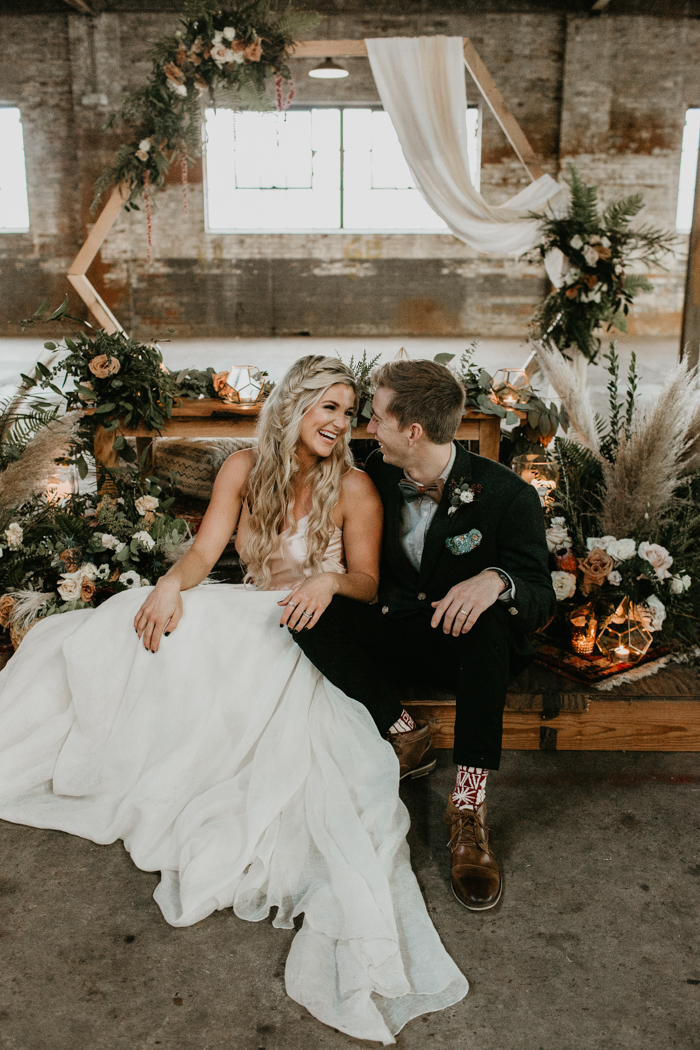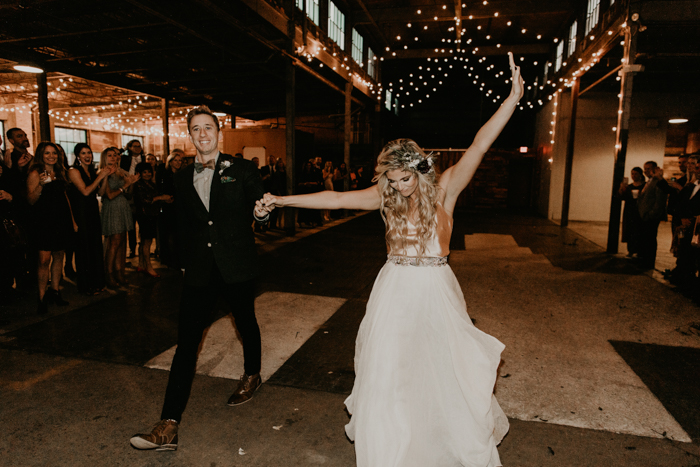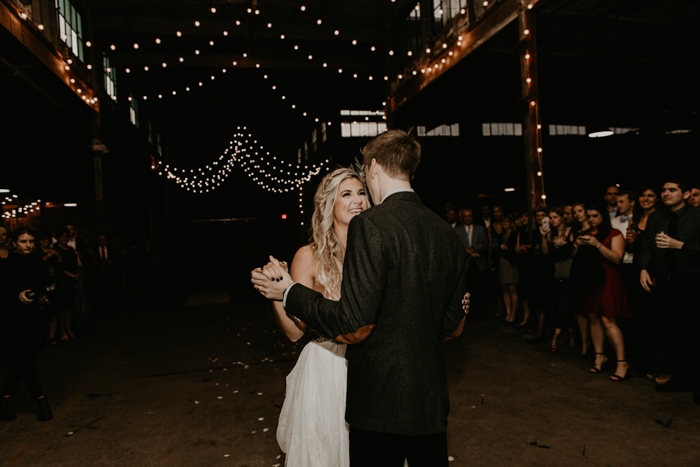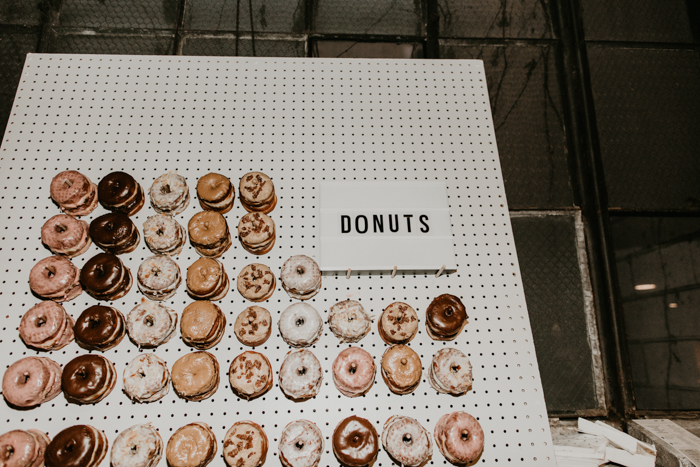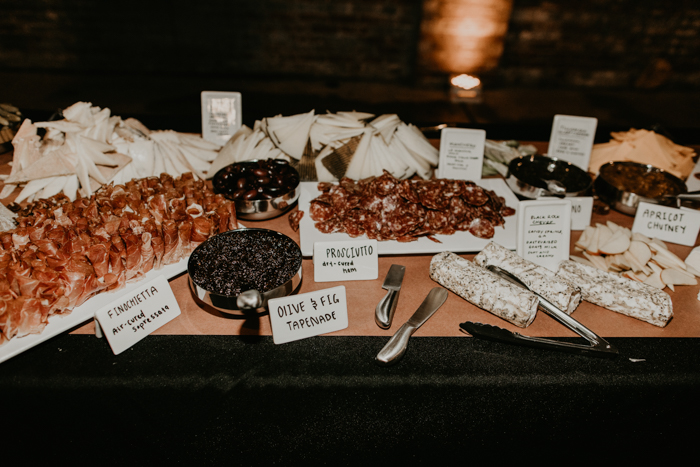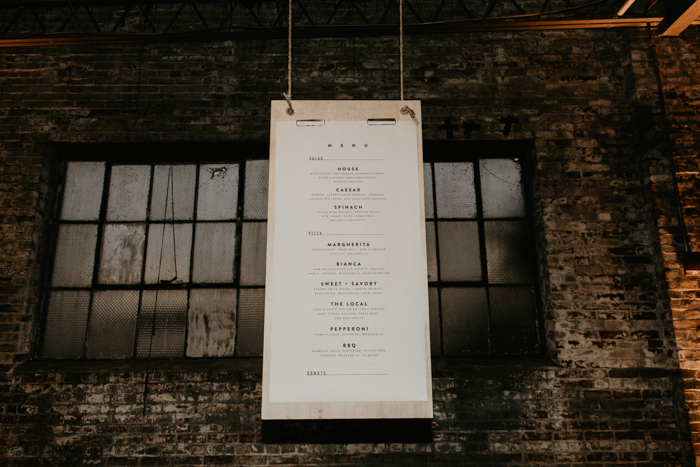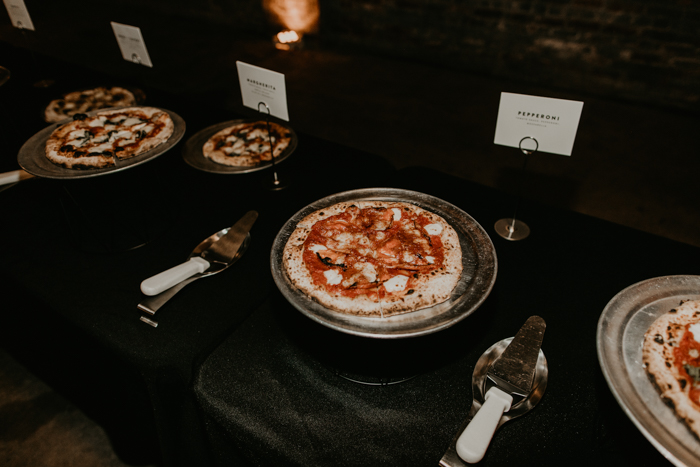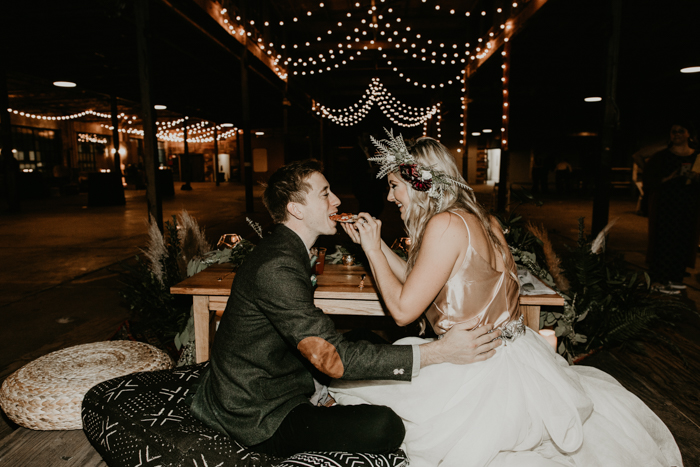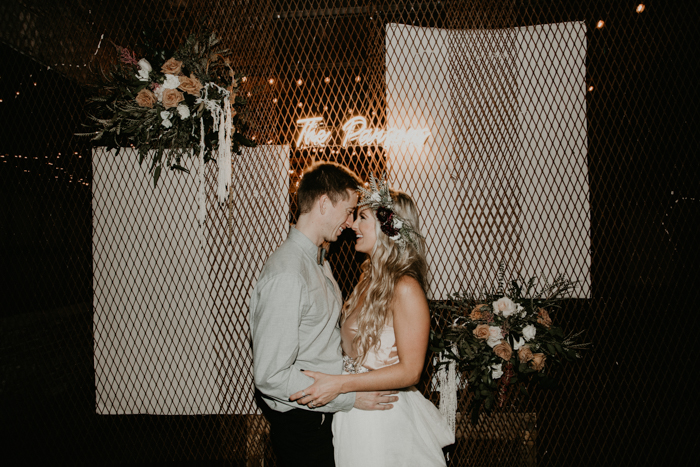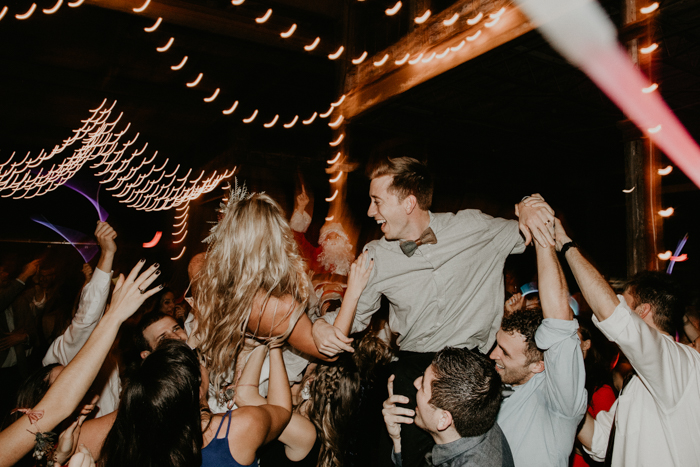 We had Santa make a guest appearance (a total surprise to me) who danced to Fireball by Pitbull and threw mini bottles of Fireball to the guests. Definitely a huge highlight to the night.And as we left our wedding, our "getaway" vehicle was a powder blue Vespa scooter, the perfect ending.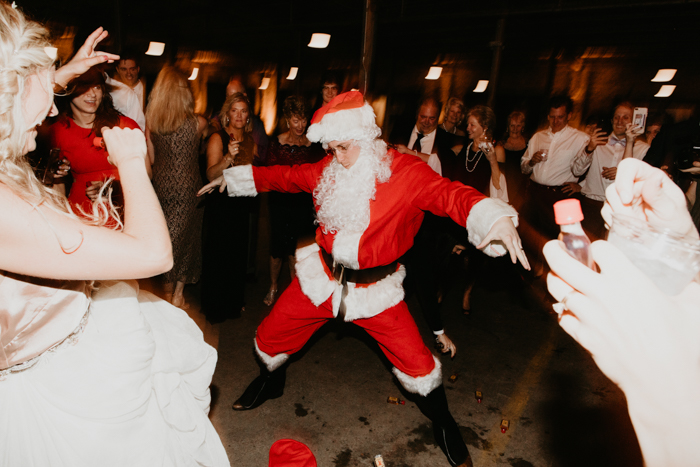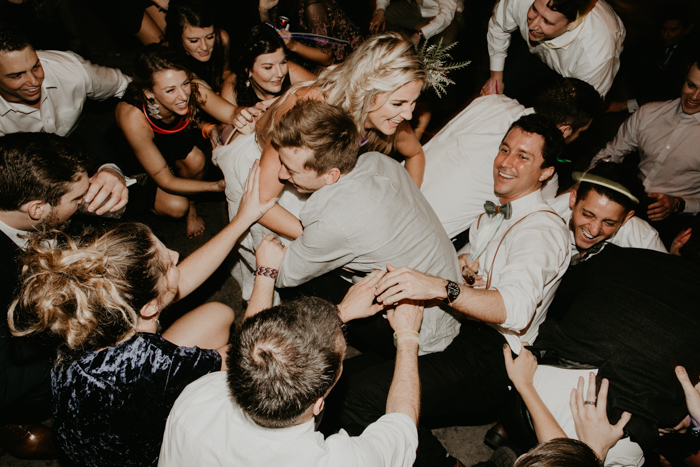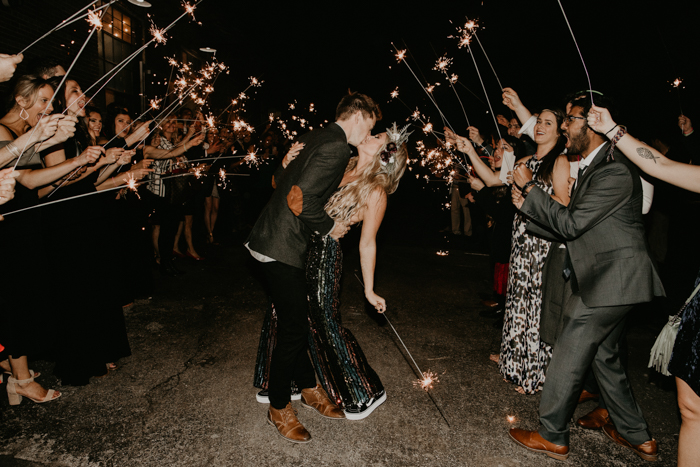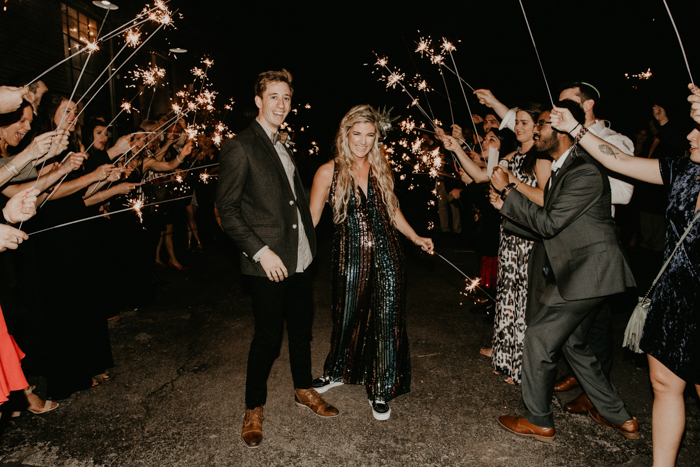 My "exit outfit" was one of my favorite elements of our day. Just before our sparkler exit I changed into a full, rainbow, sparkly jumpsuit with high top black vans. It was so fun to come down the row of our guests in a spunky, unique outfit! My only regret is not changing into it sooner!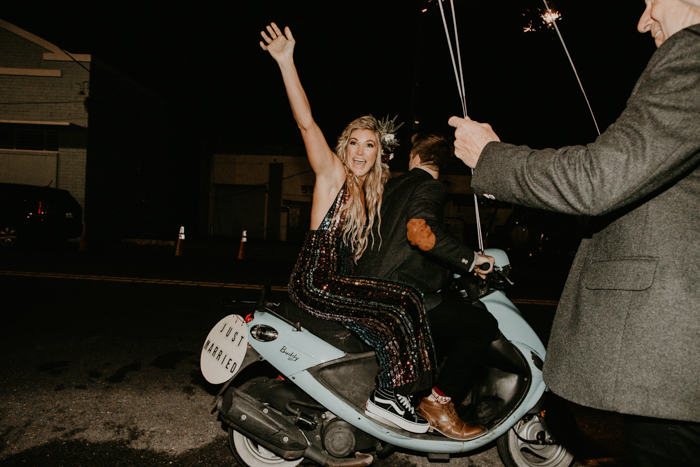 Congratulations, Ali and Wesley! We're grateful for our talented Junebug member Stefanie Keeler Photography who shared this couple's wedding at The Glass Factory with us. For more of Stefanie's amazing work, check out her profile in our directory of top photographers from around the world.