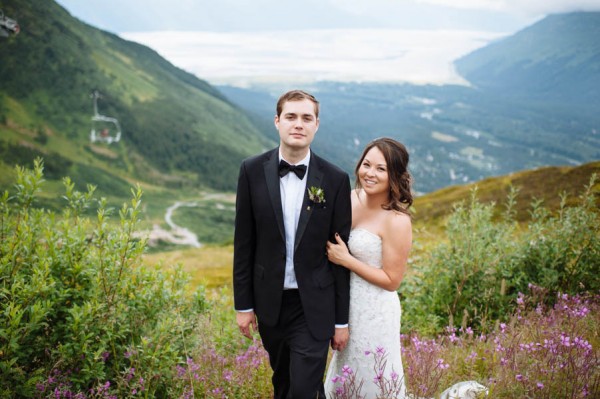 Debbie and Terry said goodbye to burlap and lace for their Crow Creek Mine wedding in Alaska, opting instead for a modern look with jewel tones, gold accents, and lush greenery. Between antique shop finds and the stylish minds behind Blomma Designs, Debbie and Terry's romantic wedding in The Last Frontier came together exactly as they envisioned. With an incredible view of the mountains in the background, every inch of the day was as beautiful as could be.
The Couple:
Debbie and Terry
The Wedding:
Crow Creek Mine, Girdwood, Alaska
We loved our first look. Although we have seen each other almost every day since the moment we met, we were both nervous. It felt like I was meeting my husband for the first time. I had butterflies in my stomach when walking up to him, but I think in the end, he was more nervous than I was. He had to wipe his hands on his pants before grabbing mine and they were still a little clammy. He looked at me for a moment, blushing a little, then told me I was beautiful. He could barely speak for a few minutes after. It was very sweet. The perfect start to our wedding day, a simple reminder of how fortunate we were to have found each other and be with each other from this day forward.
I initially wanted to wear something that looked a little Art Deco 1920s with the beading and vintage vibe. I found a beautiful Maggie Sottero gown with beading and lace throughout the entire gown. It also had these delicate buttons lining the back that I loved. I also wanted my bridesmaids to feel elegant and found them these beaded Adrianna Papell floor length gowns to compliment my dress. The men wore simple black tuxedos, can't go wrong with simple and classic.
We chose the Crow Creek Mine in Girdwood Alaska for its rustic yet elegant feel. There is so much lush greenery everywhere you look and it has a remove feeling to the venue, as to be secluded from everything else and captured in the moment. I think being able to celebrate at the mine, deep in the woods, with only our wedding guests and venders added to the intimacy and also the freedom to really party!
We had a lot of fun planning the reception, as we love to host a good party. We spent a lot of our wedding budget on our reception, picking out a delicious menu, flying our amazing DJ from Portland, Oregon to Alaska for the weekend, and styling our floral arrangements to be full of lush greenery and individualized to each table. I hand-picked a majority of our decor from various flee markets, antique stores, and estate sales. It was very rewarding to see so much of my personal style in our wedding decor.
I think in Alaska most people tend to choose burlap and lace as a standard. This was the one thing I did NOT want at my wedding. I tend to love more of a glamorous vibe and wanted to incorporate something you may see in an elegant ballroom into our evergreen wedding venues, indoor and outdoor.
Congrats to Debbie and Terry on their Alaskan wedding! Love their rich color scheme? Check out Daniela and John's modern jewel tone wedding at Vista West Ranch.