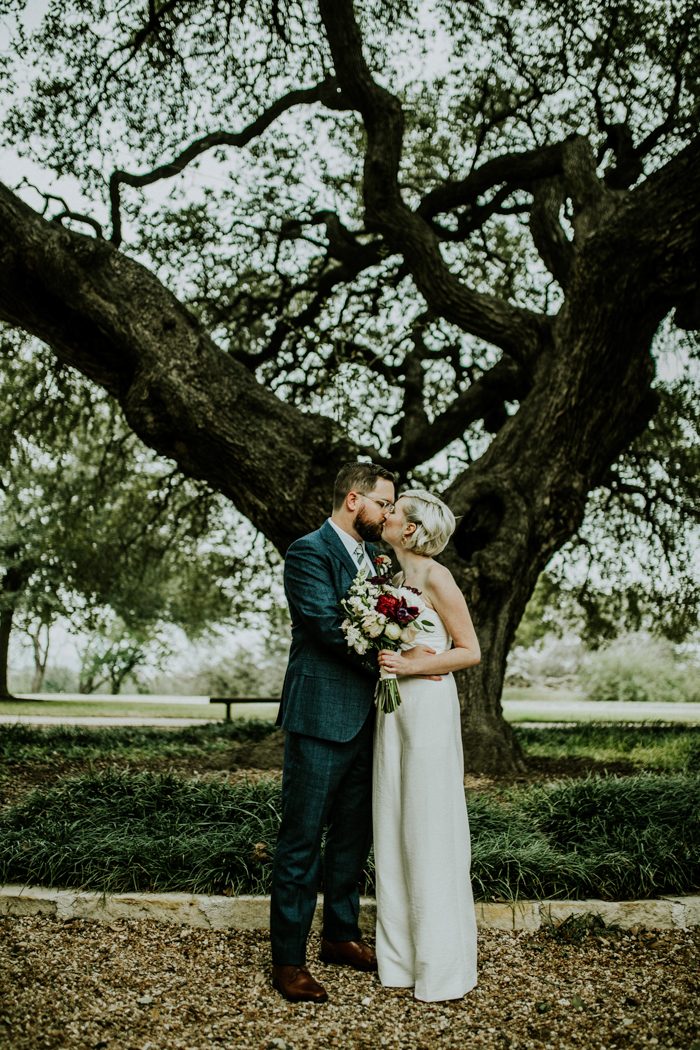 Caitlin and Matt's dream for an intimate Austin wedding is as wonderful as it sounds. The happy couple spent the entire day together, from getting ready to a celebratory dinner with their family and friends at their favorite Austin restaurant, Vespaio. Caitlin wore a stunning ivory Fame and Partners jumpsuit that we seriously can't get enough of. With pops of red from her shoes and jacket, it's safe to say that Caitlin is one stylish bride! She and Matt exchanged vows under a large oak tree at their alma mater, St. Edward's University, where the two first met. With just a handful of people standing around them during this very special and intimate moment, Misty McClendon Photography was there to capture the essence of the day.
The Couple:
Caitlin and Matt
The Wedding:
St. Edward's University, Austin, Texas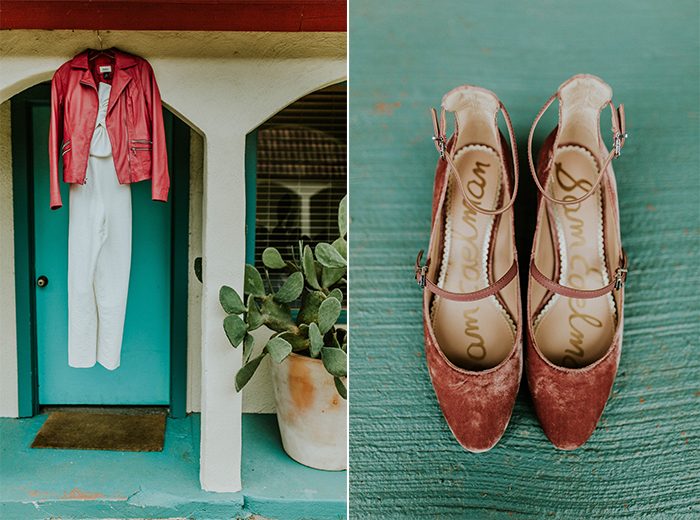 SHOP THIS POST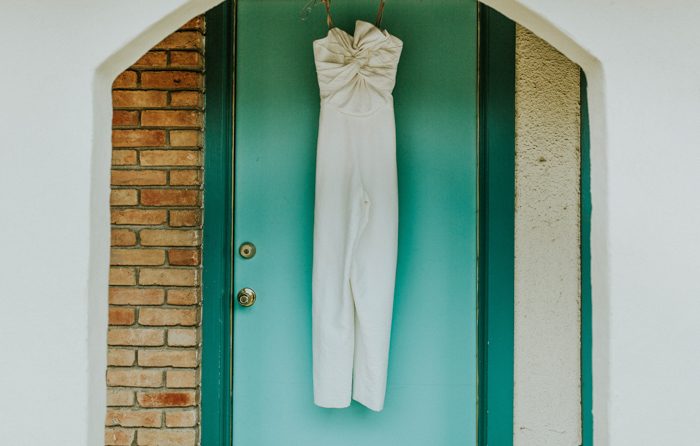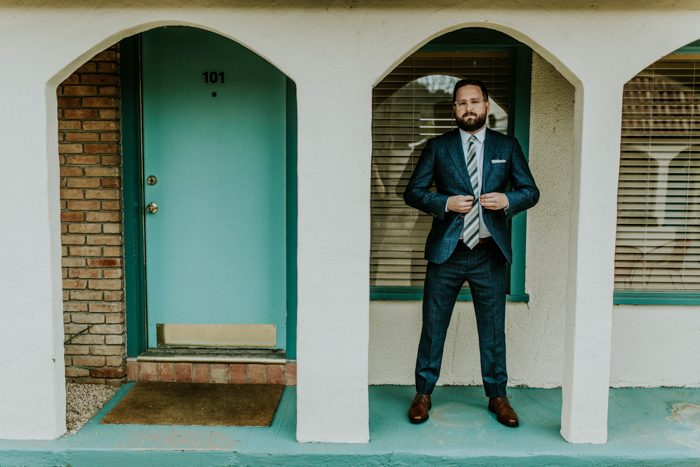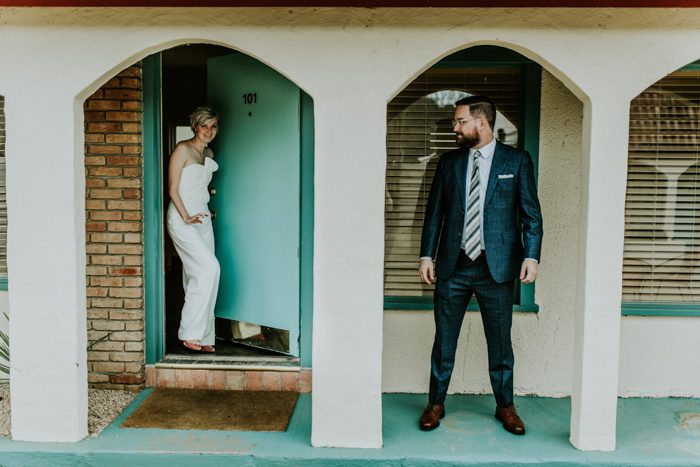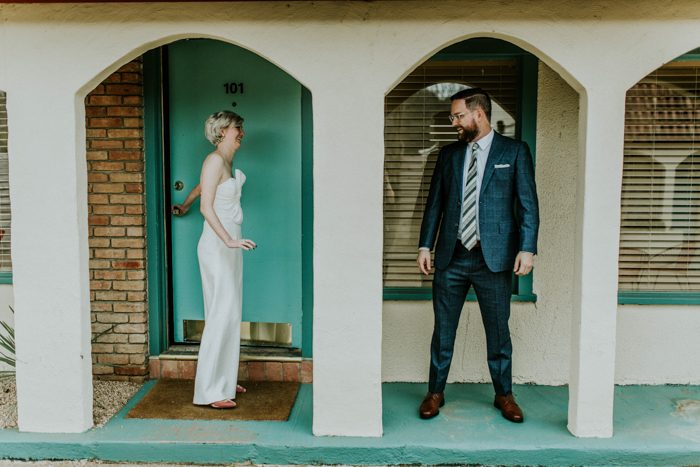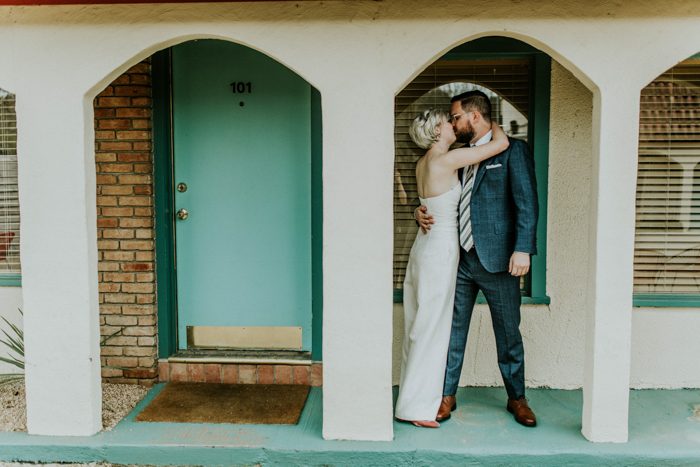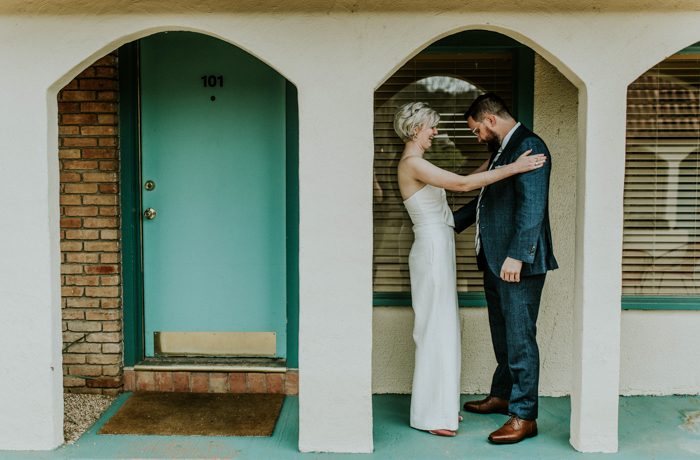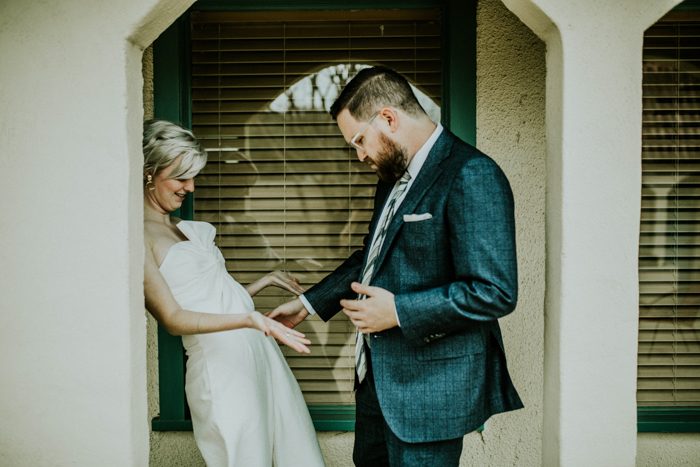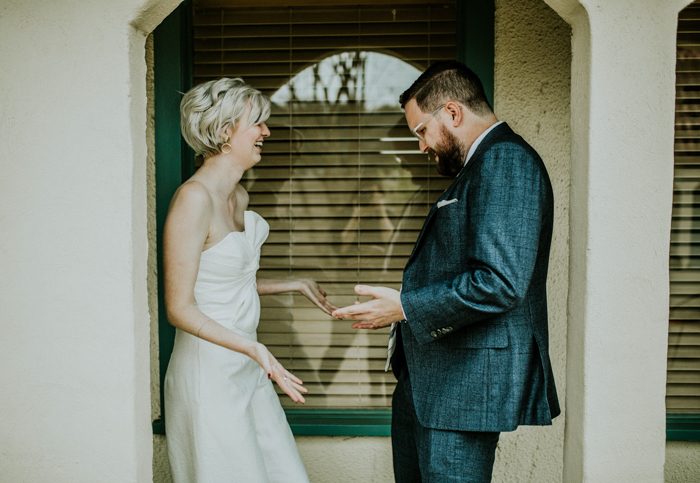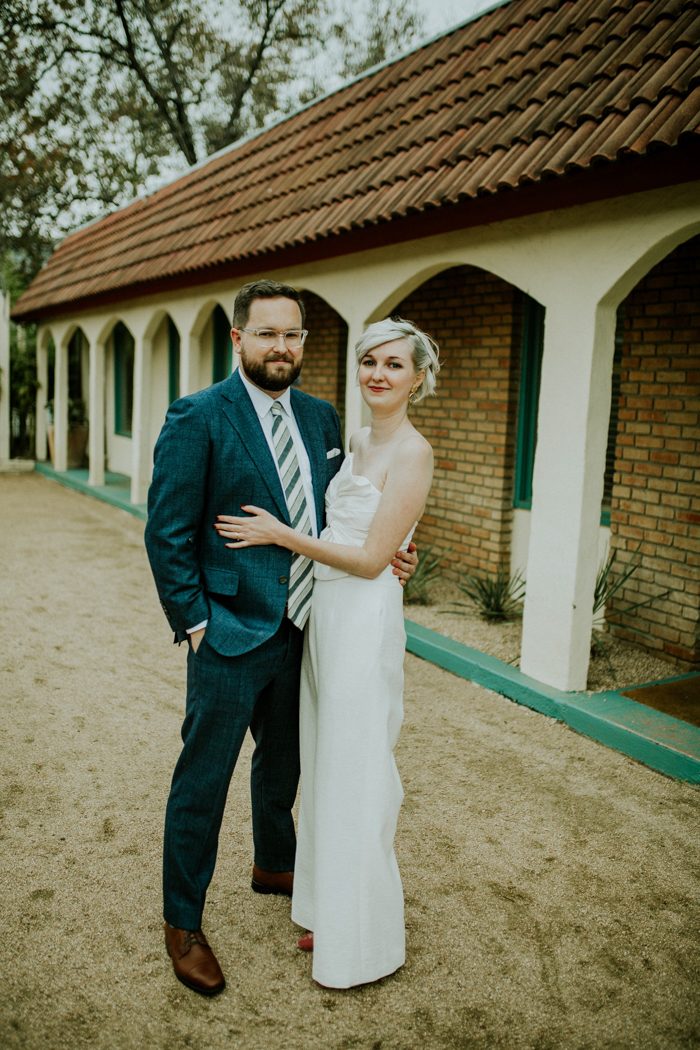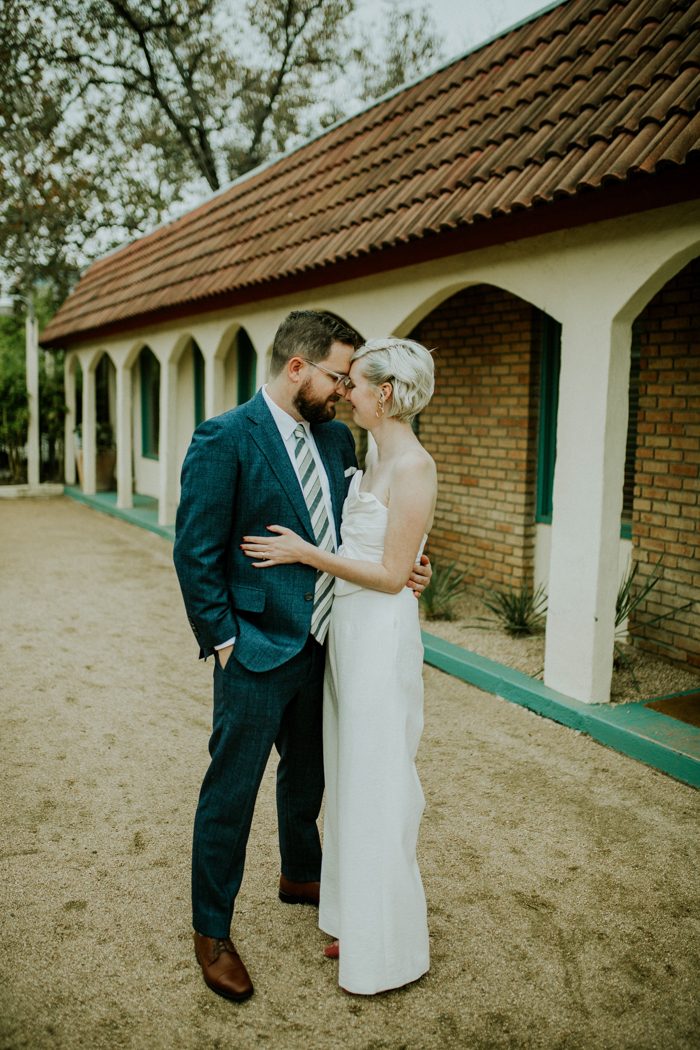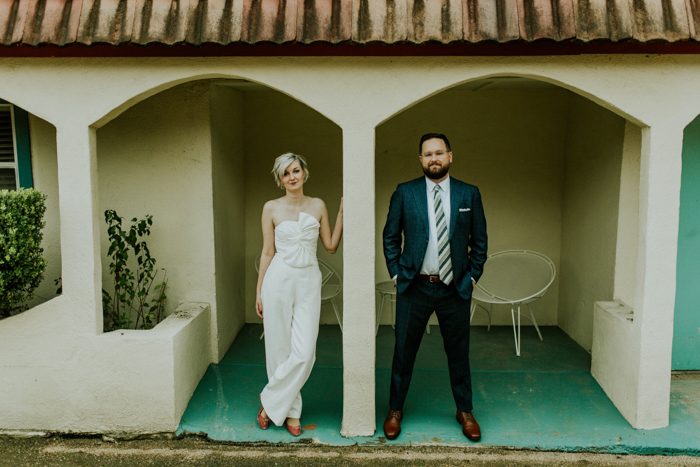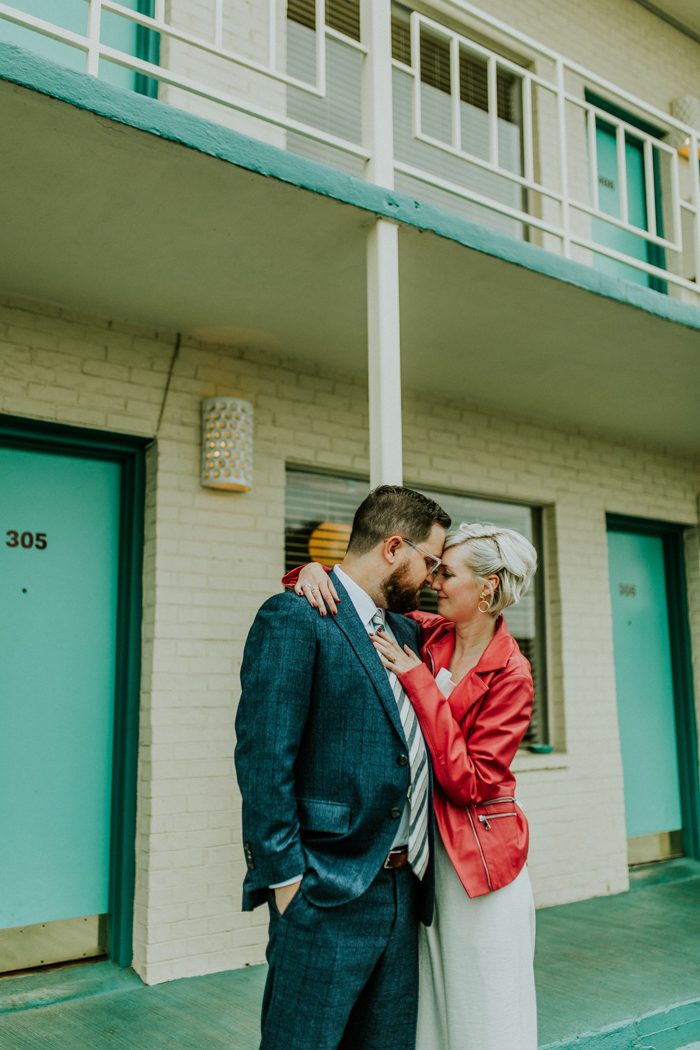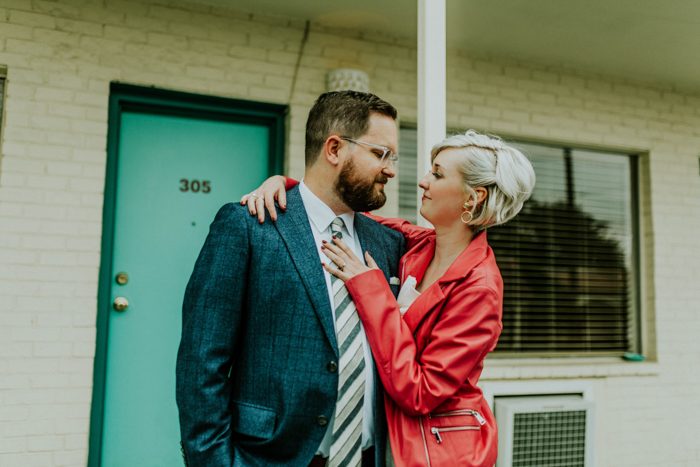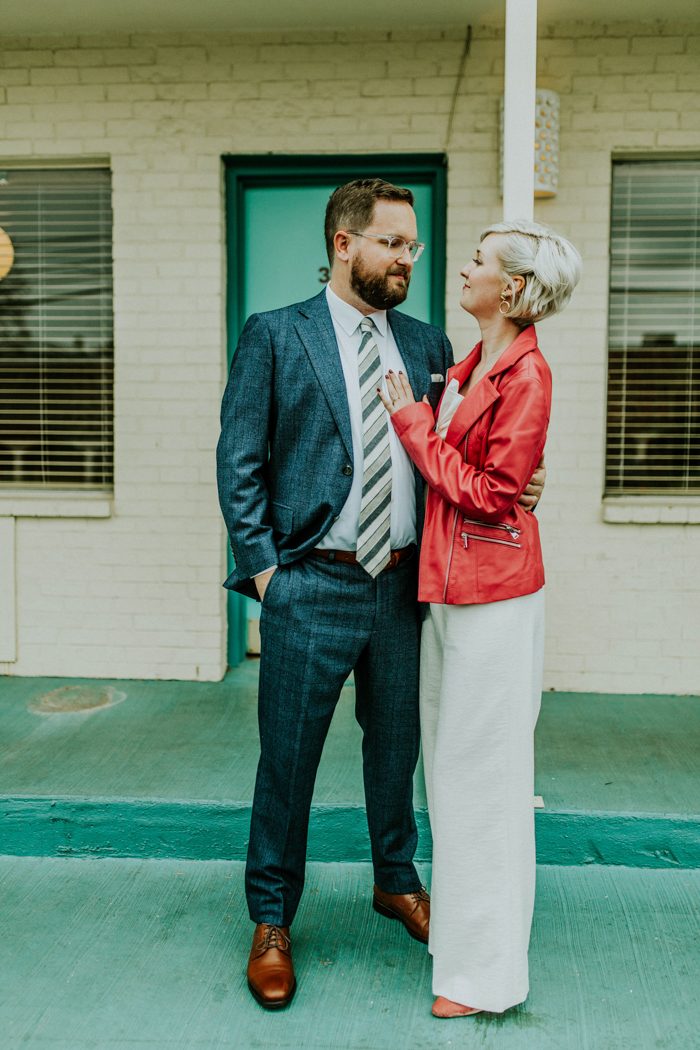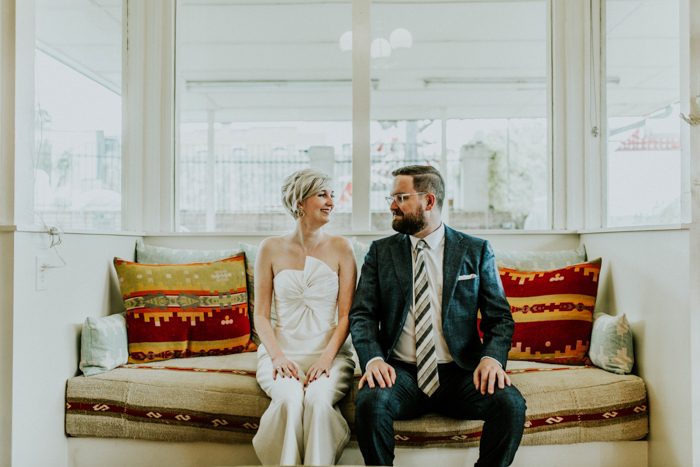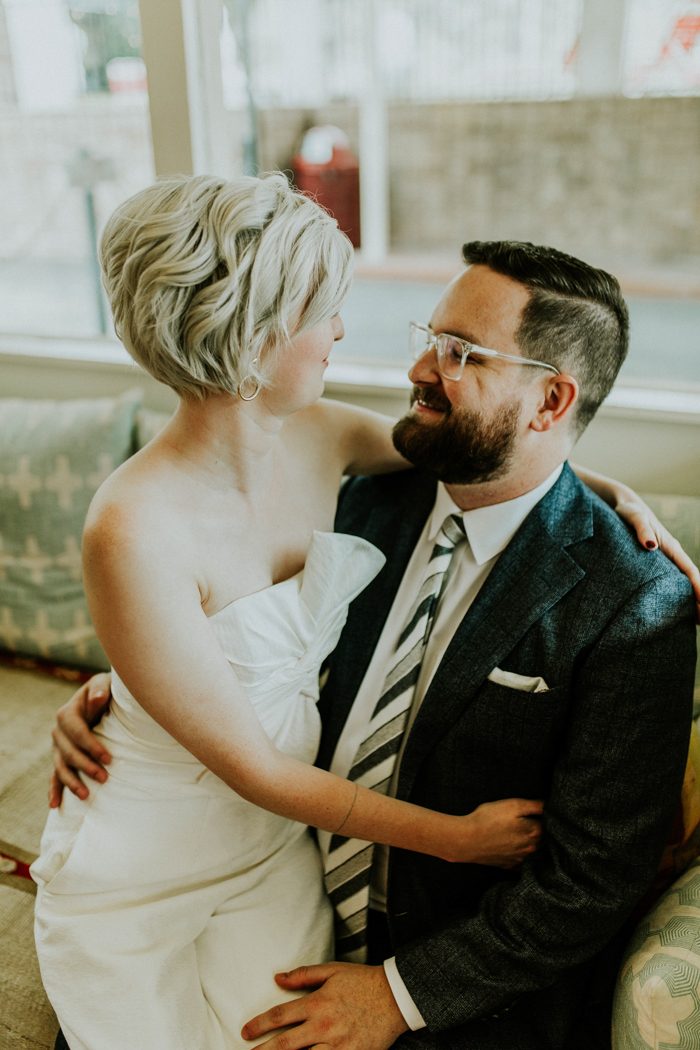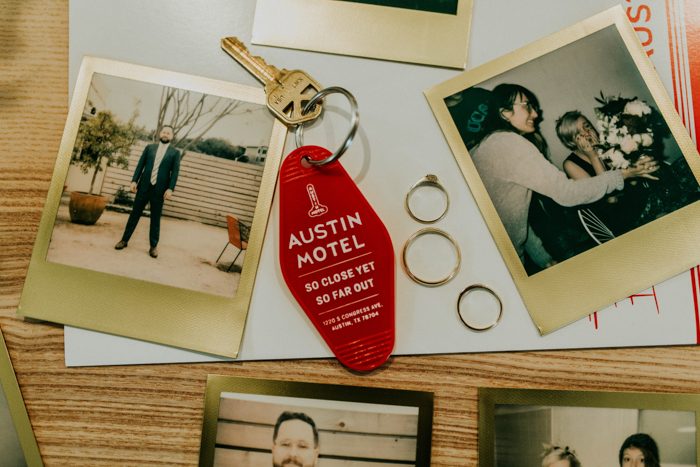 Working with Misty as our primary photographer for formal photos was amazing—but we have a talented group of friends and we wanted to see our wedding from their perspective too! We placed Polaroid cameras on the dining tables, along with photo books to fill, and let our guests do their thing during the reception. Those photos are insane, weird, wonderful, and a cherished piece of our wedding day.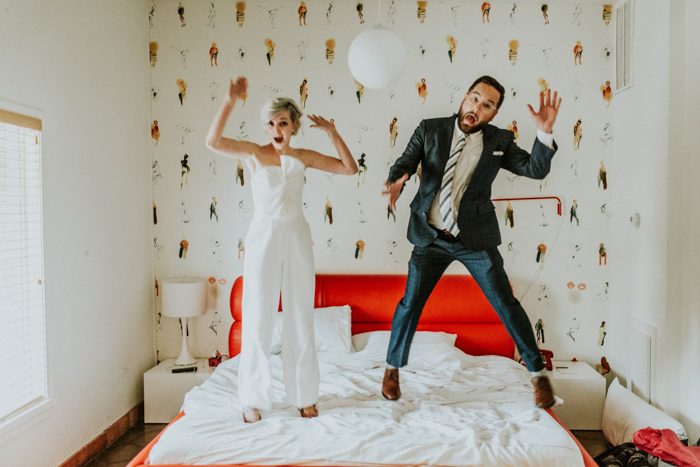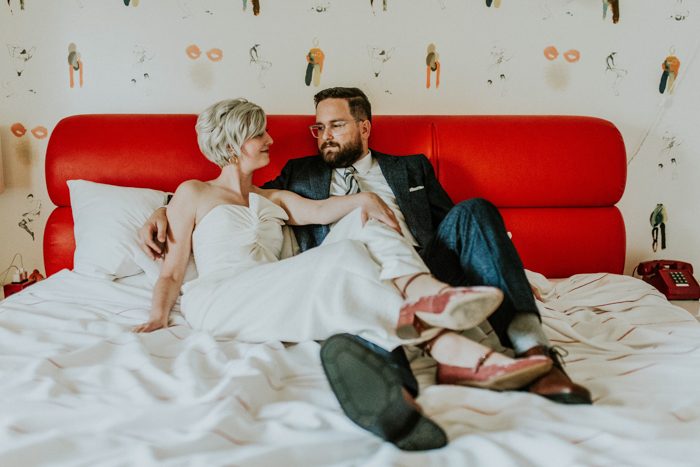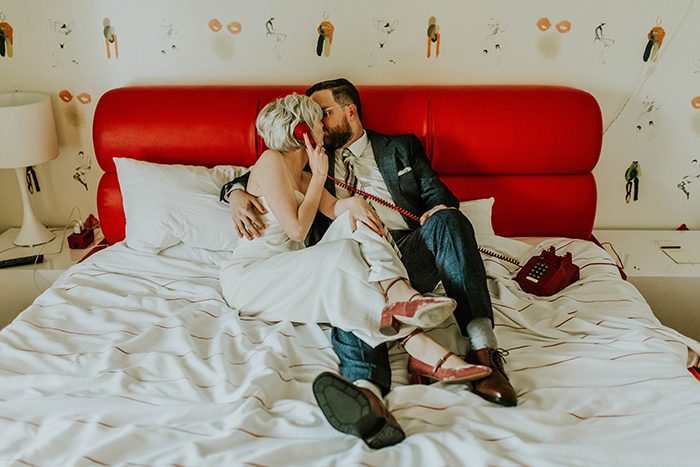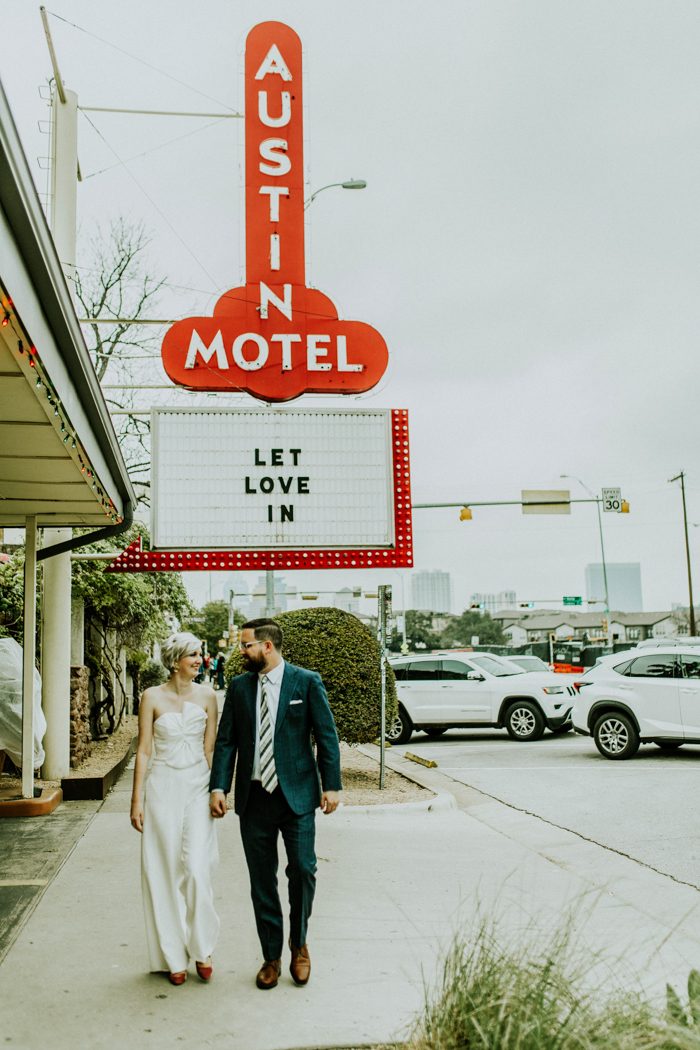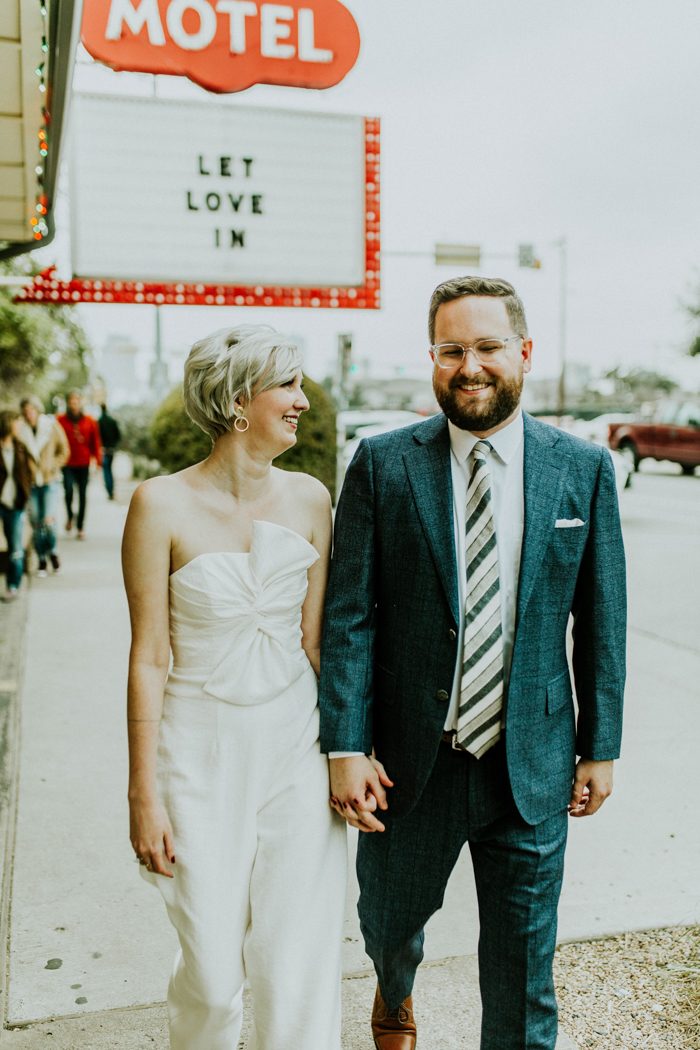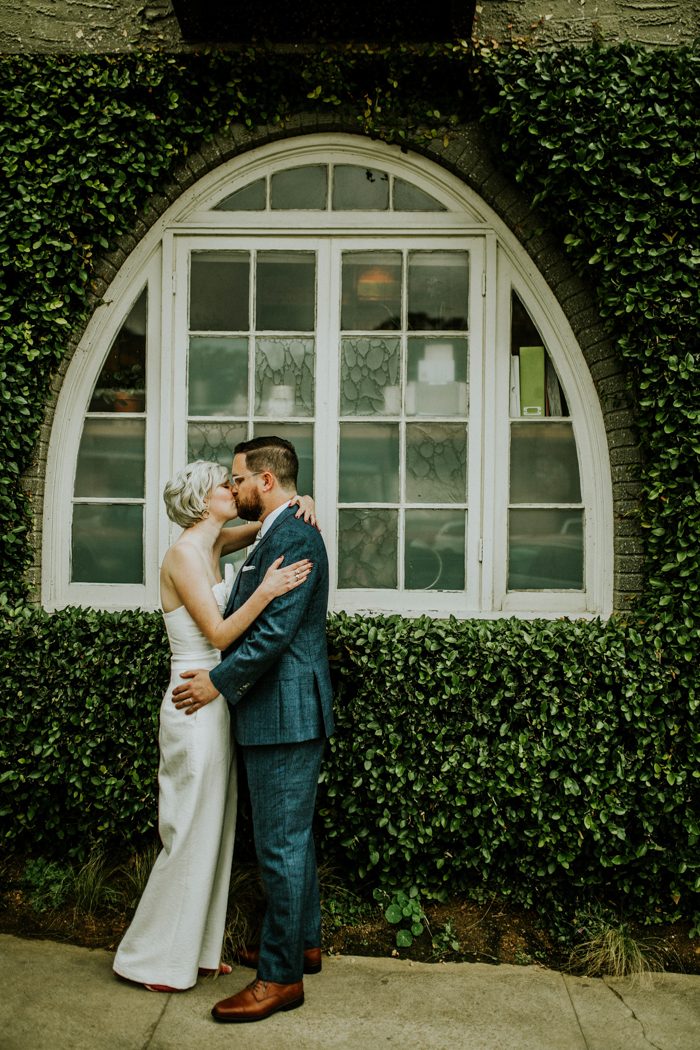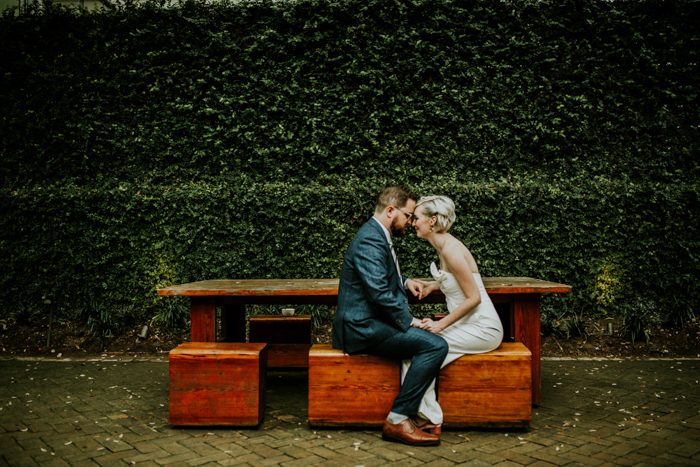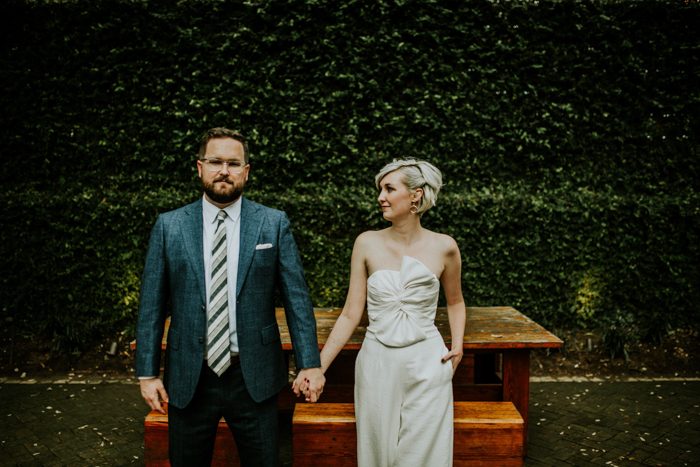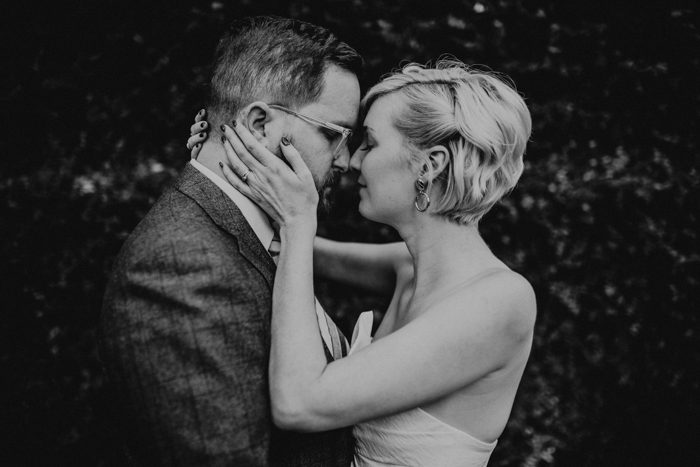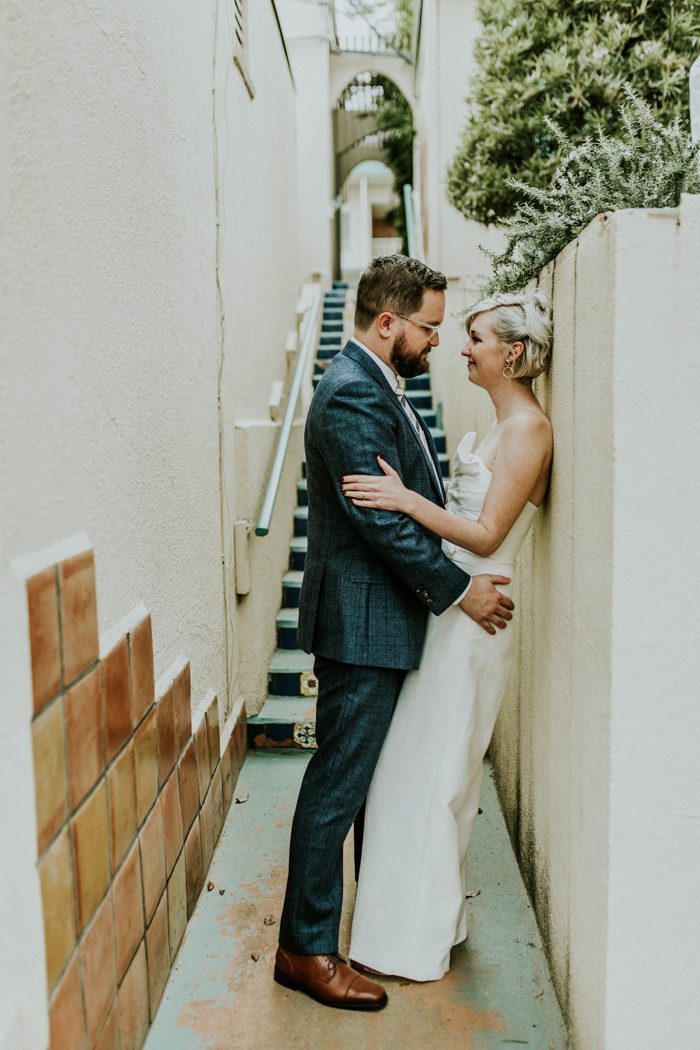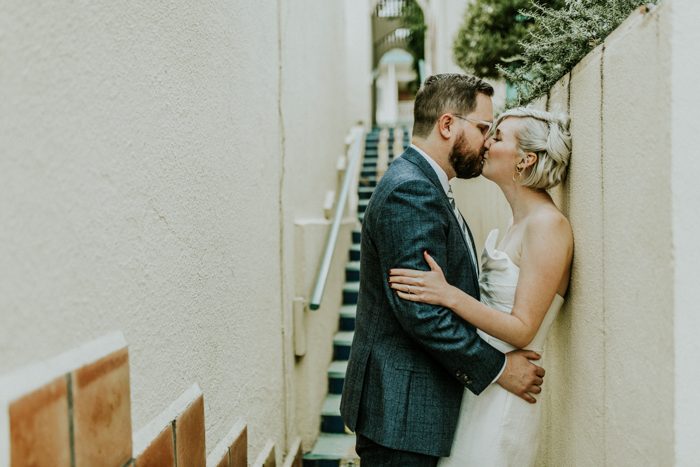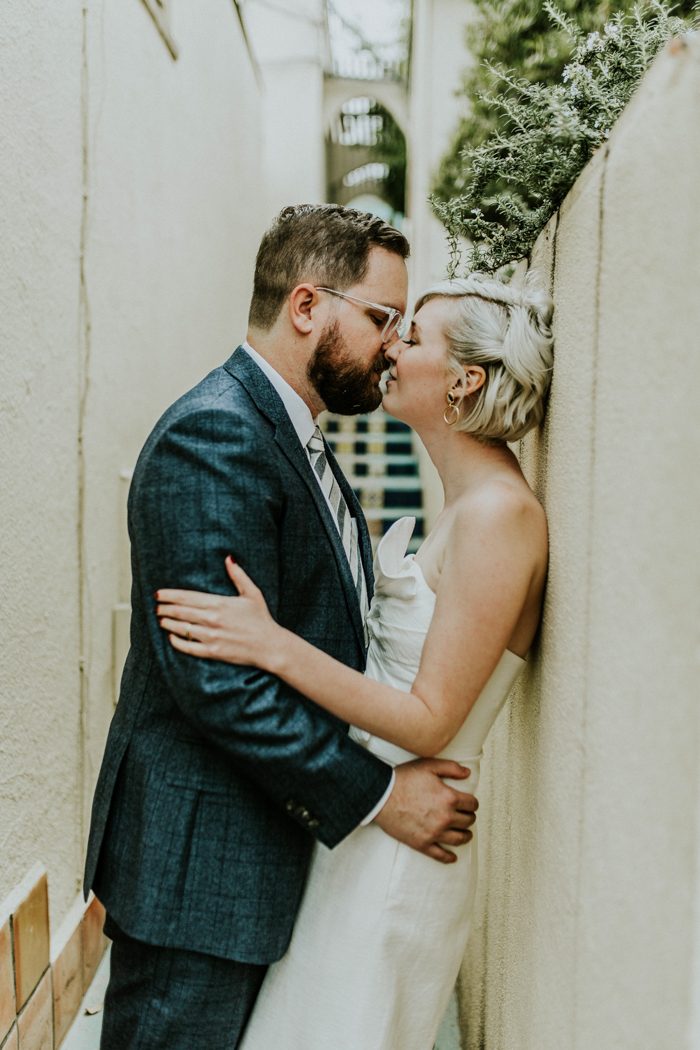 If we had to pick just a few instances, it would be our time taking photos before the wedding, walking down South Congress, and when we were exchanging vows. We'd worked together on writing the vows and were very specific about making commitments to one another that reflect our life together and the life we want to share as a married couple. It felt like we were the only two people in the world.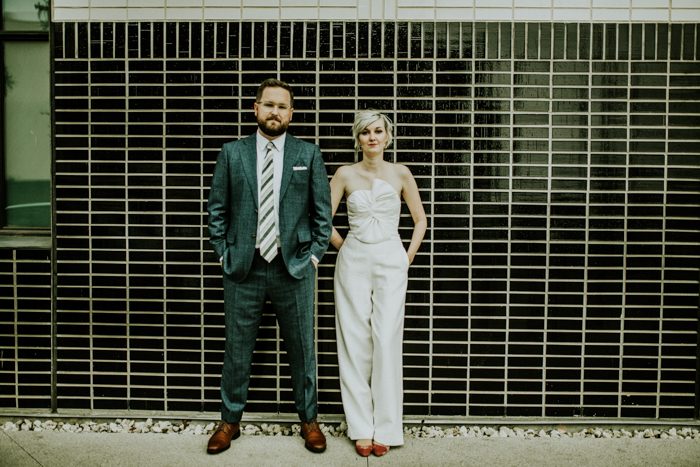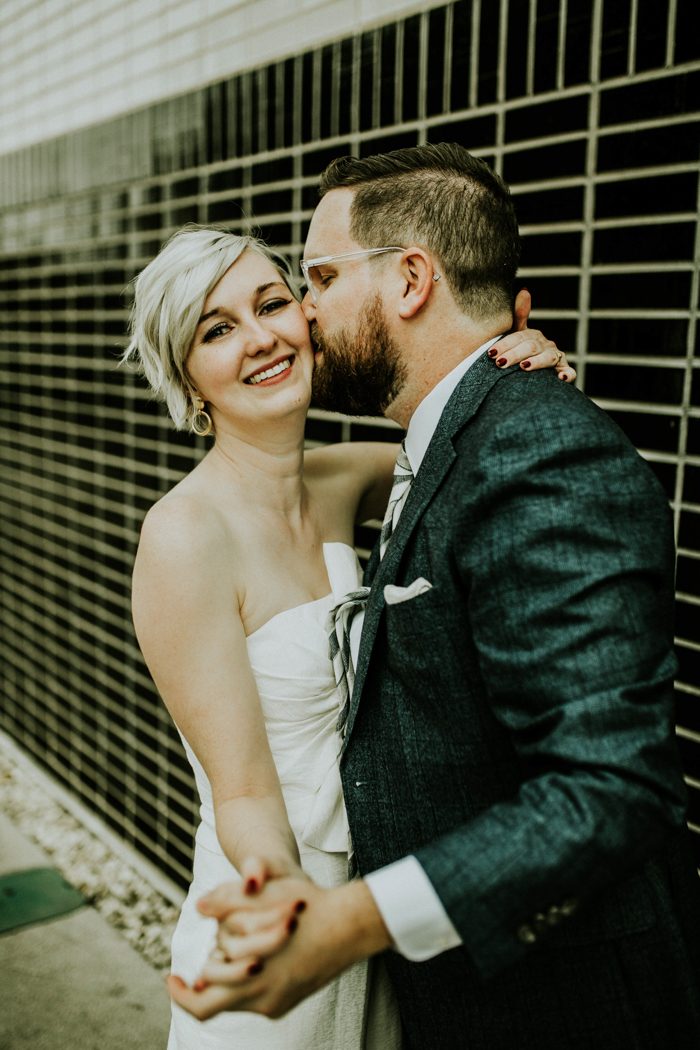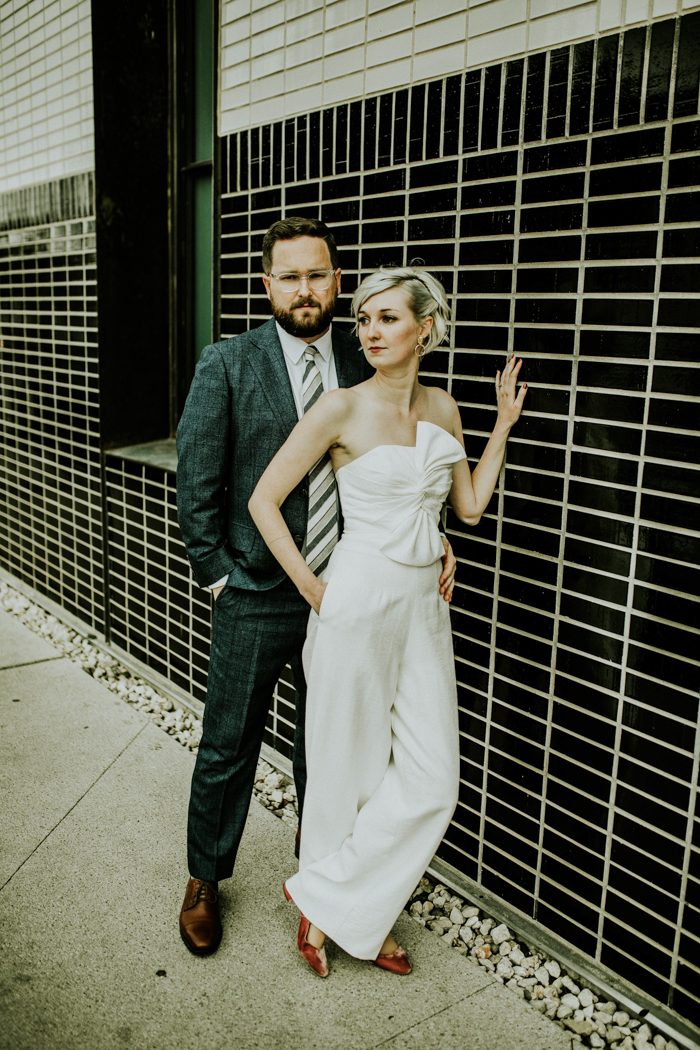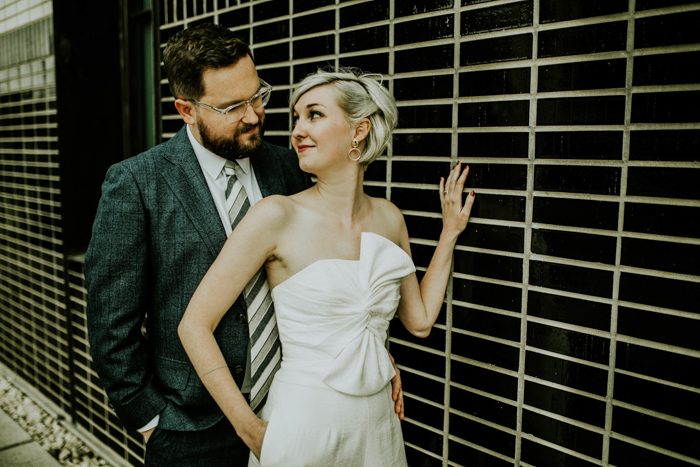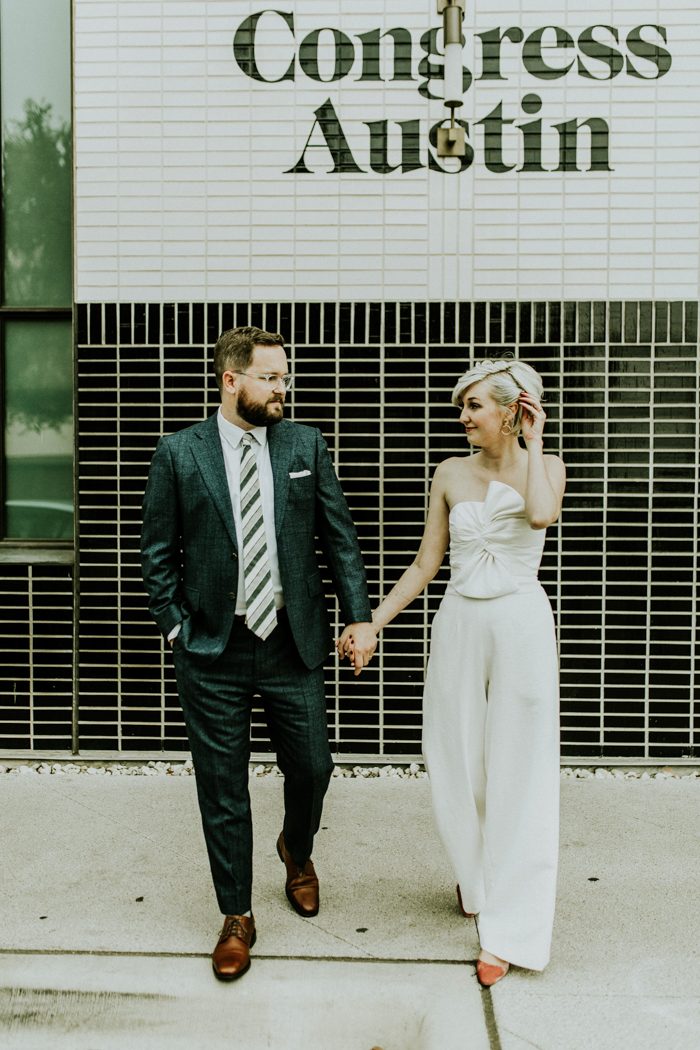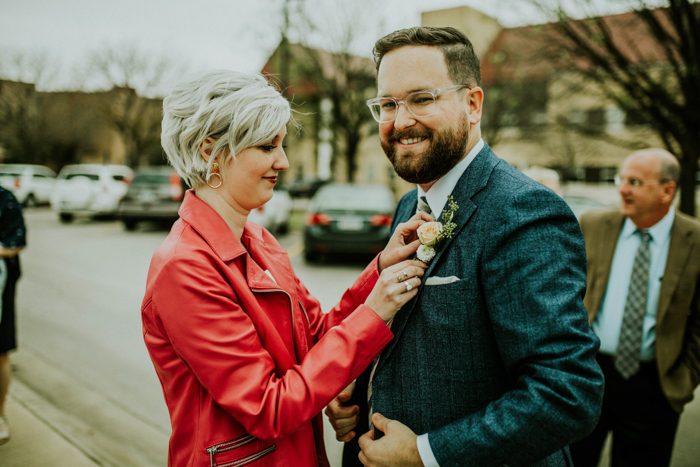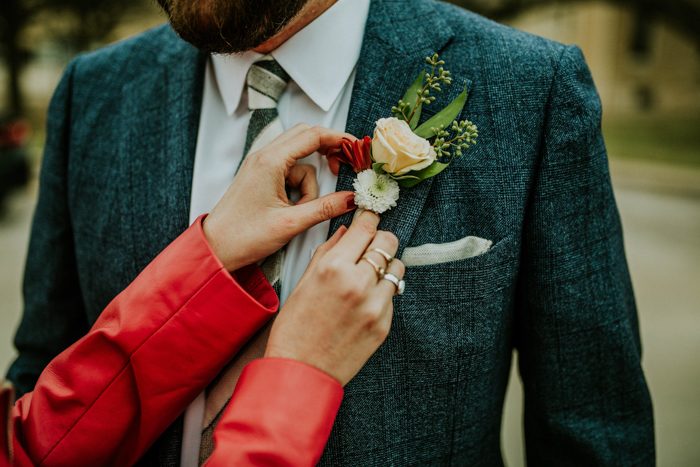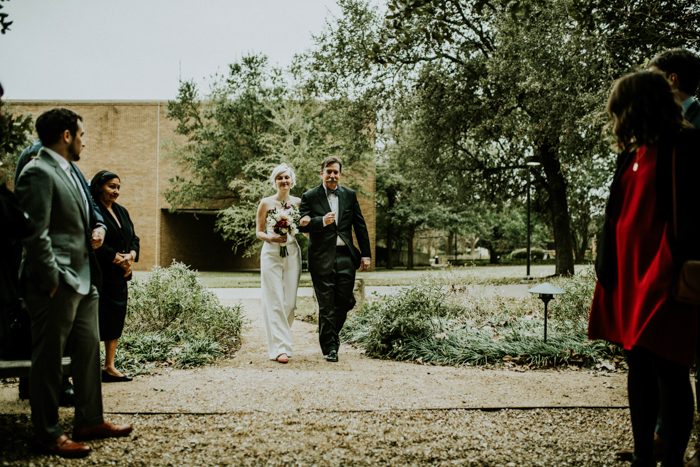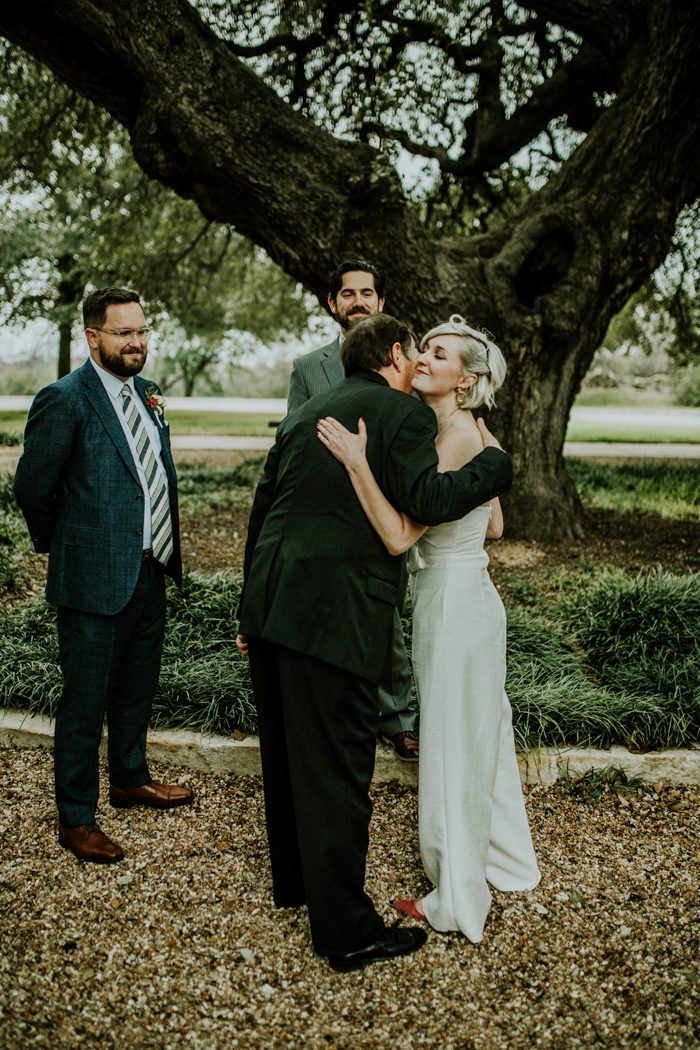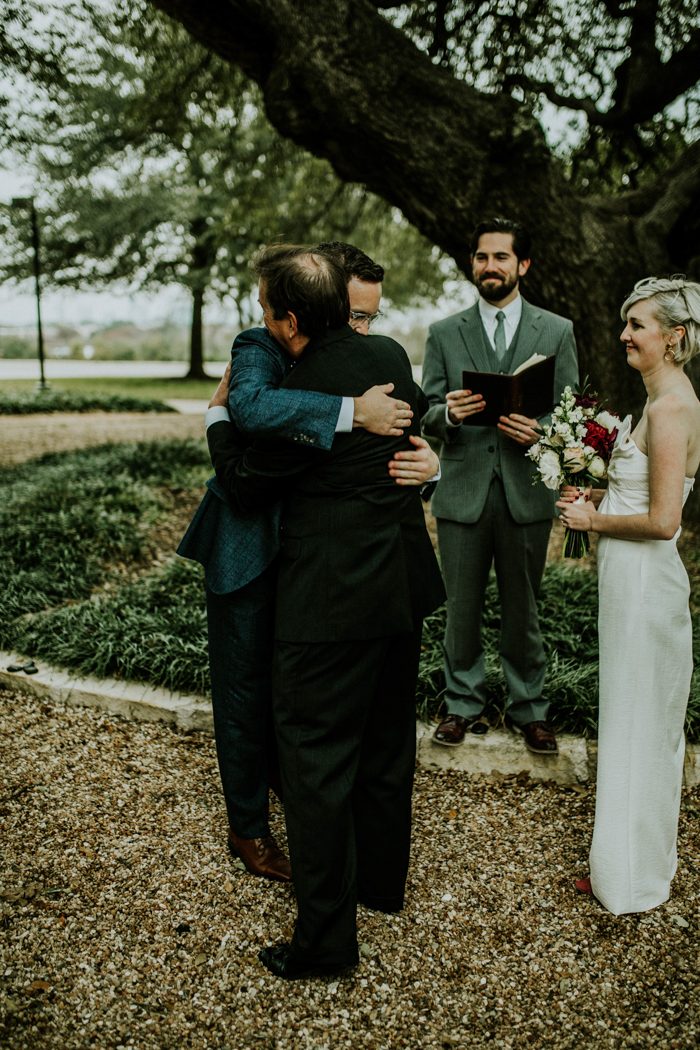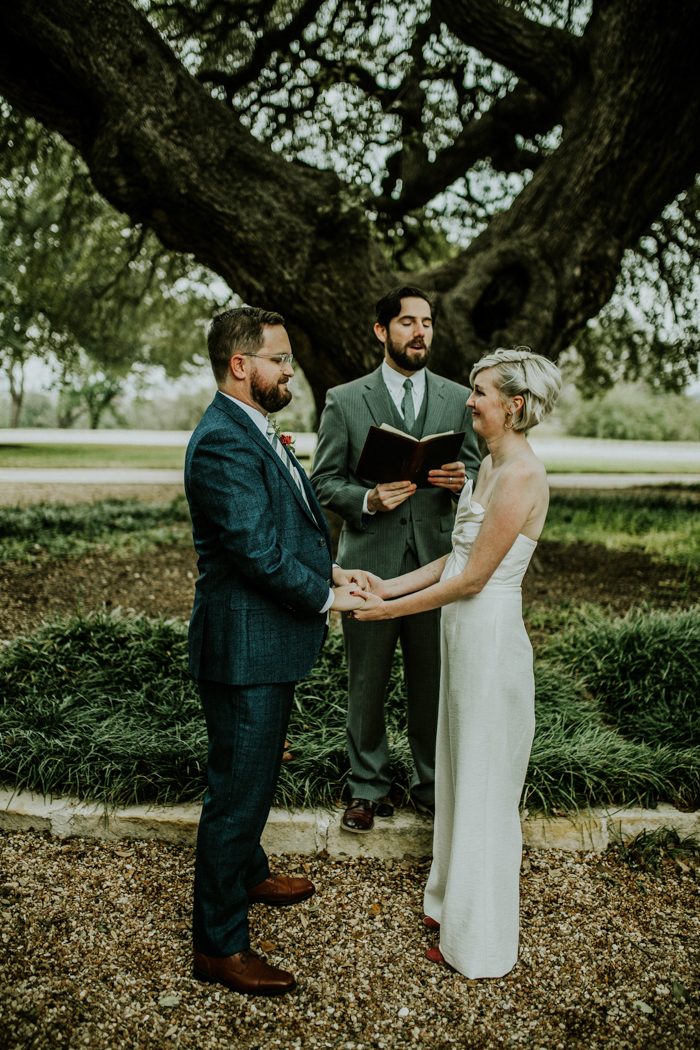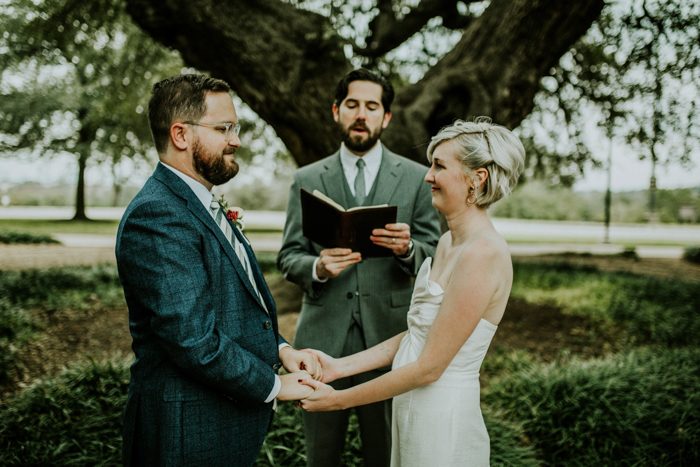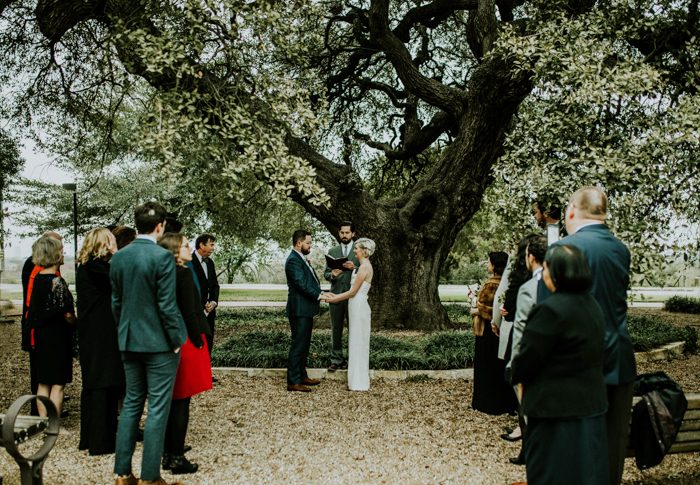 When it came to wedding planning, the most important priority for us was making the day feel wholly ours. We'd had friends go through the planning process and have wonderful weddings, but fairly negative planning experiences. They felt pressured to fulfill expectations beyond their own. We really wanted to stay focused and ask: What would make this day fun for us? So that meant getting ready with our close friends and spending time together before the ceremony, doing a very small wedding, and forgoing the reception for a large dinner party at our favorite restaurant in Austin.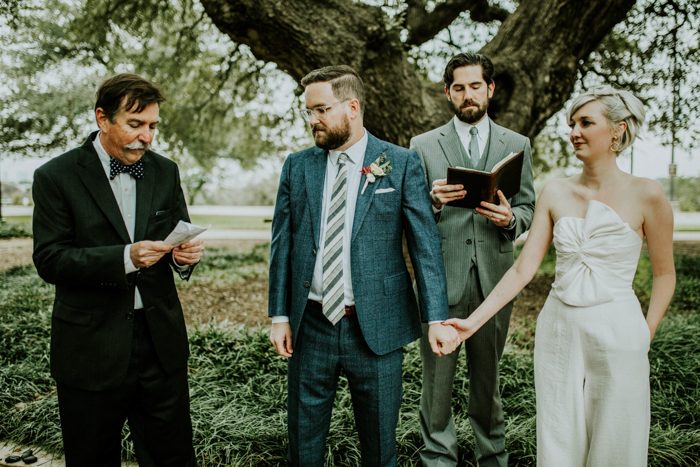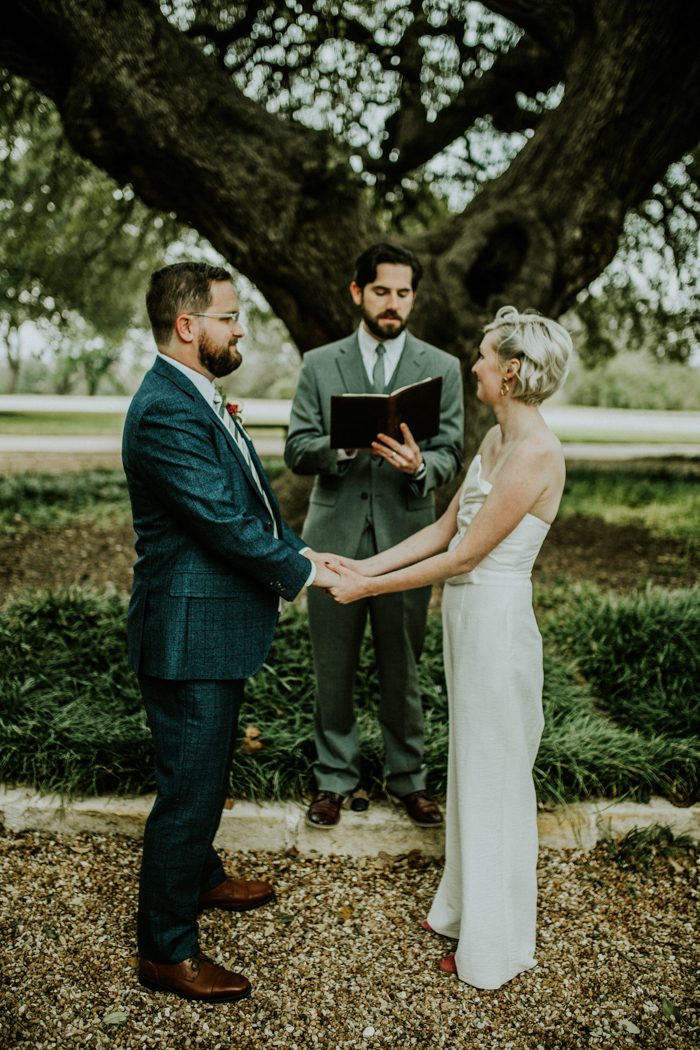 We're both St. Edward's grads (top 'em!) and met during our undergraduate years. We wanted to choose a space that was special to us; under the branches of Sorin Oak, a 300-year old live oak on the campus with beautiful views of Austin, felt like the perfect spot. It was romantic and special to share the place that served as the backdrop to our romance with our family and friends.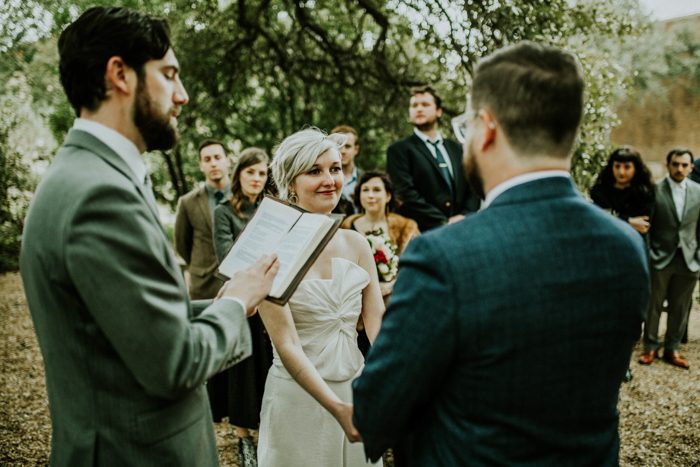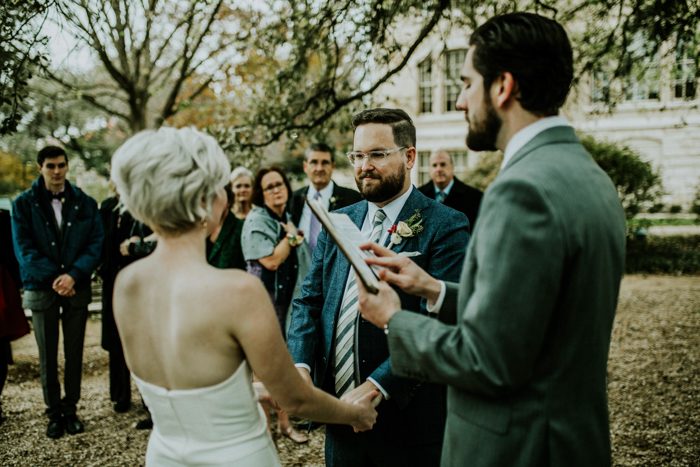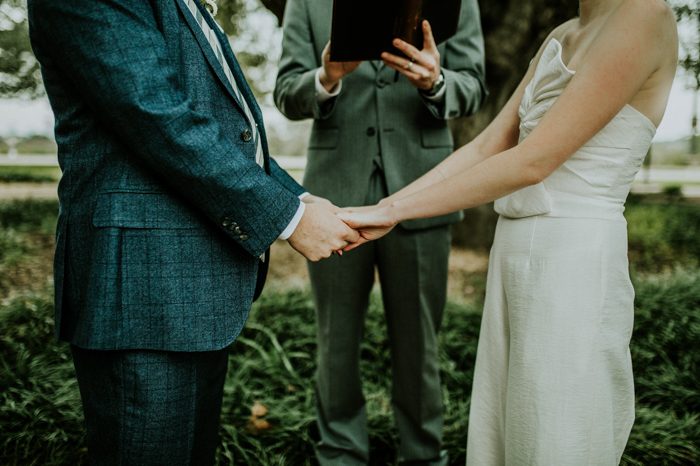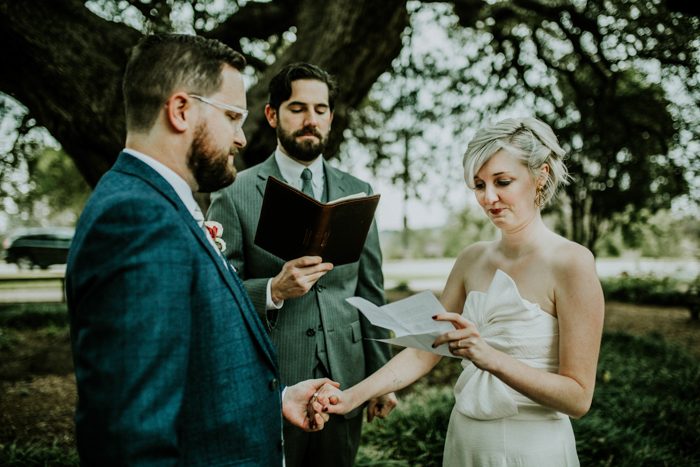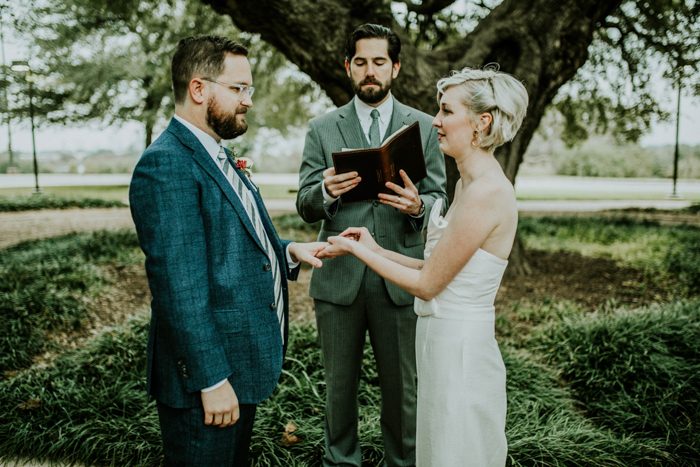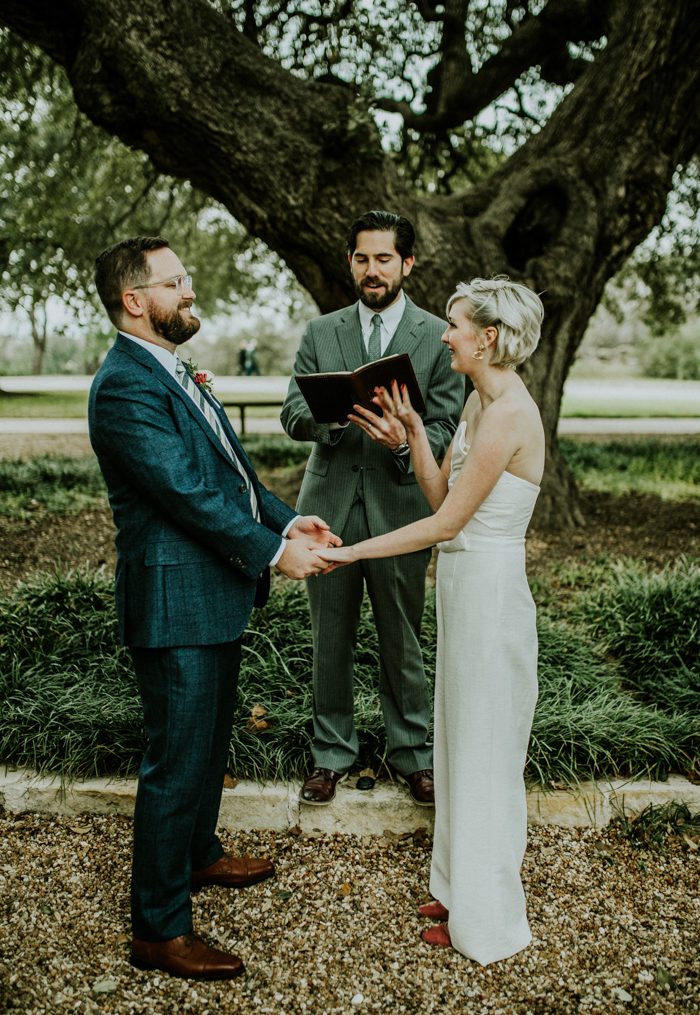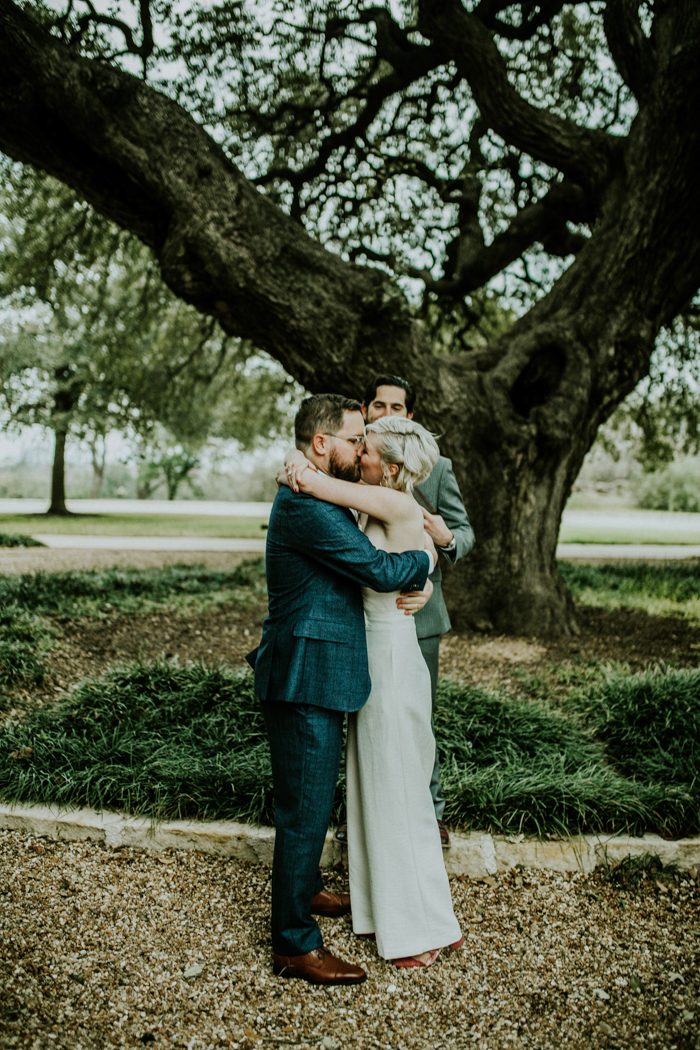 The wedding is one day in the span of your lives together as a married couple. And even though it will have a beautiful dress (or jumpsuit!), amazing flowers, and wonderful food, it's important to acknowledge that it's a day like any other. There will be small disappointments and it's okay to accept that nothing can or ever will be perfect. But near-perfect and reflective of you both? That's the goal. And you'll feel so proud when you take a step back and feel the excitement that comes from having a day that's dedicated to celebrating your love together.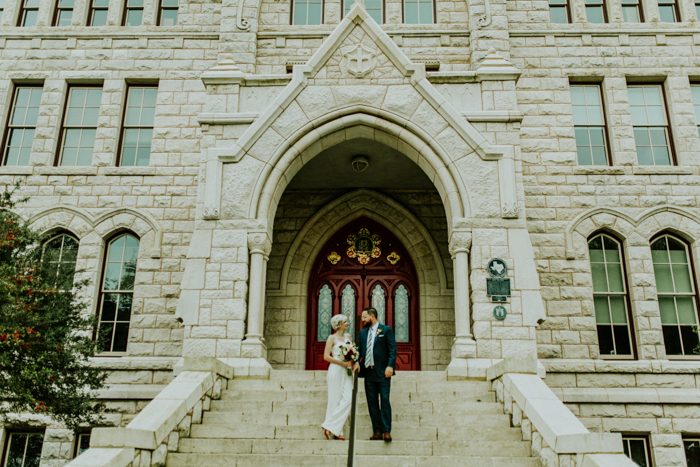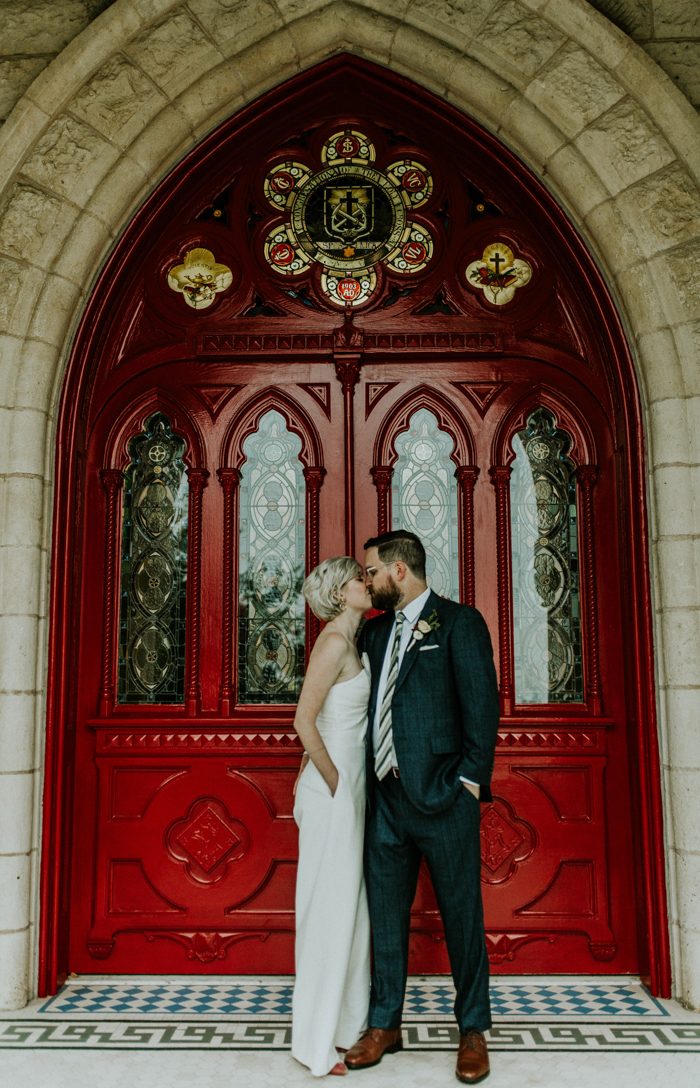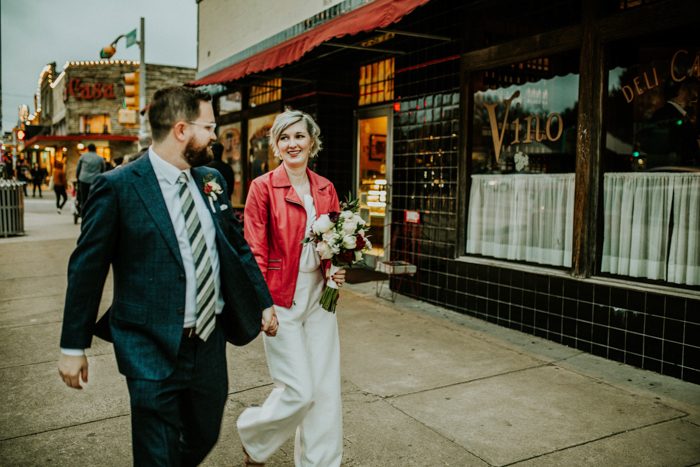 We spoke with Vespaio about a menu, they gave recommendations, and we ran with them! Everyone we worked with at Vespaio was amazing, and the food had everyone feeling happy and full—exactly what we wanted! P.S. The tiramisu (which served as our cake) is the best in town and you should absolutely order a slice.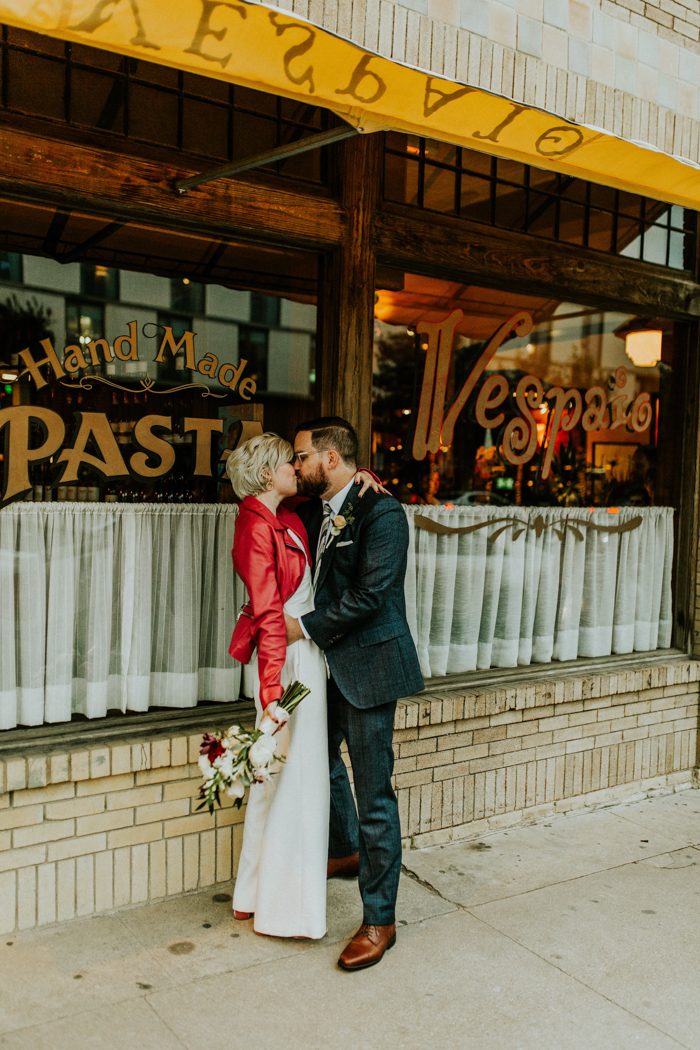 A big thank you to Misty McClendon Photography for sharing this intimate Austin wedding with Junebug! If you loved the subtle retro vibes in Caitlin and Matt's wedding day style, then you have to check out this '70s inspired Vancouver wedding at The Permanent.