It's day three of holiday giveaway week on Junebug, and we have more fantastic, fashionable, and fun treats to share with some lucky readers! Today we're featuring gifts that we think any of your bridesmaids would be thrilled to receive. After all, aren't they the ladies who are always there for you – dress shopping, attending wedding planning meetings, throwing you a shower, or just being there when you need them? This is your chance to thank them for their incredible friendship! The winner of today's "gifts for the girls" giveaway package will receive:
– A pretty Orange Blossom Necklace from Mignonne Handmade
– Three Bridesmaid's Beauty Gift Sets from Kitsch + Fancy
– A $100 gift certificate toward bridesmaids' accessories at Weddington Way
Read on to learn more about each item, and to enter to win just leave us a comment here telling us what you love most about your girlfriends. We'll accept entries all week long, and choose our winner randomly next Monday, December 24th, 2012.
Combining delicate and beautiful handmade flowers with a vintage aesthetic, Jennifer of Mignonne Handmade is well known for her whimsical headbands, hair combs, pins, bridal veils, jewelry and plenty more. Today Mignonne Handmade is giving away the gorgeous Orange Blossom Necklace (pictured above), featuring a handmade orange blossom in ivory raw silk with brass detailing, a brass leaf and a hand cut leather leaf accent. The perfect thank you gift for a stylish maid of honor or bridesmaid!
To see all of the pretty things Mignonne Handmade has to offer, visit their website and etsy shop.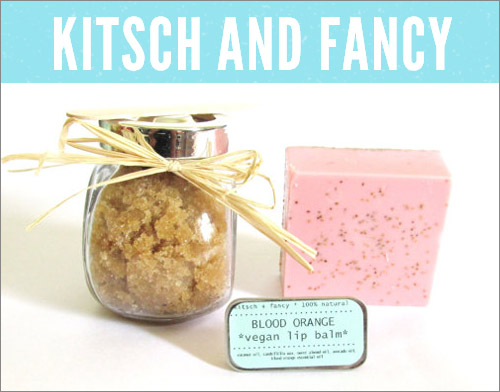 We can't think of a better way to thank your bridesmaids for all their support than with some lovely pampering products. Sophie of Kitsch + Fancy fills her adorable etsy shop with pretty handmade scented soaps and scrubs, perfect for the gal loves unique, one-of-a-kind finds. We adore Kitsch + Fancy's gift sets that include a bar of natural exfoliating goat's milk soap, a 5 oz. sugar scrub made with organic brown sugar, and a tin of natural lip balm. Our winner today will win three gift sets (shown in the photo above) to give away to her girls!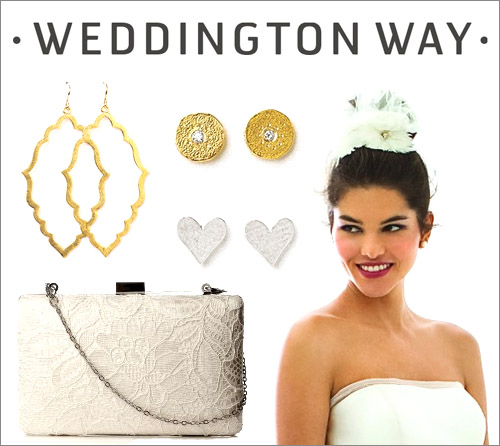 Finding the right bridesmaids' dresses and accessories can be a time-consuming task, but Weddington Way's online shop makes it super simple! With innovative features allowing you to compare favorite pieces side-by-side, share and rank favorite styles with your bridesmaids, and a tracking system that lets you to keep on top of bridesmaids' orders, Weddington Way is the perfect for the busy bride with friends scattered across various states and cities. Our lucky winner of today's package today will receive $100 toward any of the bridesmaid accessories from Weddington Way – and there are so many to choose from!
Remember, all you have to do to enter is leave us a comment telling us why you love your girls. And don't forget that we have a new giveaway each day this week – you can enter to win them all!