Weddings offer so many possibilities for creative decor and favor ideas that it's always nice to see great examples of what's possible. Bliss! Weddings Market is a superstore of pretty packaging, decorations, gifts, ready-to-give wedding favors and DIY supplies, and they have a fantastic photo gallery of specific DIY wedding projects complete with thorough how-to instructions from their Creative Director, Cheryl Galvez. From aluminum tins and paper takeout boxes to glassine envelopes, lovely labels and customized ribbon, they've got it all and they know just how to use it!

Here's one of their creative DIY "bride" ideas for displaying your ceremony program on one of their bamboo hand fans. Perfect for a warm summertime ceremony or beach themed wedding! Check out the Bliss website for lots more!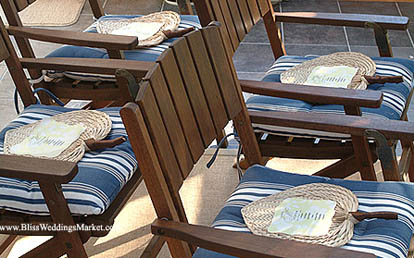 Materials:
Bamboo Fan
1 8-1/2″ x 11″ Patterned vellum paper
1 8-1/2″ x 11″ Solid paper in a coordinating color
Scissors
Glue dots or glue strips (do not use regular glue or tape)
Computer and printer
1-1/2″ wide colored double-faced satin ribbon
Instructions:
Using a glue strip cut to the width of the ribbon, affix one end of the ribbon to the neck of the fan. Wrap around the length of the fan's handle. Adhere the other end of the ribbon to the bottom back of the handle. For a clean look, make sure the ribbon's end is at the back of the fan away from view.
Design your ceremony program using your personal computer. Print it directly on to decorative vellum paper available at your local arts and crafts supply store. Overlay the vellum paper on top of the solid color paper. Having a solid color paper underneath the vellum makes the text easier to read. Using your scissors, cut around the ceremony program. In this example, I chose to cut around the program in a wave-like fashion to match the beach-theme wedding I envision for this idea.
Using a glue strip at the top and bottom of the vellum paper, stick it to the solid paper beneath it. Again, use two glue strips to adhere the 2-layered ceremony program to the fan itself. I found that glue dots or glue strips adhere nicely to the natural palm leaves of this fan.
I also love their huge selection of shapes, sizes and color combinations for pretty customized hangtags. These have a million uses for weddings- on favors, gift bags, out of town welcome baskets, seating cards, thanks you gifts, programs; the list is endless! Thanks Bliss!