The newest issue of Seattle Bride magazine hit the newsstands recently and we love their creative take on the debate over professional vs. amateur wedding photography. As wedding photographers ourselves, it's a subject near and dear to our hearts. We know the level of experience needed to successfully navigate the complexities of a wedding day, and we've heard endless stories from friends and wedding guests about the sadness that comes when a photographer doesn't make that happen. Take a look at this excerpt and photo experiment from Seattle Bride magazine's article, and see why we agree that if photos are important to you, hiring a wedding photography pro for your big day is a must!

The Pros of Hiring a Pro
Seattle Bride sent local writer and (semi) amateur photographer Cody Ellerd to shoot photos alongside a top wedding professional and set the record straight once and for all: Is it worth it to hire a friend or family member whos pretty good with a camera for your wedding?
By Cody Ellerd
I consider myself a pretty good amateur photographer. Ive taken a couple of classes, I have a nice Nikon D60 and, as a professional travel writer, Ive even had a few of my shots make magazine covers and pages. If you didnt budget for a professional photographer at your wedding, Im the friend you might call to take pictures.
So when Seattle Bride sent me to the late-winter wedding of Vicky Wu and Chris Nicoll to shoot alongside Joey Hong of John & Joseph Photography, a local award-winning team of two brothers who have been shooting commercial, fashion and wedding photography for more than eight years, I was curious to see how well I could keep up with a seasoned pro.
From the moment we started shooting in the bride and grooms hotel room, I was floored. Vicky, look down at your shouldersput a gentle smile on your lips. Chris, look straight at my lensno, smile. Relax your forehead. Joeys attention to such minute detail went way beyond Say cheese and brought out the couples absolute best. He knew how to manipulate the rooms light and reflective surfaces in ways I never would have dreamed of, transforming what I thought was an unremarkable setting into a photo studio with endless possibilities.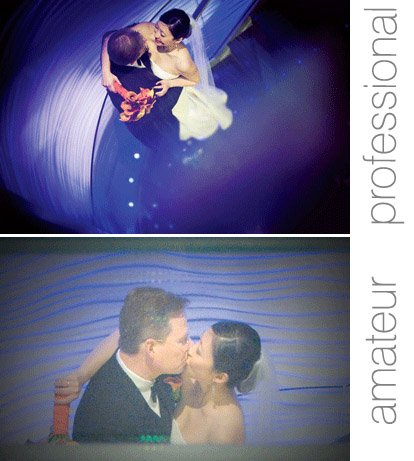 "This image is so painfully inferior," says our rogue photographer Cody Ellerd about her image (above). "My angle is bland while Joey's is creative. His is crisp and perfectly exposed, while mine is washed out and grainy. Joey knew exactly how to take advantage of the sense of motion created by this cool backdrop."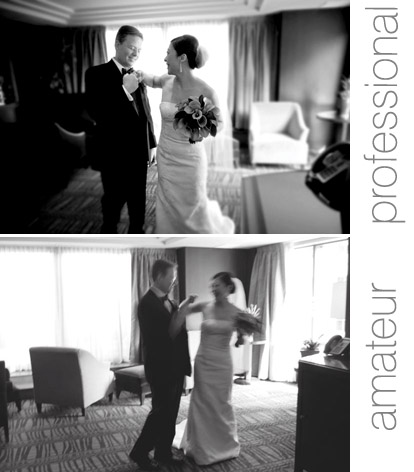 This was such a cute moment, totally unscripted, Ellerd remembers. They bumped fists and it was clear it was a little habit of theirs, one that conveyed their friendship. Joey was right there to catch it while I was fumbling with my focus ring.
To read more of this story and see Cody's and Joey's side-by-side images, visit Seattlebridemag.com, and just for fun, here are a few more spectacular images from one of our favorite guys, Junebug member photographer Joey Hong of John and Joseph Photography…