Happy Thanksgiving dear Junebug readers!
We believe that gratitude and delicious food are two of the best things in life, so what could be better than a whole holiday dedicated to celebrating them? We have so many things to be thankful for this year (each and every one of you reading this included), and we couldn't pass up the opportunity to say so…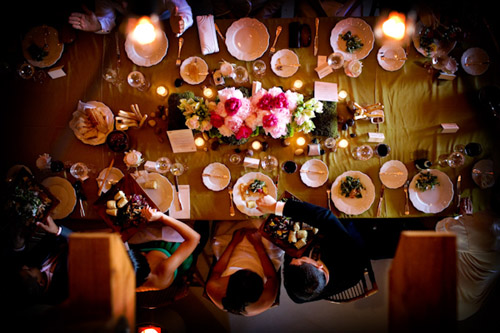 (Beautiful dinner table photo above by Chrisman Studios)
Blair: I feel grateful that I can honestly say I have no regrets about my life today. Not that I wouldn't do things differently if I had a chance to do them again, just that every day I am grateful for the path and the people who've brought me here. Specifically, I am grateful for my husband Bob, my son Reid, my sister and fellow Junebug Sydnor, my amazing business partner Christy, Molly our ridiculously competent Photo Editor, Emily who works side by side with me to keep me organized (yes, she is a saint), my friend and Junebug co-founder Kim who always delights and inspires me, my Himalayan cat who still acts like a kitten, my home amid towering trees, distinctive photography, dancing with abandon, cooking almost anything, working in my pajamas, and connecting with old friends and new ones online, in person and around the world. My work surrounds me with beauty, love, and phenomenal people everyday, and although I know I tend to work too much, I just can't get enough of it.
Christy: I'm thankful for so many things this year that it's hard to narrow the list down to a manageable and blog post appropriate length! I'm eternally grateful for my partner Blair, who has been my friend and creative collaborator for more than 12 years now (wow!), the incredible team we have here at Junebug (just look at those beautiful faces!), my one-of-a kind boyfriend Matt, my brilliant sister Chela, and my wildly supportive and loving family and friends. Seattle and its endlessly opening new restaurants, how cozy my home office feels as it pours down rain outside, and the fact that I'm leading my Fantasy Football League bring me huge amounts of joy. And all the wonderful wedding professionals, artists, and readers who allow me to do this job – I thank my lucky stars for you everyday.
Sydnor: This year, I am grateful for the chance to bear witness to the stories of humanity and courage within our community – stories of love found and love lost, of glorious celebration and of heart-wrenching struggle. The drive of the human spirit to love, to create, and to heal despite great challenges are my joie de vivre! I am particularly thankful every time I find myself dancing to music that brings me alive – as well as having room for stillness and silence. For the wonderful 'Bugs, and for my sister, whom I love and adore. I am grateful for my boyfriend, Omar, who is my soul mate and best friend and for my family and close friends who keep showing me what love is all about.
Molly: Wow I have so much to be thankful for this year! As always, I'm hugely thankful for my incredible community of family and friends. I'm thankful to be done with school (finally)! I'm thankful for the exposure to all the gorgeous wedding and portrait photography I get at Junebug, and the personal artistic inspiration that comes with that. Most recently I'm thankful for my co-workers, family, and friends who helped facilitate the amazing trip to France I was so blessed to get to take this month!
Emily: This year I am thankful for so many things in my life. My amazing husband and family who encourage me through life, being able to work in a field, and with people, that I love, and for the amazing community that I have met over this last year… and for warm apple cider. Happy Thanksgiving to everyone!
And from all of us: Thank you, thank you, thank you for tuning in here everyday and sharing your wedding planning experiences with us. We are honored to get to play a part in such a monumental season in your lives, and we hold your trust, your comments and your friendship close to our hearts. We couldn't do what we do without you!
Now go enjoy your friends, family and Thanksgiving feasts, and we'll see you back here on Monday!