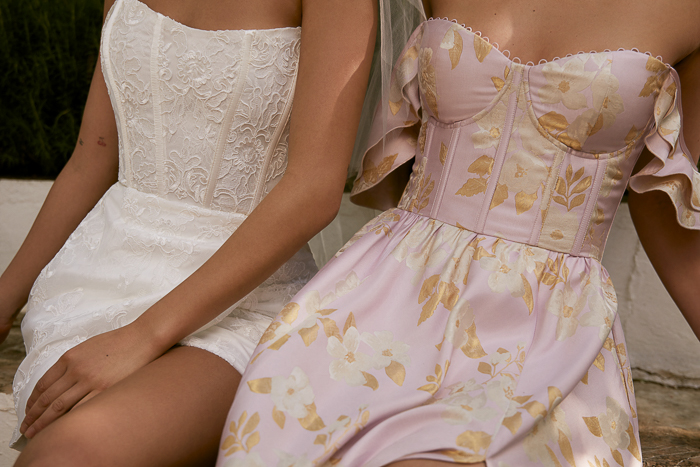 Whether you're a bridesmaid in an upcoming wedding, a mother of the bride, or the soon-to-be newlywed yourself, you've got some shopping to do. With so many different wedding brands out there, it can be hard to know where to start. Luckily, Anthropologie has made it easier than ever, with everything you need in one easy-to-access spot. Formerly known as BHLDN, Anthro Wedding is here to make your special day even more glamorous and trendy–no matter your style.
While we do enjoy endlessly scrolling when shopping online, we know that when you're in the midst of wedding planning or trying to help your loved one plan their big day, the last thing you want to do is spend hours online. That's why we're bringing you some of our favorites from Anthropologie to make your life that much easier.
Anthropologie Wedding Dresses
Whether you're looking for a romantic a-line gown or a showstopping dress complete with pearl accents, Anthro Wedding has the wedding dress you've been dreaming about. With designers like Watters, Jenny Yoo, Rish Haleh, and more, there are countless options for every bride out there.
Anthropologie Wedding Little White Dresses
Bridal shower, bachelorette party, rehearsal dinner–there are a lot of reasons to wear a little white dress when you're tying the knot. And it's no surprise that Anthropologie has you covered there as well. We're sure you'll love these dresses so much that you'll want to wear them far beyond your big day, too.
Anthropologie Wedding Bridesmaid Dresses
Brides aren't the only ones who can get their shopping done at Anthro. We've seen more and more couples choose to do mismatched bridesmaid dresses, allowing their closest friends and family members to pick dresses they're comfortable with. If this is the look you're going for, but you're unsure of how to make it all look good together, don't fret. With categories like something blue, pops of pink, and garden party florals, mixing and matching has never been easier. Going for the same dress? That's a piece of cake too!
Anthropologie Honeymoon Outfits
Of course, this list wouldn't be complete without a few honeymoon options. You should still be able to rock more all-white fits for a little bit longer, after all. With bathing suits, dresses, two-piece sets, and accessories, you'll be the best dressed newlywed out there.
Schedule a Styling Appointment
Time to say "yes" to your dream dress? Just need some overall style advice? Anthro has expert stylists who can help answer all of your questions and bring your vision to life. Oh, and it's completely complimentary. Here's what you can expect at your appointment:
60-minute one on one appointment with a stylist
Wedding gowns in sample sizes 6, 14, and 22 at select locations
Bridesmaid dresses in sample sizes 4, 10, 16, and 22
The stylist will take measurements to ensure correct sizing
Want to make an appointment but not sure if there's a location near you? You can see available locations here. If there's not a location nearby, you can also consult one of their experts from the comfort of your own home via Zoom.
Wedding dresses, jumpsuits, bridesmaid dresses, mother-of-the-bride dresses, wedding guest dresses, shoes, and accessories–Anthropologie Wedding has proven time and time again that it's your one-stop shop for all things wedding. Ready to get shopping? Check it out today!