Becca and Taylor were married at the Historic Rice Mill Building, in Charleston, South Carolina, in a celebration that was simple and modern. The gray and white reception decor felt perfectly effortless – I love the single white blossoms in eclectic glass vases scattered along the geometric table runner and the place cards written in lovely calligraphy. Paige Winn Photo captured the day, as well as beautiful portraits of the couple looking completely, contentedly in love.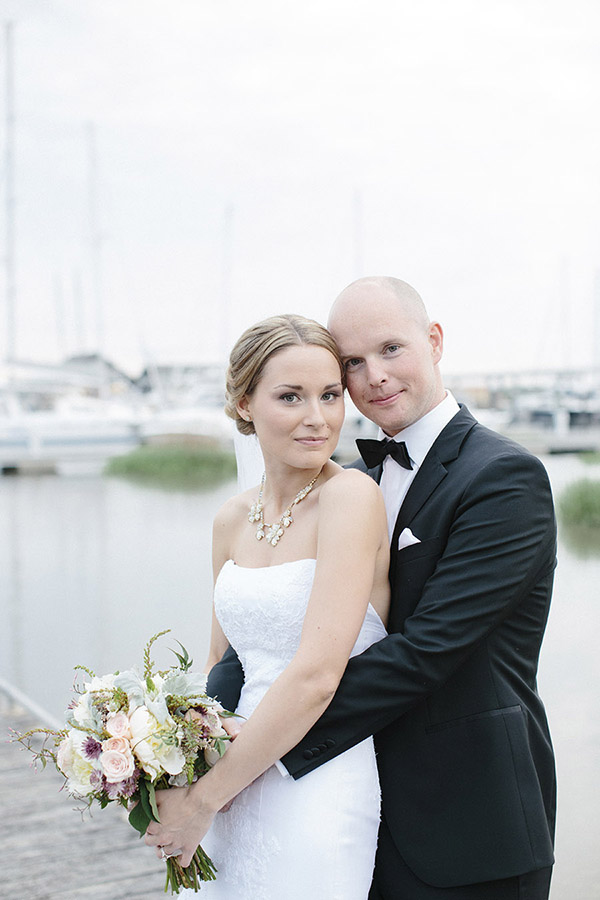 The Couple: Becca and Taylor
The Wedding: 4.27.13 – Historic Rice Mill Building, Charleston, SC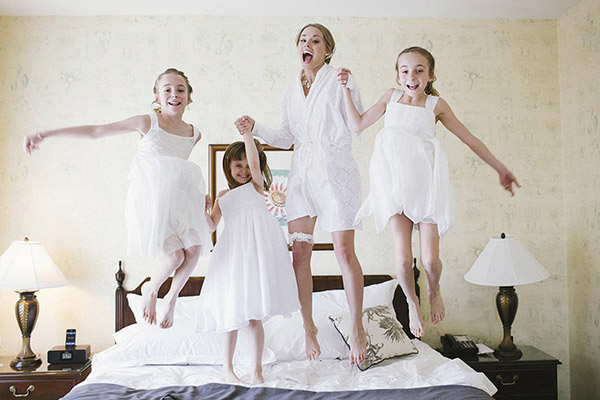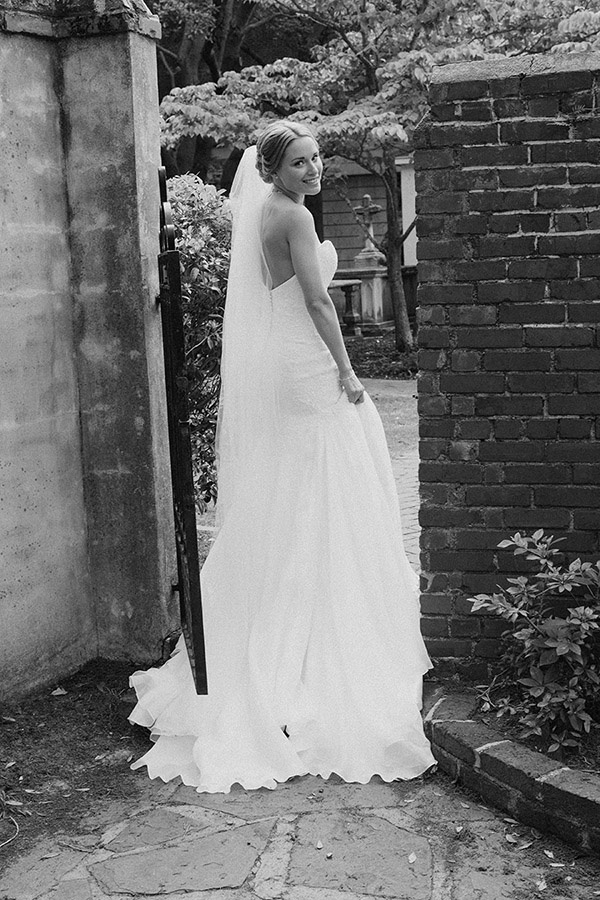 The Goals: Our main goal was to have fun! We knew going in that planning could be stressful (we are both planners by trade in advertising), so we were determined to keep the planning of our wedding fun and stress free. While we weren't 100% successful at staying calm as cucumbers the entire time, we did have a lot of fun planning all the details that would make our wedding day so personal to us. We also knew that it can be very easy to get caught up and totally overwhelm ourselves with choice and detail. To help remedy that, Taylor and I each picked the top three aspects of the wedding that were most important to each of us, so we would remember to keep everything in perspective. My top 3 things were photography, decor and food while Taylor focused on transportation, music and drinks (and keeping me happy and sane!). Doing that really helped us keep our budget on track and kept us focused on the bigger picture.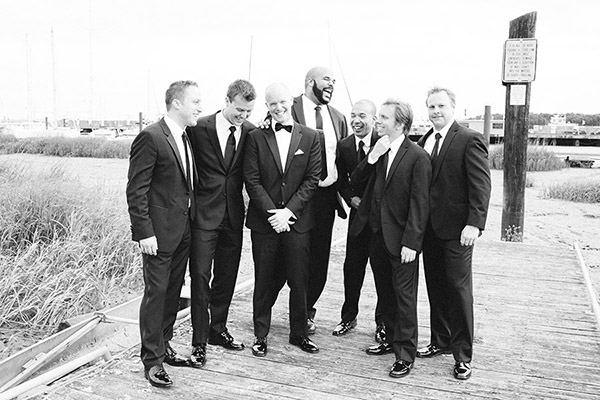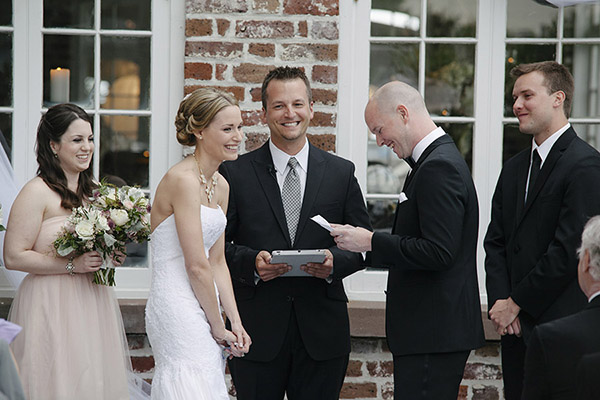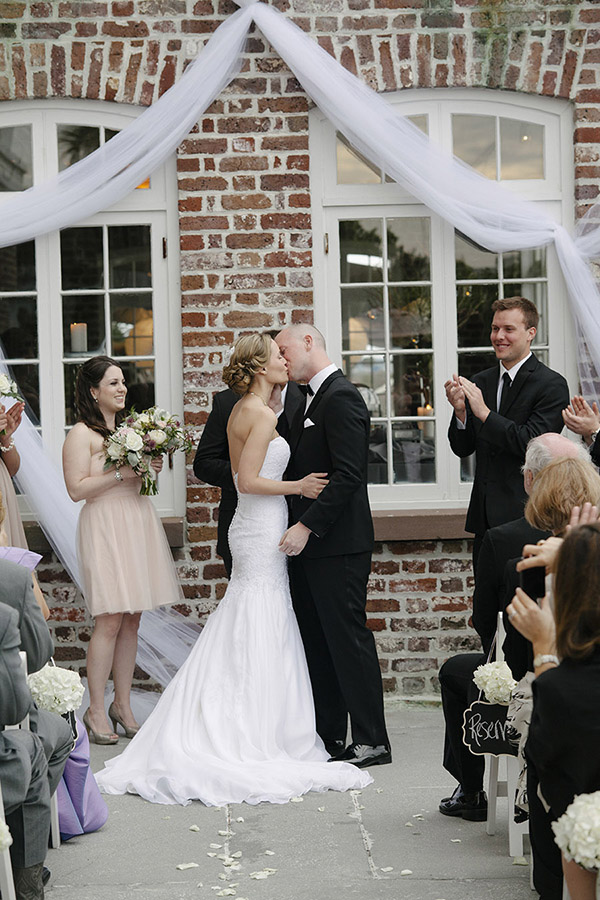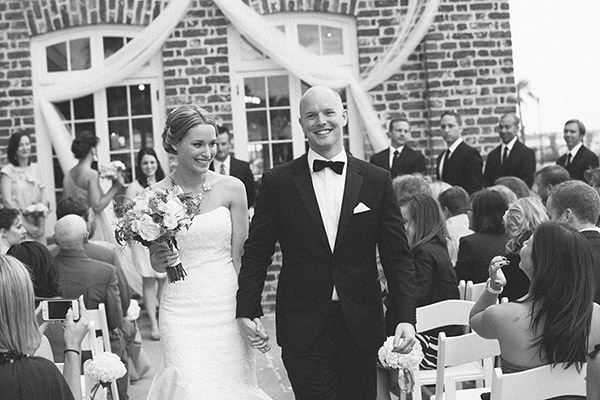 The Look: Above all, I wanted to look like myself on my wedding day. I didn't go overboard with makeup or hair. I usually rock a braid in my hair, which my husband loves, so I knew I wanted to incorporate that, but elevate it to an updo. I was so pleased with what Paper Dolls was able to come up with for both make-up and hair. My dress honestly took me quite by surprise. It was something I didn't picture myself in at all on the hanger, but once I put it on, it was hard to take off. I loved the soft lace on the bodice, the sweetheart neckline and the buttons down the back. It seemed to be the perfect blend of romantic yet elegant, which was just the look I was after. For my bridesmaids, I let them choose their own vintage inspired dresses based on our wedding color palette. I loved that each girl was able to choose her own style and bring a bit of her personality to the day. It was also much easier for me to go this route, because all of my lovely ladies were scattered across the country so going to dress appointments would have proven very difficult! For the groomsmen, we went with a classic tux. They guys were my modern, clean lines element and the girls brought the vintage flair.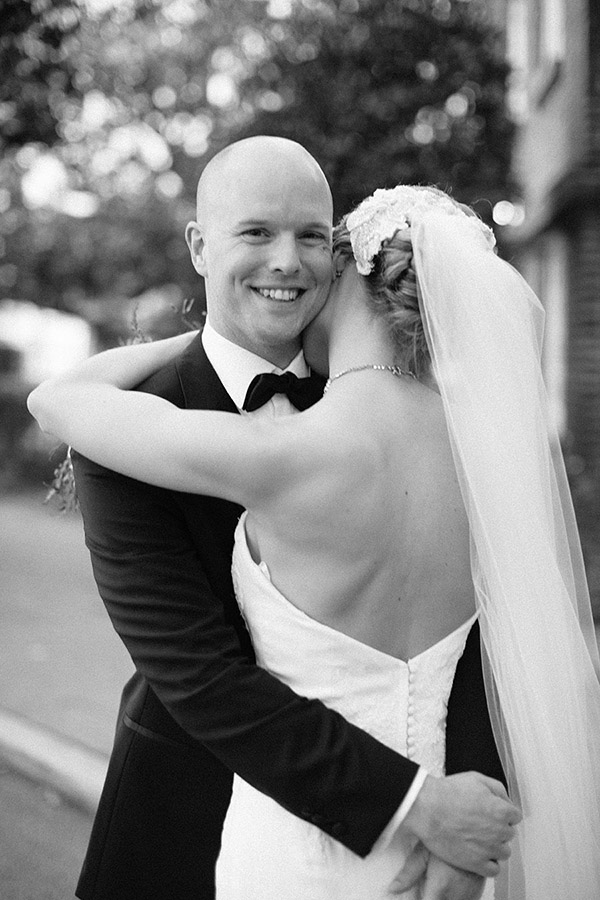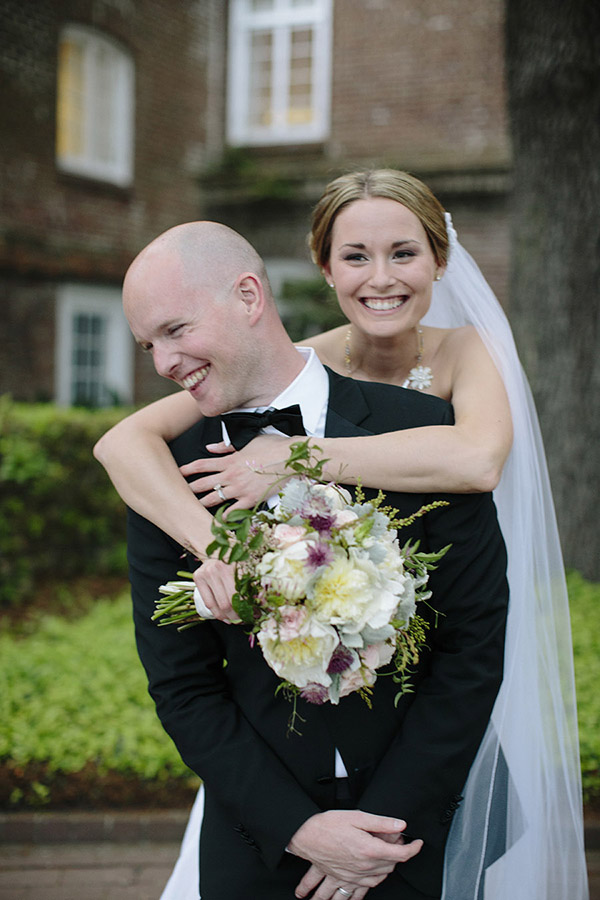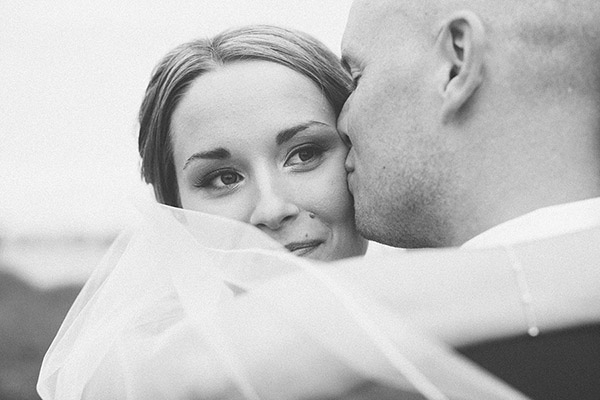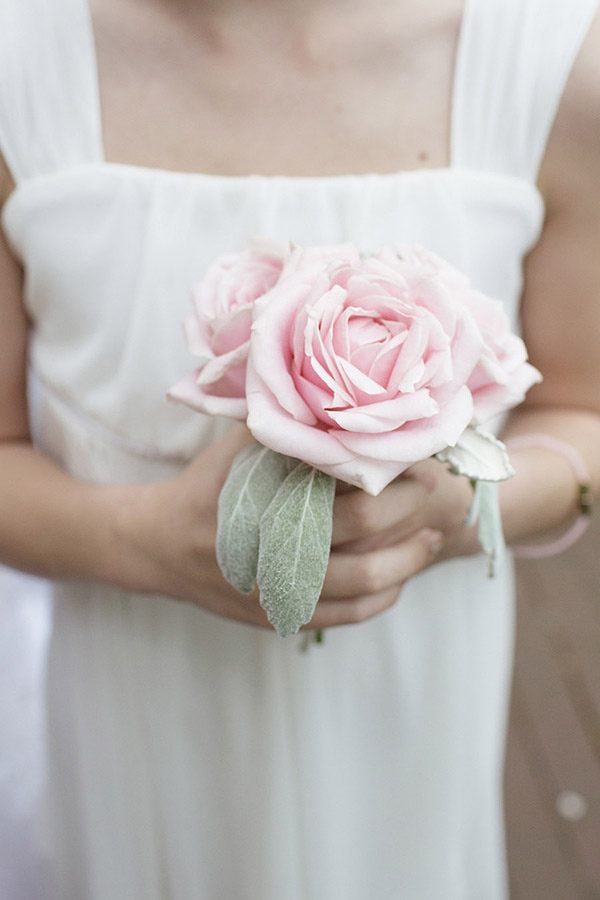 The Design: We wanted a classy but casual setting where our guests could relax and be themselves. Most importantly, we wanted our guests to have a good time, enjoy the incredible food and dance the night away (mission accomplished!). We picked Charleston because it is the epicenter of all of those things – a classy yet casual foodie's dream. Our theme was vintage modern, which was inspired by the Historic Rice Mill building itself. We loved the history the building brought through the handscraped floors and tin ceilings and decided to contrast that with more modern design. We picked a mix of decor elements that brought either a modern or vintage feel to the room – from the vintage marquee "love" sign that lit the dance floor to the cool grey tablecloths and geometric runners – everything had a purpose to achieve that overall vintage modern look.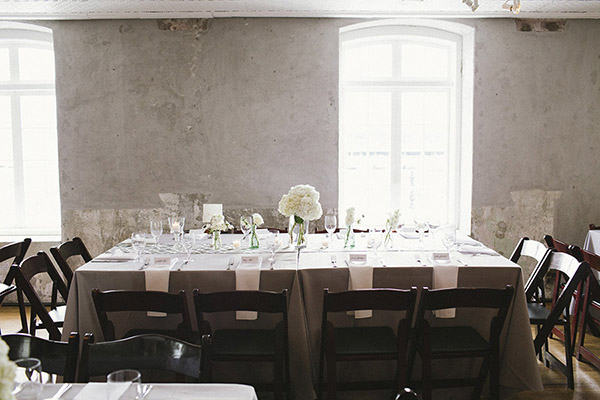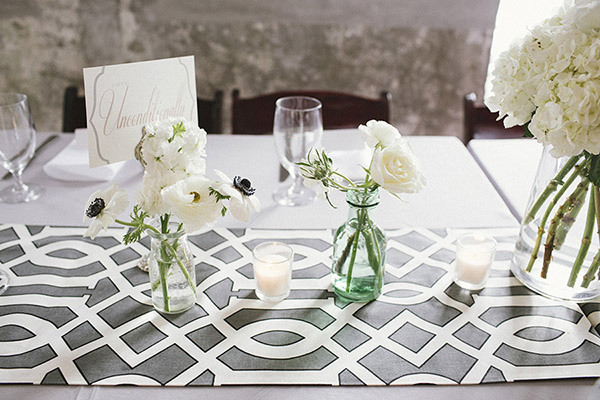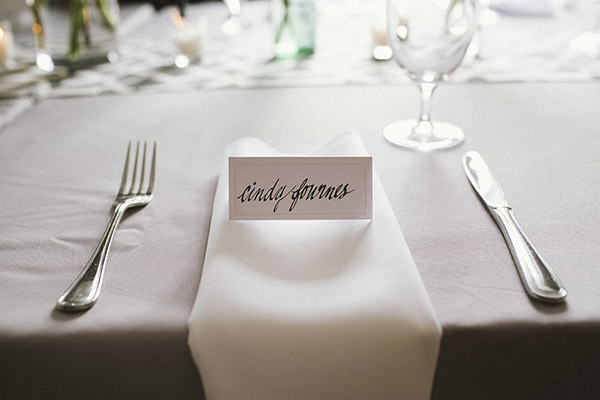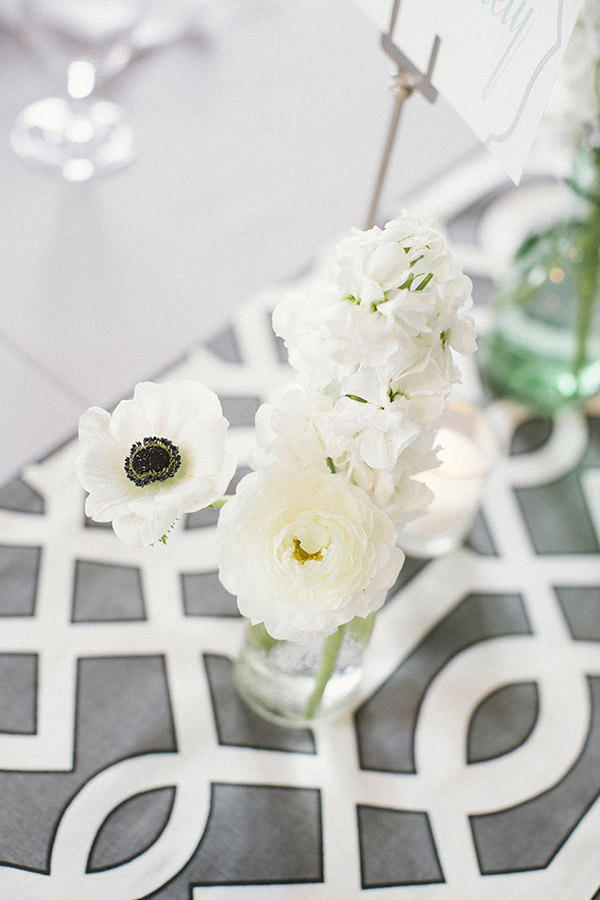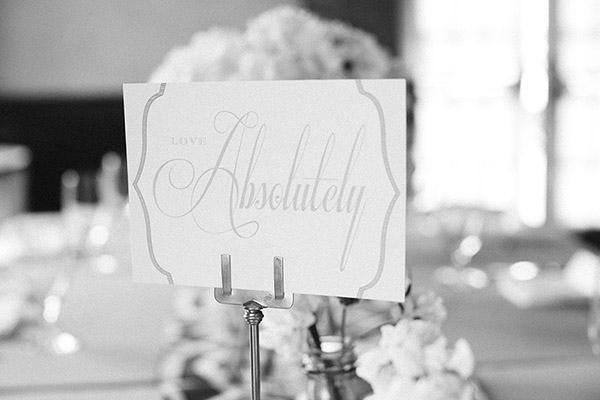 The Moments: My favorite moment was being announced as Mr. and Mrs. Grimes at the reception. It was such a rush to see all of our friends and family cheering us as we walked in. Throughout the reception, Taylor and I would steal away for a few minutes to tell each other our favorite things about the night and just watch all of our friends and family have a great time. It can be so easy to run around all night trying to say hello to everyone, so we made sure to have a few moments just to ourselves to enjoy the night together.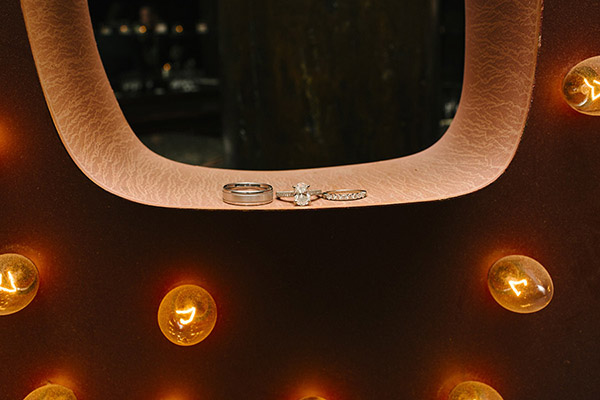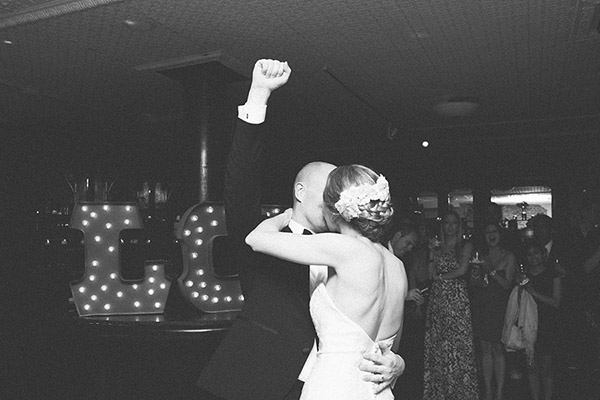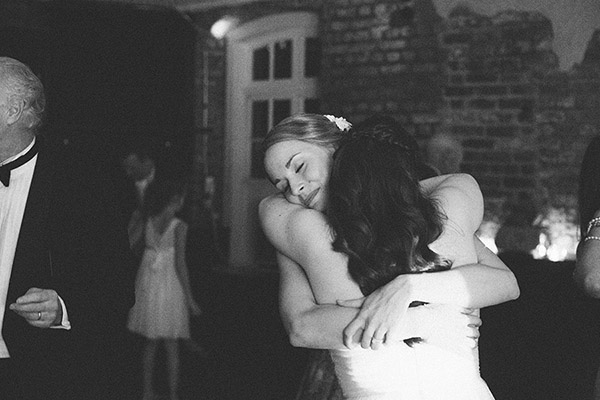 The Advice: Be present in every moment of the day! It all goes by so quickly – remember to see and hear everything in the moment as it happens and try not to worry or stress about what should happen next. Just be there in the moment with the ones you love – that's what makes the day so special.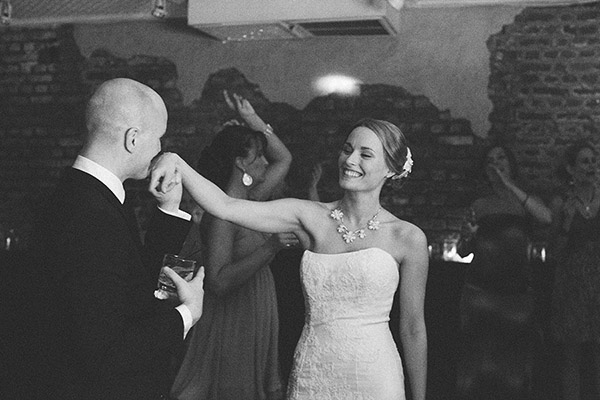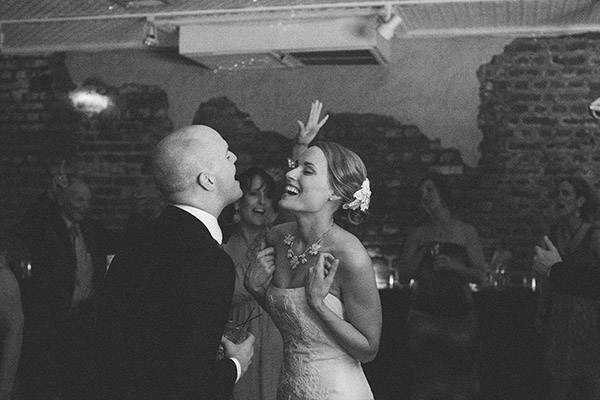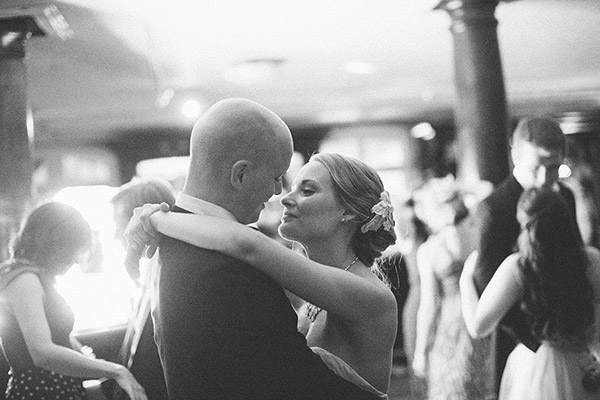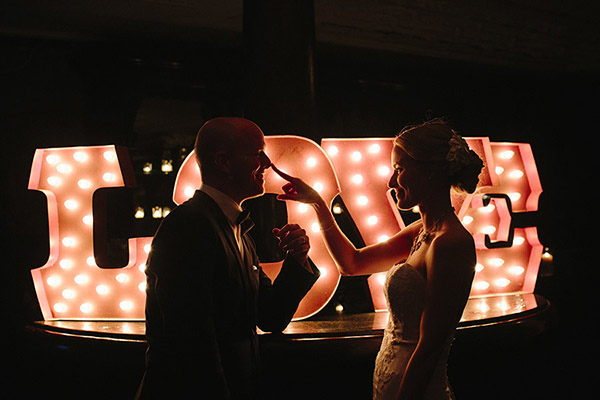 Wishing you all the best, Becca and Taylor! Thanks for sharing your day with us.
See more gray and white wedding inspiration on our Image Gallery.
The Wedding Team:
Photographer: Paige Winn Photo
Event Planner: Lindsey Shanks at A Charleston Bride
Ceremony & Reception Venue: Historic Rice Mill Building
Officiant: David Warren (bride's brother)
Invitation Designer: Paper Source
Catering: Good Food Catering
Florist: Tiger Lily Weddings
Cake: DeClare Cakes
Wedding Dress: Marisa
Bridal Accessories: Necklace – Anthropologie, Shoes – Enzo Angiolini
Bridesmaids' Apparel & Accessories: Their own vintage inspired dresses
Groom's Apparel & Accessories: Tux – Hugo Boss
Groomsmen's Apparel & Accessories: Men's Wearhouse – Vera Wang Collection
Hair & Makeup: Paper Dolls
DJ: Phil Constantin at Complete Music
Live Music: Clelia Reardon of Archer Music
Transportation: Charleston Black Cab, A Charleston Wedding
Favors: Charleston Pralines
Rentals: Ooh! Events, Polished Tabletop, Event DRS