The American Wedding Marketplace brings together 3 distinctly beautiful wedding invitation brands, each with their own line of fabulous wedding paper designs: The American Wedding, MyGatsby, and The Green Kangaroo. I love perusing through wedding invitation websites, as there is so much cool/pretty stuff happening in this industry, and when we found The American Wedding Marketplace, we knew we needed to share their designs with our readers. We are so excited to be introducing you to all three lovely brands, and we've got a special treat for you below, thanks to The American Wedding Marketplace team!
These are the Marketplace's classic designs that are tried and true!
MyGatsby comes with customize-able invitations, many color schemes, textures, and pocket options.
The newest line of invitations, The Green Kangaroo designs are artful, one-of-a-kind and allow you to infuse your personality into your wedding stationary!
With a variety of printing techniques available, The American Wedding team can help you find anything from digital print to foil-pressed invitations, and most designs are also available as Save the Date cards. If you're not sure whether or not one of their invitations is perfect for you, you can have them deliver up to 5 free wedding invitation samples, as well as a catalog for offline inspiration!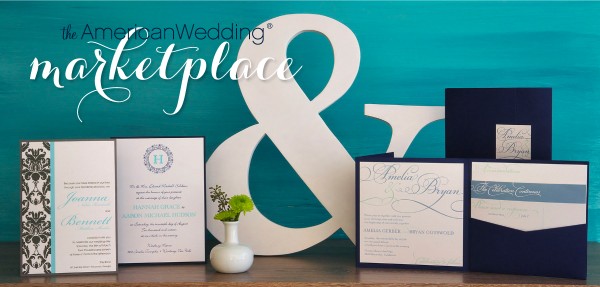 Here's that special treat I was talking about earlier: From now until 2/28/2015, Junebug readers can use the code: JBW1214 to receive 20% off any American Wedding Marketplace purchase!
To keep up with all of the pretty paper from The American Wedding team, follow them on Pinterest, Instagram, and Facebook! We promise, your eyes will thank you!