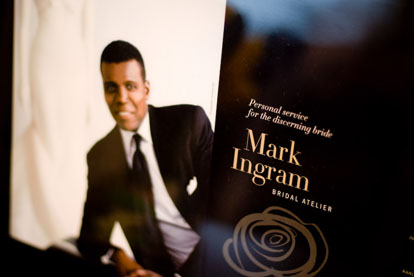 On my recent trip to New York I also had the great, great pleasure of meeting Mark Ingram, possibly the loveliest, warmest and most charming man on earth. No kidding. His beautiful Manhattan bridal boutique, the Mark Ingram Bridal Atelier is a gem of a shop, offering the utmost in personal service as well as a divinely edited collection of designer wedding gowns. He carries Monique Lhuillier, Lela Rose, Angel Sanchez, Amsale, Carolina Herrera, Perter Langner, Anne Barge and Oscar De La Renta, among others, and counts many of their designers as personal friends. This is the place to go in New York if you're looking for an exclusive, modern, high fashion experience. Can you tell I was excited to be there? Heaven! (My favorite items in the store? The wall of framed black and white photographs of Mark's family; current, vintage, and all so meaningful and sweet). His passion for what he does is evident in every detail of the store.

Mark has been working in the fashion industry for close to 30 years, and he is a true expert when it comes to style. I asked him to share a bit of what he's leaned and what advice he gives to brides searching for their perfect dress. Here's what he had to say…
Before you begin shopping… Be sure you understand the time schedule involved in purchasing a wedding dress. If possible, order it 6-8 months before your wedding. And do your homework about the dress shop you're thinking of visiting. Is the location close enough that you can go back easily for multiple fittings? Do they carry the designers and offer the price options you're looking for? Does it seem like a place where you'll feel comfortable and confident, not pressured into purchasing something too quickly?
When trying on dresses… Communicate openly with your wedding dress consultant about your hopes, concerns, inspirations, and insecurities. They are just meeting you for the first time, so the more information you share with them, the more quickly they can get to know you, and the more helpful they can be in finding that perfect dress for you. Don't be afraid to speak up and ask questions.
On your wedding day… Present yourself on your wedding day as your best self. Really give your own personal style some thought and be sure that what you are wearing truly represents you.
Thank you Mark and the team at the Bridal Atelier. It was such a thrill to meet you and learn from you!